---
Geylang food places to check out
---
We've all seen Geylang food guides featuring supper options such as 126 Dim Sum and frog porridge spots. But there's a whole uncharted territory that hasn't been covered ─ round-the-clock dining in the red light district.
Compared to the bustling scene at night, Geylang is like a ghost town in the day, which makes it perfect for foodies to explore. Here's a guide for people who want to explore this treasure trove of Geylang food haunts beyond just suppertime.
---
1. Penang Seafood Restaurant
---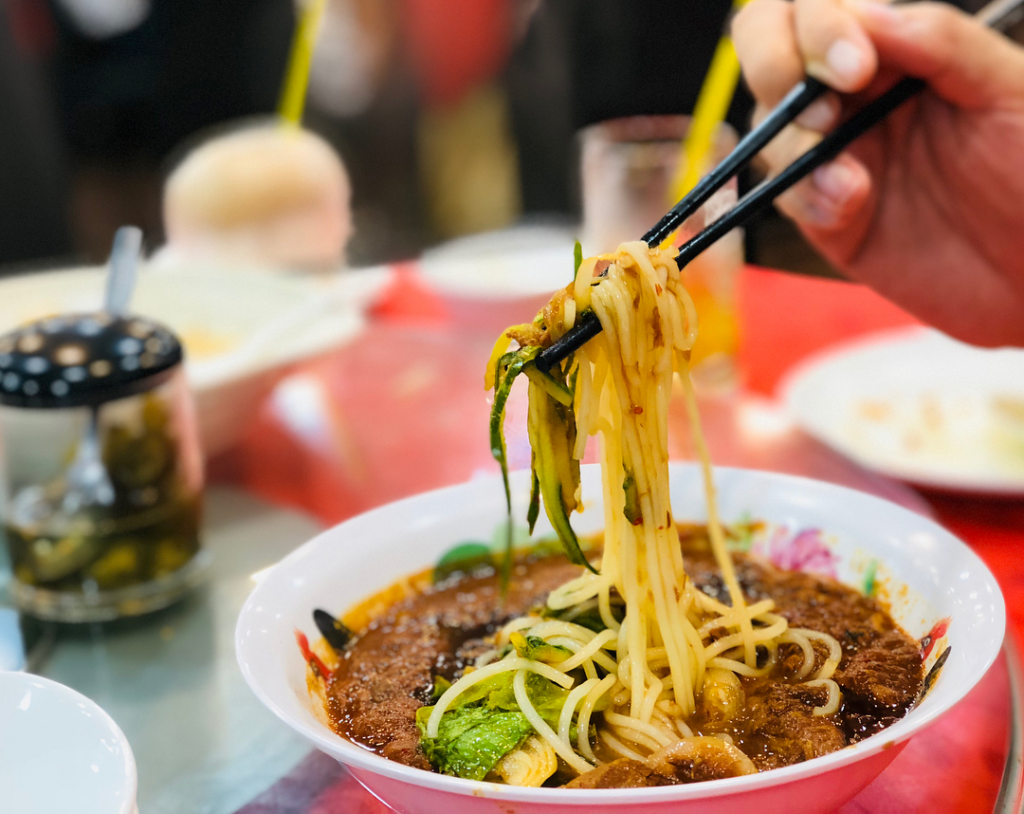 Image credit: @yuyuarm
If you love Penang food as we do, head down to Penang Seafood Restaurant and try their Assam Laksa (from $4.80) or Penang Char Kway Teow (from $6). The tangy fish gravy starts off with an explosive burst of flavour and mellows into a mild heat that will leave you wanting more. The char kway teow, on the other hand, is made in true Malaysian fashion and is laced with smoky, moreish wok hei.
Check out our full review of Penang Seafood Restaurant.
Address: 32 Aljunied Road, Singapore 389817
Opening hours: Daily 11am to 12am
Website
---
2. BBQ Box
---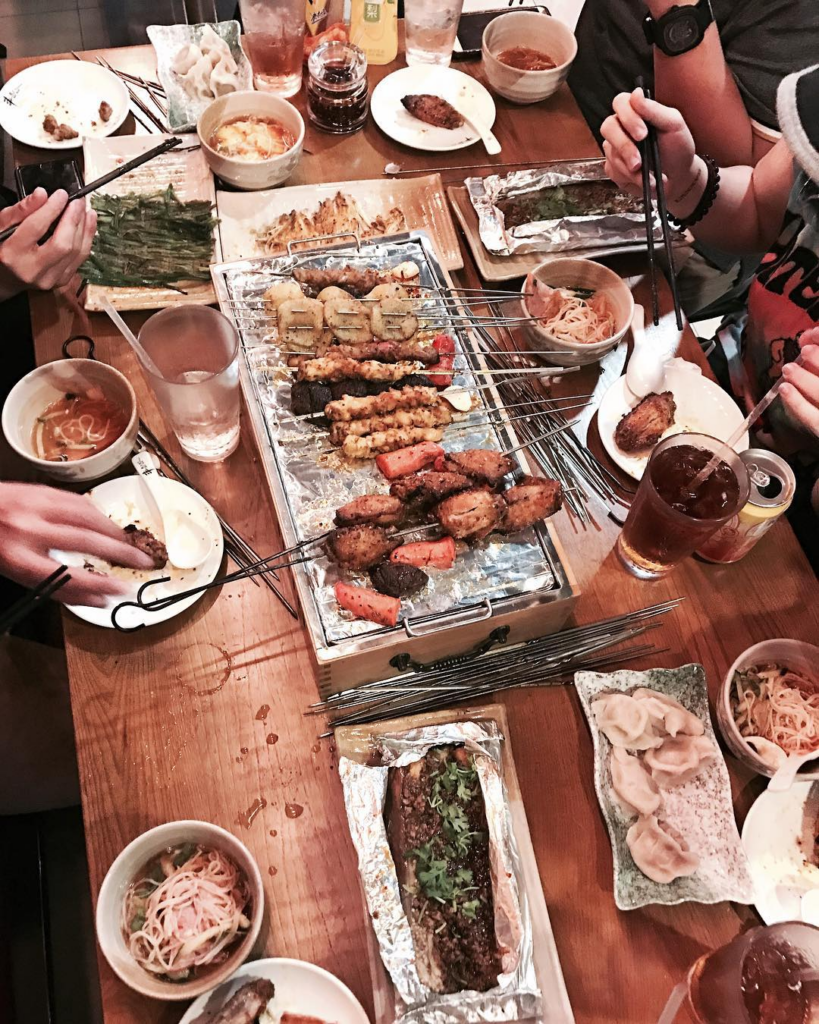 Image credit: @kiripaca
If you're new to the world of Chinese barbecue skewers, there's no better place to get acquainted than BBQ Box. They offer a variety of meats from chicken wings to pork intestines and beef tendon. These meats are seasoned with a spicy Chinese spice rub and skewered before they are grilled to perfection over a charcoal fire. Other classic skewers you shouldn't miss out on include enoki mushrooms, mantou, and asparagus. Skewers start at $1.50, so feast away on these affordable skewers and wash everything down with a bottle of Tsingtao!
Address: 182 Geylang Road, Singapore 389252
Opening hours: Mon-Sat 2pm to 2am, Sun 1:30pm to 1:30am
Tel: 9234 8659
Website
---
3. The Skewer Bar
---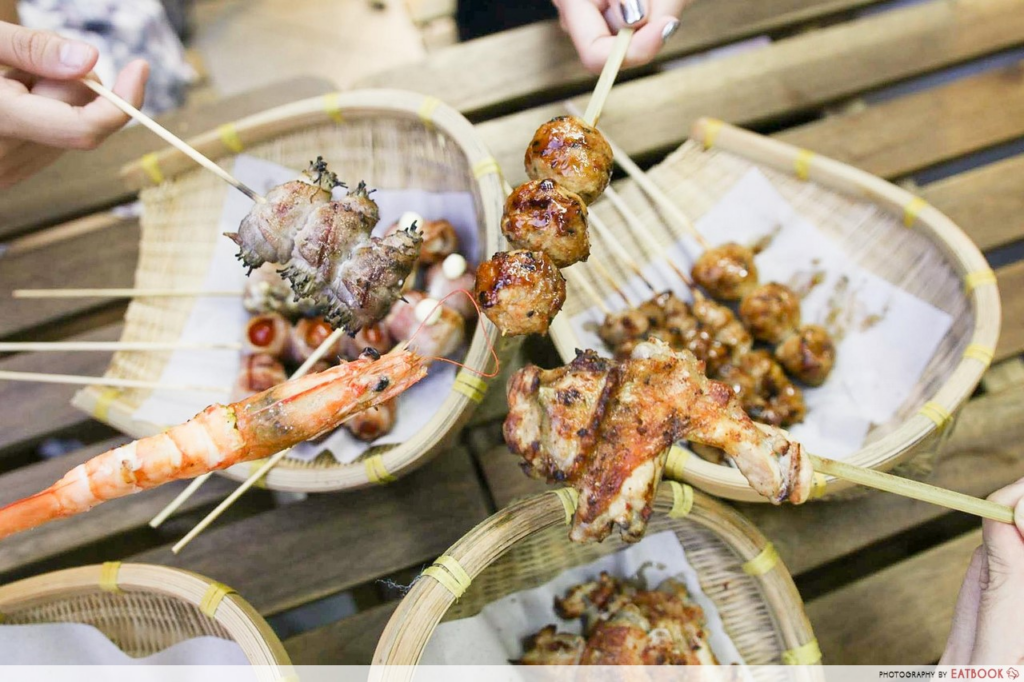 If you're on the search for good yakitori, look no further than The Skewer Bar. Located at a corner of a kopitiam, this quiet joint is jam-packed with customers daily. The menu is extensive, with items such as Teriyaki Unagi ($3.50) and Bacon Wrapped Quail Egg ($2.40). They also have non-skewered dishes such as Oysters ($11 for three pieces) and, our favourite, Grilled Eggplant with TSB Signature Sauce ($5). Locally-inspired pasta and rice bowls are also available, with the Lu Rou Pasta ($10.90) being a hot favourite.
The Skewer Bar Review: Secret Yakitori Joint Found In Geylang
Address: 2 Lorong 25 Geylang, Singapore 388287
Opening hours: Daily 5pm to 12am
Tel: 9642 0837
Website
---
4. Leong Kee (Klang) Bak Kut Teh
---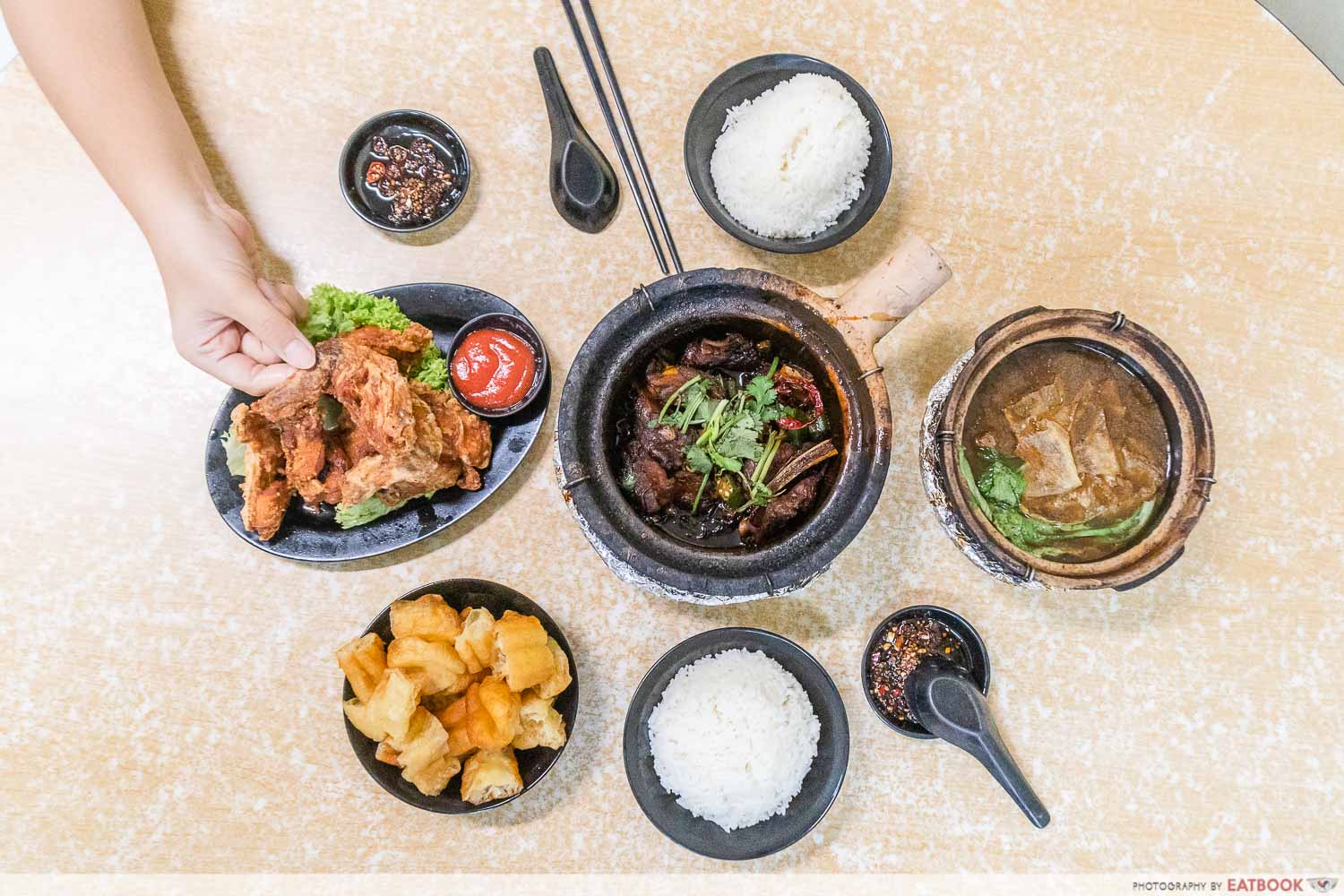 There are two kinds of people in the world: people who love the peppery style of Teochew bak kut teh, and people who love Malaysia's herbal version. If you're a fan of Klang bak kut teh, Leong Kee Bak Kut Teh ($8) is a must-try. The soup is full of aromatic herbal notes, and the pork ribs are fork-tender and well infused with earthy flavours.
For greater satisfaction, pile on the beancurd skin and get ready to sweat it out over this robust pork stock. Leong Kee also does a mean Stewed Pork's Leg ($8), so brace yourself for a feast if you happen to find yourself on this side of Geylang. Their Dry Bak Kut Teh ($11) also comes highly recommended.
Address: 251 Geylang Road, Singapore 389309
Opening hours: Wed-Mon 11am to 11pm
Website
---
5. Swee Guan Hokkien Mee
---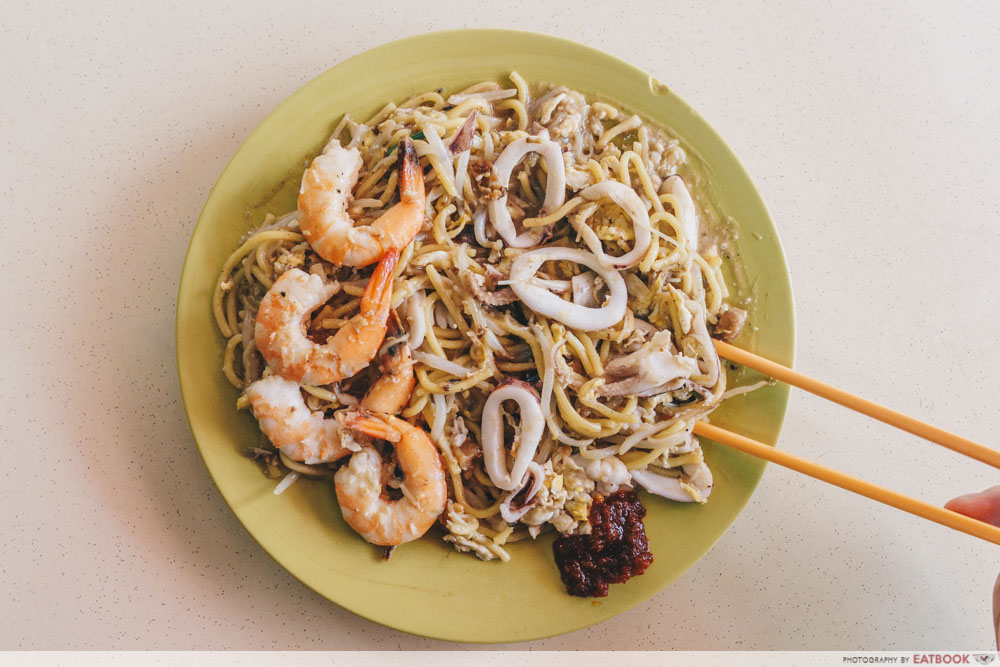 Opened in 1968, Swee Guan Hokkien Mee, or better known as Geylang Lorong 29 Hokkien Mee, serves one of the best hae mee I've ever tried. Prepared the traditional way over a charcoal fire, the noodles are laced with a wok hei aroma. Plus, they are pretty generous with the ingredients, and the prawns are juicy and crunchy. A wait is, of course, necessary, as this spot is really famous. Prices start at $6 for a plate.
Check out our full review of Swee Guan Hokkien Mee.
Address: 5 Lorong 29 Geylang, Singapore 388060
Opening hours: Thurs-Tue 5pm to 10pm
Swee Guan Hokkien Mee Review: Charcoal-Fried Hokkien Mee With 41 Years Of History
---
6. Mongkok Dim Sum
---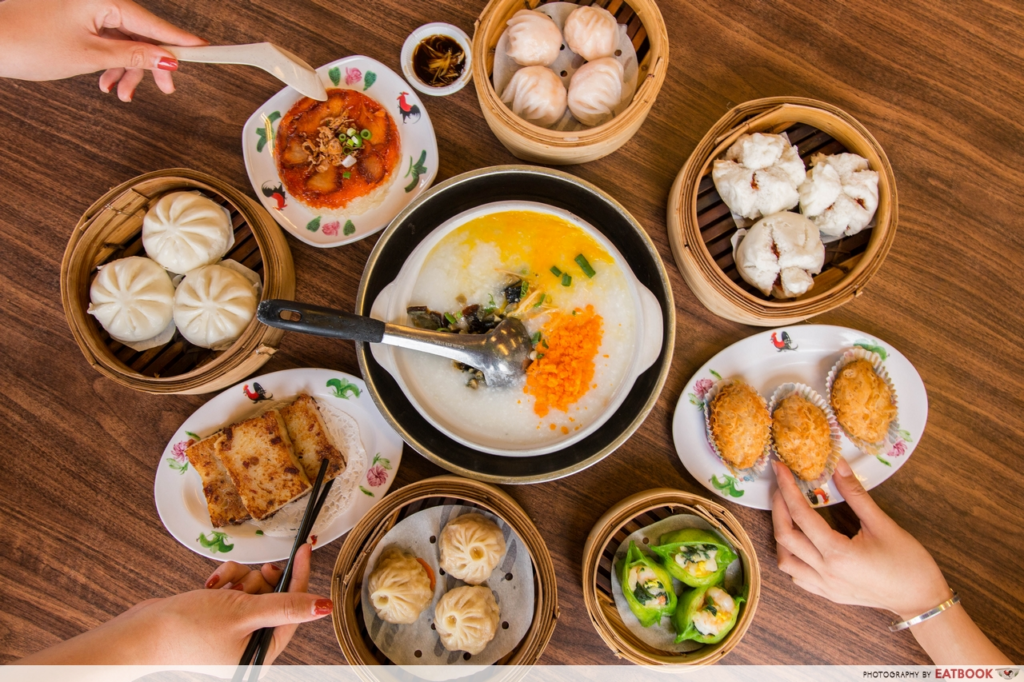 Open 24 hours, Mongkok Dim Sum was my go-to supper joint when I was living in the East. On the menu are an array of dishes, priced at an average of $5. An interesting dish to order is their 3 Yolk Crab Porridge ($9), which can easily satisfy the bellies of three to four people. Their Custard Bun ($4.20) is done right too, and a pool of smooth, runny custard spilled out as we broke open the pillowy bao.
Check out our full review of Mongkok Dim Sum.
Mongkok Dim Sum Review: 24/7 Dim Sum Eatery With A Wide Variety Of Tasty Dim Sum
Address: 214 Geylang Road, Singapore 389274
Opening hours: Daily 24 hours
---
7. Koung's Wanton Mee
---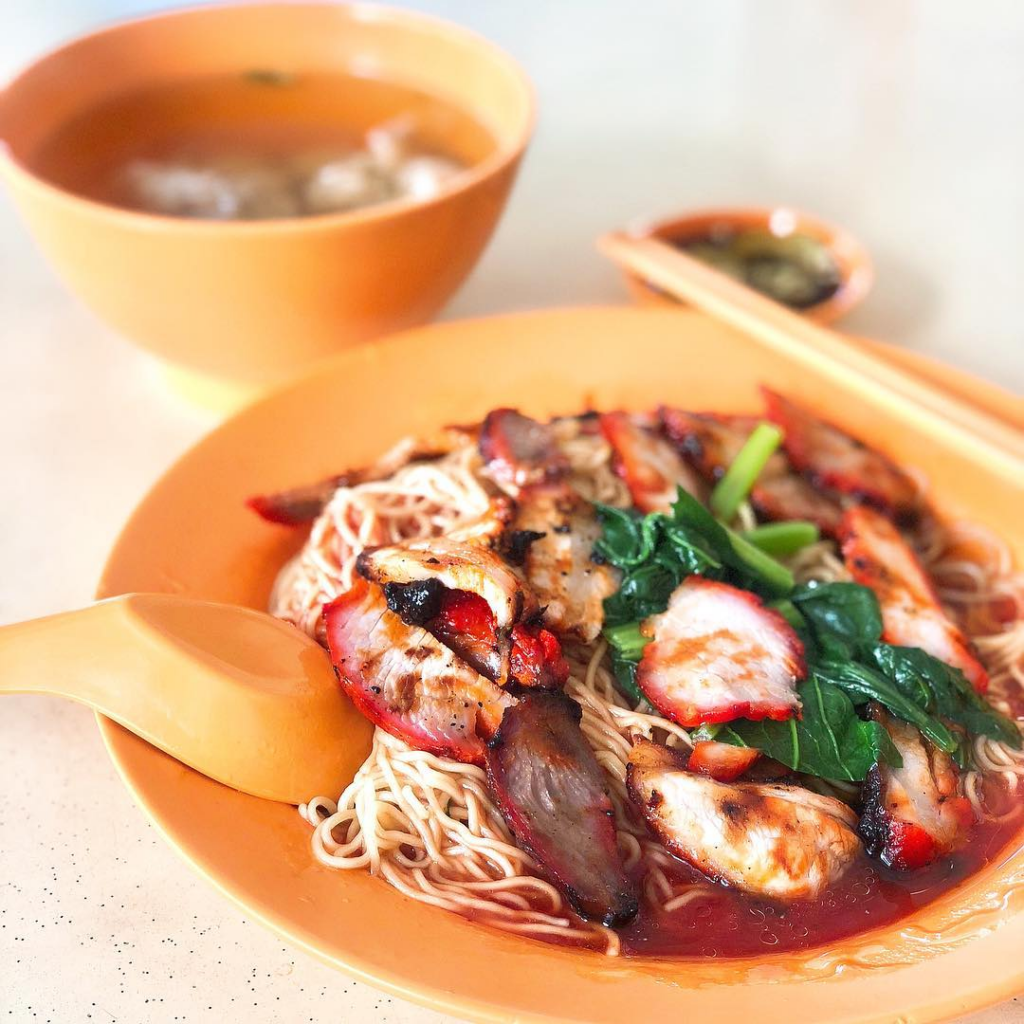 Image credit: @annemarietrz
A taxi driver was the one who introduced me to Koung's Wanton Mee. And you know you can trust a cabbie's food recommendation. Around since 1964, the humble stall roasts their char siew in a charcoal oven, which boasts a good ratio of fats to tender meat. The egg noodles were firm too, and glistened with their house-made chilli sauce that packed a fiery punch! Prices start at $4.50.
Address: 205 Sims Avenue, Singapore 387506
Opening hours: Mon 8:30am to 7:30pm, Tues-Sun 8am to 8:30pm
Tel: 6748 0305
---
8. Hong Qin Fish & Duck Porridge
---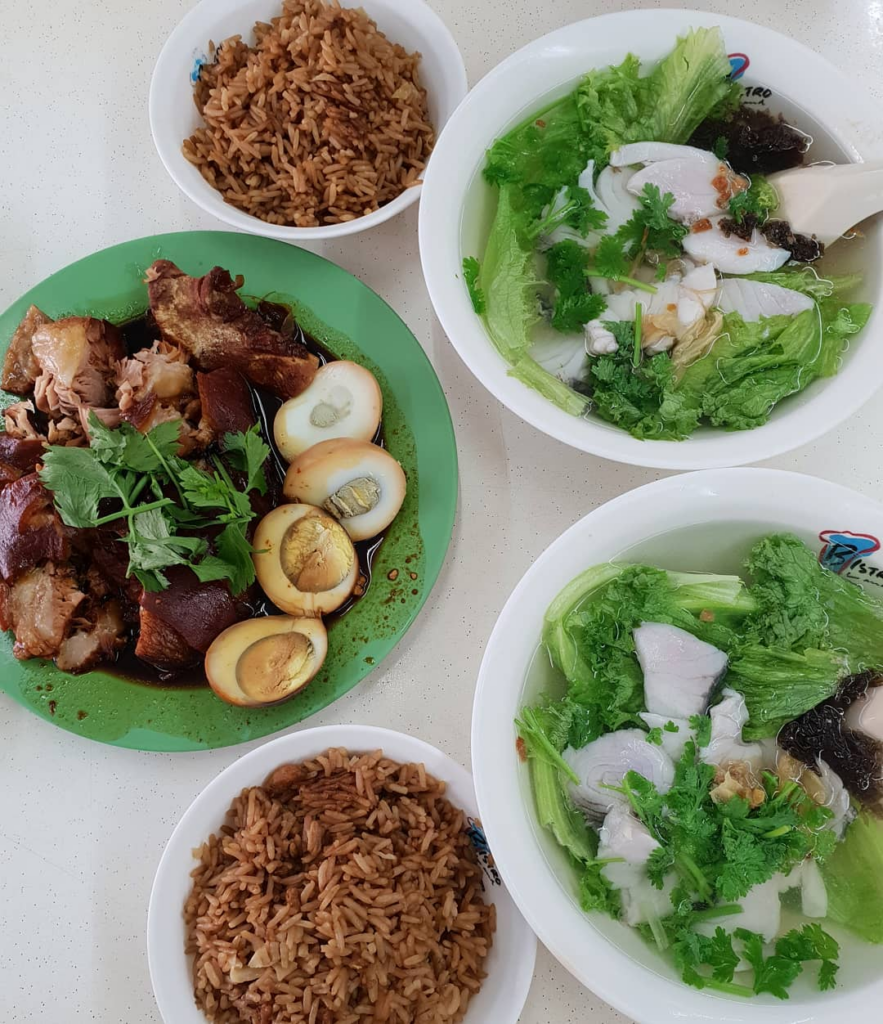 Image credit: @mariabelovedchildofgod
$8 at Hong Qin Fish & Duck Porridge will get you a liberal amount of flavourful pig trotters served alongside rice. The meat could have been more tender, but the sauce was not cloying or salty. Their fish soup ($5) fared much better, with the clear savoury broth and generous slices of fresh fish. Although Piao Ji Fish Soup still ranks first in our hearts, this is an alternative that doesn't involve a 30-minute wait!
Address: 134 Geylang East Avenue 1, #01-217, Singapore 380134
Opening hours: Daily 5:45am to 3:30pm
---
9. L32 Handmade Noodles
---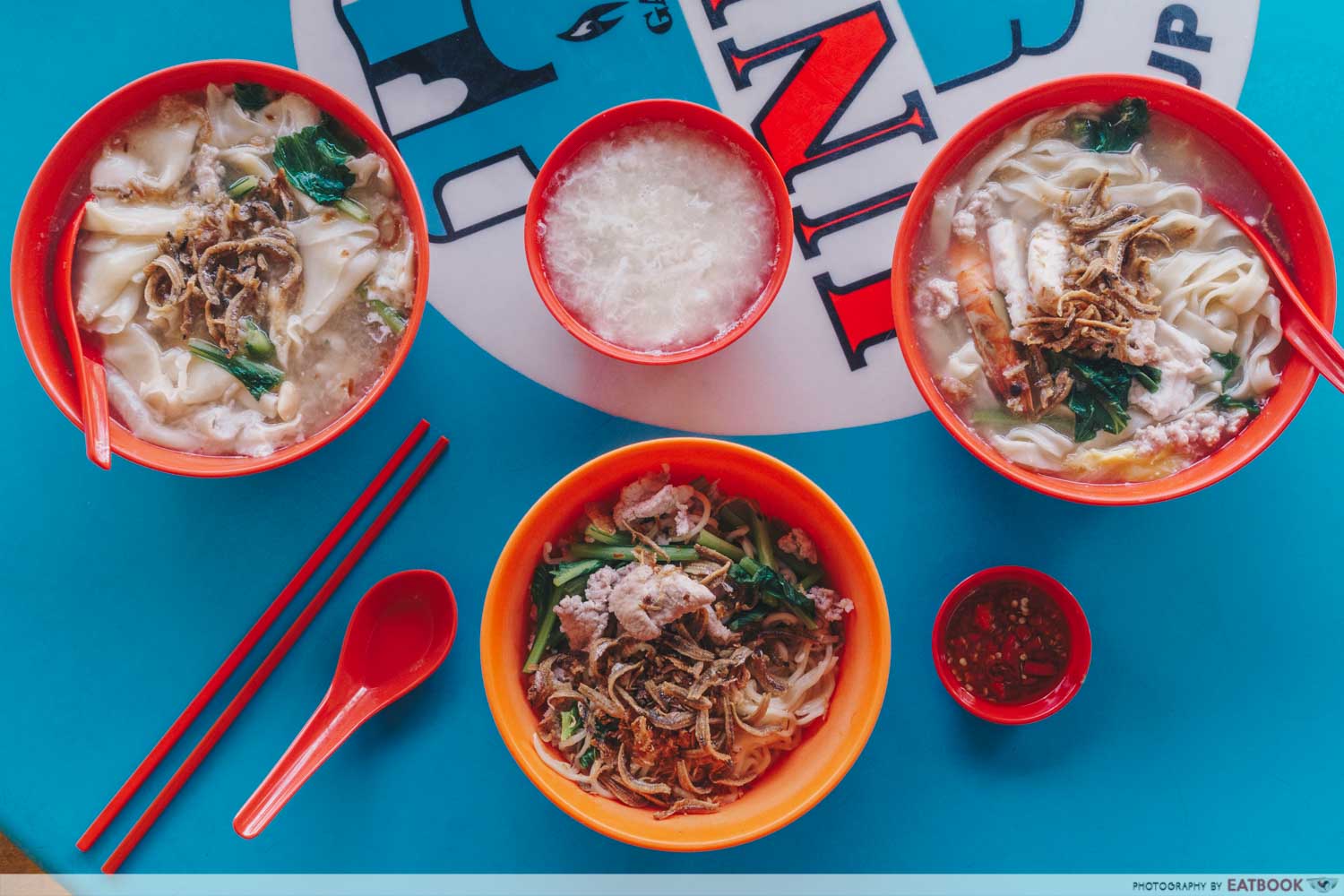 Foodies seeking one of the best ban mian in Singapore must head down to L32 Handmade Noodles. You can immediately taste the difference once you take a bite of their firm yet bouncy noodles ─ it is worlds apart from the factory-made noodles most stalls use. The broth is also not at all oily, and the ingredients they use are of superb quality. This bowl of ultimate comfort food is definitely worth battling the heat for! Prices go from $4.60 and they even have a dry mala version.
Address: 558 Geylang Road Lorong 32, Singapore 389509
Opening hours: Tue-Sun 11:30am to 9:30pm
Tel: 9770 2829
Website
---
10. Bali Nasi Lemak
---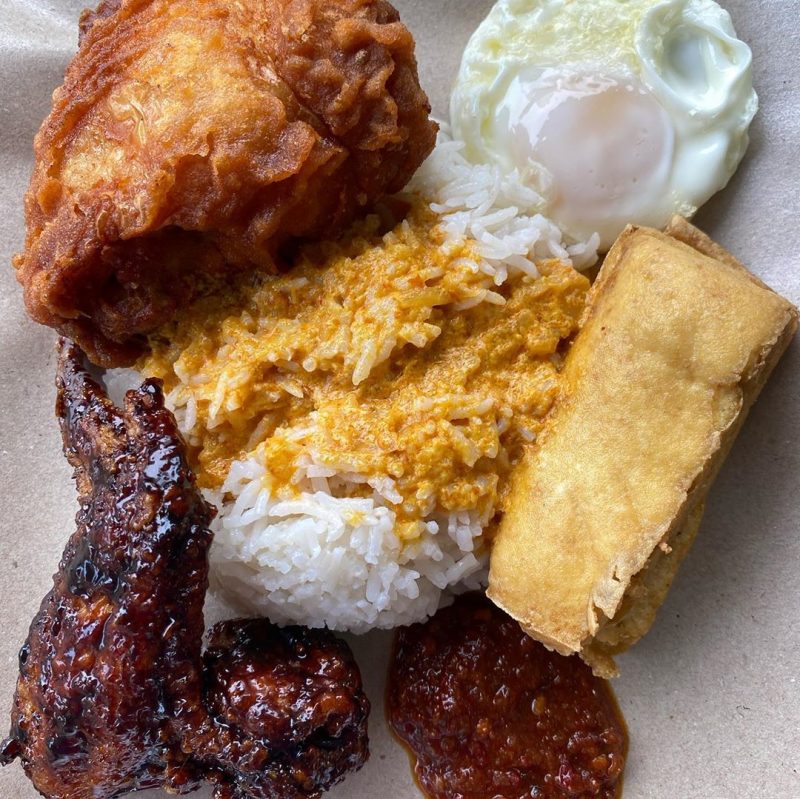 Image credit: @burgernbacon
Having been around in Geylang since 1985, Bali Nasi Lemak is a casual dinner and supper eatery that serves "Chinese-style" nasi lemak. Pick and choose what liao you'd like to go with your coconut rice, whether it be the classic crispy fried chicken, otah, sambal petai or their special kicap manis fried chicken, which comes glazed in the sweet and sticky brown sauce. Expect to spend around $7 a person.
Address: 2 Lorong 15 Geylang, Singapore 388596
Opening hours: Mon-Sat 5:30pm to 4am
Tel: 6841 4102
Website
---
11. Banh Mi Thit
---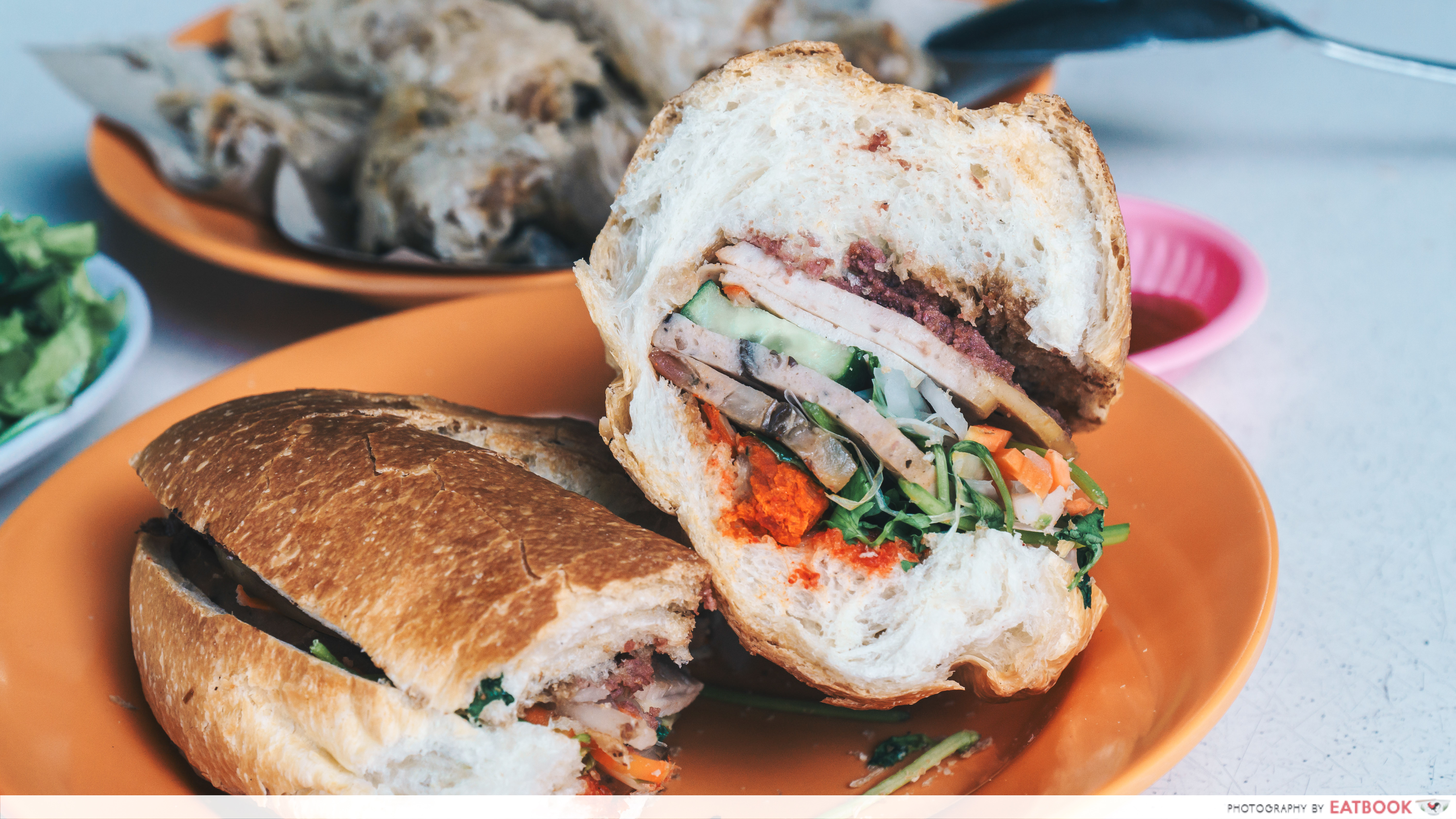 Good banh mi is not the easiest to come by, but at Banh Mi Thit, you can be rest assured that you're getting as close to the banh mi you get in Vietnam as possible. Even the price point is wallet-friendly. Unlike the usual sub-$10 tag, all sandwiches at Banh Mi Thit are $5, filled with your choice of chicken, beef or egg, fresh vegetables and a special secret sauce. The humble eatery also has Vietnamese coffee ($1.50).
Check out our full review of Banh Mi Thit.
Address: 543 Geylang Road, Singapore 389498
Opening hours: Tue-Sun 10am to 10pm
Website
---
12. Sia Kee Duck Rice
---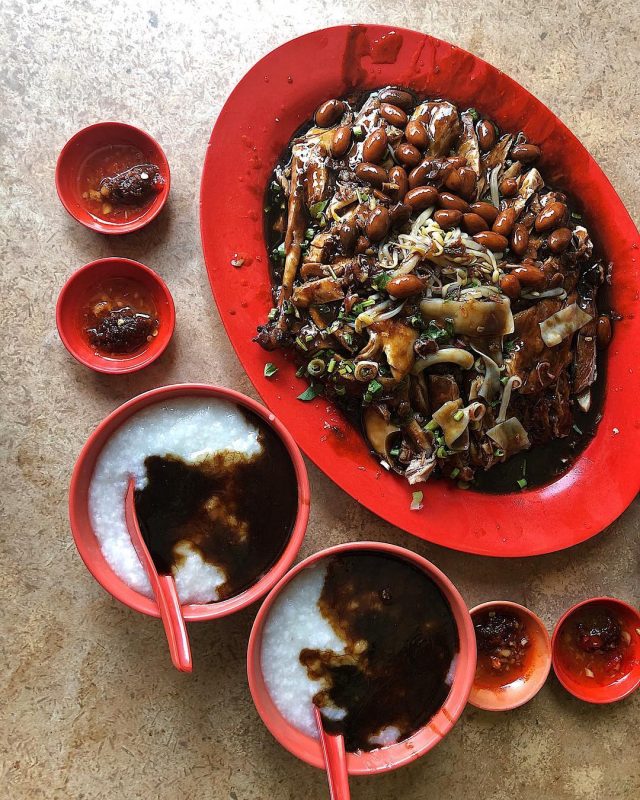 Image credit: @that_dex
Whether you buy into the fact that Sia Kee Duck Rice makes Singapore's best boneless braised duck rice or not, it can't be denied that this Geylang hawker is a staple in the neighbourhood.  The duck is tender and marinated well, drenched in gravy and served along with a herbal soup made from scratch daily. Opt to have it with either yam rice or porridge. If you are dining with companions, get the Mixed Duck Platter ($18), which comes with duck meat, egg, fishcake, peanuts and beansprouts.
Address: 659-661 Lorong 35 Geylang, Singapore 389589
Opening hours: Sun-Fri 11am to 4:30pm
Tel: 9690 6606
Website
---
13. Donburi Maruya
---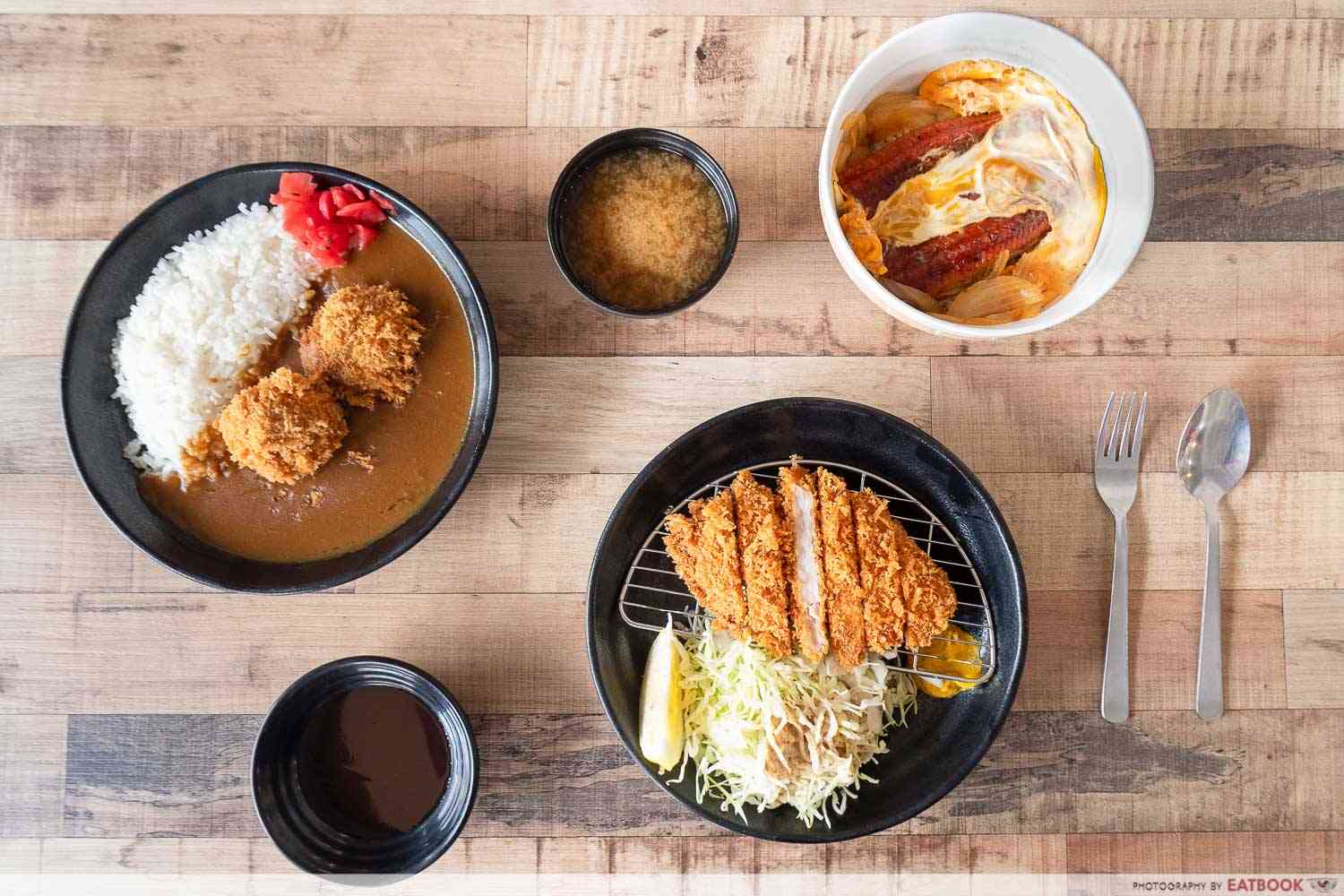 If you're looking for affordable Japanese food in Geylang, few places do it better than Donburi Maruya. Their Teishoku Pork Katsu goes for just $7.50 a la carte and $10 with rice and miso soup, while their Deluxe Unagi Toji Don ($14.50) boasts a sizable unagi that is usually plump and juicy.
Check out our full review of Donburi Maruya.
Address: 56 Lorong 25A Geylang, Food Loft, Singapore 388248
Opening hours: Daily 11am to 10pm
Website
Donburi Maruya is not a halal-certified eatery.
---
14. Eminent Frog Porridge
---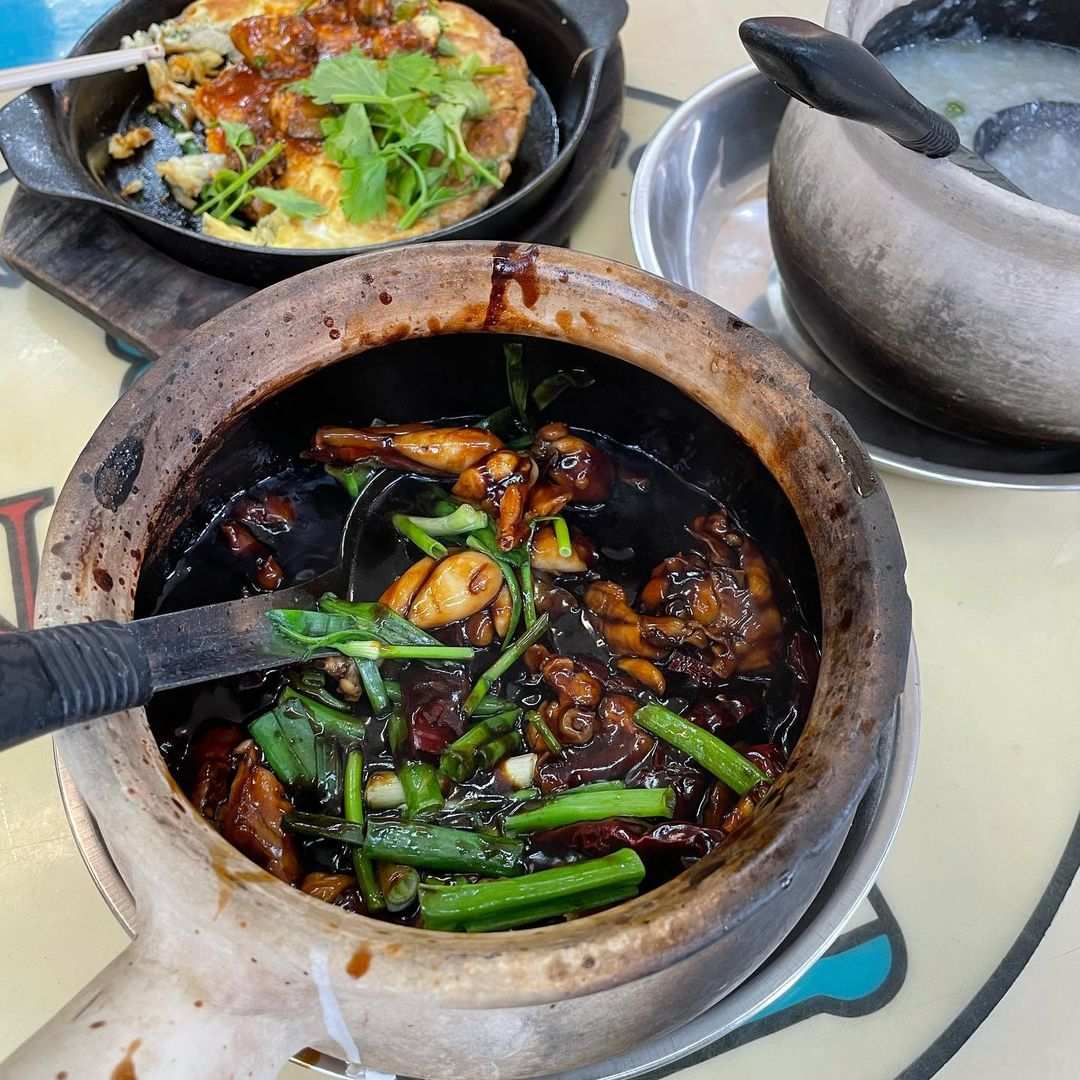 Image credit: @crkkkaayeah
Eminent Frog Porridge is a fitting name indeed, as it is the only frog porridge stall to have formerly received the Michelin Bib Gourmand award. You can get your frogs cooked in different sauces, such as Dried Chilli, Spring Onion, and Chinese Herbal Soup, with one frog costing you $8. Of course, you'll have to savour them with some piping hot porridge (from $2).
Address: 323 Geylang Road, Singapore 389359
Opening hours: Daily     5pm to 4am
Tel: 9842 2941
Website
Eminent Frog Porridge is not a halal-certified eatery.
---
15. Liu Da Ma BBQ
---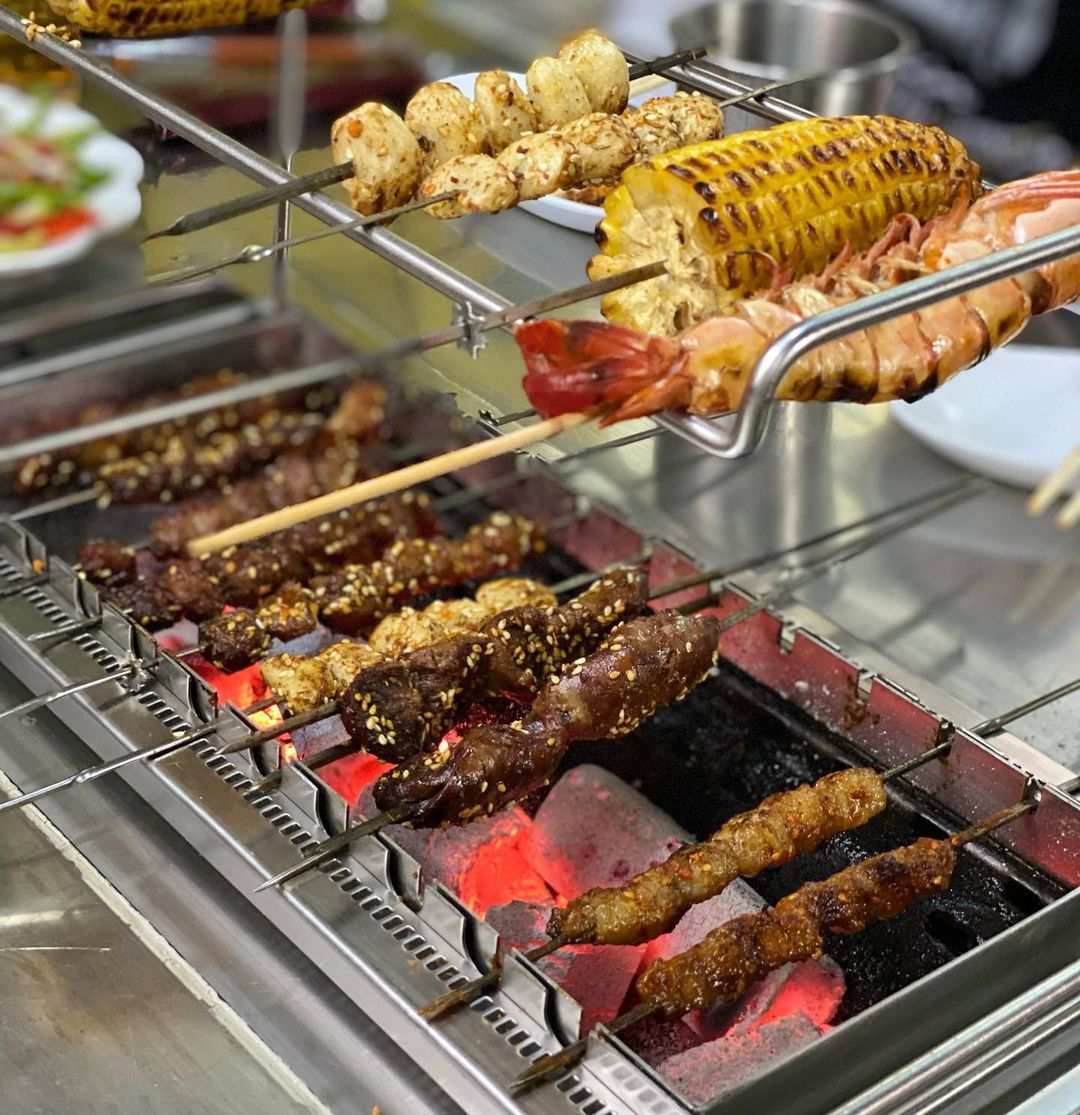 Image credit: @rick_leow
Another well-known BBQ spot in Geylang, Liu Da Ma BBQ offers a plethora of great tasting skewers at affordable prices. While the usual pork and beef skewers are great, be sure to try the Lamb Skewers ($6 for 5) as well, which are said to be plenty succulent and not overly gamey. And don't forget a bottle of Chinese beer!
Address: 26 Lorong 11 Geylang, Singapore 388718
Opening hours: Daily 12pm to 12am
Tel: 6600 8646
Liu Da Ma BBQ is not a halal-certified eatery.
---
16. Lor 9 Beef Kway Teow
---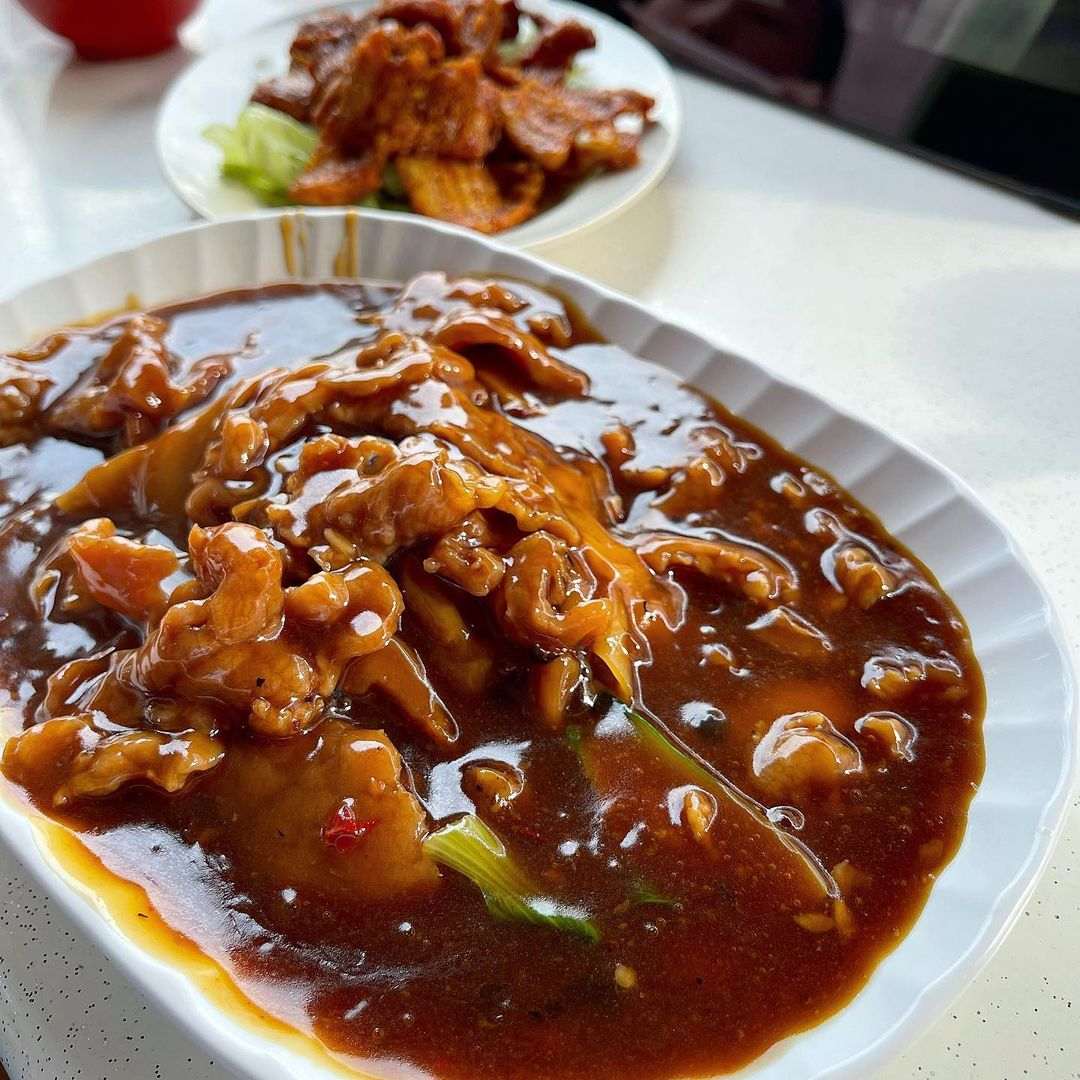 Image credit: @bongsteroo
Lor 9 Beef Kway Teow has earned plenty of loyal fans over the years, and it's easy to see why. Their Beef Hor Fun ($8) comes with plenty of noodles and ingredients, so you'll be stuffing yourself full of goopy, savoury hor fun and succulent beef slices. Best of all, the noodles are said to have a brilliant wok hei aroma, so check this out if you're into hor fun done the right way.
Address: 237 Geylang Road, Singapore 389296
Opening hours: Daily 11am to 12:30am
Tel: 9388 0723
Lor 9 Beef Kway Teow is not a halal-certified eatery.
---
17. JB Ah Meng Restaurant
---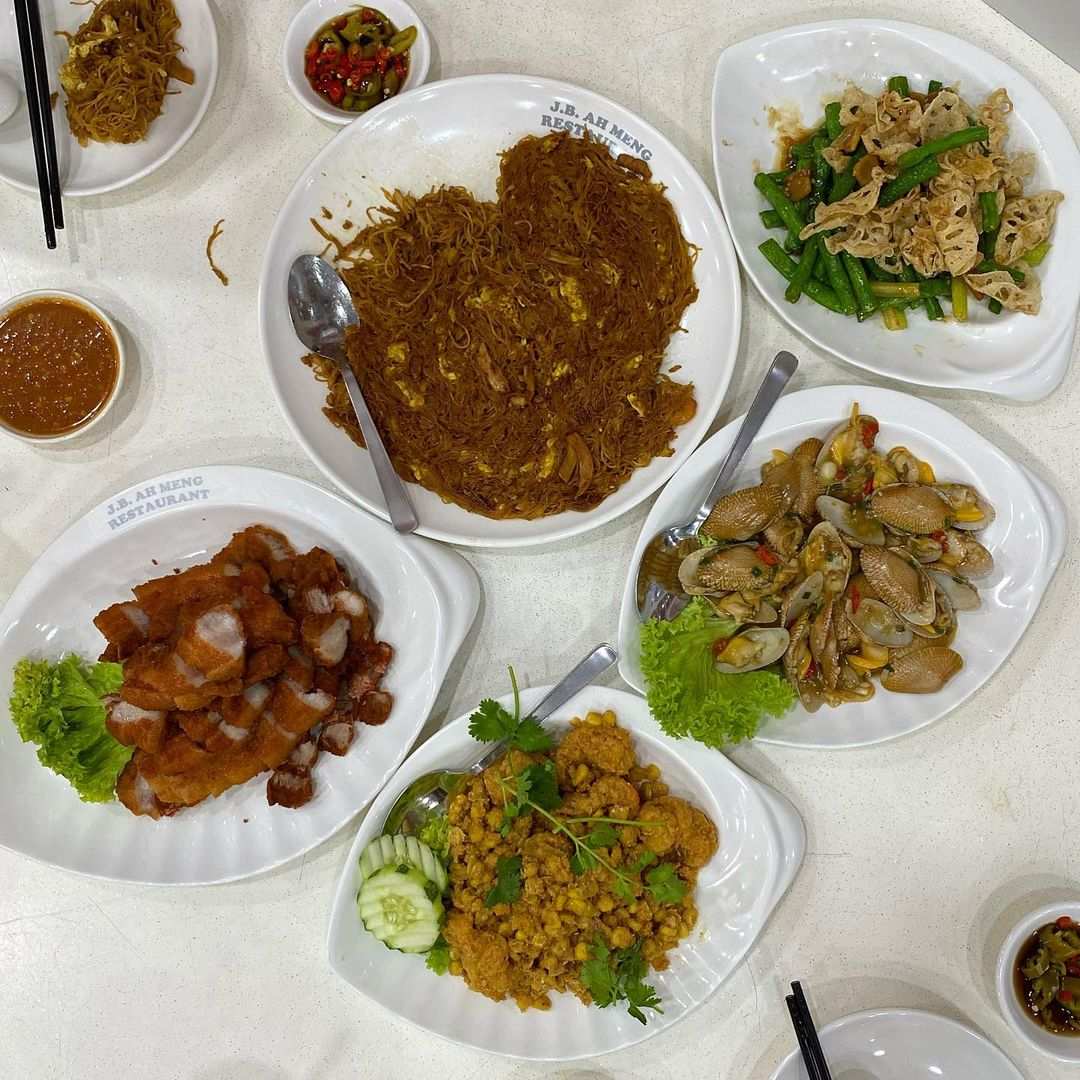 Image credit: @messyfeedeats
If you're tired of the usual zi char fare in Singapore, then you should try some JB-style zi char instead. JB Ah Meng Restaurant offers authentic Malaysian fare, with dishes such as San Lou Meehoon (from $7) and Curry Fish Head ($30) tasting straight out of a zi char stall from Johor Bahru.
Address: 534 Geylang Road, Singapore 389490
Opening hours: Daily     5pm to 2:15am
Tel: 6741 2418
JB Ah Meng Restaurant is not a halal-certified eatery.
---
Geylang food stalls worth visiting
---
With all the good Geylang food options available, it's no wonder people from all over Singapore would take the train down for a feast.

This article was originally published on 25 May 2018.