Spuds Shack at Geylang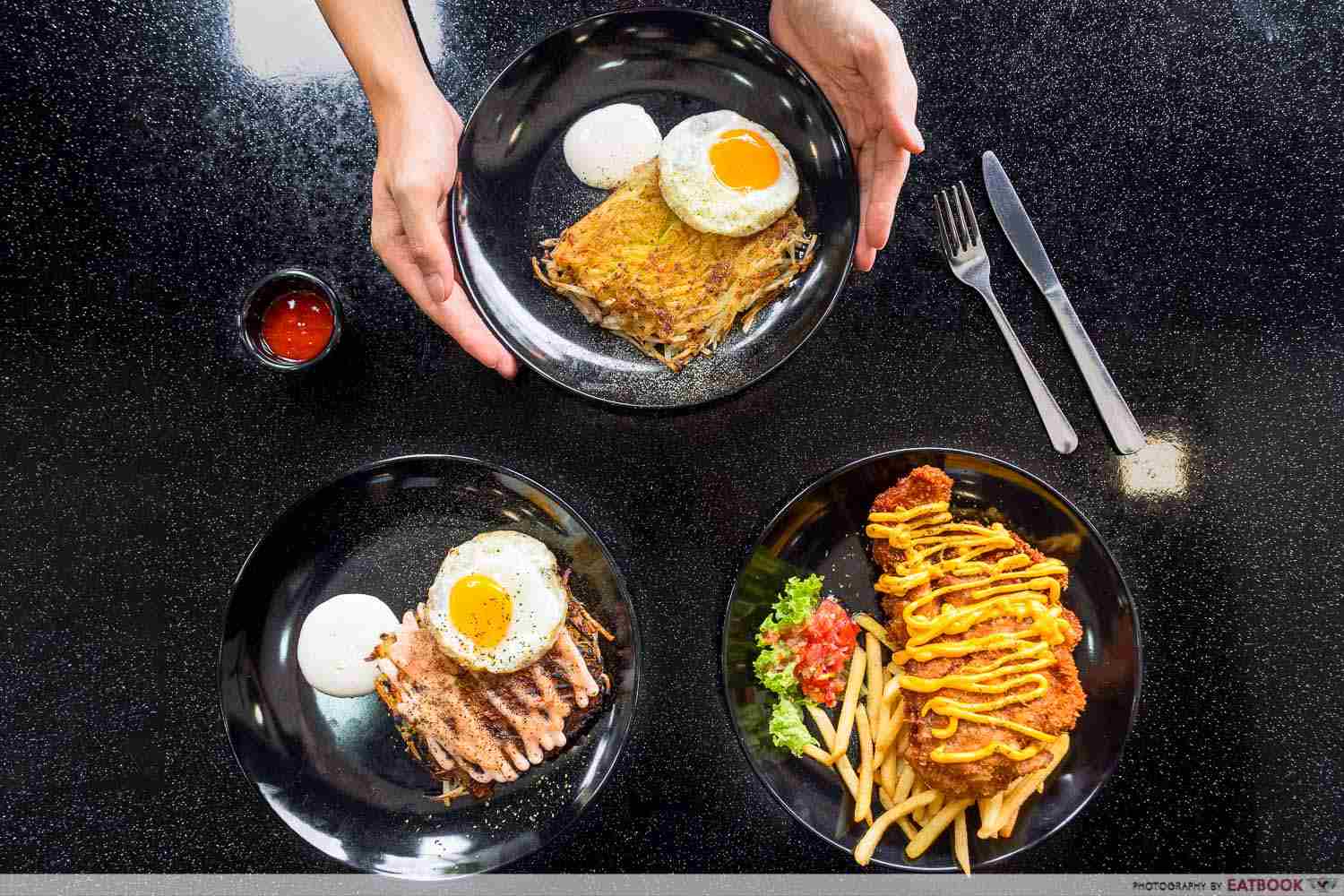 My favourite potato chip flavour is, by some distance, seaweed. I think that its umami taste elevates the snack far beyond what it actually is—a plain ol' bag of chips. So I was intrigued to hear that Spuds Shack, a hawker stall in Geylang, has been 'umamifying' a superior and more substantial potato dish: rosti.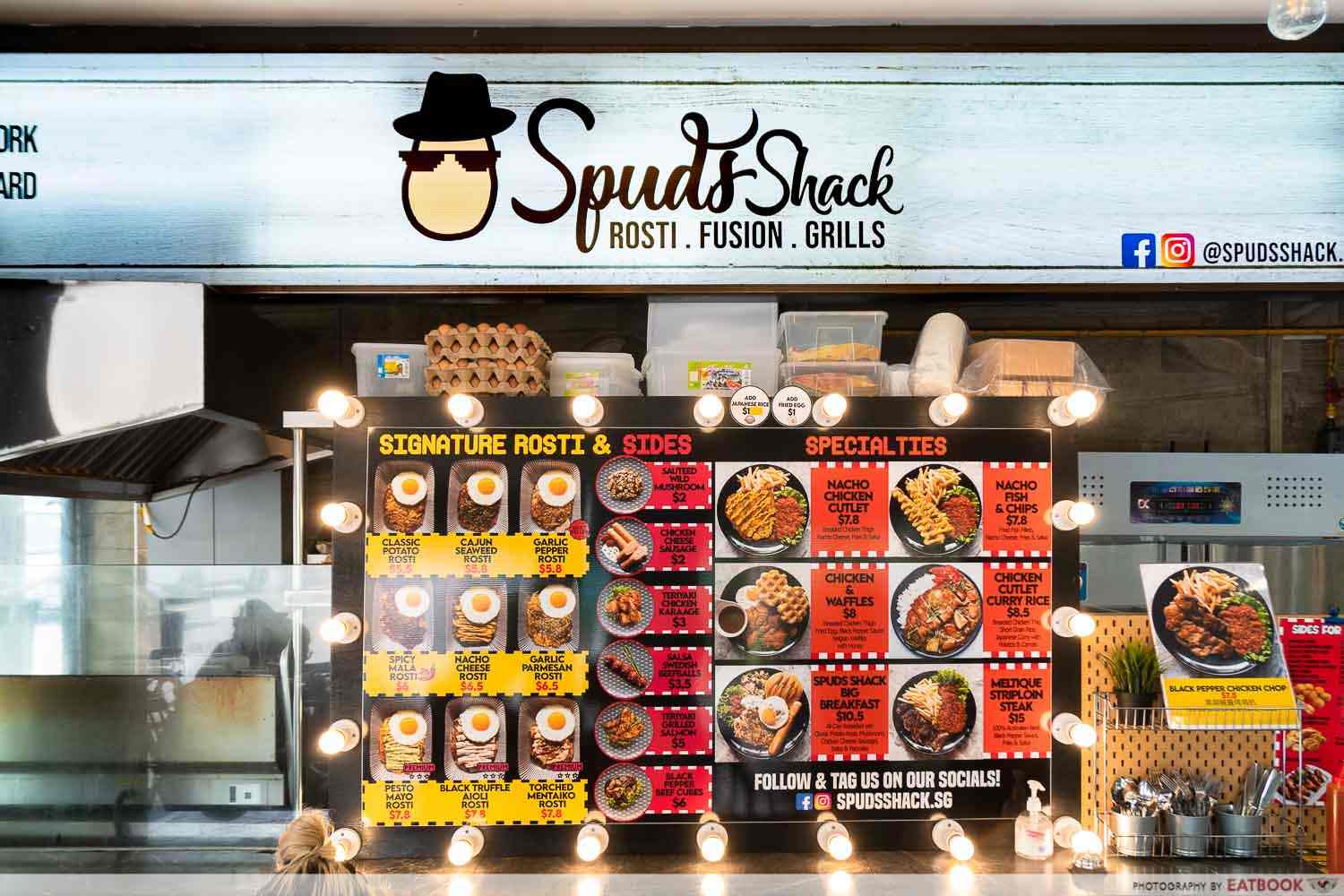 With interesting and trendy flavours such as Cajun Seaweed, Torched Mentaiko and Black Truffle Aioli on the menu, we went to see if Spuds Shack could use those elements to make a great dish even better.
Five Dragons Review: Mala Chicken Wings, Mala Mayo Fries And More At Western Hawker Stall Near Bugis
Food at Spuds Shack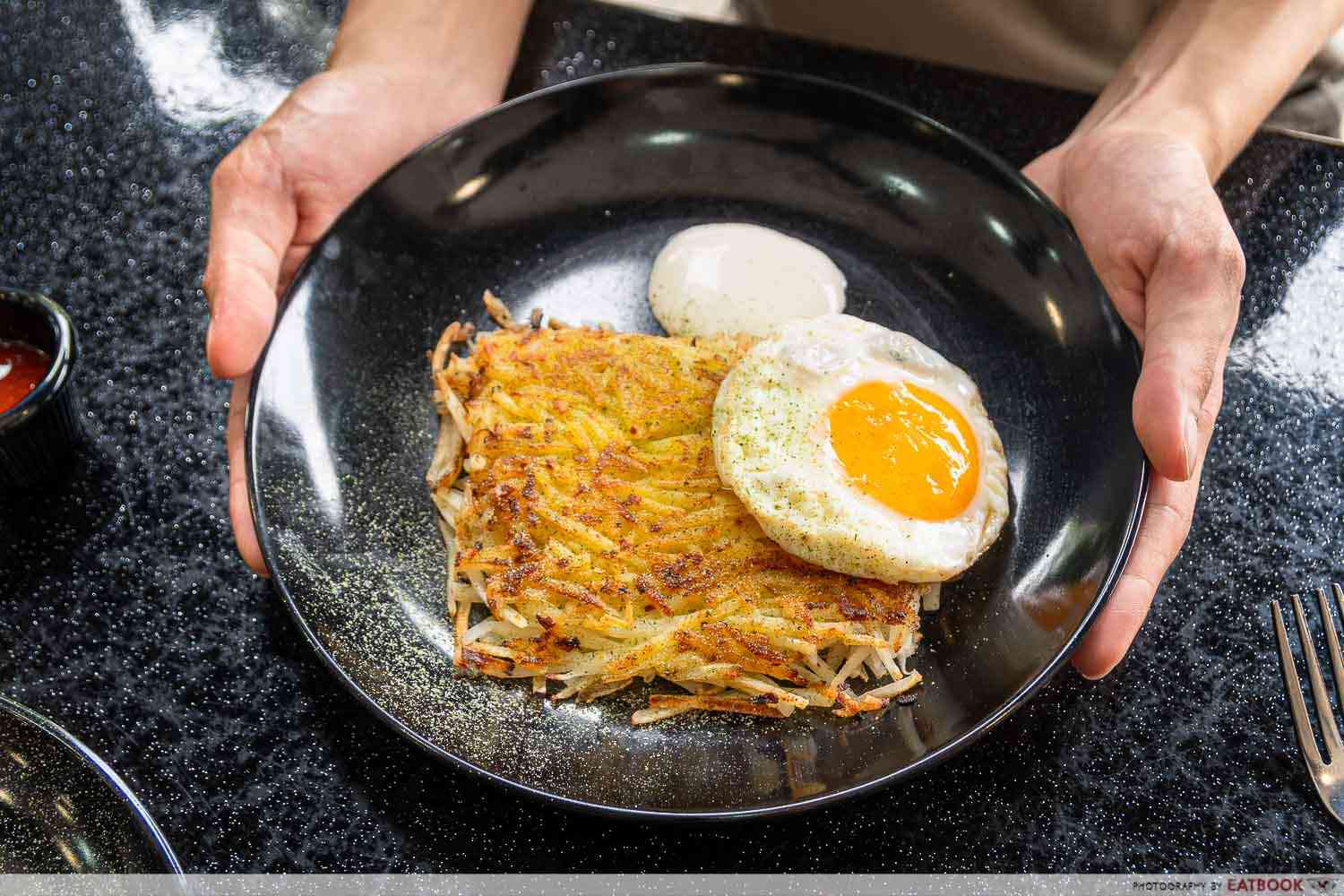 Spuds Shack offers the plain Classic Potato Rosti at a super affordable $5.50, but we were there to try quirkier flavours, the first of which was the Cajun Seaweed Rosti ($5.80). A plate of golden-brown potato pancakes arrived, dusted with seaweed and topped with a sunny side up egg. A dollop of sour cream featured on the side as well.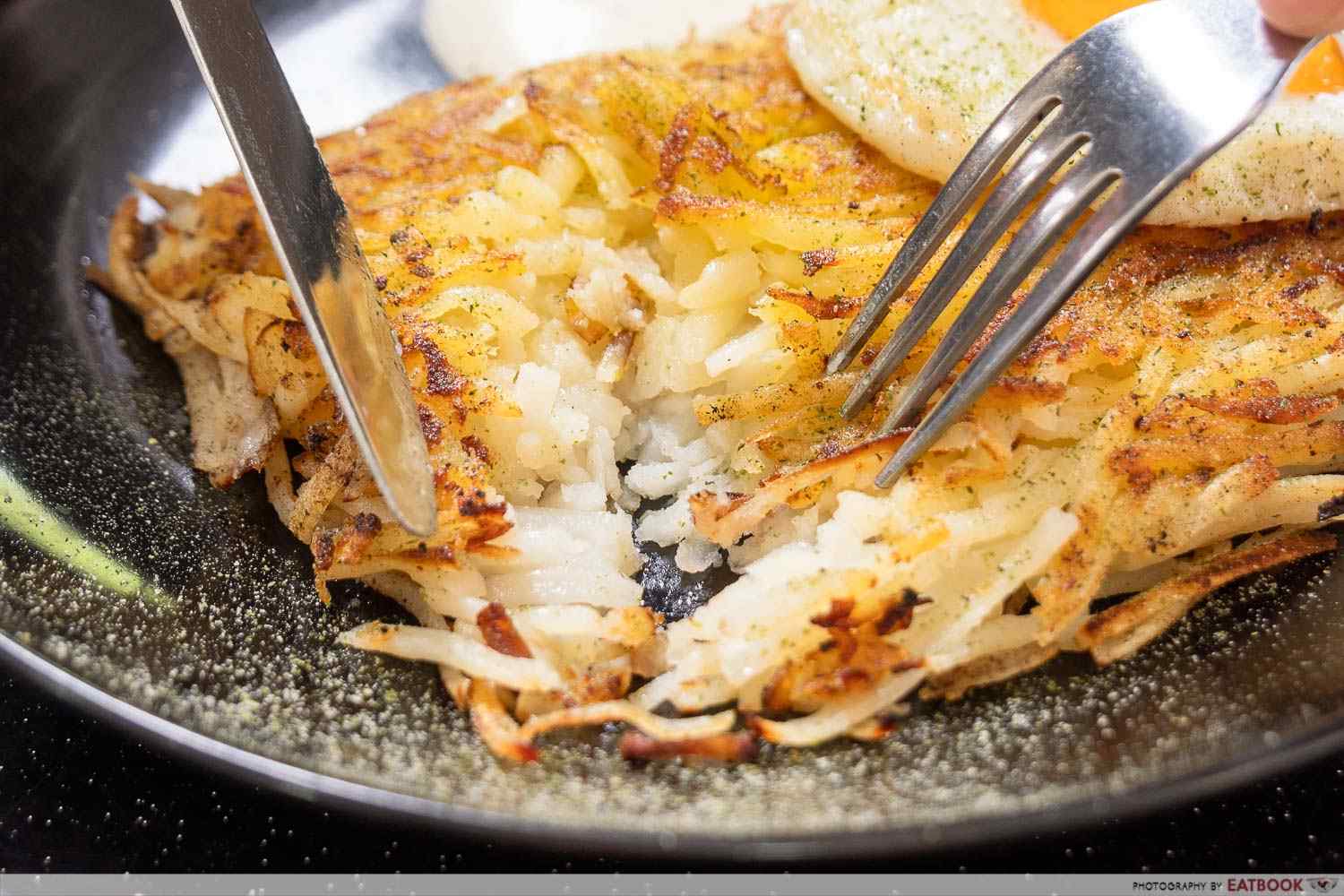 The rosti itself was commendable, especially when considering its price point. It had a light crisp on the outside and a buttery softness on the inside that, thankfully, wasn't all mushy. I did think it could have been a little crispier, but this nitpick was papered over by the irresistible aroma and taste of fried potato.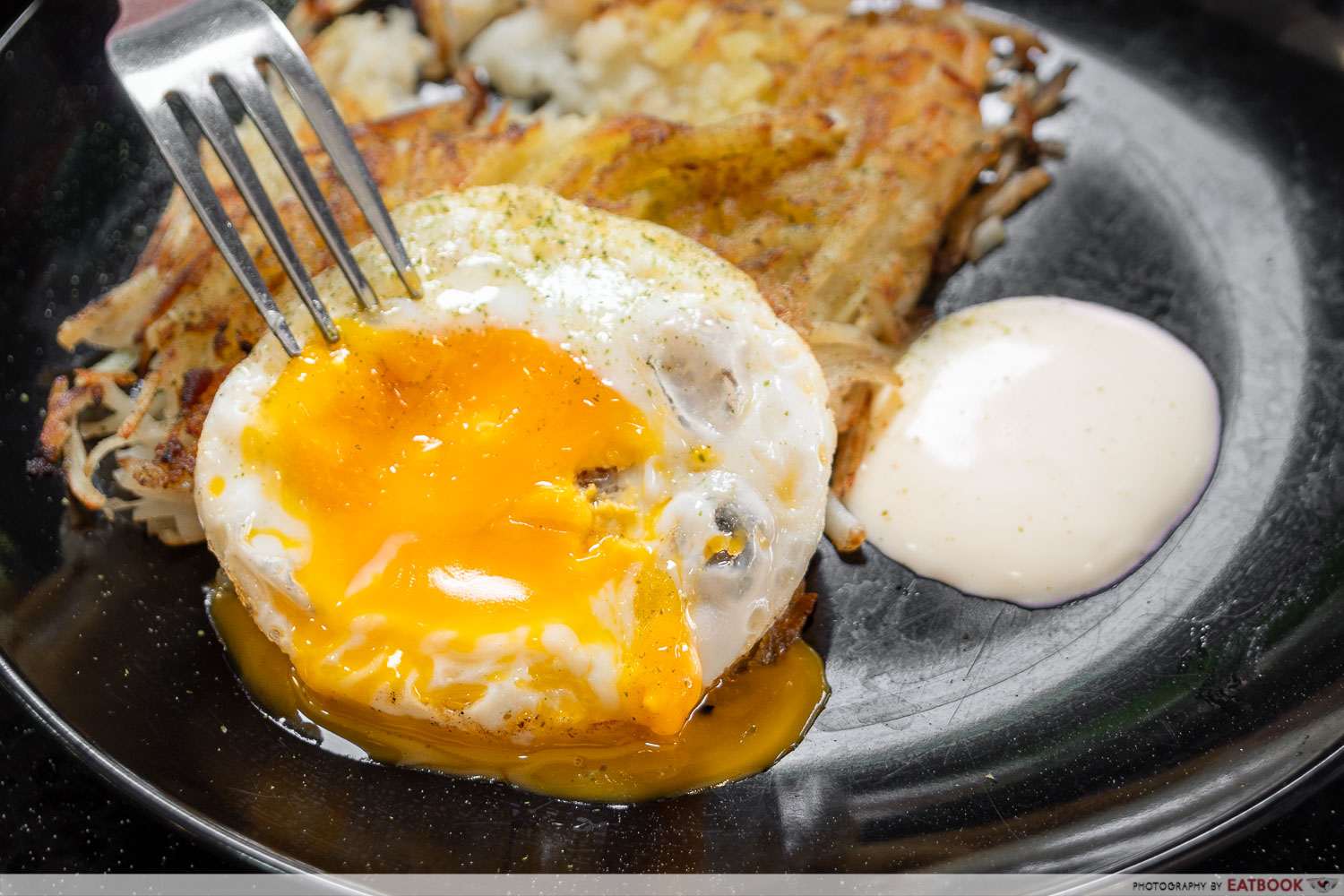 It was the powdered seaweed, however, that really gave the dish its zing. Though these savoury potato pancakes could be further enhanced by the house-made sour cream, I preferred to do without it, which was weird since I usually think rosti and sour cream go together like peanut butter and jelly. The sour cream in this dish was unfortunately cheap-tasting.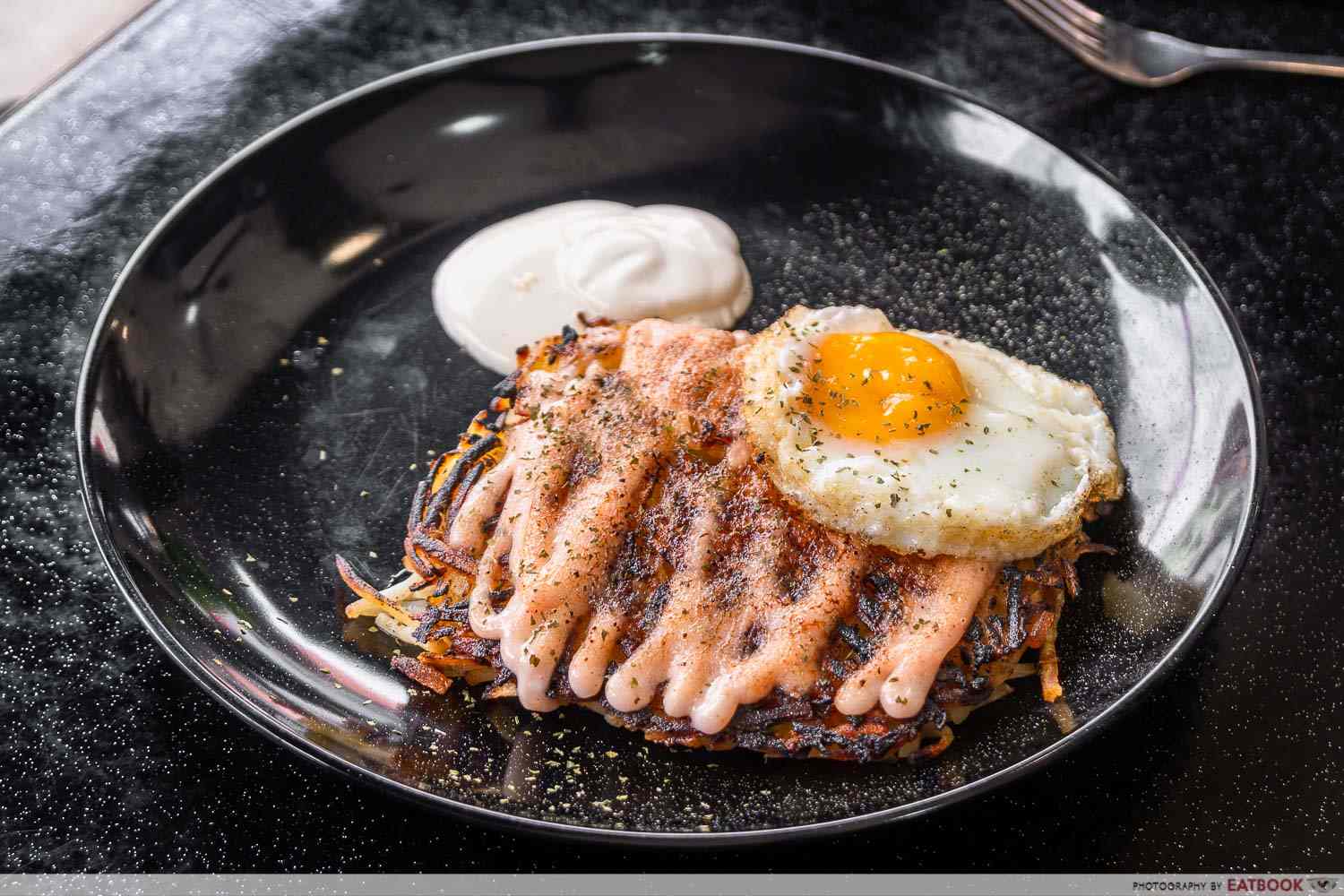 Nevertheless, I was excited to try the next dish, the Torched Mentaiko Rosti ($7.80). Everyone's favourite sauce received the blowtorch treatment, adding a smoky dimension to the creamy and tangy mentaiko.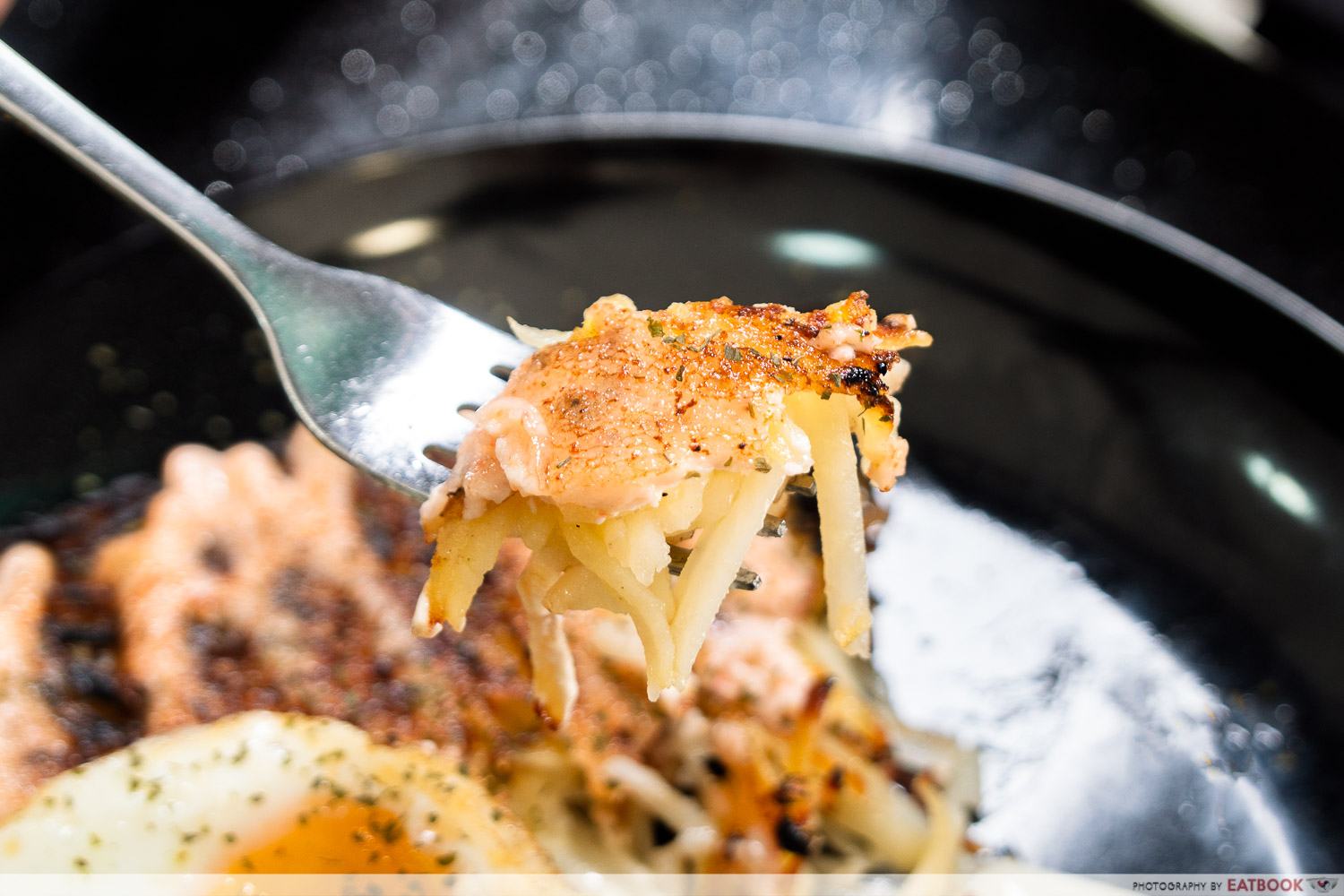 There's even more umami in this dish than the Cajun Seaweed Rosti, so those who prefer a stronger flavour profile will surely enjoy this dish. Some of the rosti's natural potato flavour got lost in the sea of piquant tastes, however, so if you're all about those spuds, perhaps the previous dish is more up your alley.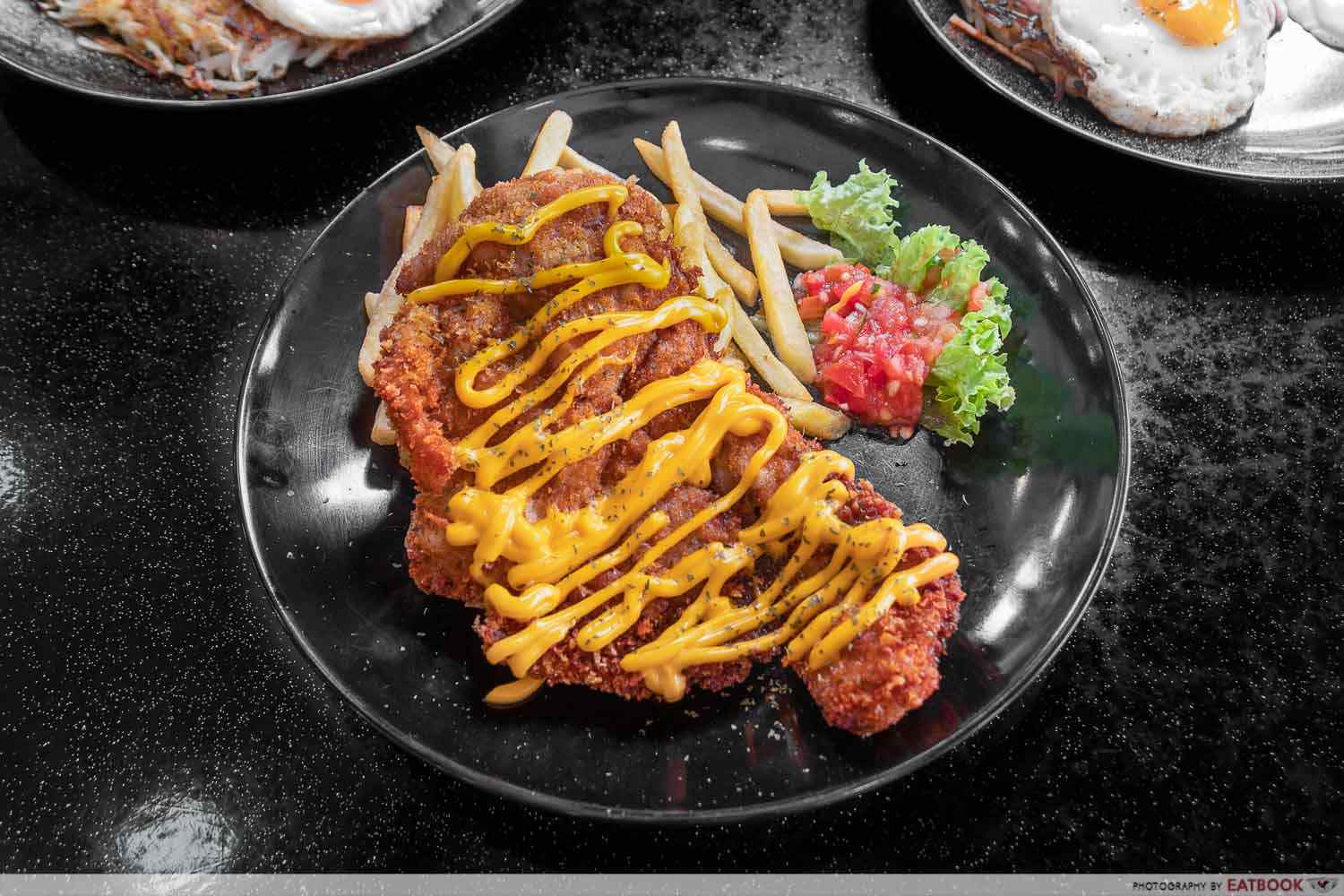 Since there's more than just rosti at Spuds Shack, we decided to make the Nacho Chicken Cutlet ($7.80) our last dish.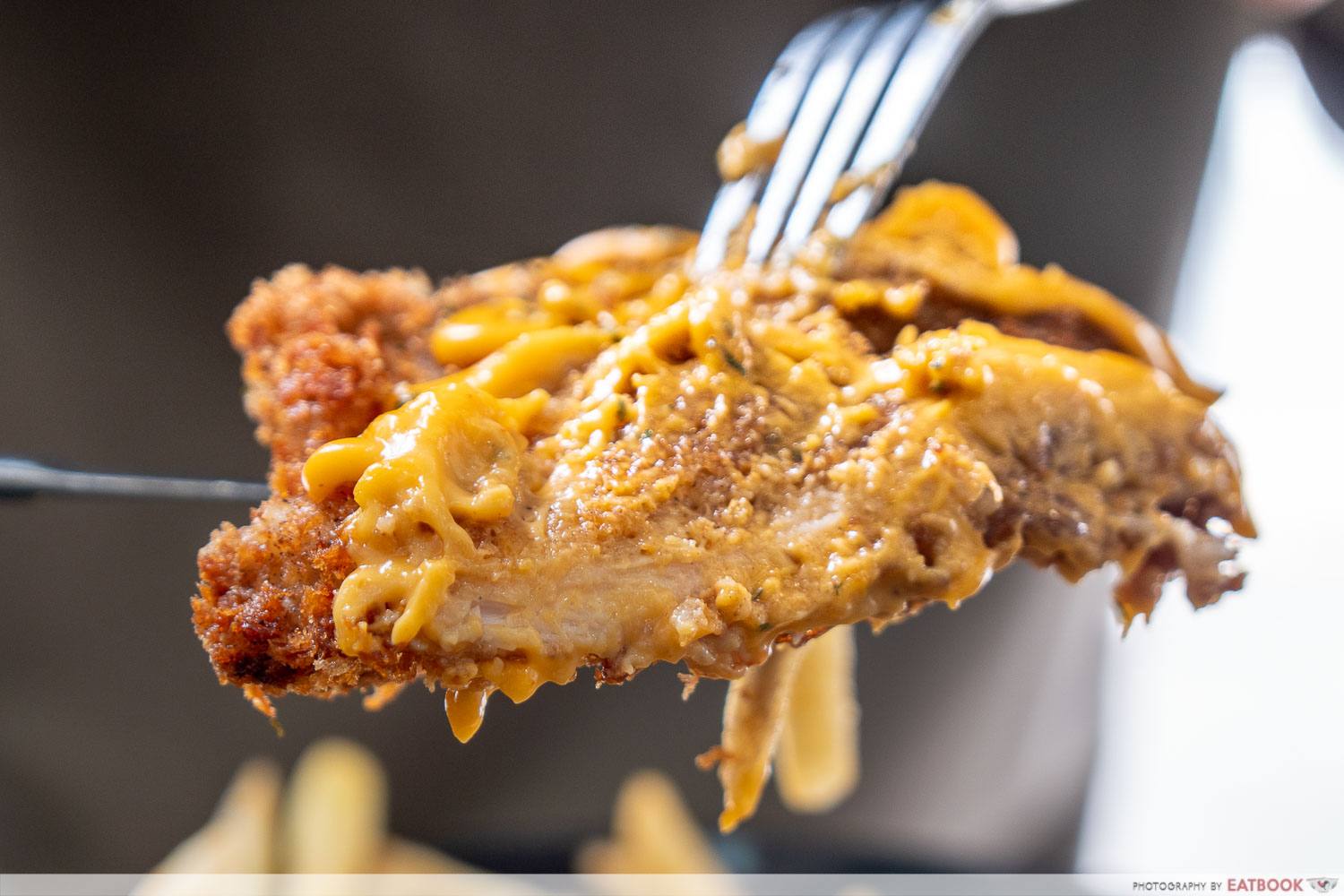 The sizable fried chicken cutlet had a really crispy batter, but we were let down by the somewhat dry meat underneath it. While the creamy cheese sauce and the side of salad and fries helped to salvage things, it didn't shake the feeling that we would've been better off just feasting on rosti. More grated potatoes, please!
Ambience at Spuds Shack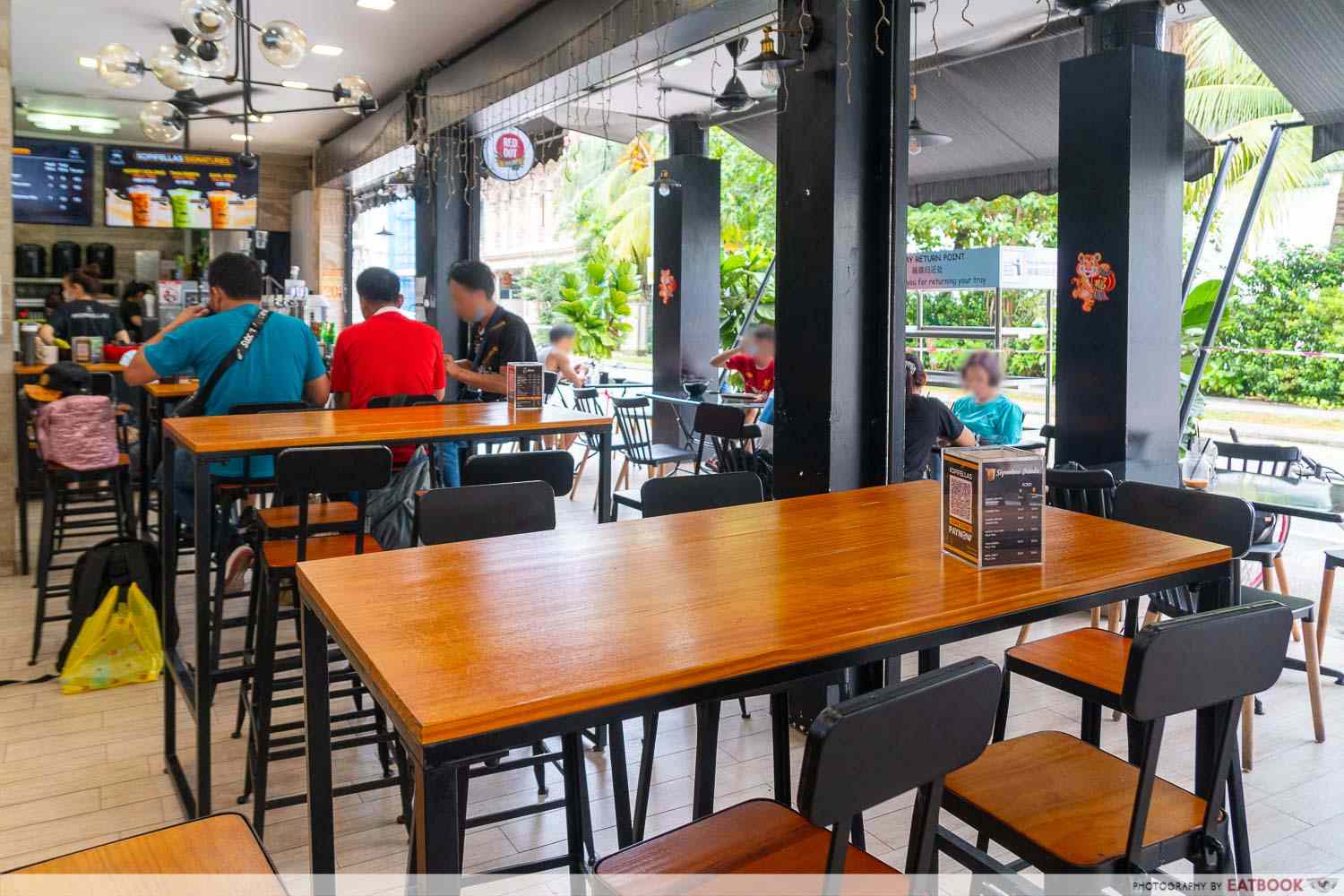 Spuds Shack is located in a modern-looking coffeeshop named FellasCube, which is a 7-minute walk from Aljunied MRT Station. While the place is quite small, the ventilation is good, and the fairy lights and lightbulbs dangling from the ceiling promises a dreamier dining experience when the sun goes down.
The verdict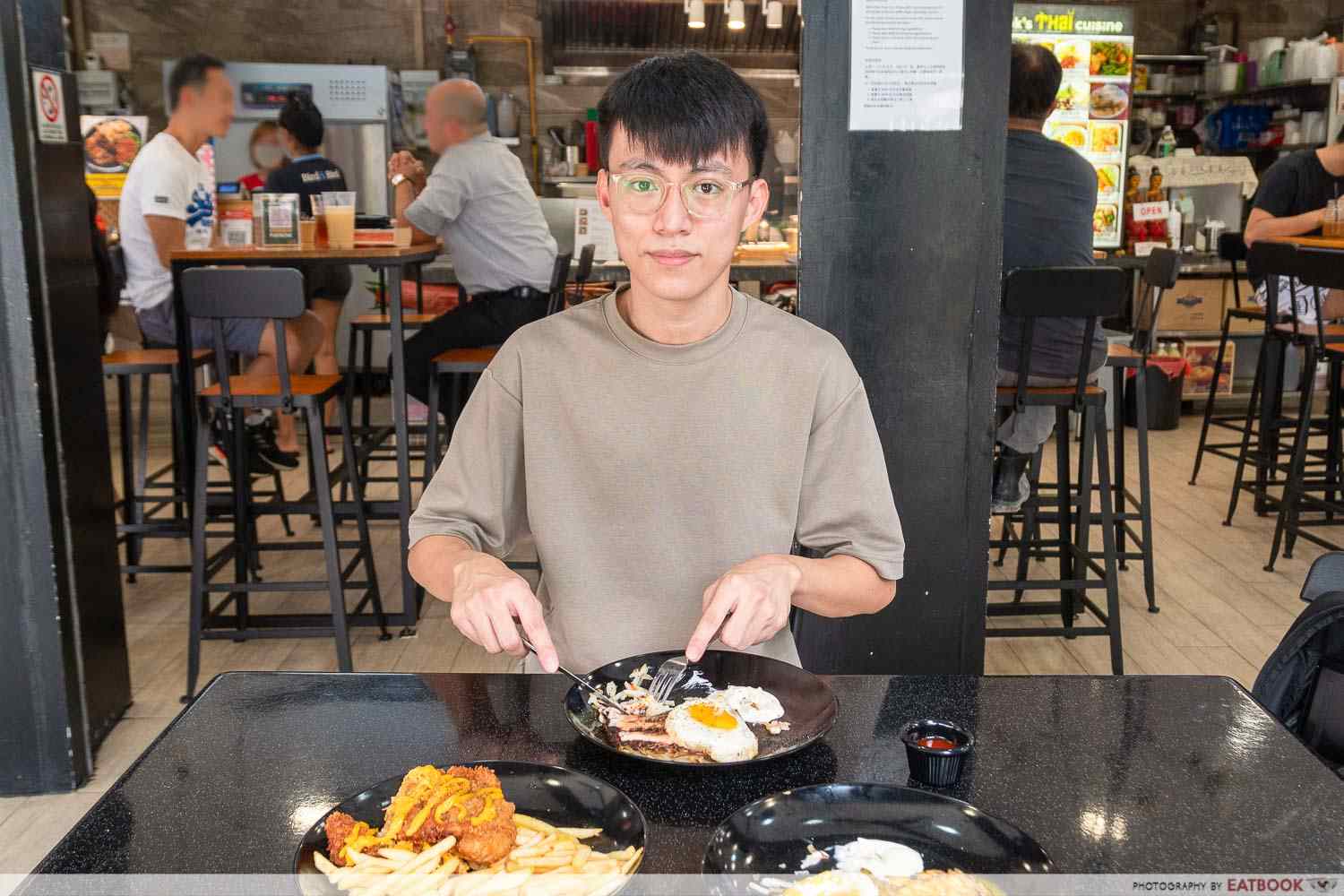 The worry with unique spins of classic dishes is that sometimes more effort is put into making the dish novel—rather than focusing on what made it good in the first place. Spuds Shack proved they haven't lost sight of that by making rosti that, while not perfect, captures the strengths of the dish. And when taking into account the variety of flavours and affordable prices, there's enough to make the stall worth your visit.
If you're looking for more affordable rosti, check out our BurGrill Western Food review. For Western fare that comes in huge portions, read our Wow Wow West review. 
Address: 440 Geylang Road, FellasCube, Singapore 389400
Opening hours: Fri-Wed 11am to 10pm
Spuds Shack is not a halal-certified eatery.
BurGrill Western Food Review: Rosti Sets With Delicious Scrambled Eggs From $7 By Ex-Banker In Chinatown
Photos taken by Tanya Tham.
This was an independent review by Eatbook.sg.
Spuds Shack Review: Rosti With Cajun Seaweed, Torched Mentaiko Flavour From $5.50 At Geylang
Spuds Shack Review: Rosti With Cajun Seaweed, Torched Mentaiko Flavour From $5.50 At Geylang -

7.5/10
Summary
Pros 
– Rosti is done well for its price
– Cajun seaweed and mentaiko flavours enhanced the rosti
Cons
– Nacho Chicken Cutlet was mediocre
Recommended dishes: Cajun Seaweed Rosti ($5.80), Torched Mentaiko Rosti ($7.80)
Opening hours: Fri-Wed 11am to 10pm
Address: 440 Geylang Road, FellasCube, Singapore 389400