Five Dragons at Rochor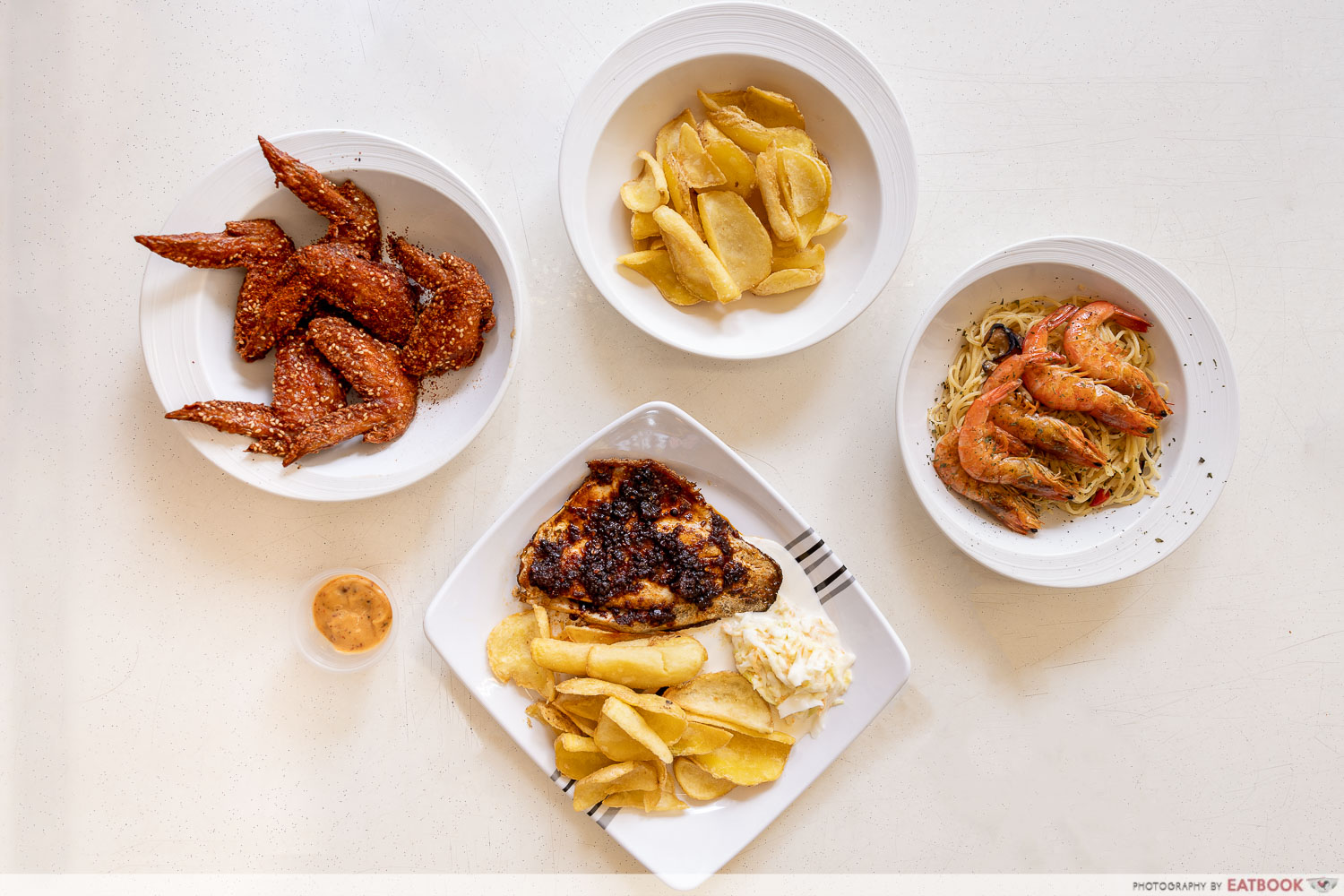 I have never been one to jump on the mala bandwagon, or be tempted by dishes such as mala spaghetti, mala dumplings, and mala bak chor mee. I found these creations too contrived, and have always preferred to stick to the normal mala xiang guo. Thus, when I visited Five Dragons Western And Grill and found out about their array of mala-flavoured sides and mains, I was slightly hesitant.
Food at Five Dragons Western And Grill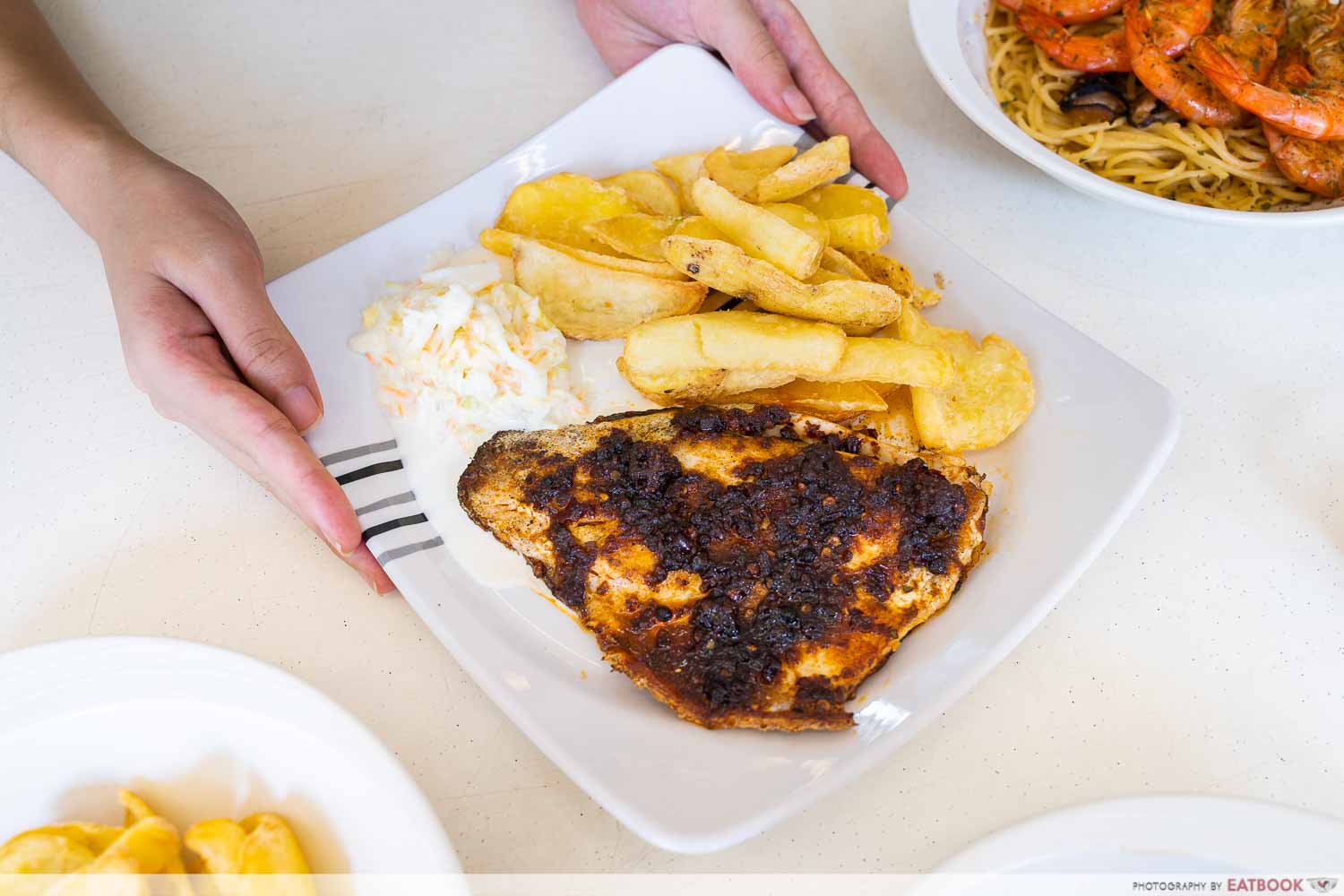 The only protein that you can get with the mala sauce at Five Dragons Western And Grill is Grilled Seabass. You can choose to enjoy it with a serving of rice or a side of fries━either sets you back by $8.50.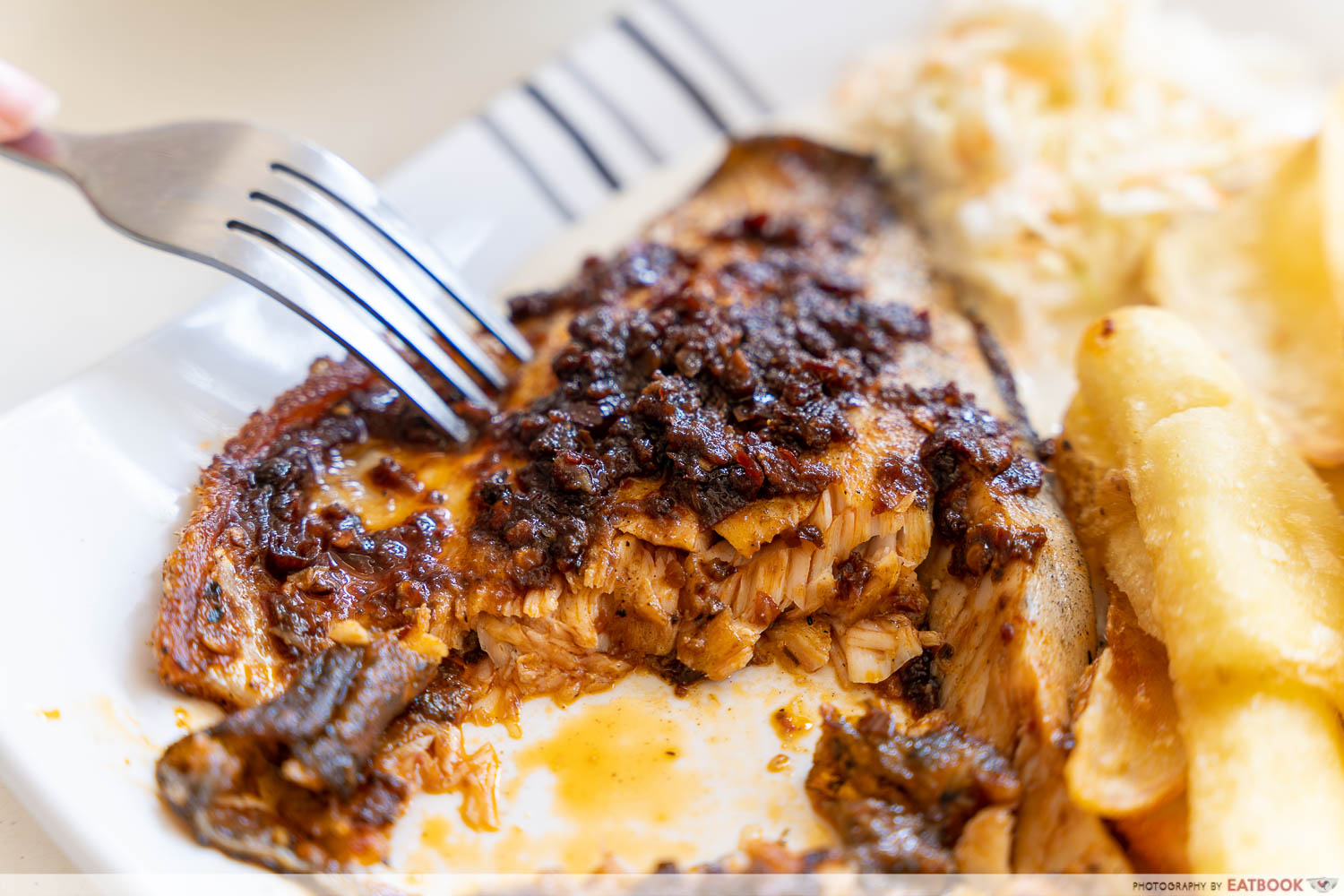 Besides being super soft and flaky, the clean, mild-tasting sea bass also carried the punchy mala sauce well. It seeped into the fish as I cut into it, infusing each bite with its savoury spiciness. 
With that being said, this sauce was definitely the spiciest and most numbing of all the mala dishes that my colleague and I have ever tried, so spice-intolerant folks be warned.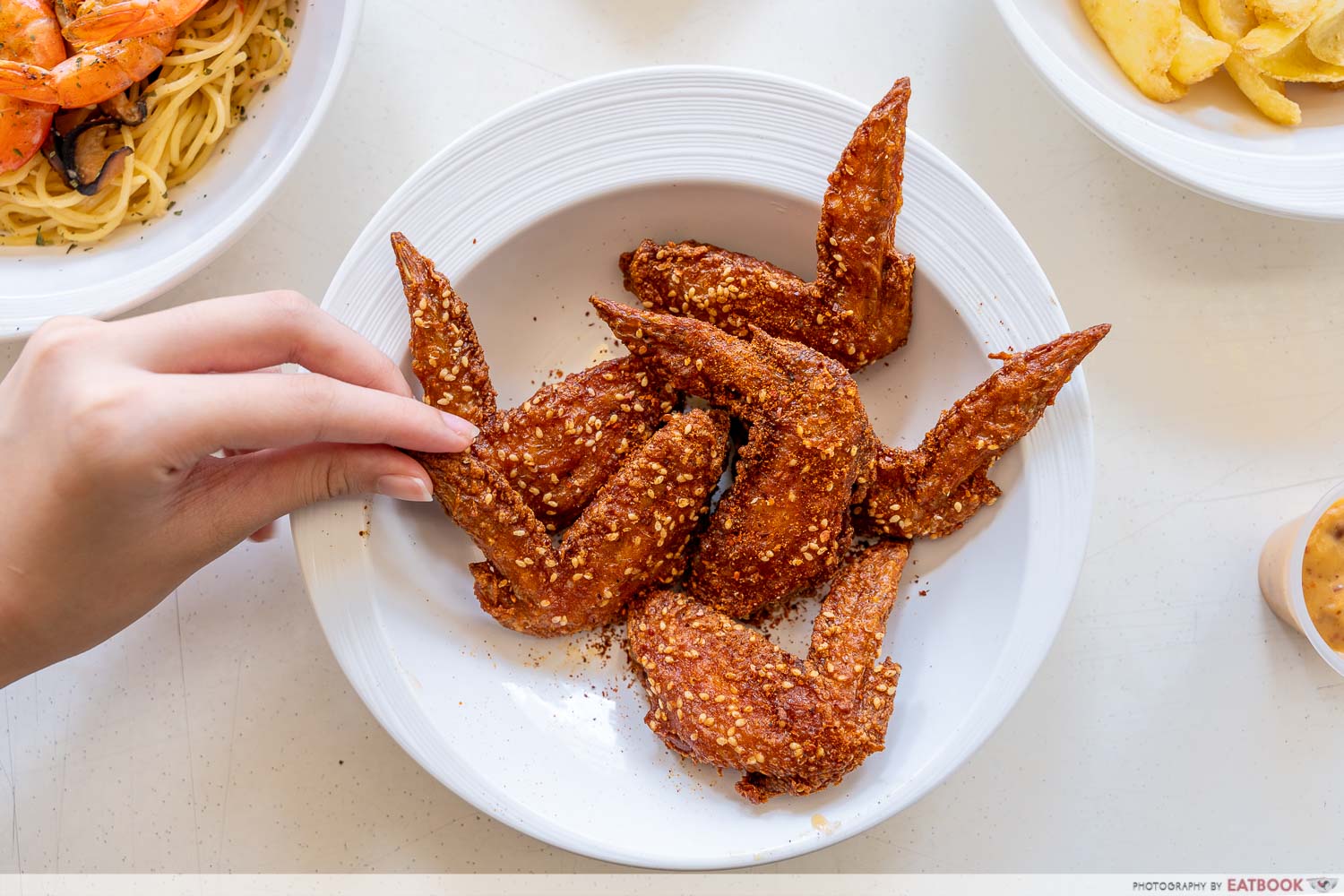 Five Dragons Western And Grill's Mala Wings ($7) get their numbing kick of heat from a mala-flavoured seasoning that is dashed on top of the deep-fried wings.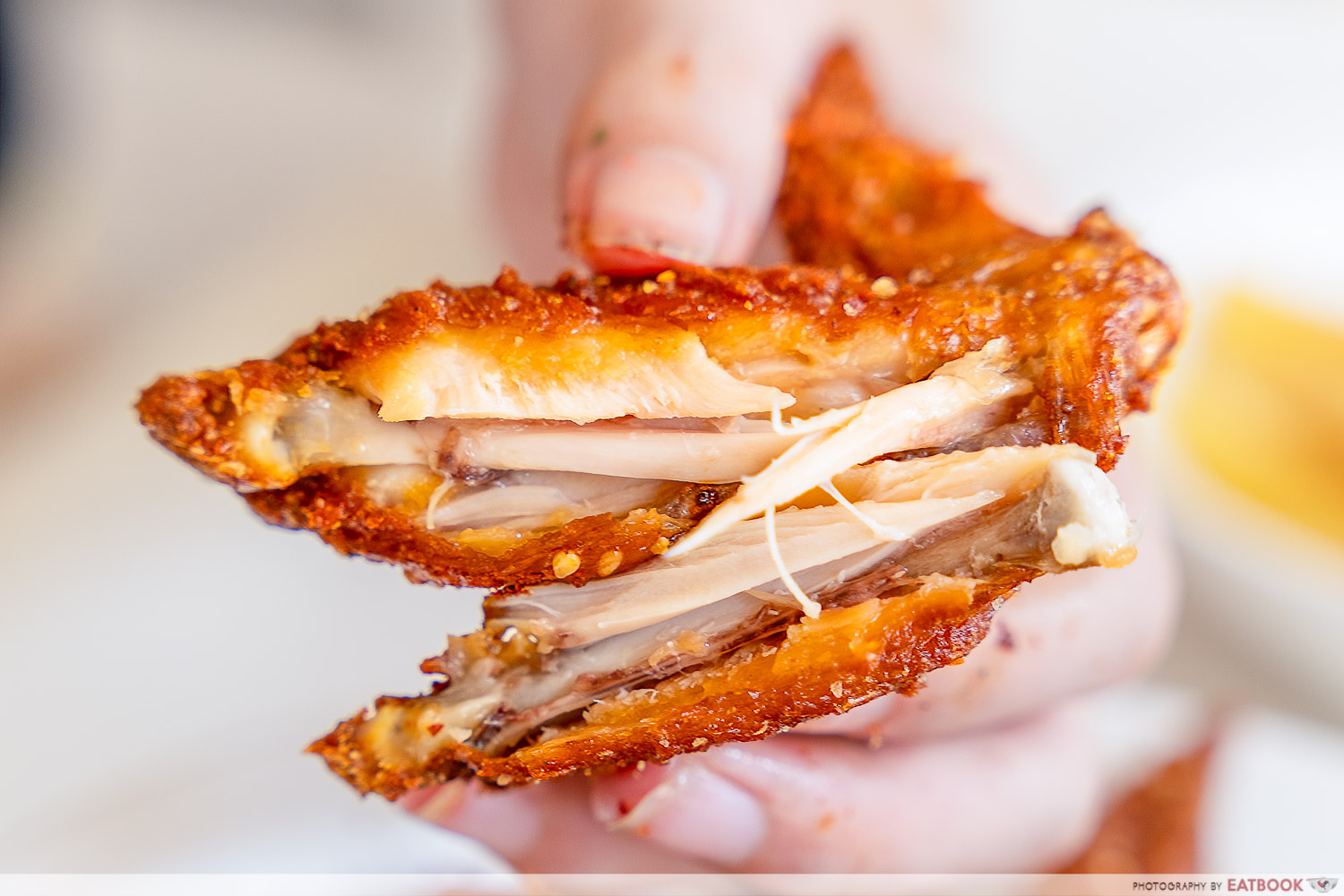 Most of the spice is confined to the ultra-crispy, amber-tinted skin, while the juicy, succulent chicken offered respite whenever the spice became too much for me to handle.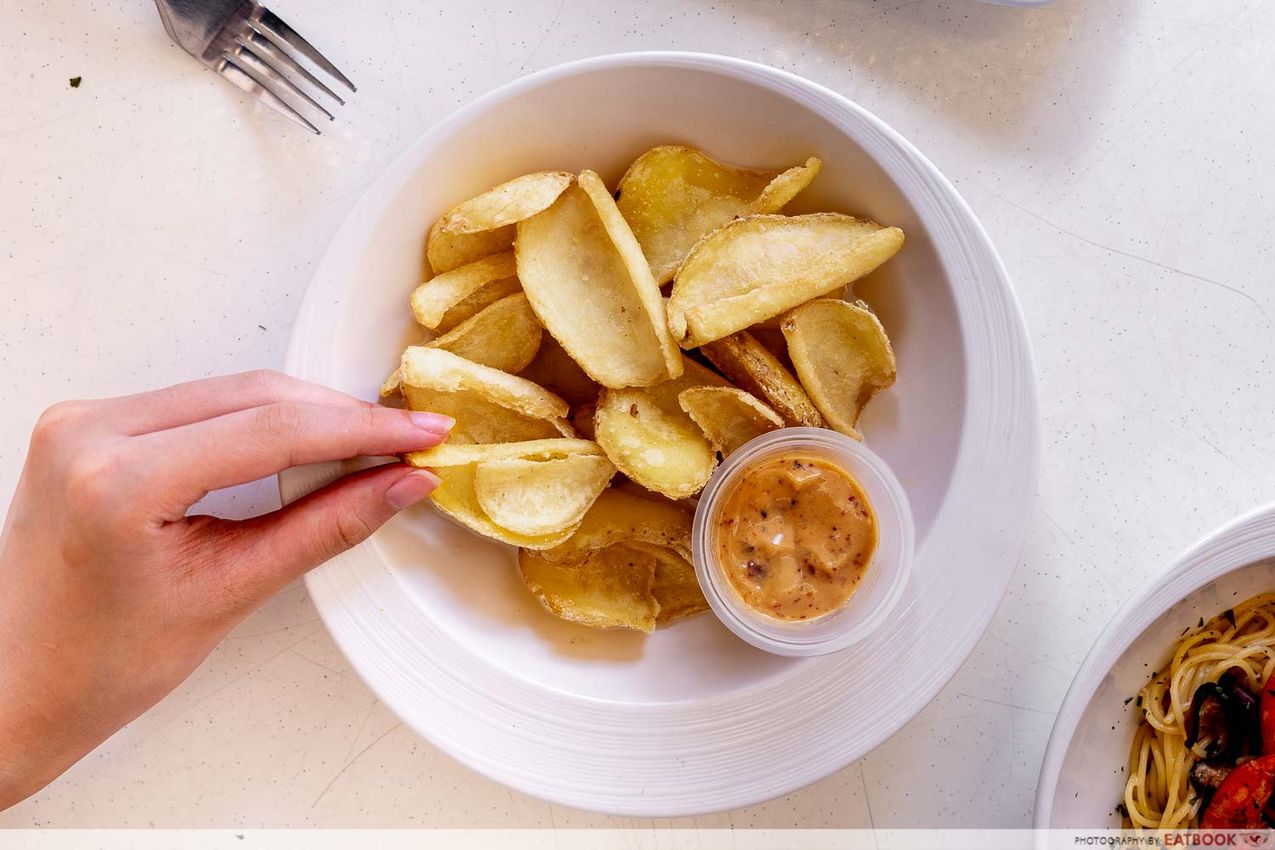 The last mala-themed item left on the menu was the Potato Dippers with Mala Mayo ($4.50), a comparatively milder mala dish.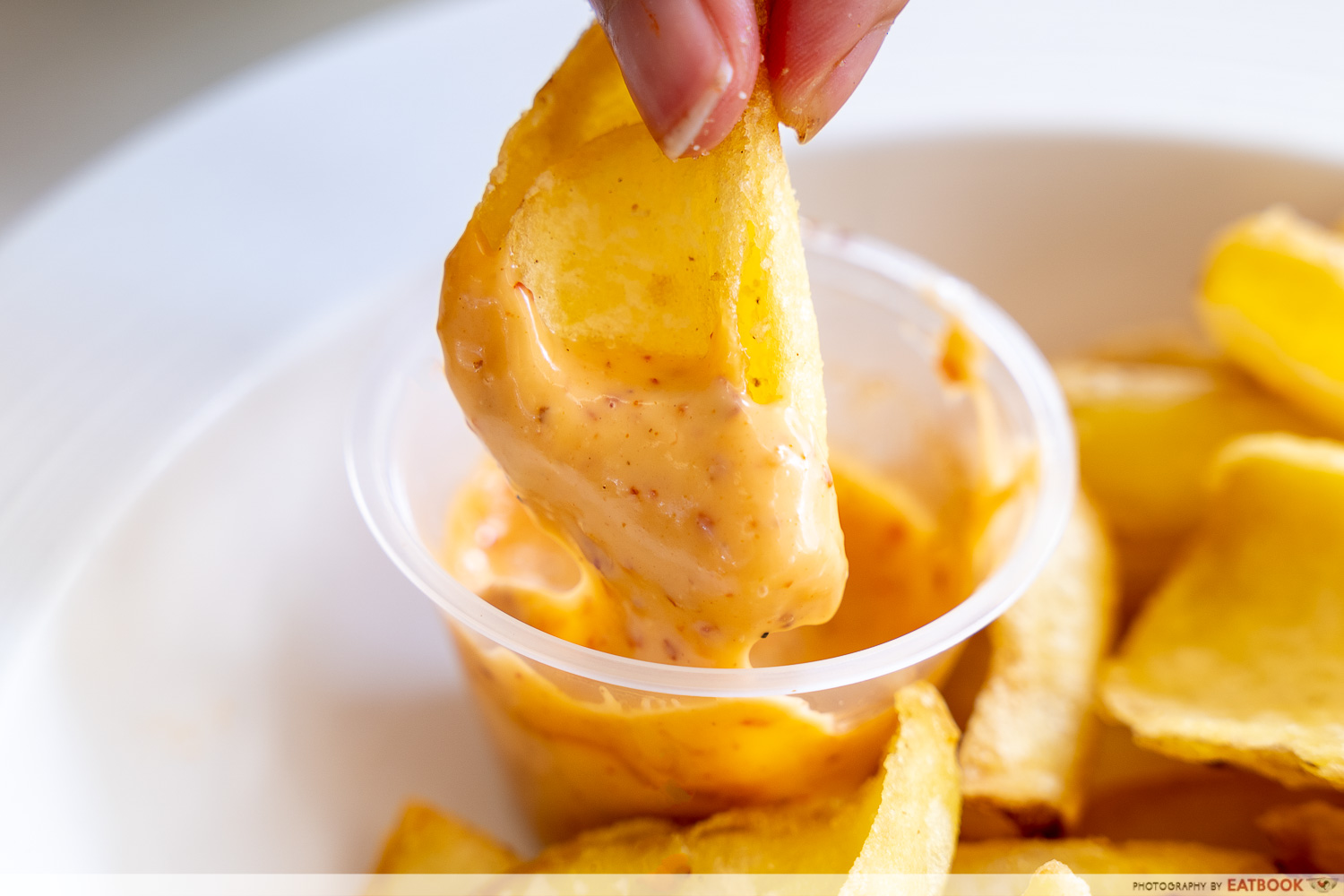 The taste of the mayonnaise greets you first with a savoury tang, and neutralises what would've been a spicy kick. 
Though the potato dippers aren't made in-house, I can't quibble with the price I'm paying at a coffee shop.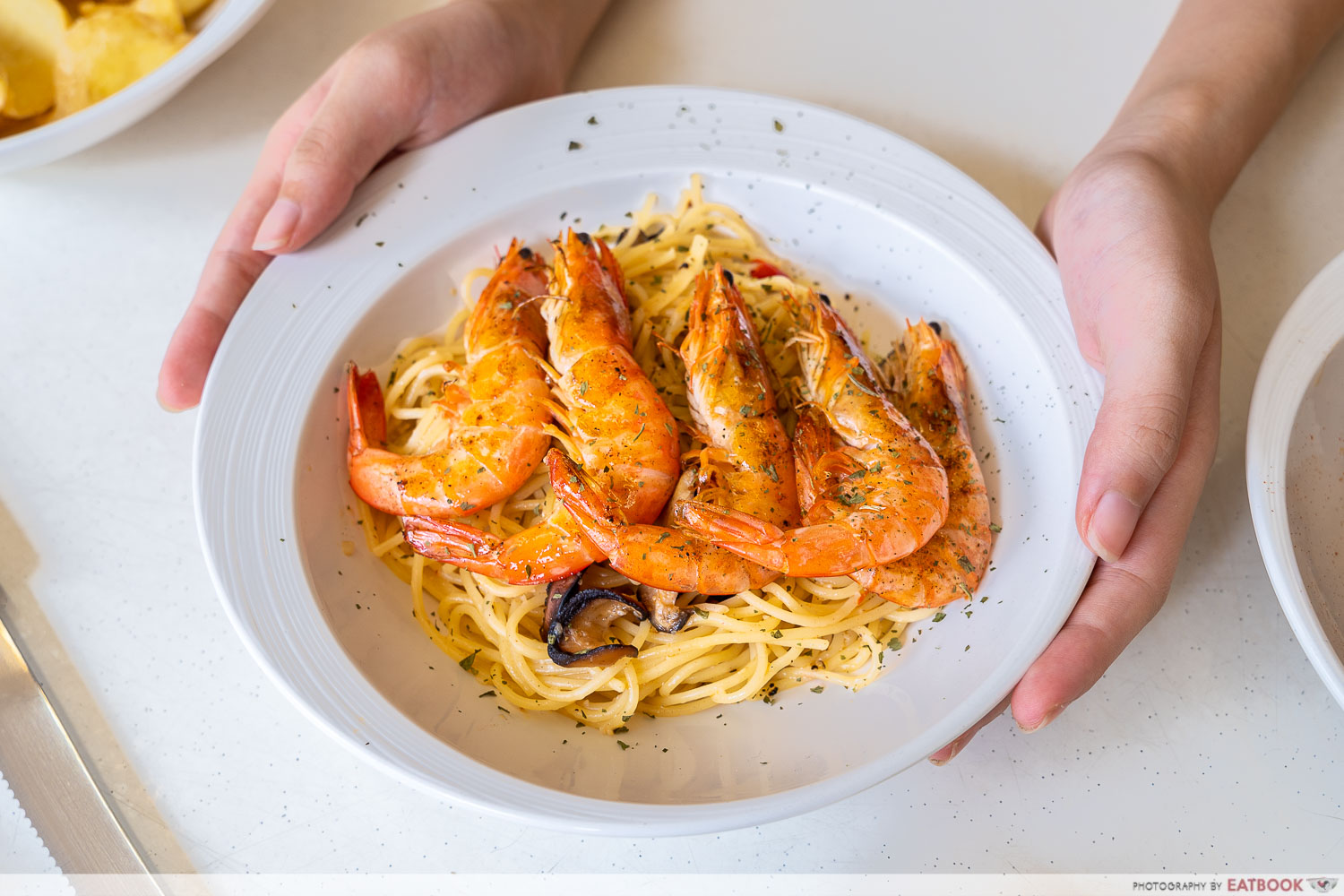 Five Dragons Western And Grill's selection of pasta is the only part of the menu that is untouched by the mala craze, so we finished off our meal with a simple Prawn Aglio Olio ($7.50) to give our tastebuds a break.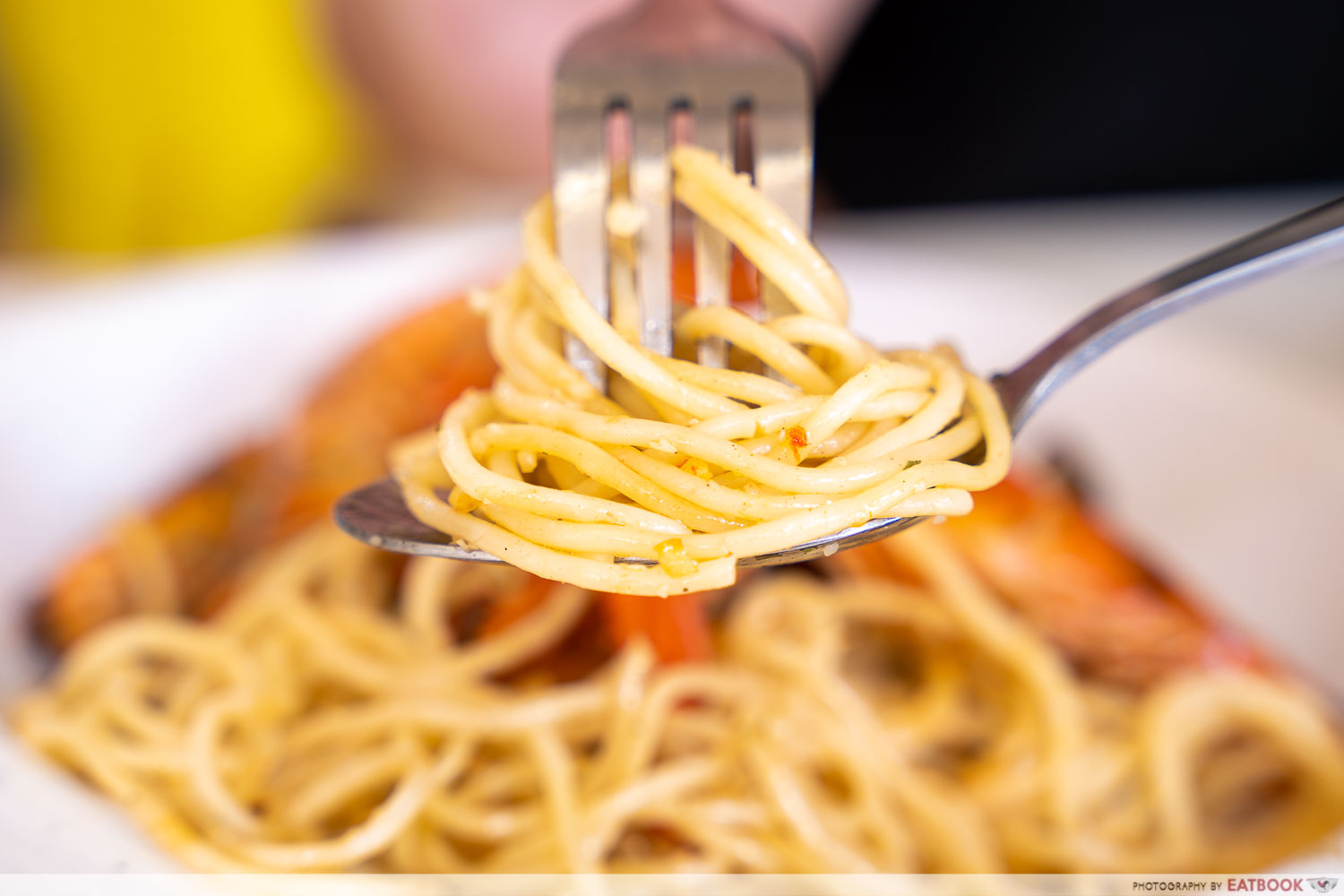 Though nothing particularly outstanding, this was still a pretty satisfactory plate of aglio olio. Seasoned with garlic, black pepper, parsley, and a hint of chilli flakes, this dish did not fall short of being flavourful.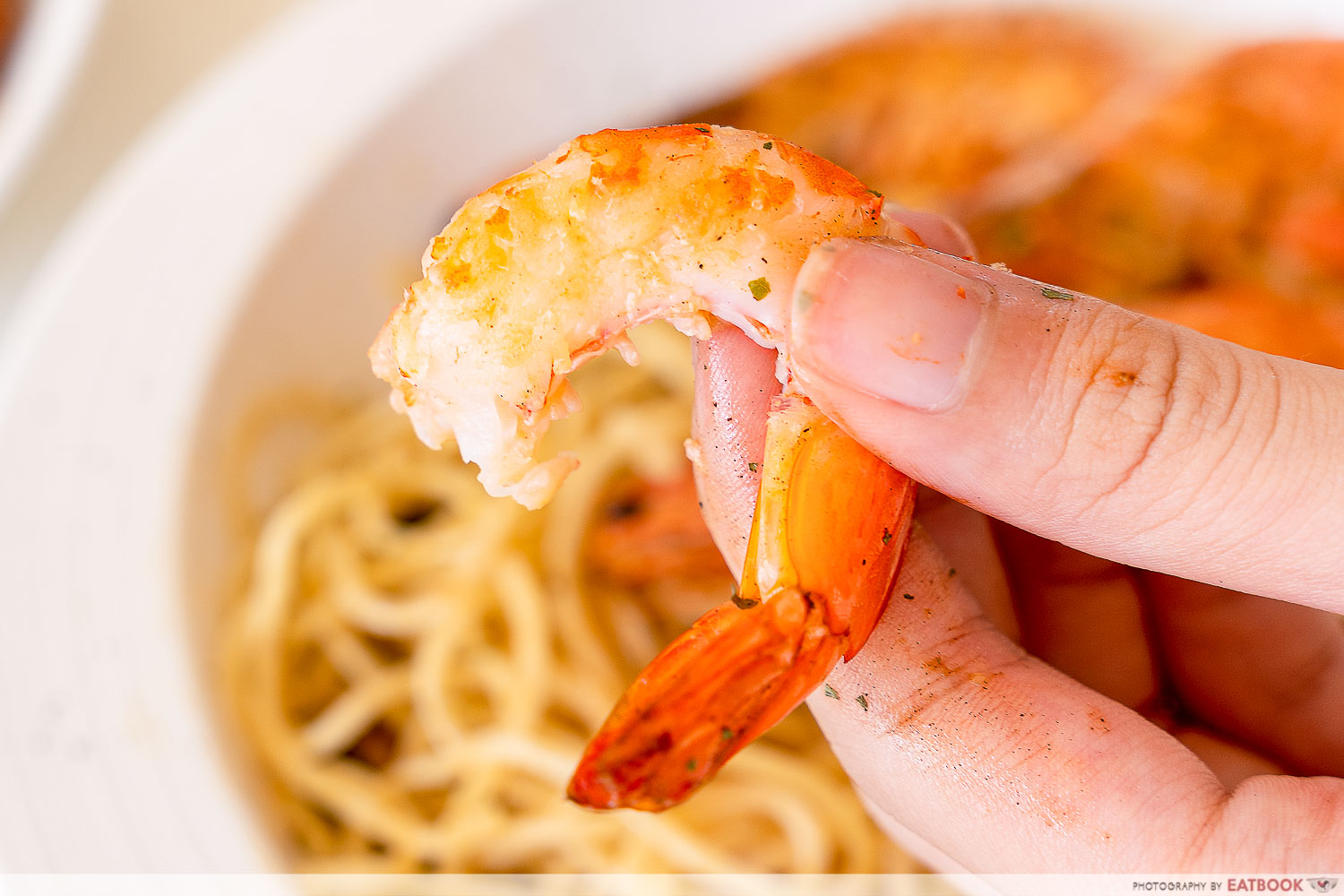 With five relatively large prawns served with the pasta, it was also value-for-money. Not to mention, they were firm and easy to peel too—another plus point for Five Dragons. 
Ambience at Five Dragons Western And Grill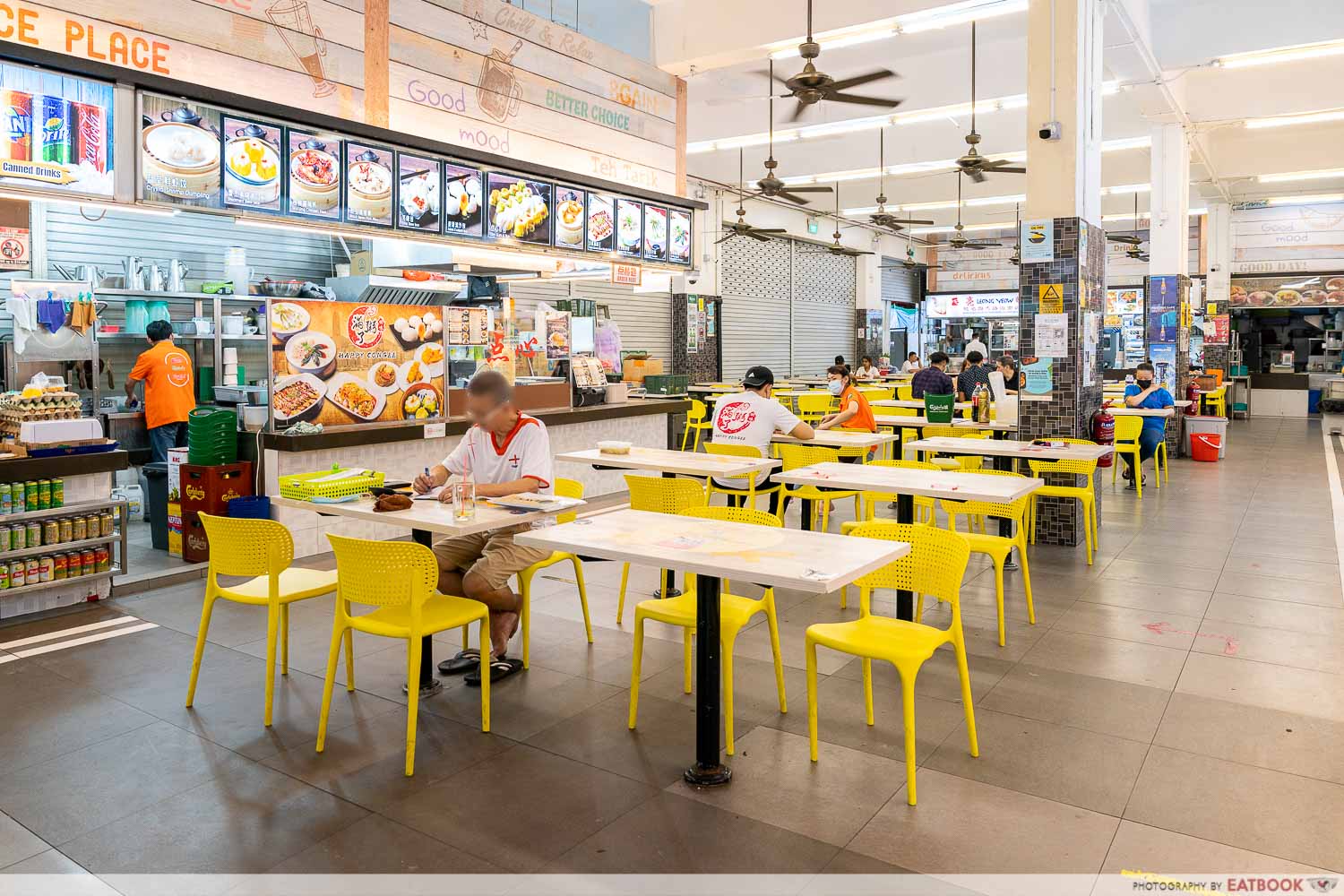 Waterloo Centre is a three to four-minute walk from Bencoolen and Bras Basah MRT Stations. Sitting on its ground level is the coffee shop in which you can find Five Dragons Western And Grill, which boasts a relatively clean and well-ventilated space. 
The verdict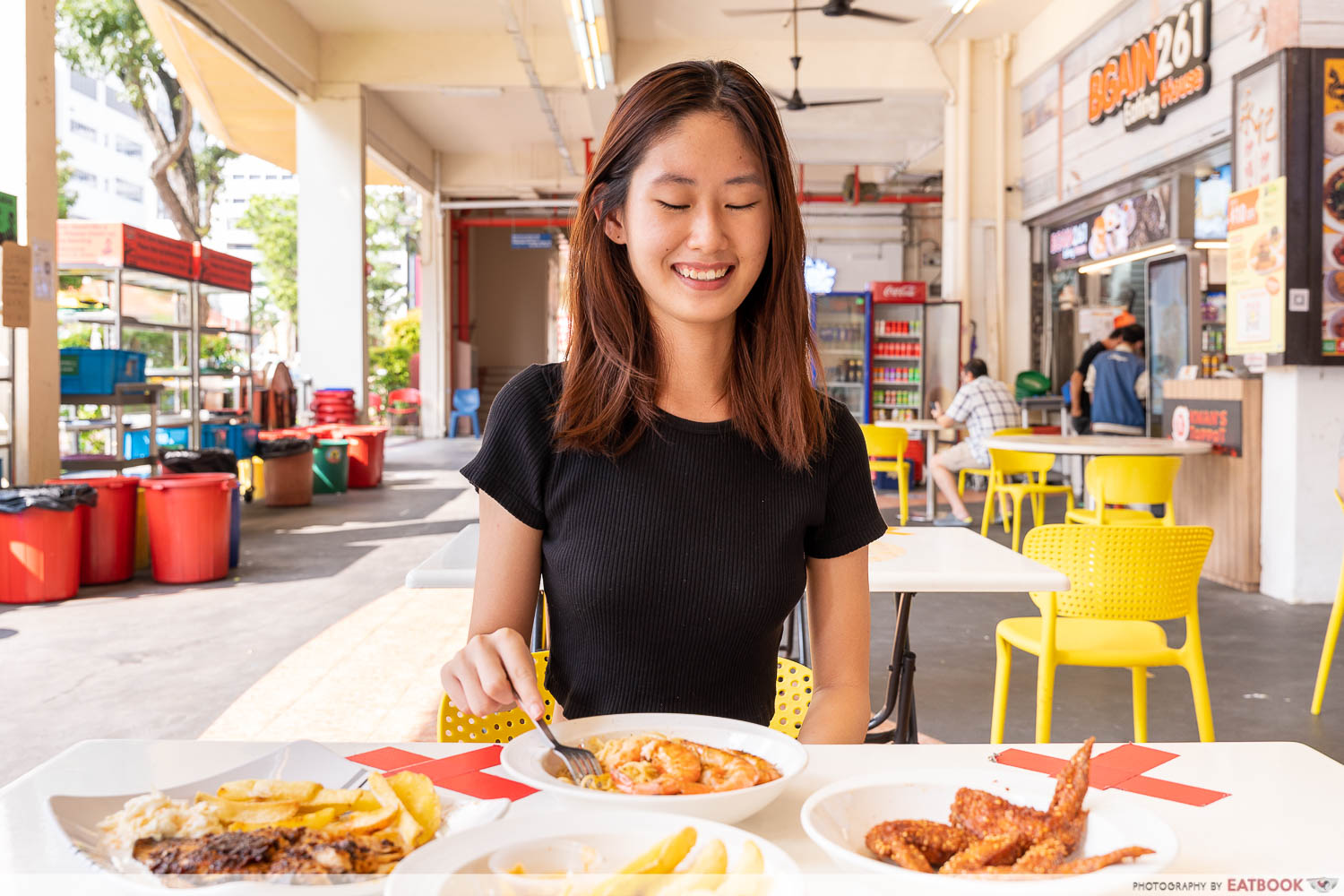 All things considered, if you're looking for a hawker stall with Western food you typically won't find anywhere else, Five Dragons Western And Grill is the place for you. Almost everything on the menu sits comfortably below $10, and there isn't anything that we ordered that I wouldn't have again━even with my aversion to mala-flavoured creations. 
If you're looking for more Western food at hawker centres, check out our No.1 Western Food review for chicken cutlet and beef steak under $10, and our Western Barbecue review which is known for their famous garlic sauce. 
Address: 261 Waterloo Street, #01-29, Waterloo Centre, Singapore 180261
Opening hours: Daily 11am to 8pm
Tel: 8118 1558
Website
Five Dragons is not a halal-certified eatery.
No.1 Western Food Review: Old-School Western Food Store Has Chicken Cutlet, Beef Steak And More, All Under $10
Photos taken by Tanya Tham.
This is an independent review by Eatbook.sg.
Five Dragons Review: Mala Chicken Wings, Mala Mayo Fries And More At Western Hawker Stall Near Bugis
Five Dragons Review: Mala Chicken Wings, Mala Mayo Fries And More At Western Hawker Stall Near Bugis -

7.5/10
Summary
Pros
– Convenient location
– Unique items
– Mala Wings were crispy and flavourful 
Cons
– Prawn Aglio Olio was average 
Recommended dishes: Mala Wings ($7), Potato Dippers with Mala Mayo ($4.50)
Opening hours: Daily 11am to 8pm 
Address: 261 Waterloo Street, #01-29, Waterloo Centre, Singapore 180261