Shiok Shiok Noodles has mala bak chor mee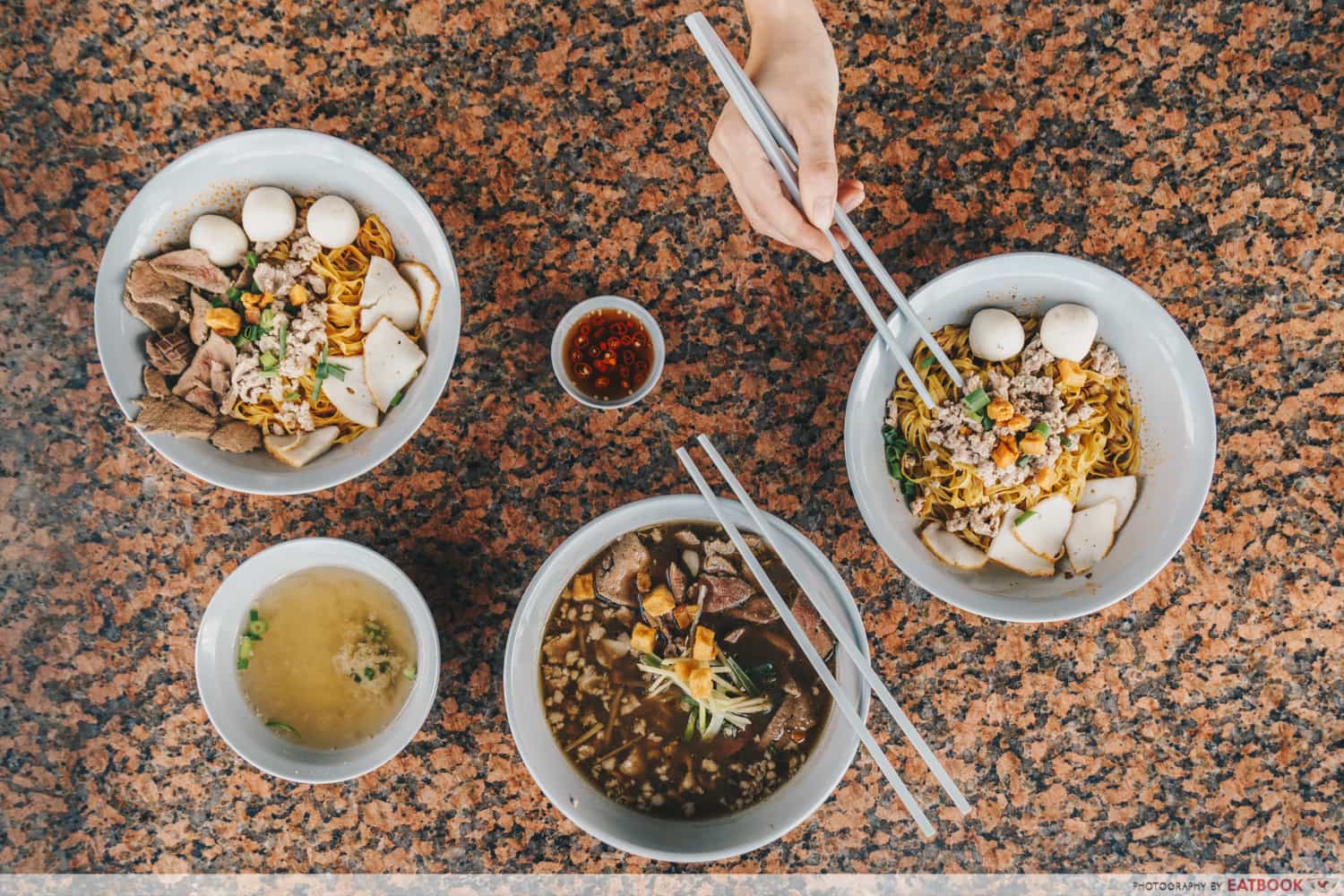 Mala has found its way into the hearts of chilli-loving Singaporeans with its tongue-numbing and spice-infused flavour. This explains the tornado of mala creations, ranging from mala snacks to fusion dishes such as the mala unagi pasta at Fatbowls. Shiok Shiok Noodles has just joined the field, serving the first-ever mala bak chor mee in Singapore. 
9 Ma La Snacks You Can Now Get In Singapore If Zhong La Has No Kick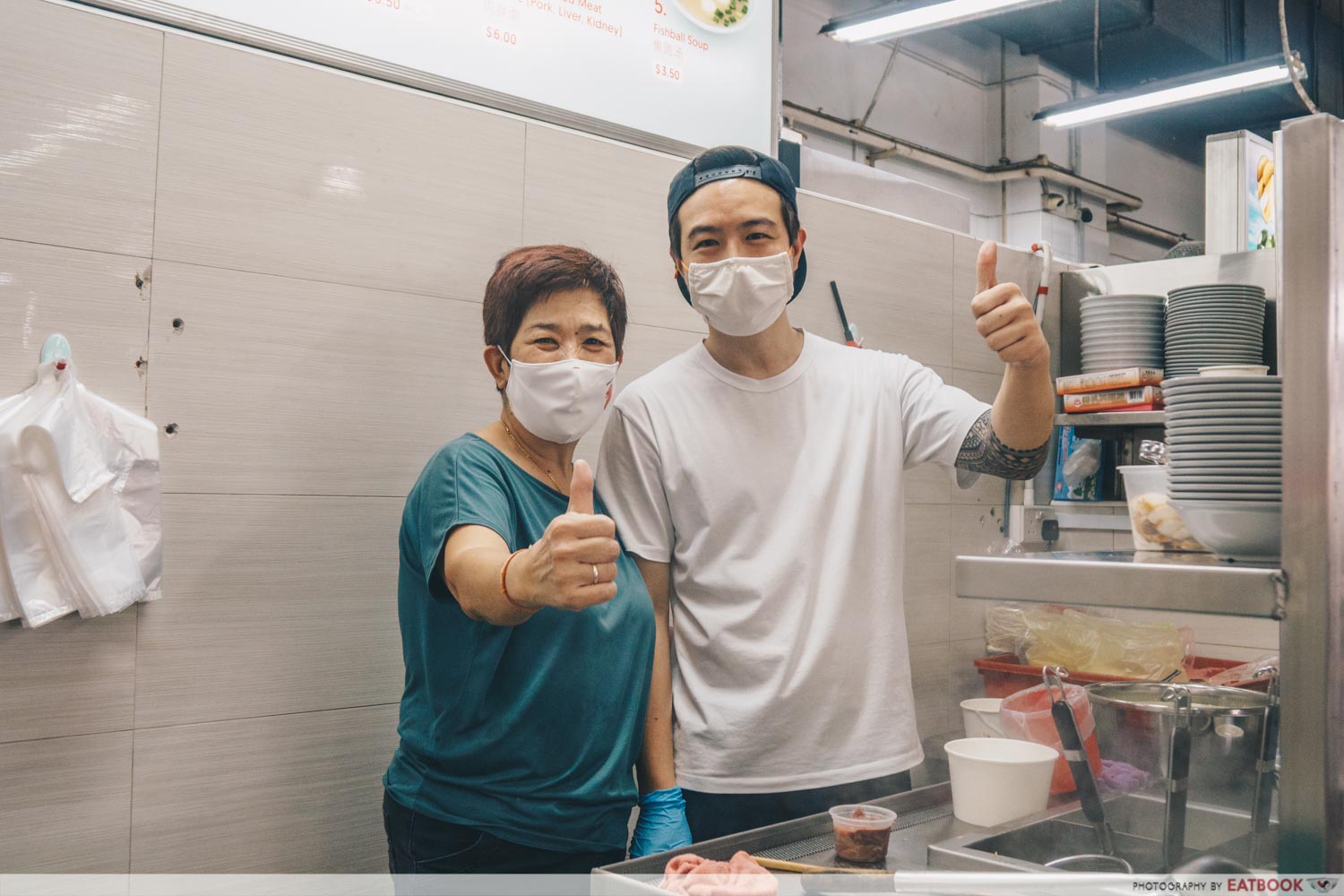 Young hawker Kelvin Tan dedicated three months to mastering the making of bak chor mee from experts, before opening Shiok Shiok Noodles in mid-September. 
''It's his passion,'' his mother exclaimed, gazing at him proudly when asked why he chose to own a minced meat noodle stall. Apart from the mala bak chor mee, which is his own creation, he also offers noodle dishes with mixed pork offal.  
Food at Shiok Shiok Noodles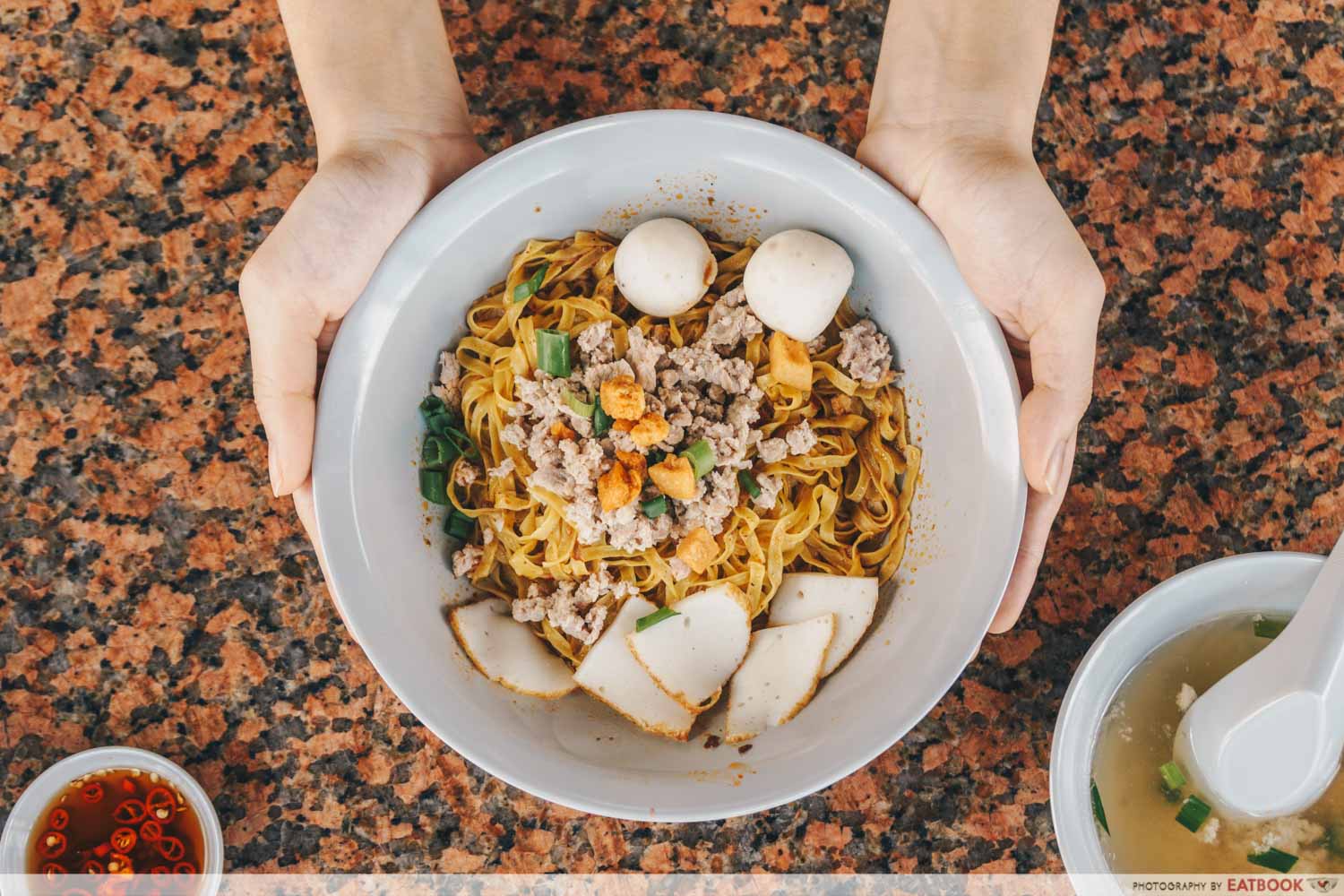 The Spicy Mala Minced Meat Noodle ($4.50) is essentially your typical bowl of fishball noodles, but with mala sauce-coated mee pok.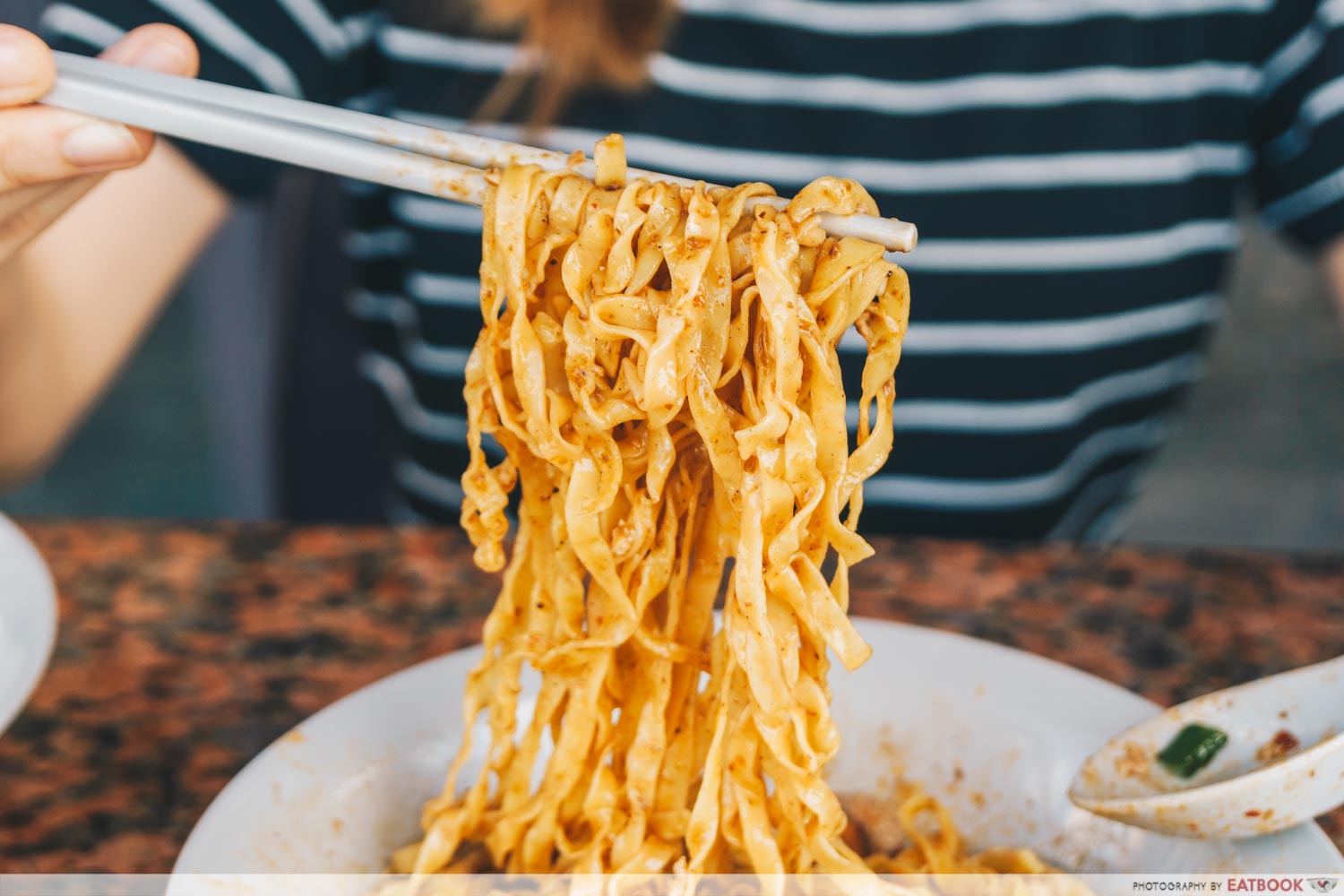 The noodles were al dente, flavoured with a fragrant mala sauce that was considerably lighter compared to the usual mala xiang guo. The spice level was somewhere between xiao la to zhong la, making it suitable for people with a low spice tolerance. As with all mala dishes, I would've preferred it to be saucier for a stronger and punchier taste. 
Nonetheless, Kelvin managed to execute a decent bowl of mala bak chor mee. I recommend opting for plain noodles such as kway teow or mee tai mak, instead of egg noodles, so as to let the mala flavour shine through.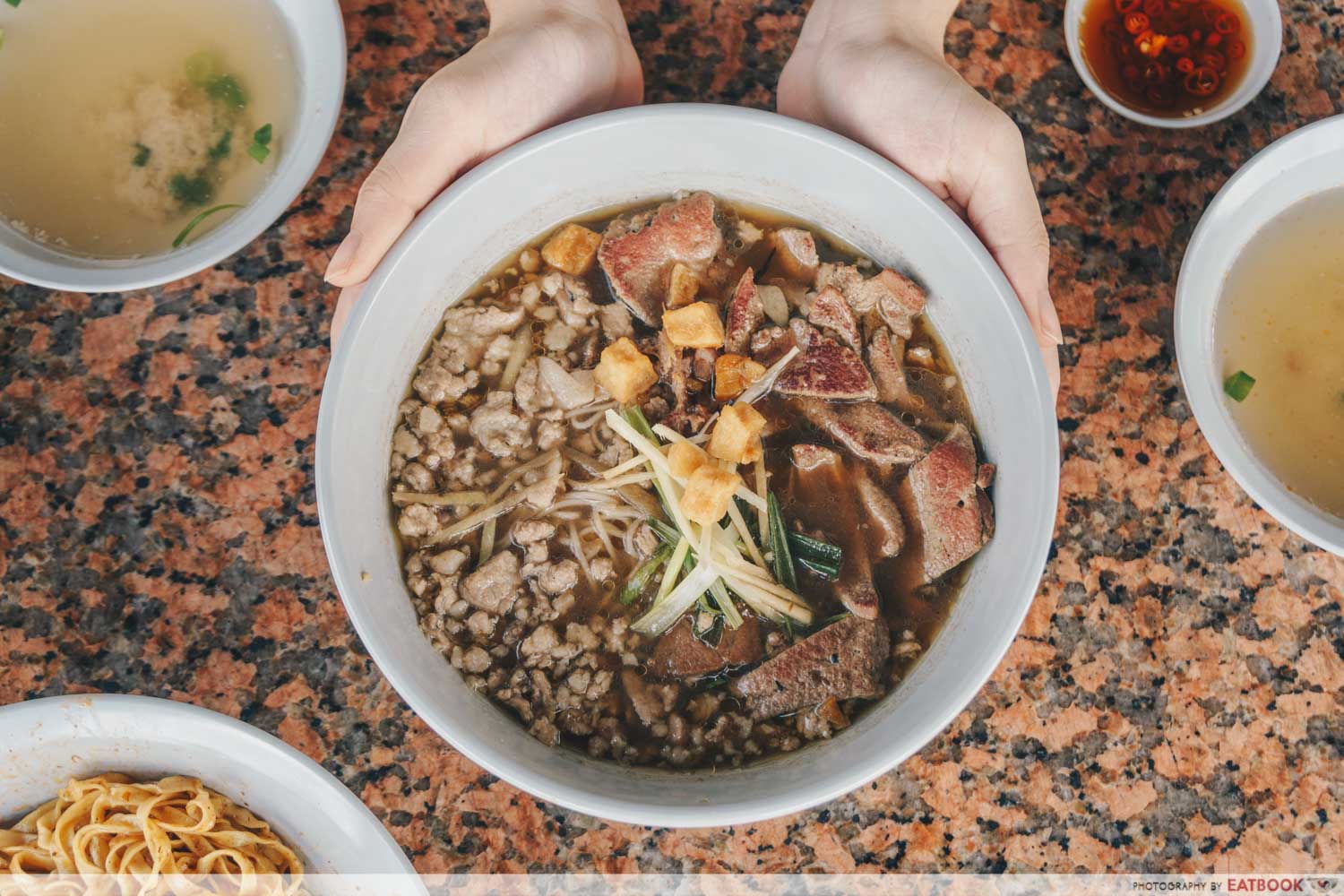 I have a soft spot for flavourful and soupy dishes, which was why I was so eager to try Kelvin's signature dish ─ Traditional Black Mee Sua Soup with XO ($8.50). Similar to the one at Seng Kee, the dish consists of mee sua, pork meat, liver and kidney in an aromatic black soup.
Seng Kee Black Chicken Herbal Soup Review: Zi Char Spot That Opens Till 4am At Kembangan
With the soup being simmered for a whole day, the time and effort that went into it was clearly reflected in the savoury pork broth. The soup wasn't as rich as I hoped it would be, but the addition of XO brandy did help to intensify the flavours, making it even more shiok to drink.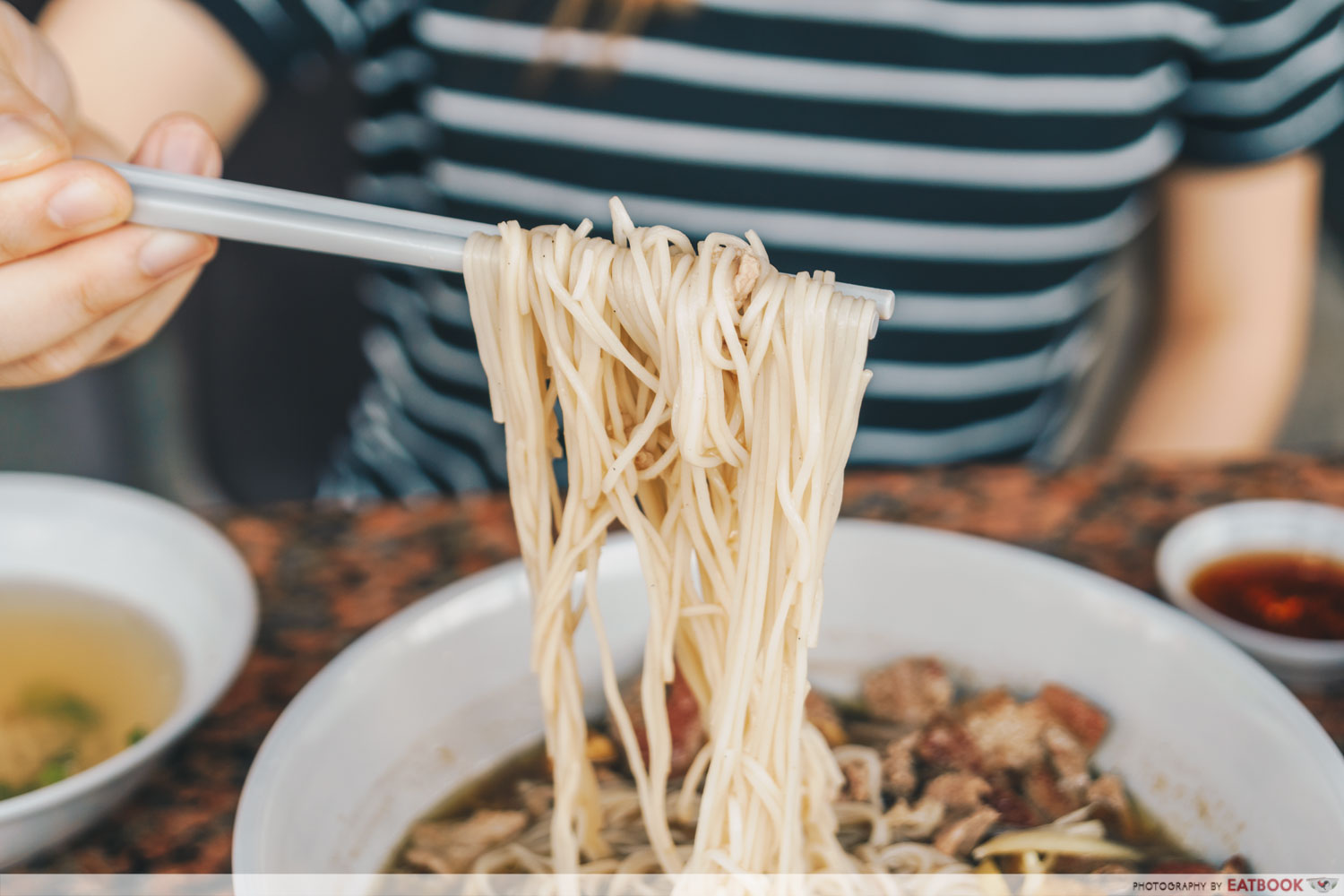 The delicate mee sua was well cooked and not mushy at all. On top of its great texture, it also absorbed the delicious flavours of the broth.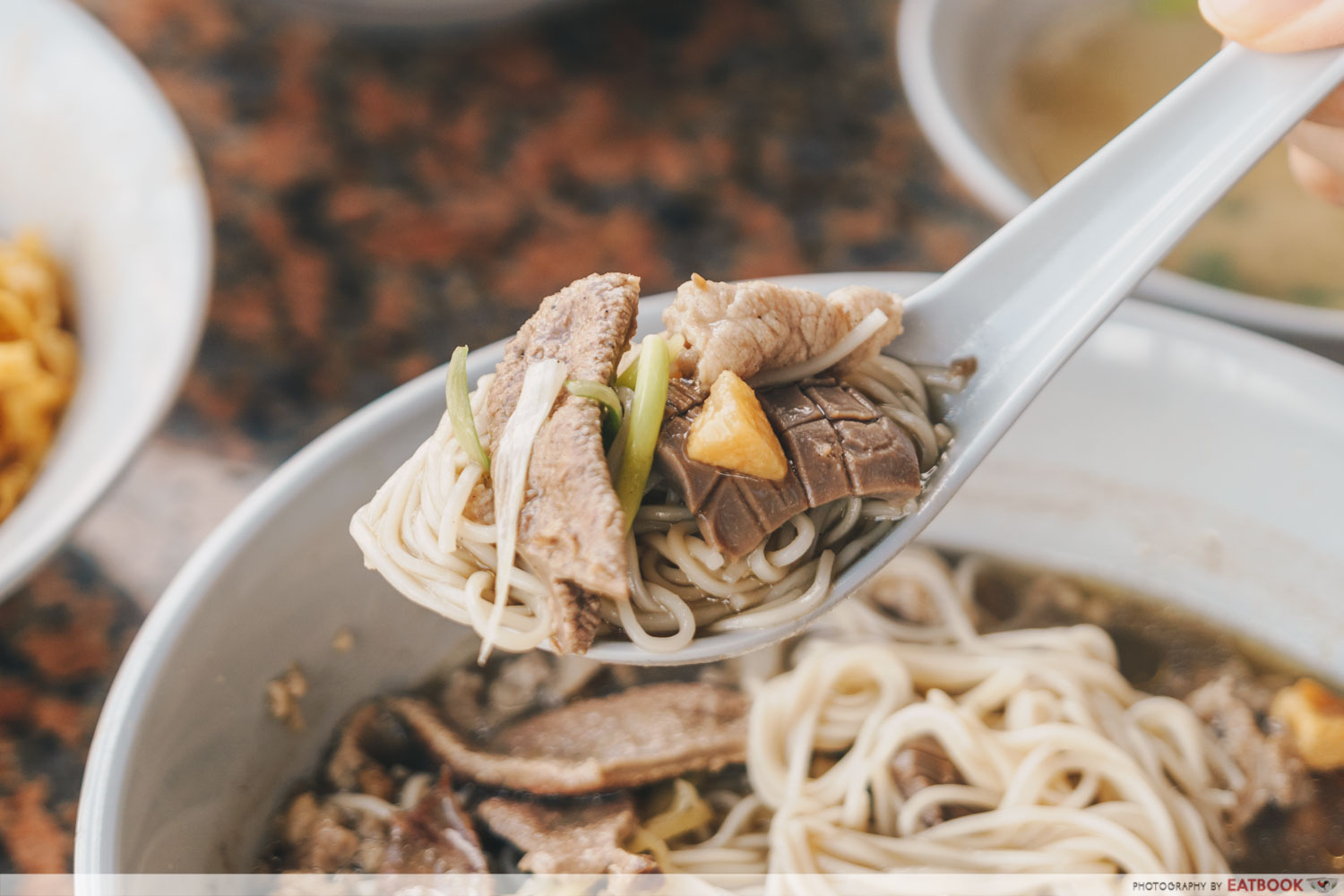 Overcooked pork organs are an abomination to me. Thankfully, the liver pieces were cooked perfectly, with a slight pinkish glow and a pleasant chewy texture. However, I would've preferred them to be juicier and more plump for a better bite. 
Likewise, the pieces of kidney were also well cooked and springy.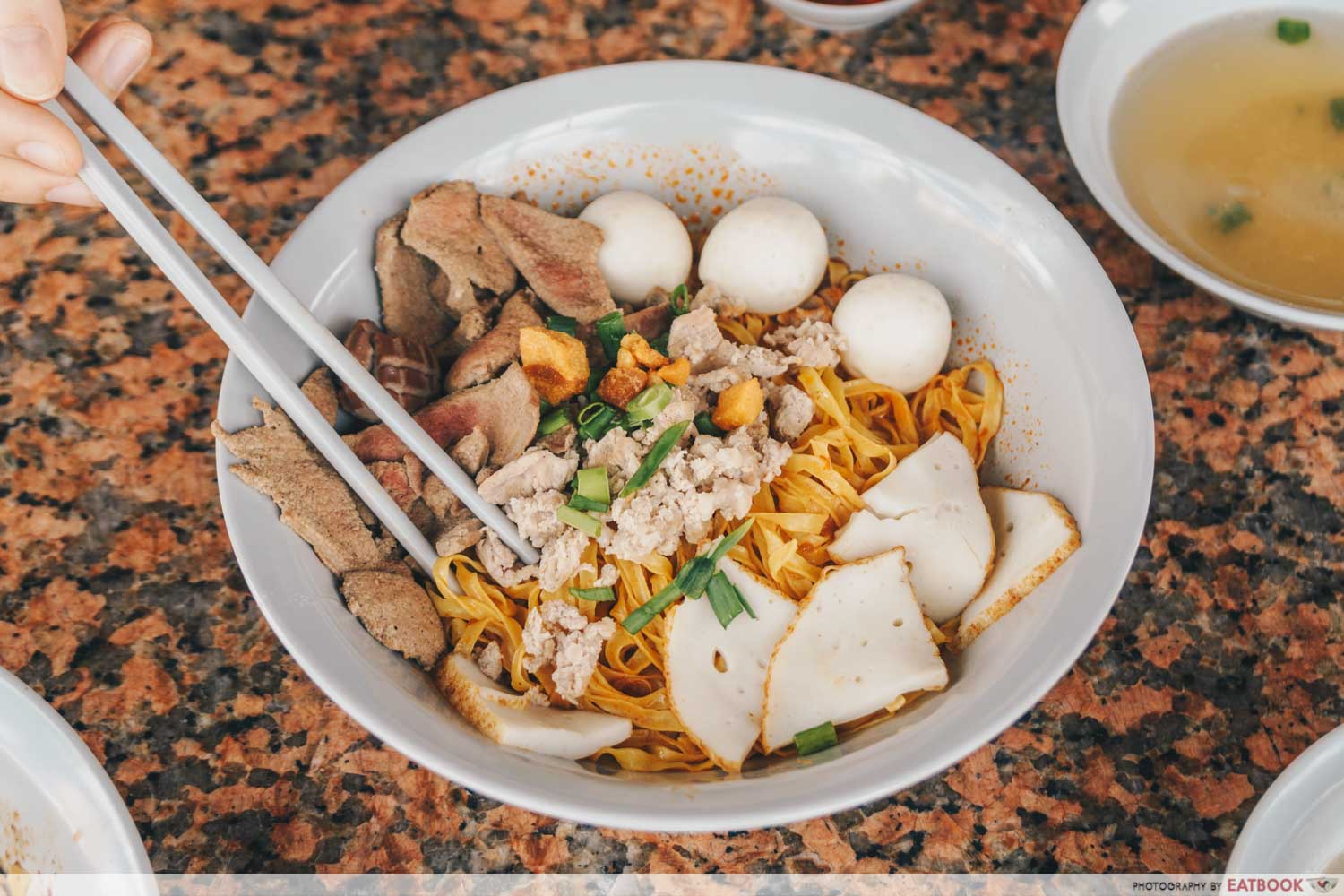 Shiok Shiok Noodles also serves a classic Authentic Minced Meat Noodle ($6) that has fishballs and mixed pig organs. 
The noodles were a little under seasoned, even though I enjoyed the hints of sweetness from the ketchup. I would've loved for it to be more vinegary.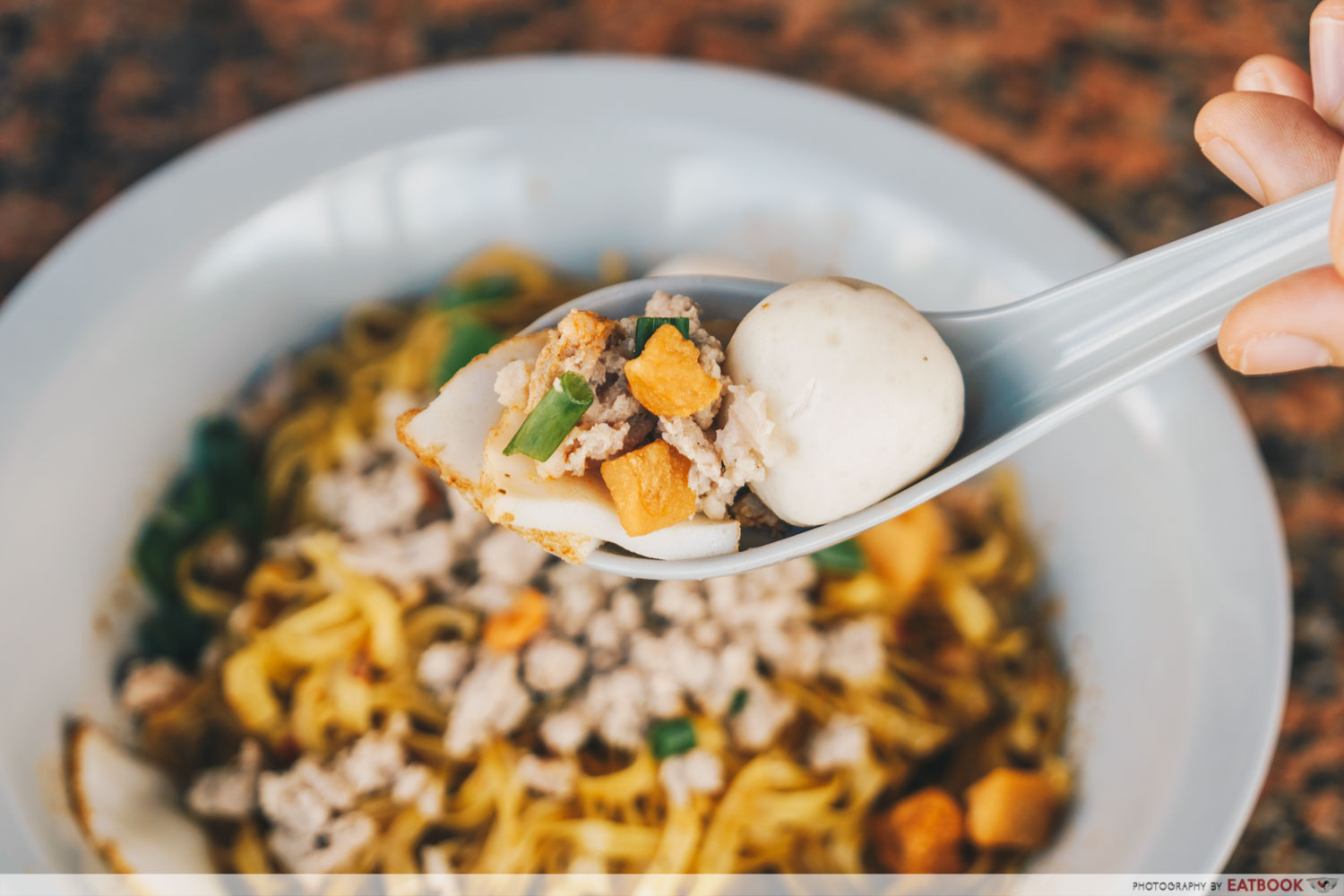 Even though the minced meat was a small part of the dish, it is still worth mentioning because it was thoroughly seasoned and tender. With the mixed pig organs setting the bar high, the fishballs were a bit of a letdown since they were average-tasting. Perhaps it would have been better if they had a bouncier texture.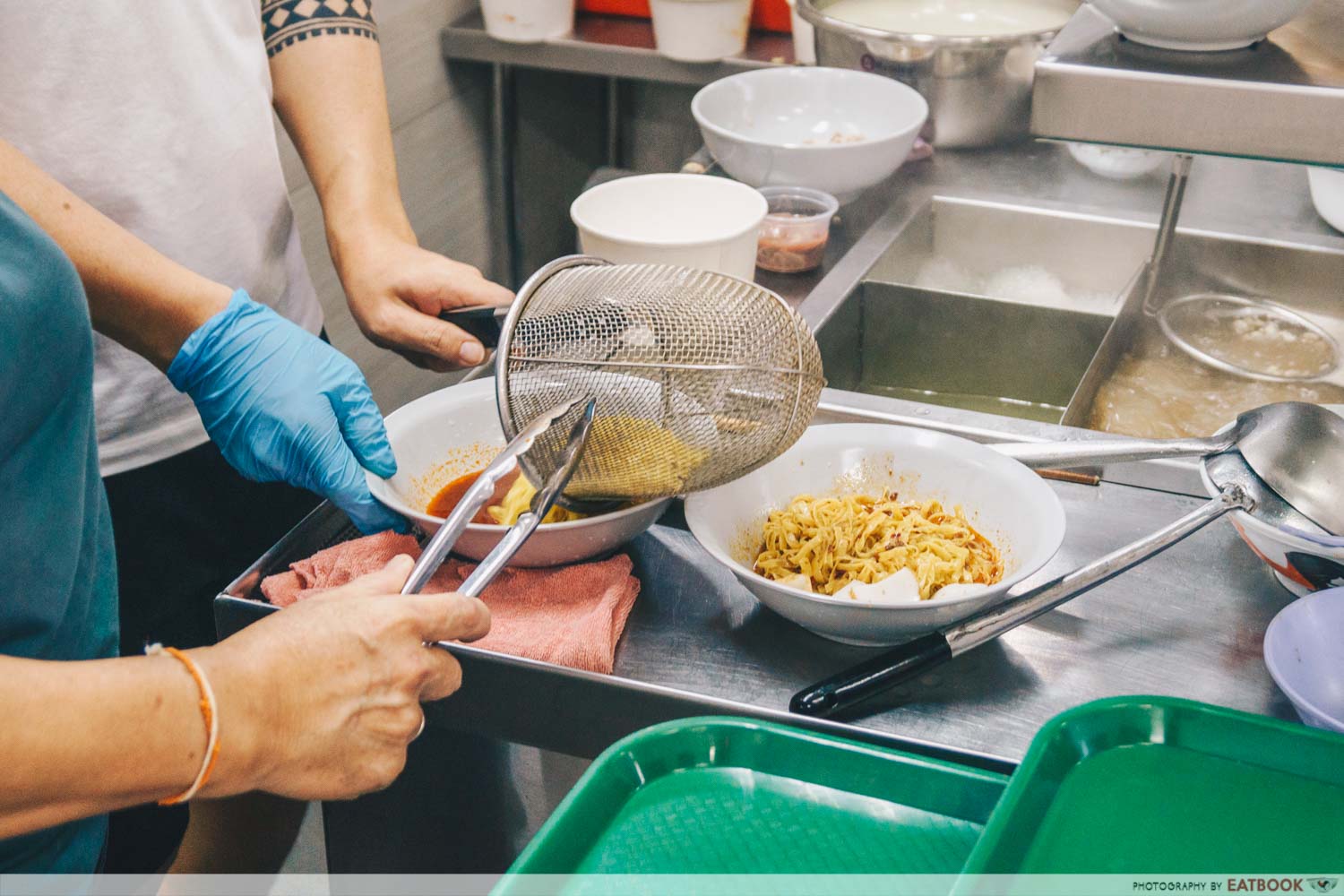 Egg noodles such as mee pok and mee kia tend to have a starchy and sticky consistency with an unpleasant wheat taste when cooked wrongly. However, Kelvin avoids this by washing the noodles ─ a great tip he learned from a senior hawker. 
Ambience at Shiok Shiok Noodles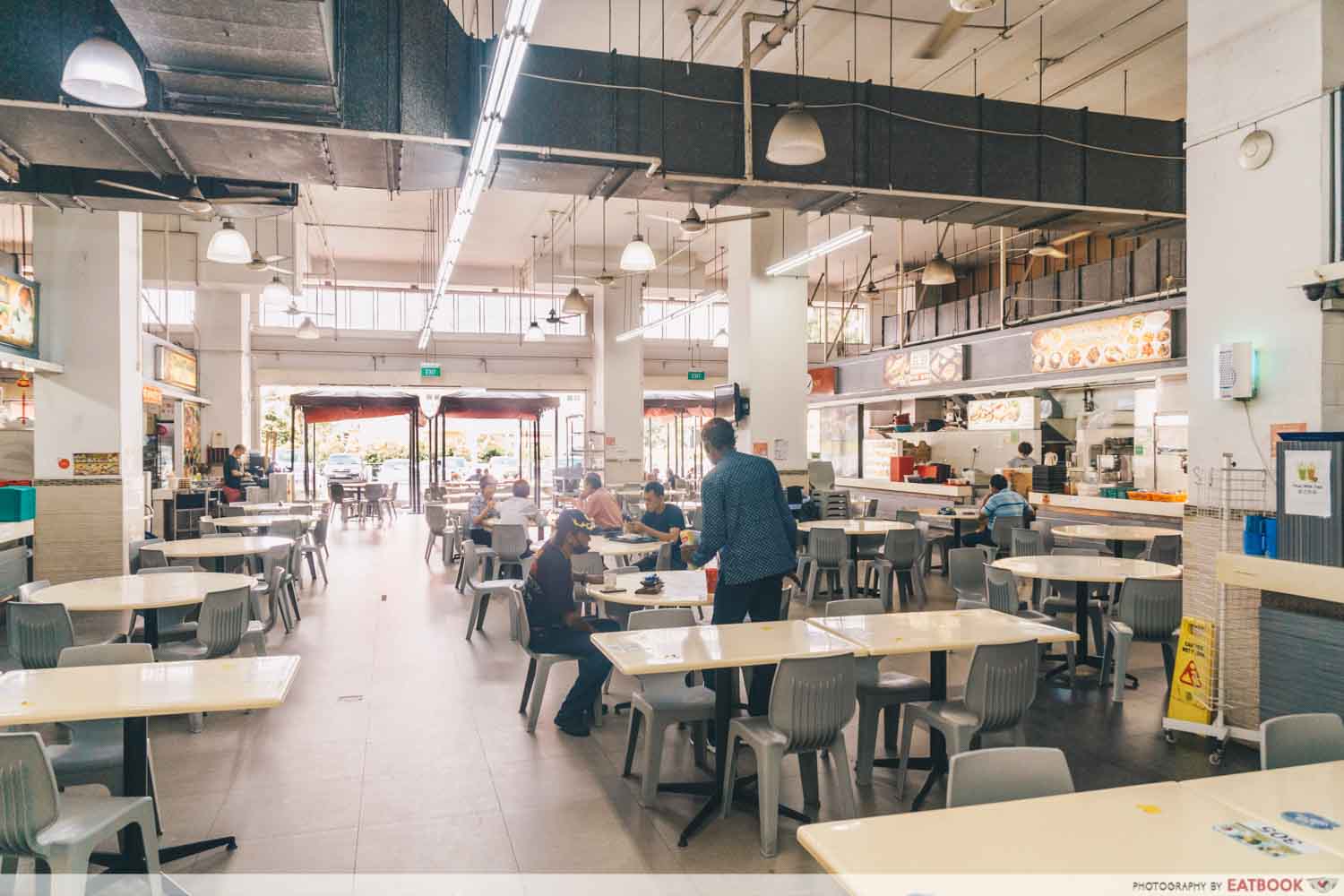 Shiok Shiok Noodles resides in a business centre at Sin Ming Lane. The location is slightly out of the way, and only accessible by bus or car. 
The coffee shop is spacious and breezy, with loads of vacant tables around, so finding seats won't be an issue. However, do take note of the lunchtime crowd from the offices and industrial area nearby.
The verdict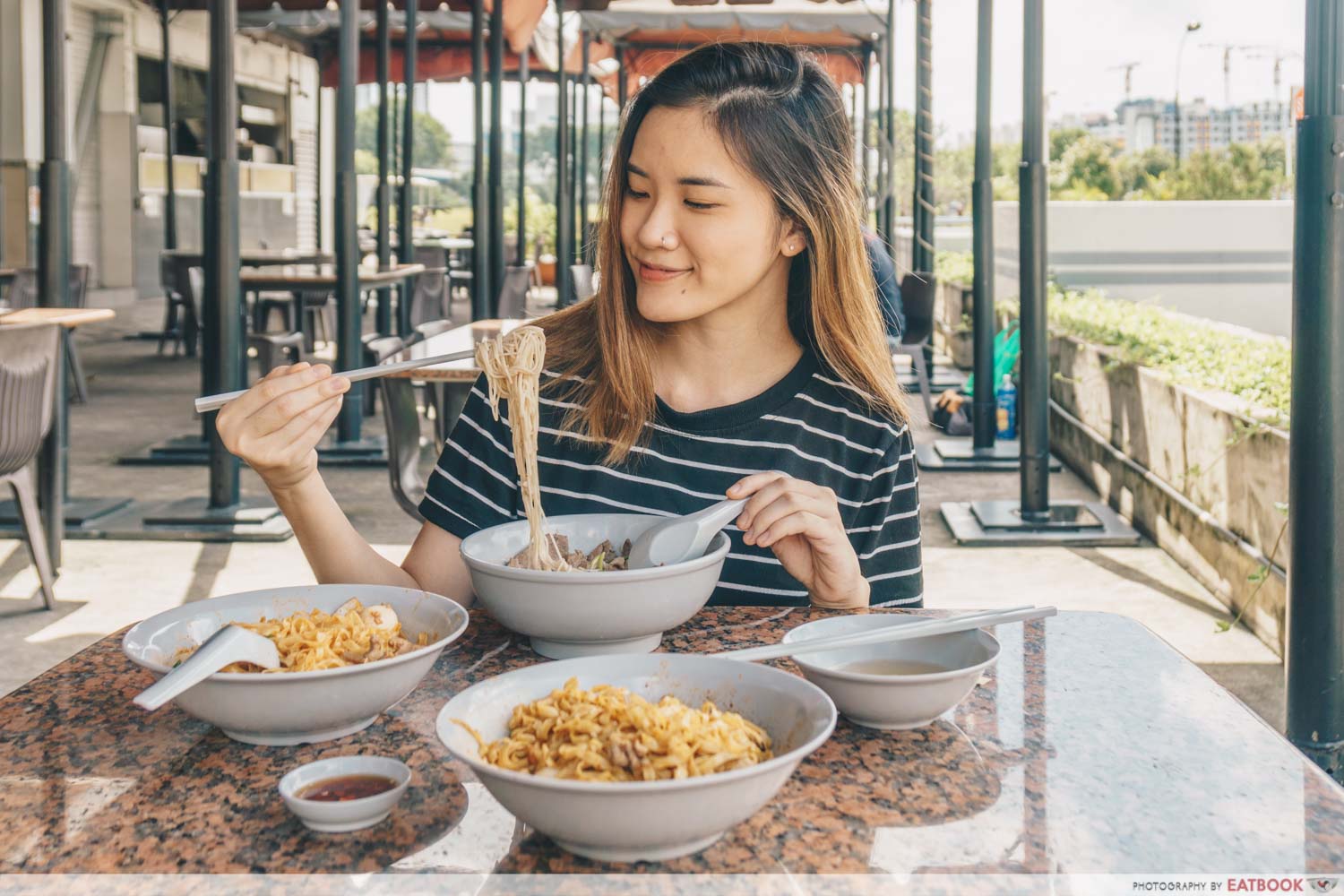 When it comes to young hawkers, I have nothing but utmost respect for them. Not only is the hawker life physically demanding, but it's also an unconventional route to take. Though not the best, Shiok Shiok Noodles does serve a decent bowl of noodles.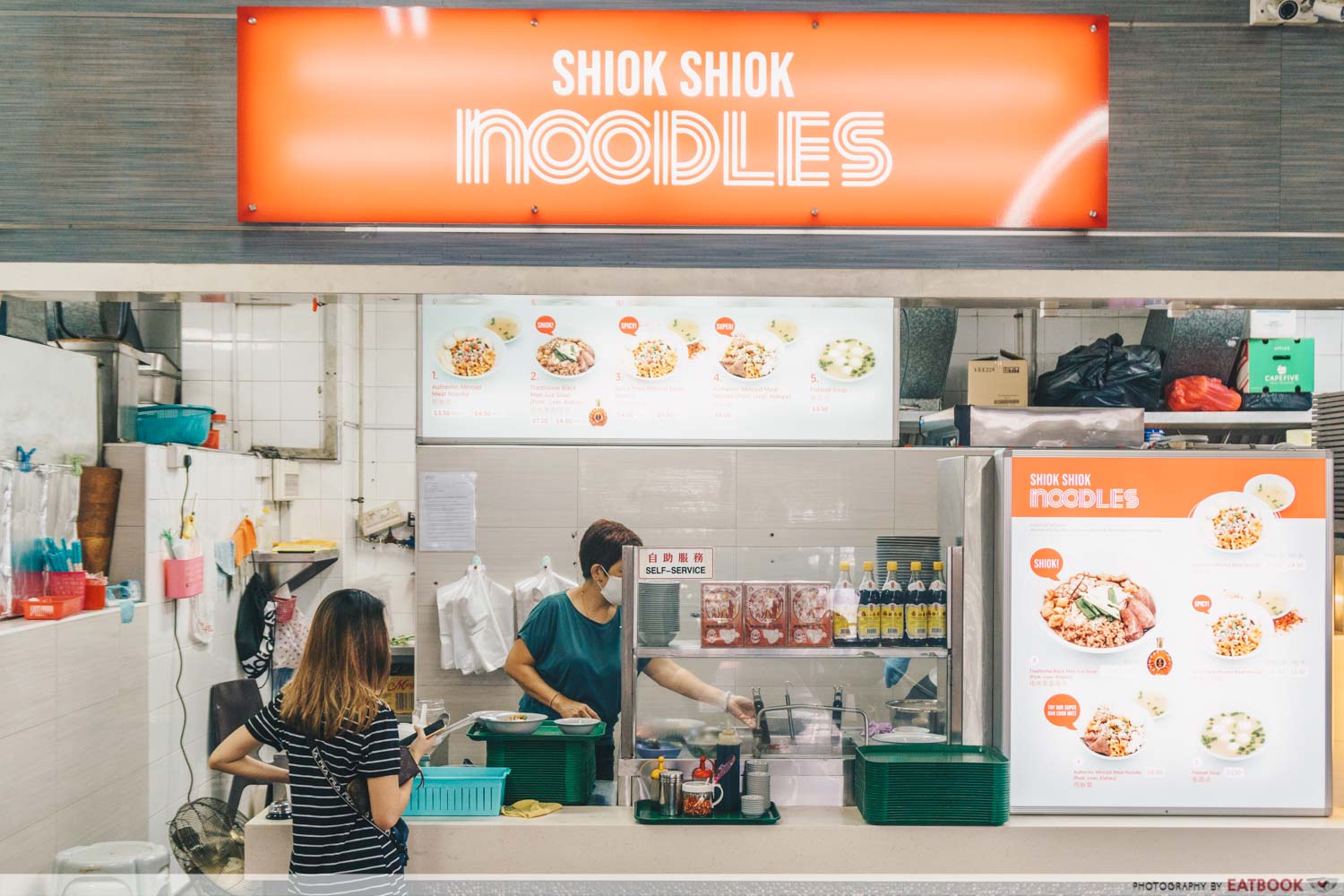 At the moment, Kelvin is still learning on the go, going around Singapore every weekend to taste the best bak chor mee and refine his own. I do believe that Kelvin's bowls of noodles will only get better from here.
Top 10 Bak Chor Mee Stalls In Singapore You'll Have To Taste To Believe
While you're here, do check out our list of 10 bak chor mee stalls in Singapore. Otherwise, head over to our recent review on Chun Seng Noodle House, where they serve bak chor mee with a century-old braised pork recipe.
Chun Seng Noodle House Review: Bak Chor Mee With 100-Year-Old Braised Pork Recipe In ABC Brickworks
Address: 18 Sin Ming Lane, #01-01, Midview City, Canteen Stall No. 2, Singapore 573960
Opening hours: Mon-Sat 7am to 4pm
Website
Shiok Shiok Noodles is not a halal-certified eatery.
Photos taken by Muhammad Hafiq.
This is an independent review by Eatbook.
Shiok Shiok Noodles Review: Singapore's First Mala Bak Chor Mee For $4.50 In Sin Ming
Summary
Pros
– Delicious mala bak chor me
– Al dente noodles
– Pig organs were well cooked
Cons
– Noodles were under seasoned
– Fishballs were lacking in texture
Recommended Dishes: Spicy Mala Minced Meat Noodle ($4.50), Traditional Black Mee Sua Soup with XO ($8.50)
Opening hours: Mon-Sat 7am to 4pm
Address: 18 Sin Ming Lane, #01-01, Midview City, Canteen Stall No. 2, Singapore 573960