Ding Gua Gua Fried Rice by ex-Din Tai Fung chef in Bedok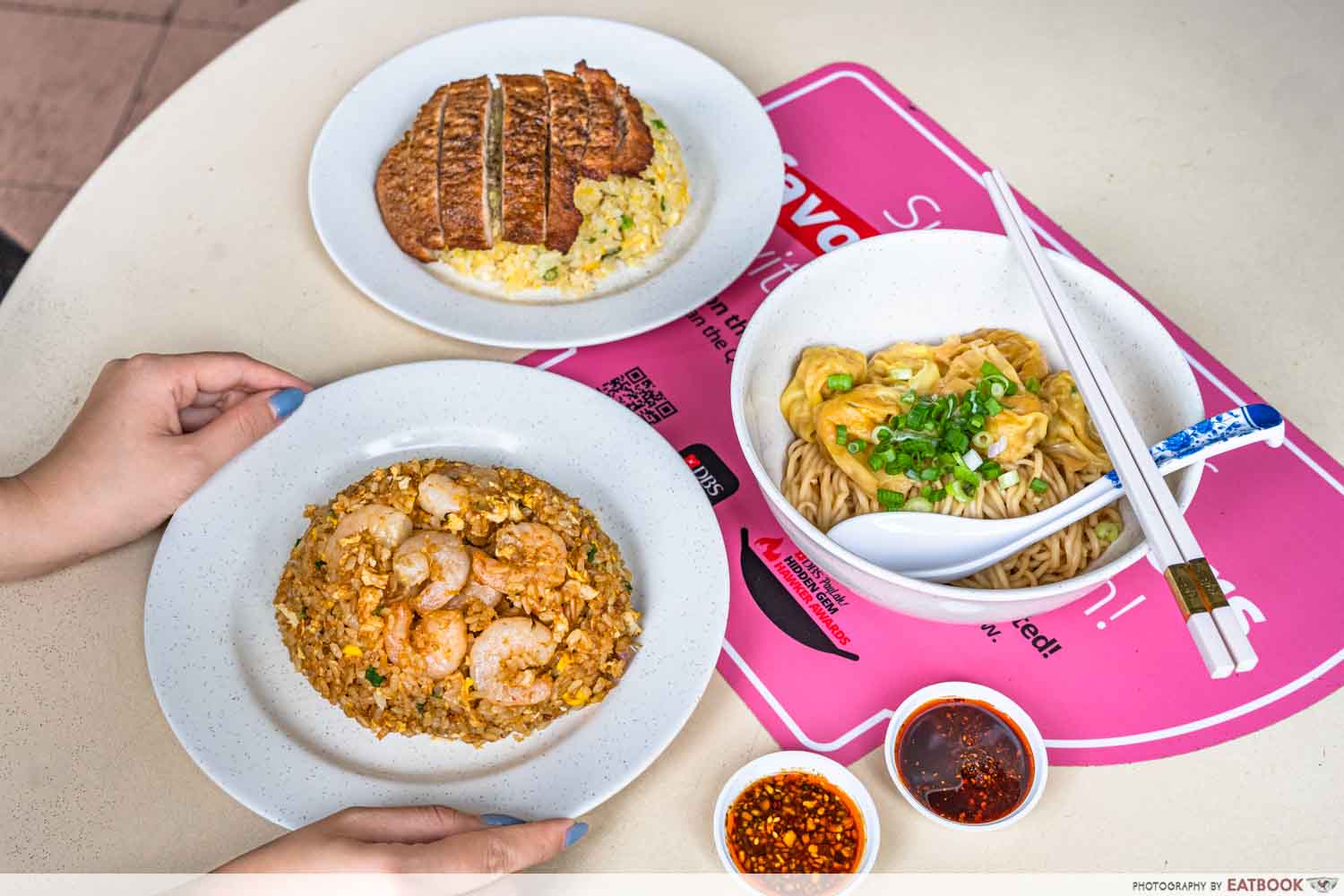 Ex-restaurant chefs-turned-hawkers are becoming more common these days, and we're seeing more restaurant-inspired dishes popping up in our heartlands. The latest newcomer to the list of egg fried rice stalls in Singapore is Ding Gua Gua Fried Rice, which is opened by a former Din Tai Fung chef and restaurant manager. Located in Bedok South, the hawker stall is known for their signature egg fried rice as well as other popular DTF-style dishes, including dry noodles and fried dumplings.
Hong Style Fried Rice Review: Ex-Din Tai Fung Chef Sells Pork Chop Fried Rice And More From $4
Food at Ding Gua Gua Fried Rice
I was expecting to find only one kind of egg fried rice here, so I was pleasantly surprised that the stall offers four different types of fried rice as the base: Signature Egg Fried Rice ($4), Garlic Fried Rice ($4), DGG Egg Fried Rice ($4.40), and Sambal Fried Rice ($4.50). You can choose to complement the carbs with your choice of meat: pork chop ($2.50), shrimp ($2.50), Taiwanese sausage ($1.50), or luncheon meat ($1).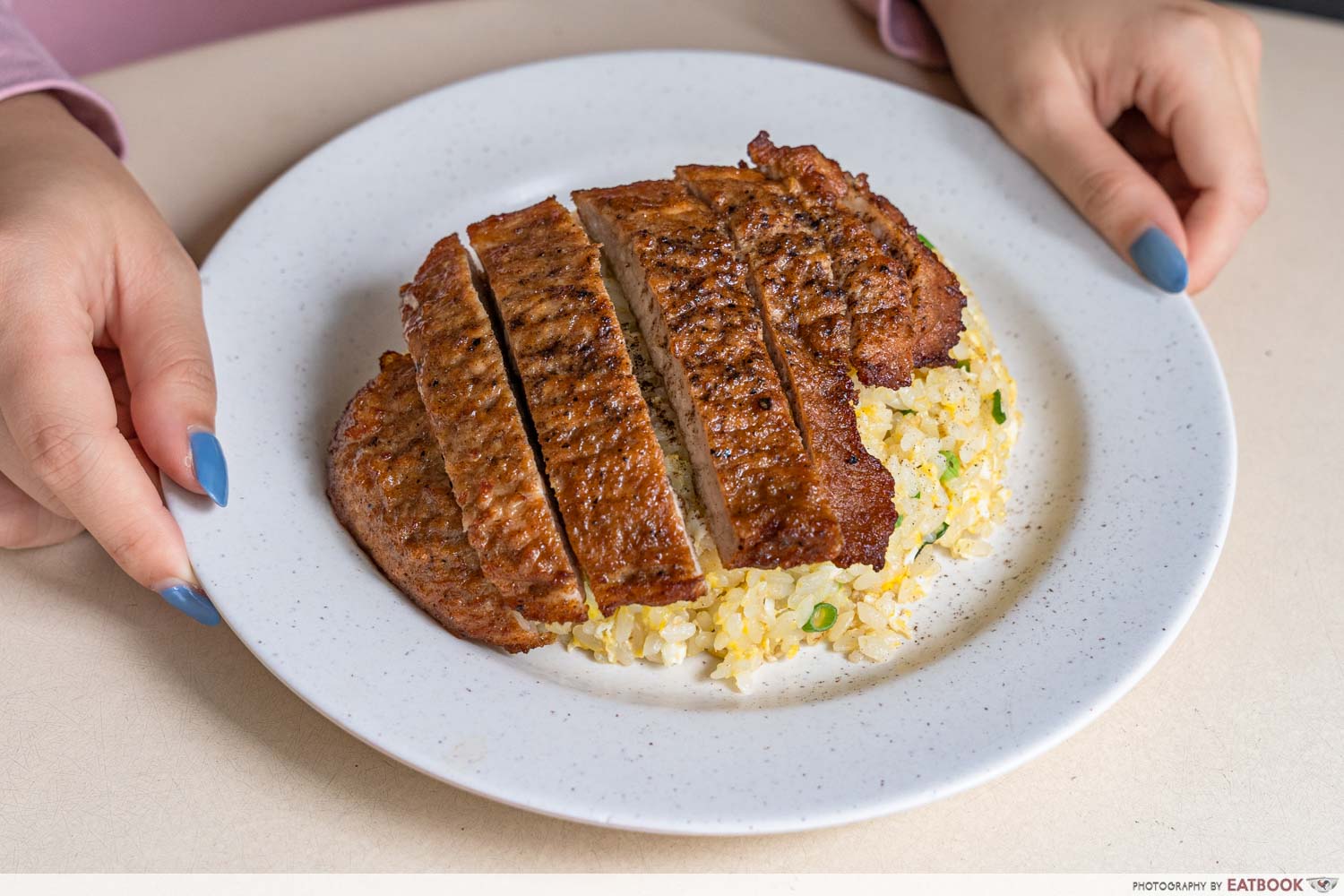 We landed on a plate of Signature Egg Fried Rice With Pork Chop ($6.80). Ding Gua Gua's version of the egg fried rice bore a striking resemblance to the one at Din Tai Fung, from the golden short-grain rice down to the plating of the pork chop slices, placed neatly in a row.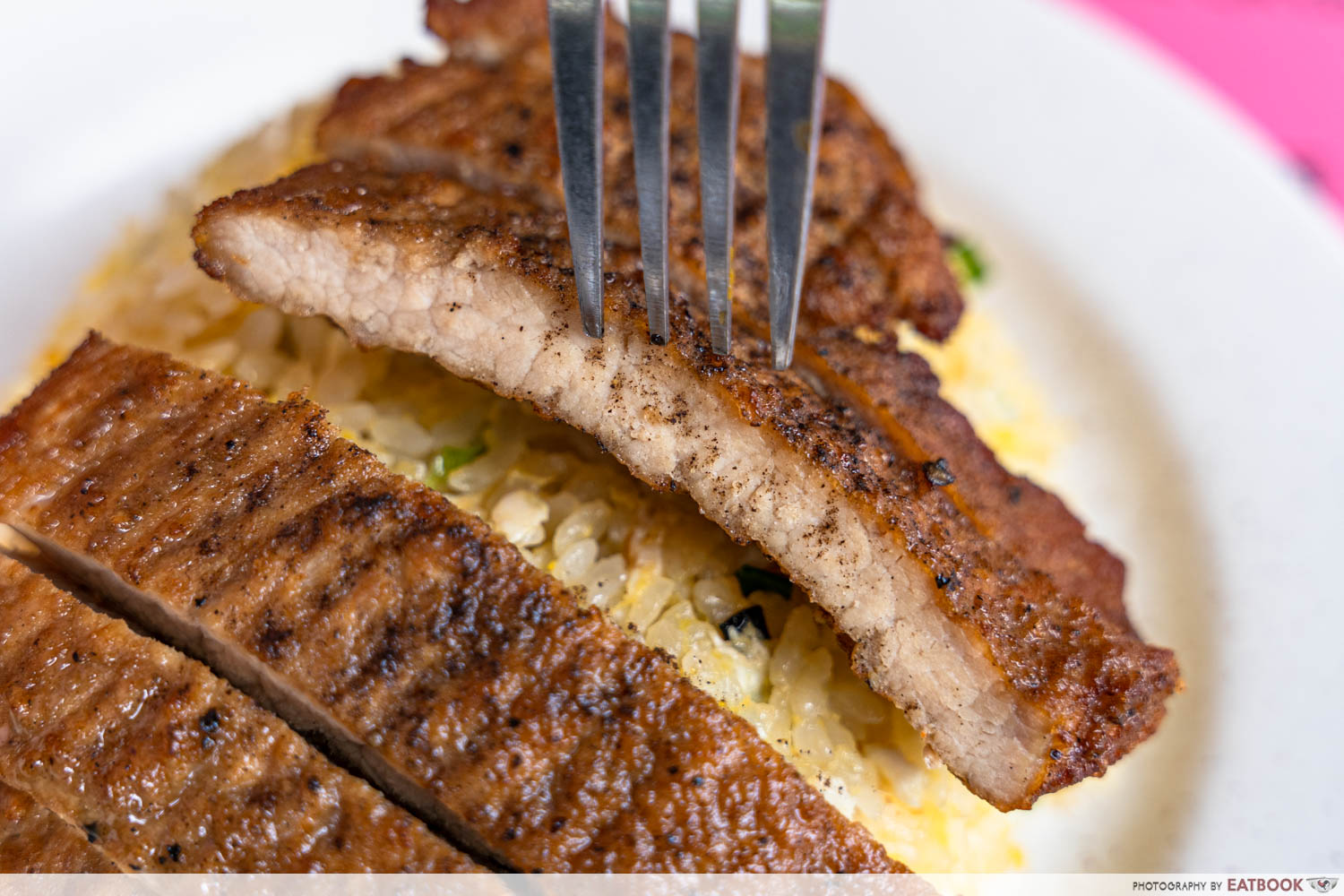 I went straight for the pork chop, which was tender with each bite and lightly seasoned with five-spice powder. The meat had an ever-so-slight peppery taste and sported a texture that was mildly crispy on the surface.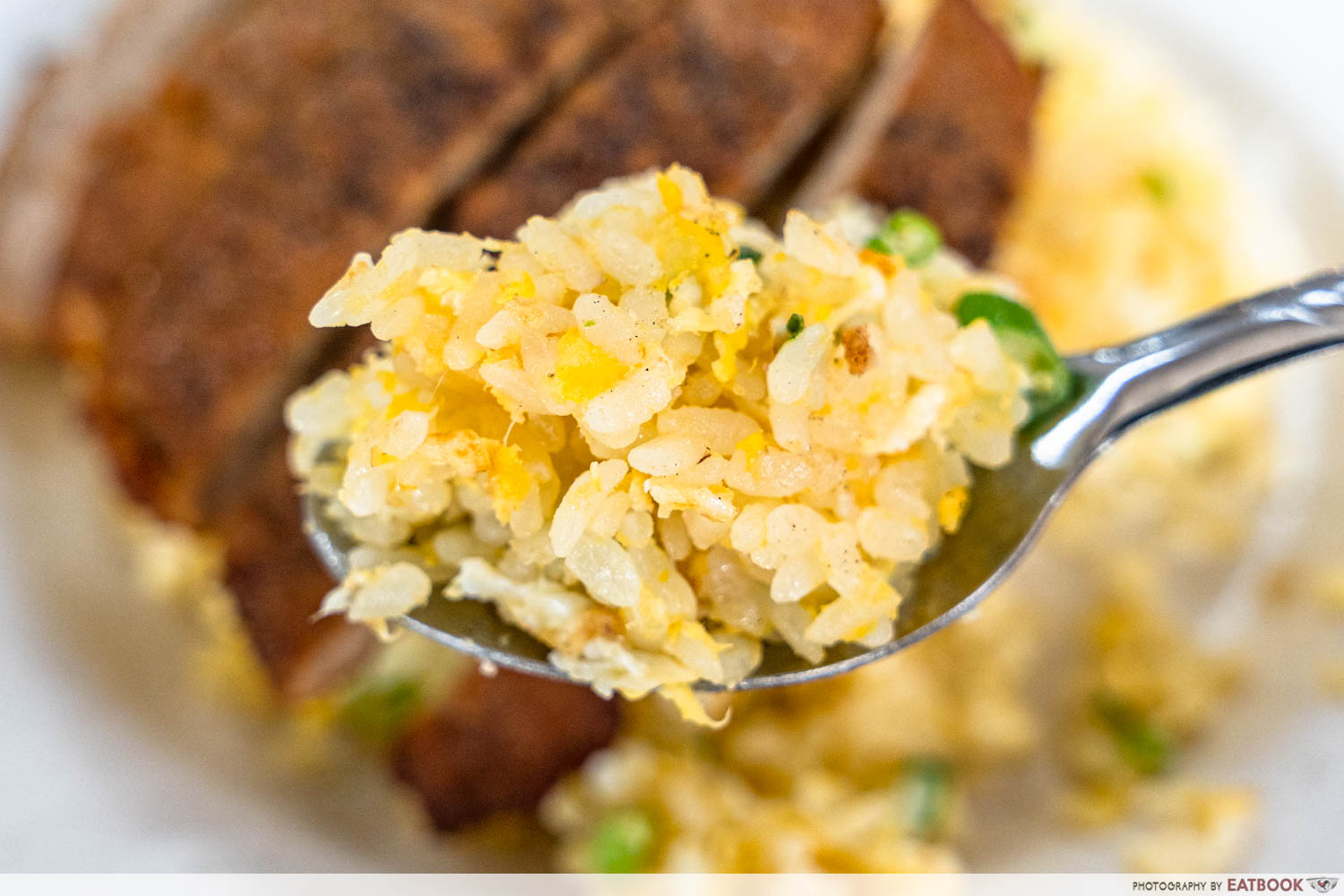 While the pork chop was worthy of praise, I was slightly disappointed with the egg fried rice itself as it lacked the coveted wok hei that the dish is most known for. The Uncle Roger in me immediately took over as I lamented to my colleague about how the rice did not do justice to what could have been an otherwise superb dish. Besides lacking wok hei, the rice was bland and not eggy enough.
On a brighter side, I did enjoy the fluffiness of the rice and appreciated that the dish was not too oily.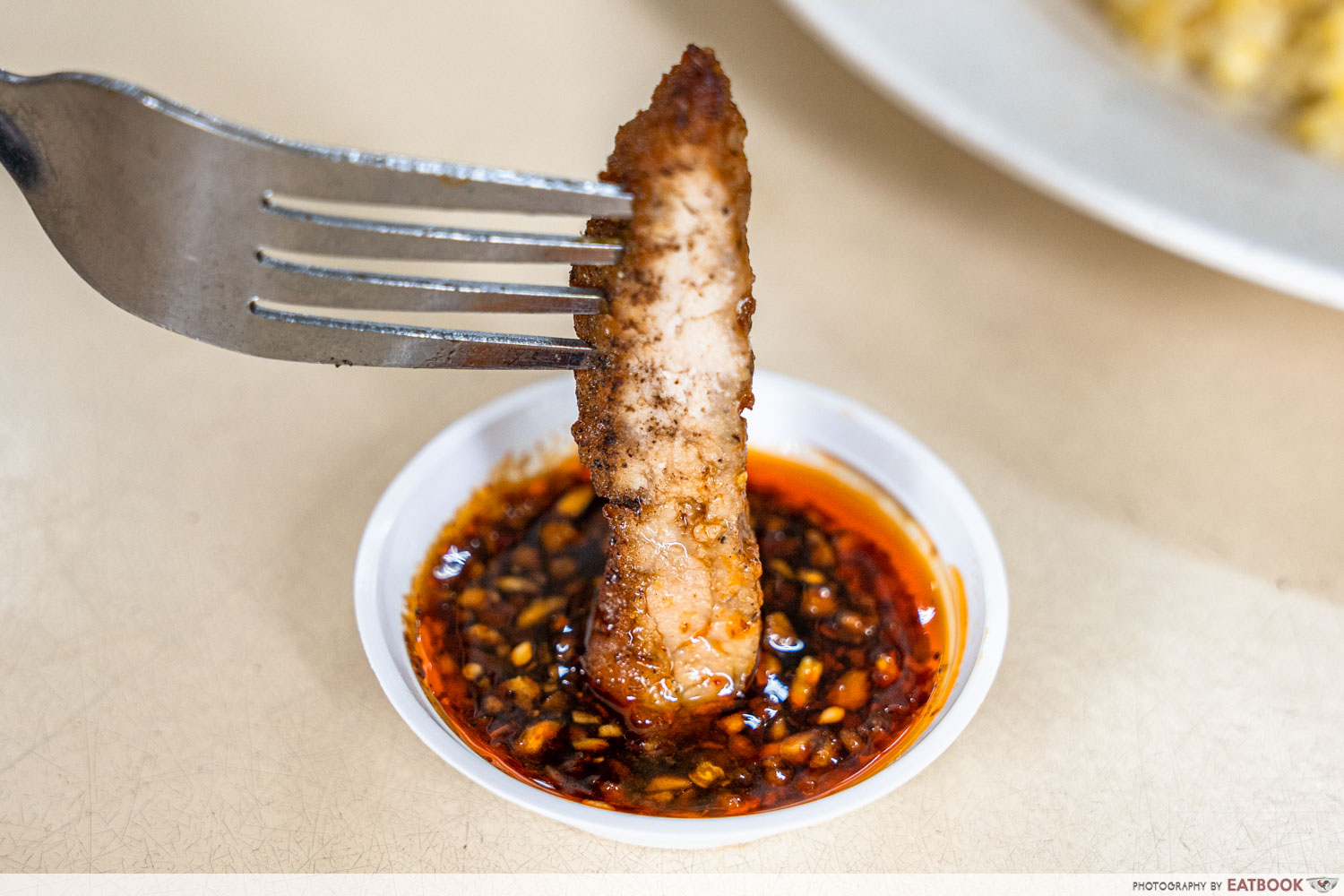 Wanting to salvage the dish, I plonked a dollop of Ding Gua Gua's house-made chilli sauce onto the rice and mixed it all in. This chilli sauce was definitely the dish's saving grace, as it added a layer of sweetness and spiciness to the rice. I also enjoyed their house-made sour sauce, which was reminiscent of the Sichuan chilli oil served with Din Tai Fung's hong you chao shou AKA chilli oil dumplings.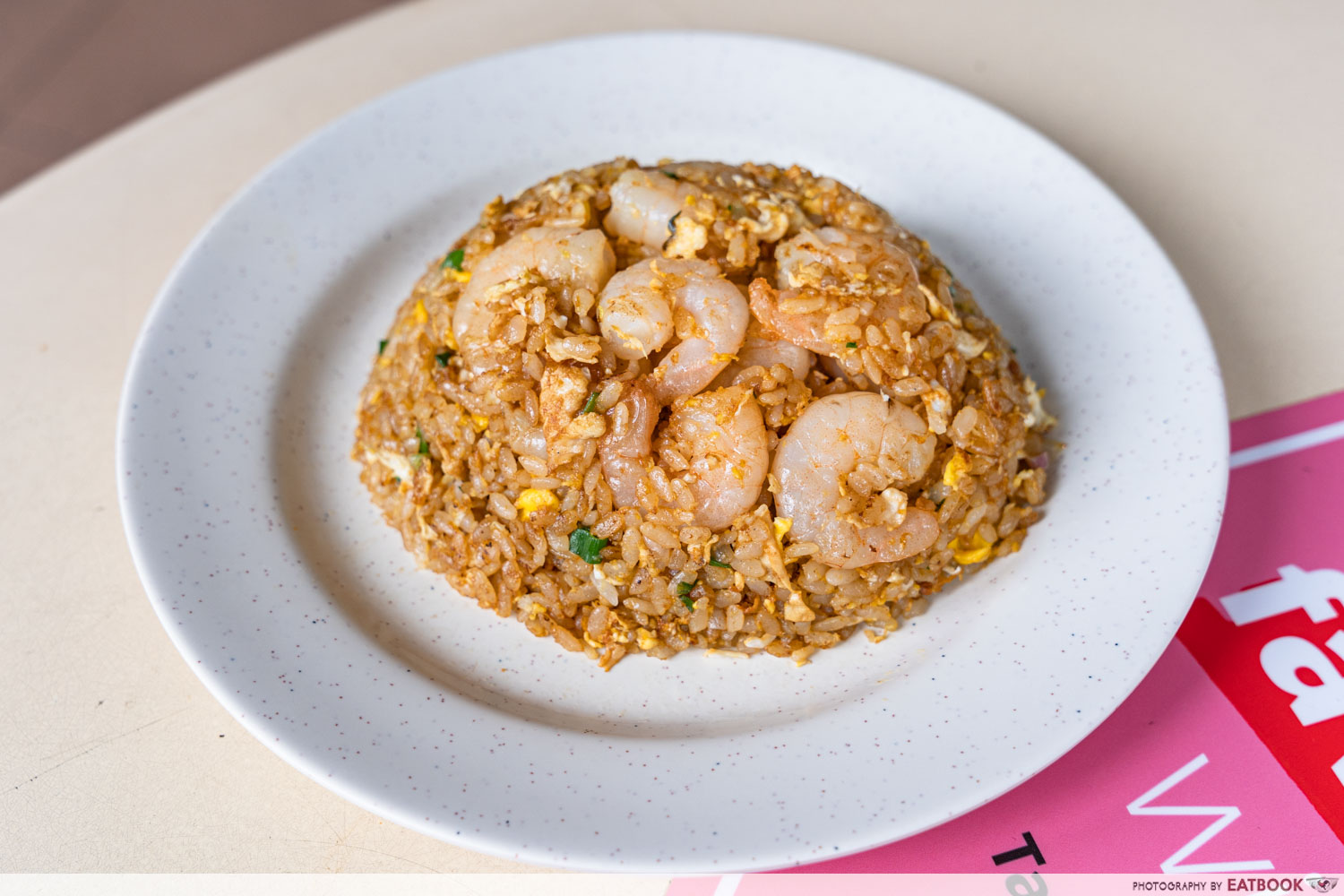 Another dish we had was the DGG Egg Fried Rice With Shrimp ($6.80), which saw the same fried rice drenched in a dark soy sauce. It was topped with a generous amount of prawns, which were slightly pinkish with a translucent glow.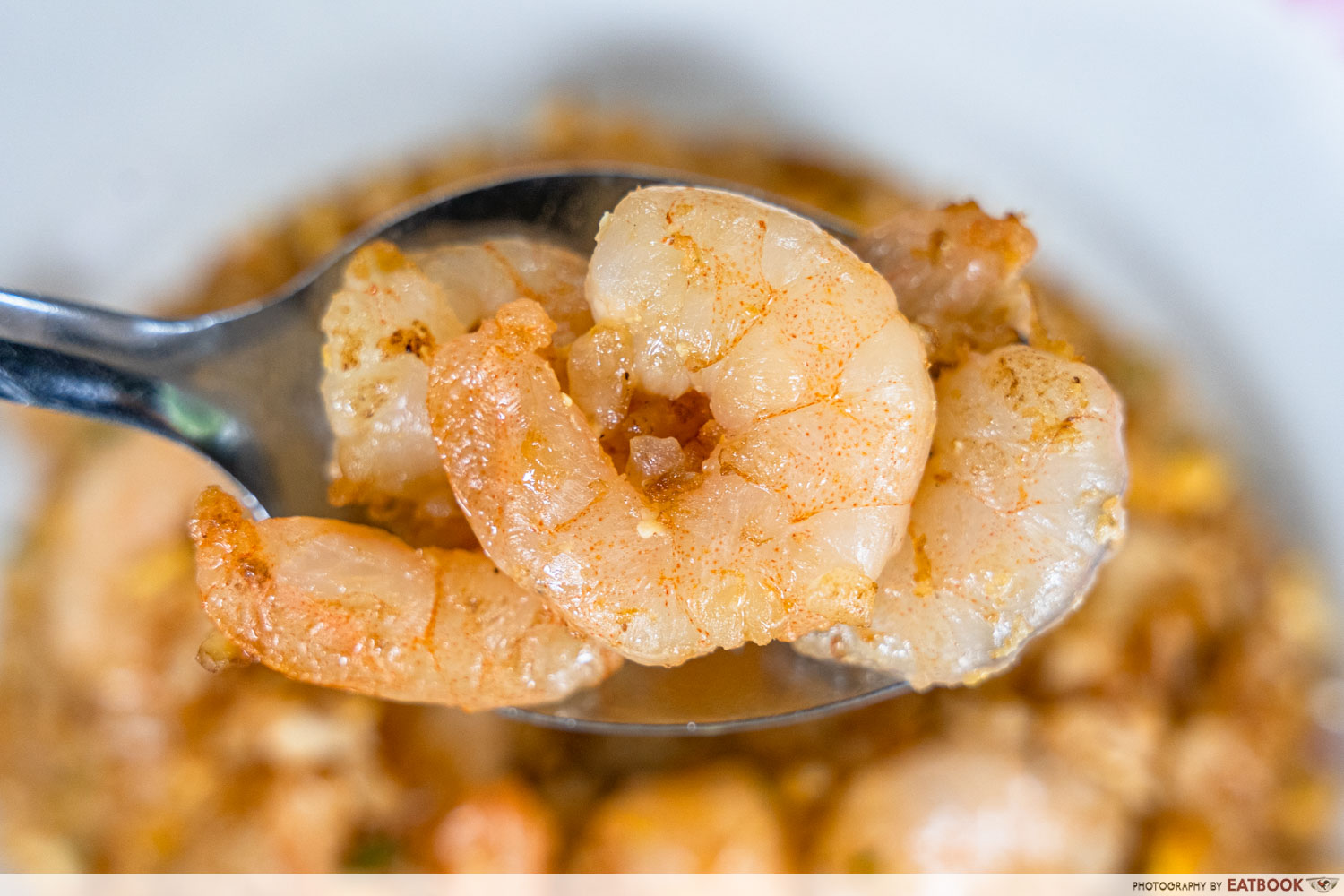 The DGG fried rice had a smokier taste as compared to the signature egg fried rice, though I wouldn't consider it full of wok hei. Overall, it was still a decent and fragrant plate of egg fried rice. The prawns definitely stole the show, as they were bouncy and slightly sweet.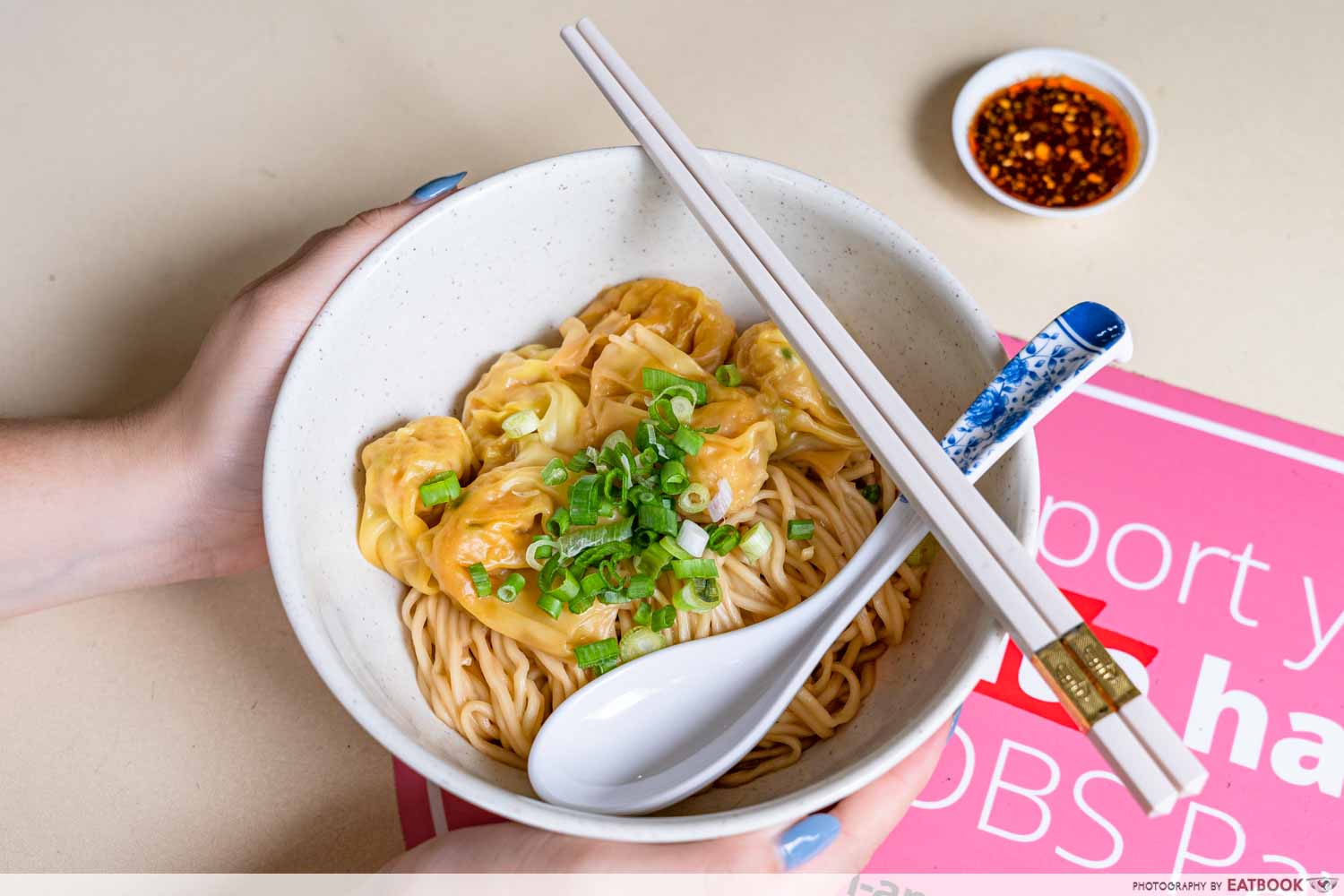 Ding Gua Gua Fried Rice's offerings are not limited to egg fried rice, as they've recently rolled out noodle dishes, including Dry Noodle ($3.80) and Braised Pork Noodle ($6). The chef recommended us the Dry Noodle With Dumplings ($5.50), which came served with their own house-made wonton.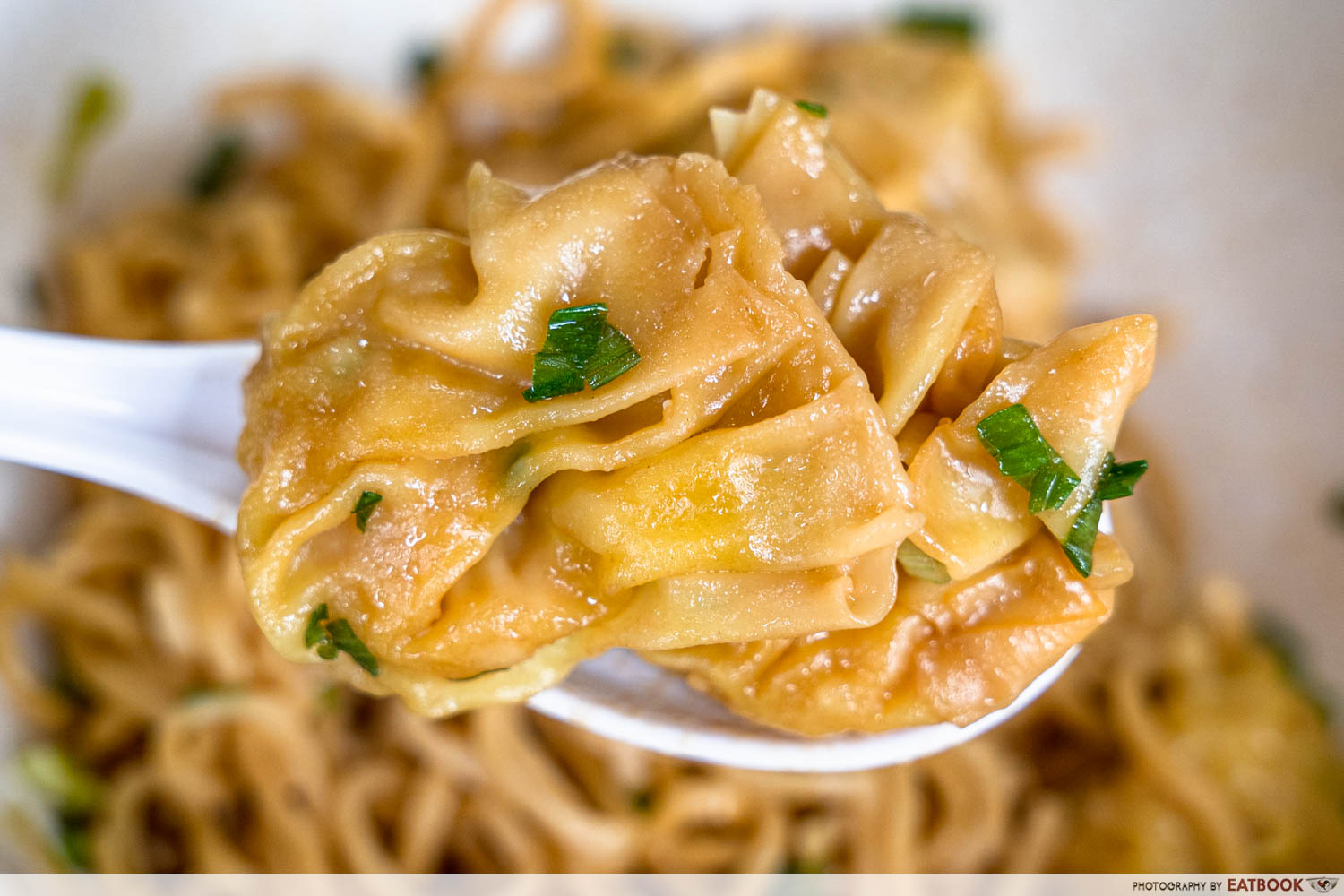 The dry noodles were unfortunately overcooked. While the sauce should have carried the dish, it lacked flavour, resulting in a rather bland bowl of noodles. I did like the wonton, however, and found them to be sweet from the juicy pork filling. Plus points for the generous portion of dumplings that made this bowl of noodles quite filling as well!
Hong Kong Claypot Rice Review: Cantonese-style Claypot Rice And Double-Boiled Soup From $6 In Bedok
Ambience at Ding Gua Gua Fried Rice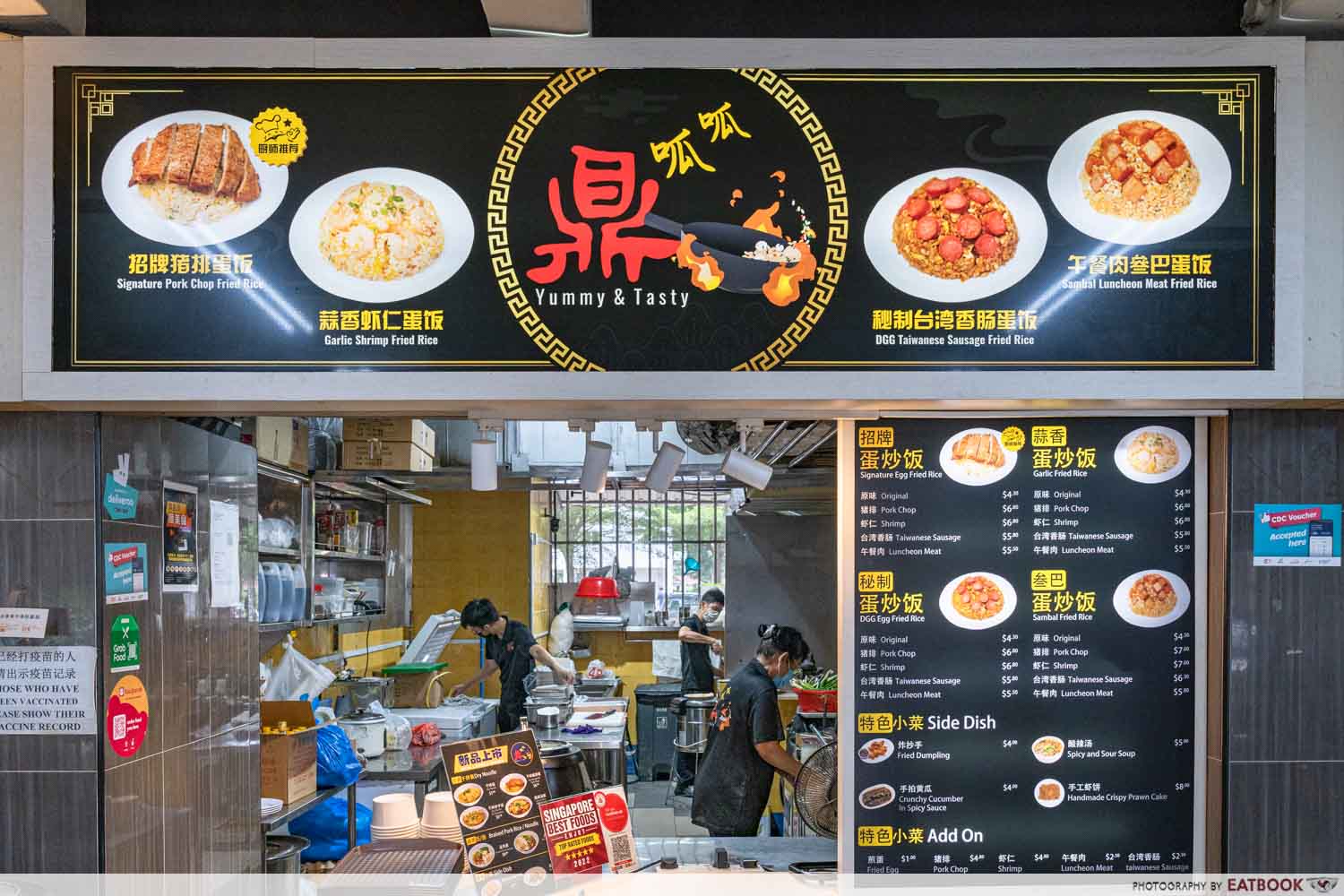 Ding Gua Gua Fried Rice is tucked away in an unassuming coffeeshop that's located under the void deck of Block 69 in Bedok South Avenue 3. The hawker stall may be more convenient for Easties to patronise since it's a 15-minute bus ride from Bedok MRT Station.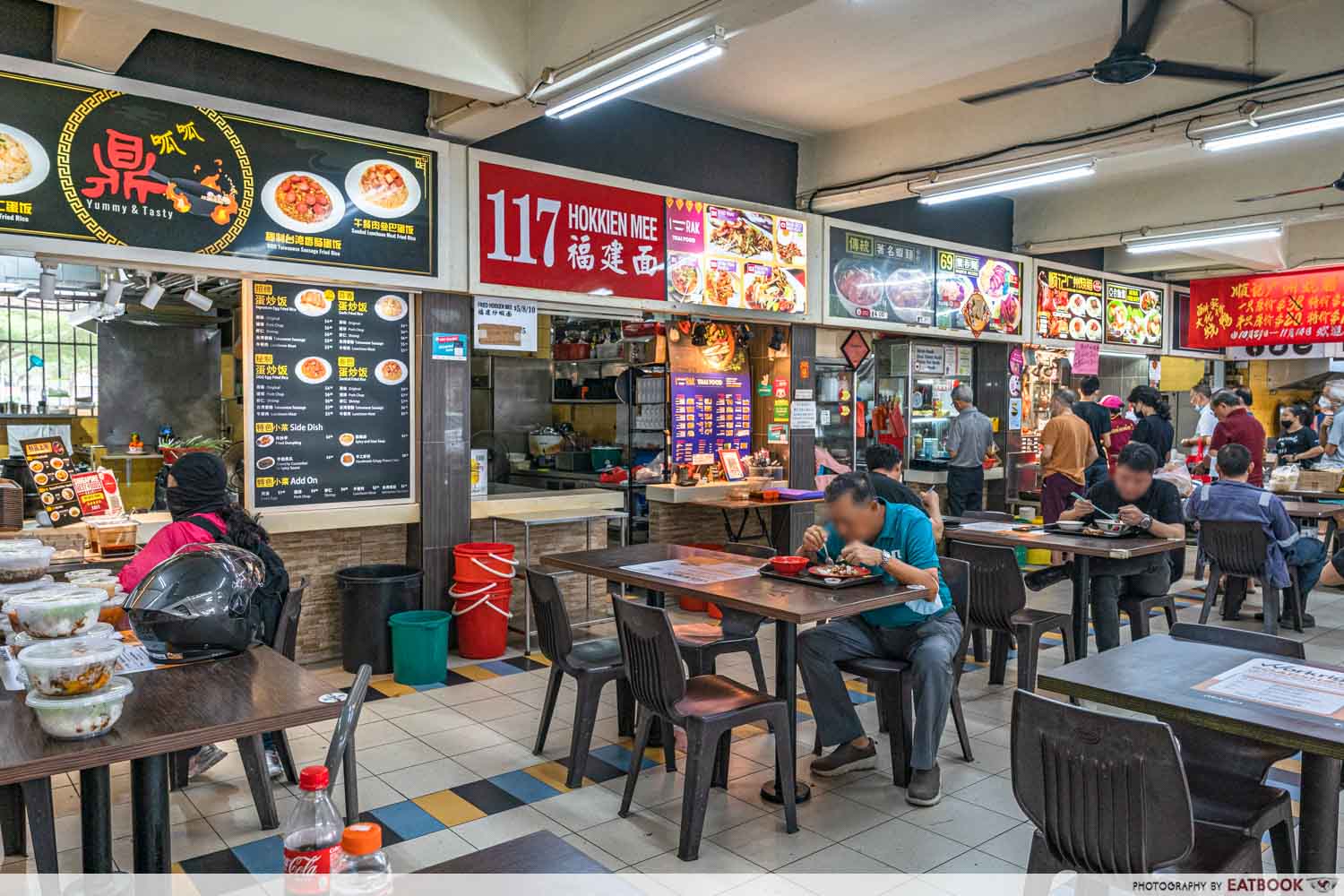 Ample seats were available at the coffeeshop while we were there around 10:30am on a weekday, but the crowd started to pour in just before lunchtime. Head down early if you want to avoid queuing for over 15 minutes just to place your order!
The verdict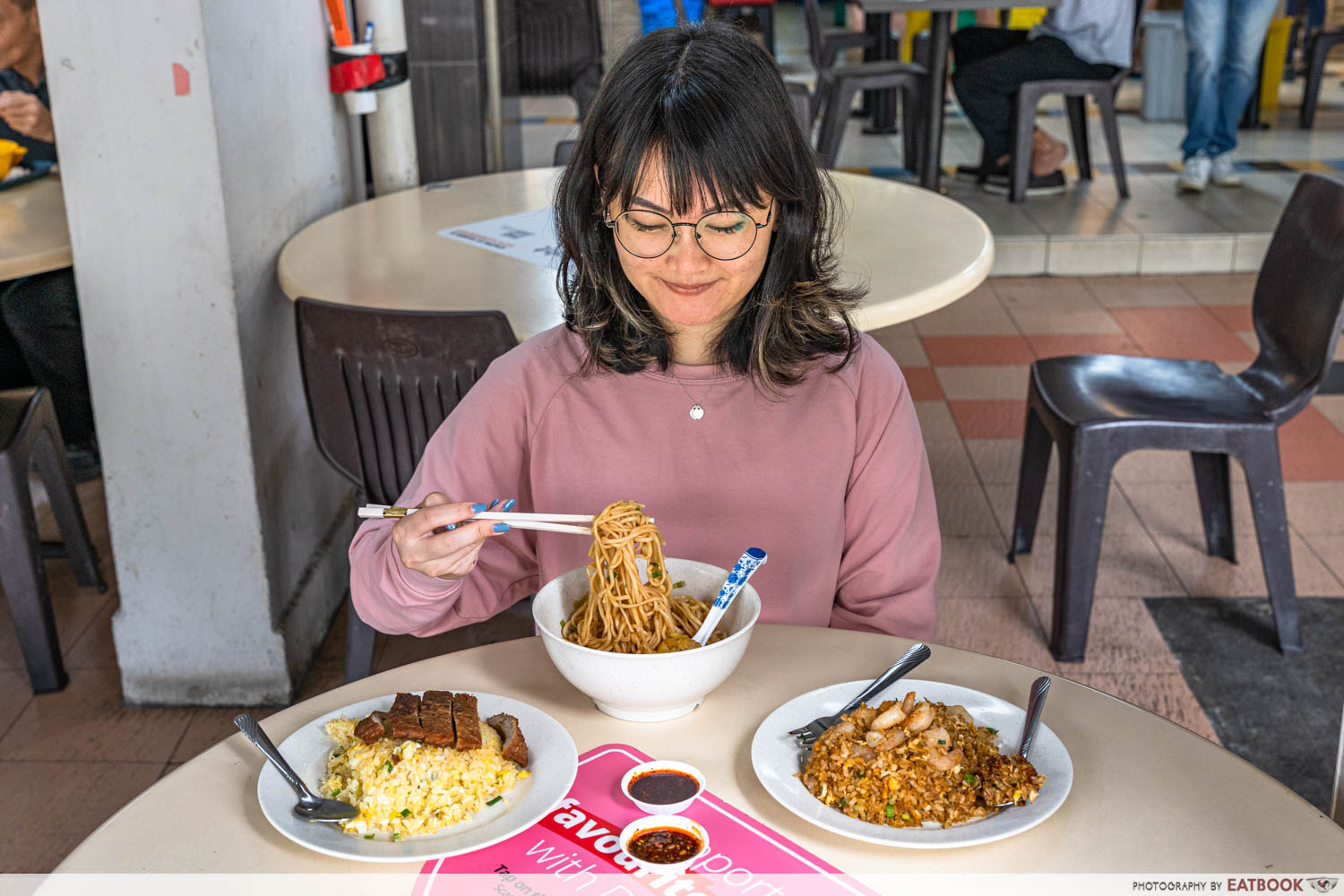 After trying out the egg fried rice from both Din Tai Fung and Ding Gua Gua, my preferences still lean toward the former, though it's not fair to say that Ding Gua Gua's rendition wasn't good. Their egg fried rice was still a decent dish overall, and one well worth its affordable price point. If you live in Bedok and are looking to satisfy your egg fried rice cravings, consider visiting Ding Gua Gua's Fried Rice.
For more good food in the area, read our list of 14 Best Cafes in the East. If you're on the hunt for more fried rice in Singapore, check out these 11 pork chop fried rice places that can rival Din Tai Fung.
Address: Block 69, Bedok South Avenue 3, #01-498, Singapore 460069
Opening hours: Daily 10:30am to 8:30pm
Website
Ding Gua Gua Fried Rice is not a halal-certified eatery.
11 Pork Chop Fried Rice That Are Just As Good As Din Tai Fung
Photos taken by Hui Hui Lau.
This was an independent review by Eatbook.sg
Ding Gua Gua Fried Rice Review: Ex-Din Tai Fung Chef Sells $4 Egg Fried Rice In Bedok
Ding Gua Gua Fried Rice Review: Ex-Din Tai Fung Chef Sells $4 Egg Fried Rice In Bedok -

7/10
Summary
Pros
– Decent egg fried rice with generous portions and toppings
– Extensive menu with noodle dishes and sides
– House-made wonton were tasty
Cons
– Egg fried rice lacked wok hei
– Dry noodles were overcooked
Recommended dishes: DGG Egg Fried Rice With Shrimp ($6.80)
Opening hours: Daily 10:30am to 8:30pm
Address: Block 69, Bedok South Avenue 3, #01-498, Singapore 460069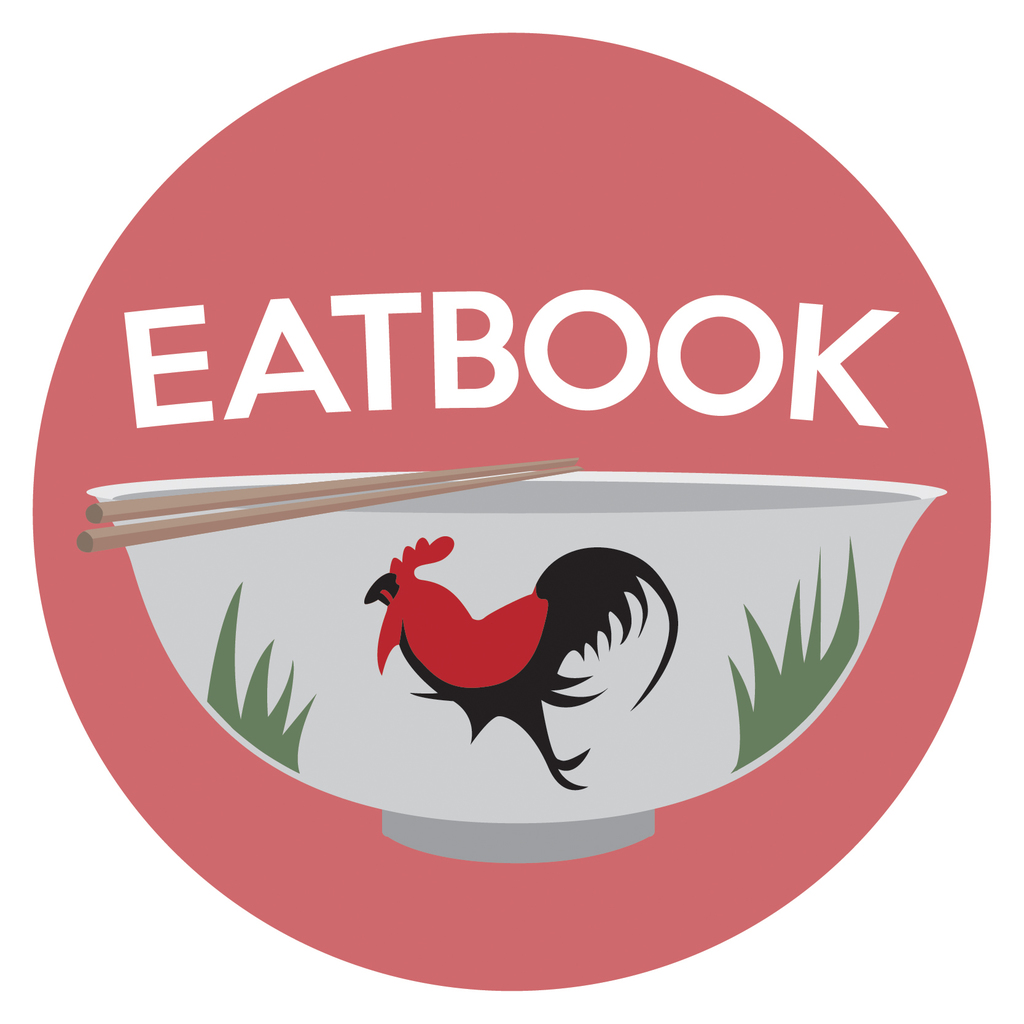 Drop us your email so you won't miss the latest news.