Hong Kong Claypot Rice in Bedok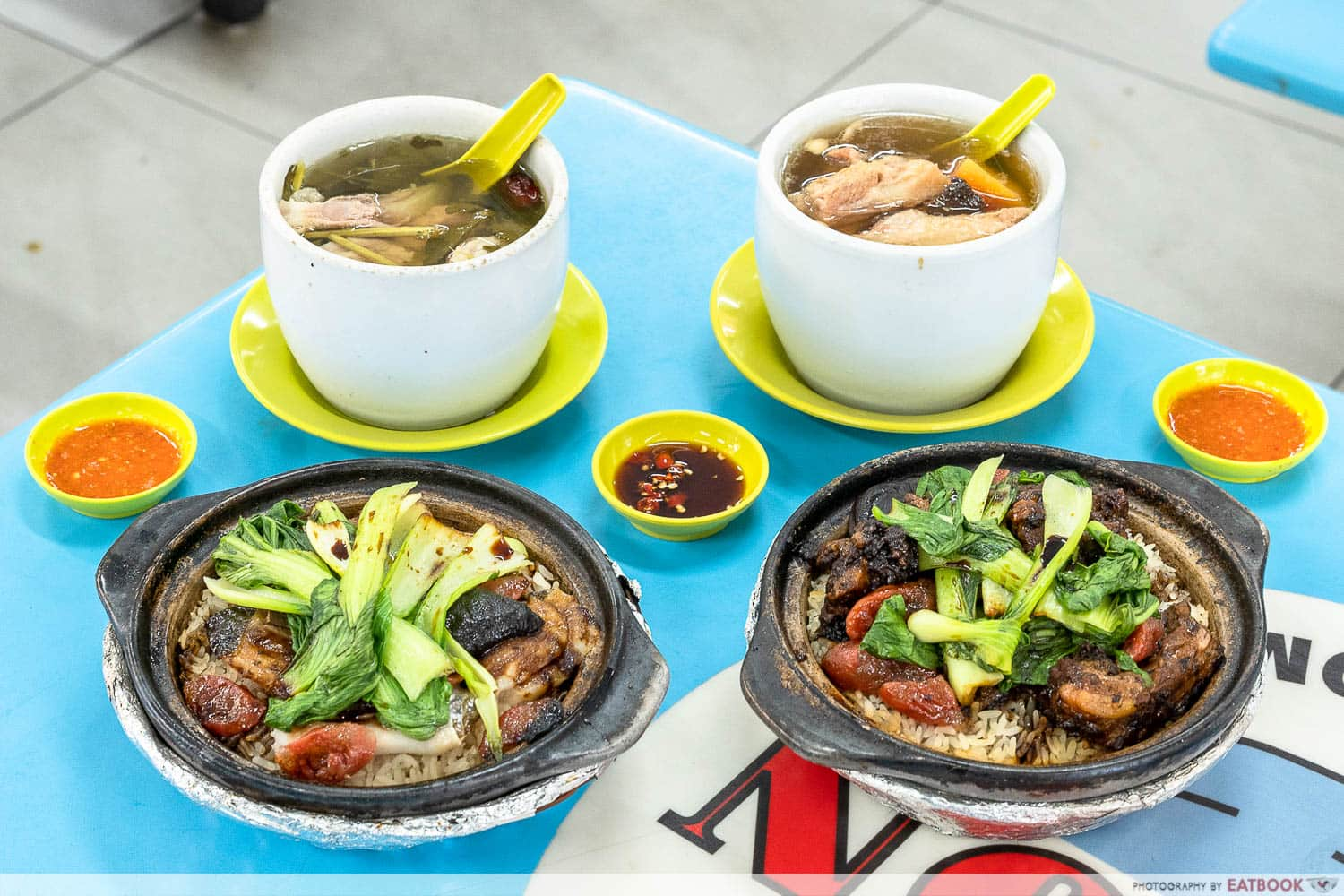 It's been a hot minute since Eatbook last reviewed a claypot rice stall. Thus when we discovered Hong Kong Claypot Rice in the faraway land of Bedok, we had no choice but to check it out. I definitely do not live in the East, but claypot rice is one of my favourite dishes if done right, so I volunteered to visit the stall—albeit begrudgingly.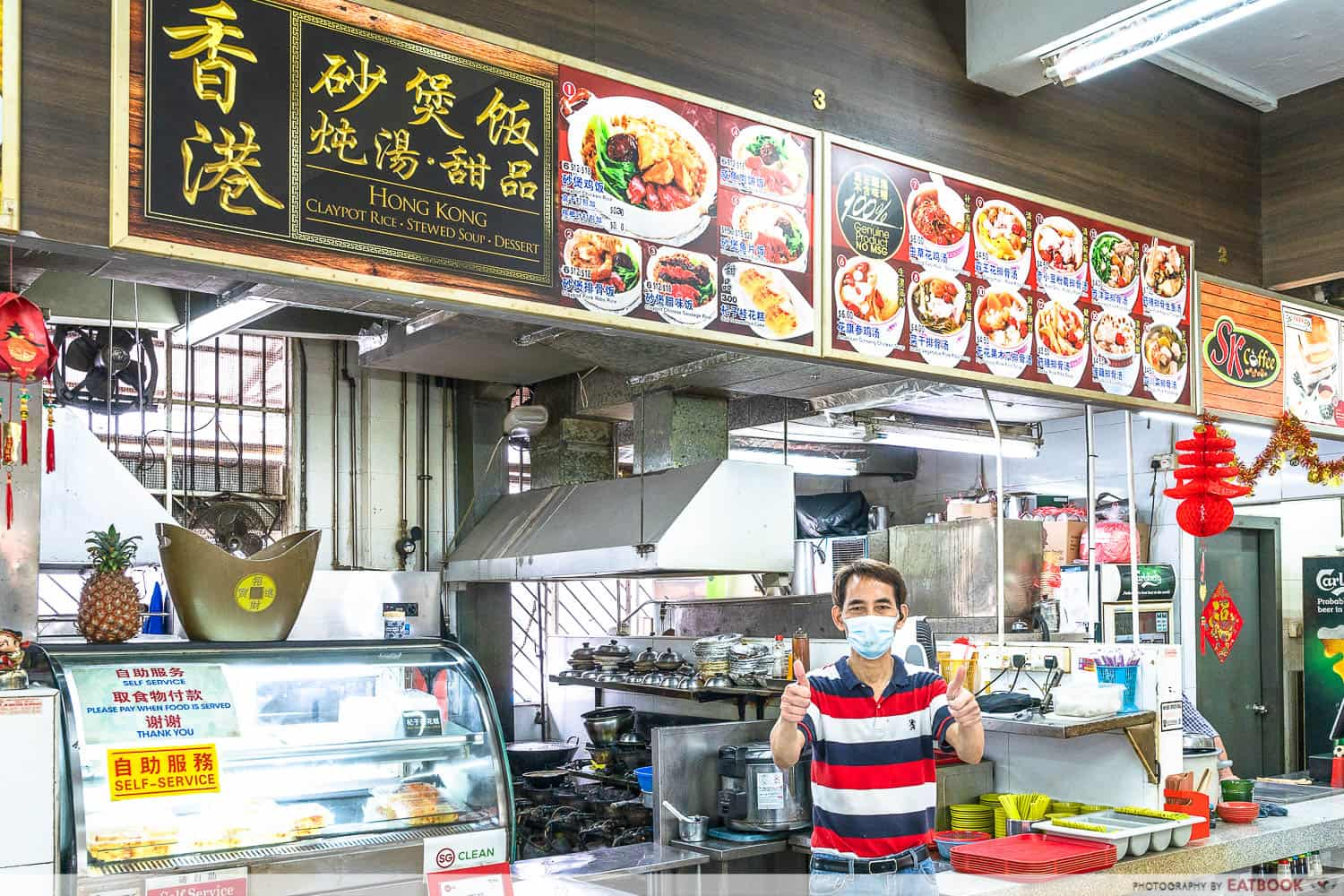 The claypot rice stall is run by a 50-something-year-old uncle, who has been behind the stove here for over 11 years. Uncle was too shy to reveal his name, though he did share a piece of advice with us in Mandarin: "Stay away from F&B, it's a difficult job." 
His job definitely sounds tough—he arrives at the store at 8:30am in the morning to prepare the day's ingredients, and leaves only when he's completed all the washing up around 11pm. 
Food at Hong Kong Claypot Rice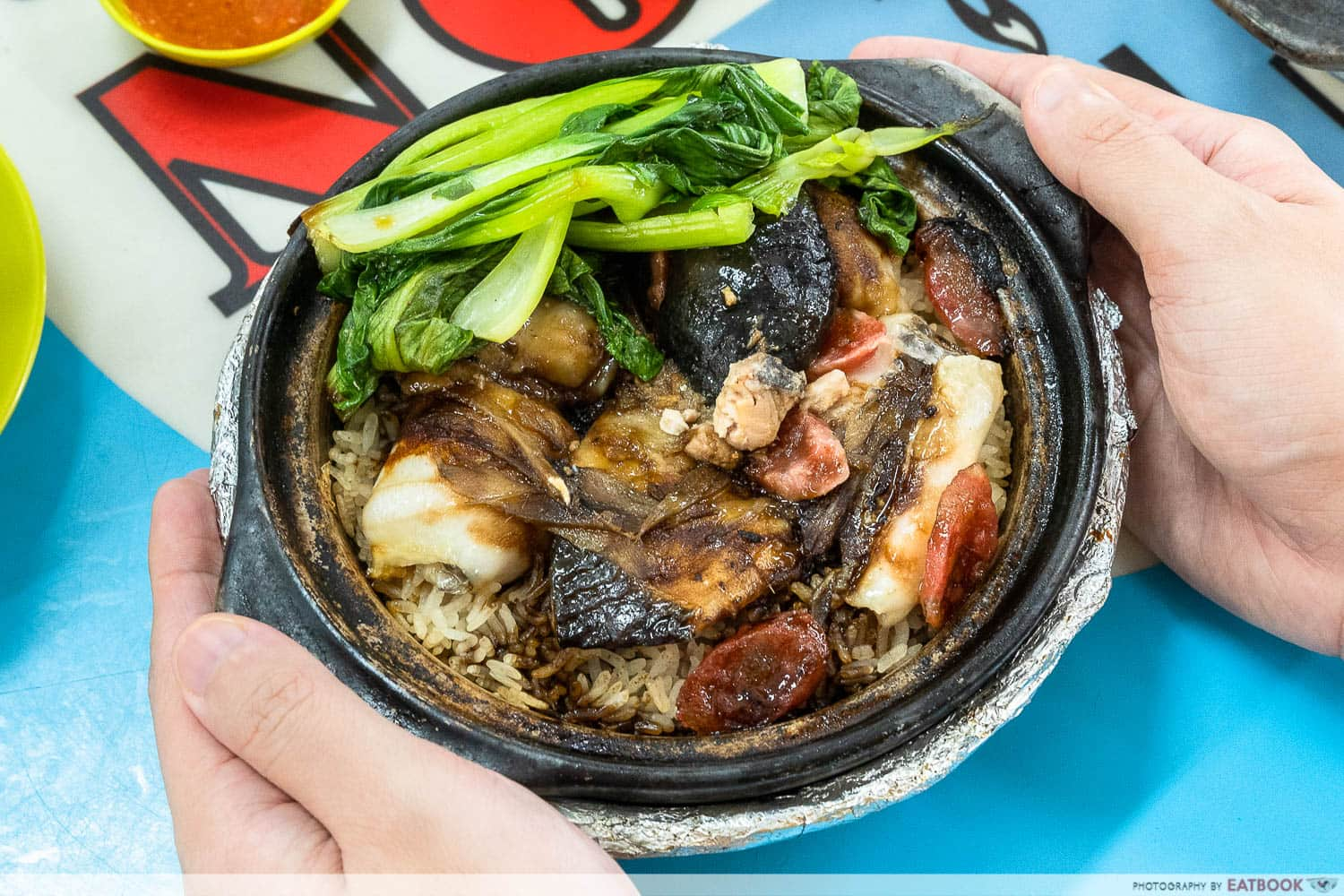 Cooking claypot rice is pretty much a hands-free process, so we listened to Uncle regale us with his stories as we waited for the rice to cook. He recommended we try the Claypot Sliced Fish Rice ($6.50/$15/$20), so we went with the smallest option. 
As soon as we lifted the lid, we caught a whiff of a burnt scent almost instantly. This didn't bode well for the Claypot Sliced Fish Rice, as the rice also seemed to be quite dry. Mixing the rice, I found that the bits stuck to the pot were indeed burnt and dried out.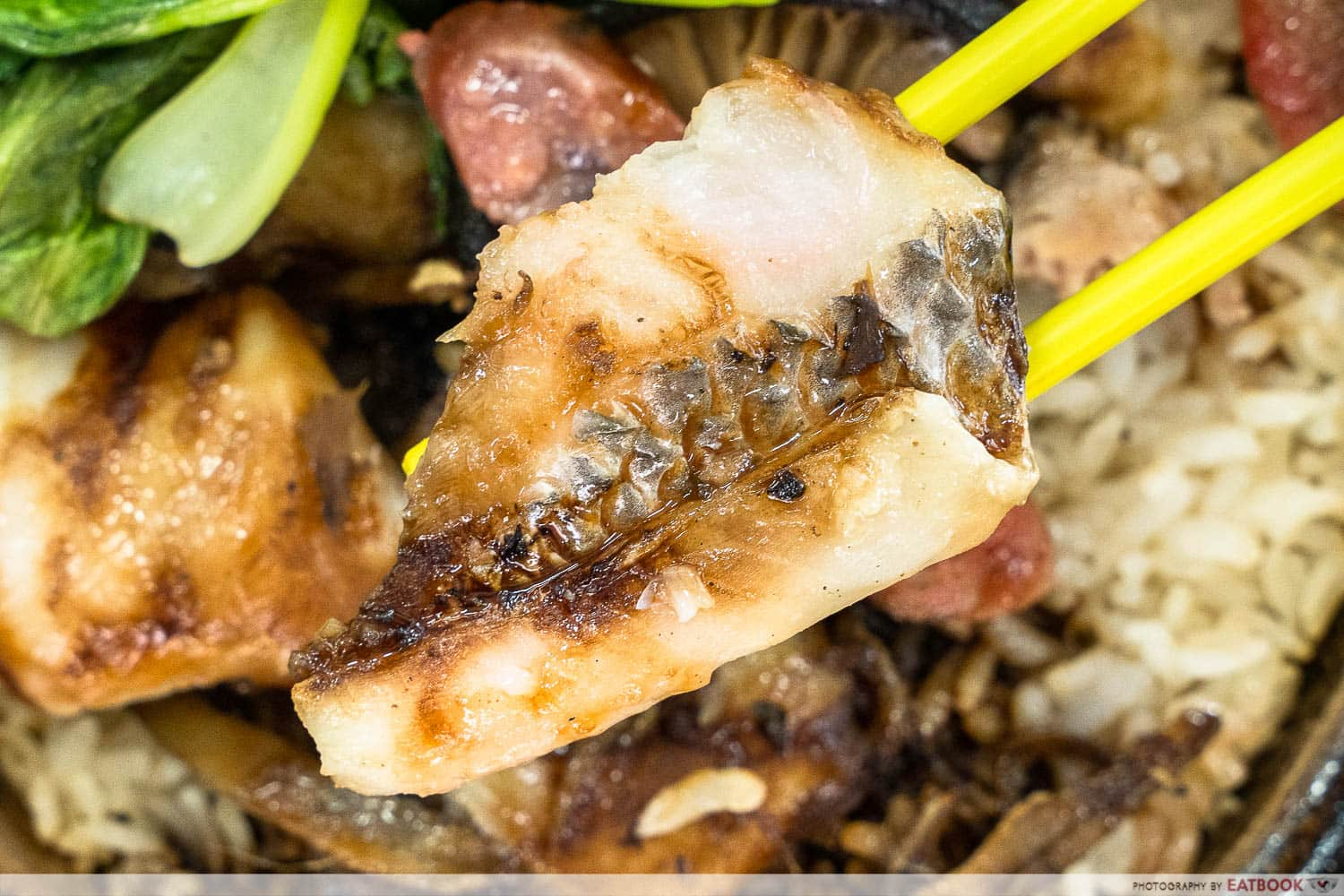 Though this was regrettable, fortunately none of the other ingredients were overcooked. The slices of fish were remarkably tender and soft, and even featured a slight smokiness. There were also thin slices of ginger atop the fish, which helped mask any fishiness that might have been present. 
Dipped in Hong Kong Claypot Rice's house-made belacan, the slices of fish became even tastier. What was once a natural sweetness was now enhanced by the tangy chilli, which made the fish irresistible.  
I like my claypot rice doused in dark soya sauce, but if you like it even saltier, the claypot rice also comes with some salted fish.
We also ordered the Claypot Pork Ribs Rice ($6/$12/$18), which sees the fish slices replaced by thick chunks of ribs. Though the pork ribs were not fall-off-the-bone tender, they were quite well-seasoned, thanks to the additional drizzle of dark soya sauce.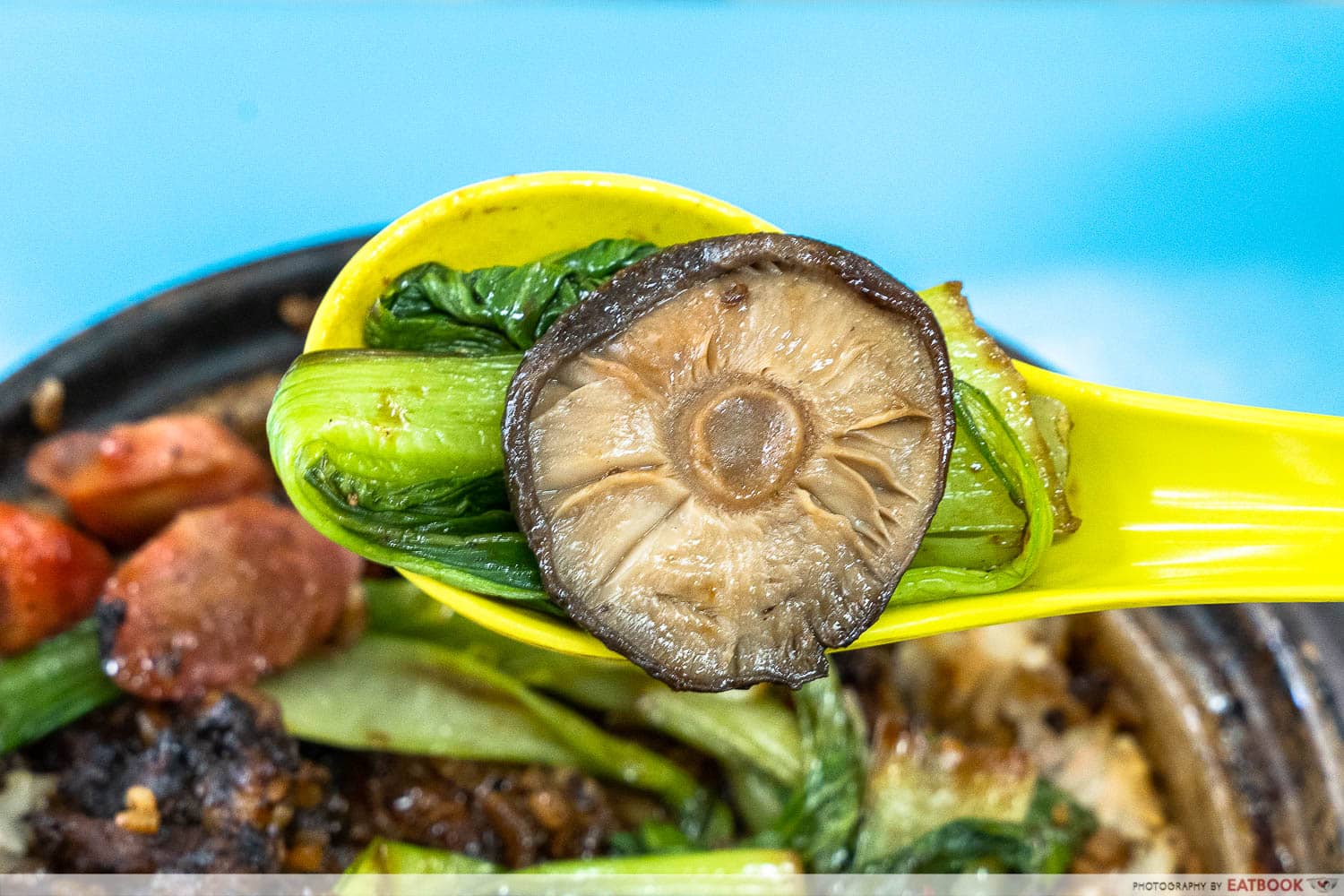 All of the claypot rice here are served with mushrooms, lup cheong, and xiao bai cai. I loved that the shiitake mushrooms had absorbed the dark soya sauce, which gave it another burst of flavour. 
I also appreciated the xiao bai cai as it served as a crunchy palate cleanser in between mouthfuls of rice.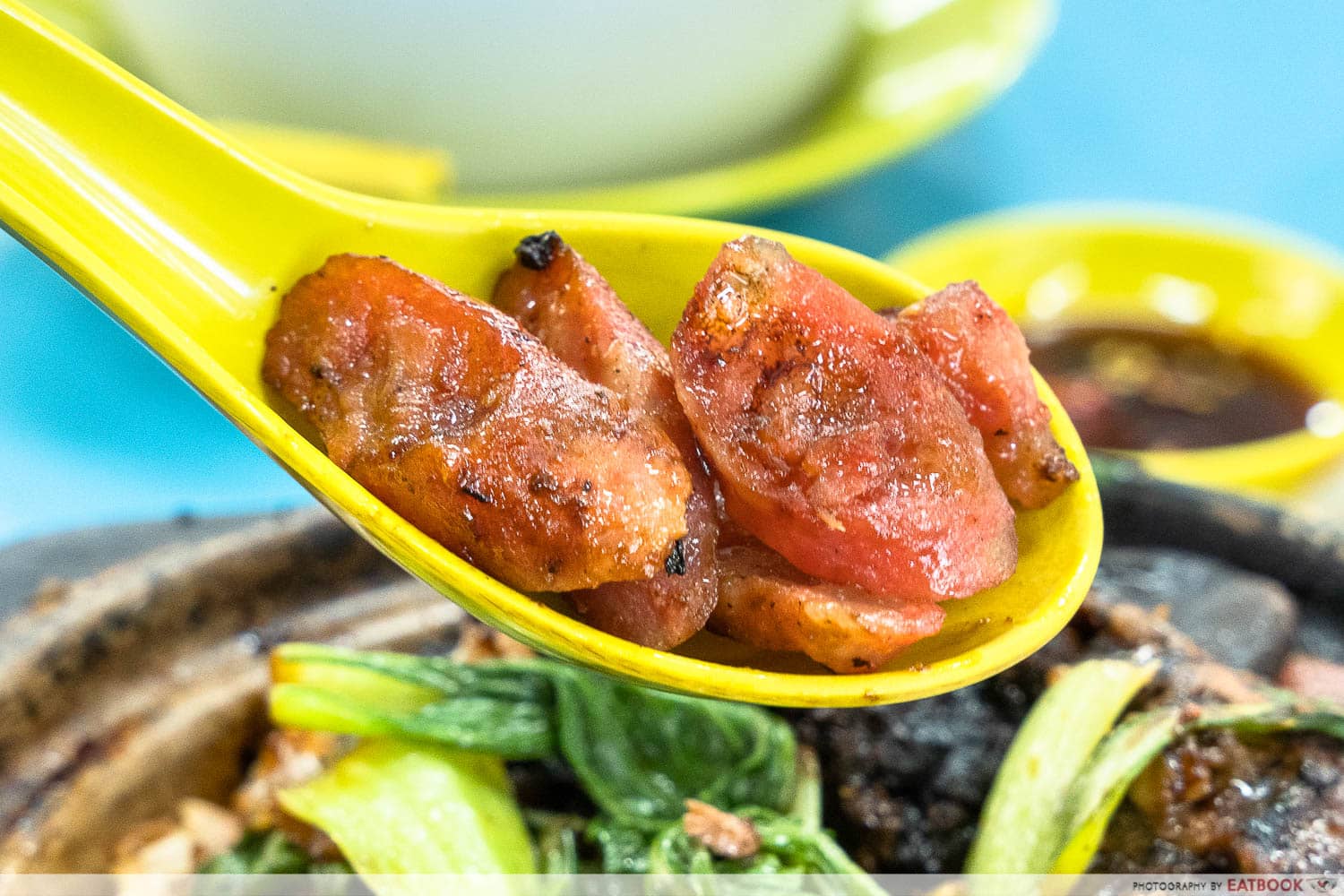 The lup cheong was a tad sweeter than I would have liked, but that's a minor mishap compared to the rice itself. Again, the guo ba, or rice crust, was chao ta, which left an unfortunate bitterness in my mouth.  
Hong Kong Claypot Rice also sells stewed soups with their claypot rice, though only three of the original 11 were available at the time of our visit. Uncle tells us this is because he's short on manpower, and so he can't prepare as many dishes as he wishes to.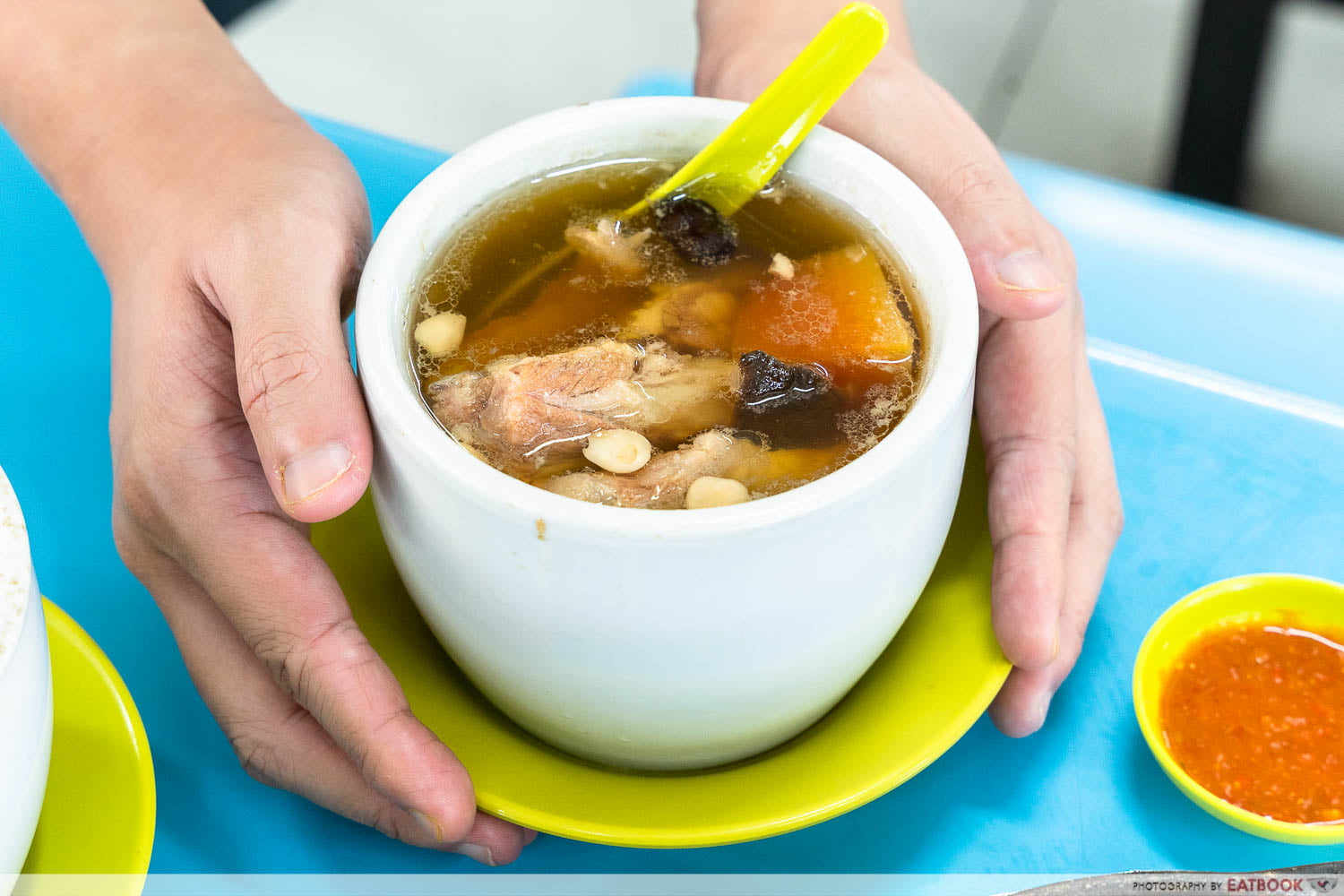 We asked for recommendations, but Uncle proudly claimed that they were, "All good!", because he doesn't add MSG to his soup. We went with the Fig Papaya Pork Ribs Soup ($4.50) and Watercress Pork Ribs Soup ($4), and they were indeed both delicious in their own right.
Stewed with pieces of ripe papaya and dried figs, the former was light and clean-tasting with a pronounced sweetness. Don't let the floating layer of oil fool you, as the soup was not at all greasy. Chuan bei, or yellow Himalayan fritillary in English, which is good for coughs, is also added to the soup.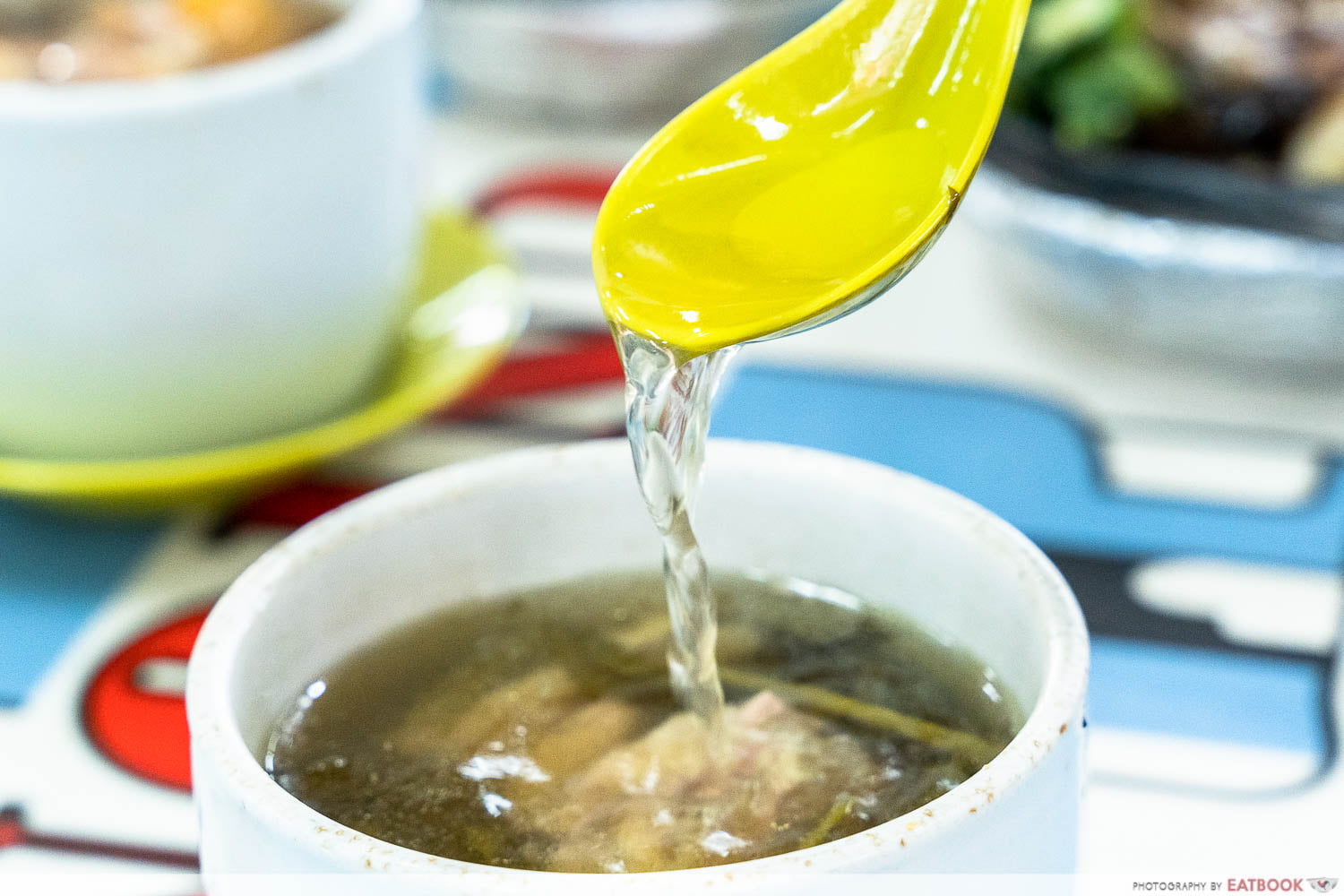 I usually shy away from watercress because I immensely dislike how bitter it tastes, but Hong Kong Claypot Rice's Watercress Pork Rib Soup was surprisingly not. Instead, the soup was actually slightly sweet, with a hint of bitterness in the background.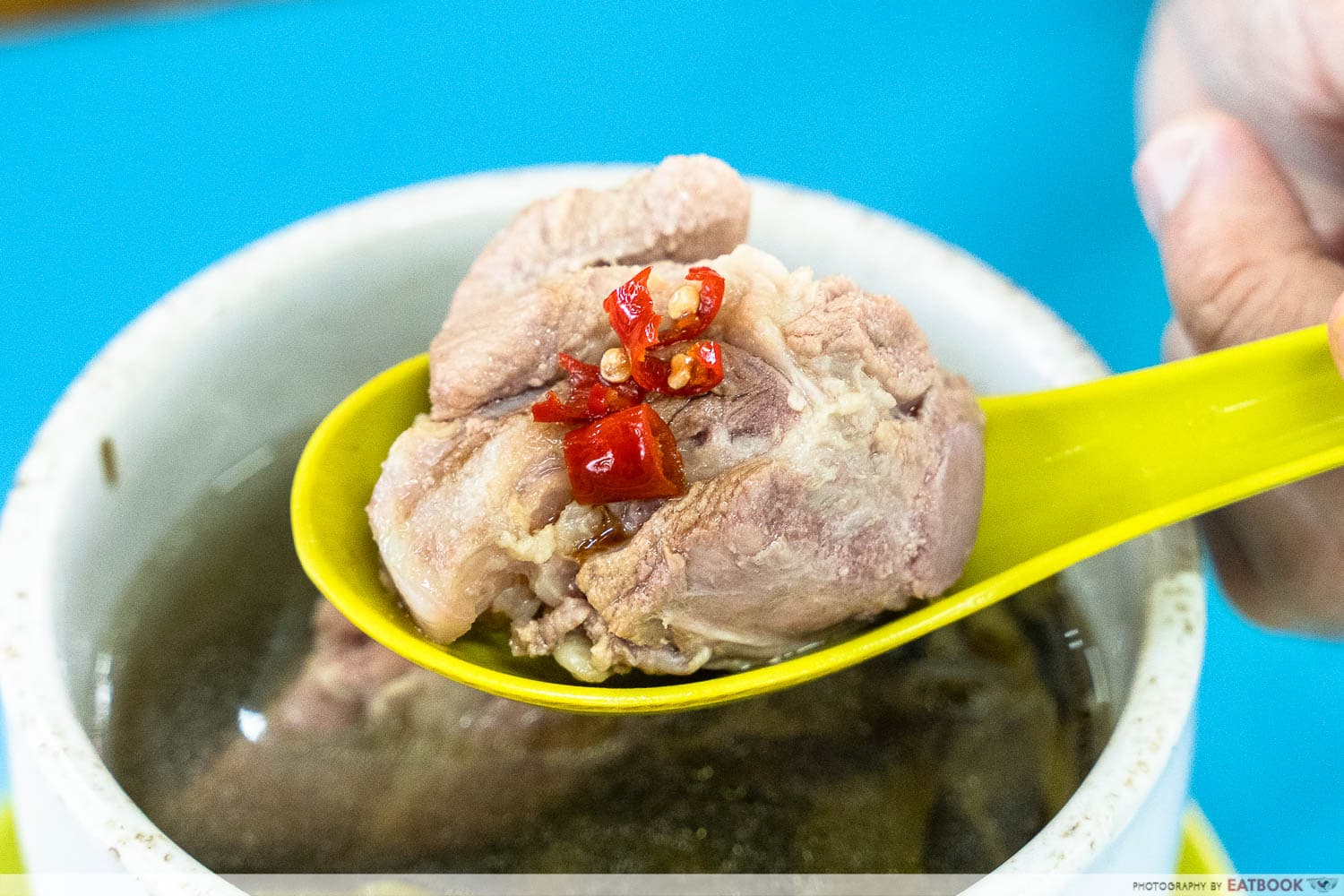 The pork ribs in both soups were also just fall-apart tender, which made the dishes even more remarkable in my opinion.
Ambience at Hong Kong Claypot Rice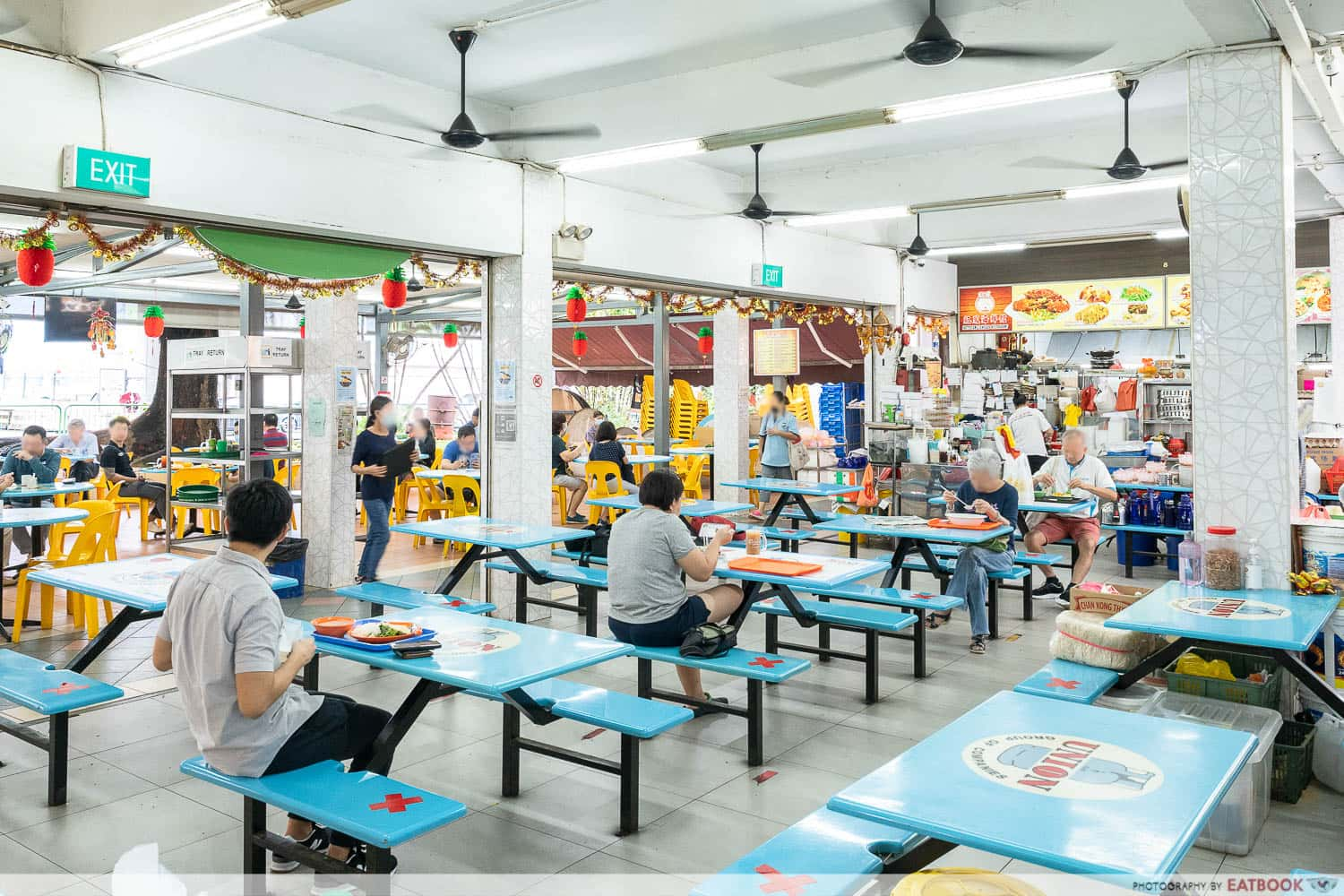 Hong Kong Claypot Rice is located in between Bedok and Tanah Merah MRT Stations, accessible via a short bus ride from both stations. There's nothing too noteworthy about the coffeeshop it's found in, other than the fact that there are many ceiling fans around, so you'll be kept cool as you dine.
The verdict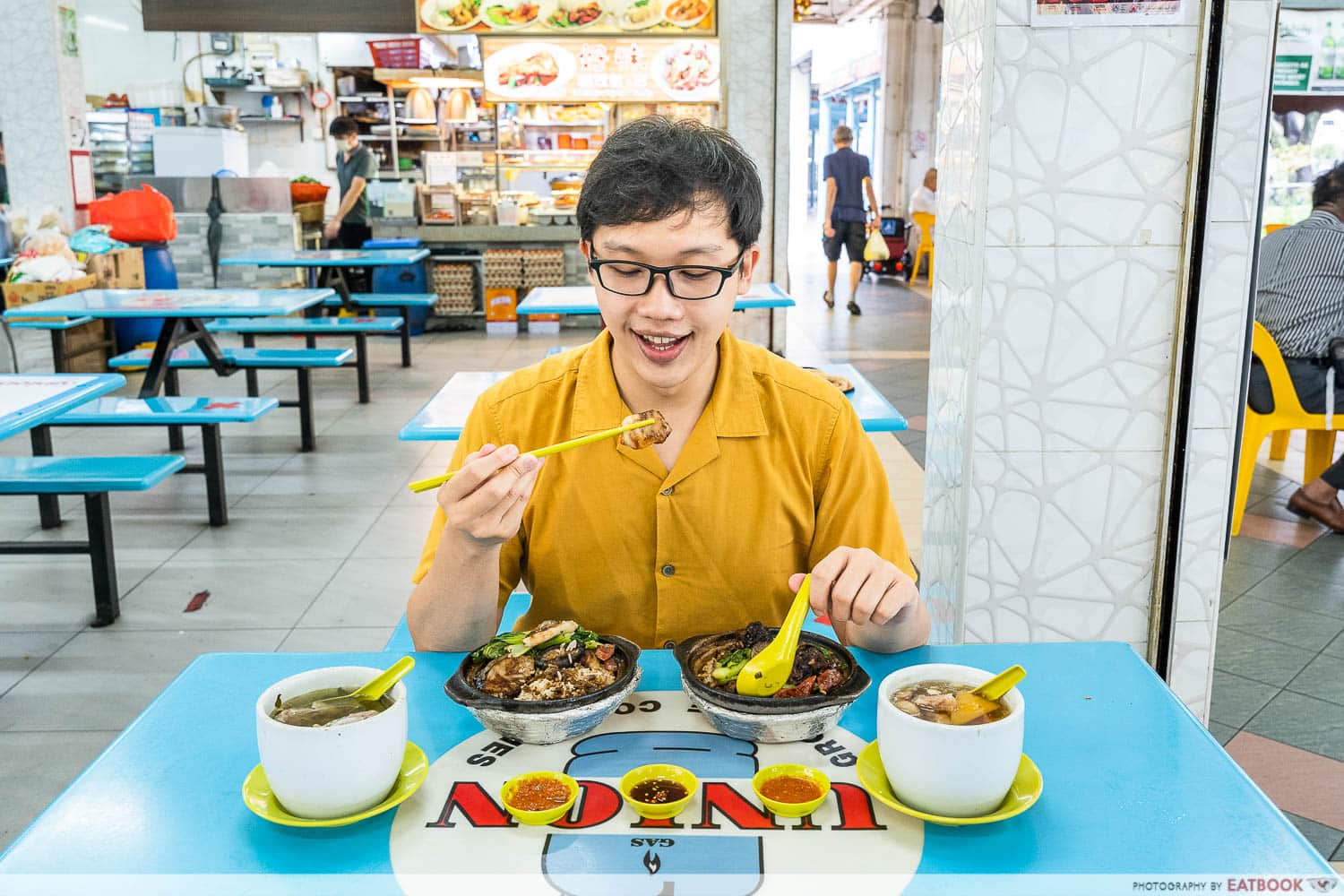 The art of claypot rice cooking is not easy, and I'm sure that the 11 years of experience would mean that Uncle has learnt, if not perfected it. The rice here is cooked from scratch over the stove, which I'm certain would usually result in a dish that's crispy and full of wok hei. We only waited about 15 minutes for both our claypot rice, but I wouldn't mind waiting longer for a better executed dish.
I'm willing to write off my burnt-rice experience at Hong Kong Claypot Rice as a one-off slip-up, because the delicious accompanying proteins and soups assure me that Uncle can indeed cook. If it weren't so far away, I would visit Bedok again in a heartbeat to give Hong Kong Claypot a second chance. 
For more claypot dishes and stewed soups, check out our Canton Delicacies review. If you want another food option in Bedok, there's MAT Western, which is a Muslim-owned pizzeria!
Address: 56 New Upper Changi Road, #01-1300, SK Coffee, Singapore 461056
Opening hours: Thurs-Tue 11am to 9pm
Tel: 9852 6183
Hong Kong Claypot Rice is not a halal-certified eatery.
Canton Delicacies Review: $3.50 Salted Egg Pork Rice And More By Ex-Marriott Chef At Geylang Bahru
Photos taken by Zadelin Wong.
This was an independent review by Eatbook.sg
Hong Kong Claypot Rice Stewed Soup Dessert Review: Cantonese-style Claypot Rice From $6 In Bedok
Hong Kong Claypot Rice Stewed Soup Dessert Review: Cantonese-style Claypot Rice From $6 In Bedok -

7/10
Summary
Pros
– Fish was firm and fresh
– Soups were light and refreshing
Cons
– Rice was burnt 
– Reduced menu offerings
Recommended dishes: Fig Papaya Pork Ribs Soup ($4.50), Claypot Sliced Fish Rice ($6.50)
Opening hours: Thurs-Tue 11am to 9pm
Address: 56 New Upper Changi Road, #01-1300, SK Coffee, Singapore 461056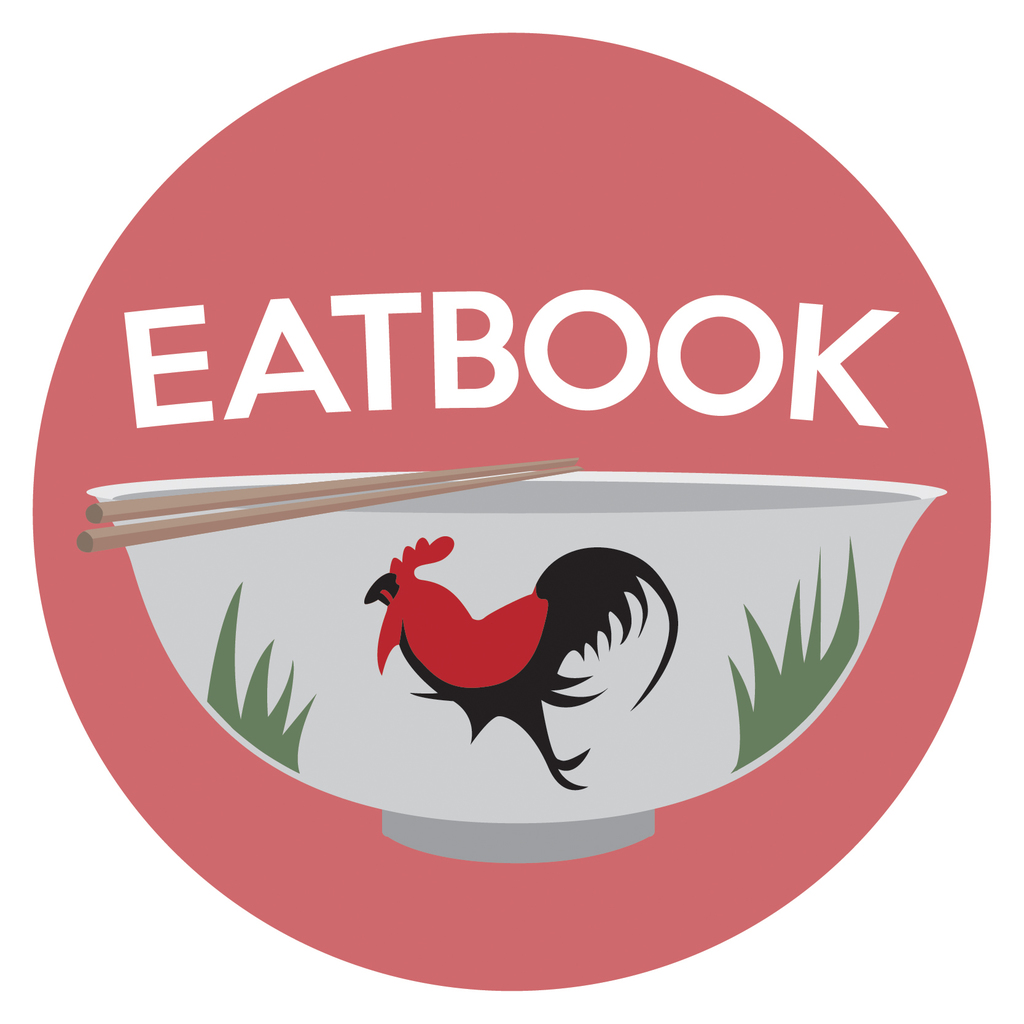 Drop us your email so you won't miss the latest news.