Canton Delicacies at Geylang Bahru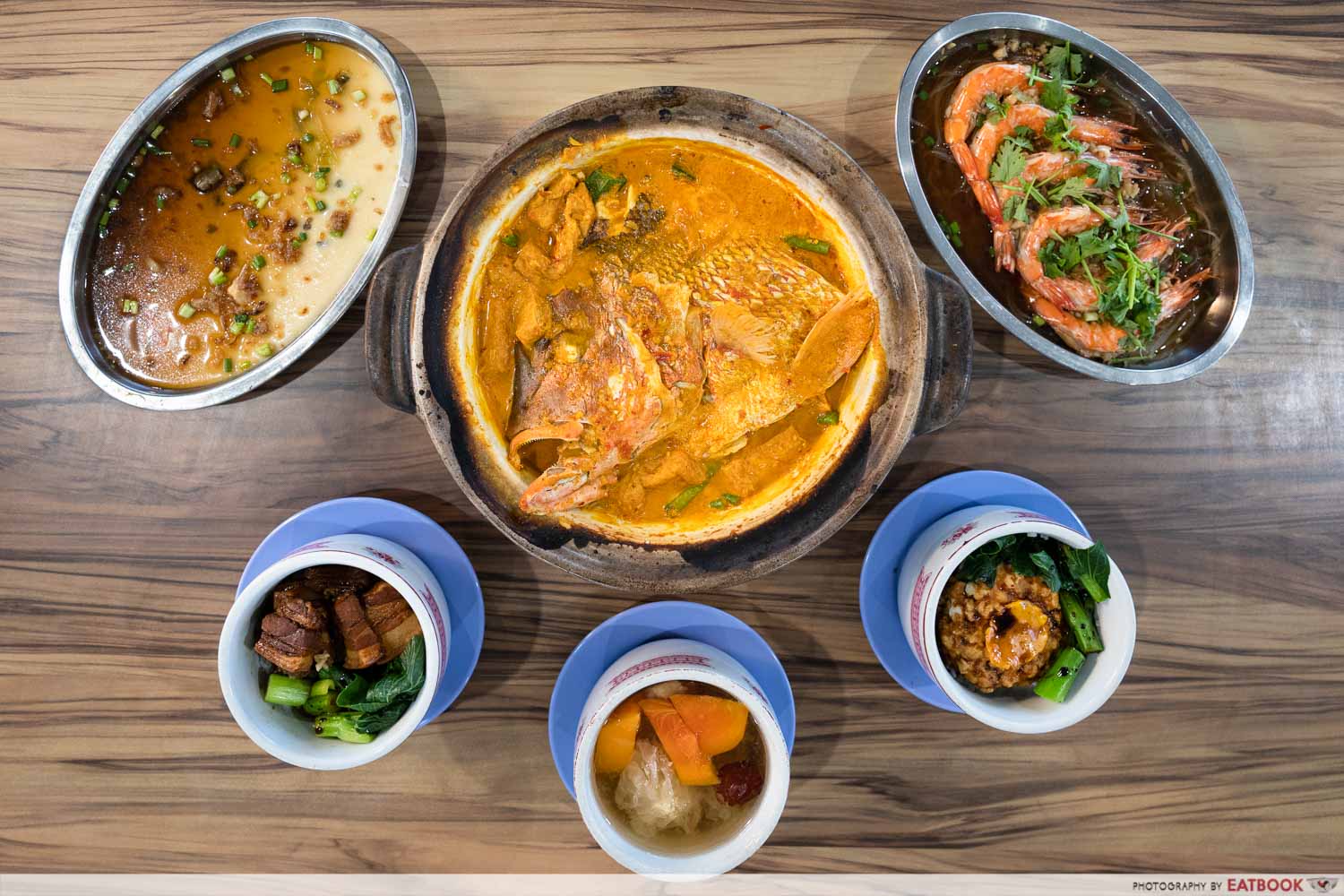 I may love my pasta and potatoes, but there's nothing like good ol' Chinese food—and white rice—to soothe the soul. Being Cantonese and all that, my attention was caught when I first saw Canton Delicacies rise to fame online for their affordable steamed pork patties, soups and many more.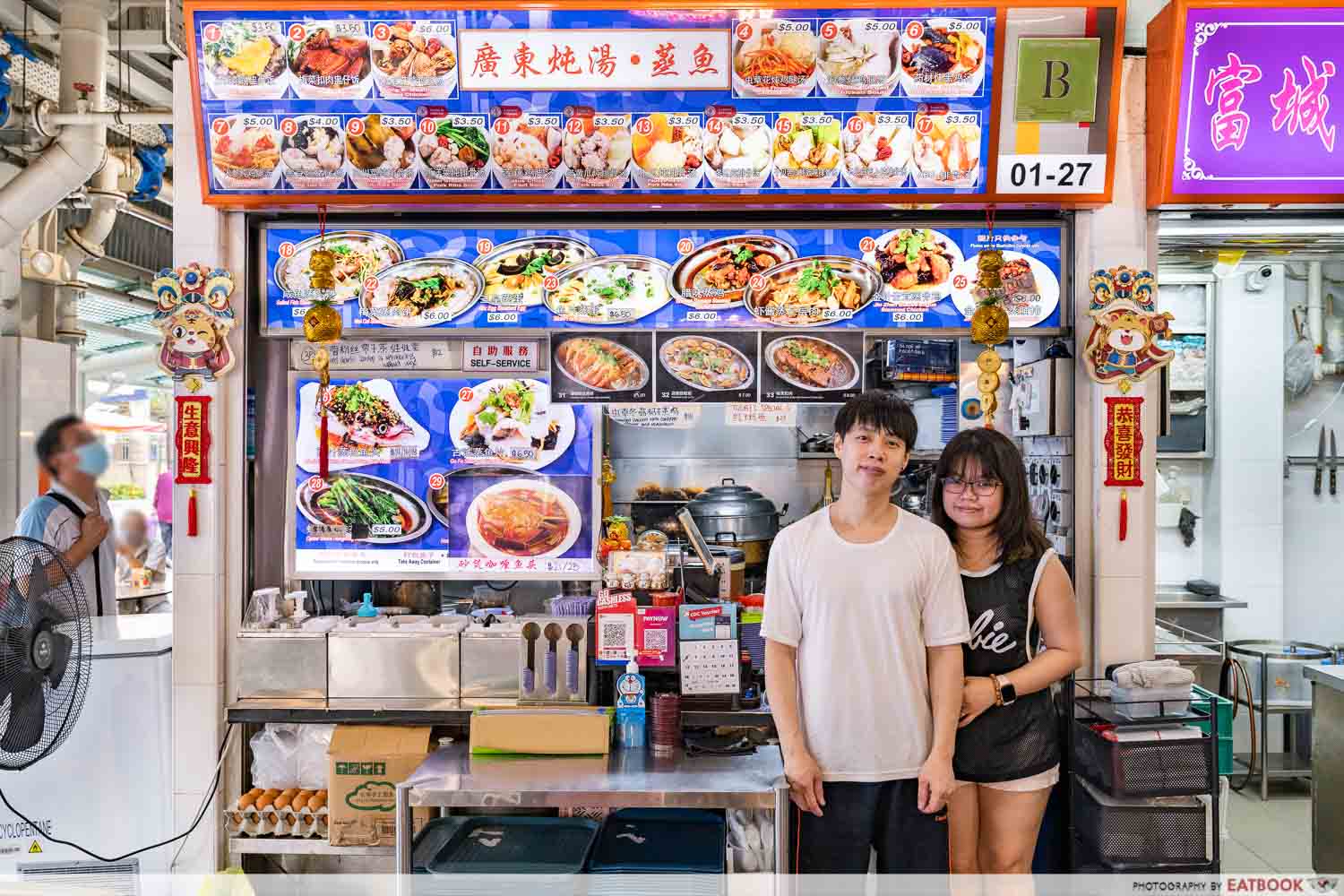 Manning this hawker stall is Chef Ericson Ng, a 30-something-year-old chap who spent more than a decade at Wan Hao Chinese Restaurant at Marriott Tang Plaza Hotel. By his side is his wife Candyce, who takes orders and settles the administrative side of things while he runs the kitchen show.
Food at Canton Delicacies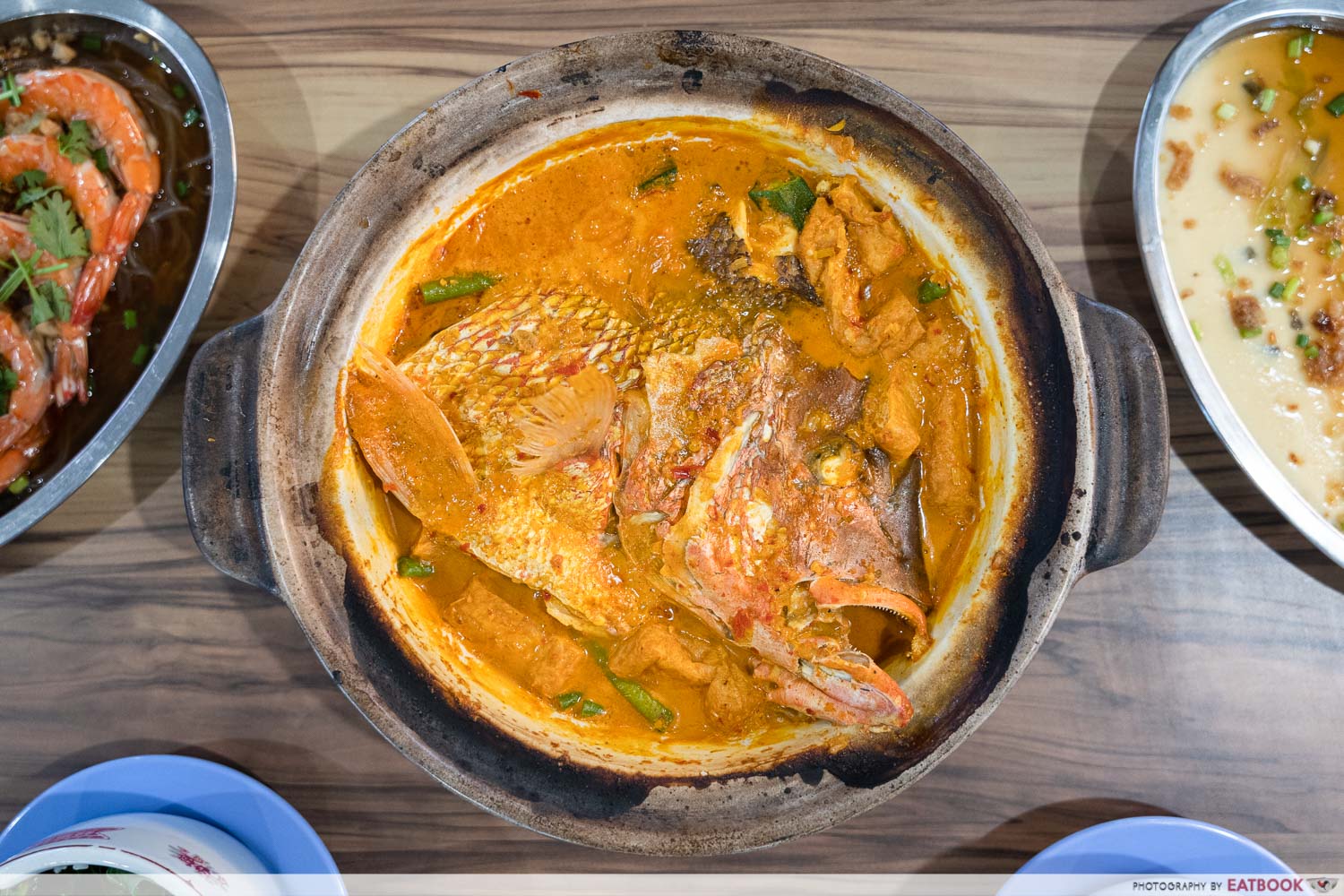 I sometimes avoid ordering fish head curry when I dine out because I'm rather fussy with the fish I eat. It came as a pleasant surprise, then, when I saw a huge Red Snapper head in our order of Curry Fish Head ($21). That comes with half a head, but top up just $4, and you'll get a bigger one, with more liao.
When we were there, there was also Red Grouper ($22) on the menu—Chef Ericson goes to the market early every morning to personally select fresh produce for the day.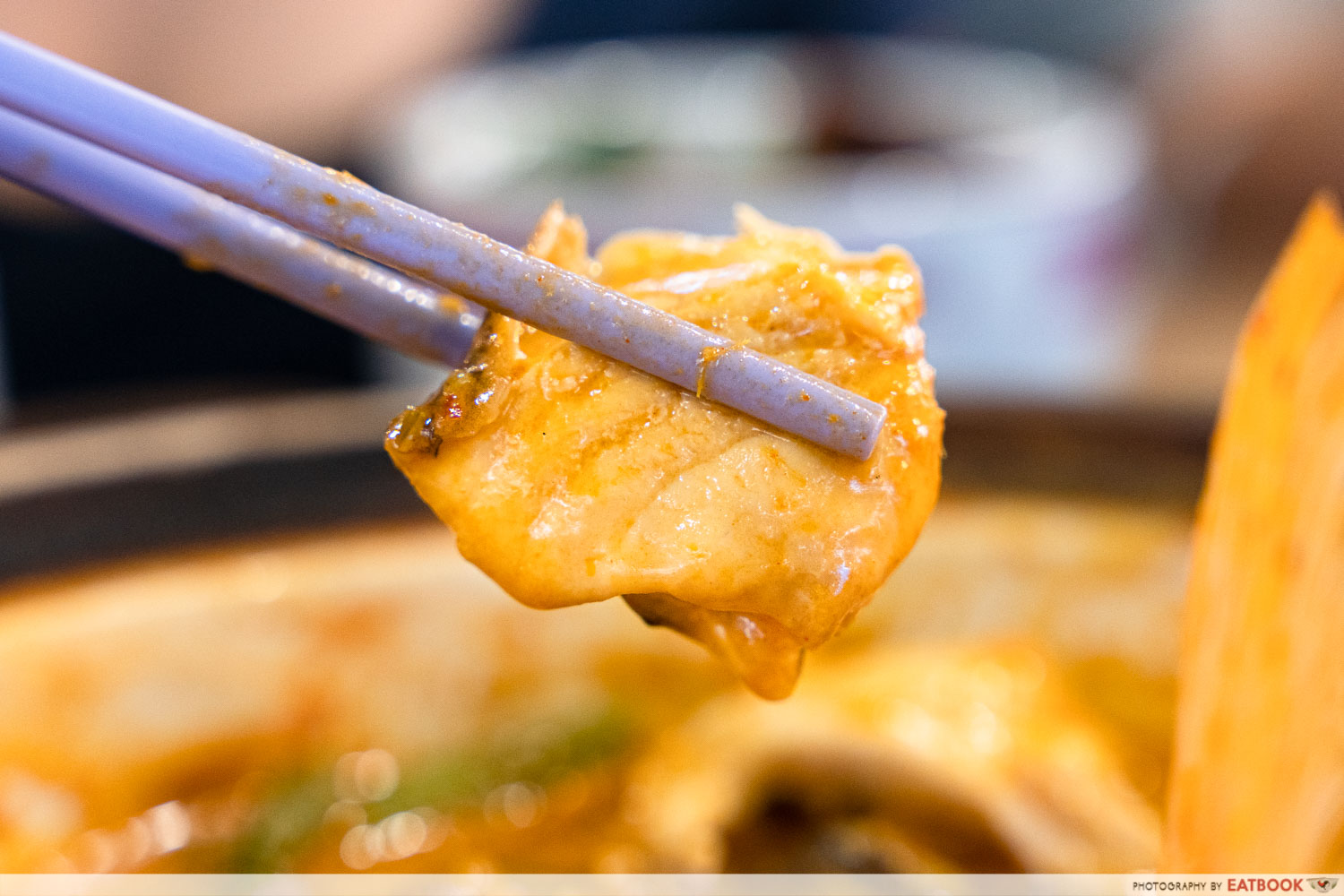 The snapper was undeniably fresh, and cooked just right so the flesh was flaky and moist.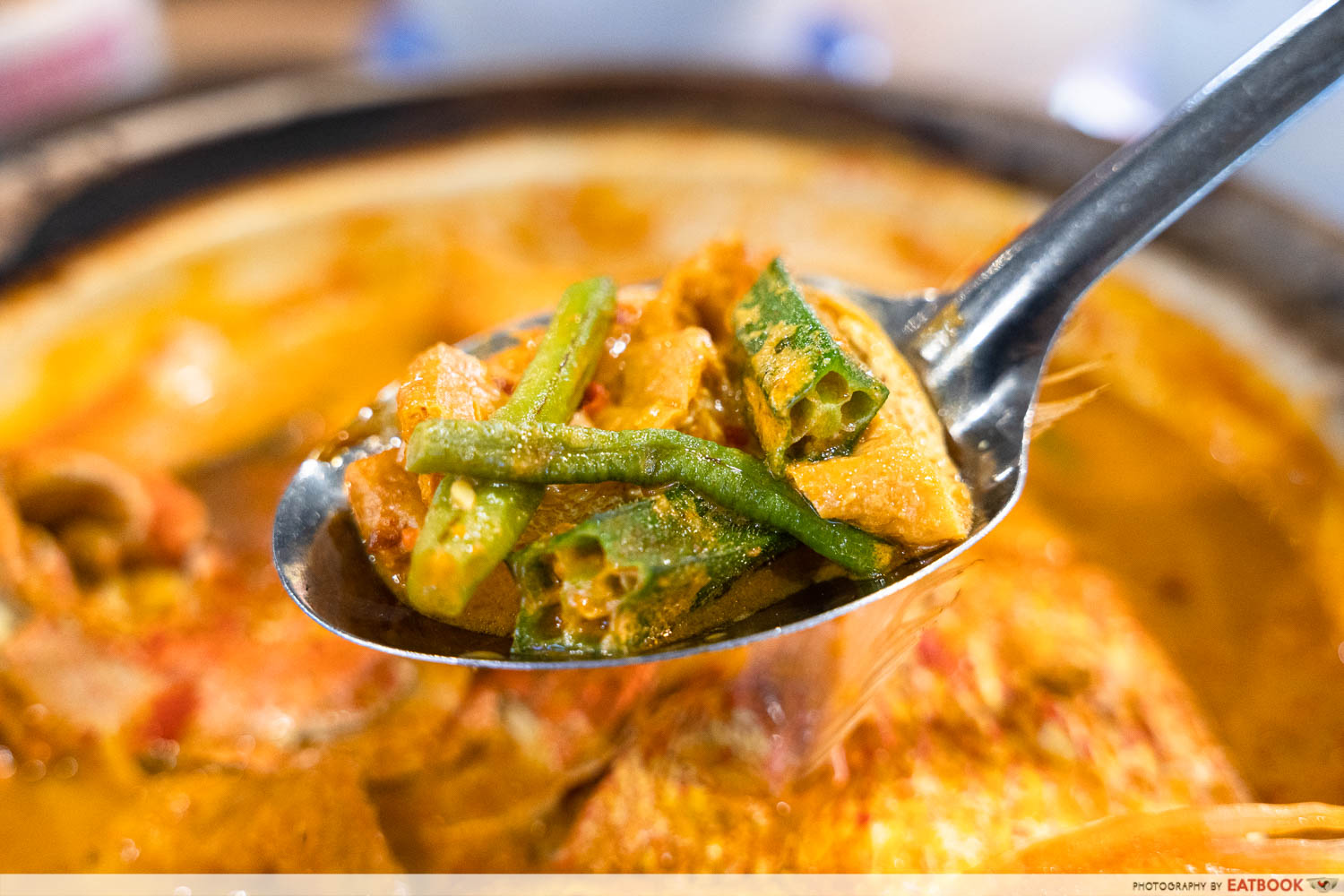 Typical of the dish, the claypot also held ladies' fingers, long beans, tau pok, and chunks of eggplant. None of the vegetables were too raw and green-tasting, nor were they cooked to a wilted yellow.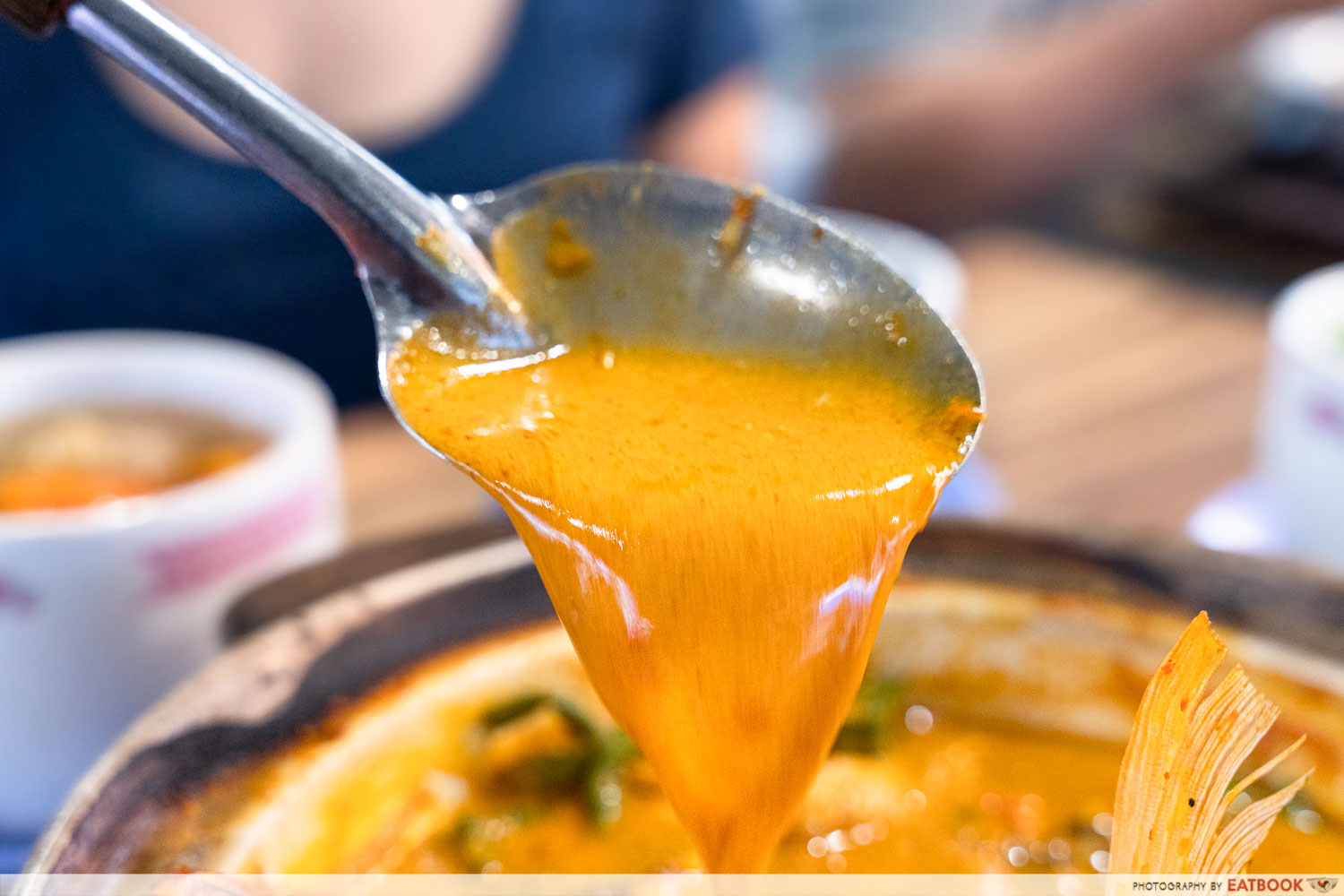 You can't really go very wrong with good, fresh fish, but the curry gravy here was the MVP. Tasty and rich, it wasn't overly thick or lemak, neither was it thin and watered down. My colleague began drinking this like a soup, which says something about it.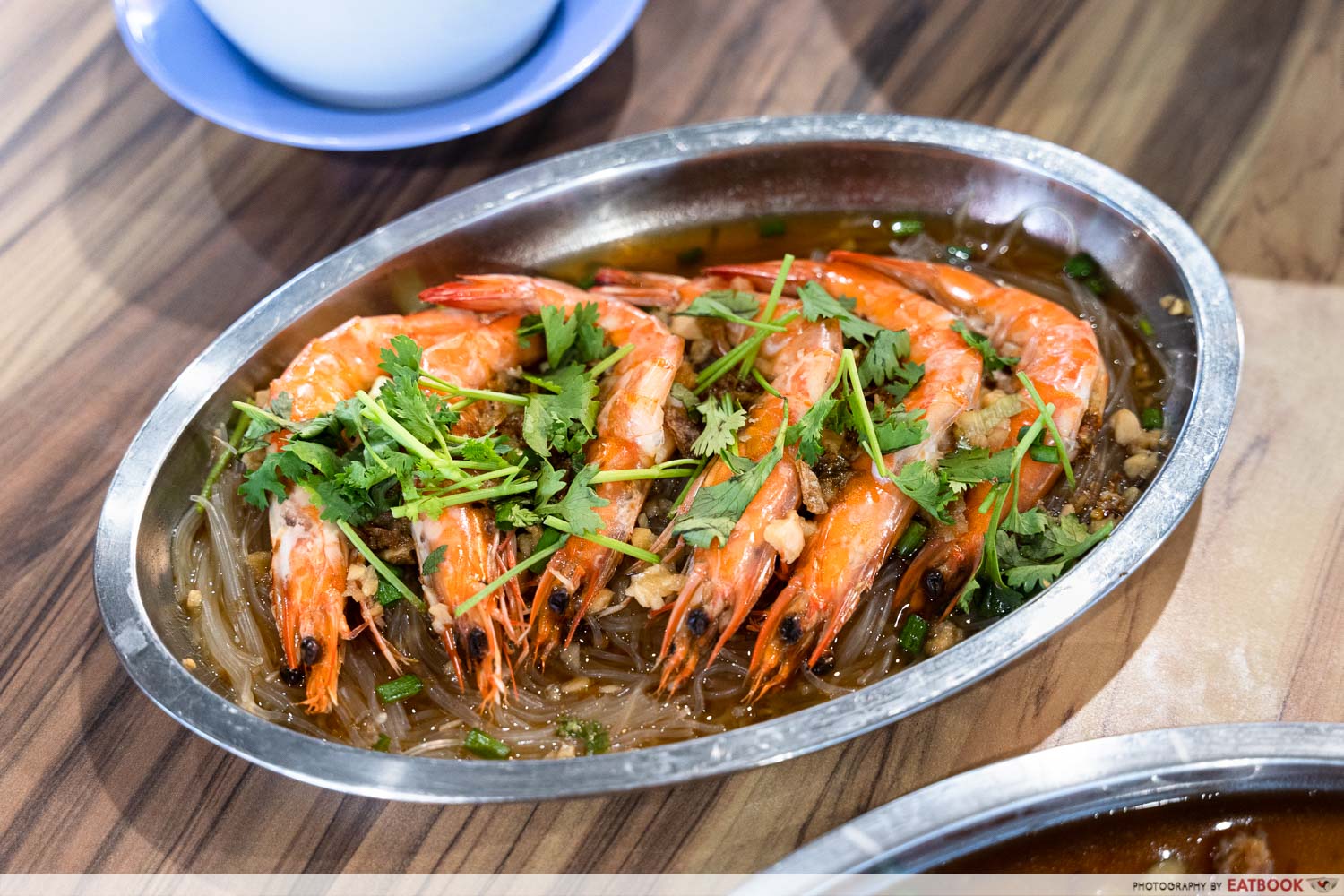 Spotlighting the freshness of the seafood was Steamed Garlic Prawns with Vermicelli ($9), where you'll get six prawns on a bed of tang hoon, in a HK-style steamed seafood sauce, topped with fried garlic and aromatic coriander.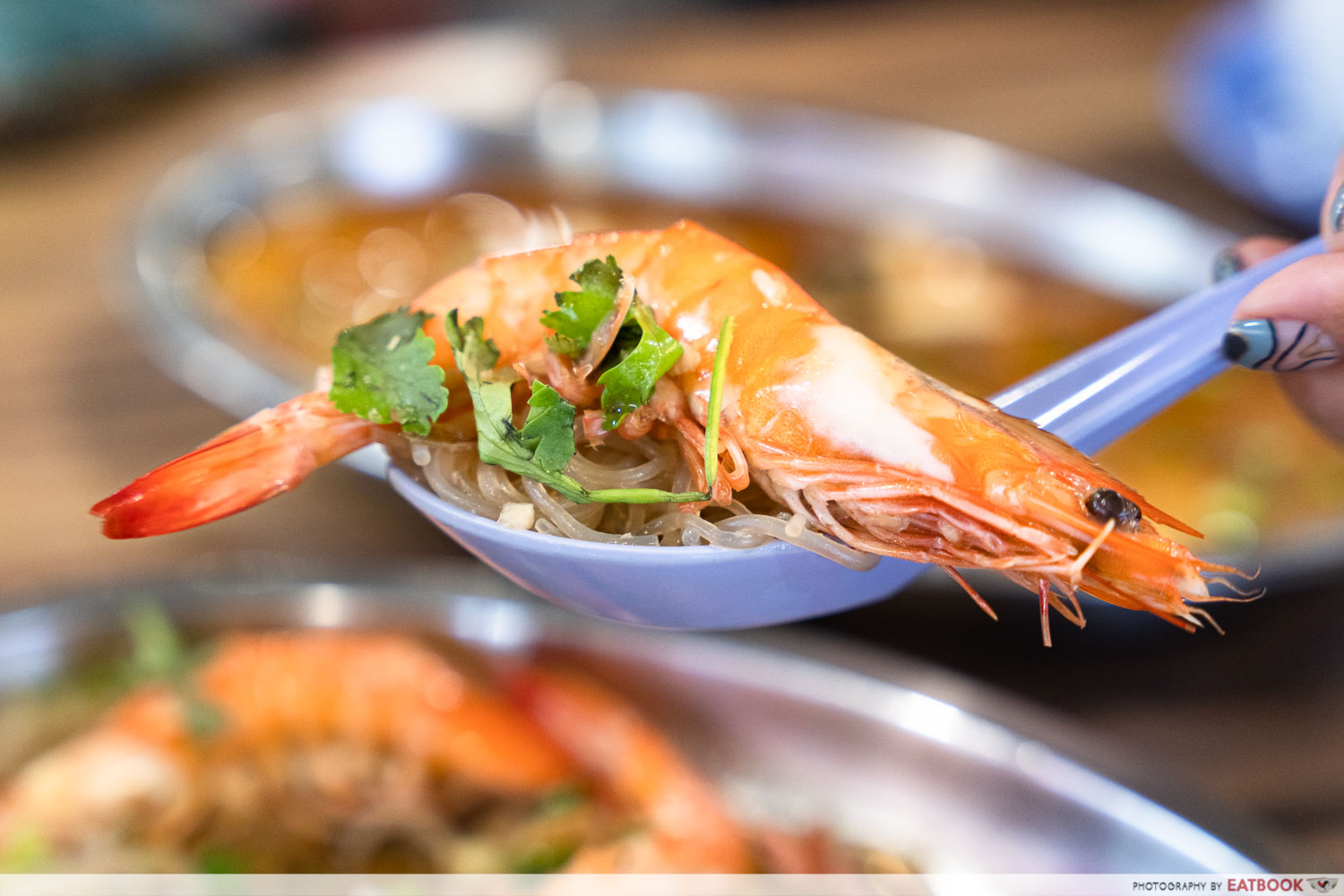 Eat the prawns while they're fresh from the steamer, and allow the vermicelli to soak up all the sweet prawn stock and sauce, before you eat that later.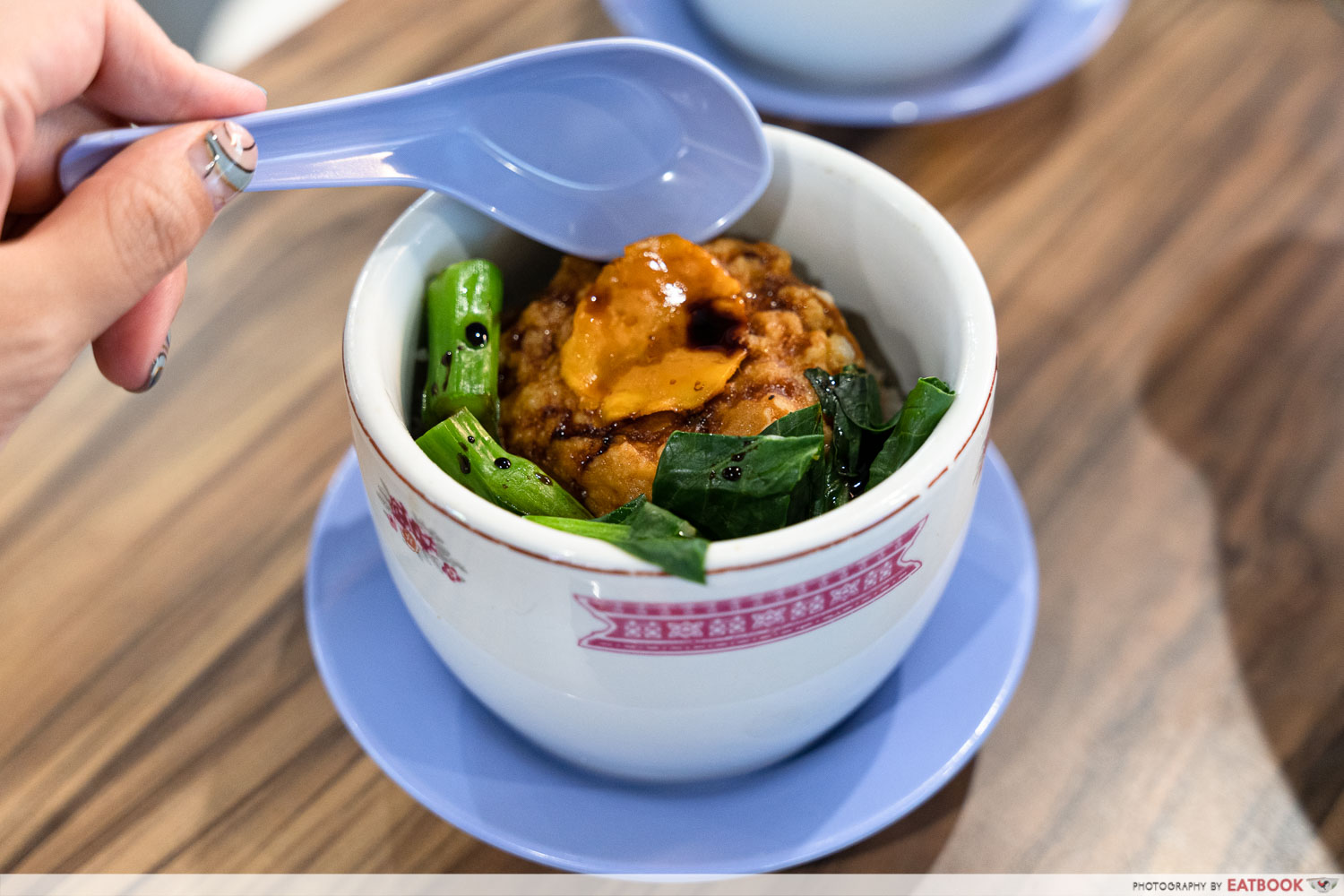 I'm a huge fan of steamed pork patties, and so the Salted Egg Pork Patties Steamed Rice was a shoo-in when I was deciding what to order. What's more, I wanted to see what its $3.50 price tag would get me.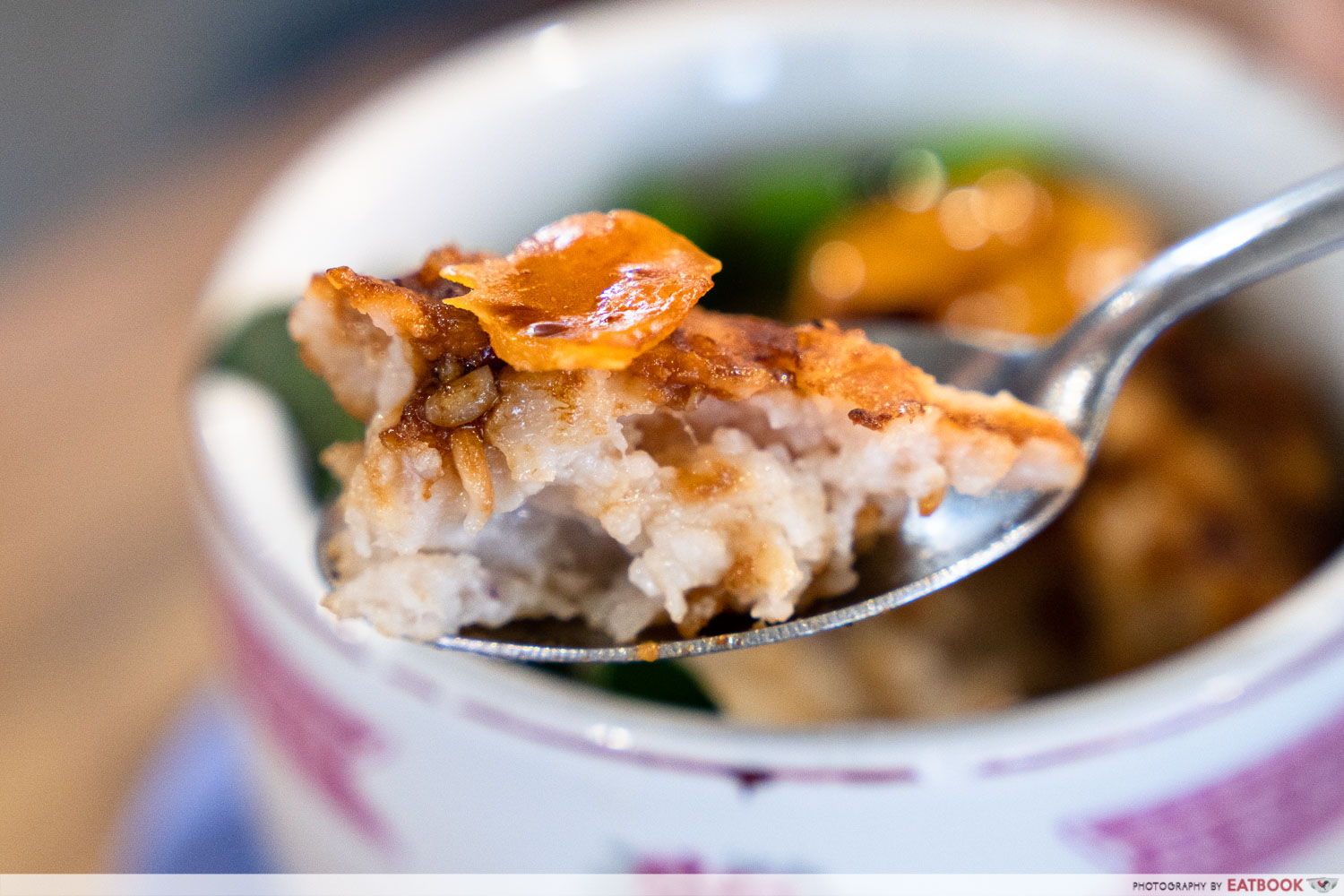 For that reason, I wouldn't fuss that there's only a thin slice of salted egg yolk in this. At the same time, it's imperative that your attention is drawn to the absolutely thicc cake of minced pork that was easily two fingers high.
The pork patty was slightly loose but oh-so-lush, thanks to the generous ratio of fat to meat. If you're grease-averse, you might not like this, but fat is what makes minced pork patties great. You'll also get stalks of leafy greens, and a huge bowl of rice beneath lashings of dark soya sauce—and the fatty drippings from the pork.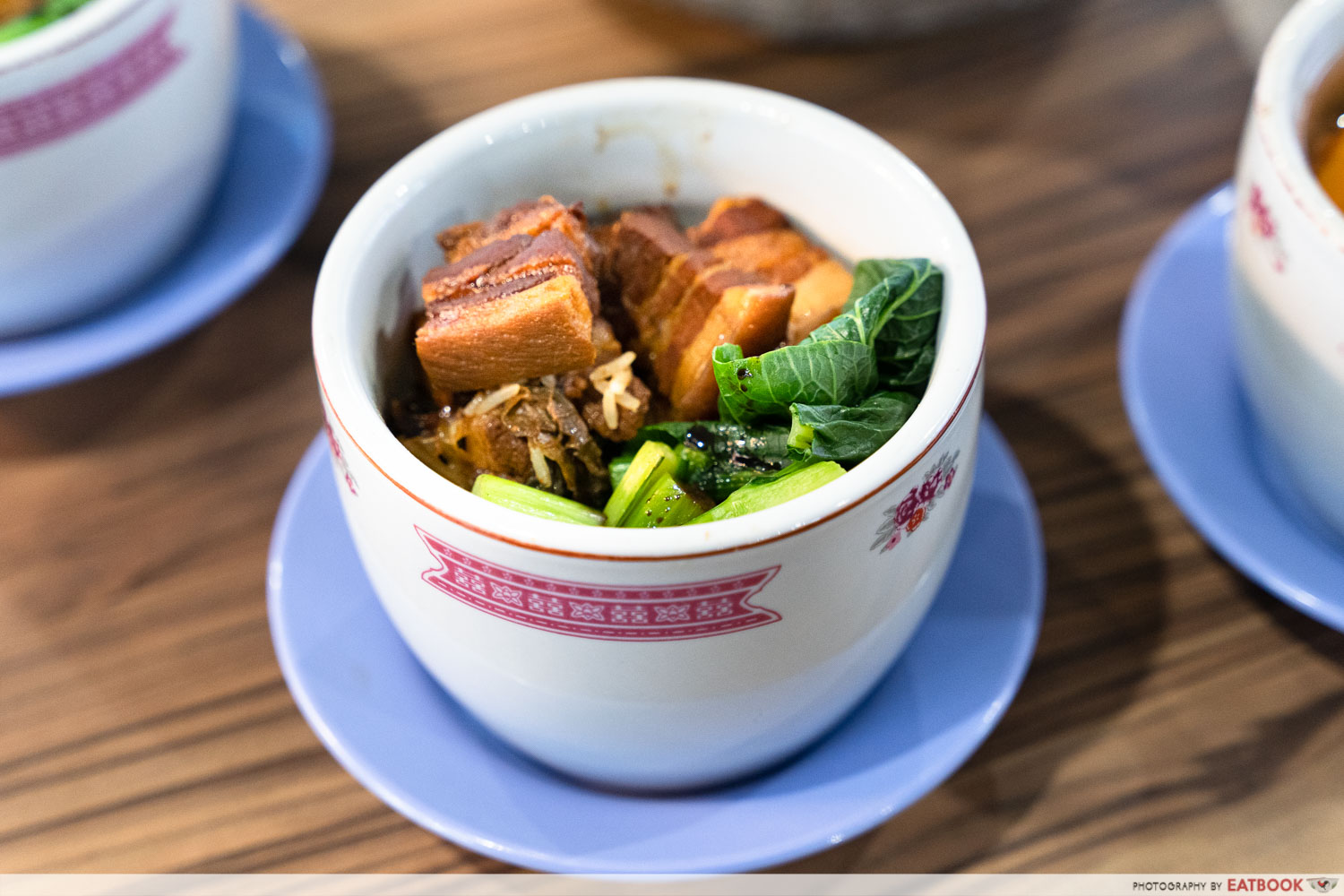 Mei cai kou rou is another dish that I'm fond of, and here you can get it as Preserved Veg Braised Pork Steamed Rice ($3.50), making it yet another affordable lunch option that satisfies your carb, veg, and protein requirements for the meal.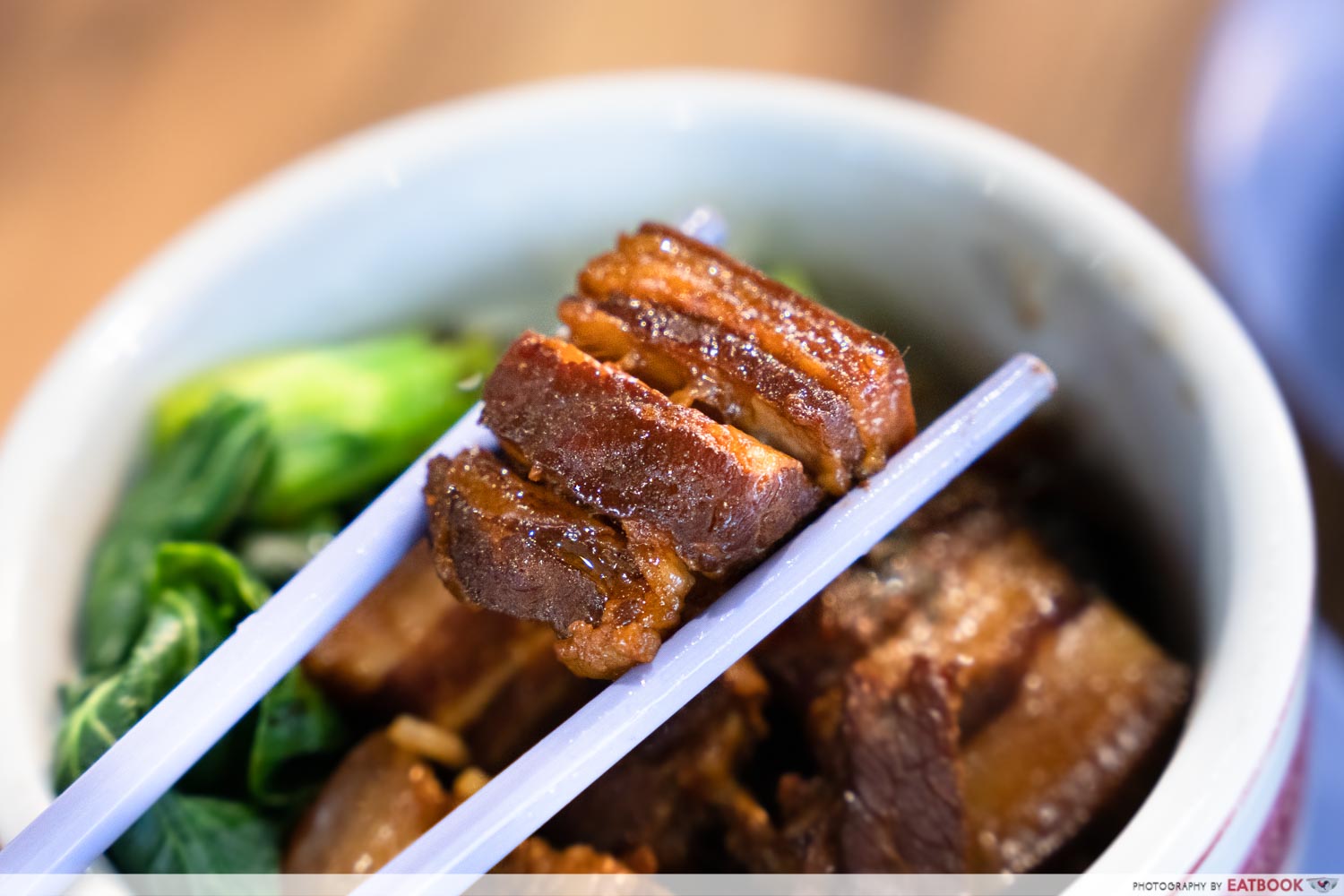 It looked promising, but the pork belly wasn't as tender as I would have liked it to be, except in the layer of meat sandwiched between the fattiest bits.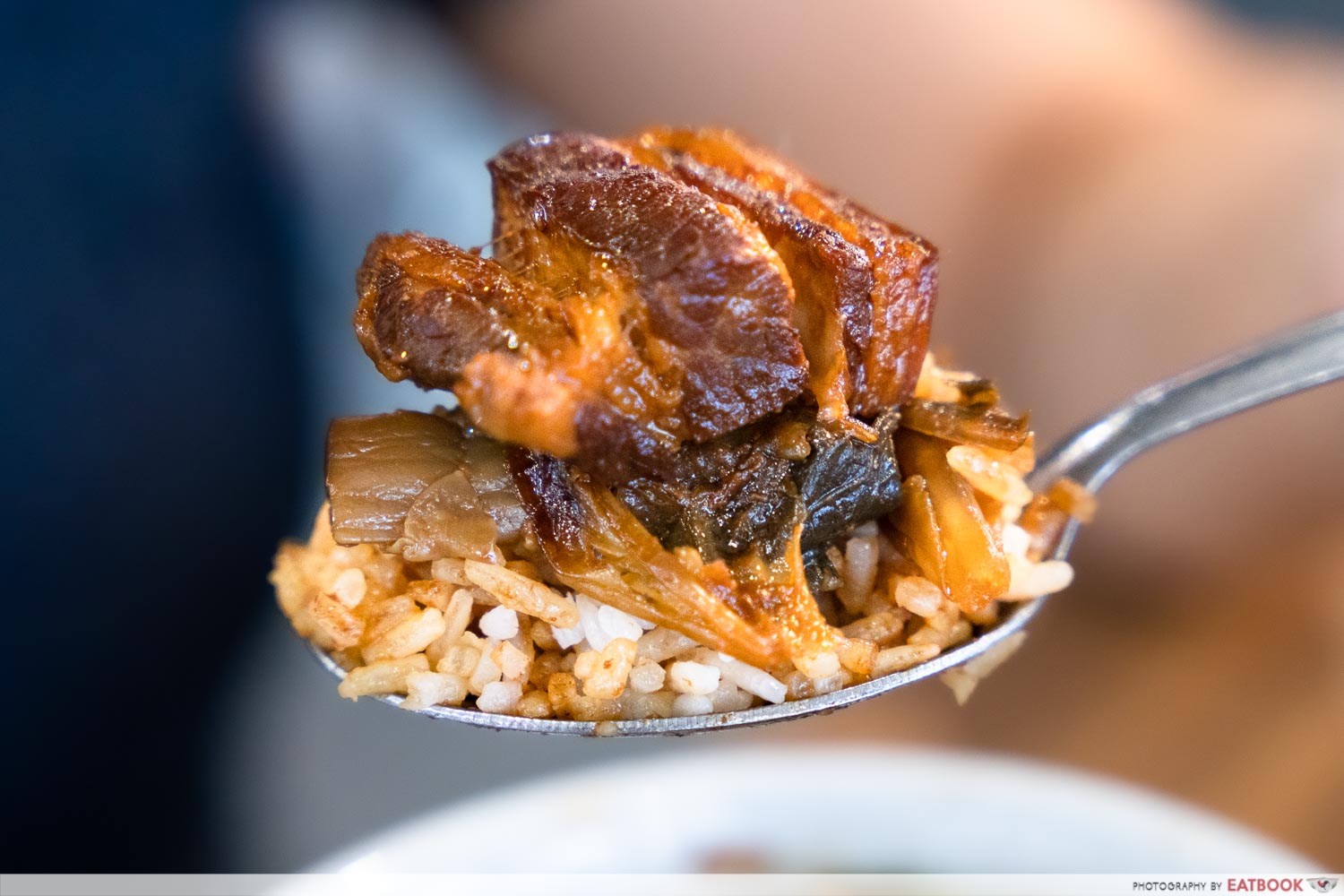 I liked that the mei cai, AKA preserved mustard greens, came in big chunks, instead of the usual finely chopped up bits. I personally would have liked more of the gravy as well, but I guess I can just request that next time.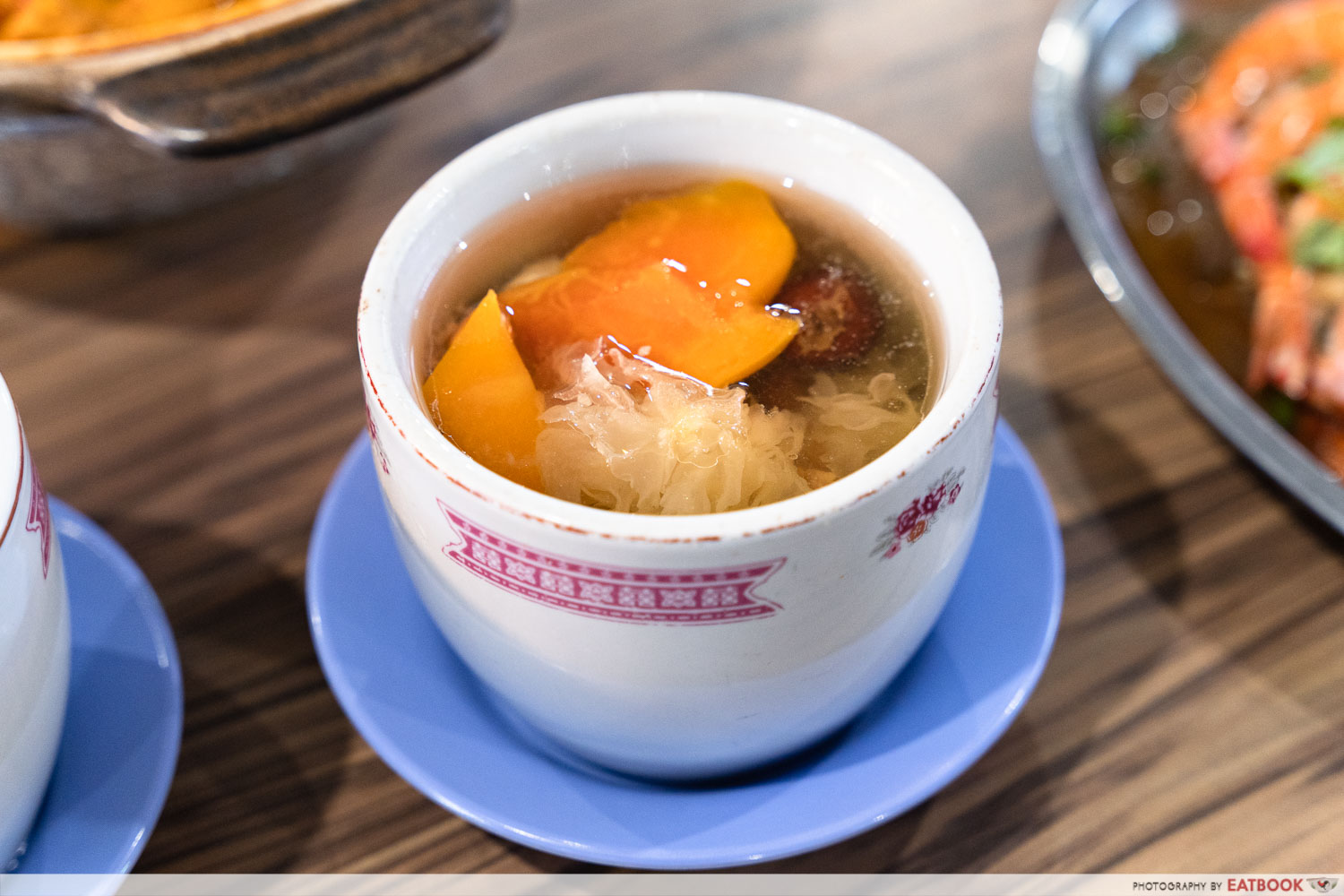 There's also a wide selection of soups on the menu, the lowest priced of which is Papaya Stewed Pork Ribs Soup ($3.50).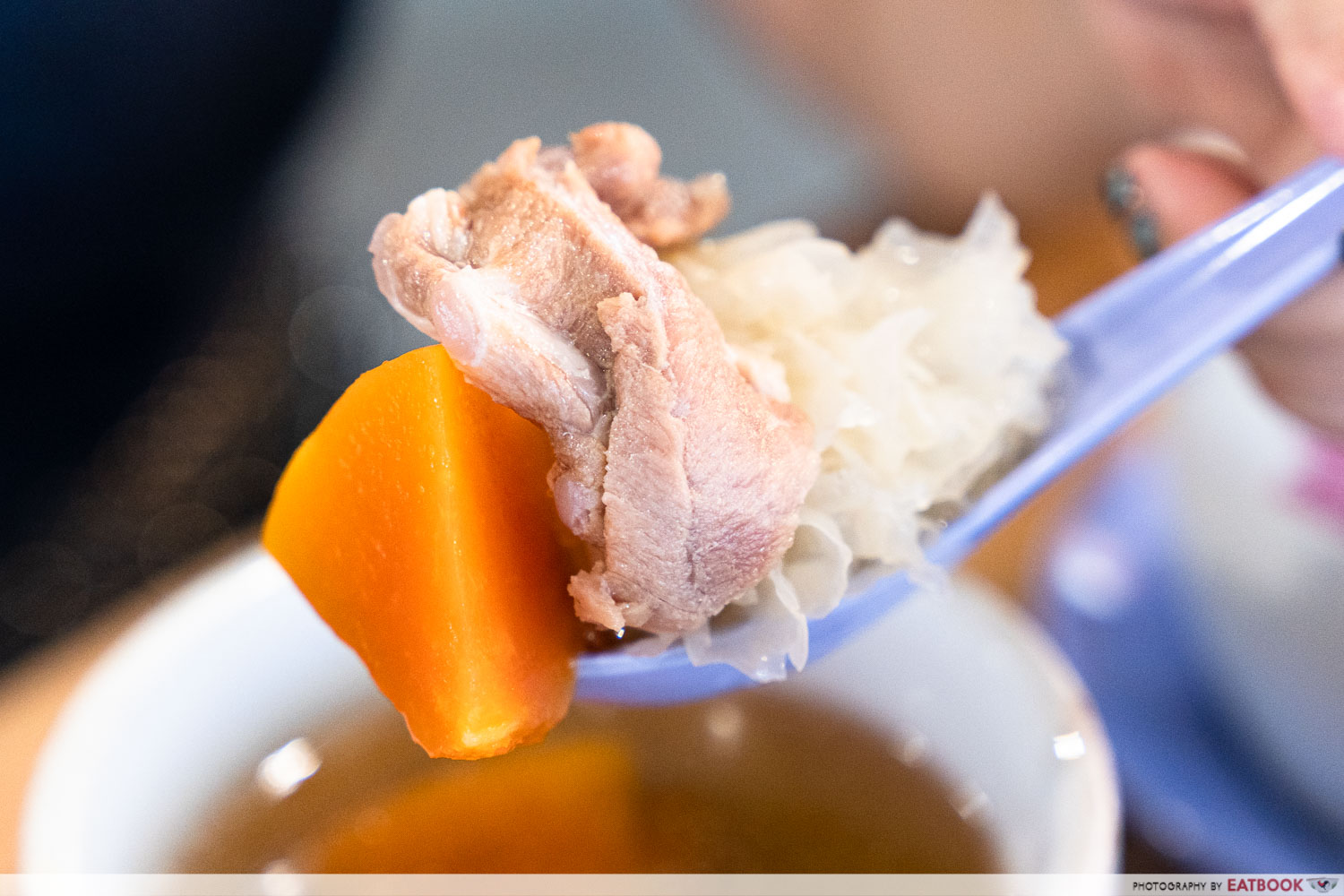 The sweet, nourishing soup came with tender ribs, white fungus, and papaya—the fruit was soft, but not mushy.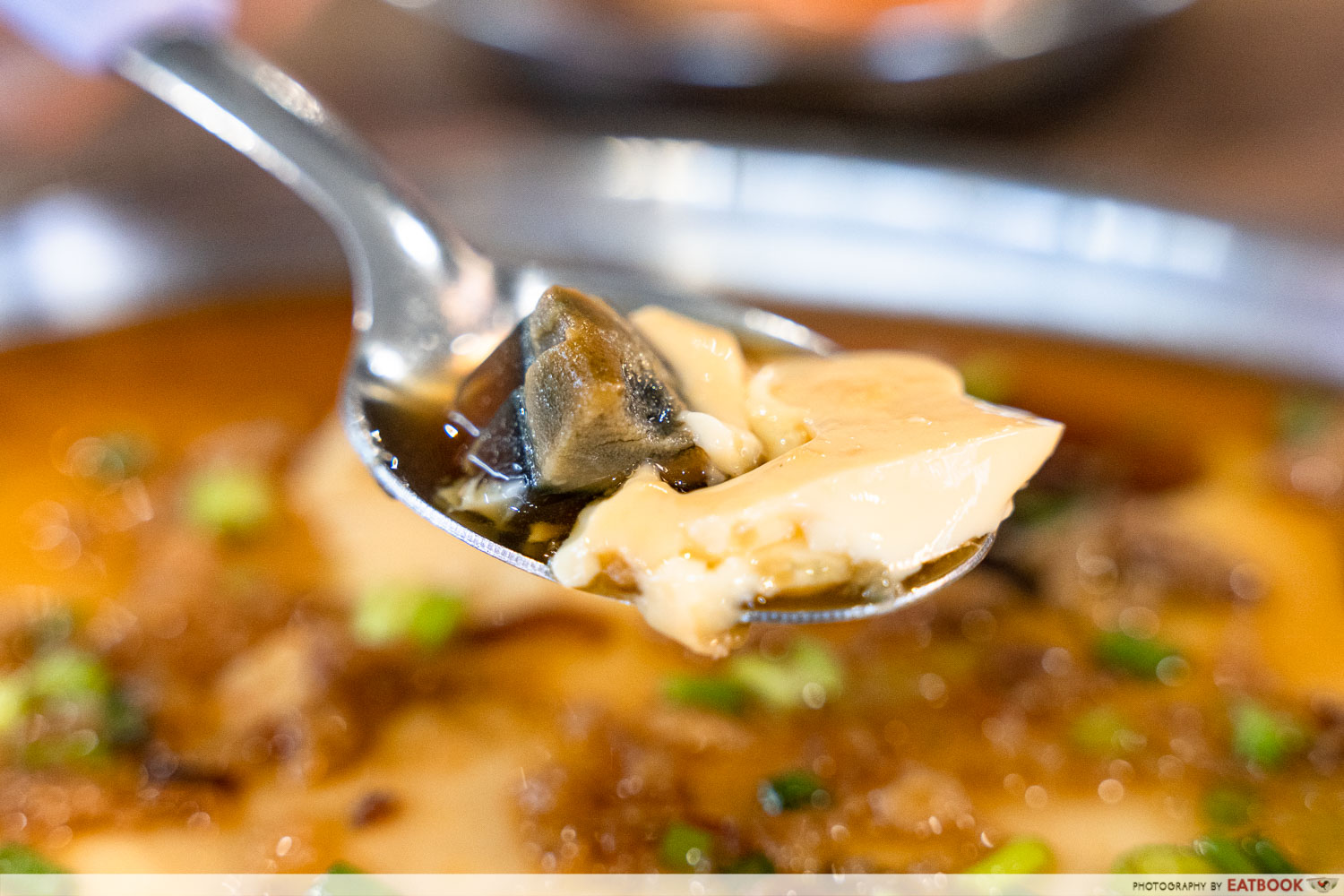 We also tried the Mix Egg Steamed Egg ($6). I didn't particularly enjoy it because it was less wobbly and more eggy than I like, but it was still credibly smooth.
Ambience at Canton Delicacies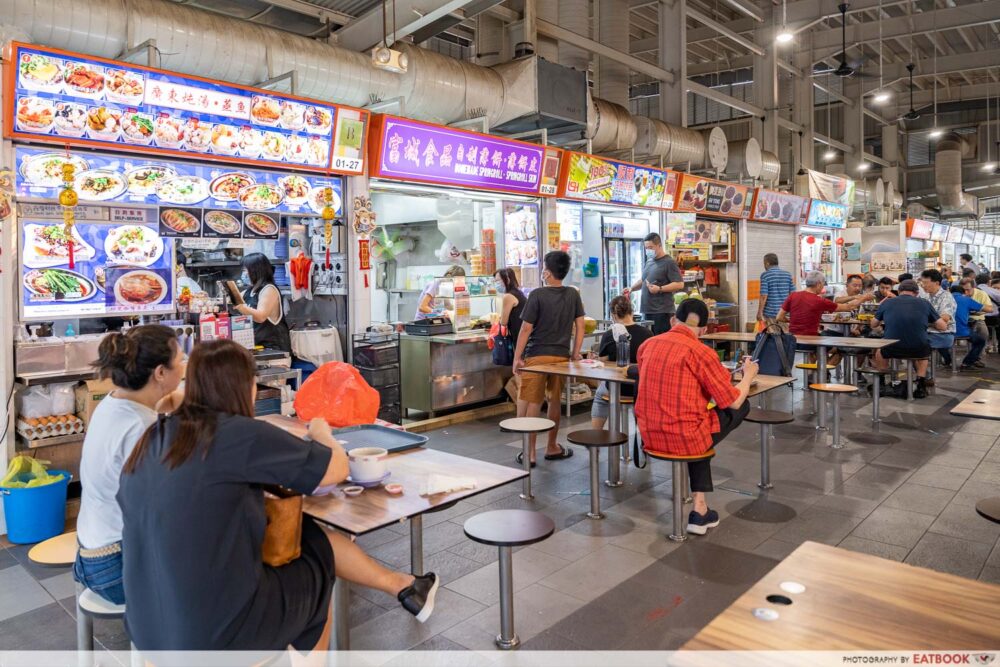 Geylang Bahru Market & Food Centre is a well-ventilated hawker centre that's just 230m away from Geylang Bahru MRT Station. Canton Delicacies is the first stall in the row, so the seats in front of the stall are closest to the side of the hawker centre, and thus the coolest.
Service is pretty quick here, even though the food is freshly prepared to order. If you're in a hurry, you can drop them a WhatsApp text to place your order ahead of your desired pick-up time.
Chef Leung's Authentic Hand-milled Rice Noodle Rolls Review: Ribboned Chee Cheong Fun And Congee In Chinatown
The verdict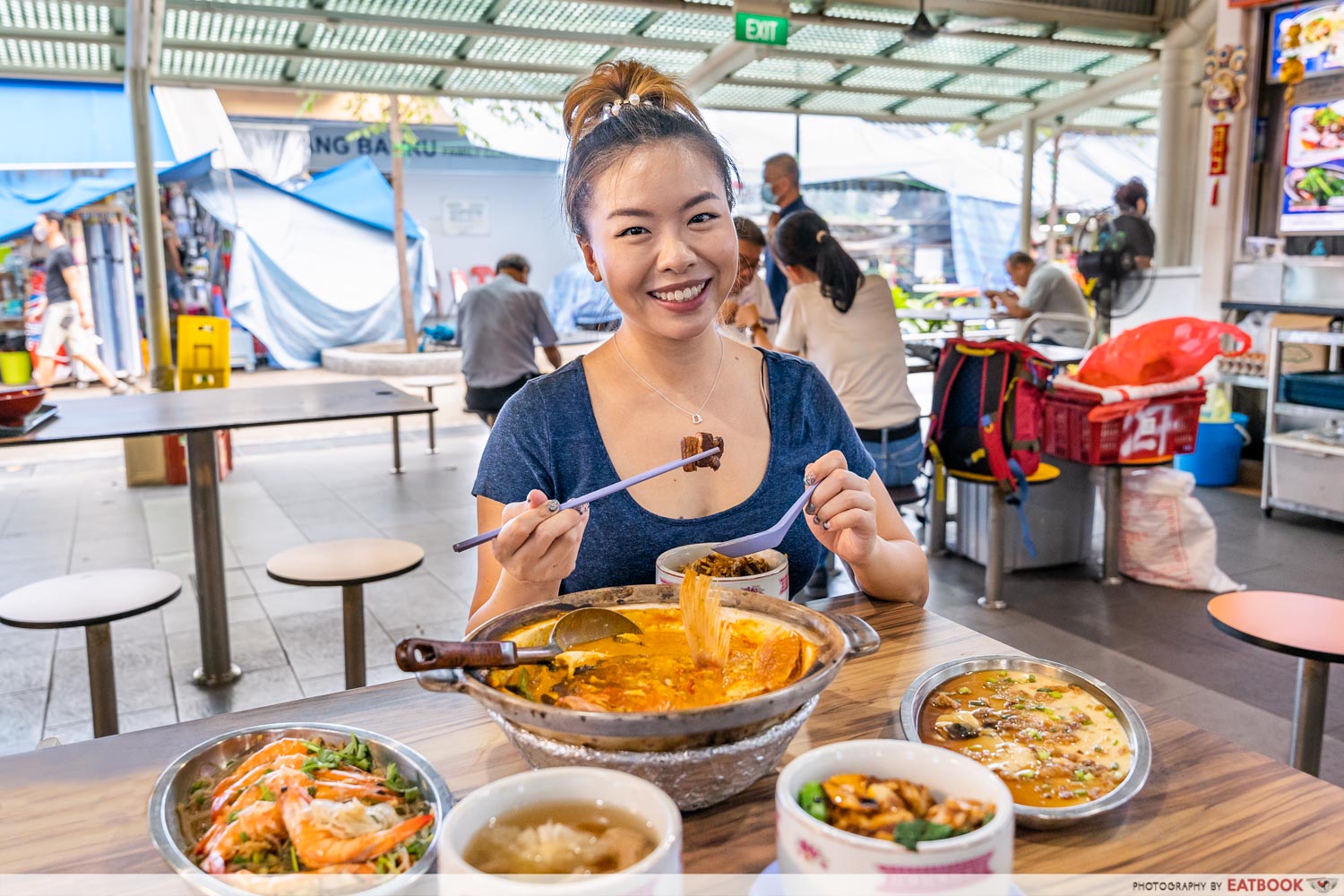 My colleague was so thoroughly impressed with Chef Ericson's curry and the value of the rice bowls, he has bookmarked Canton Delicacies for many future office lunches. I left the meal a similarly happy camper, even though there were some bits of it that could do with a touch of improvement.
The freshness of the ingredients in the clean, flavourful dishes, the stall's proximity to the MRT station, and most of all, the price point, make this hawker stall super worth checking out.
Chef Leung's Authentic Hand-milled Rice Noodle Rolls is another hawker stall that's opened by an ex-hotel chef; otherwise you could try Fei Gong Cart Noodles for HK-style cai png noodles.
Address: Block 69 Geylang Bahru, #01-27, Geylang Bahru Market & Food Centre, Singapore 330069
Opening hours: Fri-Wed 11:30am to 9pm
Tel: 8459 0031
Website
Canton Delicacies is not a halal-certified eatery
Fei Gong Cart Noodles Review: Cai Png-Style Hong Kong Cart Noodles With Over 20 Ingredients To Choose From
Photos taken by Melvin Mak.
This was an independent review by Eatbook.SG
Canton Delicacies Review: $3.50 Salted Egg Pork Rice And More By Ex-Marriott Chef At Geylang Bahru
Canton Delicacies Review: $3.50 Salted Egg Pork Rice And More By Ex-Marriott Chef At Geylang Bahru -

8.5/10
Summary
Pros
– Prices are very wallet-friendly, with generous portions
– Very convenient location
– Fish Head Curry was very tasty
Cons
– Braised pork was a little dry
Recommended dishes: Fish Head Curry ($21), Salted Egg Minced Pork Rice ($3.50), Papaya Stewed Pork Ribs Soup ($3.50)
Opening hours: Fri-Wed 11:30am to 9pm 
Address: Block 69 Geylang Bahru, #01-27, Geylang Bahru Market & Food Centre, Singapore 330069