Chef Hainanese Western Food is here at Commonwealth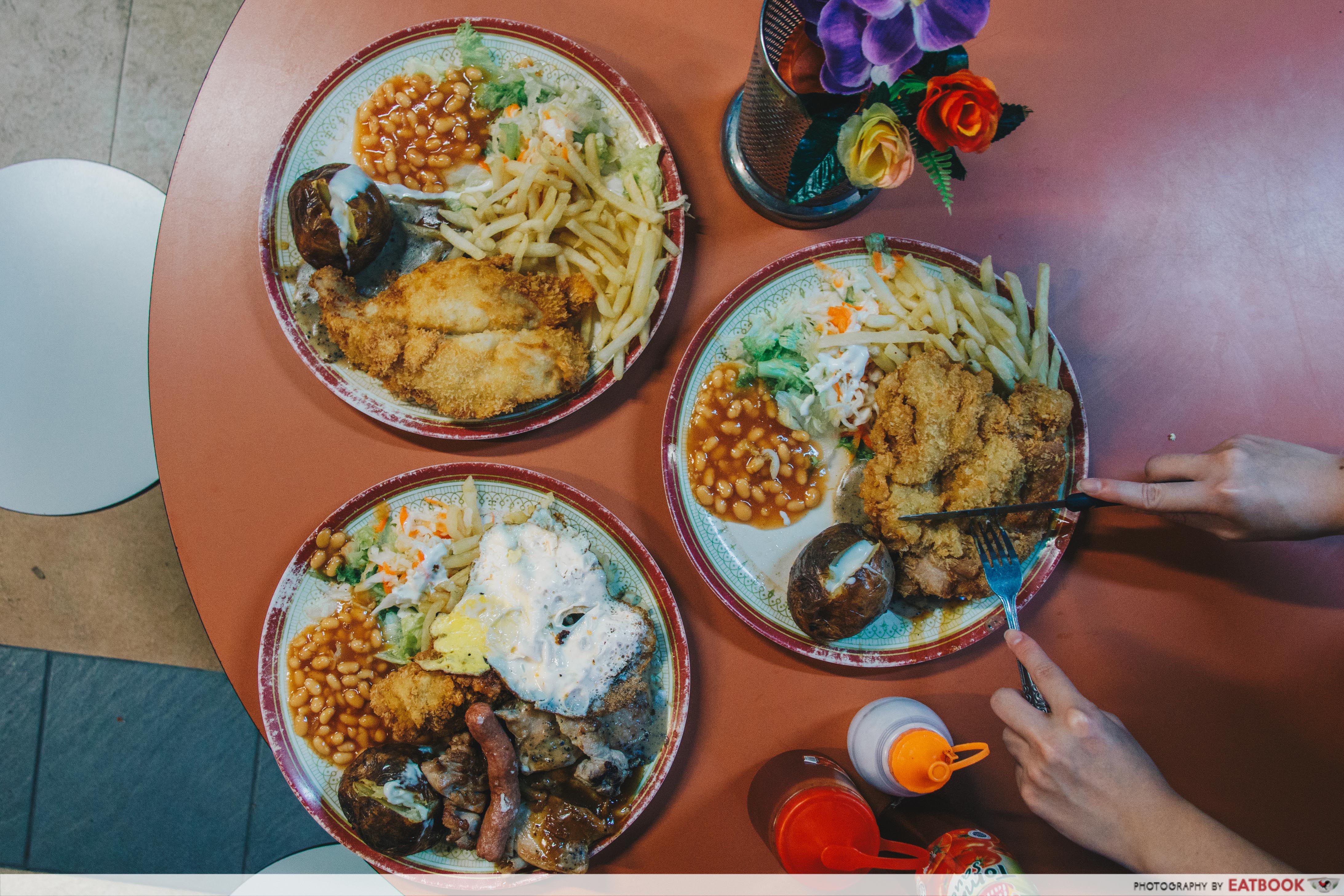 I find there's something particularly comforting about old-school Western hawker stalls operating today. Just recently, my colleague and I dropped by one such place at Commonwealth for dinner, known as Chef Hainanese Western Food. As we were placing our orders, my father texted me to say that even he had frequented this stall when he was younger. No doubt, I was feeling pretty eager to dig in.
Food at Chef Hainanese Western Food
We tried the Chicken Cutlet ($5.50) first. The giant slab of crispy, breaded chicken took up about a third of the plate. Every dish also came with a side of canned beans, coleslaw, fries and a baked potato.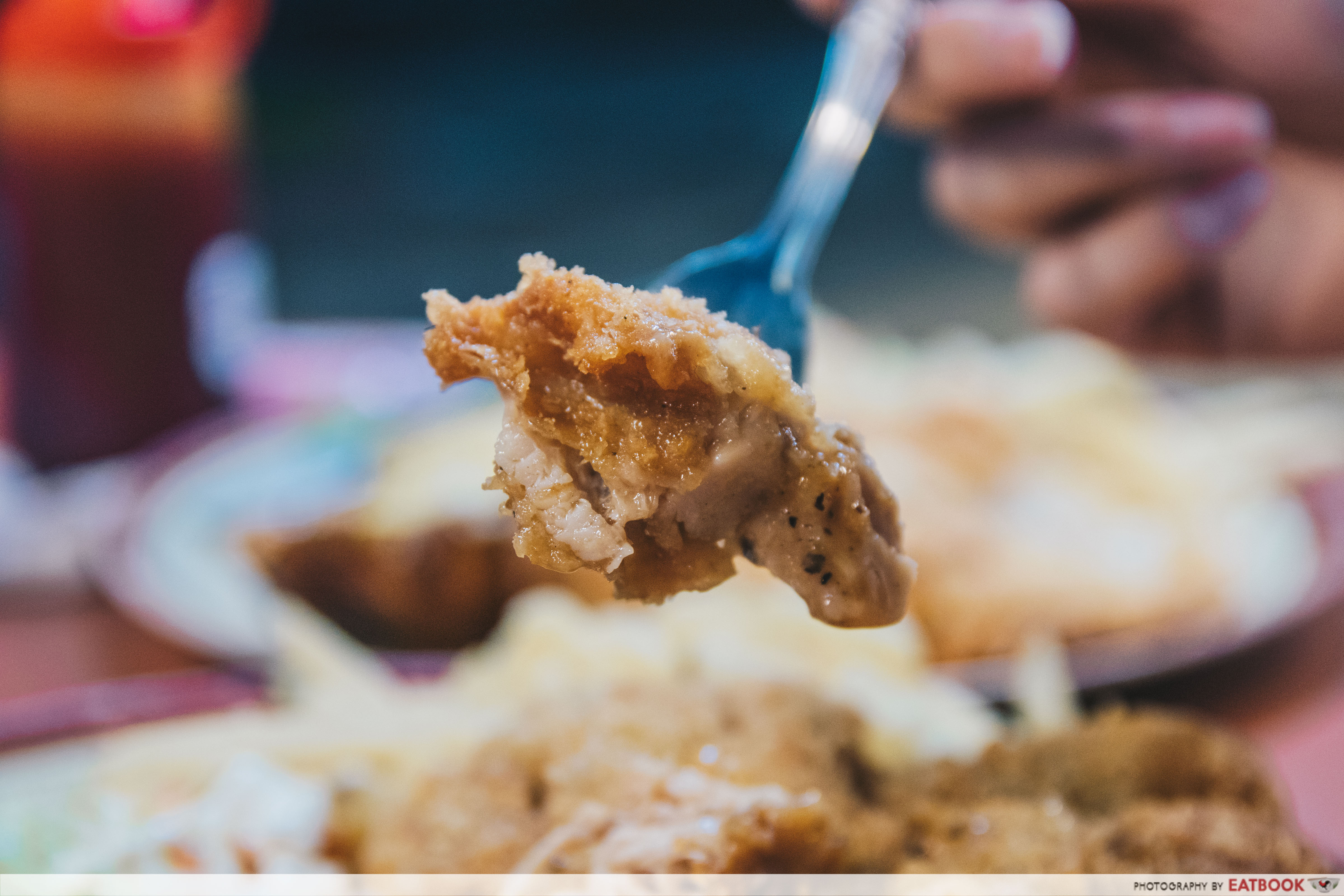 It took me quite a bit of strength to slice into the cutlet. I felt a little as though I was sawing into it. The golden-brown batter, despite being super crispy, was sadly over-fried and hard. The chicken meat within wasn't exactly very tender either. I would've preferred it to be juicier, as well.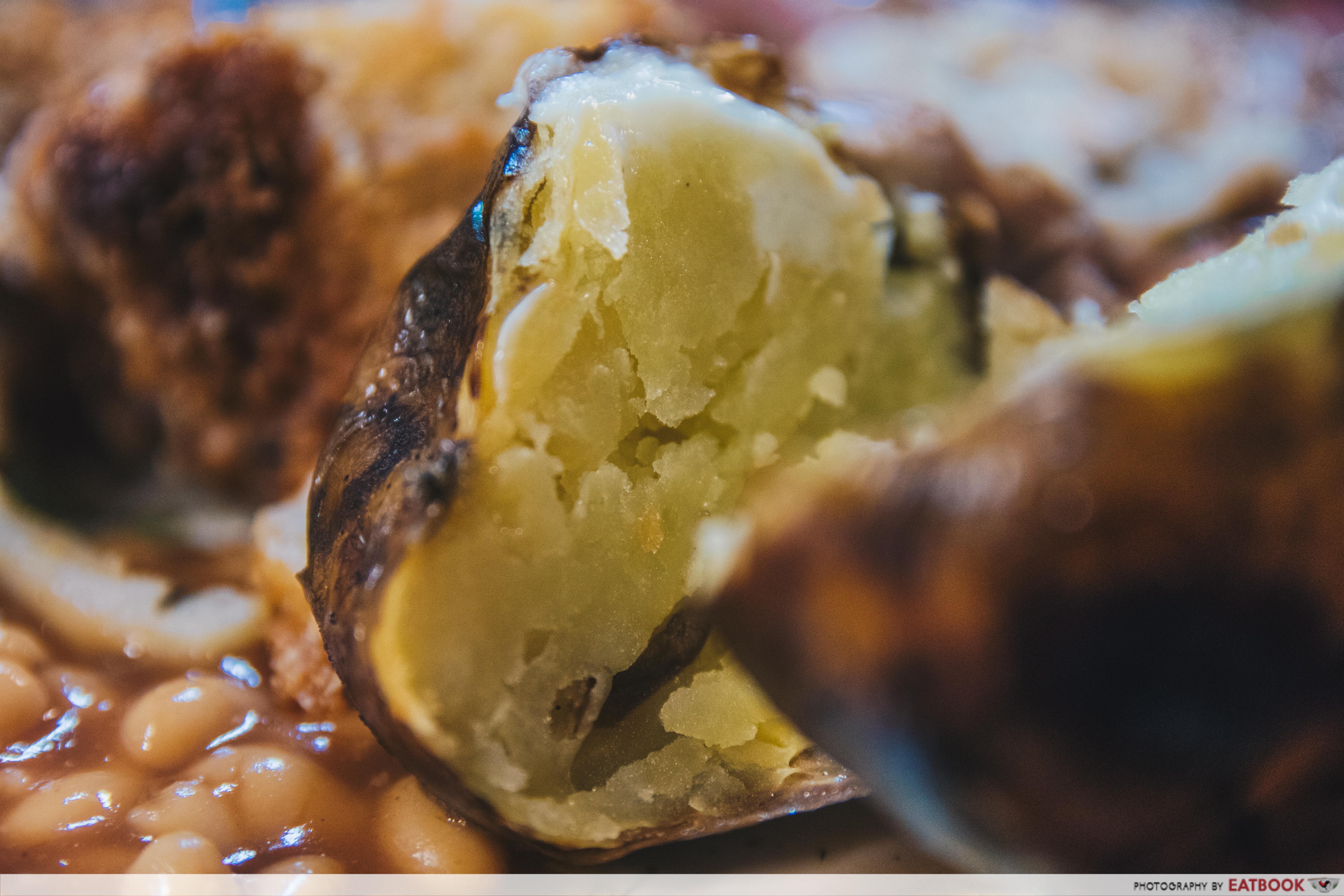 I haven't got much to say about the sides, other than the baked potato. The beans tasted like ordinary store-bought canned beans. Meanwhile, the coleslaw was limp and lacking in mayonnaise, and the thinly cut fries were flat and soggy. The papery skin of the baked potato was salty and crisp, but I would've liked it better if more mayonnaise was slathered inside to give the mushy potato more moisture and flavour.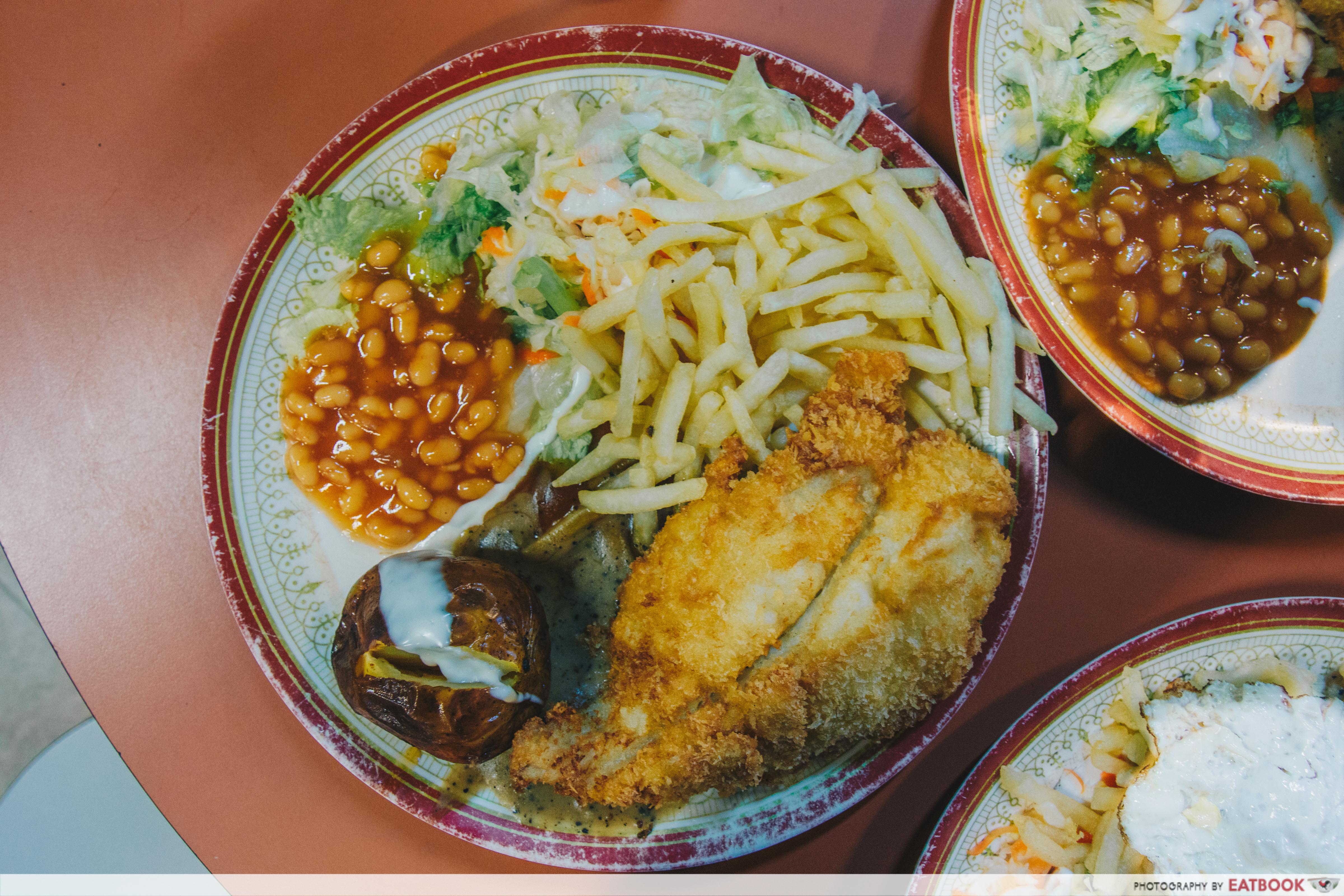 Moving on to the Fish and Chips ($5.50)! After the disappointing first dish, I was counting on the second one to lift my spirits.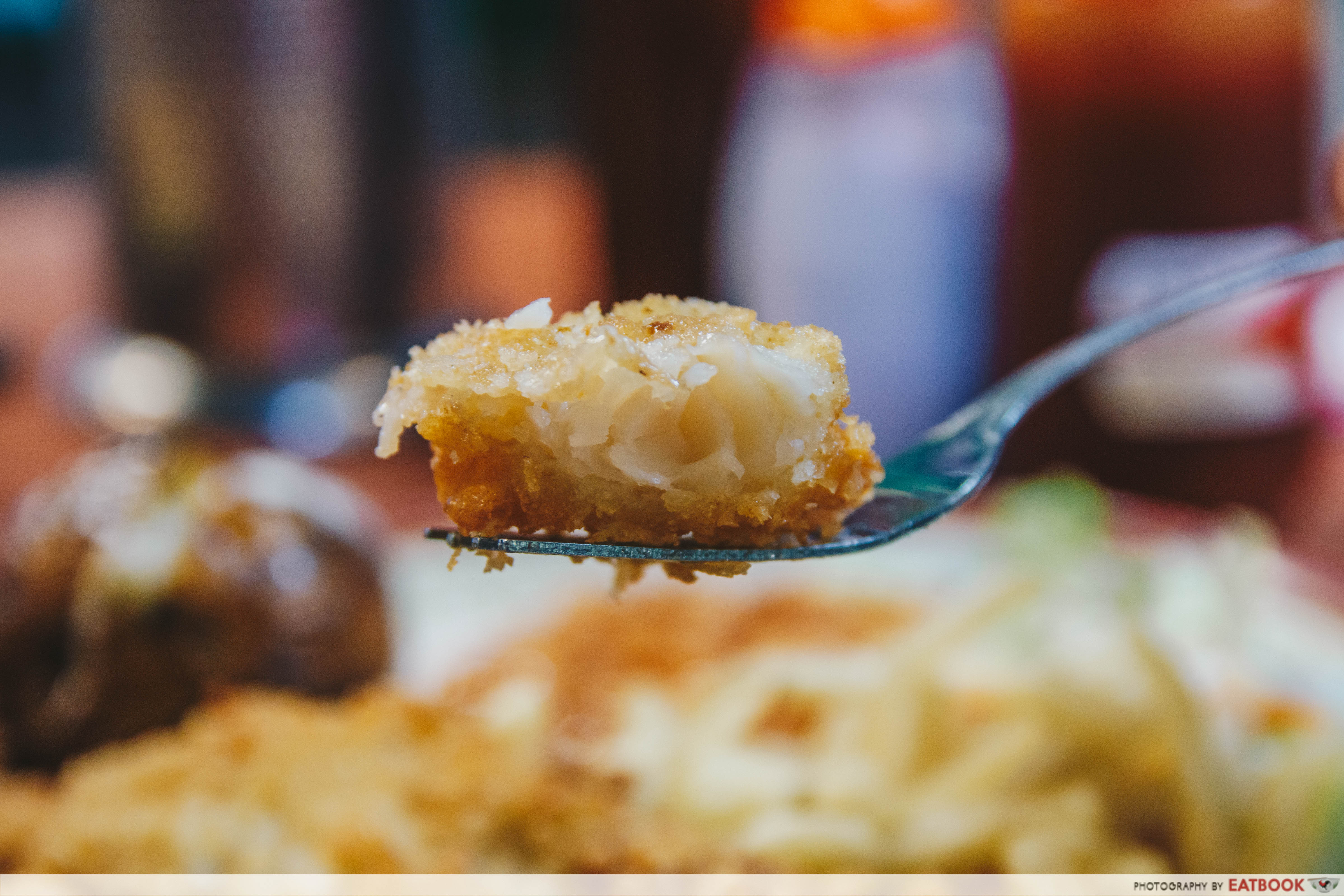 The fish cutlet wasn't so bad, but it didn't give much to shout about either. The meat, while tender and flaky, left a fishy aftertaste lingering in my mouth with every bite. My colleague also noted sadly that no tartar sauce was provided. I'm a firm believer that no good fish and chips is ever complete without it!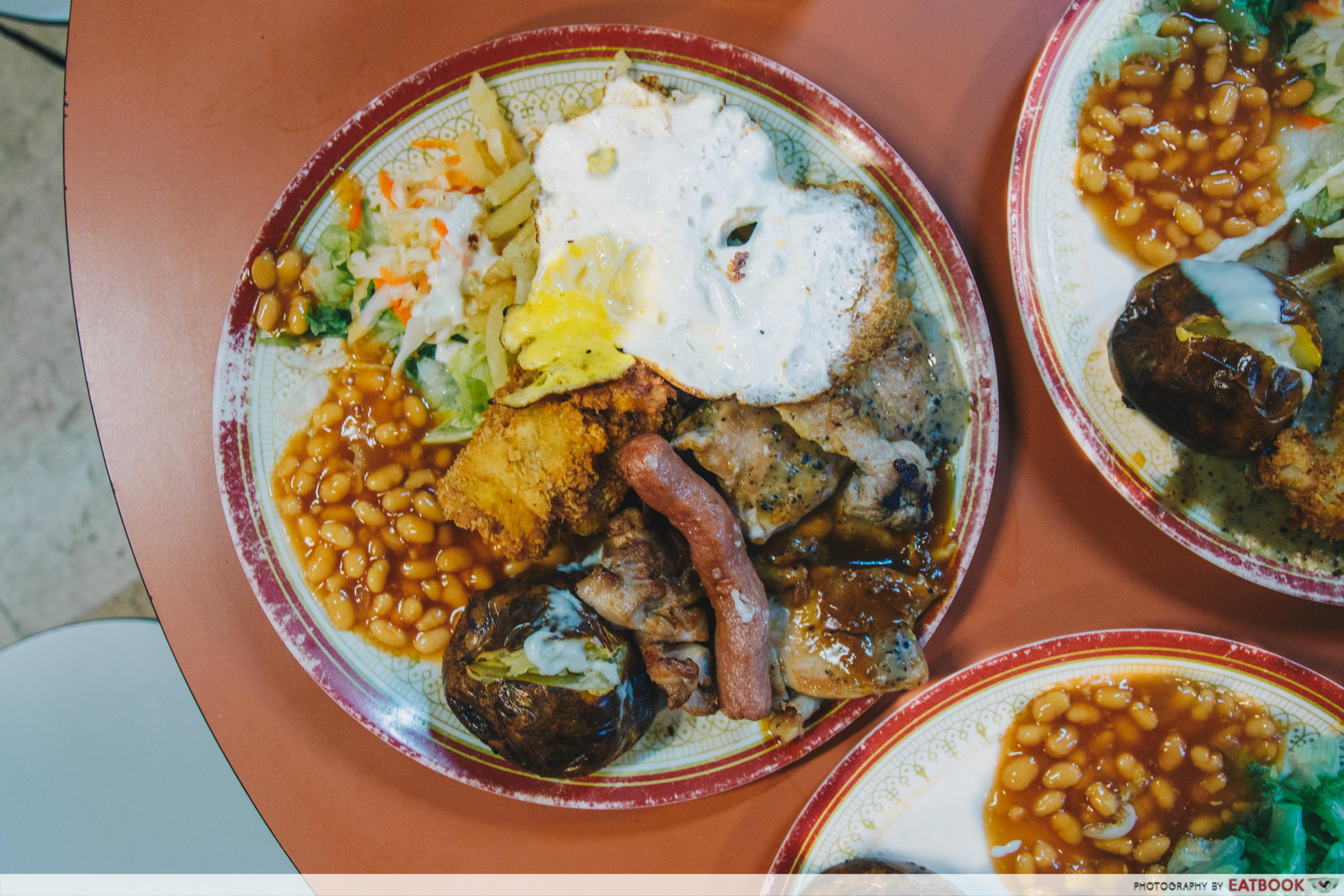 Last came the saving grace of our dinner, the Mixed Grill ($9.50). The hearty Mixed Grill came topped with a sunny side up, the usual sides and a combination of meats: fish cutlet, chicken sausage, pork chop and chicken chop.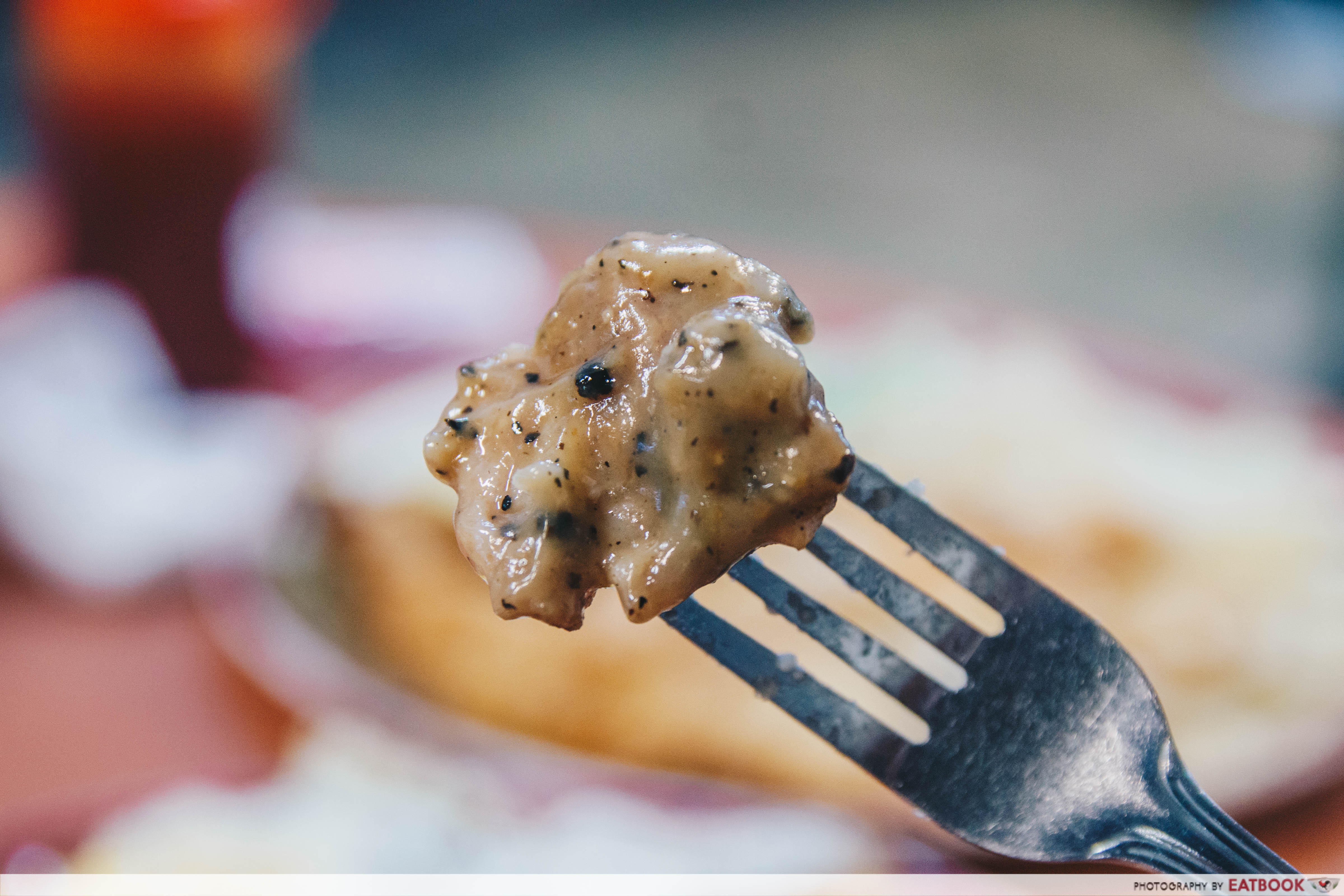 While the meats in the earlier two dishes were a letdown, the slabs of chicken and pork chop were surprisingly good! The grilled chicken was flavourful and thankfully, a lot easier to cut up and chew on than the chicken cutlet.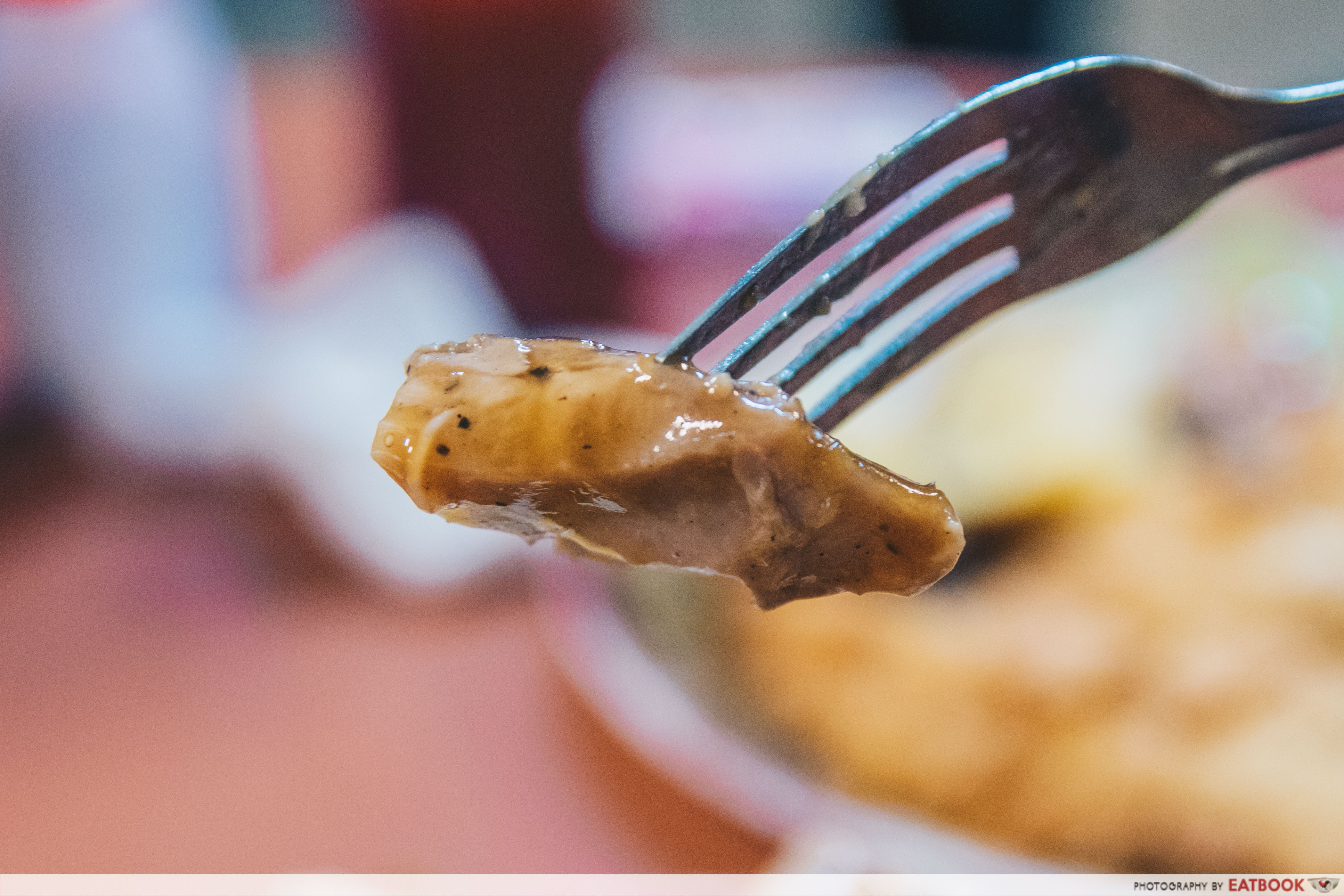 The pork chop, however, stole the show. Although a tad tough on the jaw, the meat was brimming with umami. I was thankful we got to try this in the Mixed Grill, because we would've left Chef Hainanese Western Food feeling very dissatisfied otherwise.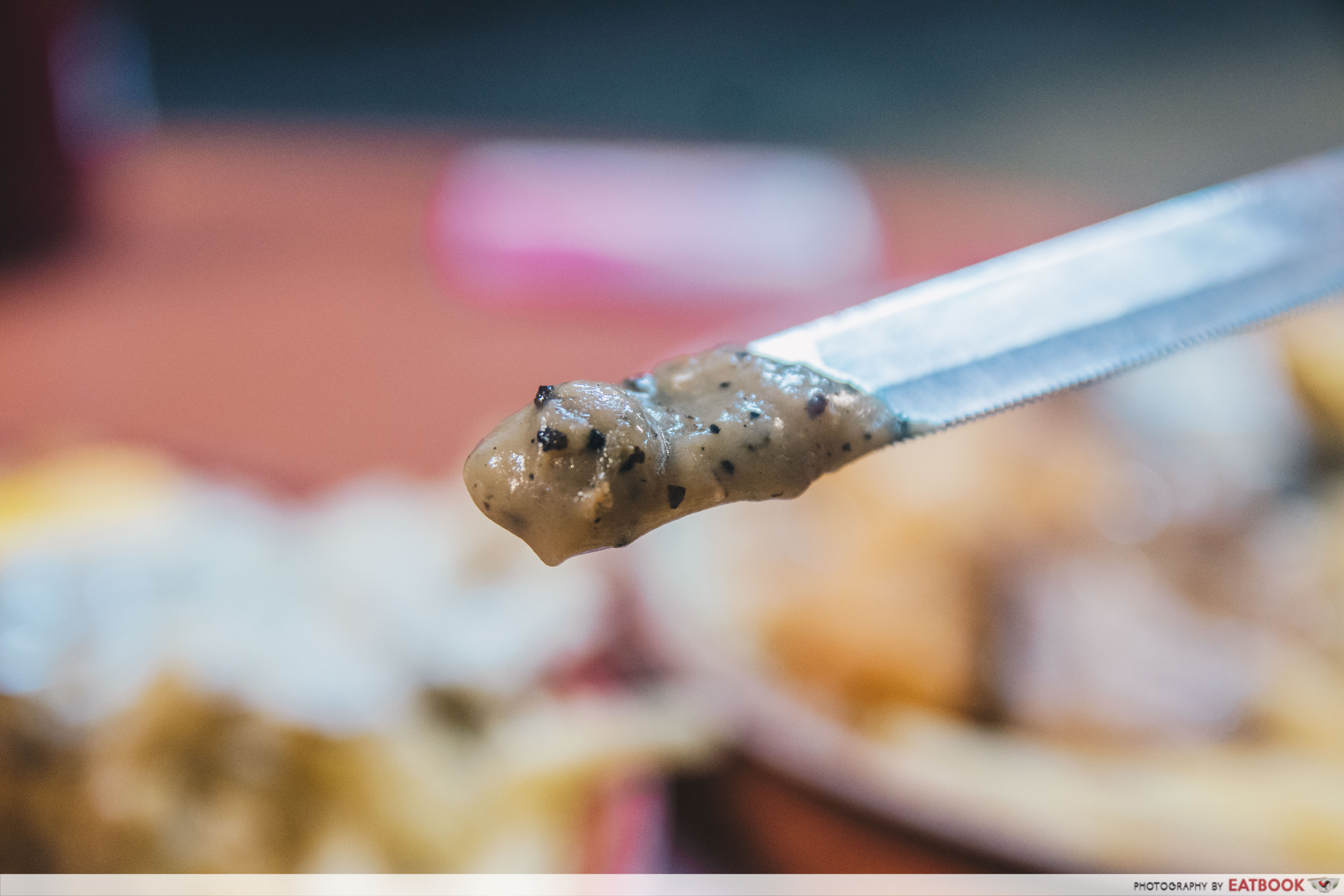 What upset me the most were the sauces that came with every dish. The Black Pepper Sauce delivered a spicy kick, but as my colleague very aptly put, tasted pretty 'one-dimensional'. Where was the flavour? It was more bland than anything.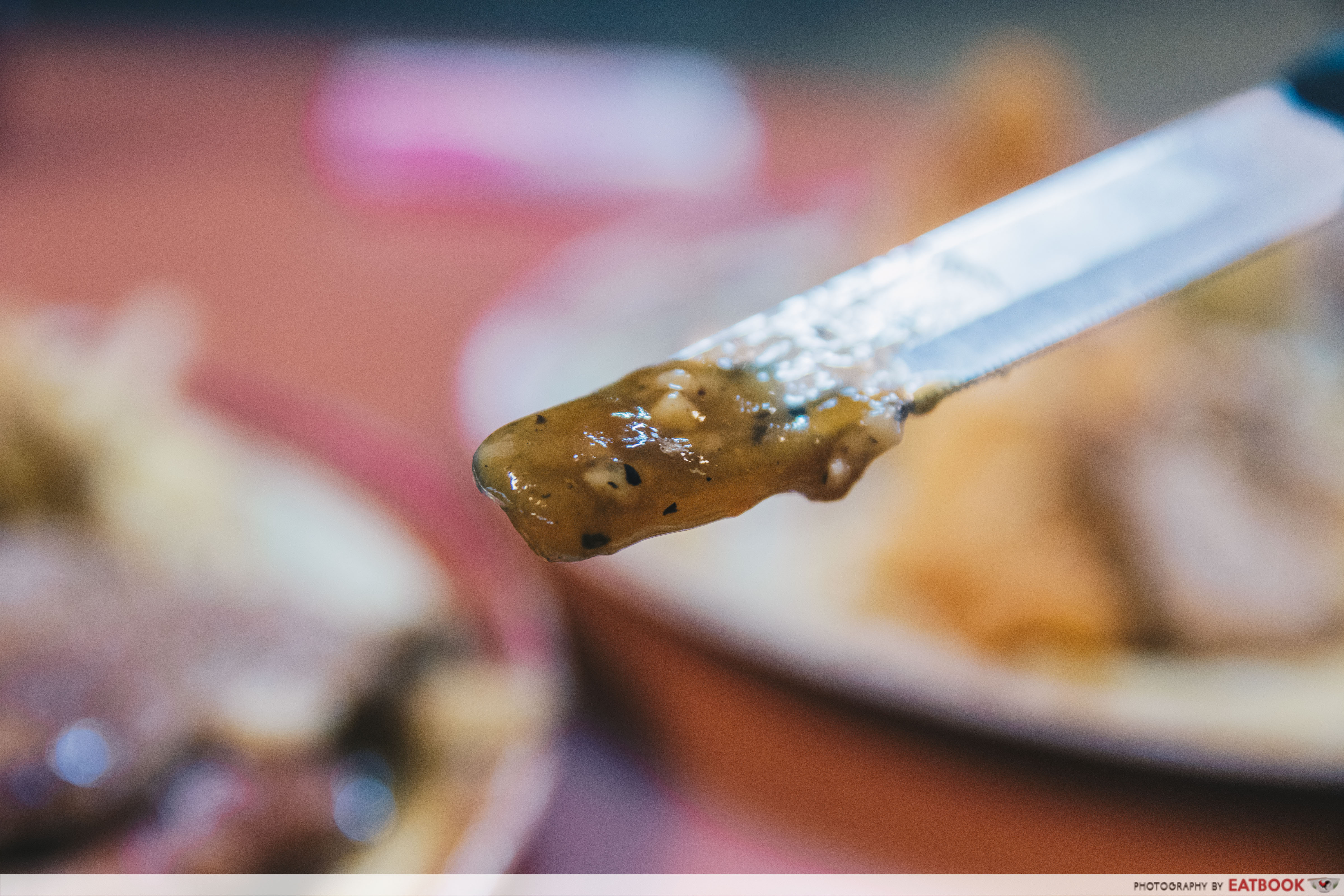 The Brown Sauce greatly confuddled our taste buds. Rather than being savoury, it contained syrupy sweet, citrus notes that reminded me of marmalade! Needless to say, we didn't think it blended well with the meats.
Ambience at Chef Hainanese Western Food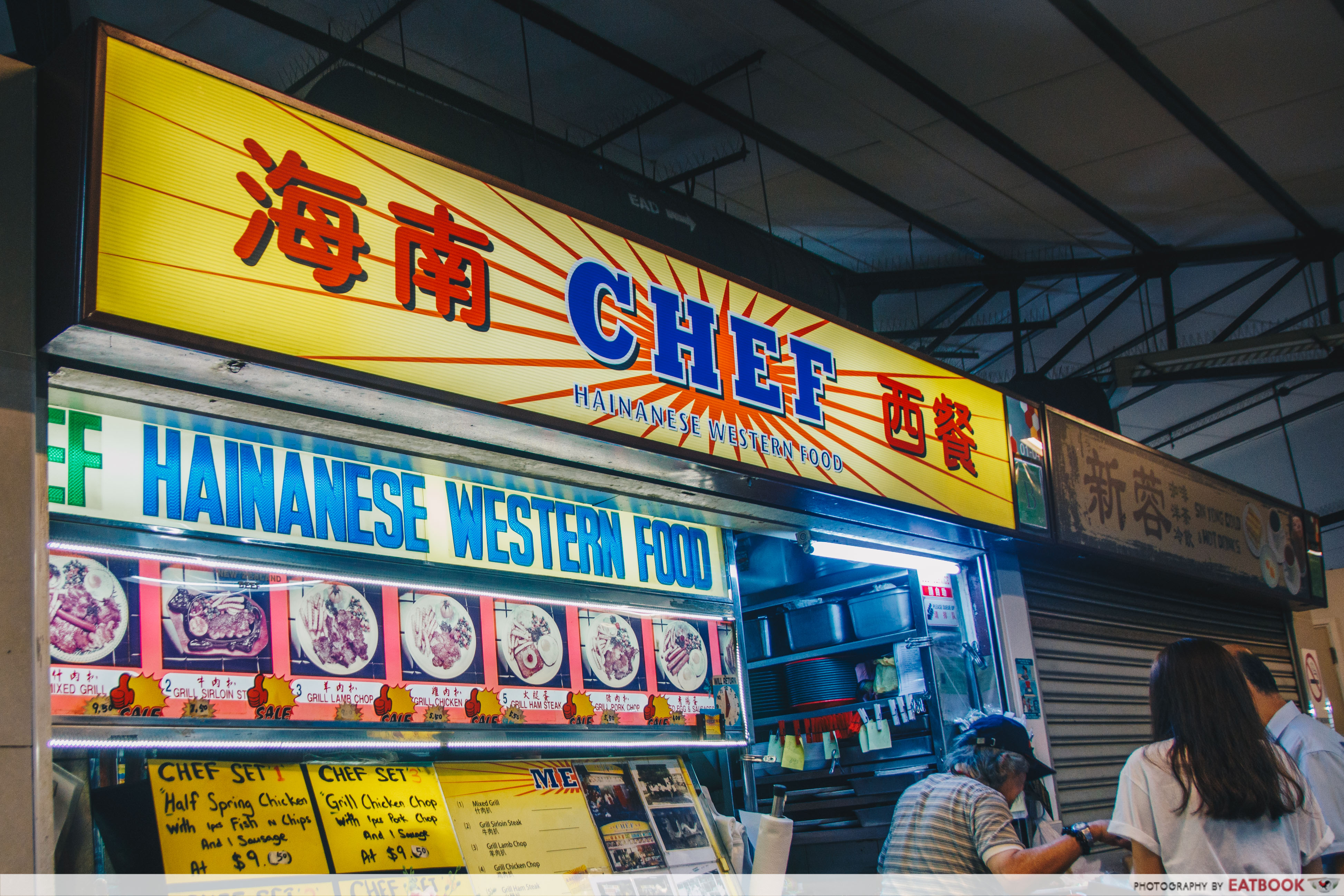 Chef Hainanese Western Food is located in Tanglin Halt Food Centre, an old and spacious hawker centre near Commonwealth MRT Station. The stall is only open for business at around 7pm in the evening. A queue had begun to form outside the store even before the signboard was lit. Most of the customers appeared to be regulars, which wasn't surprising, given the store's long period of operation.
The verdict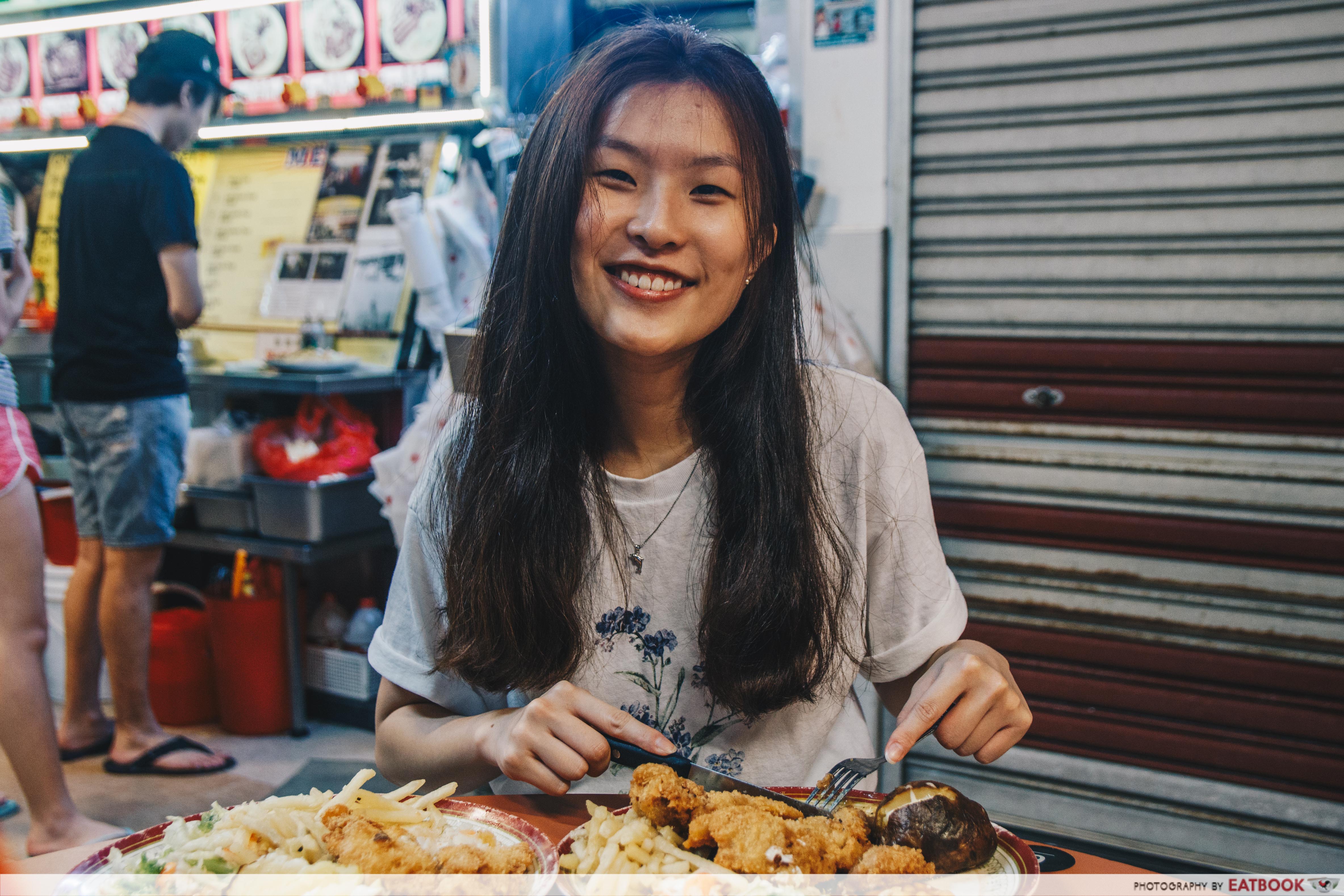 It is highly likely that the standard here at Chef Hainanese Western Food has dropped since my parents' younger days. It took my colleague and I nearly an hour to travel to the hawker centre for this, and I'm sorry to say the trip wasn't as worth it as we had hoped. If you're still feeling curious about the food here, I'd say get the Mixed Grill to be safe. At least then, you'd know which are your hits and misses.
For more Western fare, check out our review of Happy Chef Western, which serves up cheesy chicken cordon bleu, and this list of Western food stalls with huge portions under $7!
Address: 1A Commonwealth Drive, #01-04, Tanglin Halt Food Centre, Singapore 141001
Opening hours: Fri-Tue 7pm to 10pm
This is an independent review by Eatbook.sg.
Chef Hainanese Western Food Review: Old-School Western Food Including A Mixed Grill Platter
Summary
Pros
– Affordable
– Generous servings
Cons
– Food was mediocre
– Only open for dinner
– Long queues
Recommended dishes: Mixed Grill ($9.50)
Opening hours: Fri-Tue 7pm to 10pm
Address: 1A Commonwealth Drive, #01-04, Tanglin Halt Food Centre, Singapore 141001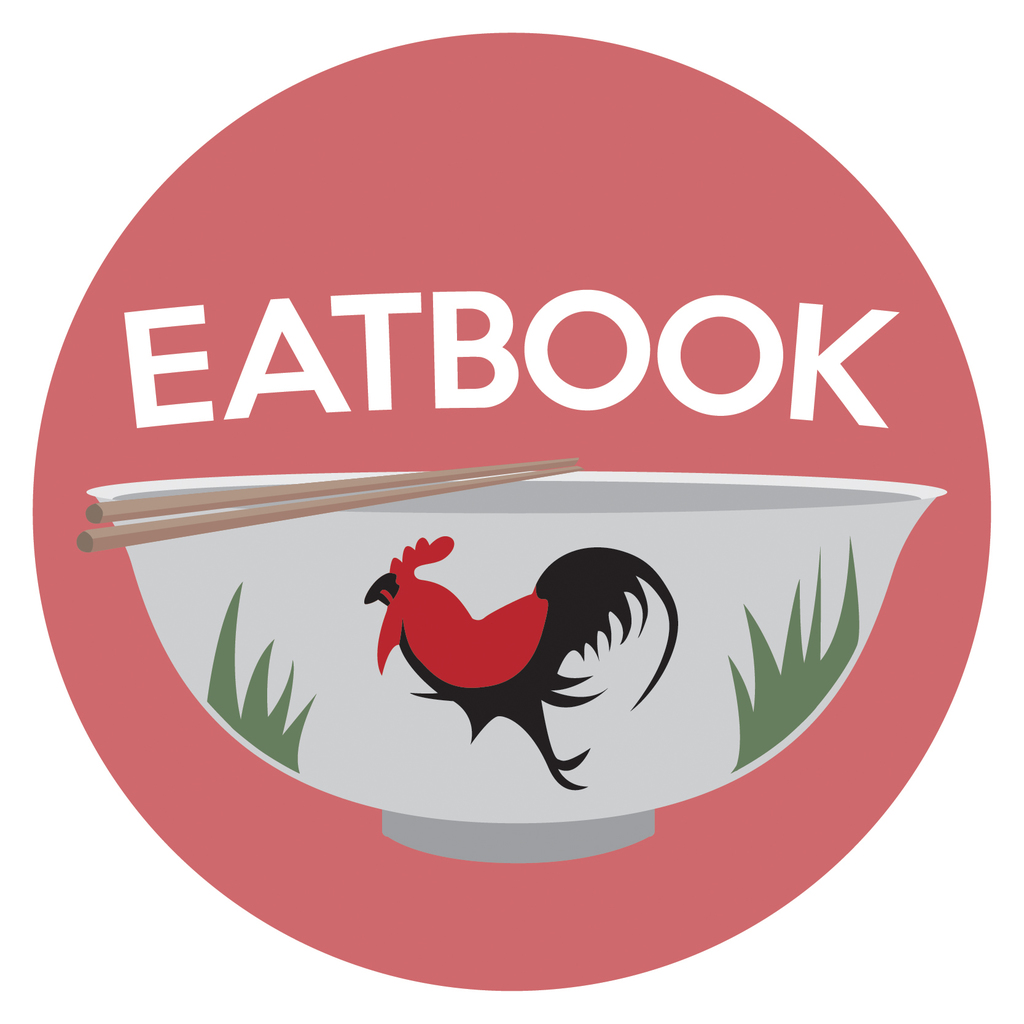 Drop us your email so you won't miss the latest news.