San Pin Seafood Soup Pao Fan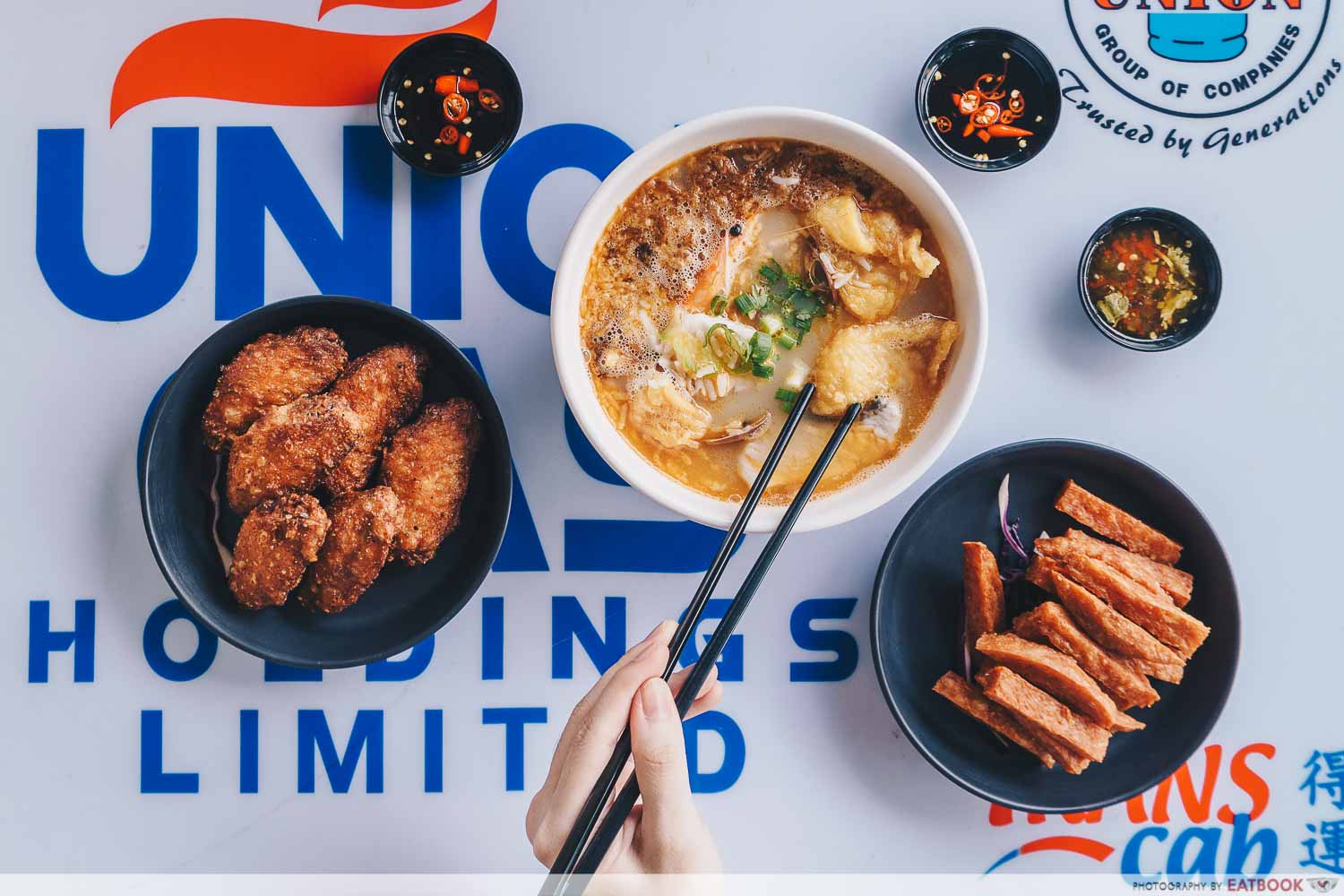 Anything with seafood is bound to whet my appetite, so when I first heard of San Pin Seafood Soup Pao Fan, I was already stoked. In case you didn't know, pao fan is steamed rice doused in steaming seafood broth. You'd probably notice this dish at fancy Chinese restaurants, the kind that you visit once in a while for big family events.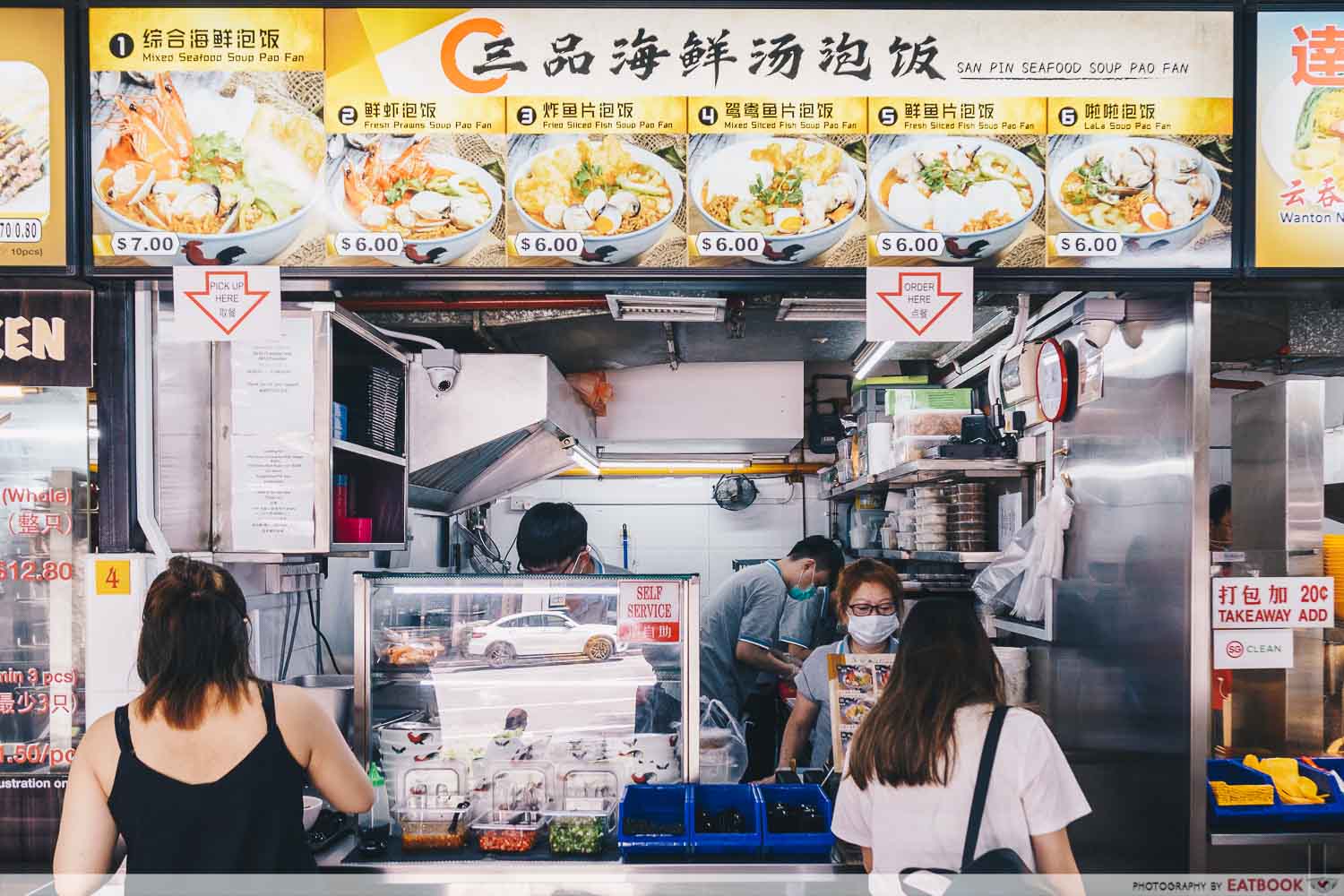 Helmed by an ex-JUMBO Seafood chef, this hawker stall in Kallang brings this restaurant-popular seafood dish into a coffee shop setting, yet still retaining the key elements of the dish. 
Food at San Pin Seafood Soup Pao Fan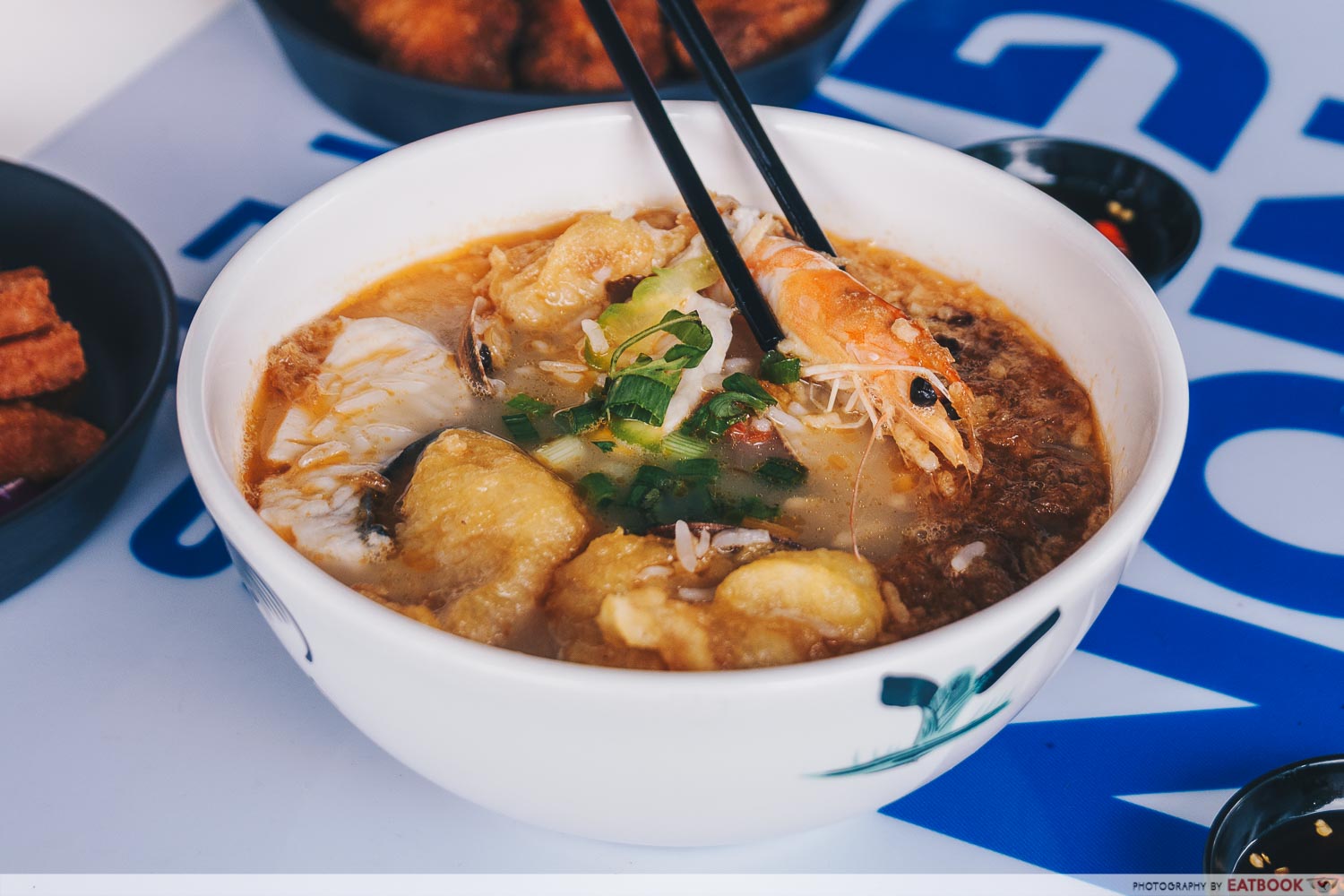 San Pin offers a few types of seafood pao fan. The broth base and accompaniments, such as egg floss and bittergourd, are the same, but the type of seafood differs. You could choose either prawn, fried fish, sliced fish or lala in your pao fan, but if you're a seafood aficionado like me, don't hesitate to order their Mixed Seafood Pao Fan ($7), that comes with a little bit of everything.
To me, this bowl of goodness is the epitome of comfort food. Let me break down to you why.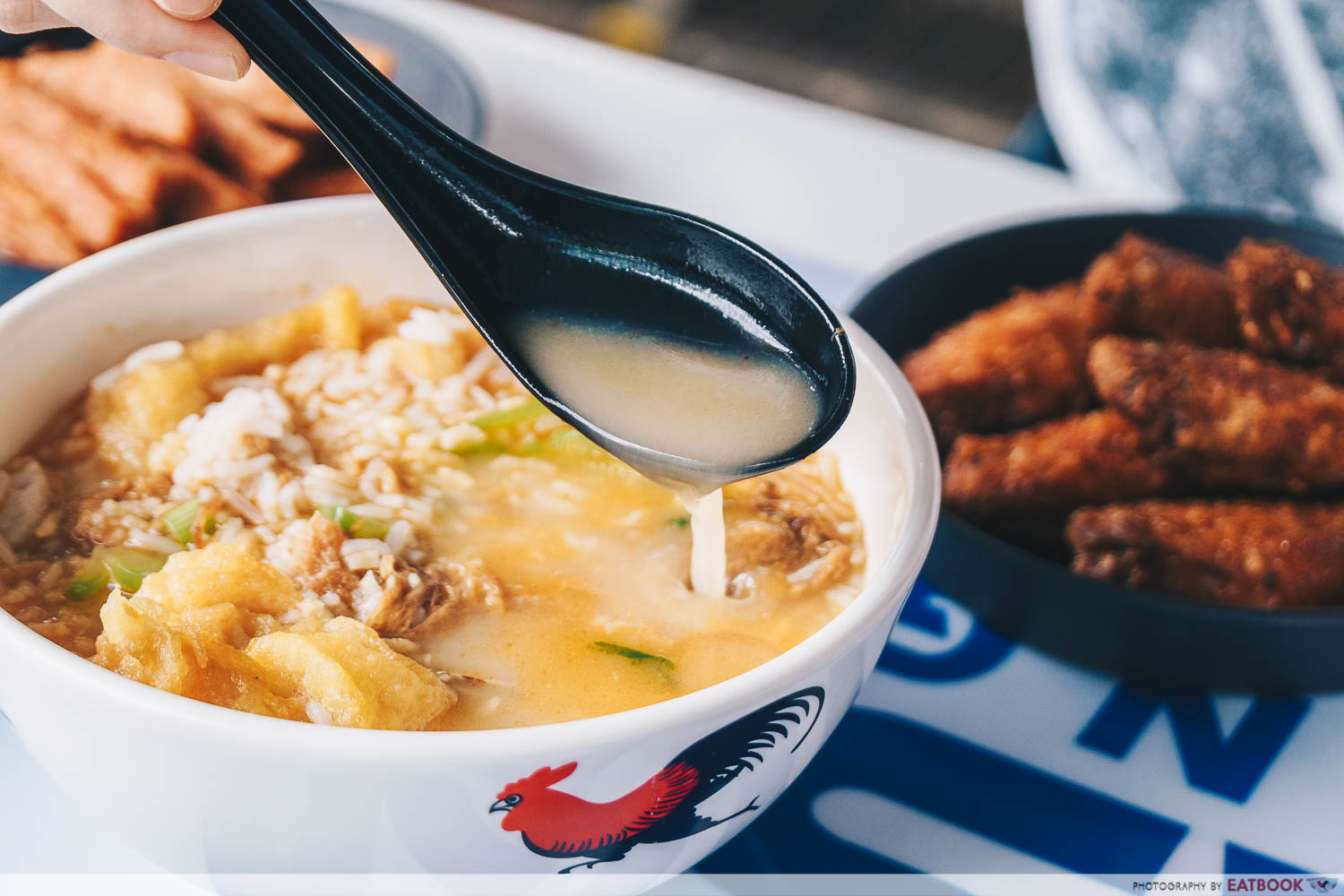 First, the broth. Seafood and pork bones form the backbone of any good broth, because you'd get depth of flavour coupled with a sweet and seafoody taste. This explains why the soup is big on umami notes. It was concentrated, without being too gao, so it won't leave you feeling jelak.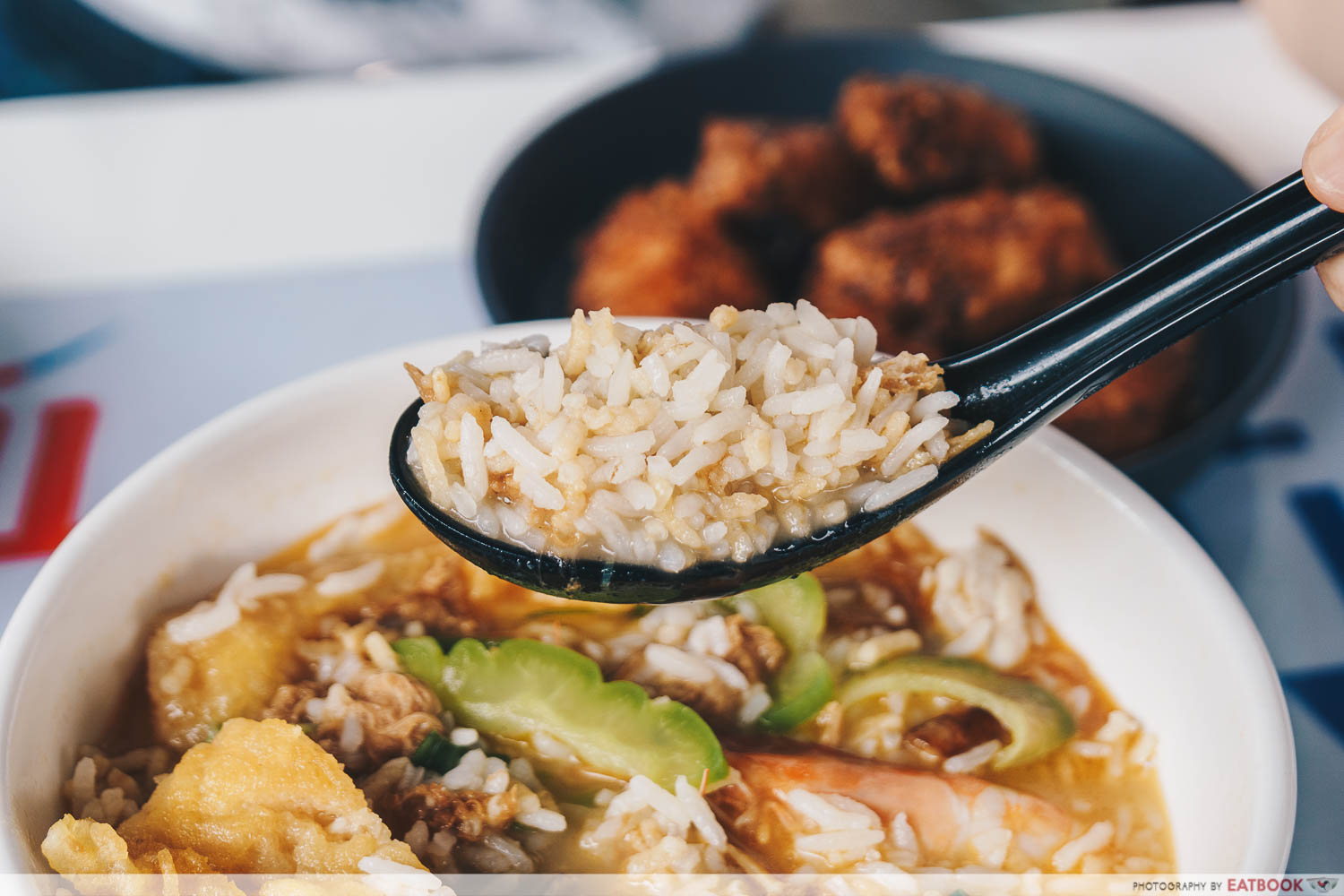 The rice grains were tender, and the rice puffs had a slight bite to it. I liked the fact that it had mopped up all those rich, briny seafood flavours from the broth.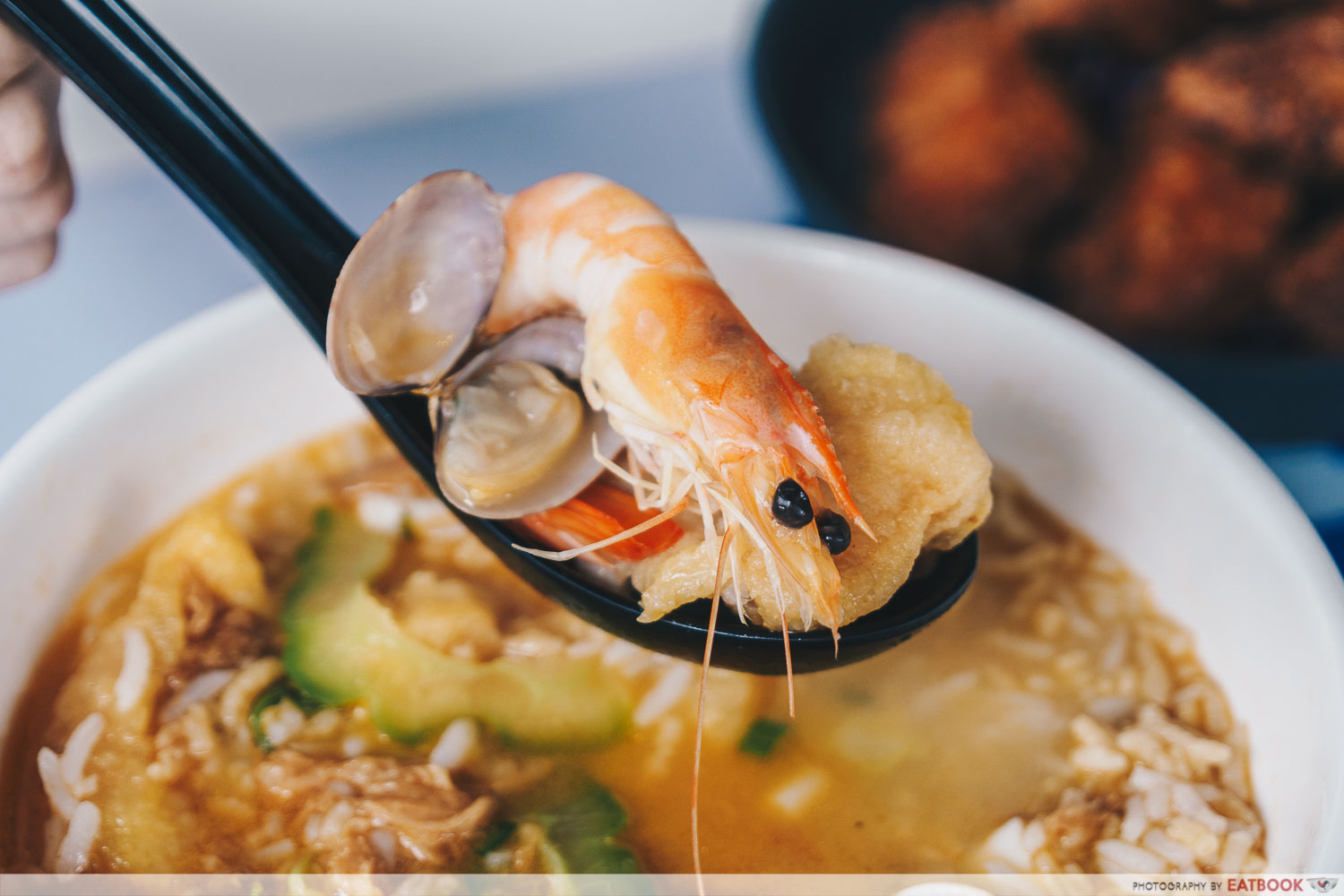 The generous mix of seafood included some prawns, lala, fried fish, and sliced fish, so for just $7, you are really getting a bang for your buck. 
I'm giving San Pin brownie points because the prawns are deshelled, which means I can enjoy the pao fan with ease.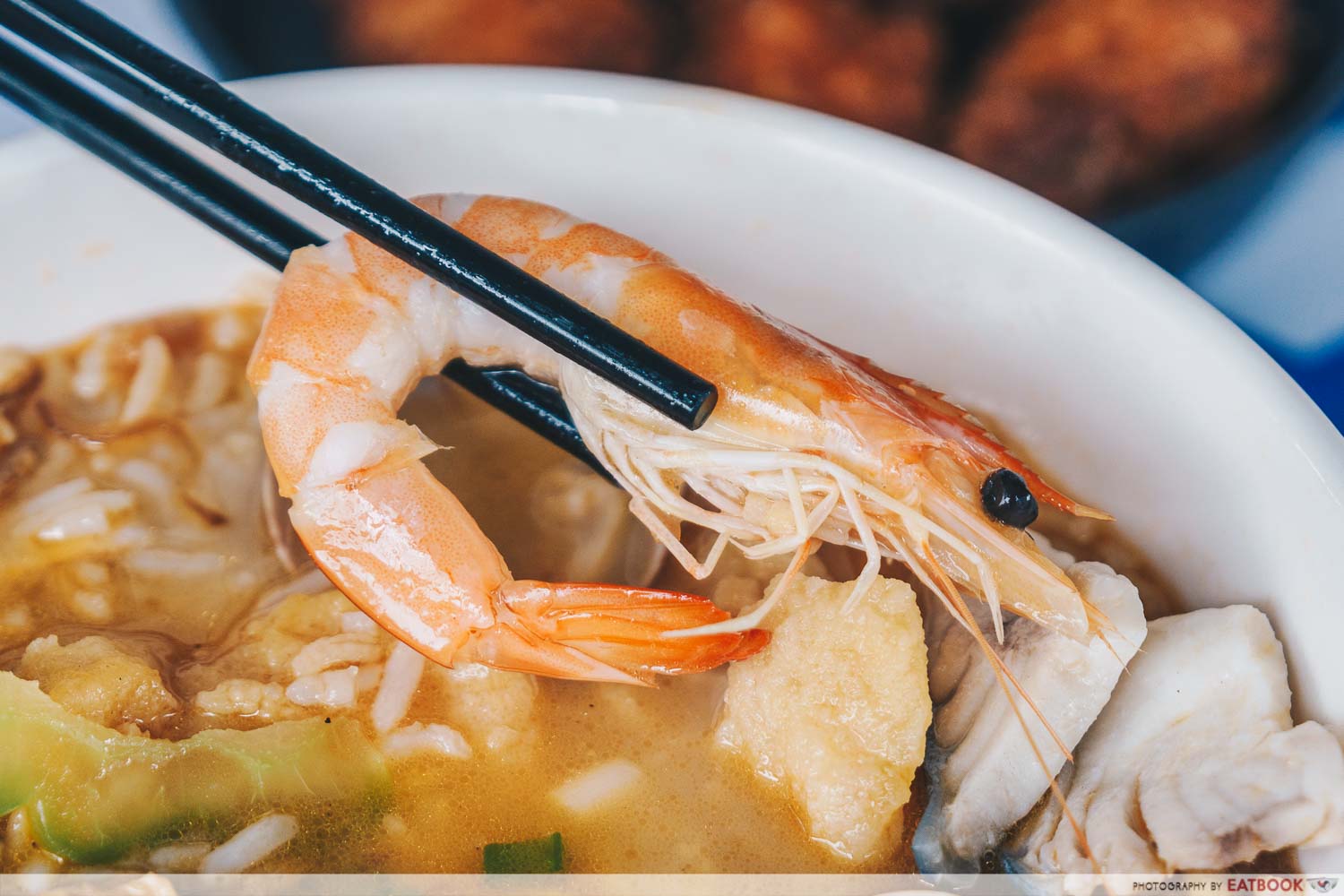 For dishes like this, there's always a risk of overcooking the seafood because they would be simmered for a considerable amount of time to extract every last morsel of flavour. However, the fresh prawns were still perfectly cooked, and had a springy texture. The lala meat was pretty tender as well.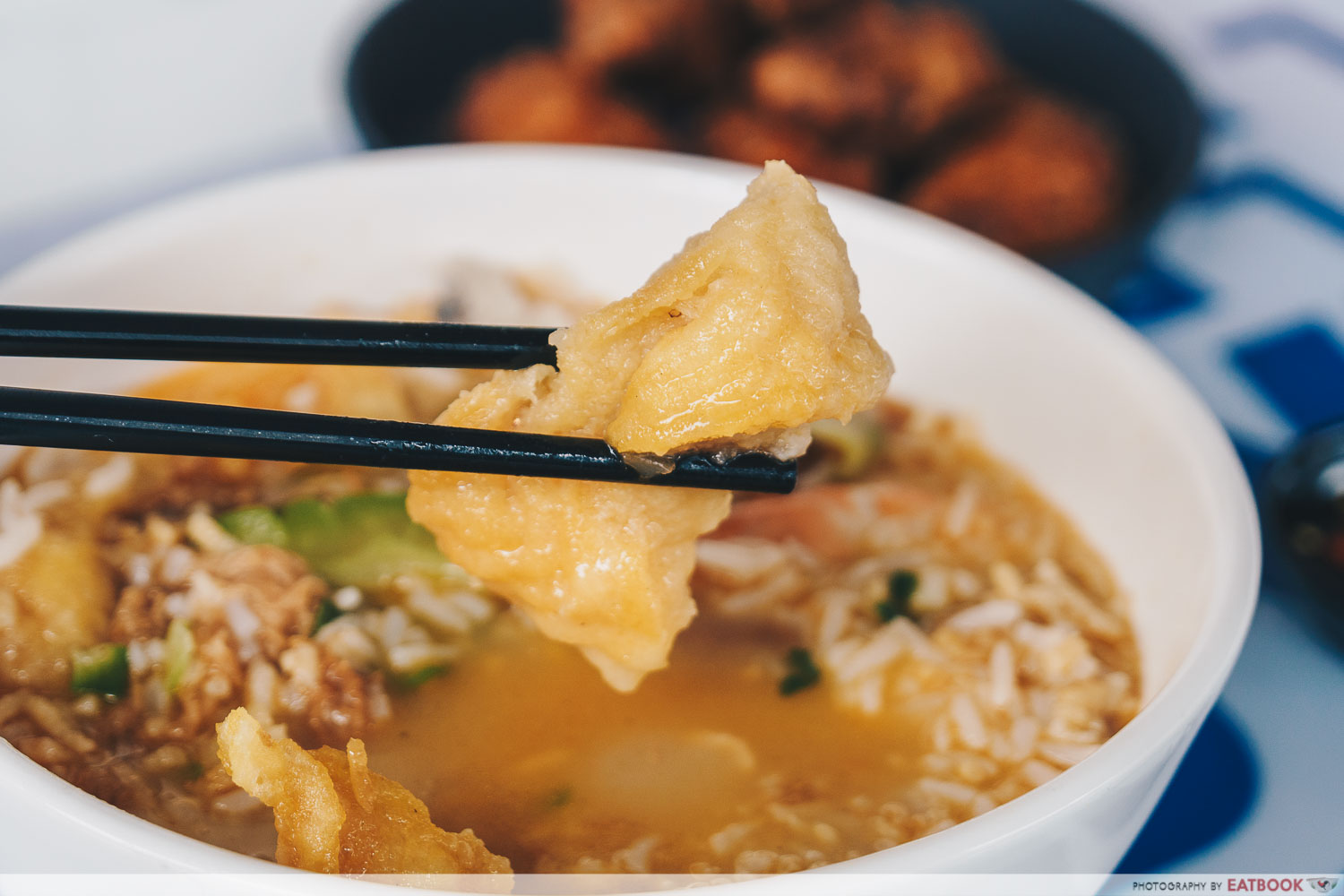 Fried or sliced fish, you wouldn't even need to pick your side because San Pin serves both in this dish. The well-seasoned fried batang fish was chewy on the outside, but had a soft, flaky centre. The sliced fish, on the other hand, wasn't as flaky as the fried one.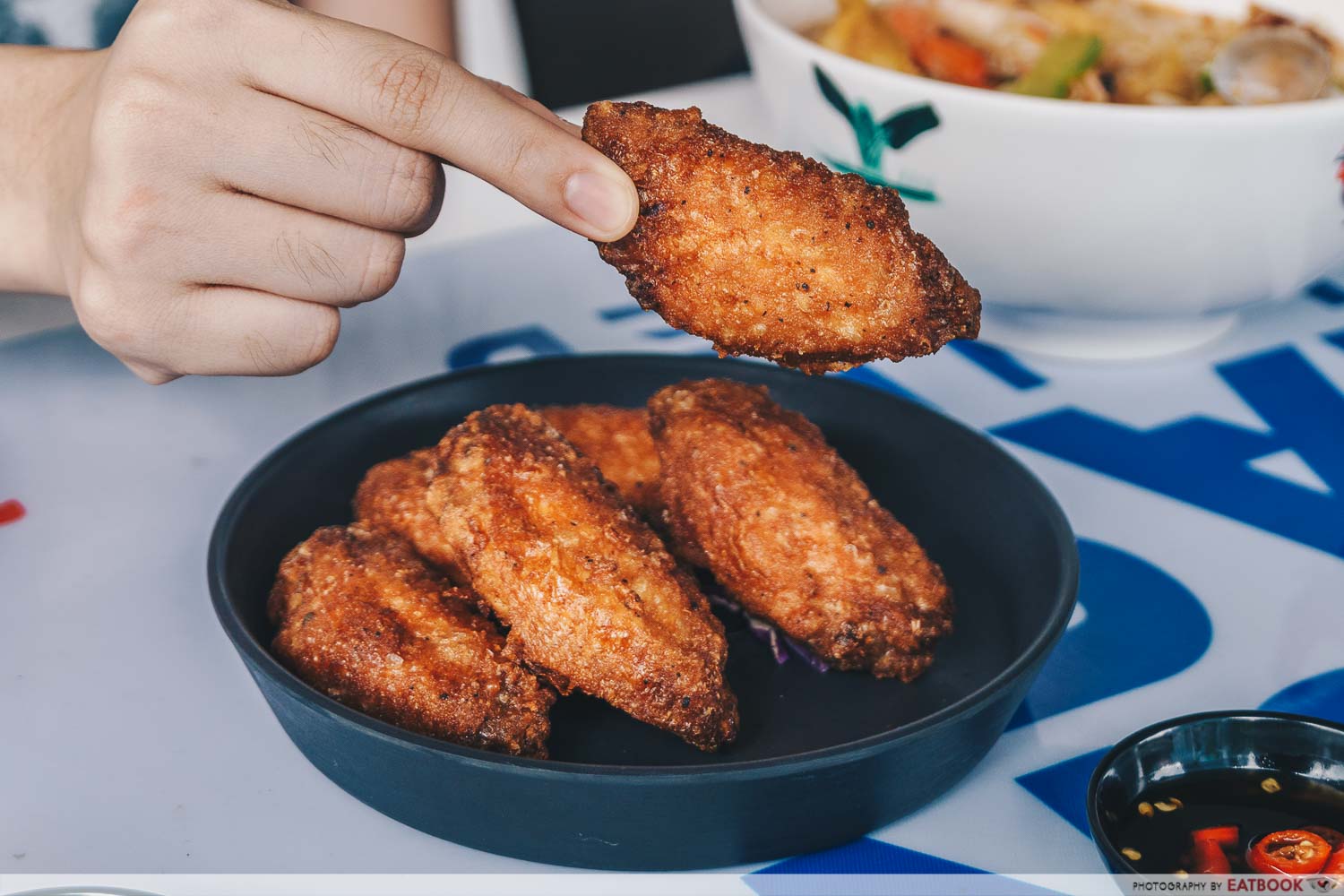 San Pin also has a handful of side dishes on top of their selection of seafood pao fan. We ordered the Fried Mid Joint Wings ($6).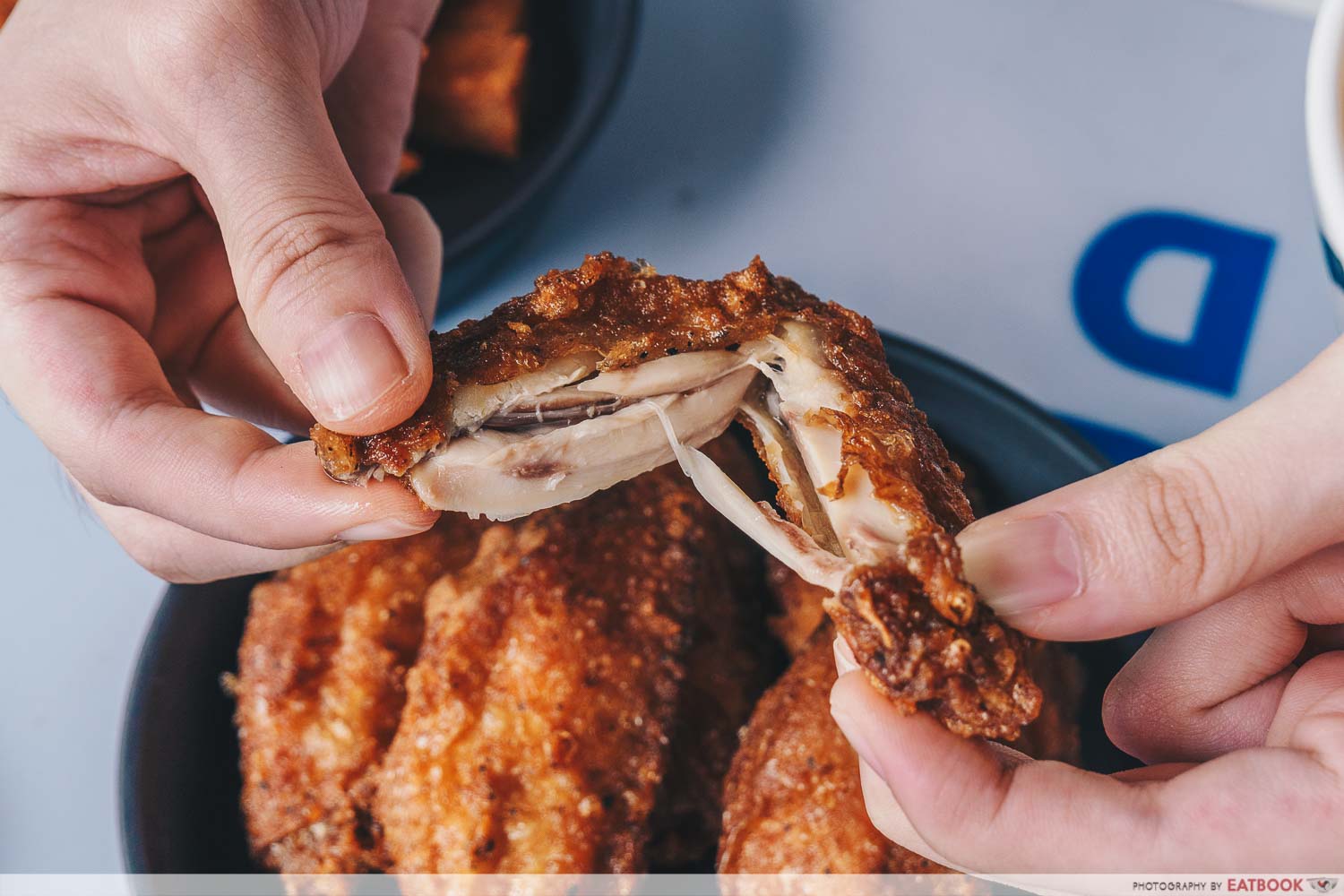 The wings had a crispy, golden brown crust. The dark exterior bore resemblance to har cheong gai (prawn paste chicken), which is a common zi char dish. Even though this dish doesn't have prawn paste, it was just as addictive. The chicken was juicy, well-seasoned, and there was also a slight peppery kick.
10 Famous Har Cheong Gai That Can Take Out Your Fried Chicken Cravings
San Pin's dishes are already good on its own, but their punchy chilli sauce helped elevate everything. The sweet and tangy profile of the sauce made everything more appetising.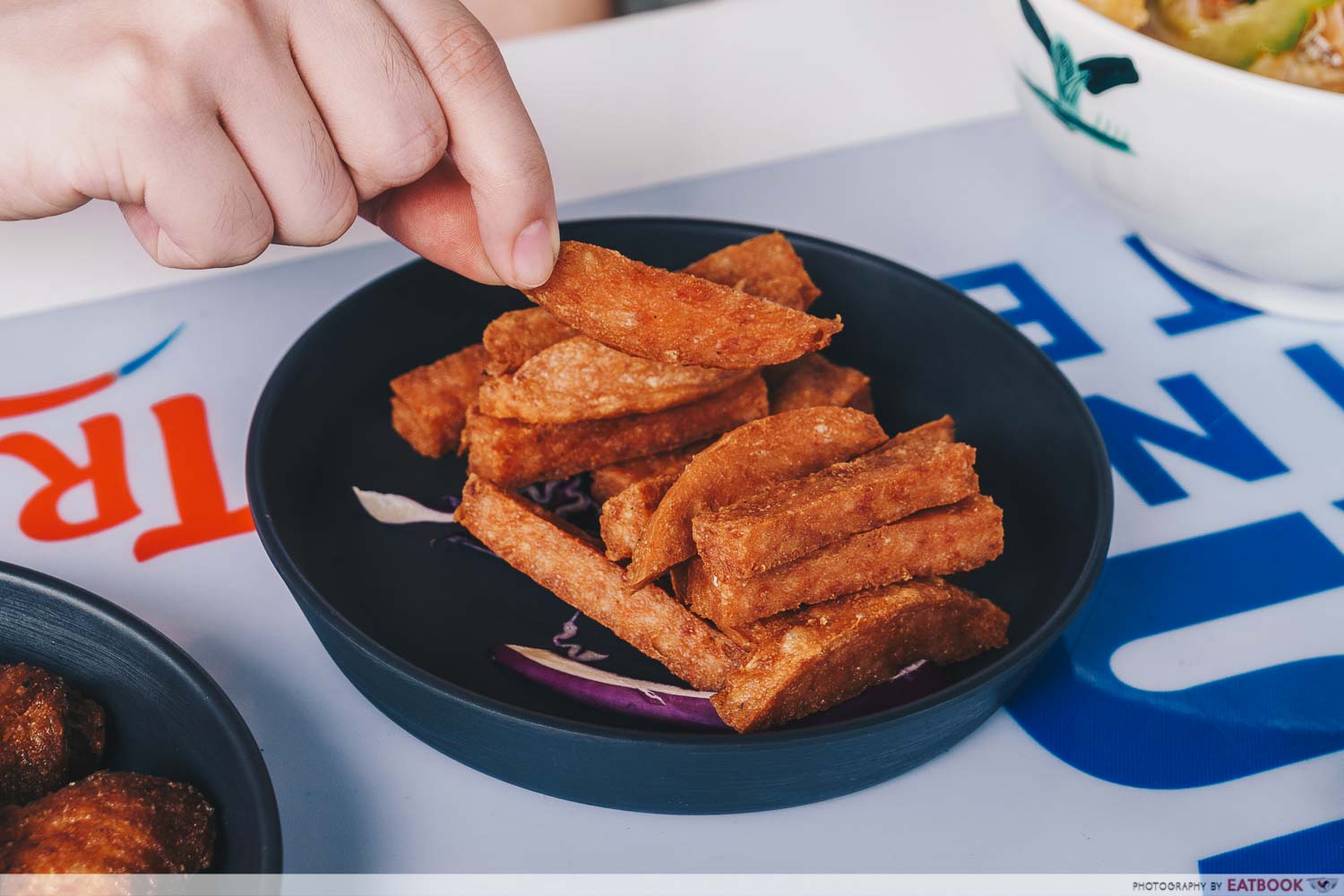 We were excited to order the Grilled Beef Fillet ($6) as well as the Grilled Iberico Pork Chop ($6) but unfortunately, they weren't available when we were there. Nonetheless, you can still get the crispy Fried Luncheon Meat ($5) or the Salted Egg Fish Skin ($5). 
Ambience at San Pin Seafood Soup Pao Fan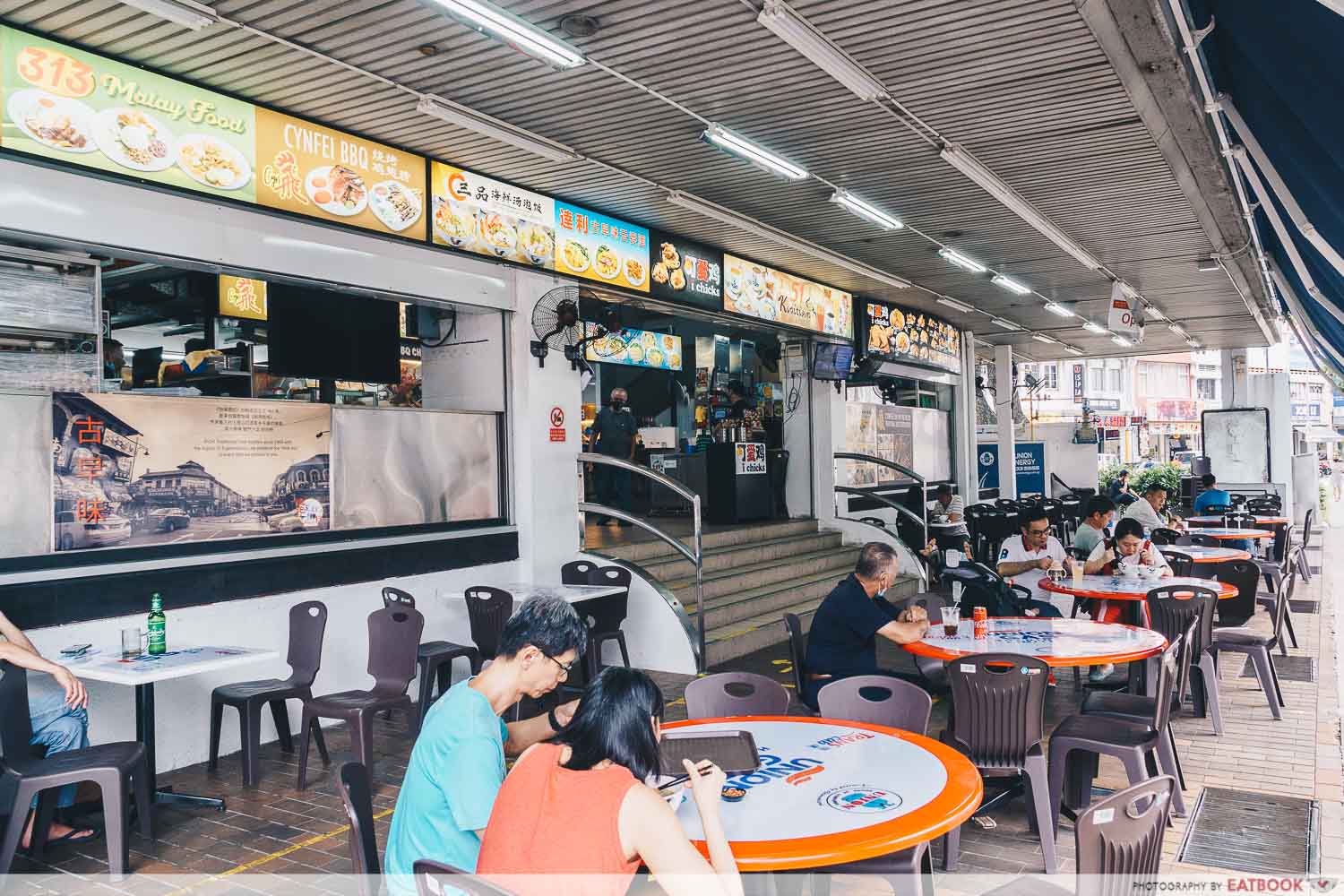 The coffee shop is located in between Jalan Besar MRT Station and Boon Keng MRT Station. You should be able to find seats with ease here, unless it is during peak hours. 
They use a wireless pager system for their queues, so you can always head back to your table to wait until the pager buzzes. Don't forget to bring cash as they only accept cash payment. 
The verdict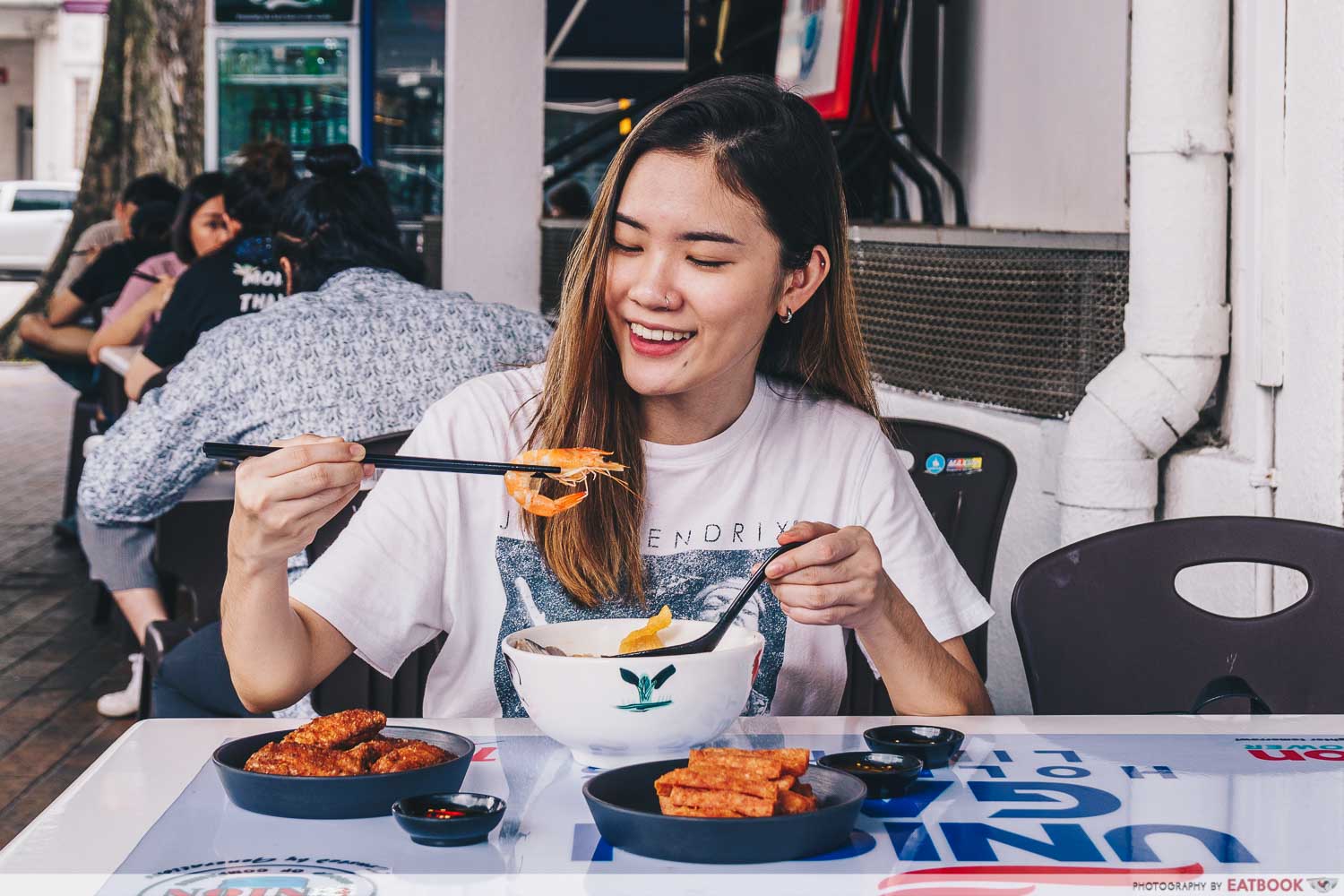 With its economical price point, generous and fresh seafood, as well as a hearty seafood broth, the seafood pao fan at San Pin can easily qualify as comfort food in my book. I can already see it weaving its way into my cravings, especially on rainy days. If you're around the area, do drop by and indulge in a bowl of their robust seafood pao fan.
Chao Ting Review: Traditional Teochew Pao Fan Featuring King Prawn And Fried Fish In The CBD
Find out what we think about Chao Ting's pao fan, which is an eatery that's affiliated to JUMBO Seafood. Alternatively, read about our review on JUMBO Seafood's Afternoon Tea that's only priced at $24++ per person.
JUMBO Seafood Afternoon Tea Review: $24++ Per Person With Chilli Crab Bun And Salted Egg Lava Mochi
Address: 27 Foch Road, #01-02, Hoa Nam Building, Singapore 209264
Opening hours: Daily 10:45am to 8pm
Website
San Pin Seafood Soup Pao Fan is not a halal-certified eatery.
Photos taken by Muhammad Hafiq.
This is an independent review by Eatbook.sg.
San Pin Seafood Soup Pao Fan Review: Seafood Pao Fan From $6 In Kallang
Summary
Pros
– Umami-rich seafood broth
– Fresh seafood
– Affordable
Cons
– Could have more variety
– Sliced fish could be flakier
Recommended Dishes:  Mixed Seafood Pao Fan ($7)
Opening hours: Daily 10:45am to 8pm
Address: 27 Foch Road, #01-02, Hoa Nam Building, Singapore 209264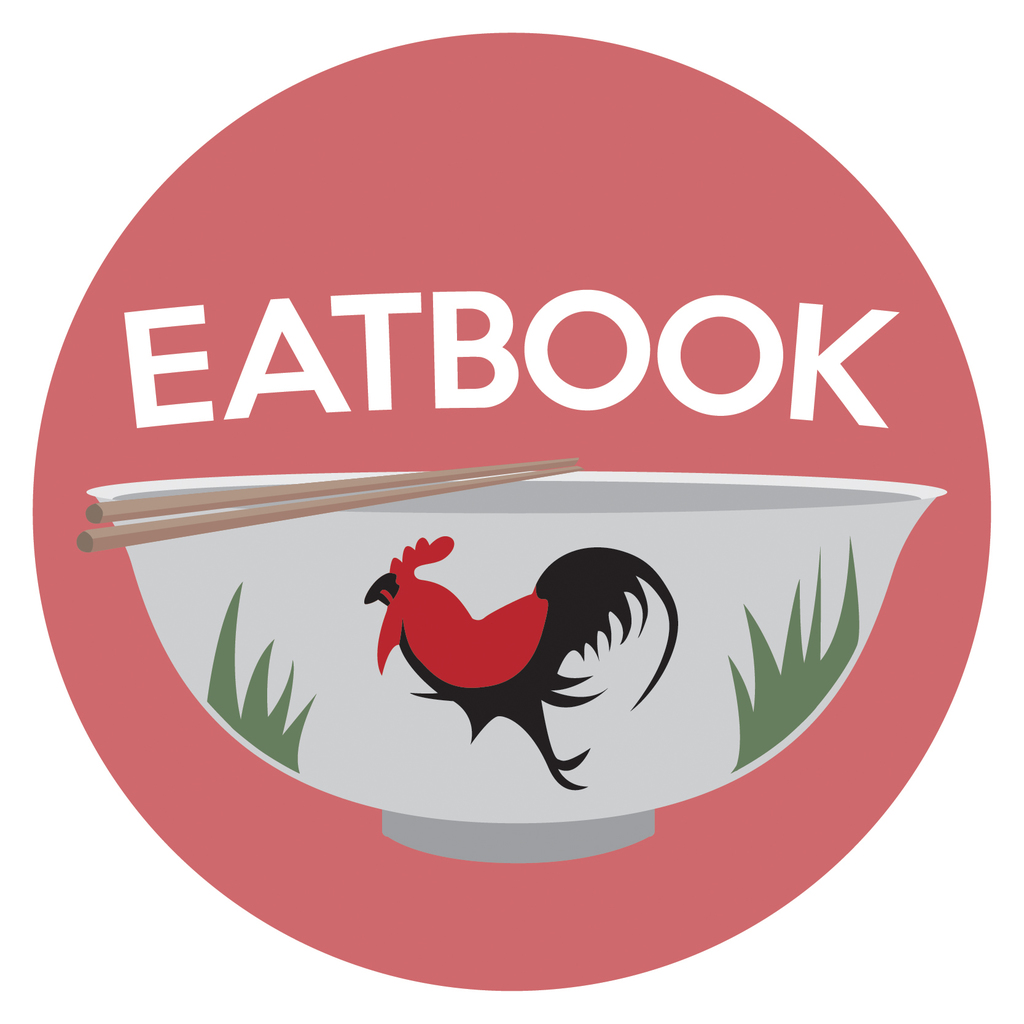 Drop us your email so you won't miss the latest news.