---
Kallang food gems near the MRT station
---
To many people, Geylang may just be a red light district that comes to life with sketchy activities when night falls. I love visiting that area during night time as well, but only because the place is bustling with eateries even in the early hours. While most people tend to visit the Geylang food places near Aljunied MRT Station, I prefer checking out the ones at the edge of the area, closer to Kallang MRT Station. These spots tend to be quieter, yet serve up equally affordable and delicious fare. If you find yourself near Kallang, be it in the day or at night, pop by these Kallang food spots for a good meal!
---
1. BBQ Box
---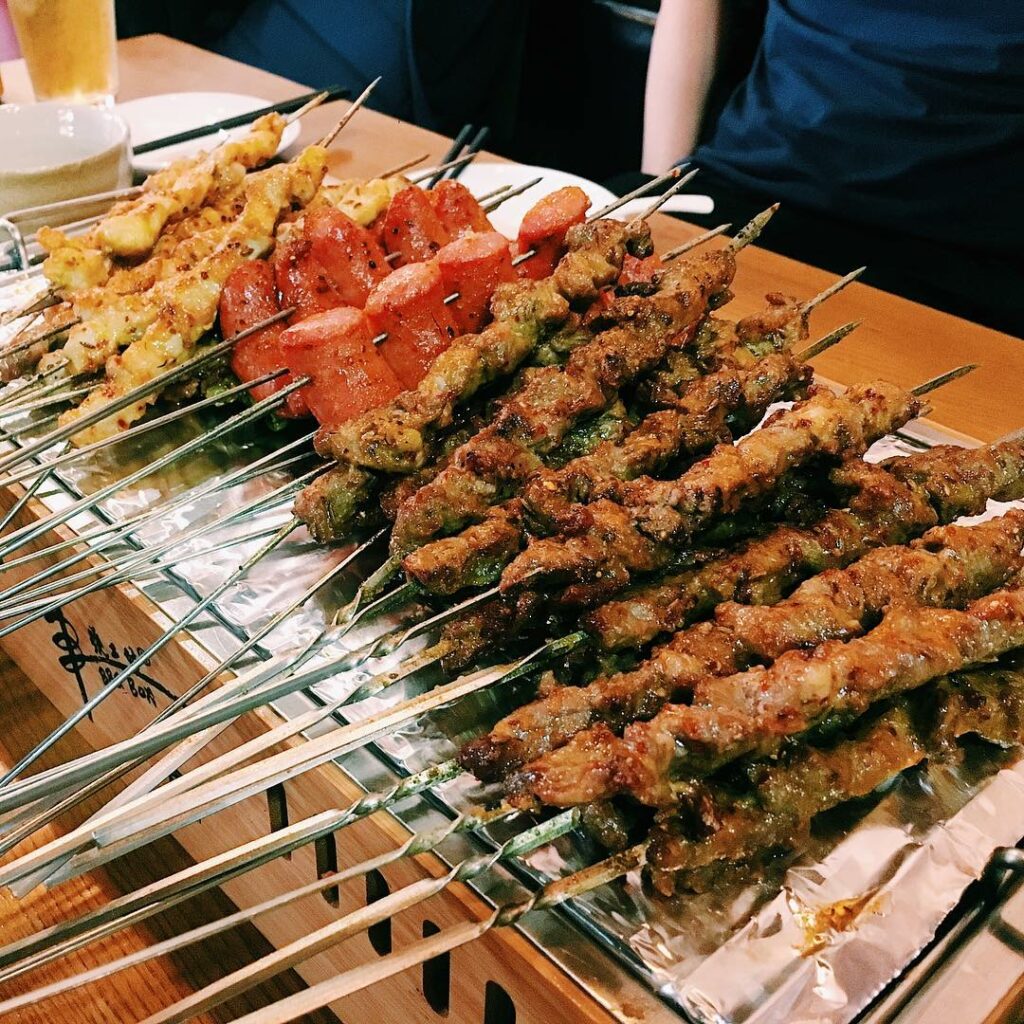 Image credit: @paezz
One of the things you'd notice while walking down Geylang road would be the number of Chinese barbeque eateries. A good one to try is BBQ Box. With over 50 ingredients found on their menu, this restaurant serves their meat on skewers, making it easy for you to grill the food over the mini grill at your table. Prices start at $1 per skewer and you can get items such as Grilled Beef Tripe, Grilled Pork, and Mantou Slice BBQ. A surprisingly popular item is their buttery Grilled Bread ($1)!
Address: 182 Geylang Road, Singapore 389212
Opening hours: Mon-Sat 2pm to 2am, Sun 2pm to 12am
Tel: 9234 8659
---
2. Satay Celup Melaka
---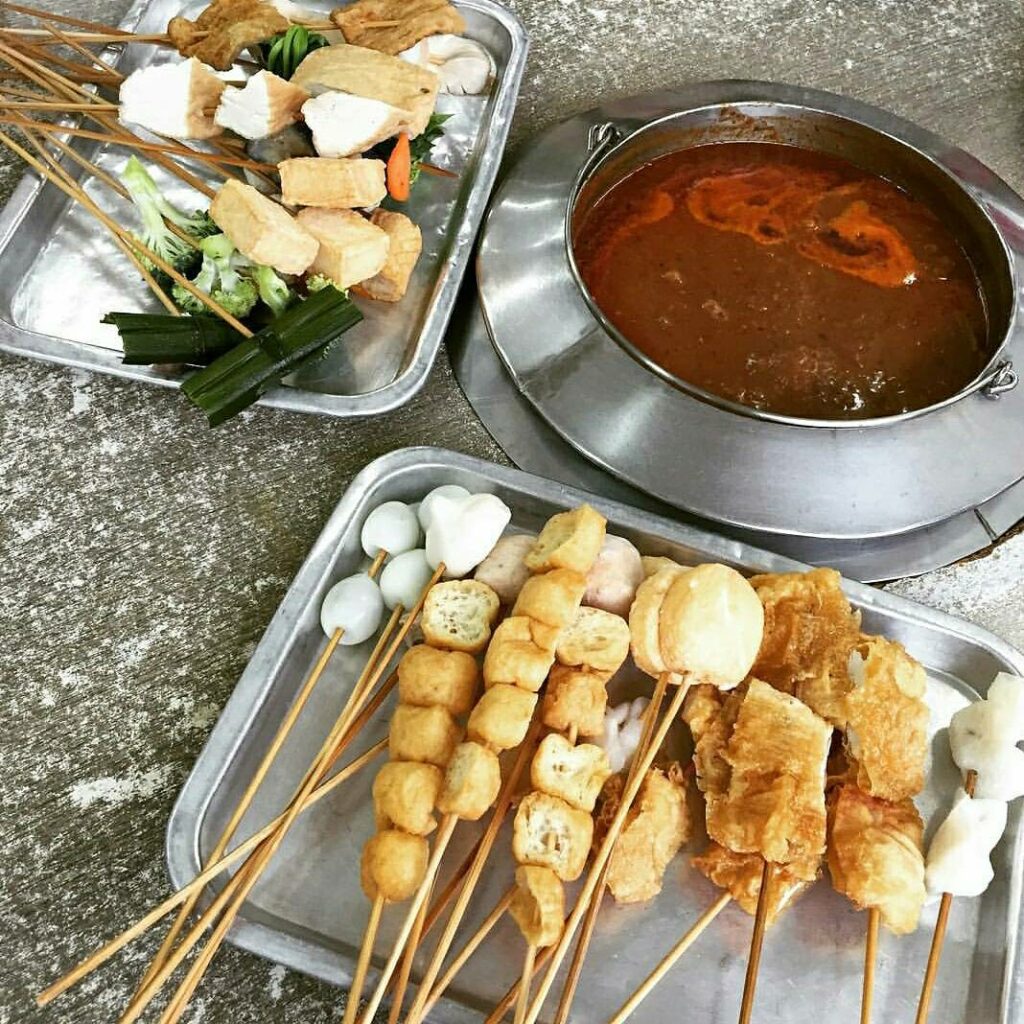 Image credit: @sangeethaa_nanthakumar
To add on to the list of lok lok places in Singapore is Satay Celup Melaka. Priced at $3 per pot, you can choose to have your skewers cooked in either satay sauce or soup. Like many lok lok eateries, the skewers are kept in a huge refrigerator and they come in different coloured sticks, indicating the different prices. For items such as broccoli and mushrooms, each skewer will only set you back $0.70. For meats, the maximum price per stick is $2. From meatballs to prawns and siew mai, you can expect a wide variety to feast on at Satay Celup Melaka!
Address: 1 Guillemard Road, Singapore 399683
Opening hours: Daily 5pm to 2am
Tel: 9151 3588
Website
7 Lok Lok Spots In Singapore To Feast At So You Don't Have To Go To JB
---
3. Jalan Sultan Prawn Mee
---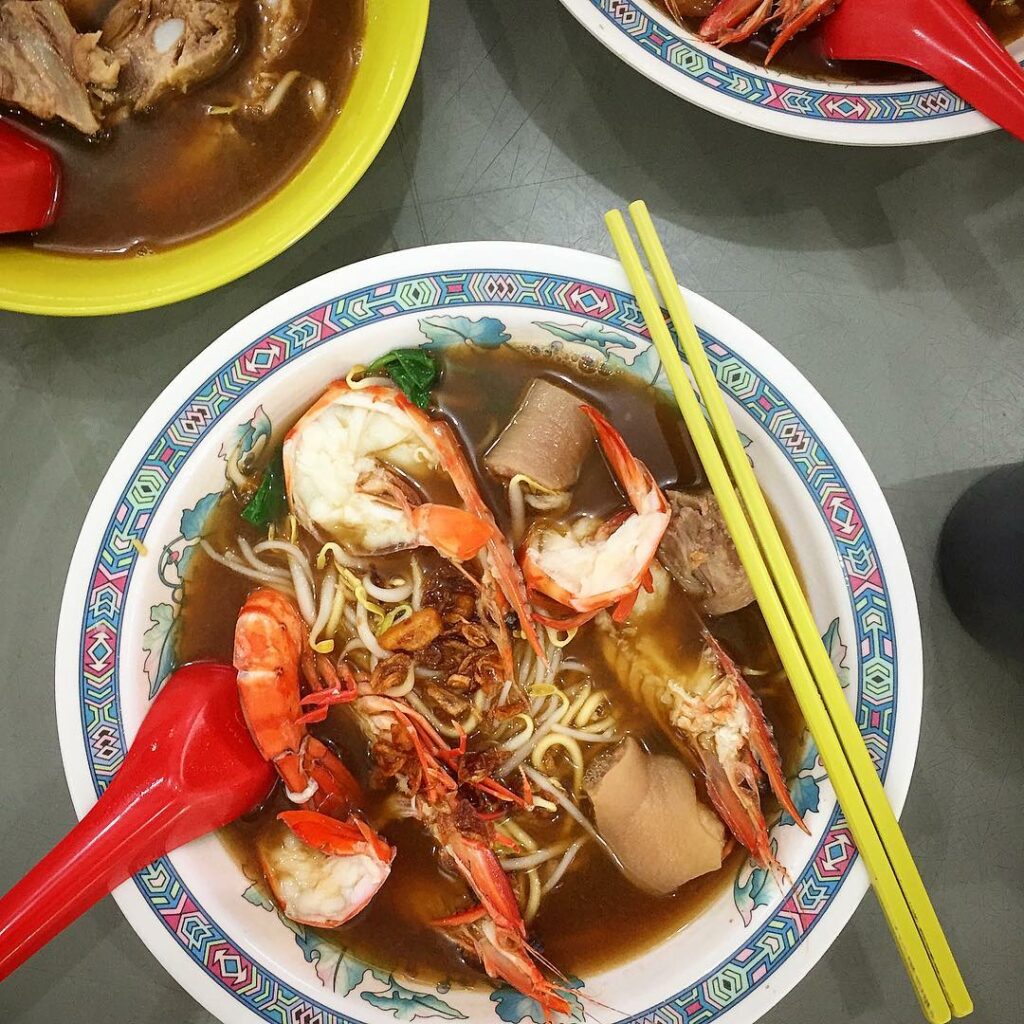 Image credit: @nelysl

Do a quick Google search on Jalan Sultan Prawn Mee and you will find yourself reading tons of good reviews of their Prawn Mee ($5). Available in dry and soup versions, you can expect the latter to be especially gao and flavour-packed. For the same price, you can also get their Pork Rib Prawn Mee which comes with both prawns and pork ribs. While the regular bowl will give you sizable pieces of prawns, those looking for extra big ones can try their King Prawn Pork Ribs Mee ($8/$10)!
Address: 2 Jalan Ayer, Singapore 389141
Opening hours: Wed-Mon 8am to 3:30pm
Tel: 6748 2488
---
4. Chilli King Wanton Mee
---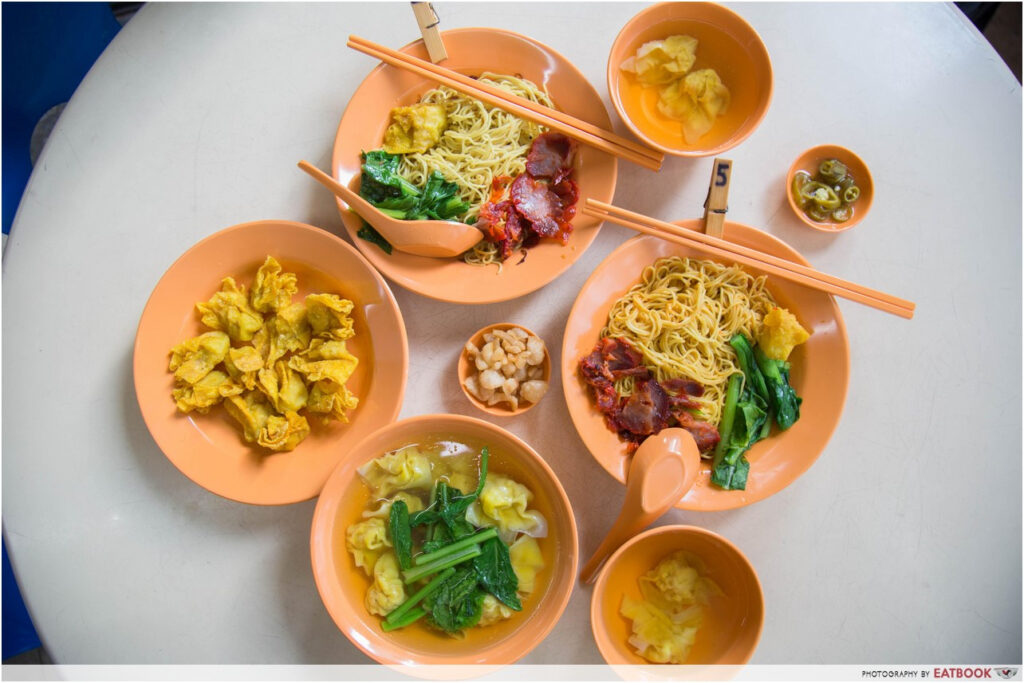 If you are constantly on the hunt for spicy food challenges, hit up Chilli King Wanton Mee. This stall offers wanton noodles at five different levels of spiciness starting from Tam Po Hiam ($3.50). Meaning "slightly spicy" in Hokkien, this is the first level that will sit well with those who cannot take spicy food. Besides being spicy, you can also expect a strong aroma of soya sauce and sesame oil from the glistening brown sauce that covers the noodles. To go with the noodles, get their Fried Wontons ($3.50 for 12 pieces) too!
Check out our full review of Chilli King Wanton Mee!
Address: Block 5 Upper Boon Keng Road, #01-22, Chang Cheng Coffeeshop, Singapore 380005
Opening hours: Mon-Tue 11am to 10pm, Thur-Fri 11am to 10pm, Sat-Sun 9am to 10pm
Tel: 9489 4532
Chilli King Wanton Mee Review: Wonton Mee With Five Levels Of Spiciness at Kallang
---
5. Imam Banana Leaf Restaurant
---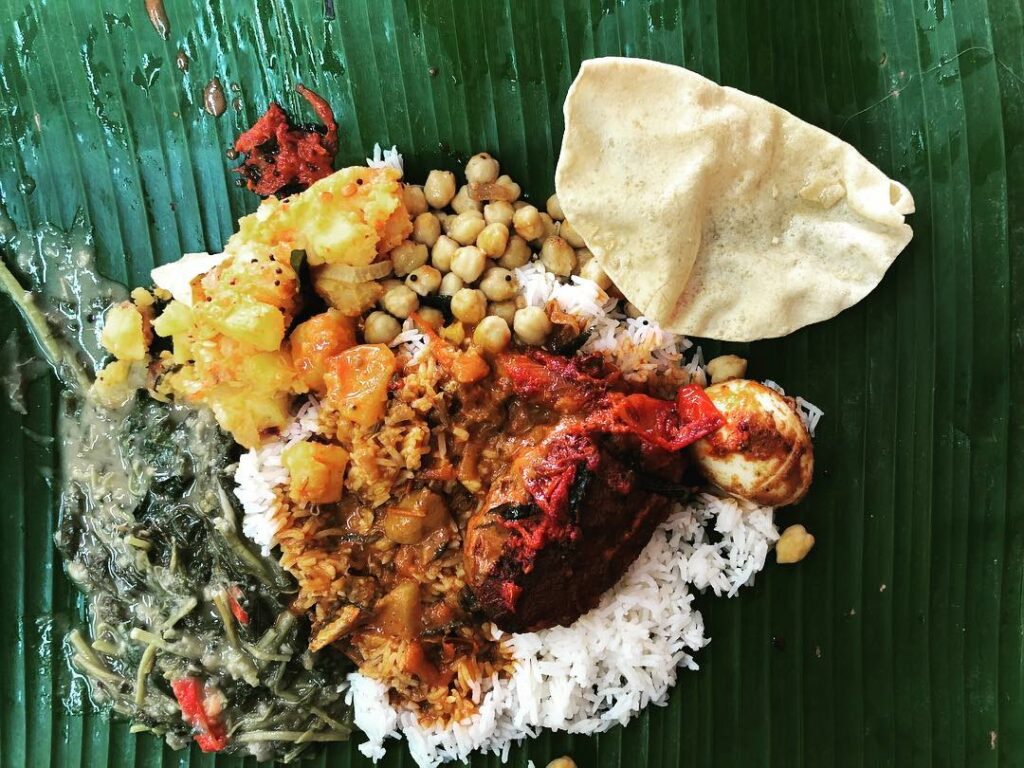 Image credit: @kenneth.I_I.kc

To fix your midnight cravings for prata, check out Imam Banana Leaf Restaurant, which is open 24 hours every day. When you are there, try their Boom Prata ($1.40) and Milky Prata ($1.70) – two noteworthy dishes that are not commonly found in other prata eateries. They are also known for their Chicken Briyani ($6.50) that comes with tandoori chicken, curry, and rice loaded with spices. Other dishes that you can expect include Mutton Masala Fried Rice ($6), Maggi Goreng ($4.50), and Nasi Goreng ($4.50)!
Address: 10 Lorong 1 Geylang, Singapore 389119
Opening hours: Daily 24 hours
Tel: 6744 8644
Website
---
6. Mongkok Dim Sum
---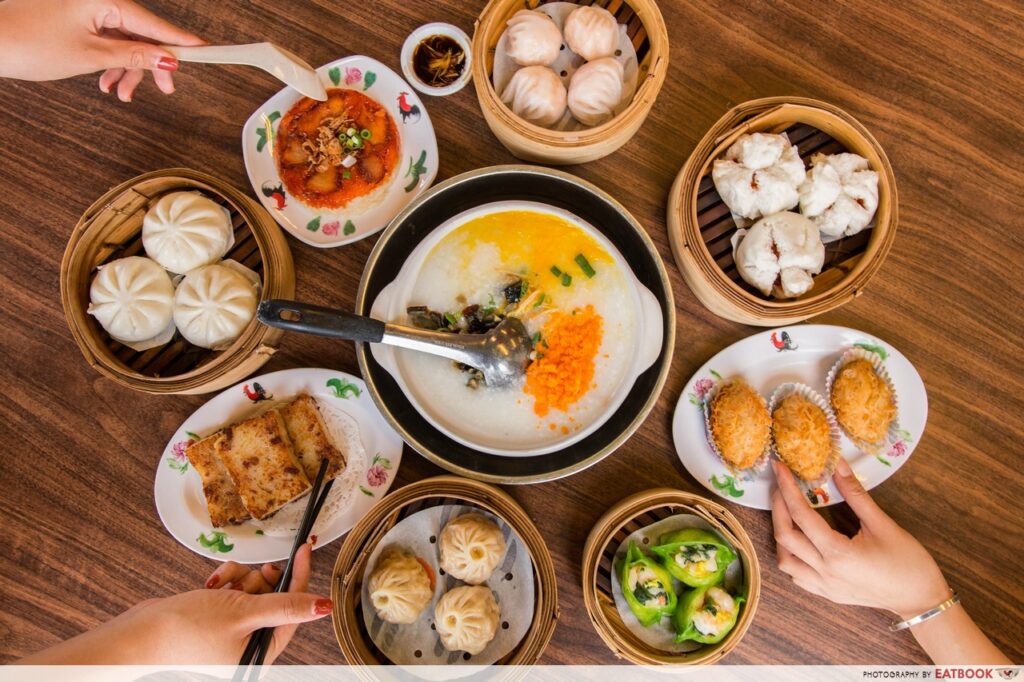 Mongkok Dim Sum is where you can get cheap and good dim sum at any time of the day. Open 24 hours, this eatery serves classic dim sum varieties such as Custard Bun ($4.20), House Special Prawn Dumpling ($4.20), and Shanghai Pork Dumpling ($4). One of the more memorable dishes that we tried was their 3 Yolk Crab Porridge. For just $9, the porridge came in a huge pot that fed up to four people. On top of pieces of actual crab meat, the porridge was also made of chopped century egg, soft-boiled egg yolks, and crumbled salted egg yolk.  
Check out our full review of Mongkok Dim Sum!
Address: 214 Geylang Road, Singapore 389274
Opening hours: Daily 24 hours
Tel: 8484 8826
Website | Full list of outlets
Mongkok Dim Sum Review: 24/7 Dim Sum Eatery With A Wide Variety Of Tasty Dim Sum
---
7. Segar Village
---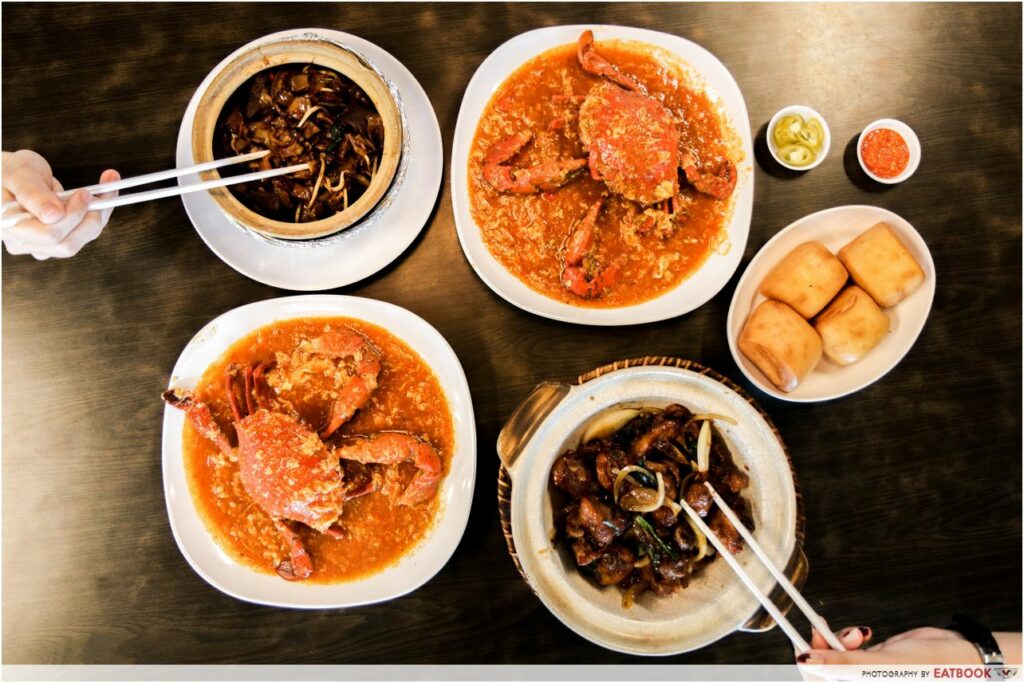 Crabs lovers have to give the seafood at Segar Village a try. This halal-certified zi char eatery offers a long-standing promotion where you can get two medium to large crabs at $36 with every $20 spent. You can choose to get either Chilli Crab or Pepper Crab and we went for the former when we were there. Not meant for the faint-hearted, the chilli crab sauce was very spicy and addictive, and goes well with their Fried Mantou ($0.80 each). Other items on their menu include Segar Clay Pot Golden Chicken ($5/$17) and Beef Kway Teow ($5/$12).
Find out about our experience at Segar Village!
Address: 19 Sims Way, Singapore 388831
Opening hours: Daily 11:30am to 2:30pm, 5:30pm to 11:30pm
Tel: 6547 1031
Website
---
8. Tonny Restaurant
---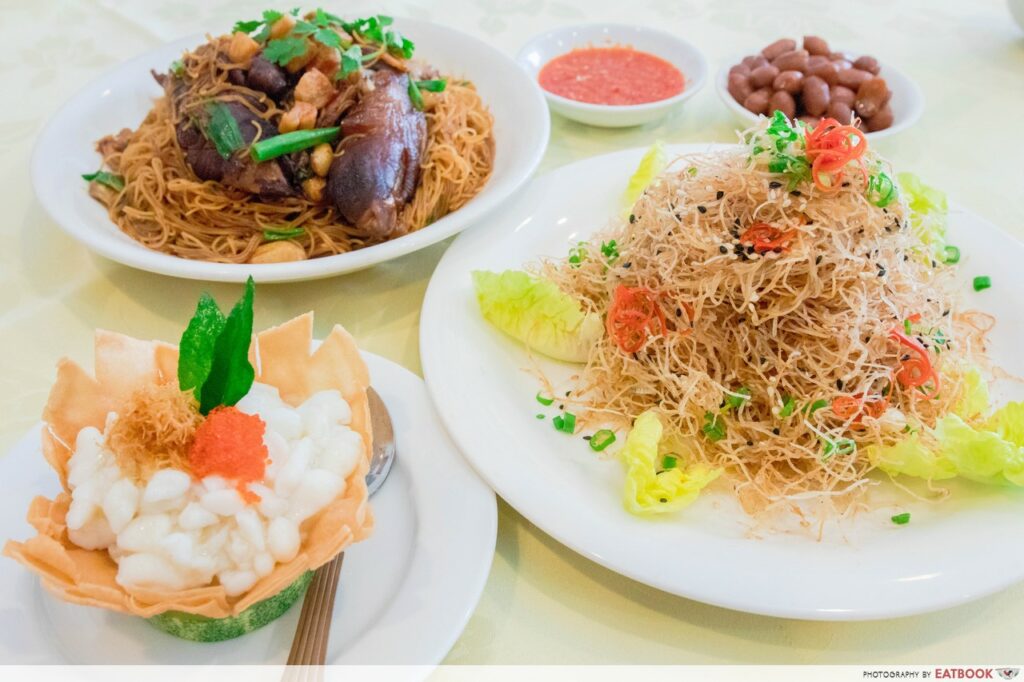 Tonny Restaurant is one of the old-school Cantonese restaurants that should top your list of places to bring your parents to. Helmed by Chef Tonny Chan who has over 30 years of experience, this restaurant takes their food up a notch with interesting dishes such as Crispy Yam with Truffle Oil ($16++). Another dish to look out for is their Crouching Tiger, Hidden Dragon ($9++). This is made of scallops and egg white cradled in a crackly wanton skin before being topped with ebiko and two crispy curry leaves.
Find out more about the food at Tonny Restaurant!
Address: No. 8-10 Lorong 3 Geylang, Singapore 388862
Opening hours: Tue-Sun 12pm to 2pm, 6pm to 10:30pm
Tel: 6748 6618
Website
---
9. G7 Live Seafood & G7 Frog Porridge
---

Image credit: @shahping
The first time I mustered the courage to try frog legs was at the famous G7 Live Seafood & G7 Frog Porridge. That was also where I found my new love for this dish. Open till 3:30am every day, this is the best place to get a shiok and comforting supper. Starting at $8 for one frog, their frog legs come in two flavours – Dry Chilli Bull Frog and Ginger Spring Onion Bull Frog. For a better deal, get three frogs for $22 and you will get another two frogs and a pot of porridge for free! If you are not a fan of frog's legs, the restaurant also serves zi char dishes such as Fried Prawns with Salted Eggs and Cereal ($12) and Taiwan Style Deep Fried Chicken Wing ($5.80 for three pieces)!
Address: 161/163 Geylang Road, #01-01/02, Singapore 389240
Opening hours: Daily 3pm to 3:30am
Tel: 6848 4161
Website
---
Up your supper game
---
It's time to move on from your typical Hai Di Lao or Swee Choon nights. For the coming TGIF night, bring your kakis over for a hearty supper at Mongkok Dim Sum or BBQ Box. Venturing further away from Kallang MRT Station, there are also many other noteworthy eateries in Geylang to get duck porridge, handmade noodles, and claypot rice!