---
Best food places at The Woodleigh Mall
---
I like leading a simple and chill life━this means occasional visits to the grocery store or window shopping at the mall. If you're anything like me and live in the North-East, here's some good news: The Woodleigh Mall is now open! To help you out since the mall is so new, we have compiled a list of 11 best eateries at The Woodleigh Mall.
---
1. San.wich
---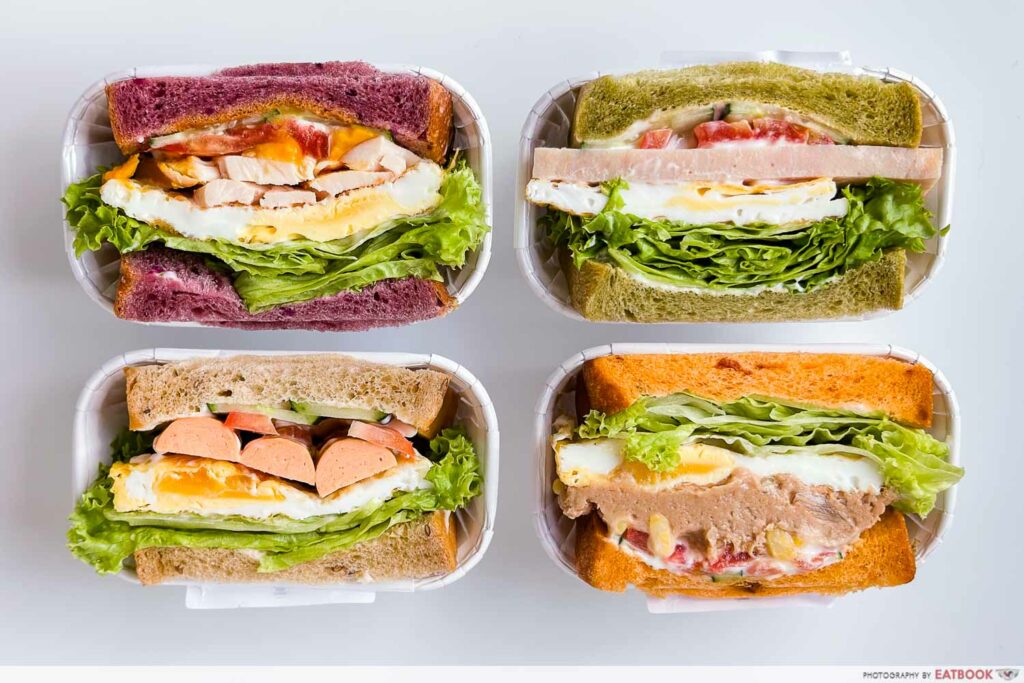 If you're grabbing a quick meal that's wallet-friendly and nutritious, definitely check out San.wich's freshly made sandos. The super chio bread offered here is baked daily with natural ingredients such as pumpkin, beetroot, and sweet potato, giving them their multi-coloured hues. Get their signature sandwich, the Soy Garlic Chicken Cutlet And Cheese With Egg ($3) or other variations including Snow Crab With Egg ($3.20) and Fish Fillet With Egg ($2.80).
Hold up—they even have sweet sandwiches! Try the Cream Cheese Apple Sandwich ($3.20) or Assorted Fruits Sandwich ($3.20) that features strawberry, melon and kiwi in fresh cream.
Unit: #B1-K14
Opening hours: TBD
Website
San.wich is a halal-certified eatery.
San.wich Opens At The Woodleigh Mall With Red Velvet Sando And More From $2.80
---
2. FairPrice Finest
---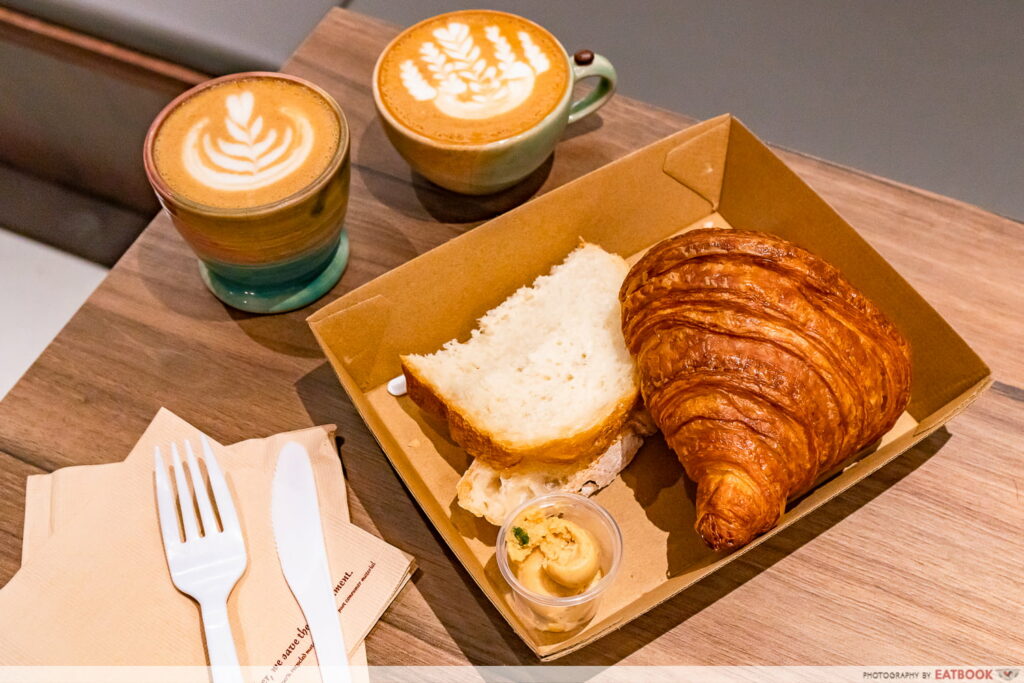 While it does sound uncommon to dine at a supermarket, this mall's FairPrice Finest outlet is open 24 hours a day. Check out crowd favourite drinks from local coffeehouse Tiong Hoe Specialty Coffee such as Cafe Latte ($5.50) or Filter Coffee ($7.60). You can even have these with fresh bakes including a Butter Croissant ($4) from The Bakehaus, a popular homegrown bakery.
Additionally, you can also head to different counters located in the store, where you can pick up ready-to-eat meats, bentos, and fresh seafood that can be cooked for you on the spot. There's even a bar where you can have alcoholic drinks to go with their customisable cheese platters.
Address: #B1-32/33
Opening hours: TBD
Website
FairPrice Finest is not a halal-certified grocer.
24-Hour FairPrice Finest Opens At The Woodleigh Mall With Fresh Oysters, $7.90 Wines And More
---
3. Bulgogi Syo
---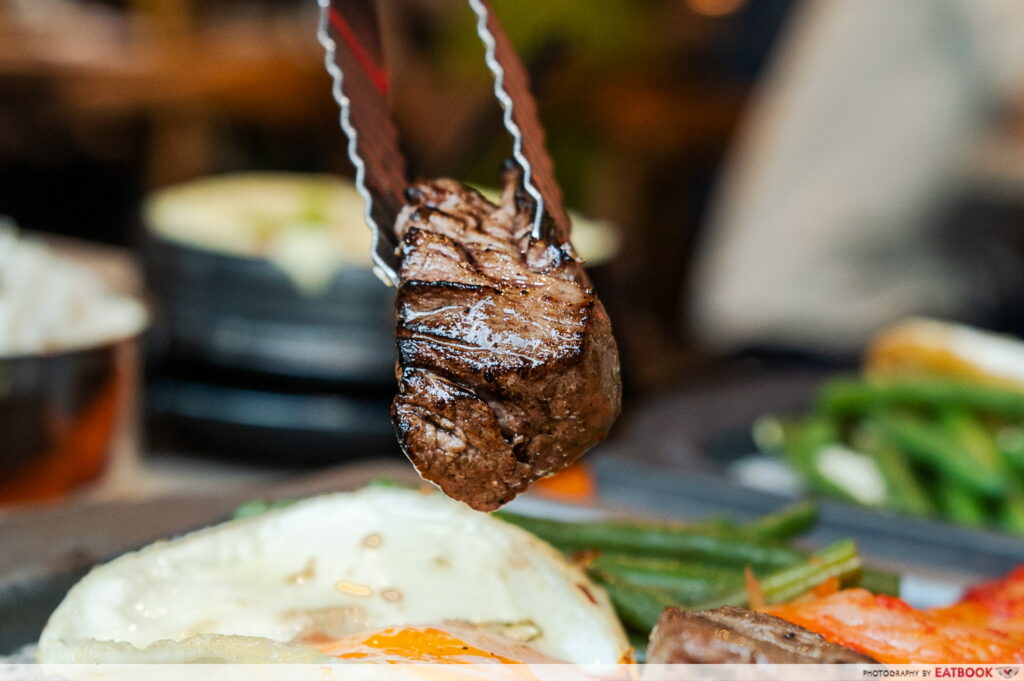 Bulgogi Syo, a popular K-BBQ eatery, is founded by the same people behind Seorae. They take things to the next level with their three-step grilling process, where cuts of meat are seared, torched, and then flambéed at your tableside. Try the Angus Beef Tenderloin ($35.50++), their finest cut of meat, which is one of their Syo Specials.
Another tasty choice is their Duroc Pork Belly ($20.90++) that's spicy with a good meat-to-fat ratio. All their meats come with savoury seaweed rice. If you prefer classic Korean dishes, go for their super spicy Seafood Jjampong ($18.90++), which features mussels, prawns, and squid in a flavourful broth. What's more, if you dine in during lunchtime, you'll find exclusive dishes which come with hot seaweed soup, soft drinks, and free-flow banchan.
Unit: #01-33/34
Opening hours: TBD
Tel: 9880 9729
Website
Bulgogi Syo is not a halal-certified eatery.
Bulgogi Syo Review: New Korean Hotplate Restaurant With Unique Three-Step Grilling Process
---
4. Hollin
---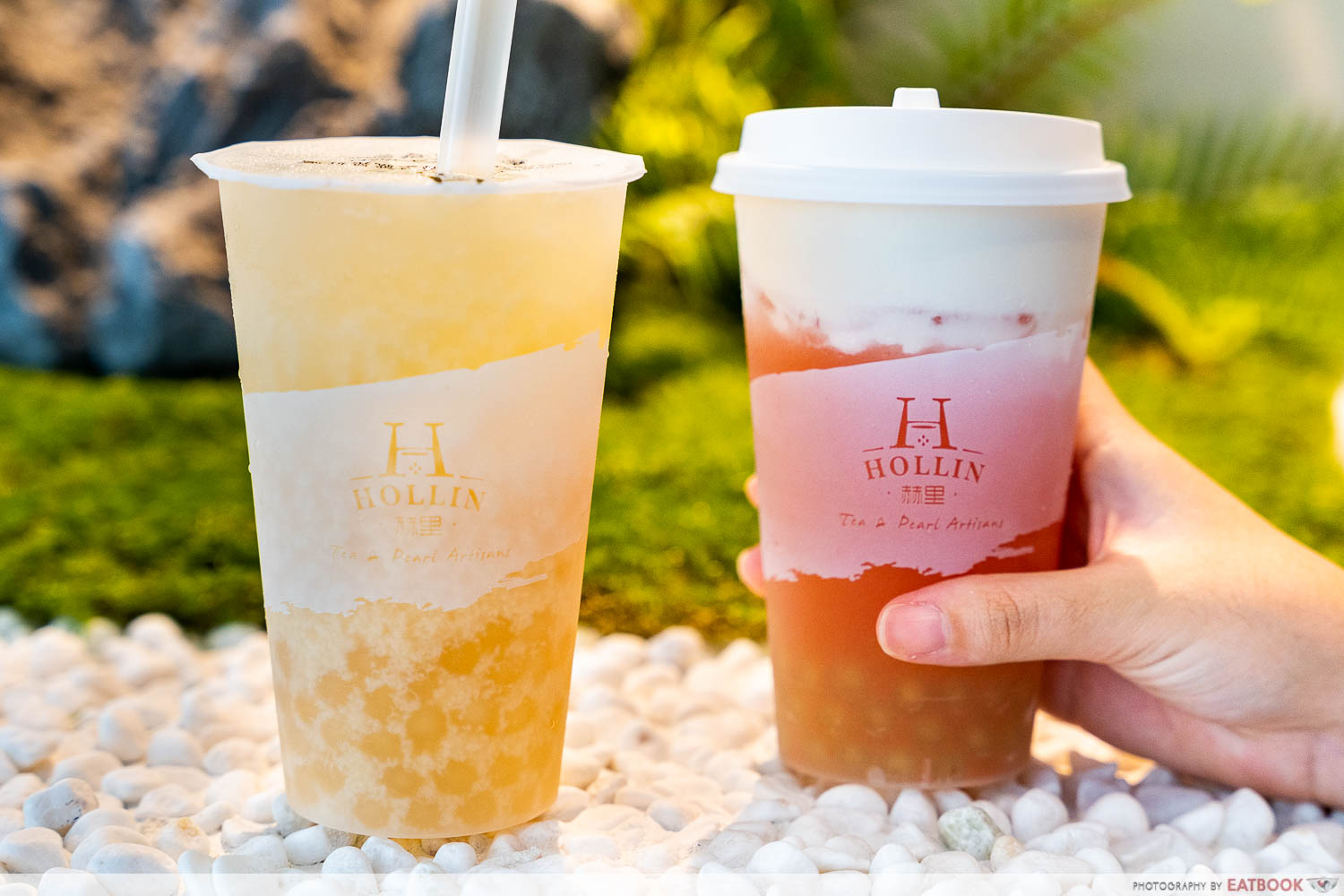 Taiwanese bubble tea brand Hollin is known for their unique pearl flavours and drinks. Their flavoured pearls are handmade daily without added preservatives and food colouring and they even have a specially curated list of freshly brewed tea. Try out their highly raved signature series of Rock Salt Macchiato drinks. These boast savoury and creamy foam atop iced tea. Options include Shizouka Matcha R.S.M ($4.80/$5.80) and fragrant Black Tea R.S.M. ($3.80/$4.80) that's said to be well-balanced. 
Alternatively, you can also go for refreshing and fruity options such as Lychee Yakult ($5.20/$6.20) or Pink Guava Green Tea ($3.70/$4.70). Top up an additional $1.10 for chewy handmade pearls such as Cocoa, Osmanthus, Rock Salt, taro, and Honey. The pearl flavours are rotated on a daily basis, with the exception of the honey option.
Unit: #01-56
Opening hours: TBD
Tel: 6517 9611
Website
Hollin is not a halal-certified eatery.
Hollin Bubble Tea For Handmade Flavoured Pearls Like Matcha, Cocoa And Black Sesame
---
5. NaNa Curry Express
---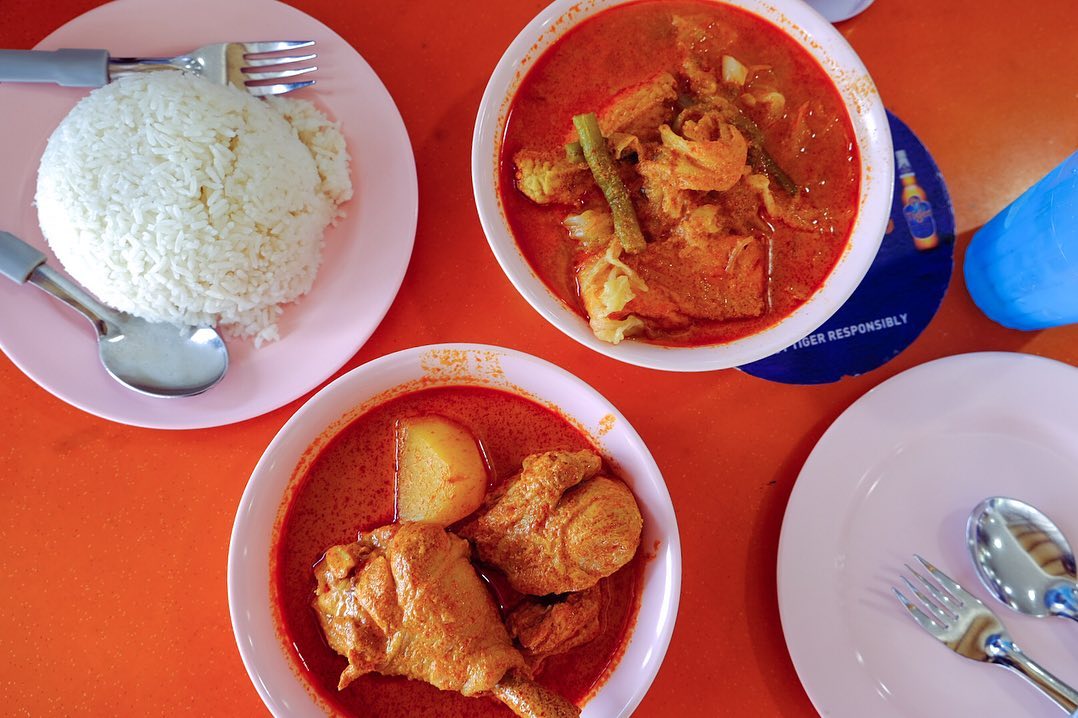 Image credit: @semijoie__
NaNa Curry Express was established in 1989; they're famous for their popular curry dishes that have won them the Michelin Bib Gourmand recognition for five consecutive years! You must try their signature Curry Fish Head (from $25), with spicy curry that has a strong assam flavour and extra liao such as tau pok, lady's finger, and yam to soak up the gravy. 
Alternatively, try the Curry Chicken ($5.40) or Curry Chicken Drumstick ($6) for supposedly moist and tender meat that's been slow-cooked for hours. If you prefer something on the lighter side, you can also opt for Curry Vegetables ($4.40), which has cabbage, long beans, and tau pok in a relatively less spicy but no less tasty gravy.
Unit: #B1-K15
Opening hours: TBD
Website
NaNa Curry Express is not a halal-certified eatery.
Na Na Curry: Michelin Bib Gourmand Curry Fish Head Restaurant Open Since 1989
---
6. Qin Ji Rougamo
---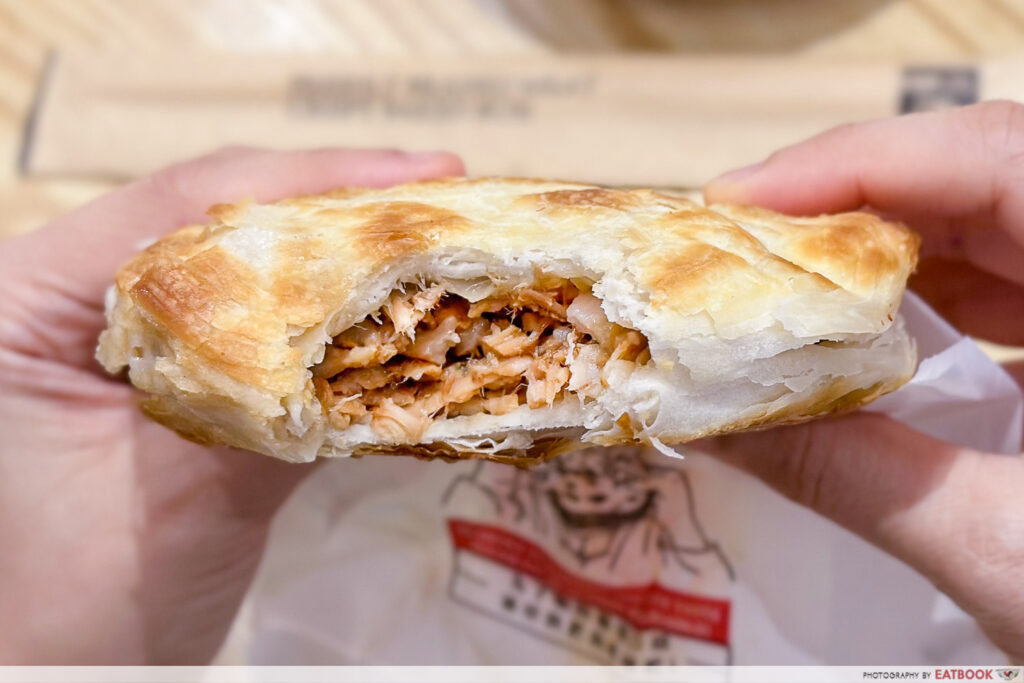 Qin Ji Rougamo is a famous Chinese chain from China. They're known for offering tasty street food, including rougamo AKA hefty Chinese burgers that are crispy and packed with a savoury filling. Go straight for the Qin Ji Pork Rougamo ($5.80) that sees a baked pastry stuffed with juicy, tender shredded pork.
They also have other tasty flavours such as Cumin Pork Rougamo ($5.80) that's aromatic and nutty, Black Pepper Beef ($5.90), and a simple, plain Crispy Rougamo ($3). Otherwise, if you're feeling a noodle dish, try the Cold Noodles Skin ($6.50) or the Sour & Spicy (Potato Noodle) With Minced Pork ($8.80), boasting a tangy-spicy broth.
Unit: #B1-K35/K36
Opening hours: TBD
Website
Qin Ji Rougamo is not a halal-certified eatery.
---
7. Tiong Bahru Bakery
---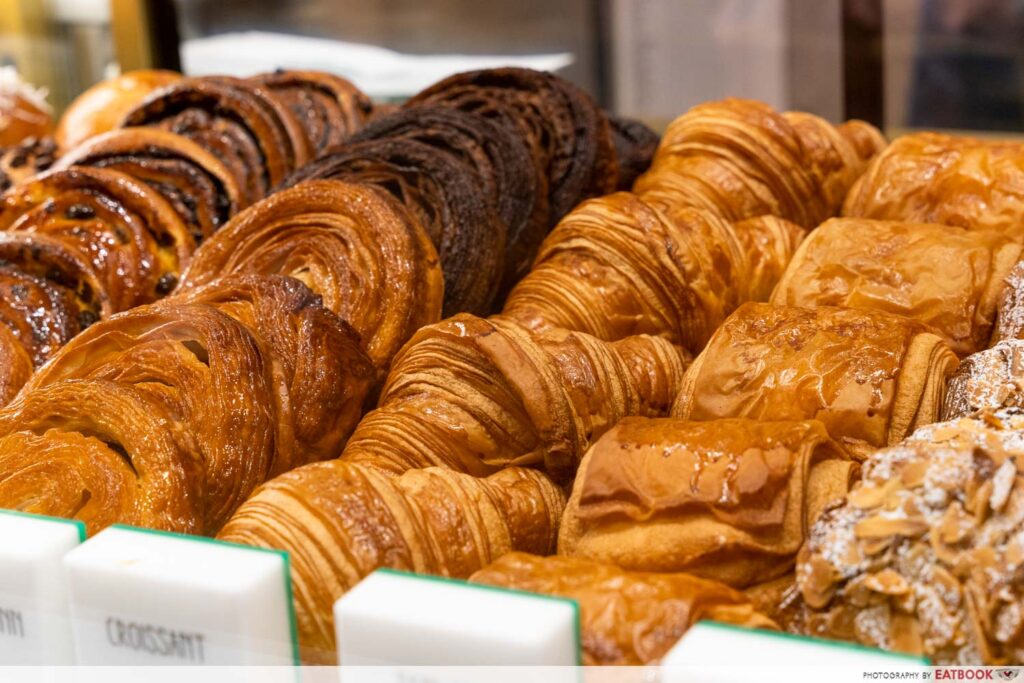 Tiong Bahru Bakery is a popular homegrown cafe known for their fresh bakes that are French-inspired with a local twist. If you're spoilt for choice, try the Roast Beef Croissant ($14.30) that sees a flaky and buttery croissant sandwiching roasted beef slices, caramelised onions, cherry tomatoes, arugula, and a mustard spread. Or go for a classic choice, the Kouign Amann ($6.60) that's a sweet and super-rich pastry. 
Drinks-wise, order a cup of Magic ($6.80) that's prepared with coffee beans sourced from local coffeehouse Common Man Coffee Roasters, topped with steamed milk. For a non-coffee option, opt for the Iced Hojicha Latte ($8.60) instead. 
Unit: #02-47
Opening hours: TBD
Website
Tiong Bahru Bakery is not a halal-certified eatery.
---
8. VeganBurg
---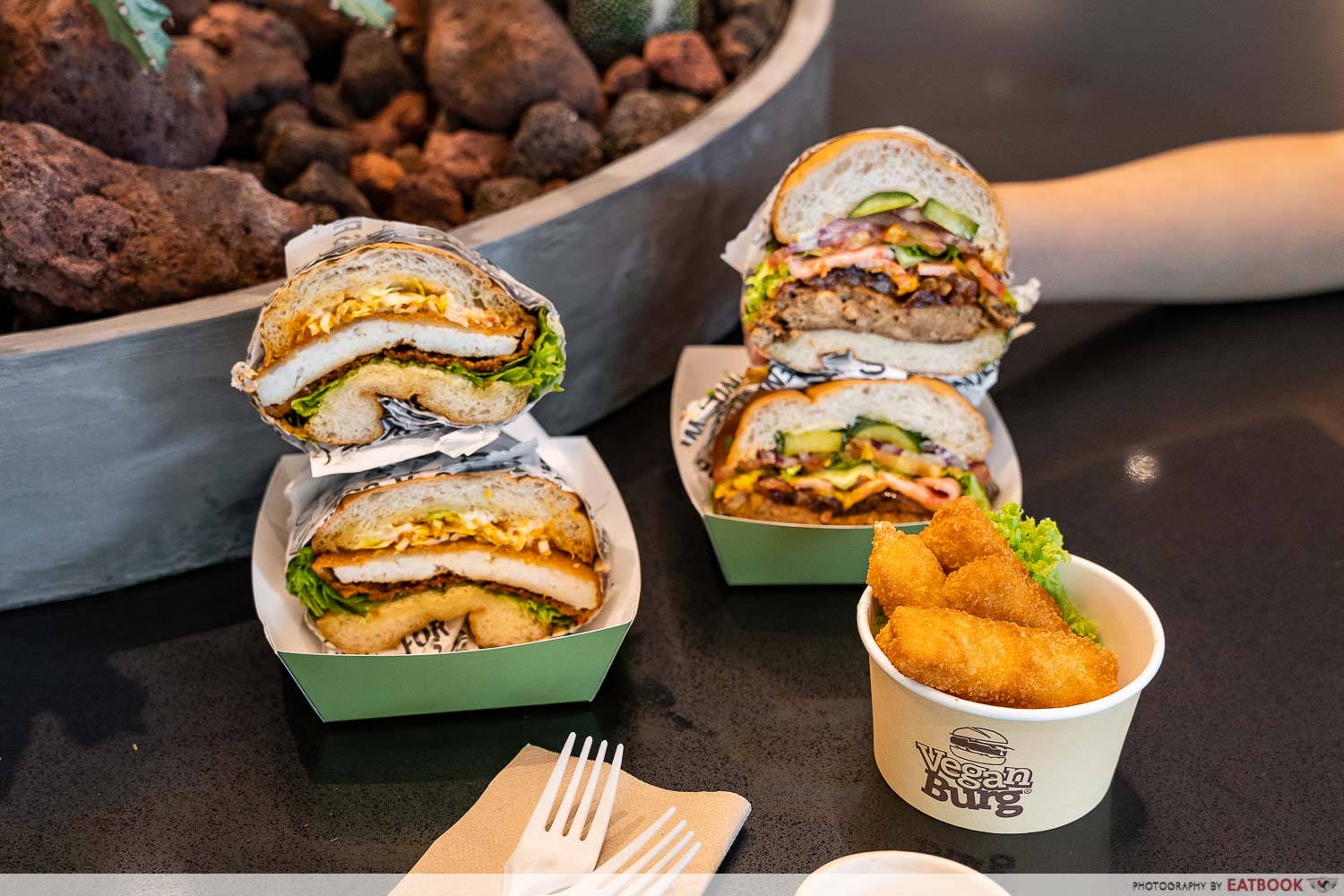 VeganBurg is a 100% plant-based, locally founded burger joint that has outlets both in Singapore and USA. Fun fact: they were one of the caterers on Taylor Swift's Red Tour in Singapore! If you're new to VeganBurg, try their bestselling burger: the Smoky BBQ ($15.90), which has a savoury pan-grilled GMO-free soy patty, slathered with smoky BBQ sauce, and packed with fresh lettuce, tomato, vegan bacon, and onion rings, sandwiched between wholemeal buns.
Other interesting options include Chilli Krab ($13.90) that boasts a crispy konjac 'crab' meat patty and house-made chilli 'crab' sauce, along with all the other works, and Char-Grilled Satay ($13.90). These burgers are exclusive to Singapore! Pair these with side dishes such as umami Shroom Pops (from $6.90) and Phish Fingers (from $6.90).
Unit: #01-37
Opening hours: TBD
Website
VeganBurg is not a halal-certified eatery but uses no pork or lard.
---
9. Beans.factory
---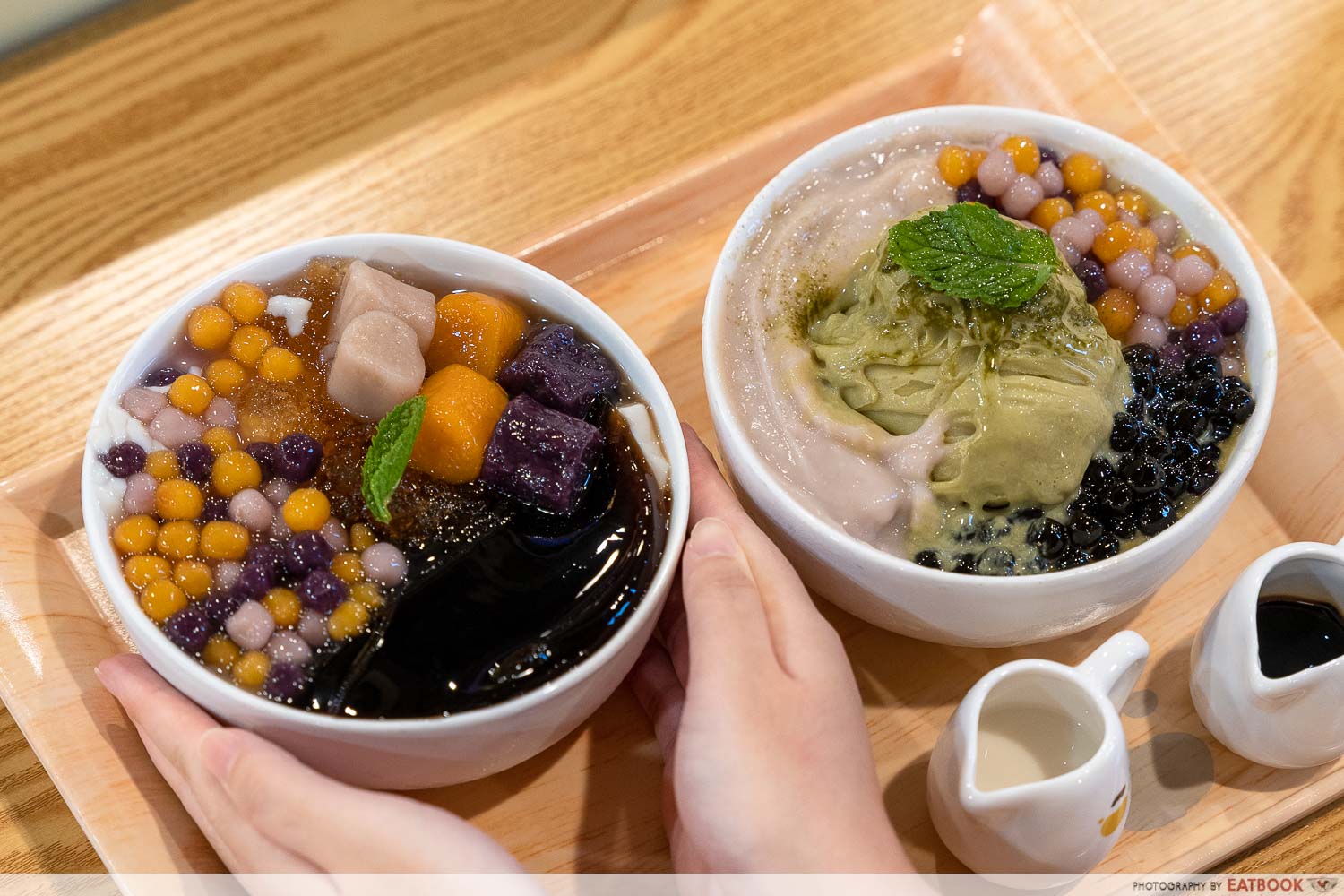 Beans.factory is a popular dessert cafe that originated from Malaysia. Though the desserts here may seem pricier than their mall counterparts, their desserts come in generous servings to make your money's worth.  If you're unsure of what to get, go straight for their Beans.Factory Signature Tau Fu Fah ($8.90) that boasts taro balls, peach gum, and grass jelly. 
Alternatively, customise your dessert by choosing a base such as Tau Fu Fah, AKA their signature silky beancurd, Grass Jelly, Black Sesame Shave Ice, and Matcha Shave Ice. For some of the base offerings, you can opt to have them hot or cold.
Then, pick from toppings such as Handmade Taro Paste that's made from fresh taro, Peach Gum, and Tang Yuan. These toppings are made without any artificial colouring or flavouring agents. Finally, top it all off with a sugar syrup: Brown Sugar, Sugar, or Bentong Ginger Syrup.
Unit: #B1-K43/K44
Opening hours: TBD
Website
Beans.factory is not a halal-certified eatery but uses no pork or lard.
---
10. Xin Yuan Ji
---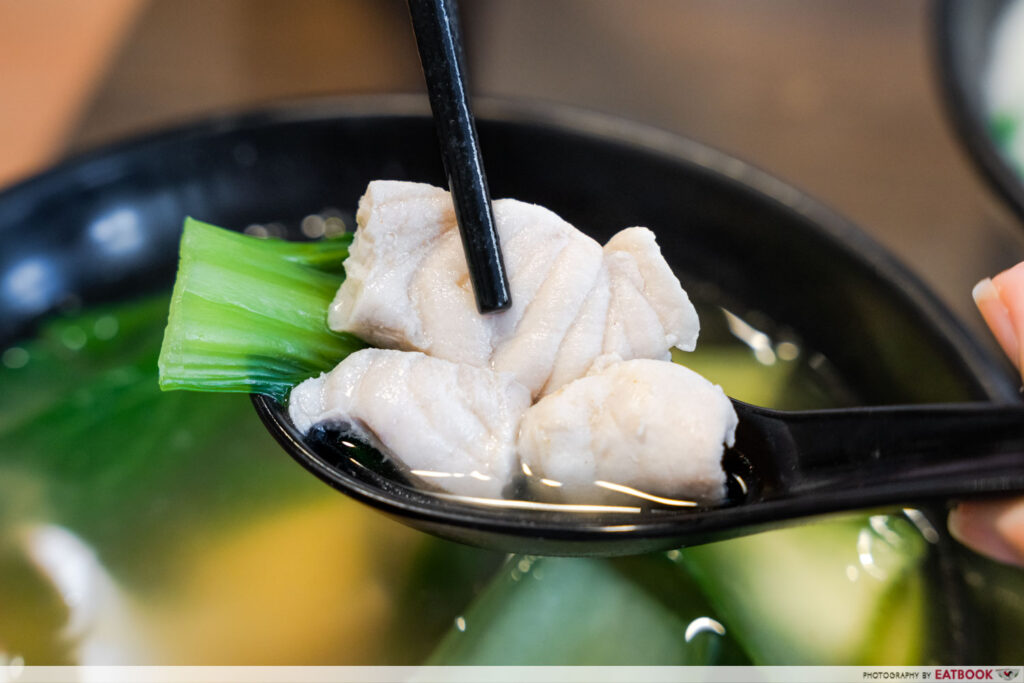 At zi char restaurant, Xin Yuan Ji, you should try out their bestselling fish steamboat, which is cooked over a charcoal fire, infusing the soup with charcoal fragrance. If you're here with company, go straight for the Red Snapper Fish Head Steamboat (from $35), which you can top up with various other ingredients. 
Alternatively, you can opt for individual bowls of Sliced Fish Soup ($6.80) and Fried Fish Meat Soup ($6.80). The former has thick fish slices served in a sweet-tasting clear soup. Zhng up your meal with their sharing dishes such as Creamy Butter Prawn ($23.80) and Salted Egg Squid ($18.80).
Unit: #B1-K39
Opening hours: TBD
Website
Xin Yuan Ji is not a halal-certified eatery.
10 Best Fish Soup In Singapore Ranked, Including Michelin-Approved Stalls And A 63-Year-Old Recipe
---
11. Project Acai
---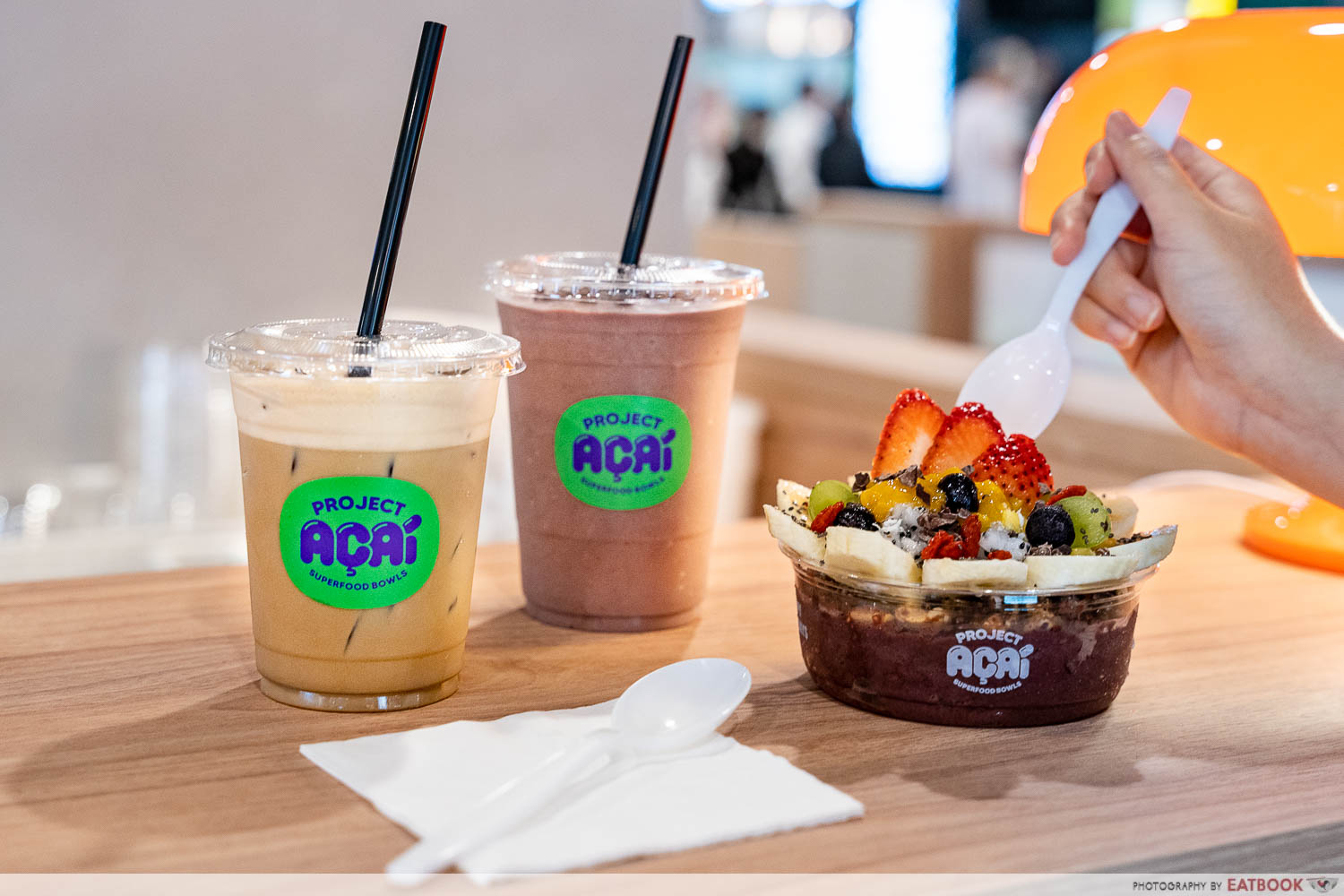 Project Acai was one of the OG brands to bring the fruit bowls to Singapore when the acai fad started in 2015. Their acai is blended in small batches to ensure its freshness, and for our Muslim friends, the acai is also halal-certified! If you're new to this, try the Original Flower Bowl (from $7.50), which features granola, superfoods, sliced banana, and fruits atop the blended acai base.
Alternatively, they also have tasty smoothies including Yogi Wannabe-rry ($9) and Where My Chocolate Abs ($9). The latter boasts a blend of acai, chocolate oat milk, banana, peanut butter, and cacao nibs. For simpler options, they also have Hojicha Latte ($4.80/$5.80) and Strawberry Matcha Latte ($6.50). What's more, their specialty lattes are made with oat milk!
Unit: #B1-K28
Opening hours: TBD
Website
Project Acai is not a halal-certified eatery but uses no pork or lard.
---
The Woodleigh Mall food guide
---
Now that you know about the many popular eats at The Woodleigh Mall, hopefully it makes planning a trip to the mall easier for you and your loved ones.
For more tasty eats in the area, check out Aroy Thai Snacks for cheap sweet potato balls and banana fritters. Alternatively, if you take one train stop down, you can try out JB Tai Pai Tong for Malaysian-style zi char in Serangoon.
JB Tai Pai Tong: Legit KL Dai Lok Mee And Malaysian-Style Zi Char In Yishun And Serangoon
Photos taken by Tanya Tham.
This was a media invite to The Woodleigh Mall.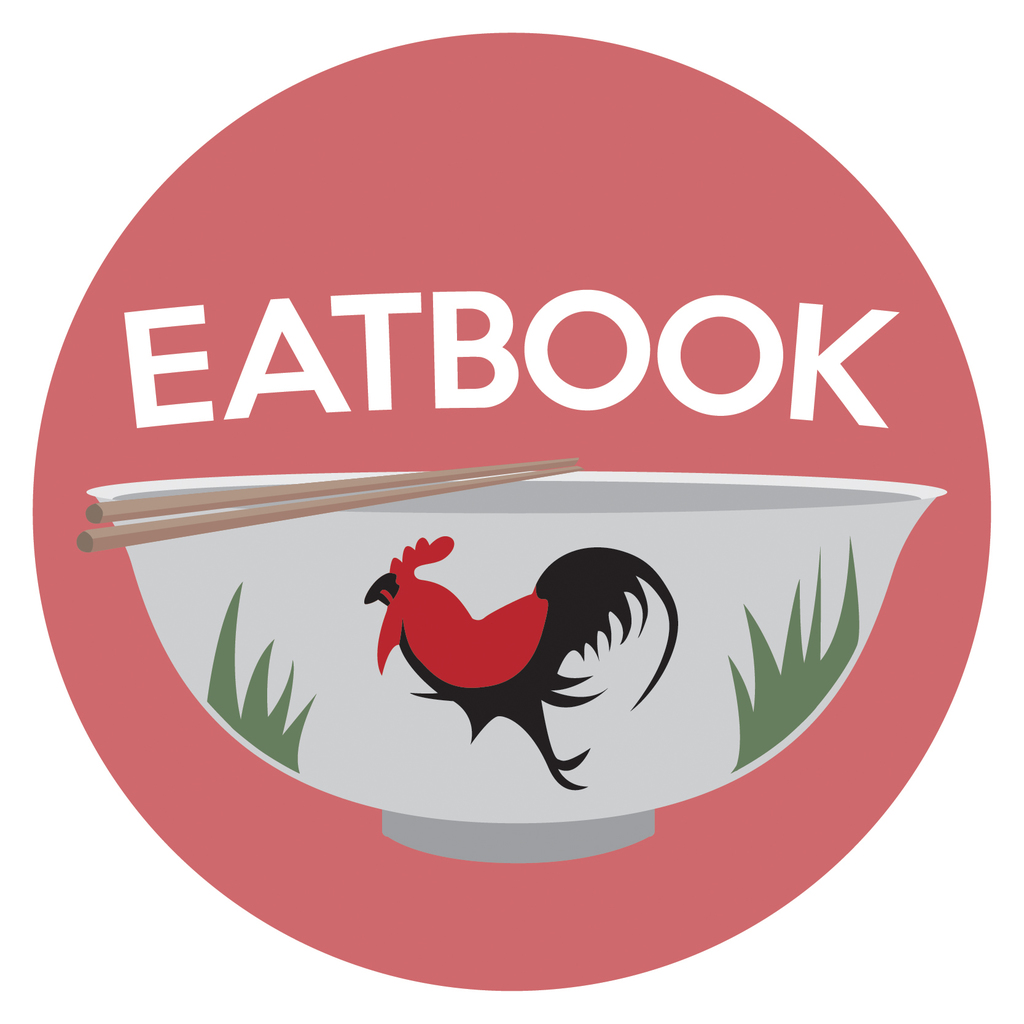 Drop us your email so you won't miss the latest news.