---
North-East cafes from Punggol to Serangoon
---
The demand for elegant yet comforting brunch spots in Singapore is high as ever, with cosy cafes found all around Singapore. The North-East has a fair share too, with plenty of cool joints that leverage on their remote locations to craft unique and picturesque brunch experiences. From Serangoon to Punggol, discover 24 North-East cafes that will inspire you to ditch Tanjong Pagar and Tiong Bahru on your next cafe hopping adventure.
---
1. Apricus Cafe 
---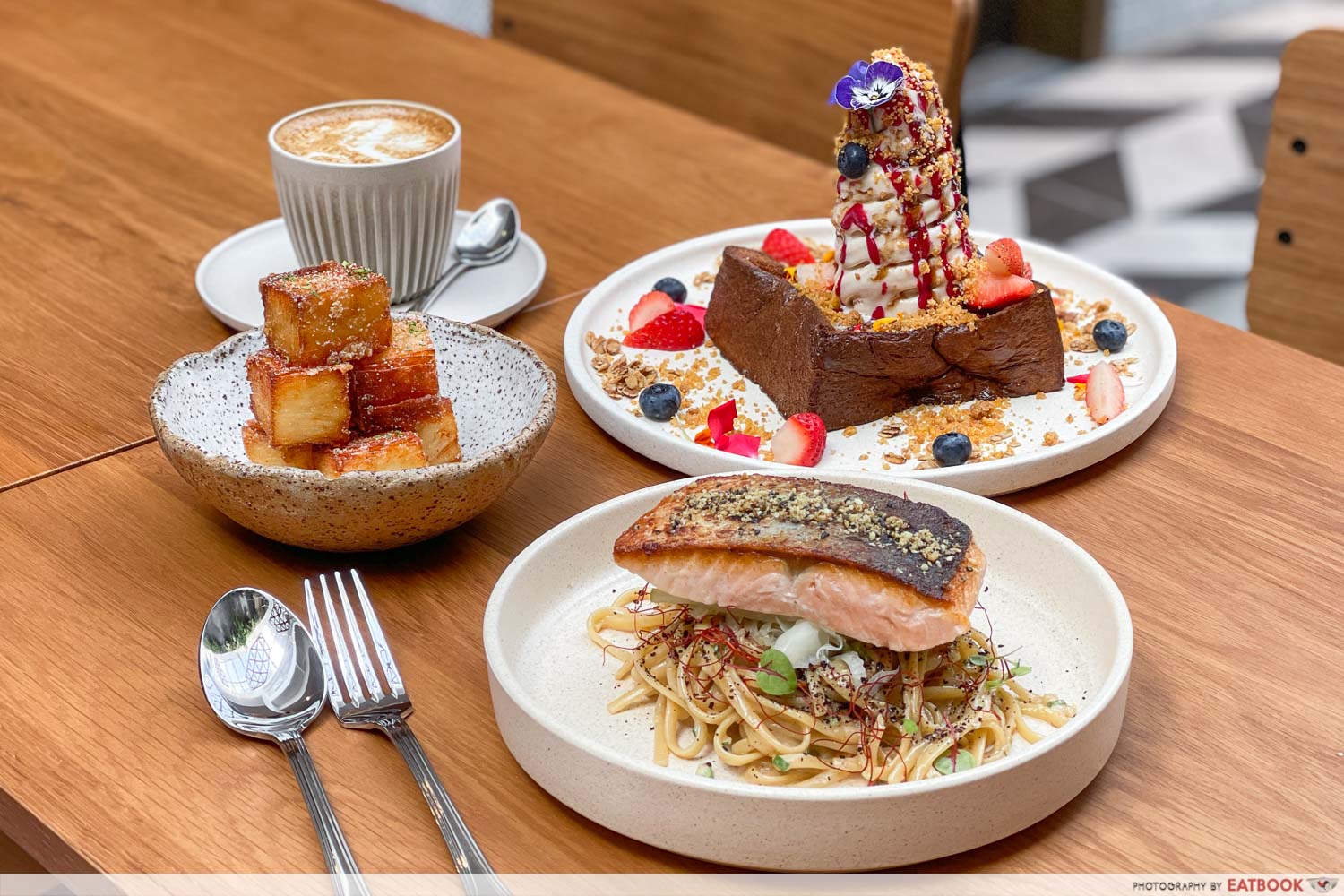 New kid on the North-East cafes block is Apricus Cafe, run by The Populus crew. This Sengkang gem serves up classic Aussie-style brunch fair all day. Diners can choose between big breakfast sets, pastas, other mains, and even desserts. We highly recommend their Norwegian Salmon Brown Butter Linguine ($23+), which comes with a generous slab of crispy skinned salmon, and al dente linguine tossed in a nutty brown butter sauce.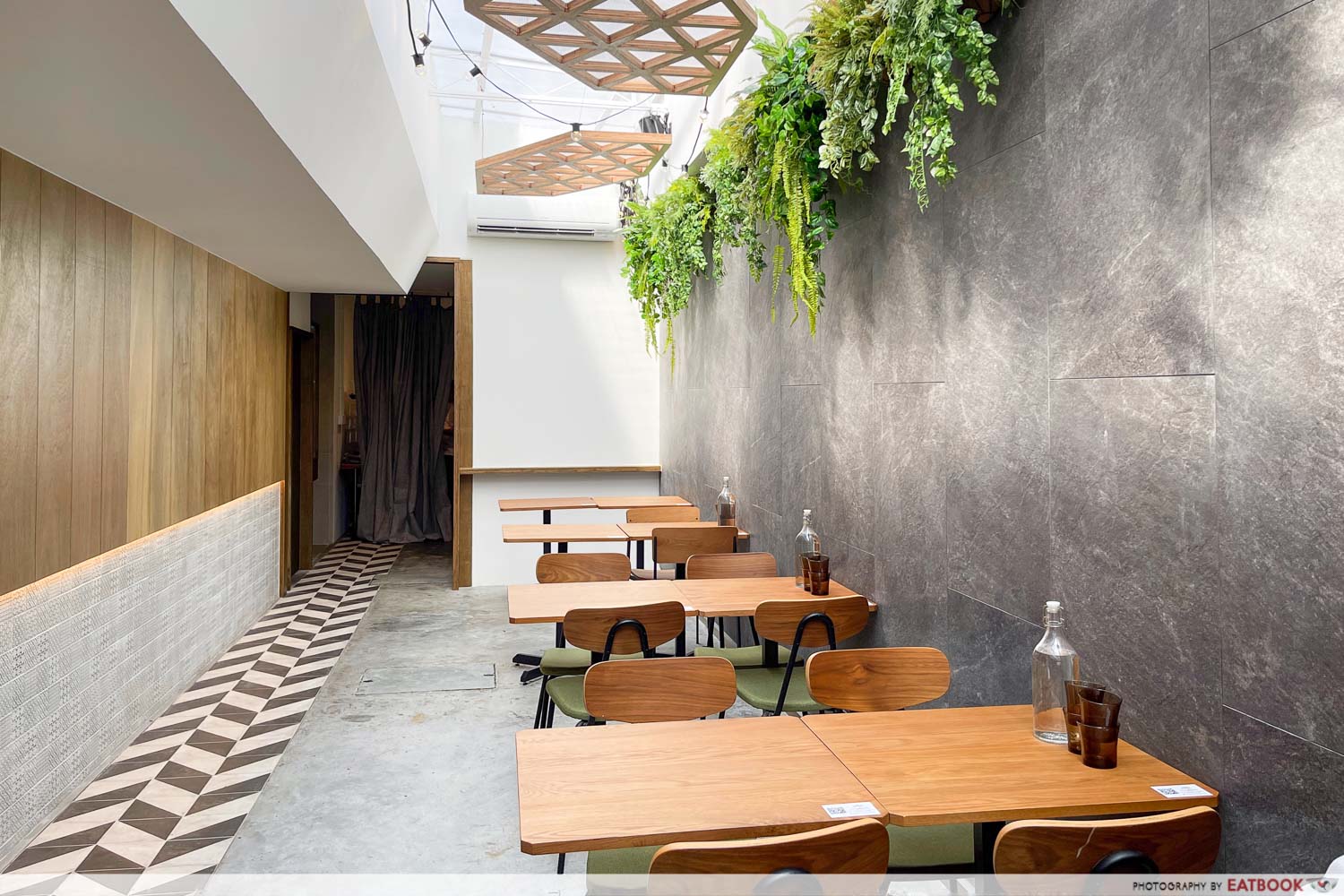 Bonus points to the cafe's airy, high ceilings and the lush green plants that decorate the space, both of which help the cafe feel open, even on a busy day.
Read our Apricus Cafe review.
Address: 248 Jalan Kayu, Singapore 799472
Opening hours: Wed-Mon 9am to 6pm
Website
Apricus Cafe is not a halal-certified eatery, but their food contains no pork or lard.
Apricus Cafe Review: New All-Day Brunch Cafe In Sengkang By People Behind The Populus
---
2. Well Collective 
---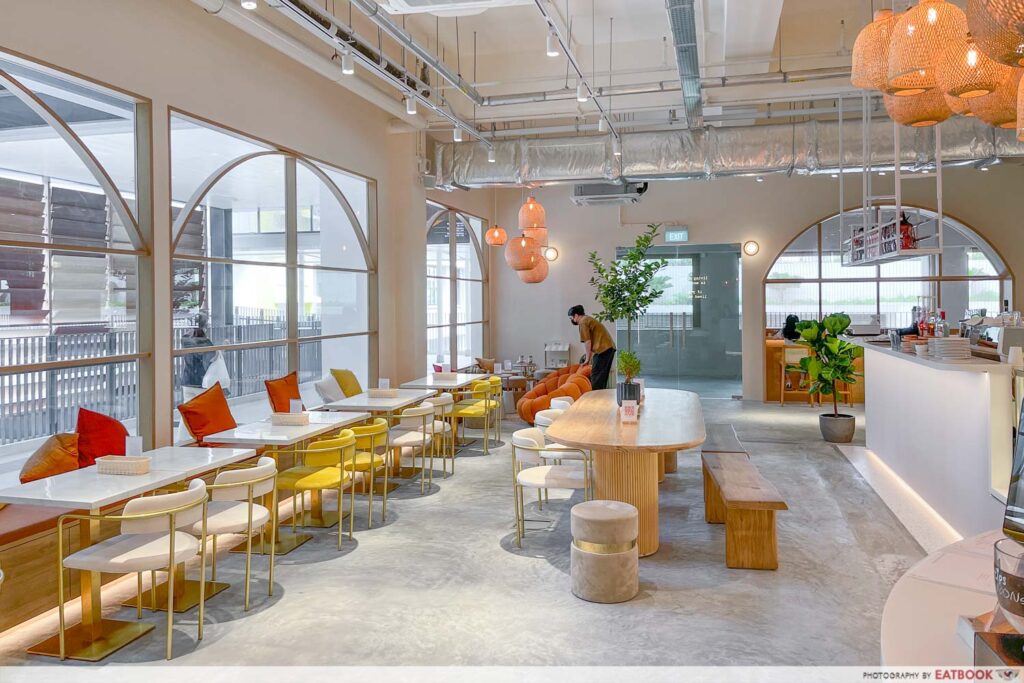 Northshore Plaza is Punggol's newest food haven, as the mega mall has a whole slew of eateries on its directory. One of the trendiest spots to visit is Well Collective, a French-Japanese cafe with gorgeous, mid-century modern interiors, and a pet-friendly alfresco area.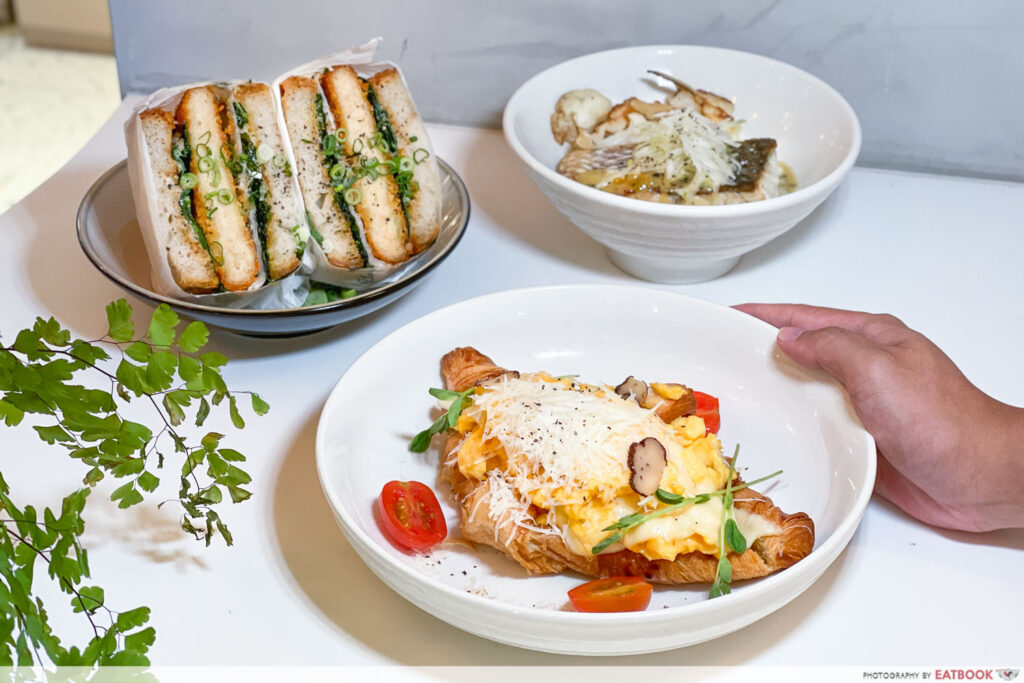 The menu's got a mix of healthy eats—think acai bowls and vegetarian options aplenty—and a good mix of Asian-fusion, as well as classic brunch dishes. We loved their Madame's Truffled Egg Croissant ($19++), where buttery, flaky pastry is stuffed with bechamel sauce, Emmental cheese, creamy scrambled eggs, and an indulgent shaving of black truffle. Desserts here aren't to be missed, as the crafted cakes all look as good as they taste.
Read our Well Collective review.
Address: 418 Northshore Drive, #02-11/12, Northshore Plaza II, Singapore 820418
Opening hours: Daily 10am to 10pm
Tel: 6979 6442
Website
Well Collective is not a halal-certified eatery.
Well Collective Review: New Work-friendly Cafe In Punggol With Japanese Rice Bowls And Sandos
---
3. Urban Table 
---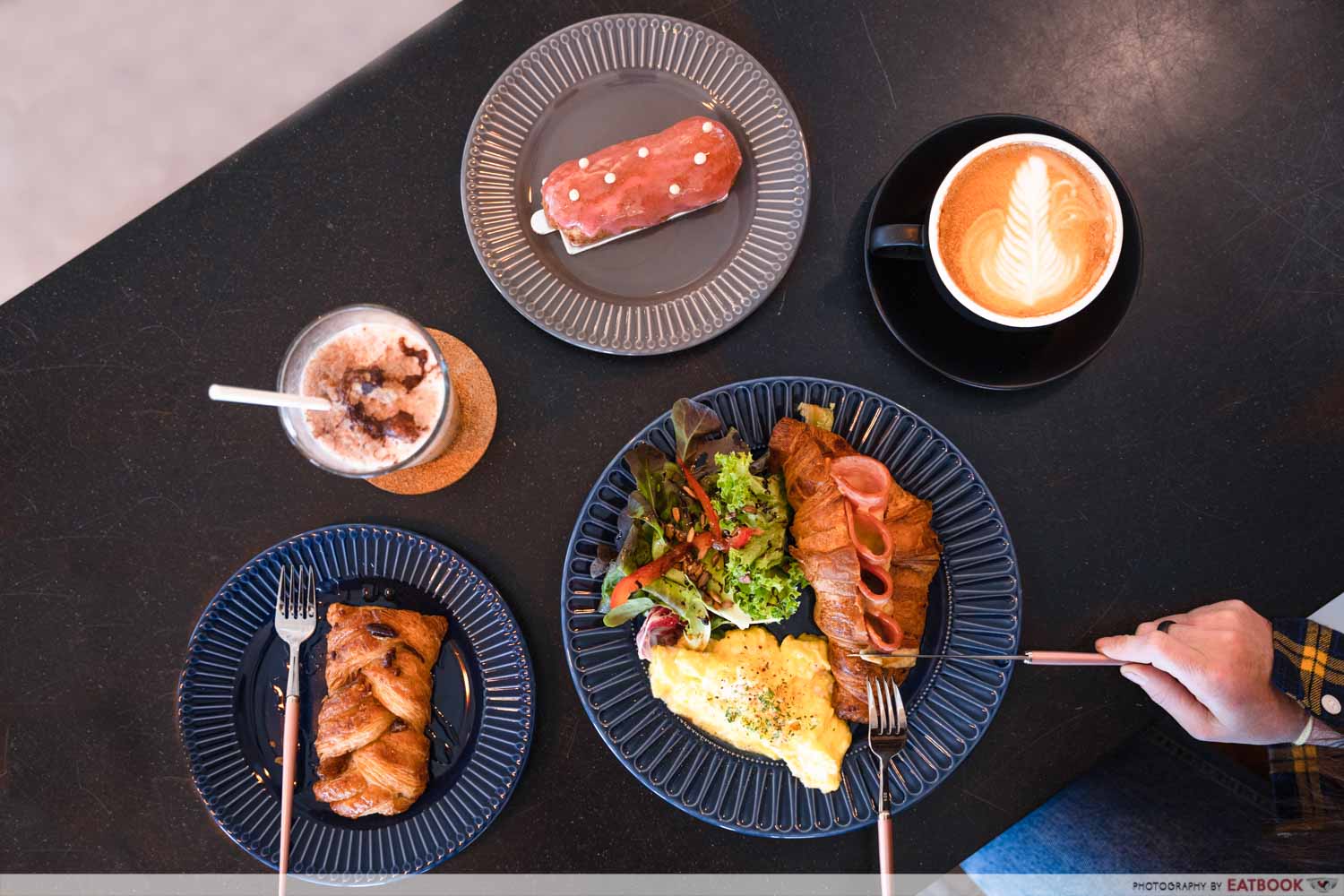 Transport yourself to the cool, minimalistic cafes of Seoul's Itaewon and Sinsadong at Urban Table. The Serangoon cafe, which is actually run by Koreans, also doubles as a micro-roastery. Coffee lovers can be ensured that brews are top-notch here; beans from Kenya and Ethiopia are roasted in-house, and you can enjoy them in any of the coffee beverages on the menu, or purchase bags to go.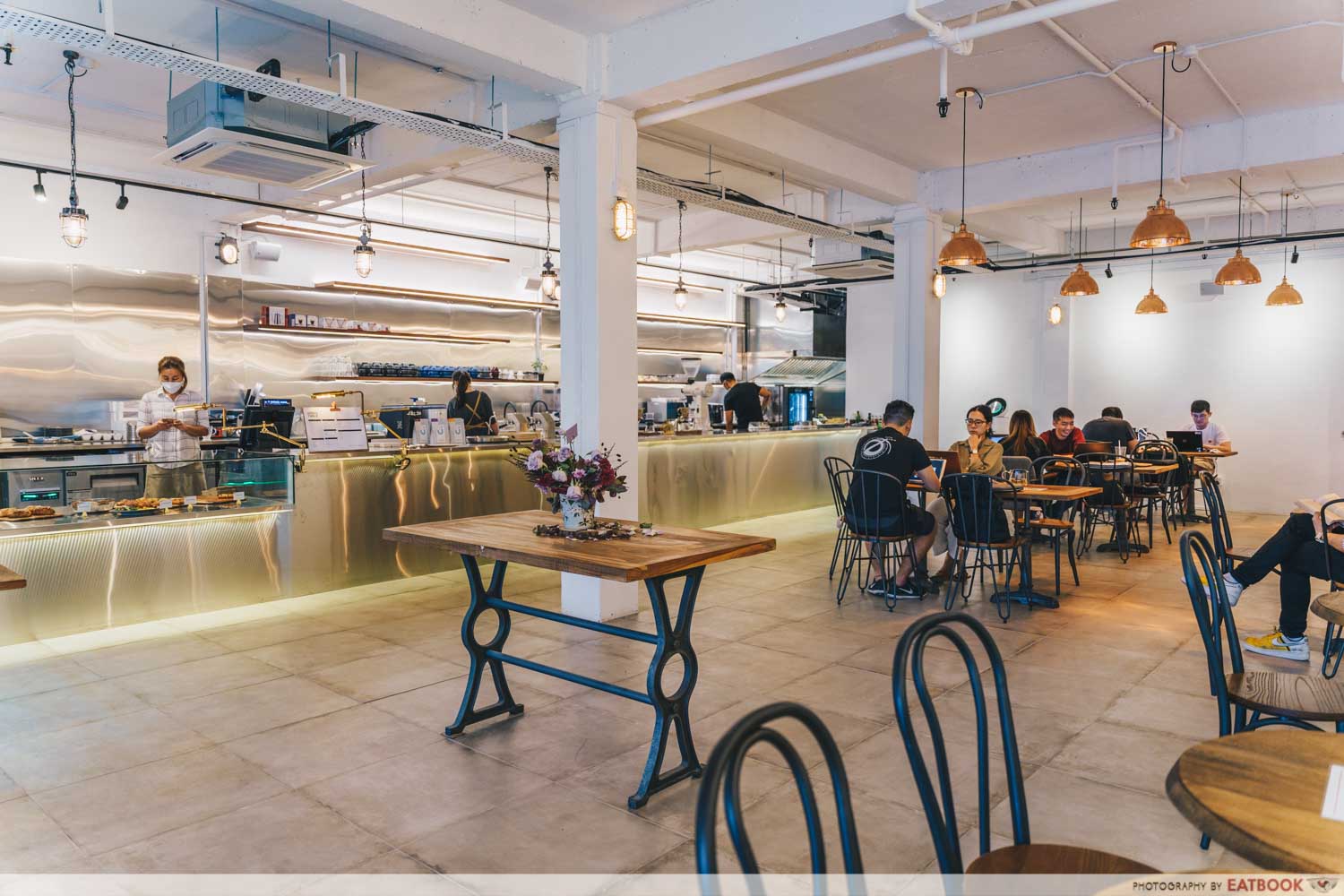 As for food, the menu's not the most robust, but offers bites such as All Day Breakfast ($14.90) and pastries to munch on. The industrial-chic interiors are also spacious, making this a choice cafe if you'd like to catch up with friends, work, or study.
Read our Urban Table review.
Address: 10A-E, Yio Chu Kang Road, ICB Shopping Centre, Singapore 178905
Opening hours: Daily 8:30am to 6pm
Urban Table is not a halal-certified eatery.
Urban Table Review: New Seoul-Inspired Cafe With Specialty Coffee And Freshly Baked Croissants From $3.50
---
4. Joji's Diner 
---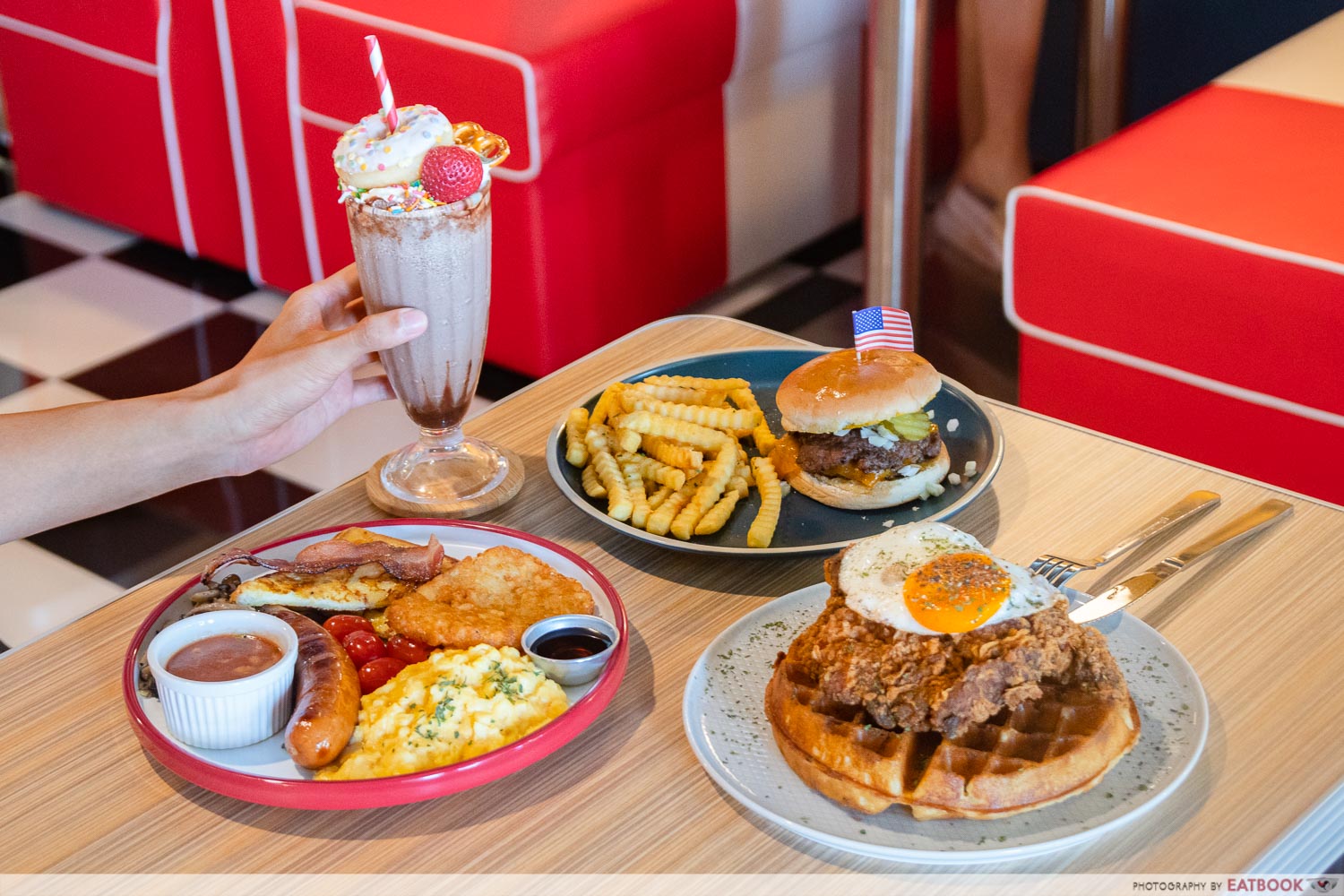 Step inside Joji's Diner and you're greeted by a space styled to look like Americana diners of days past, complete with cherry red booth seats, and a jukebox machine. The menu offers diner fare as well: think deliciously greasy breakfast sets, alongside mains such as Chicken & Waffles ($12.90++), burgers, and Mac & Cheese ($7.90++).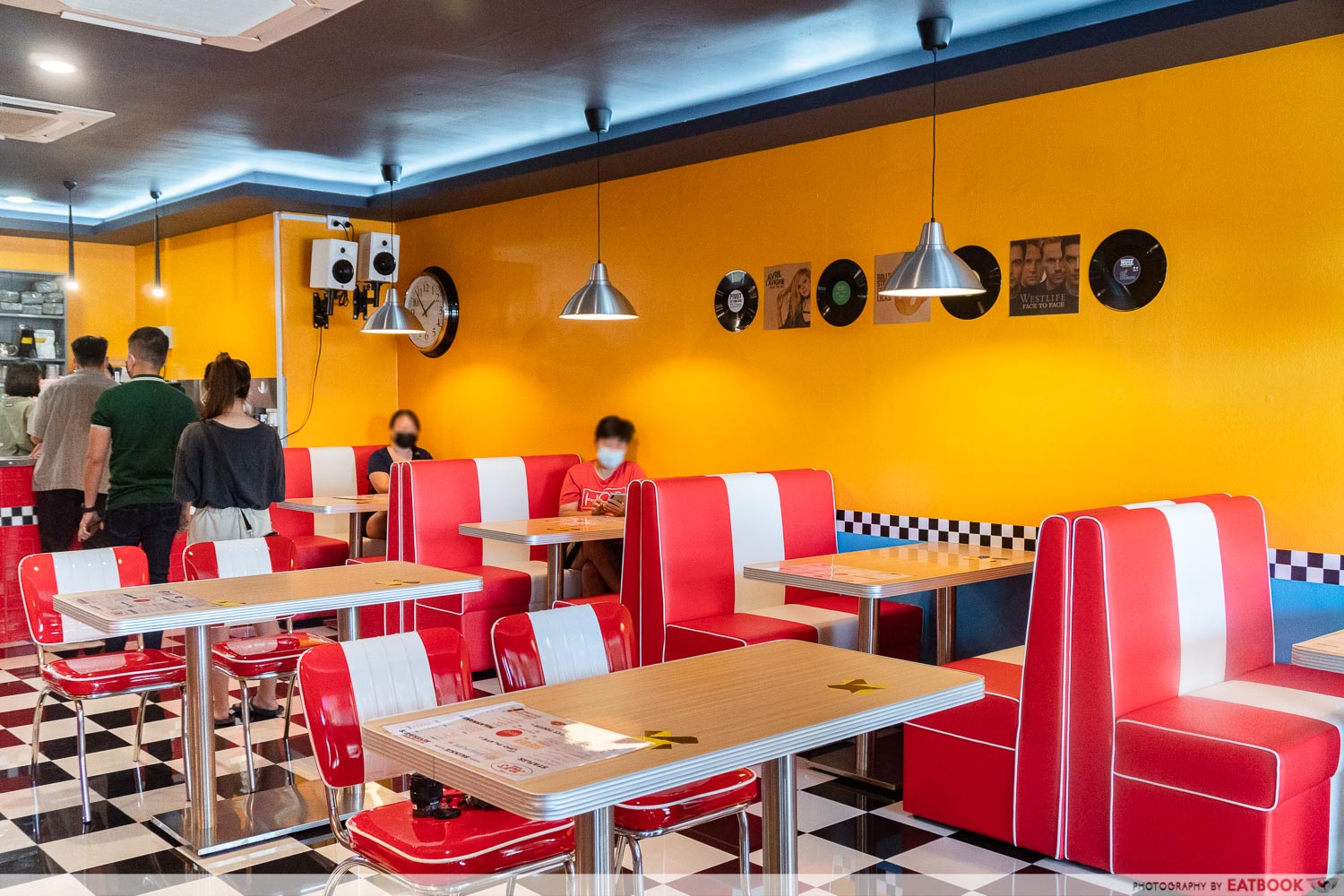 Definitely grab a milkshake to enjoy with your meal for maximum vibes. The cafe has three flavours to choose from: salted caramel, strawberry, and chocolate. Prices start at $9.90++.
Read our Joji's Diner review.
Address: 534 Upper Serangoon Road, Singapore 534549
Opening hours: Tue 11am to 5:30pm, Wed-Fri 1pm to 5:30pm, Sat-Sun 11am to 5:30pm
Website
Joji's Diner is not a halal-certified eatery.
Joji's Diner Review: Retro American Diner At Serangoon For Chicken Waffles And Burgers Under $12.90
---
5. The Better Scoop
---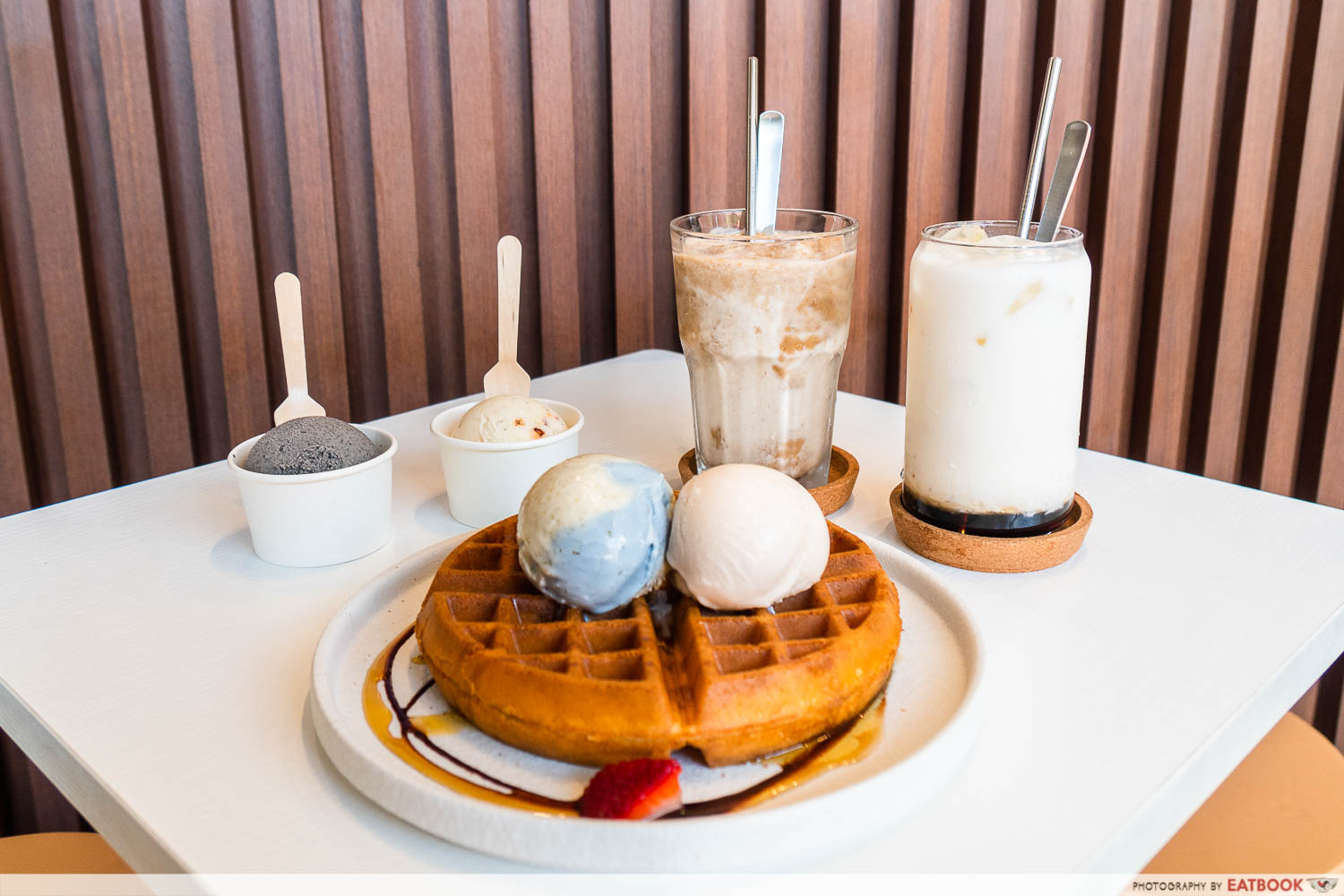 The Better Scoop offers something a little different from the usual gelato-and-waffles combo. The Serangoon cafe has made quite a wave for their Nian Gao Waffles ($6.80++), where buttermilk waffle batter is laced with actual, chewy bits of nian gao for added chew. The gelato flavours here are unique as well, with options such as Honey Chamomile Blue Pea ($4.70) and Hoegarden Rose ($4.70).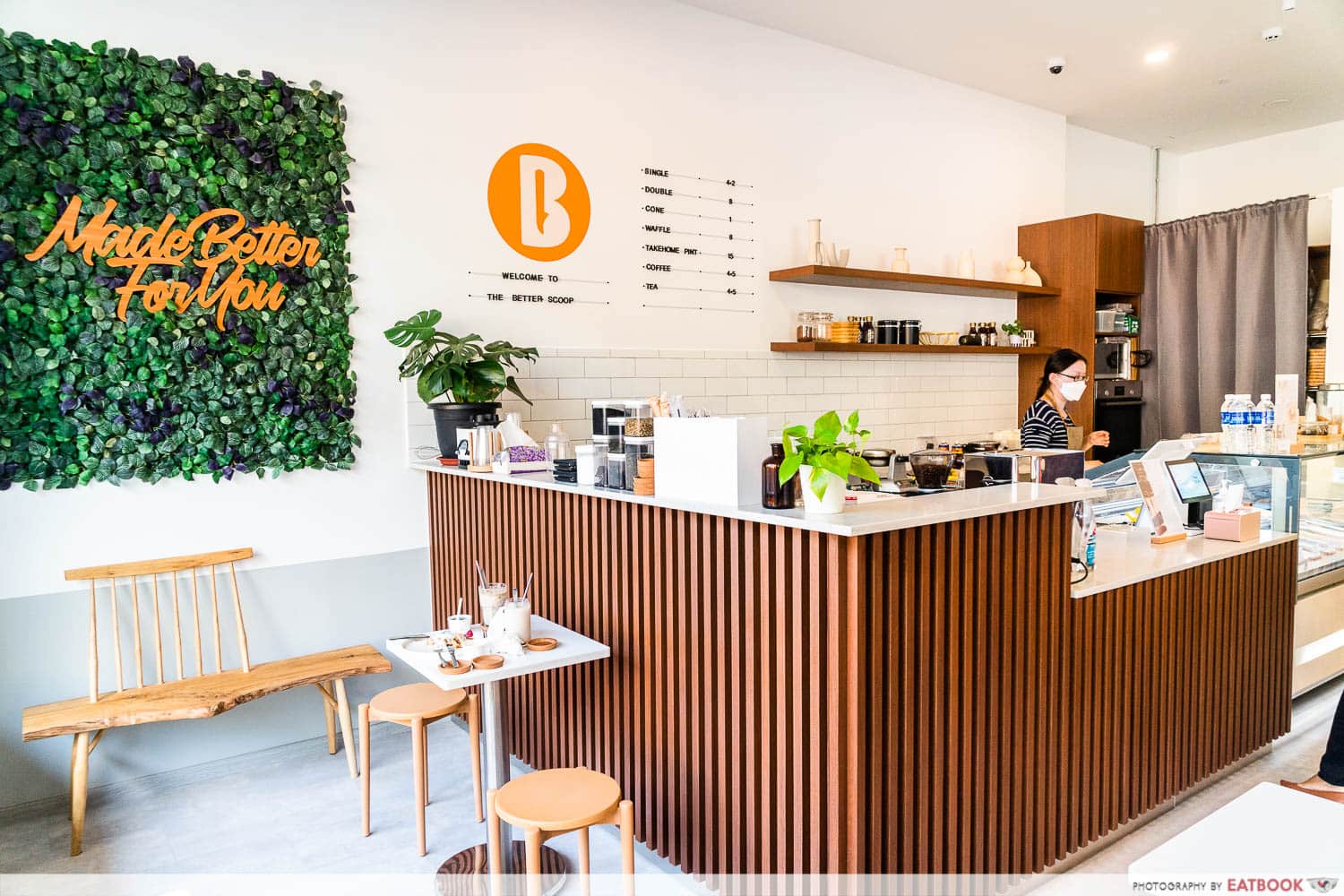 Situated just a five-minute walk from Serangoon MRT Station, the cafe is great for chill catch-ups with friends over dessert.
Read our The Better Scoop review.
Address: 264 Serangoon Central, #01-203, Singapore 550264
Opening hours: Tue to Sun, 12pm to 10pm
Website
The Better Scoop is not a halal-certified eatery.
The Better Scoop Review: Nian Gao Waffles, Pi Pa Gao Latte And More At This Dessert Cafe In Serangoon
---
6. Apollo Coffee Bar
---
Apollo Coffee Bar has been a Serangoon Gardens fave for years now, for two reasons: great food, and equally stunning interiors. Apollo Coffee Bar is run by the folks behind Atlas Coffeehouse and Columbus Coffee Co as well, so you know they've got the goods.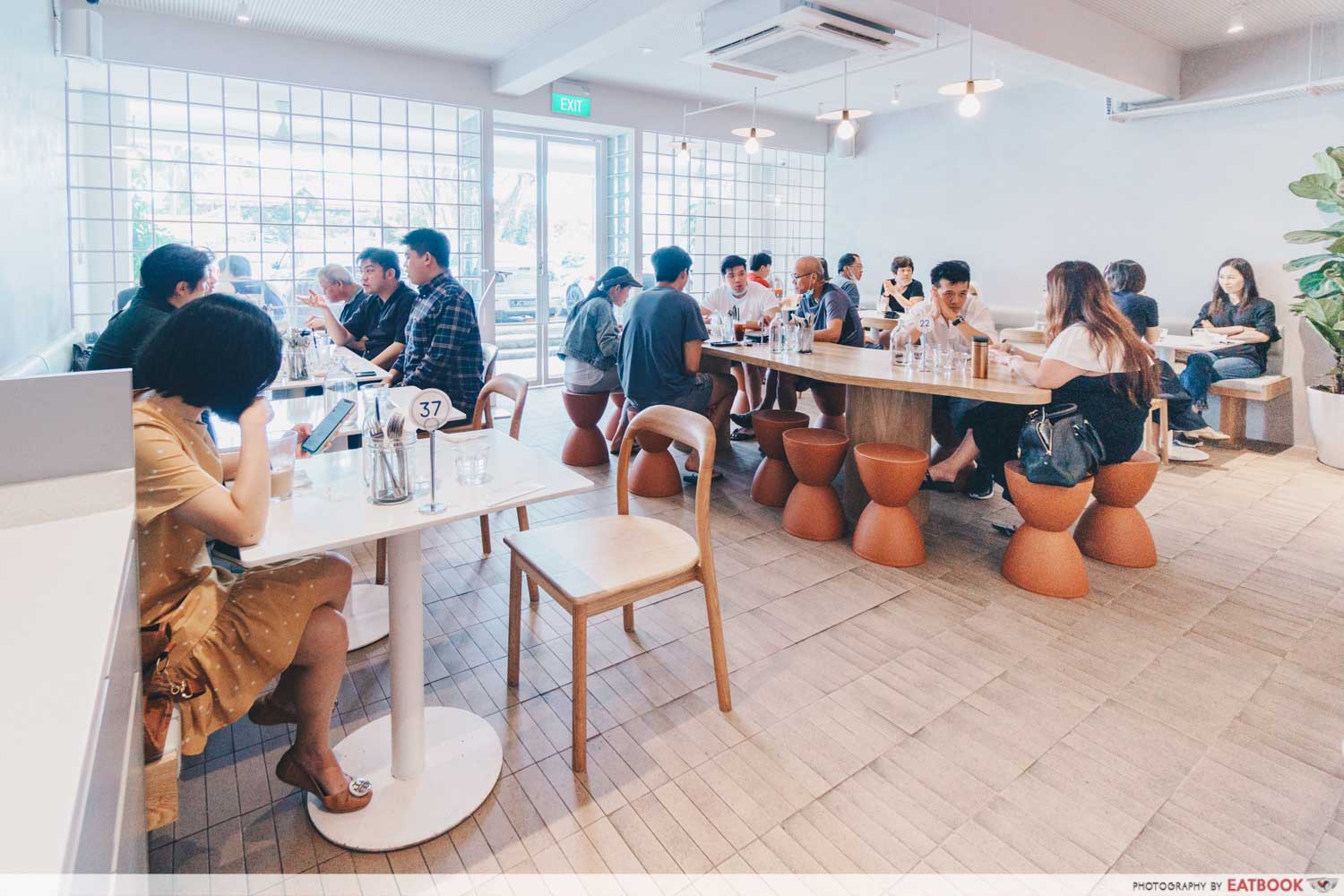 Swing by before 4pm to feast on their brunch offerings, of which there are bites including Candied Bacon Waffles ($15.50++) and Cereal Prawn Pasta ($21.40++), or opt to have small and large plate dishes, available off their mains menu after 11am. Be prepared to queue for a table, as it can be quite crowded.
Read our Apollo Coffee House review.
Address: 65 Serangoon Garden Way, Singapore 555961
Opening hours: Tue-Sat 9am to 10pm, Sun 9am to 7pm
Tel: 6246 3875
Website
Apollo Coffee Bar is not a halal-certified eatery.
Apollo Coffee Bar Review: New Cafe At Serangoon Gardens That Reminds Us Of Bali's Sisterfields
---
7. Icebar 
---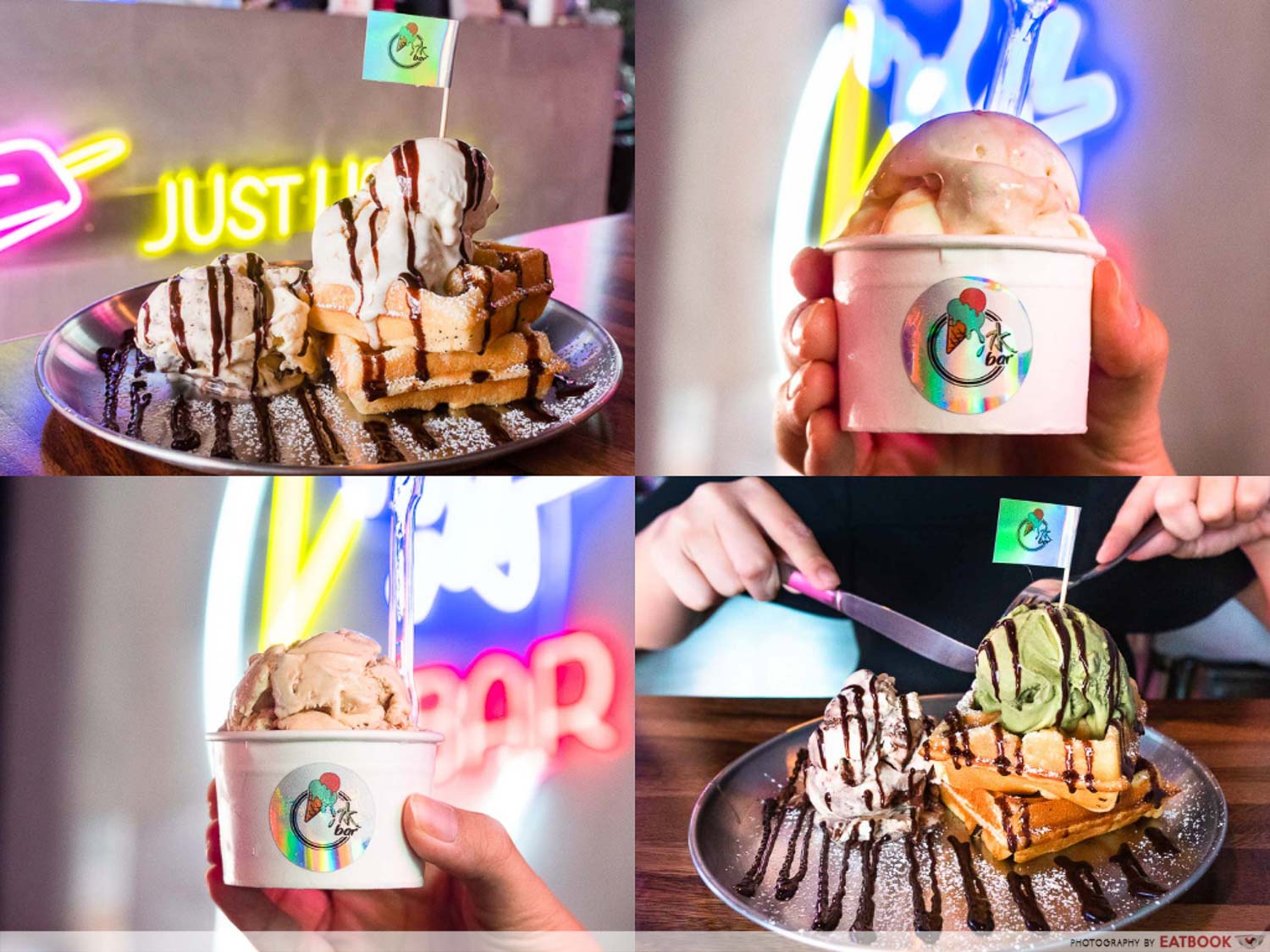 Icebar in Hougang Green Shopping Mall made quite the splash on social media when they opened in 2021, thanks to their 'gram-worthy neon decor. The gelato cafe has quite a selection of flavours to choose from, which you can enjoy on waffles.o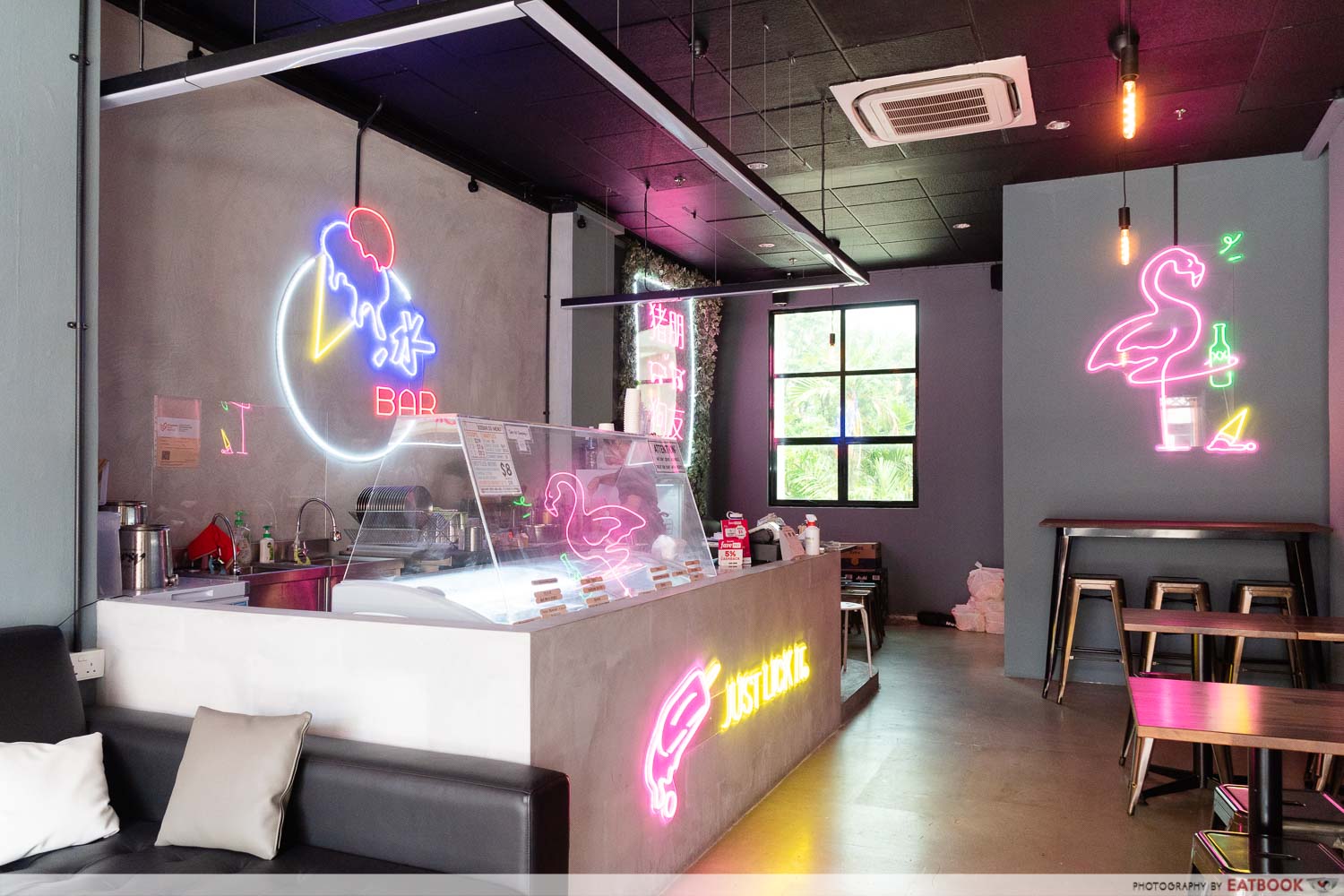 We recommend sharing the Waffles With Double Scoop ($12.60) with a friend, else, opt for single scoops that start at $3.90. Plus point: Ice Bar is open till 2am, making them a great pick for a sugary supper.
Read our Icebar review.
Address: 21 Hougang Street 51, #02-14, Singapore 538719
Opening hours: Mon-Thurs 2pm to 11pm, Fri 2pm to 2am, Sat-Sun 12pm to 2am
Tel: 8222 3446
Website
Icebar is not a halal-certified eatery.
Icebar Review: Neon Cafe Open Till 2am With Waffles And Gelato Such As Speculoos And Apple Strudel
---
8. FATCAT Ice Cream & Coffee 
---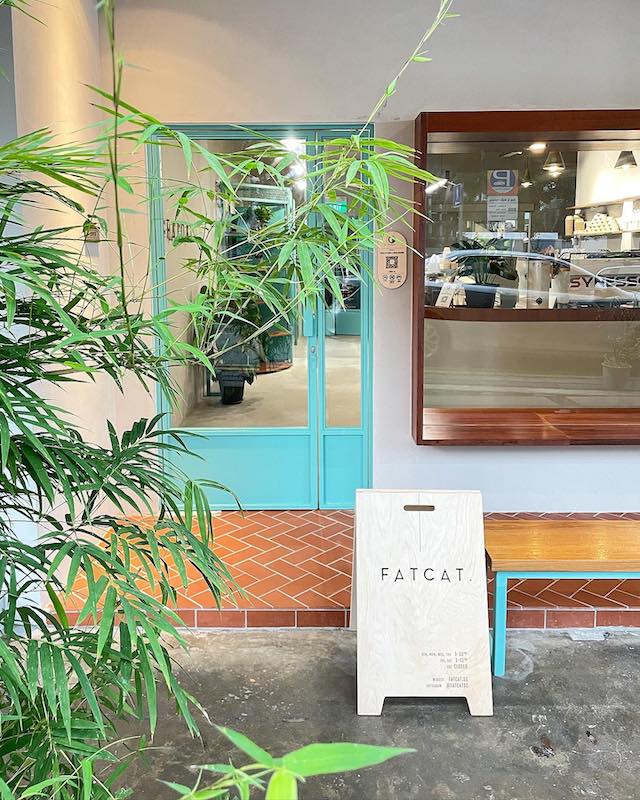 Image credit: @fatcatsg
ICYMI: Bedok's popular FATCAT Ice Cream & Coffee also has an outlet in Kovan. The homegrown ice cream bar shot to fame as one of Singapore's OG waffle-ice-cream bars, thanks to their striking Charcoal Waffles (from $6.50), which come with the option of salted egg yolk sauce on top (add-on $1).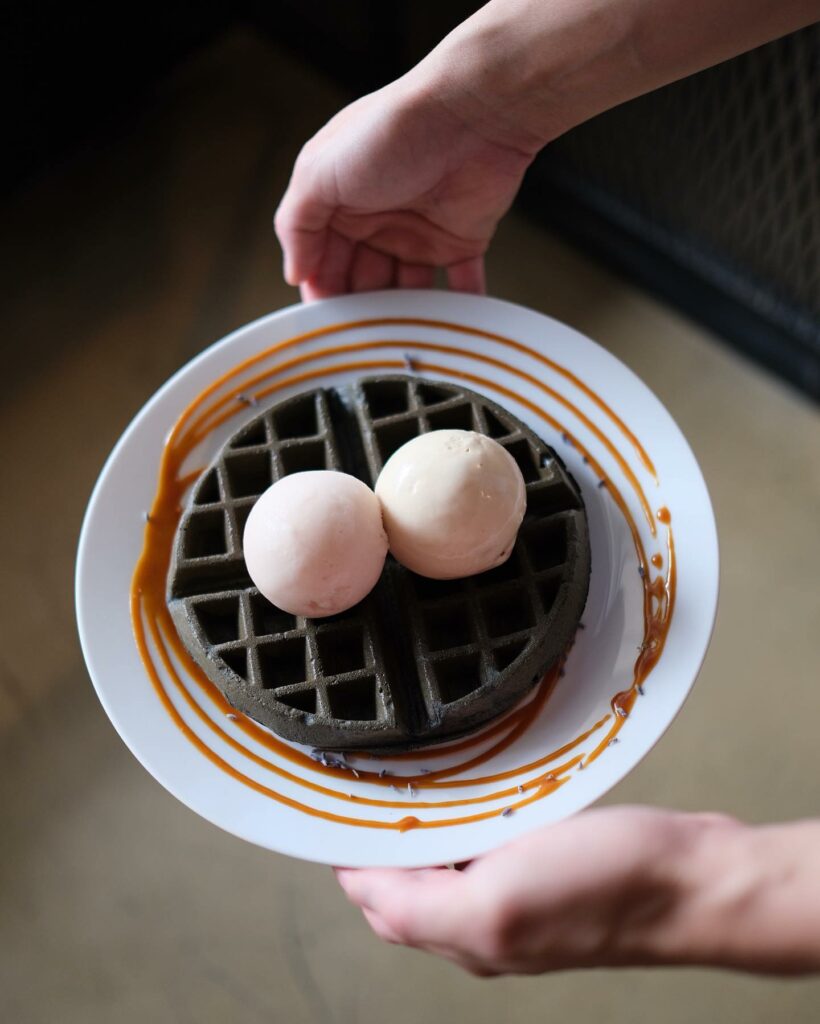 Image credit: @fatcatsg
Enjoy ice cream atop at $4.50 for a single scoop, or $8.50 for a double. Else, FATCAT also does mean plated desserts, such as their Reverse S'mores ($10), which comes covered in a theatrical smoked dome, and dark chocolate Brownies ($5).
Address: 15 Simon Road, Singapore 545907
Opening hours: Wed-Mon 1pm to 10pm
Website
FATCAT Ice Cream & Coffee is not a halal-certified cafe.
---
9. Three Nuts Baker 
---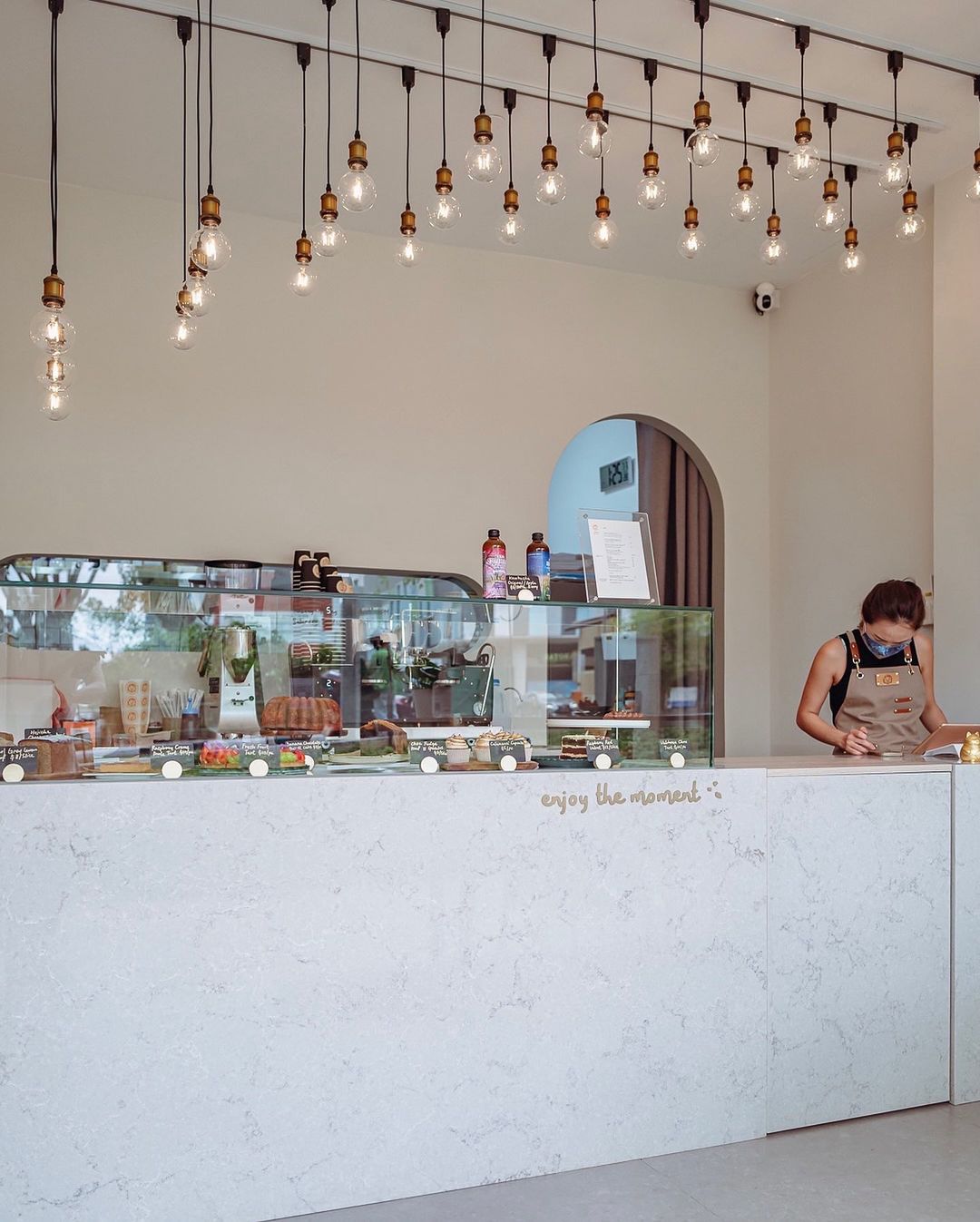 Image credit: @doggaebi
Three Nuts Baker is a quaint hole-in-the-wall cafe in Kovan best known for their bakes and toasts. The Truffle Veal Cheek Toast ($19++) has been a huge favourite with fans, with meltingly tender veal cheek served atop tangy sourdough.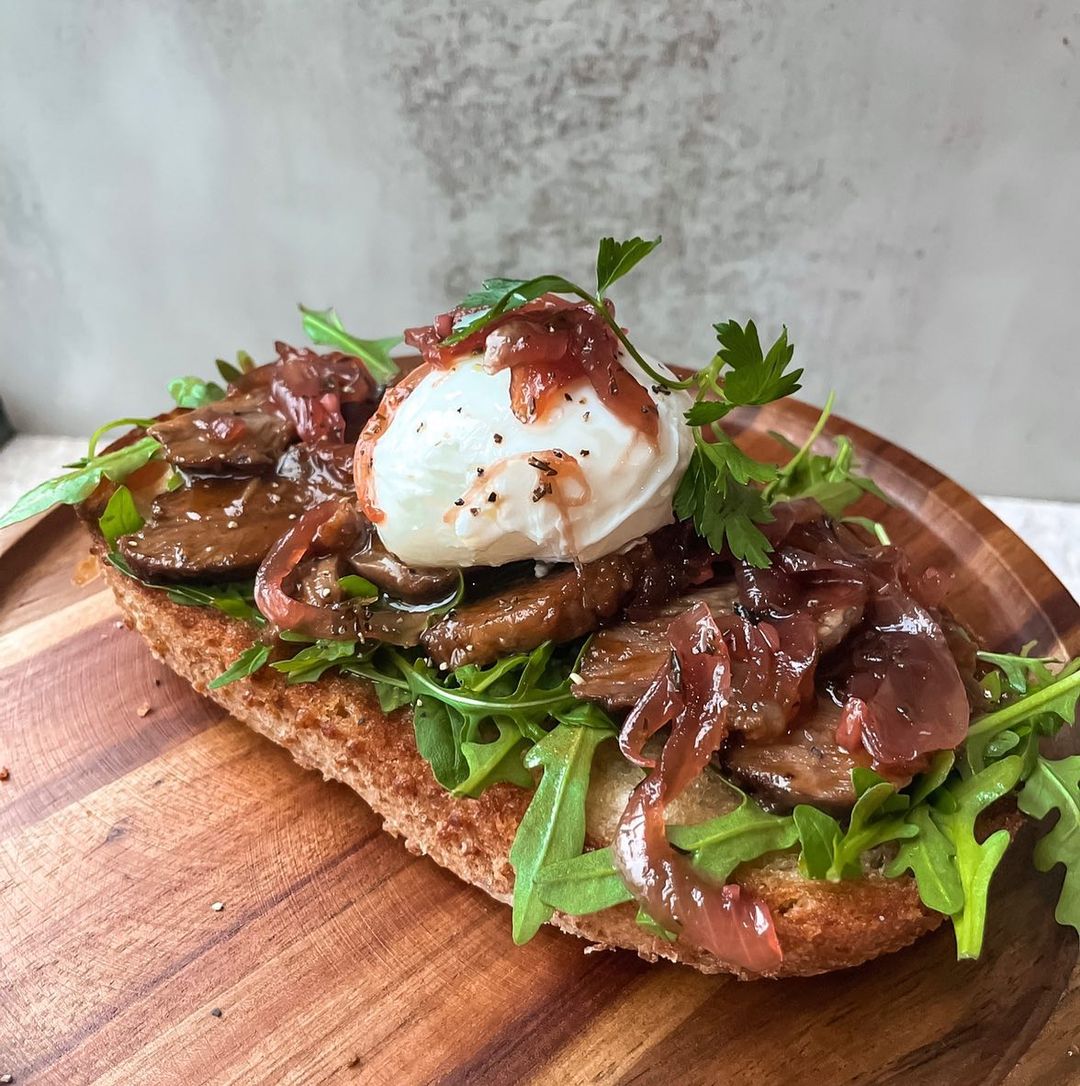 Image credit: @threenutsbaker
The menu also has a handful of bombolone and fudgy chocolate desserts. If you want to get their bakes, swing by after 12pm. The space is small and only seats three, so takeaway is recommended.

Address: 9 Yio Chu Kang Road, #01-14, Space @ Kovan, Singapore 545523
Opening hours: Wed-Sun 9am to 4pm
Tel: 9145 8799
Website
Three Nuts Baker is not a halal-certified eatery.
---
10. AMIKA Cafe 
---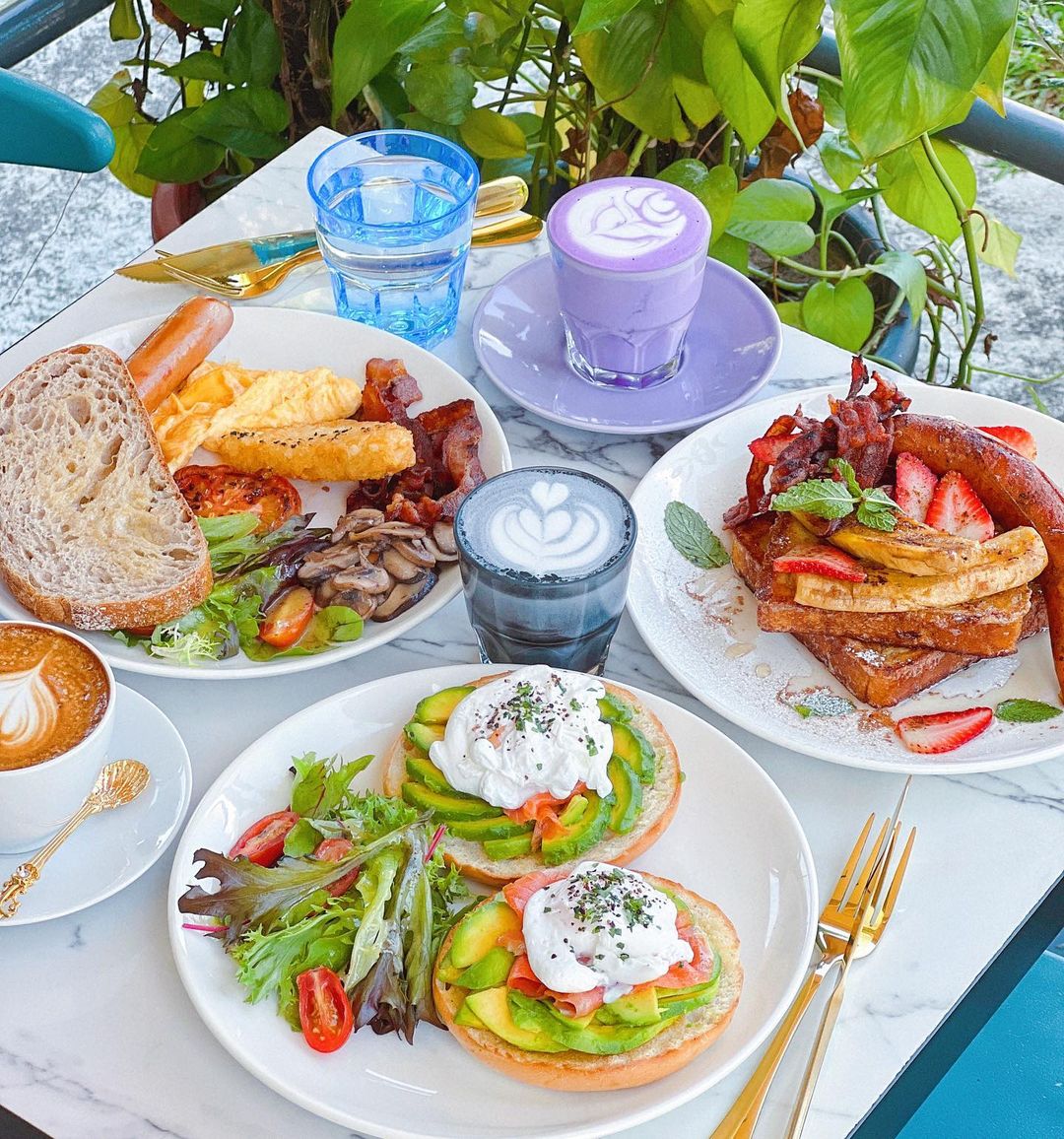 Image credit: @amika.sg
AMIKA Cafe has picture-perfect cafe fare that really catches the eye. This Serangoon outfit is all about fusion dishes that go beyond the usual laksa pasta. The Char Siew Pork Ribs ($24++) is one dish we recommend, where ribs are marinated with char siew sauce and sous vide till the meat falls clean off the bone.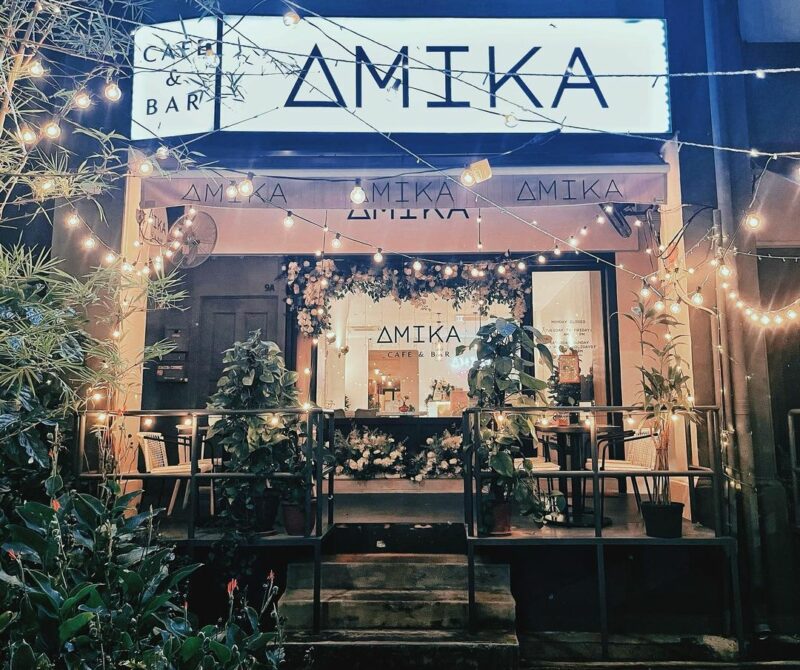 Image credit: @amika.sg
Also on the menu are donburi bowls, pastas, rosti, and bagels. For drinks, give their Taro Latte ($6.50++) a try if you're an orh nee fan—the yam milk drink is a stunning pastel purple, and is rife with notes of earthy taro.
Address: 9 Teck Chye Terrace, Singapore 545720
Opening hours: Tue-Thurs 11am to 9pm, Fri 11am to 10pm, Sat 10am to 10pm, Sun 10am to 9pm
Tel: 6241 6393
Website
AMIKA Cafe is not a halal-certified eatery.
---
11. The Bread Rack 
---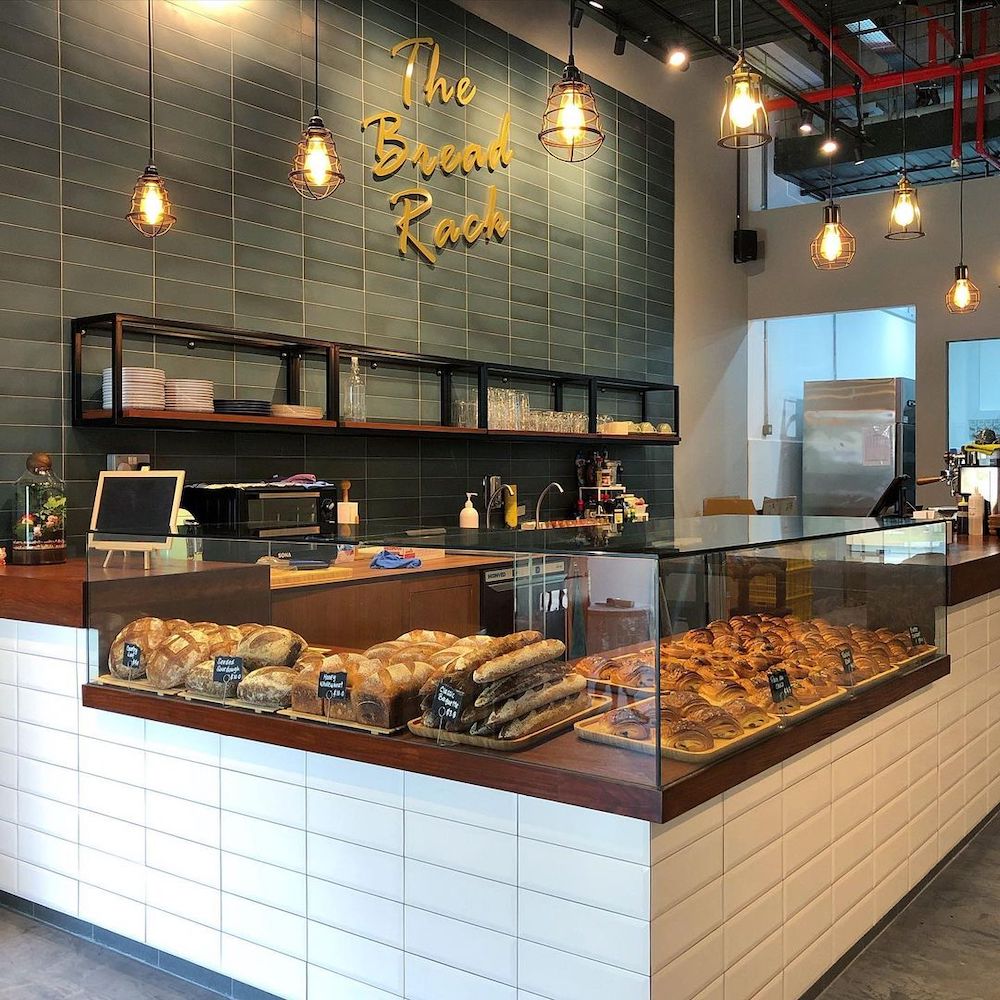 Image credit: @thebreadracksg
Fans of freshly baked bread and pastries can head over to The Bread Rack, an artisanal bakery-cafe located in Space @ Kovan. The industrial-themed space has an L-shaped glass display case where diners can choose between classic pastries such as Croissants ($4) and Pain Au Chocolat ($4.50), or freshly baked loaves to take home, with prices starting at $3.80 for a baguette.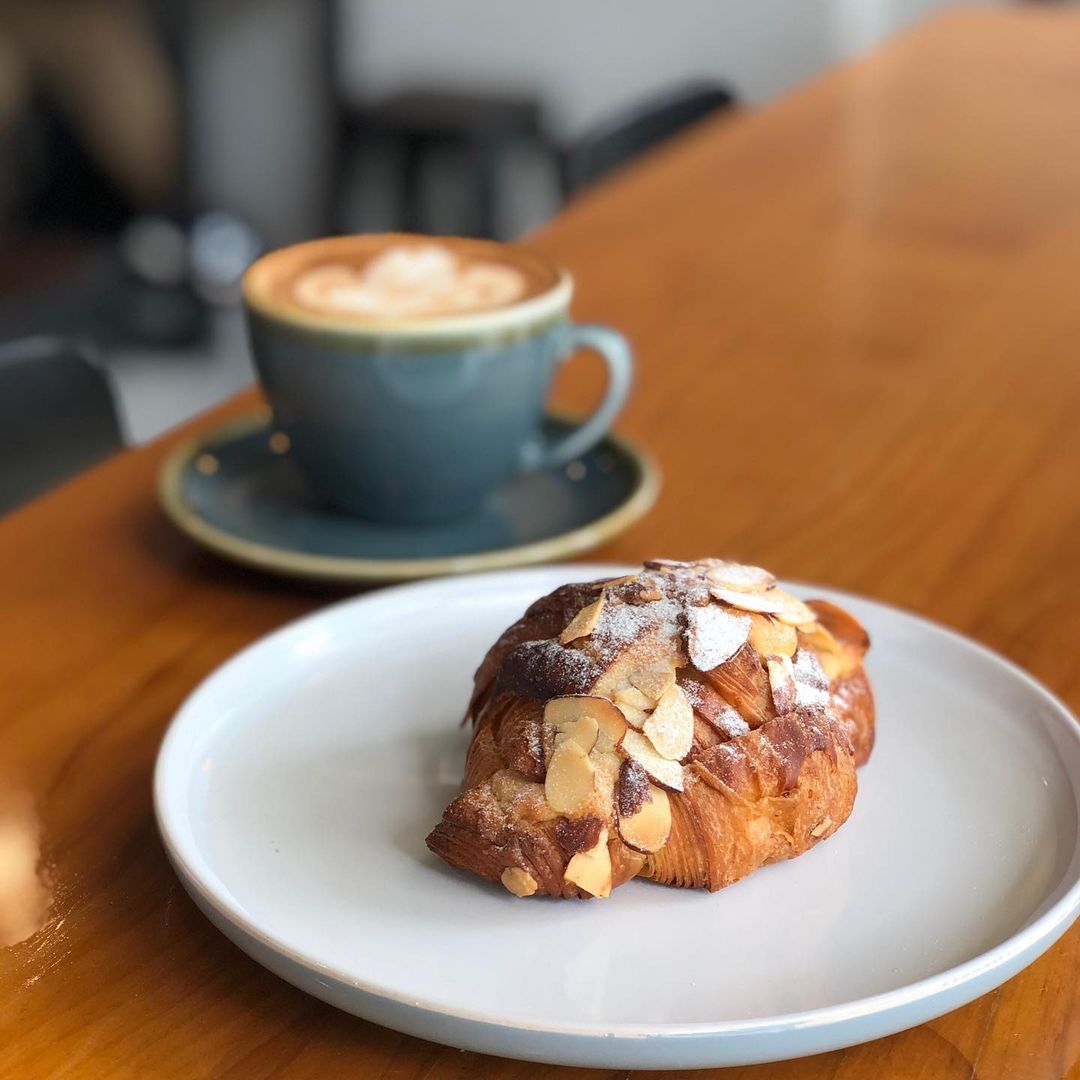 Image credit: @thebreadracksg
For more substantial bites, pick from their selection of croissant sandwiches, or their sole brunch offering: the Baker's Kind of Breakfast ($18.90), which comes with all your classic breakfast fixings. They've also got a range of coffees, teas, and other beverages, making this a solid pick for a quick catch-up with friends.
Address: 9 Yio Chu Kang Road, #01-55, Space@Kovan 545523
Opening hours: Thurs-Mon 9am to 5pm
Tel: 8875 5407
Website
The Bread Rack is not a halal-certified eatery.
---
12. Amber Ember 
---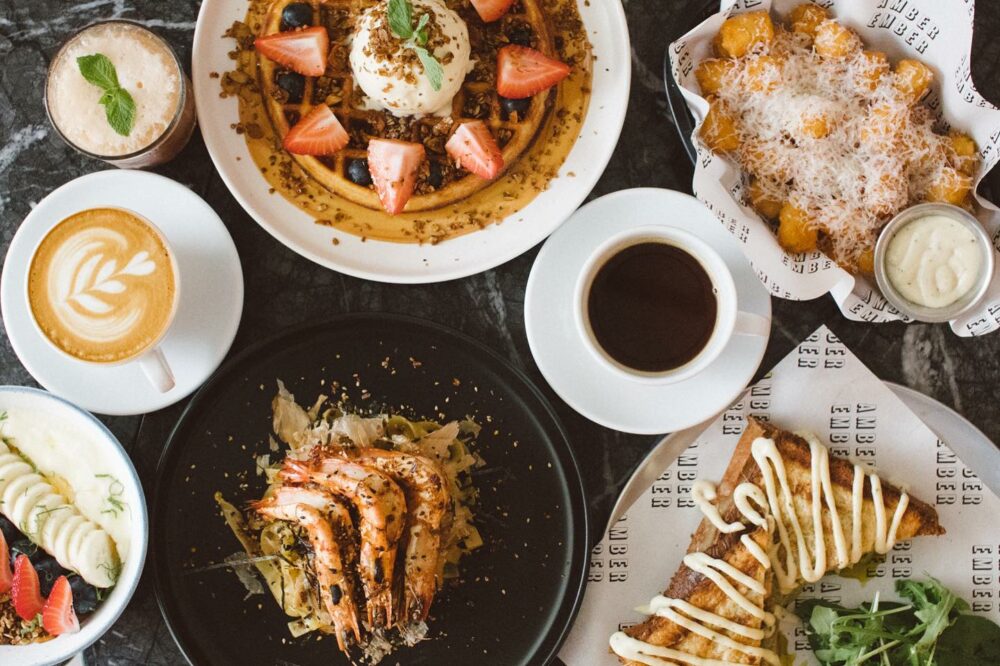 Image credit: Amber Ember
Amber Ember has been around for a few years now, and has drawn in fans for their elevated selection of brunch fare. For starters, they've got a selection of jaffles, a cheesy, closed-toasted sandwich that's often found in Australia and New Zealand.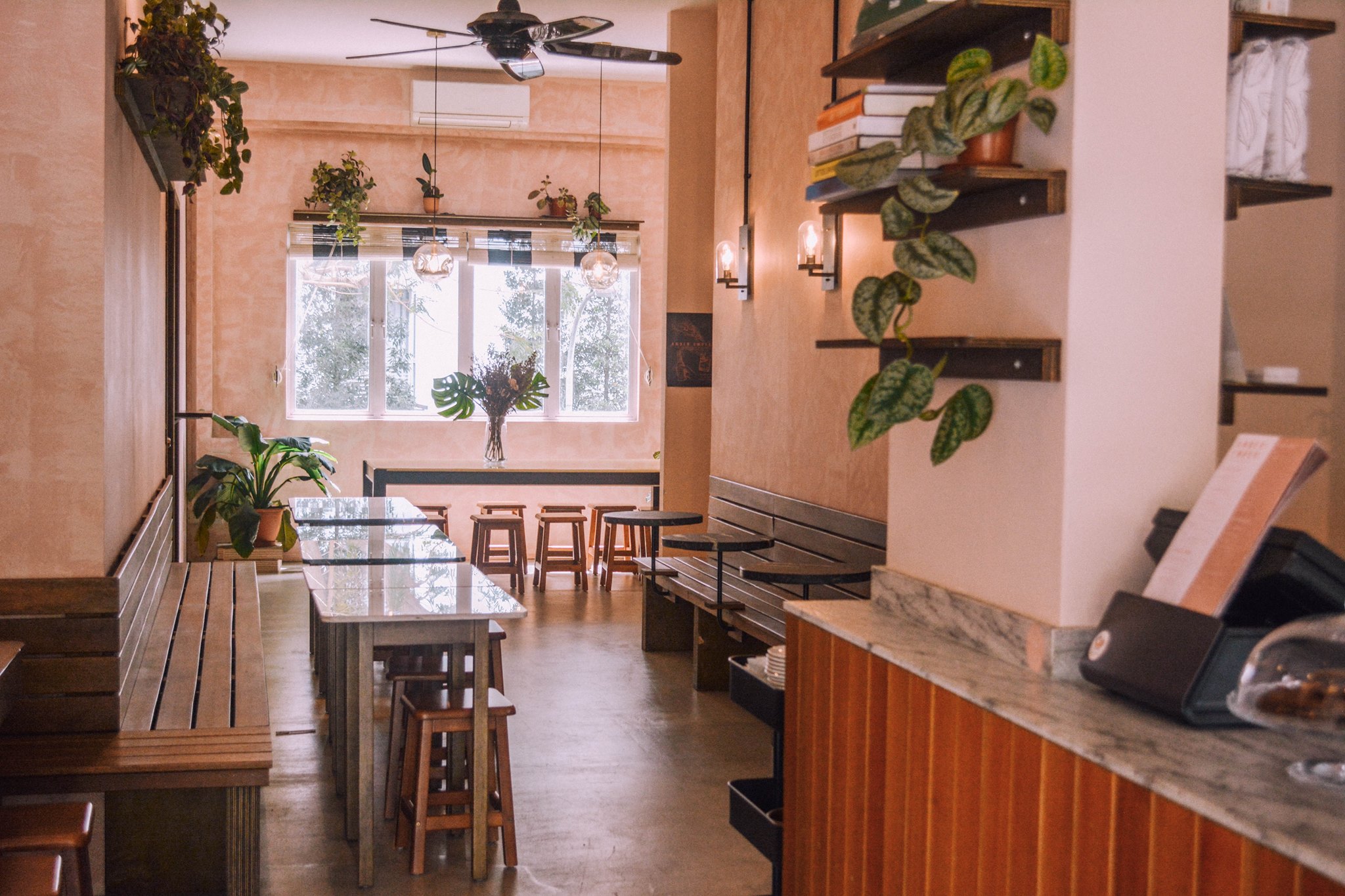 Image credit: Amber Ember
They've also got Asian fusion open-faced sourdough toasts, in flavours including Curried Mentaiko Egg Mayo ($16.50++), and Sambal Scramble ($18++). Lunch items are available from 11am onwards, and span pastas and mains. Aside from the dishes, the cafe's interior is equally sleek and cosy, dominated by warm wood tones and spots of green from plants.
Address: 730 Upper Serangoon Road, #01-01, Singapore 534613
Opening hours: Mon-Fri 10am to 5pm, Sat-Sun 10am to 6pm
Tel: 6926 3312
Website
Amber Ember is not a halal-certified eatery.
---
13. Flavour Flings 
---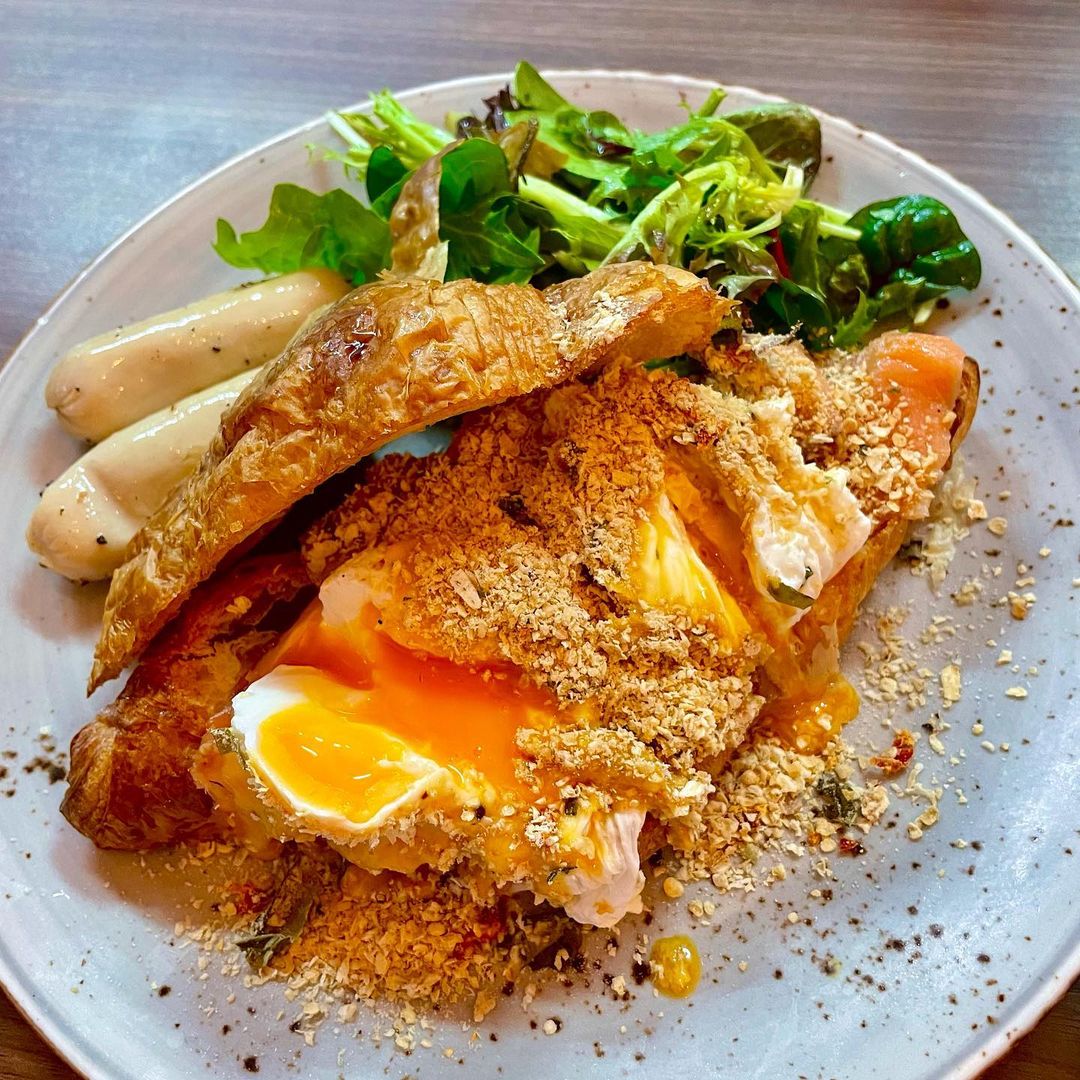 Image credit: @pikanomz
Halal-certified Flavour Flings is touted as a heartland gem. This Hougang cafe is located under a HDB block, and serves up tasty, affordable Western dishes, with zany twists—think Milo-coated Popcorn Chicken ($9.90++), and Chicken Cutlet with Swiss Raclette Cheese ($22.90++).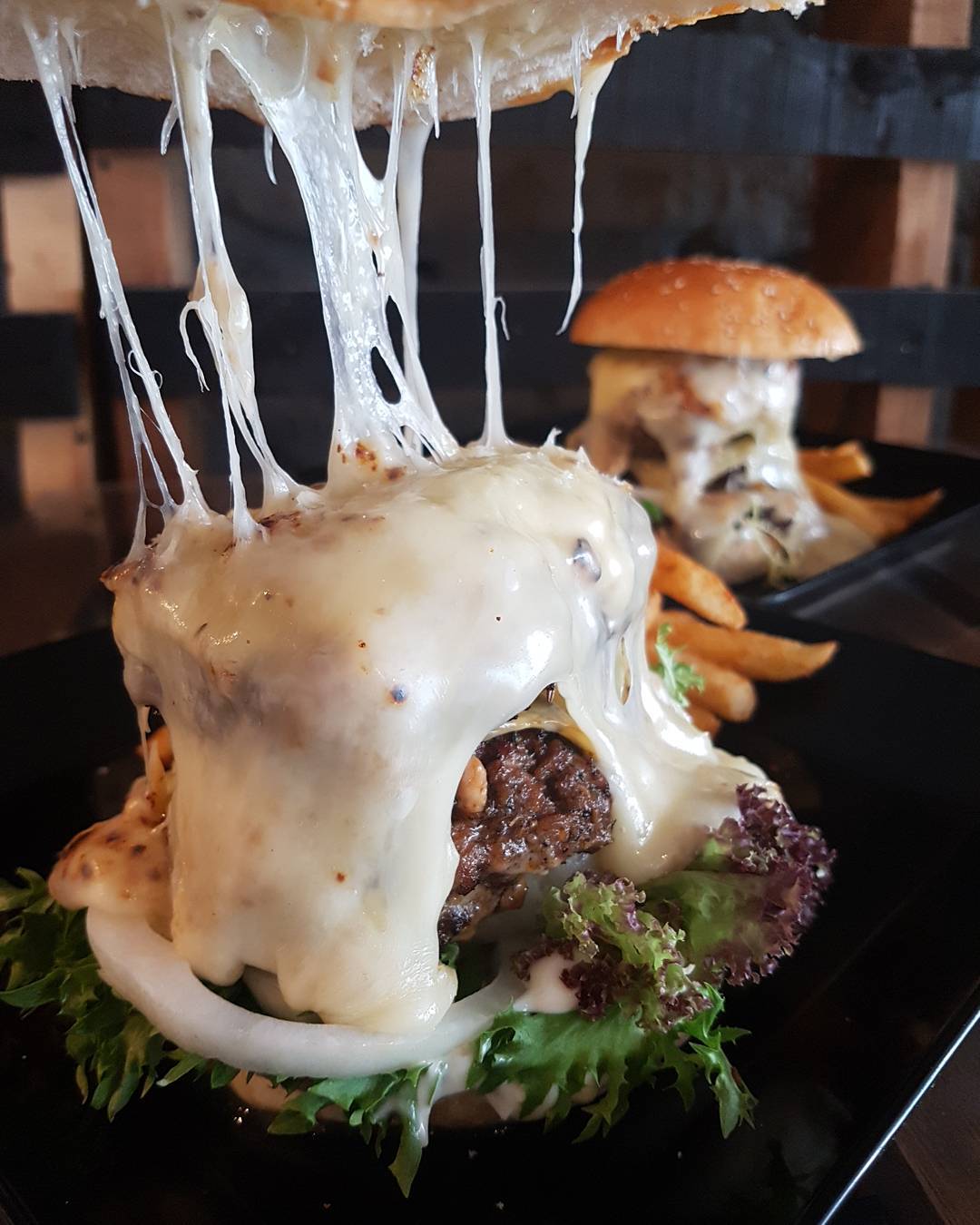 Image credit: @flavourflings
They also do all-day brunch, as well as desserts, of which Tempura Ice Cream ($10.90++) is an option available to diners.
Address: 121 Hougang Ave 1, #01-1348, Singapore 530121
Opening hours: Thurs-Mon 11:30am to 4pm, 5:30pm to 10pm, Wed 5:30pm to 10pm
Tel: 6286 0051
Website
Flavour Flings is a halal-certified eatery.
---
14. Rise & Grind Coffee Co 
---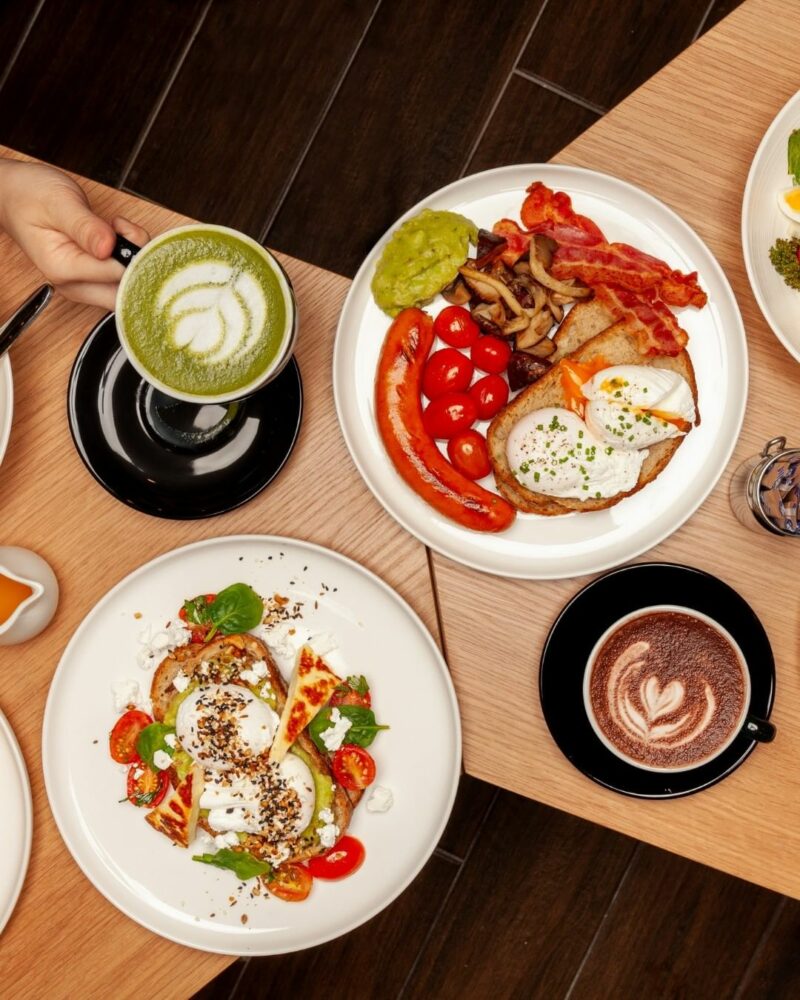 Image credit: @riseandgrindco
Punggol's Oasis Terraces is home to a handful of eateries, including Rise & Grind Coffee Co. The cafe is founded by two former Raffles Hotel chefs, who both have a passion for good food and equally good coffee. You can find all your classic cafe brunch bites on the menu, available till 3pm.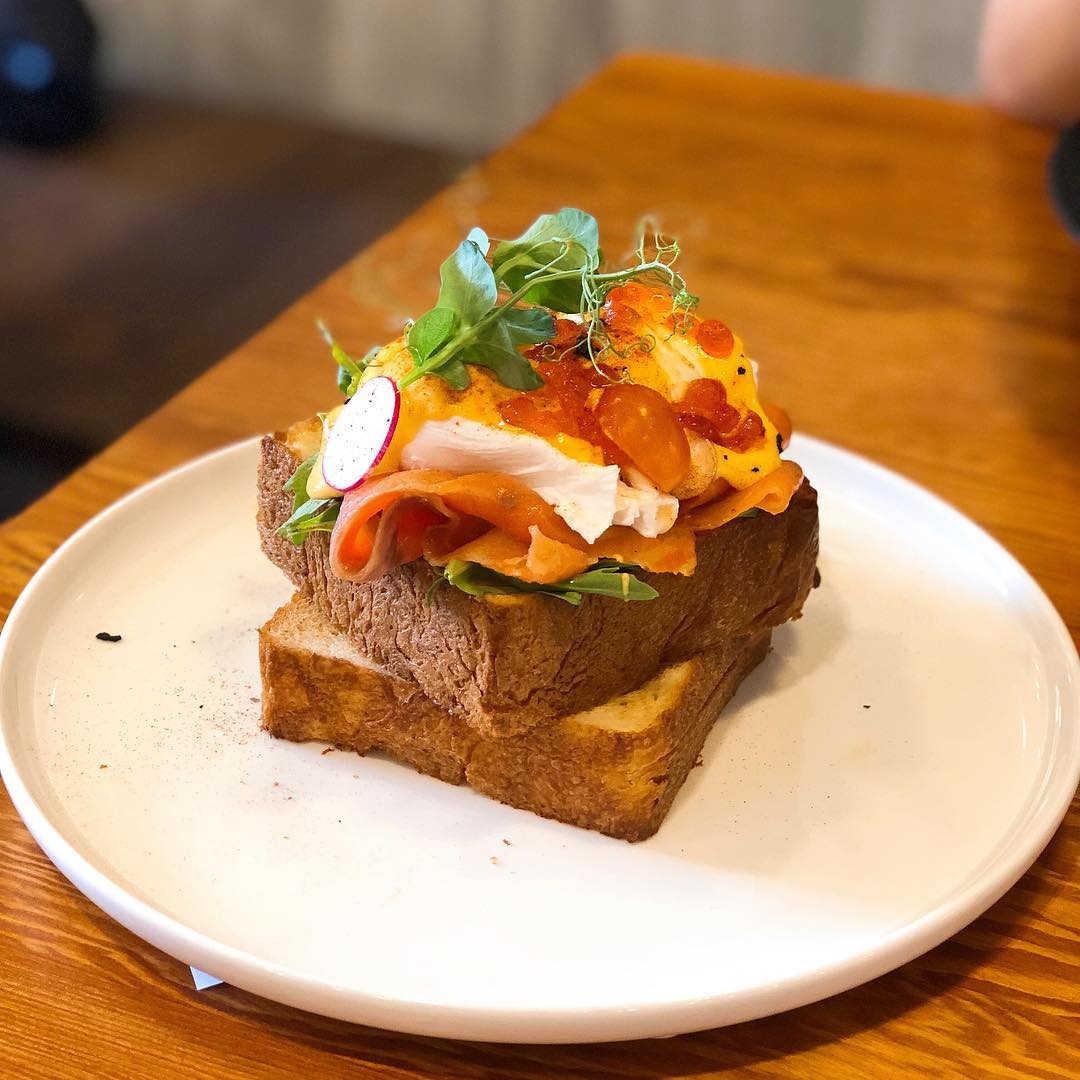 Image credit: @flovers.sg
Else, grab mains such as pizza, pasta, and Western dishes from 11am onwards. Prices here are pretty affordable too, as you can get a full meal for under $20++!
Address: 681 Punggol Drive, #01-06, Oasis Terraces, Singapore 820681
Opening hours: Mon-Thurs 10am to 8pm, Fri 10am to 9pm, Sat-Sun 9am to 9pm
Tel: 9866 2020
Website
Rise & Grind Coffee Co. is not a halal-certified eatery.
---
15. Eleven Strands 
---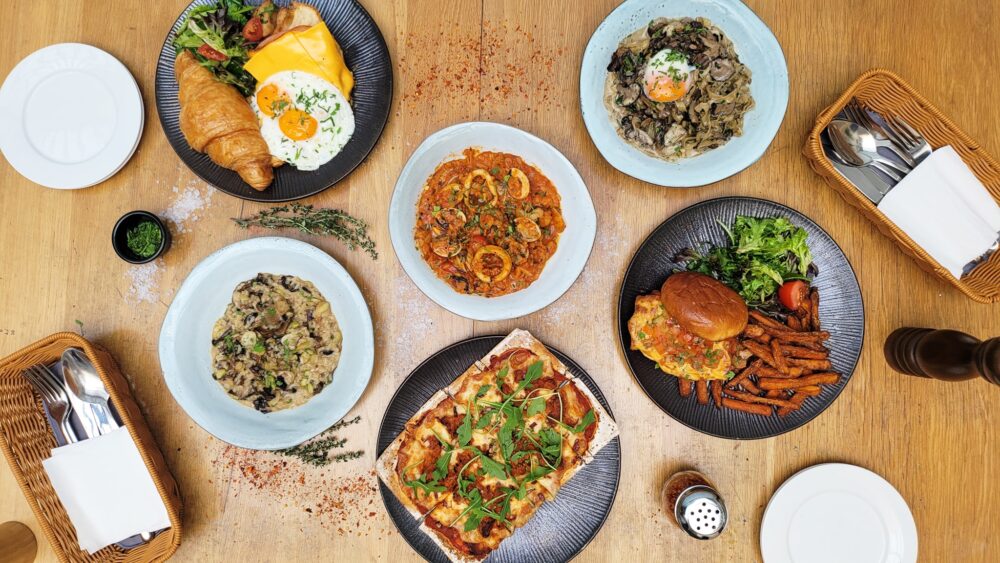 Image credit: Eleven Strands
Eleven Strands is located just opposite Serangoon Stadium, and is a great cafe to visit if you're craving French and Italian fare. Their Beef Short Rib Pasta ($29.96) is a crowd favourite, where fork-tender slow cooked beef ragu is tossed with pasta and a red wine sauce.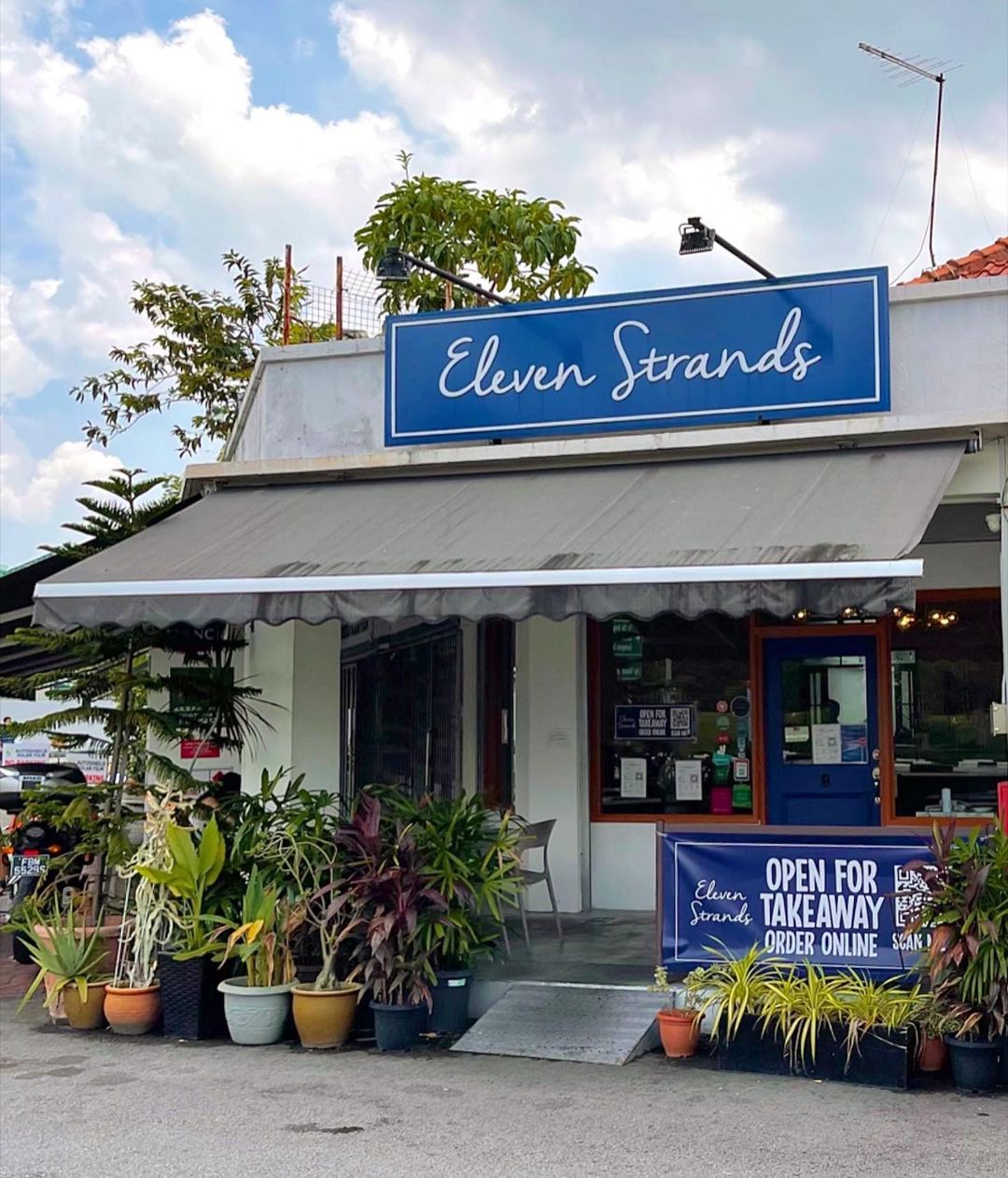 Image credit: @micky.te
Their Wagyu Beef Burger ($29.96) is another crowd fave, where a marbled, juicy Wagyu patty is served on buttery brioche, then topped with caramelised onions. The bistro seats 70 people, spread across an indoor area, their long bar, and an airy, dining room at the back of the unit. 
Address: 66 Yio Chu Kang Road, Singapore 545568
Opening hours: Tue-Thurs 11:30am to 9:30pm, Fri 11:30am to 10pm, Sat 11am to 10pm, Sun 11am to 9pm
Tel: 9487 1398
Website
Eleven Strands is not a halal-certified eatery.
---
16. Chu and Co 
---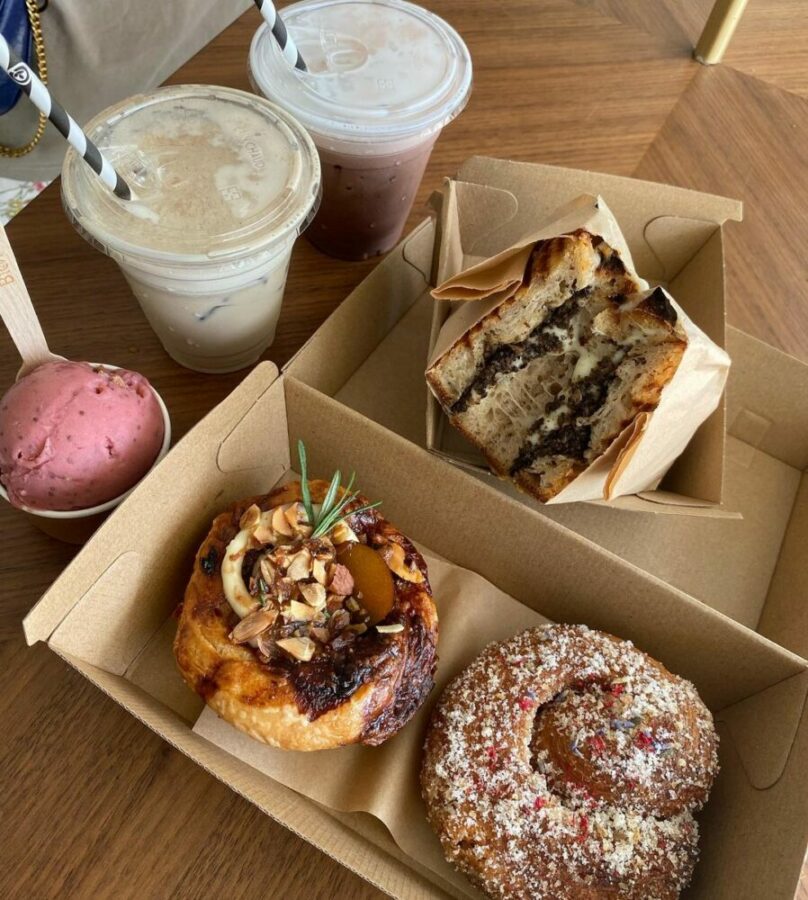 Image credit: @shann0mm
Dual concept Chu and Co is a bakery by day, and a gelato bar once the sun sets. Housed in Serangoon Gardens, the unique cafe offers quaint al fresco seating where you can enjoy their crafted coffees, famed bakes, and cheesy sammies.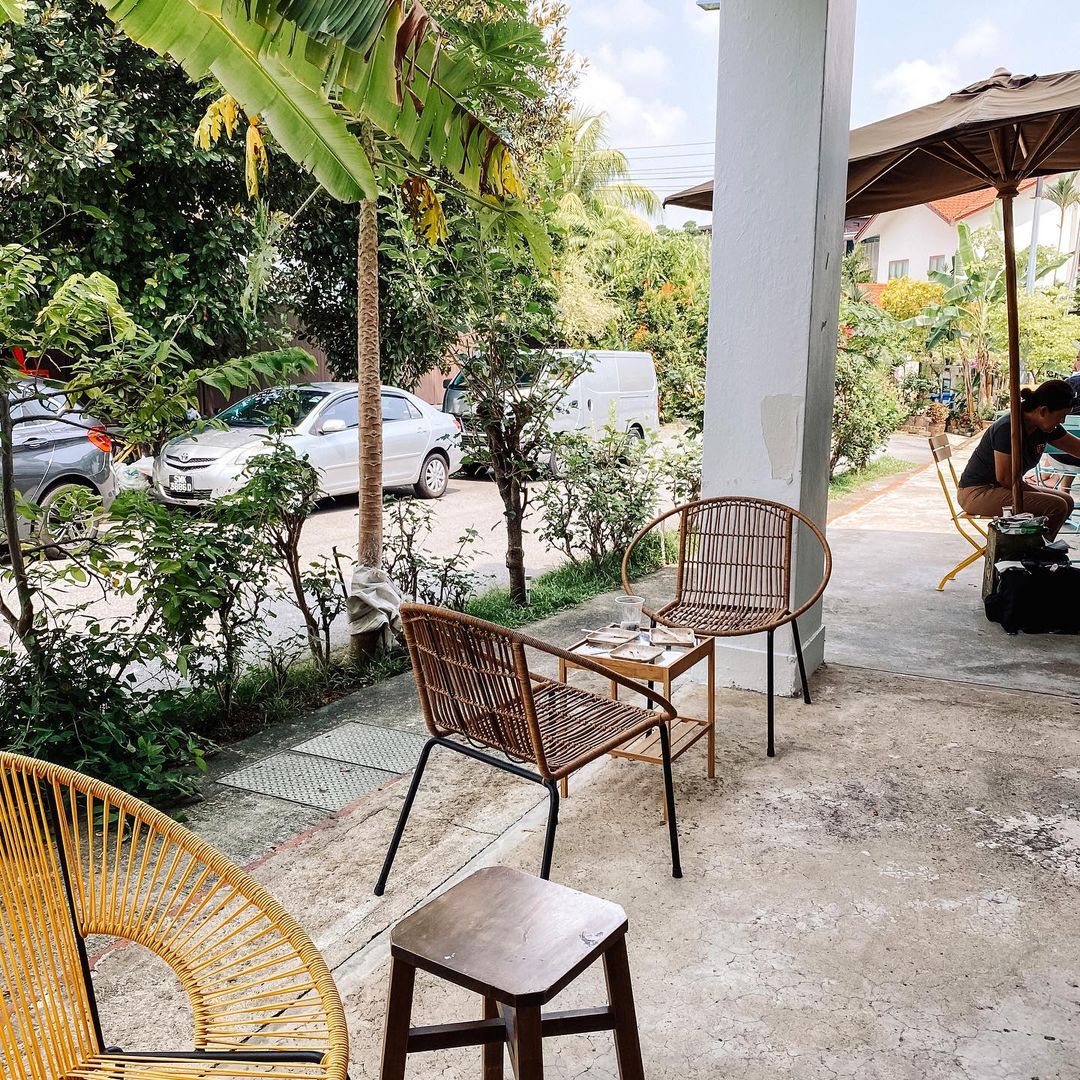 Image credit: @cafehopping.archive
The Mushroom Melt ($13) is a popular pick, served with panini-pressed sourdough toast, melted cheese, and a mushroom medley. Else, opt for their sourdough buns or their quiches. The former is priced from $5.50, and comes in flavours such as Cacio e Pepe and Beef Bolognese. 
Address: 15 Lichfield Road, Singapore 556835
Opening hours: Wed-Sun 8:30am to 4pm (Cafe), Fri-Sun 1pm to 10:30pm (Gelato Bar)
Tel: 8874 7615
Website
Chu and Co is not a halal-certified eatery.
---
17. Sugartown 
---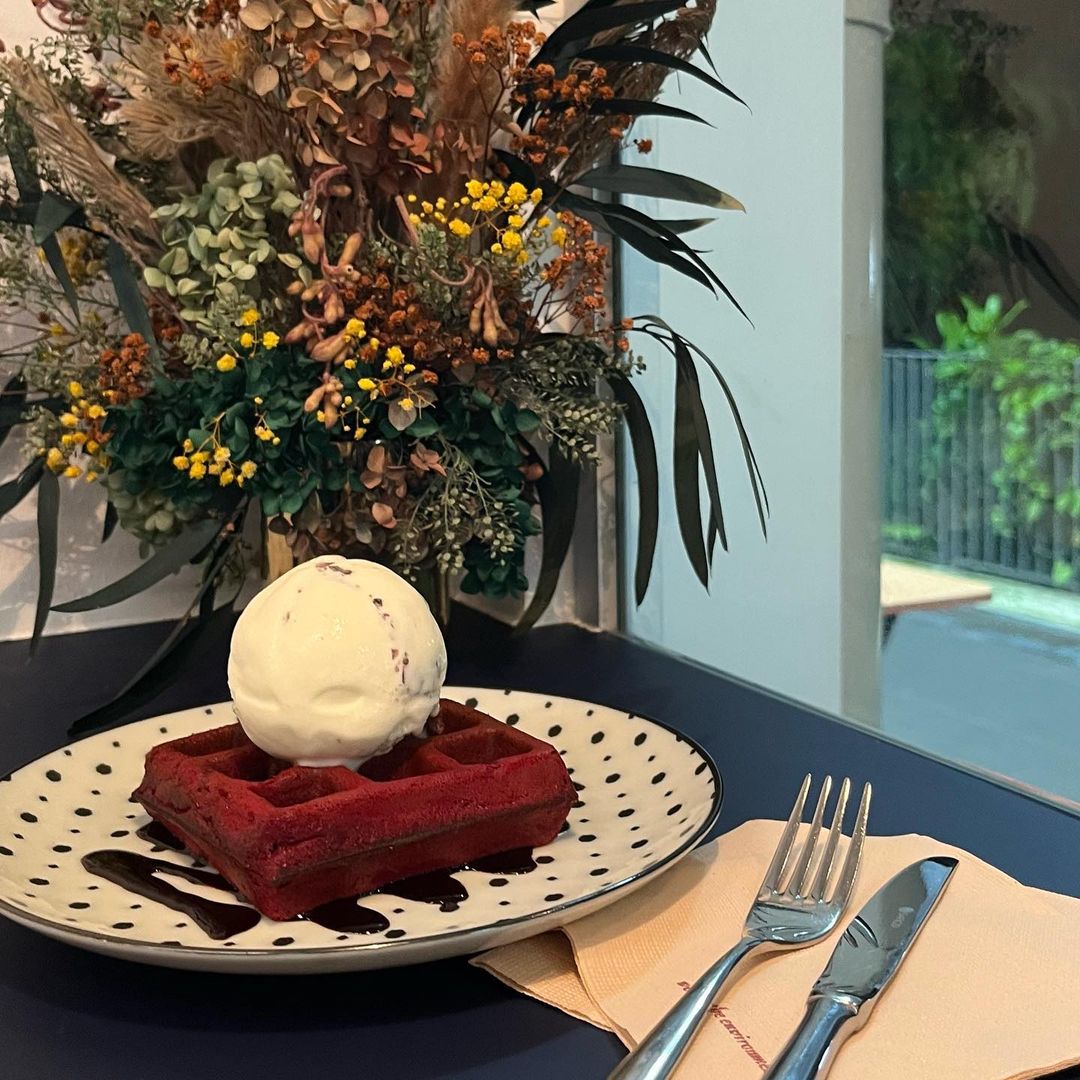 Image credit: @sugartown.sg
Sugartown is a waffle and gelato cafe located just shy of Punggol's Kandaloor LRT Station. This far-flung North-East cafe is well worth a visit if you live in the area, or are exploring Punggol, as they've got a menu of unique gelato flavours to offer.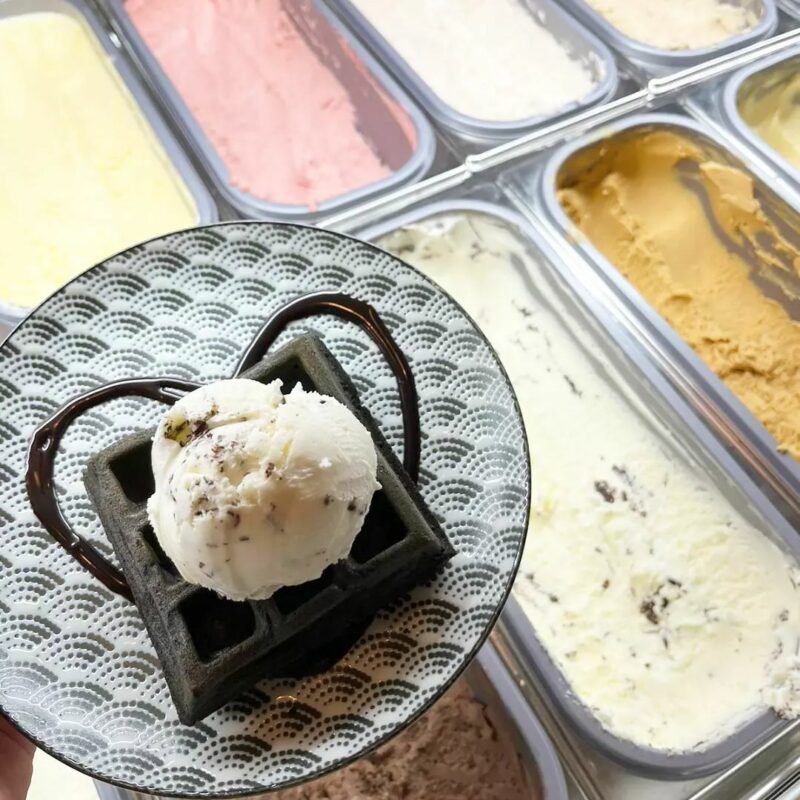 Image credit: @sugartown.sg
Highlights include their Italian White Truffle (from $3.80), laced with the fragrance of truffle oil, and their slightly savoury Mascarpone Basil (from $3.80). Top-up $3.50, and get your ice cream served atop a piping hot waffle. They're also open till 11pm—a great late-night dessert option!
Read our Sugartown review.
Address: 658 Punggol East, #01-08, Singapore 820658
Opening hours: Mon-Thurs 6pm to 11pm, Fri-Sat 12pm to 11:30pm, Sun 12pm to 11pm
Website
Sugartown is not a halal-certified eatery.
Sugartown: New Cafe In Punggol With Italian White Truffle Ice Cream, And IG-Worthy Charcoal Waffles
---
18. Soek Seng 1954 Bicycle Cafe
---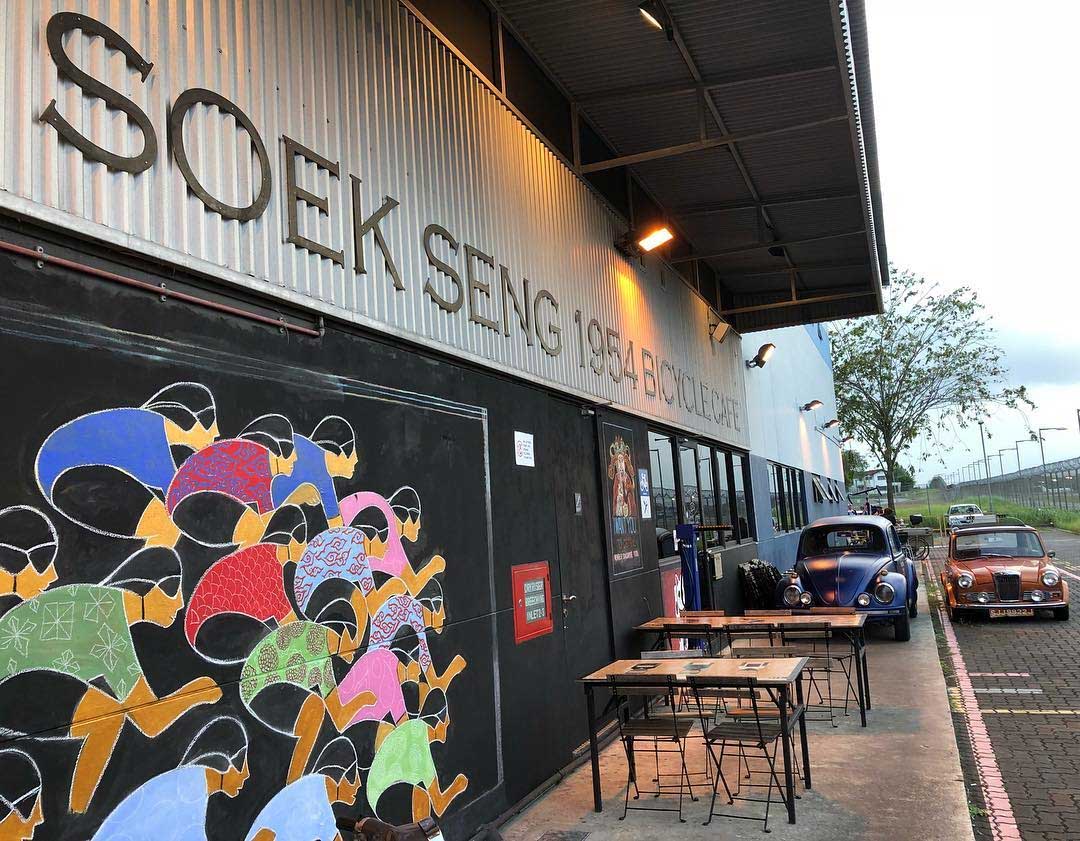 Image credit: @shirs38
Going to Soek Seng 1954 Bicycle Cafè makes you feel like you've left Singapore, as it's right next to Seletar Airport's runway. If you thought Wheeler's Yard was bicycle-themed, this place takes it to a whole new level, as bicycle-featuring art and vintage bicycles hang on the walls.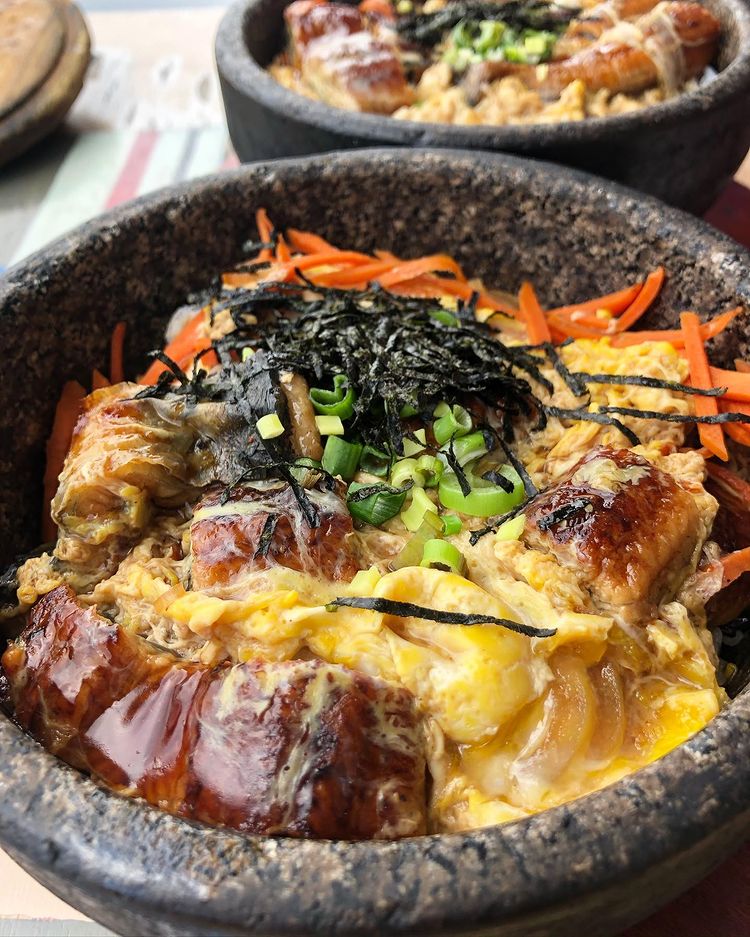 Image credit: @gotummygoh
Budget-conscious cafe hoppers can find solace here, as affordable bowls such as Katsudon ($7.80) are available at nett prices. With a juicy chicken cutlet and a generous portion of Japanese rice, this is as value-for-money as it gets for cafe fare in Singapore.
Dishes with local flair are also available, such as Beef Rendang ($10.80, which comes with achar and yellow rice, so you can stay rooted in Singapore while watching planes jet off from the adjacent runway.
Address: 80 Seletar Aerospace View, #01-01. MAJ Aviation Building, Singapore 797563
Opening hours: Tue-Sun 10am to 10pm
Tel: 6659 6124
Website
Soek Seng is not a halal-certified eatery.
---
19. Lickers
---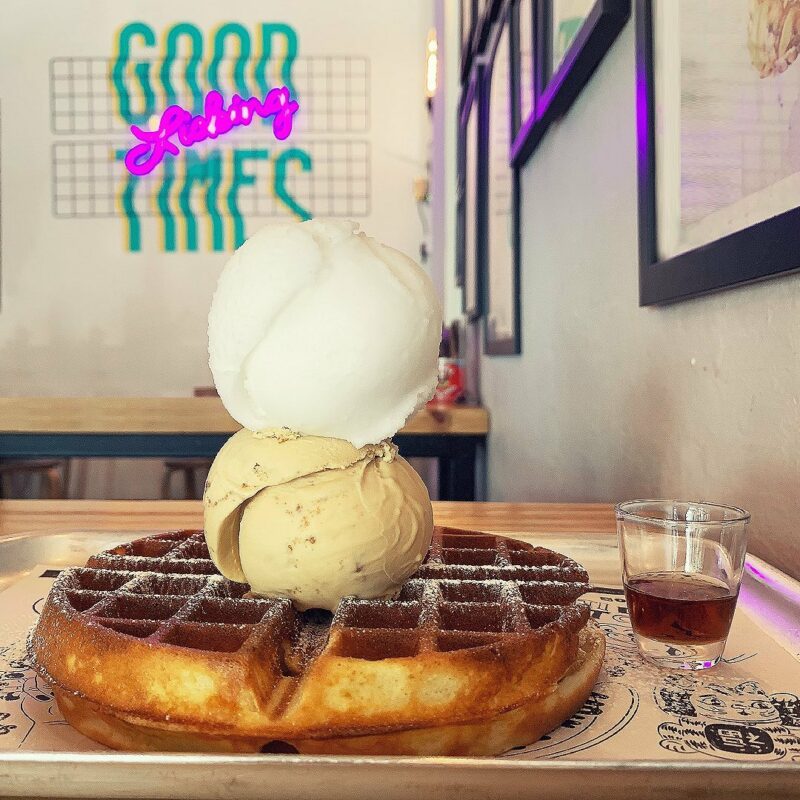 Image credit: @lickerssg
Lickers is a chameleon of a cafe. In the daytime, this ice-cream parlour is bright and cheerful, sporting cute, family-friendly decor. At night, it morphs into a different being, as dim lighting and neon signs with cheeky taglines give a cool urban vibe to the space.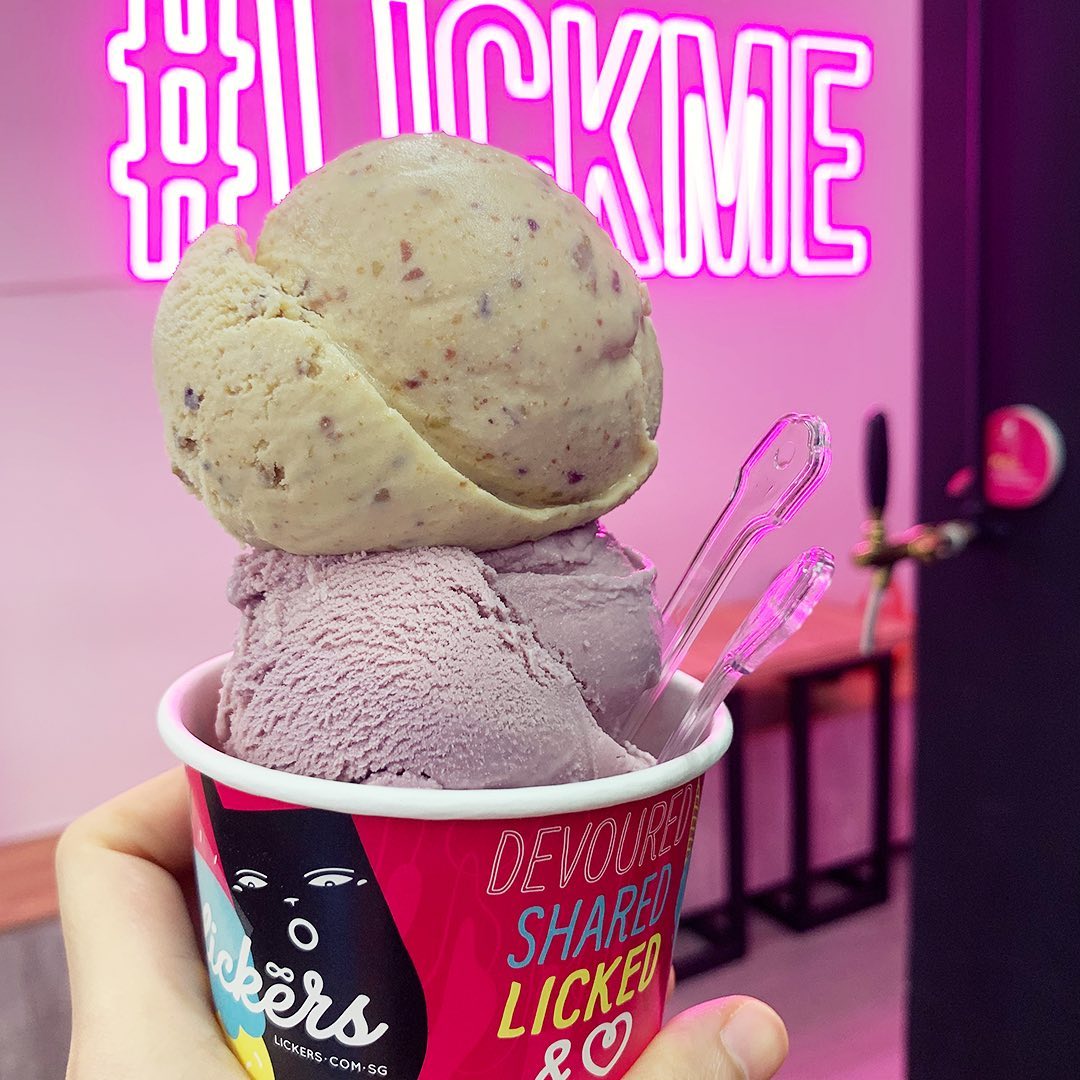 Image credit: @lickerssg
Classic flavours such as Earl Grey and Dark Chocolate ($3.80 for a single scoop, add $0.80 for premium flavours) are of course available. But if you're feeling bold, there's a multitude of unique flavours too. Most famous is the Yakult Oreo, which combines two Singaporean childhood favourites. The tangy yakult and sweet Oreo jive unexpectedly well, and are even better stacked on a Waffle (from $10 with two scoops of ice cream). Good licking times indeed.
Address: 124 Hougang Avenue 1, #01-1446, Singapore 530124
Opening hours: Tue-Thur 1pm to 2am, Fri-Sun 12pm to 2am
Website
Lickers is not a halal-certified eatery.
---
20. Wimbly Lu
---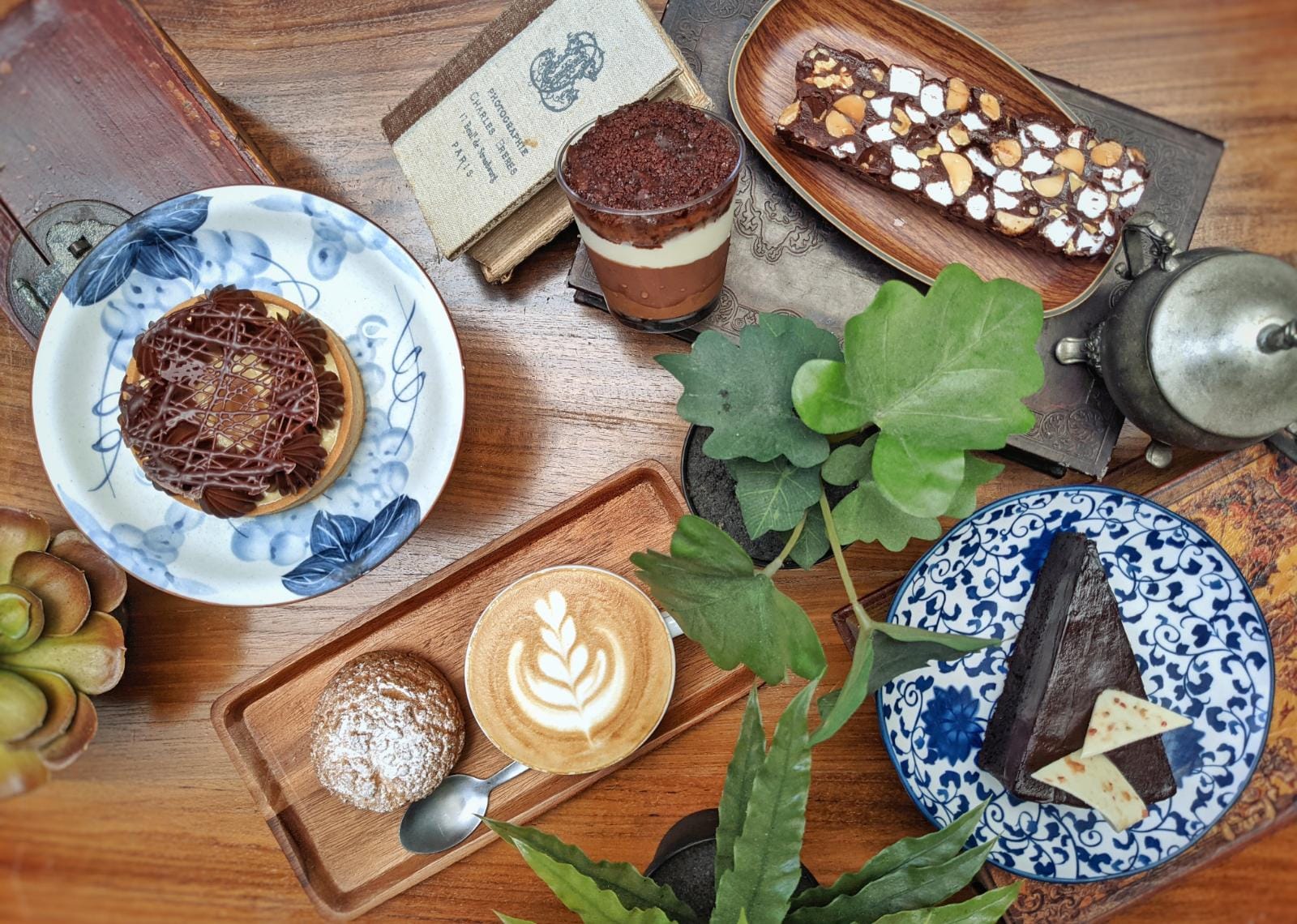 Image credit: @wimblylu
Wimbly Lu cafe is a maverick in the North-East cafe scene, operating in a sleepy Serangoon neighbourhood since 2013. The interior mixes warm colours with natural light from a sunroof to create a cosy, homely atmosphere. Combined with the vintage VW Beetle sentried outside, there's a distinctly retro vibe around this place.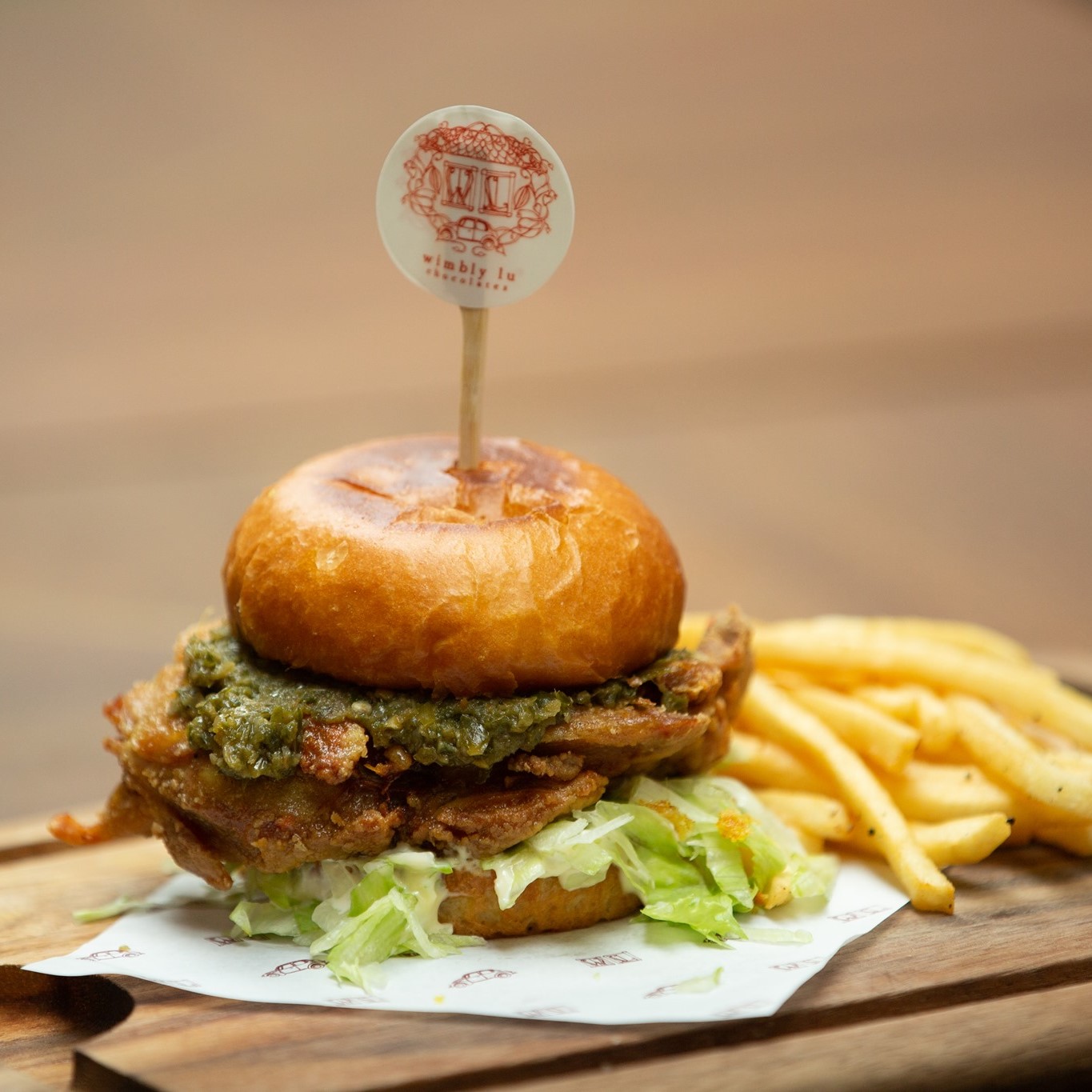 Image credit: @wimblylu
While savoury dishes such as Garlic Mushroom & Mozzarella Crepe ($10++) and Seafood Baked Rice ($12++) are available, their sweet treats are the real attraction here. Lemon Meringue Pie ($7++) is a veritable classic, but the Root Beer Float Cake ($6++) and Rachel's Earl Grey Mousse Cake ($6++) are more nouveau bakes that catch the eye.
Address: 15-2 Jalan Riang, Singapore 358987
Opening hours: Mon-Fri 11am to 10pm, Sat-Sun 9am to 10pm
Website | Full list of outlets
Wimbly Lu is not a halal-certified eatery.
---
21. Wildseed Cafe & Bar
---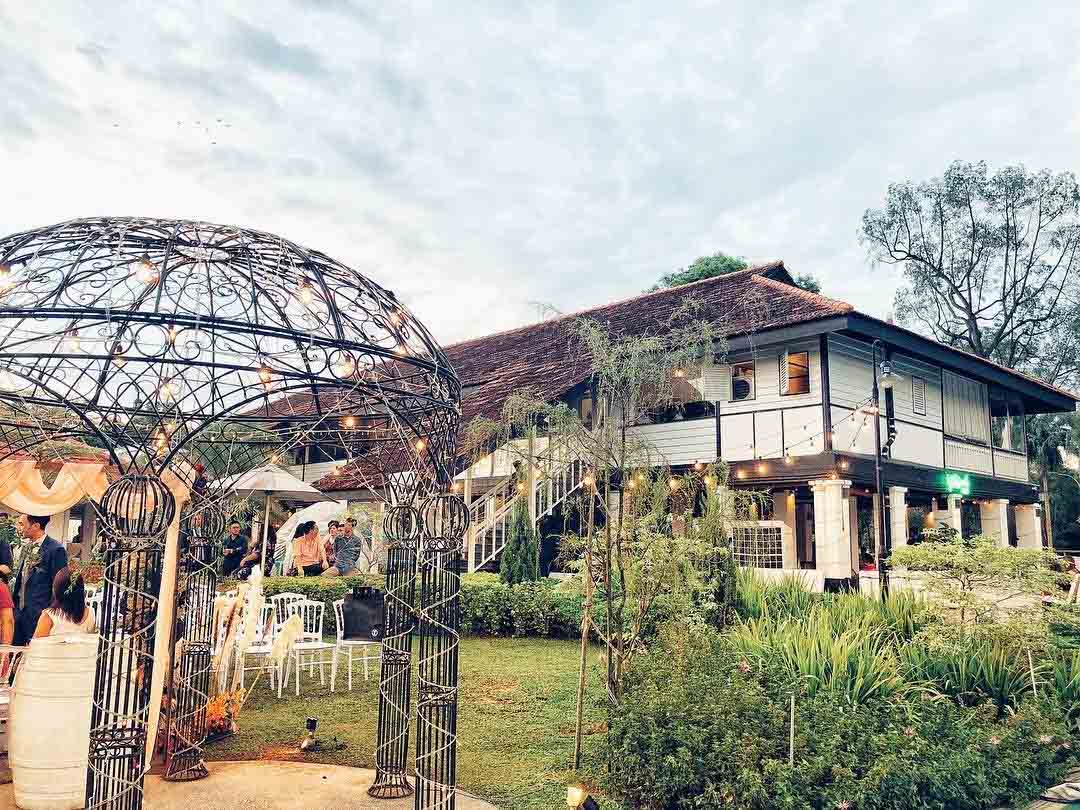 Image credit: @ngweelee
Surrounded by beautiful lush gardens, the botanically-themed Wildseed Cafe & Bar is tucked inside the ulu Seletar Aerospace Park. The scenery itself is worth a trip, with verdant greens enveloping the colonial building that houses the cafe. It's not all for show though, as the cafe adopts a farm-to-table concept, utilising ingredients that are freshly harvested from the gardens.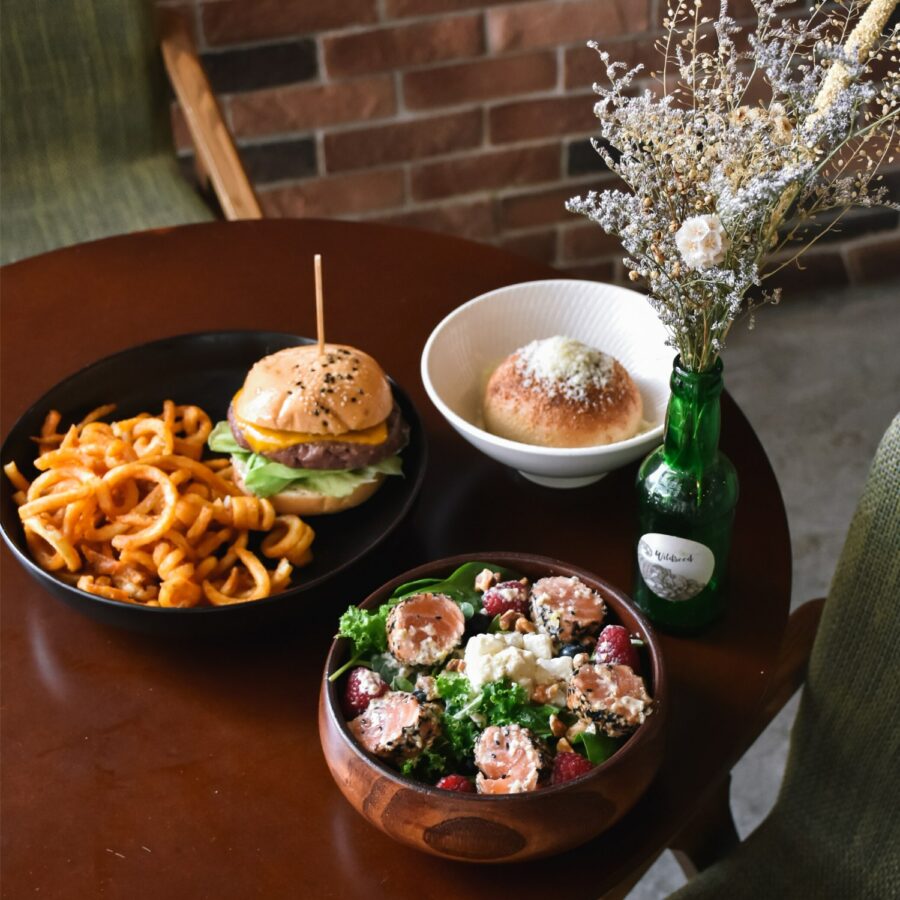 Image credit: Wildseed at The Summerhouse
Inside, there's a good balance between routine cafe fare and innovative dishes. Their Pulled Pork Burger ($20++) caters to the less adventurous, but Wagyu Beef Pie ($14++) and Coconut Pea Flower Shortcake ($7.50++) elicit an eyebrow raise as you pore through the menu. 
Address: 3 Park Lane, Seletar Aerospace Park, Singapore 798387
Opening hours: Mon-Fri 9am to 6pm, Sat-Sun 8:30am to 6pm
Tel: 9643 9116
Website
Wildseed Cafe is not a halal-certified eatery.
---
22. Lola's Cafe
---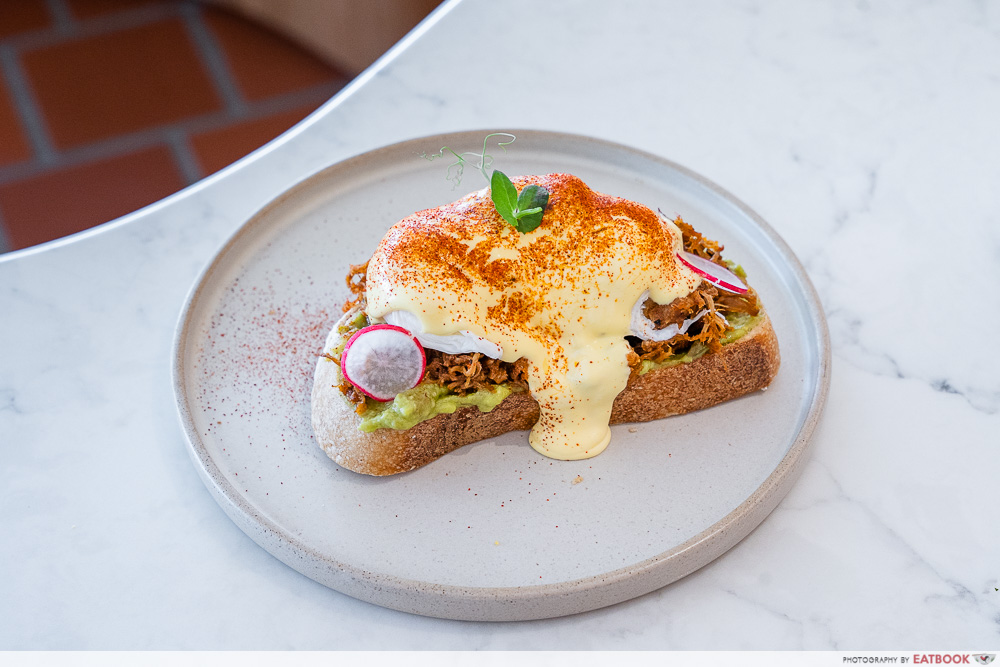 Nearby inhabitants will invevitably be acquainted with Lola's Cafe, an absolute stalwart in the North-East cafe scene. Located near Kovan MRT Station, Lola's provides a casual family environment, while serving up simple comfort food. It comes as no surprise that this homely joint is packed to the rafters on weekends. Expect to queue for up to an hour during peak periods.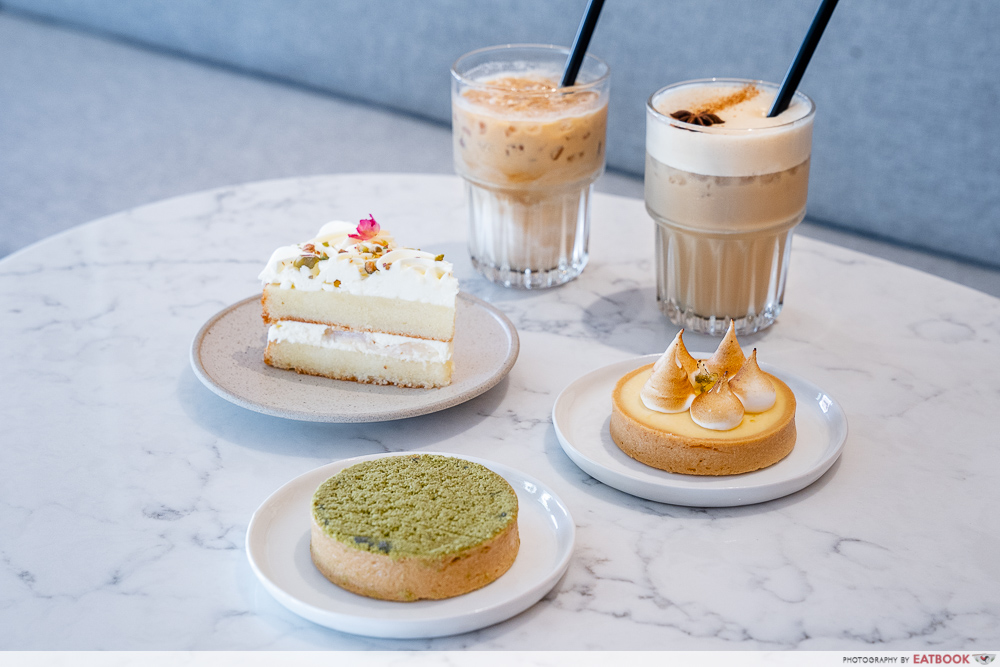 Their Bangers & Mash ($11+) is highly touted, featuring coarse pork sausages and mashed potatoes. The Pulled Pork & Avocado Eggs Benedict ($18++) is another crowd fave, served with tender, smoky pulled pork atop avo toast.
Address: 5 Simon Road, Singapore 545893
Opening hours: Tue-Fri 10am to 10:30pm, Sat-Sun 9am to 10:30pm
Tel: 6284 0349
Website
Lola's Cafe is not a halal-certified eatery.
---
23. Seoul Good
---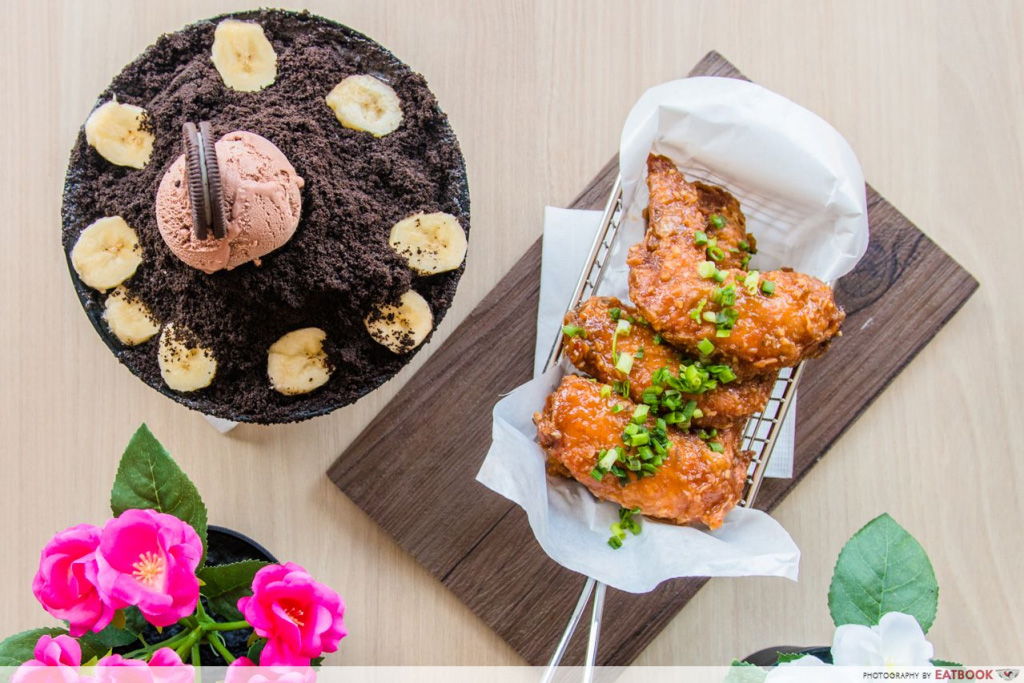 An unlikely cafe fashioned out of an old container, Seoul Good dishes out Korean cafe grub in Punggol East. The interior is bright and pleasant, but there's limited indoor seating space. Turns out containers are great for storing lots of goods, but not loads of people.
Get their Hot & Spicy Chicken Wings ($12 for six pieces), slathered with a sauce made from fermented bean paste, honey and sesame, which permeates the meat and skin.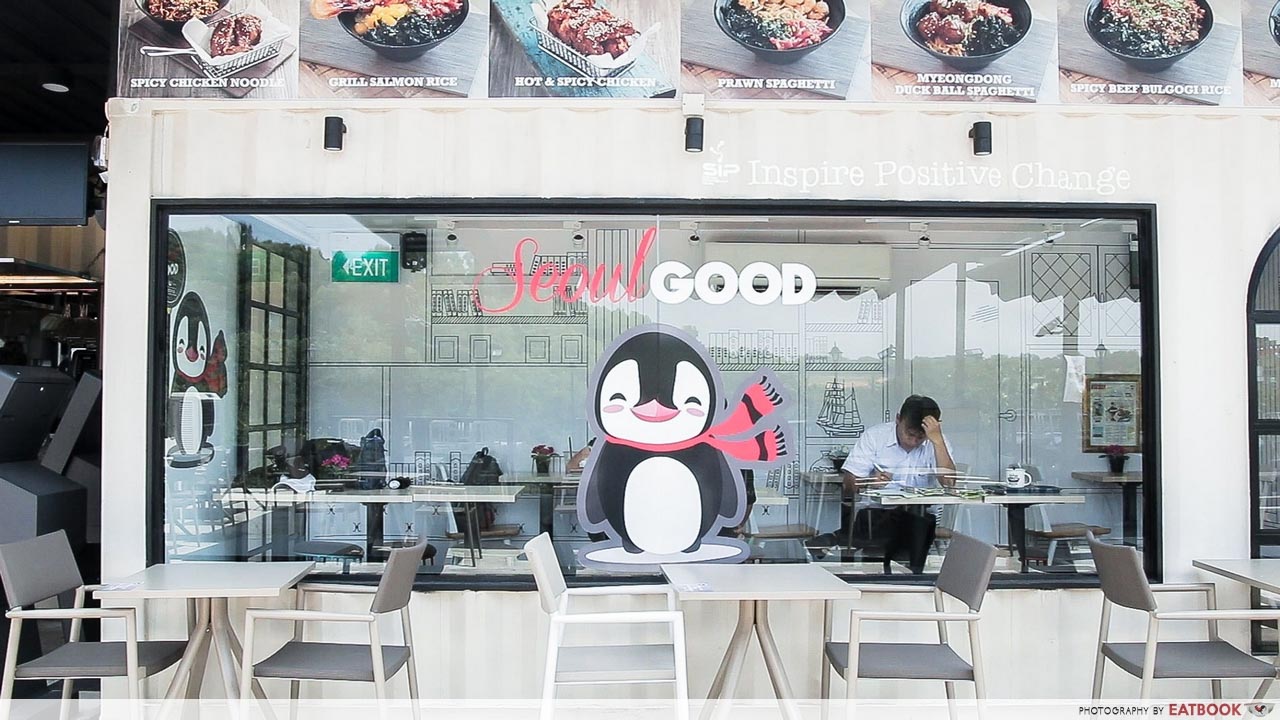 The Oreo With Ice Cream Milk Base Bingsu ($17.90) isn't exactly light on the wallet, but it is big enough for two to share. Almost all the ingredients are imported from Korea, and it translates into the quality of the dishes. 
Check out our full review of Seoul Good.
Address: 50 Punggol East, #01-K36, Singapore 828826
Opening hours: Sun-Thur 12pm to 10pm, Fri-Sat 12pm to 1am
Website
Seoul Good is not a halal-certified eatery.
---
24. Whisk & Paddle
---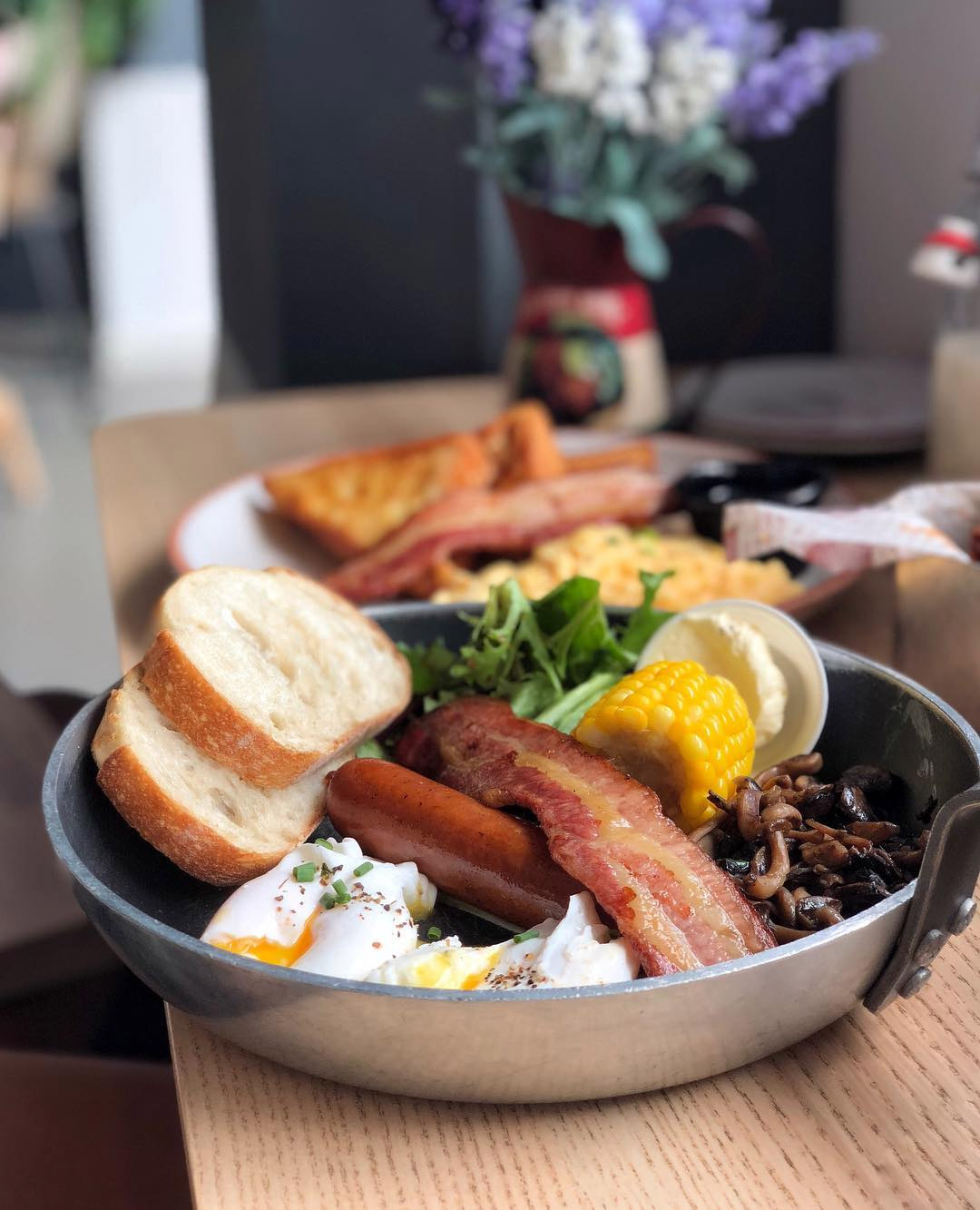 Image credit: @itstheben
Whisk & Paddle is a great North-East cafe to get away from it all and unwind. When the scenic alfresco area gets too hot for your liking, head inside for a cosy and peaceful environment. It's a fab pit stop for bikers passing through Coney Island and Punggol Settlement, combining hearty grub with a stunning view.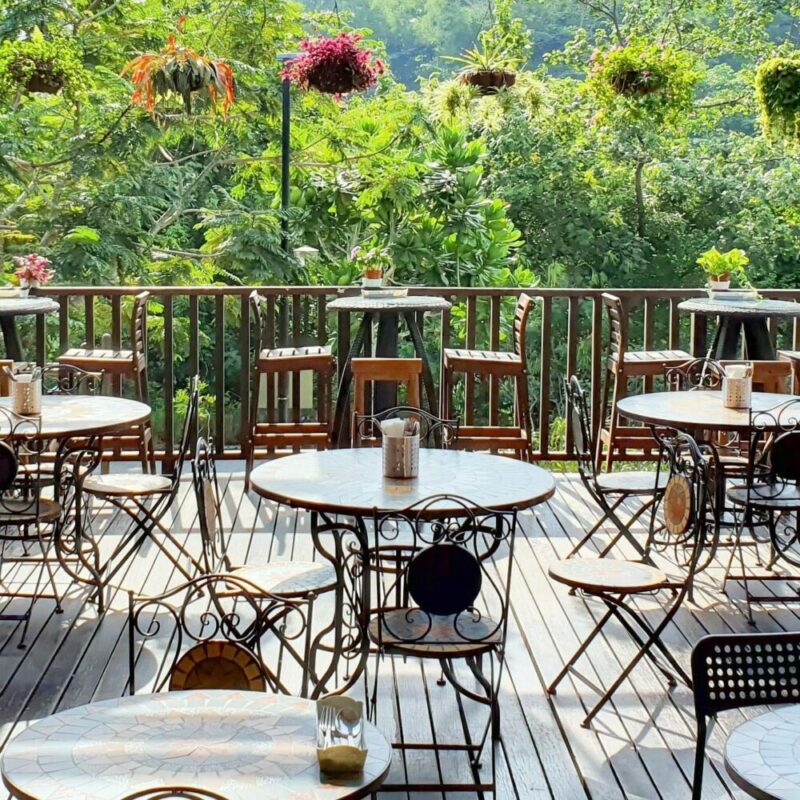 Image credit: Whisk & Paddle
There's a wide-ranging menu to choose from, mostly featuring standard brunch fare. The Whisk Breakfast Pan ($20.80++) is an all-time favourite, second to their Eggs Benedict ($14.80++).
Address: 10 Tebing Lane, Singapore 828836
Opening hours: Tue-Thurs 12pm to 10pm, Fri 12pm to 10:30pm, Sat 9:30am to 10:30pm, Sun 9:30am to 10pm
Tel: 6242 4617
Website
Whsik & Paddle is not a halal-certified eatery.
---
Check out these North-East cafes
---
If you're looking for an area to host a chill day of cafe hopping with your pals, the North-East is as good as any. Check out these North-East cafes the next time you're looking to hang out with the friends or fam over quality coffee and brunch fare.
For more cafes, check out our guide to the best cafes in Singapore for brunch. We've also got lists of cafes in the East and cafes in the West for you!
20 Cafes In Singapore For Brunch And Desserts, Including Glasshouse And Minimalist Cafes