---
Charming North-East cafes to chillax
---
The demand for elegant yet comforting brunch spots in Singapore is high as ever, with cosy cafes found all around Singapore. The North-East has a fair share too, with plenty of cool joints that leverage on their remote locations to craft unique and picturesque brunch experiences.
From Serangoon to Punggol, discover 10 North-East cafes that will inspire you to ditch Tanjong Pagar and Tiong Bahru on your next cafe hopping adventure.
---
1. Soek Seng 1954 Bicycle Cafè
---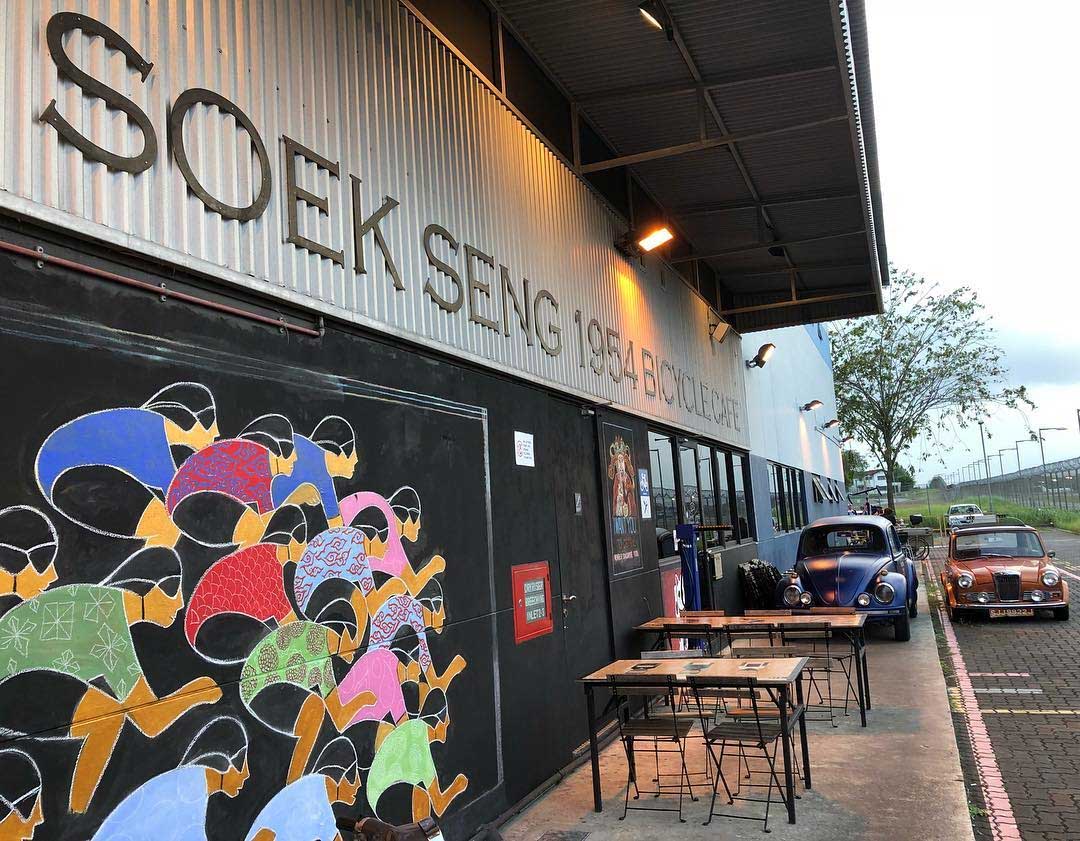 Image credit: @shirs38
Going to Soek Seng 1954 Bicycle Cafè makes you feel like you've left Singapore, as it's right next to Seletar Airport's runway. If you thought Wheeler's Yard was bicycle-themed, this place takes it to a whole new level, as bicycle-featuring art and vintage bicycles hang on the walls. With its dark interior, this sleepy cafe is reminiscent of an izakaya owned by a Tour de France winner.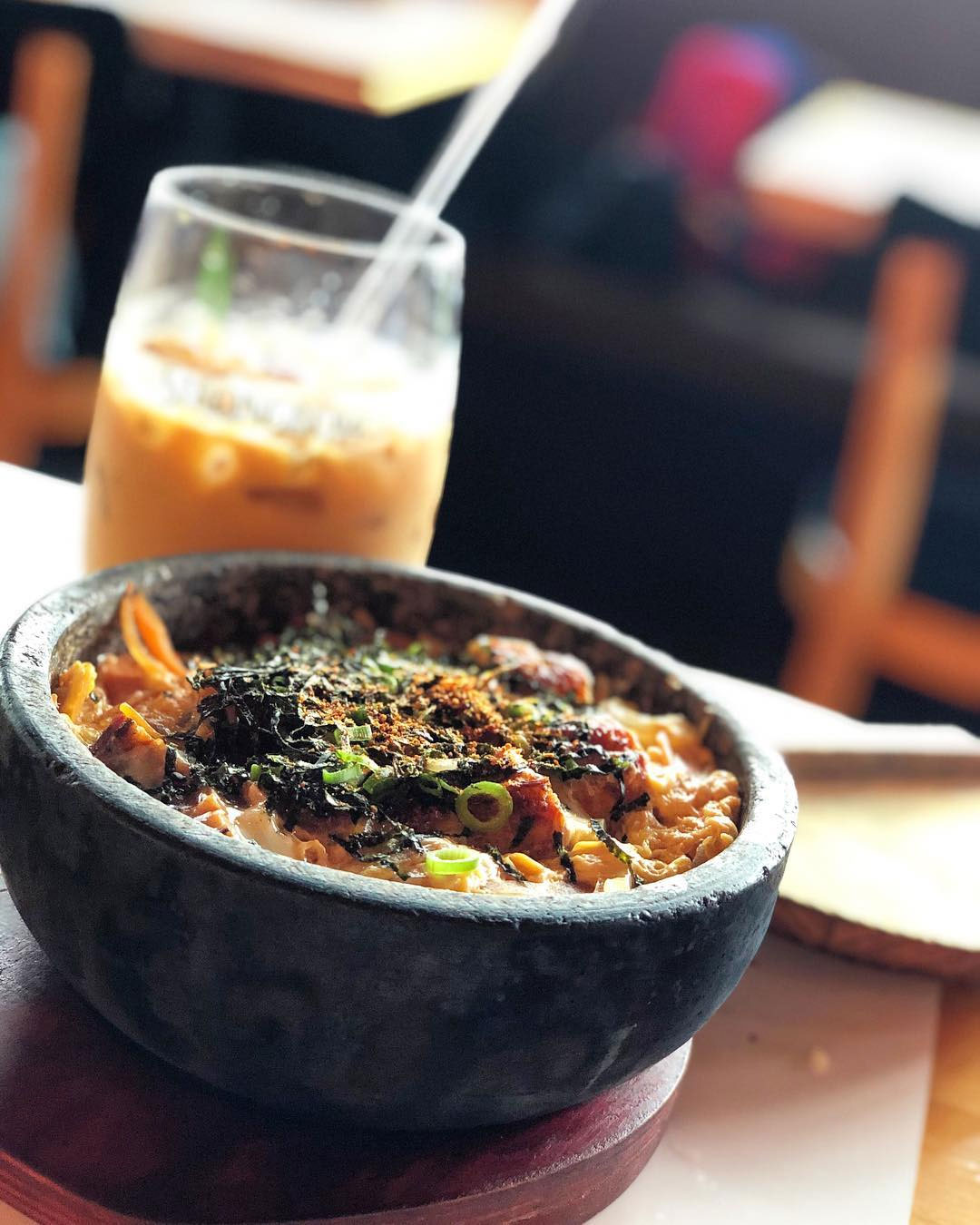 Image credit: @evie71
Skyrocketing prices are making cafe hopping increasingly less accessible for students on a shoestring. But budget-conscious aspiring cafe hoppers can find solace here, as affordable bowls like Katsudon ($7.80) are available at nett prices. With a juicy chicken cutlet and a generous portion of Japanese rice, this is as value-for-money as it gets for cafe fare in Singapore.
Dishes with local flair are also available, such as Beef Rendang ($10.80), which comes with achar and yellow rice, so you can stay rooted in Singapore while watching planes jet off from the adjacent runway.
Address: 80 Seletar Aerospace View, #01-01. MAJ Aviation Building, Singapore 797563
Opening hours: Tue-Thur 10am to 10pm, Fri-Sat 10am to 11pm, Sun 10am to 10pm
Tel: 6659 6124
Website
---
2. Lickers
---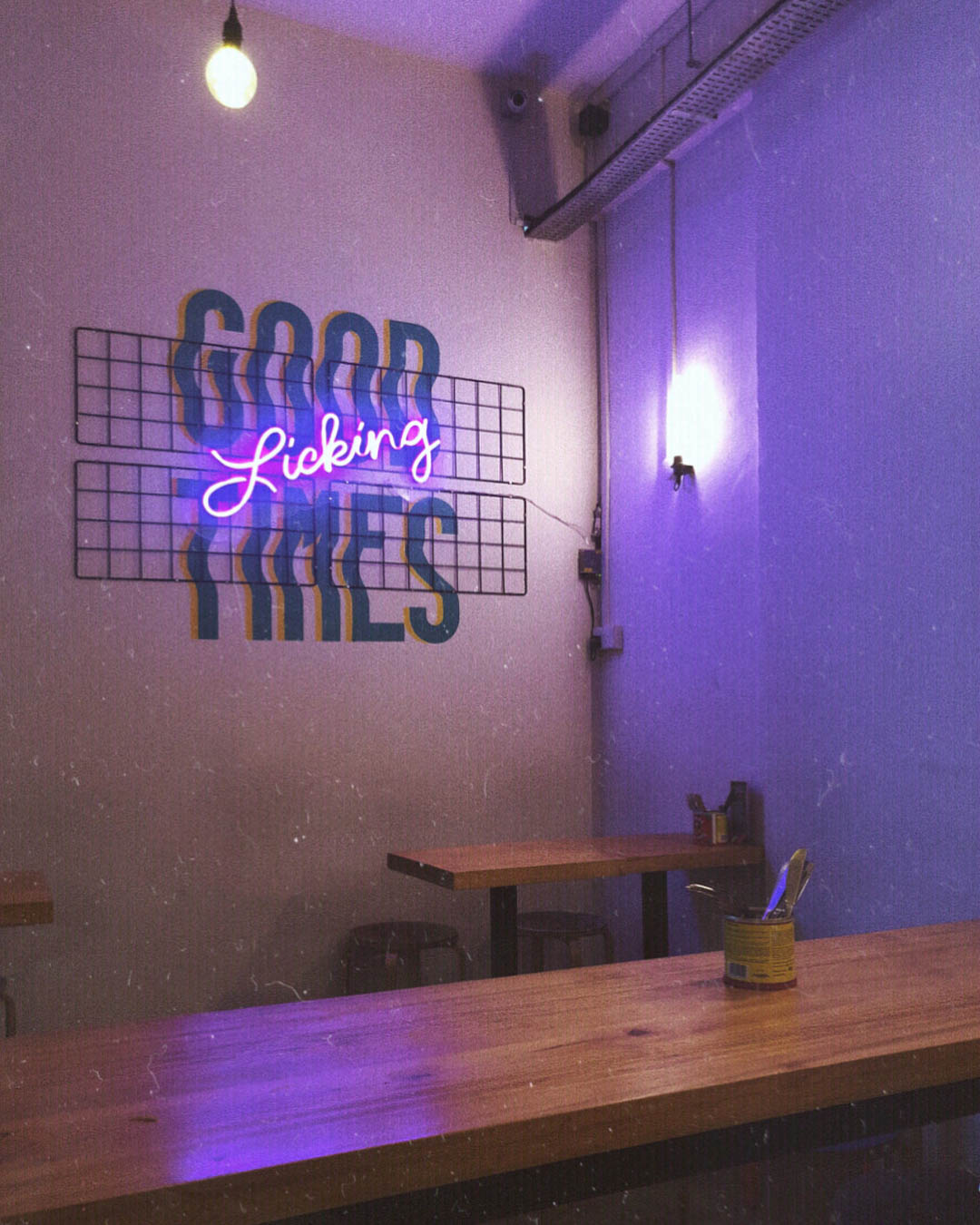 Image credit: @feeeyawn
Lickers is a chameleon of a cafe. In the daytime, this ice-cream parlour is bright and cheerful, sporting cute, family-friendly decor. At night, it morphs into a different being, as dim lighting and neon signs with cheeky taglines give a cool urban vibe to the space.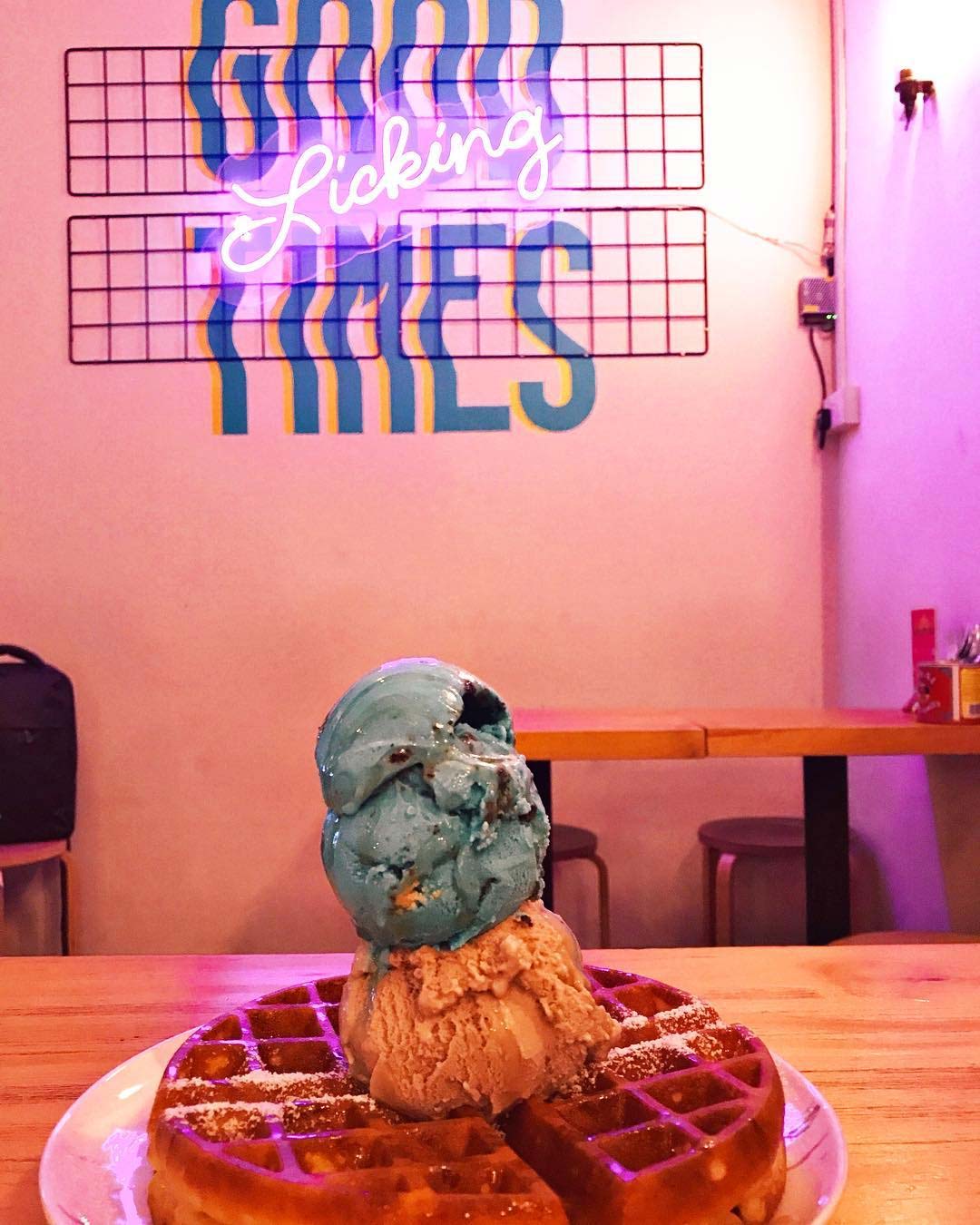 Image credit: @ohmy.aesthetics
Classic flavours like Earl Grey and Dark Chocolate ($3.80 for a single scoop, add $0.80 for premium flavours) are of course available. But if you're feeling bold, there's a multitude of unique flavours too. Most famous is the Yakult Oreo, which combines two Singaporean childhood favourites. The tangy yakult and sweet Oreo jive unexpectedly well, and are even better stacked on a Waffle (from $10 with two scoops of ice-cream). Good licking times indeed.
Address: 124 Hougang Avenue 1, #01-1446, Singapore 530124
Opening hours: Tue-Thur 1pm to 2am, Fri-Sun 12pm to 2am
Website
---
3. Wimbly Lu
---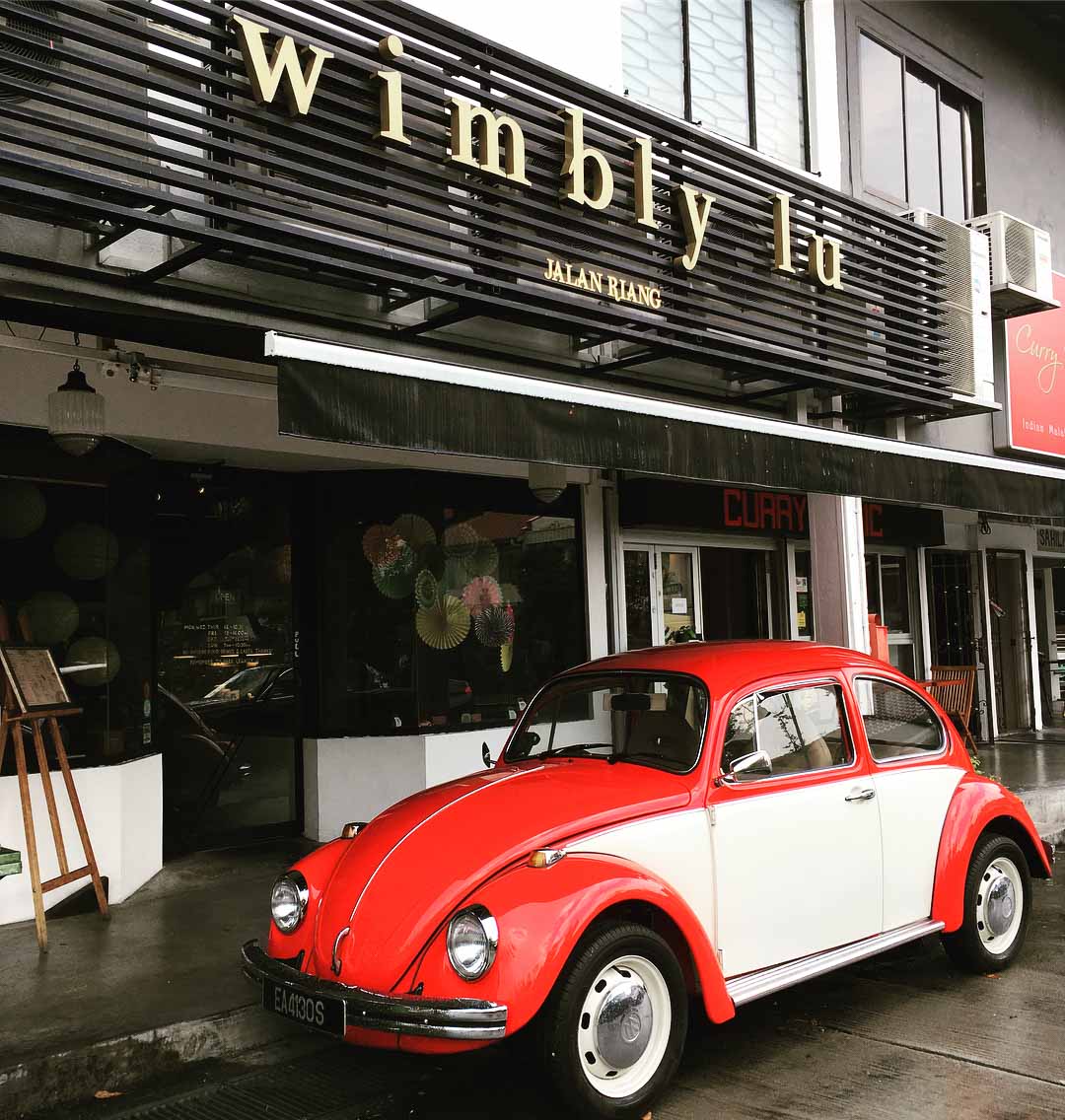 Image credit: @necomaru0120
The oddly-named Wimbly Lu cafe is a maverick in the North-East cafe scene, operating in a sleepy Serangoon neighbourhood since 2013. The interior mixes warm colours with natural light from a sunroof to create a cosy, homely atmosphere. Combined with the vintage VW Beetle sentried outside, there's a distinctly retro vibe around this place.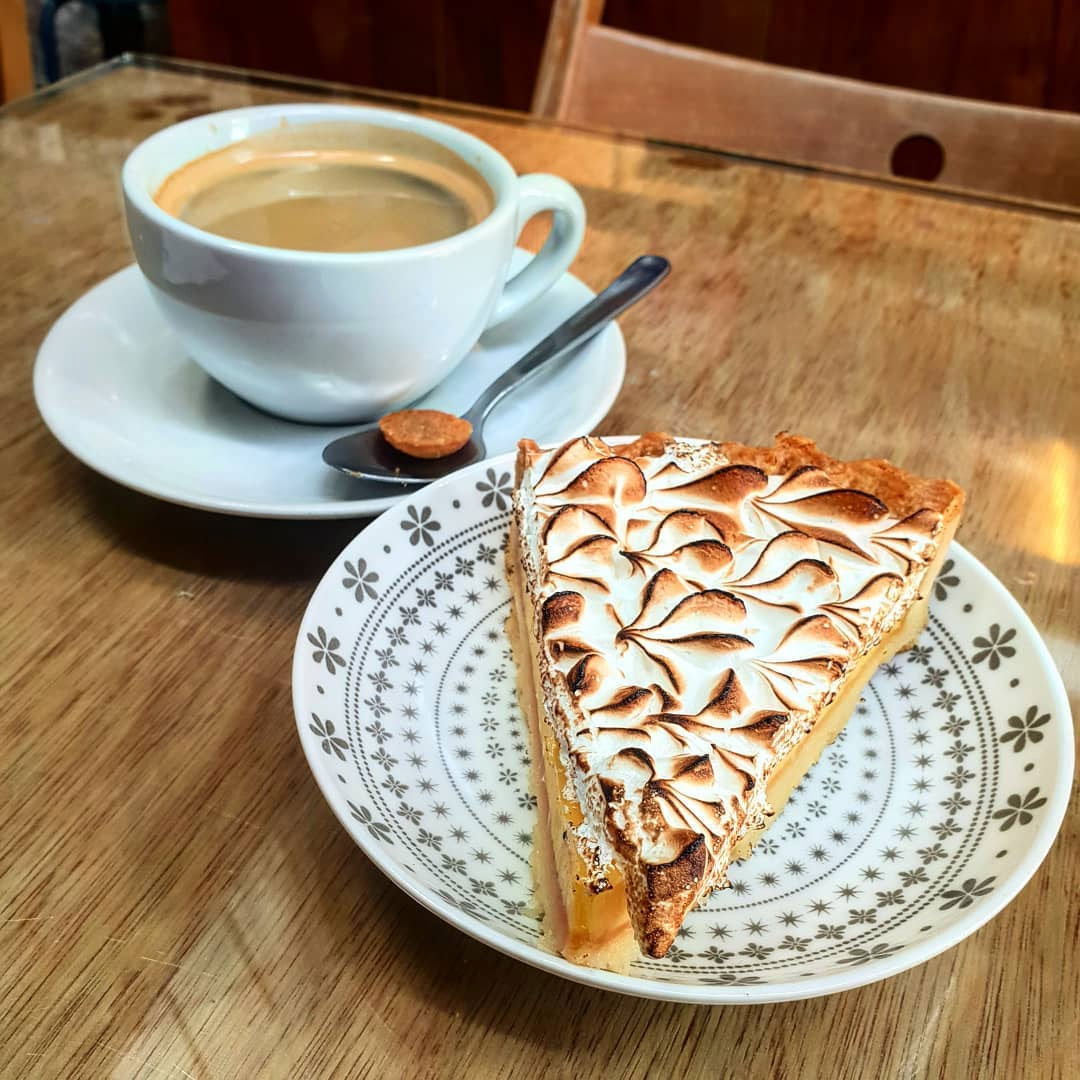 Image credit: @drew_luvs_vic
While savoury dishes like Garlic Mushroom & Mozzarella Crepe ($10++) and Seafood Baked Rice ($12++) are available, their sweet treats are the real attraction. Lemon Meringue Pie ($7++) is a veritable classic, but the Root Beer Float Cake ($6++) and Rachel's Earl Grey Mousse Cake ($6++) are more nouveau bakes that catches the eye.
Address: 15-2 Jalan Riang, Singapore 358987
Opening hours: Mon 12pm to 10:30pm, Wed-Thur 12pm to 10:30pm, Fri 12pm to 11pm, Sat 9pm to 11pm, Sun 9am to 10:30pm
Tel: 6289 1489
Website | Full list of outlets
---
4. Wildseed Cafe & Bar
---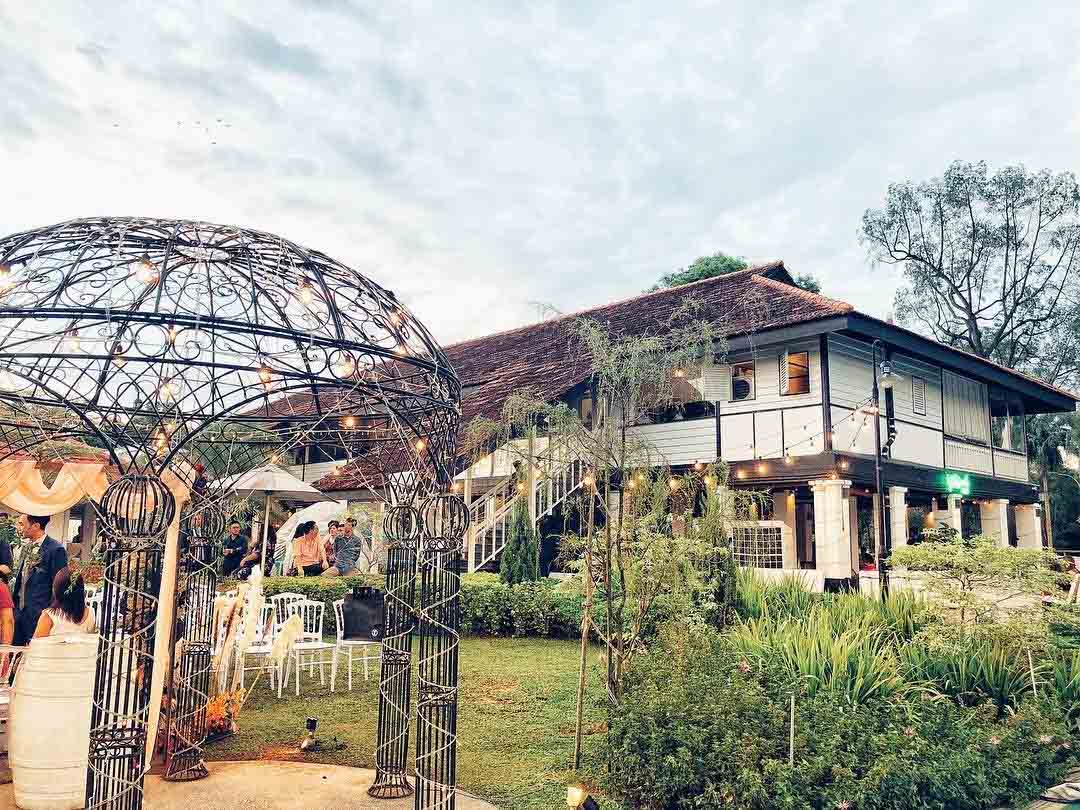 Image credit: @ngweelee
Surrounded by beautiful lush gardens, the botanically-themed Wildseed Cafe & Bar is tucked inside the ulu Seletar Aerospace Park. The scenery itself is worth a trip, with verdant greens enveloping the colonial building that houses the cafe. It's not all for show though, as the cafe adopts a farm-to-table concept, utilising ingredients that are freshly harvested from the gardens.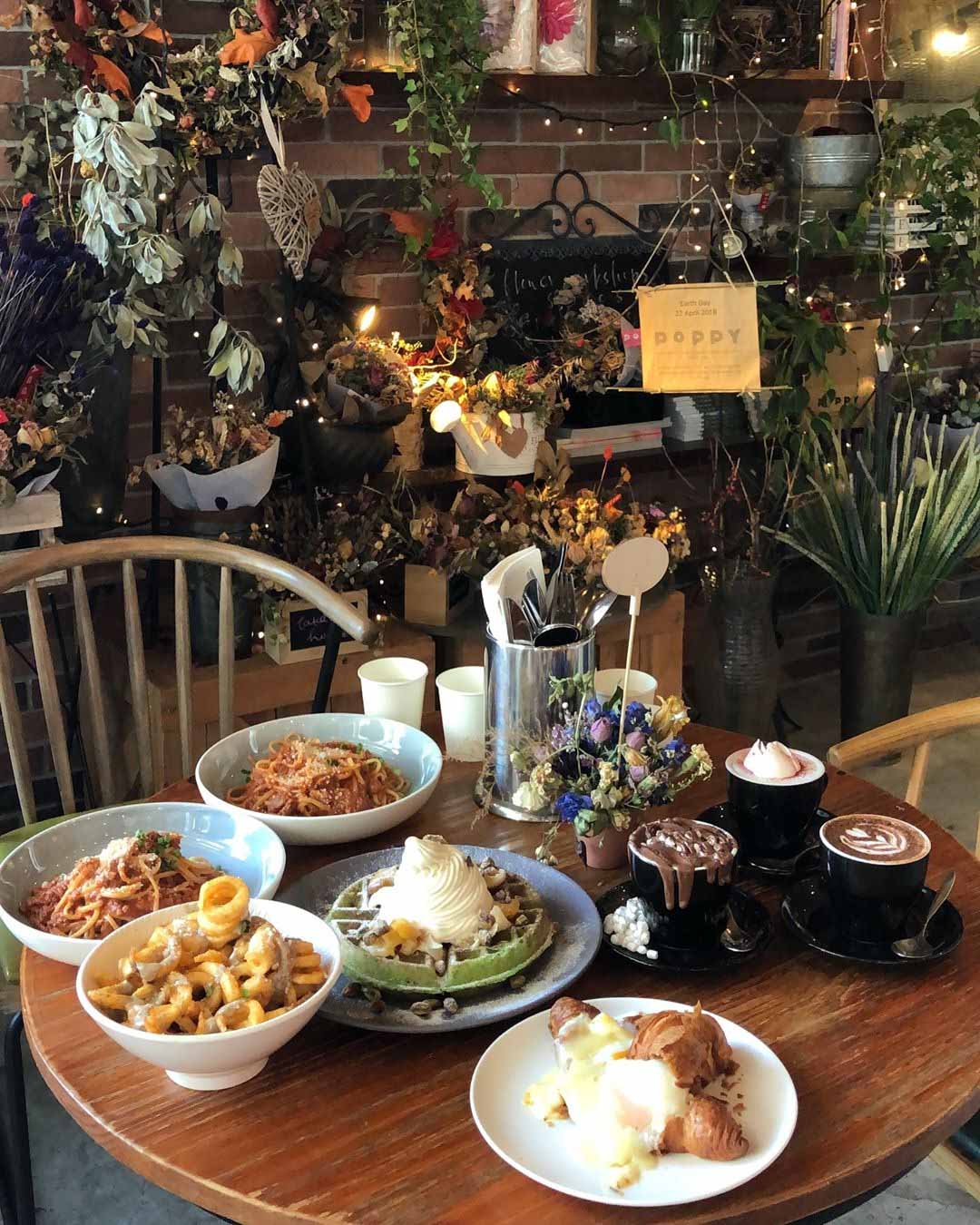 Image credit: @jigglytummy
Inside, there's a good balance between routine cafe fare and innovative dishes. Their Pulled Pork Burger ($20++) caters to the less adventurous, but Wagyu Beef Pie ($14++) and Coconut Pea Flower Shortcake ($7.50++) elicit an eyebrow raise as you pore through the menu. 
At night, Wildseed morphs into a laid-back and picturesque bar and grill, where you can knock back some booze and admire the atmosphere as dusk falls.
Address: 3 Park Lane, Seletar Aerospace Park, Singapore 798387
Opening hours: Mon-Fri 9am to 6pm, Sat-Sun 8:30am to 6pm
Tel: 9643 9116
Website
---
5. Lola's Cafe
---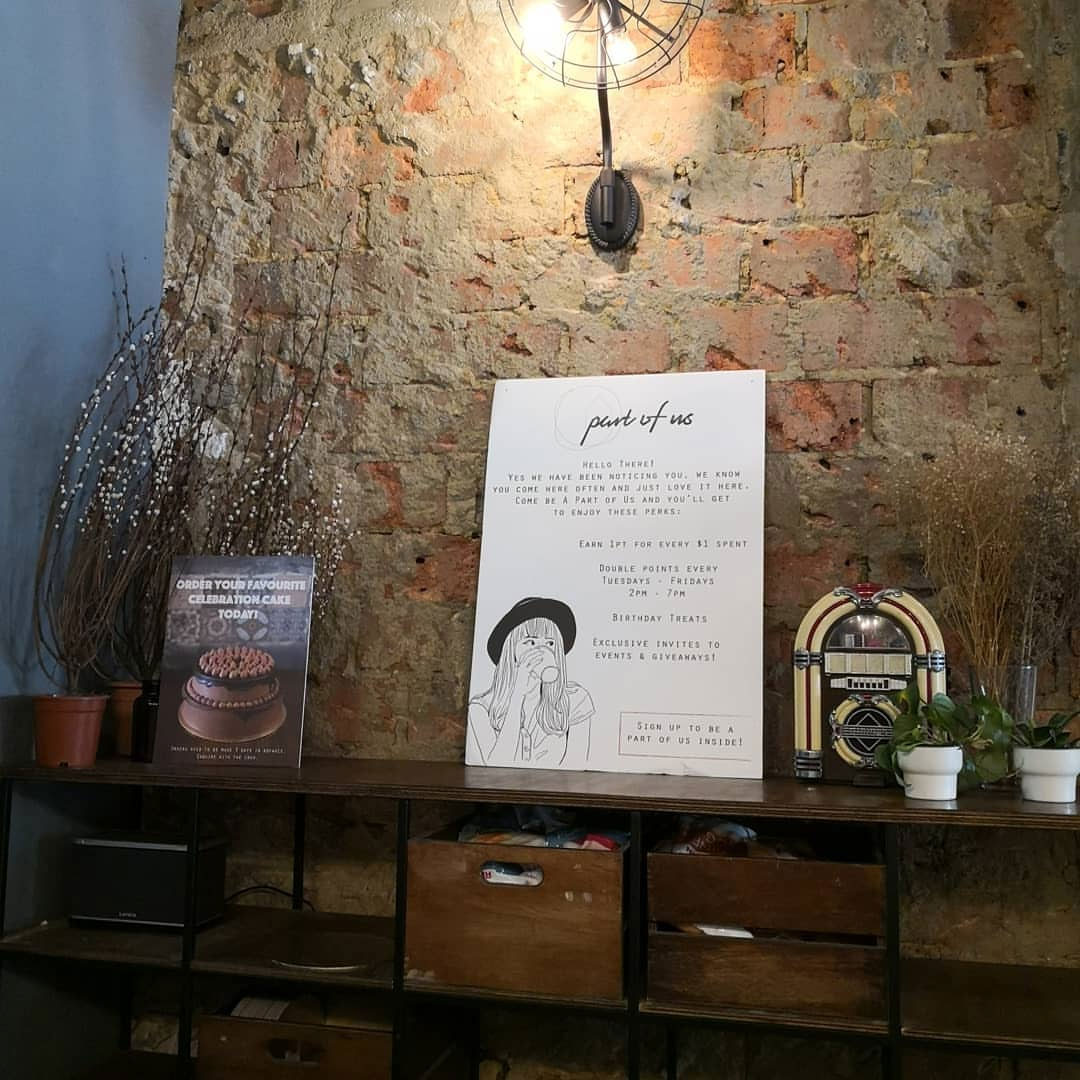 Image credit: @laimrslai
Nearby inhabitants will invariably be acquainted with Lola's Cafe, an absolute stalwart in the North-East cafe scene. Located near Kovan MRT, Lola's provides a casual family environment, while serving up simple comfort food. It comes as no surprise that this homely joint is packed to the rafters on weekends. Expect to queue for up to an hour during peak periods.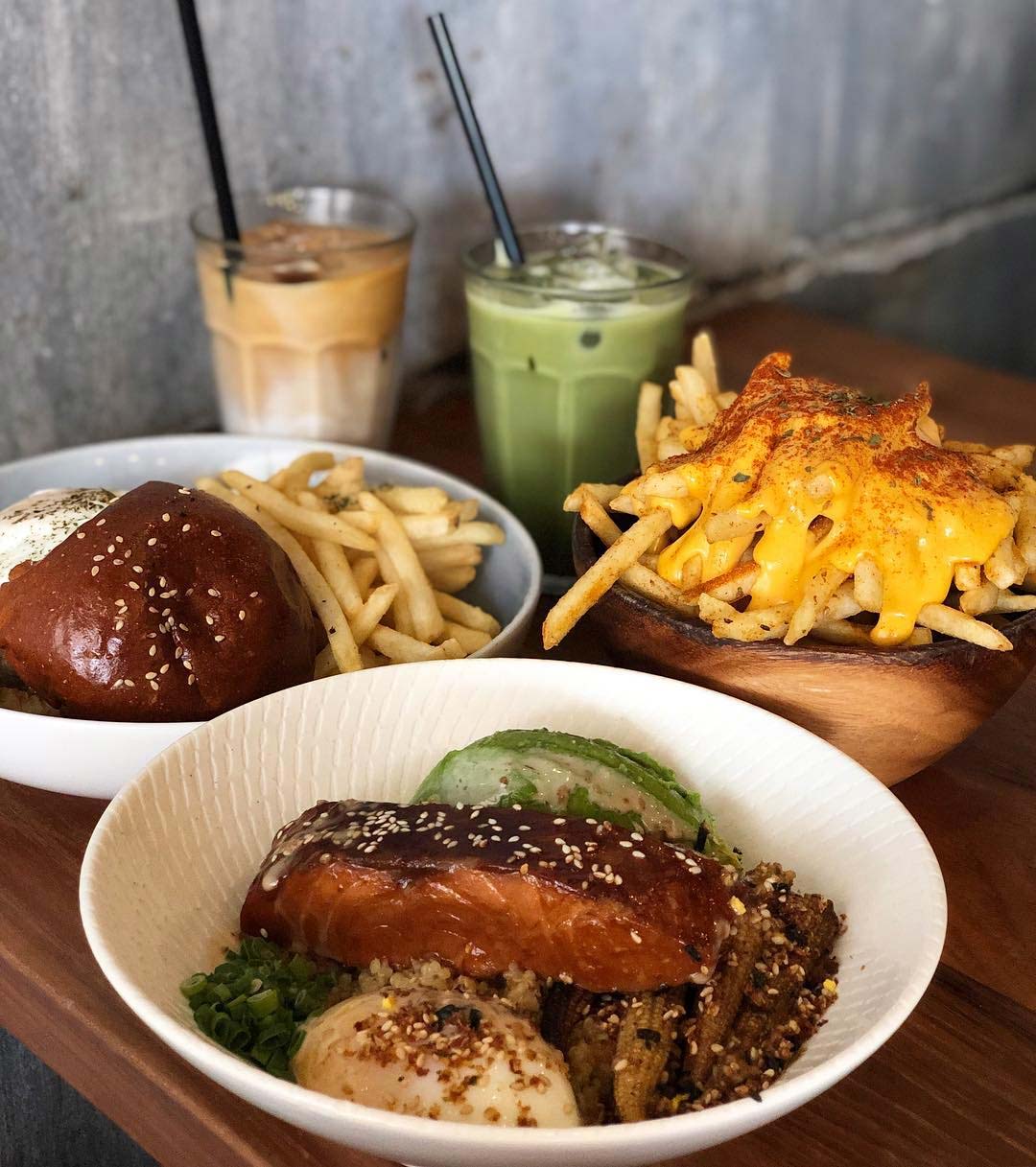 Image credit: @julovessashimi
For a non-British joint, their Bangers & Mash ($11+) is highly touted, featuring coarse pork sausages and mashed potatoes so fluffy you could fall asleep on them. The Miso Salmon Grain Bowl ($18+) is a shrewd choice for those who want to fill up while watching their waistline, while Lychee Rosewater Cake ($6.50+) is a good option for those looking to satiate their sweet tooth.
Address: 5 Simon Road, Singapore 545893
Opening hours: Tue-Thur 10am to 11:30pm, Fri-Sat 10am to 12am, Sun 10am to 11:30pm
Tel: 6284 0349
Website
---
6. Wild Blooms
---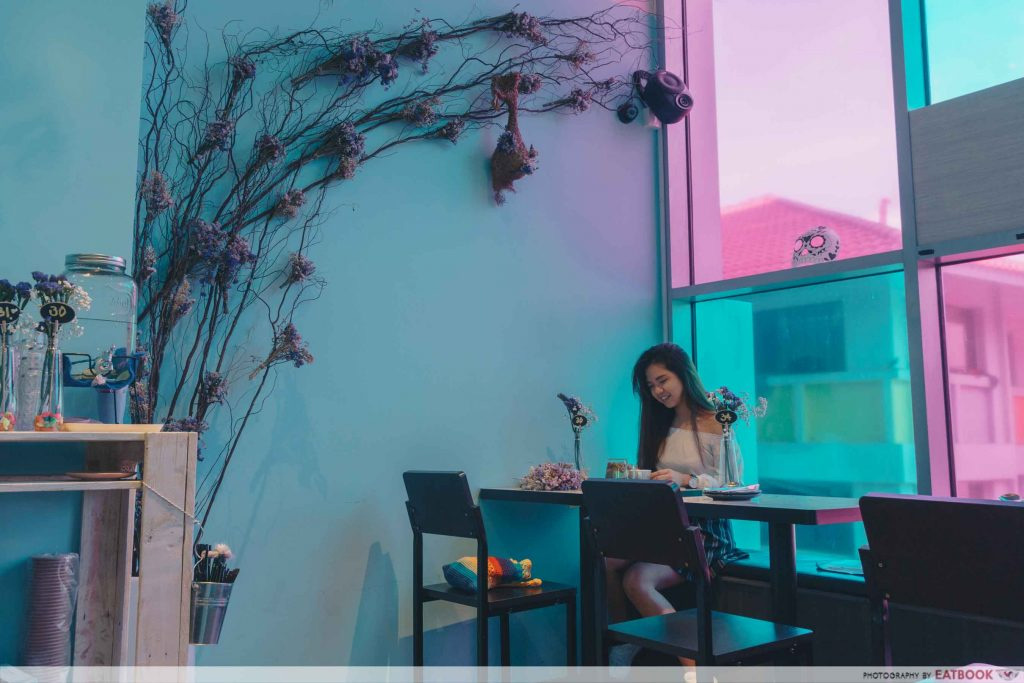 Wild Blooms is a Hougang cafe that's every IG influencer's dream. A turquoise-and-blue colour scheme, large tinted windows, and dried flowers galore impart a whimsical aesthetic to this eatery. As the name suggests, flowers are taken pretty seriously here, as the owners dehydrate their floral decorations themselves. There's even an incredible four-metre wall covered entirely by flowers!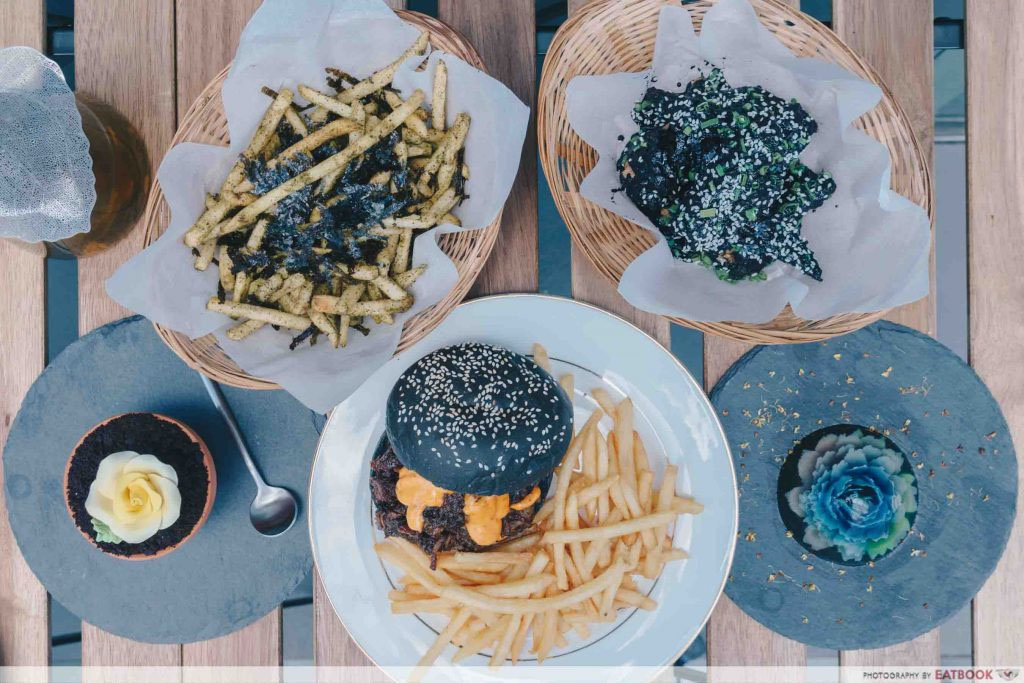 The food is no slouch too. The jet-black Charcoal Wings ($10.90 for six) look like the product of an illegal scientific experiment. Fear not, it's not a mutant chicken, but chicken wings coated in a spicy squid ink glaze and dotted with sesame seeds and spring onions. Its sweet and spicy flavour is reminiscent of Korean fried chicken.
The Flower Tea Jelly Cake ($12.90) by The Utopian Botanist is a visual marvel. This breathtaking dessert features a blue peony encased by cold-brewed flower tea. It is so beautiful, you'll be reluctant to eat it.
Check out our full review of Wild Blooms!
Wild Blooms Review: Instaworthy Flora-Themed Cafe Serving Korean Spicy Burger And Seaweed Fries
Address: 1187 Upper Serangoon Road, #01-01, The Midtown Residences, Singapore 534785
Opening hours: Tue-Thur 11am to 11pm, Fri-Sat 11am to 12am, Sun-Mon 11am to 9pm
Tel: 9191 9722
Website
---
7. Arbite
---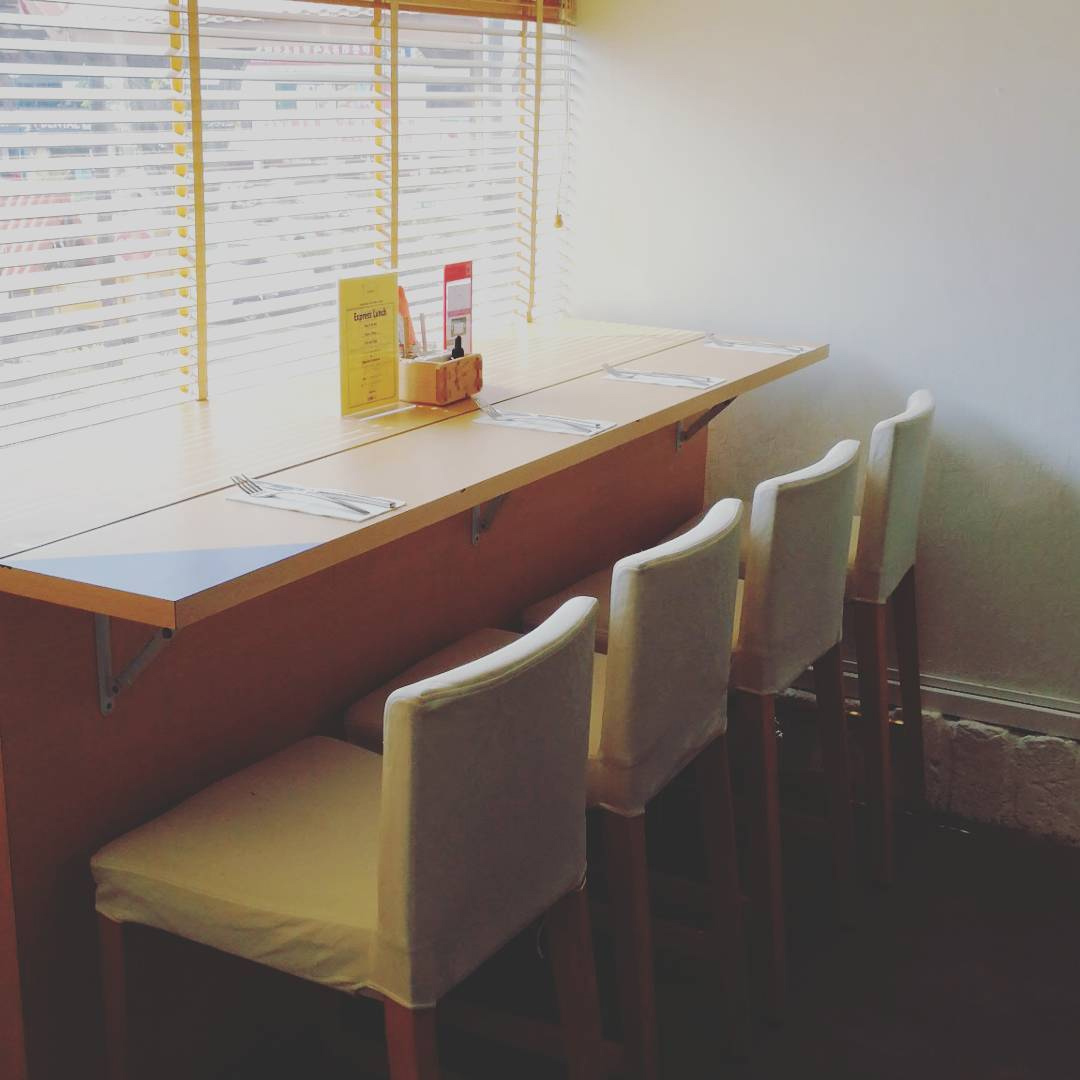 Image credit: @arbite_
Armed with a minimalist white aesthetic, Arbite is a European-inspired cafe situated above a pharmacy in Serangoon Gardens. The name is a pun on arbeit, the German and Danish word for "work", showcasing the owner's stout commitment to providing a warm cafe experience.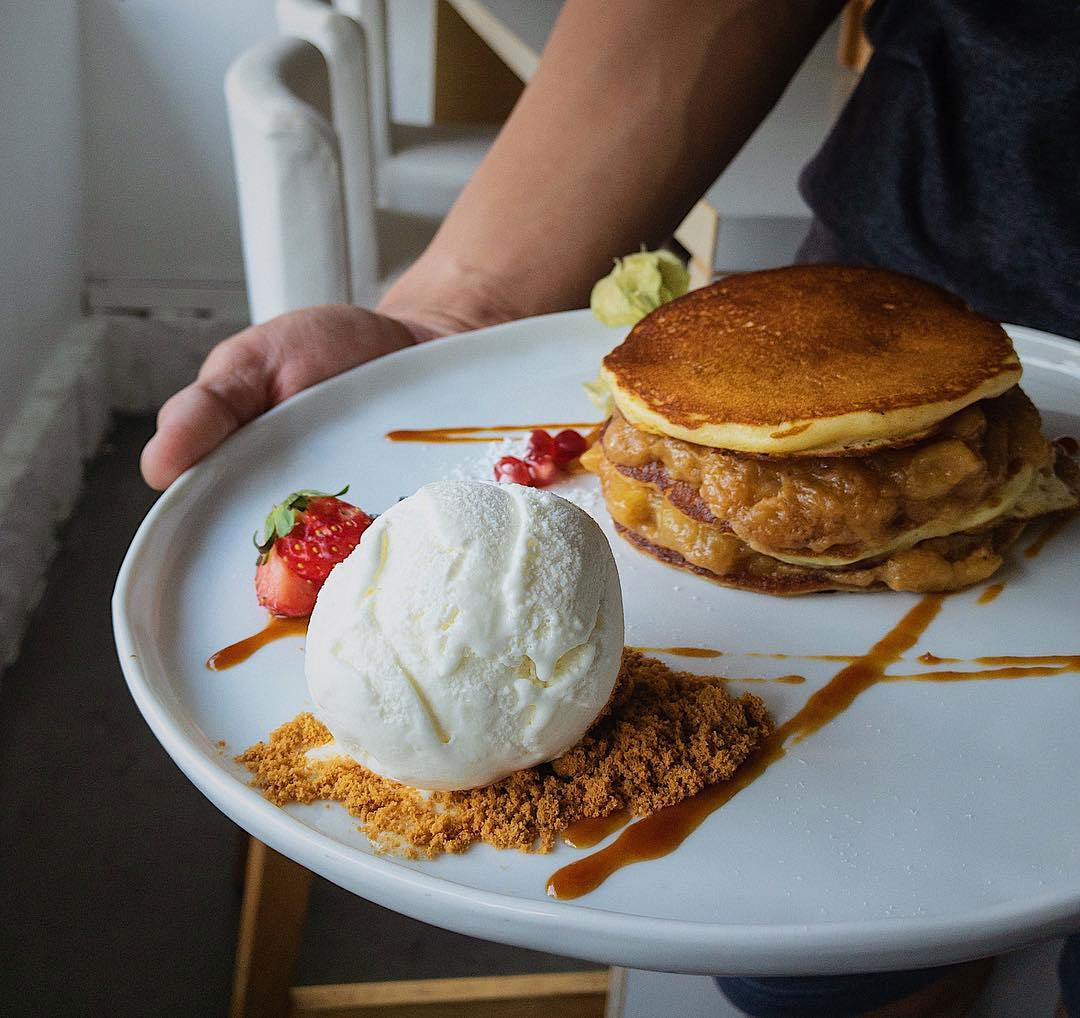 Image credit: @emmanuelfoodie
Asian influences peek through in their predominantly European dishes, such as their famous Quorn Benedict ($12++). Quorn is a vegan meat substitute, and this dish features it as the base of an eggs Benedict rendition, complete with gochujang hollandaise. Peranakan diners will have their heads turned by the Ayam Buah Keluak Kueh Pie Ti ($8++ for five), an amalgamation of two Peranakan favourites.
Their sweets are nothing to scoff at too, as their Pancakes with Caramel and Banana ($12++) are headlined by fluffy buttermilk pancakes and a luscious banana-salted caramel compote.
Address: 66A Serangoon Garden Way, Singapore 555962
Opening hours: Sun-Thur 9am to 7pm, Fri-Sat 9am to 9pm
Tel: 9456 3807
Website
---
8. Seoul Good
---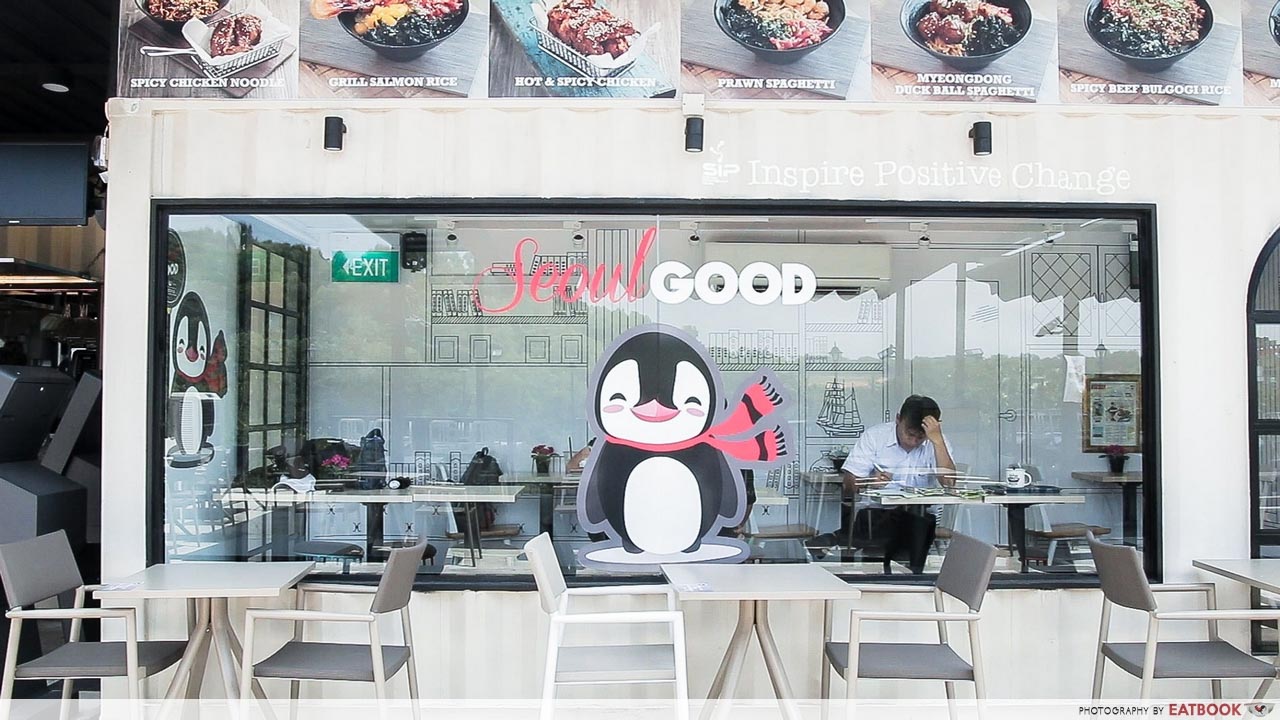 An unlikely cafe fashioned out of an old container, Seoul Good dishes out Korean cafe grub in Punggol East. The interior is bright and pleasant, but there's limited indoor seating space. Turns out containers are great for storing lots of goods, but not loads of people.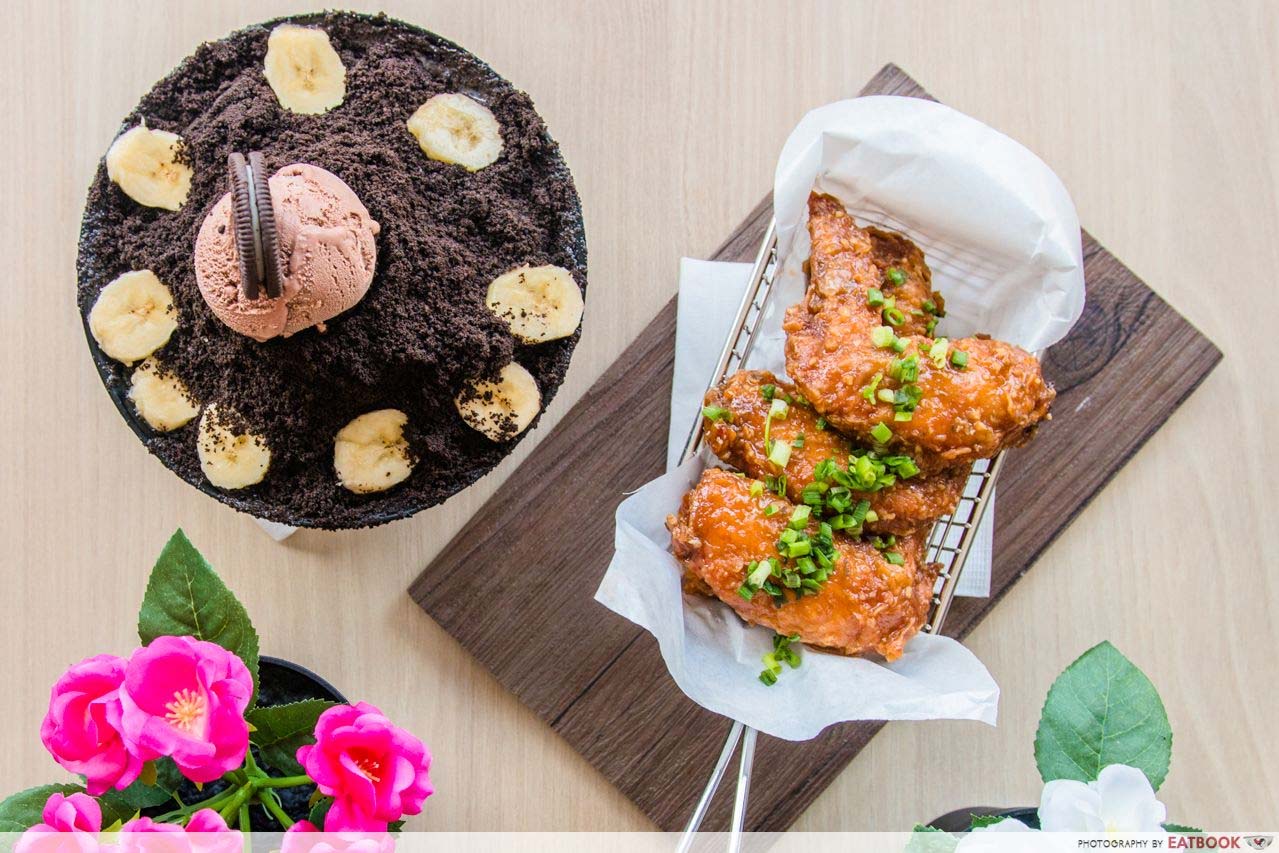 Fried Chicken is the premier Korean snack food. A heap of sticky and crispy wings is irresistible when done right. Their Seoul Good Signature Wings ($9.90 for six pieces) is slathered with a sauce made from fermented bean, honey and sesame, which permeates the meat and skin.
The Oreo With Ice Cream Milk Base Bingsu ($17.90) isn't exactly light on the wallet, but it is big enough for two to share. Almost all the ingredients are imported from Korea, and it translates in the quality of dishes, with milky shaved ice and rich chocolate flavour.
Check out our full review of Seoul Good.
Seoul Good Review: Korean Fried Chicken And Bingsu Cafe At A Container Park In Punggol
Address: 50 Punggol East, #01-K36, Singapore 828826
Opening hours: Sun-Thur 12pm to 10pm, Fri-Sat 12pm to 1am
Website
---
9. Hatter Street Bakehouse
---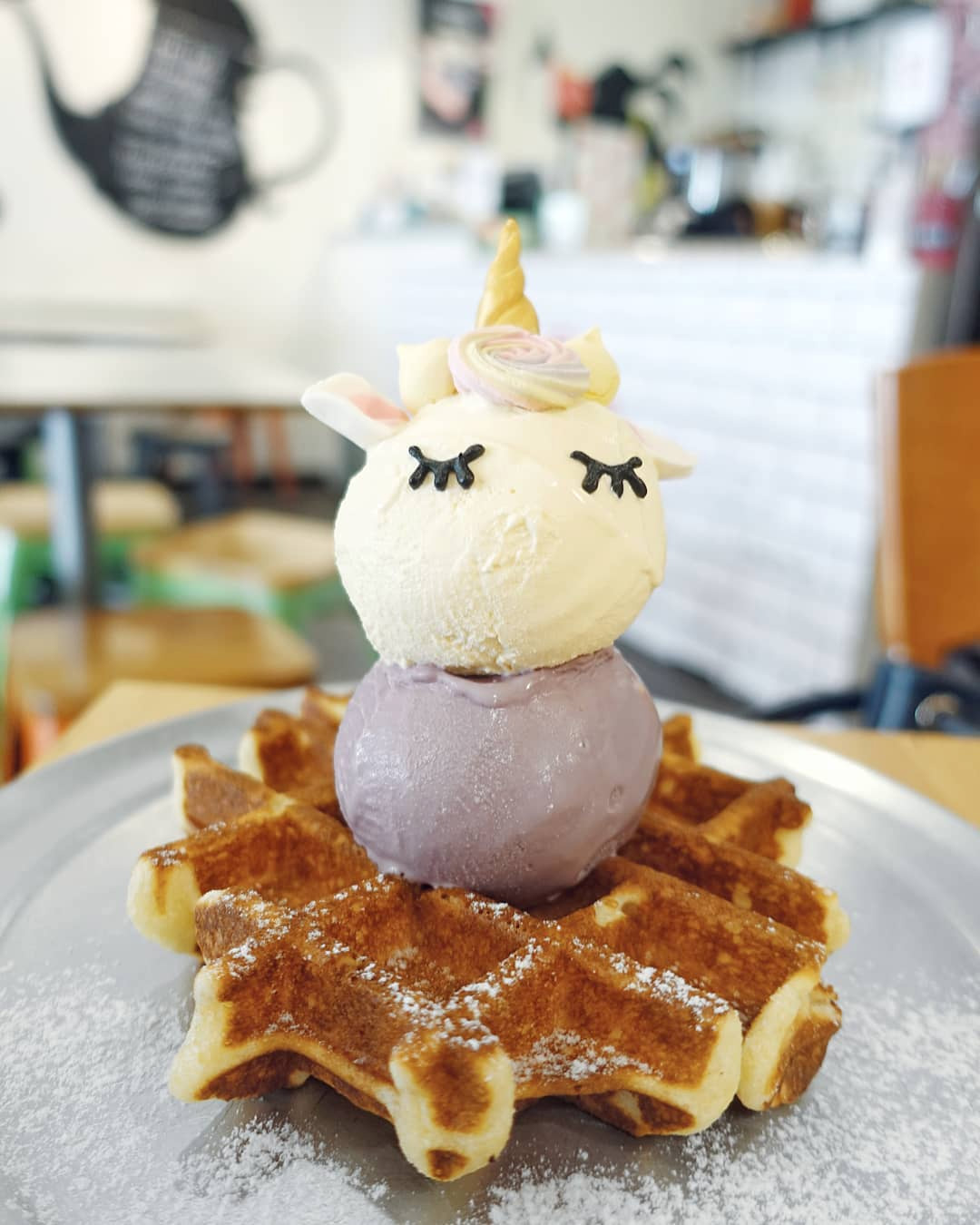 Image credit: @jandyjean
Alice in Wonderland fans will love Kovan's Hatter Street Bakehouse, which features quaint decor inspired by the classic movie. But the real attention-grabber is their adorable Unicorn Whoaffle ($14++). With marshmallow and lavender-white chocolate ice-cream adorning a crisp waffle, this is a dessert made for the camera.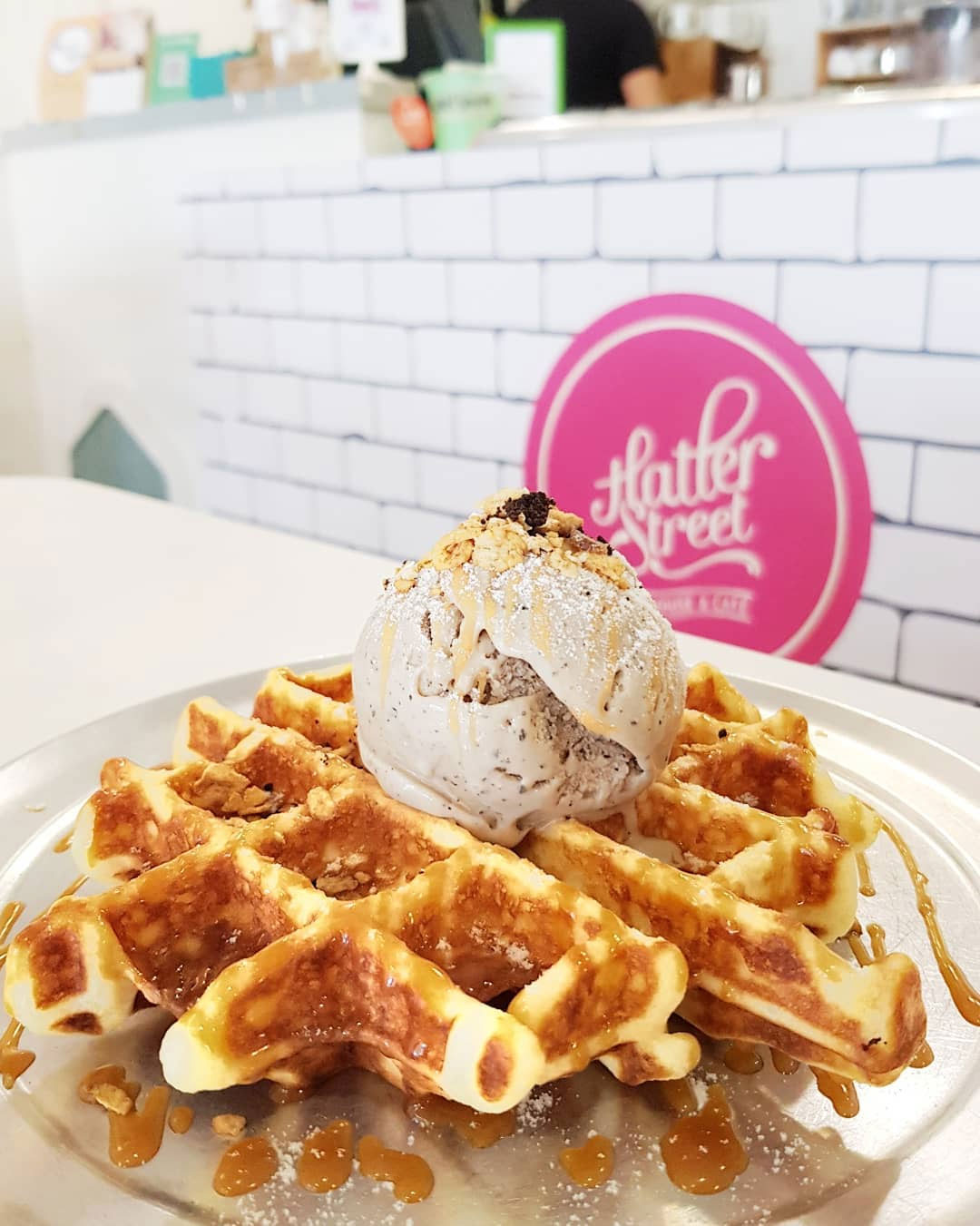 Image credit: @sandtsy
If you aren't into consuming mystical creatures for tea, you'll be glad to know that this cafe also has regular waffles. The Standard Whoaffle ($9.50) comes with a single ice-cream scoop of your choice, with flavours like Pandan and Rum Butterscotch Salted Pecan. The waffle has a crunchy crust and fluffy interior, a great accompaniment to ice-cream.
Address: 212 Hougang Street 21, #01-333, Singapore 530212
Opening hours: Tues-Sun 1pm to 10pm
Tel: 6988 4591
Website | Full list of outlets
---
10. Whisk & Paddle
---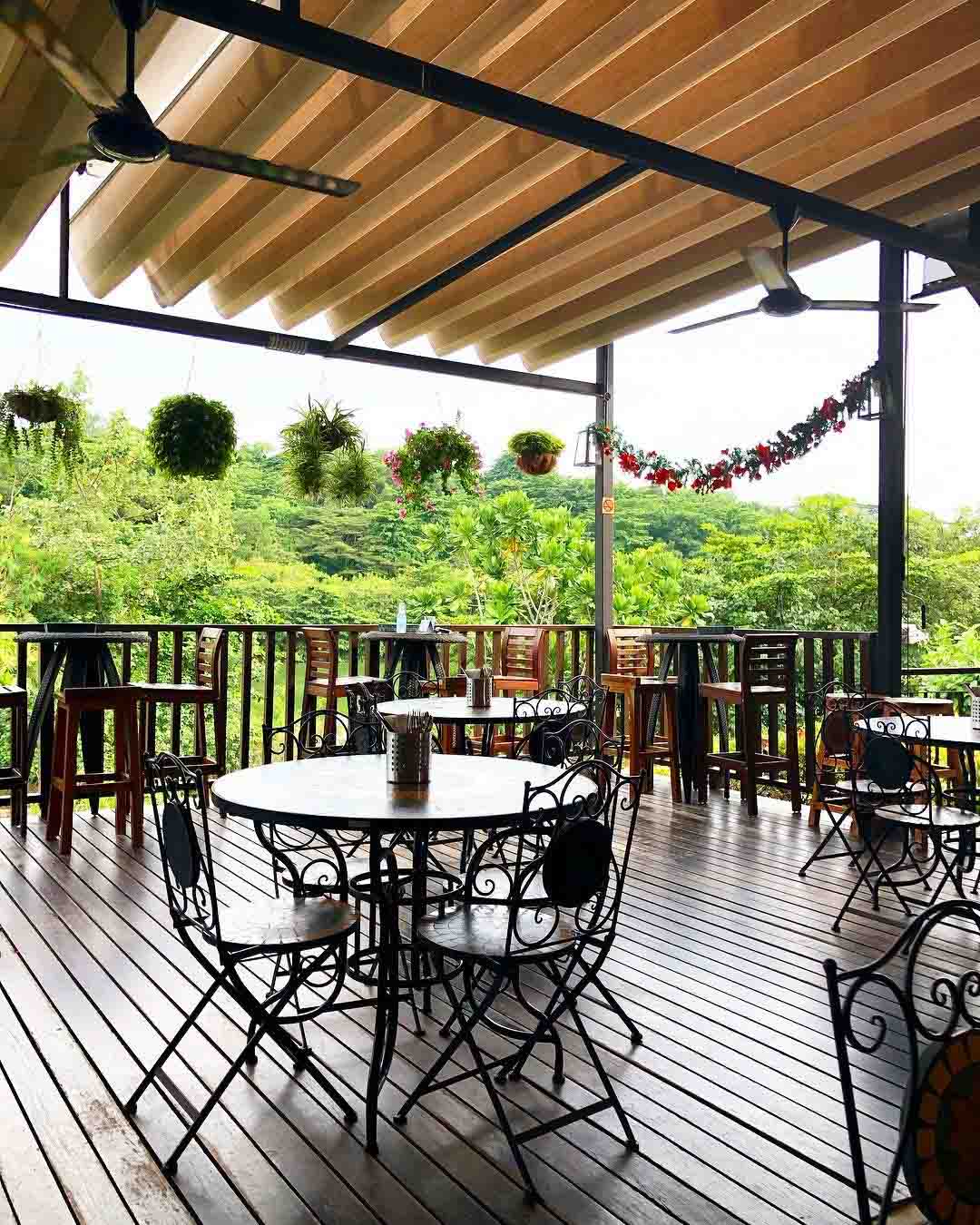 Image credit: @julovessashimi
Overlooking a river with resplendent flora and hidden from the city's hubbub, Whisk & Paddle is a great place to getaway from it all and unwind. When the scenic alfresco area gets too hot for your liking, head inside for a cosy and peaceful environment, lit up by a galaxy of fairy lights. It's a great pit stop for bikers passing through Coney Island and Punggol Settlement, combining hearty grub with a stunning view.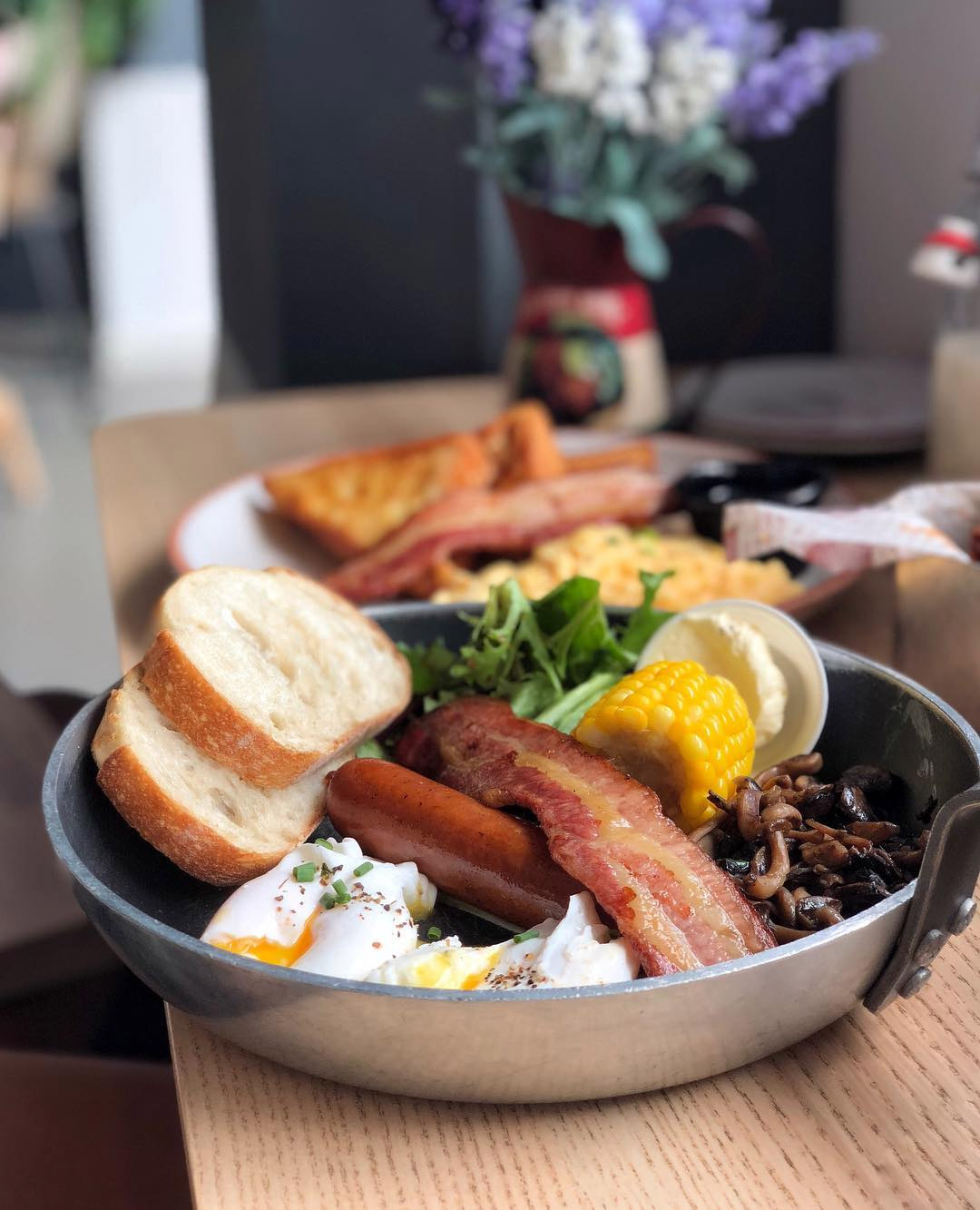 Image credit: @itstheben

There's a wide-ranging menu to choose from, mostly featuring standard brunch fare. The Whisk Breakfast Pan ($20.80++) is an all-time favourite. Thai food aficionados will gravitate towards the Thai milk tea-flavoured Cha Yen Krup ($9.80++), a parfait which includes a scoop of vanilla ice-cream and a Thai milk tea macaron.
Address: 10 Tebing Lane, Singapore 828836
Opening hours: Mon-Fri 3:30pm to 10:30pm, Sat-Sun 9:30am to 10:30pm
Tel: 6242 4617
Website
---
Get cafe hopping in the North-East
---
If you're looking for an area to host a chill day of cafe hopping with your pals, the North-East is as good as any. With a wide range of cafes from atas to affordable, there's a spot here to suit every palate in your clique.
If you are dreaming about a laid-back day of cafe hopping, but think that the North-East is too far out of your reach, check out our 10 best cafes in Singapore of 2018 and our review of Baristart Coffee.
10 Best Cafes In Singapore With Kimchi Mac & Cheese And More – Eatbook Top 50 Awards 2018
Share your favourite cafes in Singapore with us in the comments below!