The Better Scoop cafe in Serangoon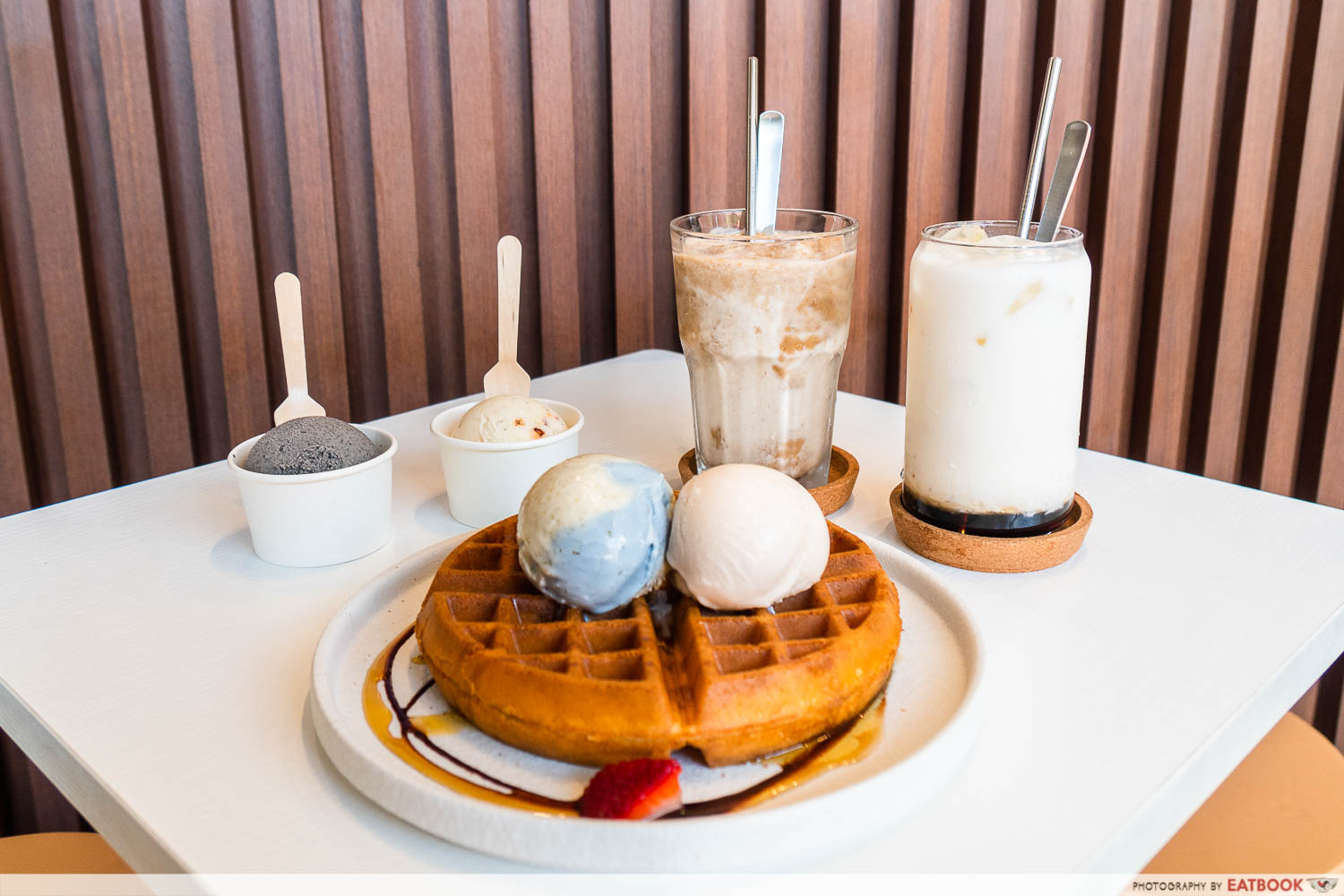 I've heard of mochi waffles, but never did I know about the existence of nian gao waffles until discovering The Better Scoop. They have two outlets islandwide, one located in Sembawang, and their newest one in Serangoon. Apart from their famous nian gao waffles, they have other old-school themed desserts including pi pa gao and mung bean lattes. 
Intrigued by their creativity, I was extremely excited to head to their Serangoon branch to try these innovative desserts. 
Mr Mee Hoon Kueh Review: Lor Bak And Bolognese Handmade Noodles At Serangoon Gardens
Food at The Better Scoop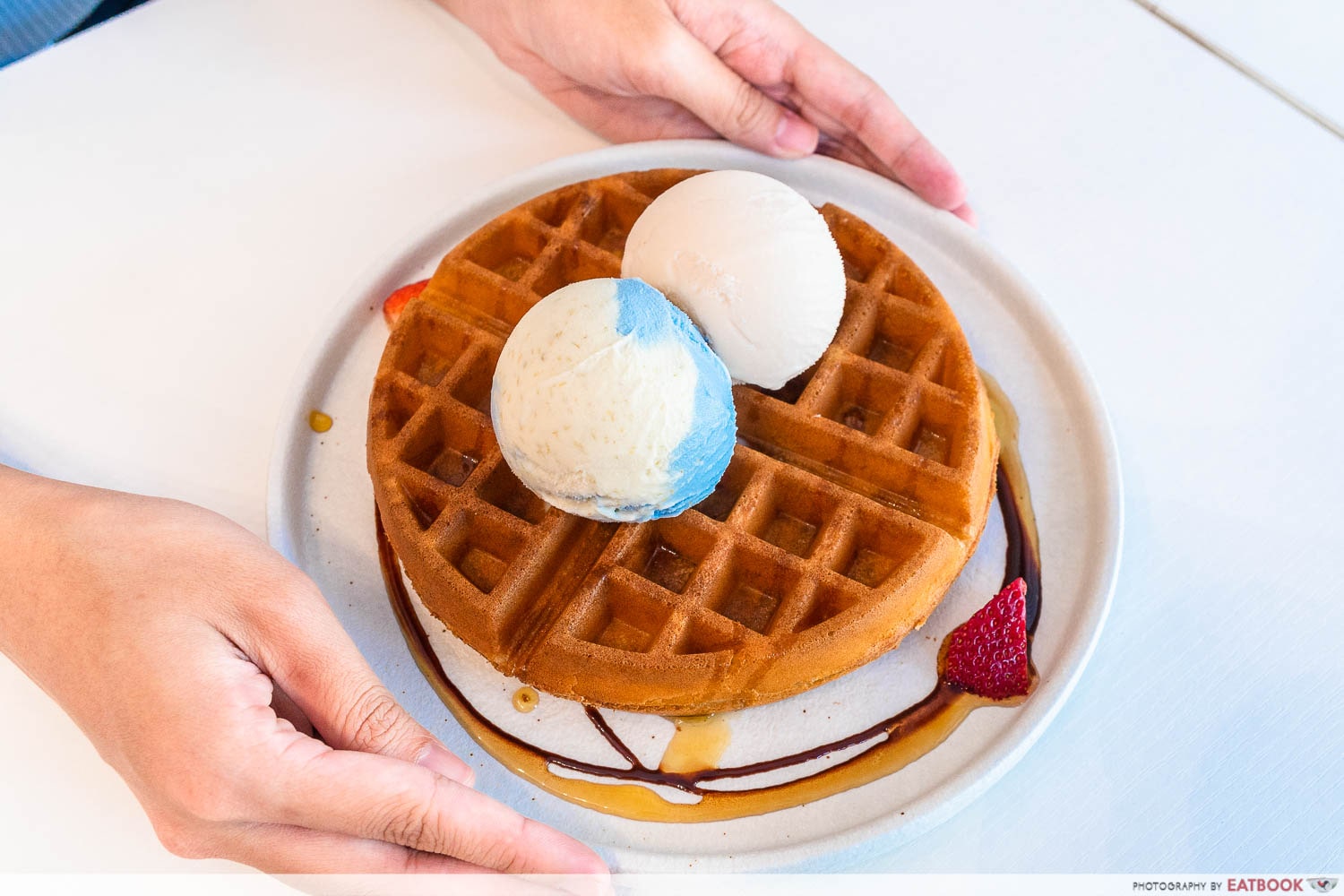 I started off with their Nian Gao Waffles ($6.80) and topped it with two scoops of ice cream. Wanting a 'gram worthy photo, I chose to go for the Honey Chamomile Blue Pea ($4.70) and Hoegarden Rose ($4.70) flavours, which saw sky blue and baby pink hues respectively. The waffles were drizzled with maple syrup and chocolate sauce before being served.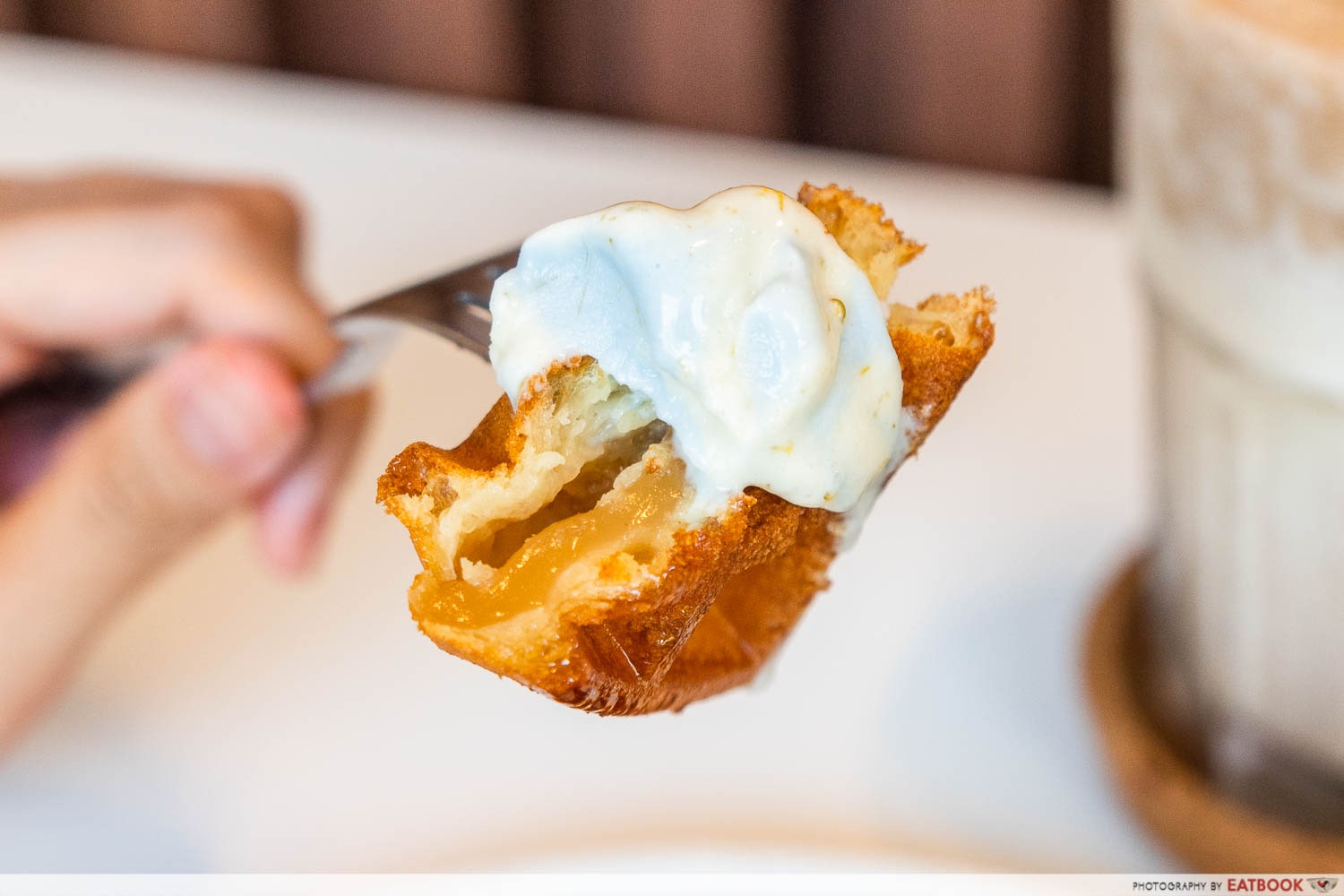 Cutting into a piece of the waffle, I could see a prominent layer of nian gao nestled at the bottom. They use four squares of nian gao for each waffle, which is a relatively generous amount in my opinion. The nian gao tasted like a mix of brown sugar and toffee, which added extra flavour to the decadent waffles. 
It also had a distinct chewiness that contrasted the crispy waffles nicely, giving this dessert different textural dimensions.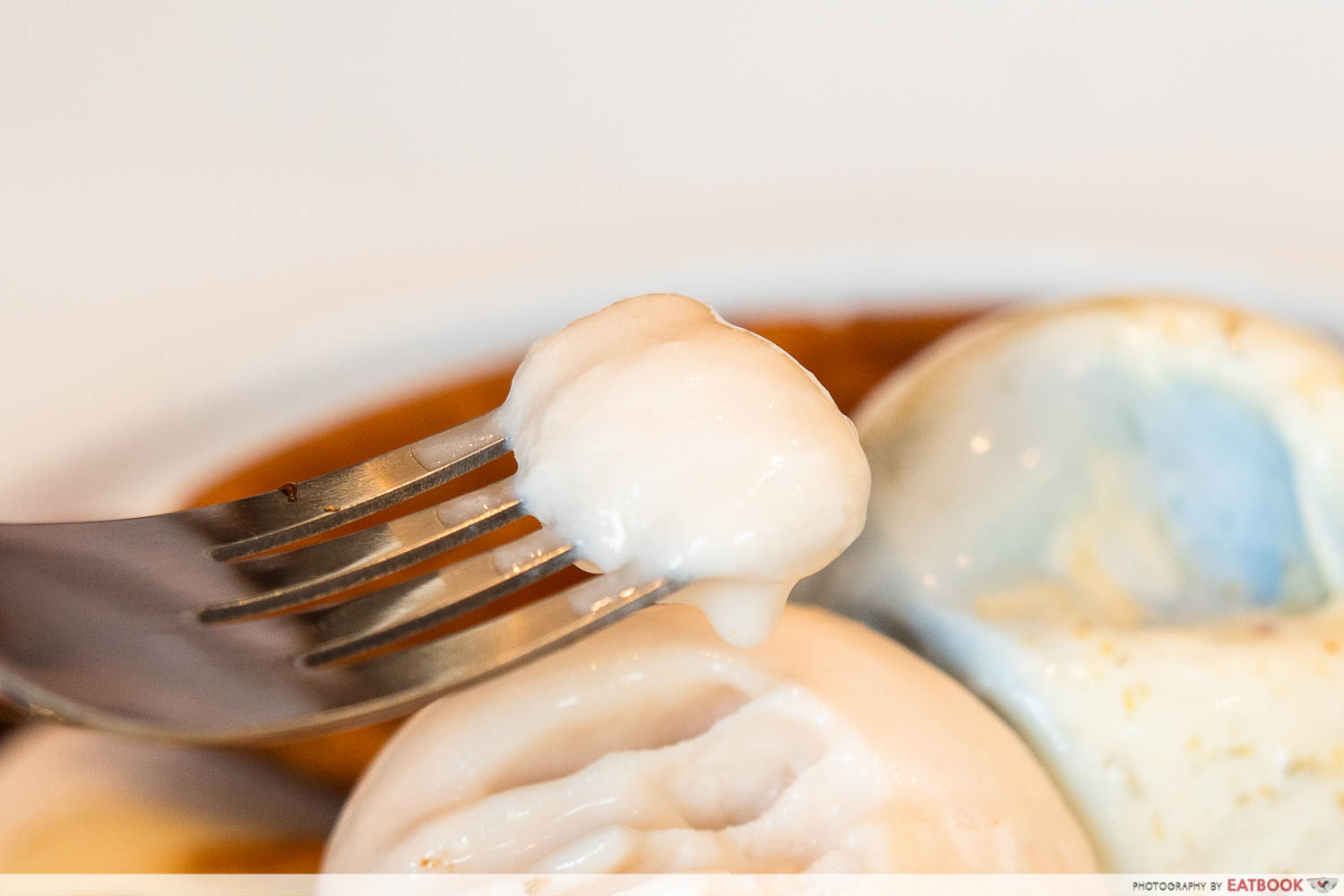 The Hoegarden Rose flavour was perfumed with flowery notes, and had hints of maltiness from the beer. Those who enjoy something with a kick of alcohol should give flavour a go, but it is definitely not one that is suitable for kids. 
I particularly enjoyed the Honey Chamomile Blue Pea ice cream that contained a whole chamomile flower within. With every scoop, you will be able to find traces of the chamomile flower, giving the ice cream an aromatic honey-like sweetness.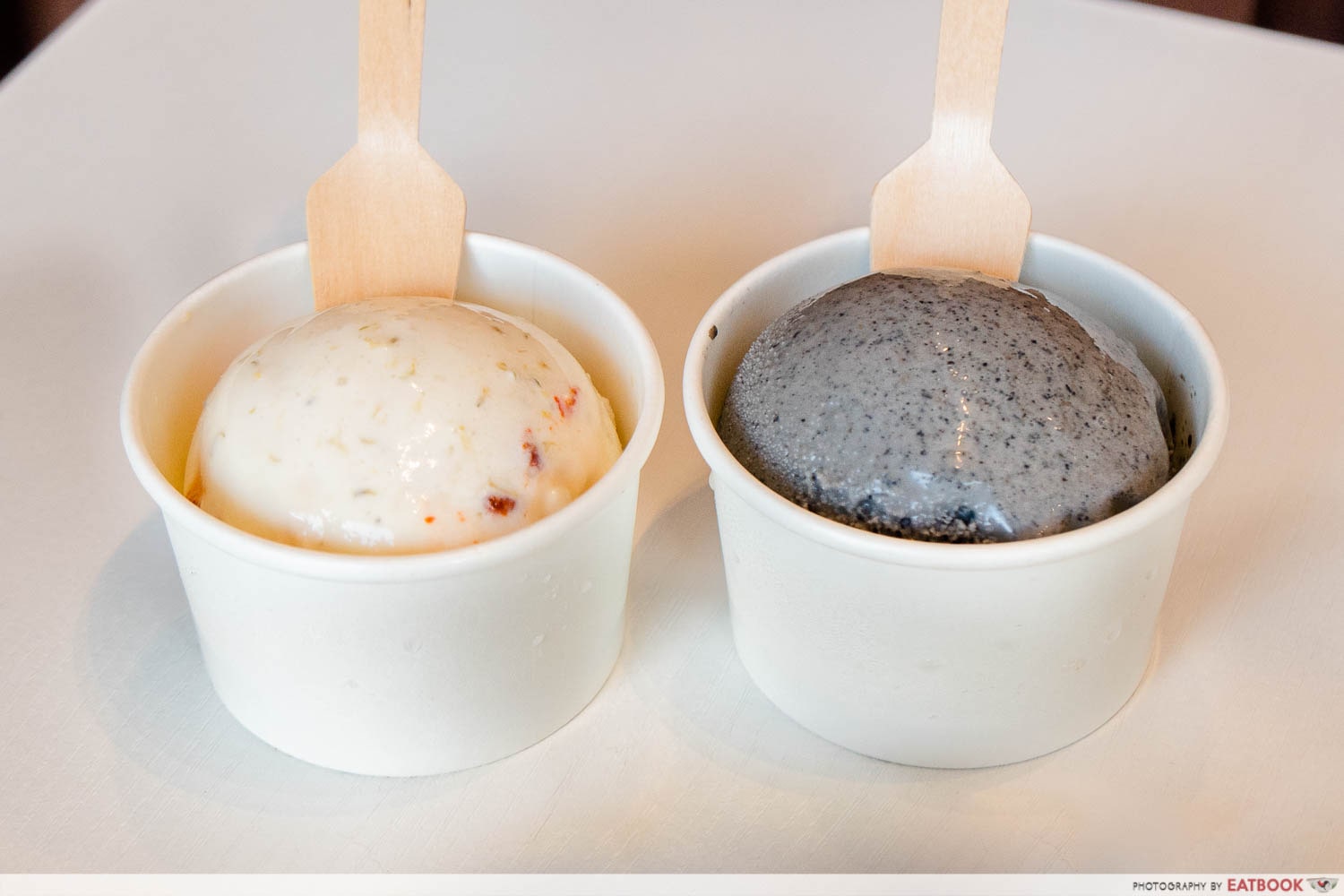 Wanting to give their other ice cream flavours a go, I went for single scoops of the Black Sesame Soy Milk ($4.70) and Chrysanthemum Goji Berries ($4.70) flavours.
The Chrysanthemum Goji Berries ice cream had bits of goji berries and chrysanthemum flower petals within, giving the creamy ice cream base an added crunchy texture. It had a flowery aroma similar to the previous flavours, and I highly recommend this flavour if you're looking for something lighter on the palette. 
For something with a more prominent flavour, go for the Black Sesame Soy Milk that features a unique granite-coloured ice cream. It had a distinct nuttiness, and this was particularly pleasant to me as I am a huge fan of black sesame. Contrary to its appearance, the ice cream was smooth throughout. The soy milk was subtle, giving the ice cream a unique earthy aftertaste.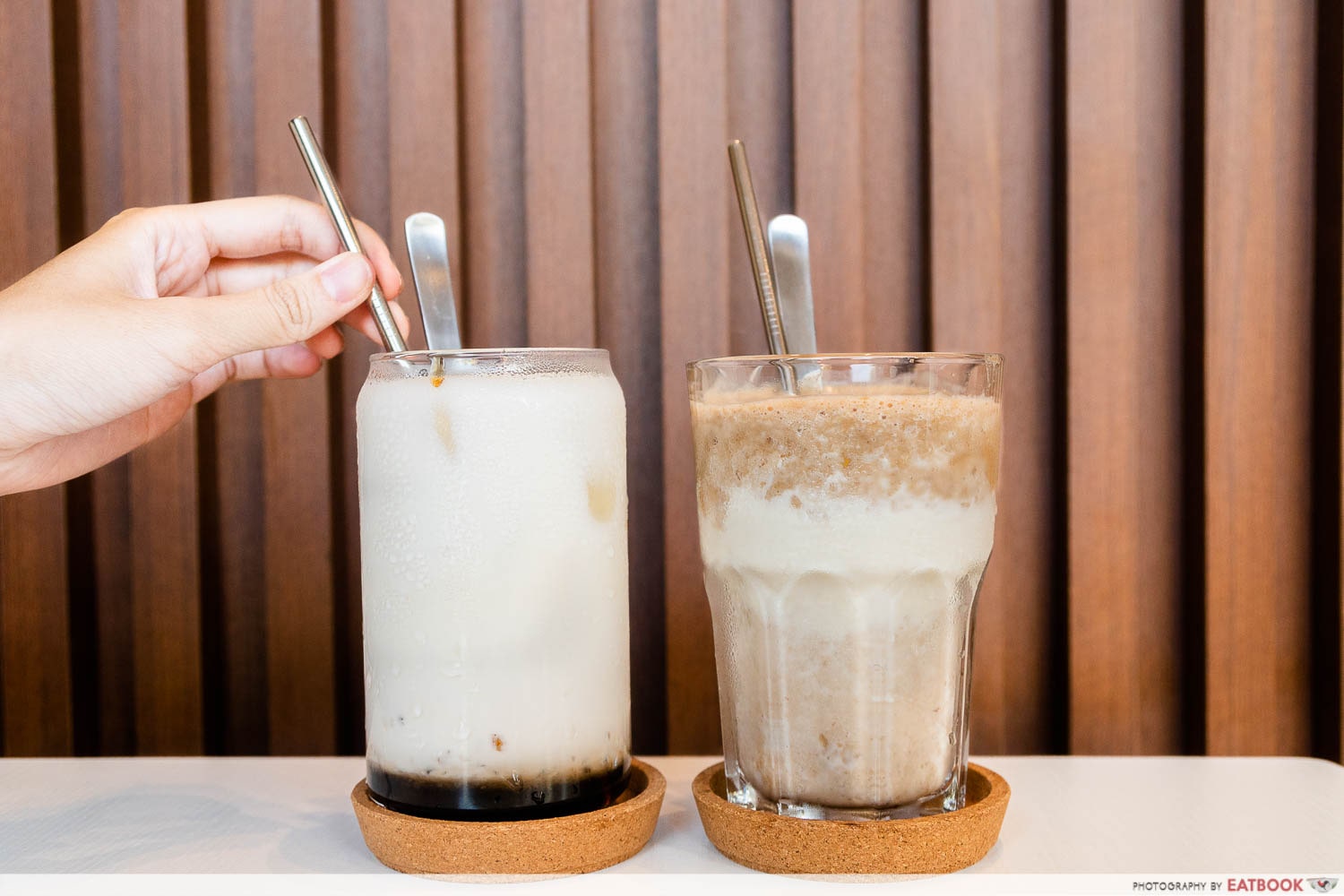 To wash everything down, I went for their old-school drinks including the Pei Pa Koa Latte With Peach Gum ($6.50) and the Mung Bean Ice Latte ($5.50). The Mung Bean Ice Latte is a blend of mung bean ice cream, milk, and ice, to create a decadent milkshake.
It had a raw beany flavour, which a millennial like me struggled to handle, but I can definitely see how adults of my parents' generation may enjoy it. This drink takes a twist on hot mung bean soup, and I must applaud them for the creativity behind this refreshing beverage.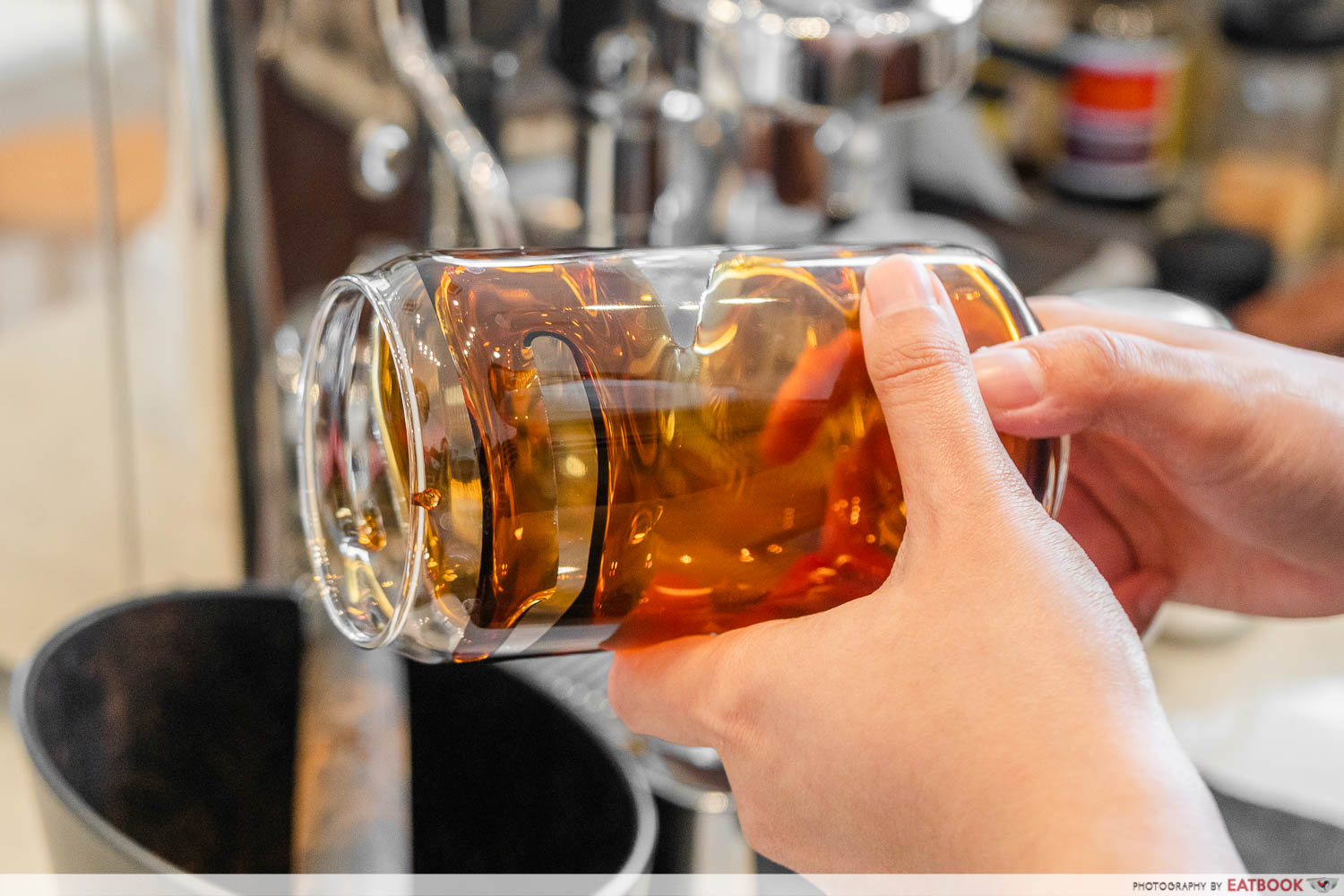 The Pei Pa Koa Latte With Peach Gum sees a glass swirled with a thick layer of pei pa koa, and a base of fresh milk. The pei pa koa had a pronounced minty flavour that cut through the creamy milk. The pei pa koa flavour was slightly overpowering, in my opinion. The peach gum was an interesting addition, with its soft yet chewy texture, different from other toppings that I have tried before. 
Ambience at The Better Scoop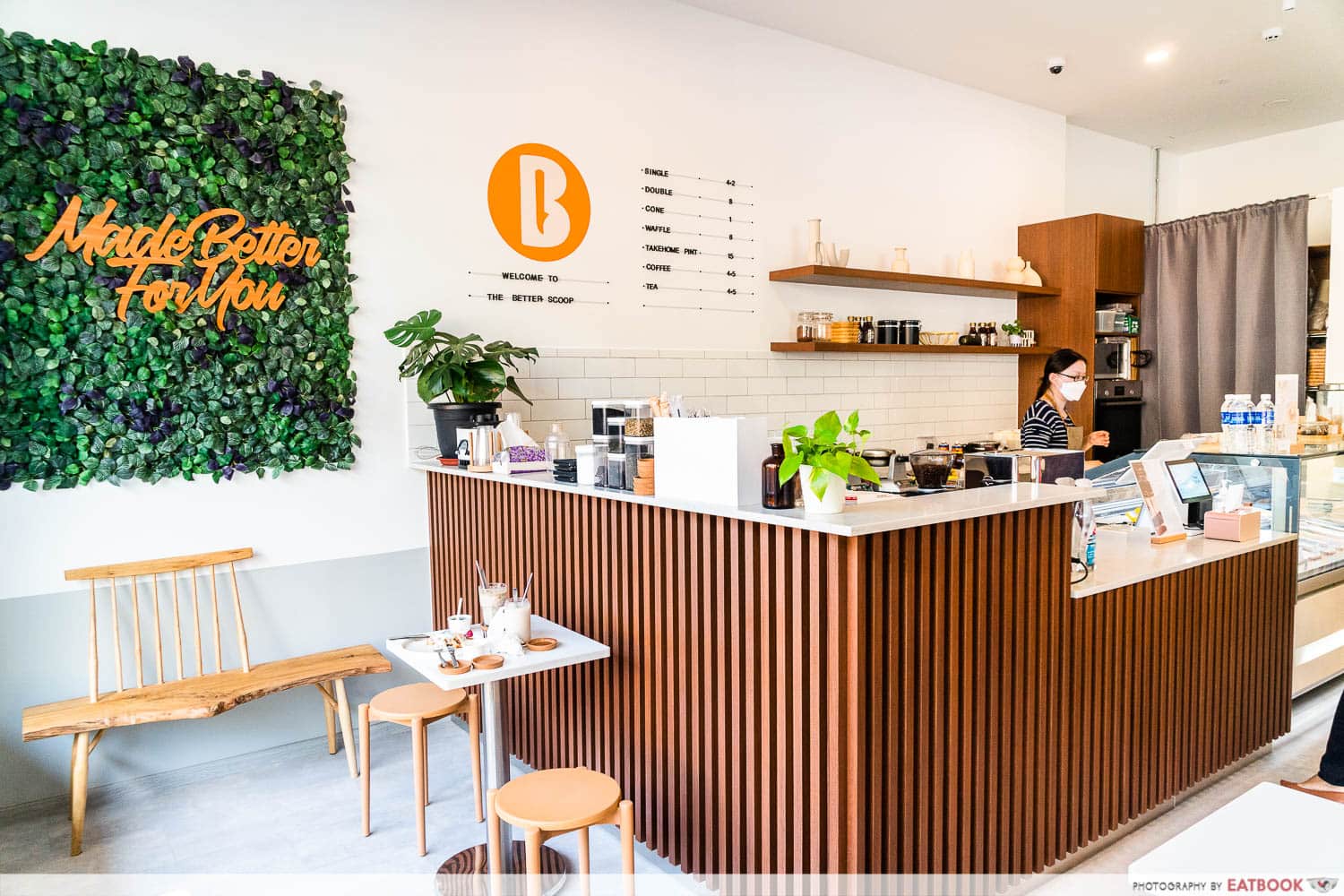 The Better Scoop is located just a five-minute walk away from Serangoon MRT Station, making it easy to visit, especially for those living around the area. 
The cafe primarily uses wooden furniture, so it's all very cosy. You will notice many IG-worthy spots where you can have mini photo shoots alongside their beautifully coloured ice creams, desserts, and drinks. 
The verdict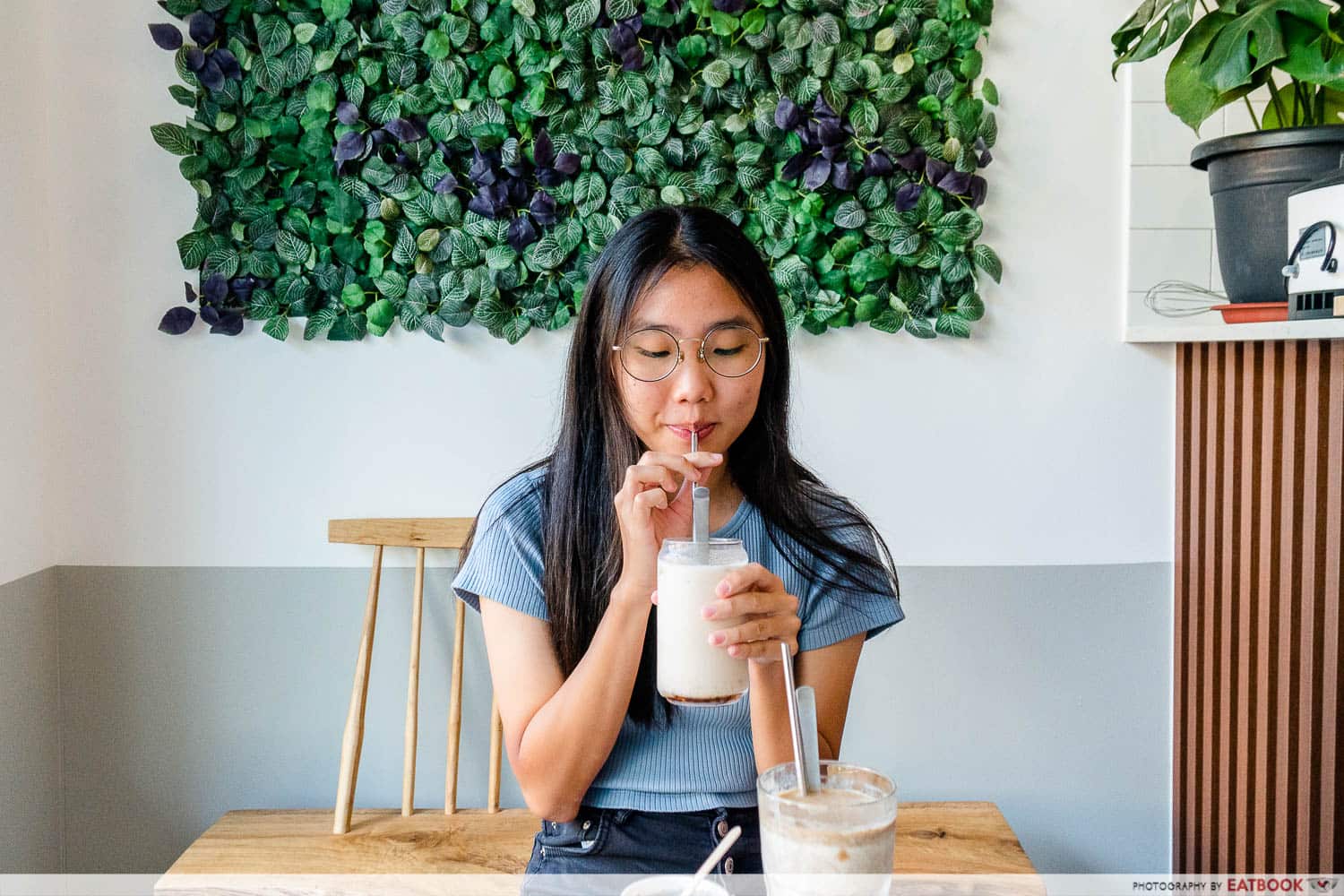 I will definitely be returning to The Better Scoop soon, especially for their nian gao waffles and intriguing ice creams. It is a cute spot where those with a sweet tooth can comfortably enjoy their desserts after having a meal around the area. 
Bossi Ban Mian Review: Malaysian Hakka-Style Ban Mian With Chye Poh At Serangoon Gardens
For more food in the area, check out our Bossi Ban Mian review for Malaysian Hakka-style ban mian, or our Mr Mee Hoon Kueh review lor bak and bolognese handmade noodles at Serangoon Gardens! 
Address: 264 Serangoon Central, #01-203, Singapore 550264
Opening hours: Tue to Sun, 12pm to 10pm
Website
The Better Scoop is not a halal-certified eatery.
Bossi Ban Mian Review: Malaysian Hakka-Style Ban Mian With Chye Poh At Serangoon Gardens
Photos taken by Tan Zi Hui.
This was an independent review at The Better Scoop.
The Better Scoop Review: Nian Gao Waffles, Pi Pa Gao Latte And More At This Dessert Cafe In Serangoon -

7.5/10
Summary
Pros
– Unique dishes
– IG-worthy ambience
– Generous amount of nian gao in the waffles
Cons
– Slightly pricey 
Recommended dishes: Nian Gao Waffles ($6.50), Black Sesame Soy Milk Ice Cream ($5.20), Honey Chamomile Blue Pea Ice Cream ($4.70)
Opening hours: Tue to Sun, 12pm to 10pm
Address: 264 Serangoon Central, #01-203, Singapore 550264