Bossi Ban Mian at Serangoon Gardens Market & Food Centre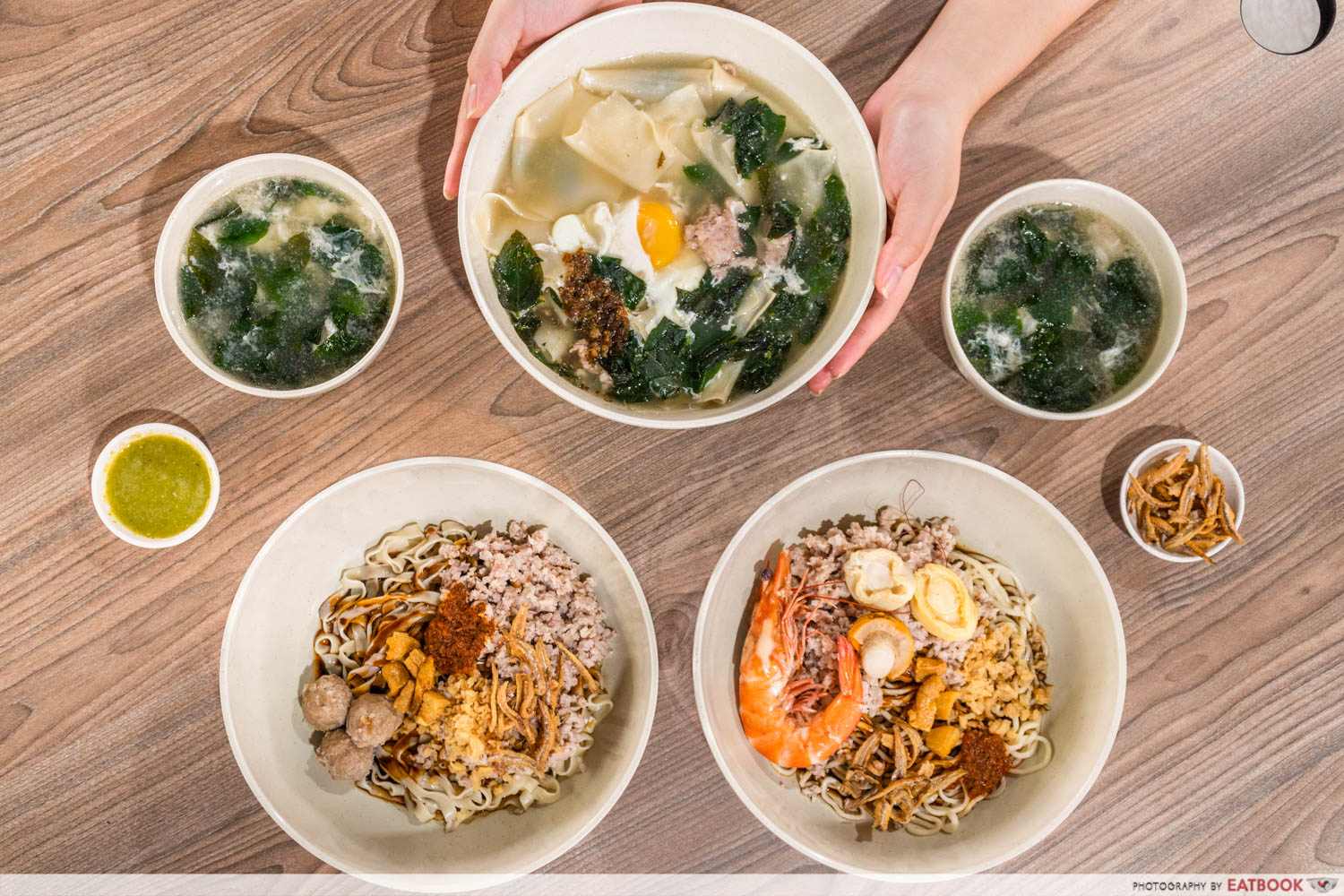 I have to admit, the only place that I've visited around Serangoon Gardens is the all-time famous Chomp Chomp Food Centre. Little did I know that besides this buzzing hawker centre, there is Serangoon Garden Market & Food Centre, which also holds a variety of hawker gems. One of these is Bossi Ban Mian, a Hakka-style ban mian stall.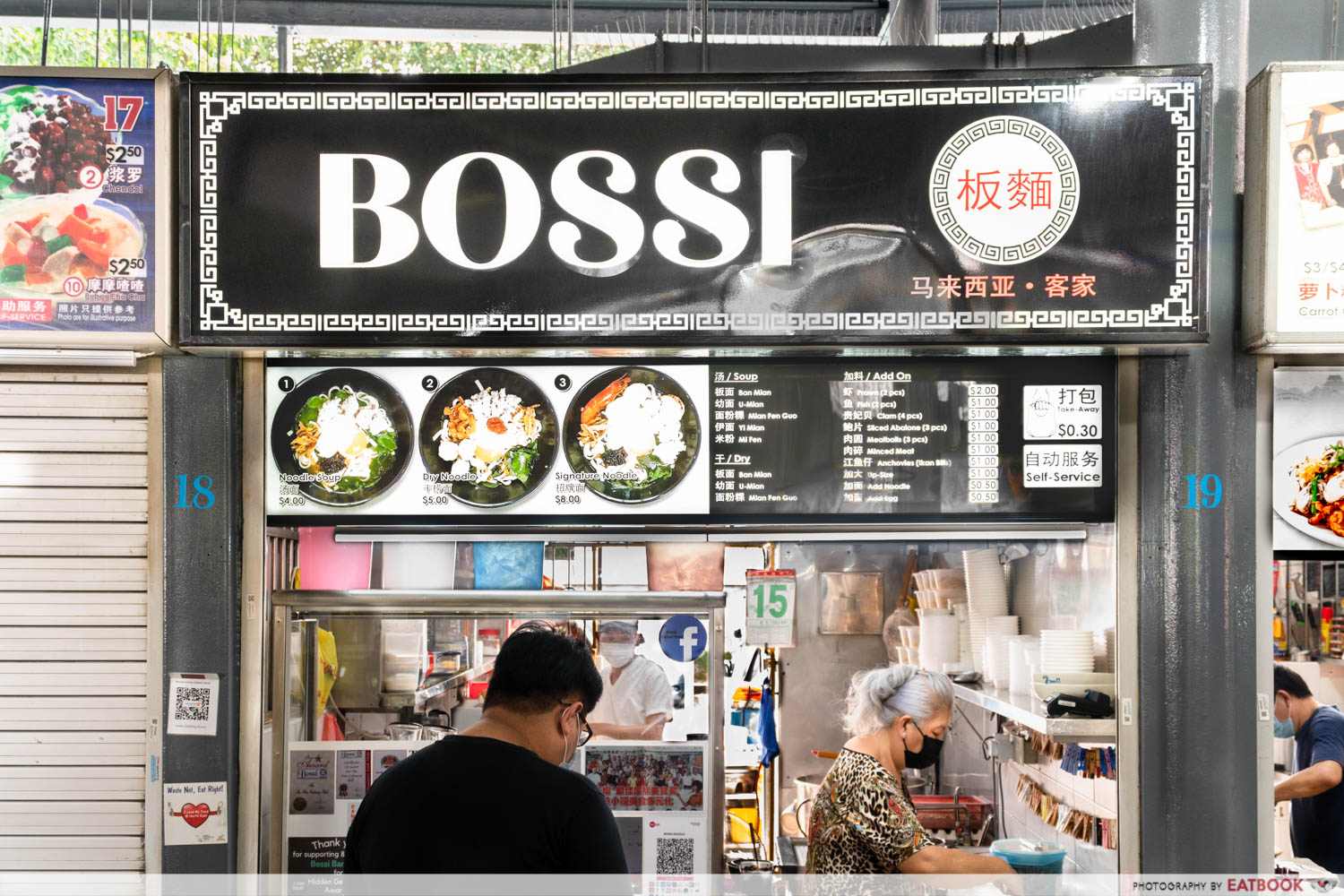 Bossi Ban Mian is run by a mother-and-son duo from Ipoh, Malaysia. Previously, this ban mian stall was managed by the mother, and was located in Seletar Market before it closed down. This stall at Serangoon Garden Market & Food Centre is primarily her son's venture, where he makes ban mian with his mother's recipe, albeit tweaked to suit his customer's tastes. What sets them apart from other ban mian stalls is the addition of chye poh.
15 Ban Mian In Singapore Including Masterchef Ban Mian, $2 Ban Mian And More
Food at Bossi Ban Mian 
Here at Bossi Ban Mian, the menu only features three noodle items: soup, dry, or their signature, which comes in either a soup or dry version. Then, you select a noodle of your choice, and any add-ons if you'd like.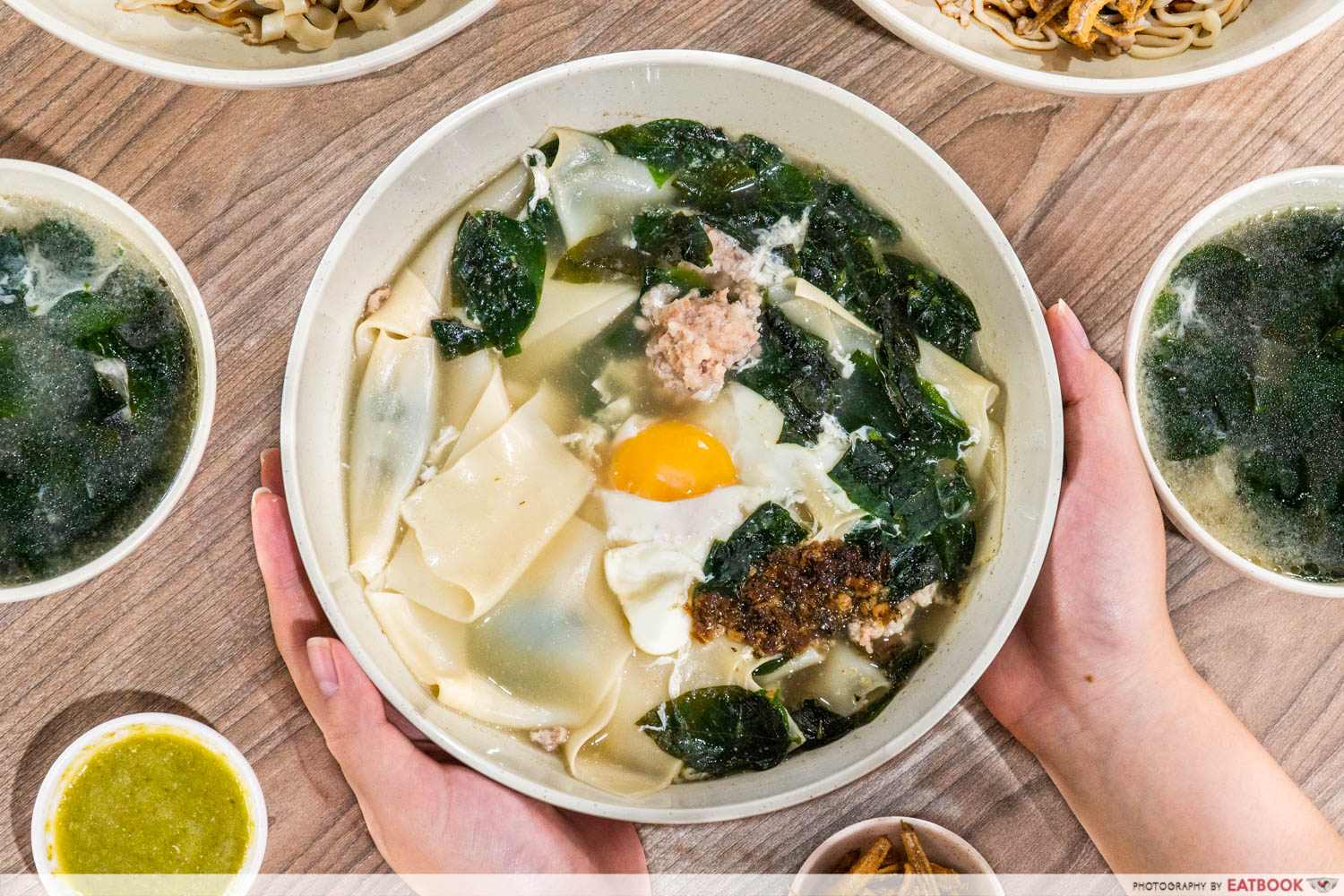 To begin my experience, I went for their Noodle Soup ($4). In this version, there are five types of noodles to choose from—Ban Mian, U-Mian, Yi Mian, Mi Fen, and Mian Fen Guo, AKA mee hoon kuey. I went with the last of these, since I prefer the thick, irregular shapes that you get with mee hoon kuey. To my surprise, Bossi Ban Mian's version was perfectly rectangular in shape, and paper-thin. This bowl also includes a few handmade minced meatballs, an egg, and a generous portion of leafy greens, all of which are submerged in a clear soup. 
We later found out that Bossi Ban Mian's noodles are all factory-made, which explains the incredibly consistent, al dente texture that is featured in every bowl of noodles. Although I was hoping for chewy and ragged noodles, these flat noodles were nonetheless tasty, with a  silky, smooth, and fine consistency.
I tried their house-made green chilli on the side for an extra oomph, and it did not disappoint. It started off with a sharp, raw chilli taste, followed by a hint of zesty lime, and a fiery kick that settled at the back of my throat. It's very different from the pickled green chilli that I'm used to, but I definitely recommend giving it a try.
Another item worth noting was the ikan bilis that came with the noodles. It added a lovely crunch and savouriness to the rather light tasting dish.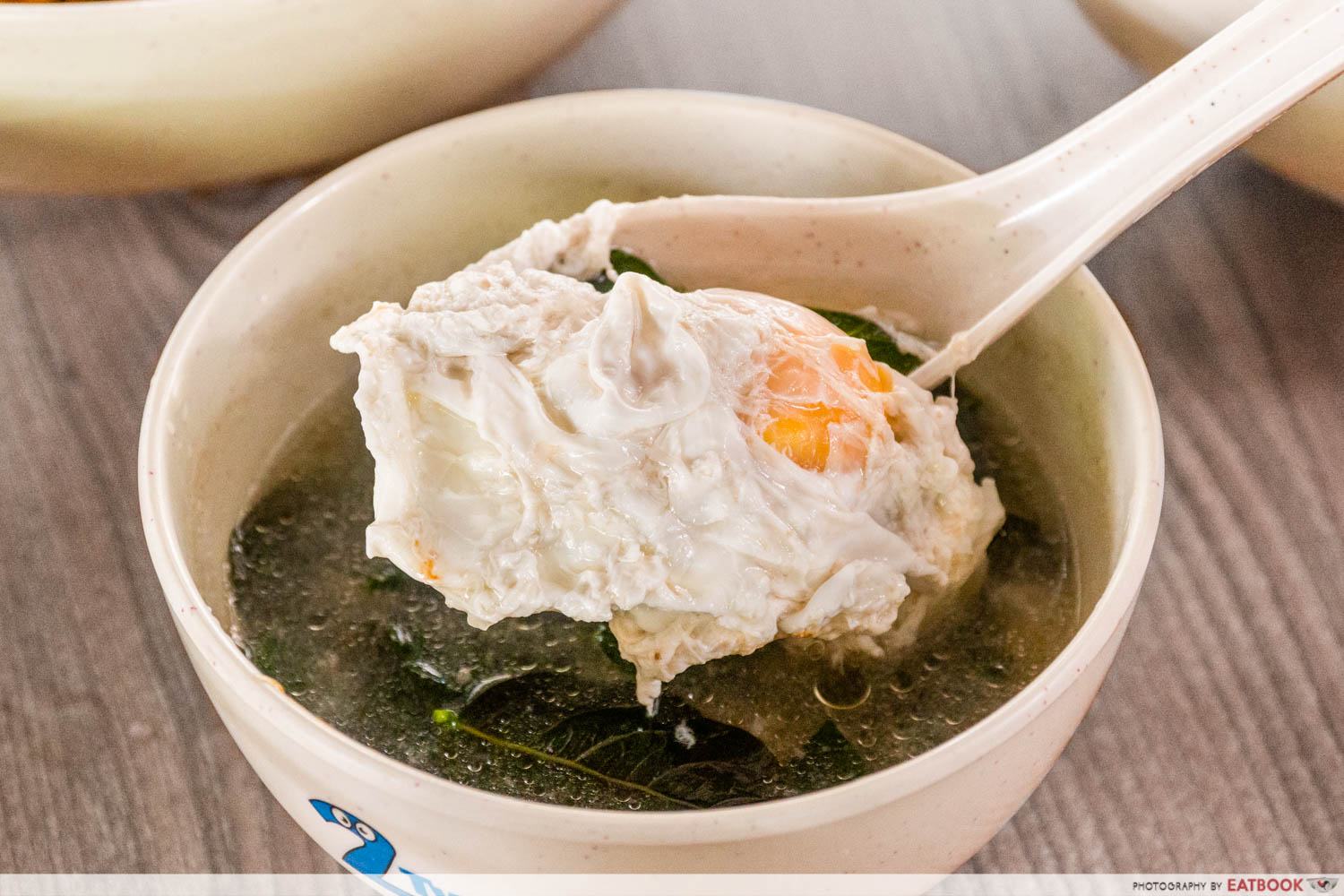 Next, I moved on to their dry noodle dishes. Each bowl comes with the same secret sauce combination, your choice of noodles, and a bowl of soup on the side. If you can't decide between their soup and dry noodles, go for the latter, as it features the same light broth with added veg, plus you get to try their unique chye poh ban mian at the same time. 
The first bowl of Dry Noodle ($5) included three miniature meatballs, a spoonful of minced meat, and was sprinkled with nuggets of lard, ikan bilis and chye poh on top. For this dish, I also opted for a dash of chilli for extra flavour.
Before mixing everything together, I had a taste of the chye poh, which was pleasantly sweet and crunchy, and the nuggets of lards, which burst with flavour. The minced meat was also well seasoned, and so finely minced that it melted in my mouth.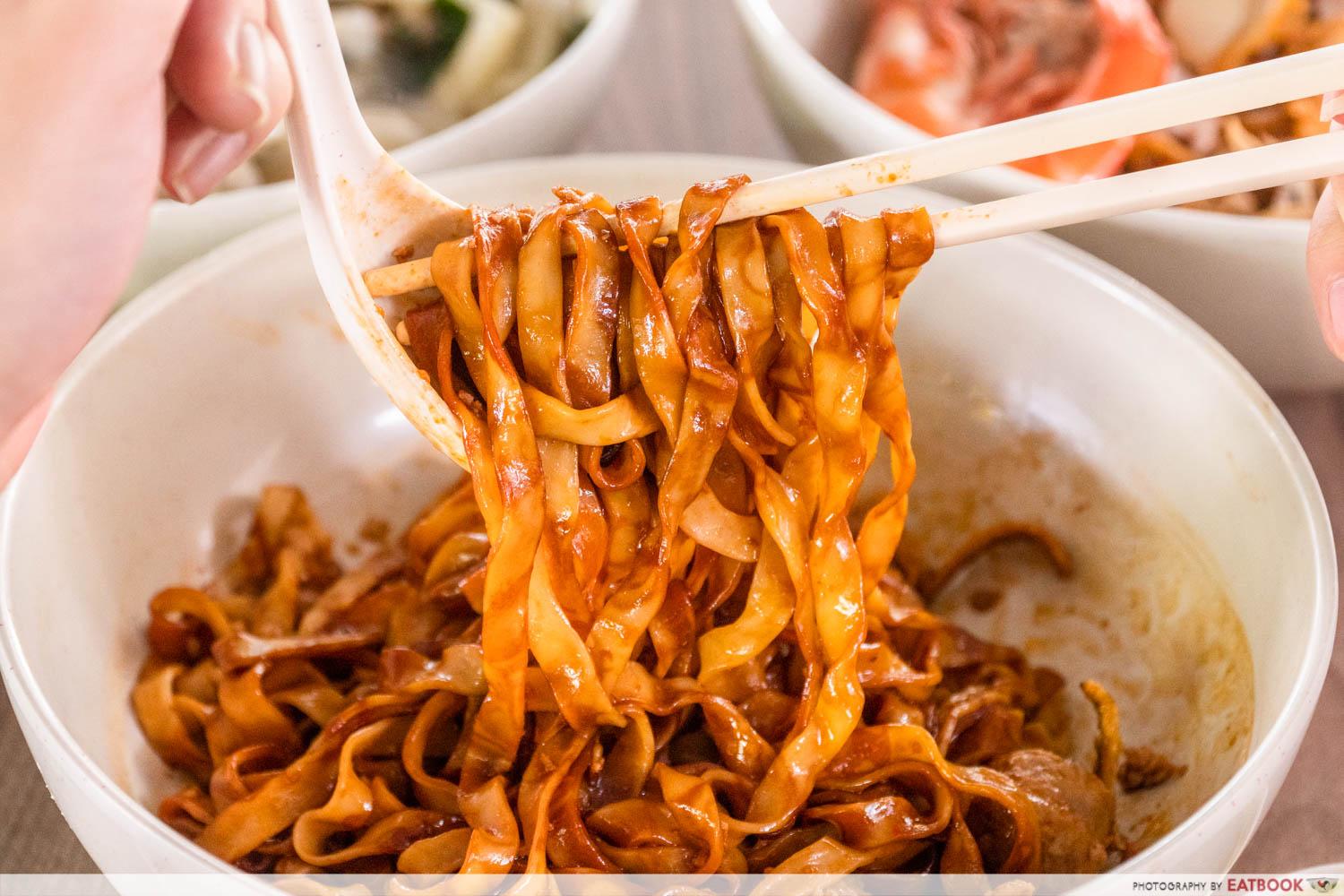 Giving the dish a good toss coated the noodles in a sweet dark sauce. If you prefer sweet to savoury dishes, this dry version will not disappoint. What stood out to me the most was the texture of the noodles. Despite being left out for the shoot, the noodles still retained a springy and QQ bite, which I appreciated.
My only gripe was the lack of ingredients in this dish. The chye poh and minced meat were so finely chopped that they were lost in the mix. As a result, I felt that the dish was a little boring to eat,  as all I could taste were the noodles and meatballs.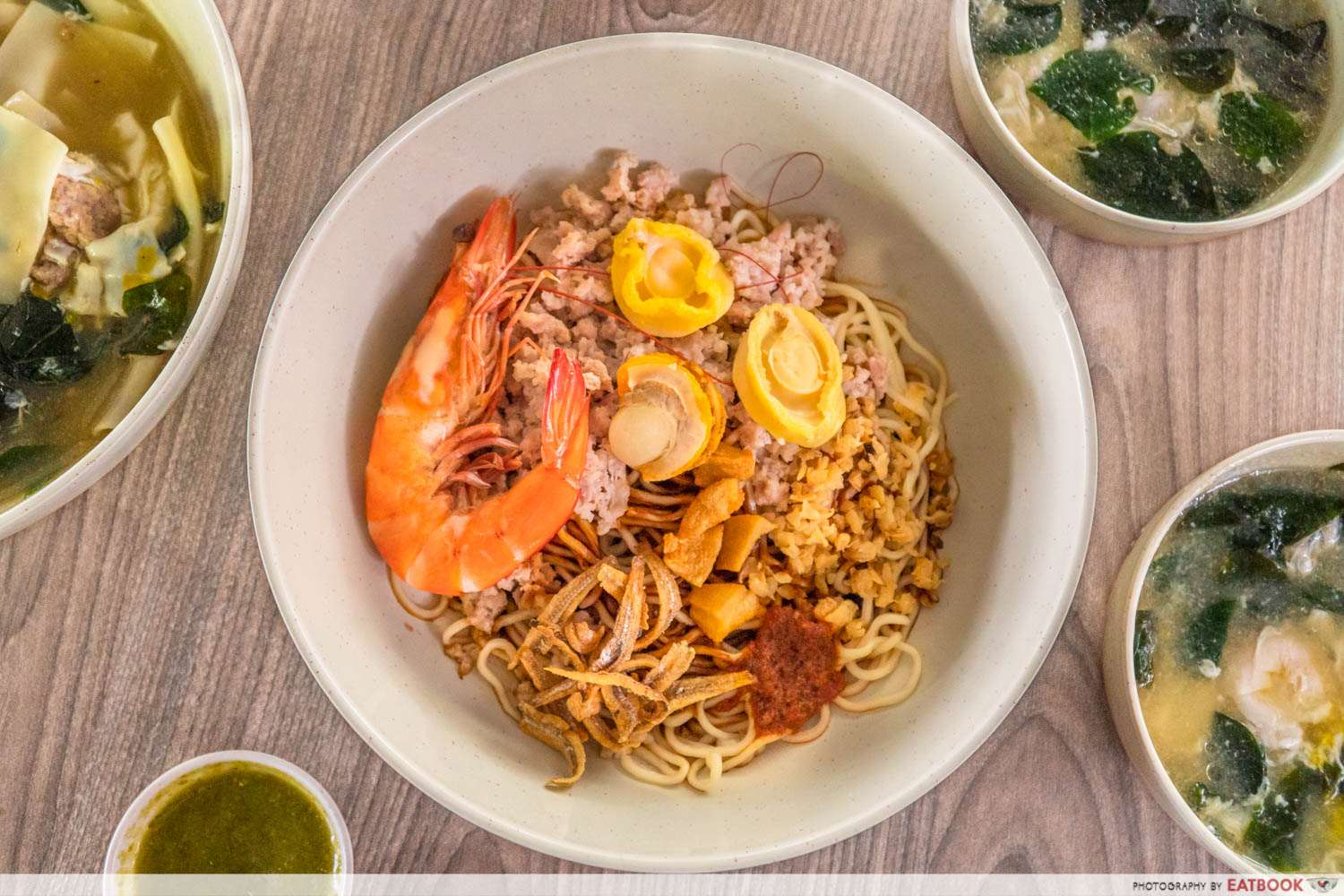 Lastly, we tried the fancier version of the dry ban mian—Bossi Ban Mian's Signature Noodle ($8). This time, I went with the U-mian. It had the same sweet sauce and garnishes as the dry ban mian, but it also came with ingredients such as baby abalone, a scallop, and a prawn.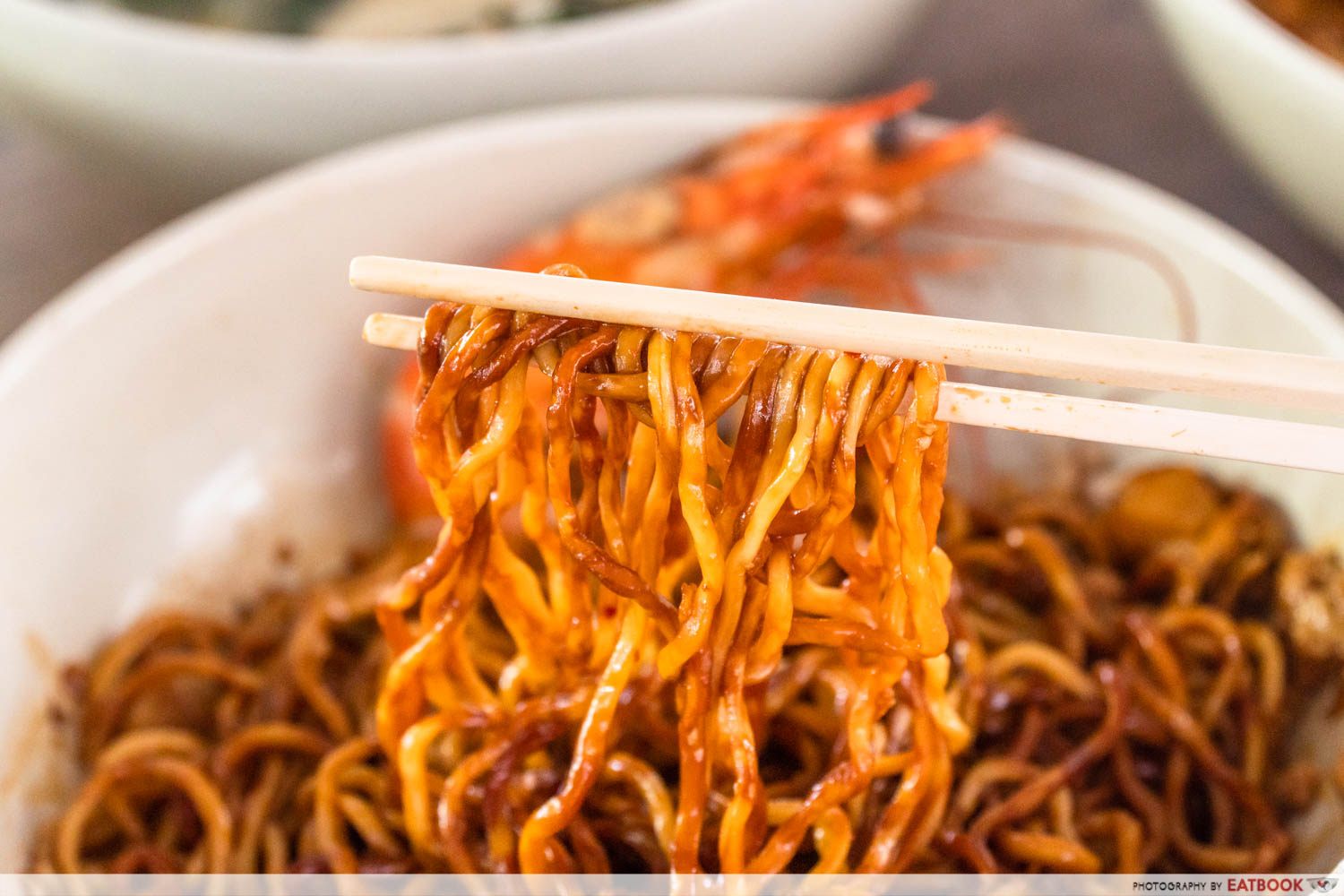 Similar to the other noodles that I'd tried at Bossi Ban Mian, this U-mian was cooked just right. Their deft control over the time required for cooking the noodles, regardless of what sort it was, is commendable.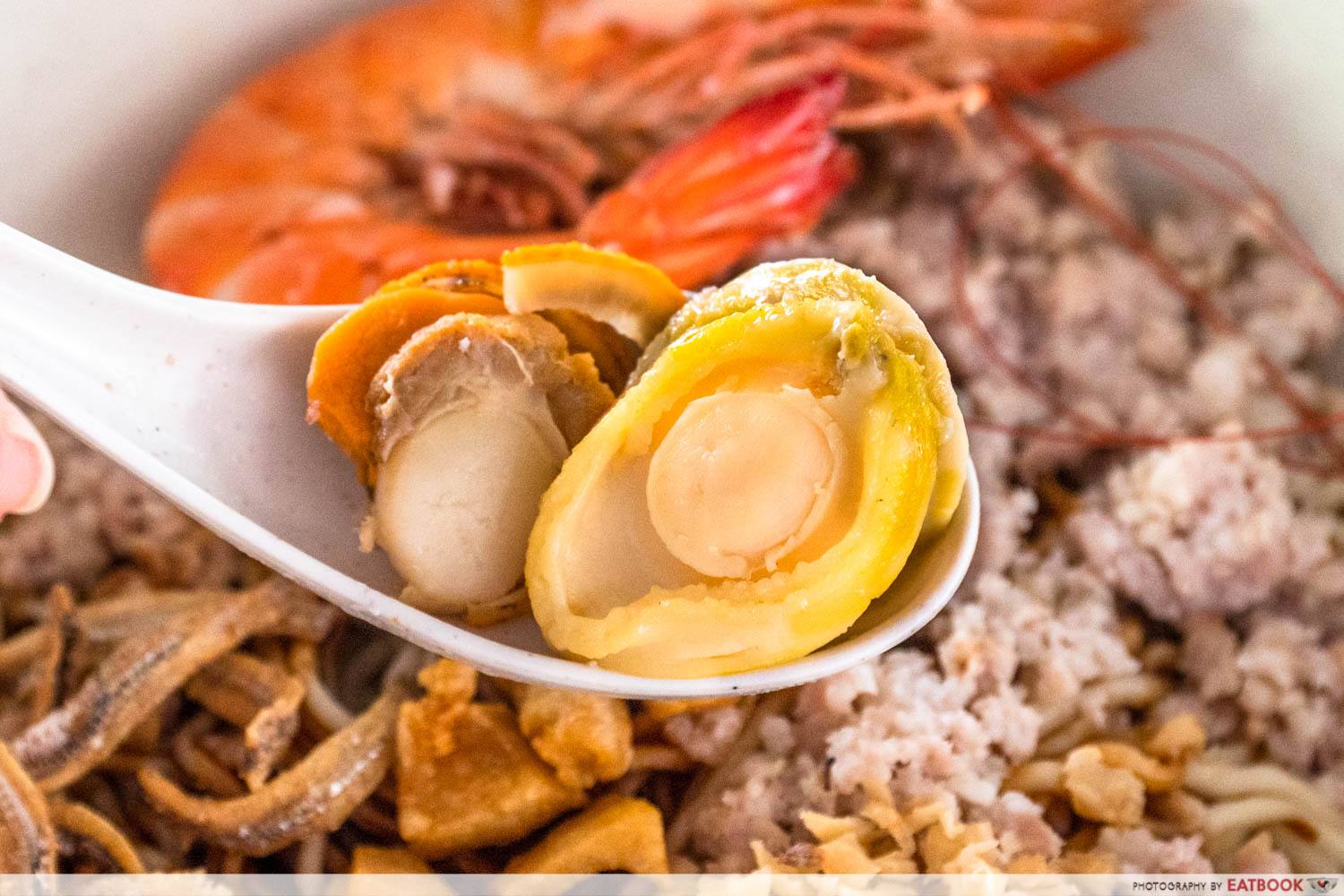 Another well-executed item was the seafood. Each of the seafood items was cooked separately to ensure that they weren't overcooked, and this extra step really paid off. The abalone, although canned, was plump and chewy, the scallop was borderline firm with a bite, and the prawn was sweet and juicy. 
Compared to the Dry Noodles, the addition of seafood definitely made a more substantial bowl. Despite the use of frozen seafood, it tasted good. For a hawker dish, I do think it is worth the price! 
Ambience at Bossi Ban Mian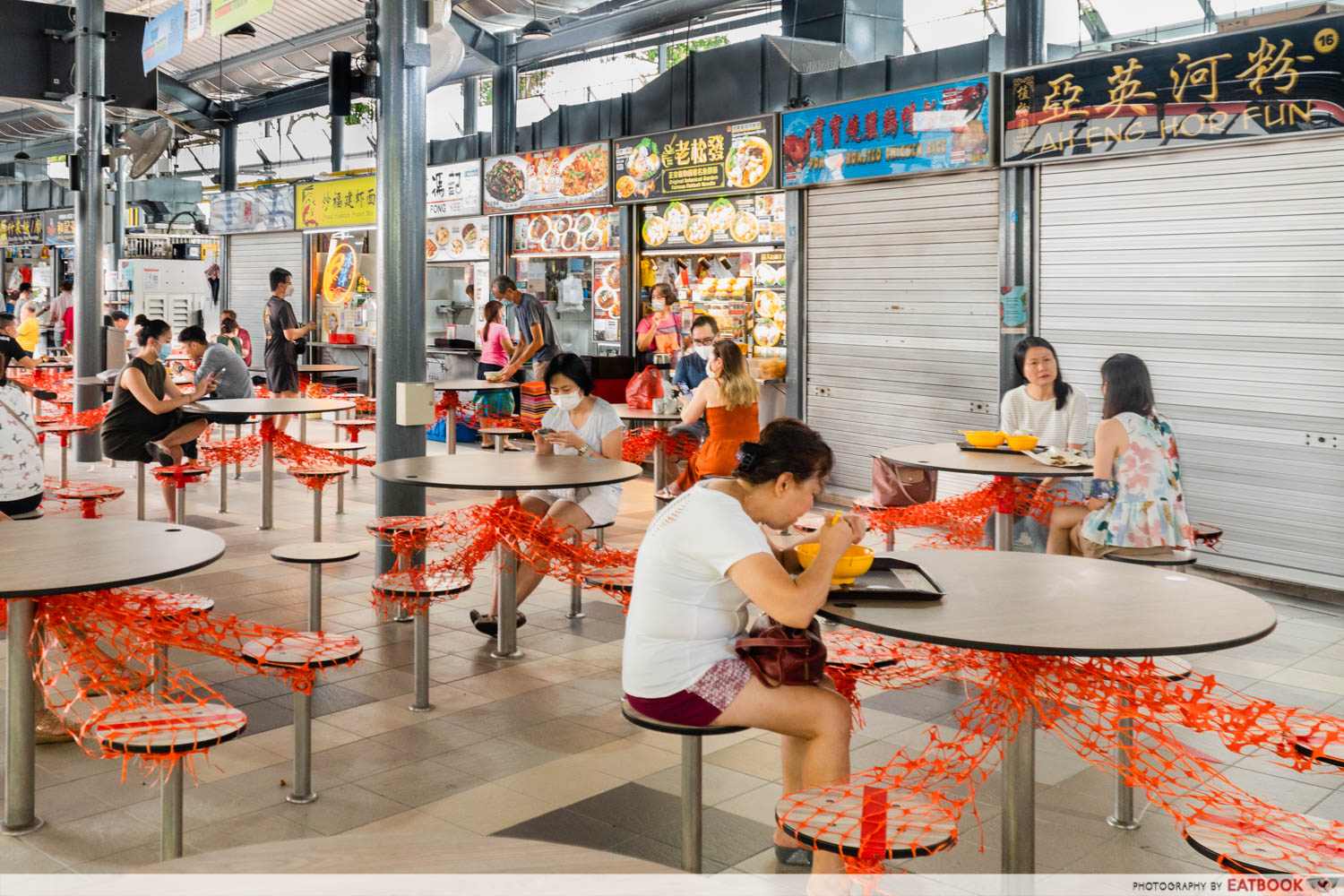 Bossi Ban Mian is situated in Serangoon Garden Market & Food Centre. It is approximately a 15- to 20-minute bus ride from Serangoon MRT Station. This food centre might be easily overlooked due to its neighbouring hawker centre—Chomp Chomp Food Centre—which is unfortunate as it also houses a slew of eateries that are as good, if not better.
Serangoon Garden Market is well-ventilated and more comfortable to dine in than Chomp Chomp. However, do keep in mind that seats are still limited due to the dining restrictions. I would highly recommend visiting slightly before lunchtime, or have your food taken away, as most of the customers at Bossi Ban Mian did. 
The verdict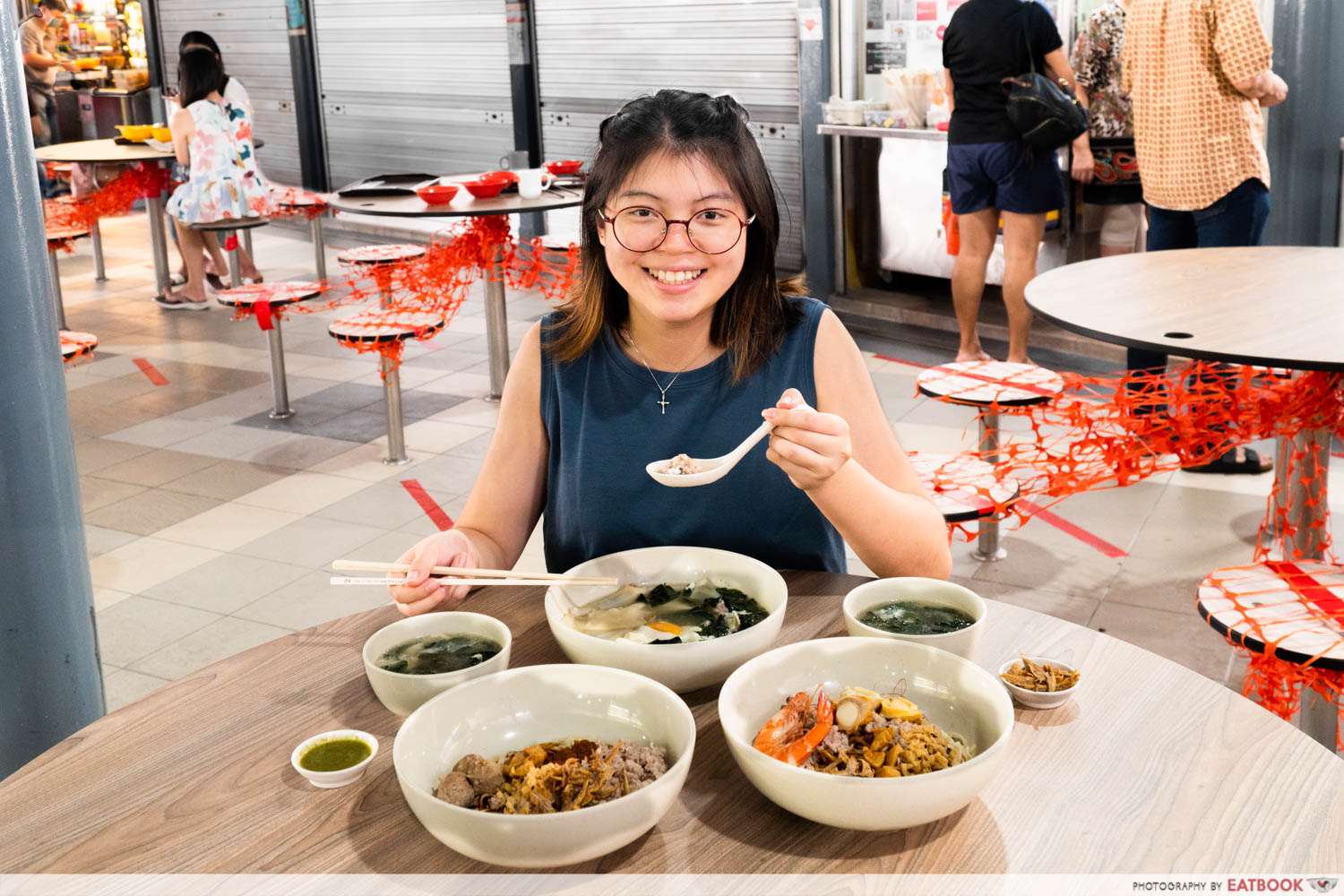 Overall, I was impressed by Bossi Ban Mian's well-executed dishes, particularly with the consistency of the noodles. The only letdown was how their signature chye poh was overpowered by their sauce blend. I had been expecting an extra dimension of flavour from the chye poh, but it was sadly masked by the rich dark sauce. Aside from that, they serve a great bowl of noodles with soup, perfect for a rainy day, and a hearty bowl of dry ban mian if you're searching for something heavier in flavour. 
For more ban mian options, check out our ban mian guide, which includes flavoured ban mian, $2 ban mian and more. Otherwise, visit one of these food stalls in Serangoon Garden Market that deserves as much attention as the famous stalls in Chomp Chomp. 
Address: 49A Serangoon Garden Way, #01-18, Serangoon Garden Market & Food Centre, Singapore 555945
Opening hours: Thurs-Tue 9am to 4pm
Tel: 8833 8118
Website
Bossi Ban Mian is not a halal-certified eatery. 
15 Serangoon Garden Market Food Stalls That Deserve As Much Attention As Chomp Chomp
Photos taken by Emily Teu and Zhi Hui.
This is an independent tasting at Bossi Ban Mian.
Bossi Ban Mian Review: Malaysian Hakka-Style Ban Mian With Chye Poh At Serangoon Gardens
Bossi Ban Mian Review: Malaysian Hakka-Style Ban Mian With Chye Poh At Serangoon Gardens -

7.5/10
Summary
Pros
– Overall well-executed dishes
– Very light and comforting dishes
Cons
– Chye poh was overwhelmed by their noodle sauce 
Recommended dishes: Noodle Soup ($4), Specialty ($8)
Opening hours: Thurs-Tue 9am to 4pm
Address:  49A Serangoon Garden Way, #01-18, Serangoon Garden Market & Food Centre, Singapore 555945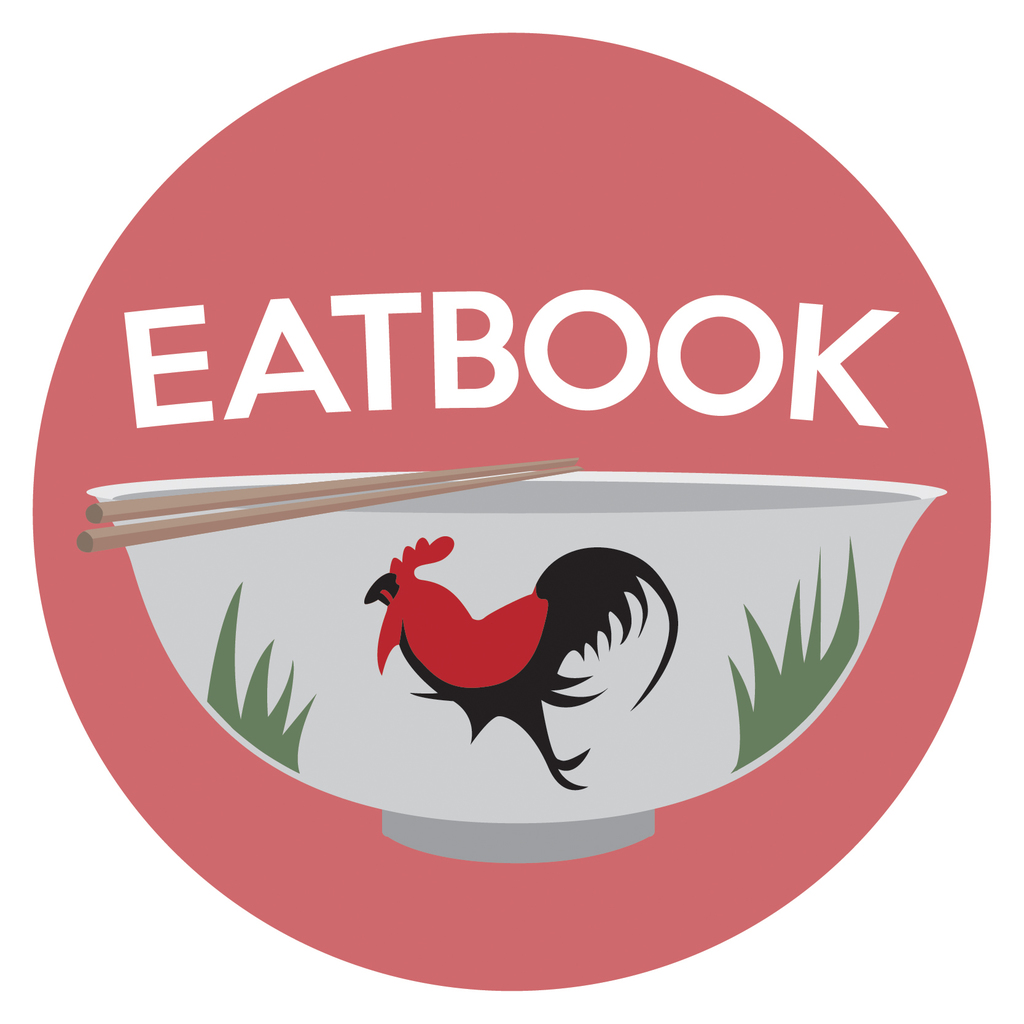 Drop us your email so you won't miss the latest news.