Folk Yard is a new cafe in Potong Pasir with sammies and coffee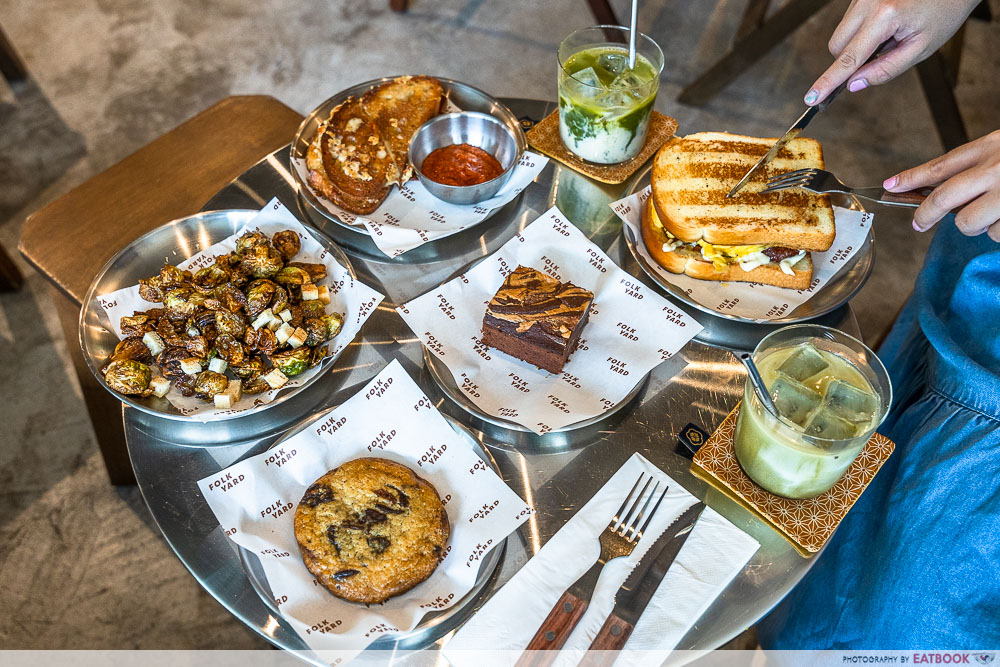 With cafes popping up here, there, and everywhere, our foodie bucket lists are getting longer and longer, and we're too spoiled for choice. But highly worth a visit is Folk Yard, a newly opened cafe decked with camping chairs, serving excellent nosh and chill vibes. It also doesn't hurt that it's located right at Potong Pasir MRT Station, making the sandwich cafe highly accessible as well. 
Food at Folk Yard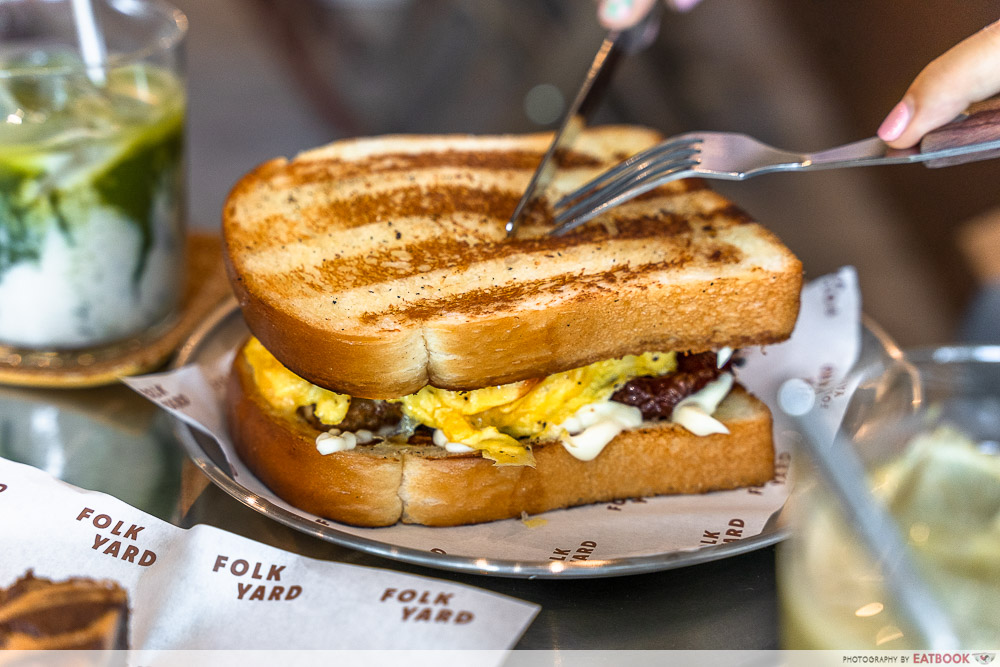 Young owner, Shan Chew, of Folk Yard is adamant about bringing good food to the hood, along with making speciality coffee more accessible and sustainable. With many cafe stints under his belt, it's no wonder that the Breakfast Sandwich ($14) impressed us from the first bite.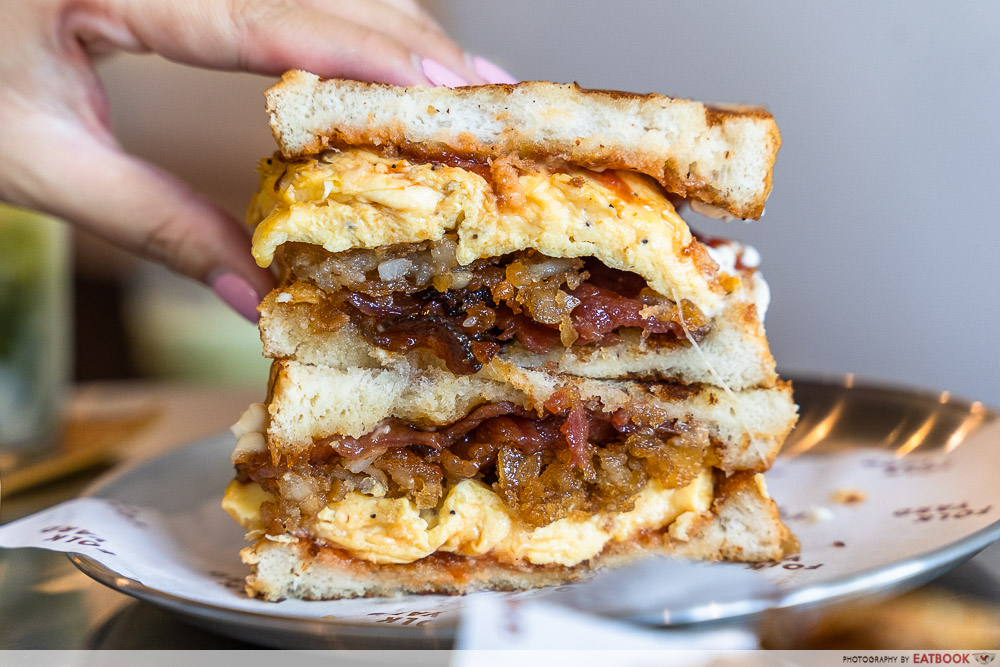 I am a big fan of sweet-savoury combinations, and the Breakfast Sandwich easily won me over with its cheese-embedded scrambled eggs coupled with addictively crunchy candied bacon. It's further elevated with a sinful layer of fried hashbrown soaked with maple syrup.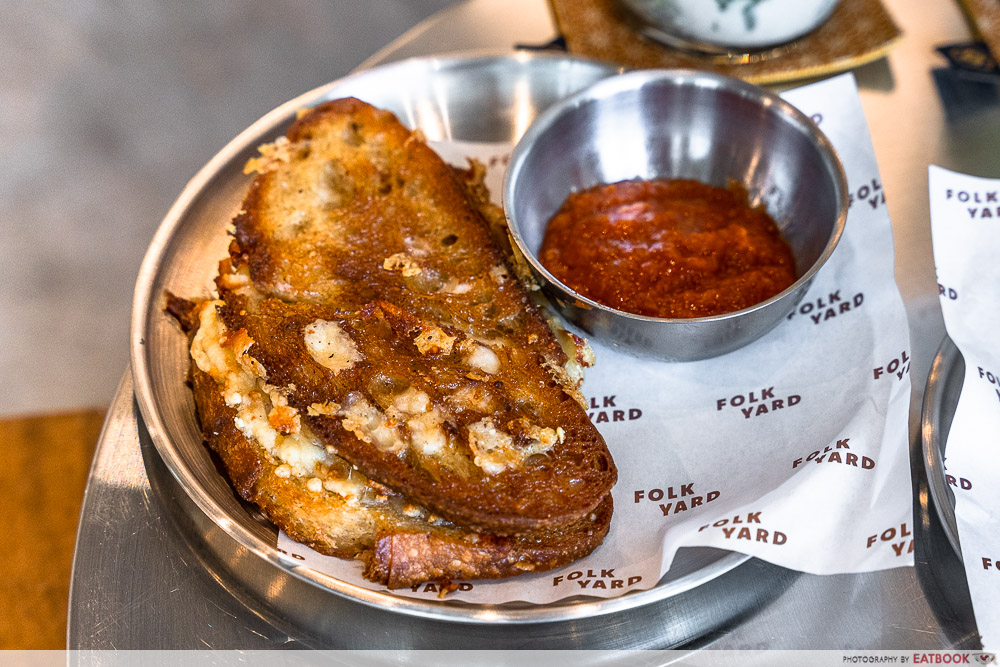 There's also the quintessential Grilled Cheese ($14) sandwich that's made with a trio of cheeses between sourdough slices. It's not difficult to make a good grilled cheese sandwich, but Folk Yard did a great job with theirs. The bread was beautifully browned, and the spillage of melted cheese meant more salty and crispy bites on the sides.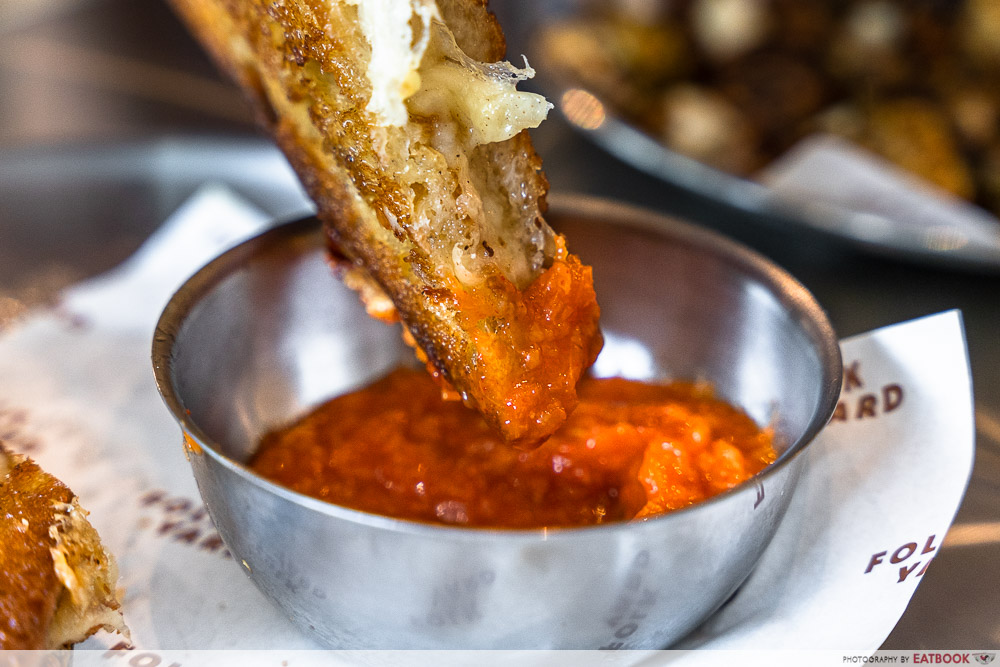 The Grilled Cheese seemed to be on the pricier side as it was much smaller compared to the towering Breakfast Sandwich. You would, however, get a bang for your buck in terms of flavours, thanks to their house-made kimchi and pineapple dip, which had a tanginess that cleverly tempered the cheesiness of the sandwich.
Both items we tried were well worth a comparison with the sick sandwiches at Korio, as they are almost equally priced and delivered in full-on flavours.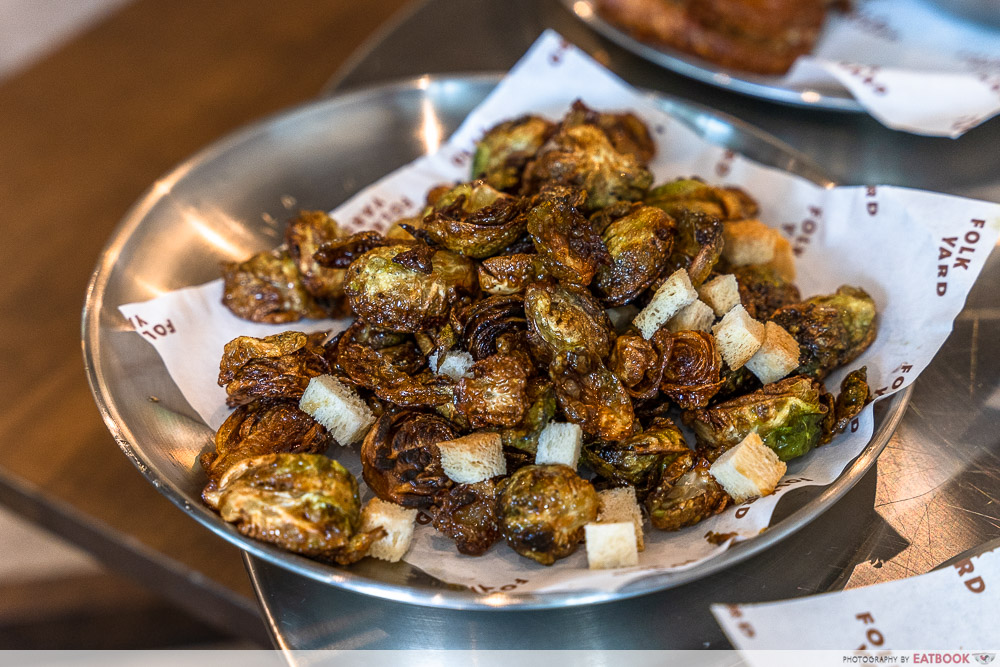 Another must-try on the menu is their Fried Brussels ($10). If I grew up around such delicious veggies, my mother never would have struggled to feed me my greens at meal times. Each bulb was nicely caramelised to a crisp and then tossed in a sweet and salty teriyaki-like sauce. This side is also available for $5 as an add-on to your sandwich order.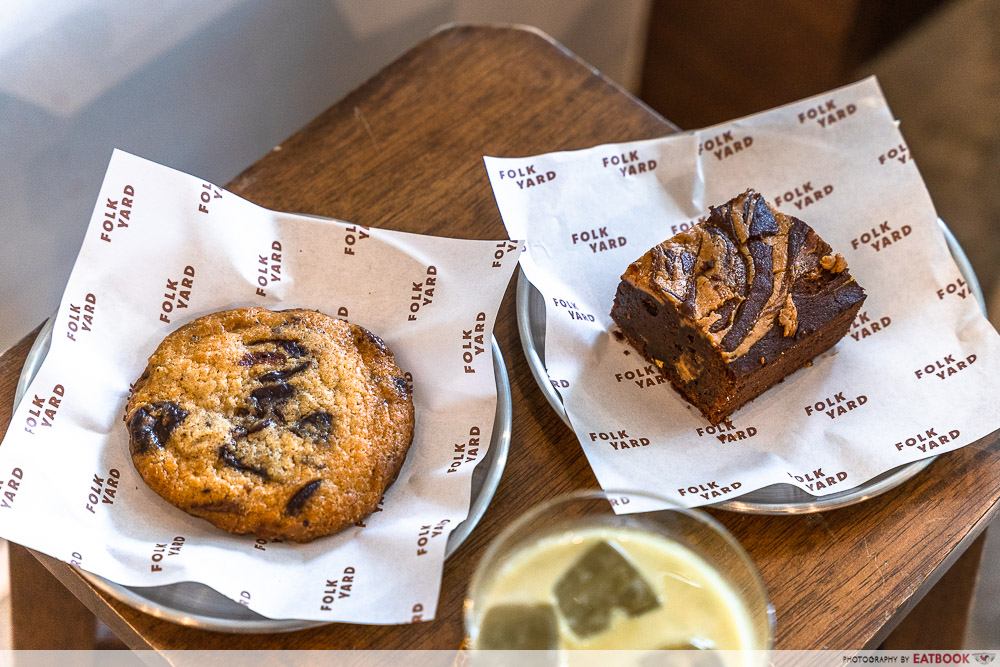 As with all their breads, their cookies and brownies are also baked in-house! Their PB & C Brownie ($5) was super dense and rich in chocolatey flavours, but what I loved the most about it was its sticky and fudgy texture. The Double Choc Cookie ($5) was also worth a try; it was like a fuss-free, old-fashioned molasses cookie with crunchy sides and a chewy centre.
By the time we headed down it was already late afternoon, so we decided to skip the coffee. Owner Shan shared that the Colombian coffee here is honey processed and is thus less acidic—an apt middle ground for the mass of coffee drinkers in Singapore. Prices here are also reasonable, starting from $4.50 for a cup of Black coffee. Non-coffee options include Matcha ($6), Houjicha ($6), Kombucha ($6), and Kefir (from $6).
Ambience at Folk Yard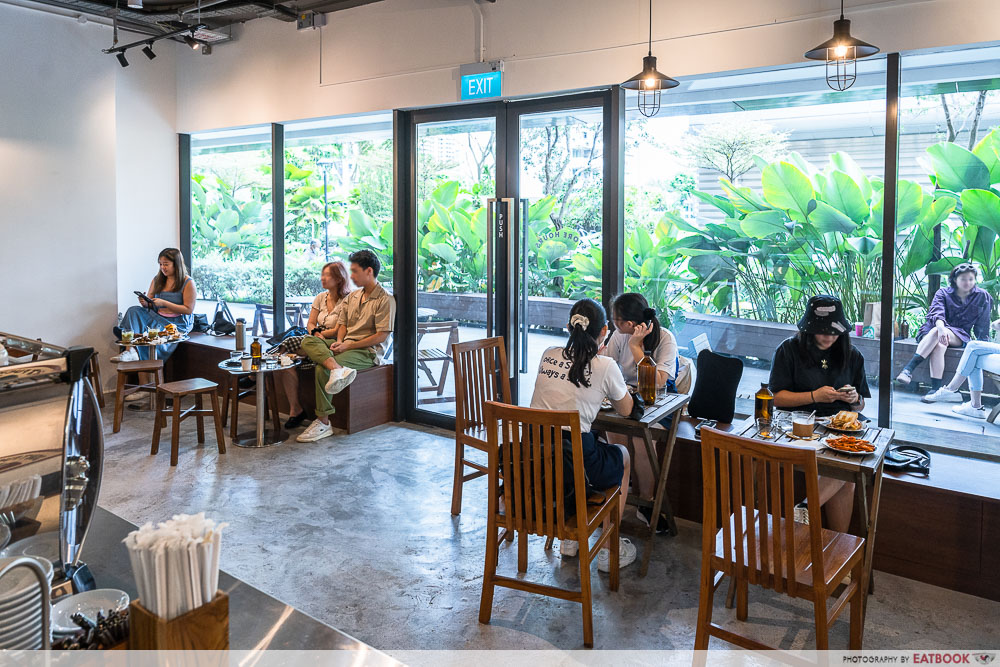 The service staff here were just like happy surfers. They were chill yet on their toes! Along with that comes the typical exposed concrete floors and camping chairs that have been all the rage these days. While seats are limited indoors, you can take on more chill vibes by 'hanging' outdoors with the foldable table tops provided by Folk Yard.
The verdict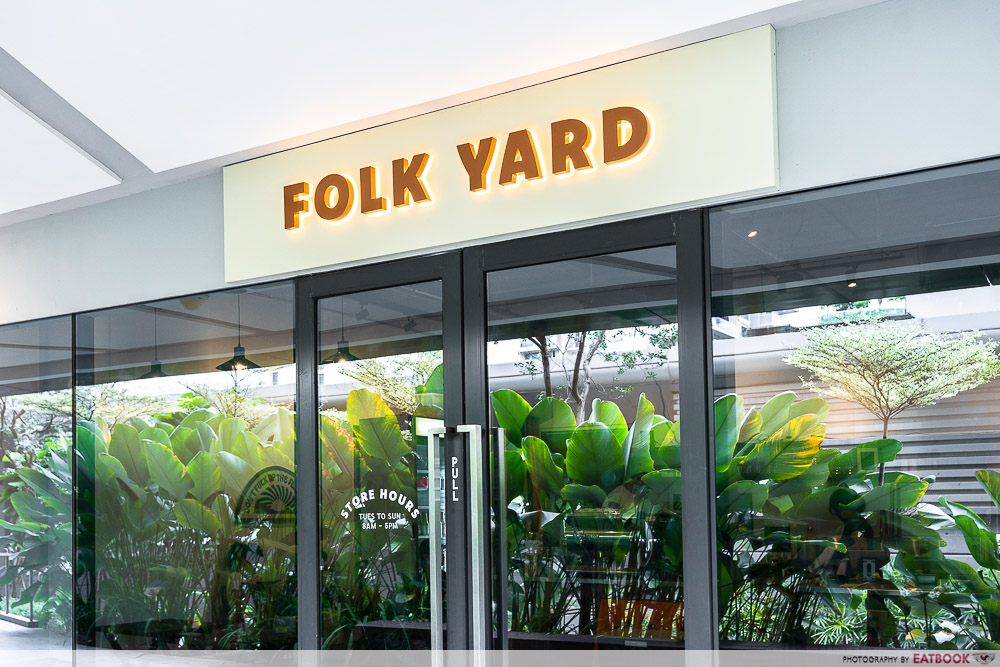 Folk Yard easily made it onto my list of best cafes in Singapore. Though the prices aren't that wallet-friendly, their sandwiches, sides, and sweet treats definitely warrant a visit, especially if flavours and vibes are what you look for at a cafe. 
Stay tuned, as there are also plans in the making for pizzas and craft beers on tap at night at the Folk Yard. Bookmark this review for more updates!
If you're looking for more sandwiches to check out, read our Sando Guide for loaded sammies, Korean egg toasts, and bagel sandwiches. Otherwise, visit our guide to the best cafes in Singapore for more must-try cafe picks.
Address: 51 Upper Serangoon Road, #01-59, Poiz Centre, Singapore 347697
Opening hours: Tue-Sun 9am to 5pm
Website
Folk Yard is not a halal-certified eatery.
Photos taken by Chew Yi En.
This is an independent review by Eatbook.sg.
Folk Yard Review: New Cafe At Potong Pasir Serving Thick Sammies That Can Rival Korio
Summary
Pros
– Flavourful and hearty sandwiches
– Well-seasoned food
– Convenient location
Cons
– Expensive
Recommended dishes: Breakfast Sandwich ($14), Fried Brussels ($10), PB & C Brownie ($5)
Opening hours: Tue-Sun 9am to 5pm
Address: 51 Upper Serangoon Road, #01-59, Poiz Centre, Singapore 347697