---
Sando shops in Singapore
---
Say the word 'sando', and everyone immediately recognises that you're referring to a sandwich. But here's where the term originated—サンドイッチ, read as san-do-it-chi in Japanese—or 'sando', for short.
We've borrowed the phrase in the same way the Japanese romanised what was the fourth Earl of Sandwich's favourite food, and love it possibly for the same reasons he did: it's a meal in a nifty handful. If you dig sandos, here's a guide to 15 places in Singapore for loaded sandwiches and more.
---
1. Korio
---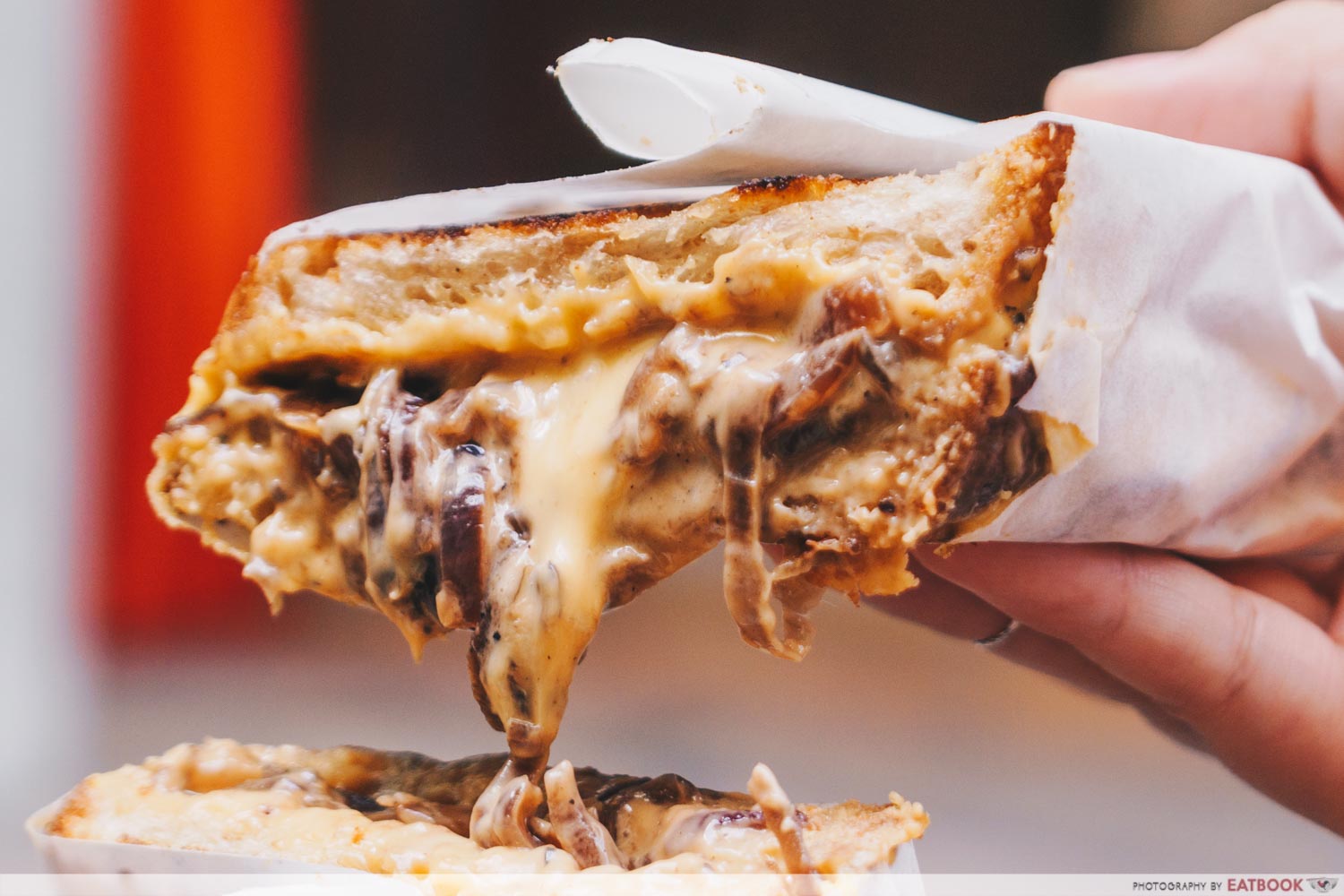 If loaded sandwiches weren't a thing before, Korio certainly put them on the map when the hole-in-the-wall shop opened back in 2020. They also sell NYC-style doughnuts, but it's the selection of sandwiches available in this CBD eatery that people come for.
Their most basic sando is a Grilled Cheese ($14), filled with cheddar, mozzarella, and American cheese that give it its delectable oozy centre, plus caramelised onions to cut through that savouriness. Then you have the Biggie Croque ($18), which is their sandwich interpretation of the Croque Monsieur: stuffed with smoked turkey ham, bechamel, cheddar, Swiss cheese, caramelised onions, and mustard.
Do note that only selected sandwiches are available each day, so take a look at their menu to check it out and preorder your sammies! Read our Korio review here.
Address: 135 Amoy Street, #01-03, Far East Square, Singapore 049964
Opening hours: Tue-Fri 9am to 2pm, Sat 9am to 1:30pm
Tel: 9771 6491
Website
Korio is not a halal-certified eatery.
Korio Review: Brooklyn-Inspired Brioche Donuts And Grilled Cheese Toasts At CBD
---
2. 46 Mittsu
---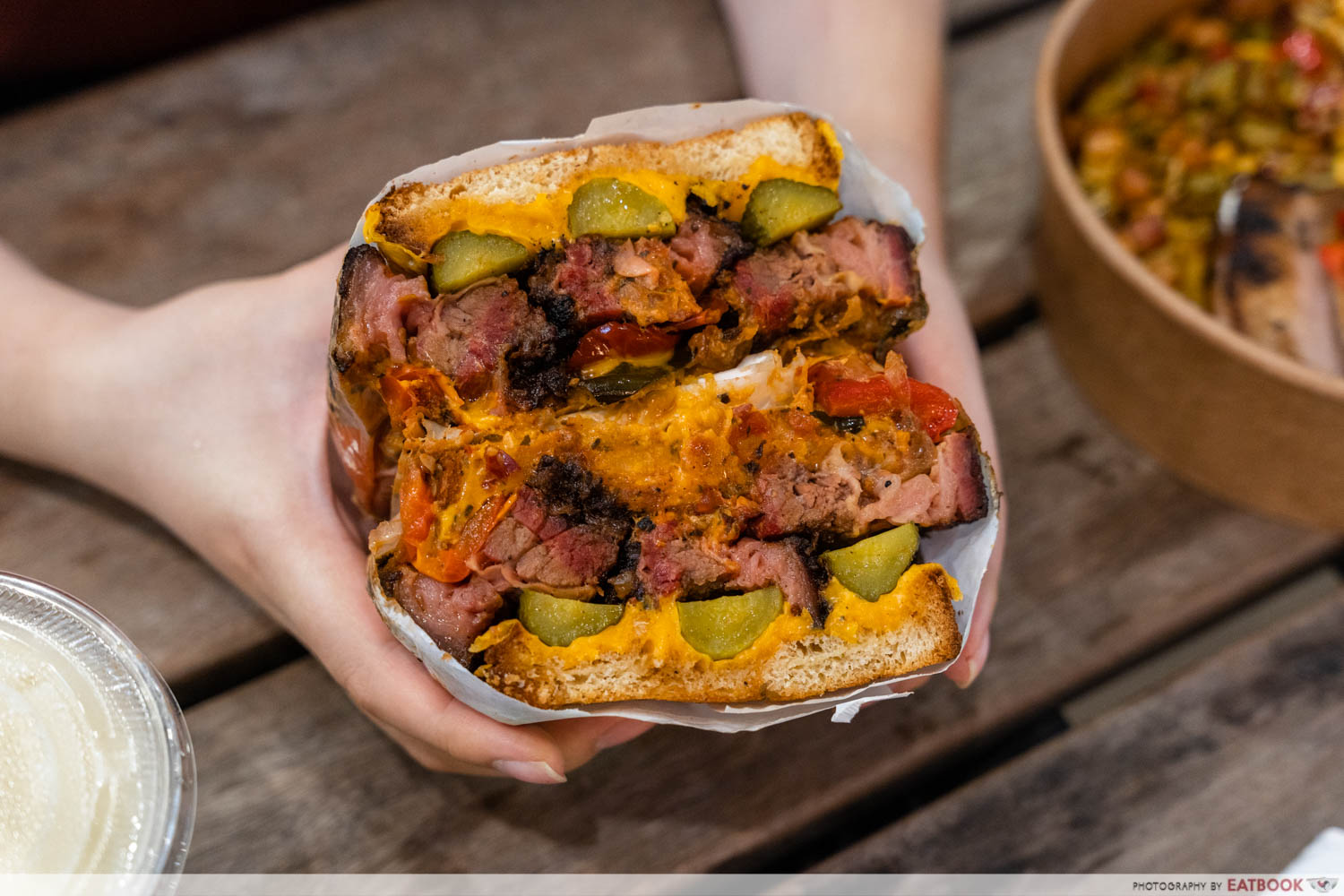 Lesser known is 46 Mittsu, which started out selling rice bowls, but earned their stripes with the sandwiches on offer. There are only seven of these, filled with either your typical breakfast suspects including bacon, eggs, and PB&J, or hunks of meat such as pork ribs, beef, and more.
The Beef Sando ($14) is one of the bestsellers here. Sandwiched between slices of toasted brioche are house-smoked beef brisket, American cheddar, roasted ratatouille, and pickled jumbo pickles. Another of their customers' favourites is B.E.C ($12), where the thick-cut bacon is also house-made. It's paired with creamy scrambled eggs, cheese, and habanero gribiche—we loved the balance of flavours in the sammies!
Read our review of 46 Mittsu!
Address: 46 Kim Yam Road, #01-07, The Herencia, Singapore 239351
Opening hours: Daily 11am to 5pm (until sold out)
Website
46 Mittsu is not a halal-certified eatery.
46 Mittsu Review: Thick Japanese-Inspired Sandwiches That Can Rival Sando, Korio And Two Men Bagel
---
3. Breakfast Grill
---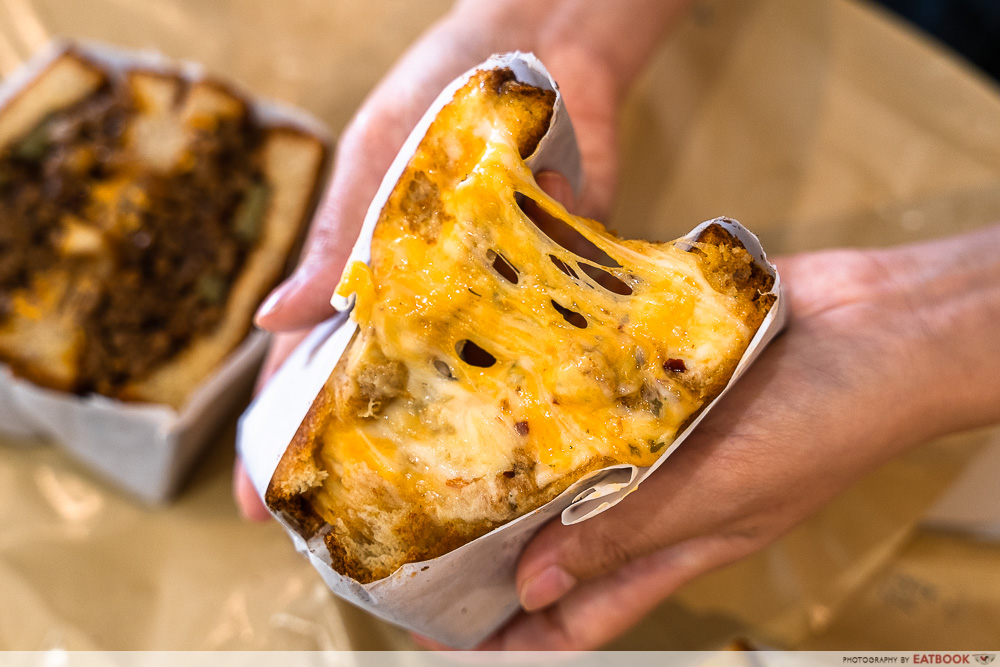 Unlike most other cafes, Breakfast Grill in East Coast is open every day of the week: a most convenient sandwich spot for those living in the Siglap-Joo Chiat area. No less than four cheeses star in Cheeses ($10), which is their take on the classic grilled cheese sandwich. The bread is also spread with a house-made garlic spread, adding an extra level of yum. Pair it with Tomato Soup ($4) that's also made in-house.
What sets the sammies here apart from the competition is Hot Chick ($15.50), which is pretty reasonably priced considering the whole chicken thigh you get. That's not all—the deep-fried chicken comes with scrambled eggs, pickled jalepeno peppers, house-made garlic aioli, and crushed Crunchy Cheddar Jalapeno Cheese Flavoured Cheetos.
Read our Breakfast Grill review!
Address: 380 East Coast Road, Singapore 428986
Opening hours: Daily 8am to 4pm
Tel: 8363 9502
Website
Breakfast Grill is not a halal-certified eatery.
Breakfast Grill Review: Affordable Loaded Sandwiches Including A Cheetos Chicken Sammie In East Coast
---
4. Park Bench Deli
---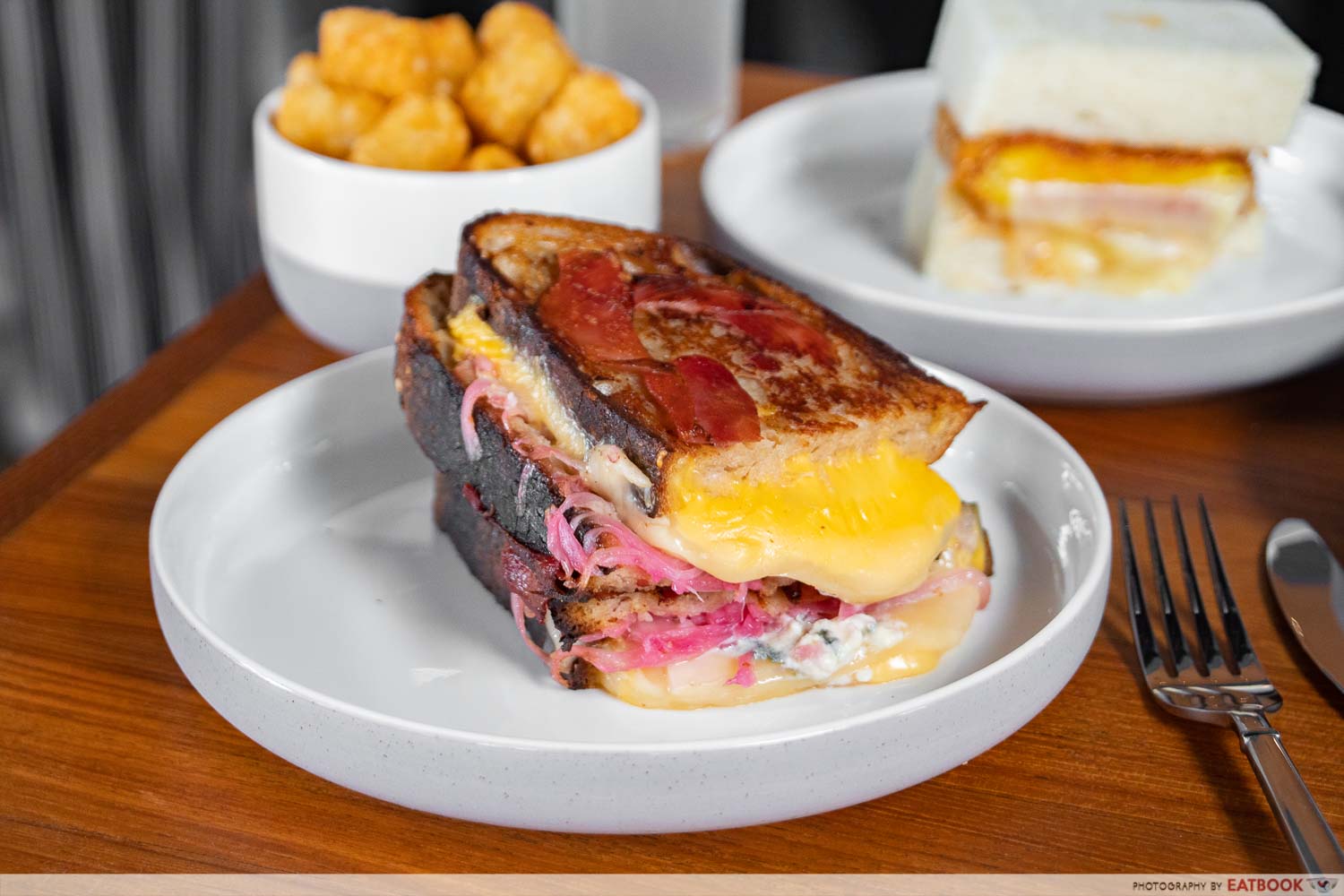 Cult favourite Park Bench Deli revamped its menu to include ricotta pancakes and the like, but their sandwiches will always be number one in many hearts. Take the easy way out of chomping down a big breakfast with their Breakfast Sandwich ($16+), where you get house-made sausage, a fried egg, dill remoulade, cheddar, and zucchini pickles in a potato bun.
Another mainstay is the Pastrami Reuben ($24+), liberally layered with house-smoked pastrami, sauerkraut, Swiss cheese, and a Russian dressing—despite its name, this is an American invention that dates back to 1900. It's similar to a Thousand Island dressing, but where Thousand Island has pickles that lend it sweetness and texture, a Russian dressing features chilli sauce and horseradish so it tends towards spicy.
Address: 179 Telok Ayer Street, Singapore 068627
Opening hours: Tue-Sun 9am to 3:30pm, 5pm to 10pm
Tel: 6815 4600
Website
Park Bench Deli is not a halal-certified eatery.
Park Bench Deli Reopens In Telok Ayer With Ricotta Pancakes And Grilled Cheese Sandwiches
---
5. Hello Arigato
---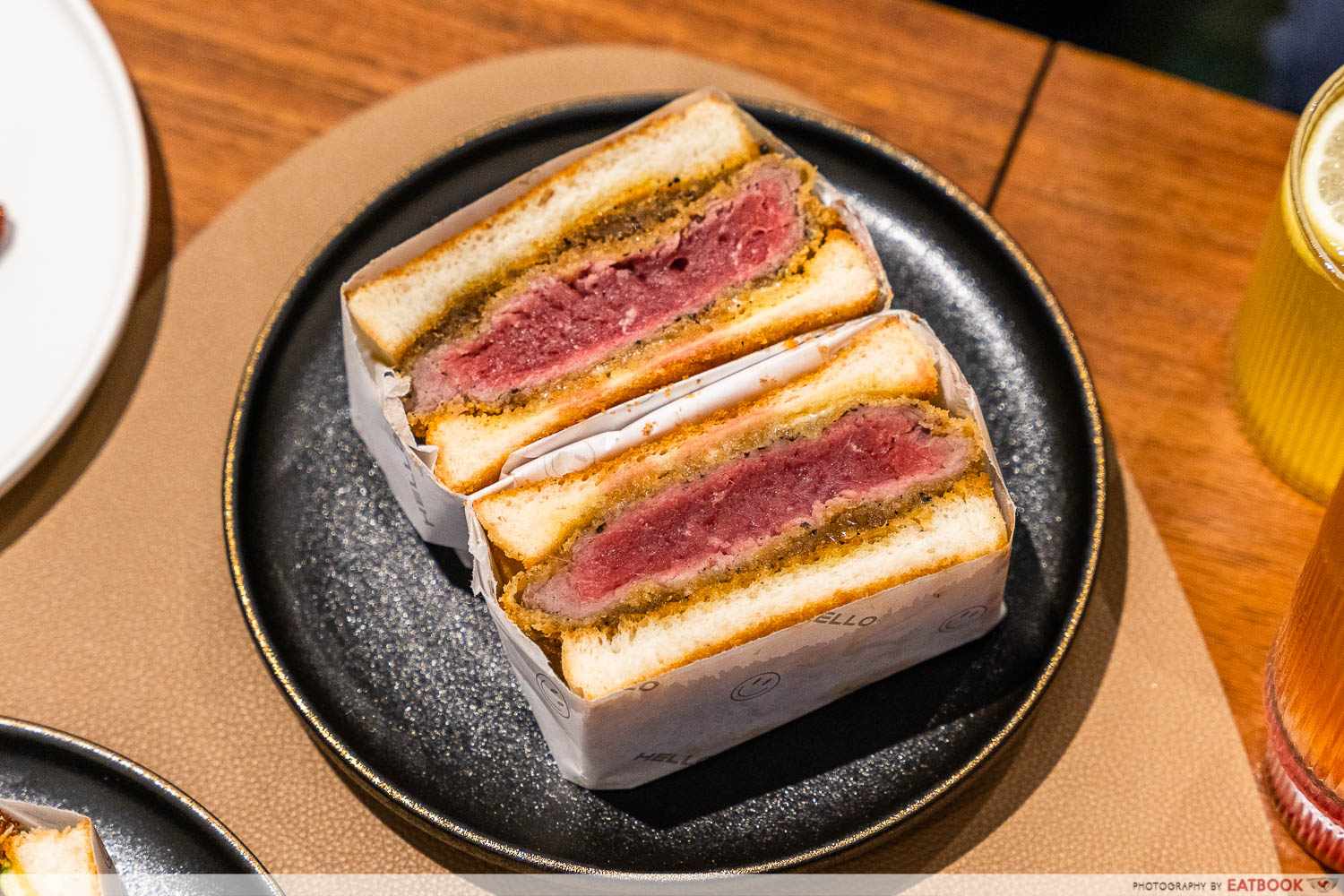 There are two signature sandos on the menu at Hello Arigato: the Gyu Sando ($26+) and Otah Sando ($20+). The first comprises a 160g slab of Angus beef striploin, katsu-ed, and kiapped between Japanese milk bread, while the latter has a thick hunk of breaded Muar otah, paired with kaffir lime sambal and coconut sauce.
If these are too exotic for you, the Tamago Sando ($14+) might tickle your fancy instead, with its triple egg whammy of ajitama egg, tamagoyaki, and Japanese egg mayo. Otherwise, the Katsu Sando ($16+) differentiates itself from your regular katsu sando with the addition of grilled pineapple for a touch of brightness.
Read our review of Hello Arigato!
Address: 227 Upper Thomson Road, Singapore 574359
Opening hours: Tue-Fri 11am to 4pm, 6pm to 9pm, Sat-Sun 10am to 4pm, 6pm to 9pm
Website
Hello Arigato is not a halal-certified eatery.
Hello Arigato Review: New Cafe With Tom Yum Somen, Thick Angus Beef And Otah Sandos In Upper Thomson
---
6. Two Men Bagel House
---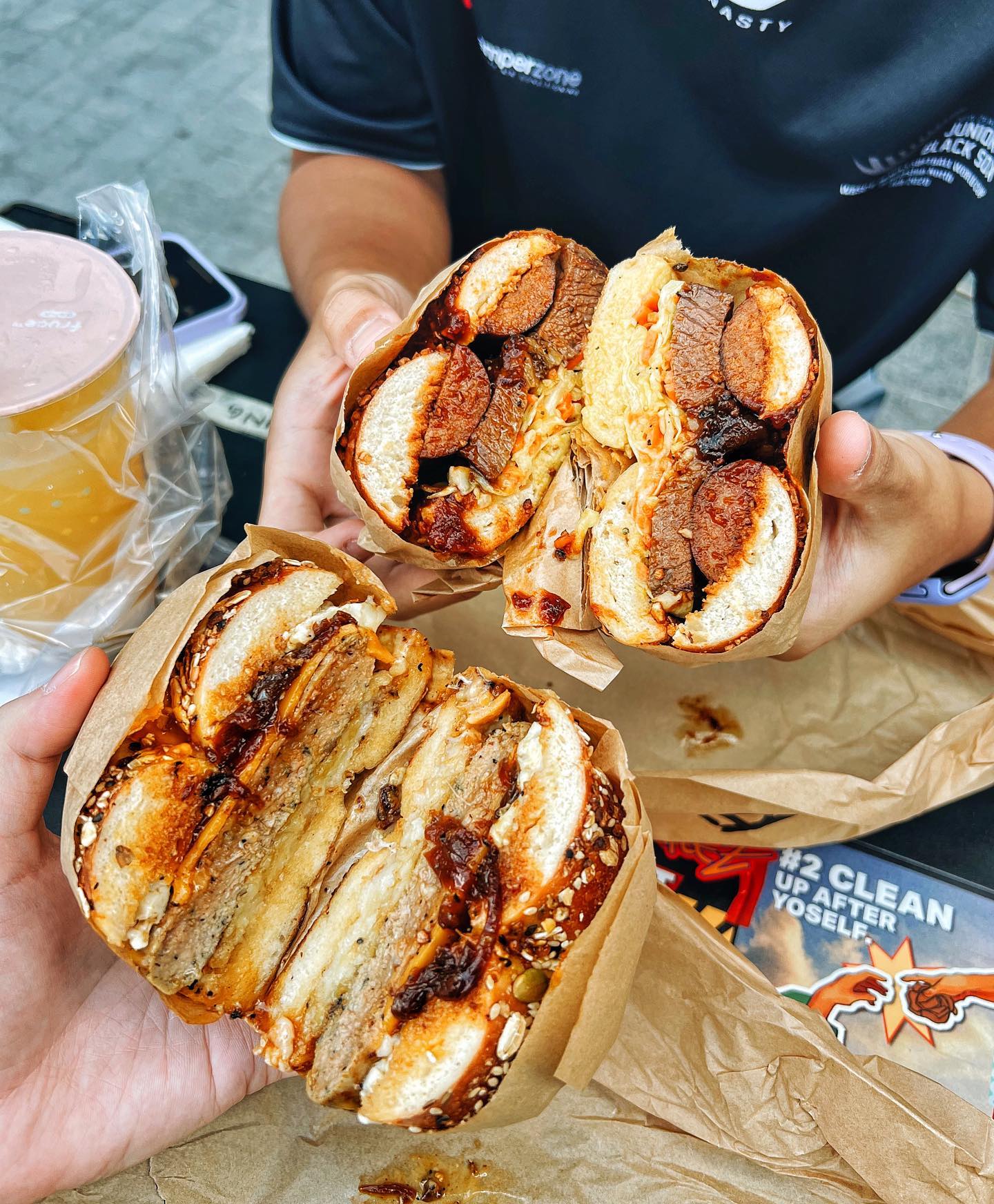 Image credit: @n0mzster
As its name suggests, the sandwiches at Two Men Bagel House come with bagels. It was started by two friends who were inspired to start a 'modern cool version of a traditional bagel shop', and the rest, they say, is history. It's been close to 10 years since they first began, and their bagelwiches are still as popular as ever.
Each 'wich starts with a bagel, boiled and baked fresh daily, and comes in assorted flavours. The Hogwarts ($16.10) has tamari pork and house-made salted mustard greens with a sunny side-up and Oriental plum jam, while Fowl Mood ($15) comes with tea-brined turkey, yuzu kosho sour cream, and a kombu salad.
Read our review of Two Men Bagel House!
Two Men Bagel House 2.0 Review: Smoked Meat Bagel Sandwiches With Spiced Ribs
---
7. Samwitch
---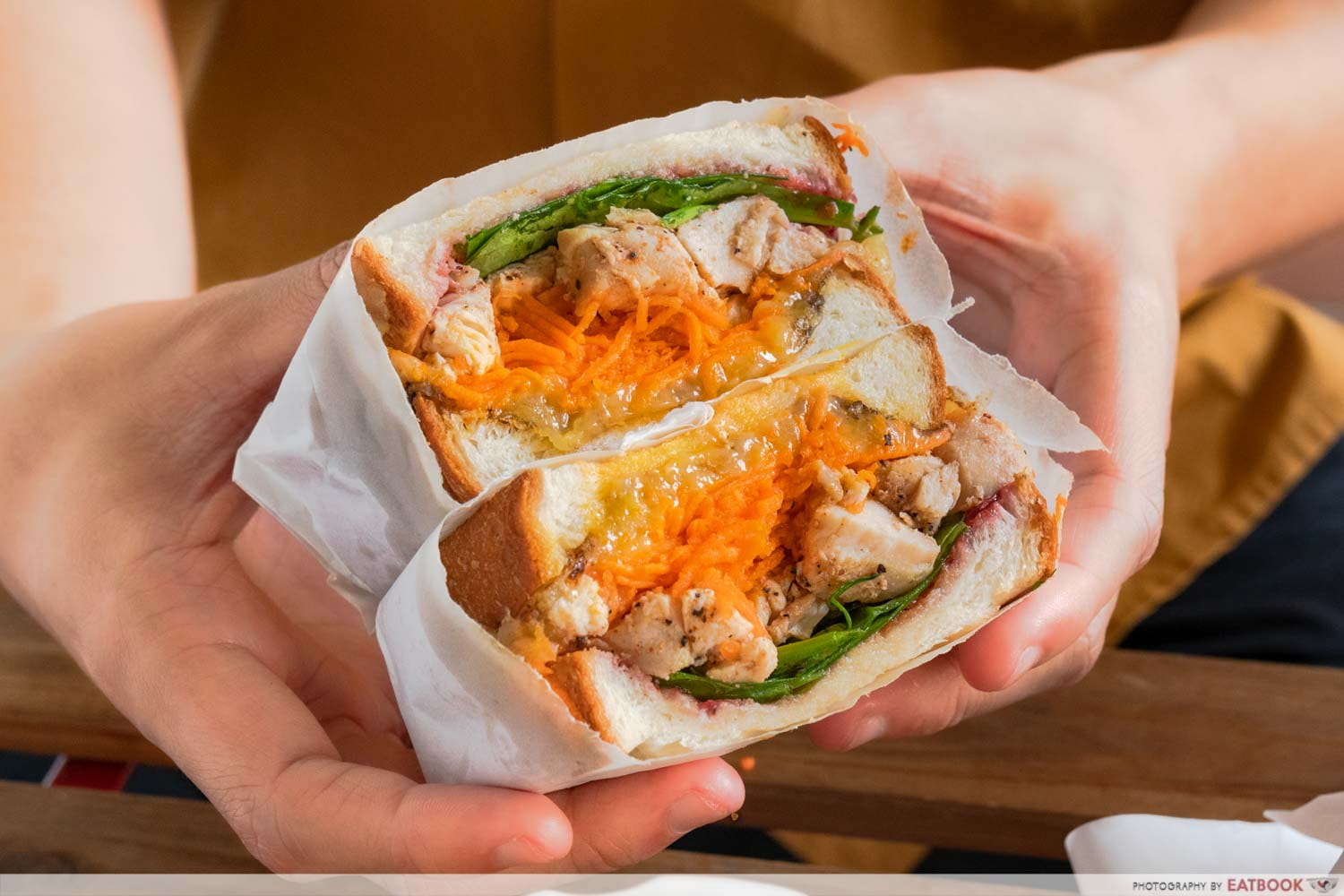 The Samwitch sammies are formulated by gym bros, for fellow gym enthusiasts. Packed with proteins and prepared with no added oil, the sandwiches here are also relatively wallet-friendly for what you get. Their menu is short, with only three options that you can choose from.
One of the three is Chicken Sando ($9), where the meat is sous-vide, paired with strawberry jam, and complemented with copious amounts of shredded carrots. Torched cheese adds a smoky edge to this 'wich, and you can make the sandwich more substantial by upgrading the bread to the thicker Premium White Toast ($1). Another option here is the Fish Sando ($9), similarly brimming over with flaky white fish and greens.
Read our Samwitch review!
Website | Locations
Samwitch is not a halal-certified eatery but uses no pork or lard.
Samwitch Review: Loaded Sandwiches With Flame-Torched Cheese And More In Hougang
---
8. Eggciting
---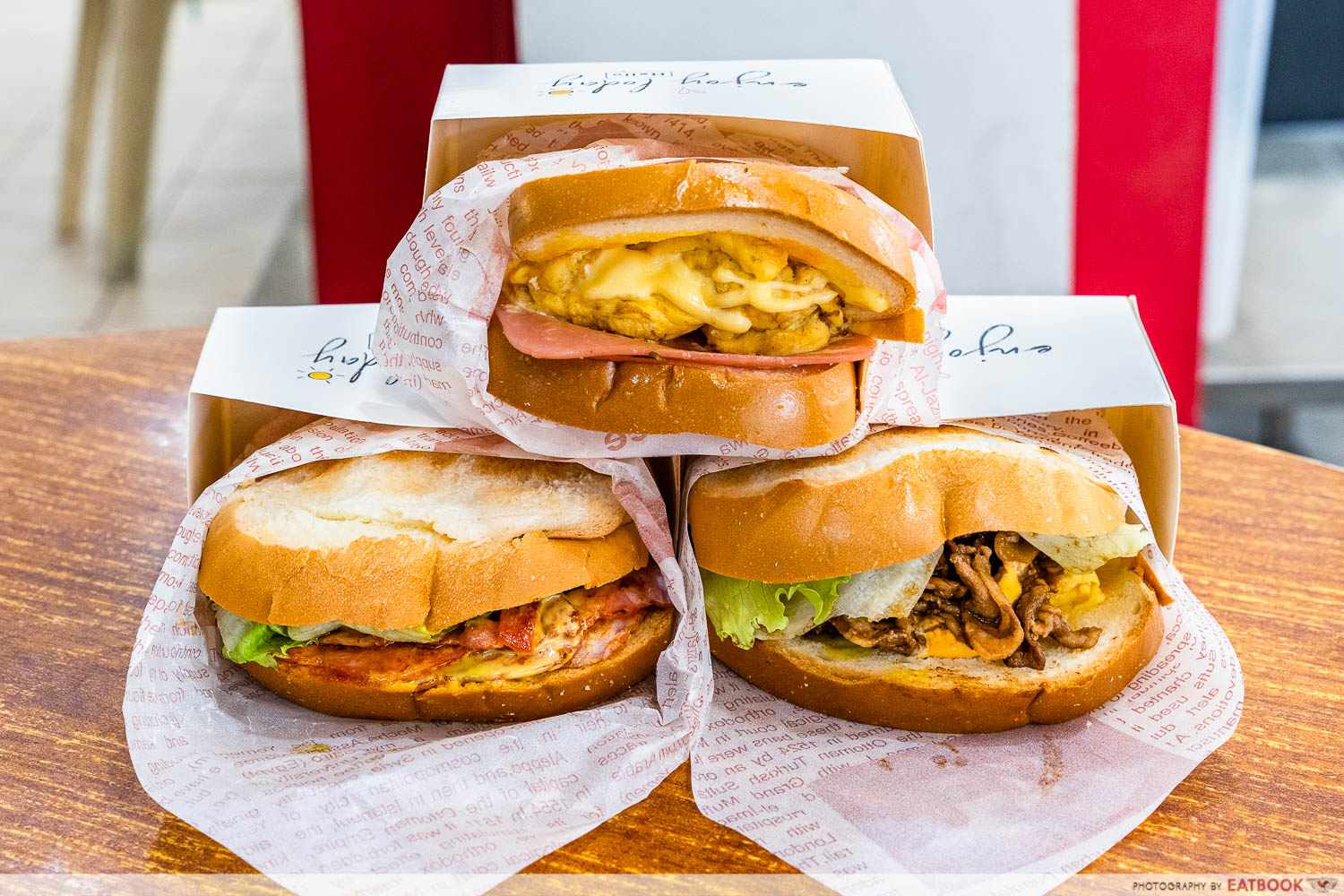 Yet another heartland find, Eggciting is a hawker stall in Sembawang that sells loaded Korean sandwiches. Of the options on this list, they're probably the most affordable, with prices as low as $4 for a sando!
All the toasts here come with omelette-style eggs, prepared without milk, rather than scrambled eggs, so that they travel better, and can be enjoyed by the lactose-intolerant. You also get to choose up to two sauces a toast. The cheapest toasts come with Ham ($4) or Luncheon Meat ($4); on the opposite end of the scale are Bacon ($6) and Pork Shabu ($6).
Read our review of Eggciting!
Address: 115 Canberra Walk, #01-03, Singapore 750115
Opening hours: Mon-Fri 8:30am to 1:30pm, Sat-Sun 8:30am to 3:30pm
Tel: 9229 0888
Website
Eggciting is not a halal-certified eatery.
Eggciting Review: Affordable Korean-Style Toast With Pork Shabu And Lu Rou Fan In Sembawang
---
9. Sando
---
Image credit: @chansyummyfoods
There are sandos, and then there is Sando, tucked away in Alexandra Technopark, and only open for five hours each day. They've even upped their sandoitchi game with the all-new Truffle Tamagoyaki ($10.50), a jazzed-up egg sandwich where slices of shokupan hold together tamagoyaki, egg salad, truffle sauce, and kombu mayonnaise.
Outside of the two breakfast sandwiches, the menu is heavily influenced by Japanese flavours, evident in the Tori Karaage ($11.50), Braised Chashu ($12.50), and Yuzu Yakitoro ($14) sammies. Considering you get an extra thicc, free-range Gooralie pork loin in the Gooralie Tonkatsu Sando, $15 is well worth it.
Read our Sando review! Do note that the menu has changed since we last visited.
Address: 438C Alexandra Road, #01-04A, Alexandra Technopark, Singapore 119976
Opening hours: Mon-Sat 9am to 2:15pm
Tel: 9771 0388
Website
Sando is not a halal-certified eatery.
Sando Review: Legit Tonkatsu Sandwiches Found At Alexandra Technopark
---
10. MenboLah
---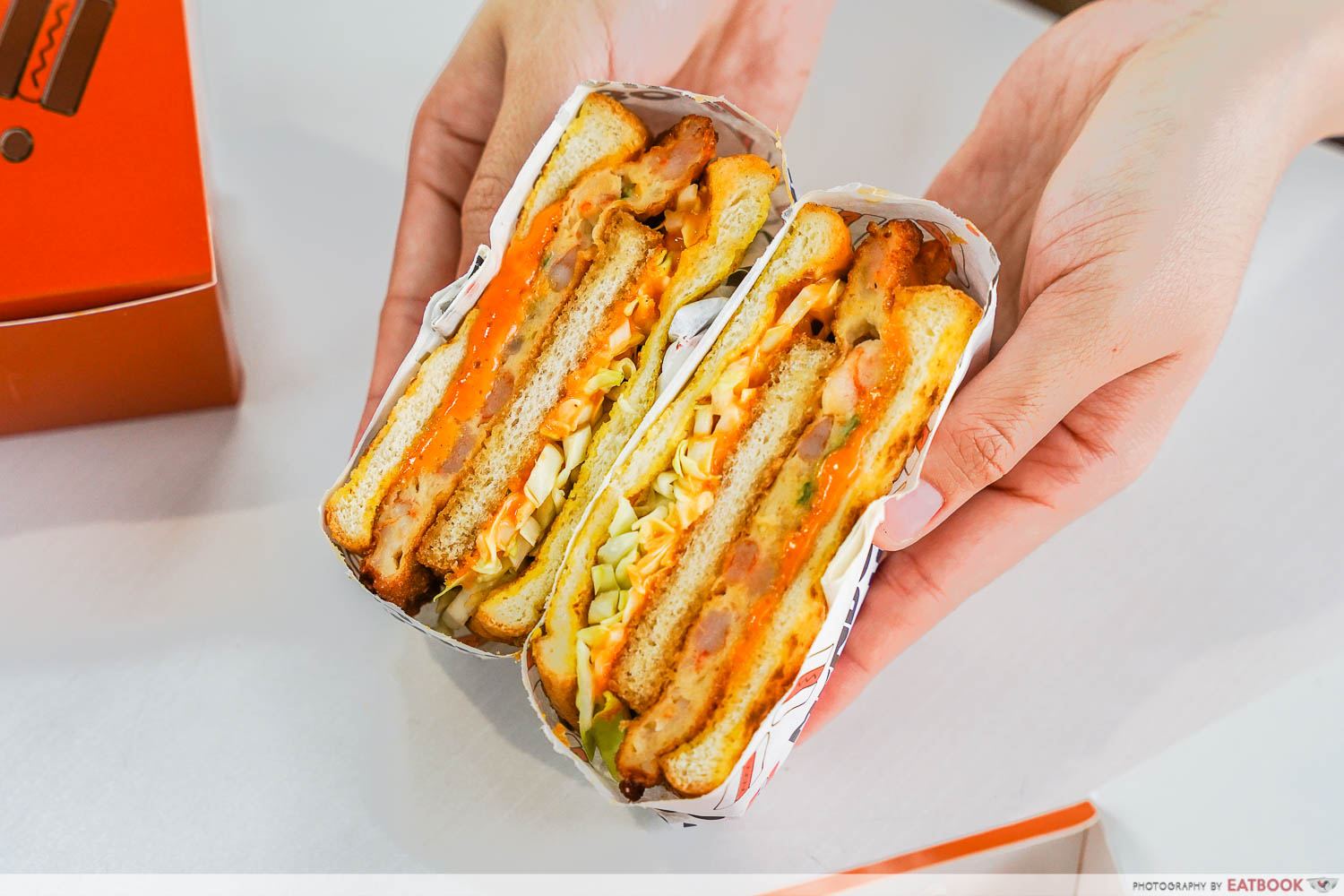 Situated in the commercial and industrial mixed development of CT Hub 2, Menbolah has gained traction in the internet sphere with its Korean-inspired sandos. Unlike the other spots on this list, they've also got menbosha, AKA Korean shrimp toast!
The takeaway-only kiosk has a rather comprehensive selection, including bite-sized MenboBites, or snack-worthy mini shrimp toasties. On the full-sized sandwich side, there's Nacho Cheese Chicken Cutlet Garlic Toast ($7.90), with a fried chicken cutlet and Korean veggie patty enveloped by garlic toast. Otherwise, the Beef Bulgogi Garlic Toast ($8.70) features the quintessential Korean beef dish, also between slices of garlic toast.
Address: 114 Lavender Street, #01-17, CT Hub 2, Singapore 338729
Opening hours: Mon-Sat 10am to 8pm
Tel: 9144 3348
Website
Menbolah is not a halal-certified eatery.
This Kiosk In Lavender Sells Korean Menbosha Sandos And Mentaiko French Toast
---
11. Eggslut
---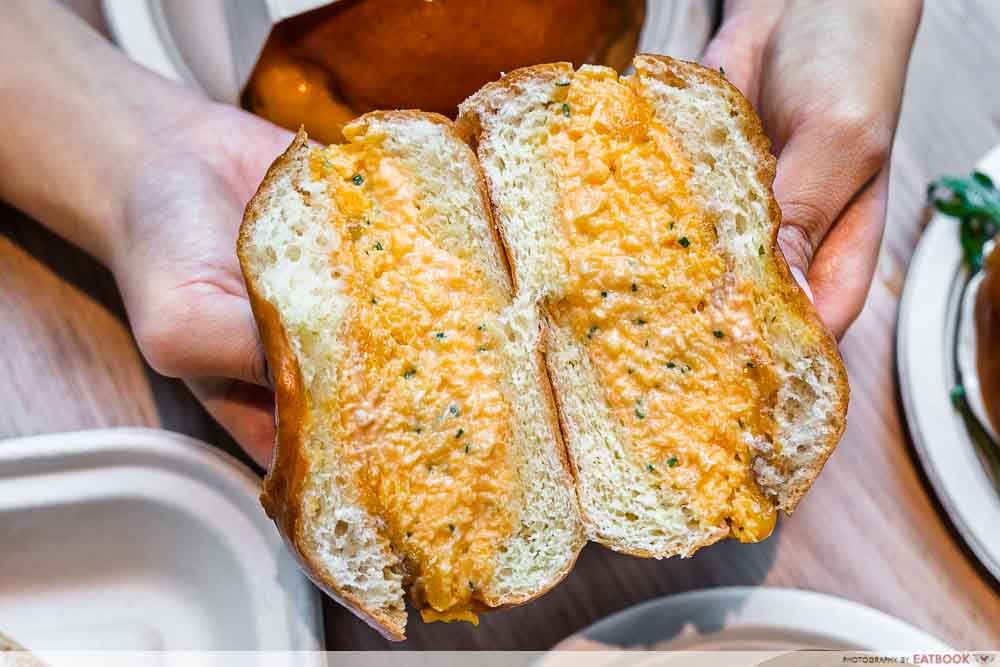 Singaporeans went stir-crazy when L.A. food truck and egg sandwich extraordinaire Eggslut set up shop here, and with good reason. Their signature Fairfax Sandwich ($12) almost has more egg than bun, and each batch of the free-range scrambled eggs takes something like five minutes of laborious stirring over low heat.
There's also a Gaucho Sandwich ($23), where seared Wagyu tri-tip steak is offset by a delectable chimichurri sauce, and a sunny side-up. Otherwise, more standard choices here are the Bacon, Egg & Cheese Sandwich ($12), or Sausage, Egg & Cheese Sandwich ($12).
Read our Eggslut review!
Address: 6 Scotts Road, #01-12, Scotts Square, Singapore 228209
Opening hours: Daily 8am to 10pm
Website
Eggslut is not a halal-certified eatery
Eggslut Singapore Review: Famous Loaded Egg Sandwich With Wagyu And More In Orchard
---
12. The Lowef Shack
---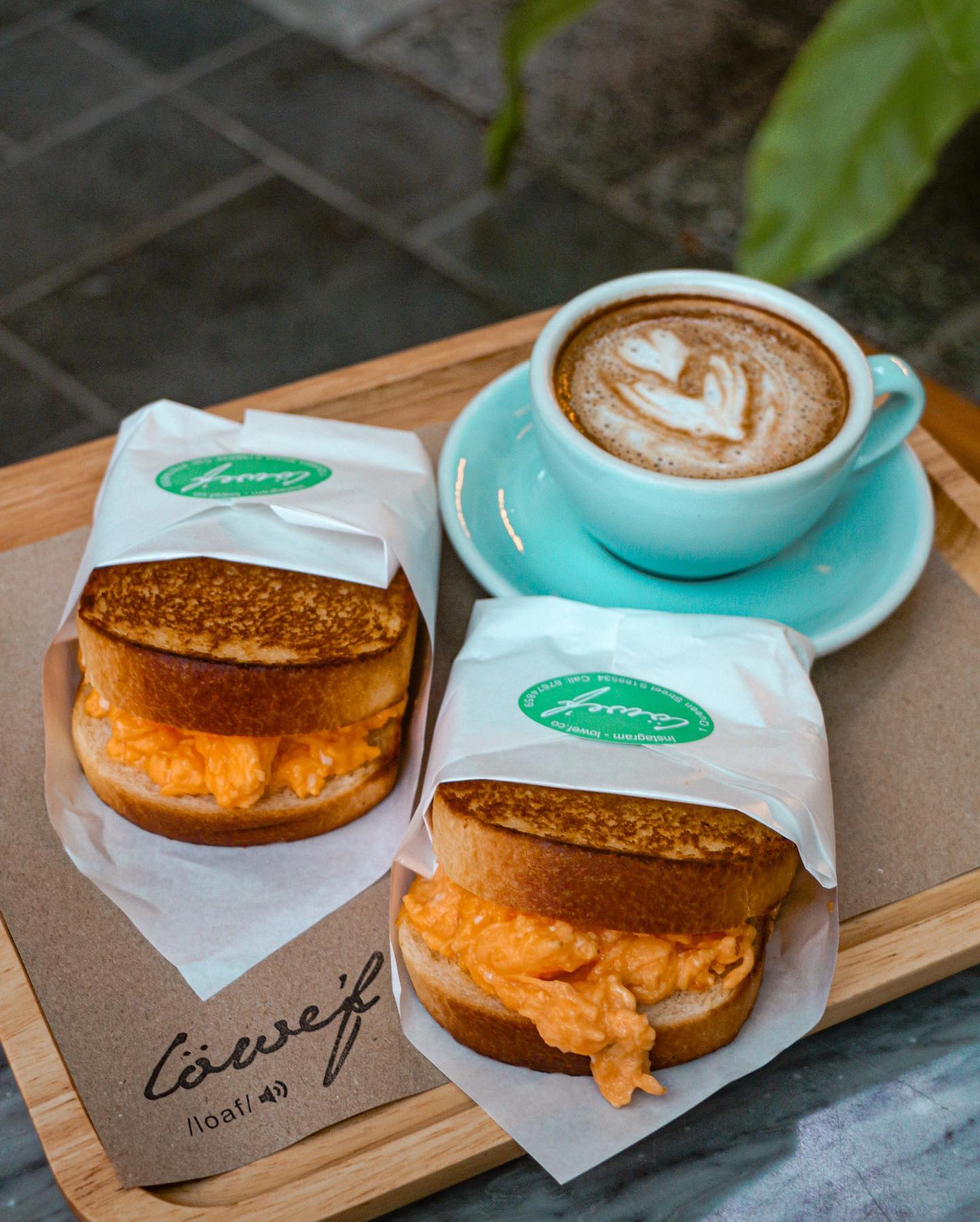 Image credit: carbs.monster
Previously located on Queen Street in Bras Basah, The Lowef Shack, or The Löwe'f Shack—pronounced loaf—is the family-owned bakery-cafe's version 2.0, still serving their artisanal bread and food. They're still getting into the swing of things at their new location in Springleaf Nature Park so the full menu is not available yet. Keep an eye on their Instagram page for updates!
Fans love their Good Morning Burger (from $8), prepared with a house-made, sourdough brioche bun. Free-range scrambled eggs—for which they gained notice—sambal mayo, spiced caramelised onions, and cheddar complete this sandwich. Also loved is the Hae Bee Hiam Melt (Price TBA), where wholewheat Pullman slices accompany house-made shrimp floss and avocado, amongst other ingredients.
Address: 1230 Upper Thomson Road, #01-02, Springleaf Nature Park, Singapore 787129
Opening hours: Daily 8am to 6pm
From 22 March 2022: Mon-Wed 8am to 8pm, Thurs-Sat 8am to 9:15pm, Sun 8am to 8pm
Tel: 8767 4859
Website
The Lowef Shack is not a halal-certified eatery.
Sandowichi: IG-Worthy Onigiri Sandwiches With Flavours Such As Grilled Spam With Torched Mentai Mayo
---
13. ONDA by Park Bench Deli
---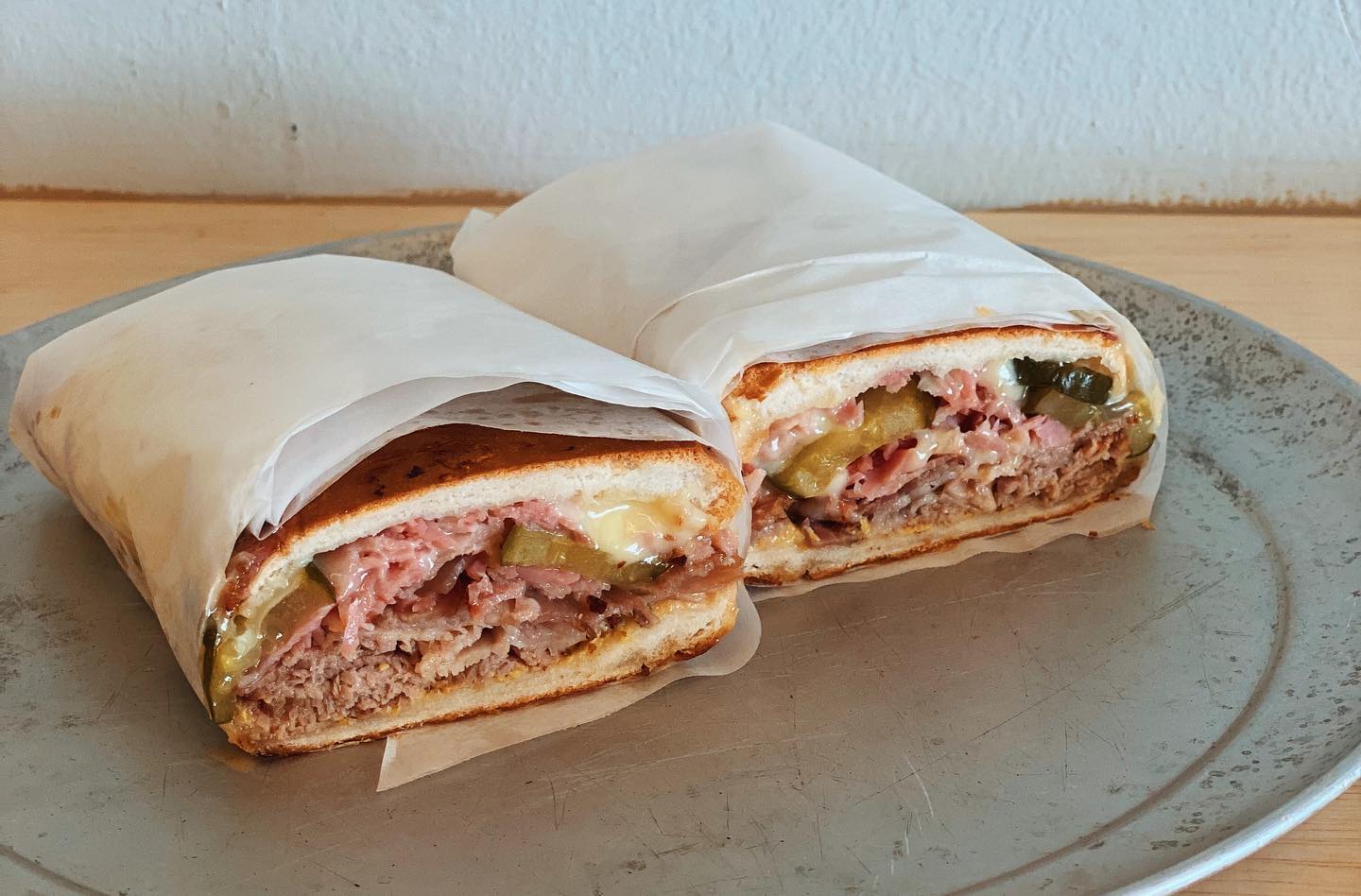 Image credit: @mykhineoffood
ONDA is an offshoot of Park Bench Deli, centred around one of the parent brand's original lineup of sammies. This little stall celebrates Cuban-Miami fare, with a concise menu of four sandwiches and a hot dog roll.
The Cubano ($16.50) is the jock of the team at ONDA, with sweet ham, lechon, pickles, and mustard in a soft bread roll. Then, there's the Cuban Cheese Steak ($16.50), laced with ONDA's own cheese sauce atop beef brisket. Not commonly seen around here is the Ham and Cheese Dip ($15.50), so named for the salsa espanola dip that you're supposed to dip your sandwich into.
Address: 21 Lorong Telok, Singapore 049033
Opening hours: Tue-Fri 10:30am to 3pm
Website
ONDA by Park Bench Deli is not a halal-certified eatery.
---
14. Sarnies
---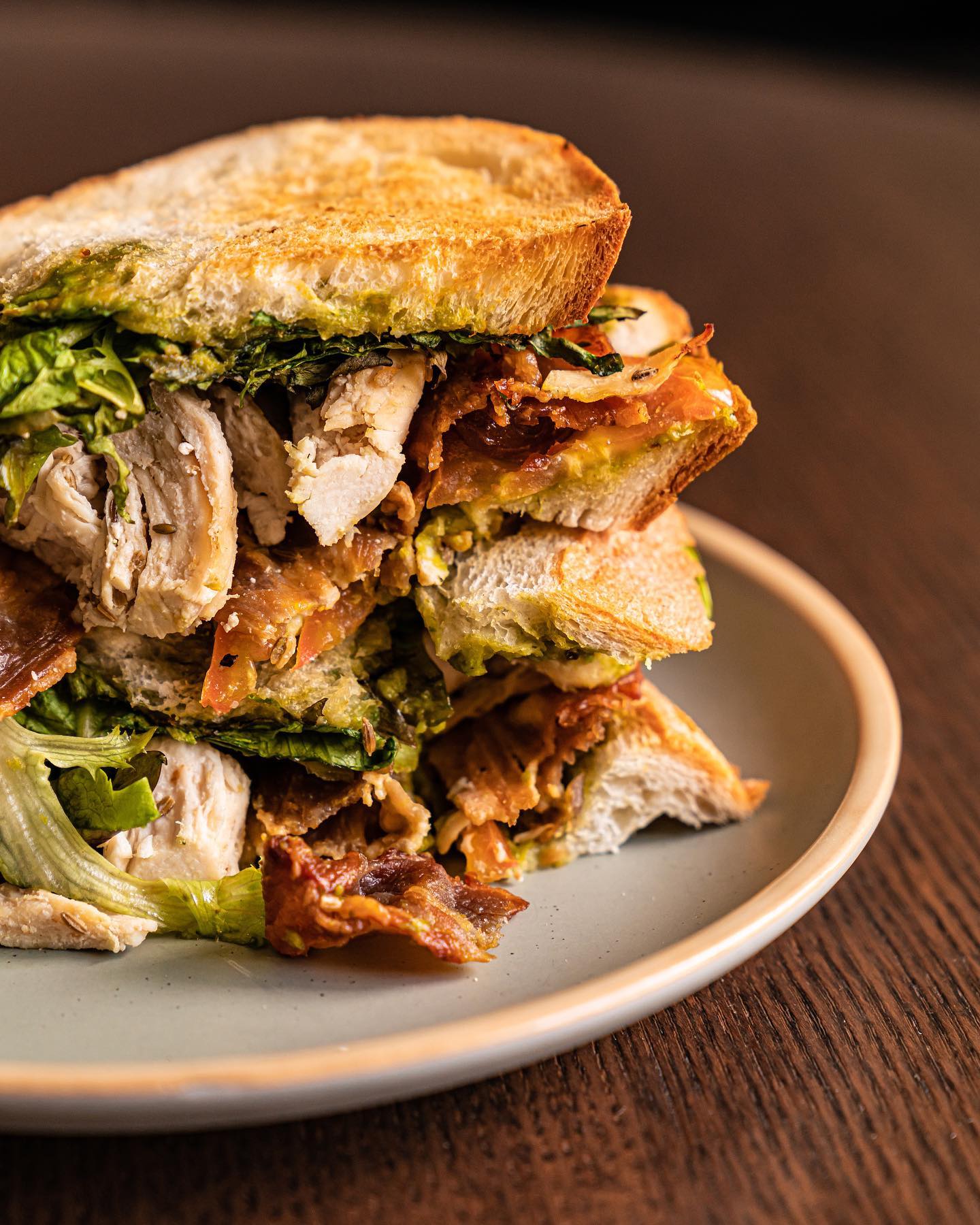 Image credit: @sarnies.sg
Yet another term for sandwich is sarnie, so with a name like Sarnies, you can be sure this cafe knows what they're doing. Their sandwiches are primarily available on the lunch menu on weekdays between 11am and 3pm, though you do get a Bacon & Egg Sarnie ($10) on the breakfast and brunch menus.
If you're here for the lunch sammies, there are eight options, including a Roast Chicken ($16), where fennel roasted chicken meets bacon, greens, tomatoes, and guacamole in country sourdough. If you're craving fried chicken, the Dirty Bird ($16.50) stars fried buttermilk chicken thigh meat with a buttermilk slaw, togarashi, and fermented garlic butter.
Address: 136 Telok Ayer Street, Singapore 068601
Opening hours: Mon-Fri 7:30am to 10pm, Sat-Sun 8:30am to 3:30pm
Website
Sarnies is not a halal-certified eatery.
---
15. Monday Coffee Bar
---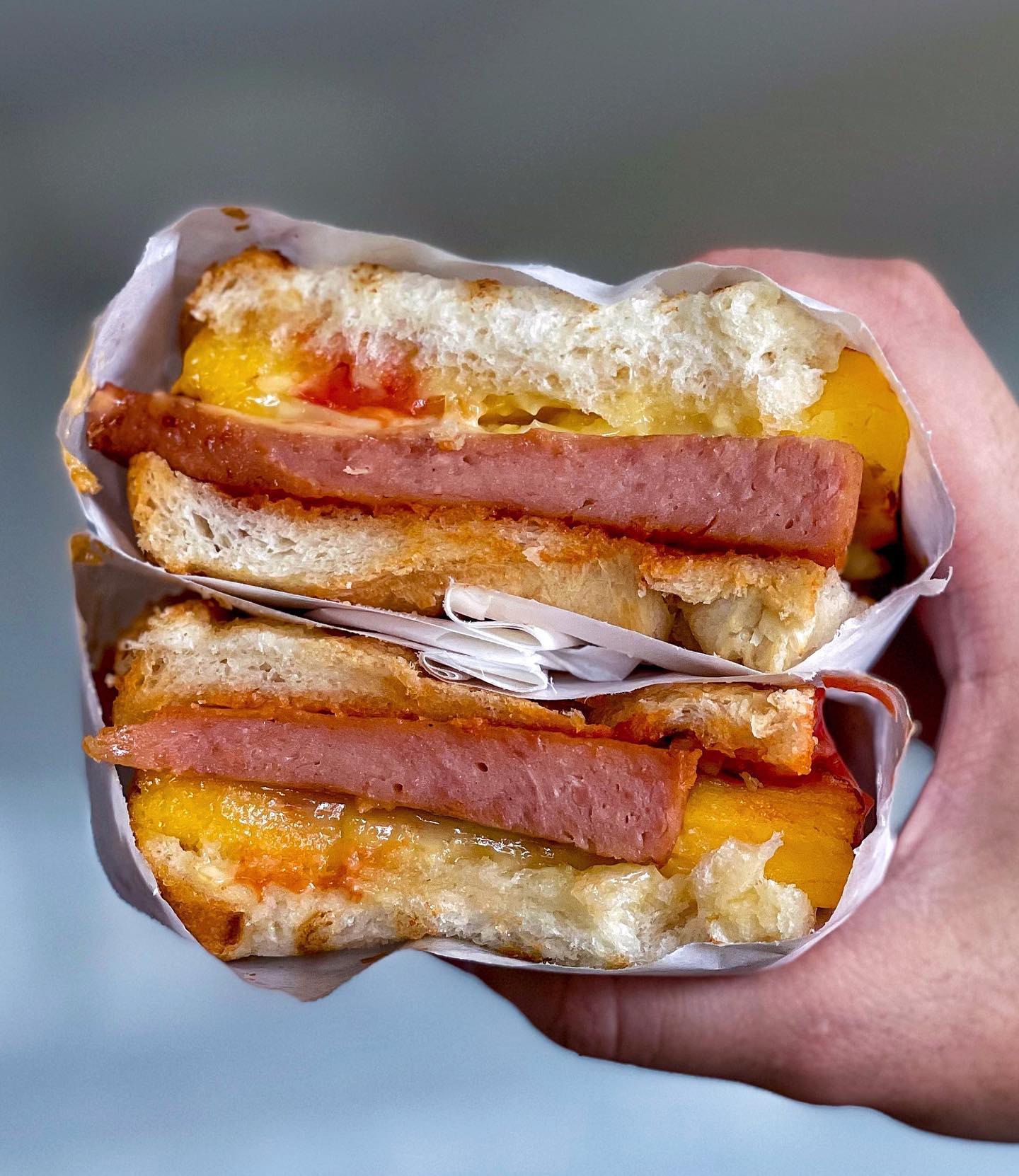 Image credit: @itstheben.eats
Monday Coffee Bar is another heartland gem, with a Japanese-inspired space and affordable sandos to boot. One of the sammies here is the Chicken Katsu ($7.50), a somewhat healthier, oven-baked katsu with greens and a maple nut sauce.
Also on the menu are a Luncheon Tamagoyaki Sando ($6.50) and a meat-free Miso Sweet Potato ($5.50) sandwich, spread with miso butter, and full of a roasted honey sweet potato mash within.
Address: 421 Ang Mo Kio Avenue 10, Singapore 560421
Opening hours: Mon-Fri 8:30am to 6:30pm, Sat-Sun 9:30am to 6pm
Website
Monday Coffee Bar is not a halal-certified eatery.
---
Where to eat sandos in Singapore
---
It's pretty amazing how the ingredient combinations in a sando work with nothing more than two slices of bread. These sando stalls in Singapore don't serve up an average sandwich that you can slap together at home, so they're definitely worth checking out!
If you're staying in, here's a list of sandwich delivery options you could consider. Otherwise, try these onigiri-inspired Sandowichi, for all the goodness of a sandwich without the bread.
16 Sandwich Stalls With Delivery Including Tonkatsu And Grilled Cheese Sandwiches