Tonkatsu ENbiton at VivoCity has yuzu pork tonkatsu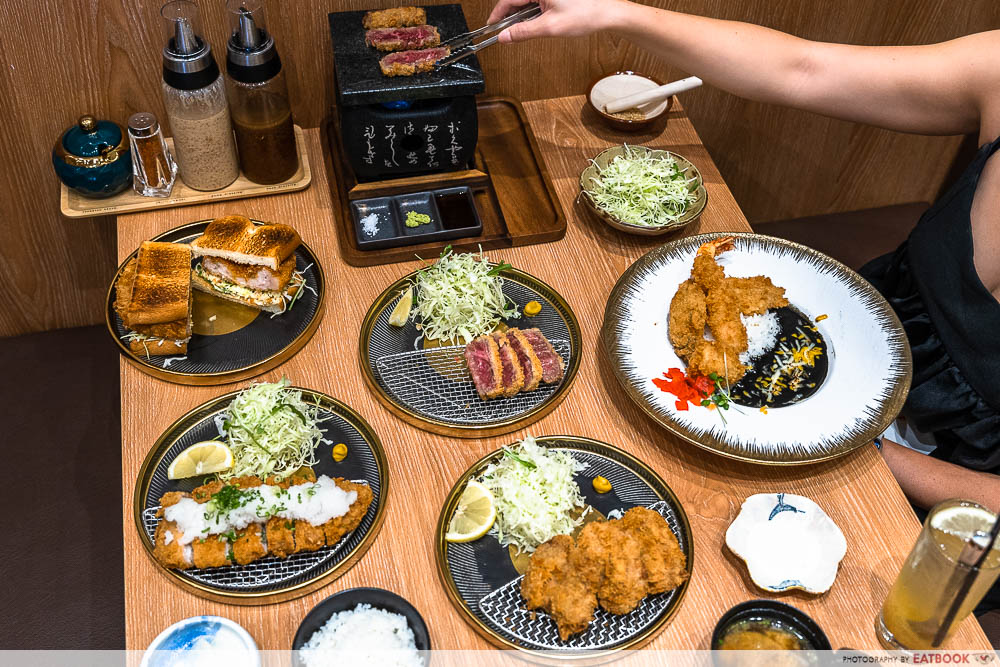 Another one of the many foods I adore is tonkatsu when it's done right—in my books, that means justice done to good pork, with a crumb that is light and crisp. So when we heard about Tonkatsu ENbiton opening at VivoCity, with Singapore's first-ever yuzu pork on the menu, I couldn't pass over the opportunity to scratch my katsu craving.
Food at Tonkatsu ENbiton
Yuzu pork, in case you're confused, is not pork prepared with yuzu juice, but referring specifically to a breed of pig from Kagoshima, Japan, which is fattened on a feed including locally farmed yuzu. This is supposed to lead to increased nutritional value in the pork, with higher amounts of Vitamin C, and fat with a higher melting point—resulting in extra juicy, flavourful meat.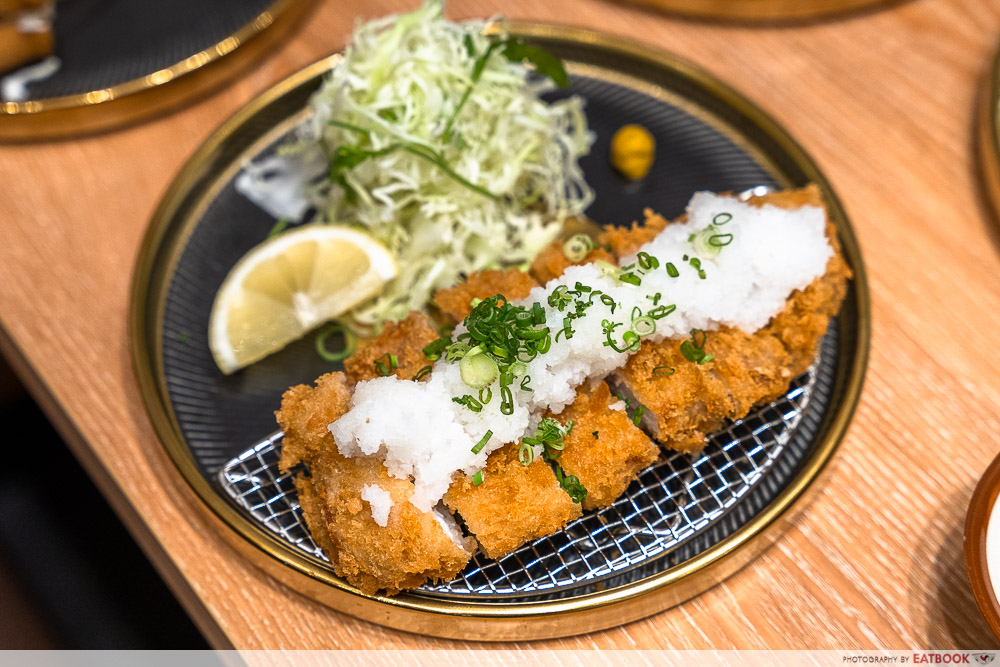 To start, we had the Oroshi Yuzu Rosu Katsu Set ($24++), which comes with 150g of pork loin, marbled through with aforementioned fat.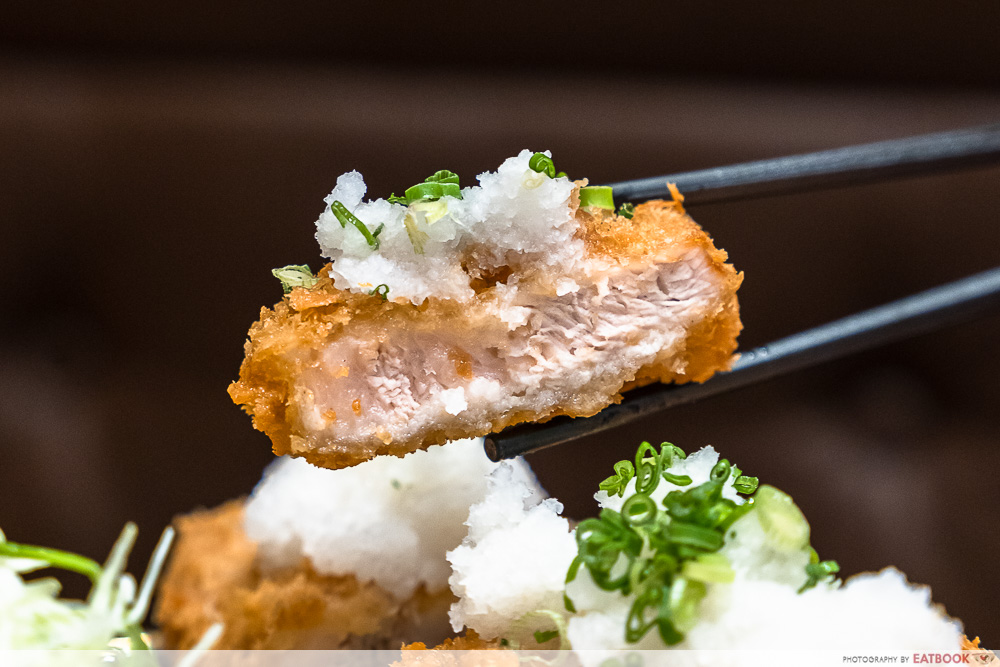 You could get the Yuzu Rosu Katsu Set ($22++) instead, but we opted for the oroshi topping, for grated yuzu ponzu radish for some freshness. The pork definitely delivered on the promised flavour, tenderness, and juiciness, even when we had it cold.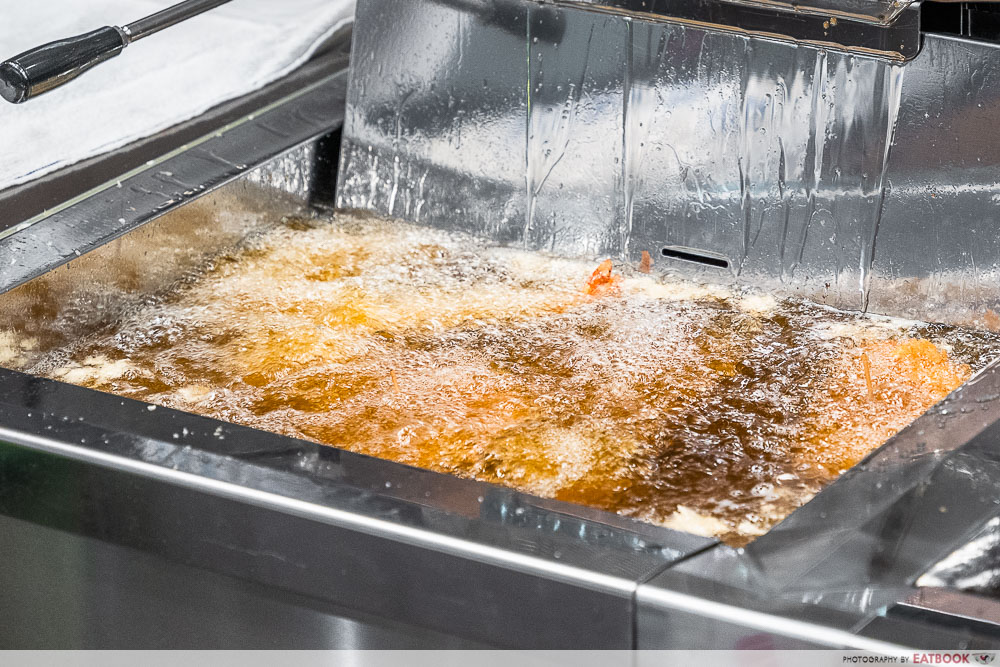 With meat of such quality, imported directly from Kagoshima every three to five days, all that's done is to lightly salt them before they're coated in panko, deep-fried at a specific 170ºC, then rested for two minutes.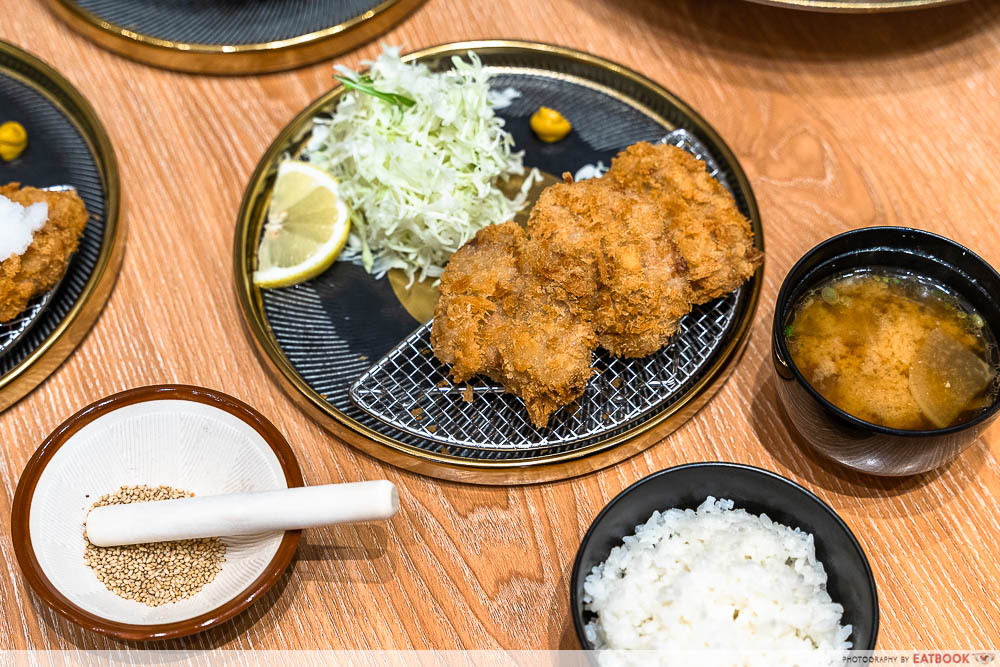 The yuzu pork comes in two cuts: rosu, the pork loin, and hire, or pork fillet. Go for the rosu if you don't mind some fat in your meat; otherwise the hire is for those who prefer a leaner option.
Whichever set you choose, it's served with a free flow of Japanese white rice and a cabbage-arugula salad, which you can drench in either ponzu or goma dressings, found on each table. The set is rounded out with tonjiru, or miso soup enriched with vegetables and sliced pork.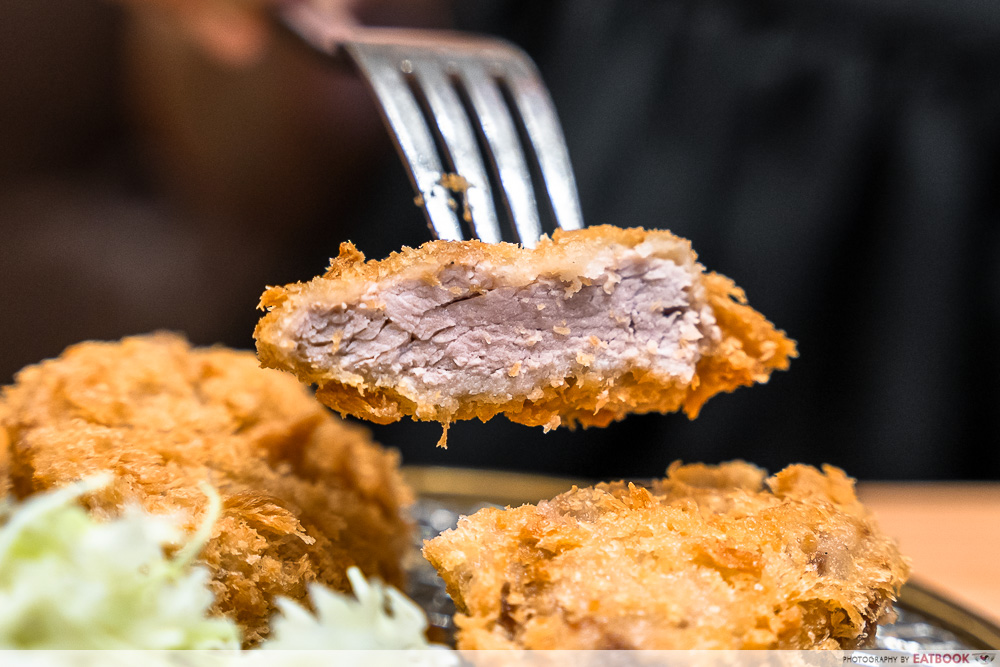 The Yuzu Hire Katsu Set ($23++) comes as three medallions of yuzu pork, which in spite of being leaner, was still satisfyingly tender.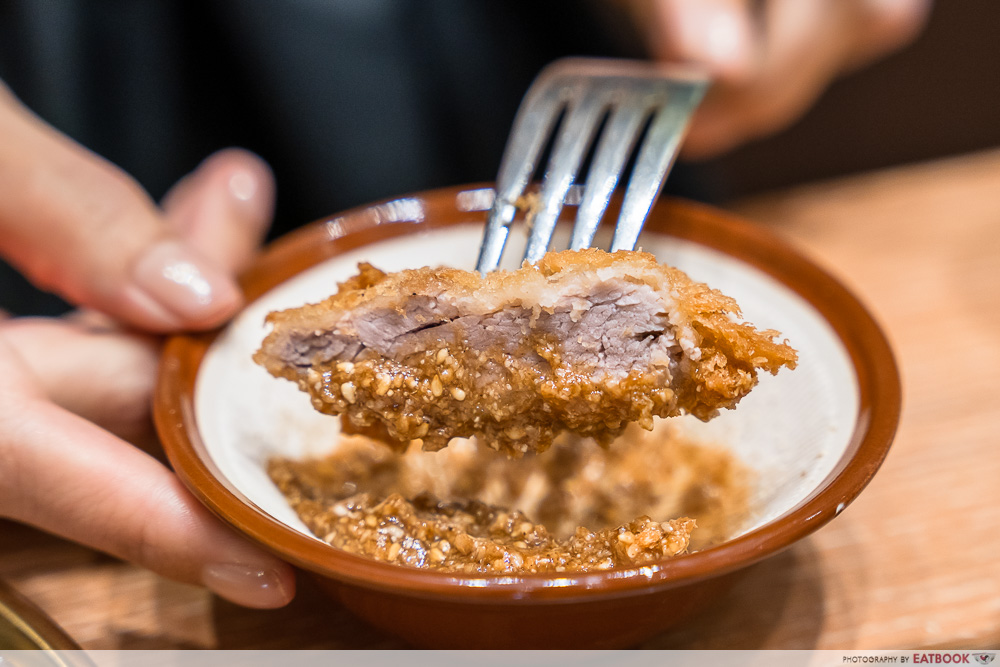 You're given little bowls of sesame seeds before your meal—grind them up and add the tonkatsu sauce you'll find at the table, then dip your tonkatsu in. It's tangy from the Worchestershire sauce and ketchup that form the base of tonkatsu sauce, with extra body and aromatic nuttiness from the ground goma.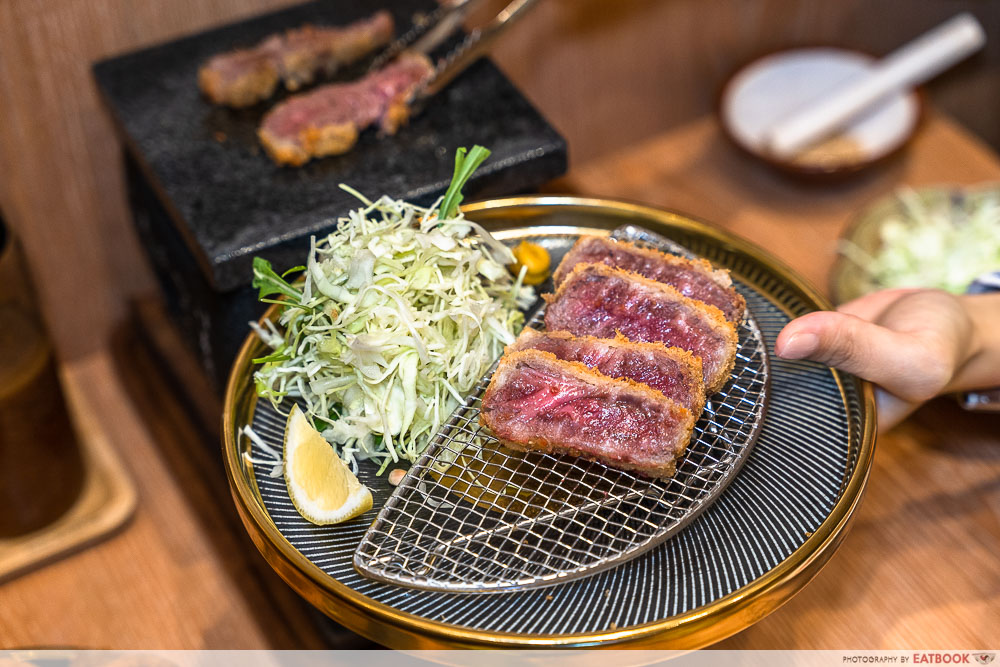 If you don't all want to order pork in your dining party, consider the Miyazaki Gyukatsu ($39++) instead, for award-winning A4/A5 Wagyu lightly battered and fried to medium-rare doneness. This is served with a hot stone grill, where you'll get all the fun in finishing the beef as you desire.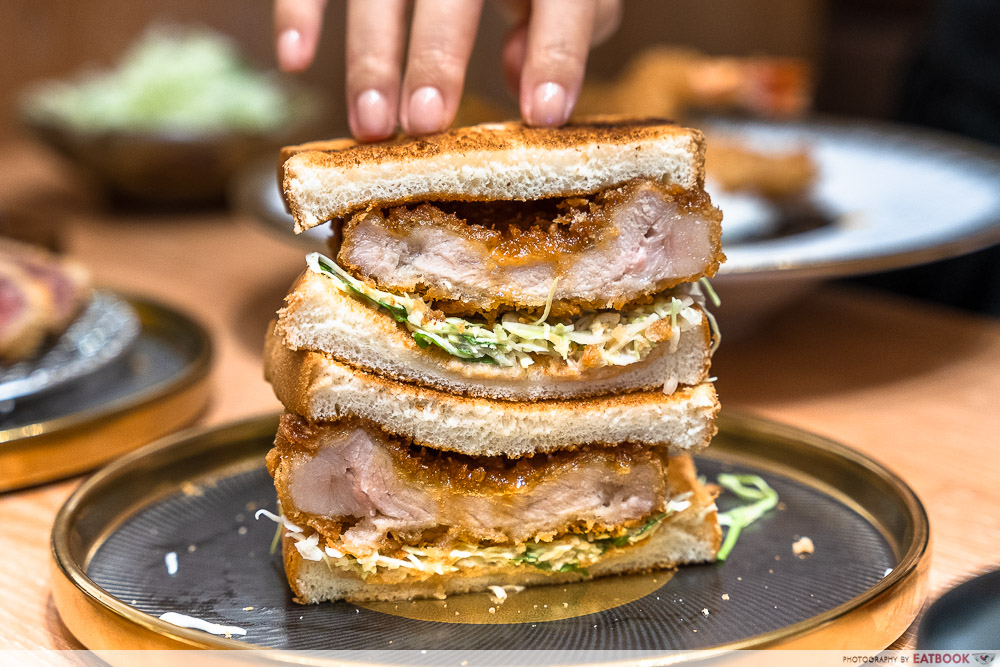 For a lighter meal option, try one of Tonkatsu ENbiton's sandos instead. We had the Rosu Katsu Sando with Kagoshima Pork ($14++), though you could also order the Signature Yuzu Pork ($17++) version. Both come sandwiched between slices of thick toast with their cabbage-arugula salad, and is finished with a smoky teriyaki dressing that complements the pork.
Other sandos here include Miyazaki Wagyu Katsu Sando ($37++), Chicken Katsu Sando ($11++), and Truffle Plant-based Katsu Sando ($10++), so you could come here with non-meat-eating friends too!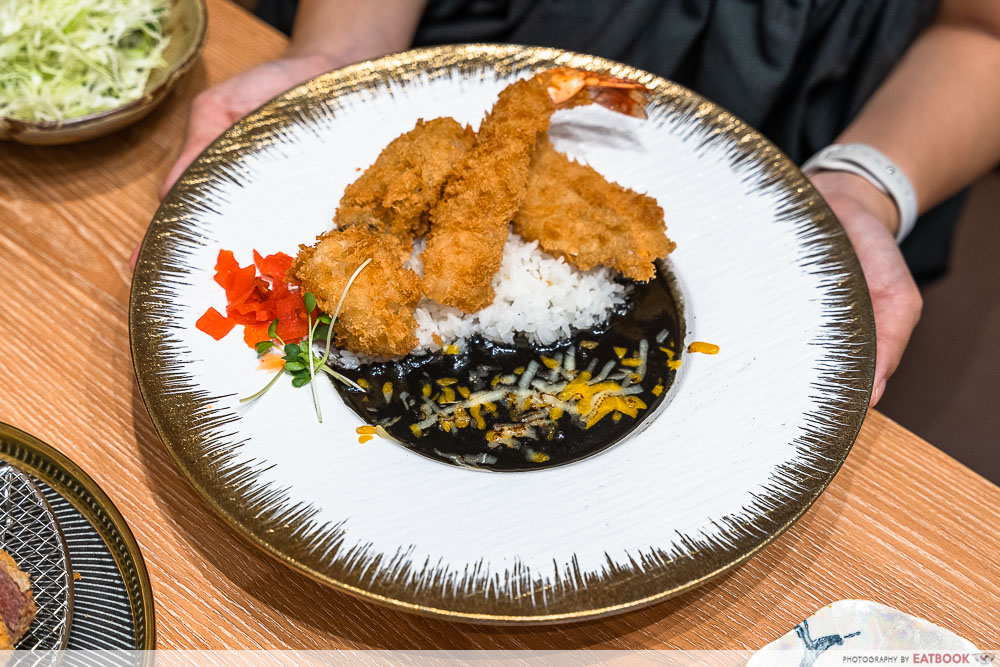 I always crave Japanese curry with my tonkatsu, and Tonkatsu ENbiton delivered with their Charcoal Black Curry. We had their Kaisen Fry Mix Kuro Kare Set ($27++), which is stacked with fried prawn, Hiroshima oyster, salmon, and a whole plump scallop.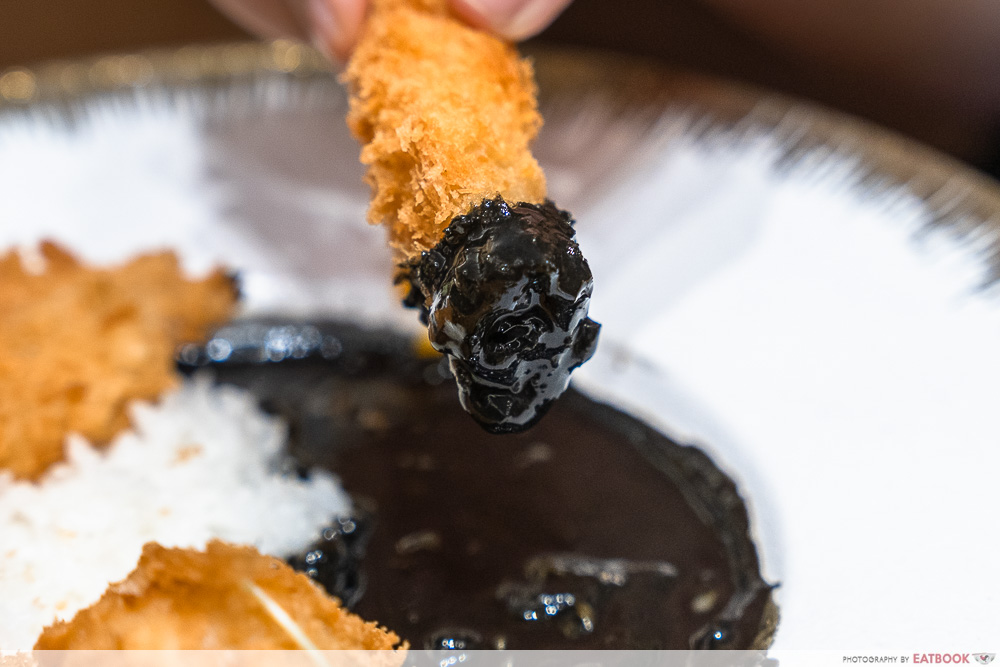 The curry was a teensy bit thinner that I typically enjoy, but it was savoury and tasty, with a touch of cheesy flavour. It packs no kick of spice too, but this makes it easy for everyone to enjoy.
Ambience at Tonkatsu ENbiton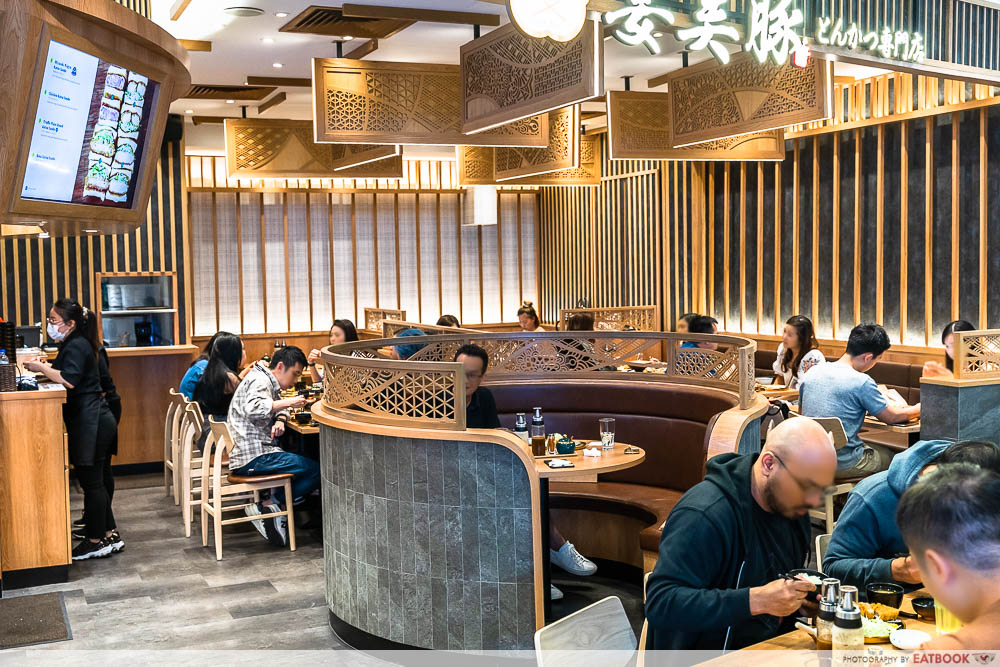 The 46-seater restaurant is located in Basement Two of VivoCity, AKA directly accessible from HarbourFront MRT Station, without having to navigate the maze that the wider mall upstairs is. The seats are comfortably spaced out, with a round booth in the centre of the eatery that would be great for cosy gatherings.
The verdict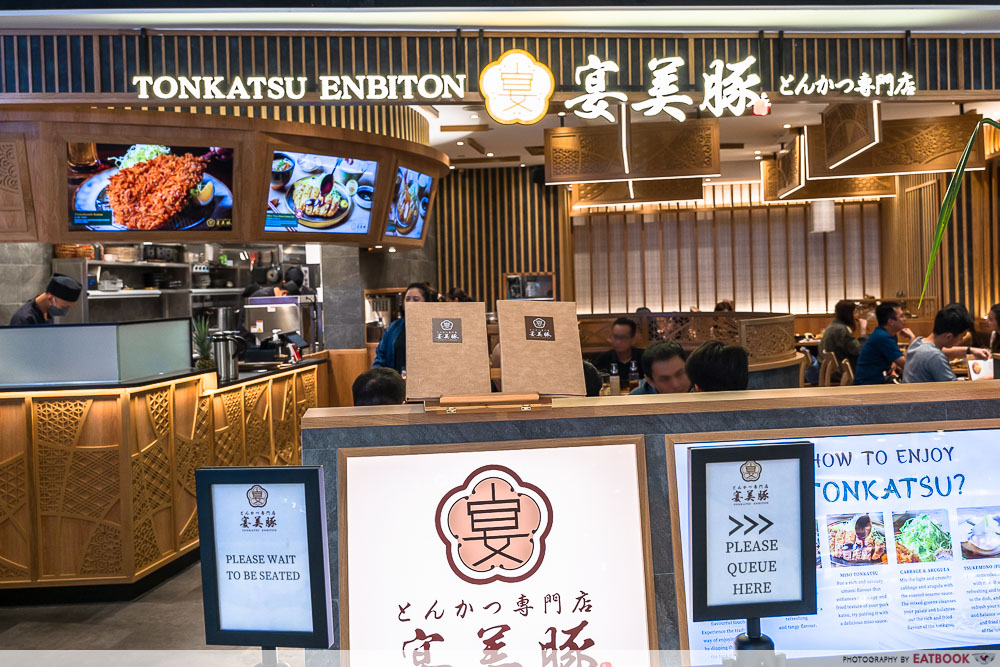 Tonkatsu ENbiton certainly lives up to the tonkatsu game, and the yuzu pork was undoubtedly some good quality meat. The gyukatsu costs more than what you'd shell out at Gyukatsu Motomura in Japan, but you're paying for premium Miyazaki Wagyu here! What's more, the free flow of rice and salad is pretty enticing too.
This is one spot I'm putting on my list for future visits; I'm already planning a return trip, maybe between 17 to 19 May 2023, when the Yuzu Rosu Katsu Set will be going for $15++ instead of $22++! P.S. They're set to open in Causeway Point soon too!
35 VivoCity Food Places For Matcha Tiramisu, Thai Chicken Rice And More
If you're hanging around the mall, check out our guide to dining at VivoCity. Otherwise, just further down the stretch of eateries is the second outlet of Beach Road Scissors Cut Curry Rice!
Address: 1 Harbourfront Walk, #B2-27/27A, VivoCity, Singapore 098585
Opening hours: Daily 11am to 10pm
Tel: 6268 8633
Website
Tonkatsu ENbiton is not a halal-certified eatery
Photos taken by Chew Yi En.
This was a media tasting at Tonkatsu ENbiton.
Tonkatsu ENbiton Review: Yuzu Pork Tonkatsu, Wagyu Katsu And More In VivoCity
Tonkatsu ENbiton Review: Yuzu Pork Tonkatsu, Wagyu Katsu And More In VivoCity -

8.5/10
Summary
Pros
– Yuzu pork was tender, juicy, and flavourful
– Katsu items were well-fried
– Affordably priced

Cons
– Charcoal Black Curry lacked spiciness
Recommended dishes: Yuzu Pork Rusu Katsu Set ($22++), Kaisen Fry Mix Kuro Kare Set ($27++), Signature Yuzu Pork Sando ($17++)
Opening hours: Daily 11am to 10pm
Address: 1 Harbourfront Walk, #B2-27/27A, VivoCity, Singapore 098585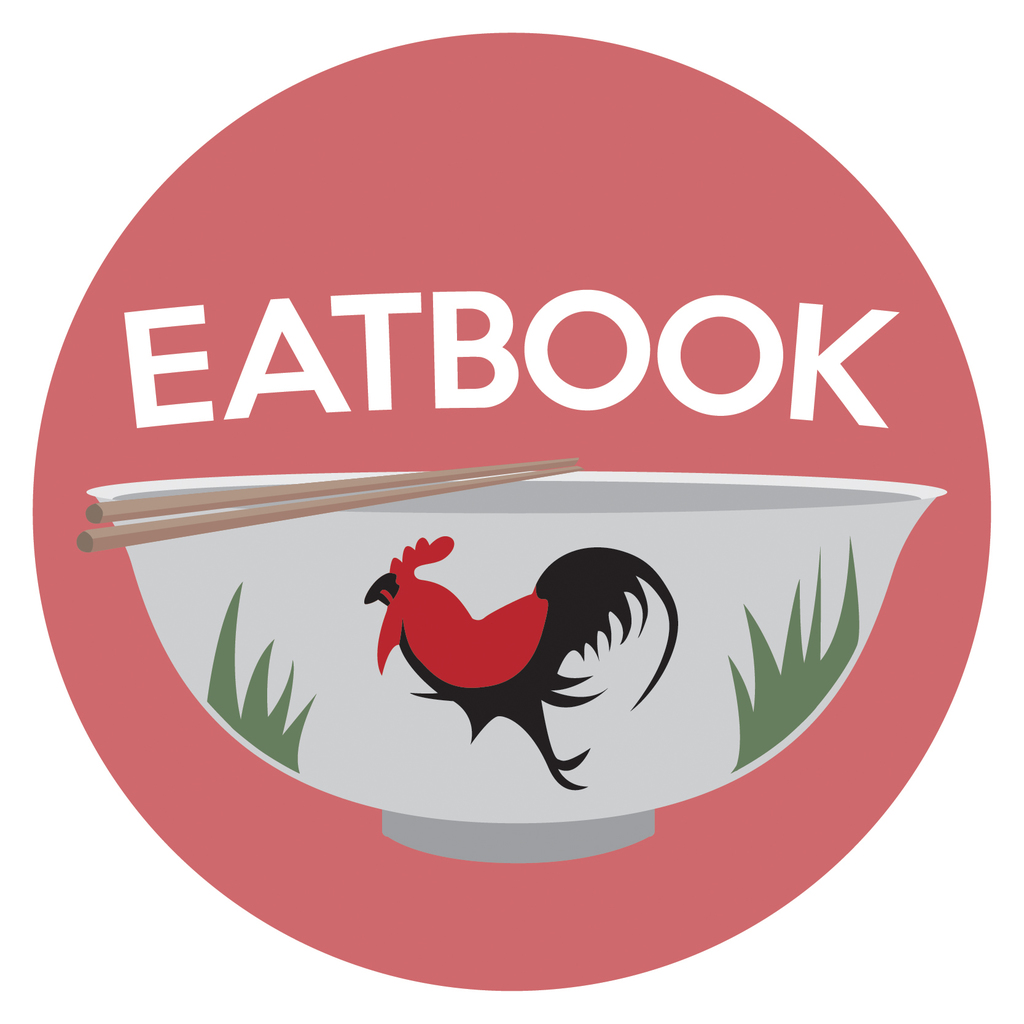 Drop us your email so you won't miss the latest news.