Pipes by Hattendo In Outram Park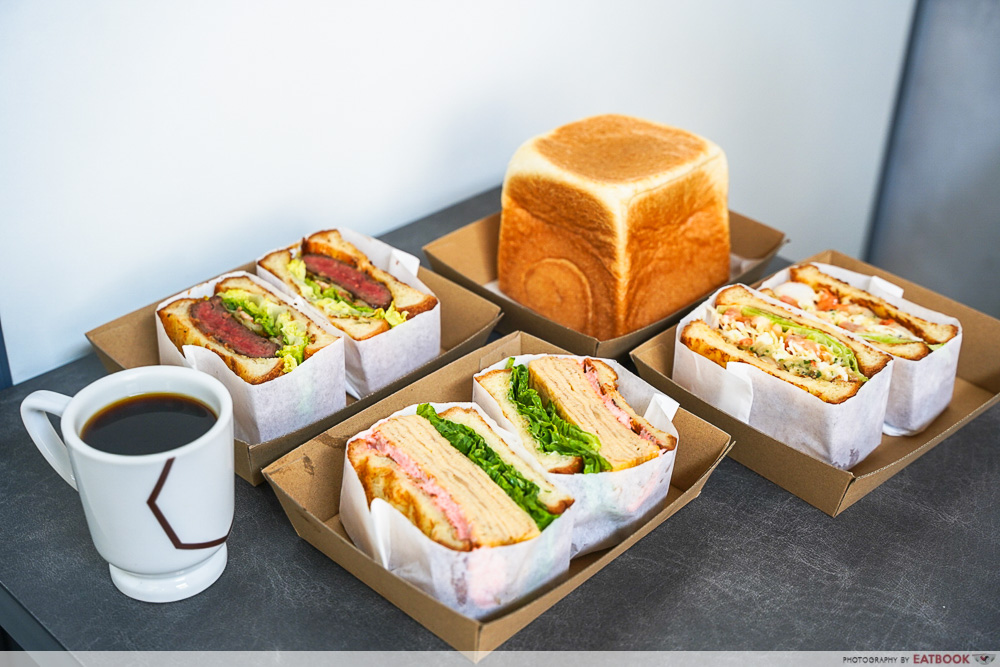 Those who say sandos can't fill you up have yet to visit Pipes by Hattendo, a Japanese cafe conveniently located right outside Outram Park MRT Station. Sporting a lengthy menu with creative fusion eats, the cafe made waves on Instagram with their delicious and hearty Japanese sandwiches. Curious, we decided to pay them a visit and see what the hype was all about!
Food at Pipes by Hattendo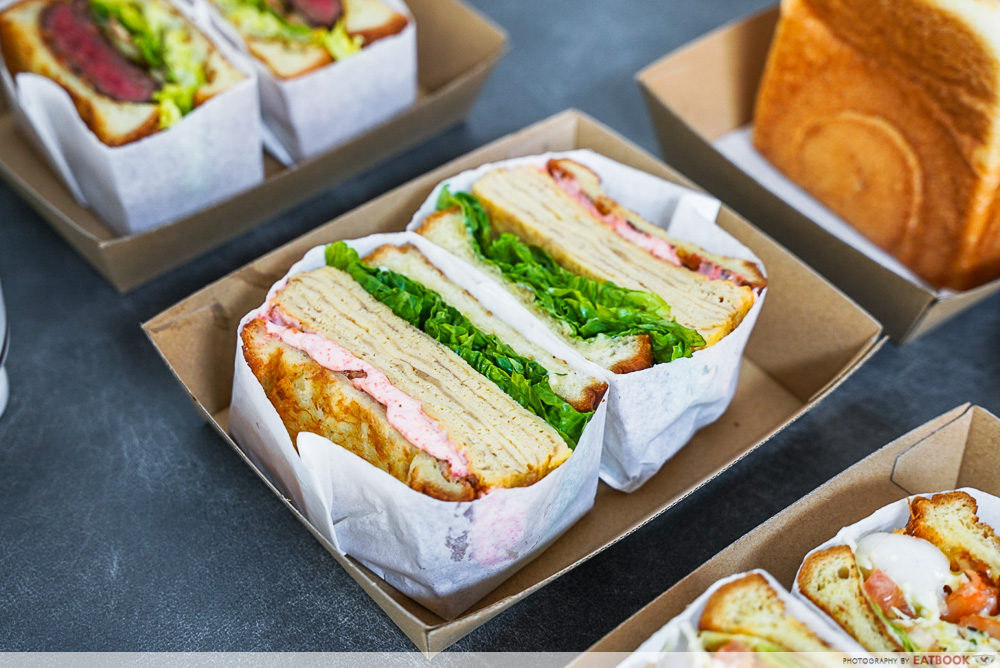 As a mentaiko lover, I had to get the Dashimaki Mentai Tamago ($14++), which came with tamagoyaki and an umami mentaiko sauce. I was very satisfied with the generous portion and found the sando almost too big to bite.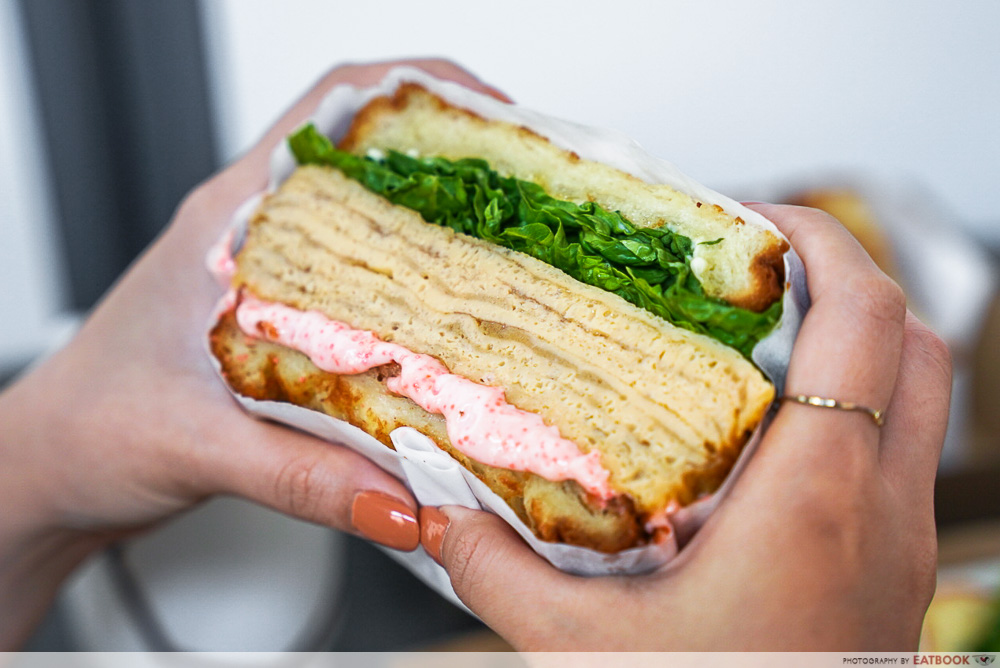 The mentaiko sauce was creamy and rich, though I could still taste a light hint of the Yuzu Mayo and Karashi Mayo. The savoury sauces balanced out the sweetness of the tamago, which was light and oh-so fluffy.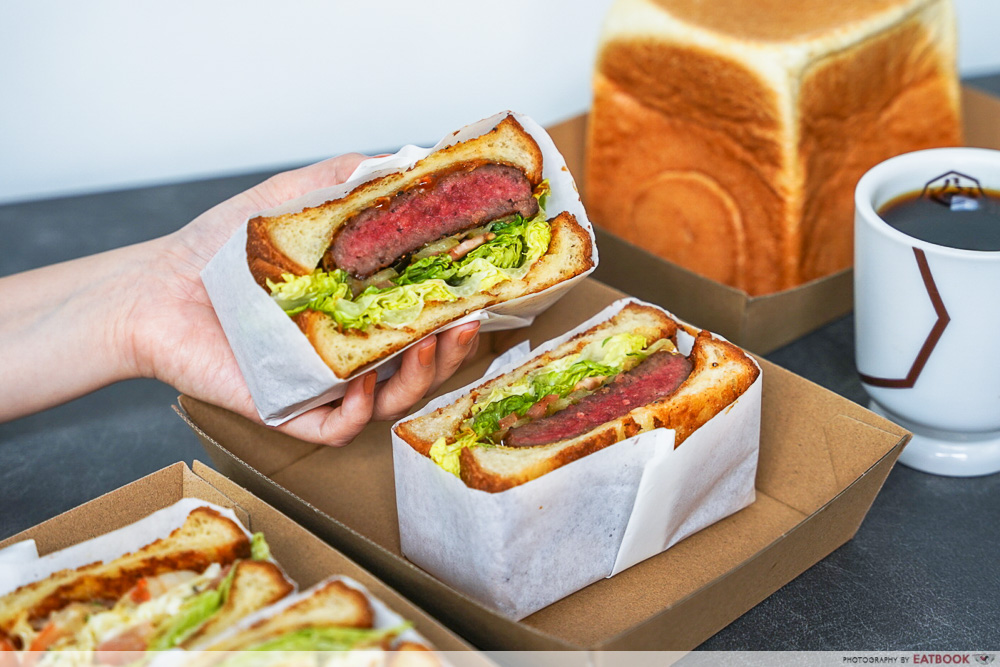 Next was the Hokkaido Wagyu Beef Patty ($20++). This juicy delight came with a thick Wagyu beef patty slathered in Hamburg sauce. Without biting into the sando, I could already tell how well-executed the Wagyu patty was with its slightly pink centre. 
The fresh veggies offered an added layer of crunch, while the sliced pickles helped cut through the Wagyu's strong meaty taste. I also appreciated how the bread did not turn soggy throughout our shoot, even when the sando was dripping with sauces.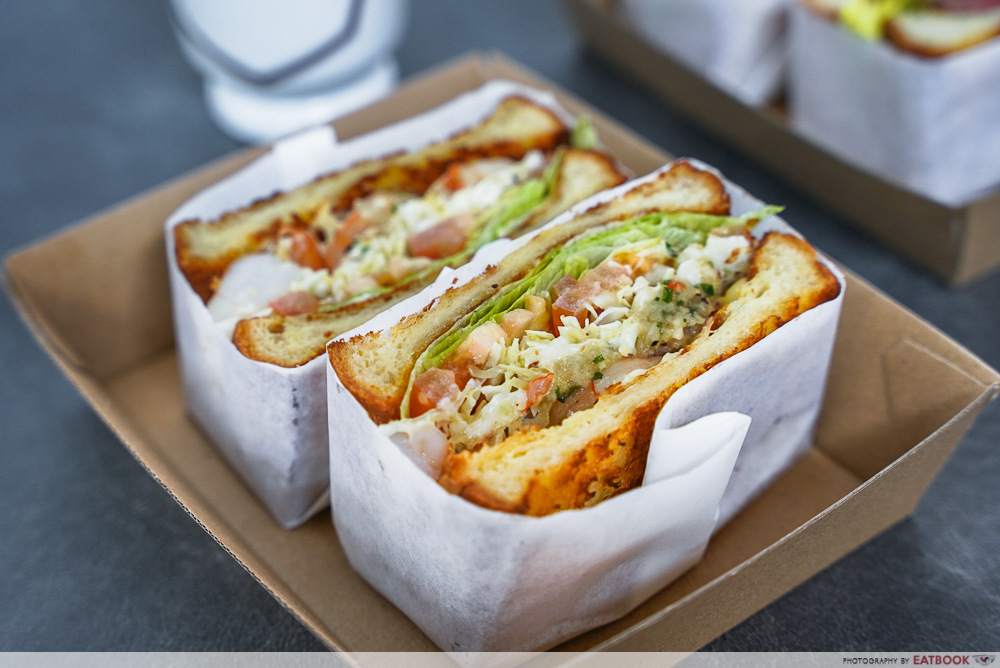 Next was the Garlic Prawn ($19++), a sando packed with sauteed prawns and a touch of butter garlic. Compared to the previous sandos we had, this one was on the more refreshing side and had a lighter taste.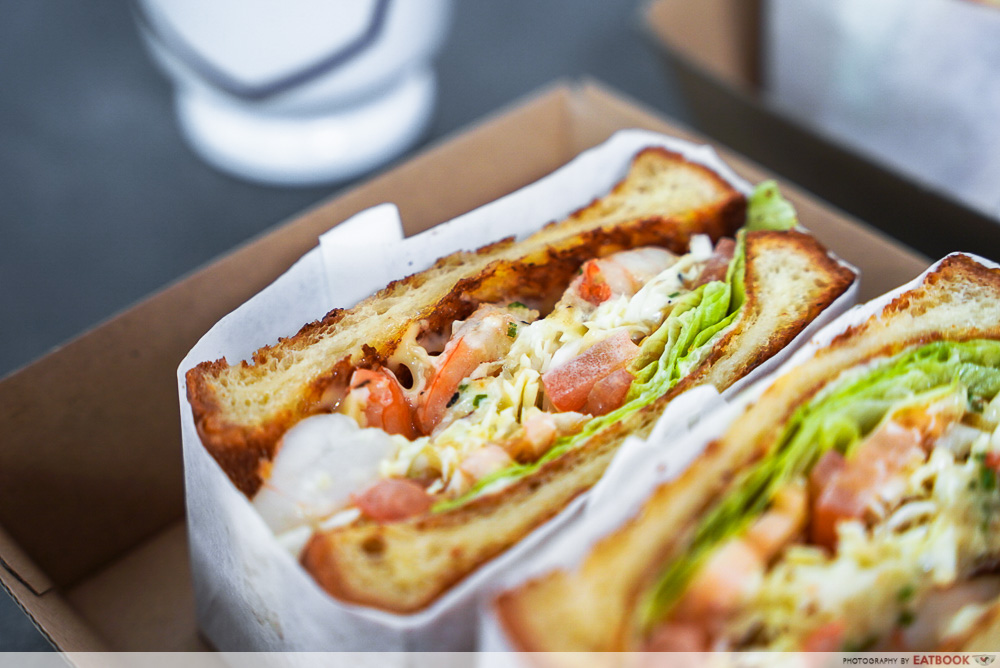 The Yuzu Mayo sauce was not as prominent in this sando compared to the Dashimaki Mentai Tamago, probably due to the diced tomato that was already zesty on its own. As for the prawns, they tasted fresh with a smooth texture and pleasant bite.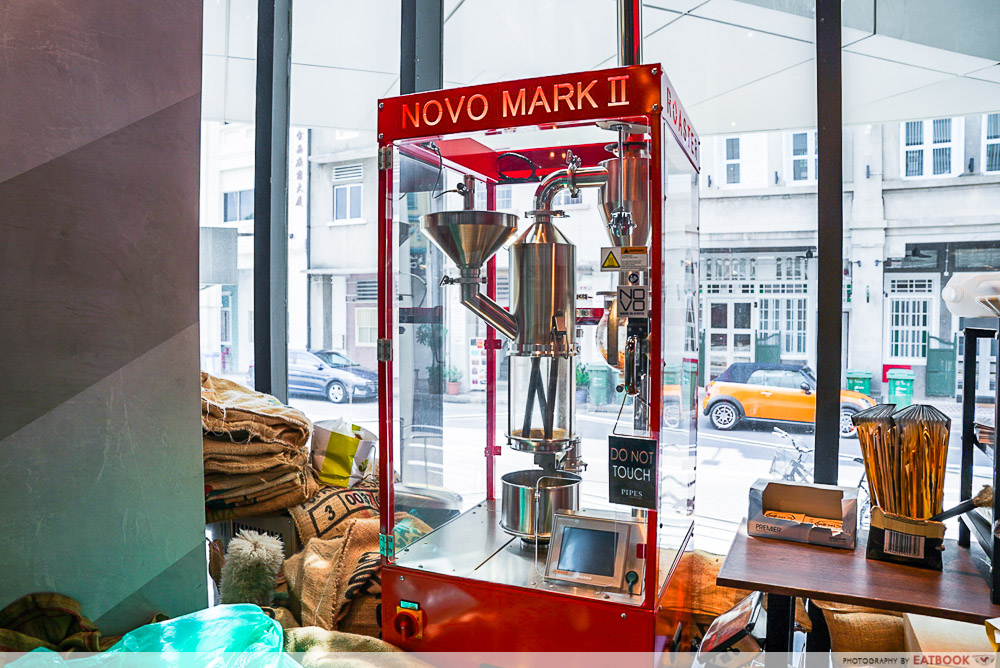 Pipes by Hattendo also offers specialty coffee, so you can get your caffeine fix here. There's an automated coffee roaster, which grinds the coffee beans fresh daily. During our visit, we got to check out the impressive display of coffee beans by the side of the wall, featuring beans from Colombia, Guatemala and more.
Shuang Bao Thai Review: $1.80 Thai-Style Hat Yai Fried Chicken In Bedok
Ambience at Pipes by Hattendo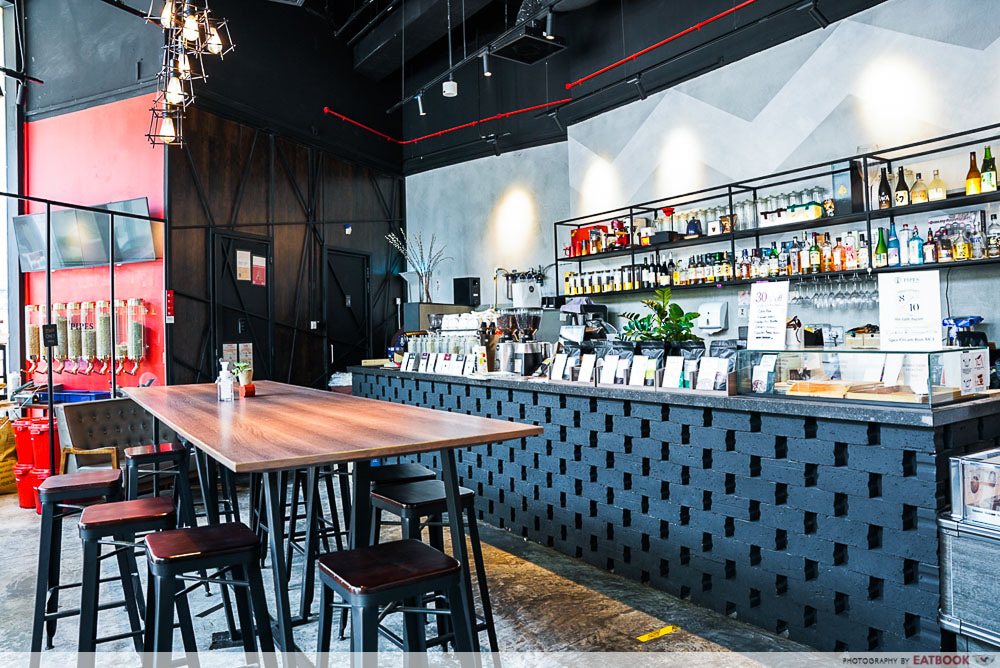 Pipes by Hattendo is typically quiet throughout the day but welcomes an enthusiastic office crowd during the peak lunch hour. While we were there, time seemed to slow down, thanks to the cafe's relaxing vibe. The space also makes for a good spot to people-watch as you can lounge on the window seats; or if you're coming alone, chill at the bar counter and watch the baristas at work.
The verdict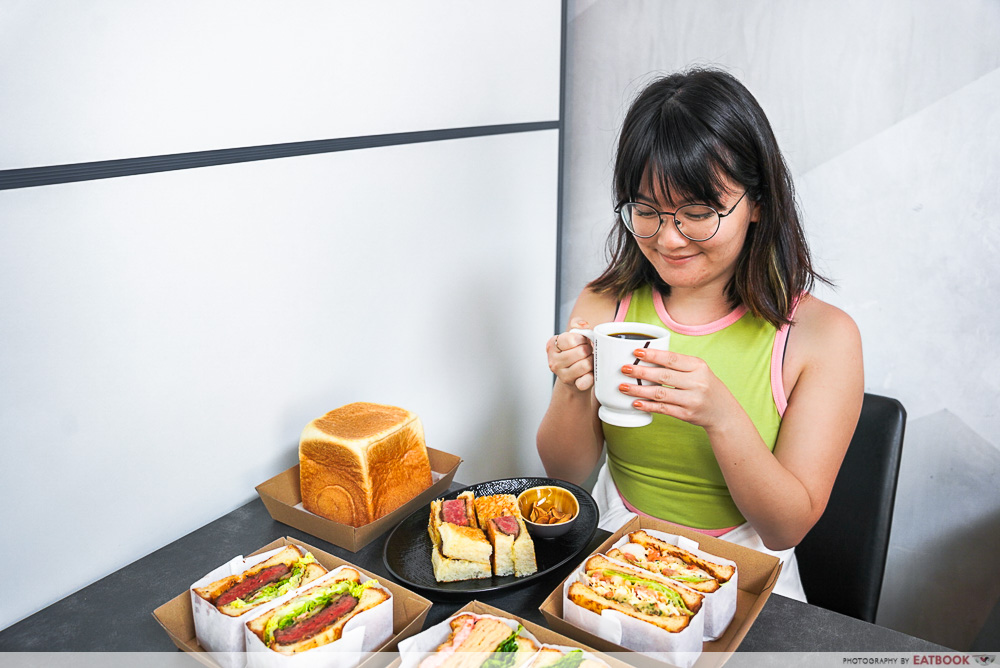 There's no doubt in my mind that I'll be making a second visit to Pipes by Hattendo. Though the sandos were on the pricier side, I felt that the generous portions and premium ingredients made them worth every cent. Plus, their convenient location gives me more reason to drop by whenever I'm in the area.
If you're looking for more Japanese sandwiches, read our 46 Mittsu review.
Address: 331 New Bridge Road, #01-02, Dorsett Residences, Singapore 088764
Opening hours: Tue-Sun 9am to 6pm
Tel: 8113 6096
Website
Pipes by Hattendo is not a halal-certified eatery.
46 Mittsu Review: Thick Japanese-Inspired Sandwiches That Can Rival Sando, Korio And Two Men Bagel
Photos taken by Chiara Ang.
This was an independent review at Pipes by Hattendo.
Pipes by Hattendo Review: Modern Japanese Cafe Near Outram Park MRT With Mentaiko And Wagyu Beef Sandos
Pipes by Hattendo Review: Popular Japanese Cafe Right Outside Outram Park MRT With Mentaiko And Wagyu Beef Sandos -

8.5/10
Summary
Pros
– Delicious sandos with generous portions and premium ingredients
– Relaxing ambience with ample seats for small and big groups
– Convenient location at Outram Park MRT Station
Cons
– Quite pricey
Recommended dishes: Dashimaki Mentai Tamago ($14++) and Hokkaido Wagyu Beef Patty ($20++)
Address: 331 New Bridge Road, #01-02, Dorsett Residences, Singapore 088764