Shuang Bao Thai Hat Yai Fried Chicken In Bedok North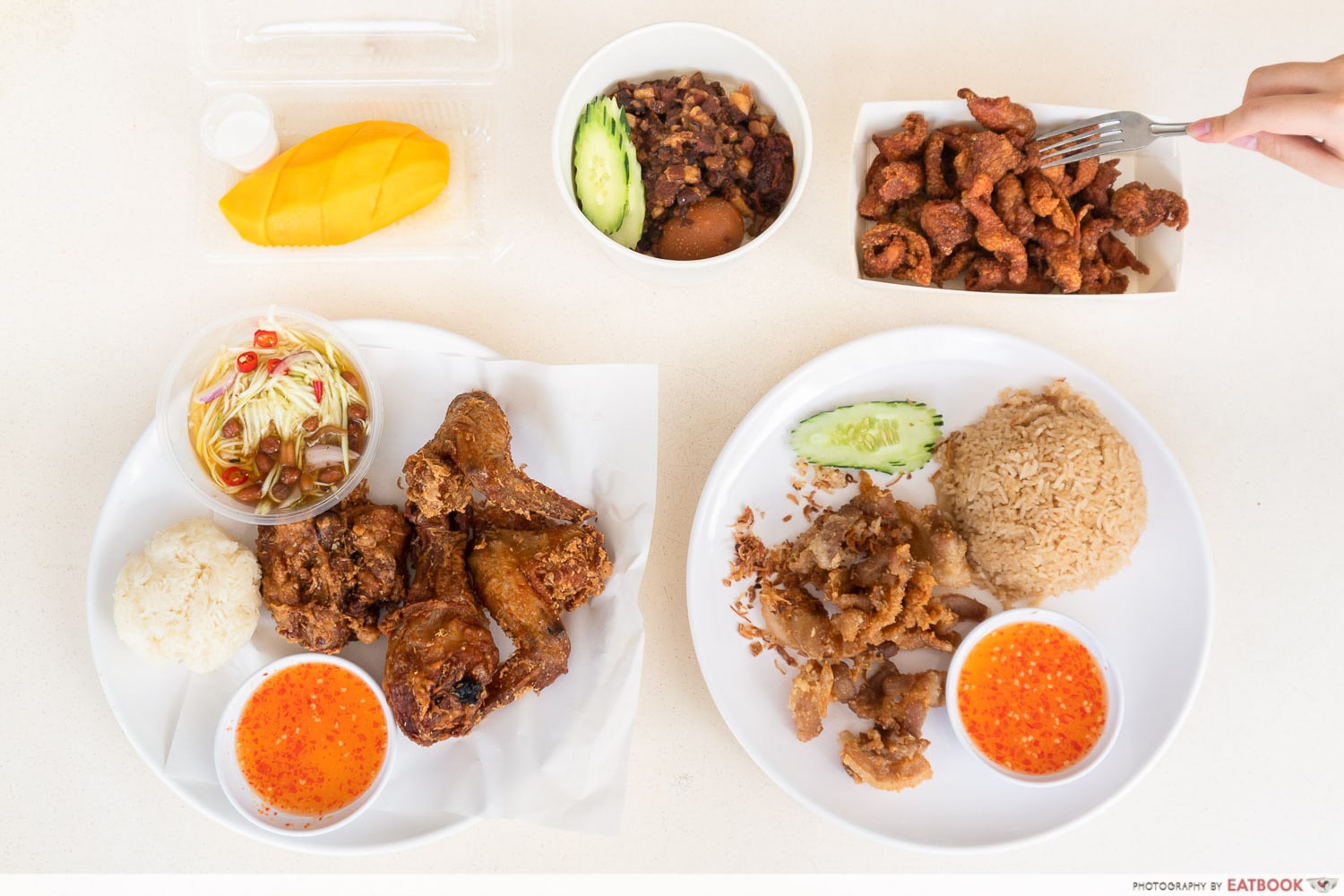 Given the state of travel now, I've been on the lookout for authentic international cuisines that I can enjoy without having to leave the country. To experience BKK vibes in Singapore, I found Shuang Bao Thai Hat Yai Fried Chicken, a humble stall at Bedok North offering a slew of Thai street food items, specifically Hat Yai-style fried chicken.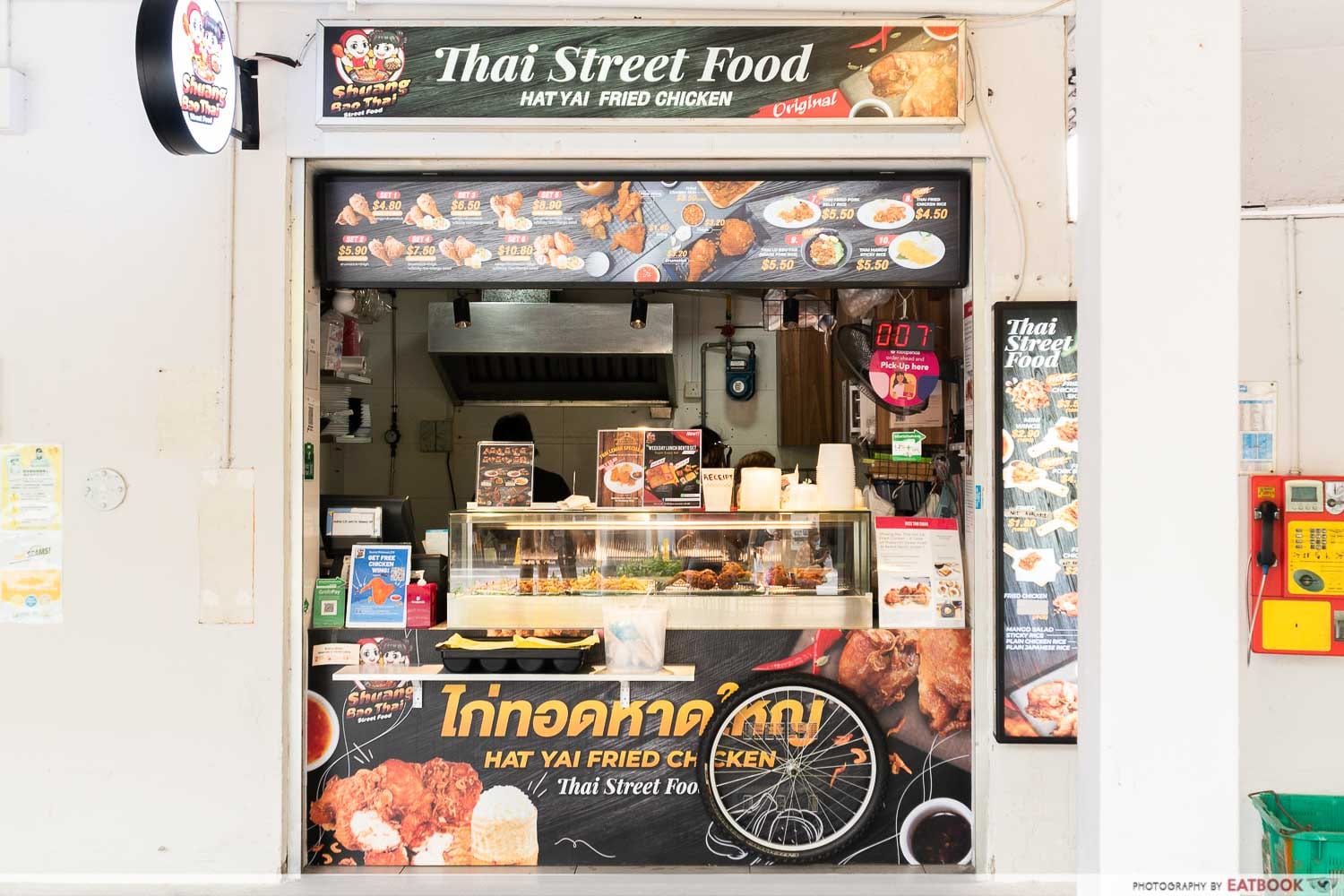 If you're wondering about the authenticity of Shuang Bao Thai, it's helmed by a Bangkok-born lady boss who grew up working in a popular street stall in Bangkok, run by her grandmother. Now, she brings a taste of Bangkok to Singapore! 
Chef Wei HK Cheong Fun Review: Ex-Peach Garden Chef Opens Cheung Fan Hawker Stall In Bedok
Food at Shuang Bao Thai Hat Yai Fried Chicken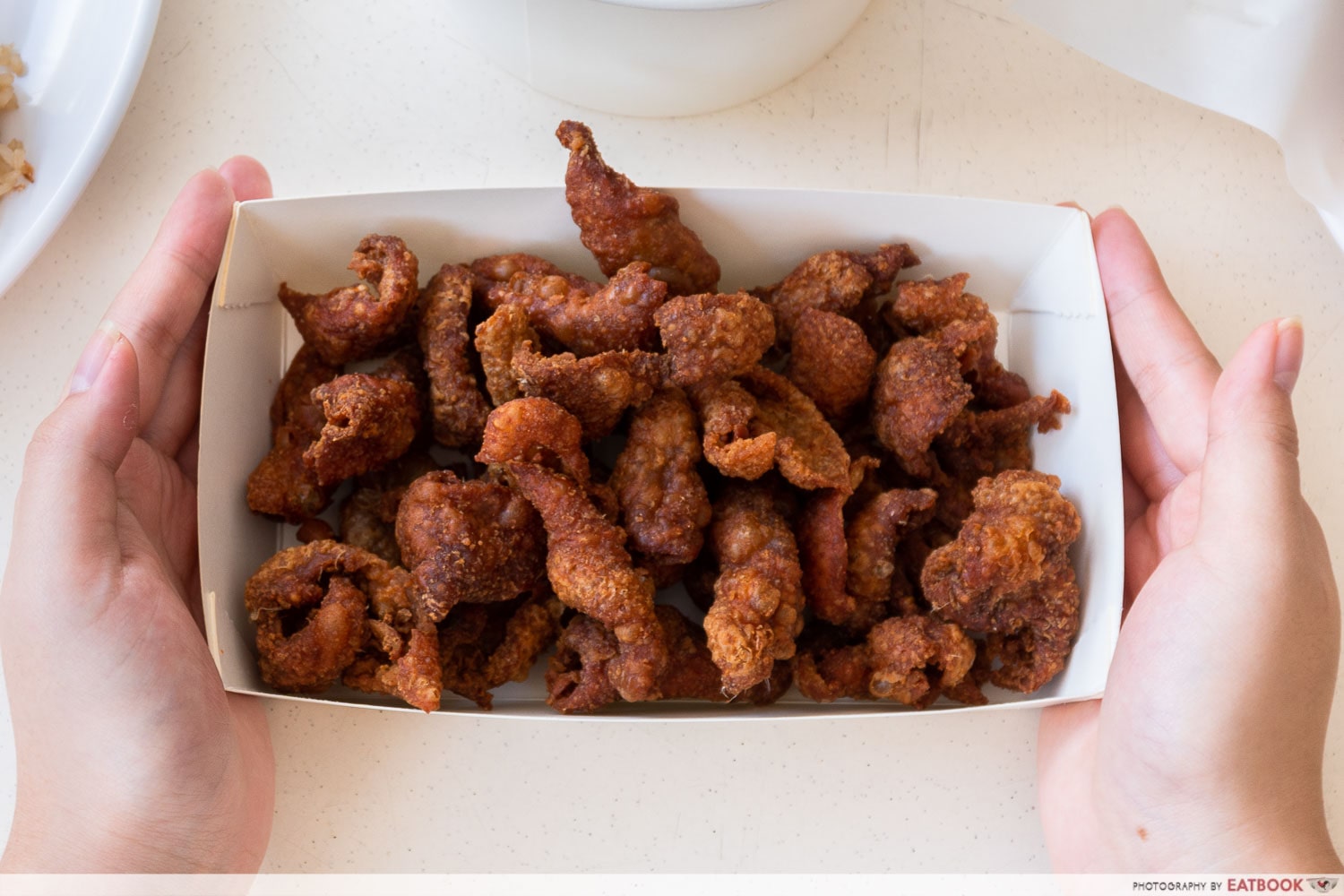 Although the menu mainly features fried chicken, it is rather extensive in terms of variety. It has small bites, set meals, and even desserts.
 I started with something light—the Fried Chicken Skin ($3.50,100g). 
This was incredibly addictive. The skin was so crispy that it shattered immediately when I sunk my teeth into it. It reminded me of the deep-fried fish skin we see on supermarket shelves, but instead of a light, airy texture, this was thicker and crunchier. It was very flavourful and savoury, making it a moreish snack that'll please everyone.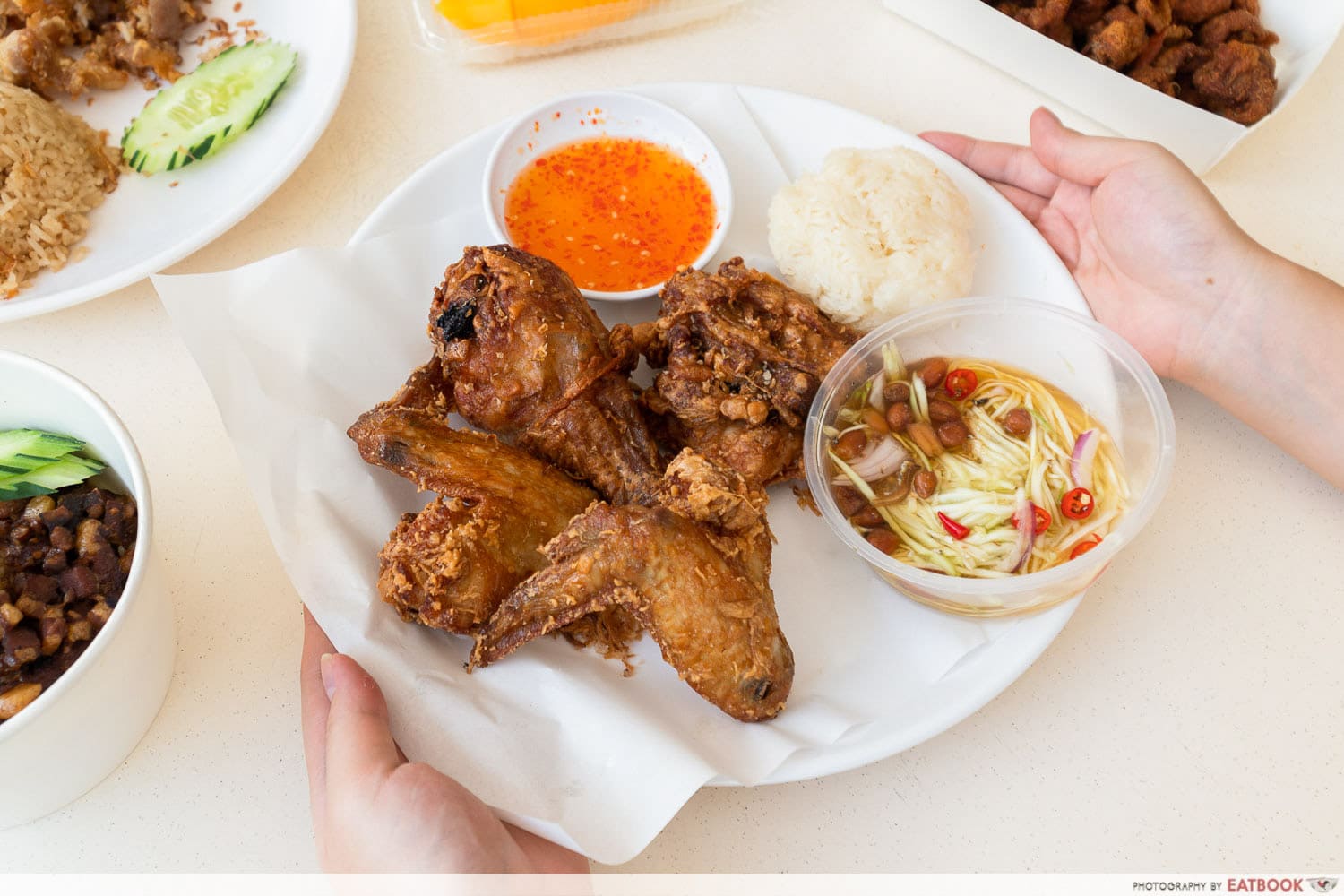 Next, I tried their signature fried chicken as a set meal ($10.80). It came with two wings, a drumstick, and a thigh, sprinkled with fried shallots atop. On the side, there was a portion of sticky rice and mango salad. Apparently, this whole set is how a typical Hat-Yai style fried chicken is served.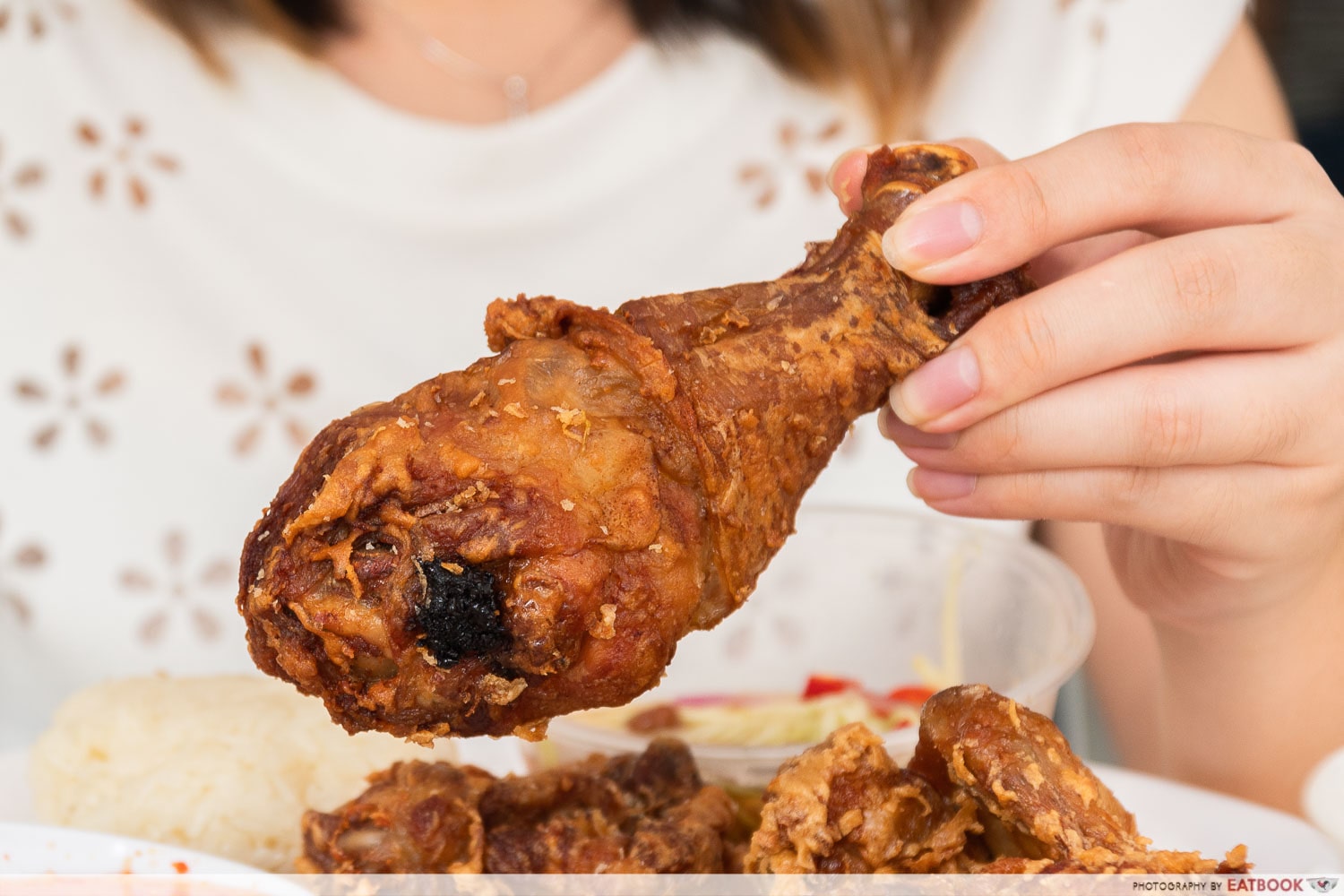 As with the fried chicken skin, all the chicken pieces had a crispy exterior. Here, the addition of shallots added a savoury fragrance. My favourite part was undoubtedly the drumstick as it was really succulent and plump, which made it a joy to eat.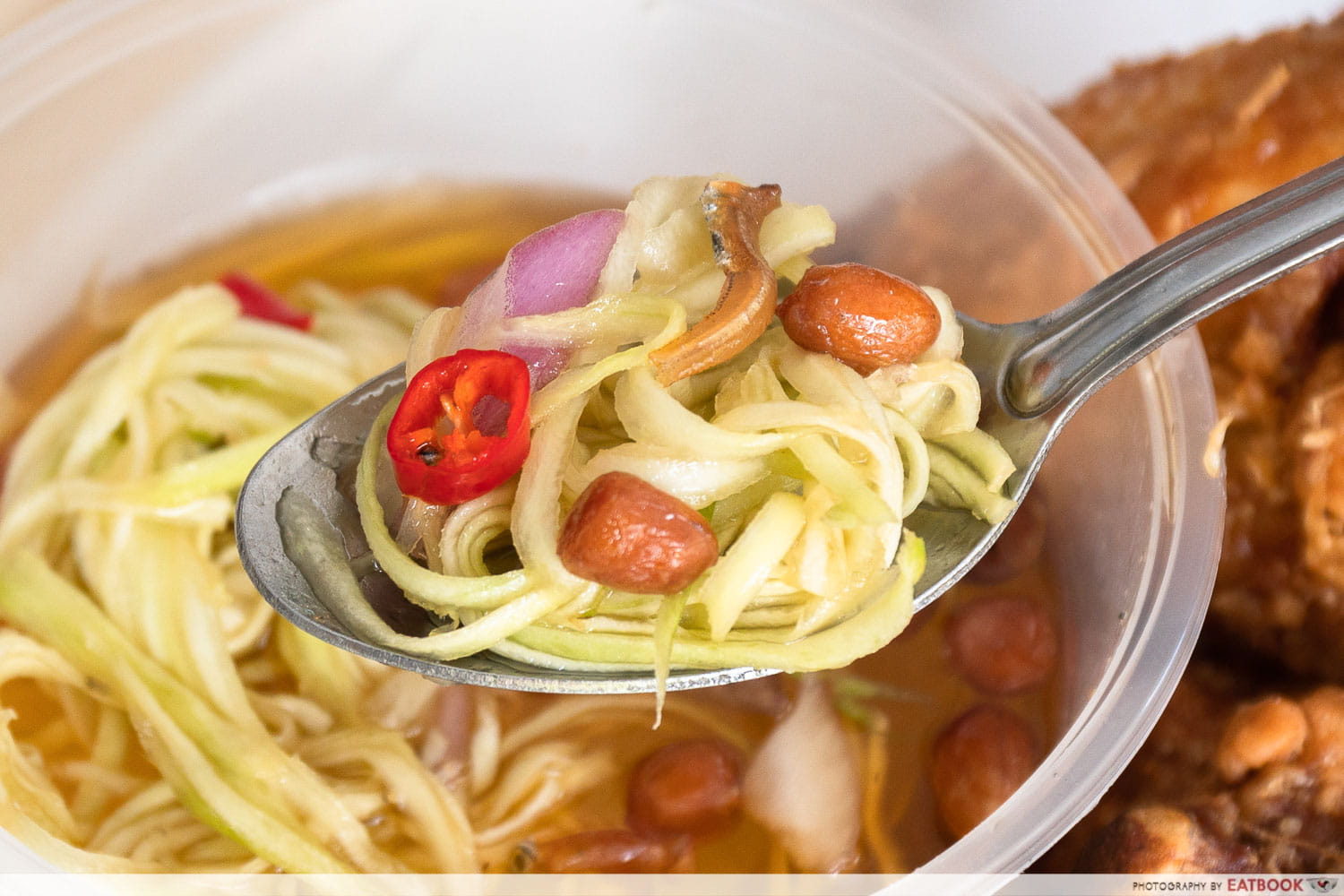 The mango salad on the side was a refreshing palate cleanser that cut through the greasiness of the fried chicken. It had a strong fish sauce aroma and a spicy kick to it. Although I do appreciate the addition of fish sauce for an umami kick, I would have preferred if the flavours were more balanced.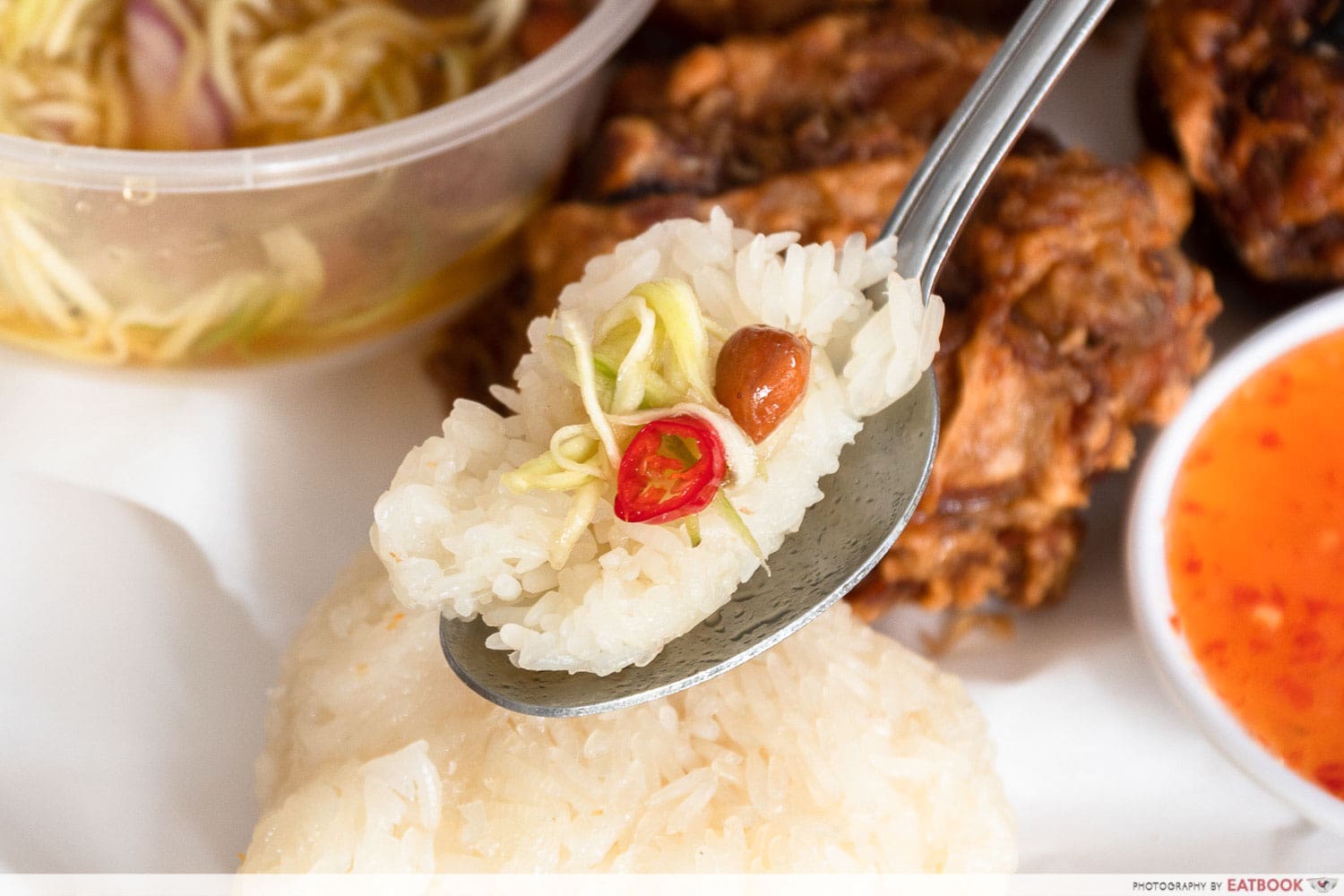 I would recommend pairing the salad with the sweetened sticky rice on the side as the sweet-tangy flavours complemented each other well. Unfortunately, I left the sticky rice out for too long during the shoot, which caused it to harden. So I would recommend keeping the rice in the packet until you're ready to eat. 
If you aren't feeling hungry, their signature fried chicken also comes as an a la carte item (from $1.80).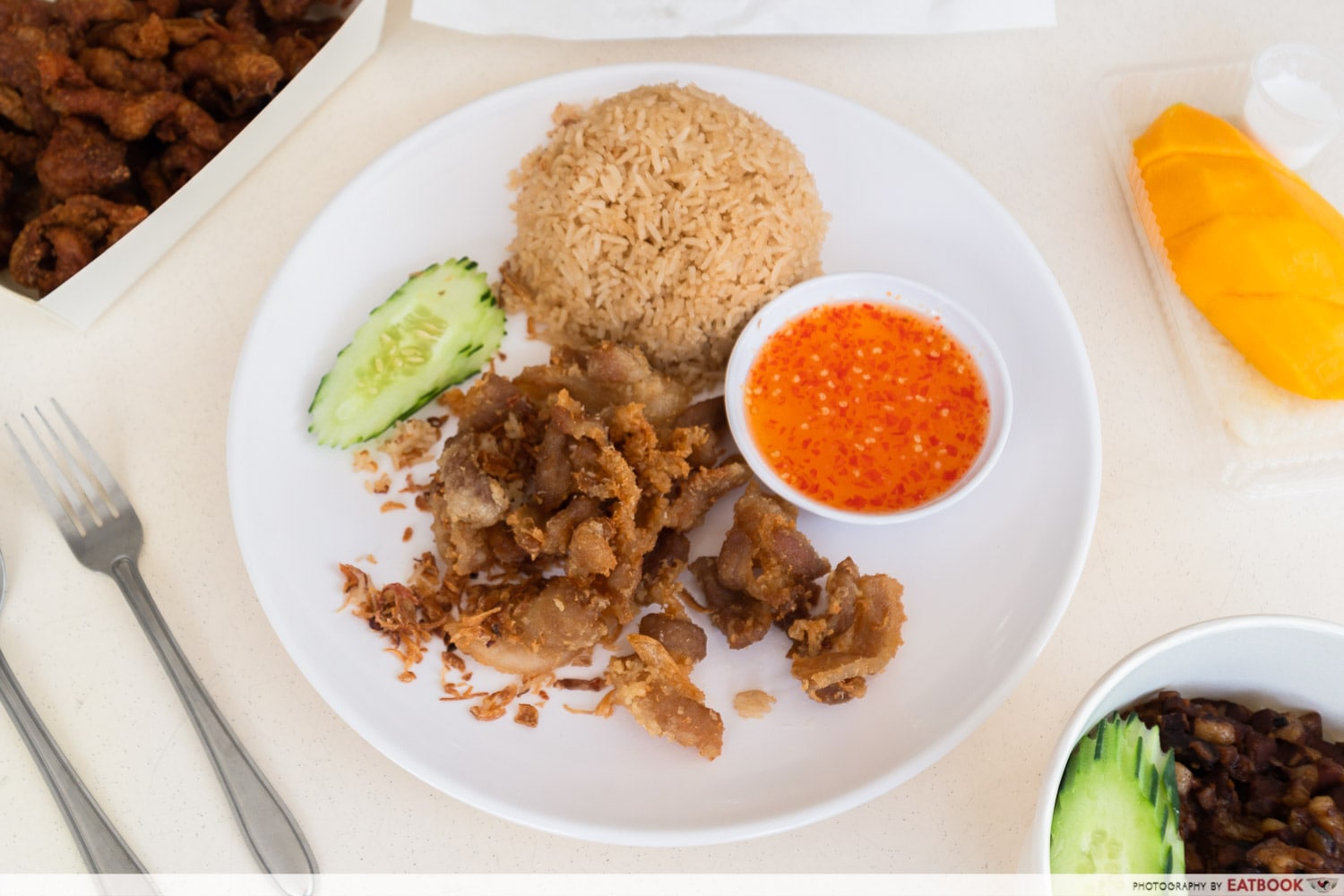 Besides the fried chicken set with sticky rice, Shuang Bao Thai also offers fried items with chicken rice. I went for the Thai Fried Pork Belly ($5.50), which came with a portion of rice, a handful of fried pork belly with fried shallots, a few slices of cucumber, and Thai chilli on the side.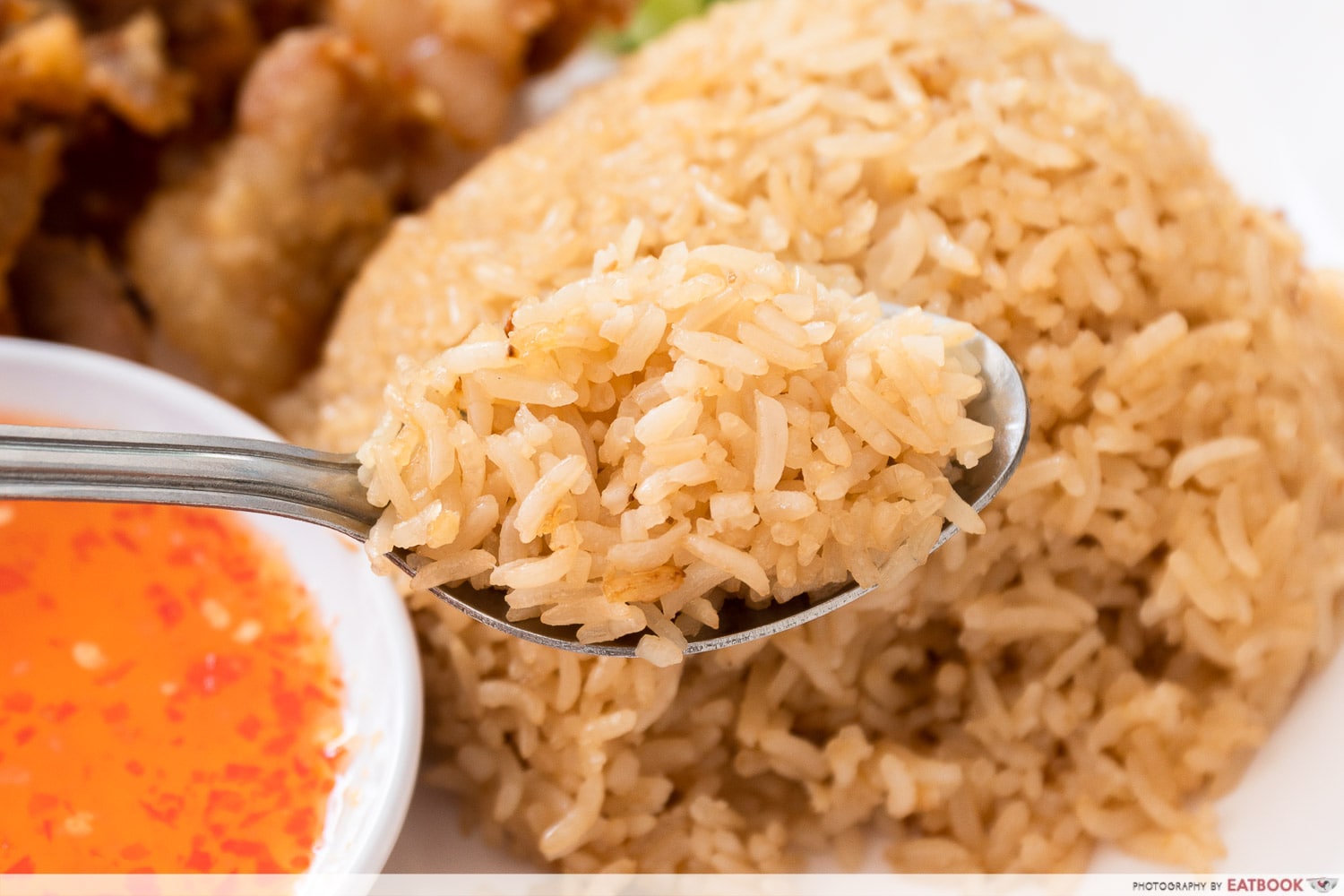 For me, the star of this dish was the chicken rice. It was really fluffy with a good bite. There was a strong chicken stock flavour with garlic aroma, which made the rice deliciously fragrant. I dare say that it's better than many other chicken rice stalls I've tried so far.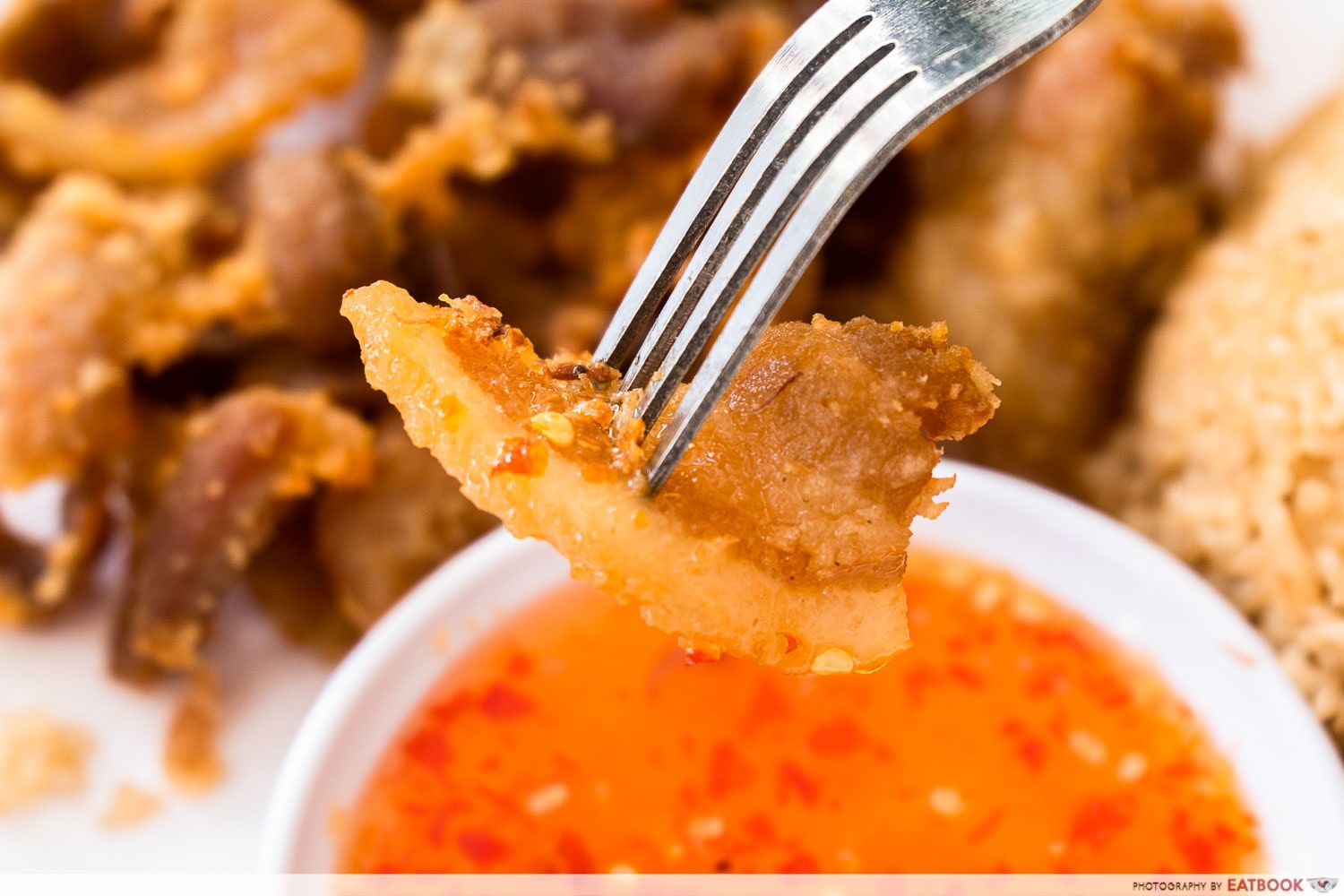 The fried pork was lightly battered on the outside, which gave it a little crunch. Unfortunately, the meat was a tad tough and dry. I would recommend coating it with the homemade Thai sweet chilli for extra moisture and flavour.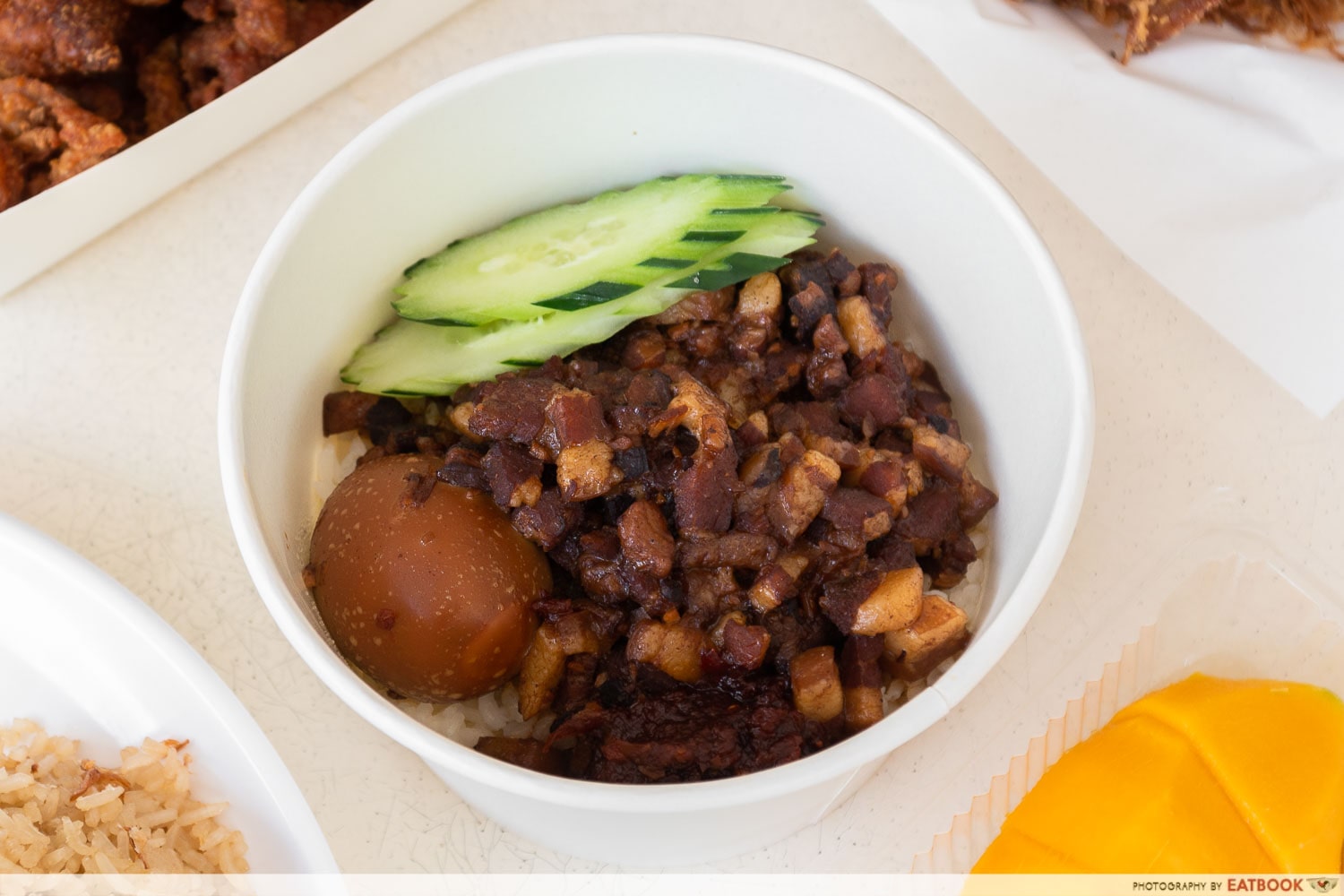 Another rice dish that I tried was the Thai Lu Rou Fan ($4.80). It caught my attention as I'd never heard of a Thai rendition of a Taiwanese staple—until today.
This looked and tasted similar to the typical Taiwanese lu rou fan. It came with rice, capped with thinly chopped braised meat, sliced cucumbers, and a hard-boiled egg.  
Taste-wise, the sauce was heavily spiced, with distinct star anise and clove notes. Overall, this dish was right up my alley as I loved how tender and rich in flavours the braised pork was. I just wished that there was more meat and gravy to balance out the generous portion of rice!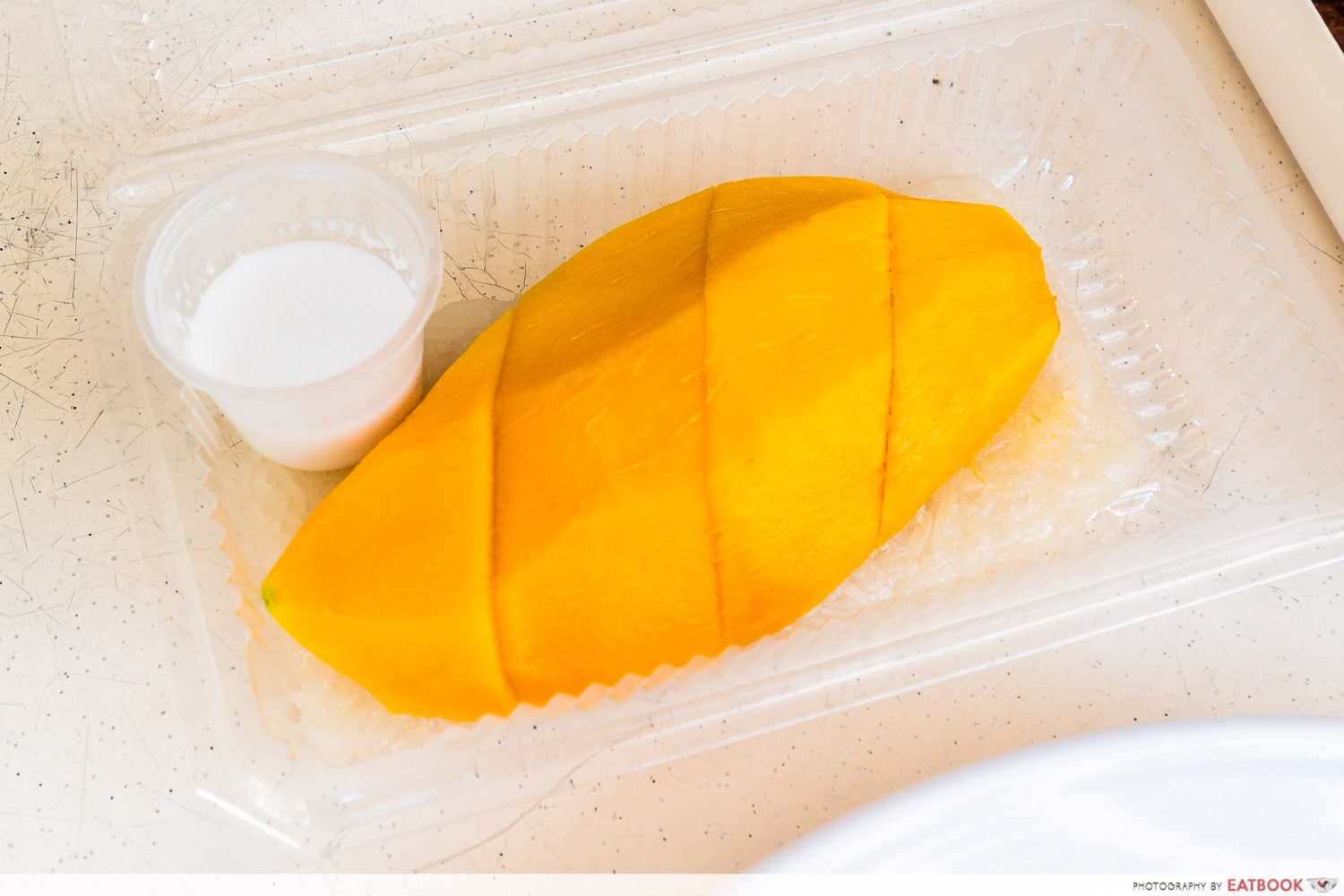 It is not a full Thai dining experience if there isn't Mango Sticky Rice ($4.50). This is one of my all-time favourite desserts that I will never fail to order at any Thai eatery. 
Here at Shuang Bao Thai, the Mango Sticky Rice includes a sliced mango atop thinly packed sticky rice, and coconut cream on the side.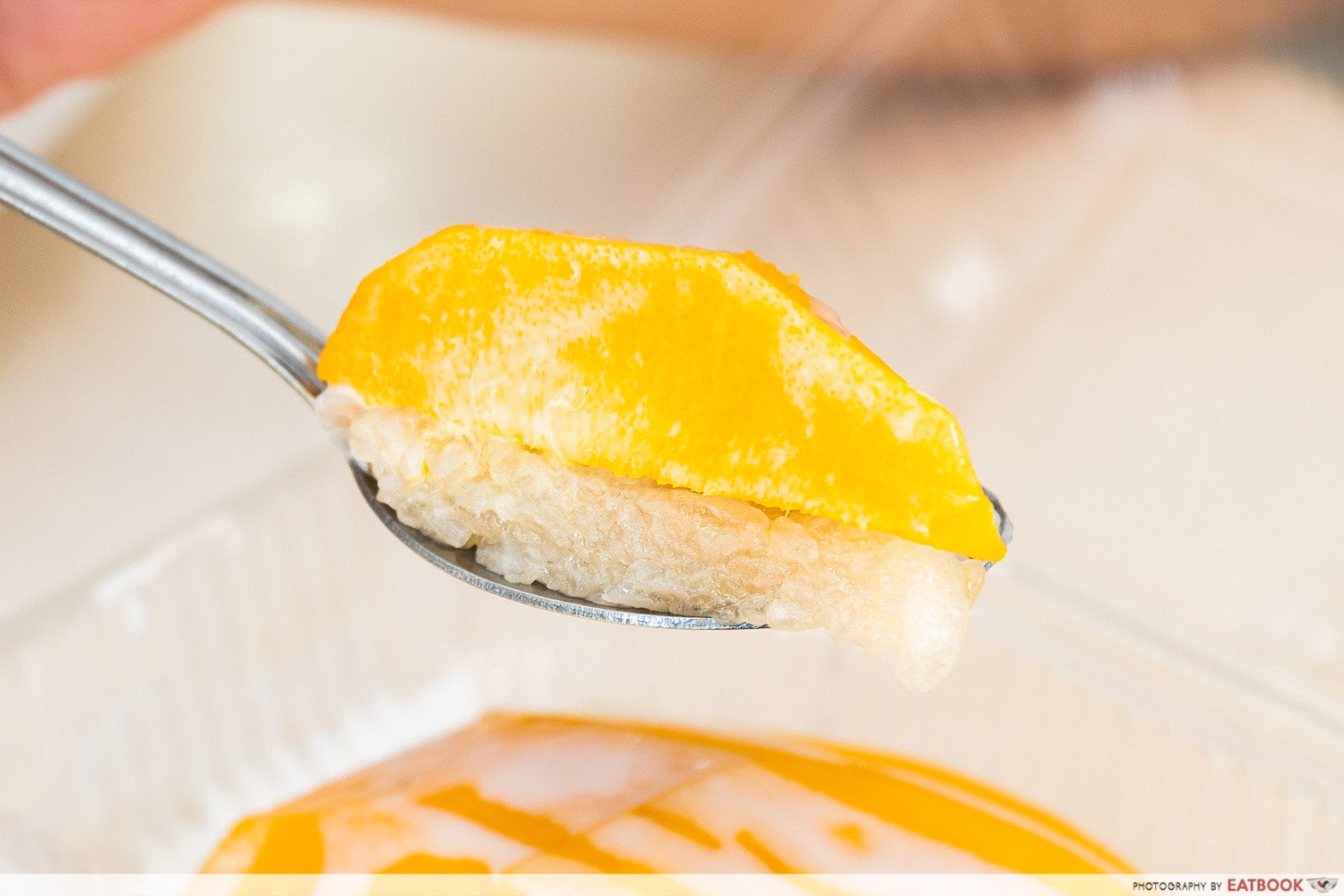 If I had to choose my favourite item on the menu, this Mango Sticky Rice would take the place. I was pleasantly surprised with how thick and juicy the fruit was, which is very rare in my opinion. The best part: it wasn't fibrous at all! 
I also enjoyed the sticky rice, which was chewy and sweet. It was slightly unique as the rice had a very strong milky fragrance, which married well with the fragrant mango and creamy coconut dressing. It was a great treat to wrap up the experience.
Ambience at Shuang Bao Thai Hat Yai Fried Chicken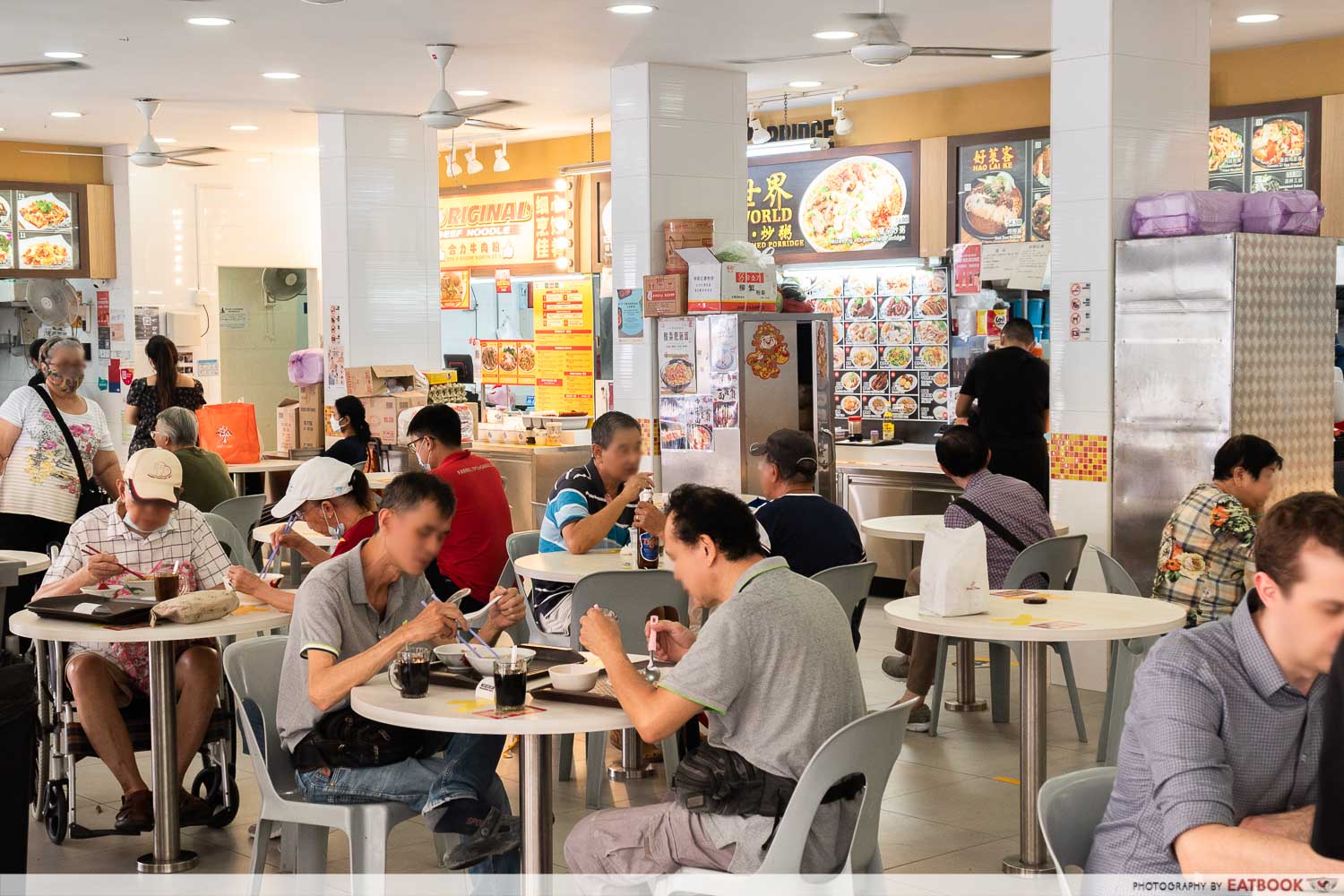 Shuang Bao Thai Hat Yai Fried Chicken is situated in Happy Hawkers coffeeshop at Bedok North. You can easily locate this coffeeshop as it's right behind Bedok Mall, which is only a minute walk from Bedok MRT Station. 
As we arrived around lunchtime, the coffeeshop was already buzzing with diners, so it was a little hard to snag a spot. Other than that, the coffeeshop was well lit and ventilated, which made it comfortable to dine-in. 
The verdict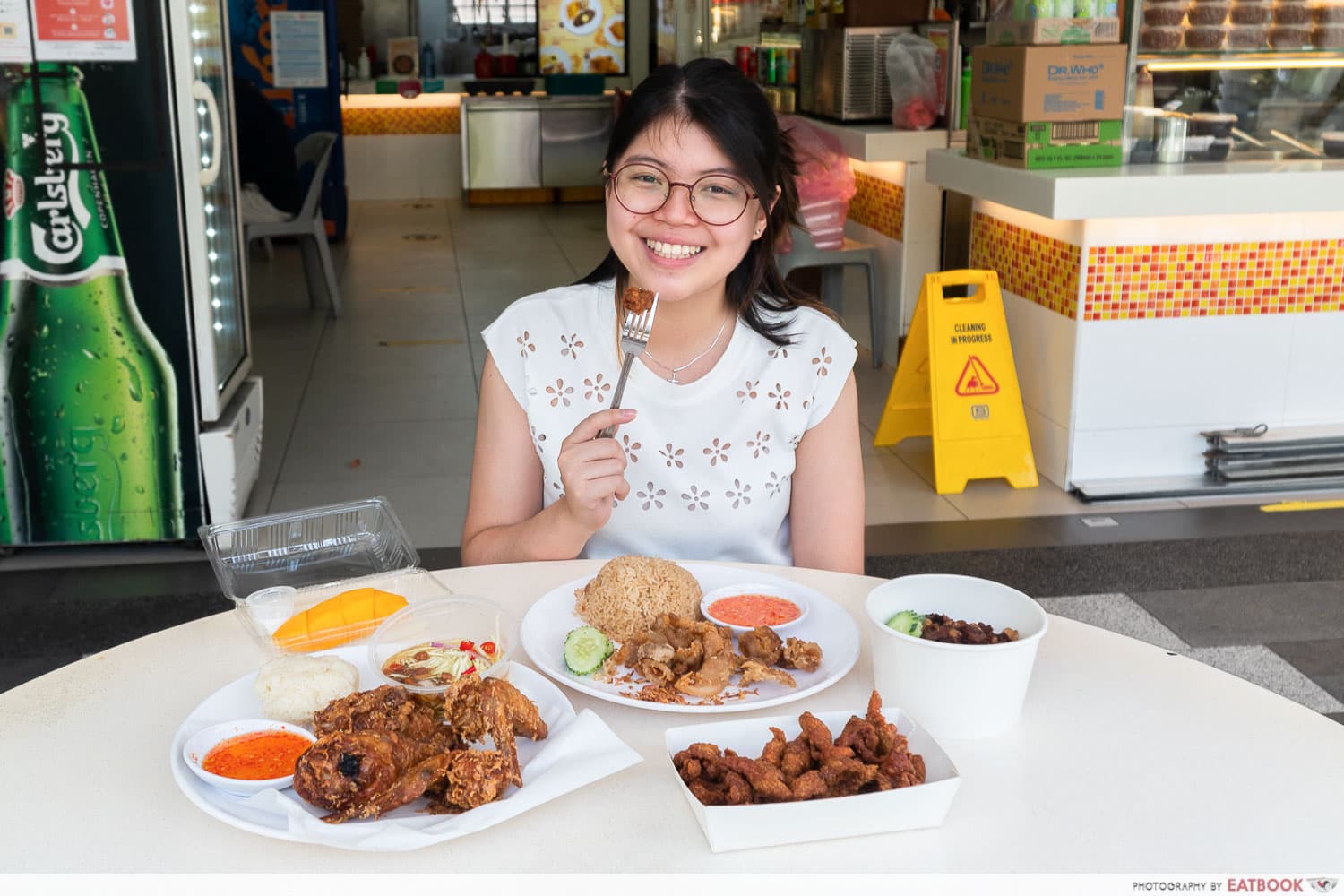 If you are looking for something other than your usual KFC or Korean fried chicken, I would highly recommend giving Shuang Bao Thai a try. Their items are wallet-friendly and tasty. I think their fried chicken makes a great snack option for any group gathering with friends and family. I would definitely be back for more fried chicken skin and mango sticky rice if I am ever in the area. 
For more food around the area, check out Tai Wah Pork Noodles' second branch and Chef Wei HK Cheong Fun, both of which are housed in FoodHub.
Address: 204 Bedok North Street 1, #01-393, Happy Hawkers, Singapore 460205
Opening hours: Daily 11am to 8:30pm
Tel: 8282 4595
Website
Shuang Bao Thai Hat Yai Fried Chicken is not a halal-certified eatery. 
Famous Tai Wah Pork Noodle To Open New Outlet In Bedok With Cheaper Menu
Photos taken by Lim Yu Hui.
This is an independent tasting at Shuang Bao Thai Hat Yai Fried Chicken.
Shuang Bao Thai Review: $1.80 Thai-Style Hat Yai Fried Chicken In Bedok
Shuang Bao Thai Hat Yai Fried Chicken Review: $1.80 Thai-Style Fried Chicken In Bedok -

7.5/10
Summary
Pros
– Fried items were incredibly crispy and flavourful
– Value-for-money
– Convenient location
Cons
– Pork belly was a little hard
– Mango salad was a little too fishy
Recommended dishes: Mango Sticky Rice ($4.50), Thai Lu Rou Fan ($4.80), Fried Chicken Skin ($3.50)
Opening hours: Daily 11am to 8:30pm
Address:  204 Bedok North Street 1, #01-393, Happy Hawkers, Singapore 460205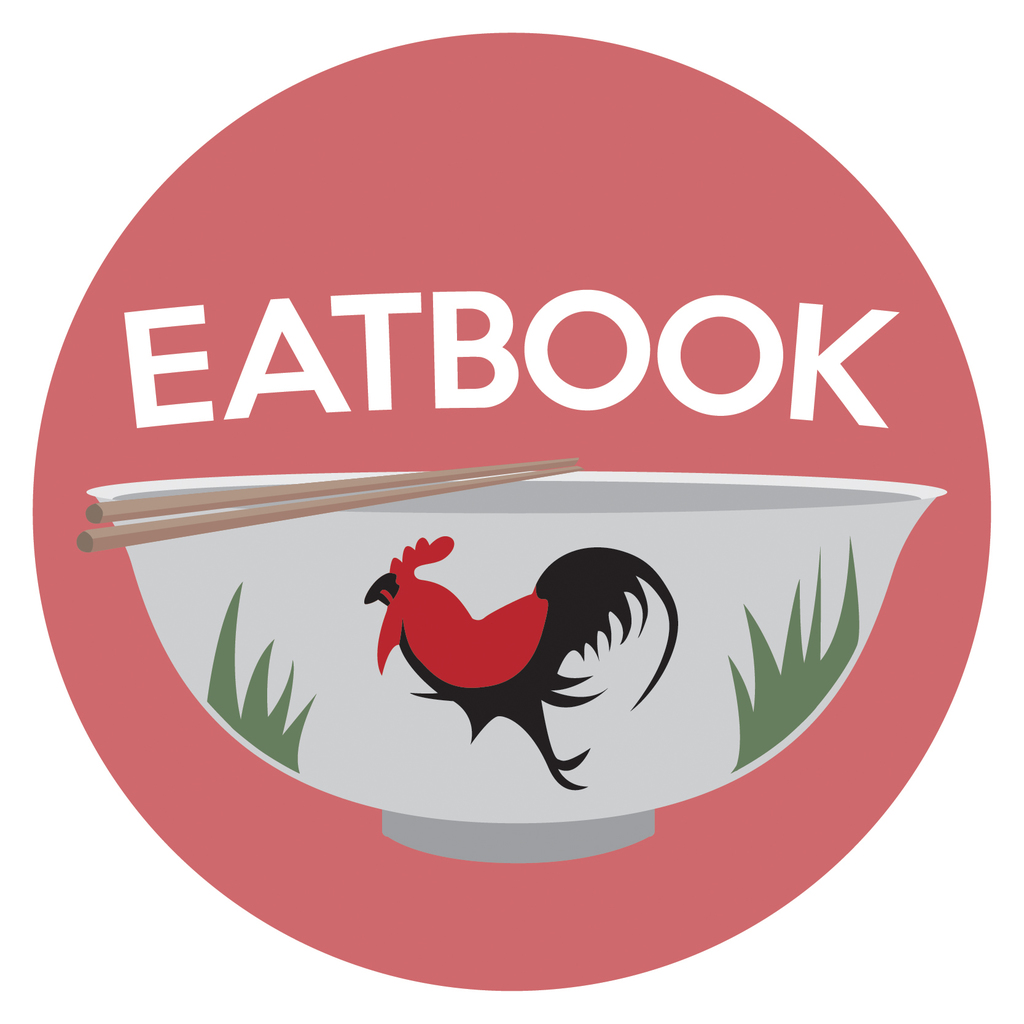 Drop us your email so you won't miss the latest news.