Chef Wei HK Cheong Fun in Bedok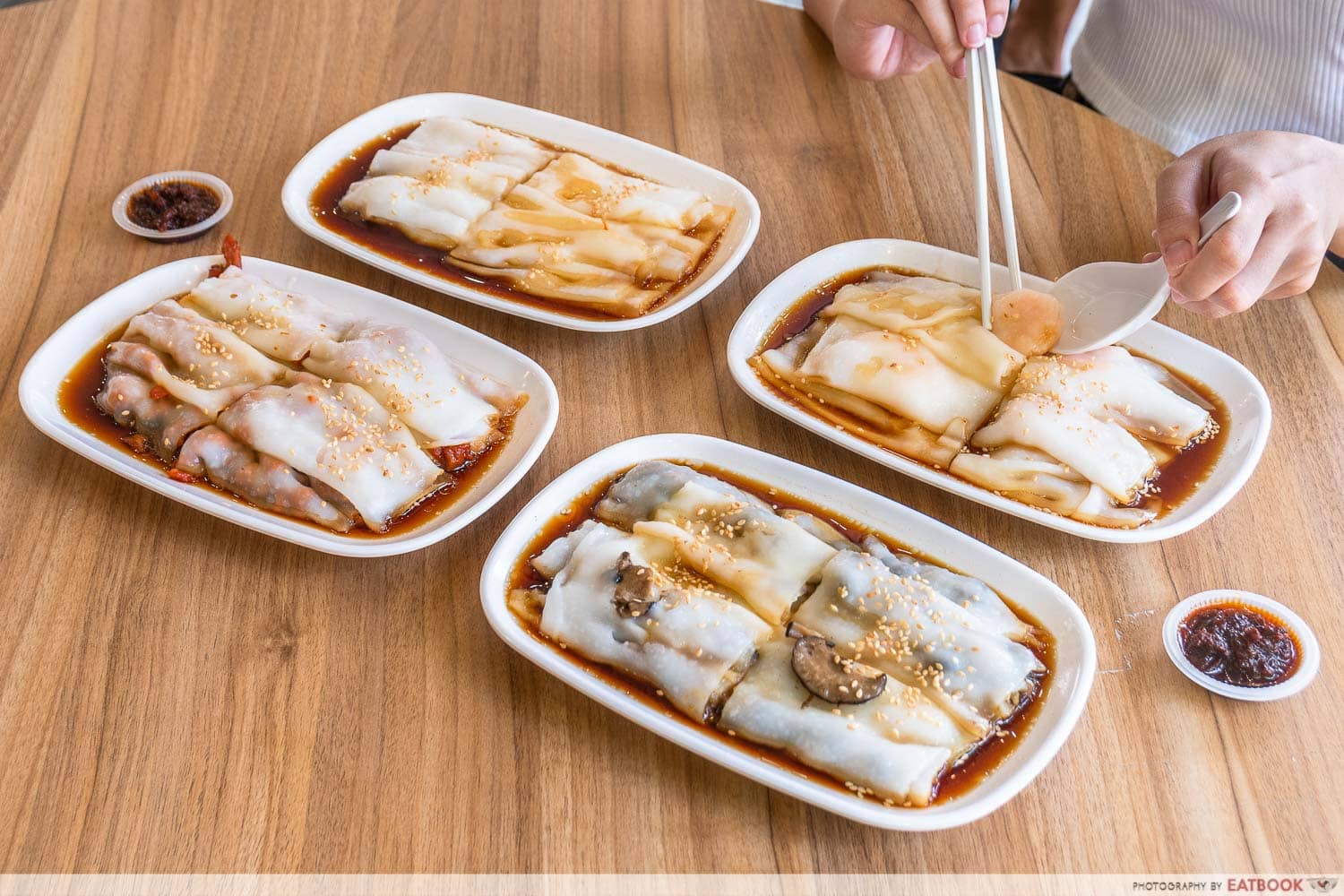 Whenever I go for dim sum with my friends or family, chee cheong fun is definitely a mandatory item to order. It is light yet so flavourful, and it leaves my stomach with room for a plethora of other dishes. 
As a frequent Peach Garden customer, finding out about Chef Wei HK Cheong Fun tingled my foodie radar. Knowing that I could possibly get the same quality of rice rolls at an affordable price left me in great anticipation to try the chee cheong fun here at Bedok Town Centre. 
Peach Garden Has A La Carte Buffet From $24++, Including Free-Flow Live Prawns, Pork Belly And More
Food at Chef Wei HK Chee Cheong Fun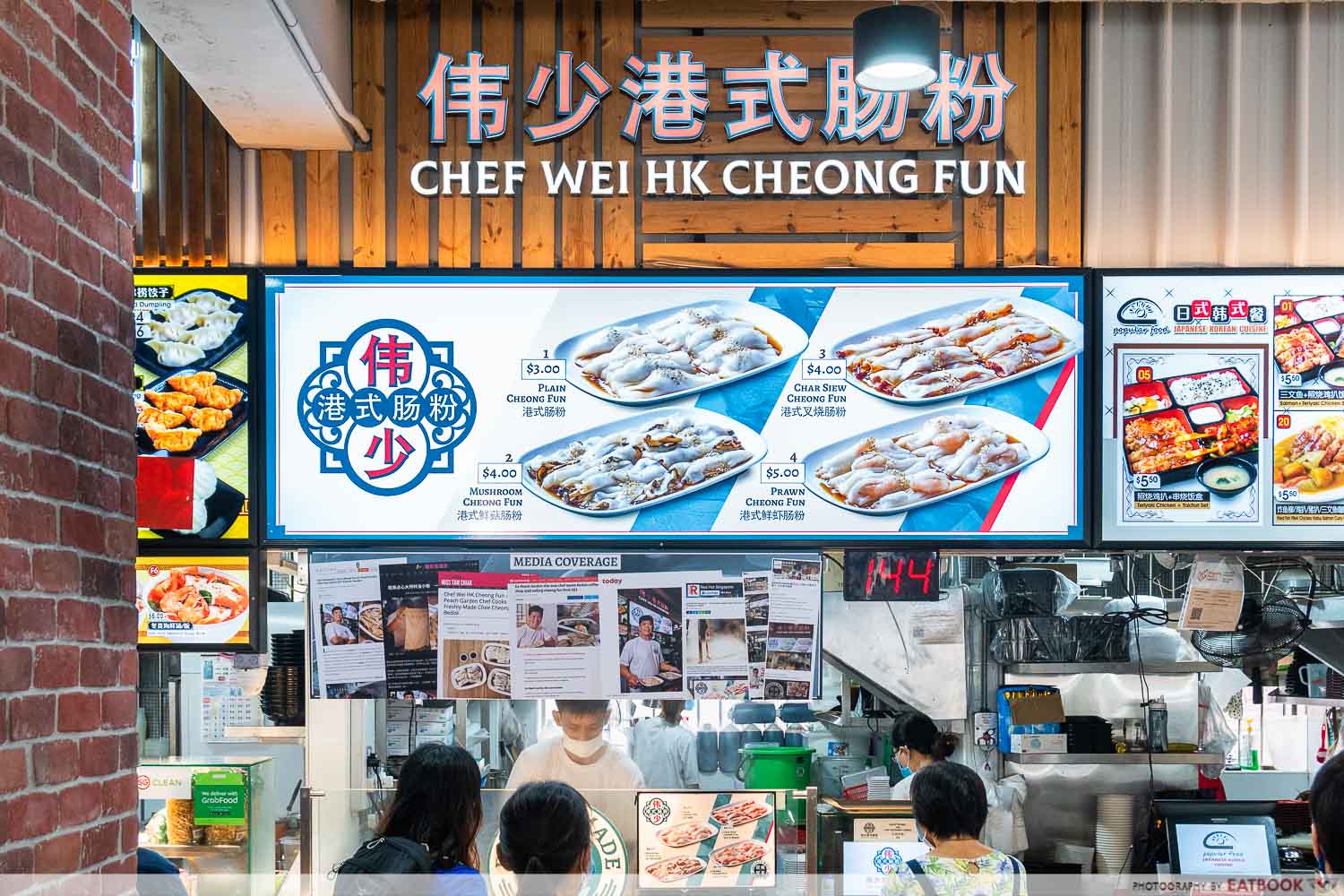 Here at Chef Wei HK Chee Cheong Fun, the menu is small with only four options of chee cheong fun flavours. This includes the classic Plain Cheong Fun ($3), Char Siew Cheong Fun ($4), Mushroom Cheong Fun ($4), and the Prawn Cheong Fun ($5). Talk about efficiency, each cheong fun only takes about a minute to prepare.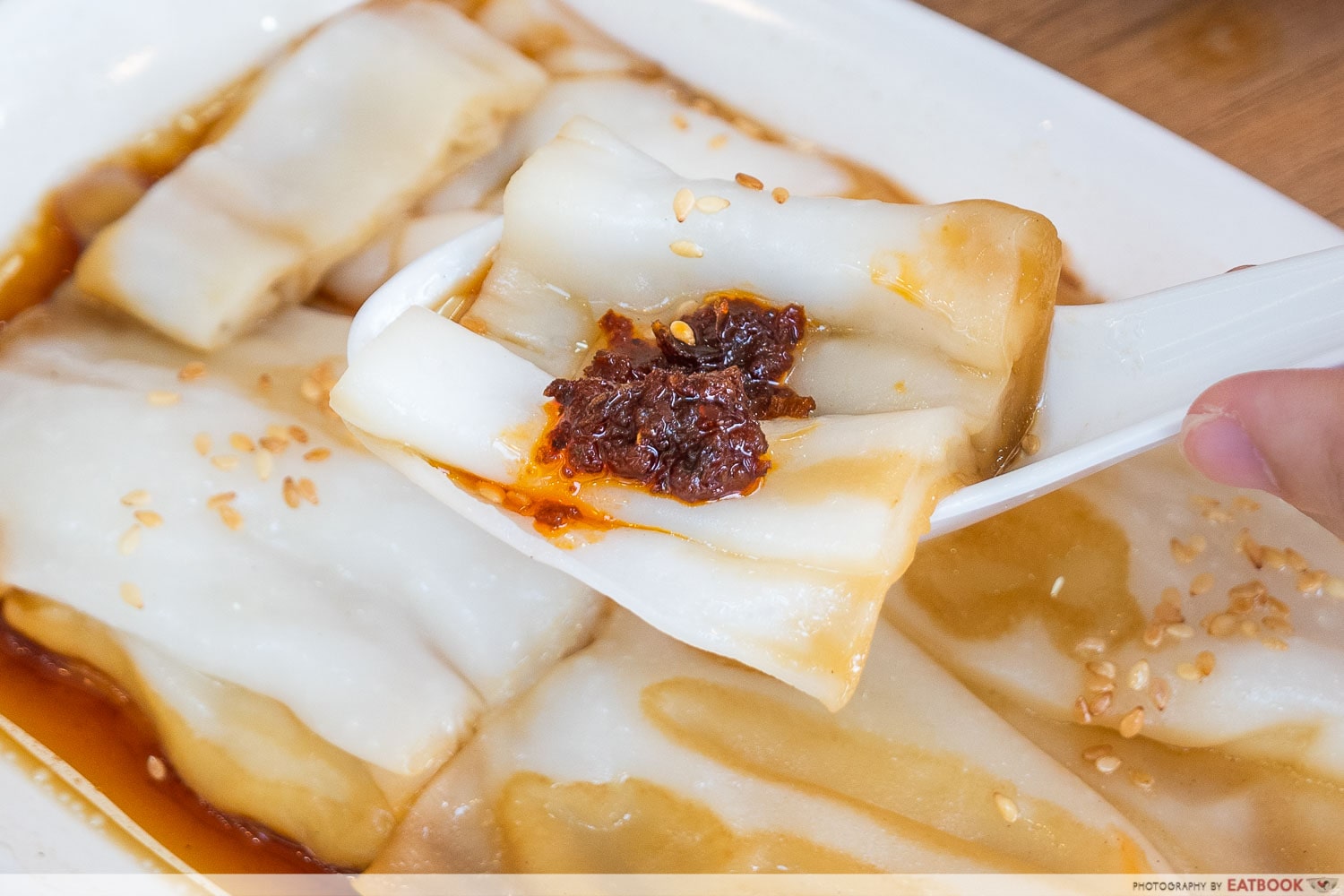 I went for the mainstream Plain Cheong Fun first, to get a clean taste of the skin by itself before trying the ones with fillings. Stacked in a generous portion of roughly eight rolls, the skin was slightly translucent and thin. Its delicate texture made it hard to pick up with chopsticks, but that gave me high expectations of it being potentially melt-in-my-mouth. 
To my delight, I was not disappointed. Within a few bites, the silky skin disintegrated in my mouth with no hassle at all. The dark-coloured sauce was highly addicting, coating each roll with a punch of savoury flavour.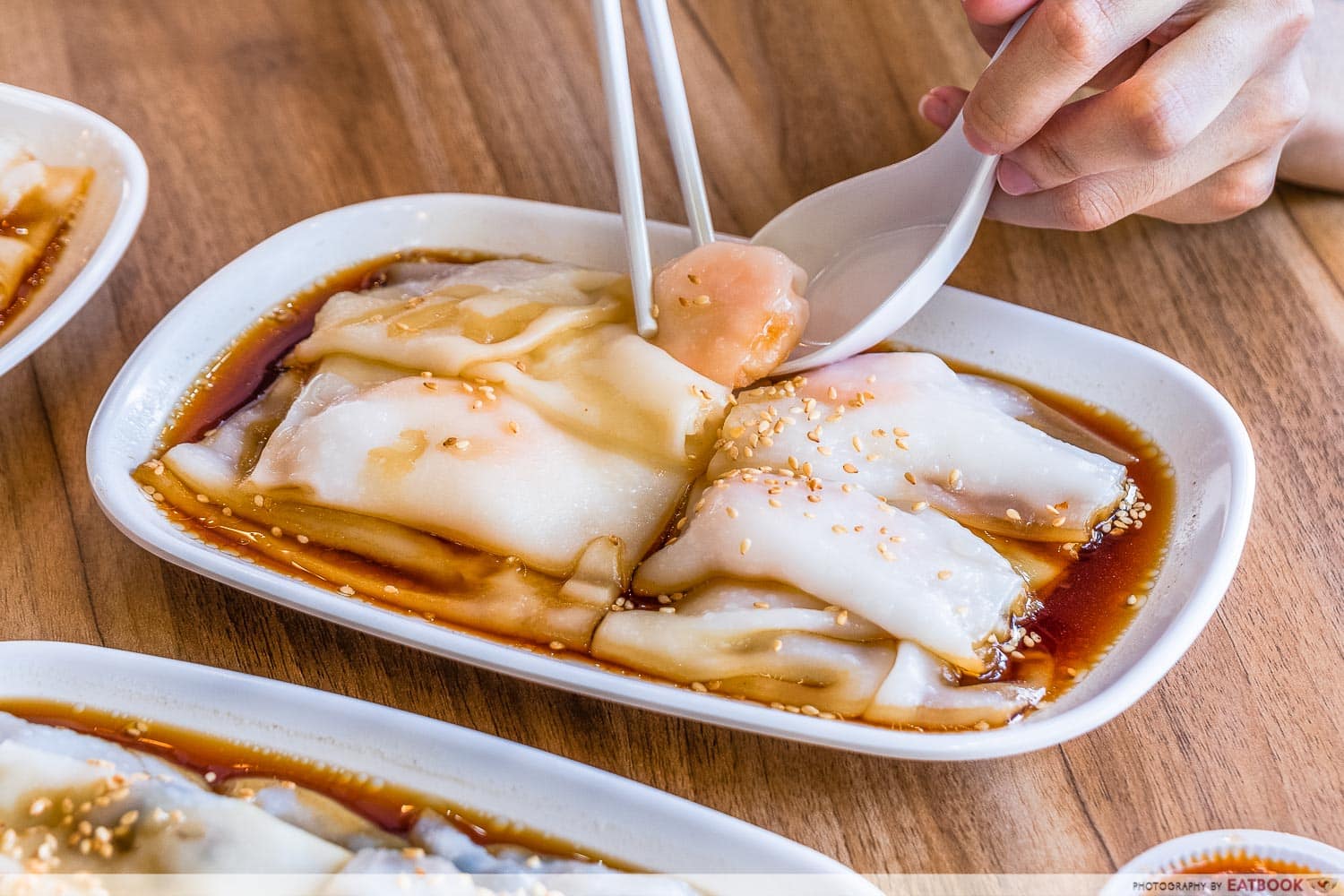 The Prawn Cheong Fun came with four to five prawns wrapped in each roll. The prawns were succulent and sweet, and had a crunchy texture that complemented the soft cheong fun rolls. The generous portion of prawns meant that I could get a piece or two of prawns with every mouthful, which I thoroughly appreciated.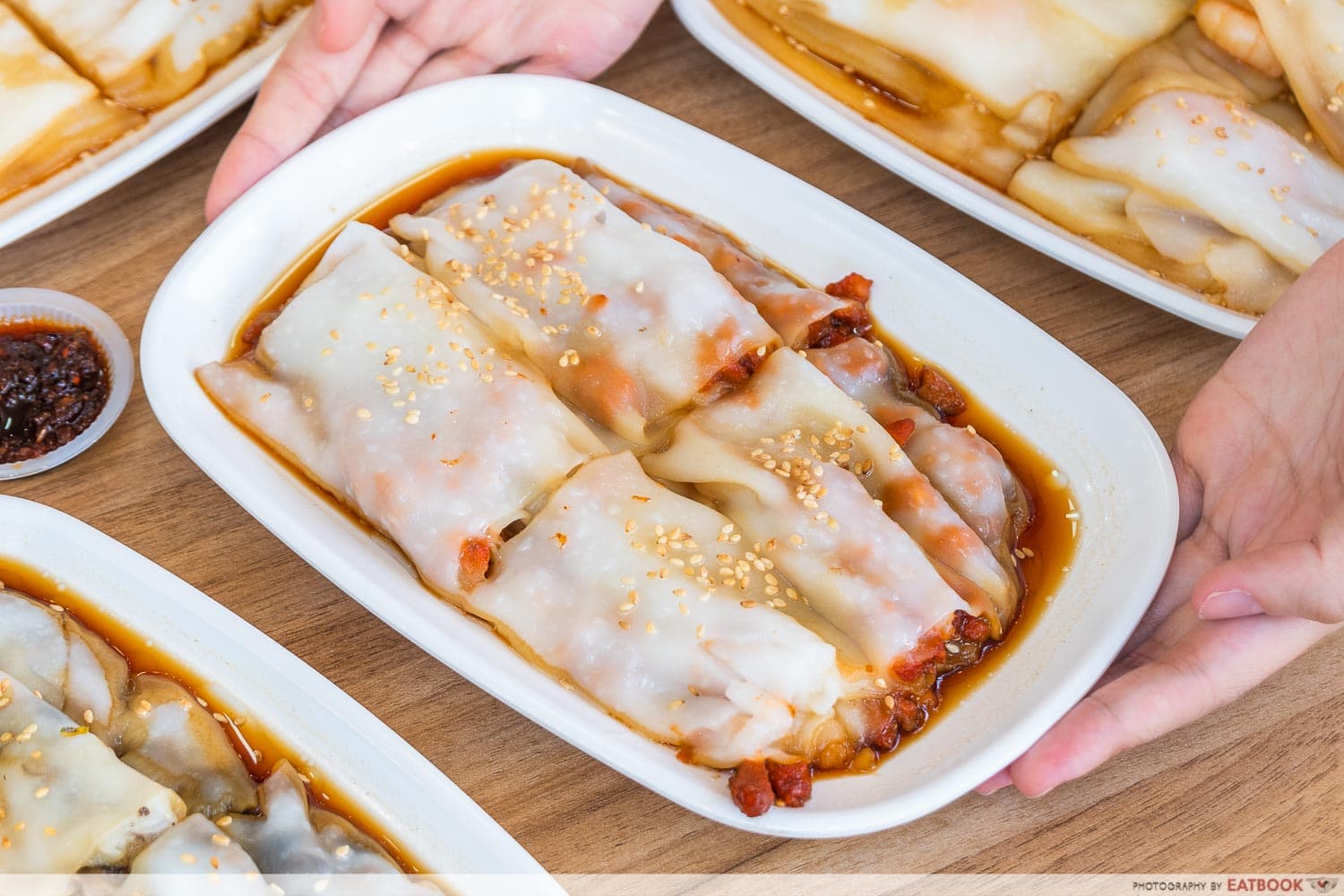 Moving on to one of my personal favourites, the Char Siew Cheong Fun. As an avid char siew fan, I was stoked to see so much char siew packed within the cheong fun rolls—some were even seen swimming in the sauce. I was drawn in by the classic bright red colouration of the mini char siew cubes, which made them look extra appetizing.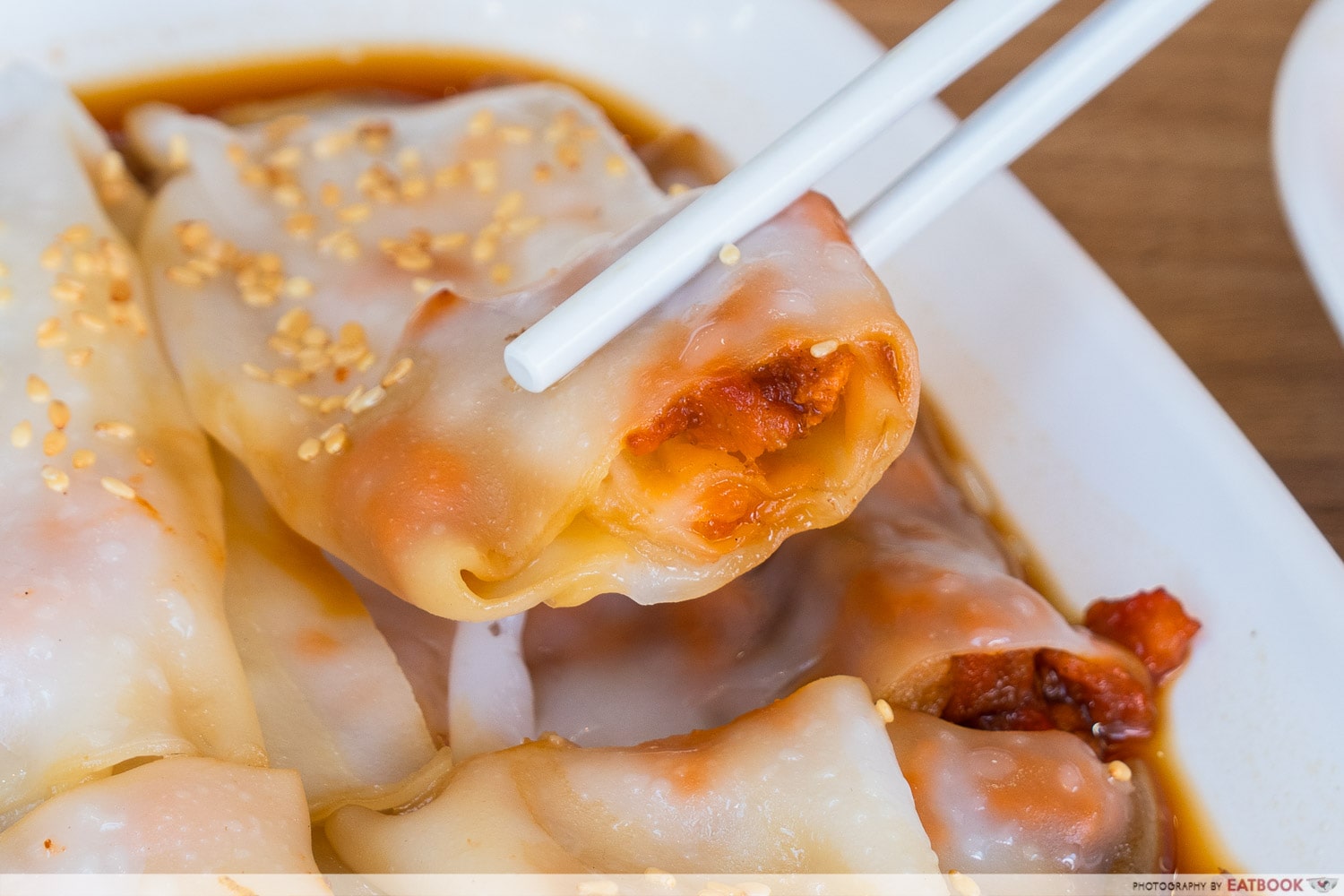 The well-barbequed char siew bits had a good bite and held a good balance between its sweetness and char. There were also little bits of fats present on each char siew cube, giving it a melt-in-your-mouth texture. I highly recommend giving this flavour a go if you're heading down to Chef Wei HK Cheong Fun!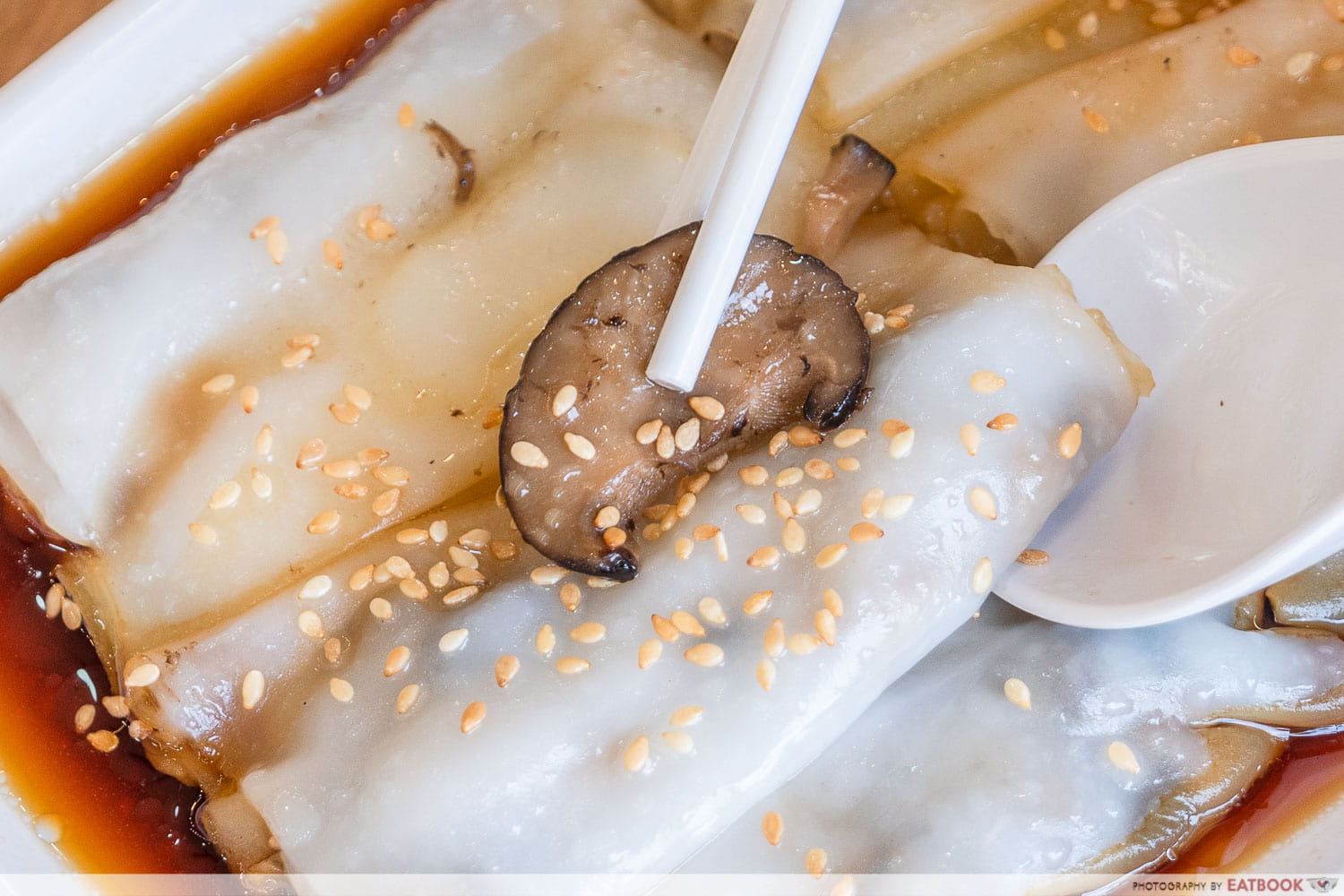 Finally, I went for the unique Mushroom Cheong Fun, which is a flavour that I have never been exposed to. The thinly sliced mushrooms soaked up the sauce, giving them a burst of savoury flavour. The mushrooms had a pleasantly fragrant and earthy flavour, along with a QQ texture. Seasoned with oyster sauce, these mushrooms were packed with a kick of umami. 
While you're here, make sure to also try their house-made chilli, perfumed with aromatic hae bee AKA dried shrimp notes, pairing well with the tasty sauce. 
Ambience at Chef Wei HK Chee Cheong Fun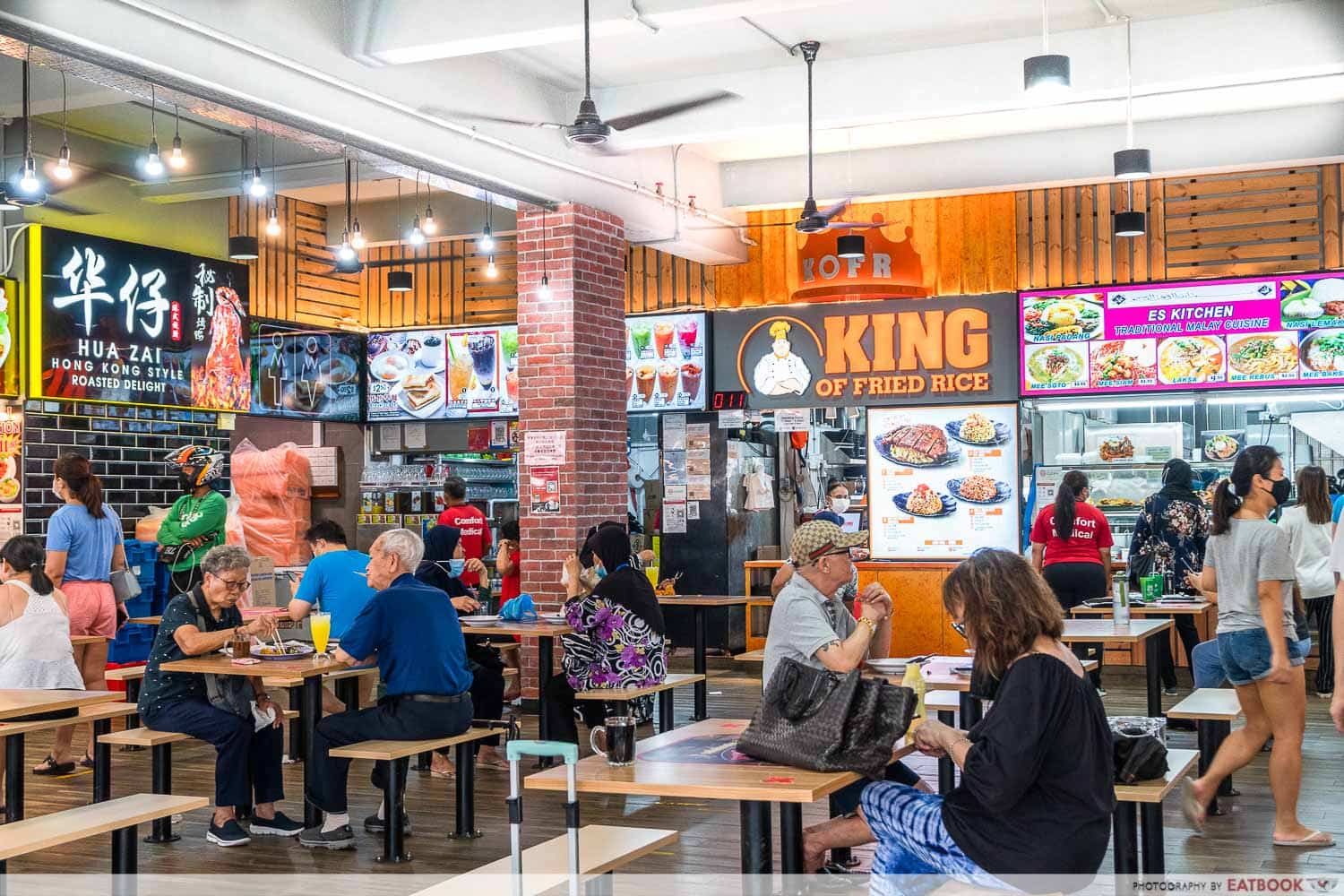 Located a stone's throw away from Bedok MRT Station, HK Chef Wei Cheong Fun sits amongst the many stalls at Bedok Town Centre. This coffee shop houses other well-known stalls including King Of Fried Rice and Michelin-approved Tai Wah Pork Noodle, drawing in crowds from all walks of life. Do make sure to come down early if you wish to get seats! 
There are automated blinds that are pulled down during the daytime, so you can enjoy your lunch despite the sweltering noon sun. 
The verdict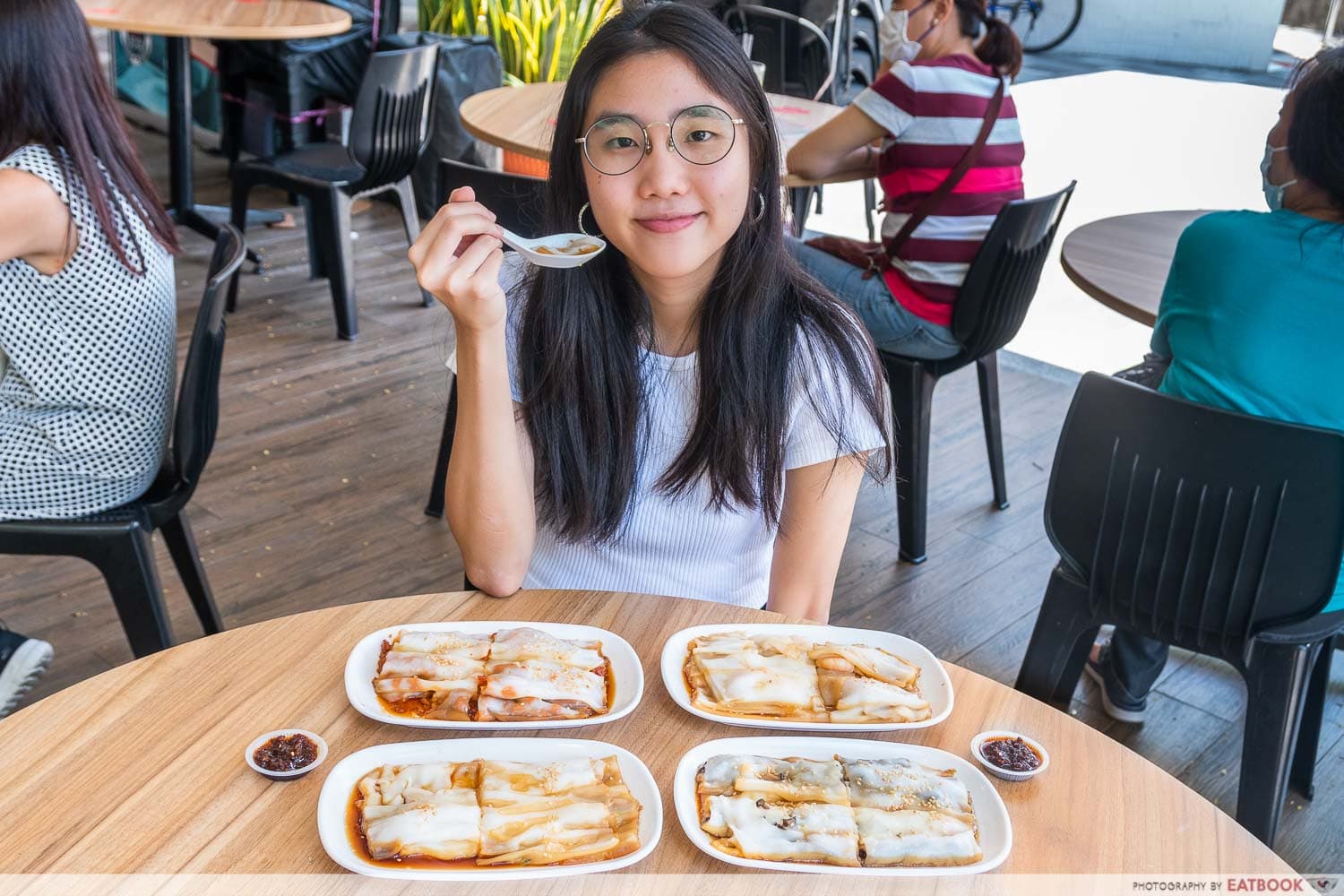 Although I do find the cheong fun rolls slightly pricey for a hawker stall, I will definitely come back for their amazing quality. Tasting just as good as the ones you find at atas dim sum restaurants, the chee cheong fun at Chef Wei HK Cheong Fun is one that should not be missed. I highly recommend coming down to join the queue for a delicious tea time or breakfast fix. 
Bedok Food Guide: 26 Places Serving Satay Bee Hoon, Wagyu Don And More
If you're looking for more food in the area, check out our Bedok Food Guide, for satay bee hoon, wagyu don and more! If not, there is also our Jefri The Original Botak Chicken Rice review, which introduces a 26-year old Muslim-owned store serving orange chicken rice.
Address: 209 New Upper Changi Road, #01-633, Singapore 460209
Opening hours: Daily 7am to 9pm
Website
Chef Wei HK Cheong Fun is not a halal-certified eatery.
Photos taken by Emily Teu.
This is an independent review by Eatbook.sg.
Chef Wei HK Cheong Fun Review: Ex-Peach Garden Chef Opens Cheung Fan Hawker Stall In Bedok
Chef Wei HK Cheong Fun Review: Newly Opened Hawker Stall By Ex-Peach Garden Chef In Bedok -

8/10
Summary
Pros
– Generous portions of filling 
– Chee Cheong fun skin was silky and smooth 
Cons
– Prices are a little steep for a hawker store 
Recommended dishes: Prawn Cheong Fun ($5), Char Siew Cheong Fun ($4)
Opening hours: Daily 7am to 9pm
Address: 209 New Upper Changi Road, #01-633, Singapore 460209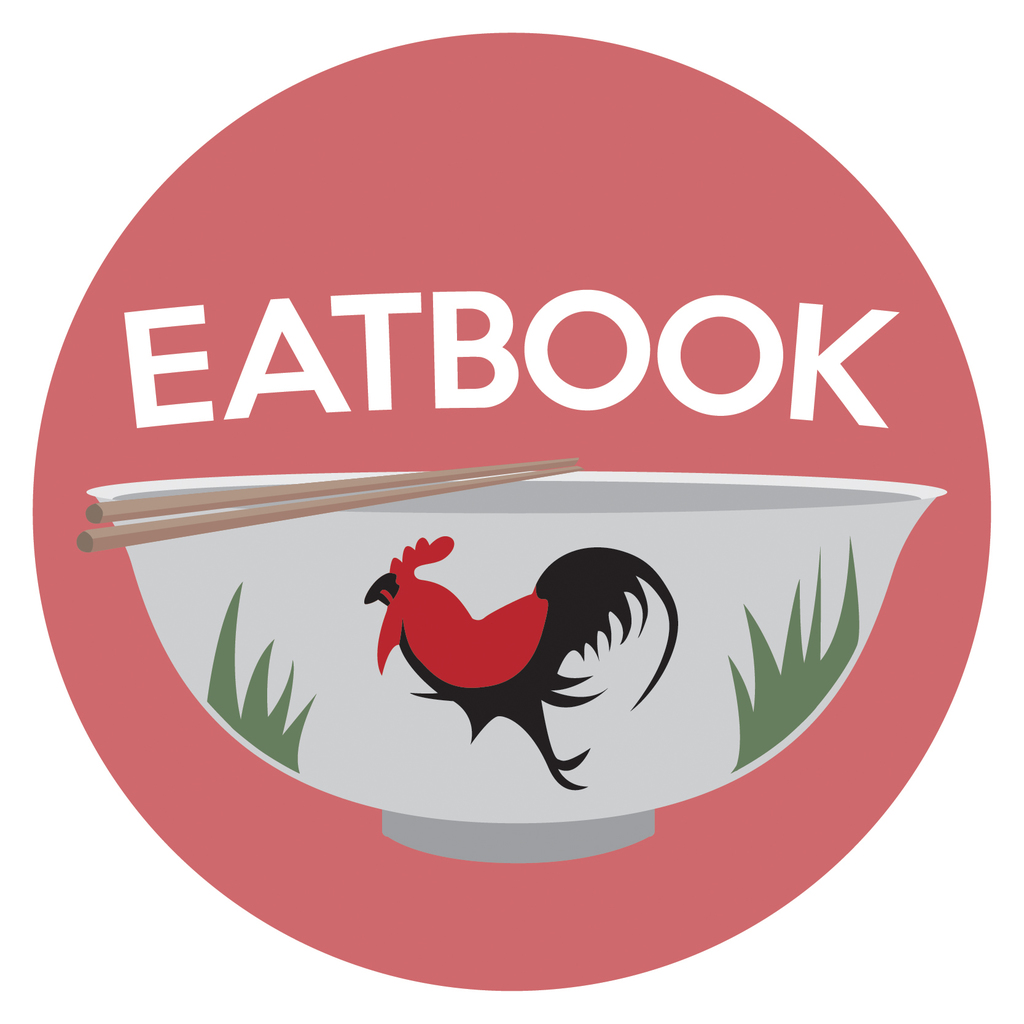 Drop us your email so you won't miss the latest news.