Sando serves up seductive sandwiches
Update: Sando has since changed all their sandwich bread to freshly baked shokupan. The top-up for soup or salad is also not available. However, you can now top up $1.50 to pair your sandwich with furikake fries.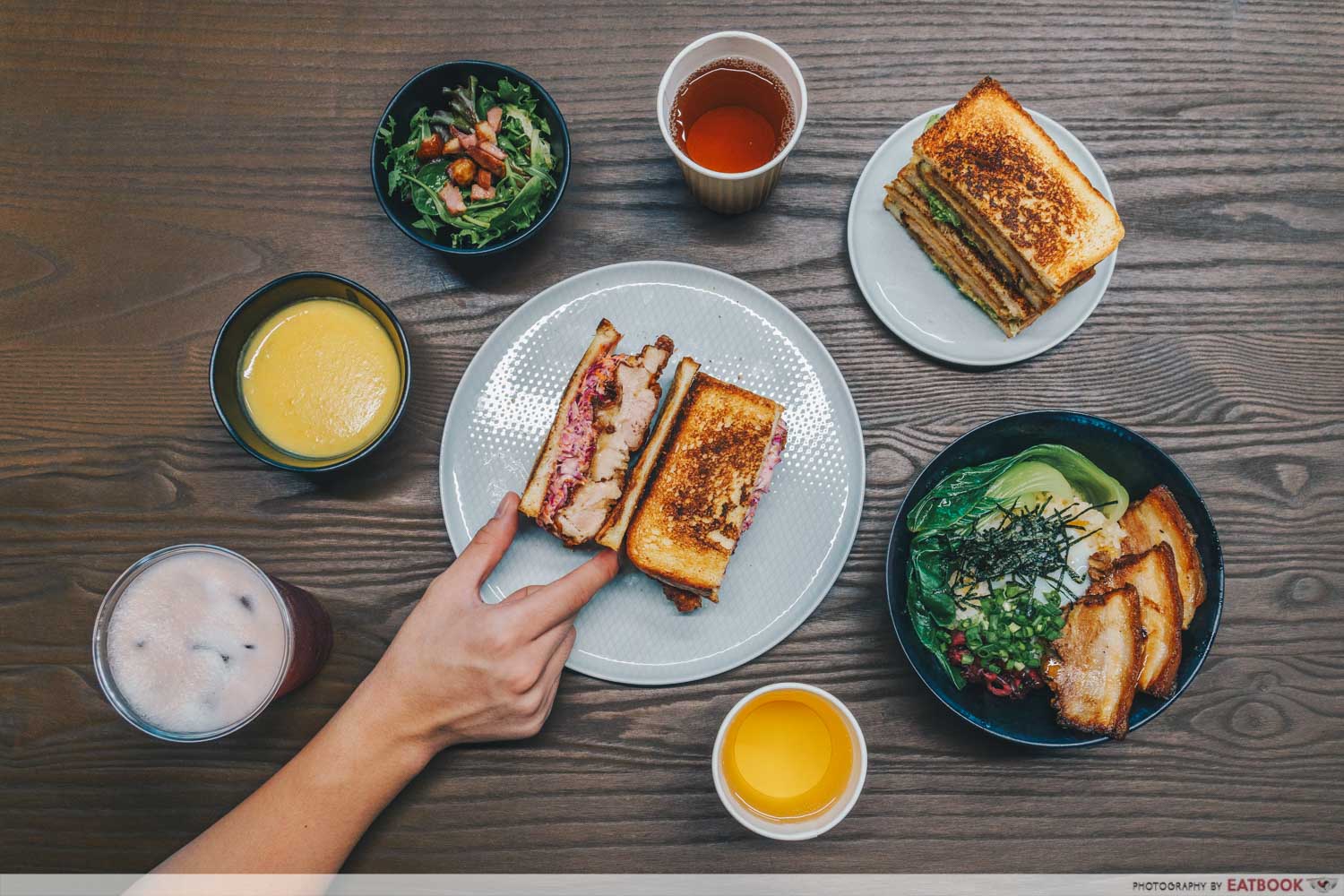 On the laundry list of aesthetic food that Japan is renowned for, sandwiches aren't exactly at the top. Yet, pretty tamago and katsu sandwiches, known as sandos, are convenience store superstars across the land of sushi and soba. Their popularity shouldn't come as a surprise. The mix of portability and satisfaction that sandwiches provide transcends cultures – that's why every nation has their own interpretation.
Timothy, Teck Pang, and Ee Chong were inspired by the popularity of those sandos during their travels in Japan. That led the twenty-somethings to leave their deskbound jobs to open Sando, a sleek spot tucked between the offices of Alexandra Technopark. Timothy is the brains behind the food, using his experience working at restaurants like Blu Kouzina to whip up a series of Japanese-inspired sandos and rice bowls.
Their cafe is virtually unknown outside of the technopark offices, but after spotting some drool-worthy pics on Instagram, we decided to join the legion of suits for some lunchtime sandwiches.
Food at Sando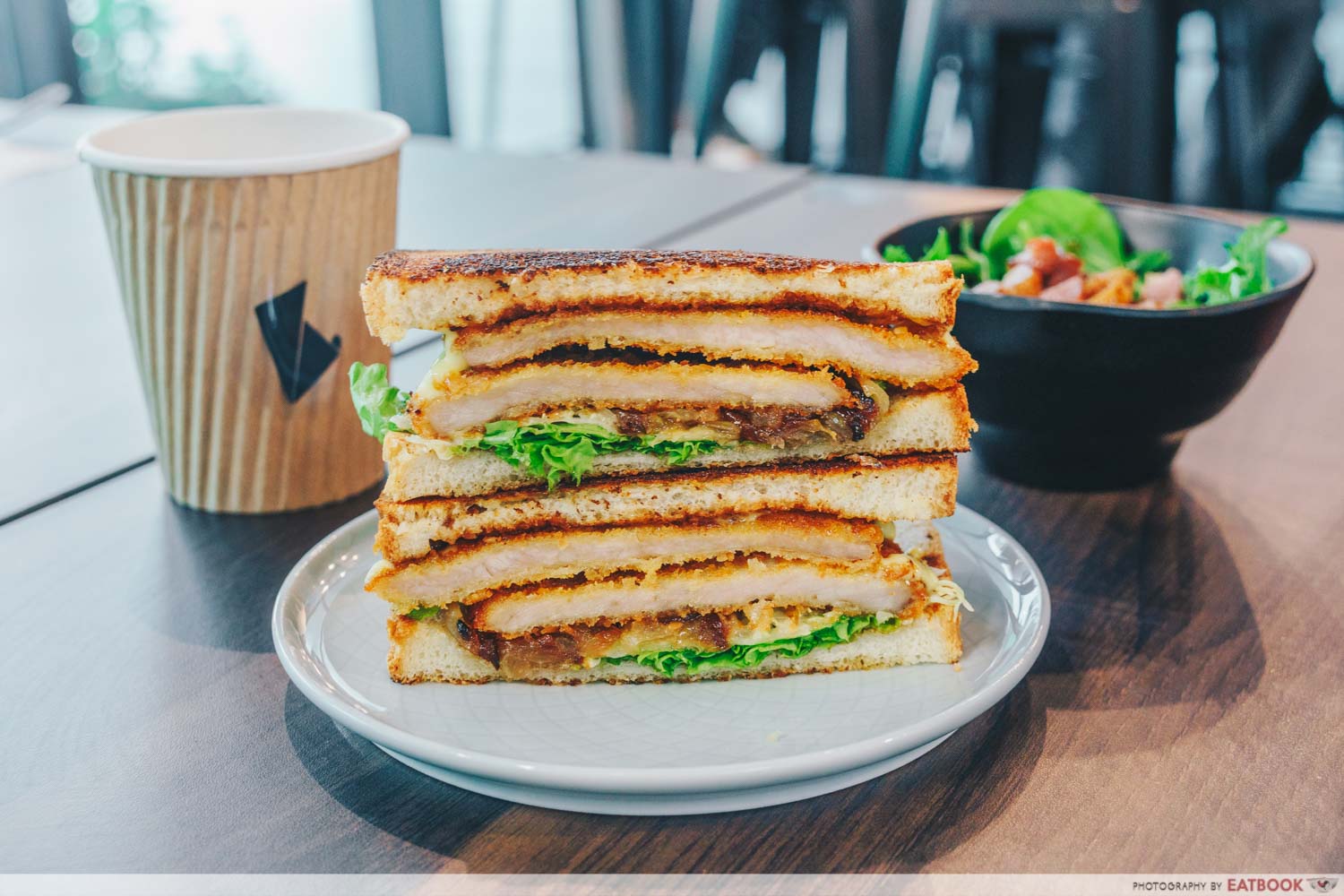 The Katsu Sando ($10) is arguably the ubiquitous Japanese sandwich, so it's a litmus test for any joint claiming to serve sandos. This version certainly didn't skimp on ingredients. Two deep-fried pork cutlets are piled on a bed of greens and caramelised onions, with everything bookended by two nicely browned slices of toast.
Despite a charitable coat of sauce, the headlining katsu remained crispy. One of the main draws of a katsu sando is the alluring interplay between pillowy bread and crackly batter, and this version hit the bullseye.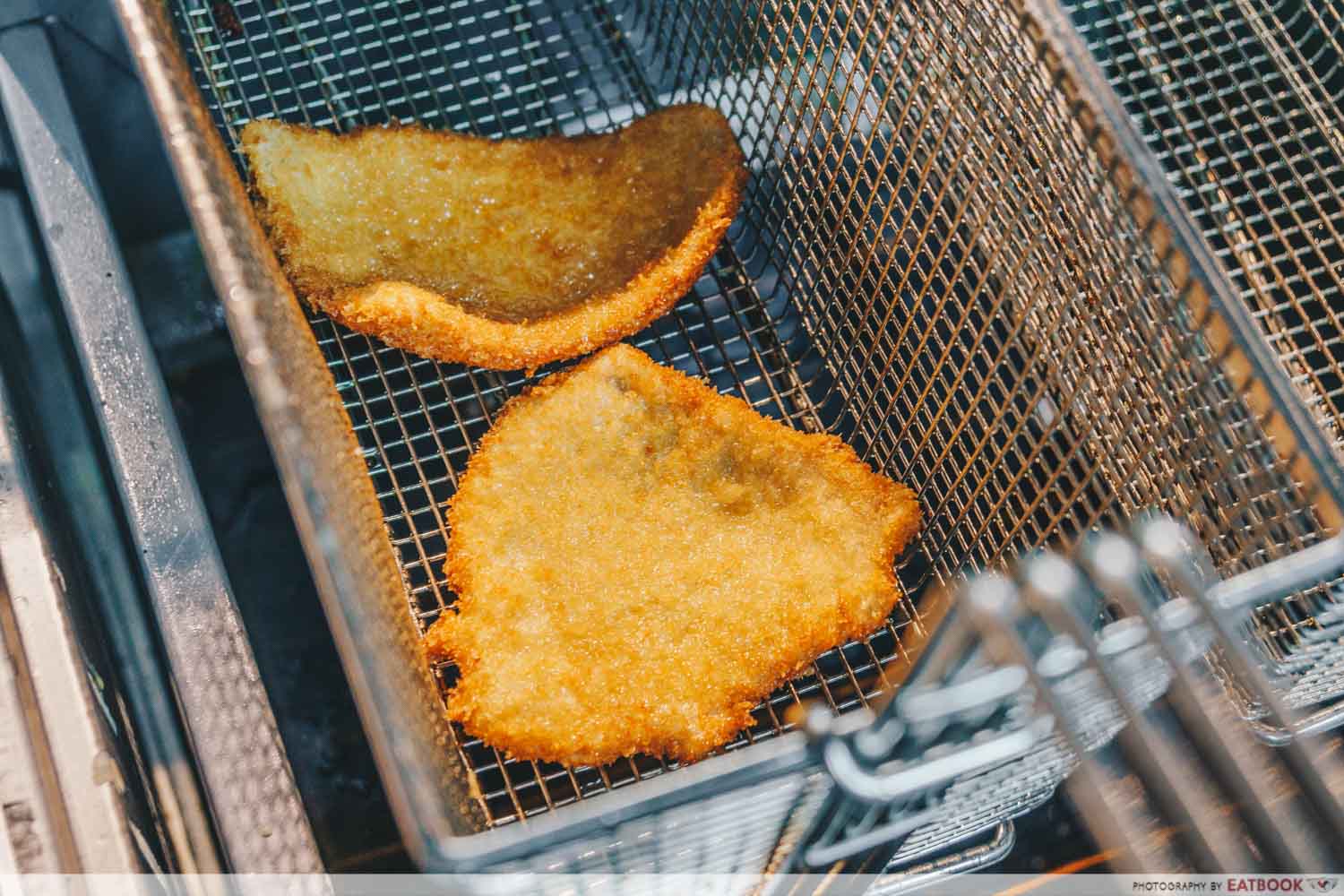 With the use of lean pork loin, we feared tough and dry meat. Fortunately, while our cutlets were hardly exploding with juices, they were undoubtedly tender. That's a result of the loins being pounded till thin, ensuring they get cook evenly during the frying process.
These cutlets have a relatively mild porky flavour. While there's nothing inherently wrong with that, their meatiness was drowned out by the sando's other components.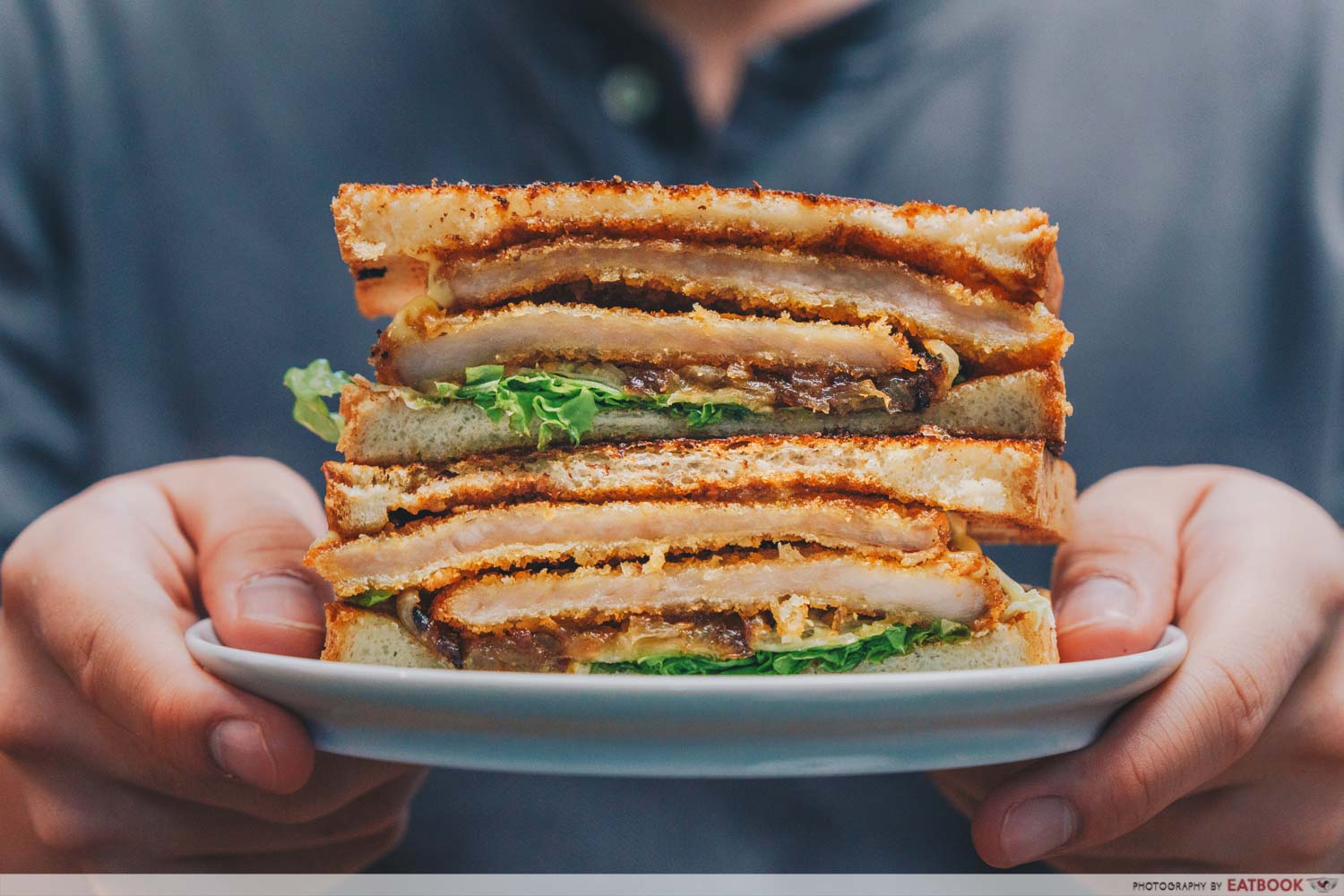 Our fried discs of pork were dressed by a modified tonkatsu sauce. While the recipe is a secret, we noticed a stronger savoury edge and a piquant tang that reminded us of the famous Bull-Dog brand tonkatsu sauce.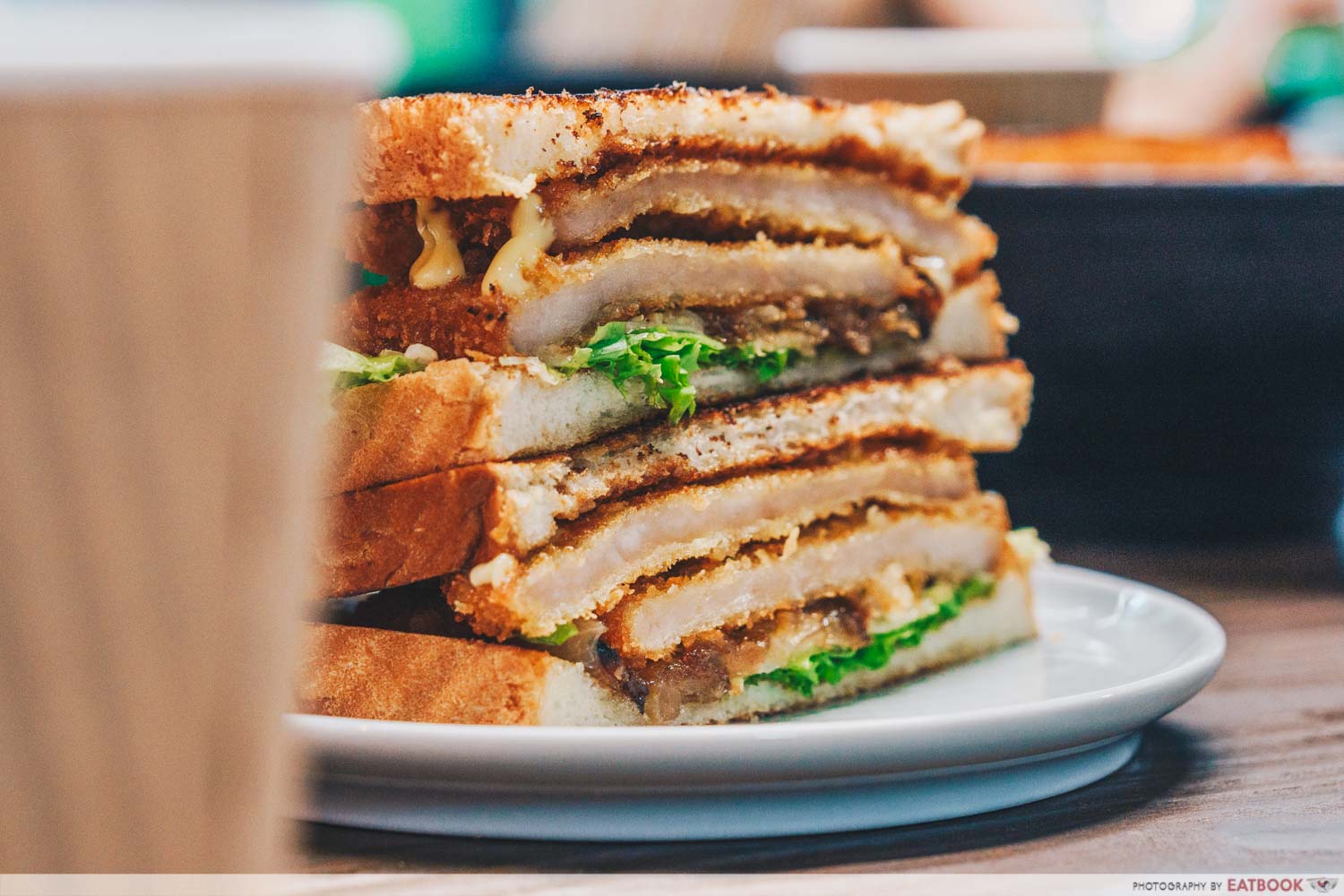 By all accounts, those meaty cutlets should have been the star of the show. But while they were attractive, the unassuming blanket of caramelised onions was breathtaking.
From hawker stalls to upscale restaurants, I've eaten a lot of caramelised onions. But I don't recall ever being so impressed by some browned onions.
Aside from the usual sweetness, these onions boasted an unexpectedly strong dose of umami as well as a seductive smoky edge. We were thoroughly impressed by how many layers of flavour were jammed into this simple sandwich component.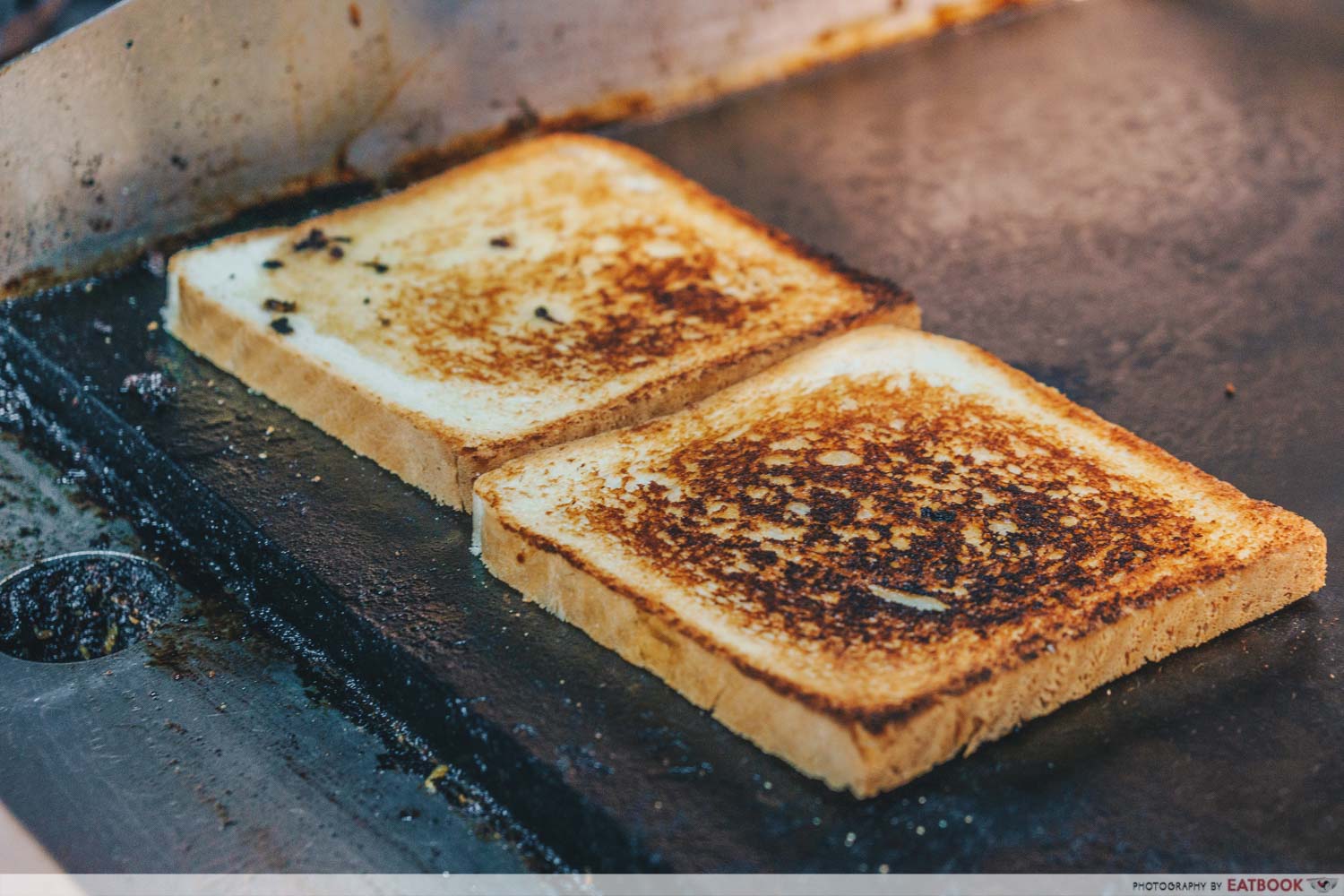 While all the sandwiches here use standard bread, rather than dreamily-soft Hokkaido milk bread, each slice is thoroughly buttered and toasted. Soft in the middle, lightly crisp on the edges, and kissed with rich buttery flavour, it ticked all the boxes for a good sandwich bread.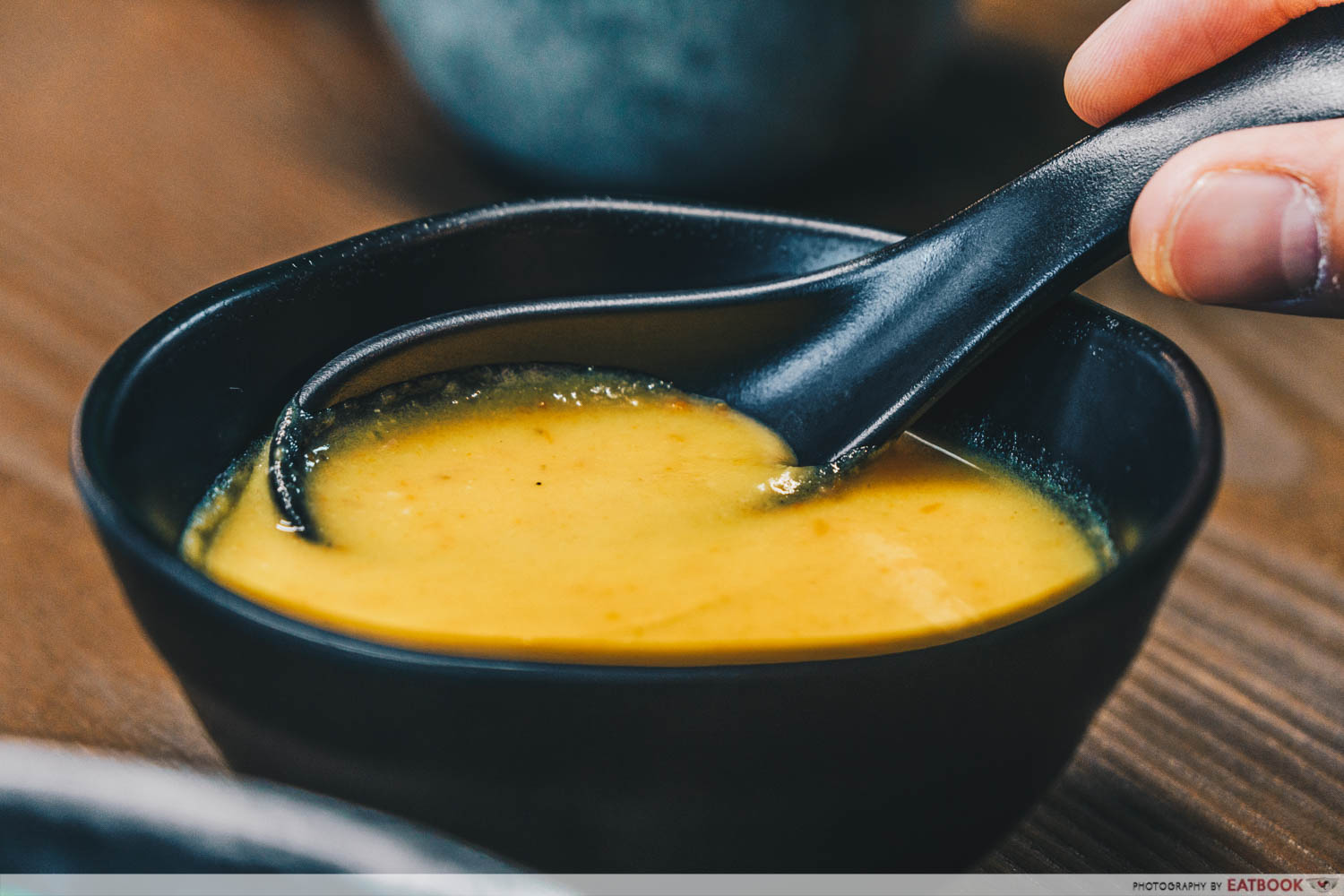 We completed our meal by ordering a Set at $2, which comes with a Soup Of The Day. If you prefer a salad though, it's an additional $2.50. Whichever you choose, a cup of steaming tea comes along for the ride, with either roasted barley tea or floral sencha up for grabs.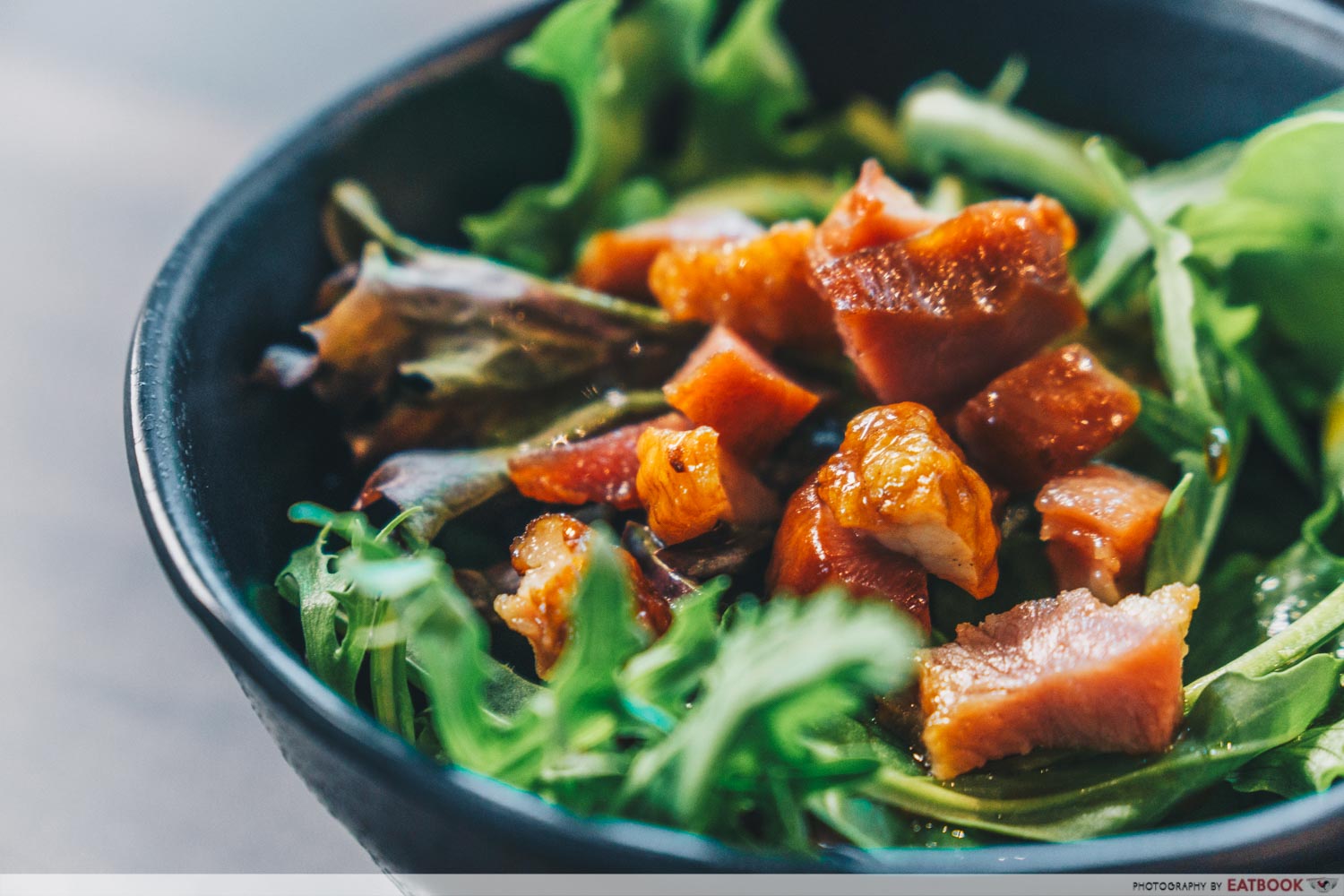 Their salad of the day was garden greens with smoked duck. It was refreshingly zingy from the lemony vinaigrette, making it a good option for cutting through the heavy flavours of the katsu sando.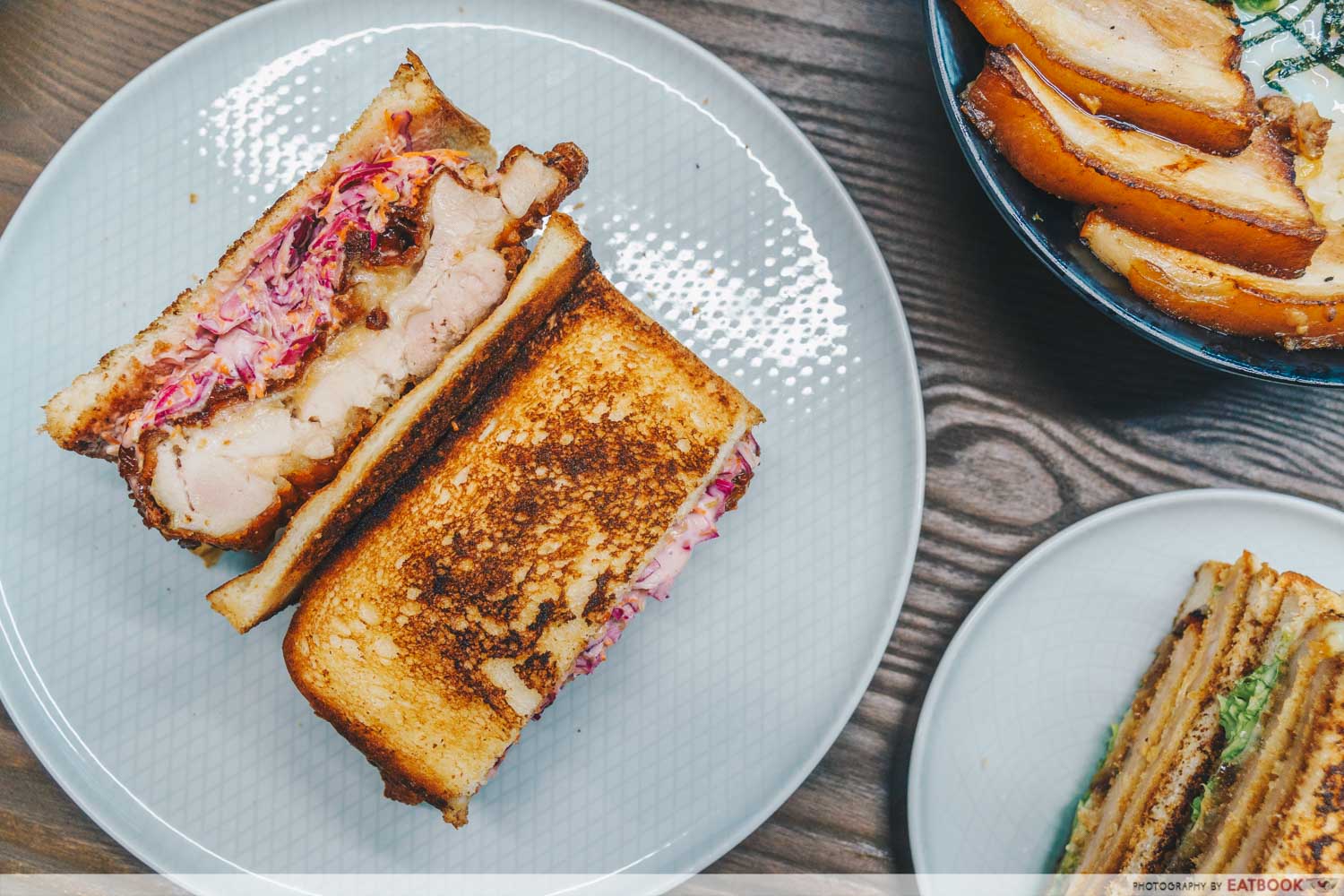 The Karaage Sando ($9) is simple in composition, but complex in flavour. Purple coleslaw and sriracha mayo are all that flanks a sizable battered chicken thigh. We're not sure where they source their chickens from, but this bird certainly didn't skip leg day.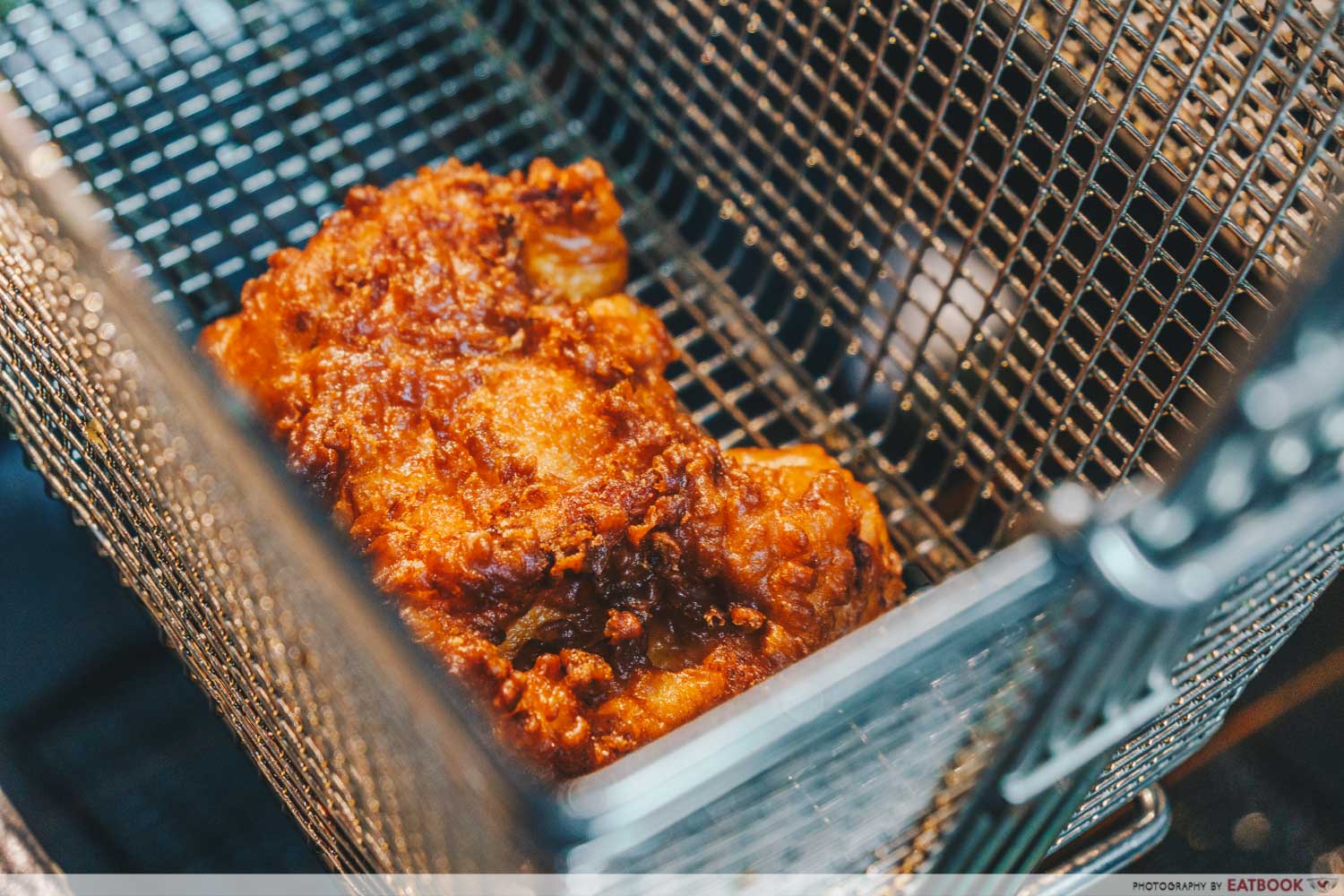 Frying such a thick piece of meat can be difficult, and often results in dry, powdery chicken. Thankfully, our thigh was juicy and flavourful, empowered by a soy and ginger based marinade.
However, it was slightly let down by the batter, which was a touch soggy and too thick in some areas.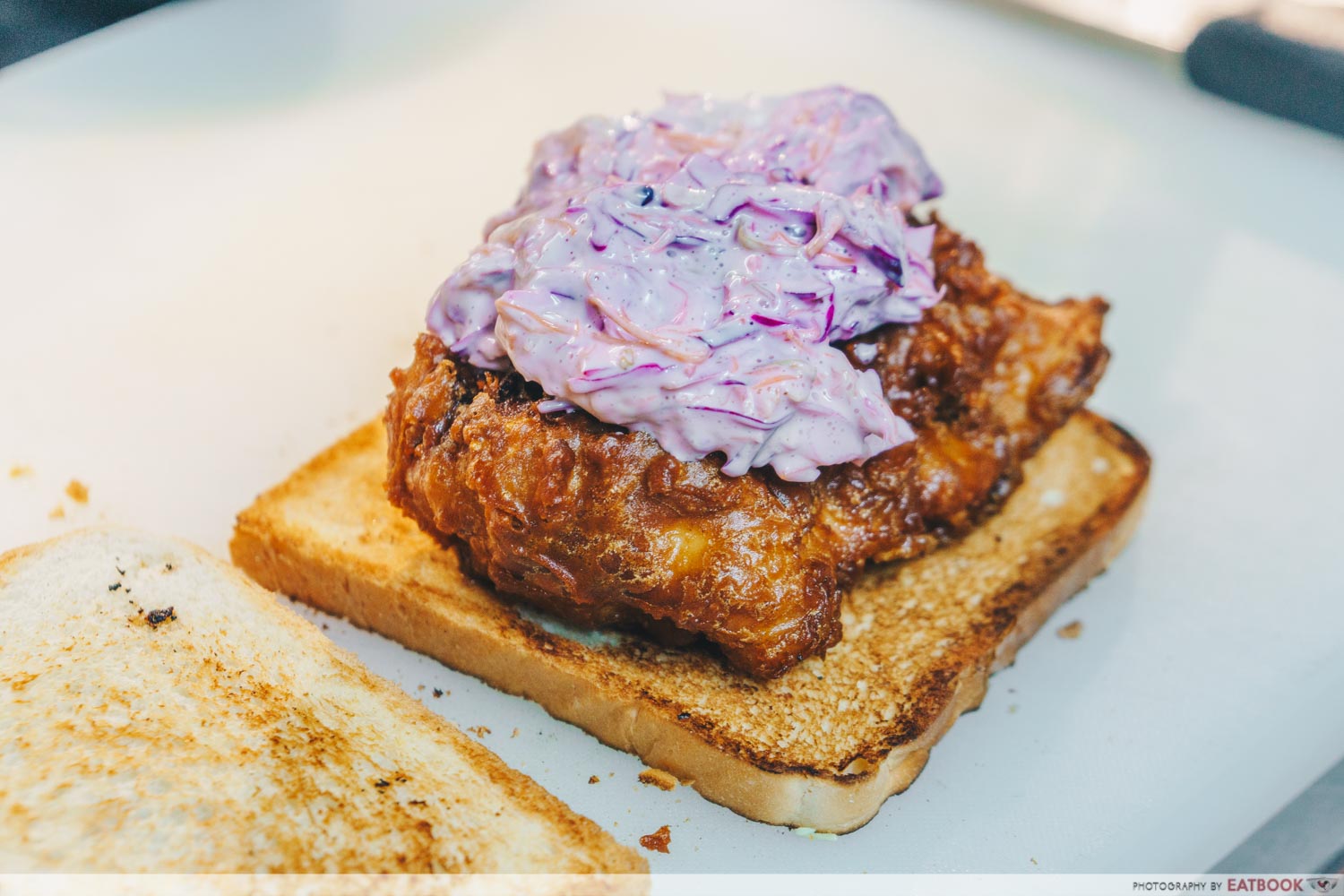 Any potential oiliness from such a big piece of fried chicken was fought off by the citrus-laced coleslaw that supported the sandwich. That subtly sour touch of fresh lemon caught our attention in particular, and was an absolute unsung hero in this dish.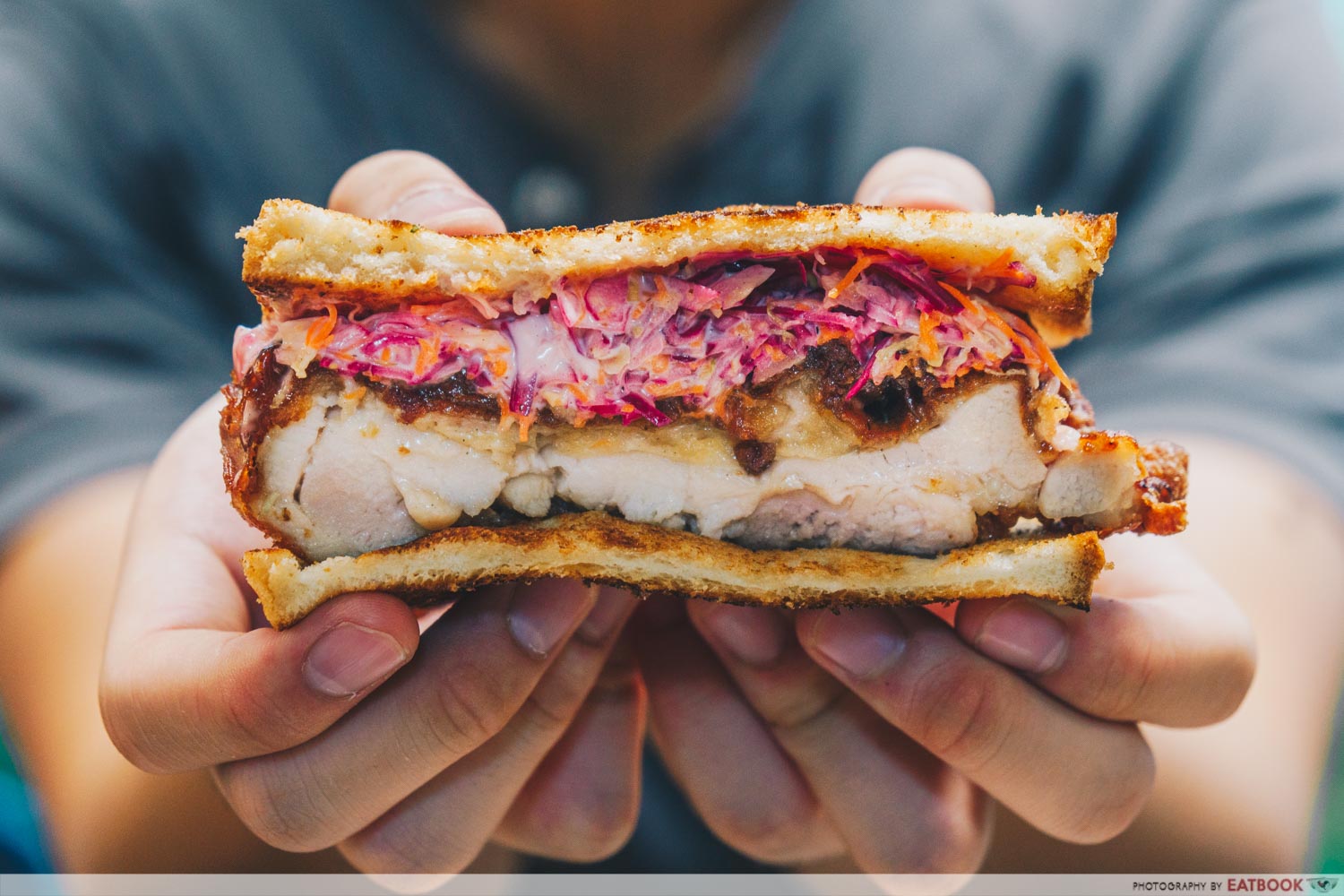 We could barely discern the sriracha mayo, but honestly, we didn't miss it. The other components of the sandwich more than pulled their weight. Though our sando was relatively simple, the cohesive meld of flavours were impressively complex.
We took a break from bread by ordering a Chashu Rice Bowl ($10.50). A foundation of Japanese rice supports bok choy, a jiggly onsen egg, ume pickles, and three slabs of glistening chashu.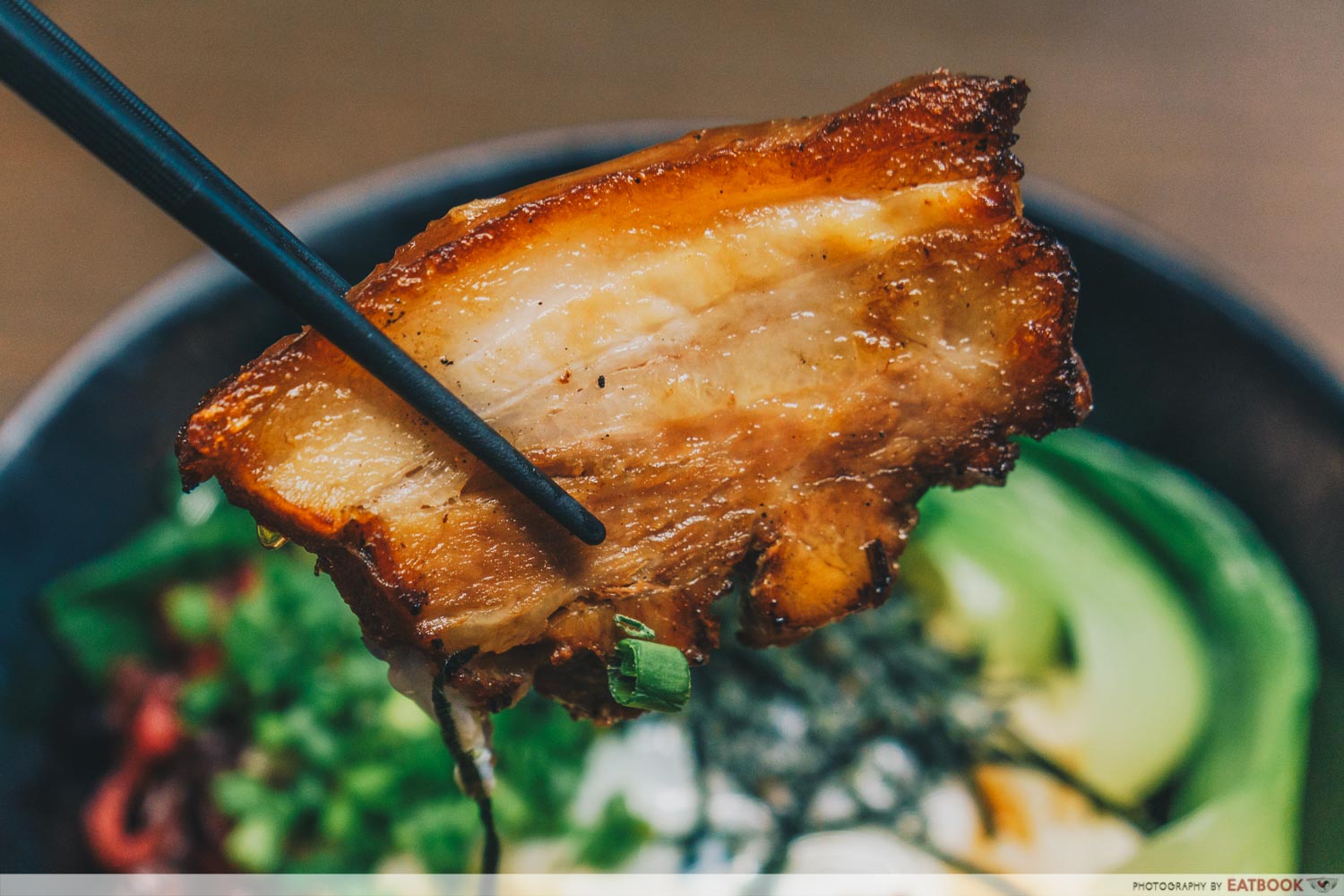 These three little pigs were the best meat we had all day. I certainly devoured them like I was the big bad wolf. This is pork belly, so tender meat and absurdly melty fat is a given. But what really impressed us was the intensely candied and charred surface.
Despite this being Japanese-style chashu, it had a lightly burnt crust reminiscent of great local char siew from 88 Hong Kong Roast Meat Specialist.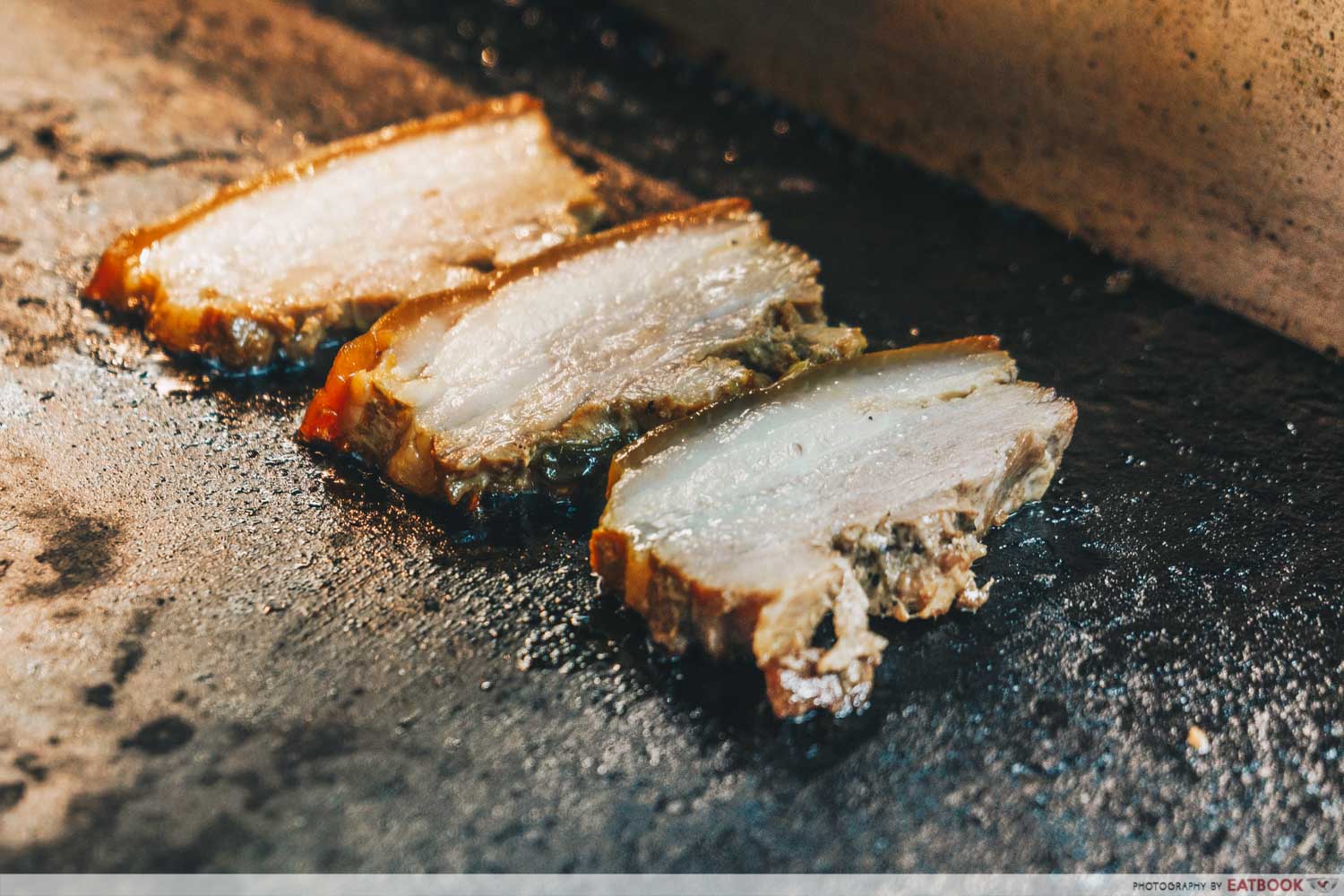 Each piece of chashu is thoroughly blowtorched before serving, resulting in a beautiful aburi effect. That step locks in and cranks up the flavours of the soy glaze slathered on the chashu, like an electric guitar connected to an amplifier.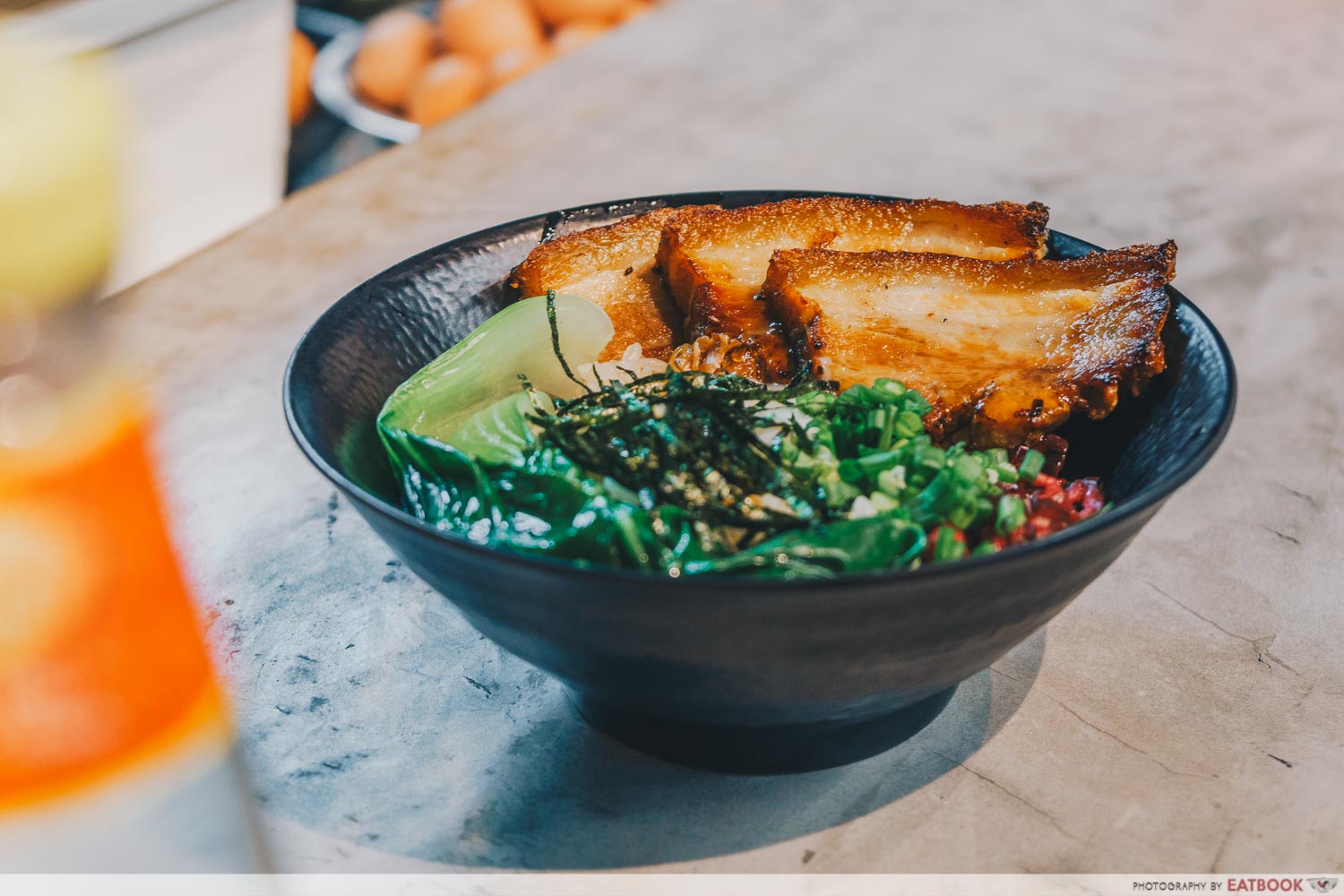 The rest of the bowl was well composed, supporting the terrific chashu. Plain-looking bok choy was spruced up by a quick drizzle of sesame oil, providing a fragrant, crunchy element to our meal. Purple ume pickles imparted brightness and astringency. The now-ubiquitous onsen egg coated our bouncy Japanese rice, acting as a sauce to keep the pearly grains moist.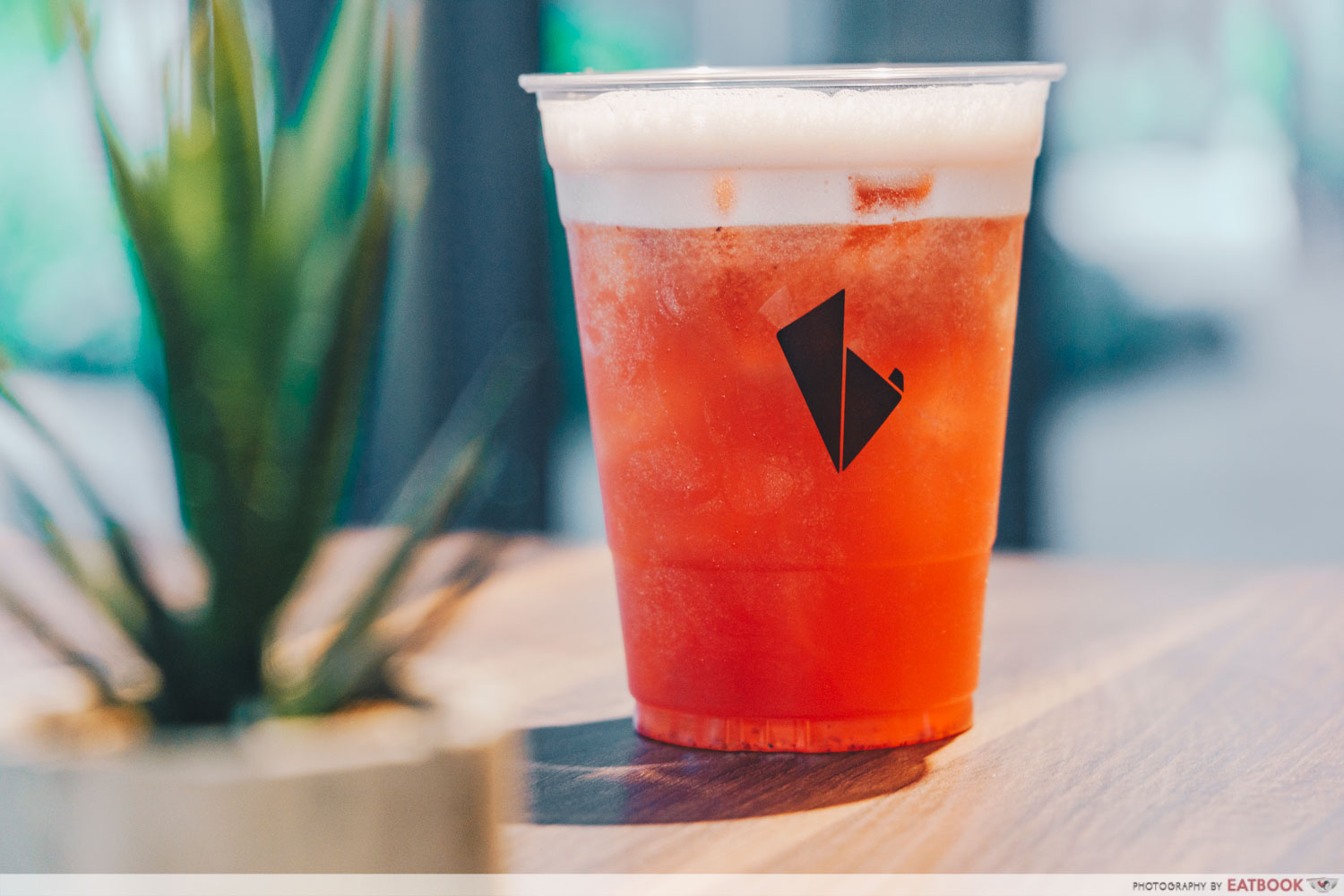 This cafe is still less than six months old. As a result, the trio of owners are still learning the ropes and experimenting. With that in mind, they're set to give the menu a mini-revamp in the coming weeks. While most items will remain similar, some components within each dish will be swapped around, especially in their rice bowls.
We got a sneak peek at the foamy Mixed Berry Sencha ($5), which is a prospective new drink. It was refreshing without being too sweet, the sort of beverage I'd love to savour on a hot day. While the berry flavour came through strongest, with gentle floral notes of green tea following closely behind.
Watch this space for more info on Sando's new menu!
Ambience at Sando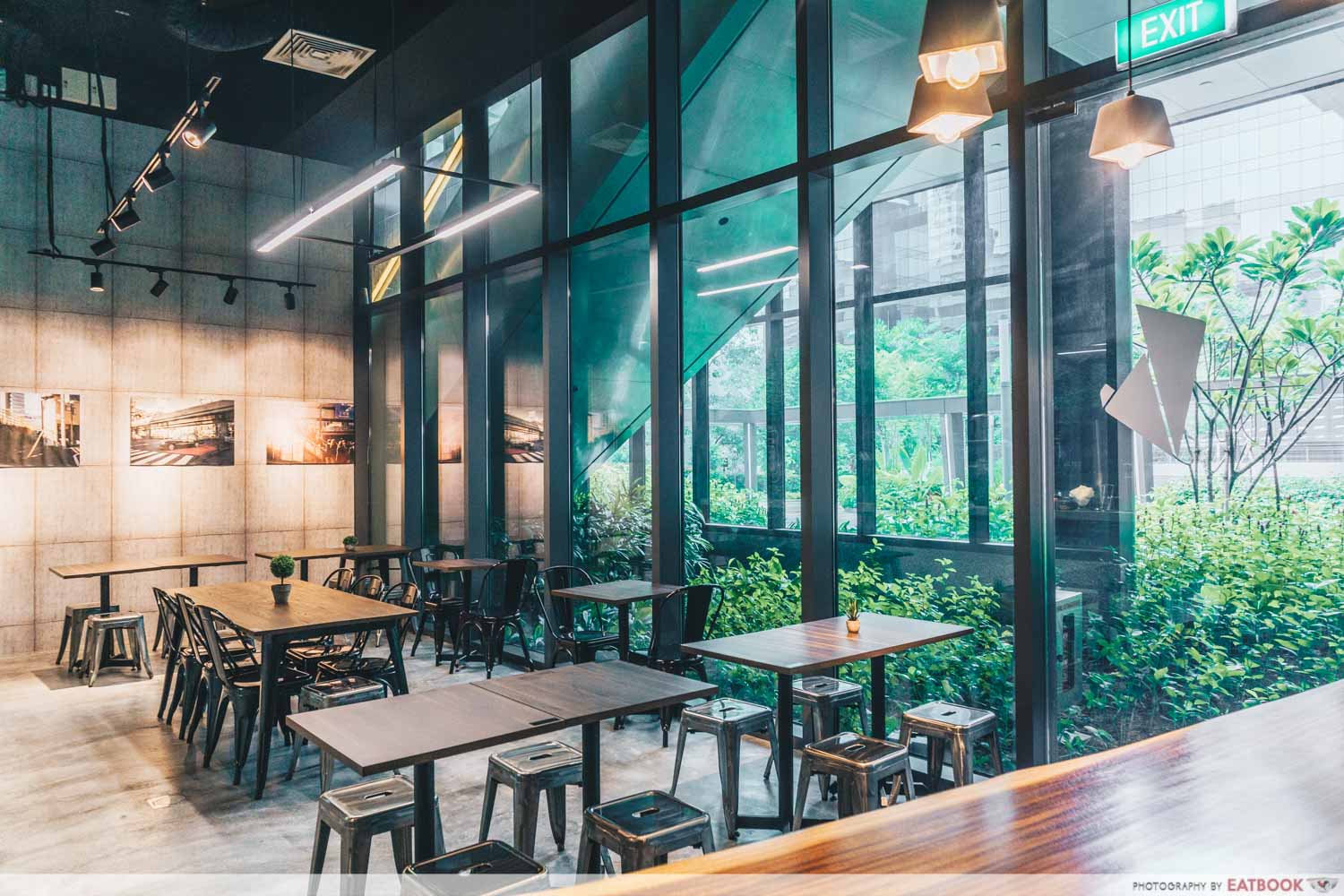 Nestled deep in Alexandra Technopark, there's no way for a pedestrian to randomly stumble upon this humble store. That said, they've had great success within the office crowd. White-collar customers streamed in during lunch hour, and the cafe was more packed than established neighbours like Fuego Kitchen and Bar. If you want to check their scrummy sandos out, come during the late morning or early afternoon to avoid that lunchtime rush.
The space itself is modern and comfortable, with wood and plant accents. The kitchen is large and open, so you can watch the trio in action as they do everything from fry chicken thighs to blowtorch pork belly.
The verdict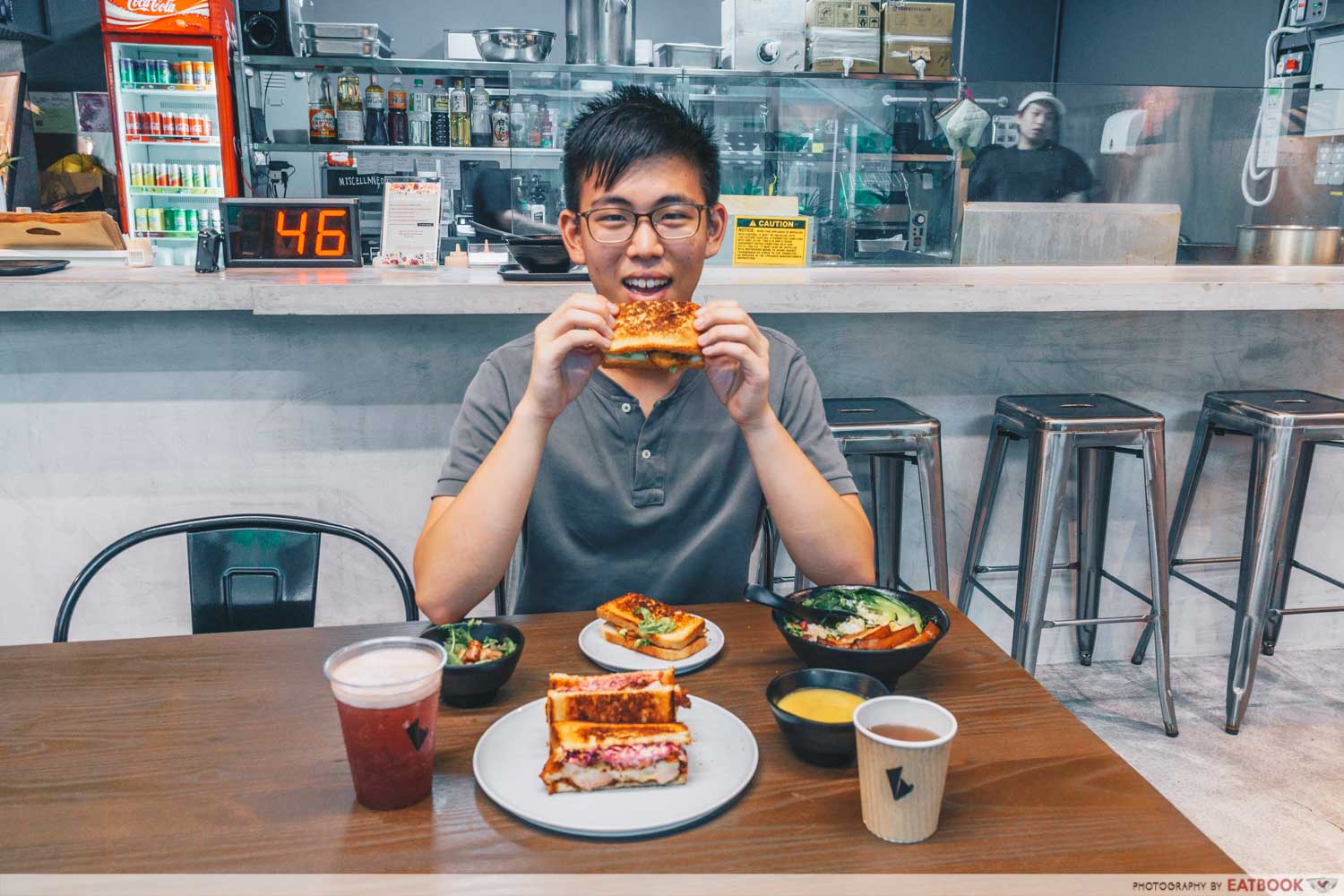 By the owners' admission, this venture is a safe place for them to test waters on a steady clientele, gradually improving their food while having complete control over their space. Based on what we tried, they're already doing a pretty darn good job.
We're excited to see what Sando has in store as they develop and update their menu. We bet our bottom dollar they're going to outgrow their "office complex hidden gem" status and graduate to a bona fide sandwich spot in no time. So if you have a free weekday and time to burn, beat those crowds and get your hands on some satisfying sandos.
If you're still crazy for carbs, take a peek at our list of 10 sandwich joints and our reviews of Lobsters & Ice Cream and KToast. For a specifically Japanese twist on sandwiches, our review of Gyu & Tori will be up your alley.
10 Sandwich Joints To Visit During Busy Lunch Breaks For A Quick But Hearty Meal
Let us know your favourite sandwich spots in the comments below!
Address: 438C Alexandra Road, #01-04A, Alexandra Technopark, Singapore 119976
Opening hours: Mon-Fri 8am to 4pm
Tel: 9771 0388
Website
Photos taken by Sharlene Lau and edited by Leong Kit Shan.
This is an independent review by Eatbook.
Summary
Pros
– Terrific chashu
– Great flavours and technique
– Wonderful caramelised onions
Cons
– Inaccessible
Recommended dishes:Pork Katsu Sando ($8.50), Chashu Rice Bowl ($8.50)
Opening hours: Mon-Fri 8am to 4pm
Address: 438C Alexandra Road, #01-04/04A, Alexandra Technopark, Singapore 119976