---
Sandwich joints that take bread to the next level
---
Sandwiches have universal appeal, and every culture has their own interpretation of the sandwich. It's a testament to the fact that you can stick seemingly anything between two slices of bread and make it a delicious meal.
Whether fluffy or crusty, white or wholemeal, bread is the perfect canvas to paint a picture of flavours. Here are 10 sandwich joints serving mouth-watering flavours between gratifying slabs of toast.
---
1. Park Bench Deli
---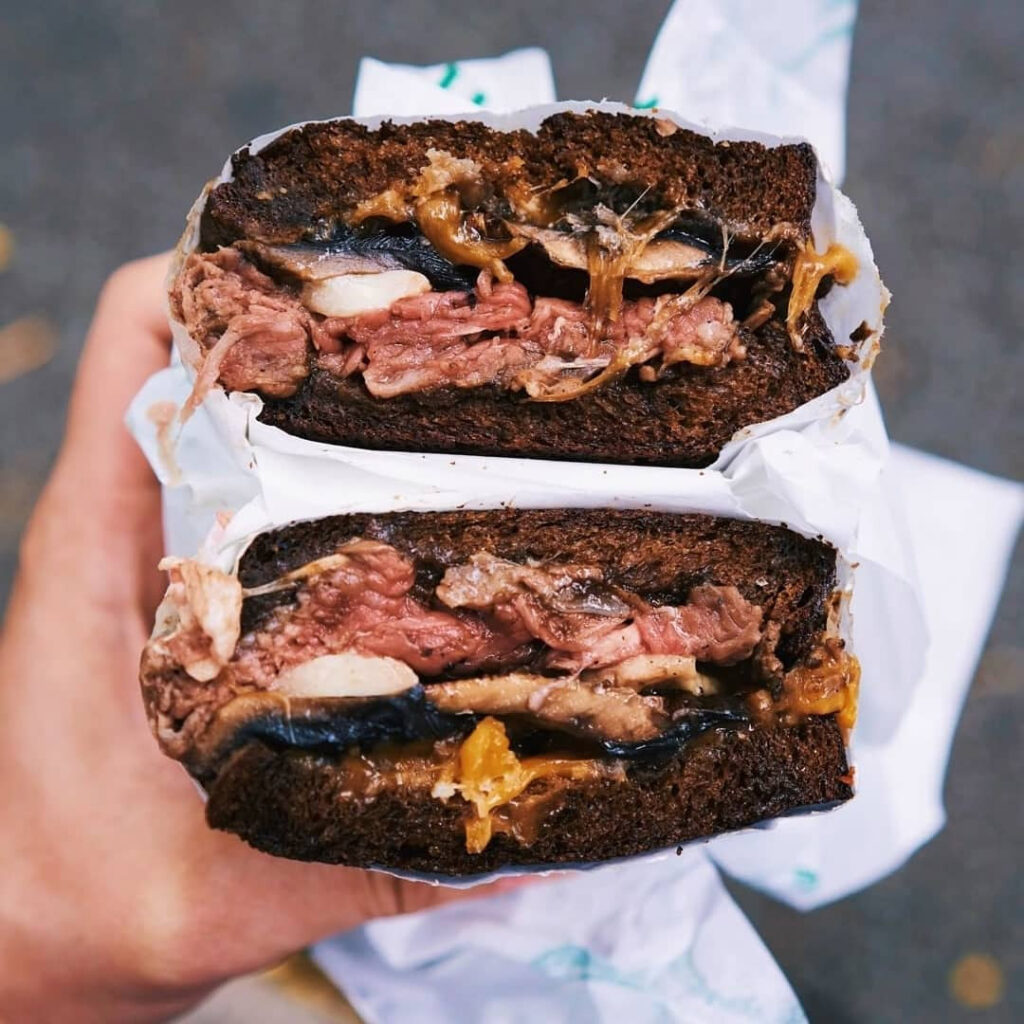 Image credit: @sandwich.edit

Get into a conversation about artisanal sandwiches in Singapore and Park Bench Deli will invariably pop up. Inspired by the corner delis that are so ubiquitous in America, this Telok Ayer cafe has become rampantly popular for its wide range of satisfying sammies.
The Reuben ($24+) is a relative unknown on our shores, but Americans absolutely lap this meaty sandwich up at their neighbourhood delis. Pastrami slices, sharp mustard, creamy Russian dressing and Swiss cheese are clamped by sturdy slabs of rye bread for a hearty sandwich experience.
Sweet options are limited to the PBJ ($10+). This gooey and crispy creation combines mixed berry jam and crunchy peanut butter with ridiculously indulgent slices of cornflake-crusted milk and chocolate bread, pushing this sandwich firmly into the dessert realm.
Address: 179 Telok Ayer Street, Singapore 068627
Opening hours: Mon-Fri 7:30am to 9pm, Sat-Sun 9am to 3pm
Tel: 6815 4600
Website
---
2. Two Men Bagel House
---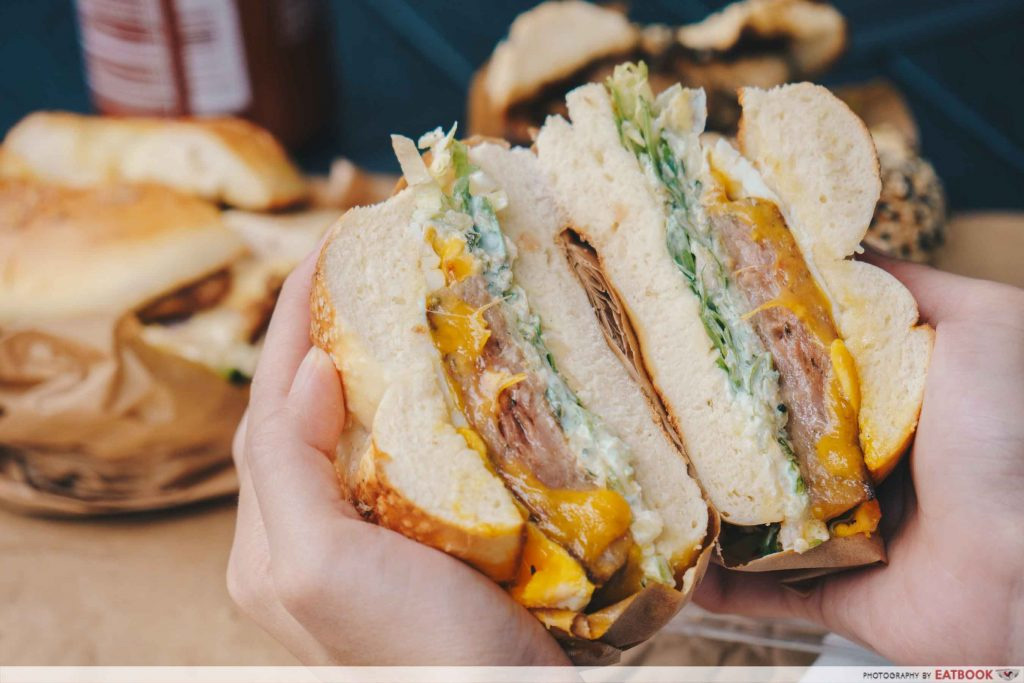 Bagels were virtually unheard of in Singapore a few years back. I'd always perceived them as worse versions of donuts – dense and tough discs of bland dough. Two Men Bagel House flipped that notion with their tender and satisfyingly chewy dough discs when they opened five years ago, turning many Singaporeans into bagel believers.
Different bagels are available at each of their two outlets. The OG branch in Tanjong Pagar has long-time favourites like Pepperoni Pizza Bagel ($14) and Steak And Eggs ($14), while their Novena offshoot serves tantalising smoked meat. 
Barbecue fiends will gravitate toward The Ribs ($14), packed with sticky and savoury hunks of pork. Our personal favourite was Bird ($12), which flaunts succulent chicken leg blessed with kisses of hickory and applewood smoke.
Check out our full review of Two Men Bagel House!
Two Men Bagel House 2.0 Review: Smoked Meat Bagel Sandwiches With Spiced Ribs
Address: 16 Enggor Street, #01-12, Icon Village Altez, Singapore 079717
Opening hours: Mon-Fri 8am to 4pm, Sat-Sun 9am to 4pm
Tel: 6509 4125
Website | Full list of outlets
---
3. Lowe'f Artisanal Sandwiches
---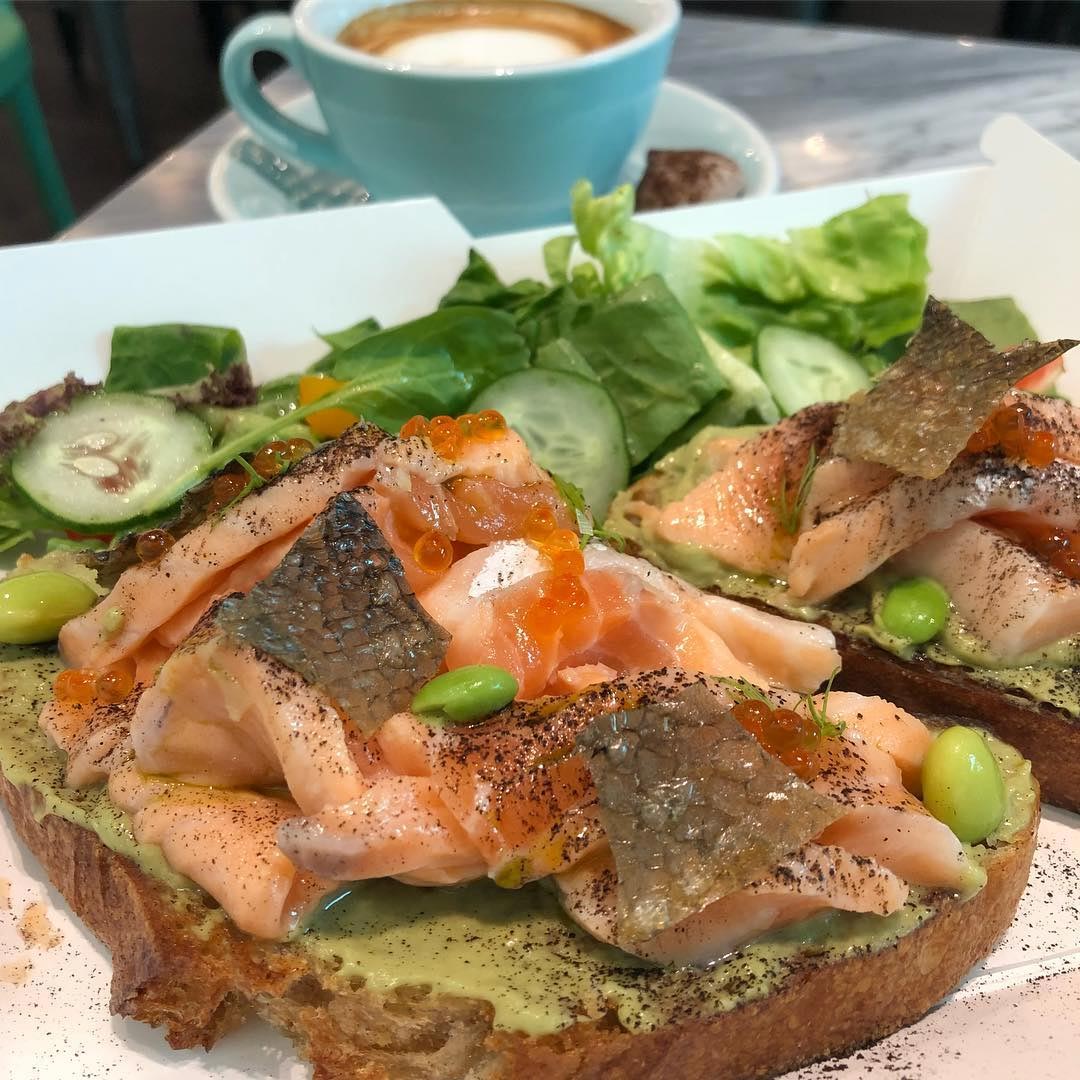 Image credit: @jiahuisoh
Snuggled at the foot of a church, SMU students love Lowe'f Artisanal Sandwiches for its range of affordable and creative sandwiches. Tranquil and welcoming, this pretty cafe is a wonderful place for uni students to nab a tasty meal and get some studying in.
For breakfast, check out the Good Morning Burger ($6.50+) with scrambled eggs and perky coffee mayo, or nab a Triple Grilled Cheese ($5.50+) to fulfil your cheese pull dreams. From 11.30am onwards, more substantial sandwiches are available. The chicken rice-inspired Queen Street Chicken ($12+) injects local flair, while the Citrus Ceviche Salmon ($14+) makes for a refreshing afternoon bite.
Address: 1 Queen Street, Kum Yan Methodist Church, Singapore 188534
Opening hours: Tue-Fri 8am to 6pm, Sat 8:30am to 6pm
Tel: 8767 4859
Website
---
4. Stack
---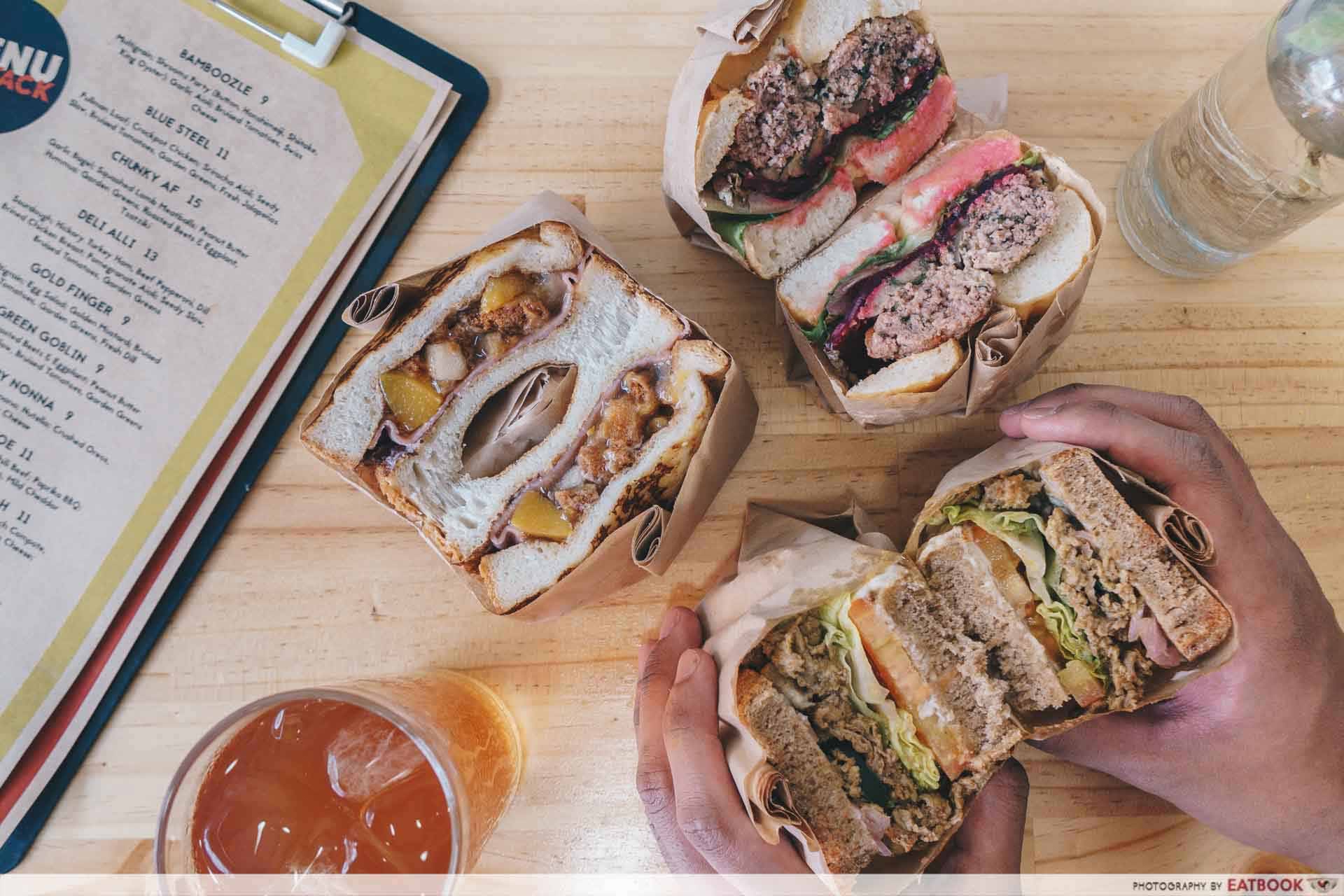 Owned by the same folks behind Afterwit Mexican Taqueria and British-inspired gastropub The Mad Sailors, Stack serves up sincere halal sandwiches. The Makcik ($13) is a must-have, featuring beef rendang, veggies and garlic aioli stacked up between two slices of earthy rye bread. Rendang isn't a common sandwich ingredient, but its robust, meaty flavour works well here.
Sweet Valley High ($11) blurs the lines between sweet and savoury, pairing syrupy apple and peach compote with hickory-smoked turkey ham. While we liked all the components in isolation – particularly the sumptuous compote – they didn't work together as well as we'd hoped.
Check out our full review of Stack!
Stack Review: Halal Beef Rendang Sandwich And Lamb Meatball Bagels At Bugis
Address: 4 Jalan Klapa, Singapore 199316
Opening hours: Sun-Thur 11am to 6pm, Fri-Sat 11am to 10pm
Tel: 8768 0461
Website
Stack is a Muslim-owned eatery.
---
5. Sarnies
---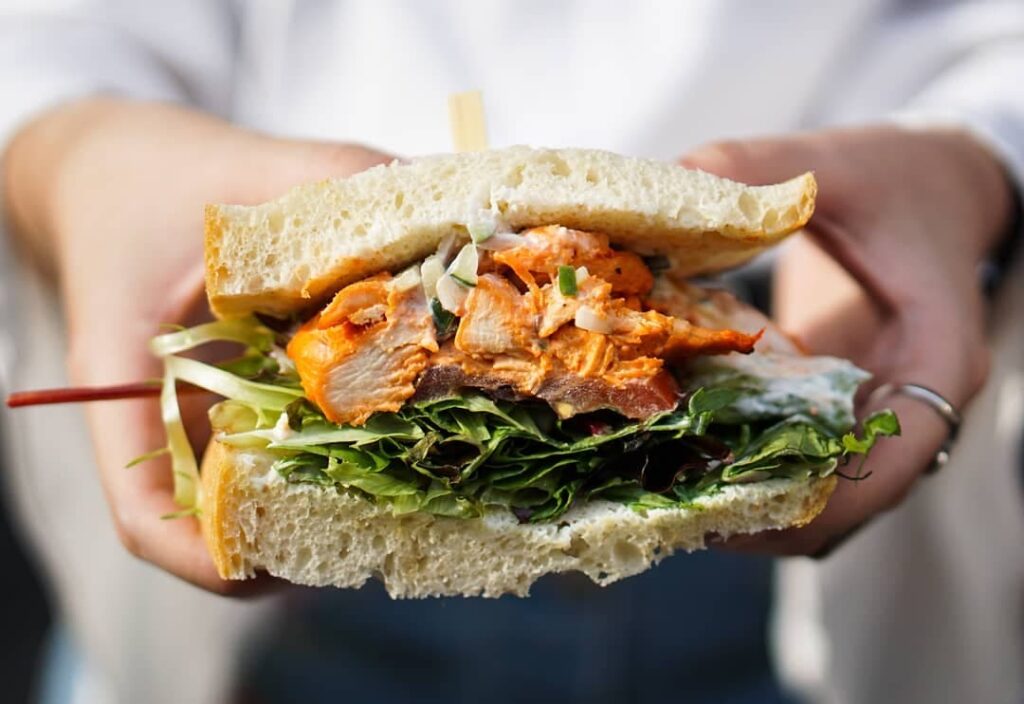 Image credit: @sarnies.sg
Sarnies is an Anglo-Australian slang for sandwiches, so it's no surprise that this Telok Ayer cafe serves up some stonking versions of its namesake dish. Armed with a chill atmosphere and Aussie-inspired cafe grub, they have grown into an absolute stalwart of the Singapore cafe scene and a go-to spot for cafe hoppers.
Fried chicken fans should order their Chicken Schnitzel ($14.80++) sandwich. With flattened slabs of tender fried chicken, this poultry dish is Germany's answer to ayam penyet. Keep the international theme going by travelling to India through their Tandoori Chicken ($15.80++) sandwich. Punchy tandoori is accompanied between slices of white bread by creamy and refreshing raita for a terrifically balanced sandwich.
Address: 136 Telok Ayer Street, Singapore 068601
Opening hours: Mon-Tue 7:30am to 10:30pm, Wed-Fri 7:30am to 12am, Sat-Sun 8:30am to 4pm
Website
---
6. El Cubanos
---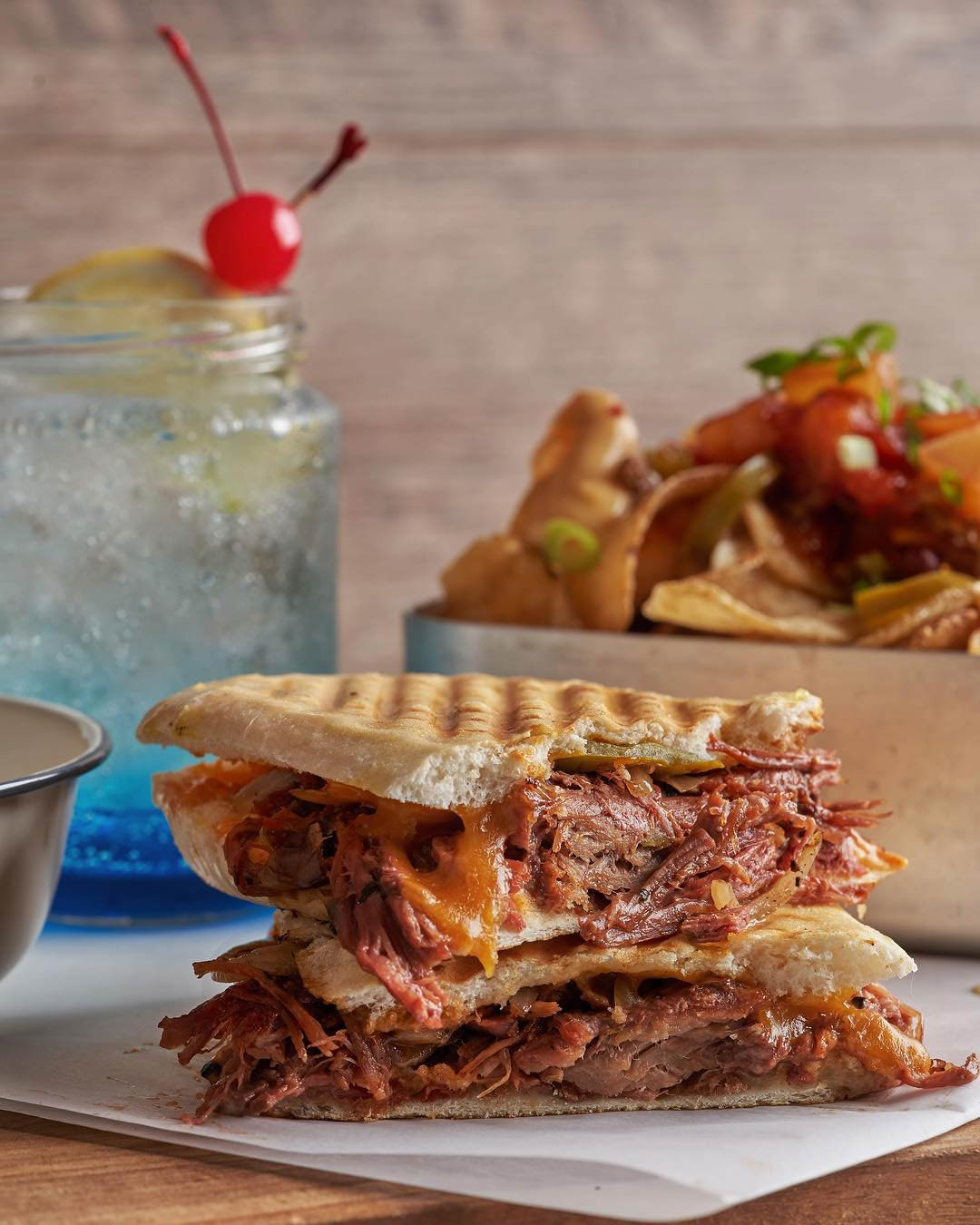 Image credit: @elcubanossg
Aside from cigars, the Cubano sandwich is arguably Cuba's most famous export. These meaty grilled sandwiches are popular around the USA, especially in Florida, which is home to a massive Cuban community. El Cubanos is your best bet for authentic Cubanos in Singapore, injecting Central American flair into the local food scene.
The Pulled Beef Brisket ($9.90) is their signature item, starring fork-tender, slow-braised beef brisket. Grilling is the hallmark of a Cubano, and it's traditionally done in a Cuban equivalent of the panini press to impart crunch and toastiness. For a less traditional riff on this trademark Cuban dish, check out Minty Lamb ($9.90), which features the time-honoured flavour combination of gamey lamb and fresh mint.
Address: 1A Short Street, #01-01, Singapore 188210
Opening hours: Mon-Fri 12pm to 11pm, Sat 4pm to 11pm
Tel: 9162 5540
Website
El Cubanos is a Muslim-owned eatery.
---
7. Freshly Baked By Le Bijoux
---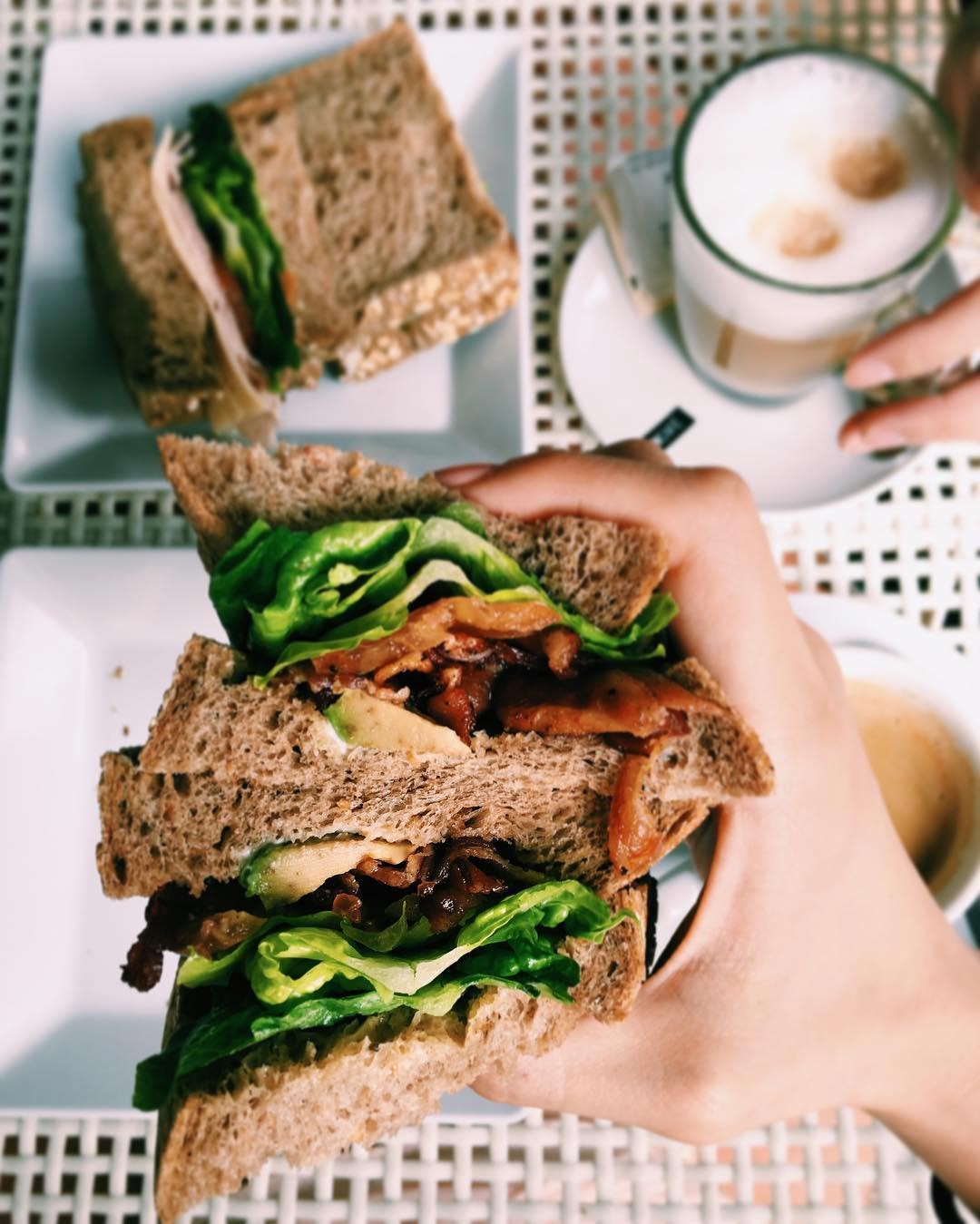 Image credit: @tasteoftaipei
Just off Orchard Road, nondescript Killiney bakery Freshly Baked by Le Bijoux is home to some of the island's best, fuss-free sandwiches. The BLT ($7.80) is for those who stick to the classics, with creamy avocado, salty bacon and fresh tomatoes and lettuce between soft wholemeal toast.
Deli Corned Beef With Fried Egg ($8) subs in crusty ciabatta, along with juicy corned beef, sharp onions and creamy mayo. Nothing here is revolutionary, but the flood of positive reviews speak to simple food, done right.
Address: 57 Killiney Road, Singapore 239520
Opening hours: Mon-Fri 8am to 8pm, Sat 8am to 6pm, Sun 8am to 3pm
Tel: 6735 3298
---
8. Sandwich Lab
---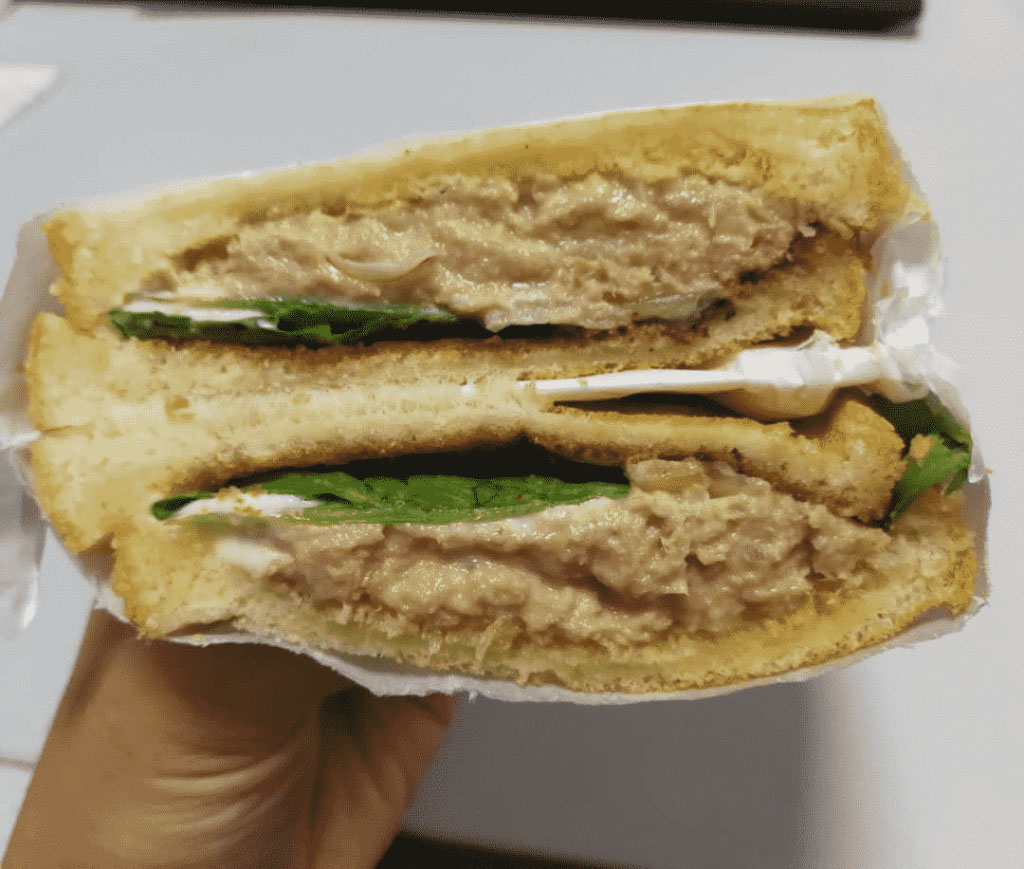 Image credit: @yamigerz
Plenty of NYP and NP alumni have fond memories of Splash N Decker, which served affordable and delicious sandwiches to tide students through sleepy school days. While those OG stalls are now extinct, they've reincarnated into Sandwich Lab, and moved to a fancy new home at ION Orchard's basement food hall.
The kiosk still serves up the same, good ol' no-frills food though. Teriyaki Chicken Sandwich ($4.80) and Peri-Peri Chicken Sandwich ($4.80) are particular standouts, depending if you're up for Japanese or spicy food. Meanwhile, tom yum goong lovers will gravitate towards the Tom Yum Seafood Sandwich ($4.50), which conjured up memories of eating Nissin tom yum instant noodles during NS.
Address: 2 Orchard Turn, #B4-40/41/42, ION Orchard, Singapore 23801
Opening hours: Daily 10am to 9pm
Tel: 6509 9500
---
9. Micro Bakery & Kitchen
---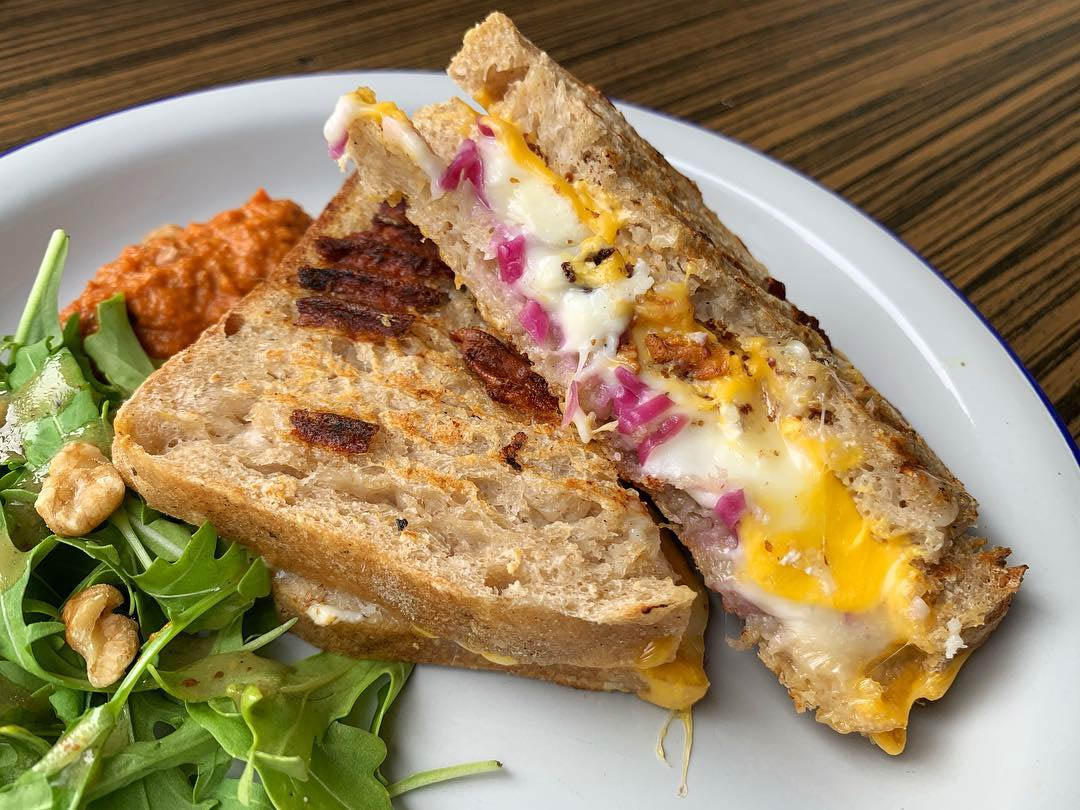 Image credit: @gastrognomeo
Micro Bakery & Kitchen rose from the ashes of popular Bukit Timah bread specialists, The Bakery By Woodlands Sourdough. This tiny store continues its predecessor's tradition of making rustic, high-quality sourdough loaves, but also boasts a formidable range of sandwiches.
Most options are open-faced sandwiches, also known as tartines. The House Ricotta ($12) is superb, with sweet cherry tomatoes and velvety house-made ricotta that pampers your taste buds. Grilled Cheese Sandwich ($12) is the only member of the lineup featuring two slices of bread. This sandwich is a gooey mess, bursting with oodles of cheddar, brie and mozzarella. It's an explosion of cheese flavour, and any mess is completely worth it.
Address: 10 Jalan Serene, #01-05, Serene Centre, Singapore 258748
Opening hours: Wed-Sun 8:30am to 5pm
Tel: 8339 4133
Website
---
10. 52 Sandwich Shack
---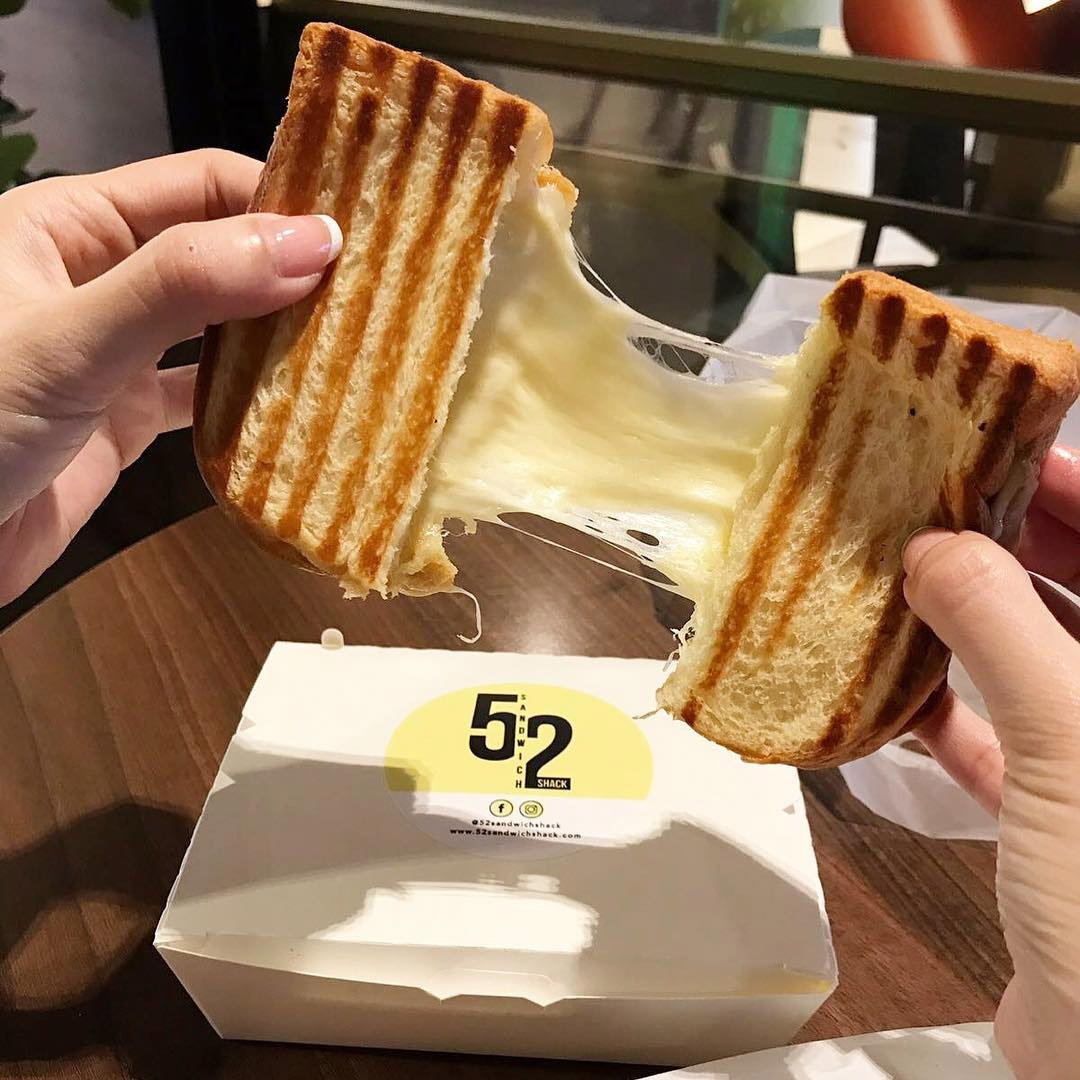 Image credit: @b_bluefeyn
If Micro Bakery & Kitchen's rendition wasn't enough to sate your grilled cheese cravings, 52 Sandwich Shack doles out no less than seven varieties of cheesy sandwiches every day. Traditionalists will head straight for the 52 Grilled Cheese ($5.90) that's gooey with fontina, mozzarella and fontina.
The rest of their creations get funkier. Pasta doesn't usually appear in sandwiches but, Bacon Mac N Cheese ($7.90) crosses comfort foods by adding it to their grilled cheese. Jiggly onsen eggs are all the rage now, and the Wagyu Beef With Onsen Egg ($10.90) transports it to the sandwich realm, partnered by juicy strips of wagyu beef.
Address: 252 North Bridge Road, #B1-54, Raffles City, Singapore 179103
Opening hours: Daily 11am to 10pm
Tel: 6920 2922
Website
---
Go forth and grab a delicious sandwich
---
Sandwiches are one of the most versatile foods there is. From quick midday PBJs or hearty pastrami sandwiches for dinner, there's a sandwich for nearly every situation, so check out these sandwich joints to get your fix!
If your a sucker for sandwiches, check out more international variants with our reviews of Bami Express, Lobsters & Ice Cream and KToast.
KToast Review: Legit $2.90 Korean Toast Cooked By An Ahjussi In The West
Share your favourite sandwich spots with us in the comments below!