Say
annyeonghaseyo
to KToast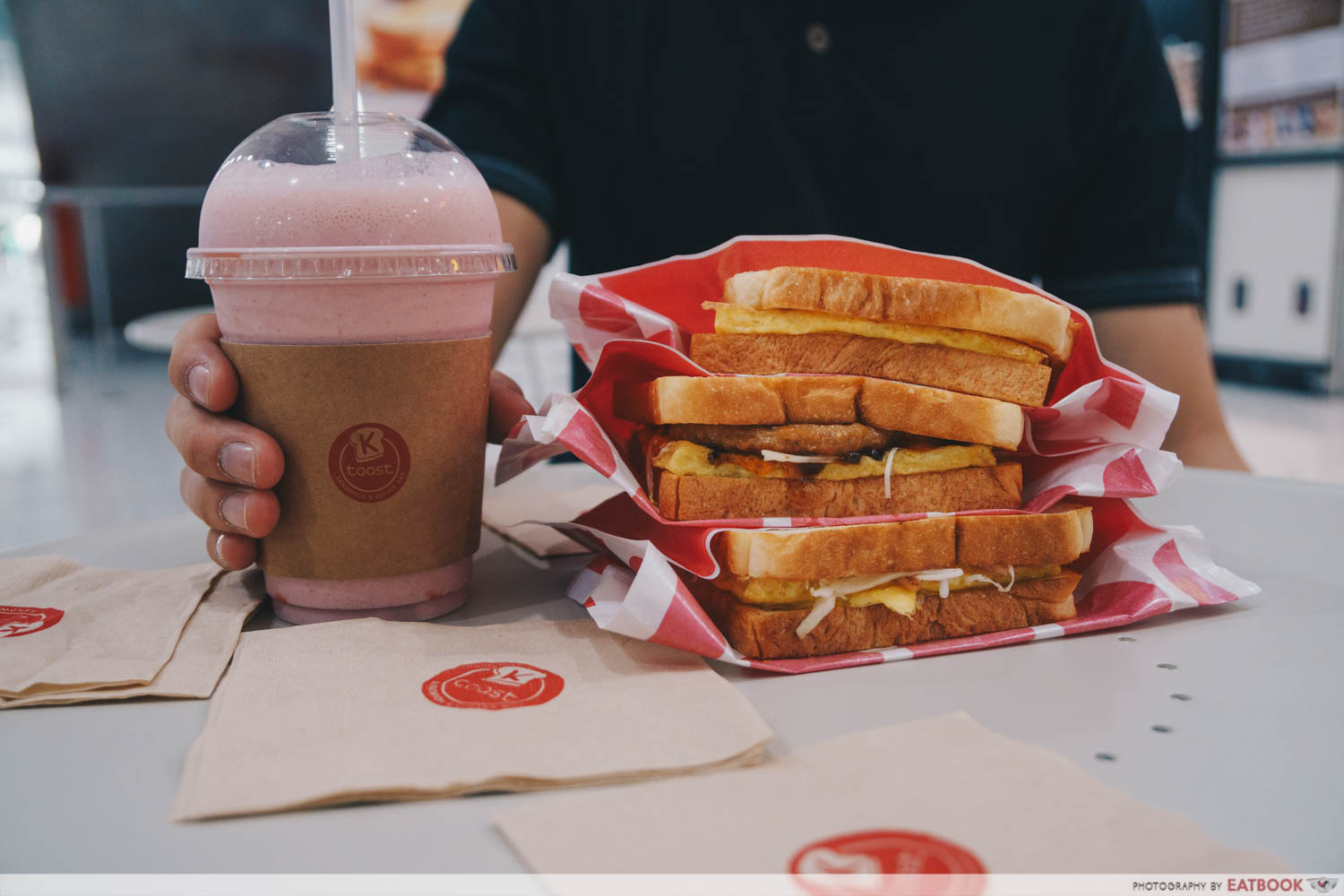 A polite-looking middle-aged Korean man helming a small sandwich stall in Clementi isn't exactly the most common sight. Following the success of stalls like Isaac Toast in Singapore, KToast has arrived on the island to provide the same popular Korean fare at a lower price point.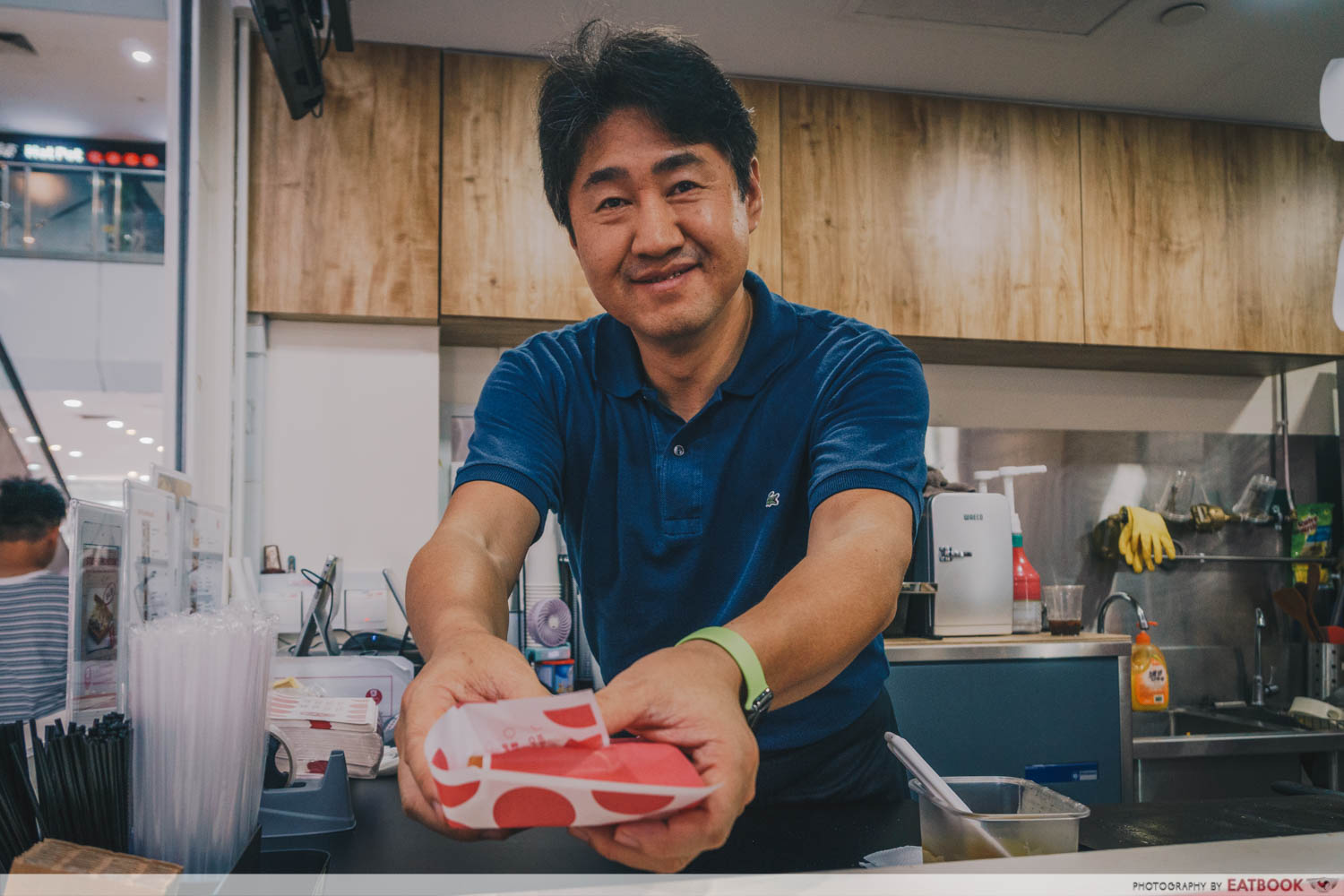 There's little compromise on quality. Sauces and even a special grill followed Mr Kim – the polite gentleman behind KToast – from Korea to Singapore.
Aiming to provide a quick, healthy and cheap meal to suit the fast-paced Singaporean lifestyle, Mr Kim plans to start a KToast chain if their pilot outlet proves to be successful.
Backed with Korean pedigree and the promise of satisfying sandwiches, we went in with high expectations.
Food at KToast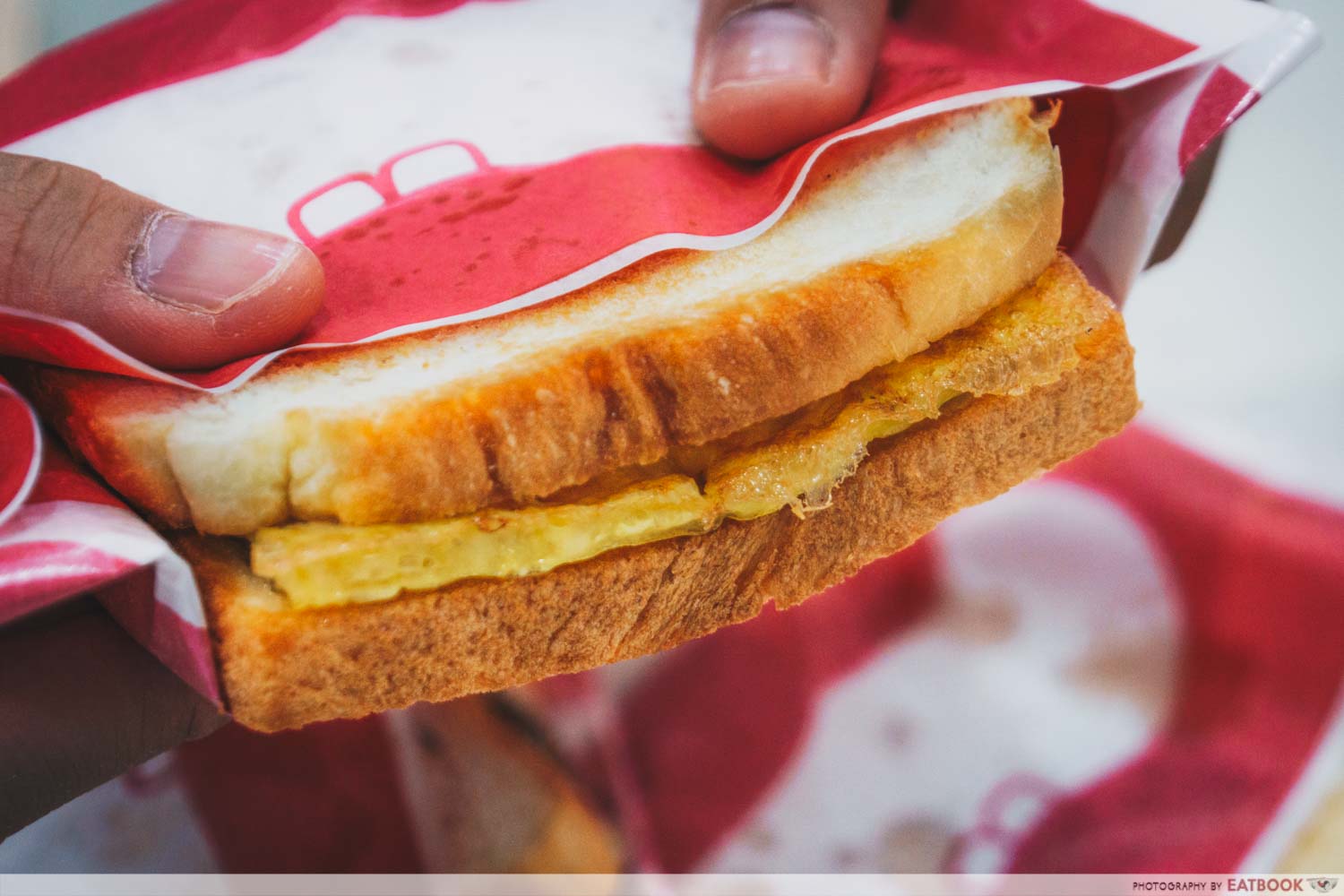 At $2.90, the eponymous K-Toast is the cheapest Korean-style toast you'll find in Singapore. Containing ham slices, American sliced cheese and a corn-studded omelette, it's undoubtedly worth the money.
It comes piping hot and neatly wrapped in a cute pink polka-dotted paper, leaving us excited by the prospect of a pleasurable, freshly toasted sandwich.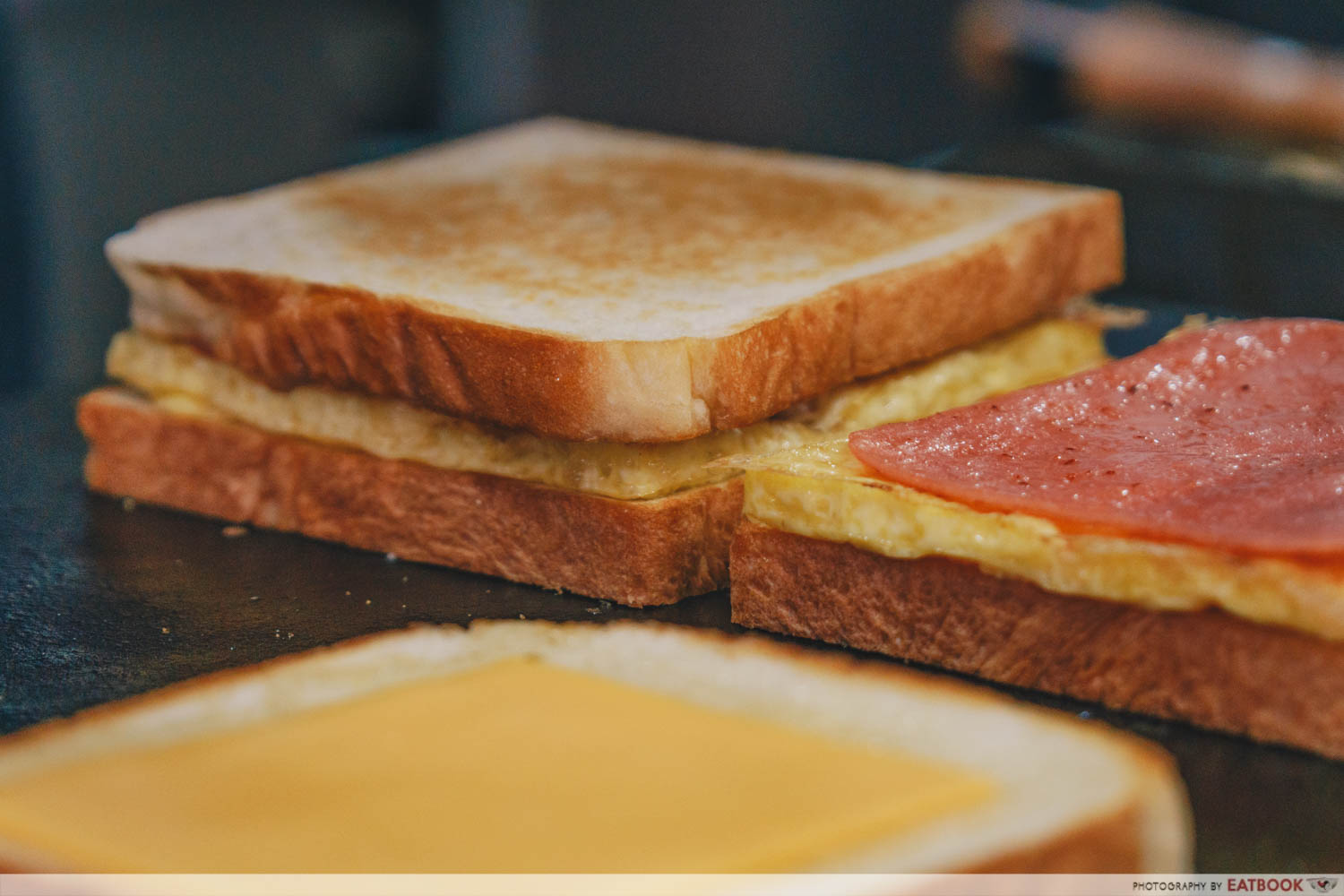 As the constant component in any sandwich, the quality of bread plays a vital role. Sadly, we were a little disappointed with it.
While the white toast used was perfectly soft and decent, it lacked the fluffiness and flavour of breads like brioche. It was also drenched with sauce and became soggy rather fast. It is best you have it right away to enjoy a crisp surface.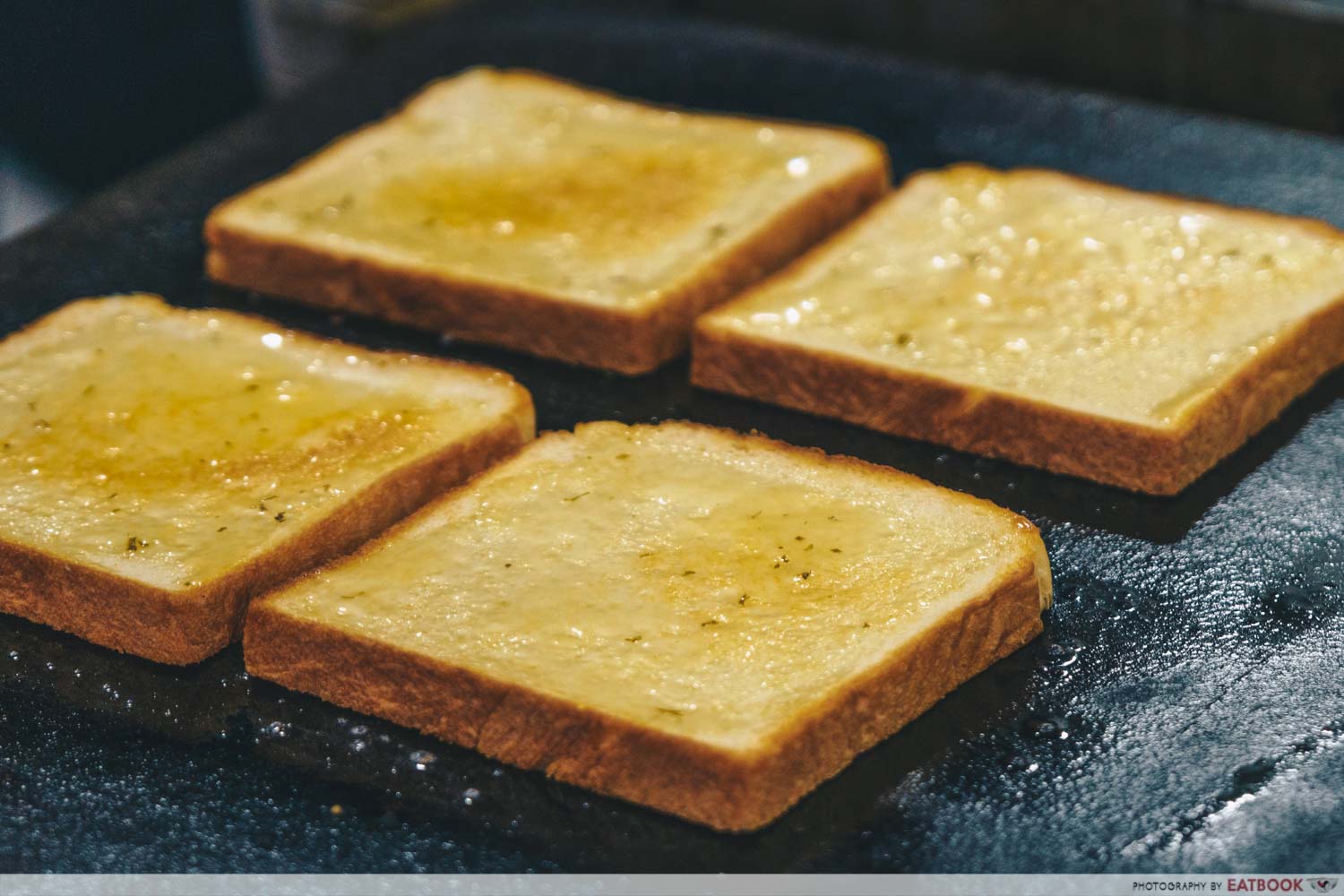 Each slice is generously slathered with a layer of butter, adding a nice richness that mingles especially well with the omelette.
Ham and cheese are the two other main components in this sandwich, but both didn't quite hit the mark. The former had a lacklustre bouncy texture and was short of flavour, getting overpowered by the sweet house sauce. The latter didn't match up to our melty grilled cheese fantasies and stuck to the bread instead.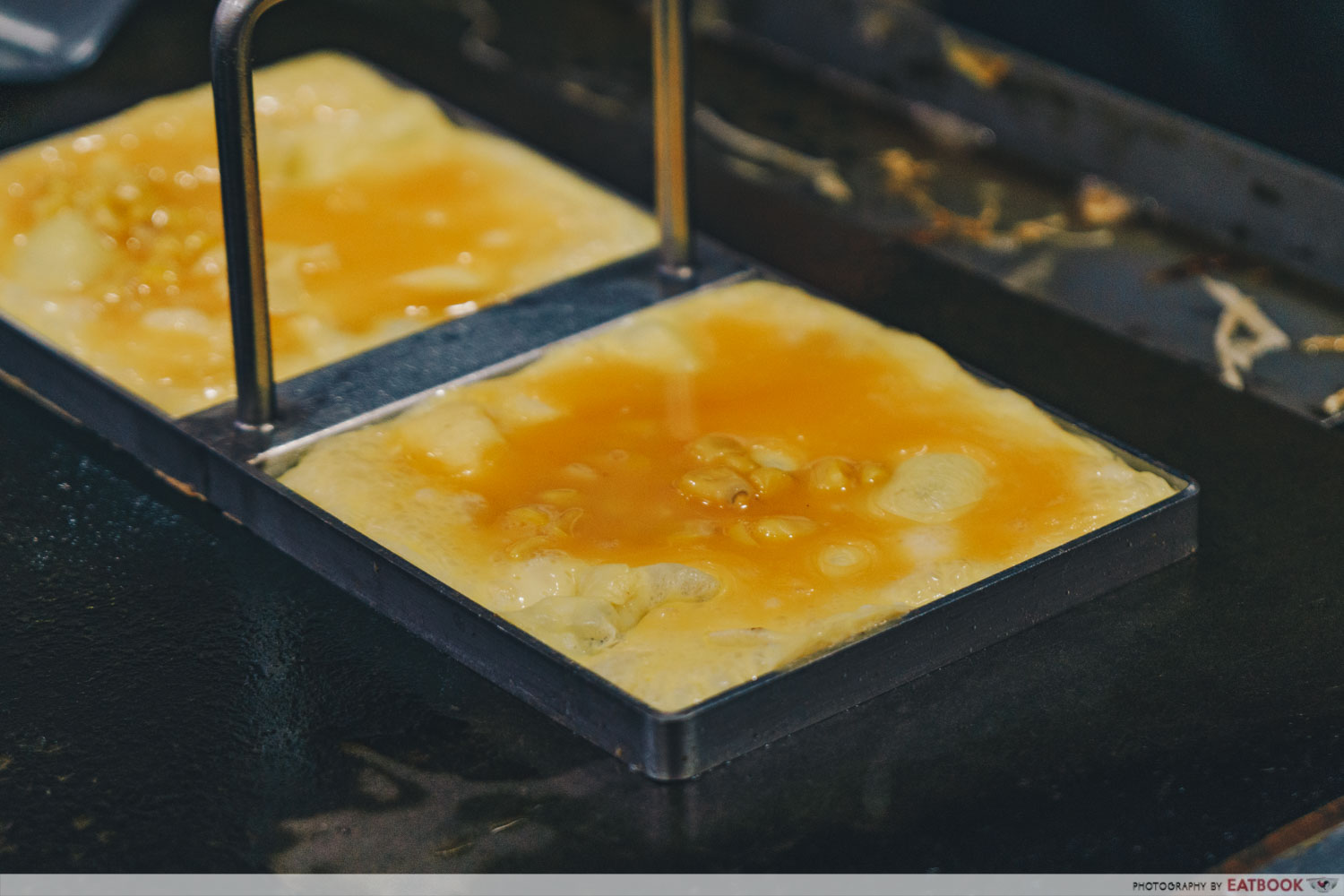 The corn omelette was the saving grace. It was firm, but still stayed tender rather than rubbery. Meanwhile, corn kernels provided pleasant pops of fresh sweetness. Fortunately, this was a constant in all three sandwiches we had.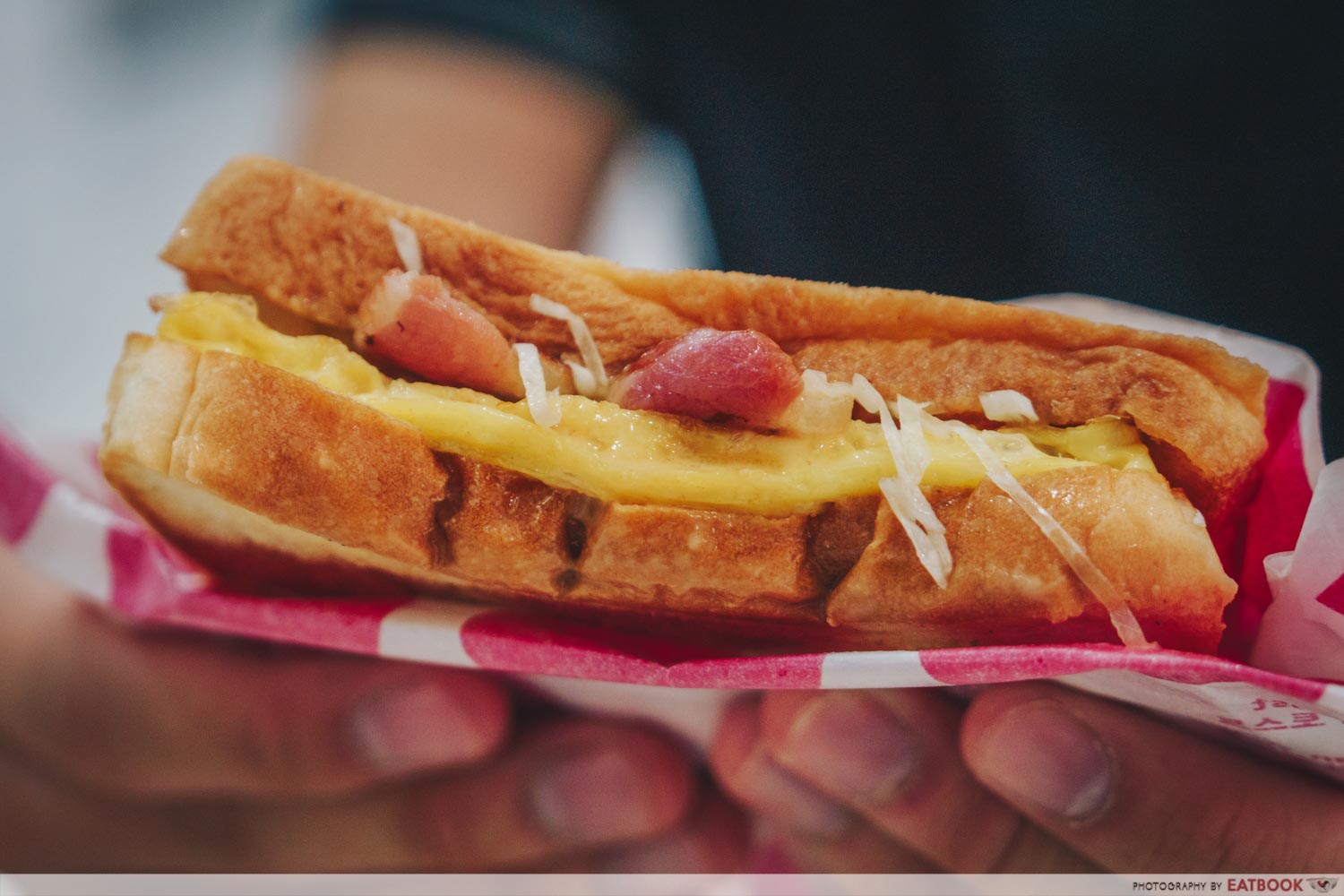 I'm an absolute sucker for bacon, and the Bacon Toast ($3.90) was objectively the best sandwich we had. In addition to the corn omelette and a generous squirt of house sauce, it came with three fatty strips of bacon, a bed of cabbage and a pickled slice of daikon.
My idea of an ideal rasher of bacon is that of a crispy deep-red slice of pork. K Toast's version wasn't that. While it did have a slight sear, the texture was more meaty, akin to the thick pork belly slices used in shabu shabu.
Its key contribution came more from its salty cured flavour. Unlike the ham, this stood up well against the sweet sauce, granting the sandwich a good balance of flavours.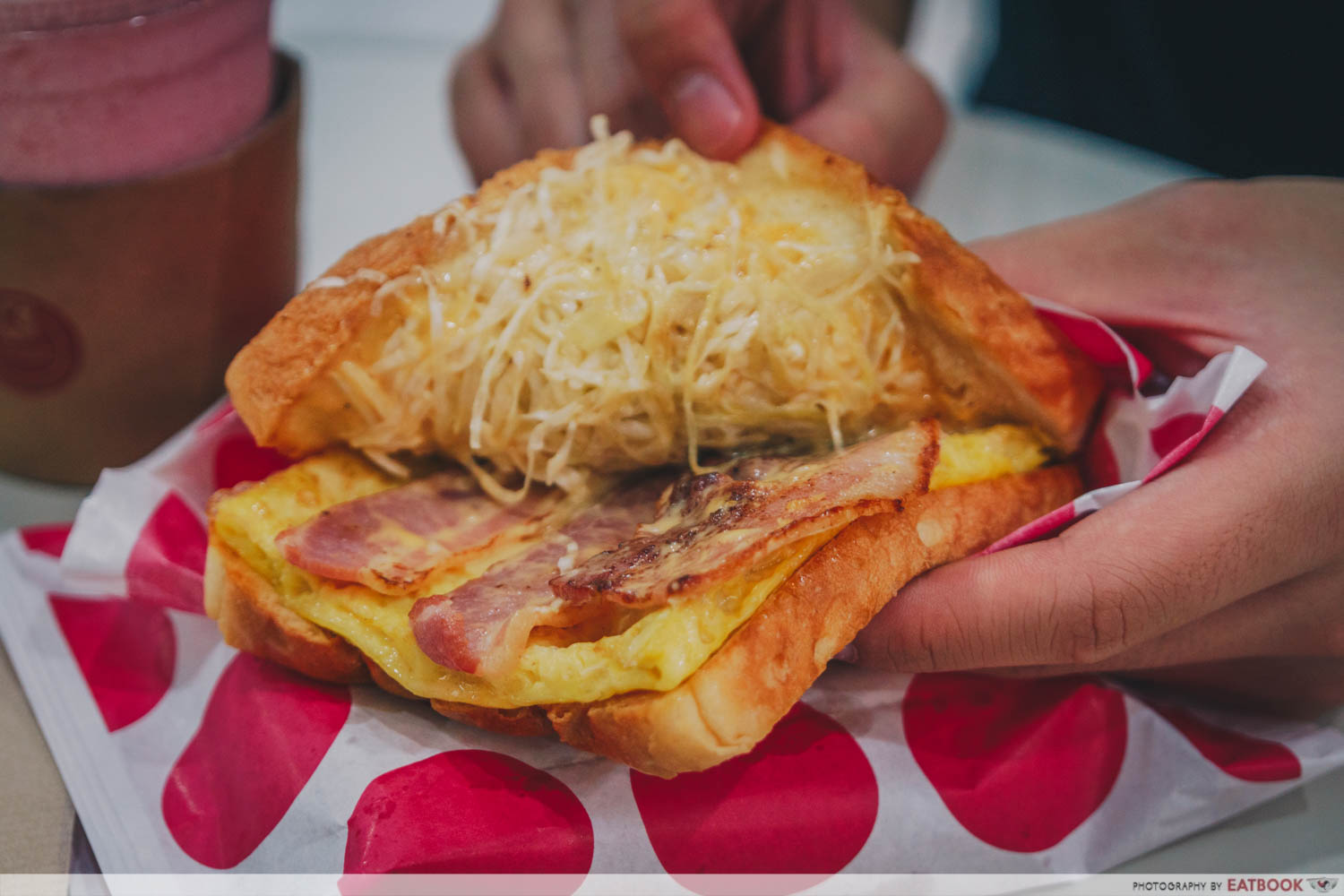 Veggies also played an important role here, with pickled daikon providing crunch and a hint of sour, while the cabbage supplied a vegetal contrast.
The deal-breaker here is balance. This sandwich ticked all the boxes: sweet and salty, charred and fresh, eggy softness and vegetal crunchiness. For less than $4, I'd certainly order this again.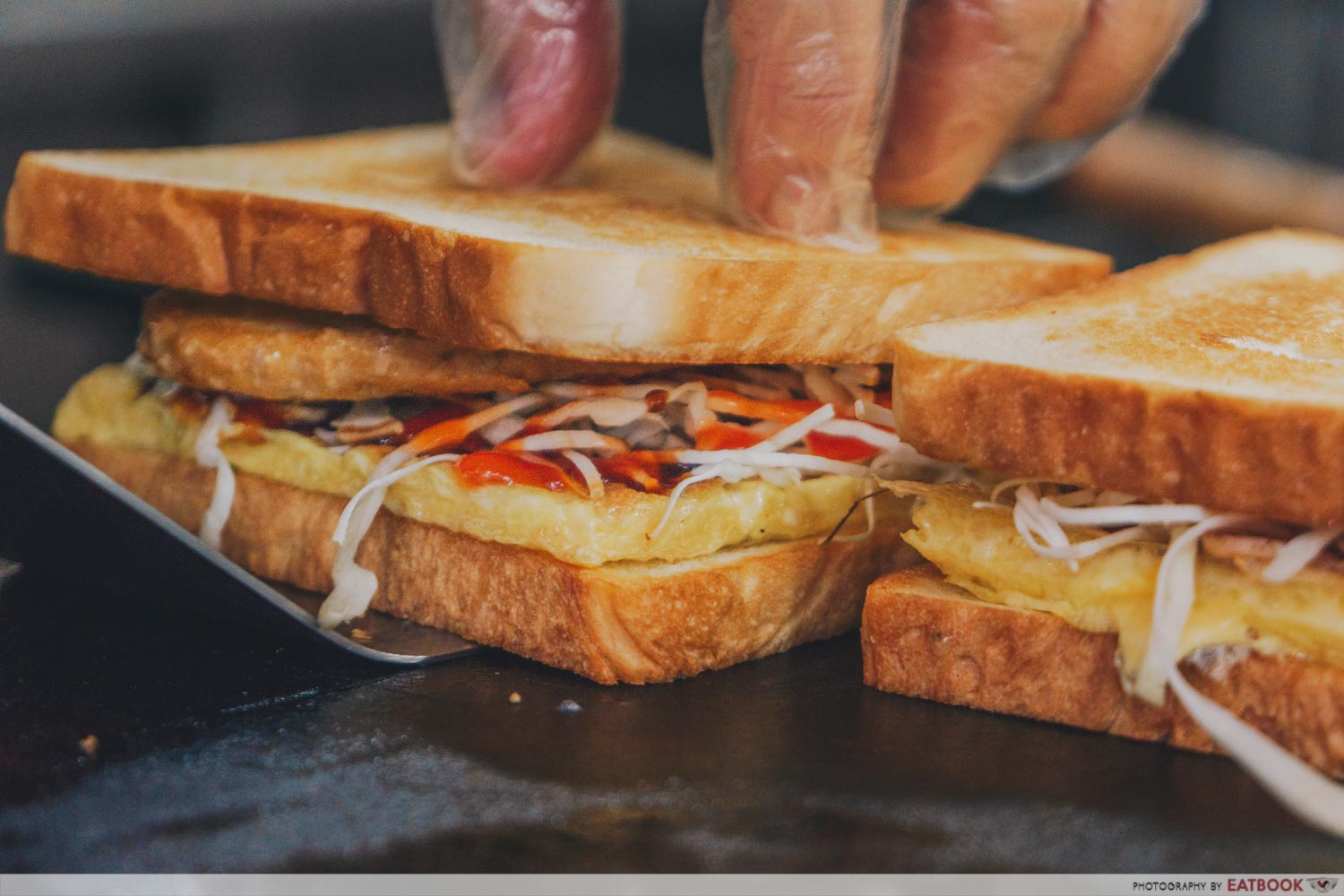 Although decent, the Hot Bulgogi Toast ($4.90) lacked balance. Bulgogi sauce is supposed to be sweet, but this was a little one-dimensional. I felt that more could have been done to offset the sweetness and provide more variety in terms of flavour.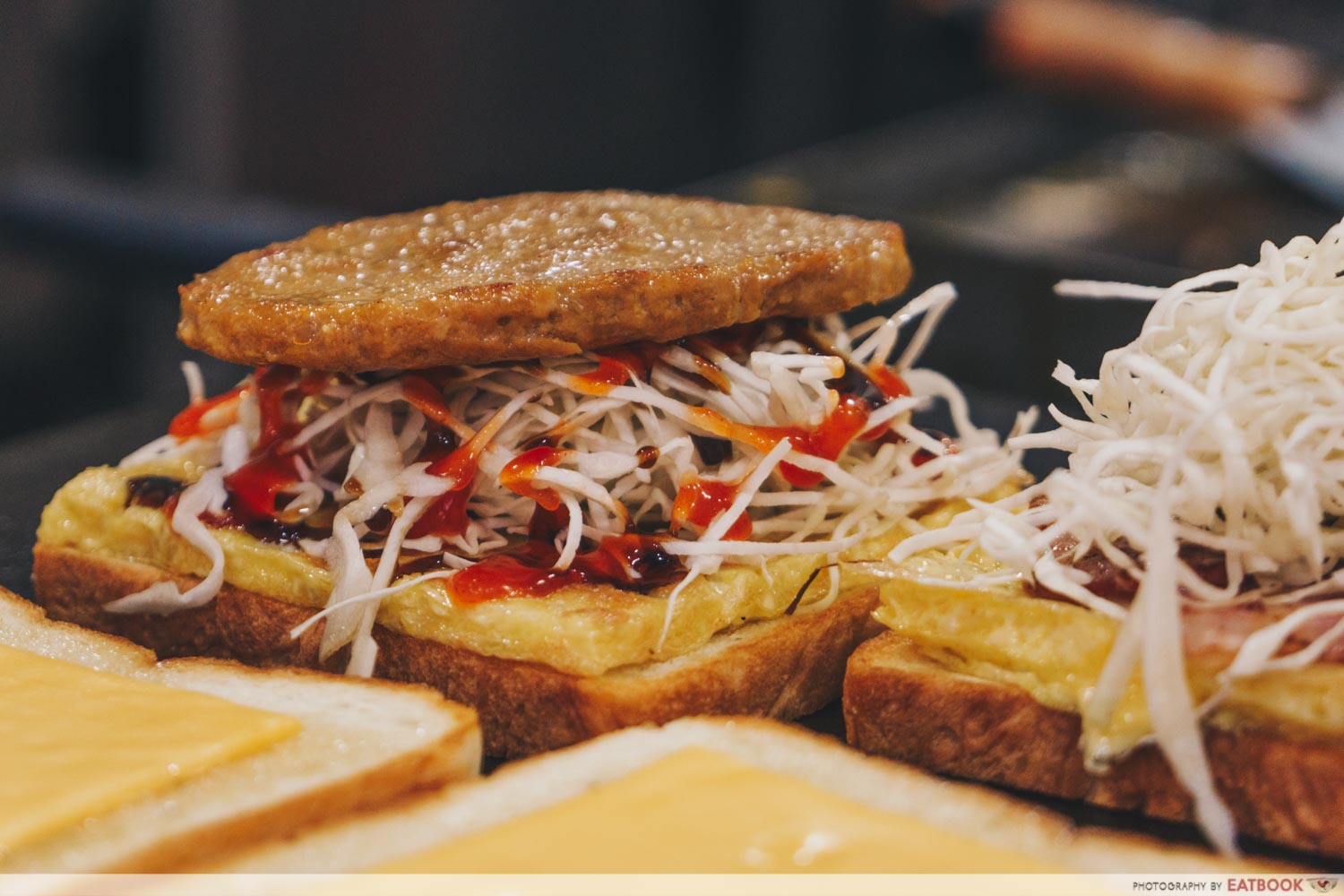 Thin strips of beef are what usually comes to mind when we think of bulgogi, but this comes in the form of a Sausage McMuffin-esque patty. While it was tender and juicy, the meaty texture of beef was missed.
For a hot bulgogi toast, I was barely able to discern spice, which could have gone a long way in combating the dish's sweetness.
Just like a cheeseburger, the sandwich also came with pickles and cheese. We would perhaps have liked more of both to counteract the sweetness, with pickles providing a sour tang and cheese supplying a salty edge.
That being said, this is still a decent sandwich. Together with the cabbage, omelette and bread, it's perfectly respectable for a light brunch. It just doesn't quite reach the heights of the bacon toast.
Ambience at KToast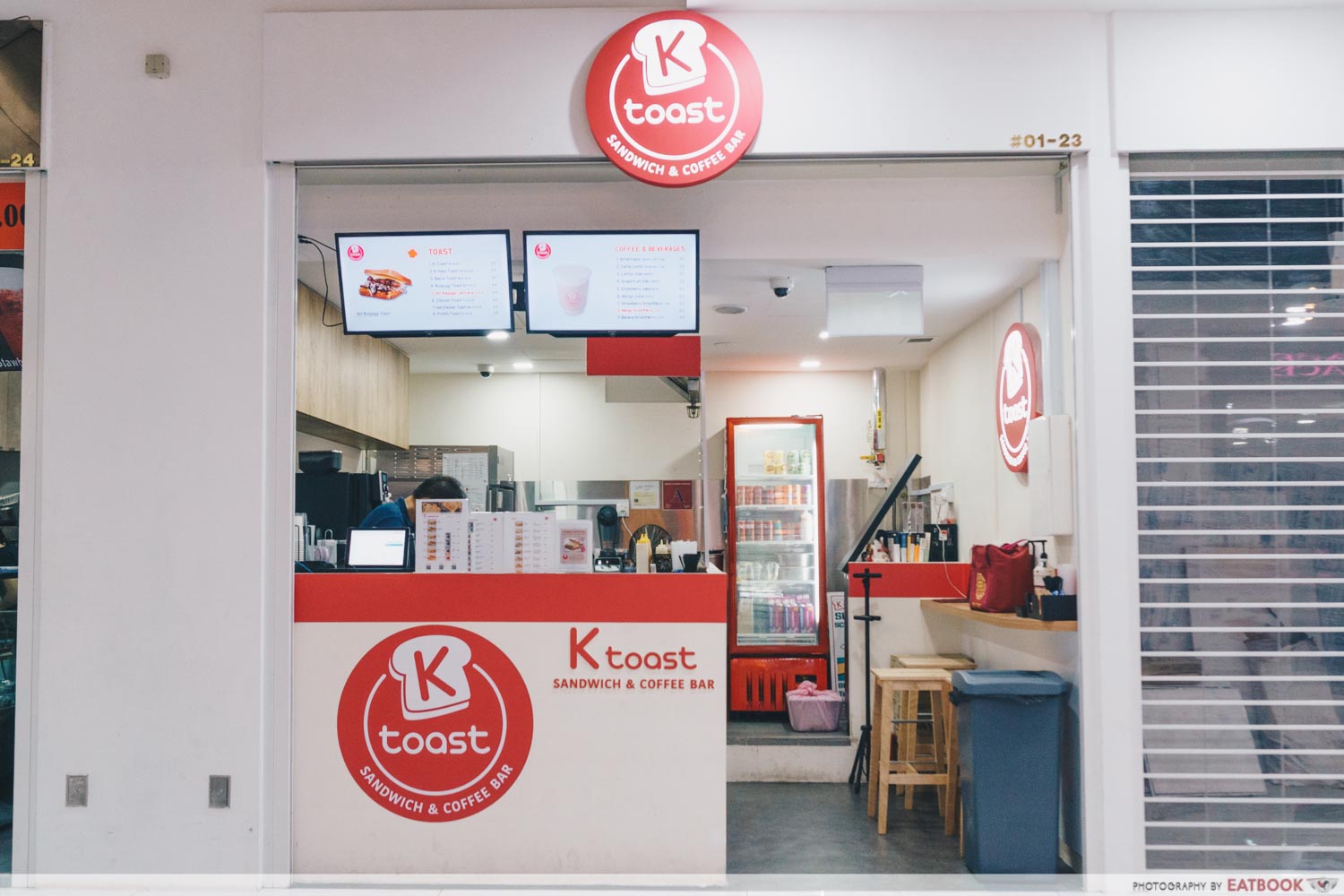 This little store stands in Grantral Mall, Clementi Mall's lesser-known next door neighbour. Considering the number of schools and army camps around Clementi, as well as its proximity to Clementi MRT, this humble stall is sure to be popular with students and soldiers on a shoestring.
Just like its sandwiches, KToast is set in a no-frills environment, with limited seating space available. However, its portability makes it a great quick snack in this high traffic area.
The verdict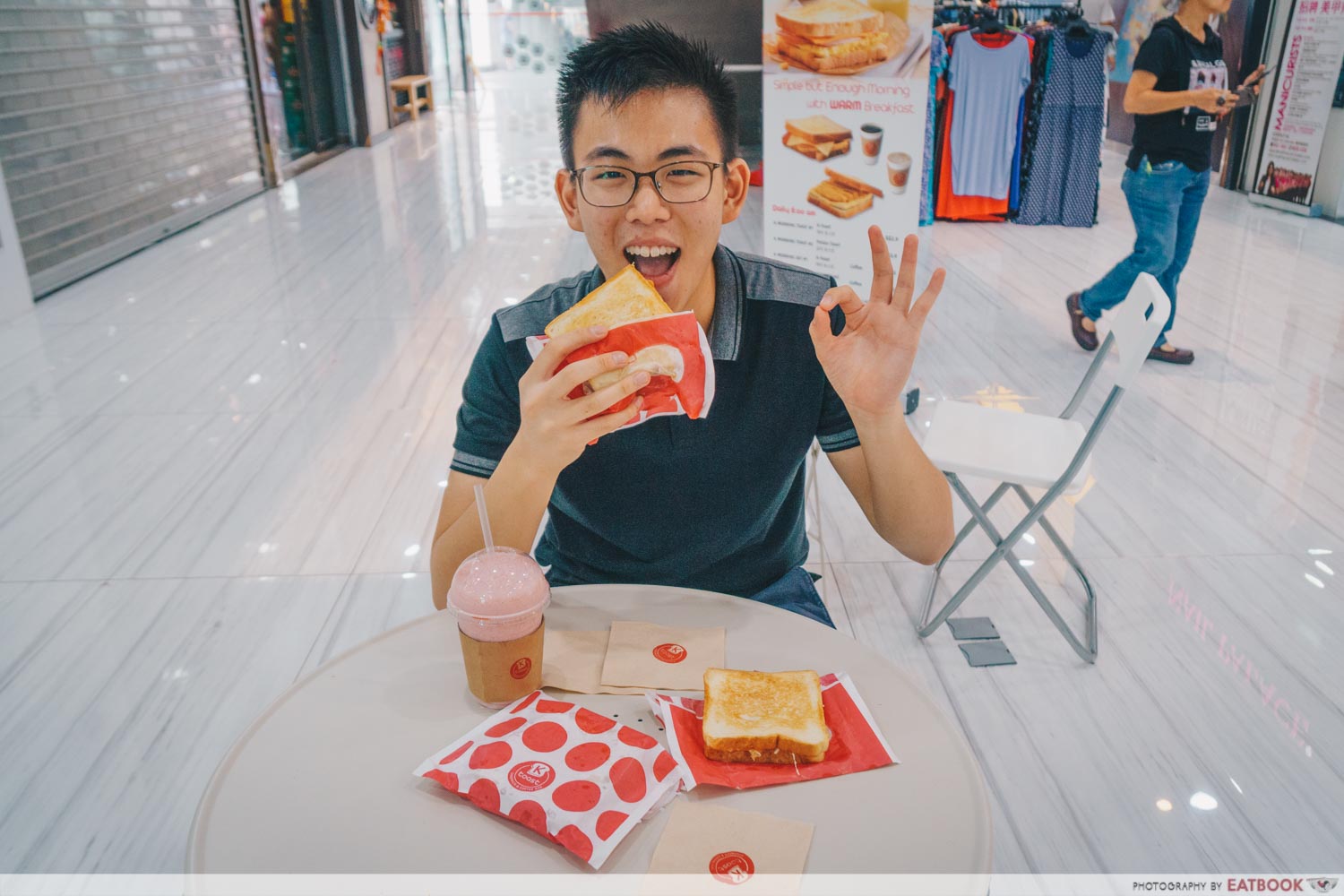 Korean culture is popular as ever in Singapore, and with KToast offering the cheapest rendition of Korean-style toast here, it's sure to gain popularity.
These aren't mind-blowingly good sandwiches, but they're affordable, convenient and will please people of all ages. Plus you can chat with a super nice ahjussi. I wouldn't be surprised to see more KToast outlets springing up around the island over the coming years.
If you can't get enough of Korean street toast, take a look at Egg Stop and Isaac Toast.
Egg Stop Review: Korean Street Toast Shop With Scrambled Eggs In Singapore
Let us know where your favourite sandwich joints in Singapore are in the comments below!
Address: 3151 Commonwealth Avenue West, #01-23, Grantral Mall, Singapore 129581
Opening hours: Daily 10am to 9pm
Tel: 9837 1578
Website
Photos taken by Leong Kit Shan.
This is an independent review by Eatbook.
Summary
Pros
– Value-for-money
– Well-balanced bacon toast
Cons
– Ham had no flavour
– Bread was slightly disappointing
Recommended dishes: Bacon Toast ($3.90)
Opening hours: Daily 10am to 9pm
Address: 3151 Commonwealth Avenue West, #01-23, Grantral Mall, Singapore 129581