Egg Stop offers Korean street toast at Paya Lebar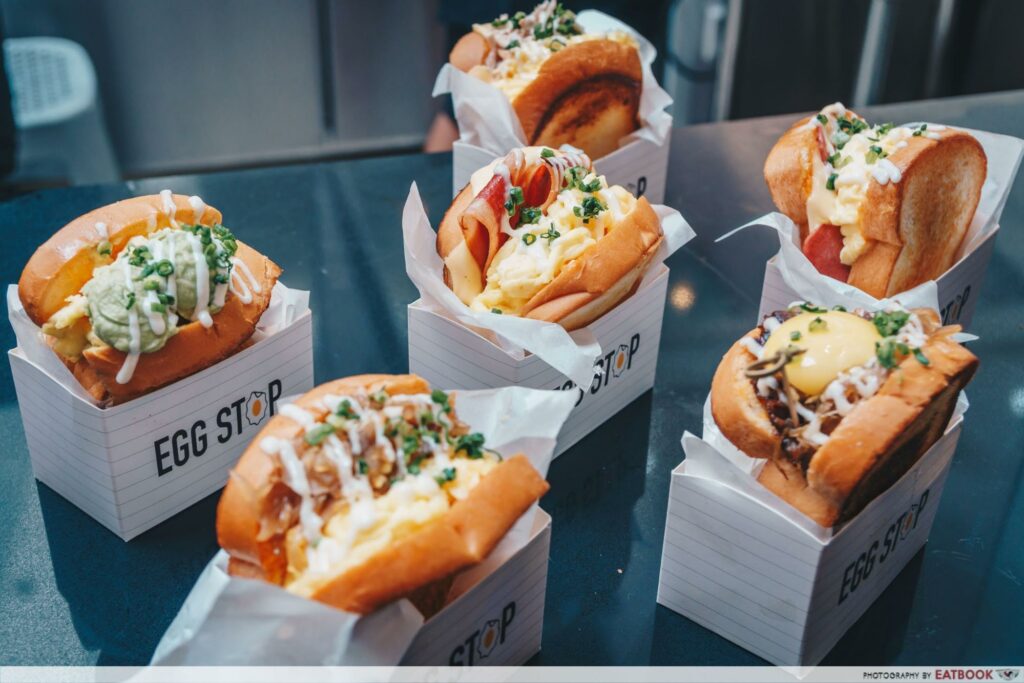 From avocado toast in 2017 to acai bowls earlier this year, our food scene has always captivated our hearts, or stomachs, with plenty of novel trends. Hot on the heels of the latest Korean street toast craze, homegrown sandwich shop Egg Stop enters the fray.
Opened by the same owners of Le Castella, the catalyst of the castella cake frenzy last year, Egg Stop came about after five months of intensive research. Inspired by Korean toast chains such as Isaac toast and Egg Drop, they decided to bring Korean gilgeori toast to Singaporeans, but with comforting local flavours.
Gilgeori toast (길거리토스트), or Korean street toast, is a popular street food in Korea. A Korean style of grab-and-go breakfast, street food vendors are commonly found next to bus stops and train stations early in the morning. What makes gilgeori toast vastly different from other sandwiches is its generous serving of toppings and signature sauce, which remains unique to every vendor.
Food at Egg Stop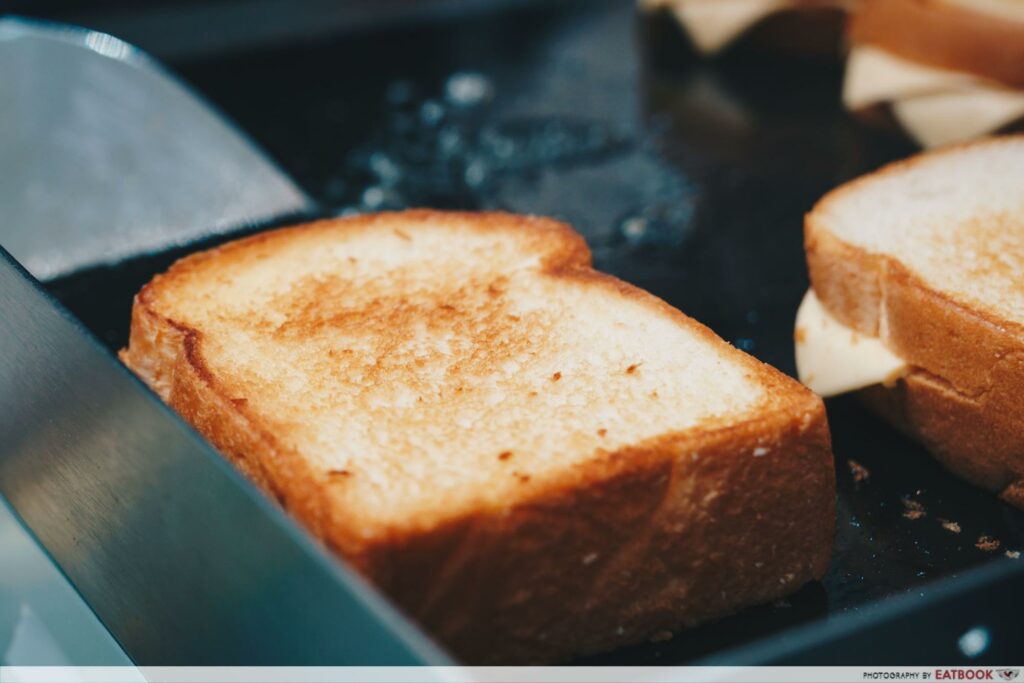 Compared to Isaac Toast's extensive menu, Egg Stop's comes with just six flavours. The toasts are freshly prepared upon order, with plenty of butter slathered on during the pan-grilling process for added flavour.
Perfecting the bread was the greatest challenge of setting up Egg Stop for co-owner Gerald Hee. The owners eventually settled on a custom-made bread mould, using fresh milk as the key ingredient of the soft bread. The store does not use any pork or lard.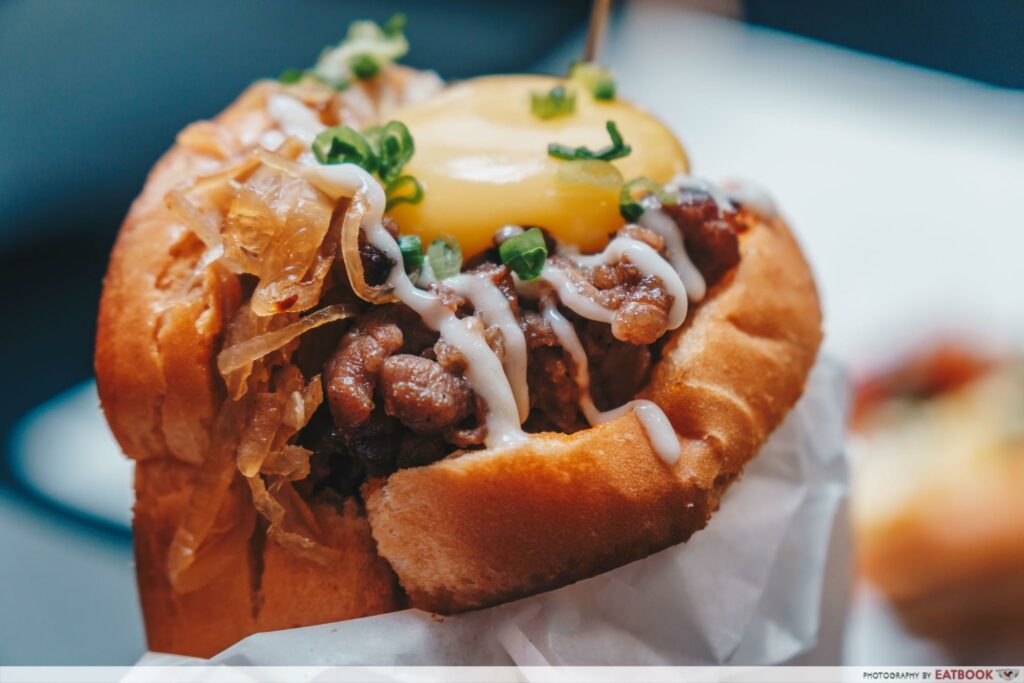 First on our list is the Beef Teriyaki ($7.40), which consists of marinated beef stir-fried in teriyaki sauce. It's then topped off with caramelised onions and a raw egg yolk that is just begging to be popped.
I found all the flavours nicely balanced, with the rich and creamy yolk going well with the crusty bread. The beef also comes with a decent amount of fats, giving it plenty of flavour alongside the caramelised onions.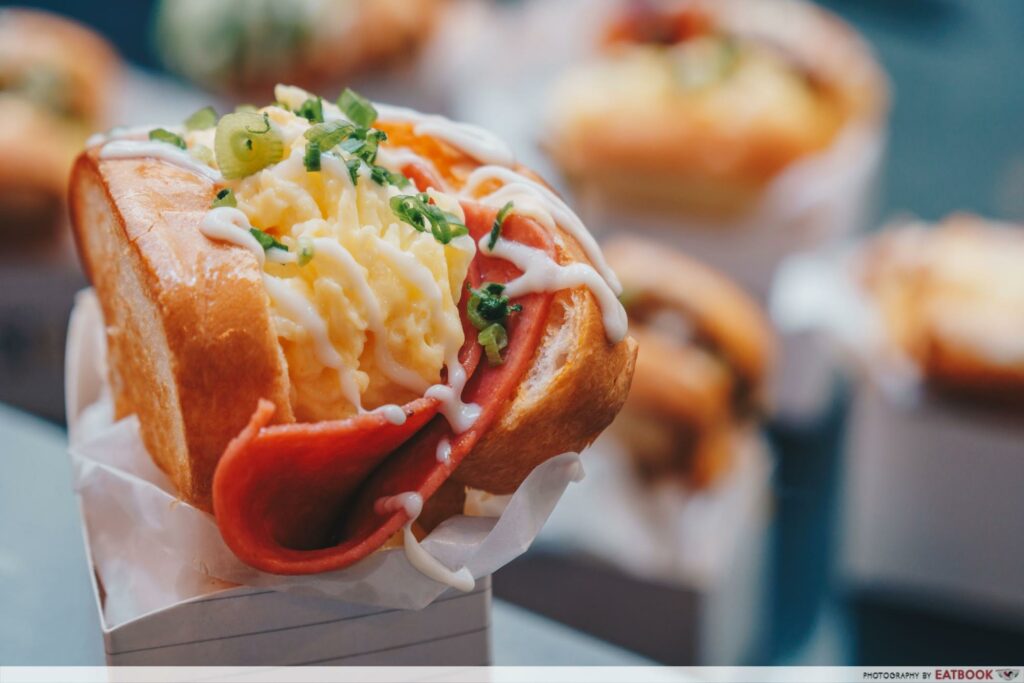 The Chicken Ham & Cheese ($4.90) also impressed with its simple yet elegant flavours. Sweet chicken ham is combined with generous portions of scrambled eggs then topped off with Egg Stop's signature sauce to give flavour in every bite.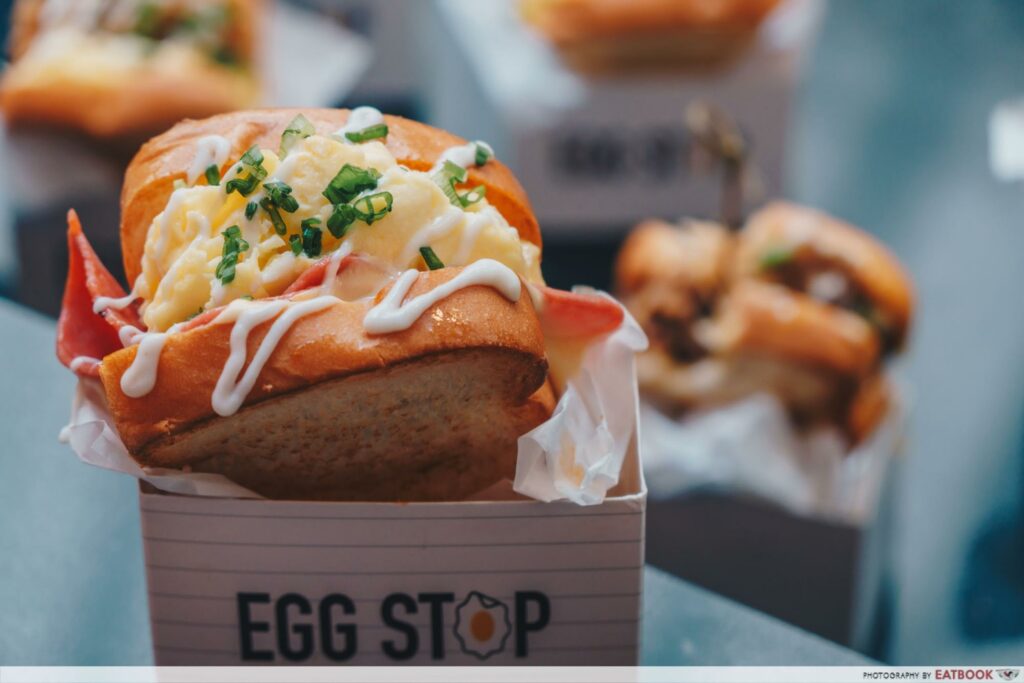 The creamy scrambled eggs, rich sauce and savoury sliced cheese blended well with the light and fluffy bread. Be careful not to order too many, these buttery sandwiches can be quite filling. I found myself a little bloated after gobbling on this particular sandwich.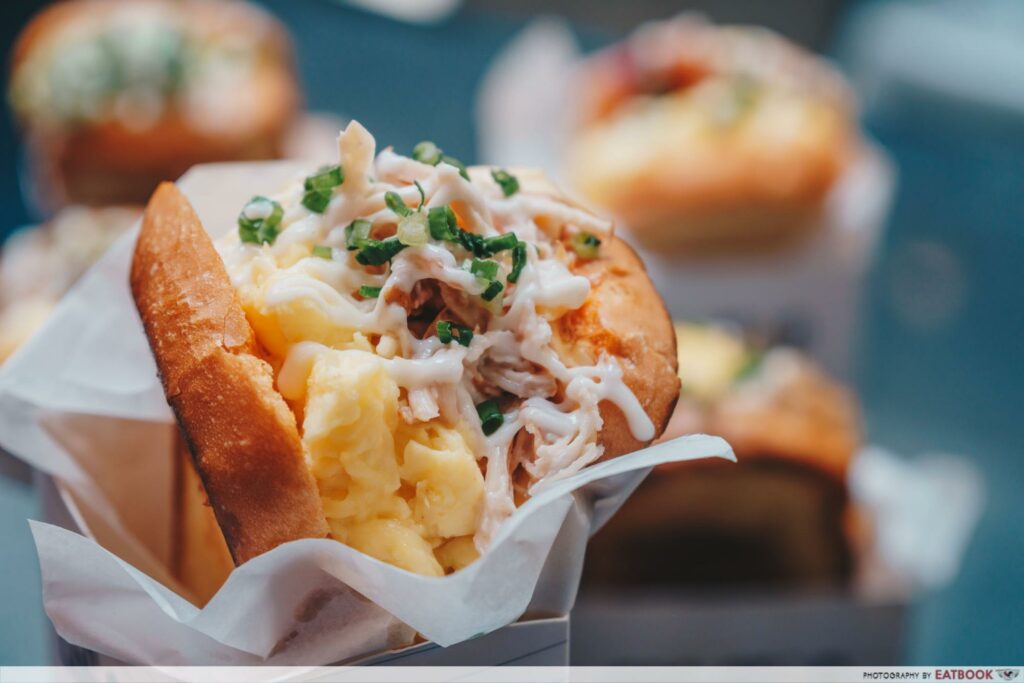 Those looking for a little more protein in their diet will be drawn to the Smoked Chicken ($5.90). Consisting of the usual mix of sliced cheese and scrambled eggs, shredded smoked chicken and Sriracha mayonnaise are added to give an extra kick of spiciness. While the velvety scrambled eggs went well with the juicy texture of the shredded chicken, I was a little disappointed by how smokiness of the chicken was nowhere to be found.
The rest of the toasts on their menu are Avocado & Egg ($7.90), Turkey Bacon & Cheese ($5.50) and Egg Stop Signature ($4.60). The latter comes with creamy scrambled eggs, caramelised onions, fresh cream and their signature sauce. You can add $2 to any toast to get an Americano, espresso or a fruit punch.
Ambience at Egg Stop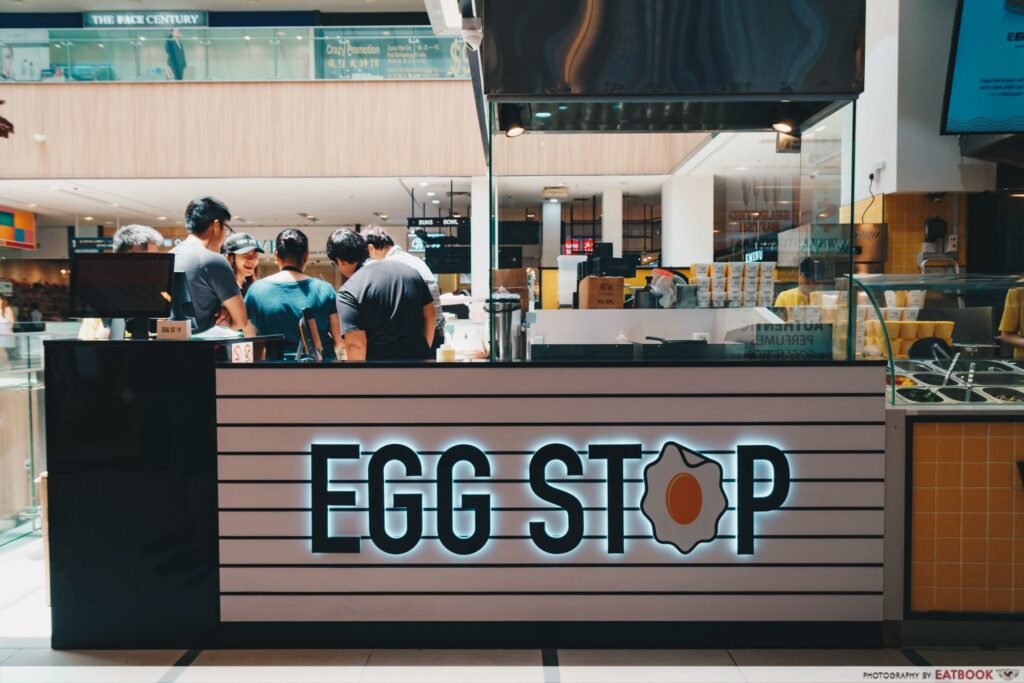 Conveniently located at Paya Lebar Square, just opposite OCBC bank, the sandwich store does not offer any seats and is strictly a takeaway. The sandwiches come served in sandwich holders, making it convenient to eat without staining your hands.
The verdict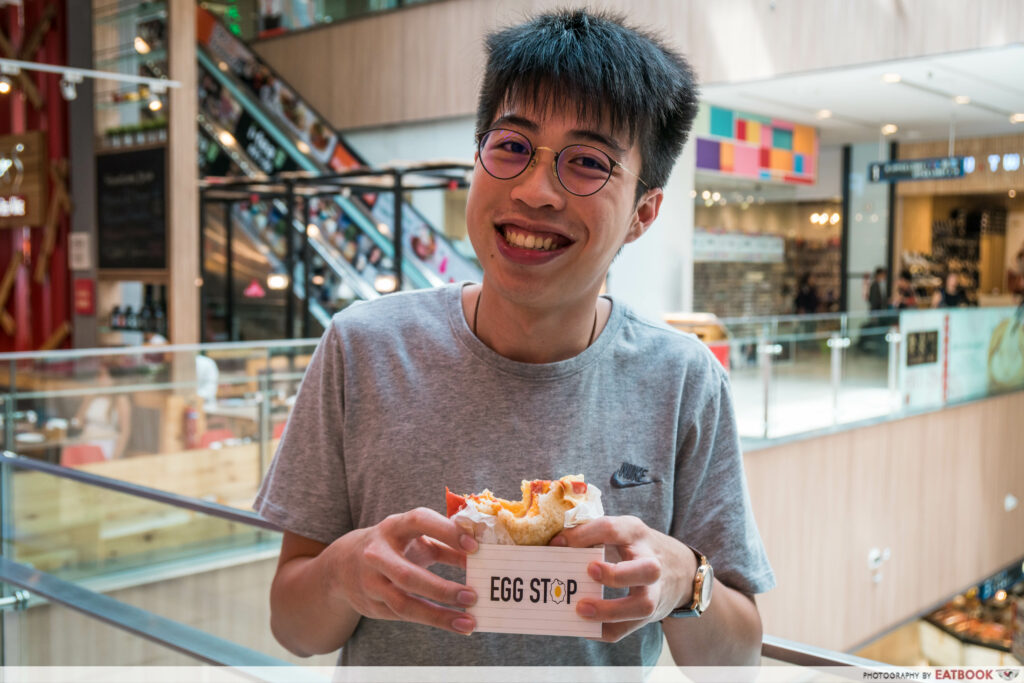 Having tried Isaac Toast, Egg Stop emerges as the clear winner between the battle of Korean street toasts. I personally like how Egg Stop's scrambled eggs were able to complement their bread so simply. While the prices tend to be on the high side, munching on just one is more than enough to keep my tummy full for the morning.
For those living in the West, fret not, Egg Stop will be opening at Clementi in September, and another in November at Jurong Point. Stay tuned for more updates!
Isaac Toast Review: Seoul's Famous Breakfast Toast Is Here At Plaza Singapura
Address: 60 Paya Lebar Road, #01-62, Paya Lebar Square, Singapore 409051
Opening hours: Daily 10am to 10pm
Website
Photos taken by Maverick Chua.
This was a media tasting at Egg Stop.
Check out our new ratings guide!
Summary
Pros
– Filling portions
– Soft and creamy scrambled eggs
Cons
– Pricey
– Some sandwiches might feel too oily as too much butter was added while grilling
Recommended Dishes: Beef Teriyaki ($7.40), Chicken Ham & Cheese ($4.90)
Opening Hours:
Daily 10am to 10pm
Address: 60 Paya Lebar Road, #01-62, Paya Lebar Square, Singapore 409051