Gyu & Tori offers affordable and good wagyu sandwiches

Cheap grub is not easily found in Orchard. A meal under $10 relegates me to fast food chains or the ever-packed food courts. When I was told that a $9.90 wagyu katsu sandwich existed in Paragon, I knew I had to visit Gyu & Tori.
I was wondering — like you probably are now — if a $9.90 wagyu sandwich would be any good. Afterall, what are the chances that this cheap dish will taste remotely close to those with exorbitant price tags? 
Food at Gyu & Tori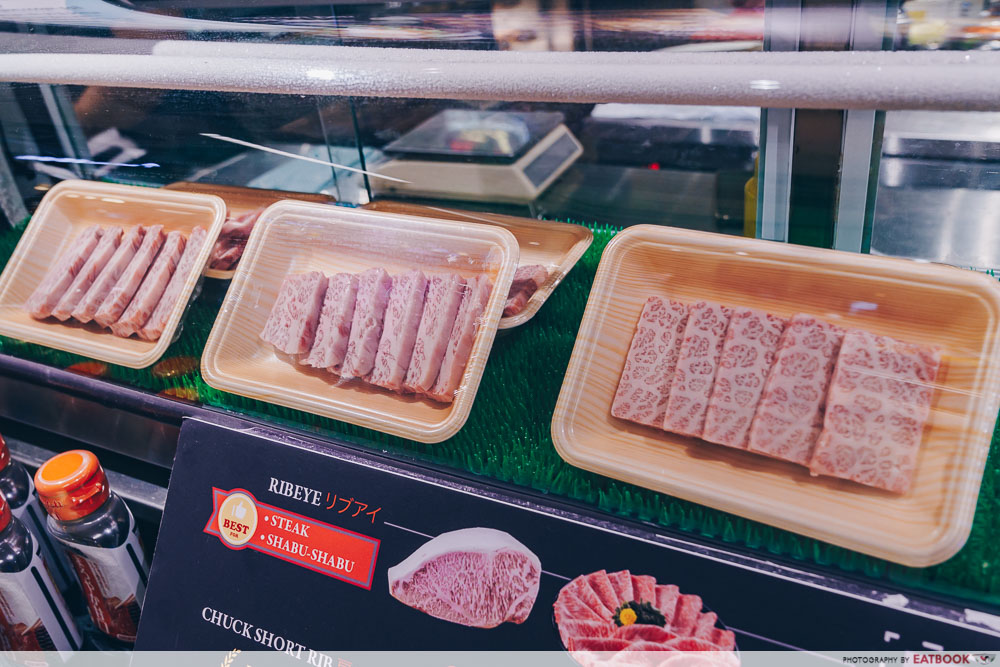 The hallmark of wagyu is its fatty marbling. This is especially evident in A5 Japanese wagyu, the highest quality of wagyu. You can spot white streaks of fat speckled throughout the beef, vaguely resembling a layer of snow that has blanketed the meat.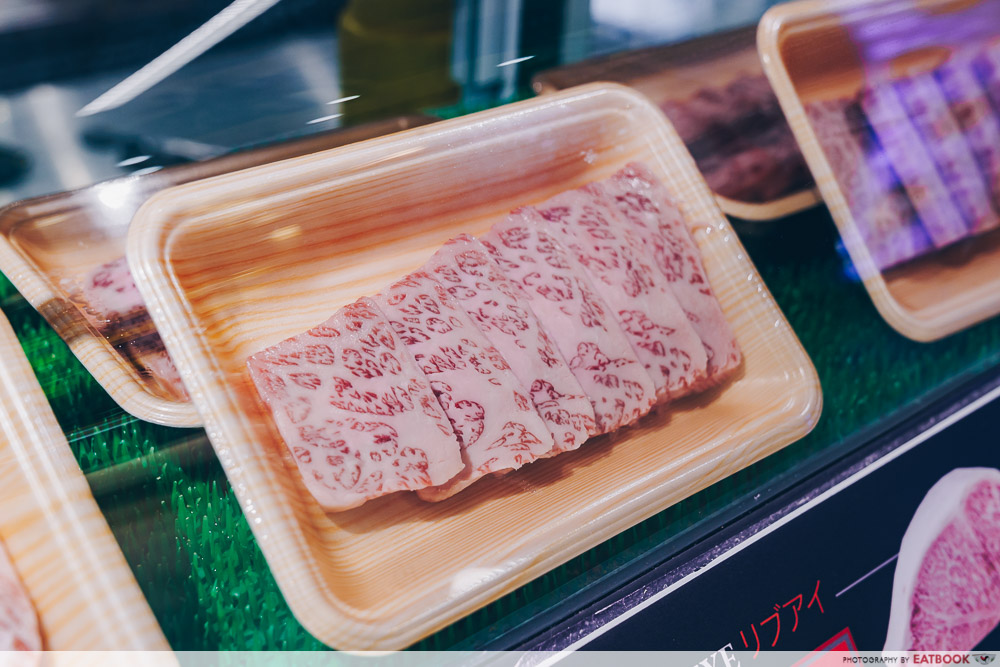 This absurd amount of fat confers an unctuous mouthfeel on every bite. Eating it is best described as biting into a slab of butter that has been pimped up with an intense beefy flavour.
Of course, the level of beef here is not of A5 quality, but you can still expect a high-grade Australian wagyu and A4 standard.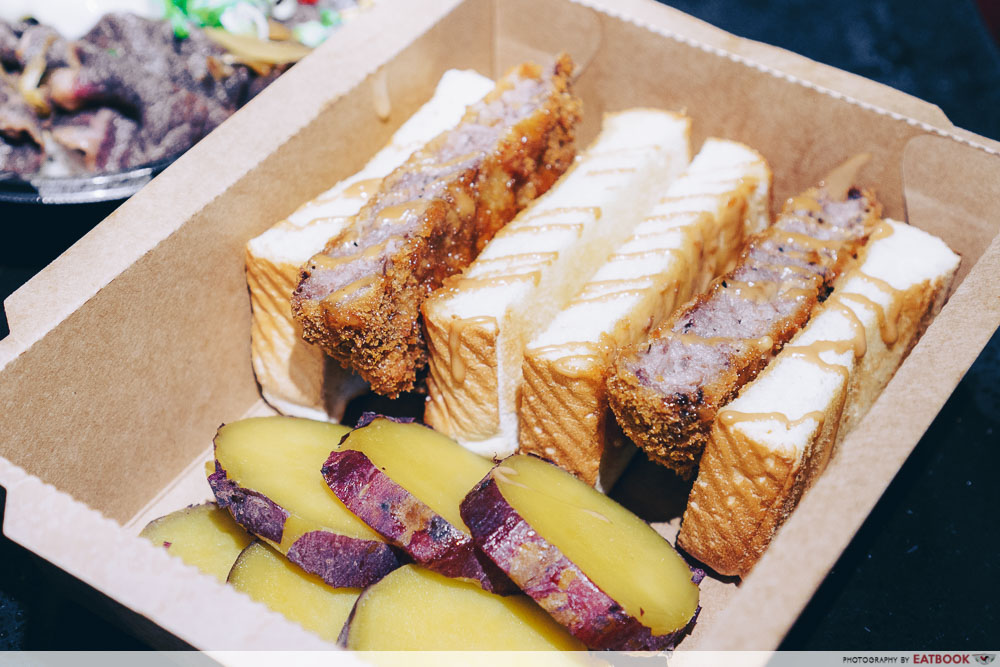 I was initially shocked by the size of the Original Wagyu Patty ($9.90). Measly portions served at atas restaurants, in the name of artisanality, have made me come to expect small portions.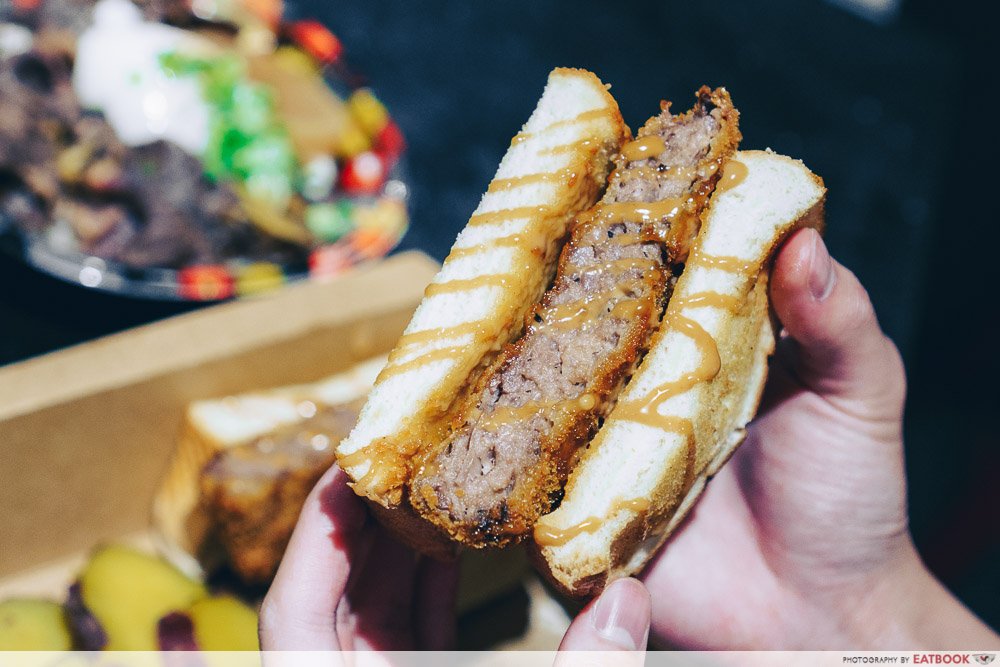 But what we got instead was a chunky beef patty that's coated in a crusty panko crumb mix. Thick slices of buttered toast then sandwiched the meat, finished with a drizzle of sweet tonkatsu sauce.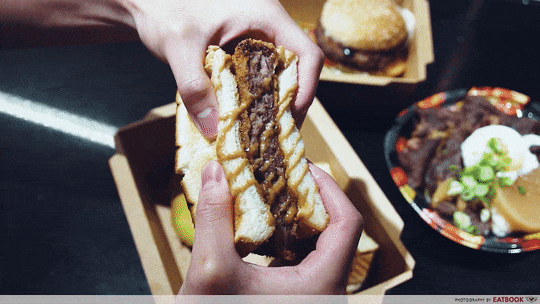 I eagerly tore into the sandwich, revealing a patty that had been perfectly cooked to a bright pink; medium rare, just the way I like it.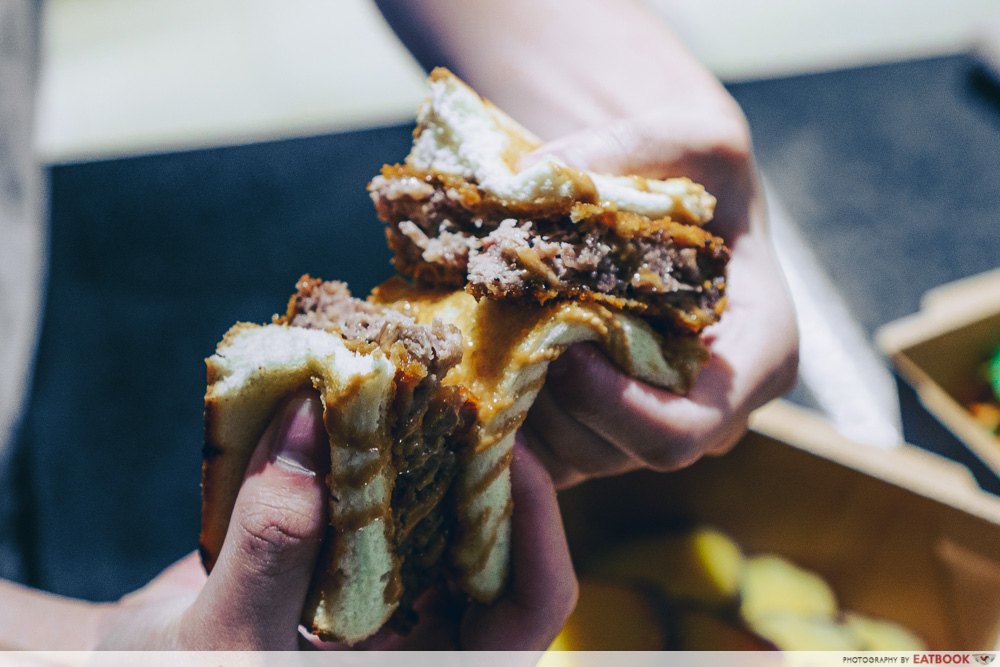 It then came to my attention that the meat wasn't grounded but finely diced – just like steak tartare. This distinction was immediately apparent when I tried it. The tender blobs of flesh burst with beefy flavours in my mouth.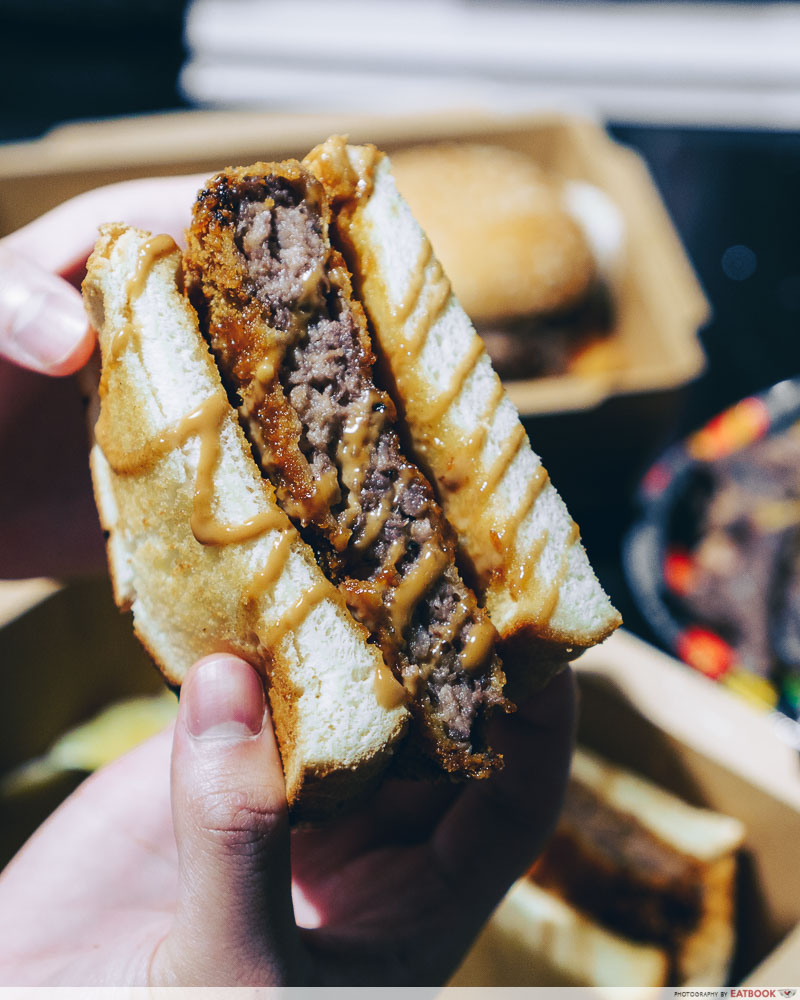 Not immediately obvious were also globules of fat that permeated the entire patty with a robust meatiness, which helped keep the sandwich juicy and succulent.
Slowly, subtle milky notes from the bread coated my tongue in a mellow sweetness. It was oddly romantic how cow and milk were combined beautifully here, delivering a medley of flavours.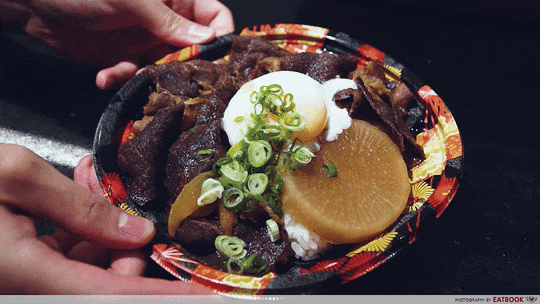 It has always been my first impulse to judge the jiggliness of eggs. It exposes many areas of a chef's repertoire: attention to sourcing, the freshness of ingredients, and time management.
Our Australia Wagyu Sukiyaki Don ($9.90) featured one such wobbly egg.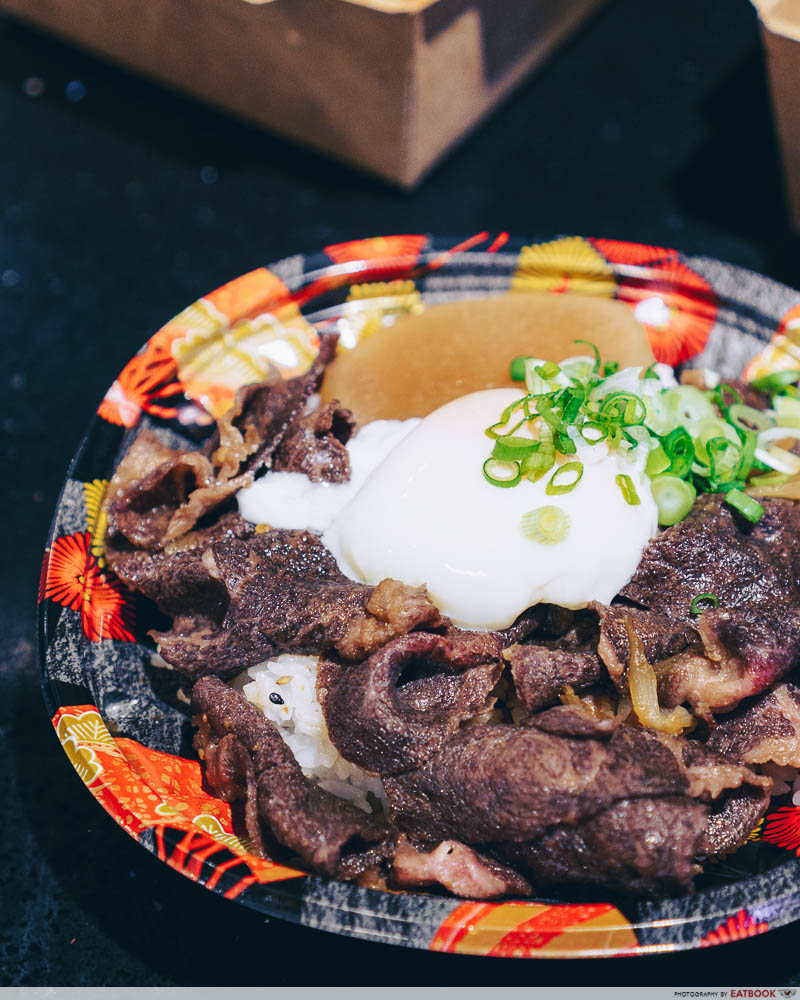 Thinly sliced wagyu were briefly tossed in a bubbling soy marinade, then laid over on a bed of fluffy Japanese pearl rice.
In my opinion, thinly sliced meats are delicate and should be cooked ala shabu shabu — short and quick to maintain its tenderness.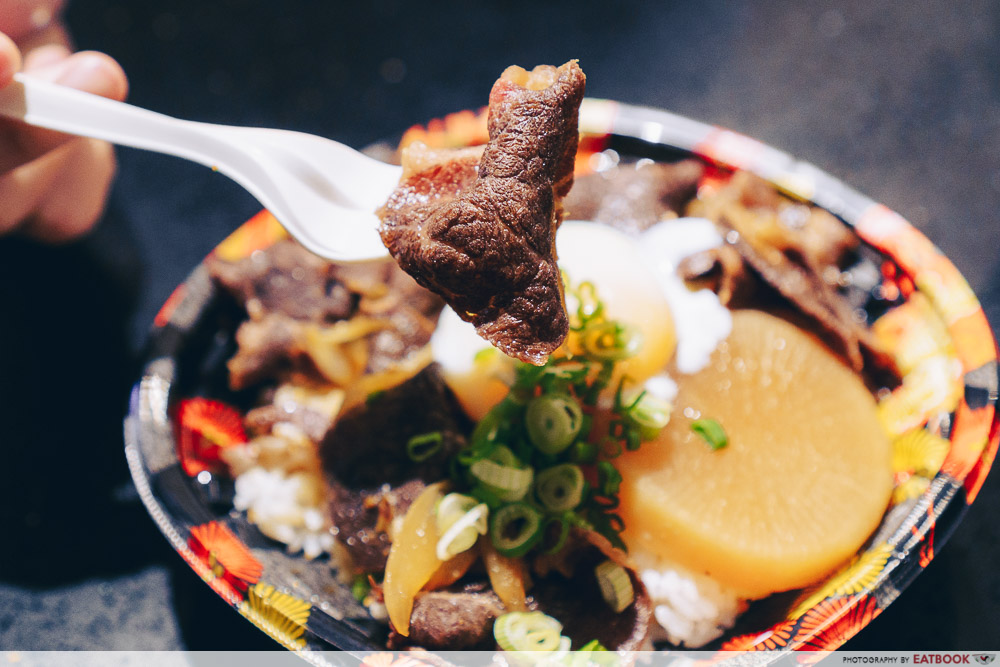 And indeed, the sliced beef had a supple texture that oozed with beef juices. It also came to my attention that the layers of fat soaked up its cooking liquid, packing the beef full of umami goodness.
Eating the wagyu with rice, I noticed a pleasant sweetness emanating from the sauce. It perfumed my mouth with an earthy and floral taste, juxtaposing against the beef's natural fattiness.
Mixing in the egg, it layered a luscious silkiness that provided a creamy mouthfeel.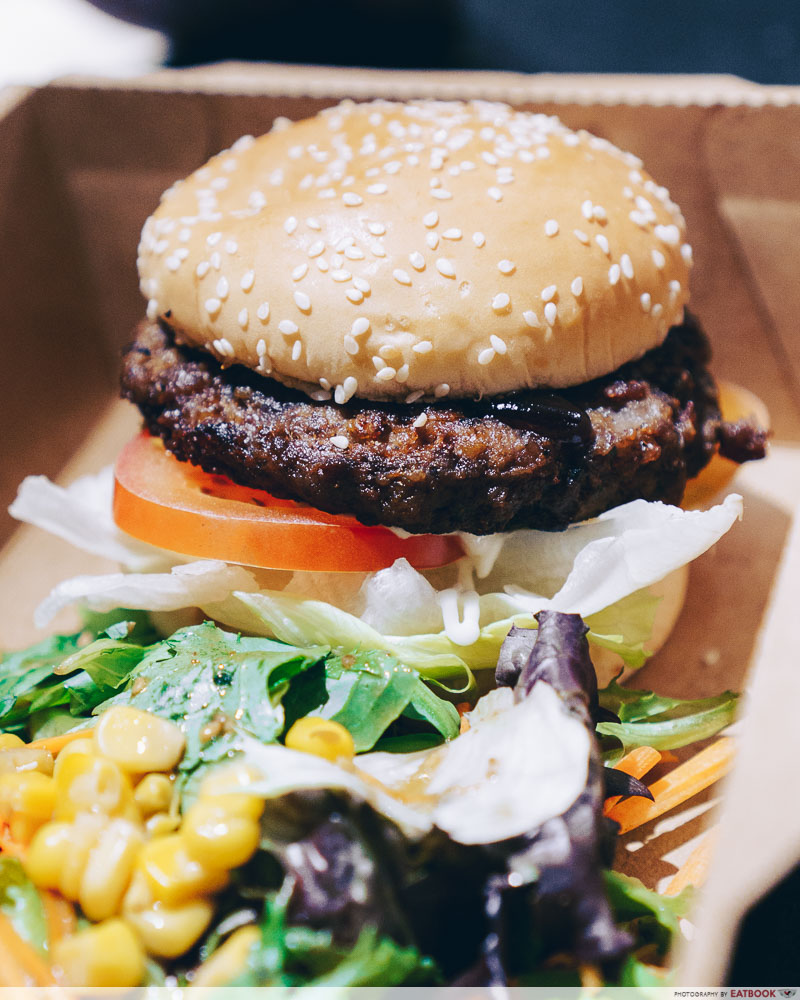 I was reminded of fast food burgers when I first saw the Wagyu Burger ($9.90). The speckles of sesame seeds sprinkled on top the bun were evocative of cheap ones, often used in chained fast food restaurants.
The aroma, on the contrary, smelt artisanal. It felt like I was walking into an American butchery. Those with dazzling smoked meats hung by the shopfront.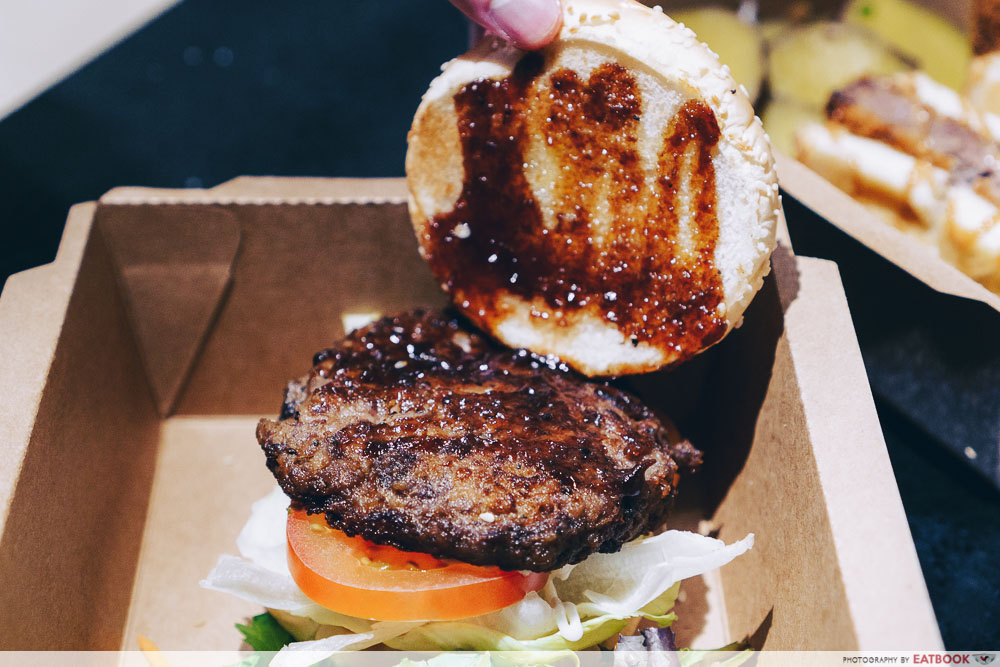 The beef was charred to a beautiful dark brown and slathered in a thick demi-glaze that glittered in the light.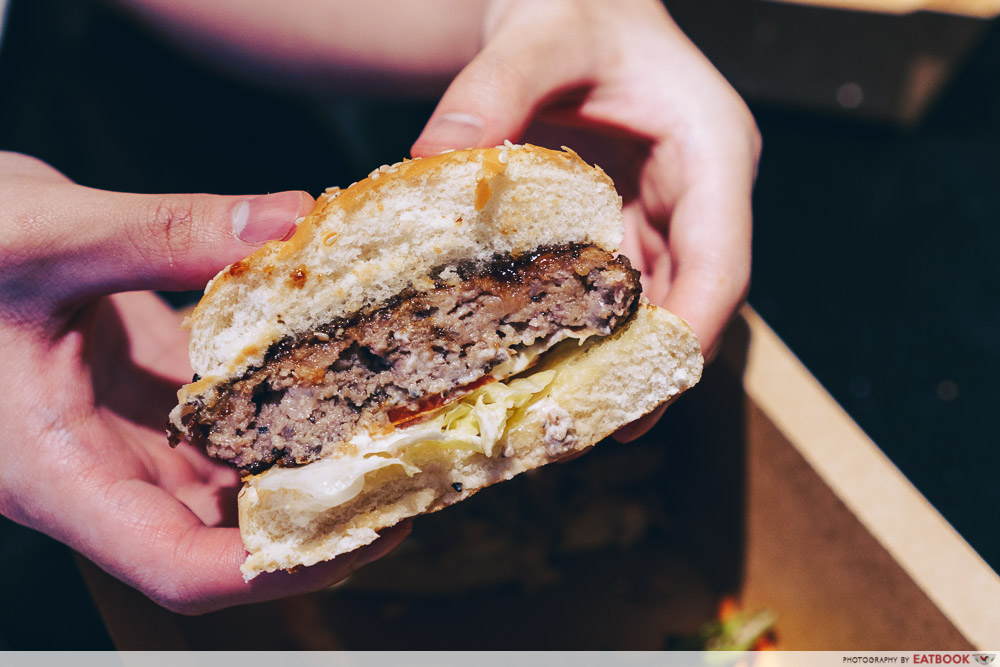 Taking a bite, the gnarly burnt bits packed a rich beefiness. It afforded the burger a profoundly meaty taste, reminiscent of those I enjoyed in the one-Michelin-starred Burnt Ends.
Beef juices also oozed out from the patty, leaving a sloppy, joyous mess. I found myself having to constantly lick my hands, as juices flowed incessantly from the burger.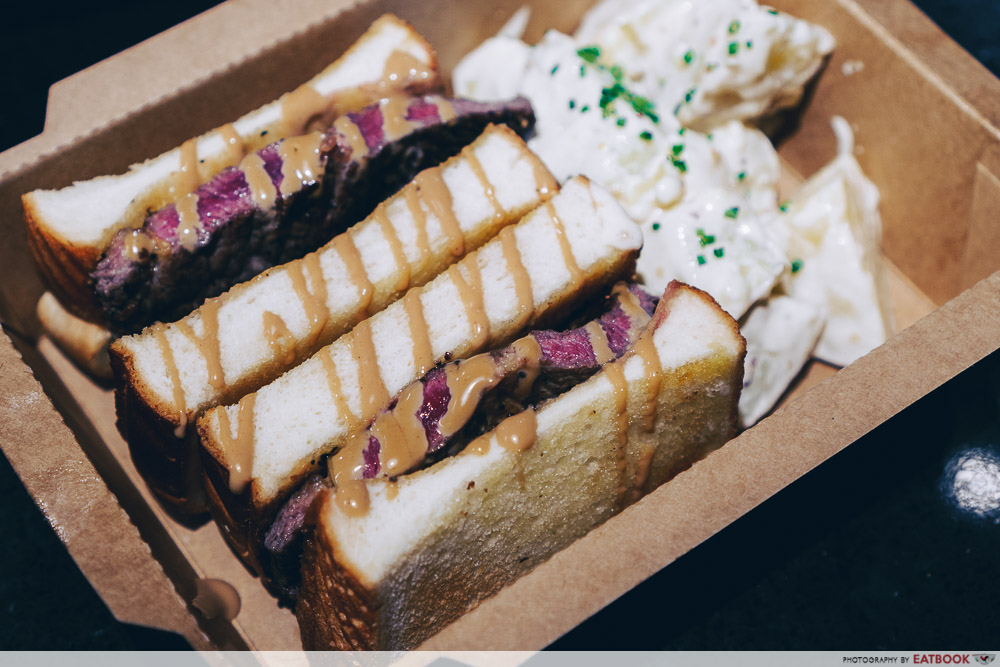 Being the most expensive of our haul, the Gourmet Rib-Eye Steak Sandwich ($15.90) commanded my highest expectations.
A juicy slab of ribeye is grilled before being rested. It's then sliced to reveal a gorgeous graining, an indicator of good marbling.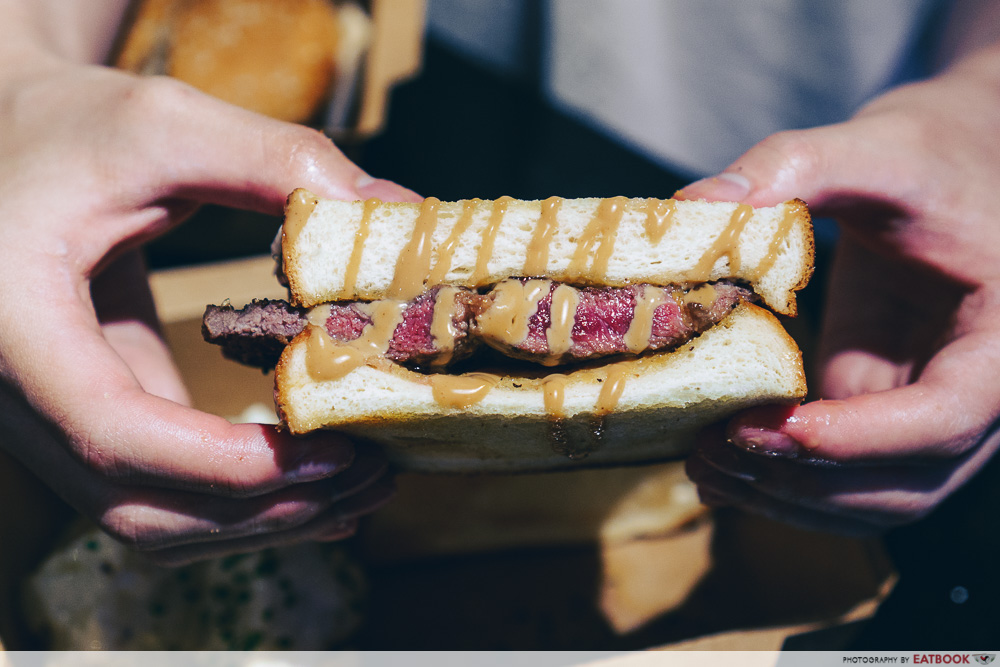 Taking a bite, the crispy sear on the beef's crust transitioned into a succulent warm pillow in the centre. Lush fat that was rendered during cooking, permeated through every nook and cranny of the meat. The result was an uber juicy steak that packed a punch of Maillard flavour.  
I felt like a ravening savage, taking haphazard bites on the helpless sandwich. It was just too damn good to stop.
Ambience at Gyu & Tori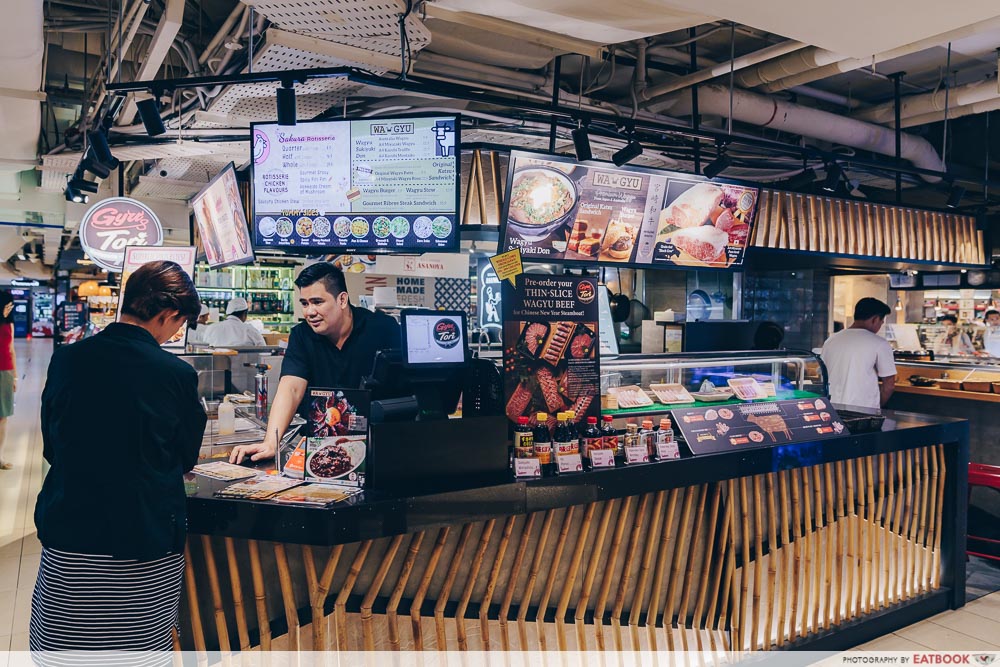 Gyu & Tori is one of those seemingly unassuming stalls tucked in the deep recesses of a shopping mall. Their stall front, though simple, prides a ubiquitous Japanese zen vibe.
Yet, it's the small attention to details — the wood grain table top, the polished glass casing that parades their sliced A4 wagyu, and the rustic bamboo furnishings — that mark it as a great establishment.
The Verdict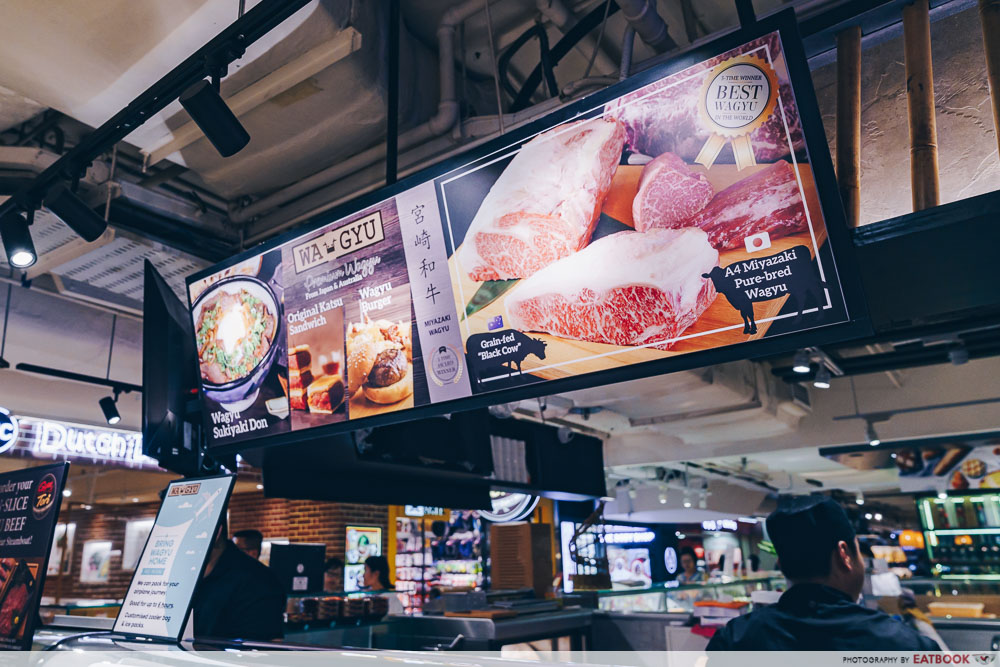 With a deadpan, my dining companion told me that she would hunt me down if I gave Gyu & Tori anything less than a 9/10 rating. Her rationale was simple. The food was amazing, and also incredibly affordable at $9.90 for most items.
On all counts, I completely agree. For the price we paid, I would easily put it at the top of my list for most worth-it eats in Orchard. Heck, I would go so far as to say that it's one of the most value-for-money food establishments in Singapore. But I have only one concern. I dearly hope they don't get too crowded once this review is out.
10 Low-Key Orchard Food Gems To Impress Your Friends At Your Next Gathering
Address: 290 Orchard Road, #B1-K26, Paragon Shopping Mall, Singapore 238859
Opening hours: Daily 11:30am to 9:30pm
Tel: 9722 7545
Website
Photos taken by Pichan Cruz.
This is an independent review by Eatbook.sg.
Summary
Pros
– Central location
– Affordable prices
– Good tasting food
Cons
– Minimal seating available
Recommended dishes: Original Wagyu Patty ($9.90), Australia Wagyu Sukiyaki Don ($9.90)
Opening hours: Daily 11:30am to 9:30pm
Address: 290 Orchard Road, #B1-K26, Paragon Shopping Mall, Singapore 238859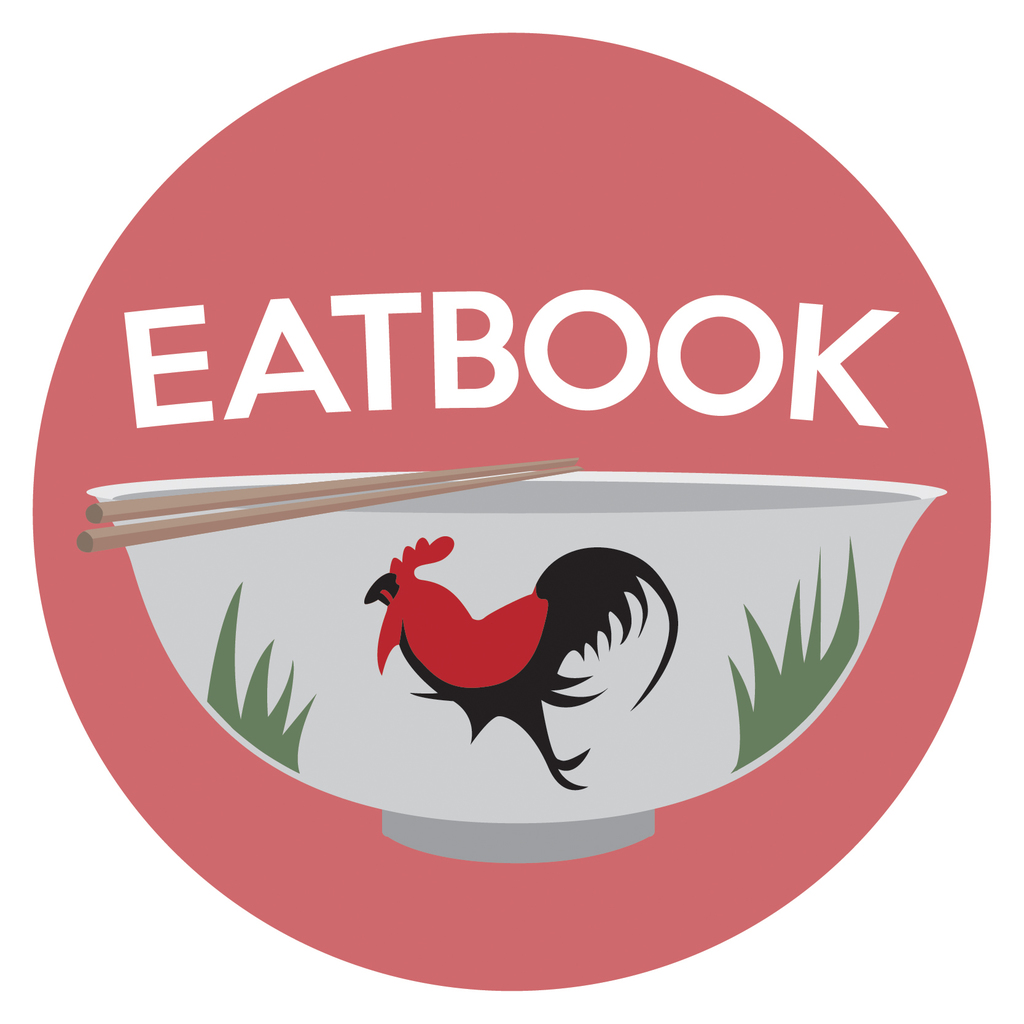 Drop us your email so you won't miss the latest news.