Eggslut Singapore in Orchard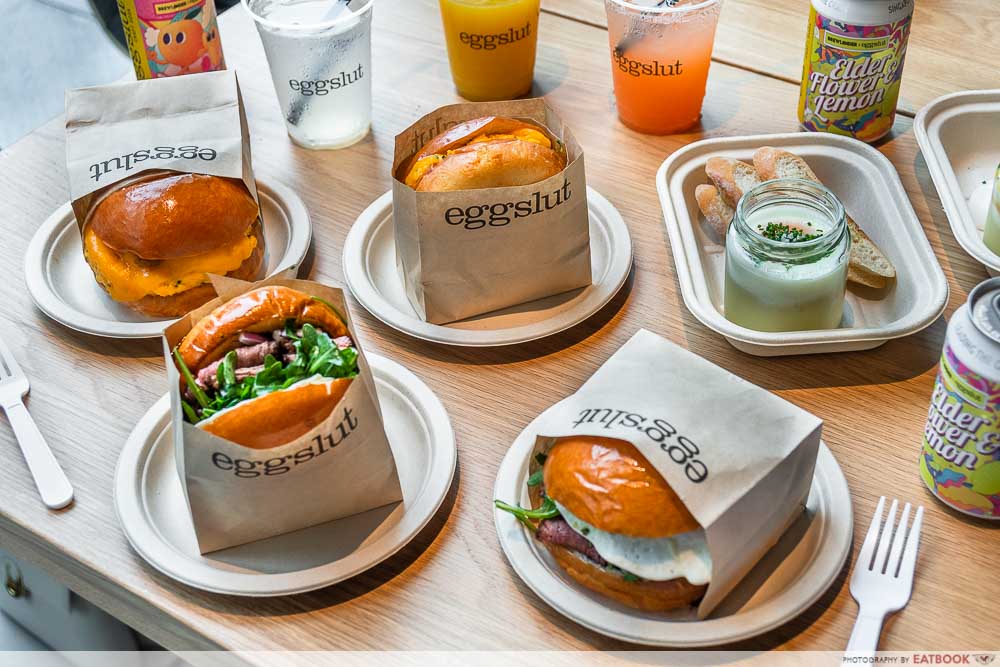 American egg sandwich specialist, Eggslut, is finally opening next week, on 9 September 2021. They've been brought in by the SPC Group, a South Korean holding company who has previously also brought us the Shake Shack and Paris Baguette brands.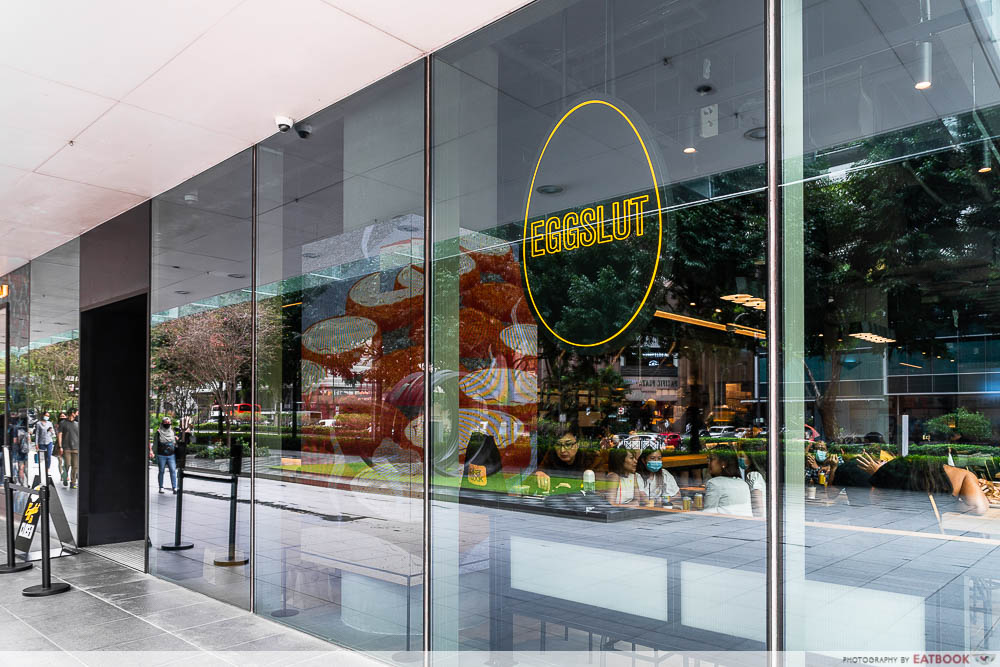 Eggslut started out as a humble food truck in Los Angeles in 2011, before they gained fame for their burgers, loaded with signature creamy scrambled eggs. They're now found in Korea, Japan, the UK, and Kuwait, with Singapore being their very first Southeast Asian outpost.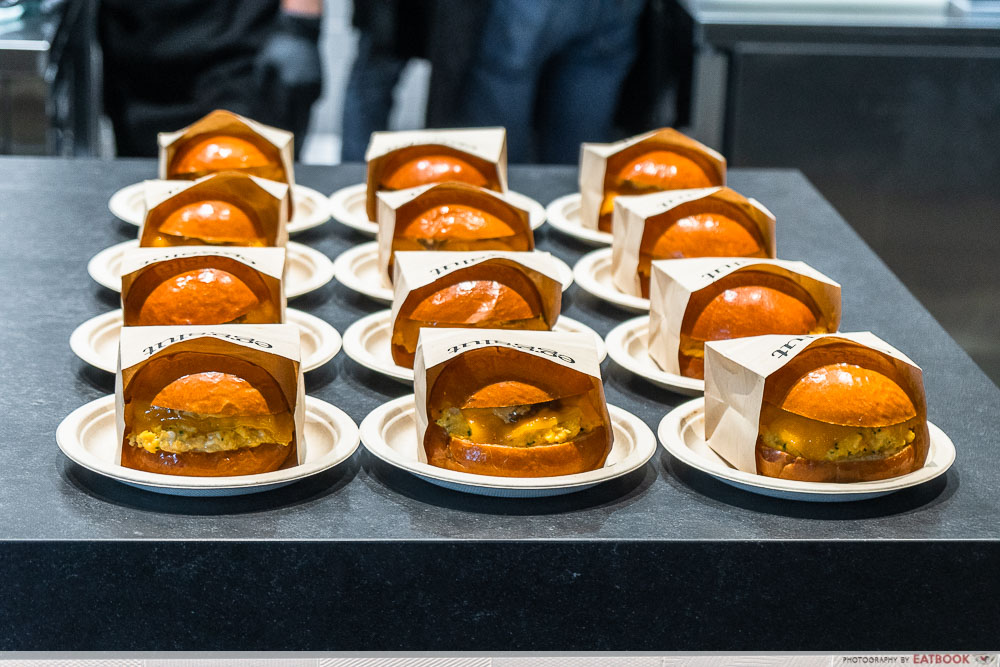 Fans have been known to queue more than an hour for Eggslut sandwiches, and there's no doubt Eggslut Singapore will see more of the same. Here's what we got to try, ahead of their opening next week.
Food at Eggslut Singapore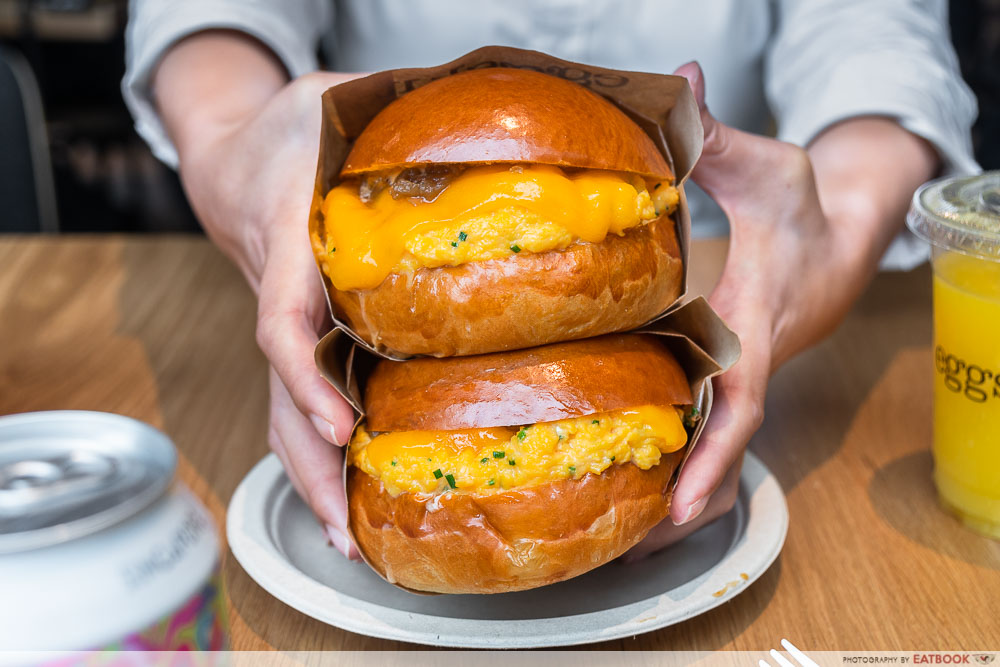 The most popular, and iconic, item on the Eggslut menu is the Fairfax Sandwich ($12). No matter if you have it in LA or Seoul, it comprises cage-free scrambled eggs with chives, caramelised onions, cheddar cheese, and Sriracha mayo, sandwiched in a pillowy brioche bun.
At first glance, I was most drawn to the glossy, egg-washed top of the brioche bun. Each of these extra pillowy buns is baked to a precise recipe in Korea before it's flown here, and lightly warmed to serve. If you're anti-carb, sub the bun out for a salad at no extra cost.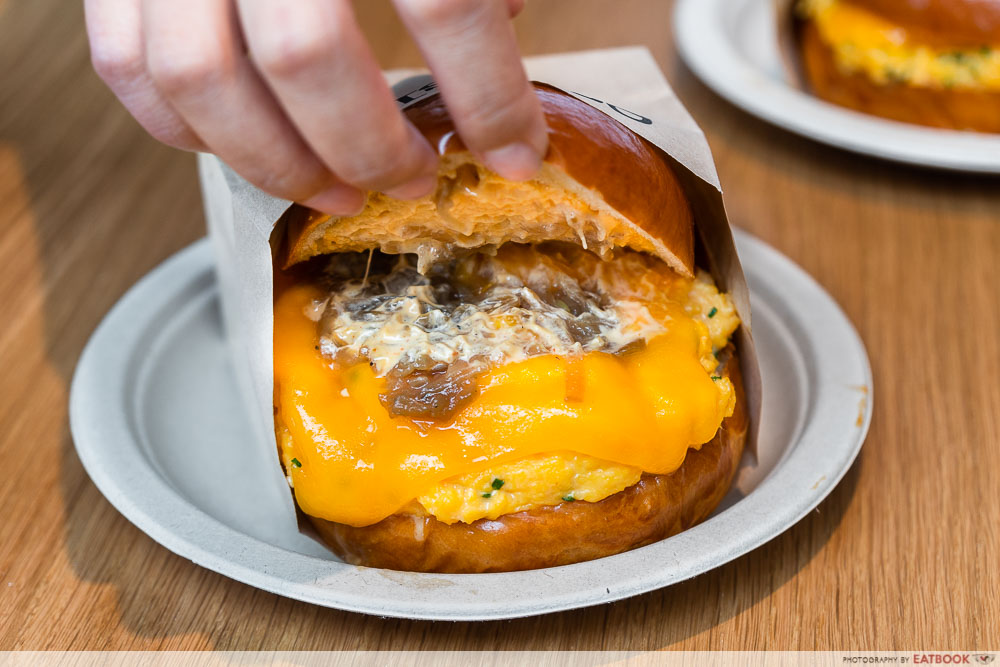 Biting into the Fairfax is almost akin to taking an extra large bite of tofu—that's how soft the bun is, and how creamy the eggs are. There's a sweetness from the caramelised onions, and just that slightest edge of funk from the Sriracha.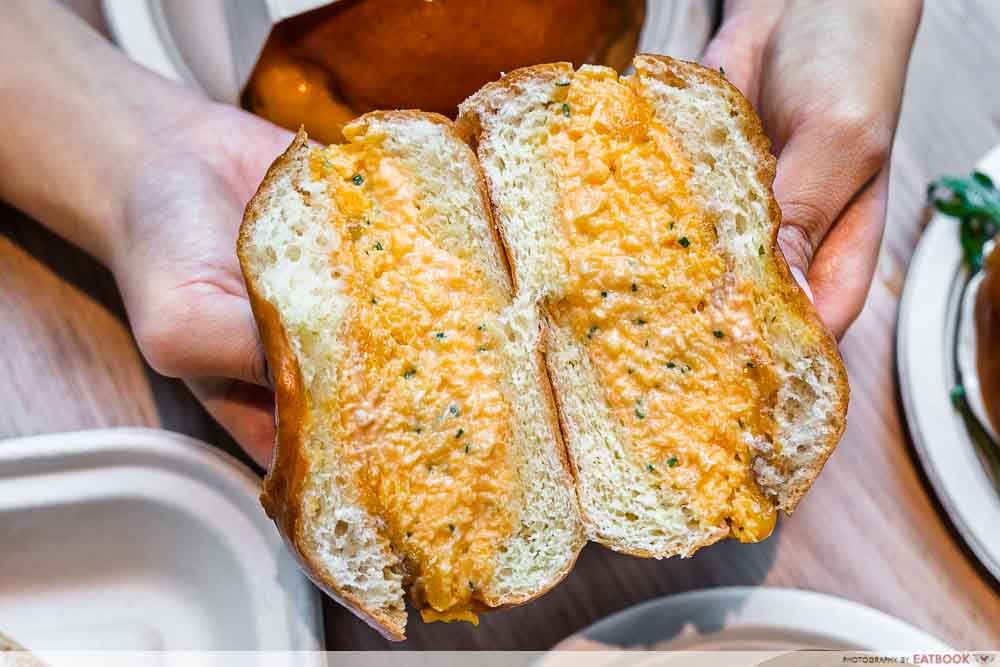 There's so much scrambled egg in this, I'm convinced it's best shared, because it does get jelak after a bit. However, you could ask for applewood smoked bacon ($3), a beef patty ($4), or avo ($2.50) in this 'wich. I believe the savoury notes from bacon or beef would help detract from the richness of the egg and cheese.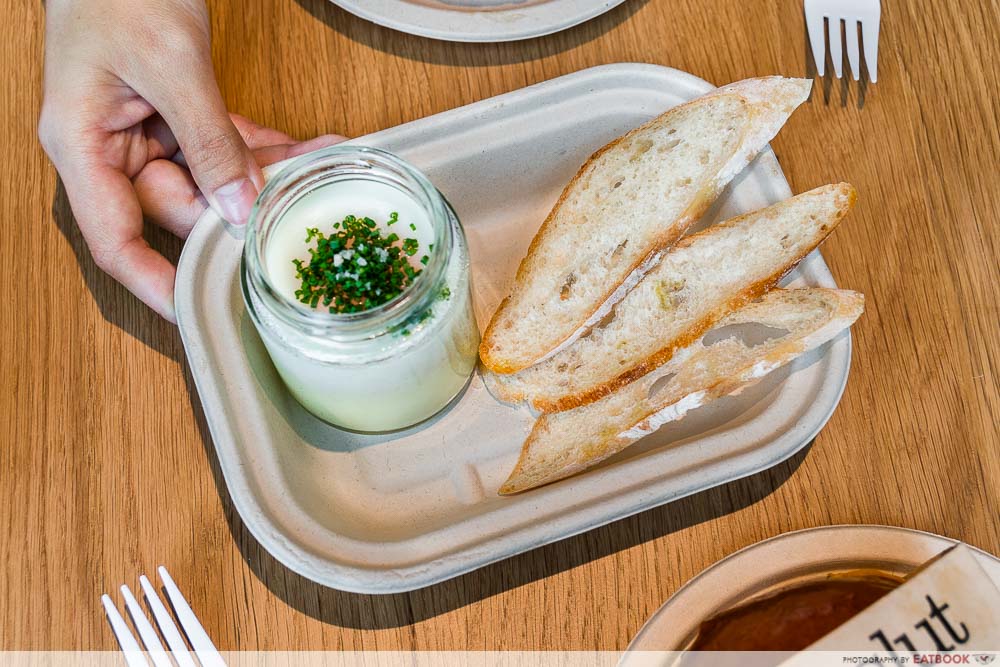 The Slut ($11) is another item that the chain is well-known for, and one of my favourite dishes here, not least because of the creamy potato puree. Fun fact: the name Eggslut was originally coined to refer to a chef who adds an egg to everything to make it better.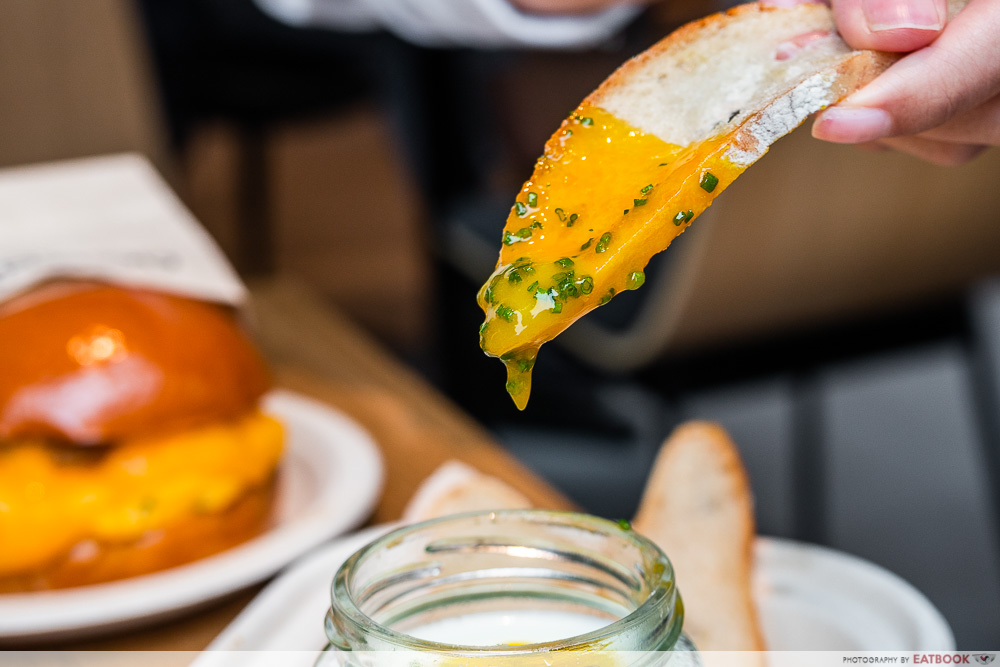 If you're looking for something lighter than a sandwich, the Slut is a petite glass jar of house-made potato puree, topped with a coddled egg—also cage-free, and imported from Japan. It's finished with grey salt and chives, and served with thin slices of toasted baguette, a la eggs and soldiers.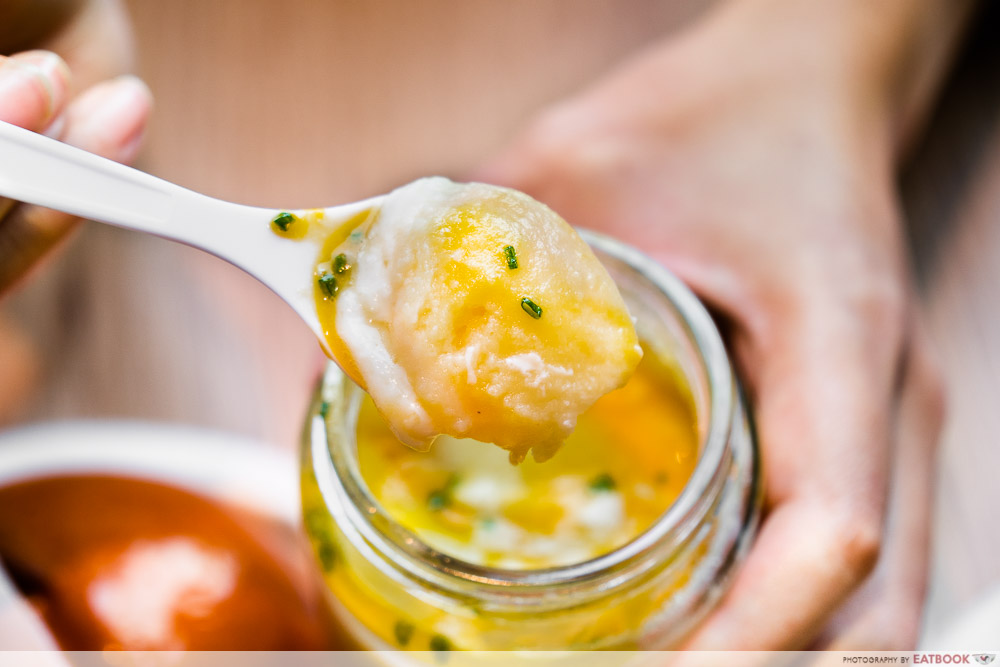 Unlike a poached egg, which is gently cooked in liquid, a coddled egg is cooked in a ramekin or dish, which in this case is the jar. Dig in with the toasted bread, or the provided spoon, and get a bit of everything in a bite. It's ultra comforting, and deceivingly filling, with a richness of flavour from the buttered puree, and the runny yolk.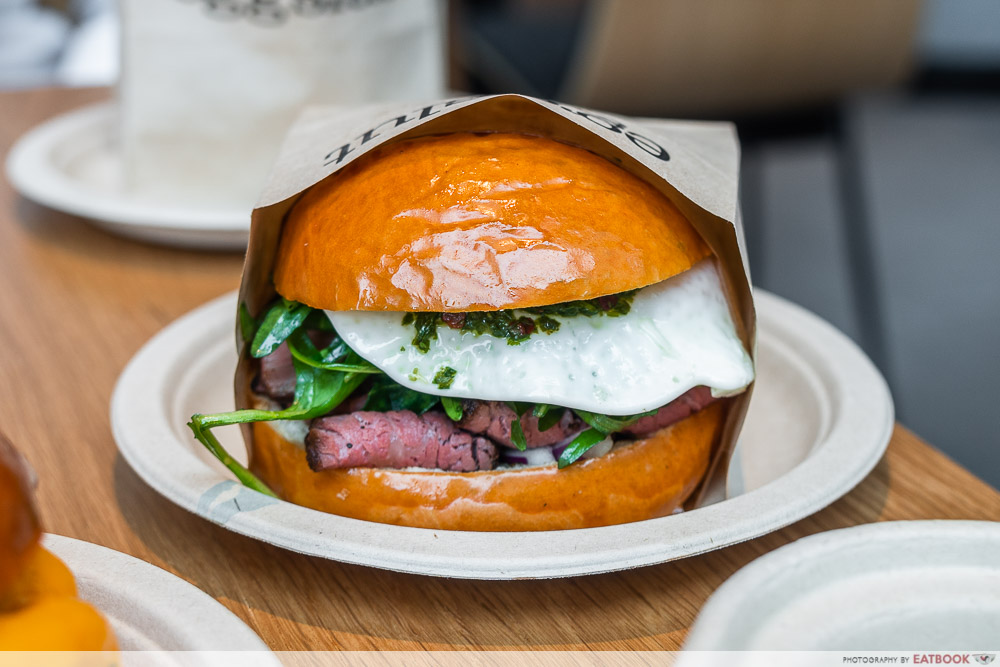 We also tried the Gaucho Sandwich ($23), layered with seared Wagyu tri-tip steak, a cage-free, over medium egg, chimichurri sauce, red onions, and dressed arugula. It's a little pricier, but you're getting Wagyu plus a semi runny Japanese egg.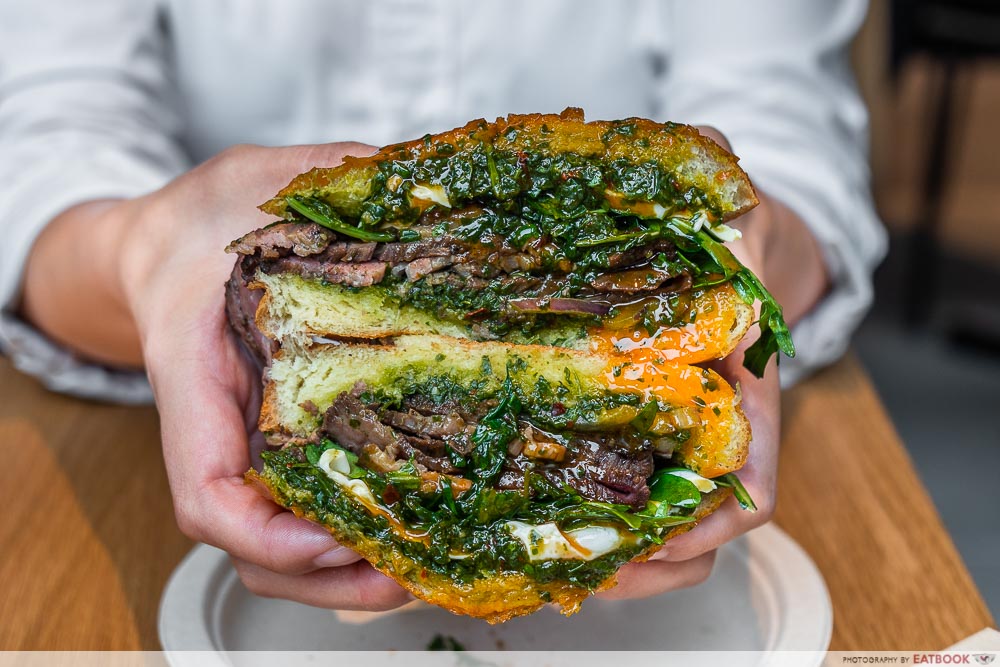 The flavours that I felt the Fairfax could do with more of were abundantly present in the Gaucho, making this my sandwich of choice when I return, although I would be happy to try the Bacon, Egg & Cheese Sandwich ($12), or Sausage, Egg & Cheese Sandwich ($12) too. The former comes with chipotle ketchup, the latter with a house-made chicken sausage, and honey mustard aioli.
It's testament to the tenderness of the medium-rare Wagyu, that I was able to easily slice the Gaucho in half with a mere plastic butter knife. The heavier, richer flavours of the beef and runny yolk were brightened with the chimichurri and arugula. Fair warning though, that my dining companion and I are Team Parsley & Coriander, both of which abound in the chimichurri.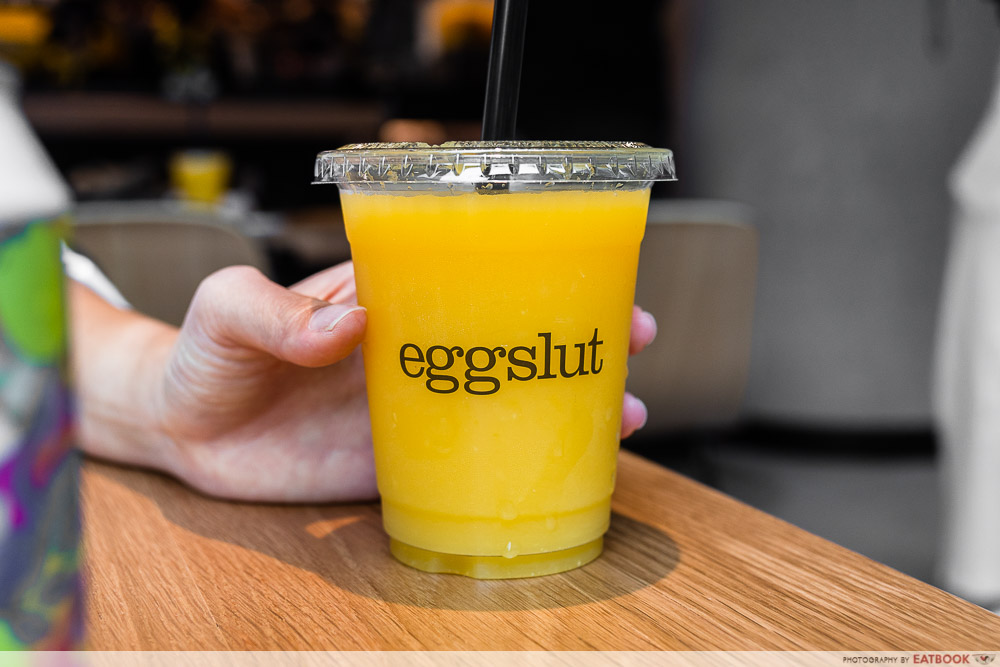 On the drinks front, Eggslut Singapore has the signature Fresh Orange Juice ($5) that's not squeezed on the premises. They've also teamed up with local craft brewery Brewlander to create two craft sodas: Elderflower & Lemon, and Grapefruit & Ginger.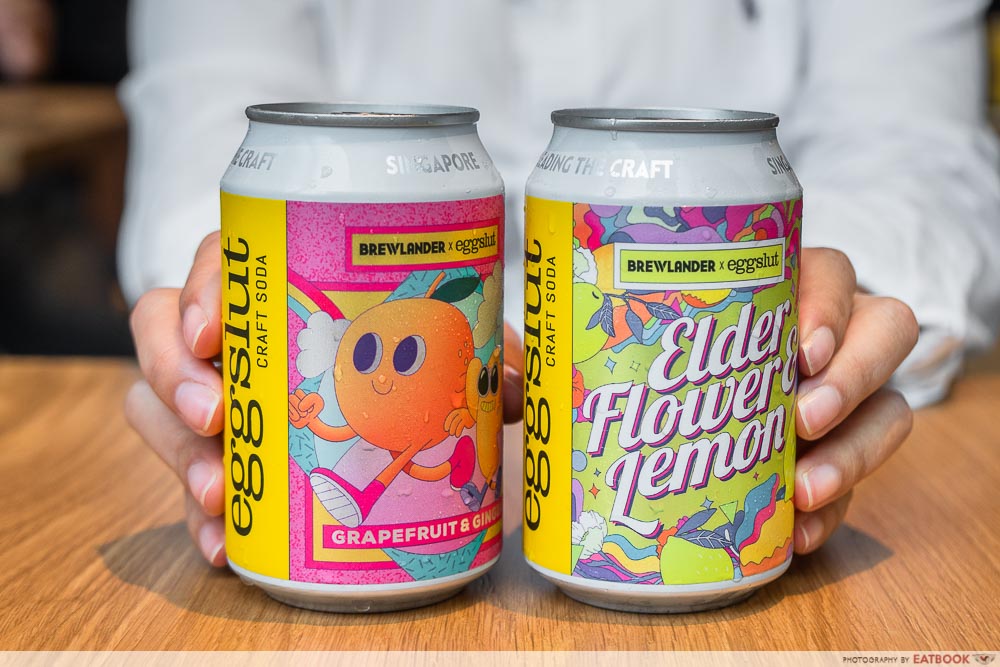 Both these craft sodas are non-alcoholic, and come in cans priced at $4.50 each. For something light and floral, go for the Elderflower & Lemon. The Grapefruit & Ginger has a punchier taste, with sharper, more acidic notes.
PICKLE Bakery Review: Buckwheat Chocraunts, Burrata Sandwiches And More At Everton Park
Ambience at Eggslut Singapore
Located on the first floor of Scotts Square, just an easy three-minute stroll from Orchard MRT Station, Eggslut Singapore is very centrally located. I'd say the only downside is that there isn't any shelter if it rains, and you're trying to cross over from either Grand Hyatt or Tangs Orchard.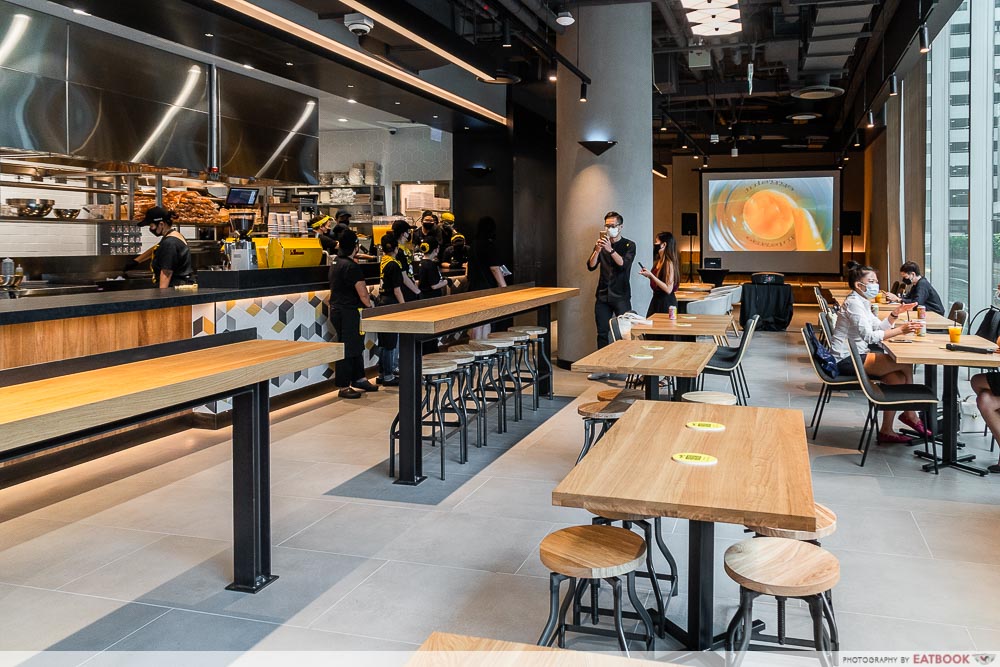 At the moment, they're able to seat 50 diners, with the capacity to take up to 92 eventually when social distancing measures are lifted. There's also a variety of seats available, so you can choose if you'd prefer bar stools or sitting around a table.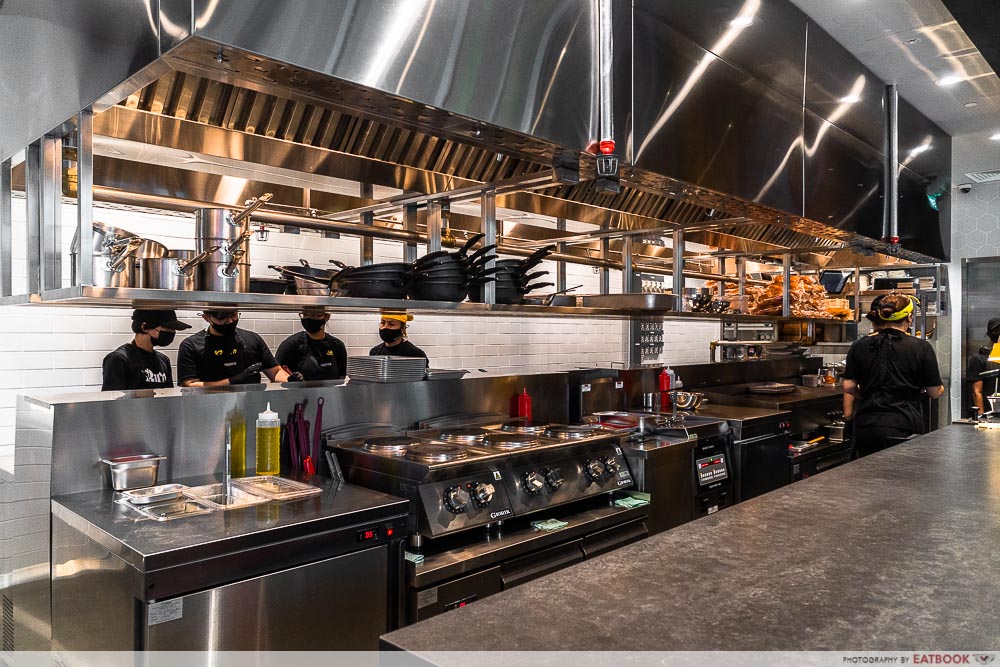 In spite of the sleek black interiors, the space has high ceilings, full-height glass windows letting in lots of natural light, and an open concept kitchen that's really the highlight of the experience.
The verdict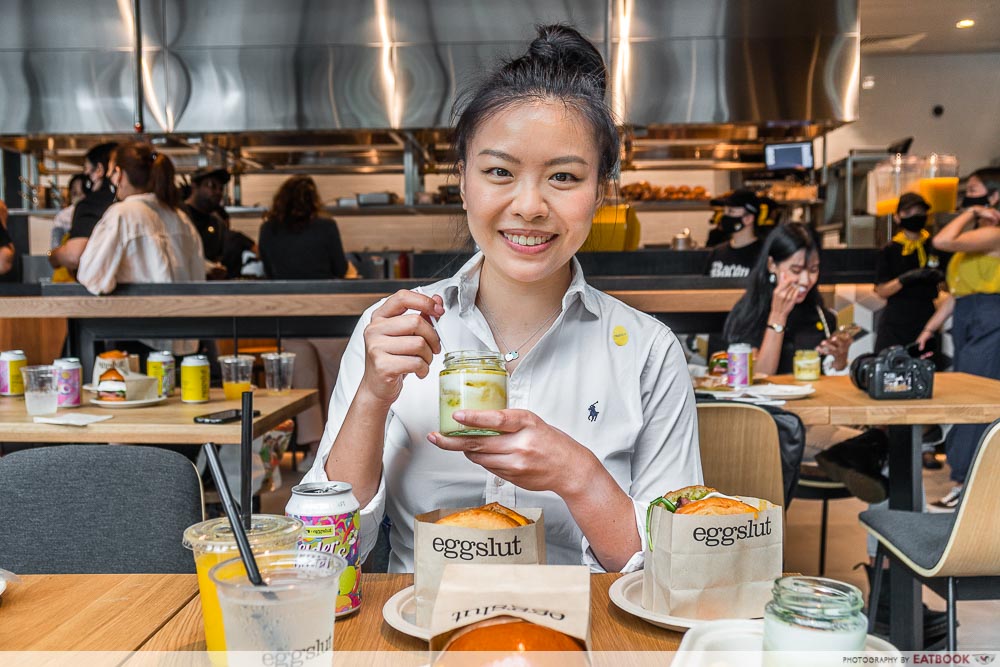 Considering the quality of the ingredients that go into each of the items on Eggslut Singapore's menu, the hefty serving sizes, and the very central location, you'll not catch me thinking twice before coming back. That's not even factoring in how much I enjoyed the Gaucho Sandwich and Slut.
If you're looking for delivery options, here's a list of sandwich deliveries! There's also PICKLE Bakery, an Everton Park store that's got burrata sandwiches and more.
Address: 6 Scotts Road, #01-12, Scotts Square, Singapore 228209
Opening hours: Daily 8am to 10pm
Website
Eggslut is not a halal-certified eatery
16 Sandwich Stalls With Delivery Including Tonkatsu And Grilled Cheese Sandwiches
Photos taken by Chew Yi En.
This was a media tasting at Eggslut Singapore
Eggslut Singapore Review: Famous Loaded Egg Sandwich With Wagyu And More In Orchard
Eggslut Singapore Review: Famous Loaded Egg Sandwich With Wagyu And More In Orchard -

8/10
Summary
Pros
– Generously stuffed sandwiches
– Flavours were great
Cons
– Fairfax Sandwich can get jelak
Recommended dishes: Gaucho Sandwich ($23), Slut ($11)
Opening hours: Daily 8am to 10pm
Address: 6 Scotts Road, #01-12, Scotts Square, Singapore 228209