Seoul Good offers delicious Korean food in a container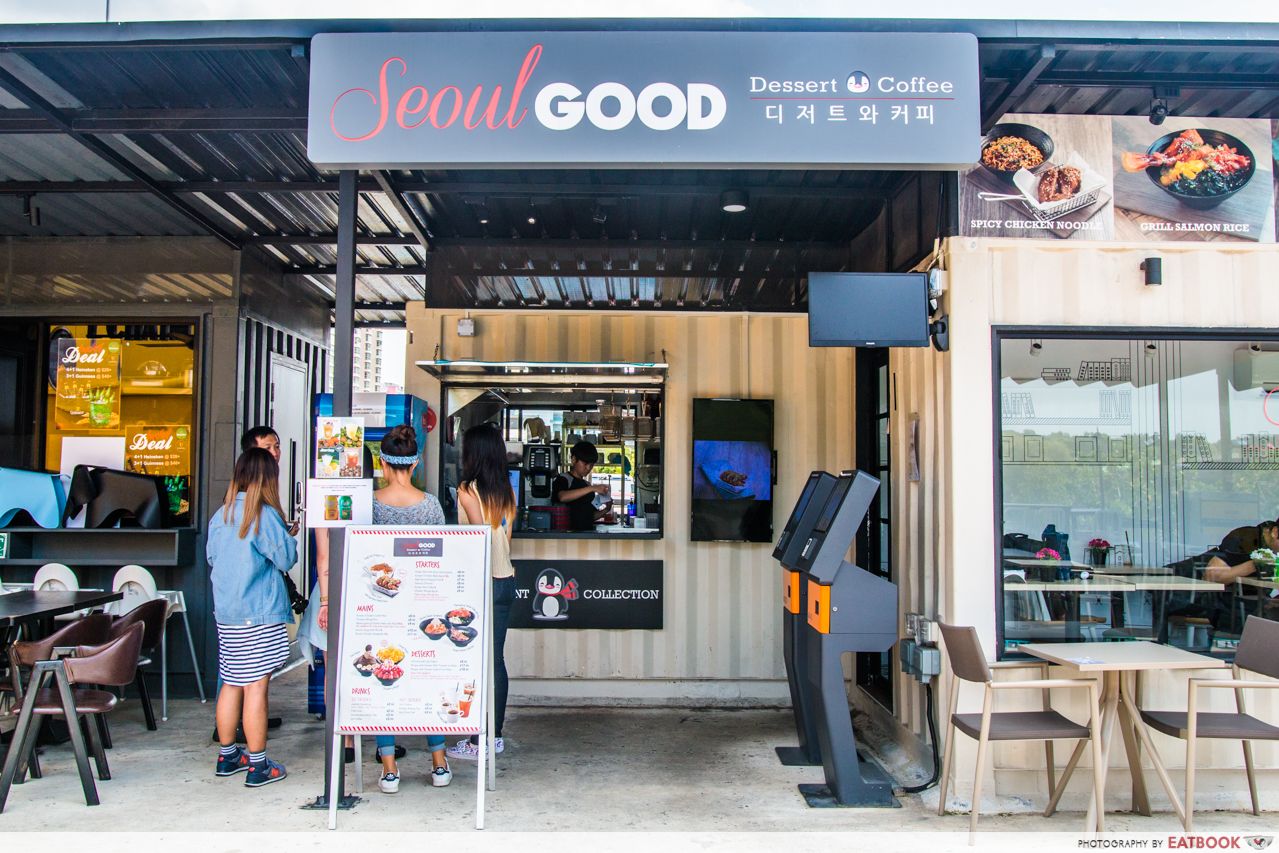 Since the Korean craze descended on Singapore years ago, dishes such as bingsu and kimchi are no longer new to Singaporeans. With the many different twists made to them, including kimchi mac and cheese and Thai-inspired Cha-Yen bingsu, I sometimes find myself forgetting what actual Korean food taste like.
So visiting Seoul Good at Punggol East's container park was a game changer. Priding themselves with food prepared without MSG and ingredients imported from Korea, this Korean eatery serves a variety of dishes such as Beef Spicy Bulgogi Fries ($7.90) and Myeongdong Chicken Balls with Rice ($9.90). Their desserts also include bingsu with a milk or yoghurt base, depending on your preference.
Food at Seoul Good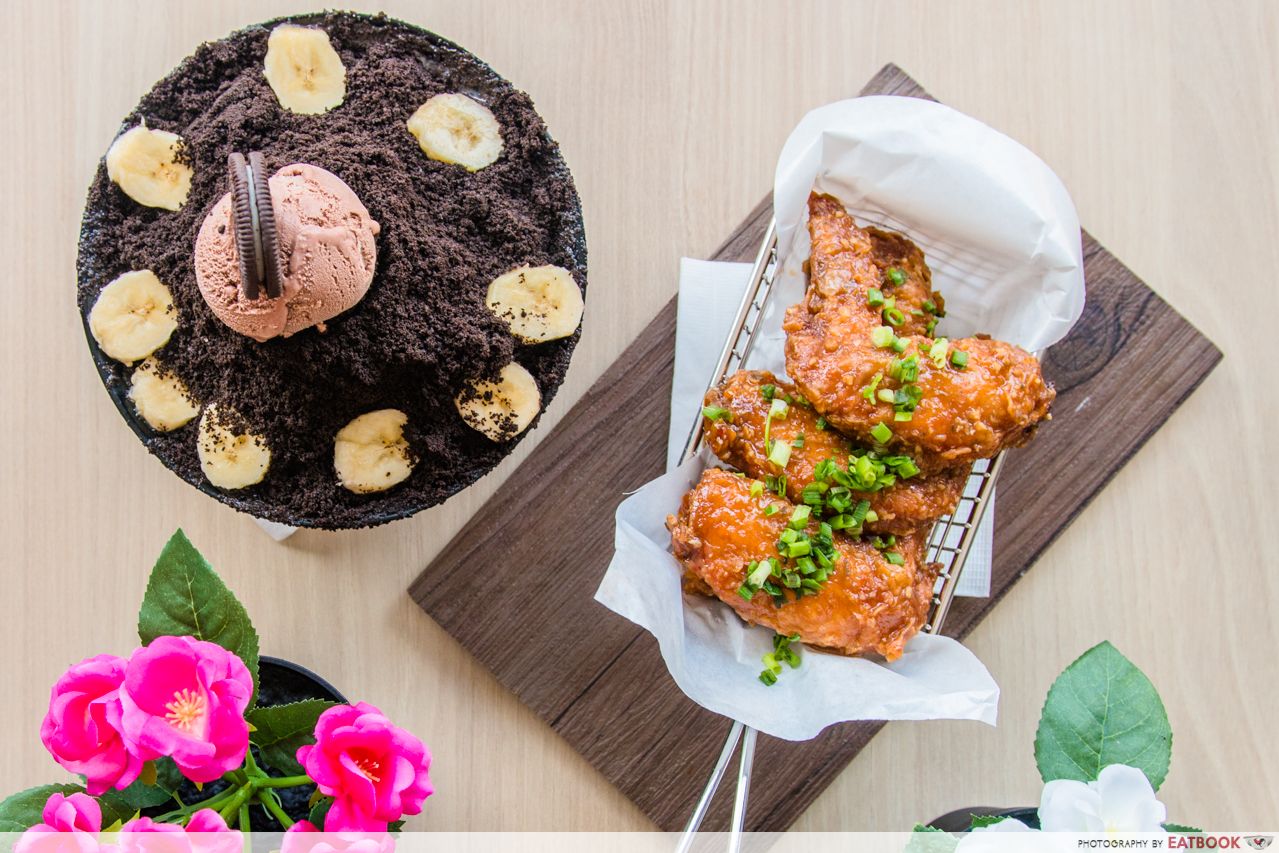 In the cafe's tiny container enclosure, we were immediately surrounded by a kind of garlicky soya sauce aroma. The cafe first specialised in fried chicken wings and bingsu, and these two signature dishes were exactly what we went for. At the automated machine where we ordered our food, we were given a selection of four different styles of fried chicken – Seoul Good signature, Seoul Good Asian, Sesame Gochujiang, and Spicy Bulgogi. They are priced at $9.90 for six pieces, $12.90 for eight pieces and $16.90 for 12 pieces.
Without having to wait long, we had our six pieces of Seoul Good Signature Chicken Wings. Aesthetics-wise, the chicken wings were definitely Instagrammable, with three wings stacked neatly on top of the drumlets in a dainty little fry basket, topped with bits of chopped scallion.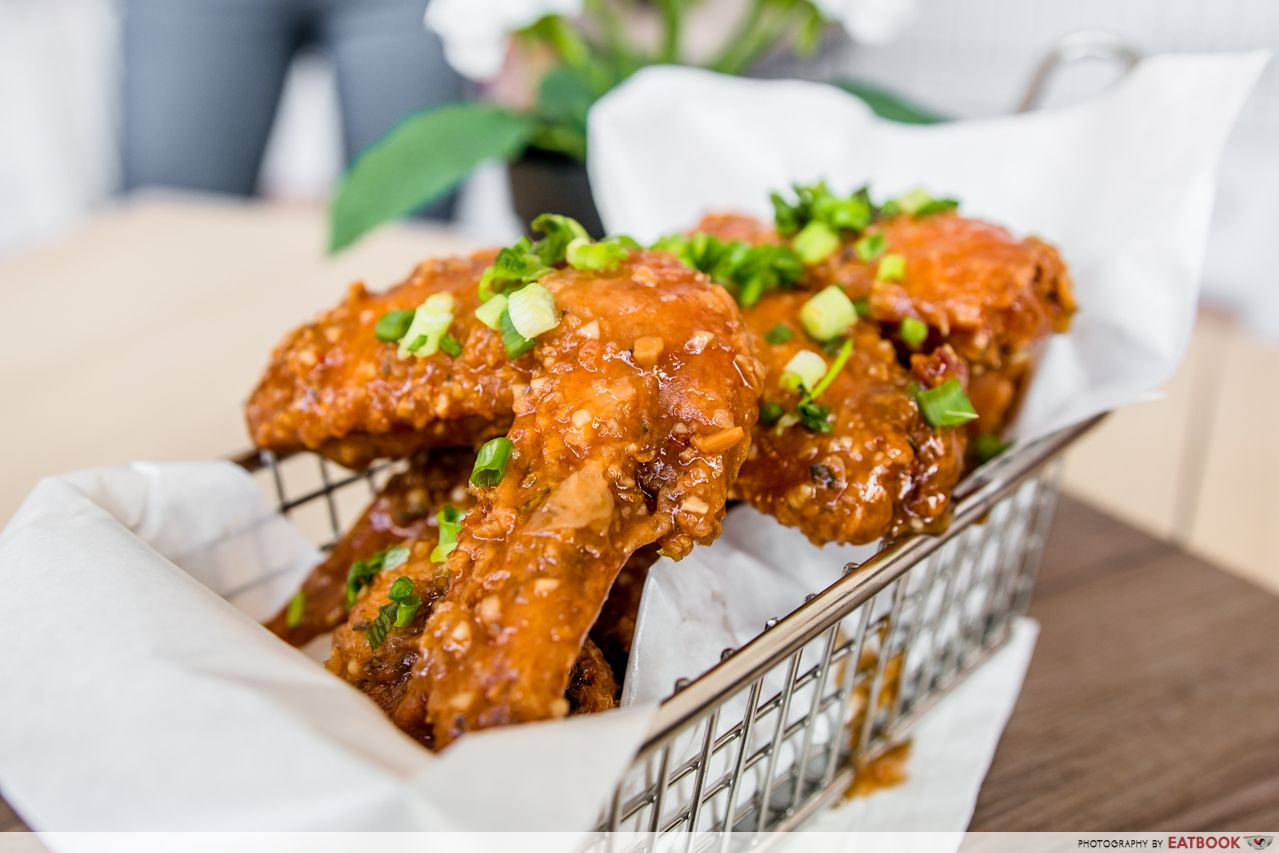 The meat was heavily coated in a thick and juicy sauce – the way I like my chicken wings done! However, when we bit into it, we came to the similar consensus that it was underwhelming as the skin was not as crispy as we had expected it to be.
As we were commenting about that to the manager of the cafe, we got to know that the sauce was made using just fermented bean sauce, honey, and sesame. This creates a naturally sweet sauce with a thick consistency. And unlike other fried chicken wings where the sauce is coated on the skin using a brush, Seoul Good ensures the meat is thoroughly flavoured by dunking the entire wing into the sauce. This explains the slightly softer texture of the meat, which I thought was a decent compromise for the flavour.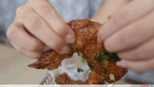 Another plus point for this dish would be the thick, tender, and well-marinated flesh, which made the price absolutely worthwhile. It had almost no fats and a generous amount of chicken meat. If you are looking for a cheat day to satisfy your craving for fried food, this would be the dish that would not leave you feeling sick from grease and fats like how some fried chicken wings would.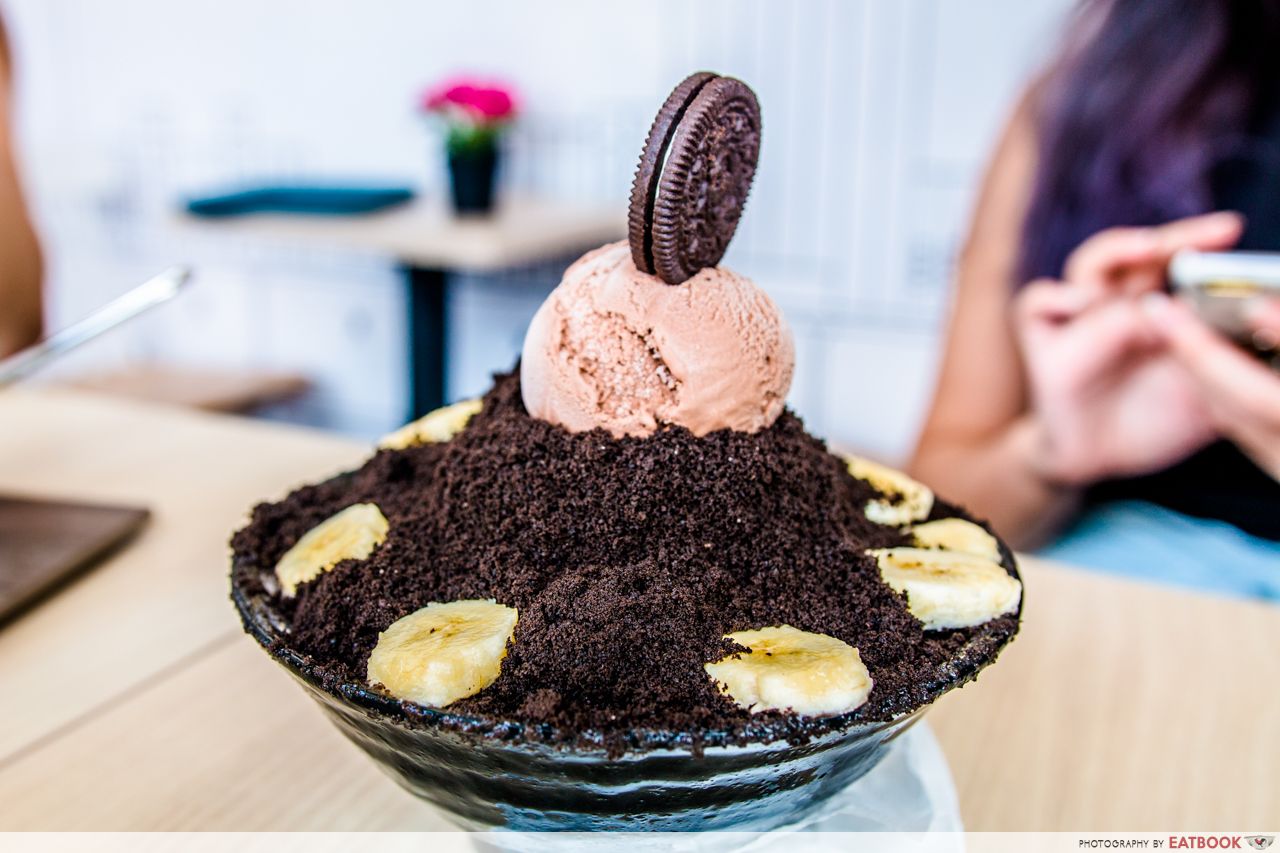 After braving the sweltering afternoon heat, we were looking forward to having a bingsu. We were spoilt for choice as they had a variety of flavours including mango, strawberry, Oreo, injeolmi, as well as red bean bingsu. For each flavour, the cafe also offers a choice between a milk base ($17.90) and a yoghurt base ($18.90).
After much deliberation, we went ahead with Oreo with ice cream milk base bingsu ($17.90). We initially felt that the price was steep for a dessert but when the bingsu was finally served, we were pleasantly surprised to find that we were not short-changed at all. There was a generous amount of milky shavings covered with a heap of fine Oreo crumbs, banana slices decorated on the sides, a scoop of chocolate ice-cream, and an Oreo biscuit that stood like a star on a Christmas tree.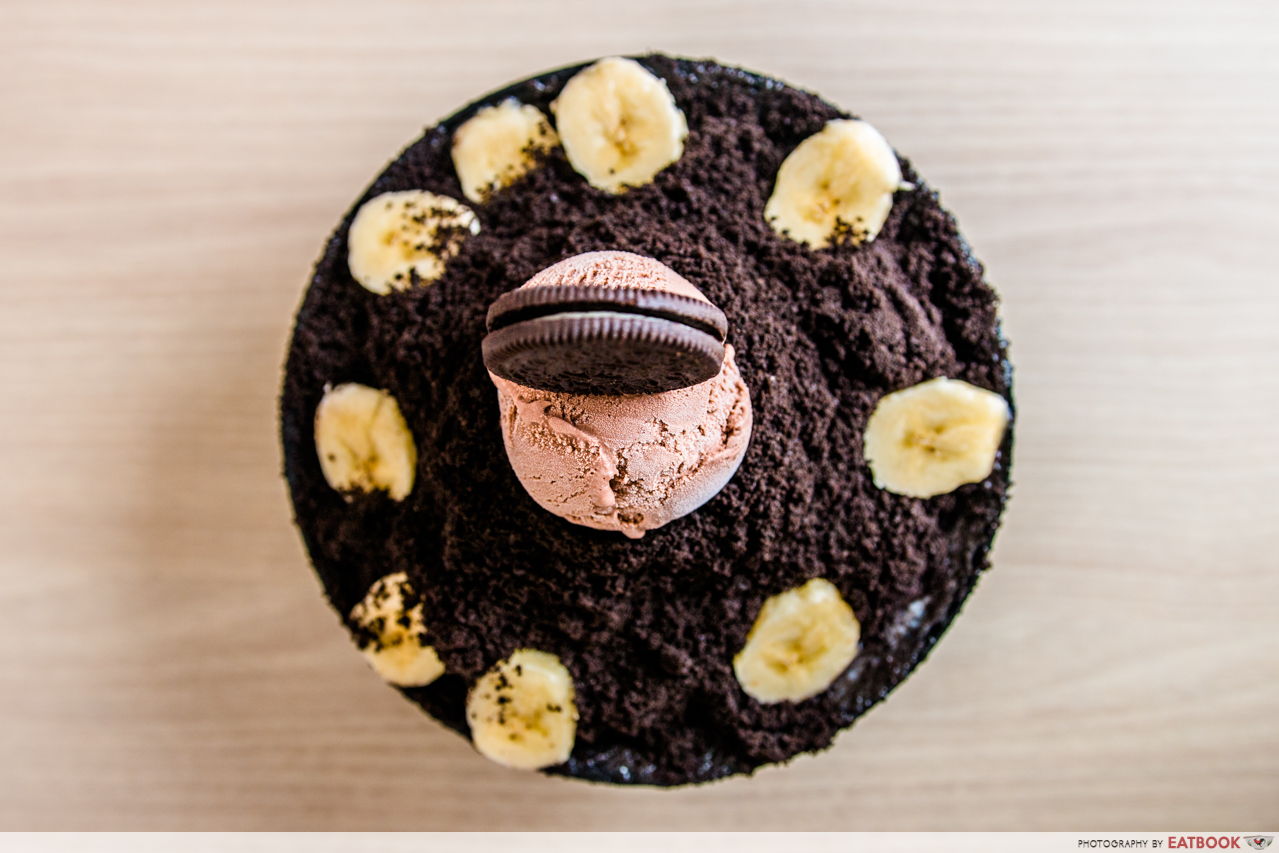 Digging into the bingsu, our first bite was nothing less than delightful. The shavings melted in our mouths and were impressively milky and creamy, unlike some icy cold and tasteless bingsu I've tried elsewhere. This one did not come with condensed milk at the side and there was no need for that. The milk shavings, along with the smooth chocolate ice-cream, gave just the right amount of sweetness.
The generous portion can feed about two to three, and all ingredients used here, such as the milk powder and even the ice-cream itself, are imported from Korea. That would explain the surprise that we had when we tried the ice-cream. Unlike typical chocolate ice-cream, this was much smoother and richer in the chocolate taste but at the same time, not as sweet as the usual ice-cream. With all that taken into consideration, we thought the slightly higher price was justifiable.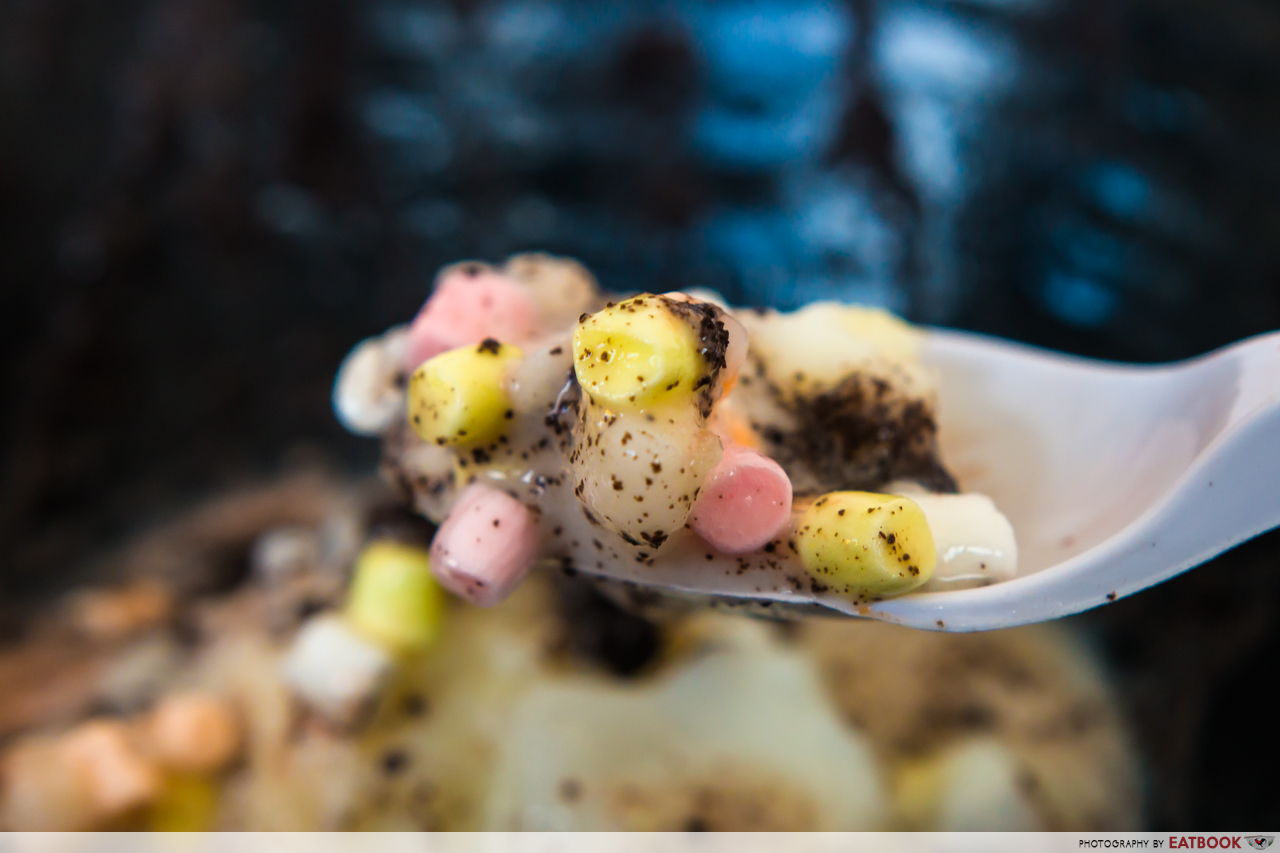 When we almost reached the bottom of the dessert, we found bits of chewy mini marshmallows, which gave the entire dessert a different texture. Depending on your luck, you will sometimes find other gems in their bingsu, such as cornflakes.
Ambience at Seoul Good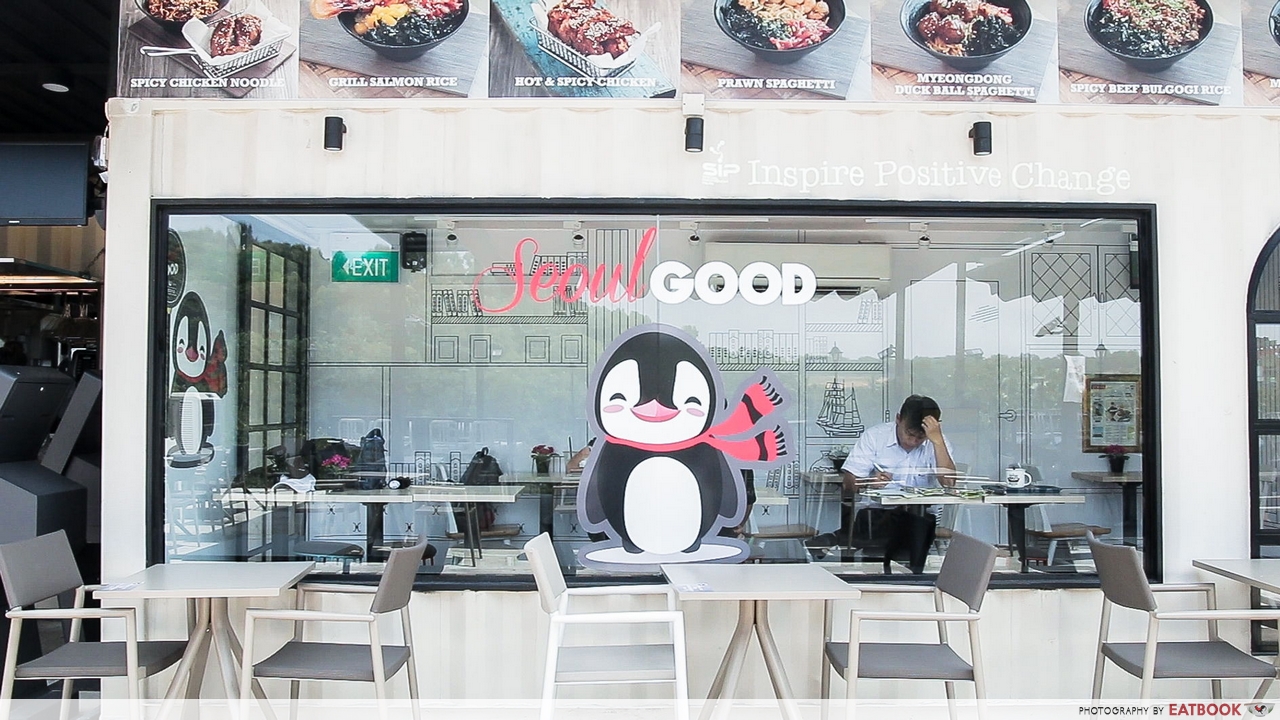 We visited the cafe in the middle of a weekday, where the area was relatively quiet. The quaint atmosphere of their air-conditioned interior would be a perfect weekday respite from the hustle and bustle of the city.
However, one can expect the small container to be filled up pretty quickly during weekends, and would have to settle for their outdoor seats. Waiting times may also be much longer during peak hours as food is prepared upon order.
The verdict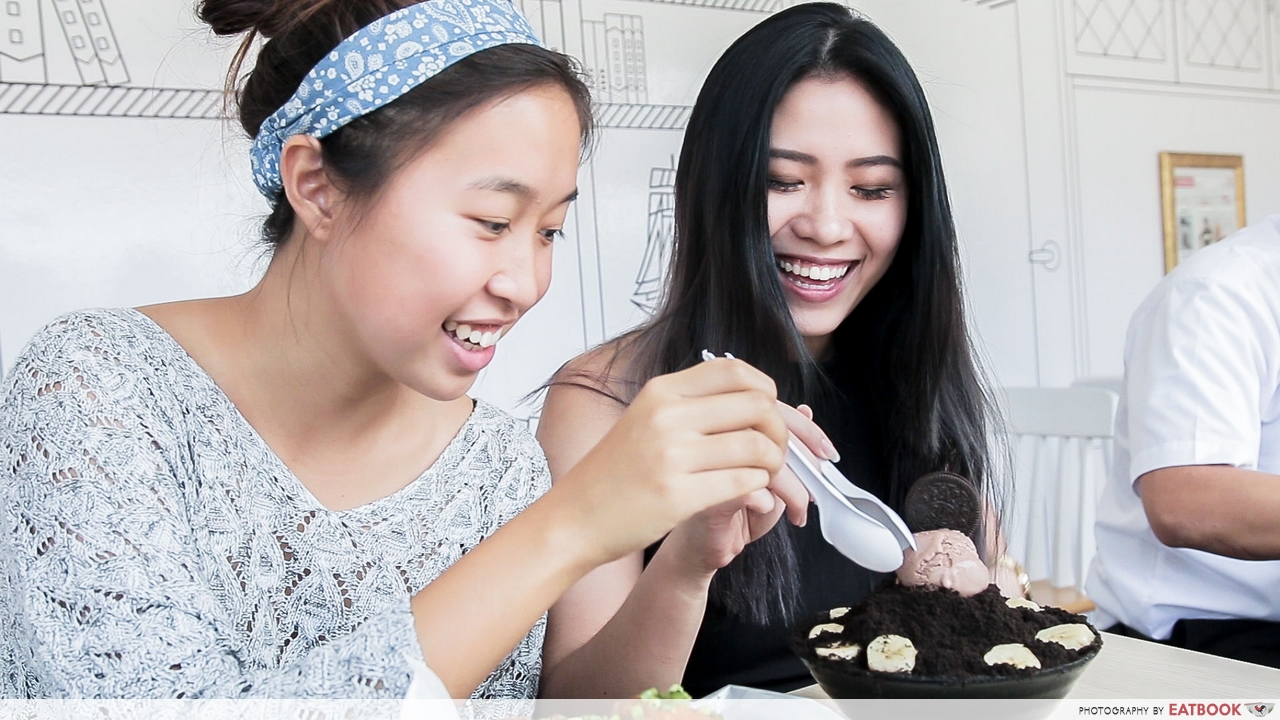 Overall, I was satisfied with the quality of food, service, and ambience of Seoul Good. The food was generally reasonably priced with generous portions, and the elegant interior of the cafe was also a plus point for those looking for a spot for their Instagram feed! For more a budget-friendly bingsu, check out our list of affordable bingsu places.
Address:50 Punggol East, #01-K36, Singapore 828826
Opening hours: Sun-Thur 12pm to 10pm, Fri-Sat 12pm to 1am
Website
Seoul Good Dessert & Coffee is not a halal-certified restaurant.
This is an independent review by Eatbook.sg.
Summary
Pros
– Reasonable prices for main dishes
– Friendly staff
– Relaxing ambience
Cons
– Limited seats in air-conditioned area
– Waiting time may be long during weekends as food is prepared upon order
Recommended Dishes: Oreo with ice cream milk base bingsu ($17.90)
Operating Hours:
Sunday to Thursday 12pm to 10pm, Friday to Saturday 12pm to 1am
Address: 50 Punggol East, #01-K36, Singapore 828826