---
Sandwich places with delivery
---
There are few things more satisfying than sinking your teeth into a hefty sandwich that's loaded with ingredients—extra points if there's cheese involved, and a double bonus if you get to eat in the comfort of home. To make that a reality, we've curated a list of 16 sandwich places with delivery, including ones that sell tonkatsu shokupan and grilled cheese sandwiches.
---
1. Korio
---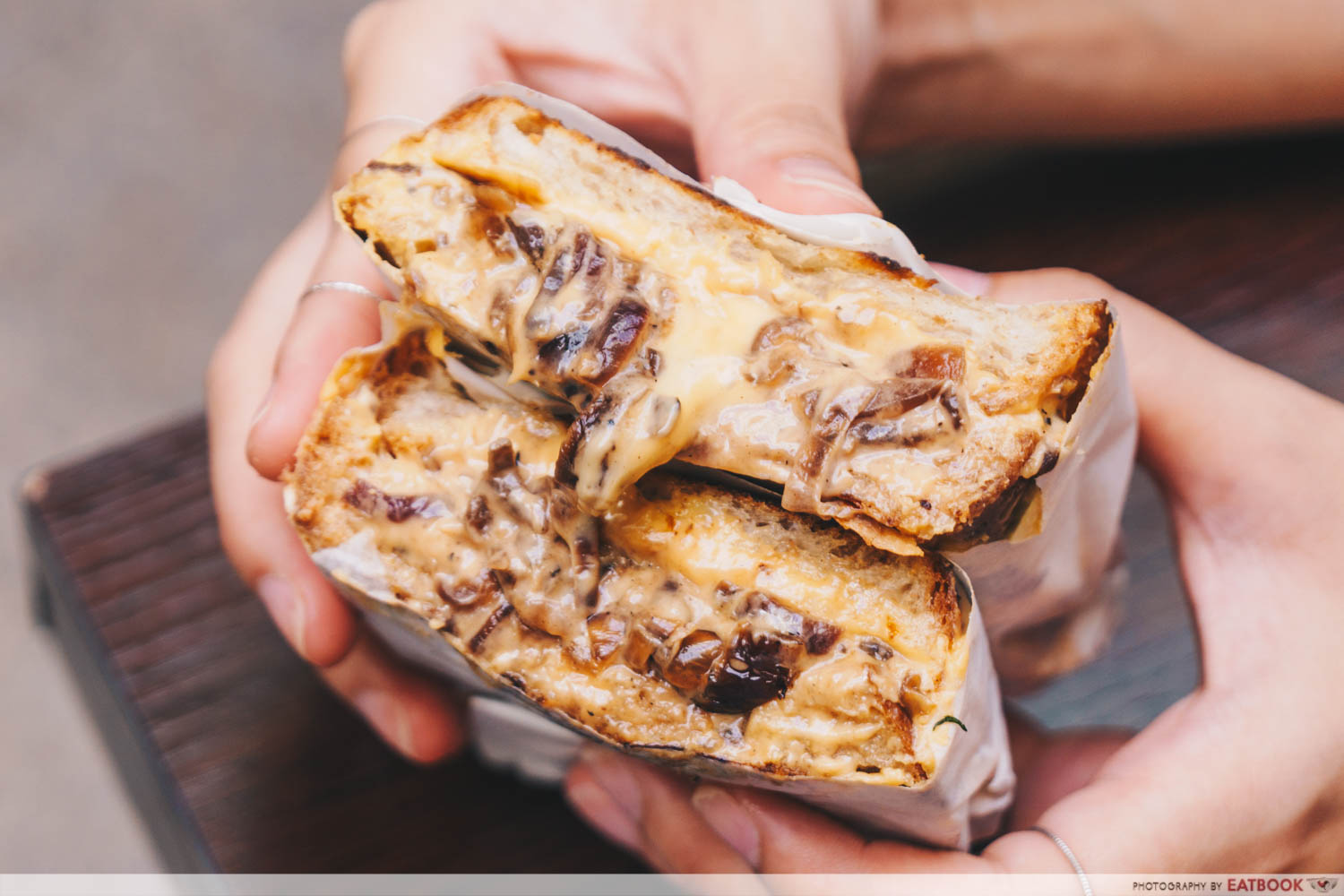 The sammies at Korio are seriously thicc, and a messy affair that's worth getting your hands dirty for. My personal favourite is the Breakfast Sammy ($14), with crispy spam, chives, American cheese, and a decadent sauce sandwiched between brioche. Meanwhile, the cheese-pull game is strong with the Grilled Cheese ($13), a hearty combination of cheddar, American cheese, and caramelised onions. As Korio does not take same-day orders, you'll have to pre-order these sandwiches for delivery one day before. Islandwide delivery is charged at $6, with a minimum order of $60.
Korio Review: Brooklyn-Inspired Brioche Donuts And Grilled Cheese Toasts At CBD
---
2. Sando
---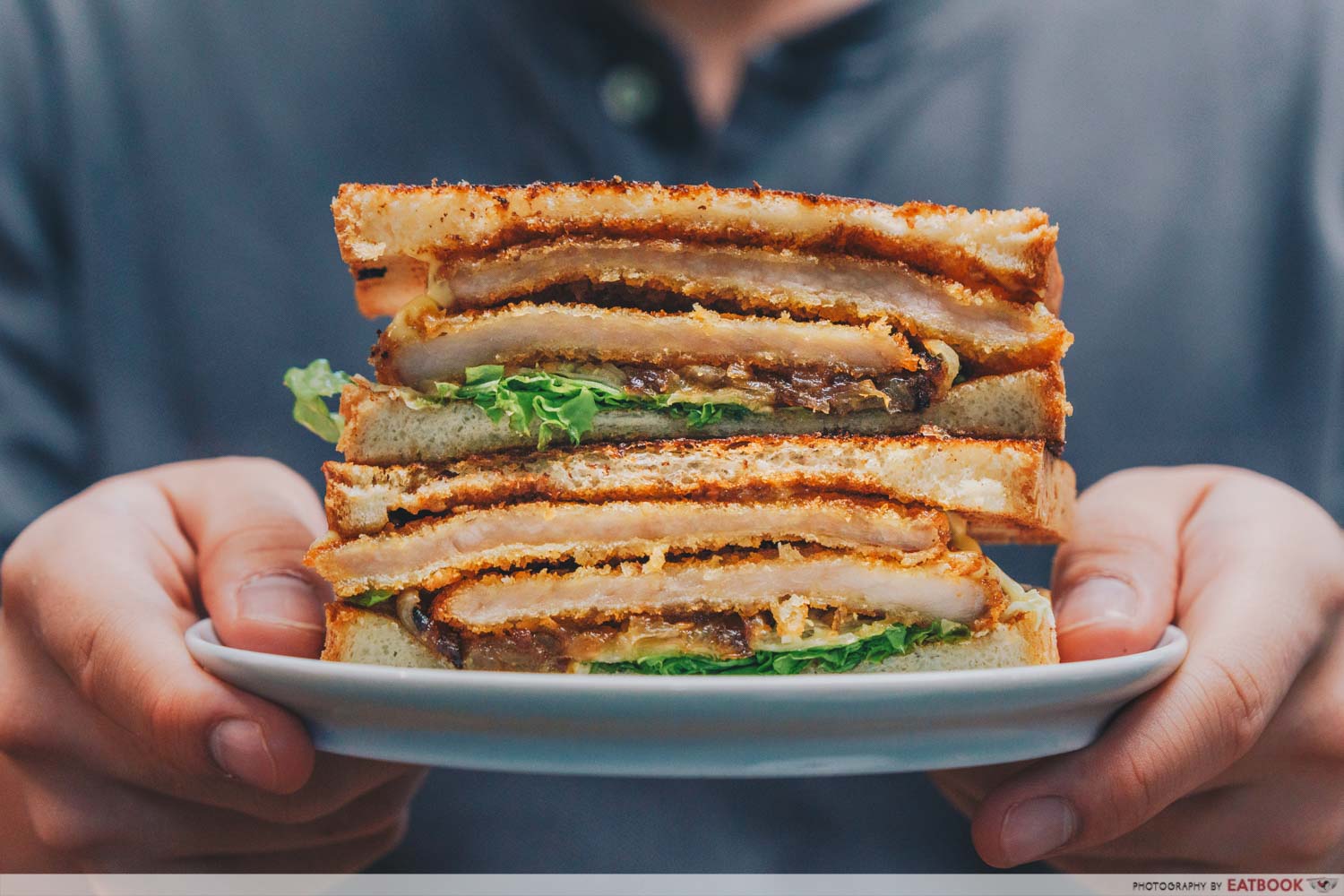 Those working around the Alexandra Technopark area may be familiar with Sando, best known for their Japanese-inspired shokupan sandwiches. I've heard many good things about the Spam Sando ($7), which features a thick cut of Spam, alongside fluffy tamago, cheddar, sriracha mayo, and veggies.
There's also their signature Katsu Sando ($11), which stars a deep-fried, panko-crusted pork loin, dressed with bulldog sauce, duck fat confit onions, and greens. These sandwich items are available for delivery at a flat rate of $6.
Sando Review: Legit Tonkatsu Sandwiches Found At Alexandra Technopark
---
3. Park Bench Deli
---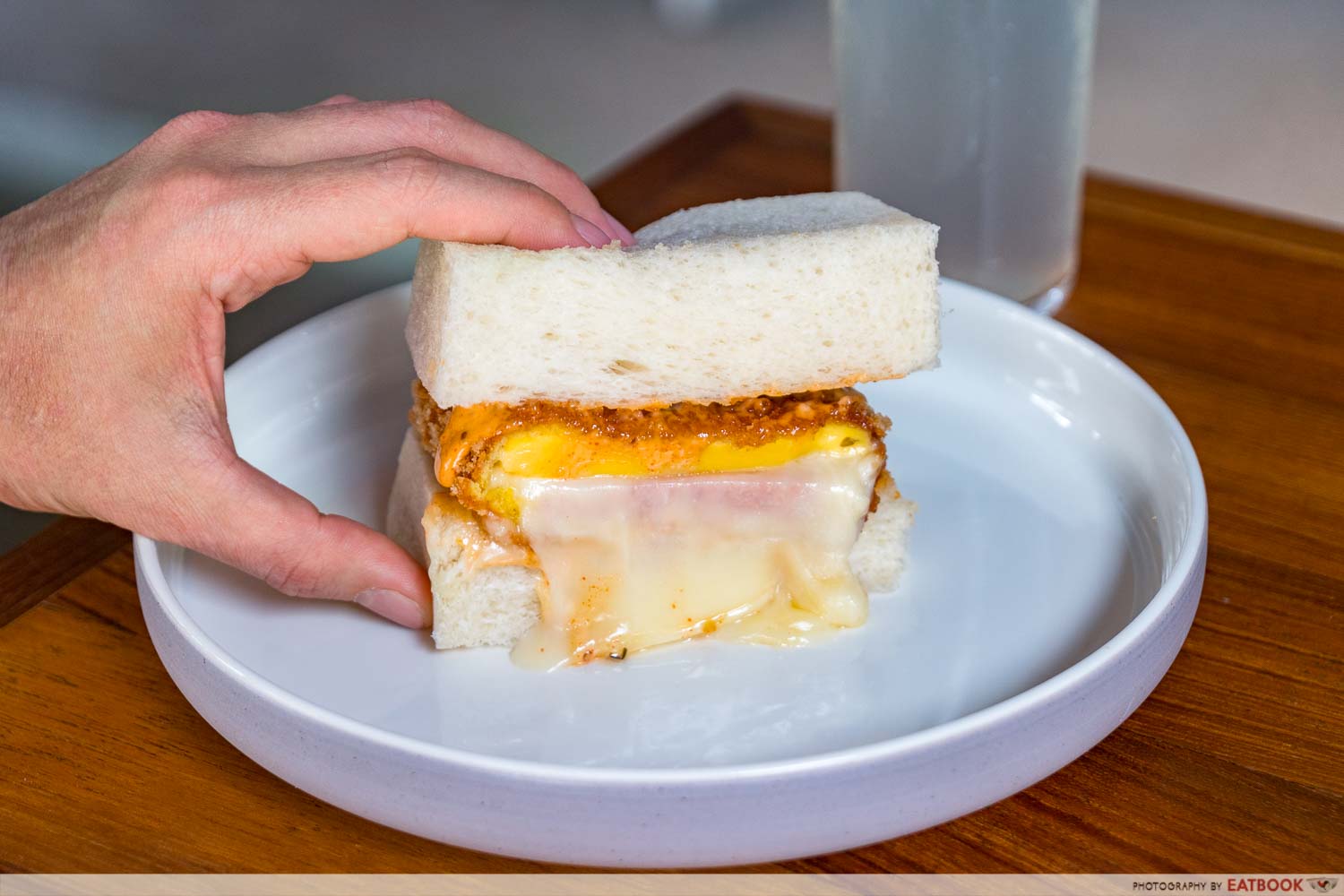 Park Bench Deli has recently reopened at Telok Ayer with spanking new items on their menu. Their Breakfast Sandwich ($15+) sees a deep-fried Spam cutlet, stacked with Swiss cheese and omelette, sandwiched between Japanese-style milk toast bread. Meanwhile, spice-loving readers can opt for the Spicy Mala Chicken ($17+), dressed in mala oil, a house special Comeback sauce, and a refreshing coriander slaw. Here, islandwide delivery is charged at a flat fee of $10.
Order from Park Bench Deli here!
Park Bench Deli Reopens In Telok Ayer With Ricotta Pancakes And Grilled Cheese Sandwiches
---
4. Egg Stop
---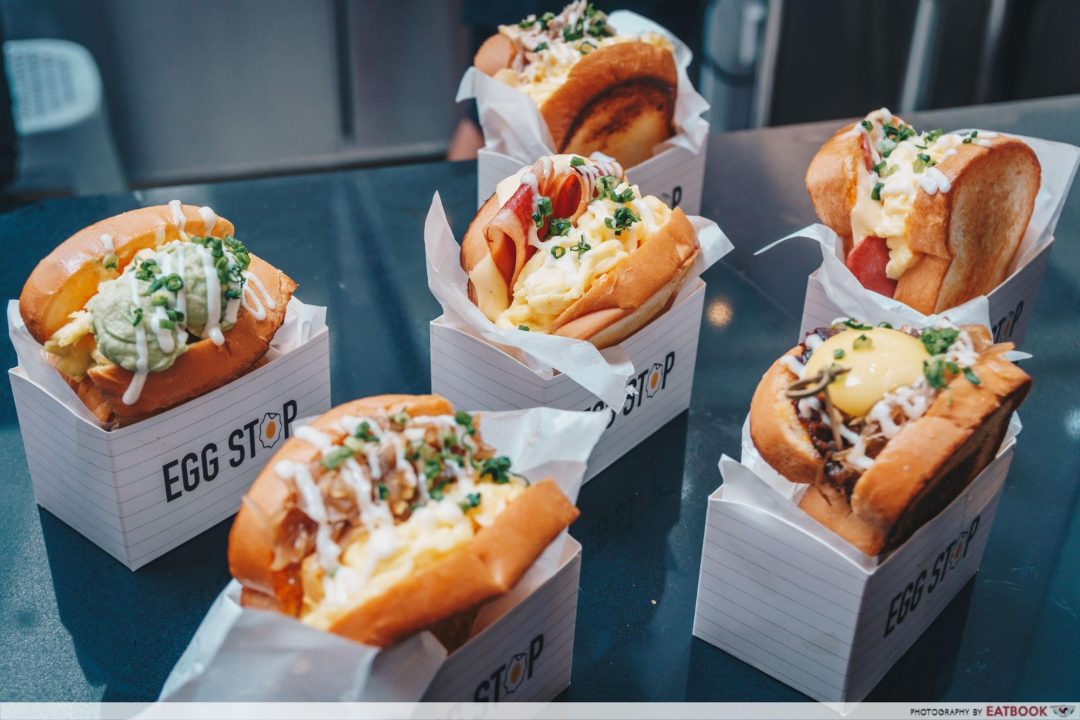 The Korean street toast at Egg Stop is my number one guilty pleasure, and I especially love the fluffy, buttery milk bread that they use in their sandwiches. An easy favourite is the Chicken Ham & Cheese ($4.50), further topped with creamy scrambled eggs and a drizzle of Egg Stop's signature mayo-based sauce. There's also the Fried Chicken Sandwich ($6.90), if you're in the mood for something greasy and indulgent. 
To order, simply send a DM to their Instagram page. Delivery is charged at a flat rate of $10, with a minimum order of $30. Alternatively, you can find them on GrabFood, Foodpanda, and Deliveroo.
Egg Stop Review: Korean Street Toast Shop With Scrambled Eggs In Singapore
---
5. Baker's Bench Bakery
---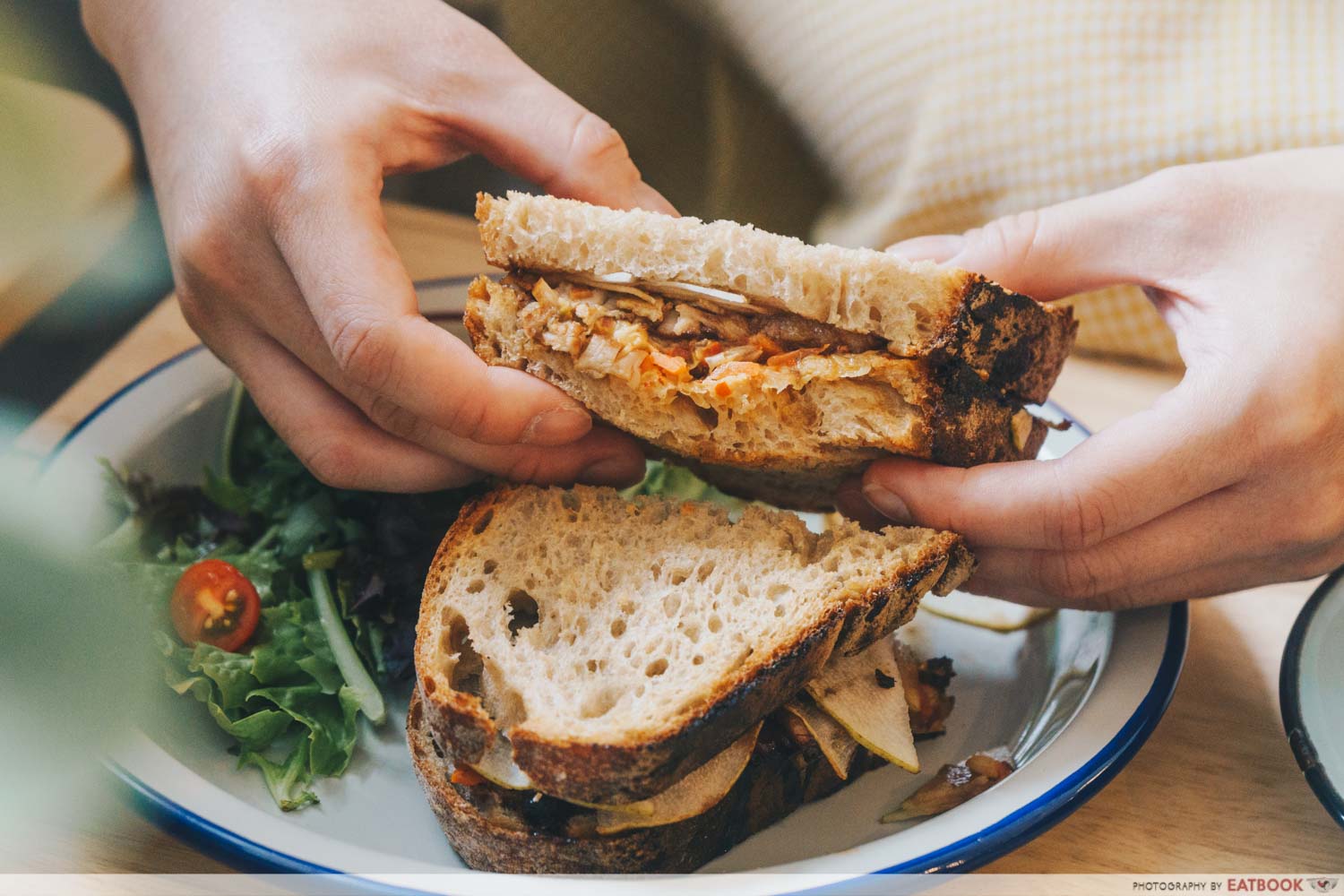 Baker's Bench Bakery is a humble bakery cafe located amidst the line of shophouses at Bukit Pasoh. Here, their hot sandwiches are made with their home-baked sourdough. If you're big on flavour, go for the BBQ "Cubano" ($16), a savoury-sweet combination of pulled pork shoulder, smoked ham, dijon mustard, cheddar, and pickles. If not, there's the Pesto Chicken And Cheese Toastie ($15), flavoured with a basil-arugula cashew pesto. 
Pre-orders are recommended at least two days in advance to confirm a delivery slot. Delivery fees are also charged according to distance, though locations within a 2km radius of the store are entitled to free delivery with a minimum order of $25. To order, simply send a DM to their Instagram page.
Baker's Bench Bakery Review: New Minimalist Cafe With Build-Your-Own Brunch Platters And Pork Belly Sourdough
---
6. Two Men Bagel House
---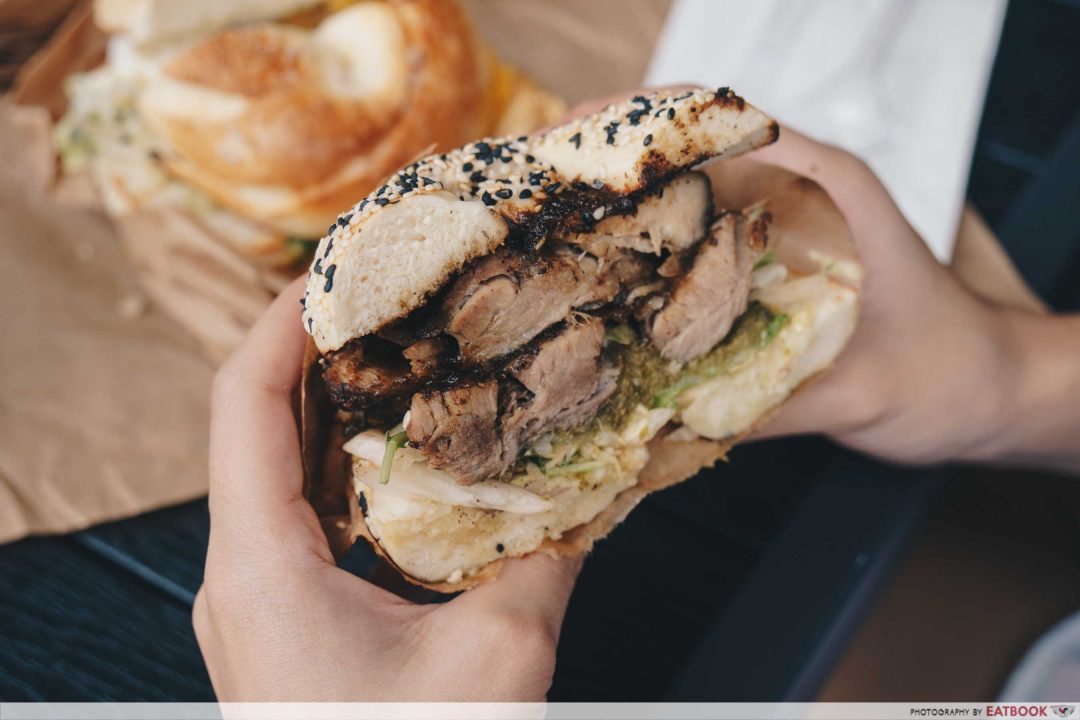 Two Men Bagel House is a perennial favourite amongst Singaporeans for hearty, stacked bagel sandwiches. Sandwich items at their Holland Village and Tanjong Pagar outlets are available for delivery to locations within a 10km radius.
The menus across both outlets differ as well. My picks from the Holland Village outlet would be the Hangover Helper ($14+) and 5 Ways ($15+). The former is a loaded breakfast 'wich dressed in parmesan aioli, while the latter features a Taiwanese fried chicken patty, alongside house-made white kimchi and fermented beancurd mayo. As for the Tanjong Pagar outlet, the Supamu ($14+) is an easy favourite, made with fried Spam, sunny-side-up eggs, cheddar, greens, and a habanero jam.
Here, delivery fee varies according to distance, with a minimum order of $50. These are also available on GrabFood and Deliveroo.
Order from Two Men Bagel House here
Two Men Bagel House 2.0 Review: Smoked Meat Bagel Sandwiches With Spiced Ribs
---
7. PIVOT
---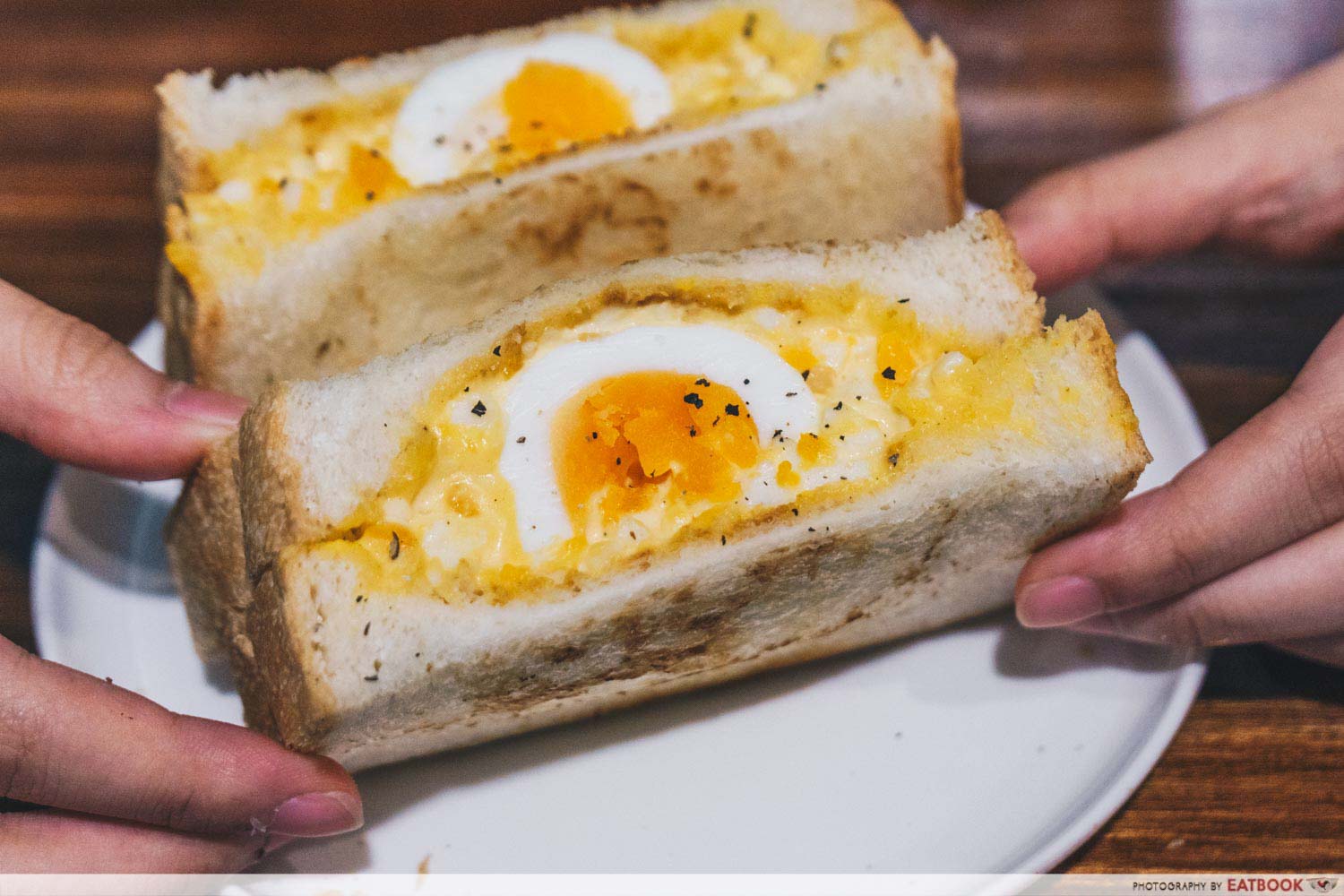 If you've been to a convenience store in Japan, chances are you've tried their thick tamago sandwiches, layered with egg mayo and a hanjuku egg. While we can't travel right now, PIVOT offers such sandwiches and more, all available for delivery on GrabFood and Zig.
Their Tamago Sando ($8.10) sees creamy egg mayo and a whole, jammy egg sandwiched between fluffy shokupan bread. Other sandwiches include the A.R.S.E ($17), made with pastrami and sauerkraut, as well as the Chicken Rendance ($16), a combination of rendang chicken, caramelised onions, tomatoes, and spinach.
PIVOT Review: Tamago Sandos And IG-Worthy Hojicha Cakes At CBD Cafe
---
8. Sarnies
---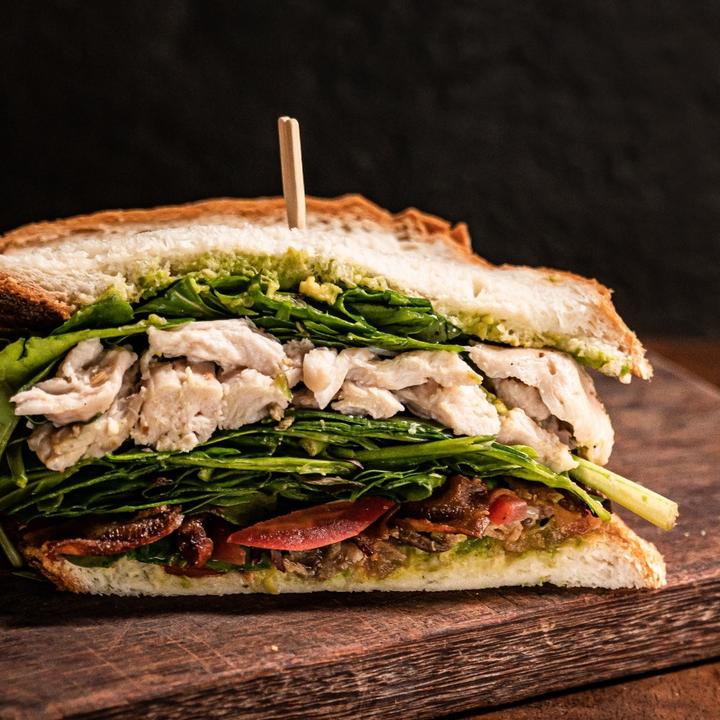 Image credit: Sarnies Singapore
Sarnies is a long-time cafe serving up sandwiches, coffee, brunch fare, and more. Their sandwich items are available for delivery through Mondays to Fridays, between 10am and 5pm. A classic order would be the Smoked Salmon Sandwich ($15.20), stacked high with smoked salmon slices, capers, onions, and mesclun. If not, opt for the Tandoori Chicken Sandwich ($15.80), a flavourful combination of tandoori chicken, raita, mesclun, tomatoes, and a tangy yoghurt dressing. Delivery fees start from $5 and are waived for orders above $45.
---
9. Carrotsticks And Cravings
---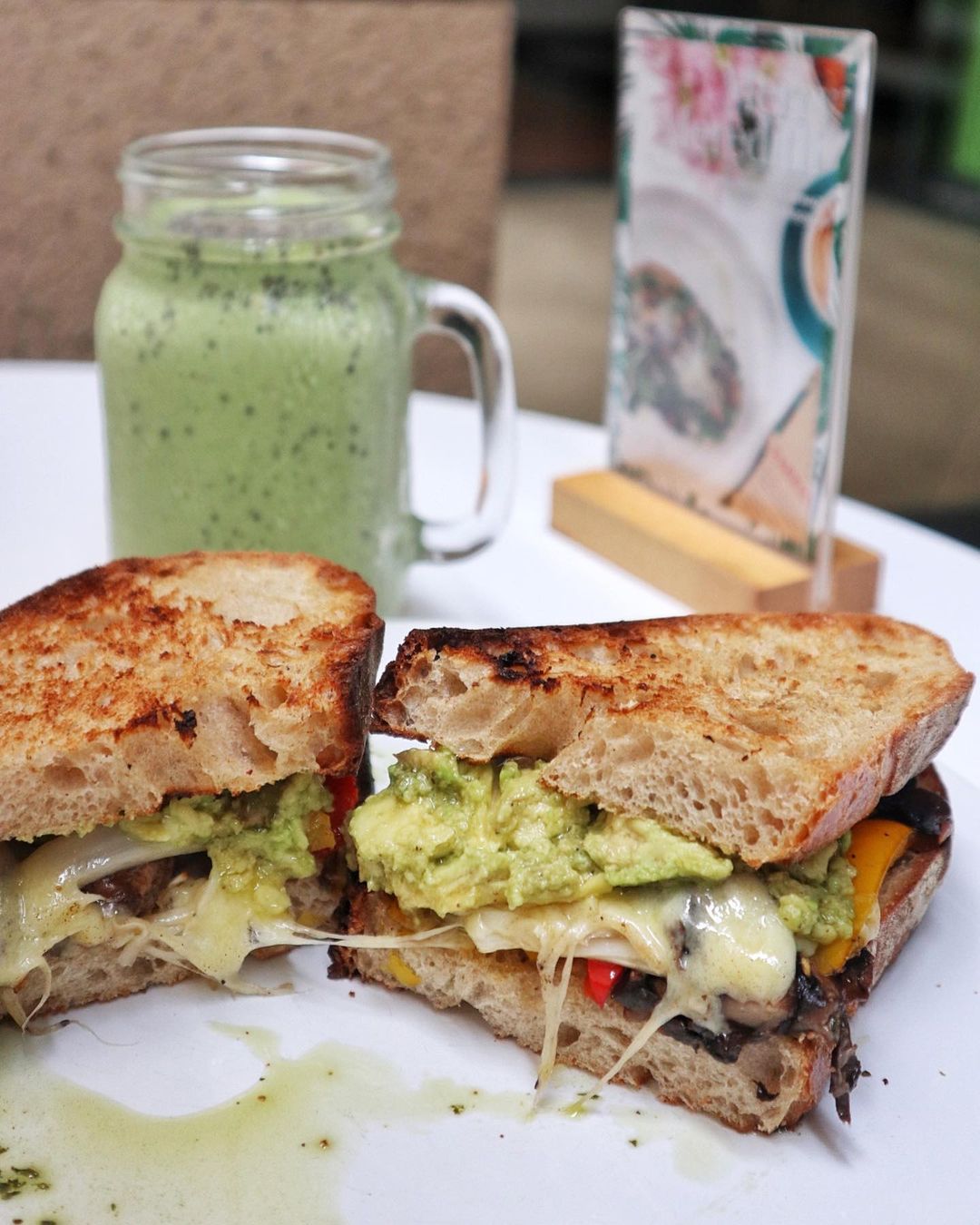 Image credit: @foodieggy
Carrotsticks And Cravings have an incredibly inclusive menu, with vegan, dairy-free, and gluten-free options. A sandwich that's both healthy and hearty is the Manwich ($20+), packed with roasted leg ham, creamy avocado, and stringy cheddar cheese. If you're looking for a vegetarian option, there's The Greek ($18+)—a tower of roasted bell peppers, eggplant, caramelised onions, and feta cheese. To make it vegan, all you have to do is swap out your feta for vegan nut cheese! 
Islandwide delivery is now available from both their Dempsey and Robertson Quay outlets, on Grabfood and Deliveroo. Otherwise, you can WhatsApp these outlets at 8128 9926 or 8128 9326 respectively.
View the Carrotsticks And Cravings menu here!
---
10. Meatsmith
---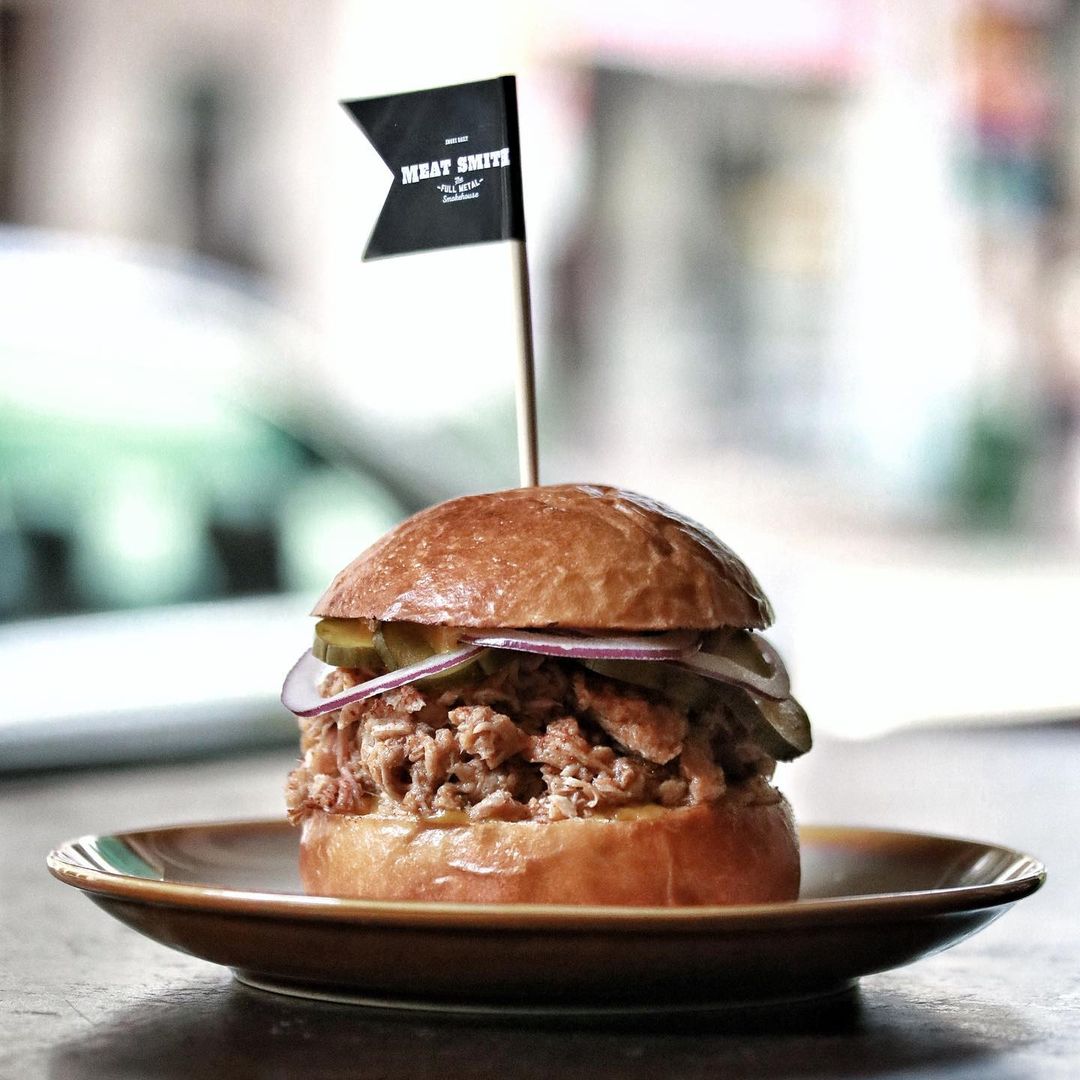 Image credit: @meatsmith_sg
While Meatsmith is known for their barbecued meats, this restaurant also offers an indulgent selection of sandwiches. There's the Brisket Sandwich ($20), dressed with smoked brisket, mayonnaise, BBQ sauce, red onions, and pickled cucumbers. They also have a classic Pastrami Sandwich ($22), served with sauerkraut, emmental cheese, and a Russian dressing. Do note that there's a minimum order of $50 for this restaurant for delivery, which is priced at $10.70.
---
11. Ballad Of Anna May
---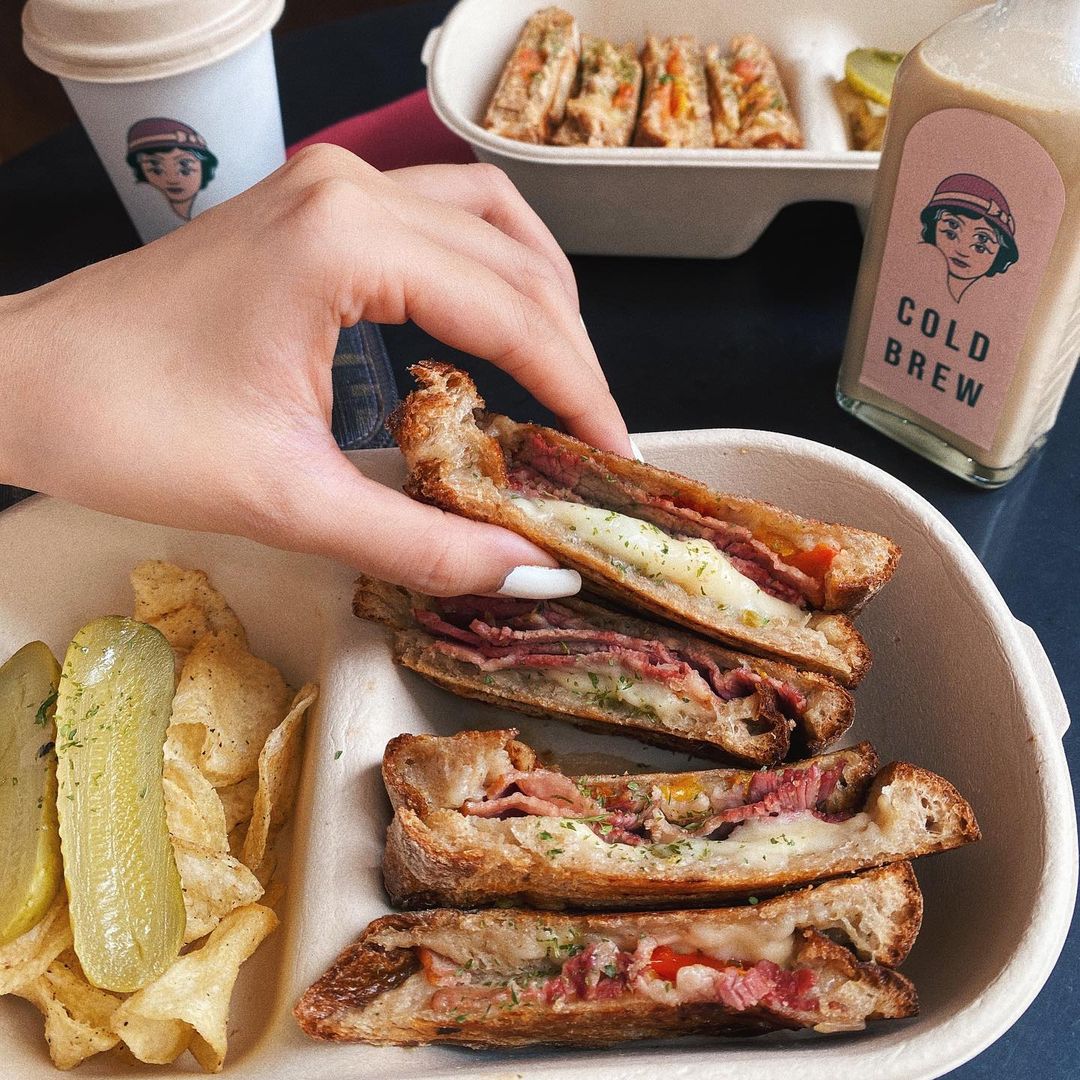 Image credit: @fatty.png
Sharing space with a barbershop, Ballad Of Anna May is a hole-in-the-wall cafe tucked away in Tanjong Pagar. Here, you can expect buttery toasted sandwiches, all served with a side of salt-and-pepper chips and pickles. Their signature is The First Born ($14.95), stuffed with tender beef pastrami, Swiss cheese, mozzarella, and roasted bell peppers. Otherwise, their Dangerous To Know You ($14.95) toastie is a hot favourite, packed with four kinds of cheese, then finished with a touch of sage. These sandwich items are all available for delivery on GrabFood.
---
12. Sandwich Saigon
---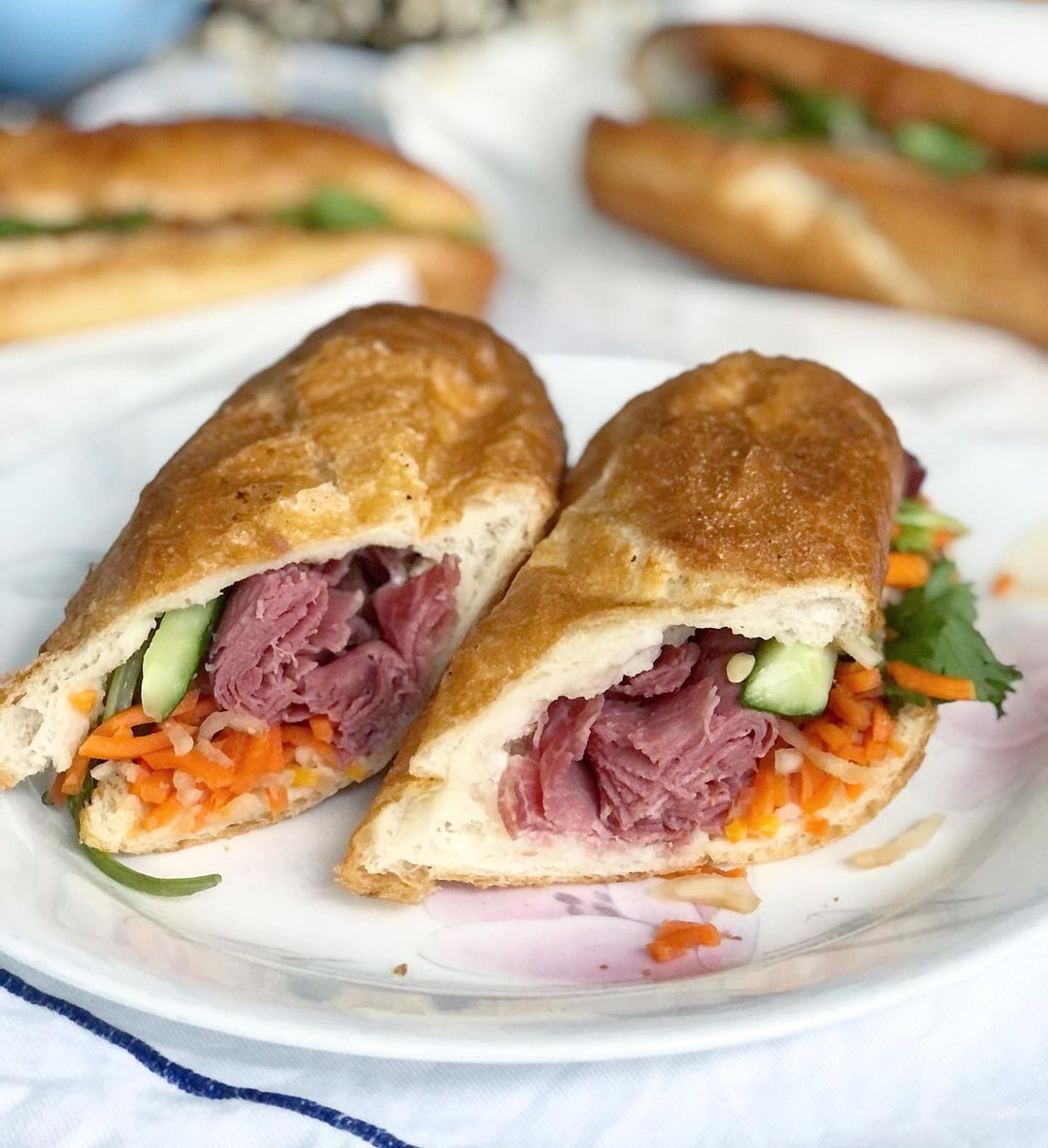 Image credit: @gotummygoh
One of my favourite Vietnamese dishes has to be banh mi, and Sandwich Saigon delivers these delectable baguette sandwiches to your doorstep. A must-order is the Saigon Special Sandwich ($8), which sees pork belly, ham, cucumber, carrots, pickles, and coriander stuffed within a crisp baguette. Other noteworthy items include the Smoked Chicken Sandwich ($9) and Roast Beef Sandwich ($9). Here, the delivery fee varies according to distance.
Order from Sandwich Saigon here!
---
13. Bread Yard
---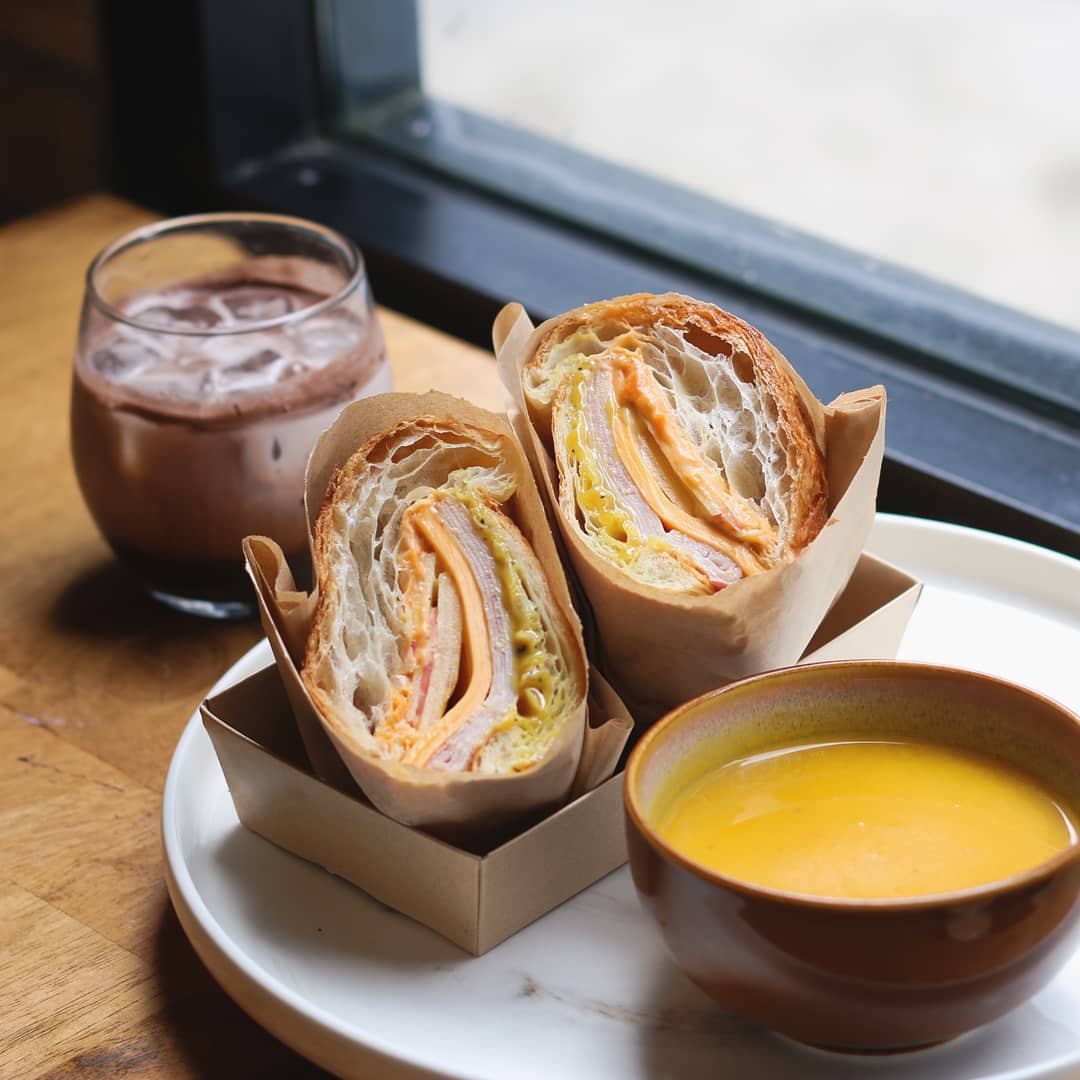 Image credit: @breadyard
I've been patronising Bread Yard ever since my secondary school days for their affordable sandwiches and brunch fare. You can't go wrong with their Cheesesteak Sandwich ($14+), which sees sliced ribeye steak, mushrooms, cheese, and onions sandwiched between rye bread. There's also the Chicken Shawarma ($12+), a Middle Eastern-inspired affair, served with hummus, dill pickles, tahini, and peri peri sauce, in a New England bun. Bread Yard is also waiving delivery fees for orders above $60. Otherwise, delivery is charged at $10.
---
14. The Sandwich Shop
---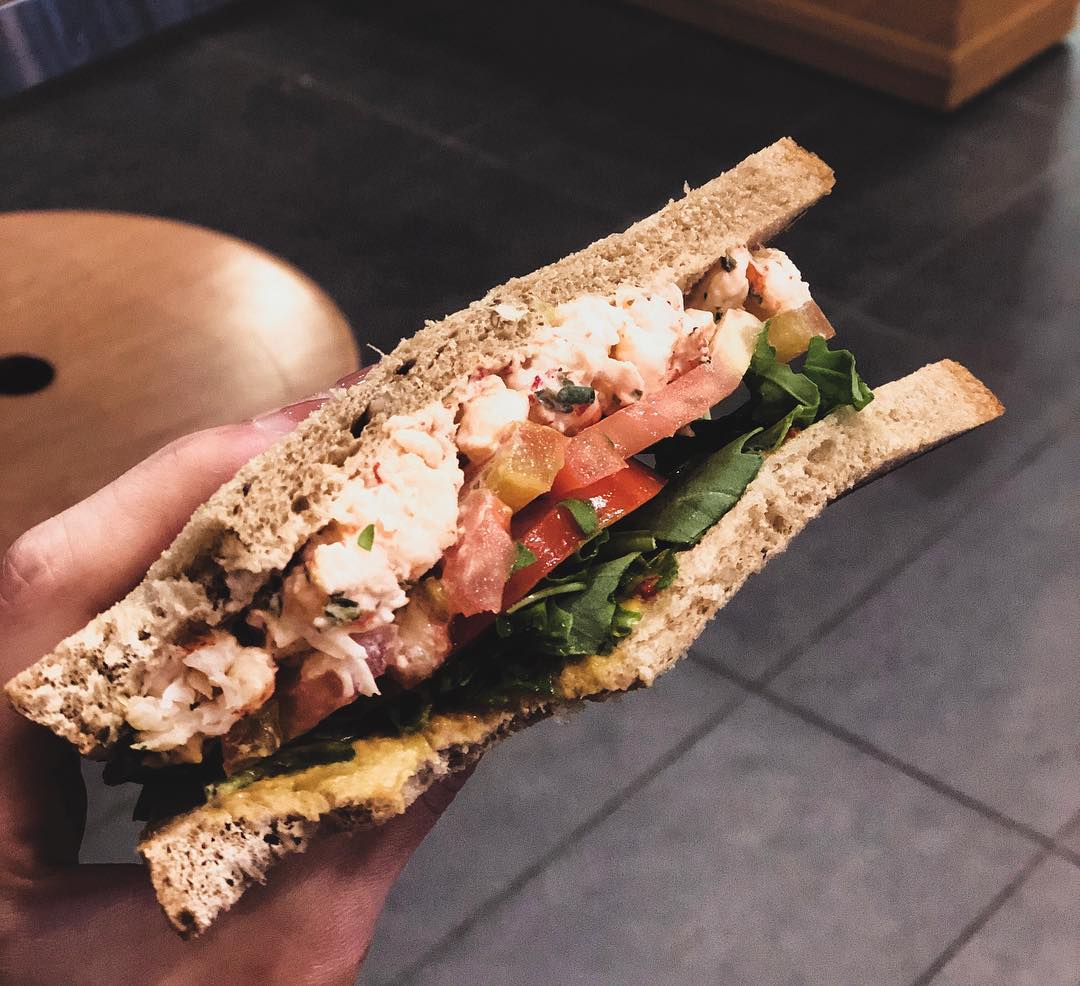 Image credit: @fel.eats_
The Sandwich Shop brings healthy, affordable sandwiches to the table. Start your day right with the Massive All-Day Breakfast Sandwich (from $5.20), loaded with sausages, back bacon, egg mayo, mushrooms, and mesclun greens. There's also the Totally Salmon W/ Avocado Sandwich (from $5.80), a no-brainer combination of smoked salmon and creamy avocado, finished with mayonnaise and fish roe. 
Here, delivery fees vary according to distance. From now till 13 June 2021, there's also an additional 15% off delivery fees, on top of a 10% discount on your total bill.
Order from The Sandwich Shop here!
---
15. Tiong Bahru Bakery
---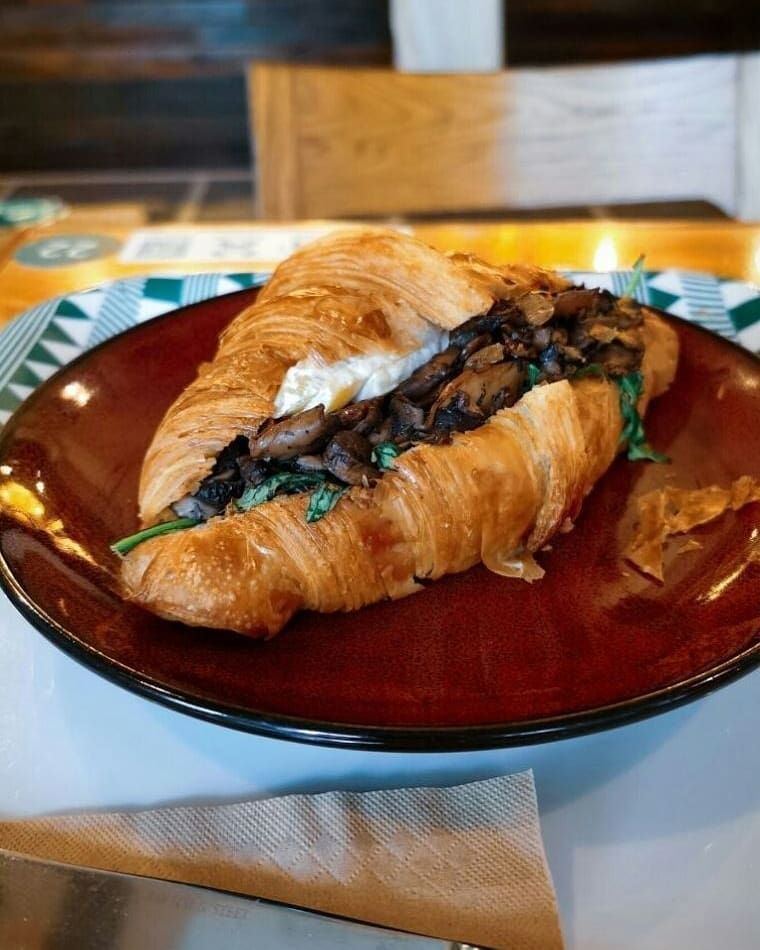 Image credit: @indulgentprose
Tiong Bahru Bakery is no stranger to Singapore's bakery-cafe scene, with seven outlets to their name. Pastries aside, this bakery also offers a selection of savoury sandwiches, of which include the Croque Monsieur ($12.40), stuffed with emmental cheese, oven-baked ham, and their house-made bechamel sauce.
As this bakery is best known for its croissants, there's no better way to enjoy them than in the form of a Brie & Roasted Mushroom Croissant ($11.20). This vegetarian croissant sandwich sees sauteed mushrooms and onions, sliced brie, and arugula. Here, delivery fee varies according to distance, with a minimum order of $30. They're also available on GrabFood, Foodpanda, and Deliveroo.
Order from Tiong Bahru Bakery here!
---
16. Salted & Hung
---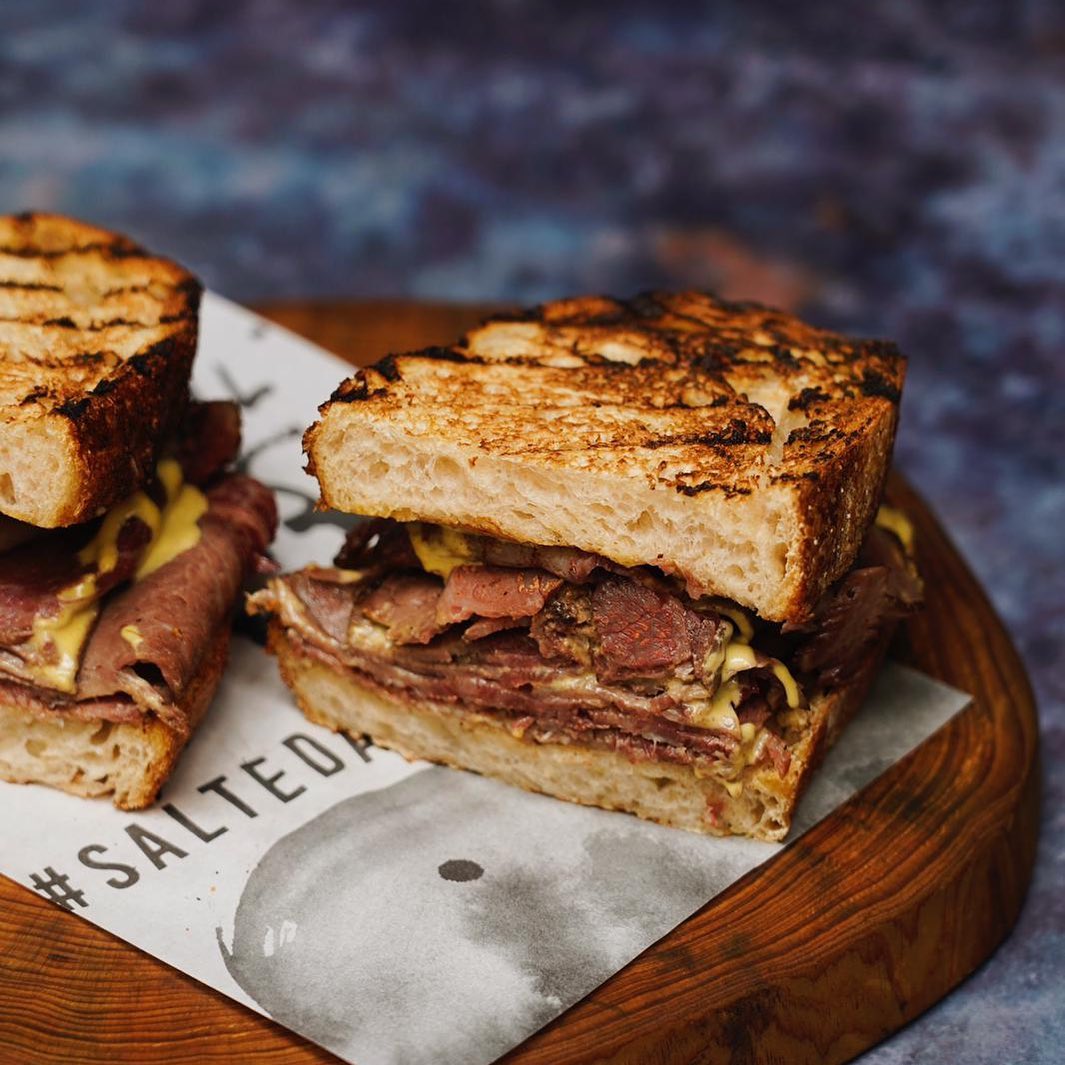 Image credit: @chef.drew.nocente
Salted & Hung is an Australian restaurant concept, focused on minimal wastage and sustainable cooking. Their sandwiches are seriously indulgent, with the likes of a Wagyu Pastrami Sandwich, Mustard & Pickles ($25), a meaty, savoury affair that's elevated by tangy mustard. There's also the Cubano ($25), which sees slow-cooked pork shoulder, smoked ham, pickled chillies, pickles, and mustard, sandwiched between grilled bread.  Here, delivery costs $12, with a minimum order of $50.
Order from Salted & Hung here!
---
Sandwich delivery services in Singapore
---
The next time you're craving for a loaded sandwich at home, look no further than our list of sandwich places with delivery.
While you're here, check out Pizza Hut's brand new nasi lemak pizza, available for a limited time only. 7-Eleven is also bringing ready-to-eat Impossible burgers from 26 May, priced at only $5.90.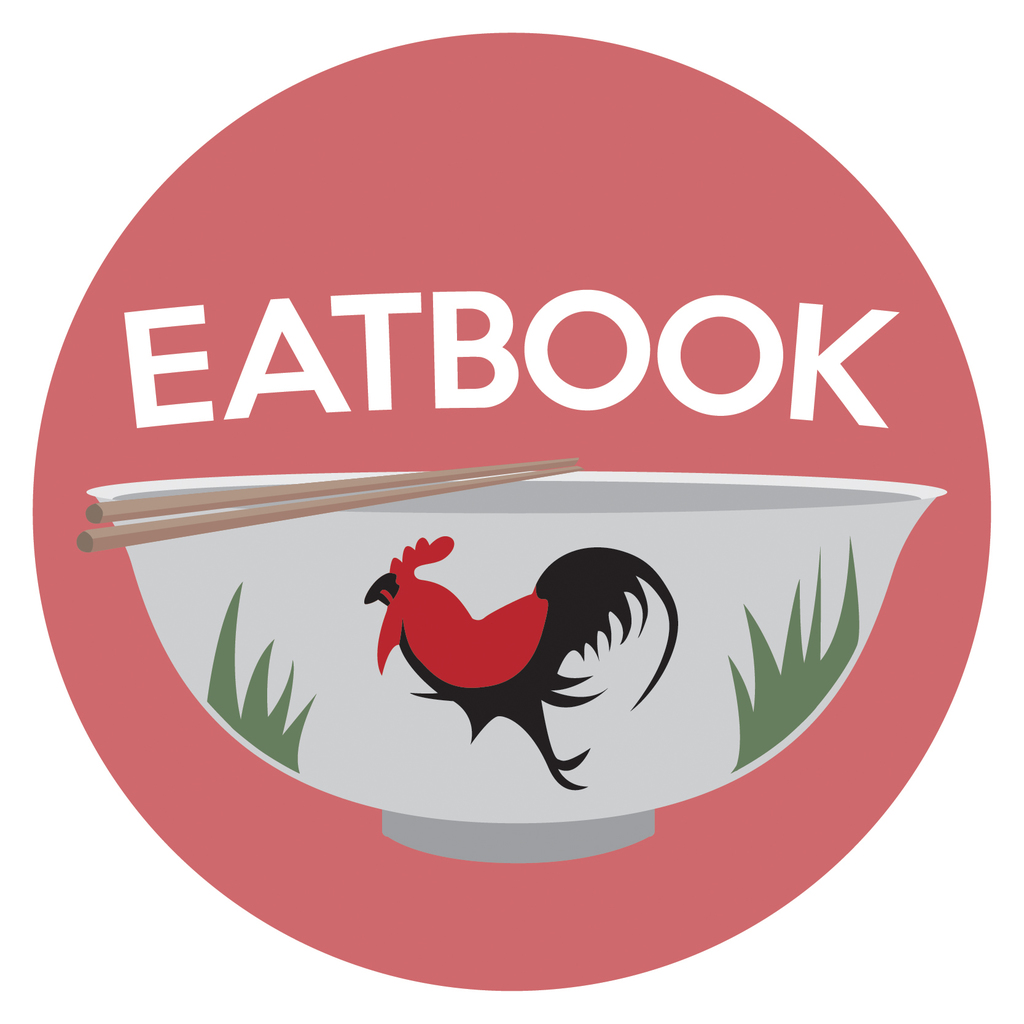 Drop us your email so you won't miss the latest news.