PIVOT has great pastries and more
Update: PIVOT is permanently closed.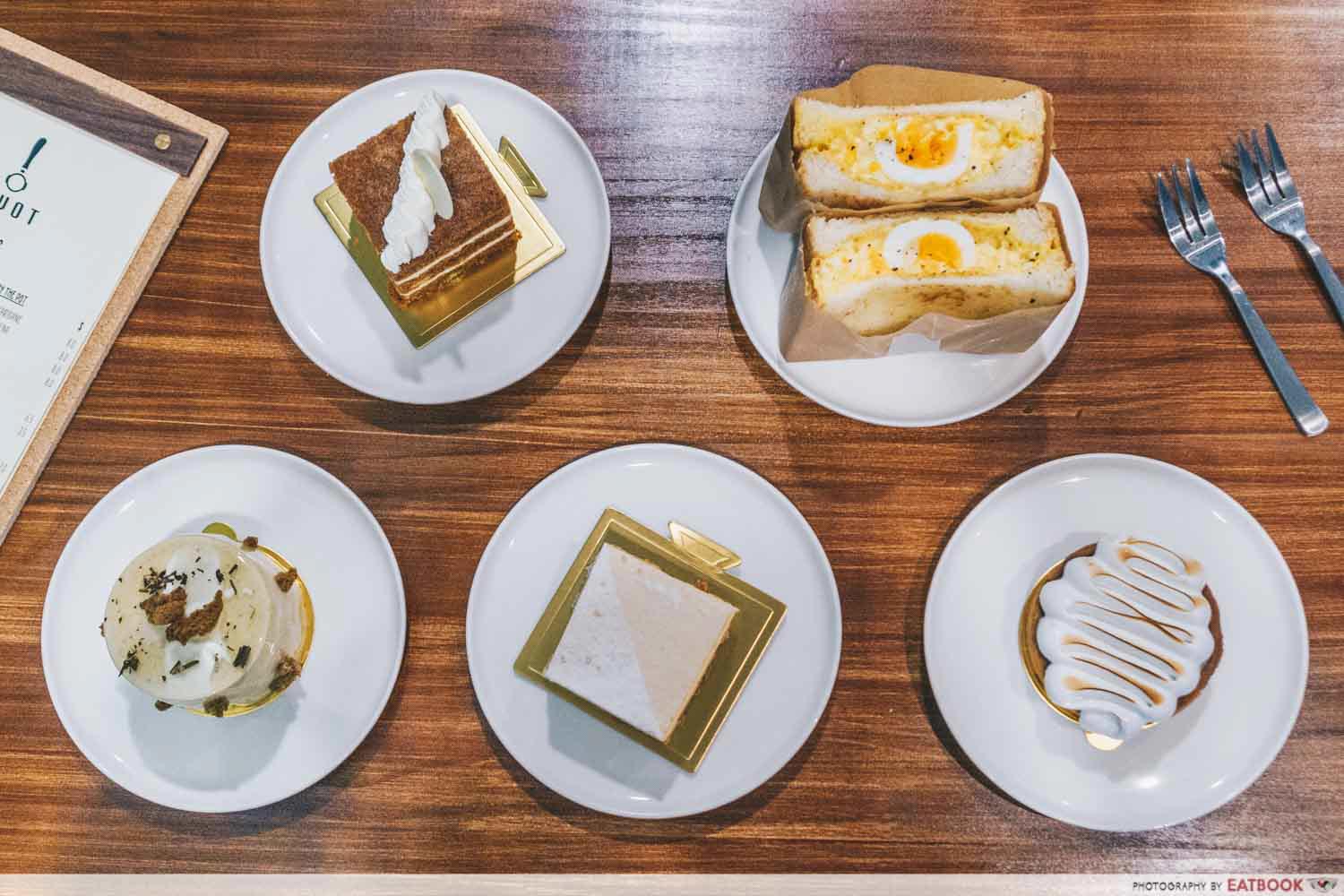 In recent months, we have seen the opening of cafes such as Daizu Cafe and East Coast Commune, both of which have exciting brunch menus. In comes PIVOT, yet another newly opened cafe, this time in the CBD. They also open their doors at 8am for a change. For early risers who live or work in the area, breakfast options are undoubtedly limited, and this new cafe may be set to shake up boring breakfast meals with their Japanese tamago sandwiches.
Daizu Cafe Review: Minimalist Japanese Cafe Has Lemon Miso Eggs Benedict And More Near Farrer Park
Food at PIVOT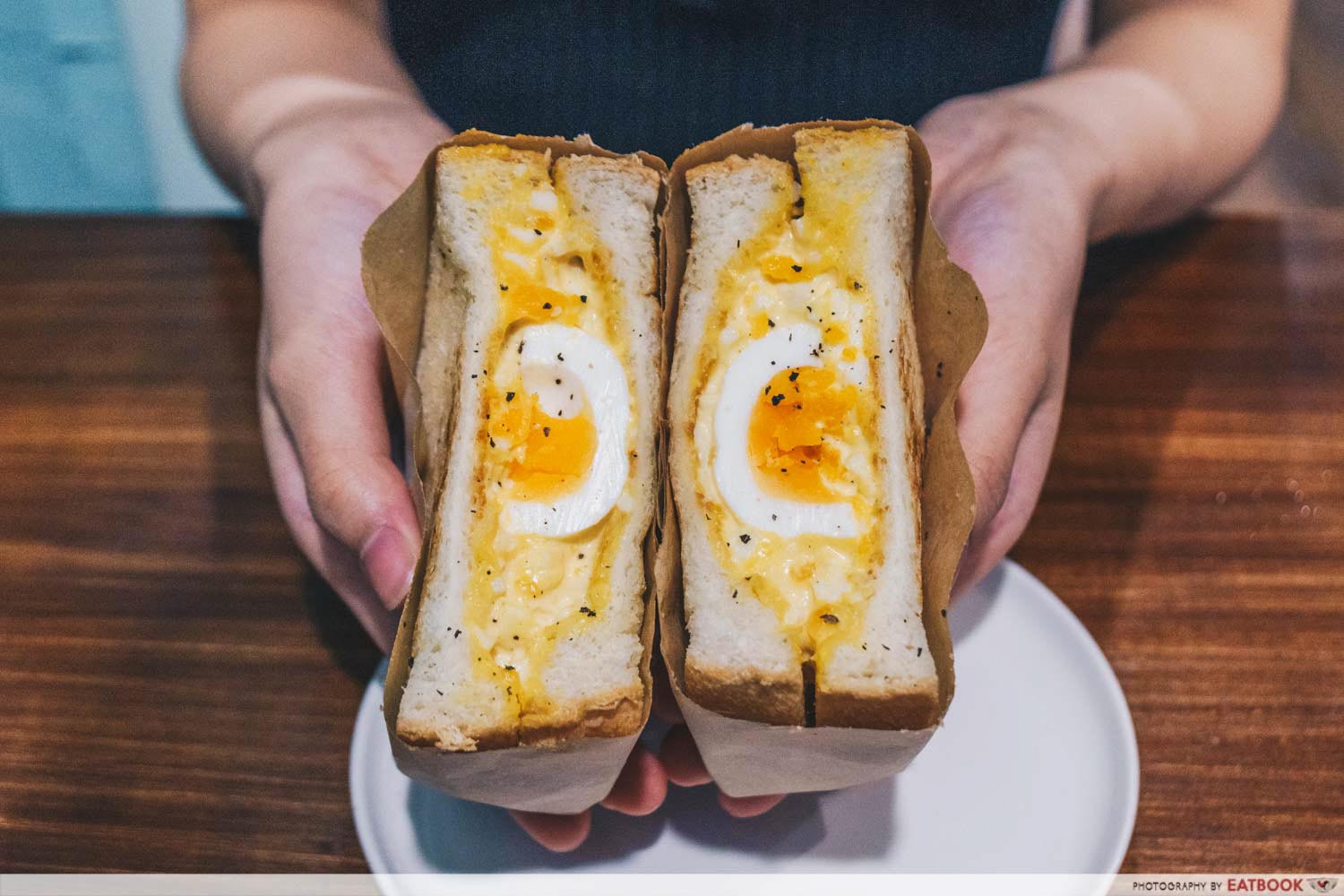 If you're an Instagram foodie, the Tamago Sando ($7) may have graced your feed in the past few weeks. I last enjoyed a hearty tamago sando during a trip to Japan. Few places here in Singapore serve up sandwiches reminiscent of those in Japan, and most of them tend to run above $10.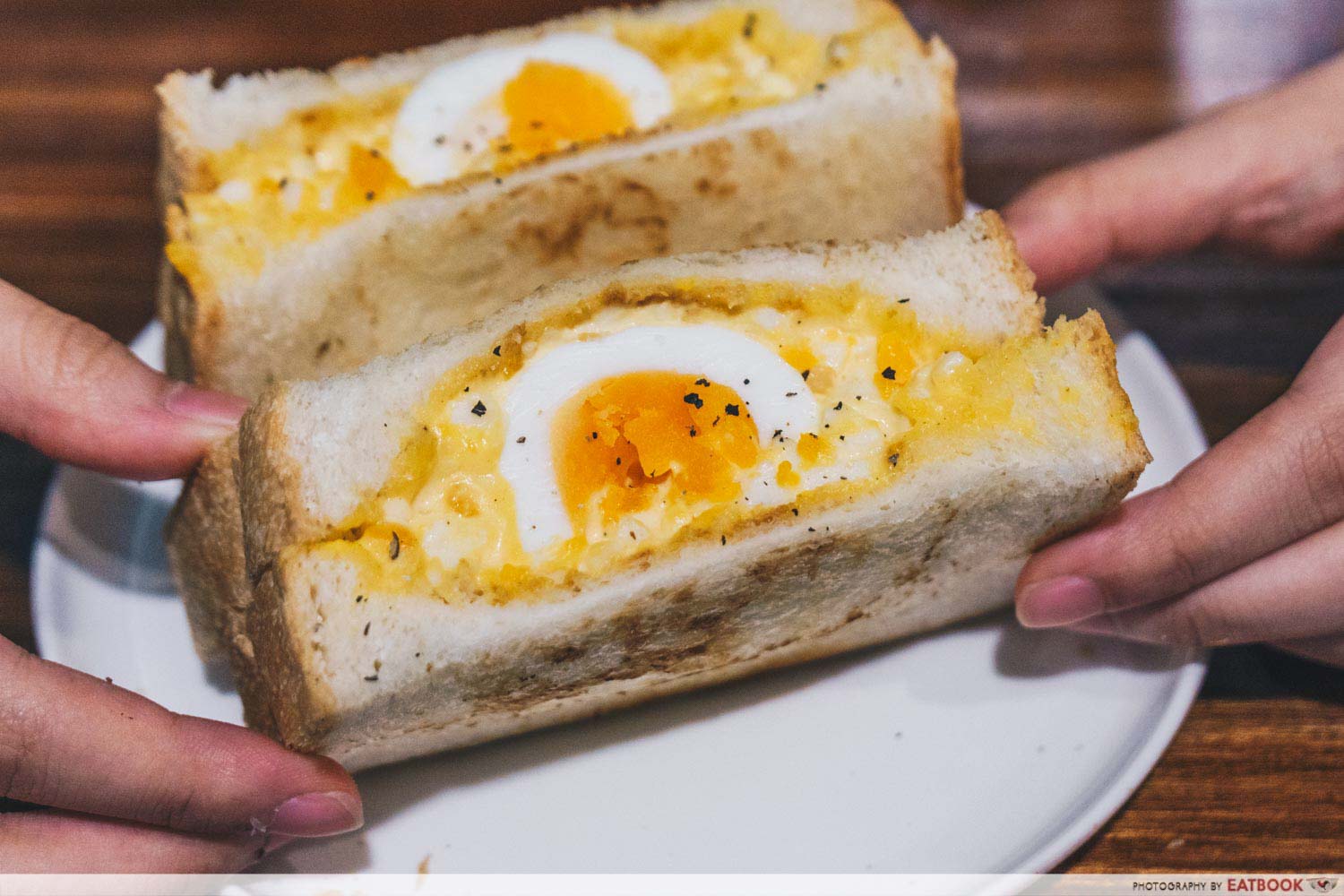 Significantly more affordable than those from other eateries, PIVOT's sando fondly reminded me of those from Japanese convenience stores. Ours arrived warm, with mildly sweet and creamy egg mayo and a jammy egg snug between toasted shokupan bread. The bread was crisp on the outside with a fluffy interior. A bite of the sandwich offered a party of textures from the egg and toast.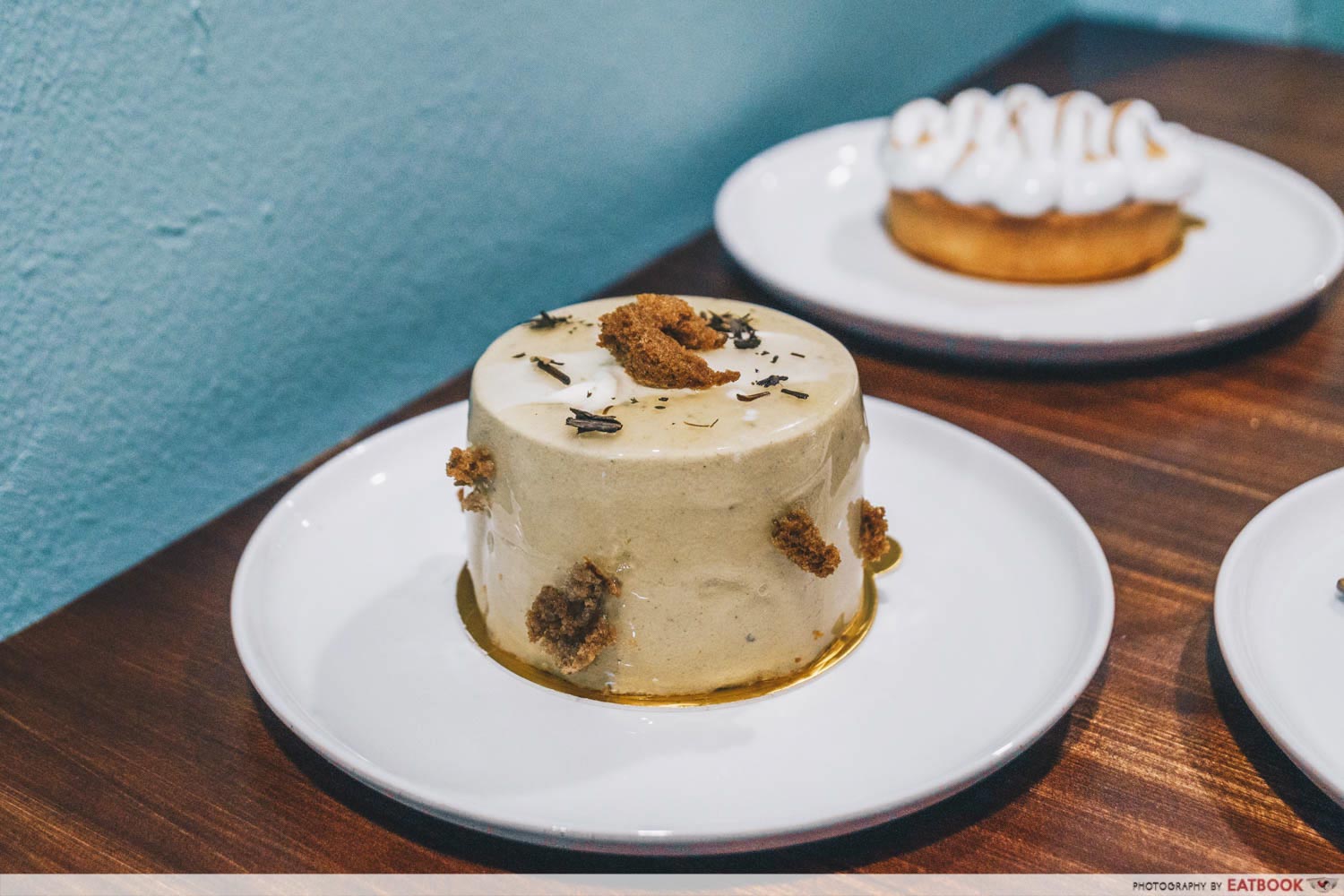 If you're a sweet-toothed reader, the cafe is also home to a variety of beautiful mini cakes. Do note that these sweets are often only available after 10am, but if you're planning an early visit, feel free to ring them up in advance to request for early preparation. I personally loved the Oh! Gee Cha ($8.50) best.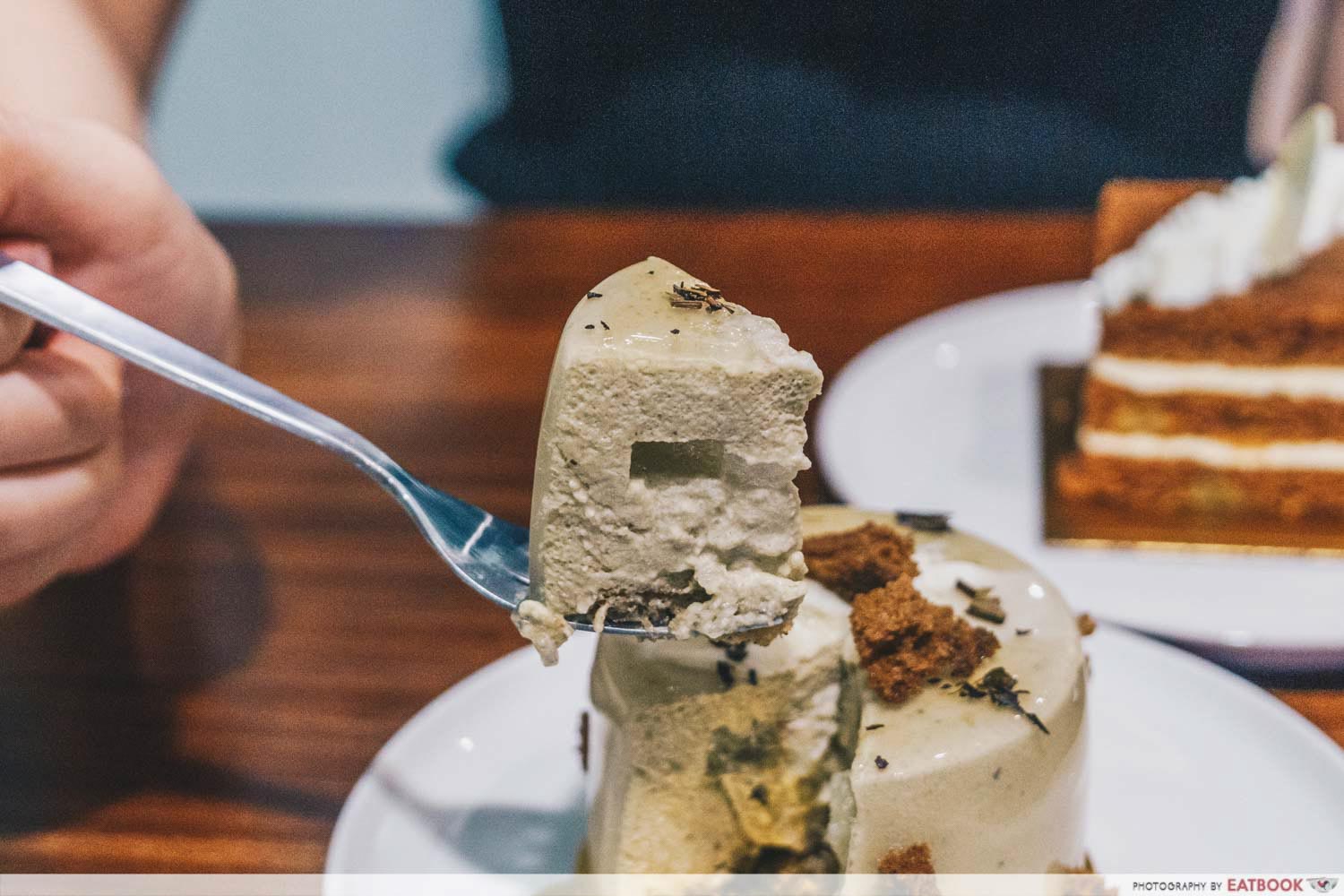 The dessert comprised a light hojicha mousse and a moist layer of hojicha sponge, both rich with an aromatic earthiness. Fragrant, candied chunks of apple provided an extra sweetness to the delicate pastry. This one will definitely satisfy tea lovers.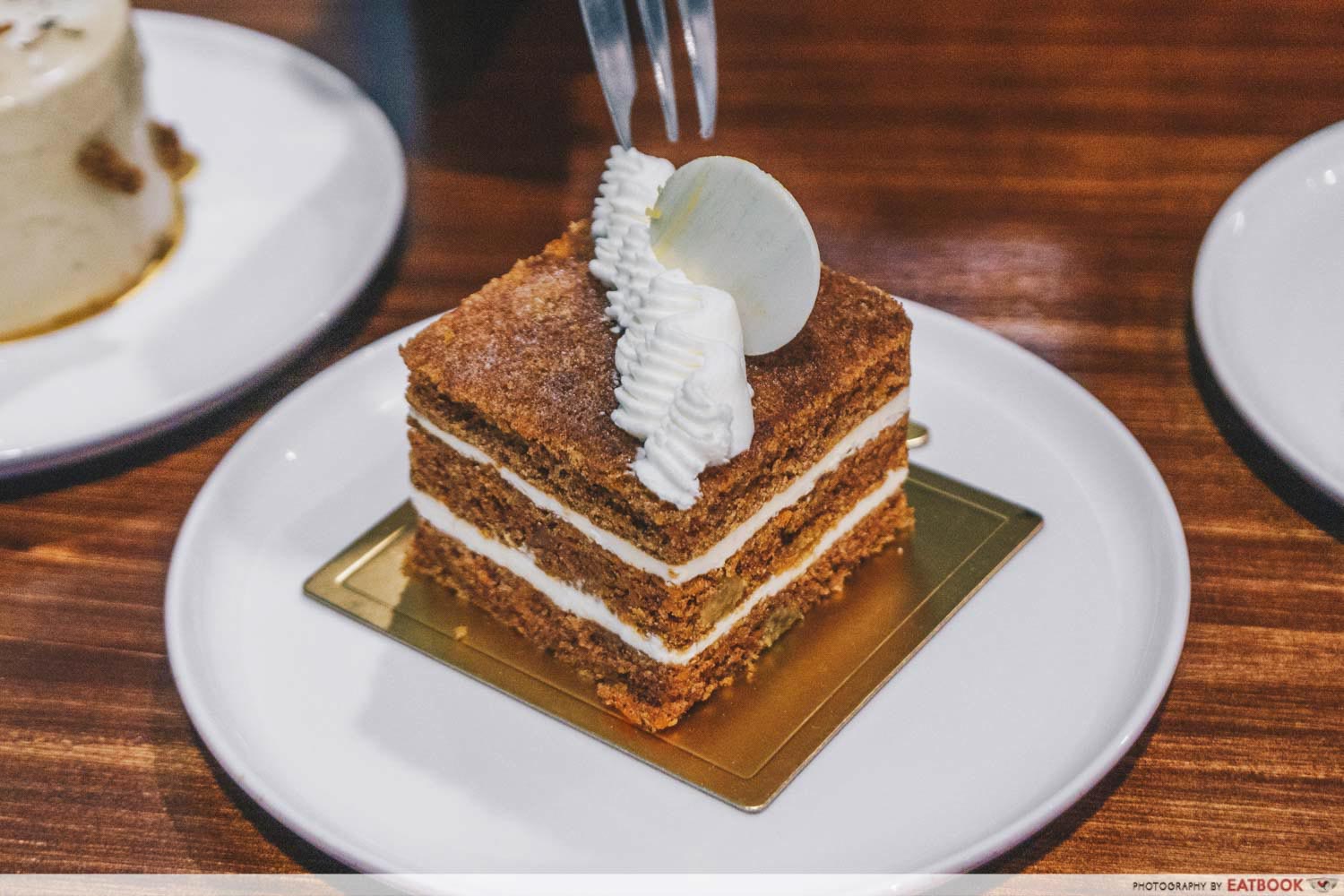 I went for the Carrot Ate Sheeran ($8) next, amused by its quirky name. The dainty carrot cake arrived with moist, caramelised layers of sponge, complete with warm, toasty notes of cinnamon and nutmeg. A combination of aromatic ginger and maple cream cheese icing was also spread thinly between the layers, giving an extra tanginess.
Carrot cakes, when done wrong, tend to be hefty and cloying. PIVOT nails their version by not drowning their dessert with cream cheese icing.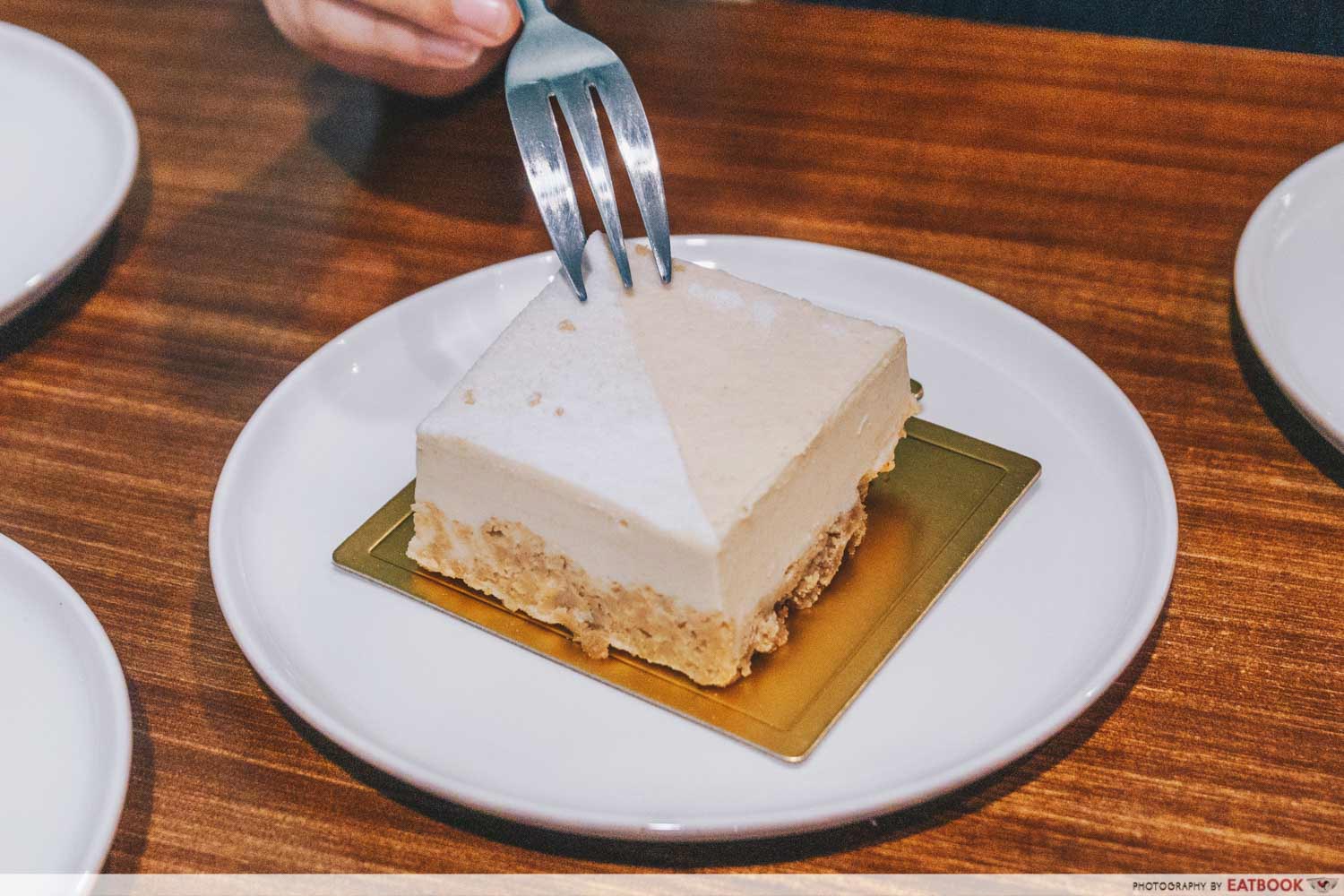 Having tried the tamago sando and hojicha cake, I decided to go for the Fields Of Yellow ($8)—a cheesecake topped with kinako powder—for yet another Japanese-inspired treat.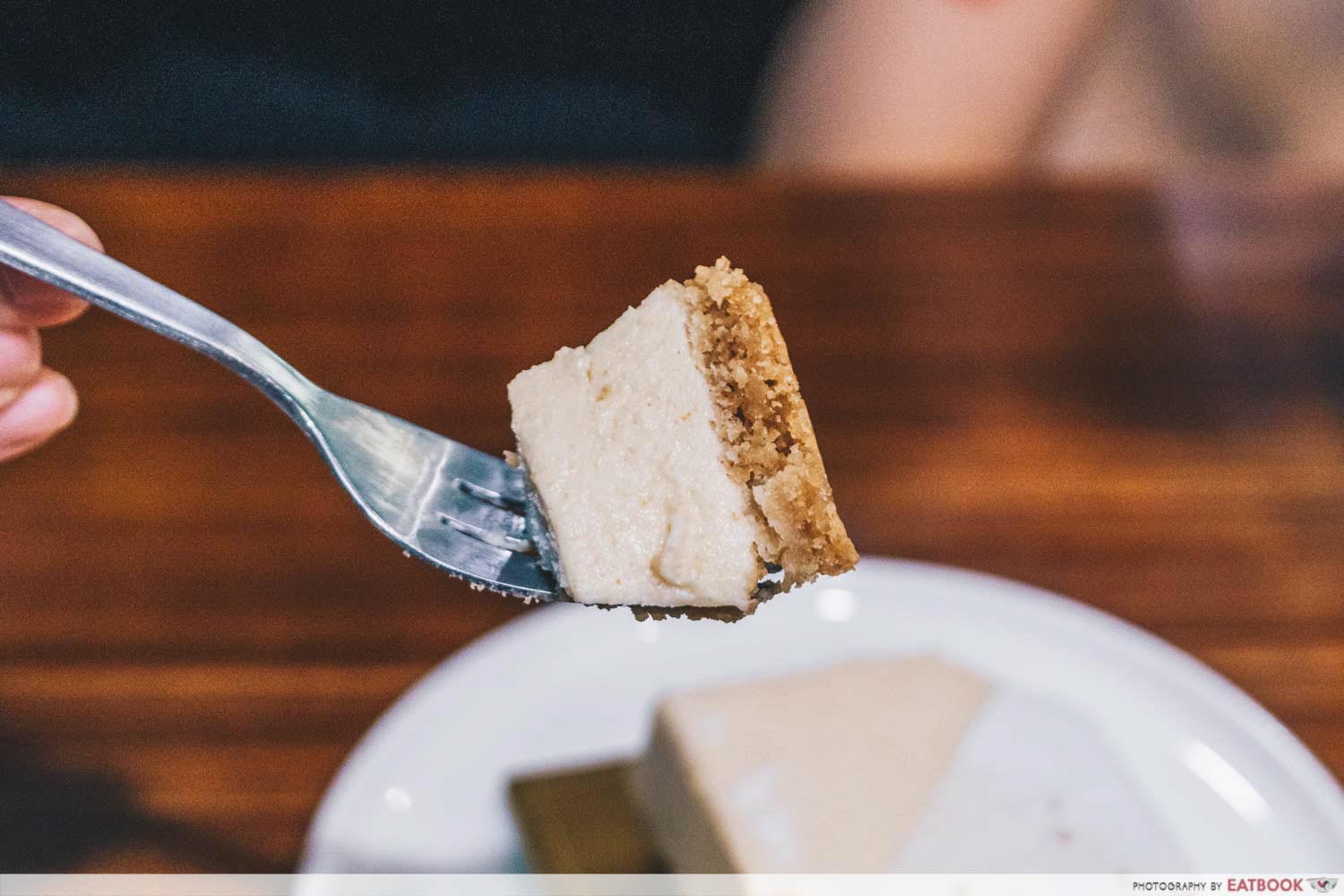 I usually prefer my cheesecakes dense and creamy. This kinako cheesecake teetered on the gelatinous side, and the faint nutty notes from the kinako powder weren't outstanding either. However, the buttery and sweet digestive biscuit base did help to add more flavour to the otherwise bland treat.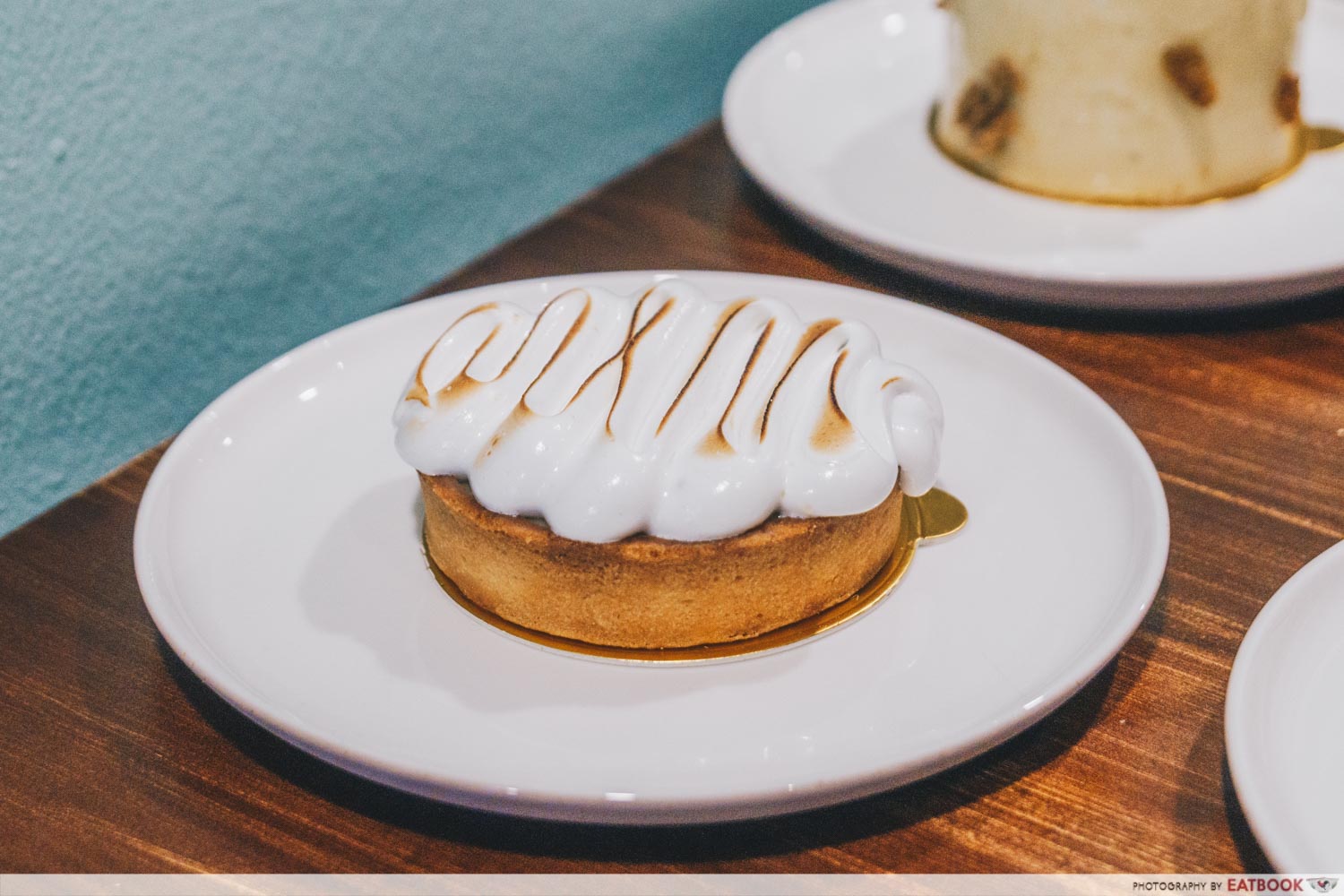 Already filled up with sweets, I decided to finish my visit with the Limon Law ($7), something more tart.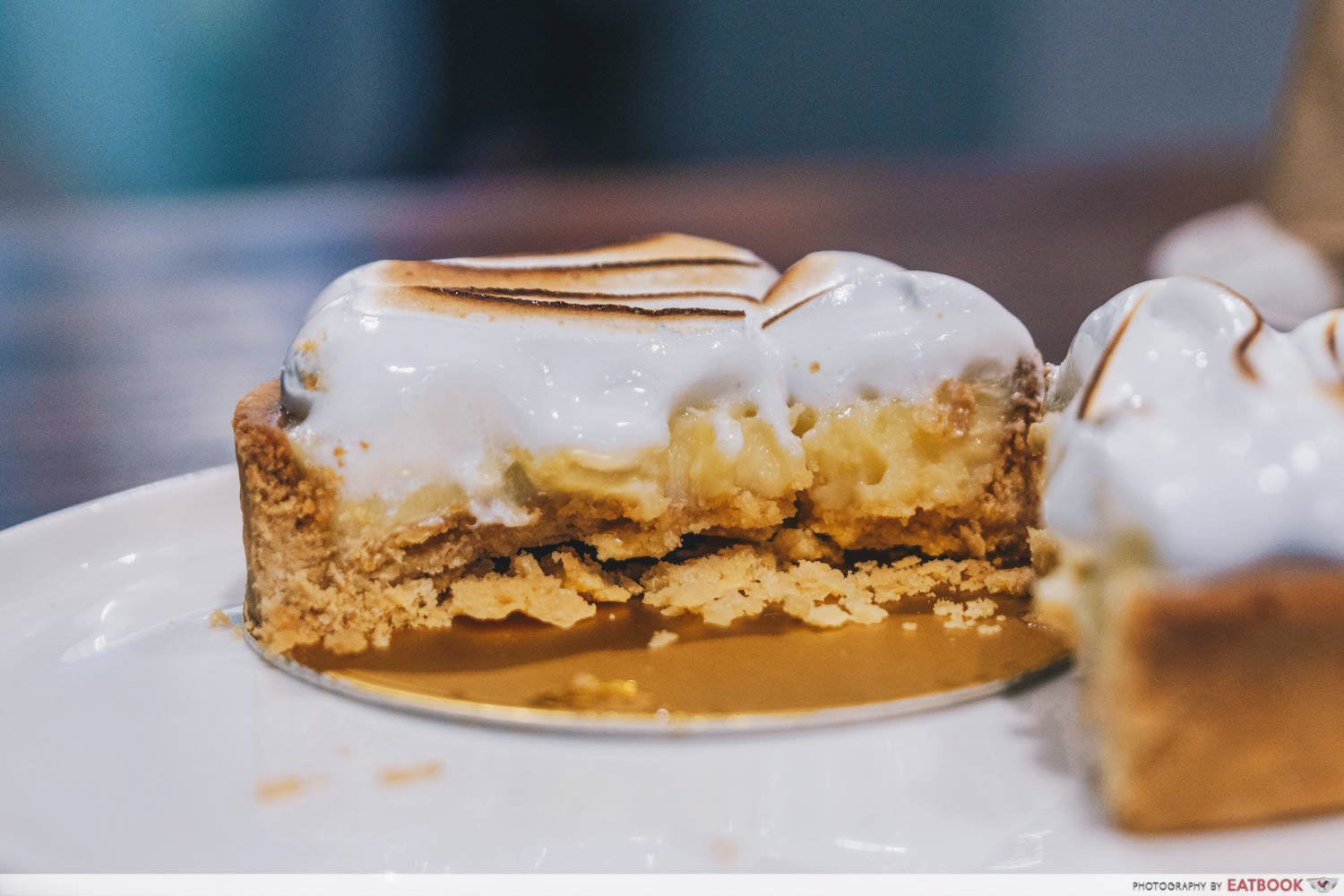 This little pick-me-up comprised citrusy lemon curd encased within a brittle, honeyed biscuit, finished with velvety meringue. The standout of the tart was its lemon curd, which came silky, custard-like, and refreshingly sour.
East Coast Commune Review: IG-Worthy Cafe With Sourdough Waffles And "CharMee" Pasta In East Coast
Ambience at PIVOT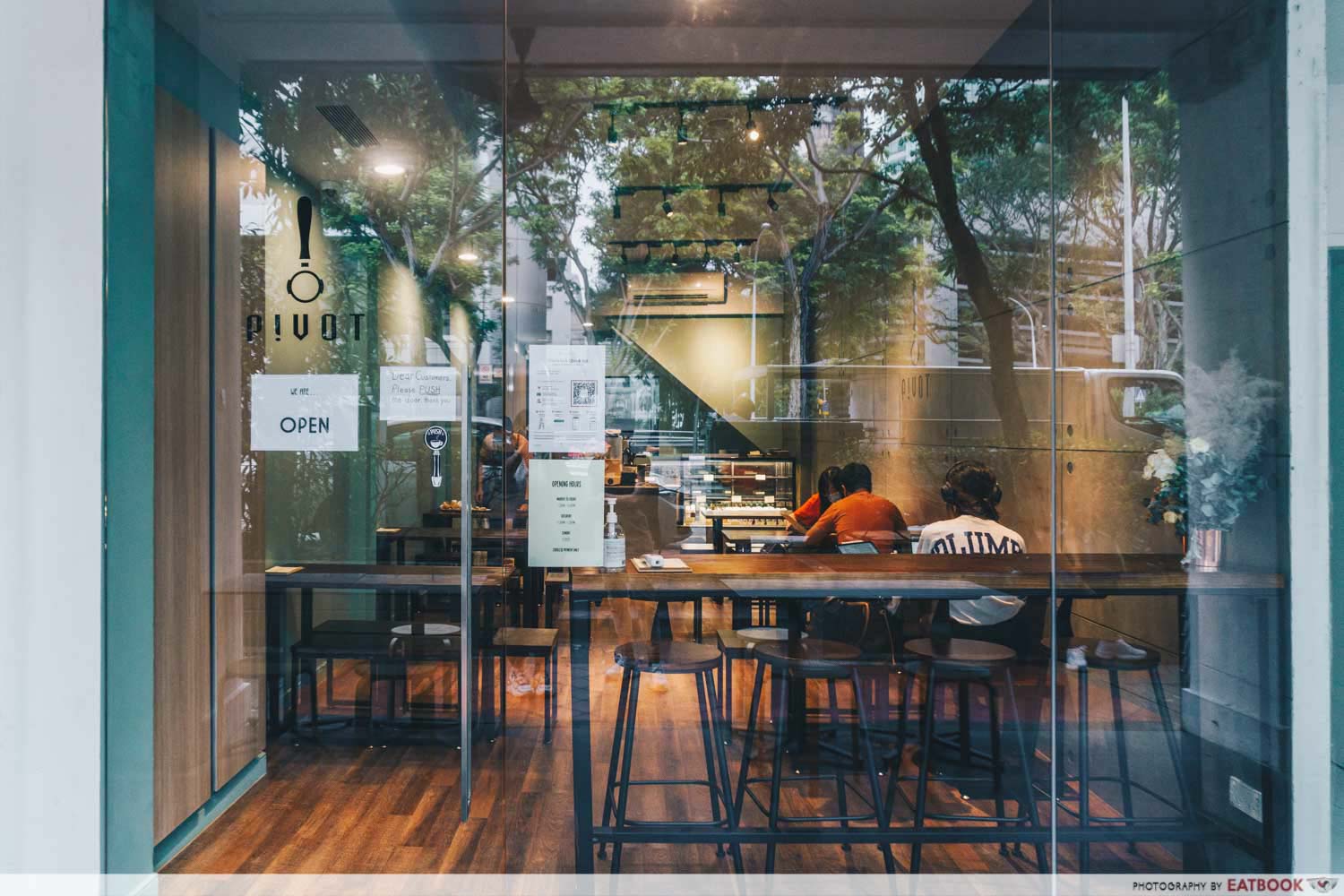 Situated a short five-minute walk from Raffles Place MRT Station, PIVOT is smack dab in the CBD. The cafe also has a rustic, homely ambience, complete with soft music and comfortable lighting, making it a great spot to enjoy a sandwich and drink quietly.
The verdict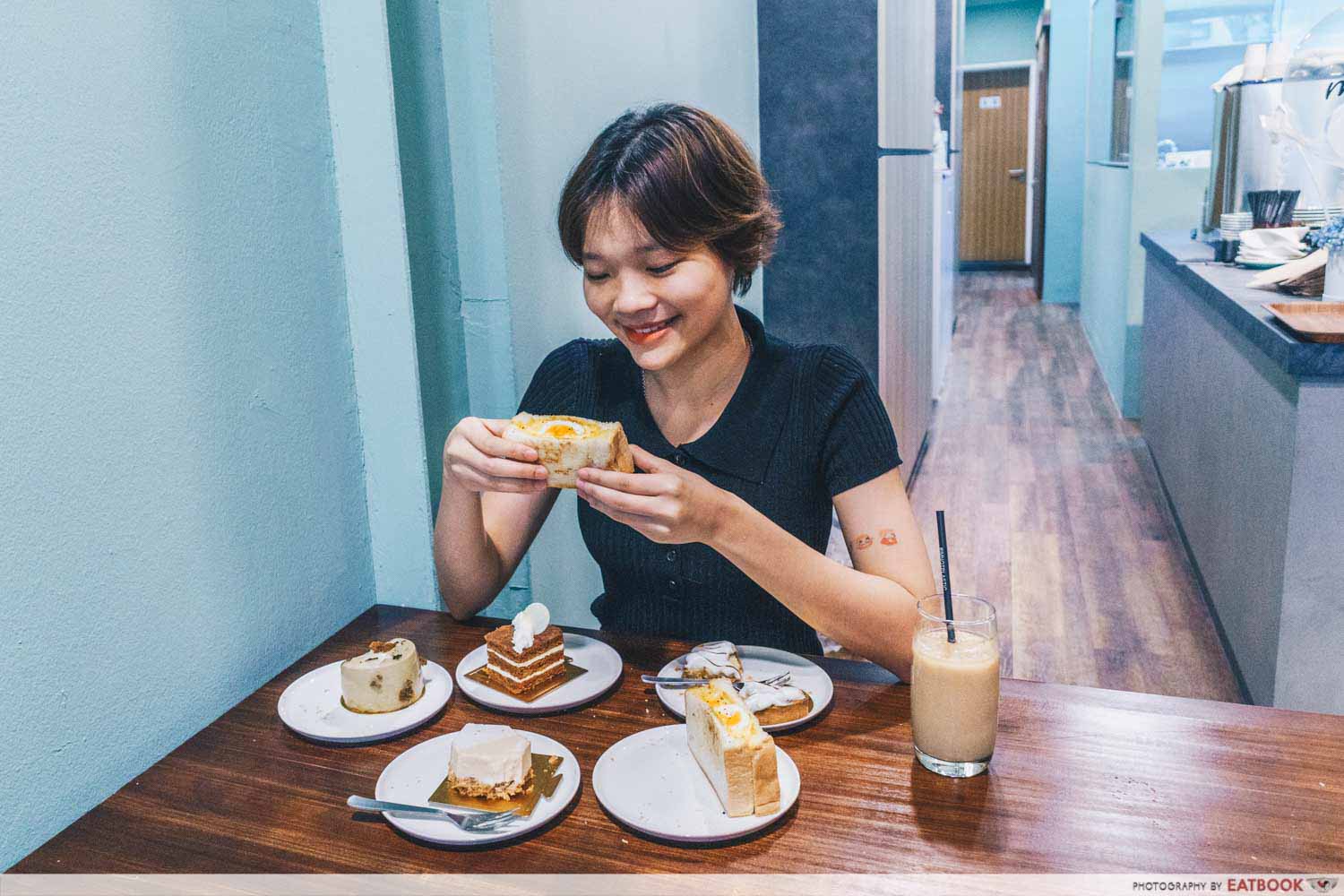 Despite being a relatively new cafe, PIVOT's dainty desserts have thoughtfully planned out flavour profiles and are intricately decorated to taste just as great as they look. Their tamago sando was also a comforting dish that easily reminded me of those found in Japan. With its cosy ambience and convenient location, I can most certainly see myself returning for their food again.
If you're looking to visit the area, do check out our list of restaurants at Boat Quay as well.
10 Boat Quay Restaurants And Bars For CBD Workers To Celebrate TGIF
Address: 10 North Canal Road, Singapore 048823
Opening hours: Mon, Wed-Fri 8am to 6pm, Sat-Sun 9:30am to 6pm
Tel: 9129 1965
Website
PIVOT is not a halal-certified eatery.
Photos taken by Hay Thi.
This is an independent review by Eatbook.sg.
PIVOT Review: Tamago Sandos And IG-worthy Hojicha Cakes At CBD Cafe
Summary
Pros
– Cakes with rich flavours
– Creamy sando
– Cosy, quiet ambience
Cons
– Kinako cheesecake slightly bland
Recommended dishes: Ohh Gee Cha ($8.50), Carrot Ate Sheeran ($8), Tamago Sando ($7)
Opening hours: Mon, Wed-Fri 8am to 6pm, Sat-Sun 9:30am to 6pm
Address: 10 North Canal Road, Singapore 048823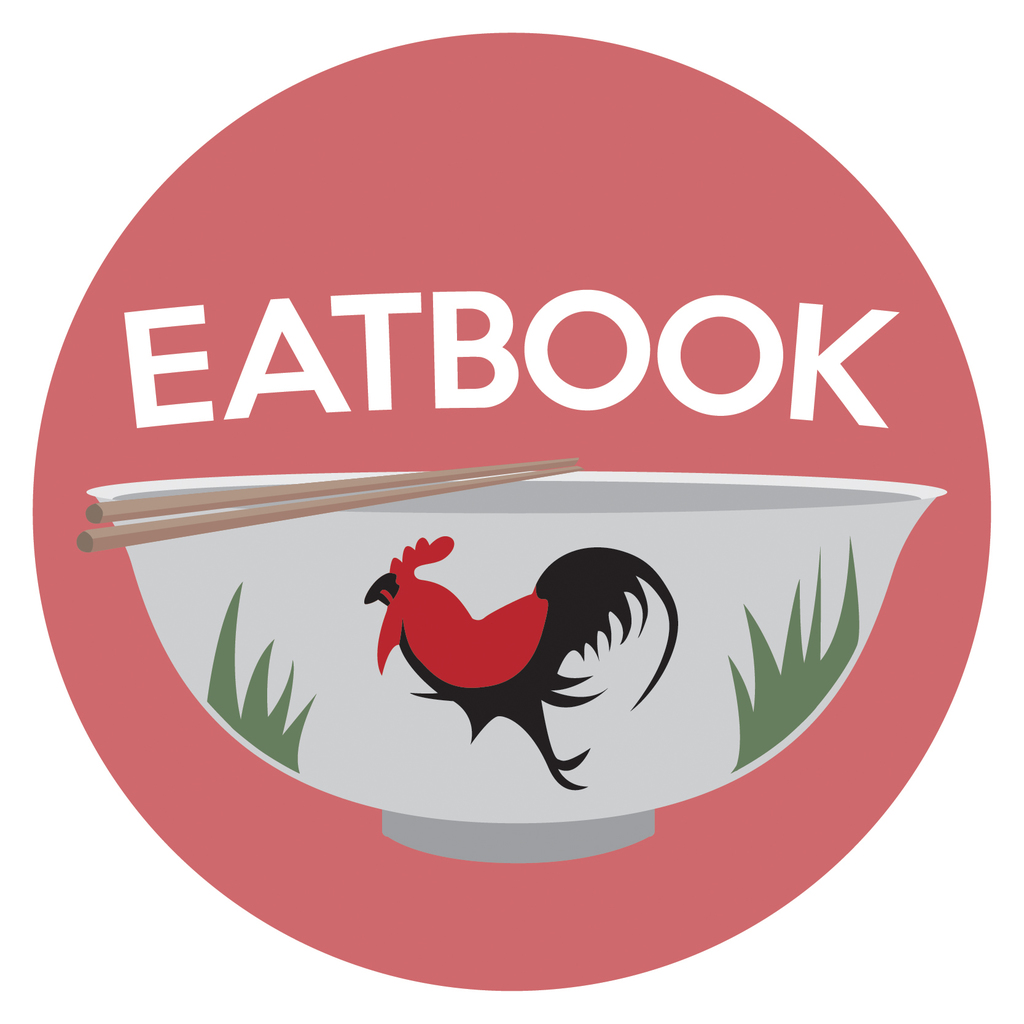 Drop us your email so you won't miss the latest news.