Tasty all-day brunch At East Coast Commune
Update: East Coast Commune no longer makes the Four Cheese (Waffles), have streamlined the menu and changed their CharMee recipe since we visited them for our review.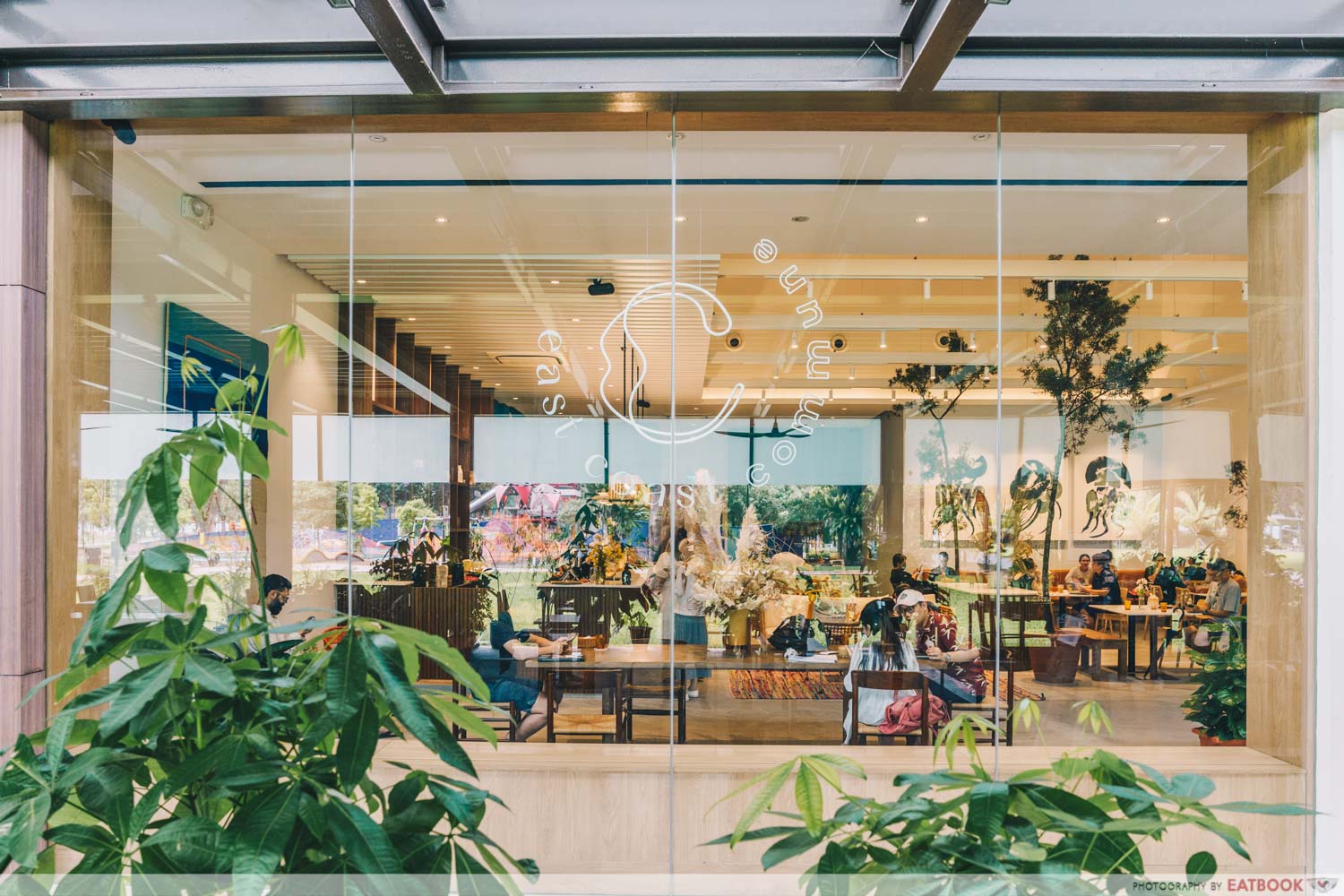 Long have I lamented the lack of great cafes in East Coast Park. East Coast Commune, I'm happy to share, is here to fill that very gap. It sits in a sweet spot right around the corner from McDonald's Marine Cove, with a gorgeous space that tickles all my future home decor fancies. 
The cafe is run by a husband-and-wife team─husband Kai comes from a decade of culinary experience in French dining, while wife Shermien was in the fashion industry. They felt the way I did about the cafe scene in East Coast Park, and saw room in the market. 
As young parents, they often had difficulties finding an ideal location with good food when looking to hang out with their non-parent friends. Hip cafes were often stroller- and toddler-unfriendly, while family-friendly cafes weren't always cool enough. And thus East Coast Commune was born of their dream to create a location that checked all the boxes.
Wan Wan Thai Cafe Review: New Dessert Cafe In Town For Supper With Milk Tea Bingsu And More
Food at East Coast Commune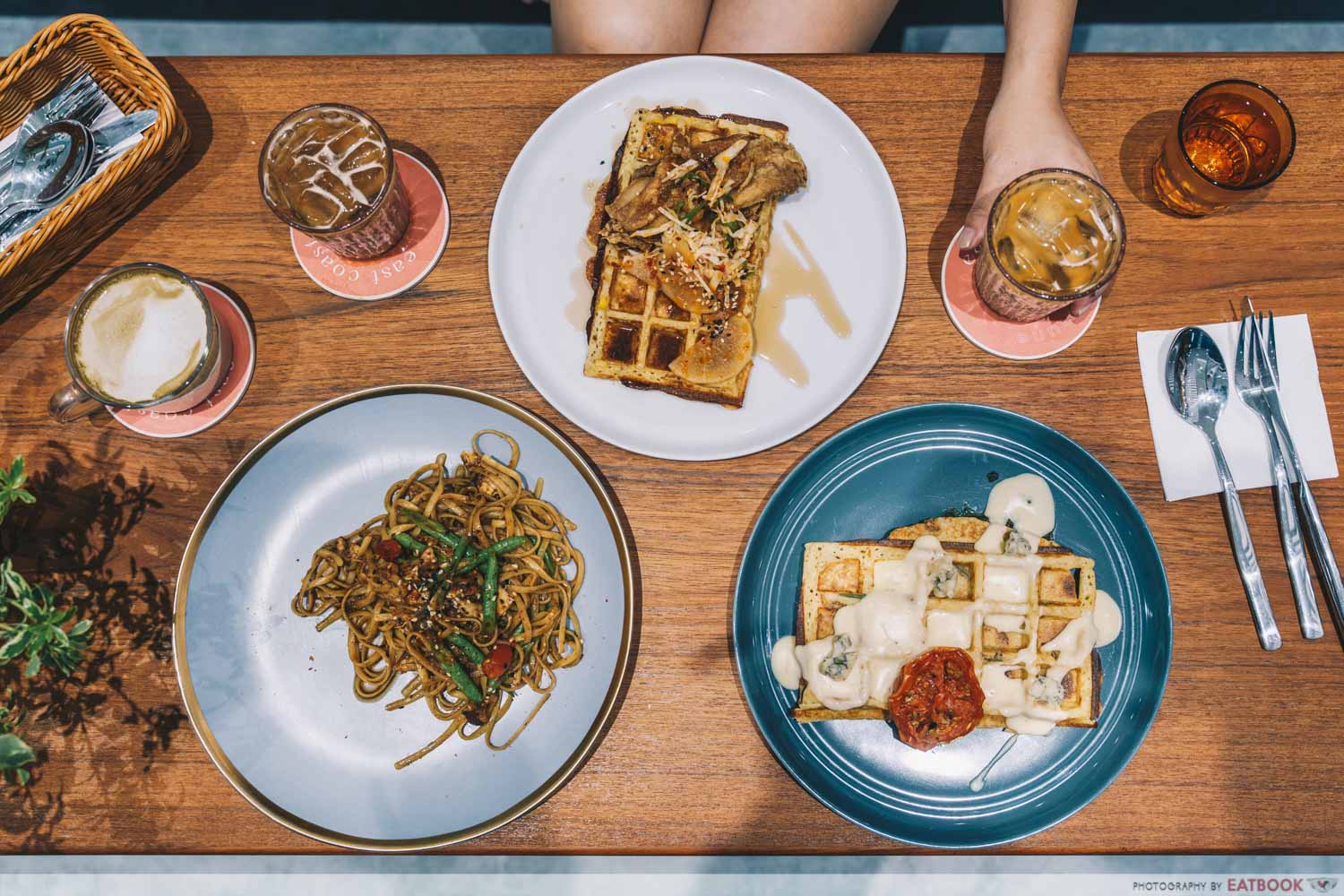 Good, wholesome food comes from a place of understanding and using the produce that's widely available. East Coast Commune does just that. All, if not most, of the food is made in-house with a focus on locally or regionally sourced ingredients, with the goal of collaborating with local producers as much as possible.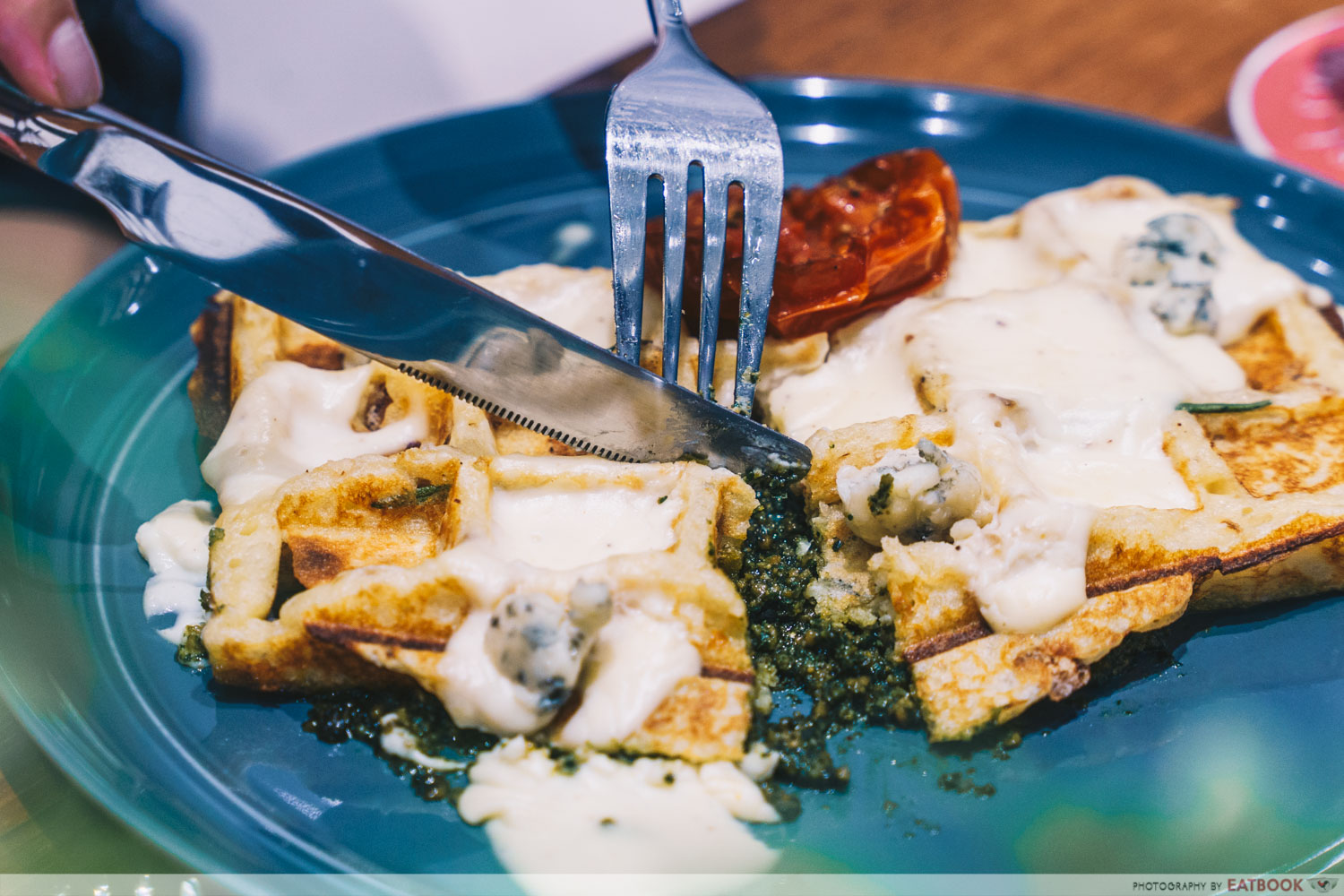 We started with the Four Cheese ($15), a unique take on the sourdough waffle trend that's been going around. The waffle itself is infused with rosemary and caramelised shallots: a savoury, addictive mouthful that's tempered by the creamy blend of mozzarella, parmesan, cheddar and gorgonzola, a blue cheese.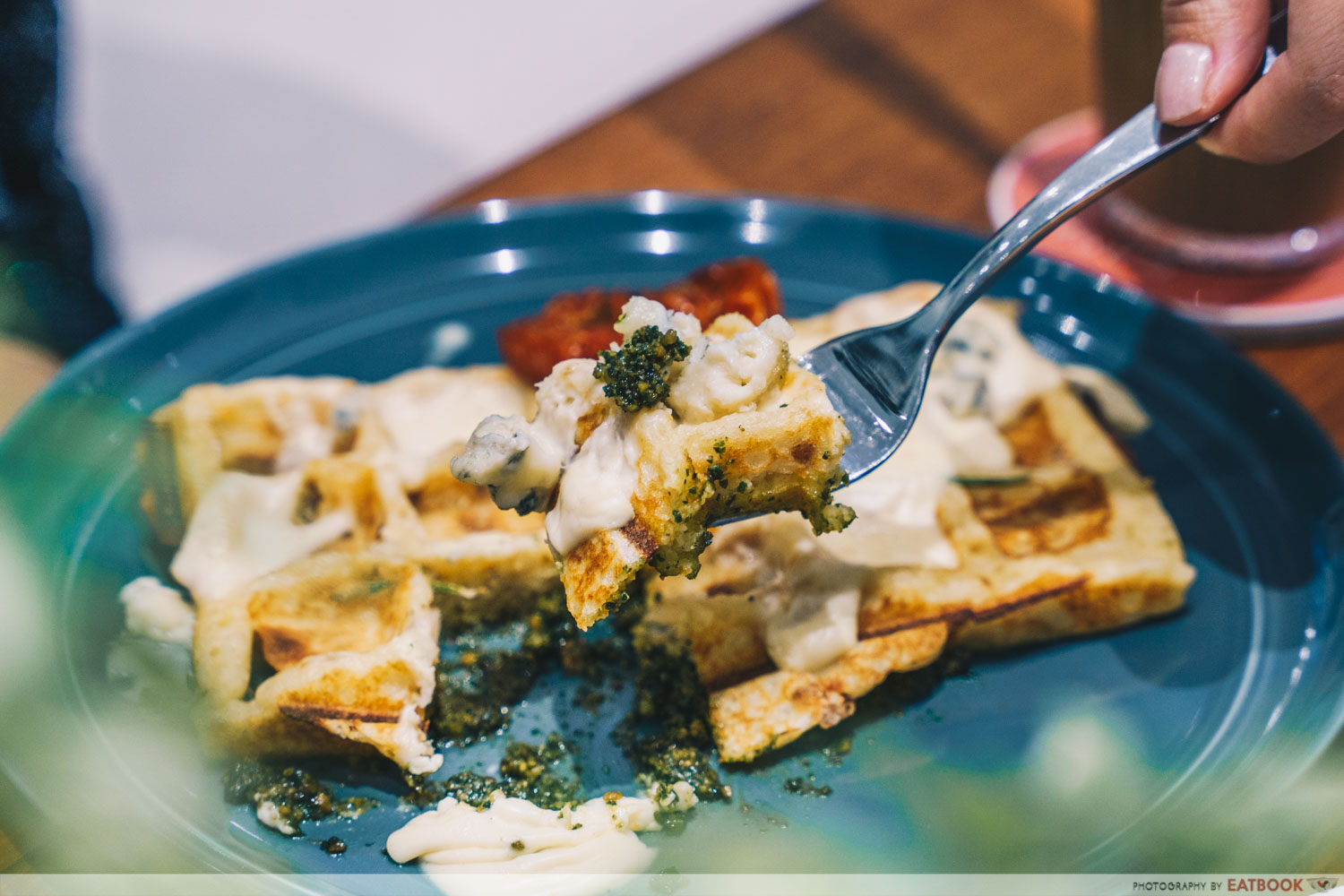 The medley of mild and strong cheeses is surprisingly not overwhelming, which makes the dish more accessible.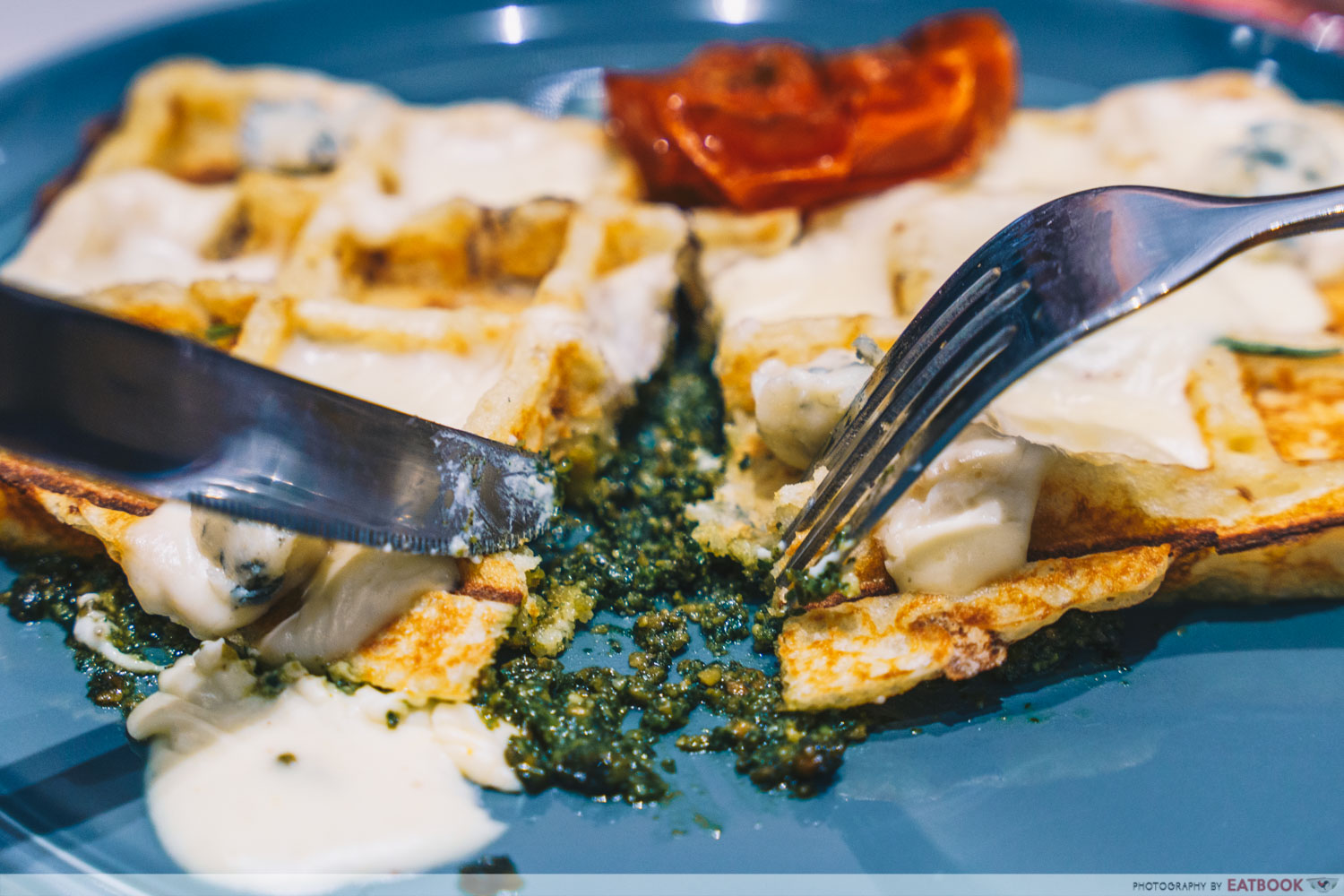 In fact, I felt that the Gorgonzola cheese tied the strong flavours of the caramelised shallots and Thai basil pesto together.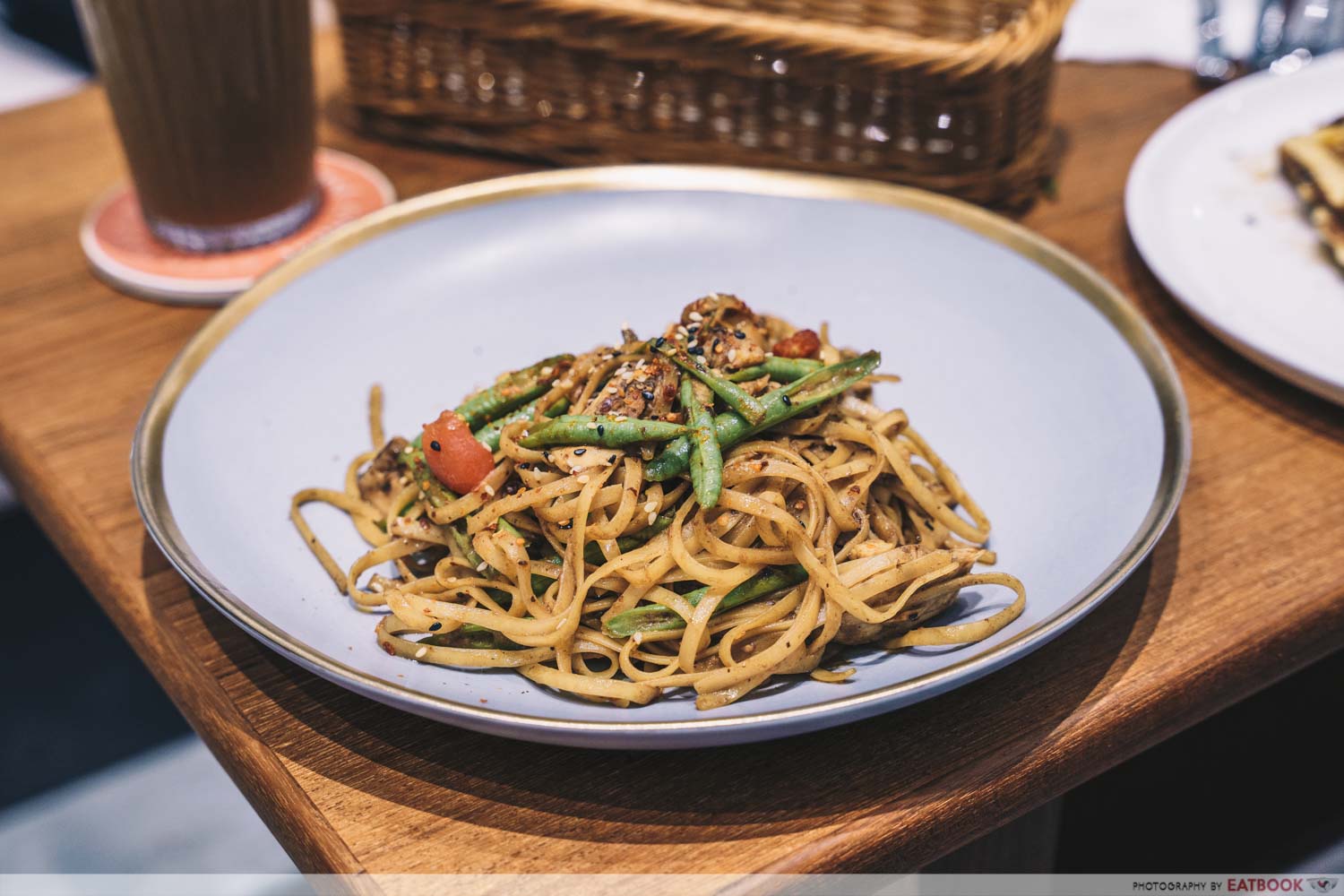 Another inspired creation was the "CharMee" ($16), which features house-made black garlic, house-smoked barramundi from Ah Hua Kelong, and cherry tomatoes that are also pickled in East Coast Commune's very own kitchens.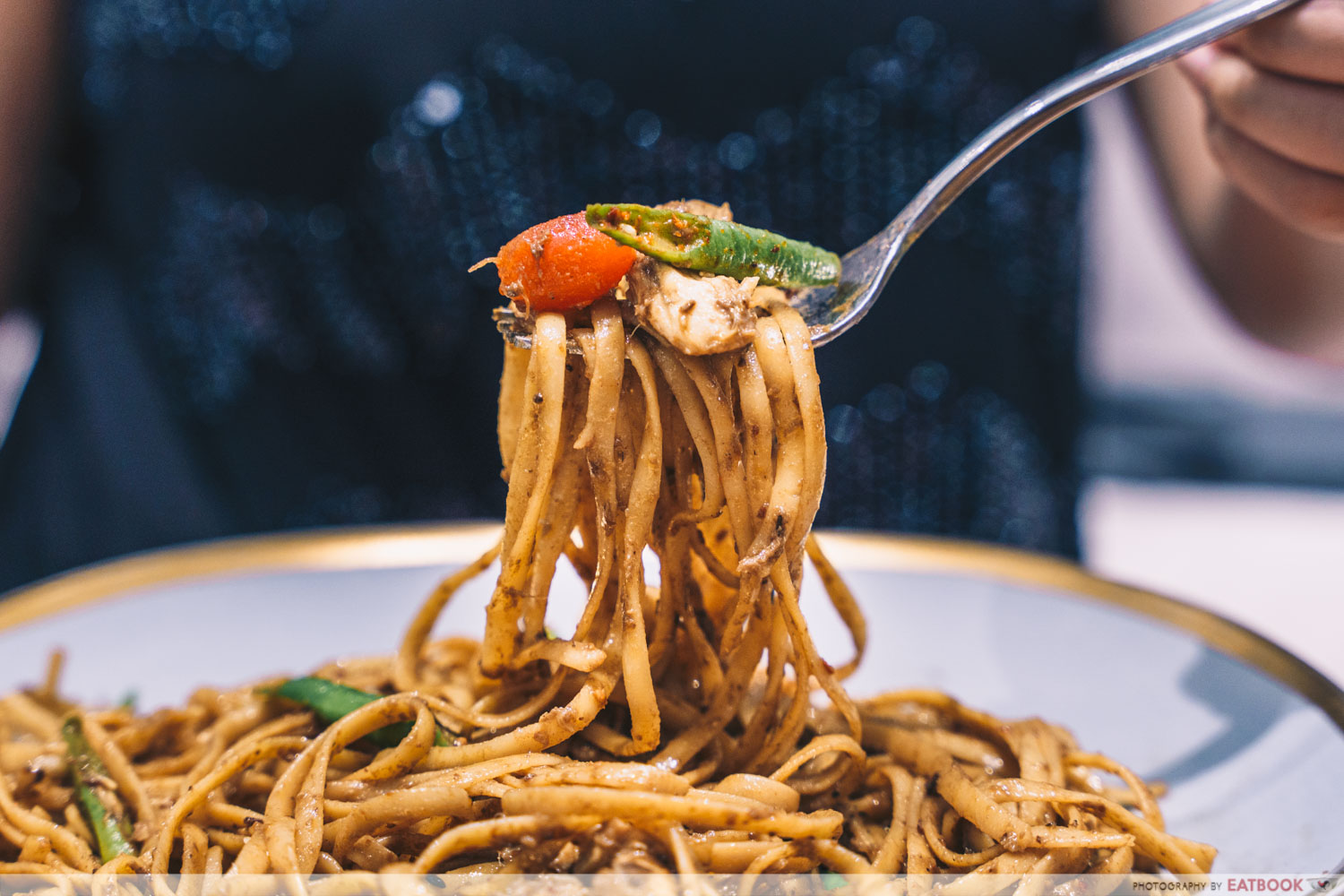 This linguine dish is the love child of Asian fried noodles and Italian Aglio Olio, and it amazed my dining companions and I with the complexity of flavours in such a simple-looking pasta dish.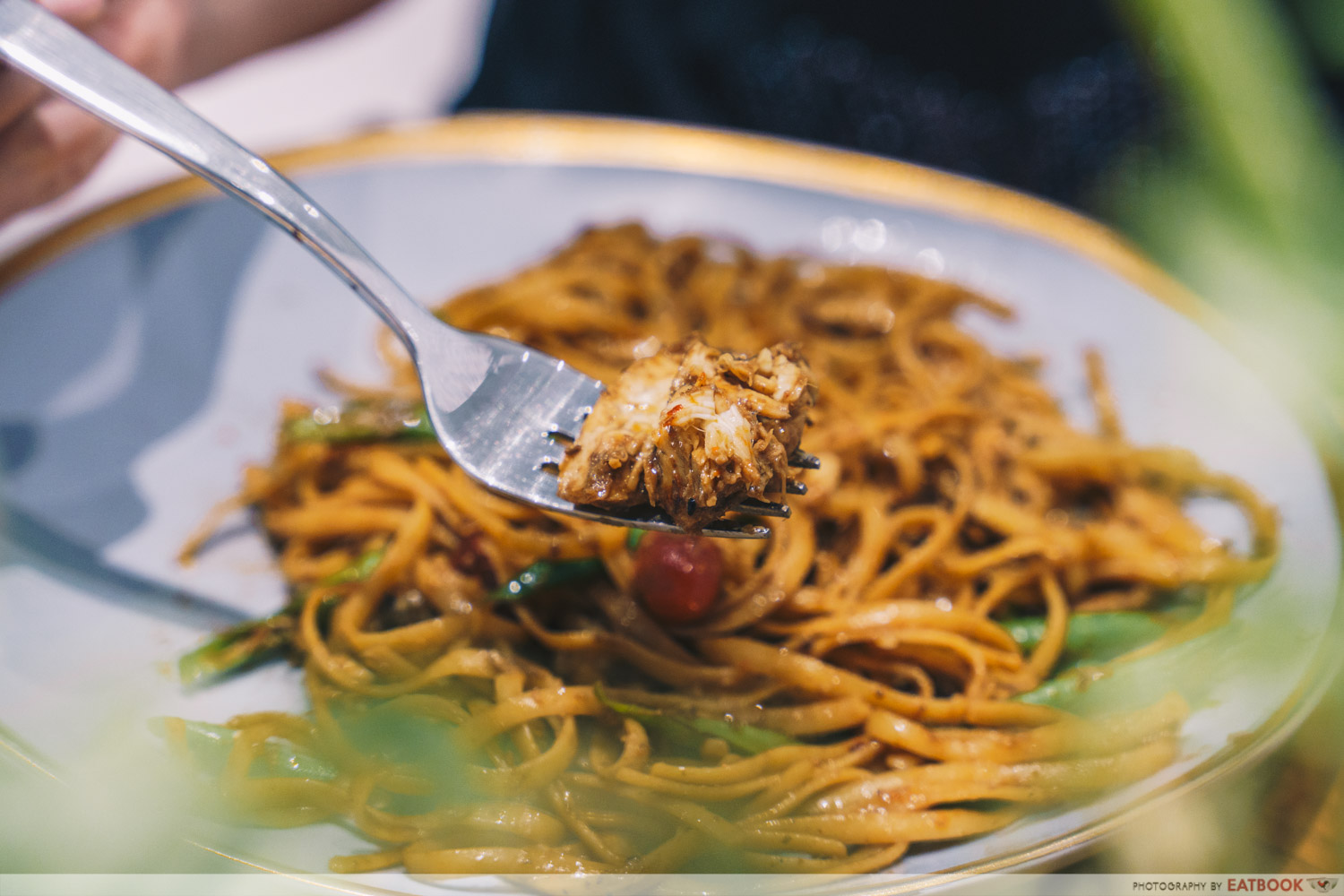 Our first bites of the "CharMee" evoked various sounds of surprised pleasure around the table. I, for one, was especially impressed with the smoked barramundi. It reminded me faintly of salted fish, with a distinct smoky edge. If you're familiar with the concept of using anchovies in your pasta, this brought the same umami to the "CharMee".
Slightly more ordinary was the Fried Chicken ($18), a roasted corn sourdough waffle with a boneless Korean-inspired fried chicken leg, house-pickled slices of daikon, maple syrup and a refreshing fresh kimchi─also made in the kitchen here.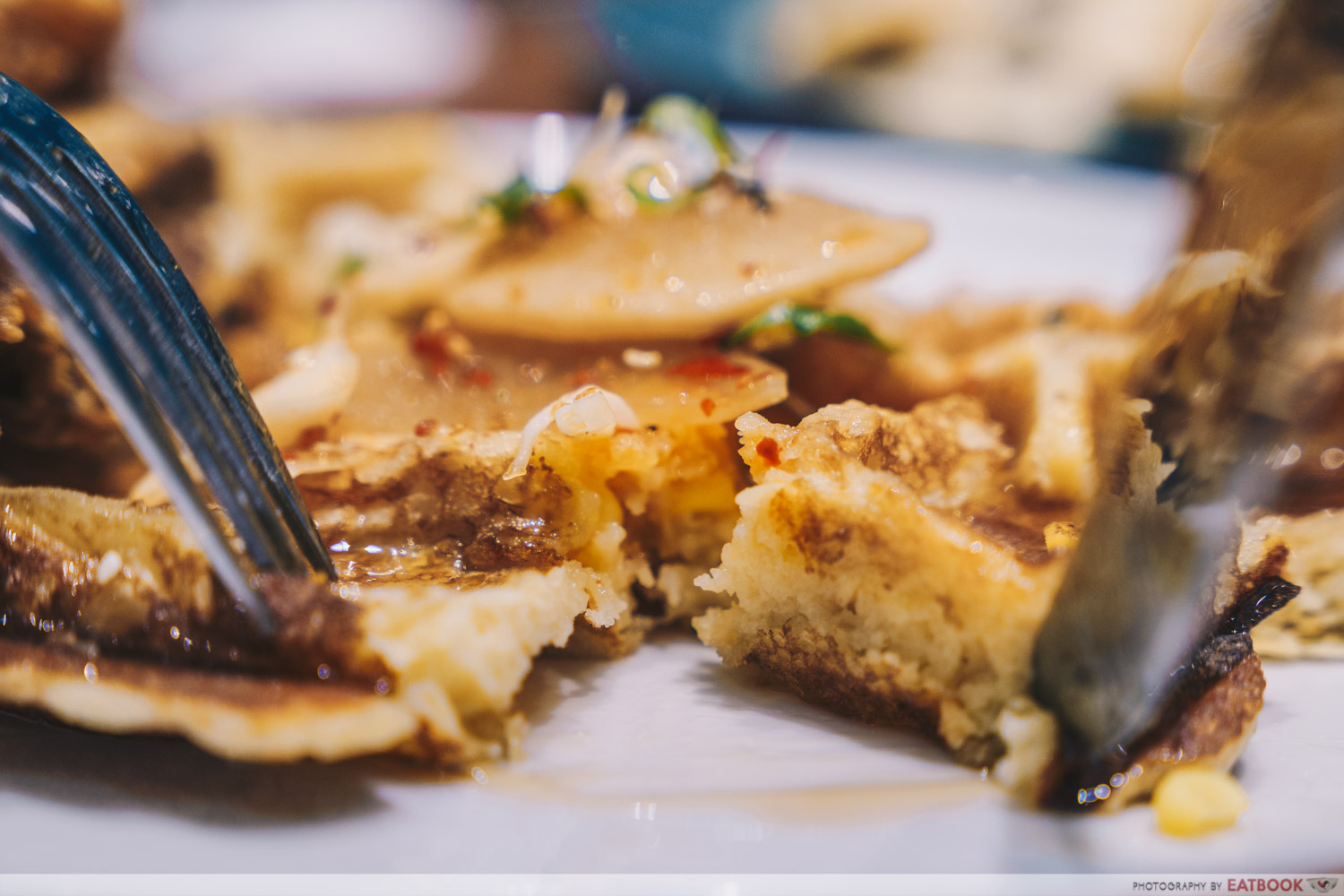 If you were thinking that the waffle is made of cornmeal, it isn't. Rather, it's studded with kernels of fresh corn that lend a variety in texture when you bite into the waffle.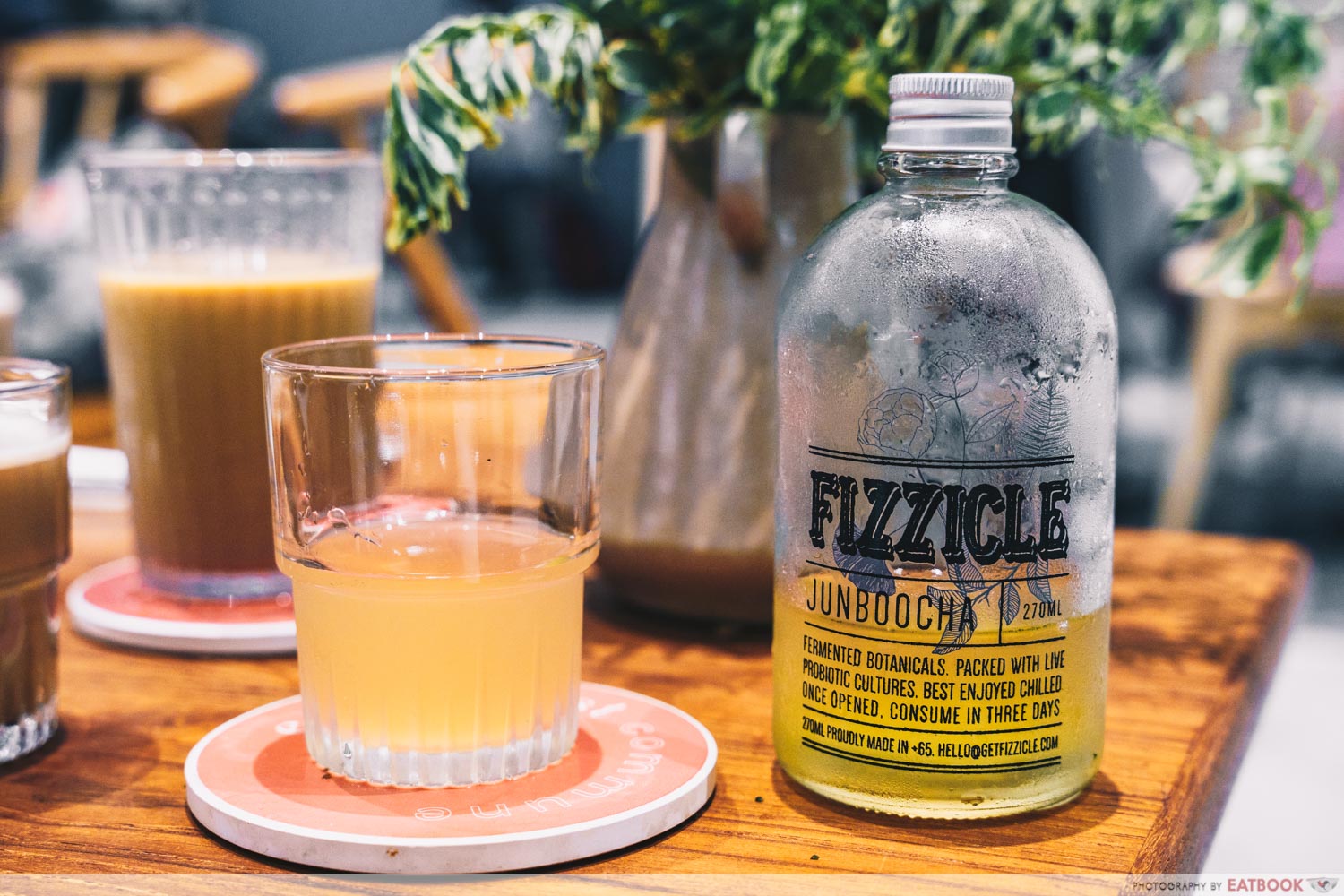 I was particularly excited when I saw Number One – Wildflower Honey ($8) on the kombucha menu, because I am a major fan of a similarly named concoction at a wholefoods store. Imagine when I discovered they're one and the same brew! It's made by local kombucha maker Fizzicle, and plans are in the works to get this on tap at East Coast Commune.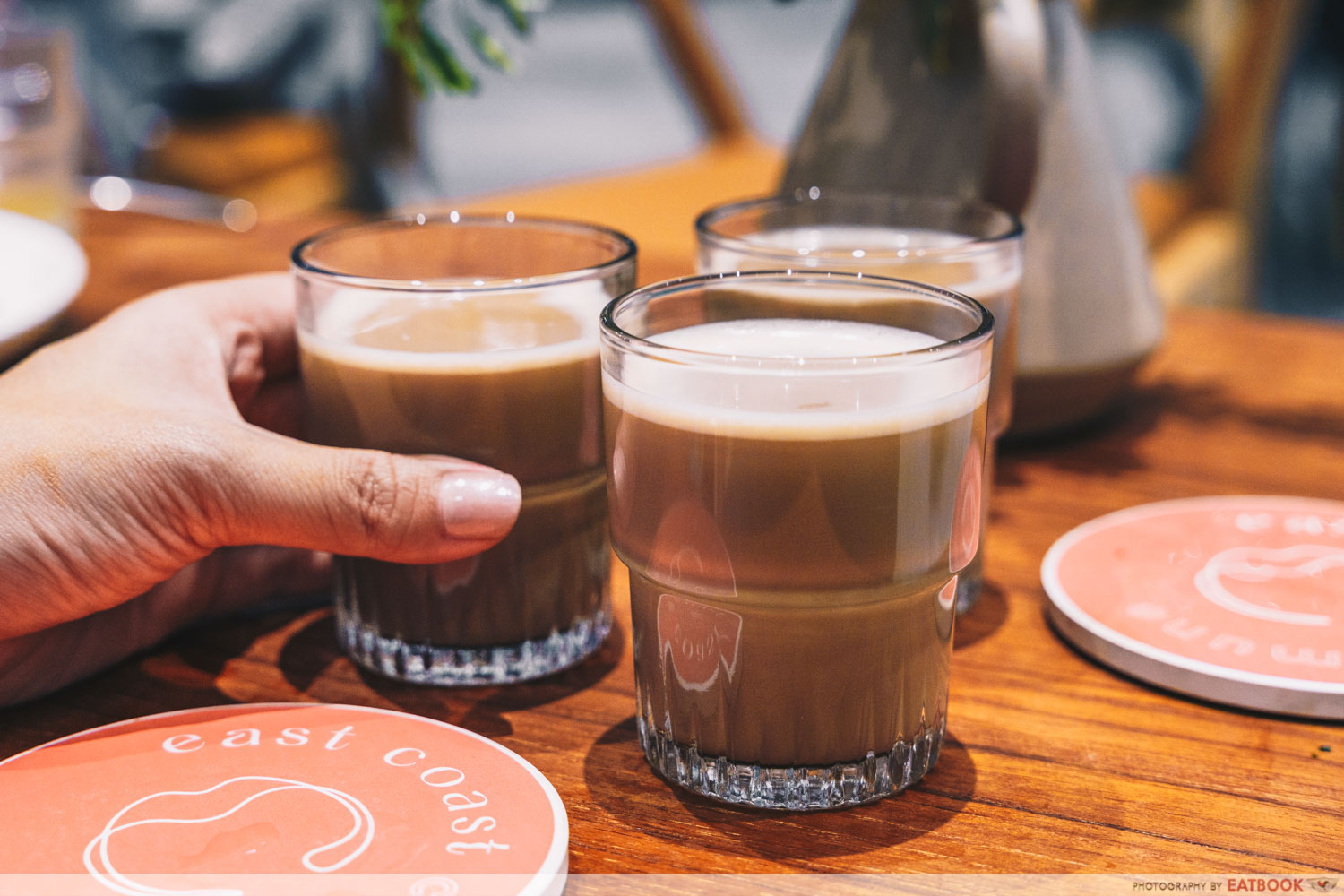 Noteworthy is another local artisanal maker that the cafe supports: The Chai Baba, whose brews are found here in Oat Masala Chai by The Chai Baba ($6). If you haven't had a chai latte before, this is a good one to start with. This comforting stomach-warmer is reminiscent of teh halia, with a little kick of cinnamon, cardamom and pepper cloves. Plus, it's made with oat milk.
Kings Cart Coffee Factory Review: Kaya Souffle Pancakes And Coconut Affogato In Joo Chiat
Ambience at East Coast Commune
Personally designed by owner Shermien, the decor at East Coast Commune melds into the lush landscape of East Coast Park. It's an air-conditioned oasis with a striking teal wall, commissioned art by local artist Wu Yanrong that reflects the sea, and artful touches of flora and greenery.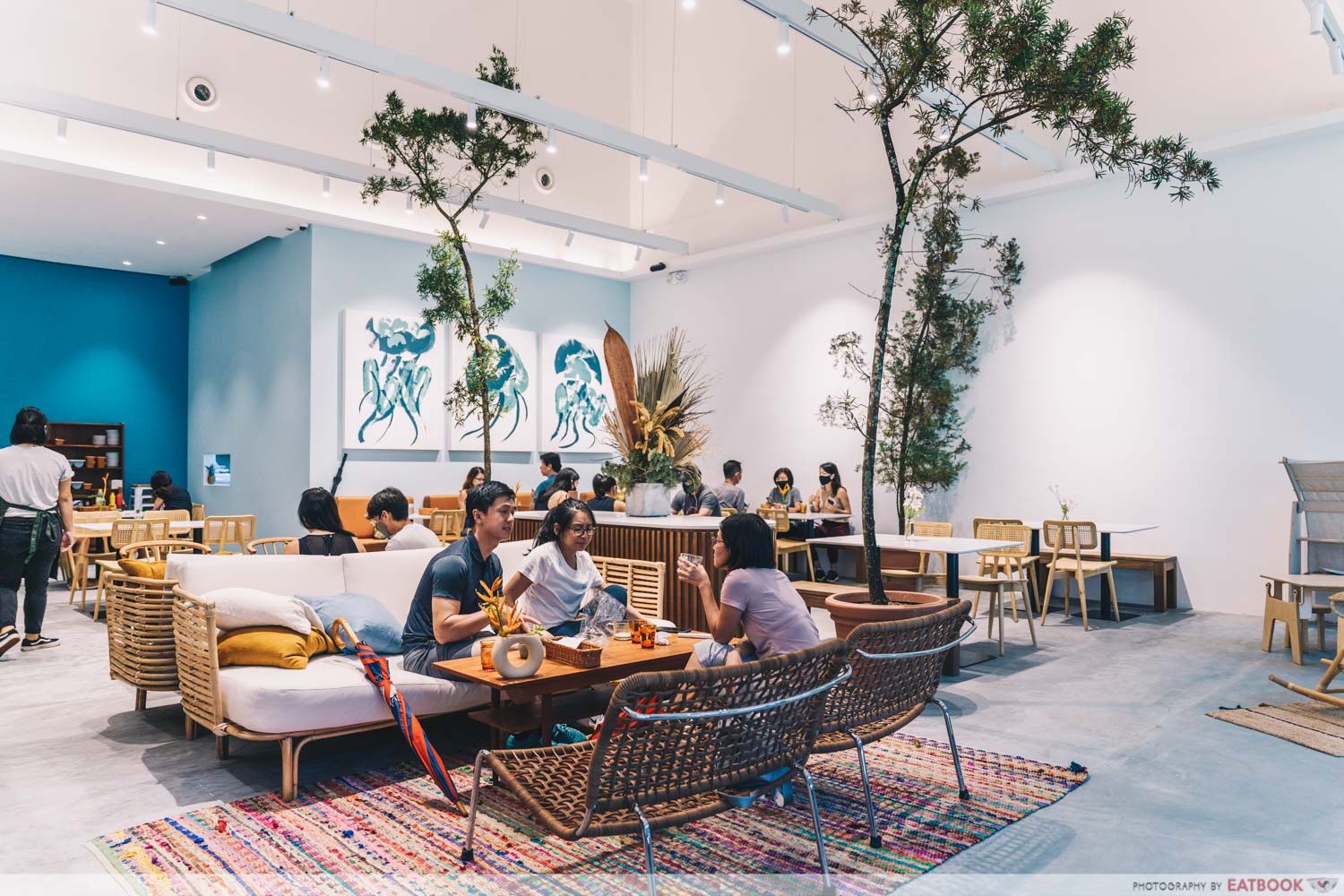 The abundance of well-lit space in the cafe, high ceilings, and a play area for kids all contribute to the general sense of tranquility here. While they do have an al fresco dining patio, this is not open for service yet as they settle into the routine of running the cafe. 
The verdict
East Coast Commune has only been in operation for, at this point, less than two weeks. There may be the occasional hiccup, although our experience there was nothing short of smooth. Do give them some leeway, especially with the crowds that have descended on this charming new cafe.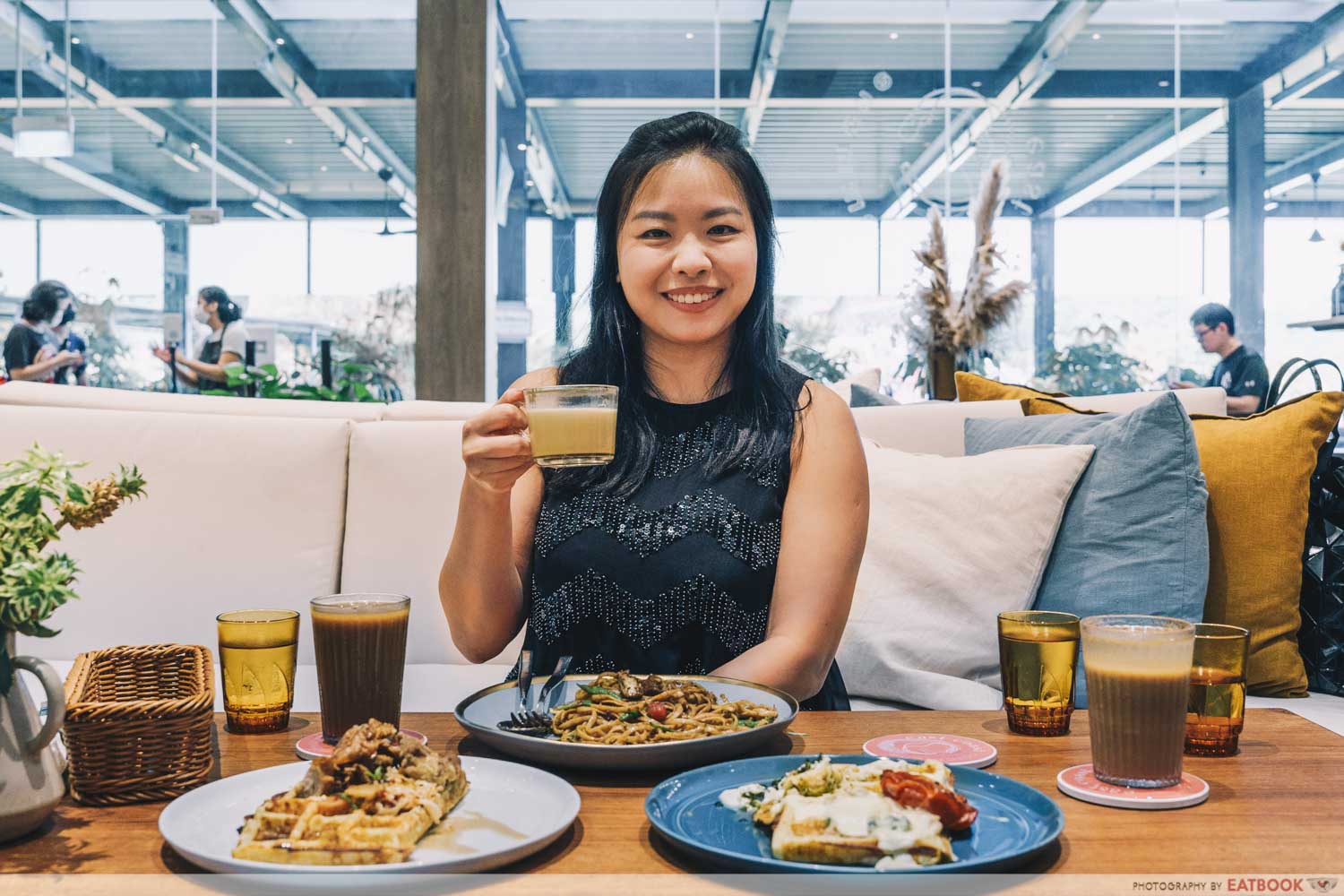 We strongly recommend booking a table through WhatsApp at 8950 4142 if you're heading down on a weekday, but do note that reservations are not accepted on the weekends. We were there during a midweek lunch hour, and it was pretty packed with a steady flow of customers.
With none of the mains going above $20 and a kids menu with wholesome options, we find that East Coast Commune has struck that balance between being a cafe that not only looks great, but also serves great food.
Since they're new, expect also that they'll continue to finetune their recipes. Just as they try to #SupportLocal, it would be remiss of us if we didn't give them a chance, too.
Daizu Cafe Review: Minimalist Japanese Cafe Has Lemon Miso Eggs Benedict And More Near Farrer Park
Kings Cart Coffee Factory is another new cafe you could check out in the East Coast area, while Daizu Cafe is a relatively new cafe in Farrer Park!
Address: 1000 East Coast Parkway, #01-03, Singapore 449876
Opening hours: Daily 9am to 6pm
Tel: 8950 4142
Website
East Coast Commune is not a halal-certified eatery.
Photos taken by Hannah Ng.
This is an independent review by Eatbook.sg.
East Coast Commune Review: IG-Worthy Cafe With Sourdough Waffles And "CharMee" Pasta In East Coast
Summary
Pros
– Wholesome, tasty cafe fare
– Wallet-friendly prices
Cons
– Slightly inaccessible

Recommended dishes: Four Cheese ($15), "CharMee" ($16)
Opening hours: Daily 9am to 6pm
Address: 1000 East Coast Parkway, #01-03, Singapore 449876