Mentaiko mac and cheese made with a rice cooker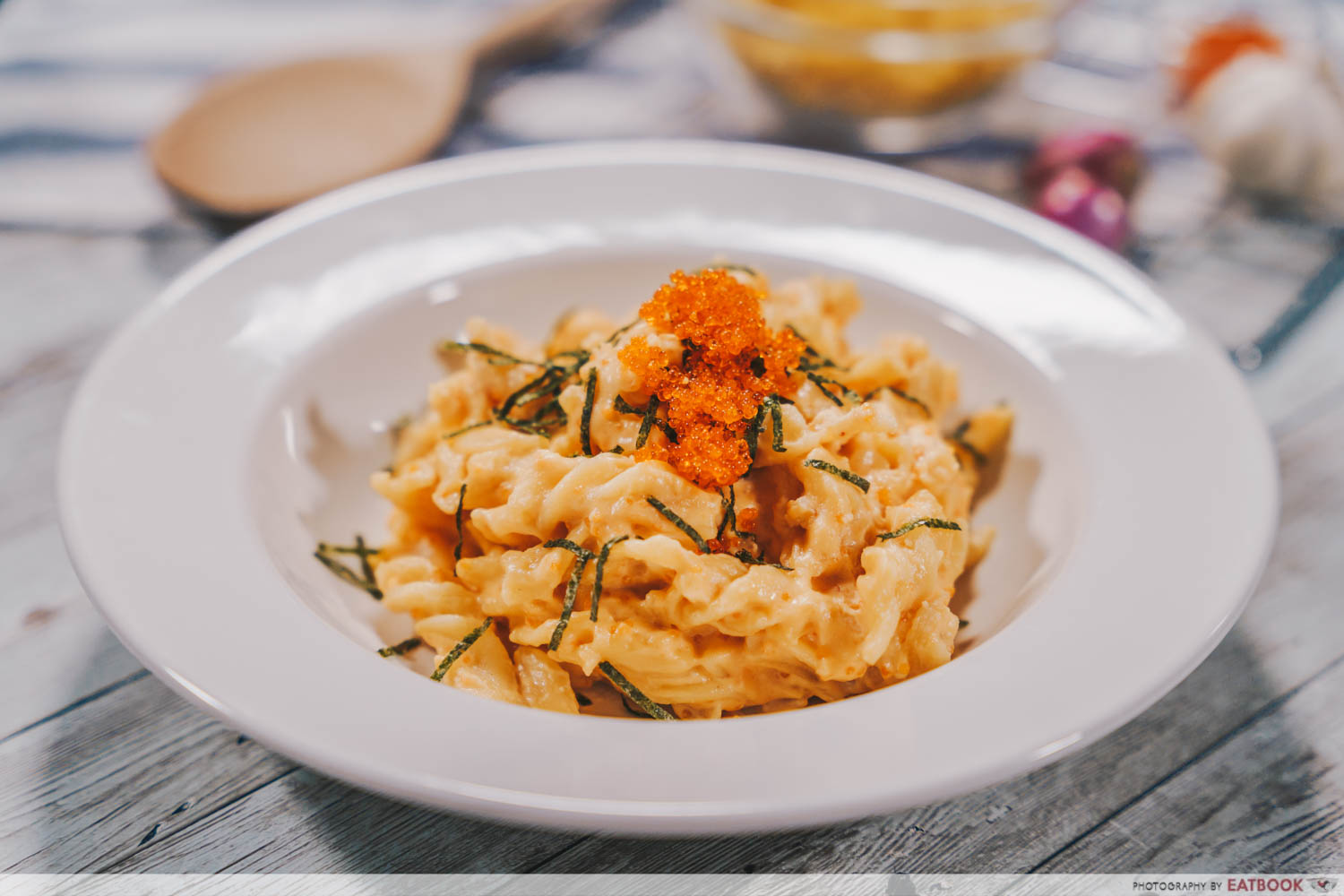 When the initial buzz of cooking daily started to wear off, I found myself dragging my feet into the kitchen. Three weeks into the Circuit Breaker period, my taste buds were getting bored, and my hands had enough of washing the dishes. If, like me, you're suffering from a case of cabin fever, this Rice Cooker Mentaiko Mac And Cheese might help cheer you up.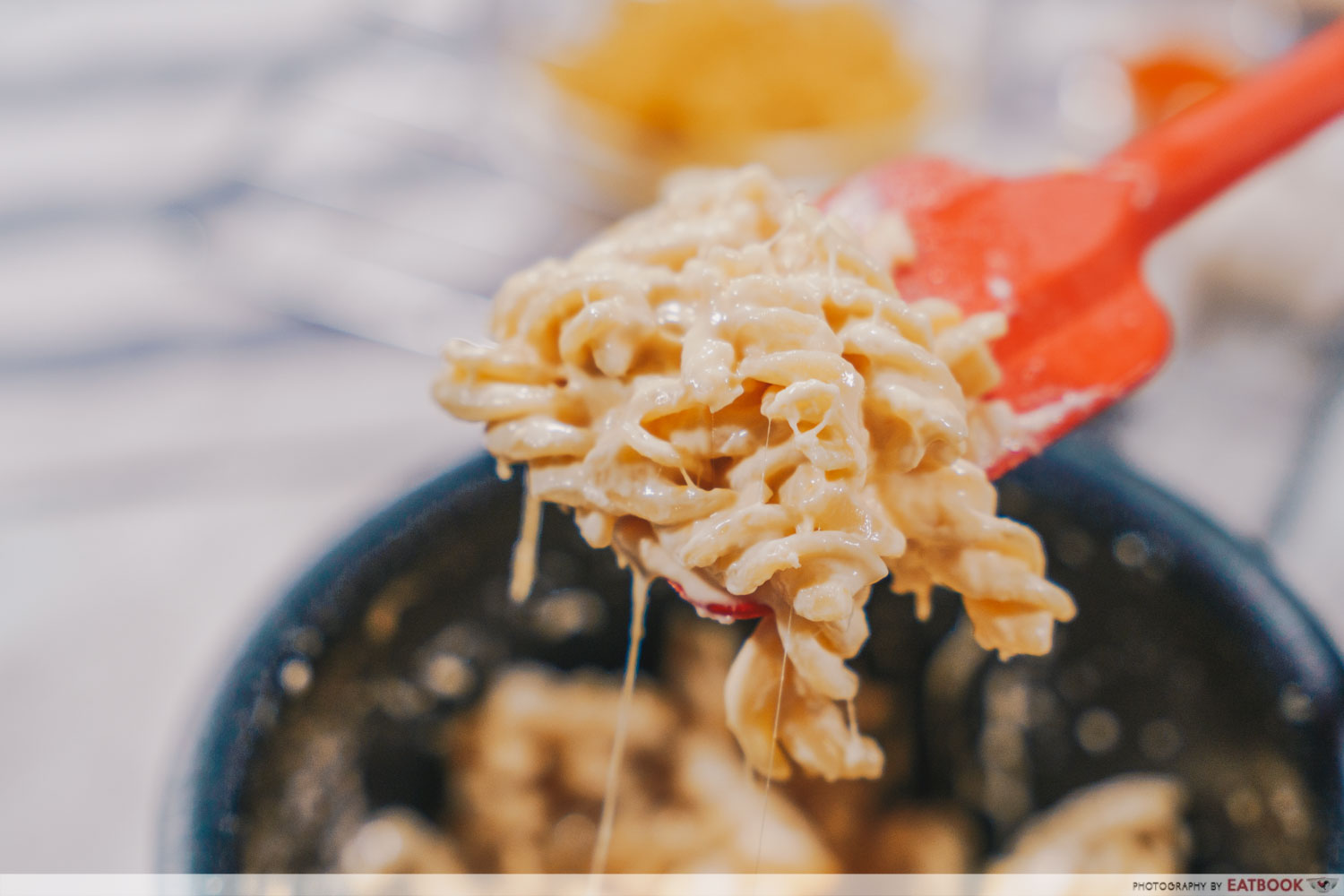 Creamy and umami-licious, this mentaiko mac and cheese will bring back cafe-hopping memories, along with an IG-worthy cheese-pull shot to boot. If this quick and simple five-step solution is right up your alley, fast forward to the full recipe at the bottom of the article!
---
The process
---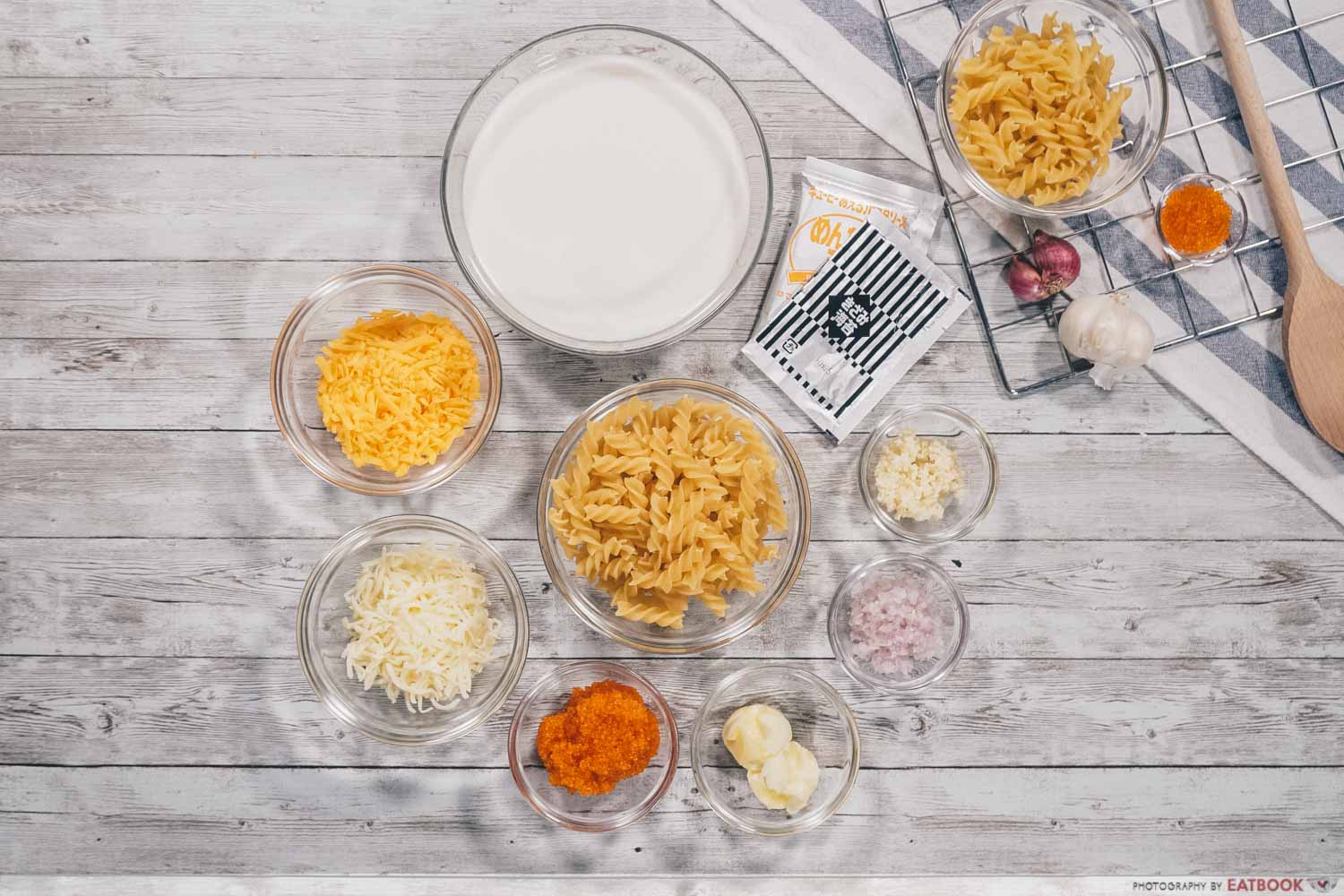 We could have skipped a few steps and ingredients to make this rice cooker mac and cheese super simple, but there would be no joy and satisfaction in doing that. Steps are purposefully put in place to build layers of flavour with the help of the following ingredients: garlic, shallots, butter, cheeses, pasta, milk, mentaiko sauce, and tobiko.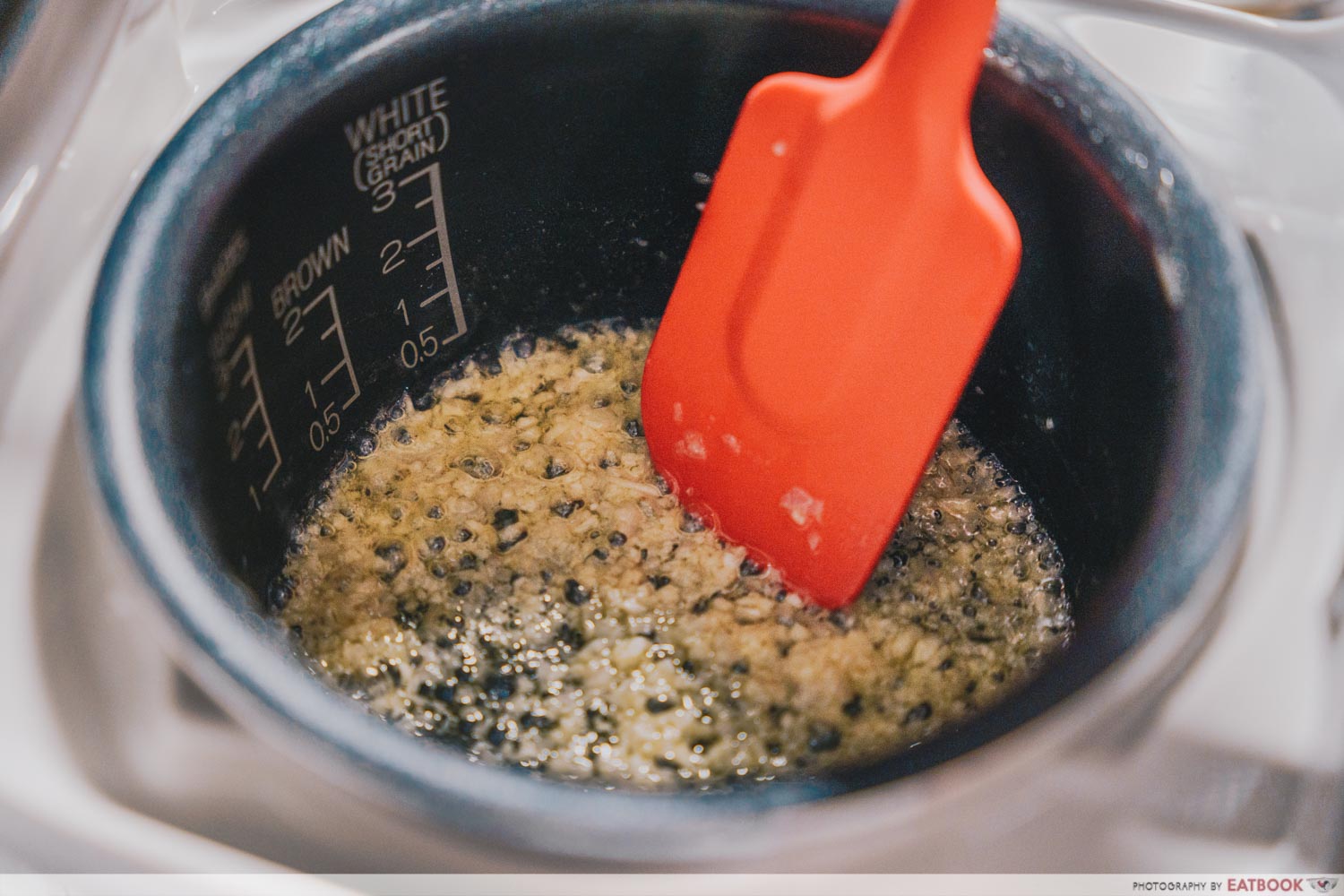 Set your rice cooker on "Quick Cook" settings, or just "Start Cook" for older models. Begin by melting butter, which is the start of all good things in the kitchen. Throw in finely chopped garlic and shallots, and sauté the mix. This extracts the caramelised and toasty flavours, setting a strong foundation for the mac and cheese.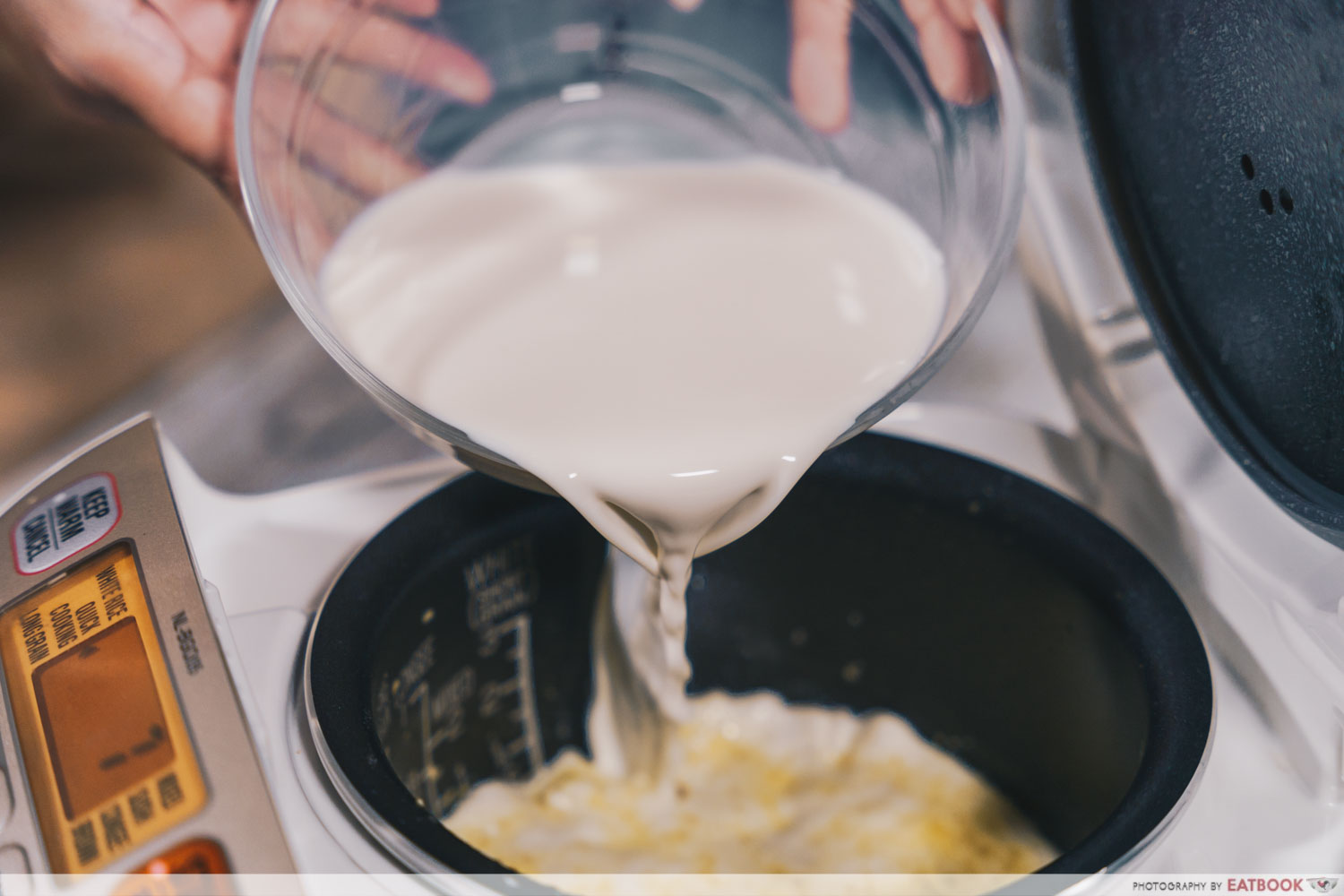 As soon as the garlic turns golden brown, and shallots almost translucent, pour in milk followed by pasta and stir. Don't forget to season with salt and pepper.
Instead of using water or chicken stock to cook the pasta, whole milk is used in this recipe as we want to create a thicker and creamier sauce for a sicker cheese-pull later.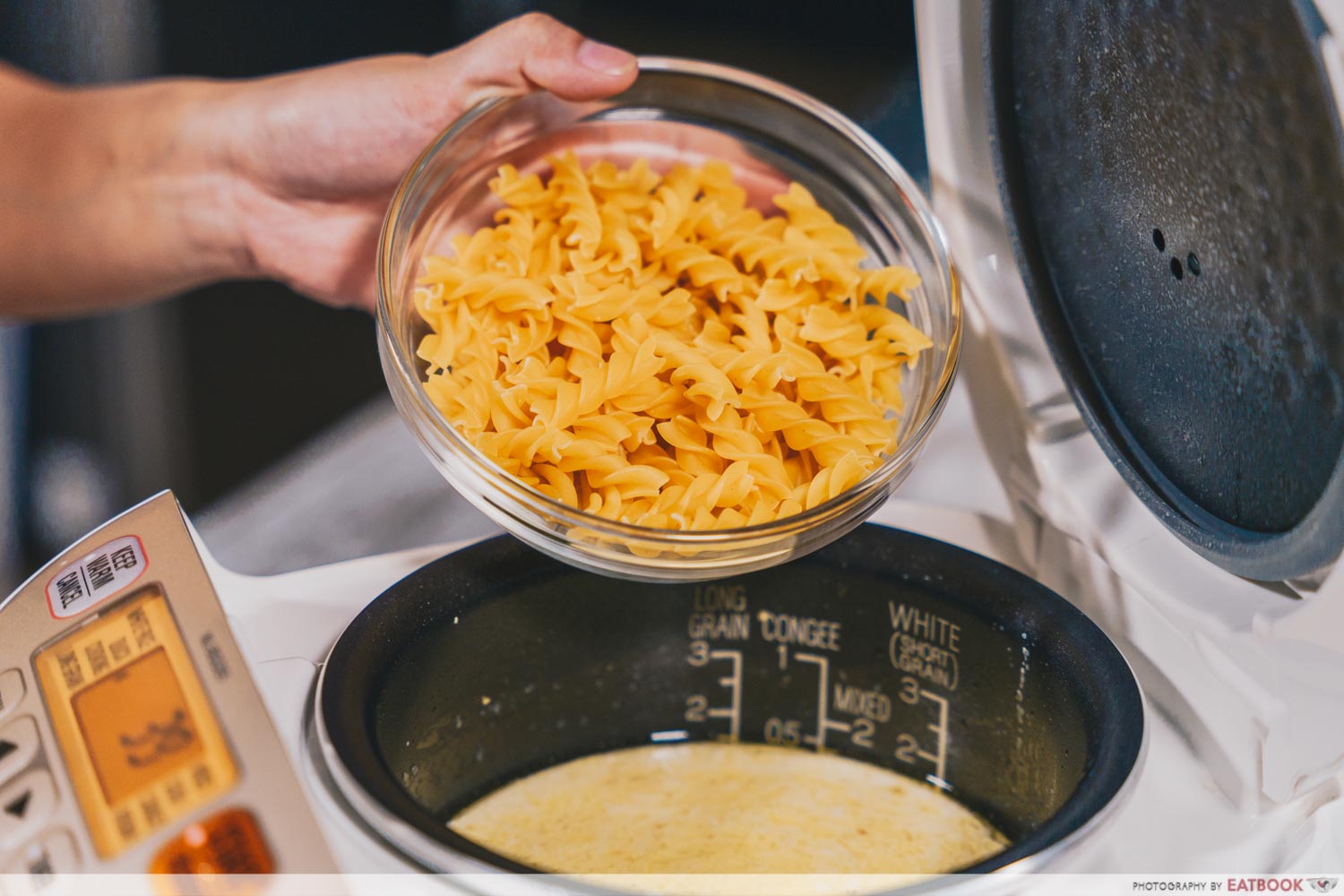 The two weeks before the Circuit Breaker saw a shortage of elbow macaroni at my neighbourhood supermarket. All that was left were a few bags of farfalle and fusilli. Any variety of pasta would work just fine, but the classic elbow macaroni, fusilli, and penne are the best for mac and cheese as they have little pockets to hold sauces better than the others.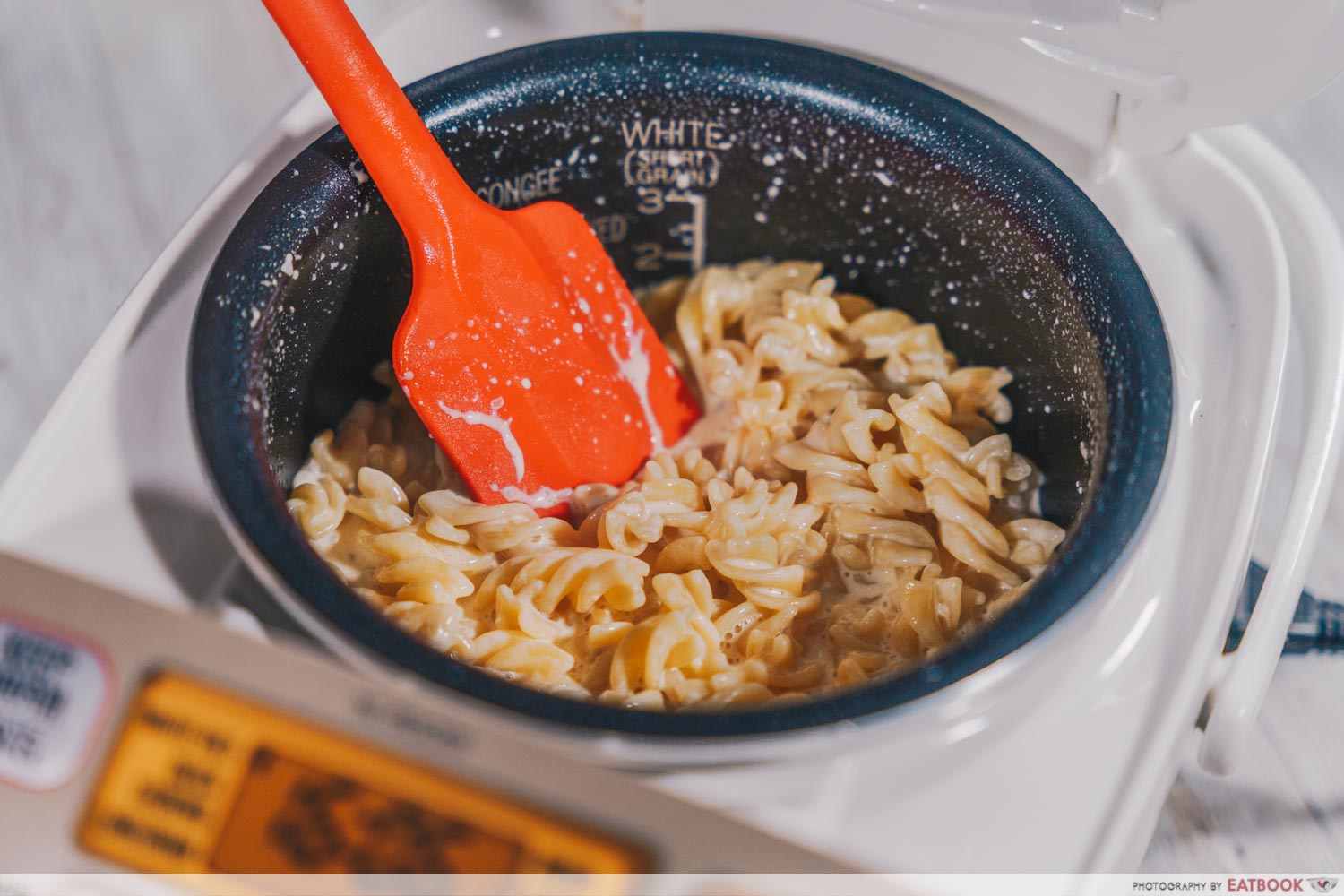 With the lid of the rice cooker closed shut, let the pasta cook for around 25 minutes. As different models of rice cooker operate differently, the rule of thumb is to check that the milk has been significantly reduced while the pasta is still al dente. Turn off the rice cooker, leave the lid open, and allow the pasta to cool down for a few minutes before adding cheese.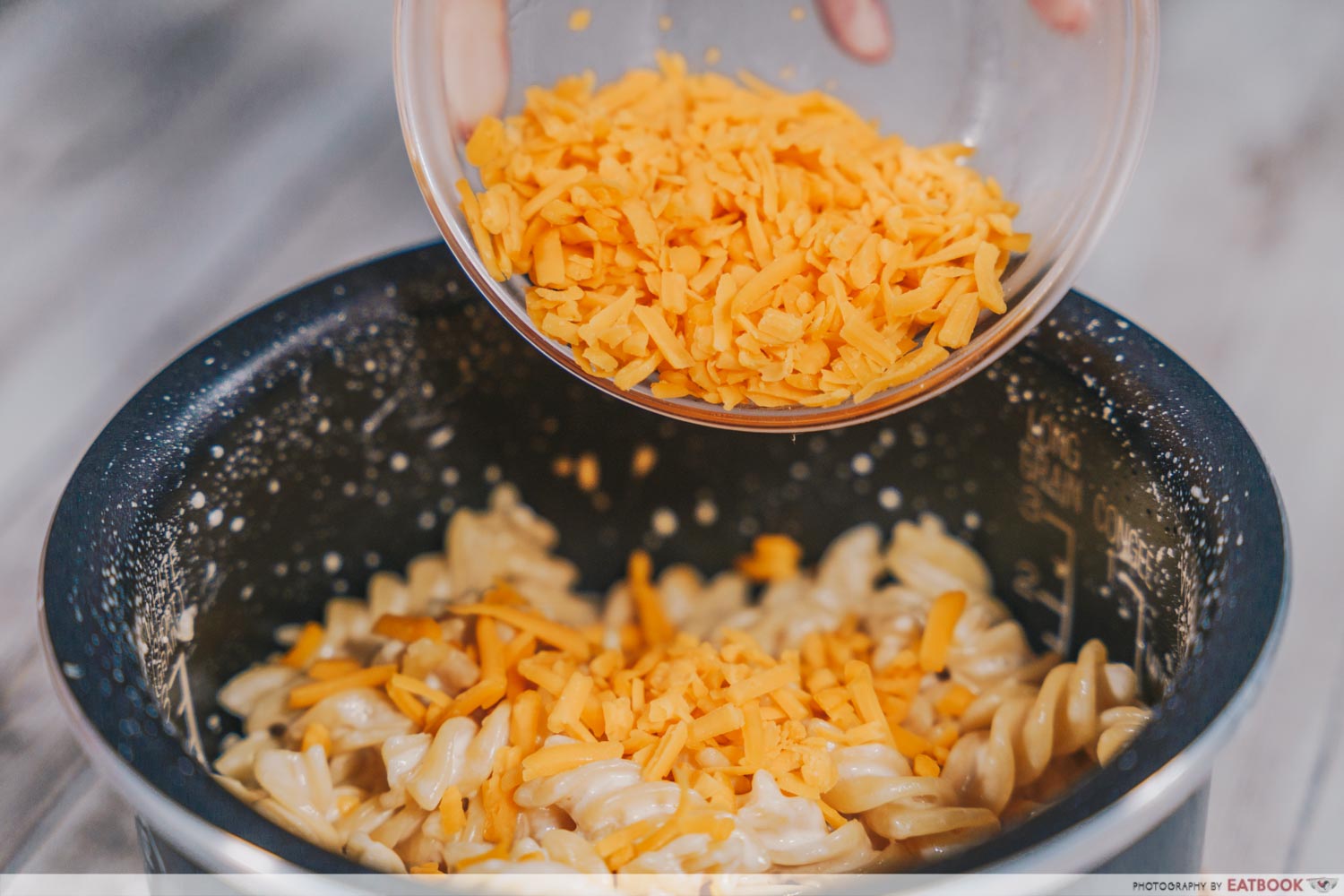 The pasta shouldn't be bubbling hot as it might cause the cheese to break down, causing a gritty texture. Add cheddar and mozzarella in small batches on low heat, stirring well each time.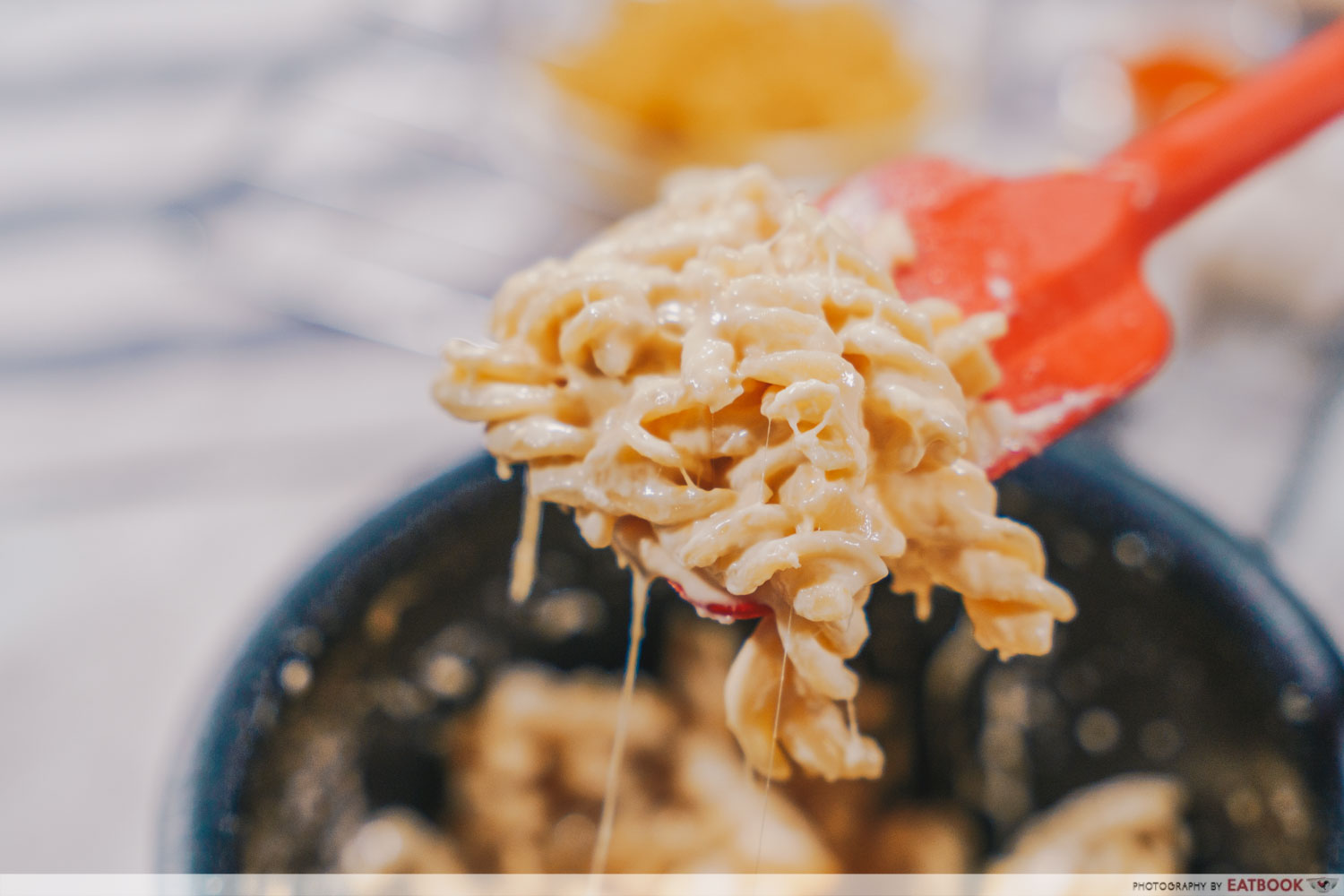 The stringy cheese will start to take form, signalling the time to mix the mentaiko sauce in.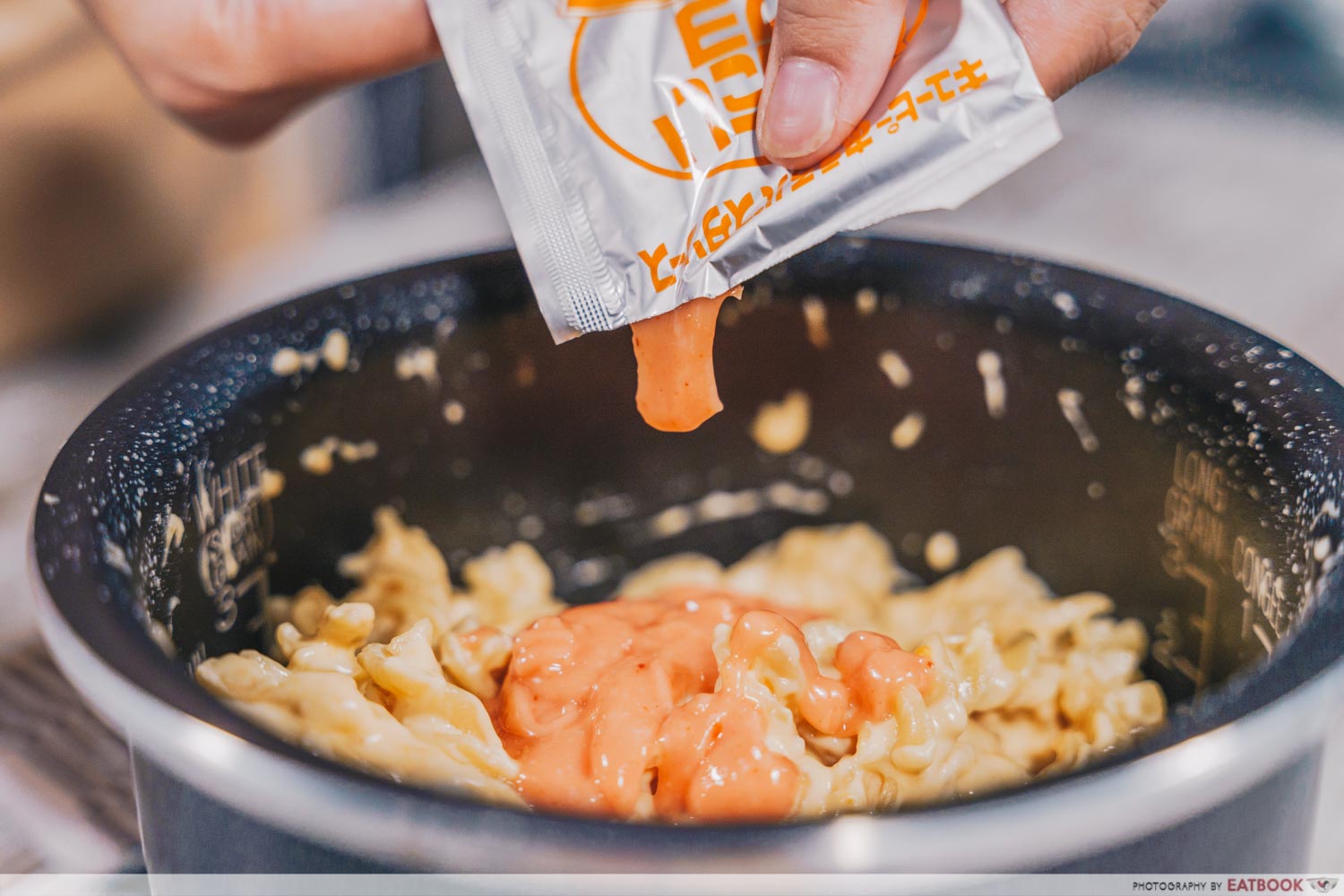 Any brand of mentaiko pasta sauce would work. We used the Kewpie Mentai Mayo Pasta Sauce from Don Don Donki and it worked beautifully with the sharp and salty cheese. It provided a briny touch from the cod roe, and added another layer of creaminess to the mix. Other places to purchase the sauce from would be Isetan, as well as higher-end supermarkets.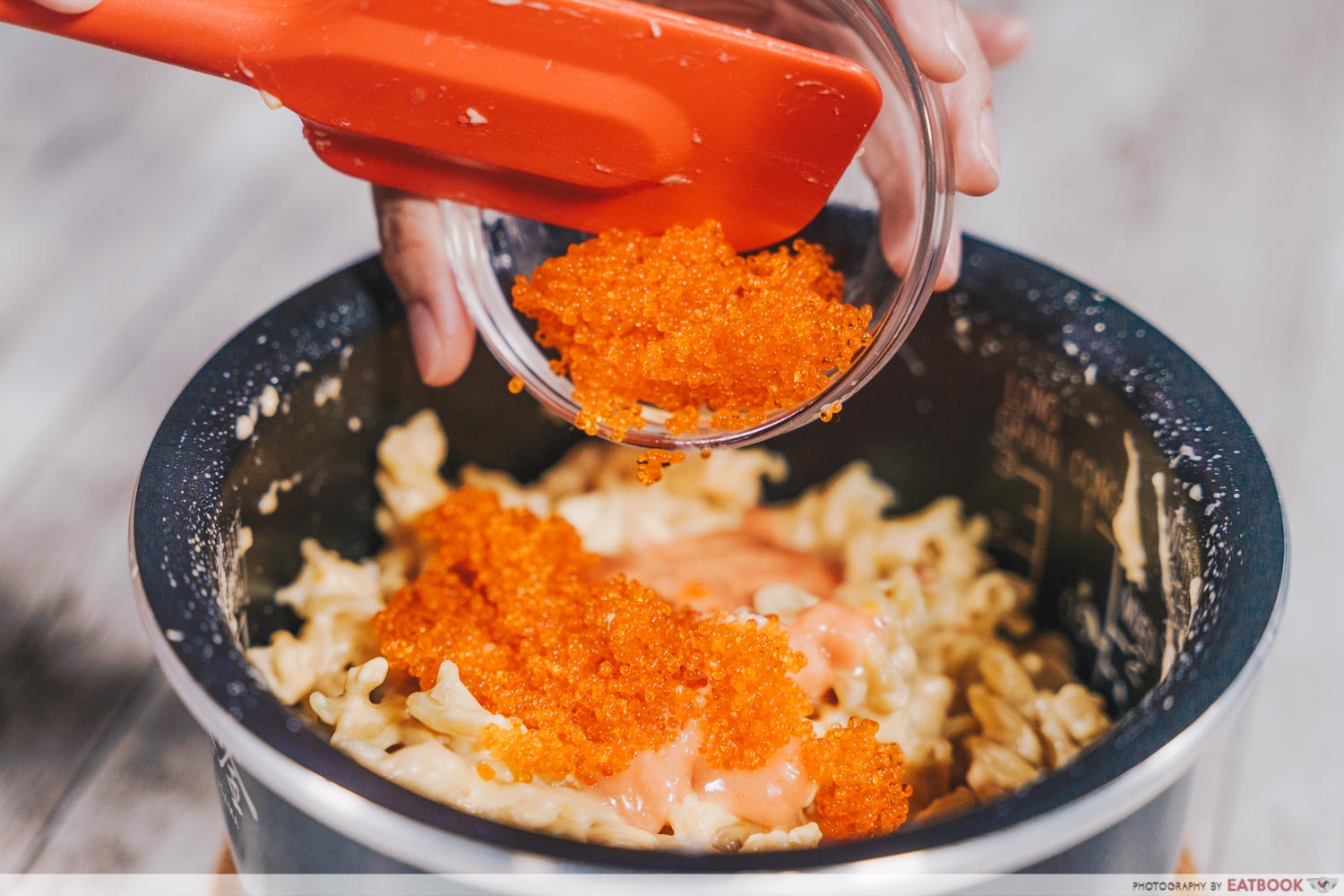 As it is not that commonly found in most supermarkets, tobiko is an optional ingredient for this dish. Almost like pop rocks to a chunk of rich milk chocolate, the tobiko works in similar ways. It gives not only a beautiful pop of colour, but also an addictive texture to the mac and cheese.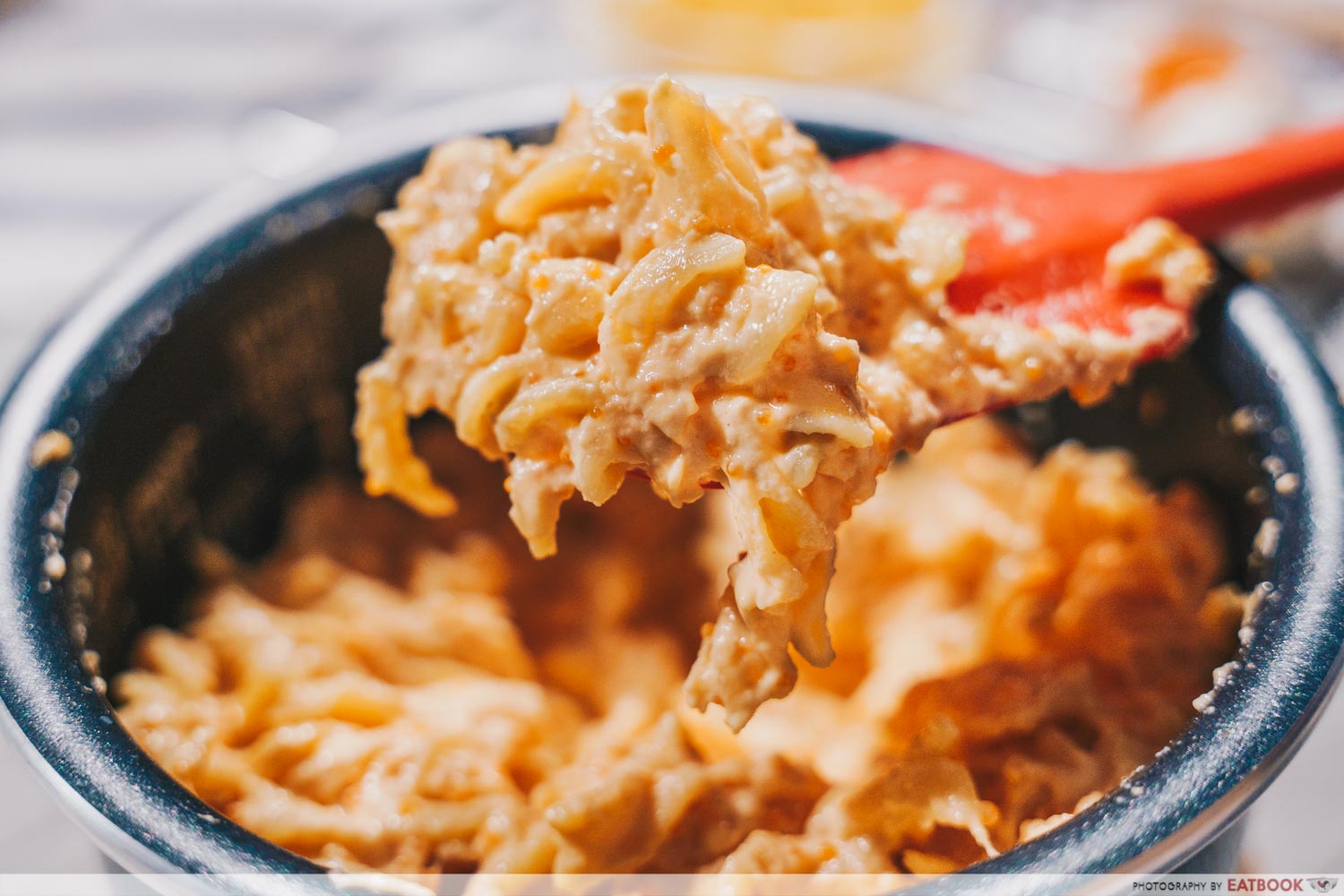 With another thorough stir, the rice cooker mentaiko mac and cheese is ready to be served. Sprinkle more tobiko toppings, as well as seaweed strips found in the Kewpie Mentai Mayo sauce packet for more colours. 
For another one-pot version of the versatile mac and cheese, try out the spicy Samyang mac and cheese too! If all the talk about mentaiko has set the Japanese-cuisine lover in you ablaze, here is another recipe for an easy and tasty rice cooker oyakodon.
Samyang Mac & Cheese Recipe: Quick 20-Minute One-Pot Pasta That's Super Spicy
---
Rice cooker mentaiko mac and cheese recipe
---
Yield: Serves 2
Cooking time: 45 minutes
Ingredients:
2½ cups milk
3 garlic cloves, finely chopped
2 shallots, finely chopped
150g macaroni
½ cup cheddar cheese
½ cup mozzarella cheese
2 tbsp butter
1 packet mentaiko sauce
4 tbsp tobiko
Salt
Pepper

Garnish: ½ tbsp tobiko
Directions:
Hit the "Start Cook" button on the rice cooker and sauté butter, garlic, and shallots together until the shallots are almost translucent, and the garlic is slightly brown.

Pour milk and macaroni into the rice cooker, season with salt and pepper, and cook for 25 minutes.

Leave the lid open to cool for five minutes, and add cheddar and mozzarella cheese into the pasta, stirring till the cheeses melt. 

Add mentaiko sauce and tobiko and mix everything well.

Garnish with more tobiko and serve immediately.
Photos taken by Lim An.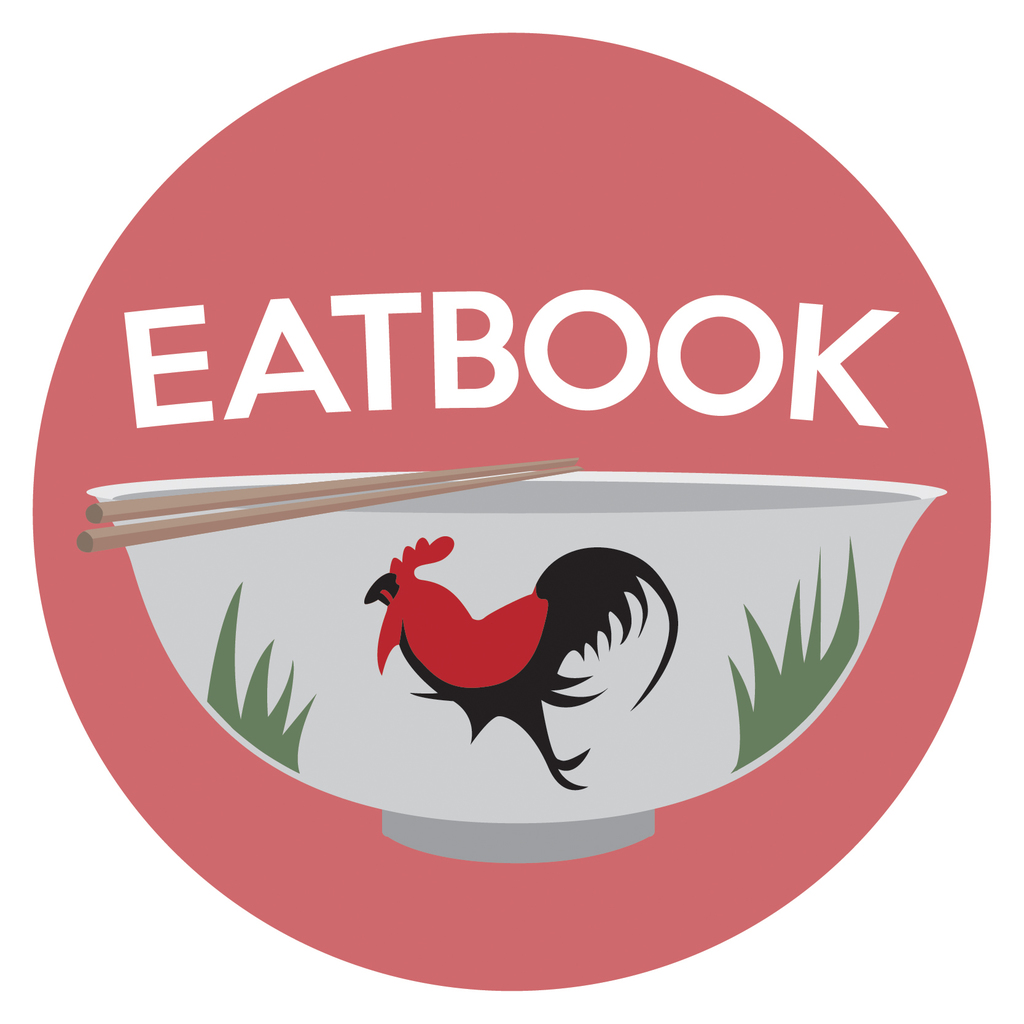 Drop us your email so you won't miss the latest news.