One-pot Samyang mac & cheese recipe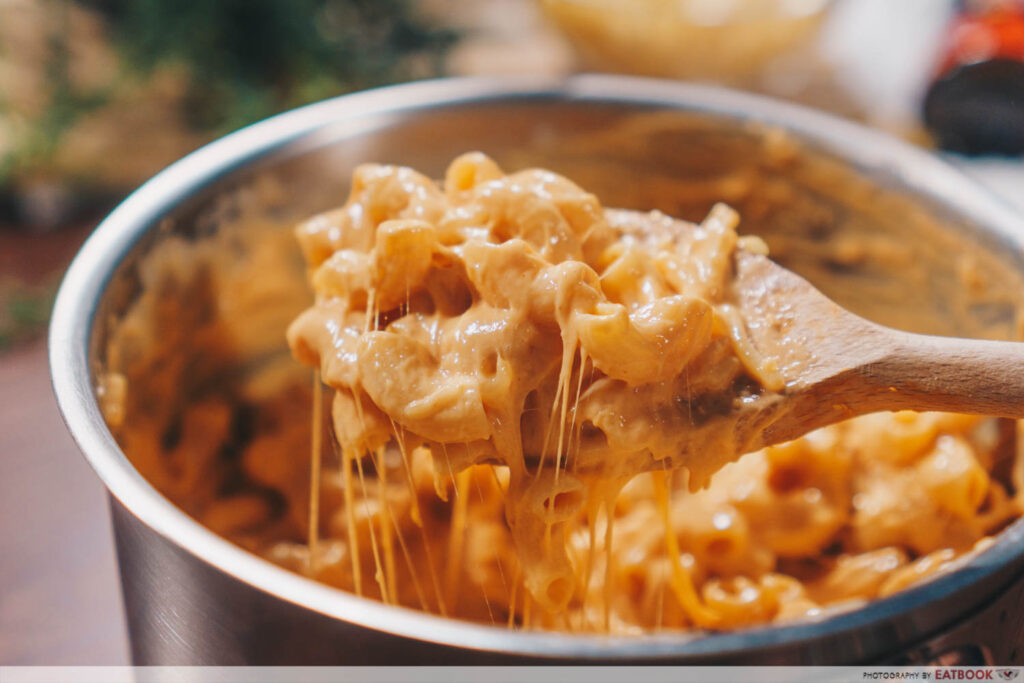 I wasn't sure if I felt happy or sad upon hearing the news that Samyang's legendary hot & spicy sauce is available in Singapore.
Thinking about the diabolical hot sauce conjures traumatic memories of long episodes in the toilet, followed by an unpleasant feeling in my gut days after. At the same time, that same insanely addictive spiciness makes me want more. It seems like I never learn.
Previously only available as small sachets in Samyang instant noodles, this insanely fiery sauce now comes in a 200ml bottle. With an excessive amount of hot sauce at my disposal, I had to elevate my Samyang experience to the next level.
Enter one-pot American-style mac & cheese. Creamy and full of cheesy goodness, the cheese holds up well with the Korean spicy sauce without being overpowered by it.
The best part is I can do it all in one pot, meaning I can spend less time cleaning and more time recovering from the spice. Scroll all the way down for the full recipe.
The process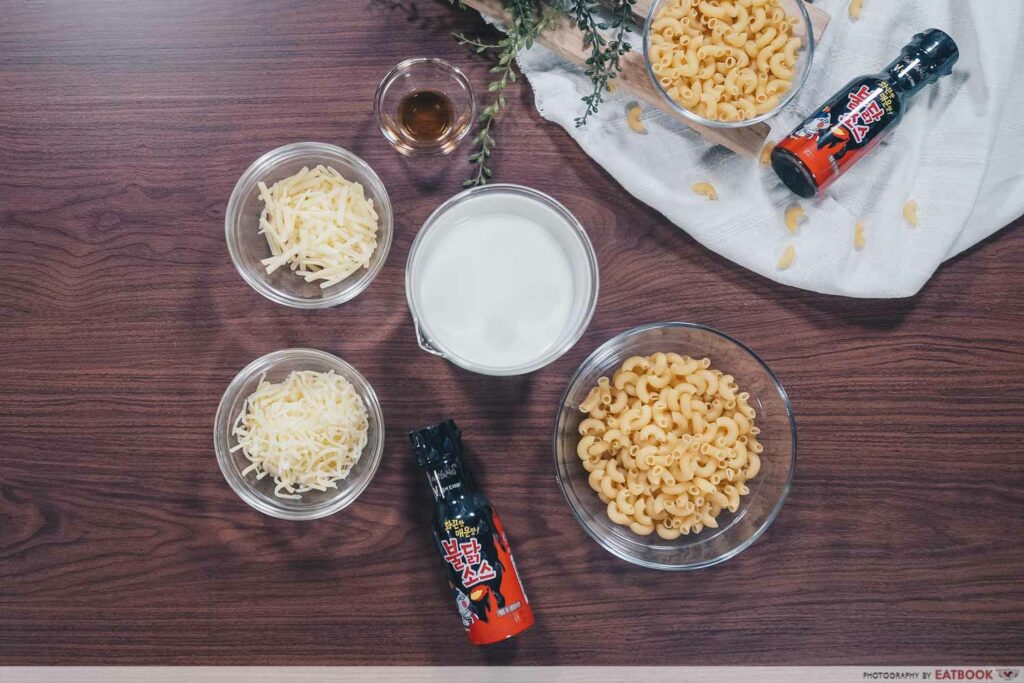 What I like about this recipe is how most of the ingredients are pantry staples. A duo of cheeses, milk, elbow macaroni, sesame oil and you're good to go.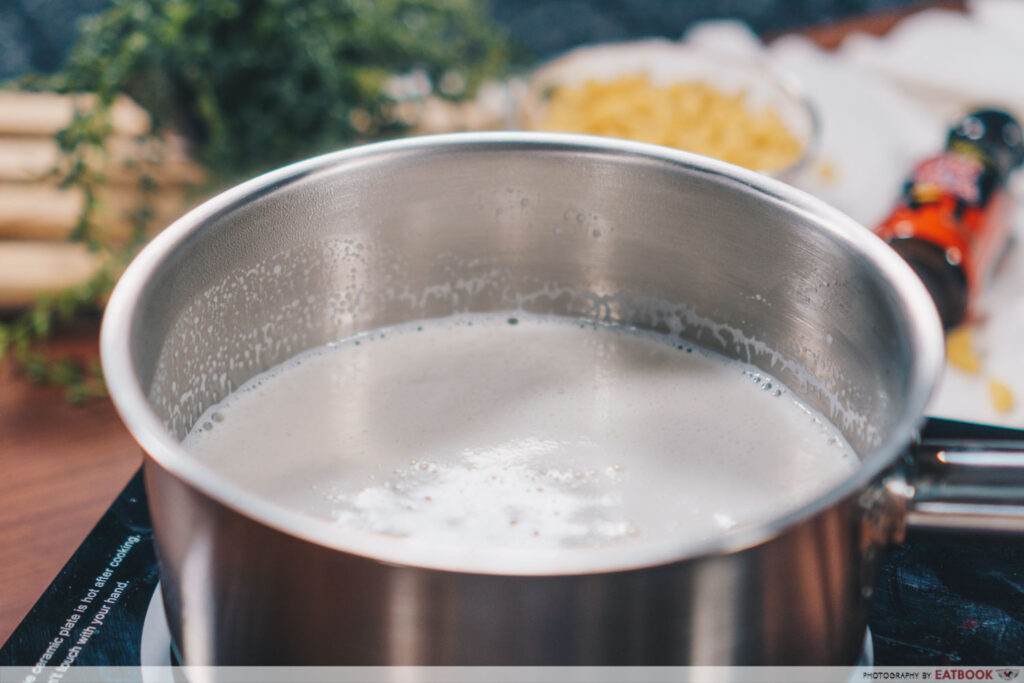 Start by bringing a pot of milk to a gentle boil. Make sure to stir it from time to time to prevent the milk from scorching.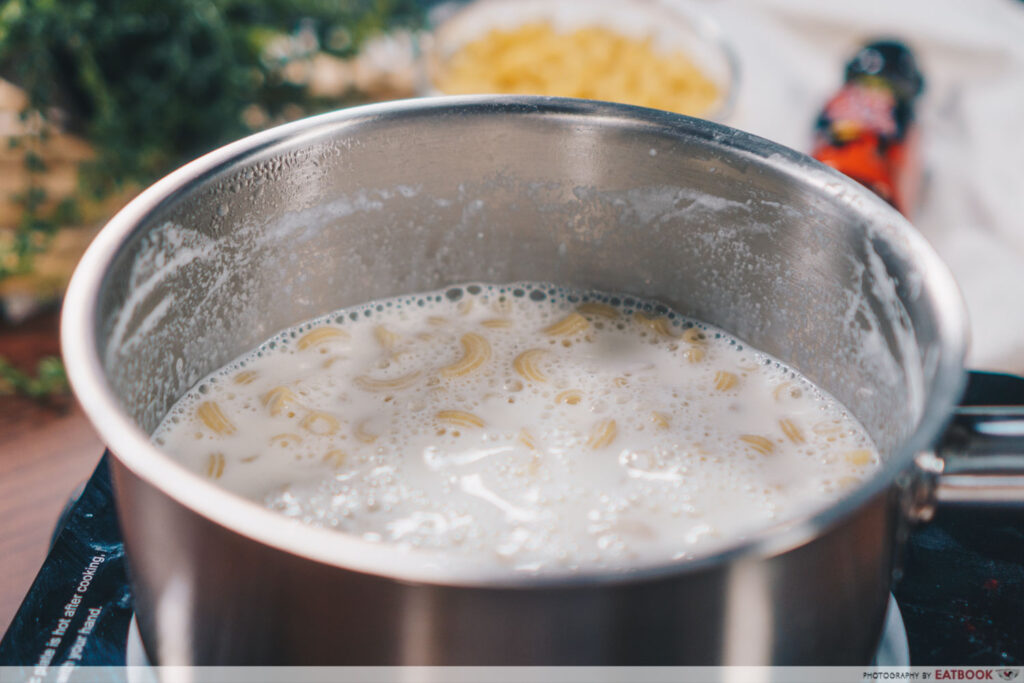 Add the macaroni and stir gently to prevent them from sticking to the bottom of the pan. You want the macaroni to gently absorb the milk so that it stays creamy. This should take around 10 minutes, or until the macaroni is cooked through.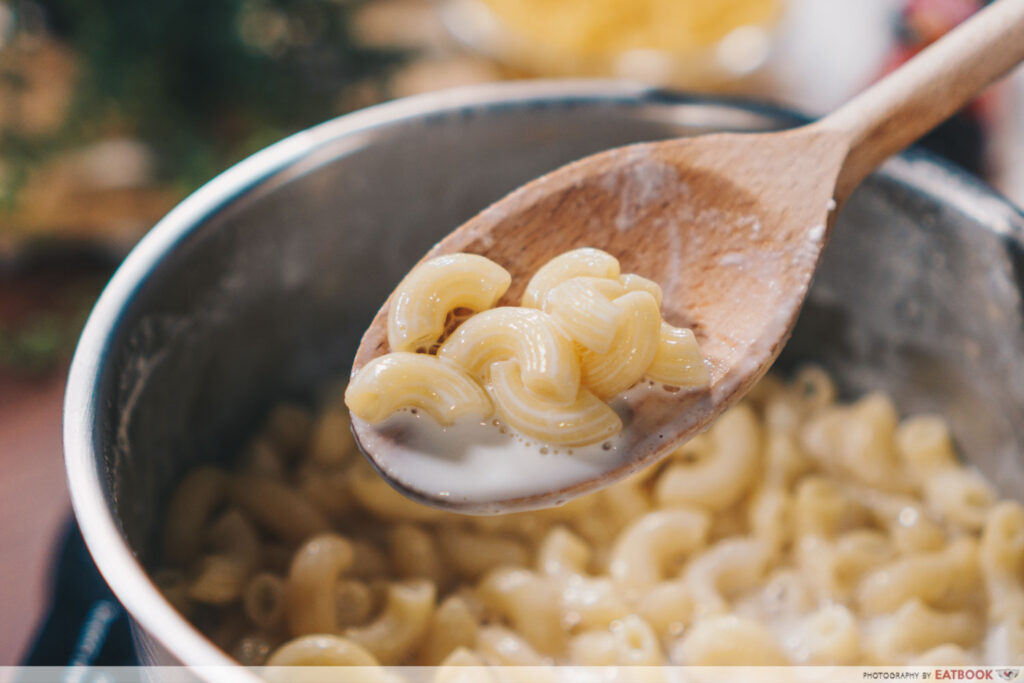 The macaroni is ready when the milk has thickened and coats the pasta. At this point, the milk mixture should also be nicely reduced to a small pool at the bottom of the pan.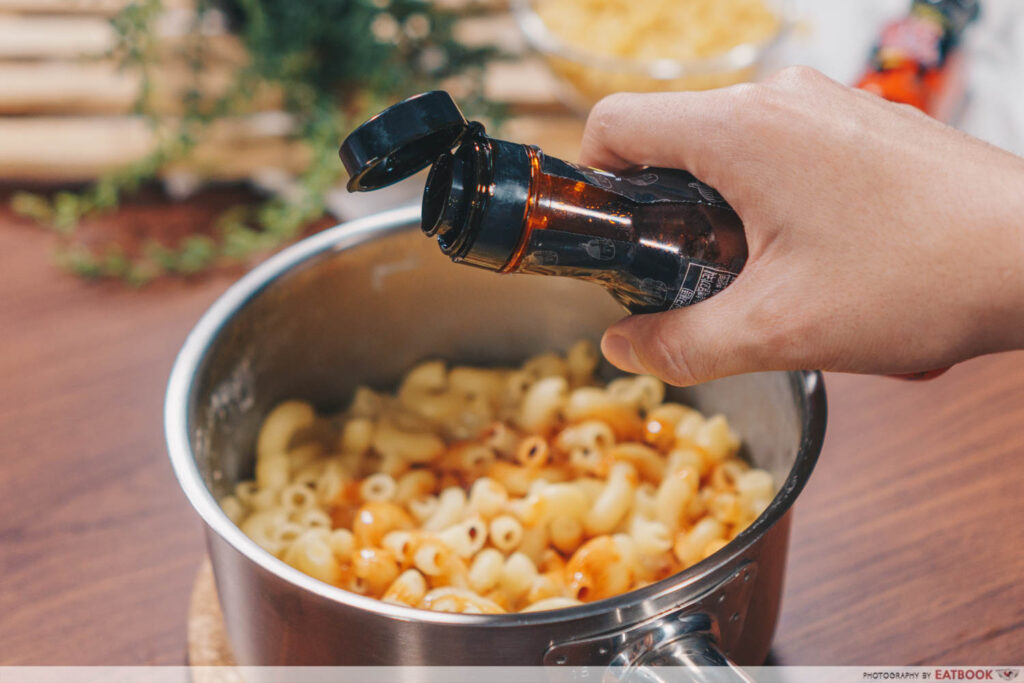 Remove the pan from the heat and add in the Samyang Hot & Spicy sauce. I added in two tablespoons, which gave a substantial amount of heat. Feel free to give it a taste and add more according to your spice tolerance.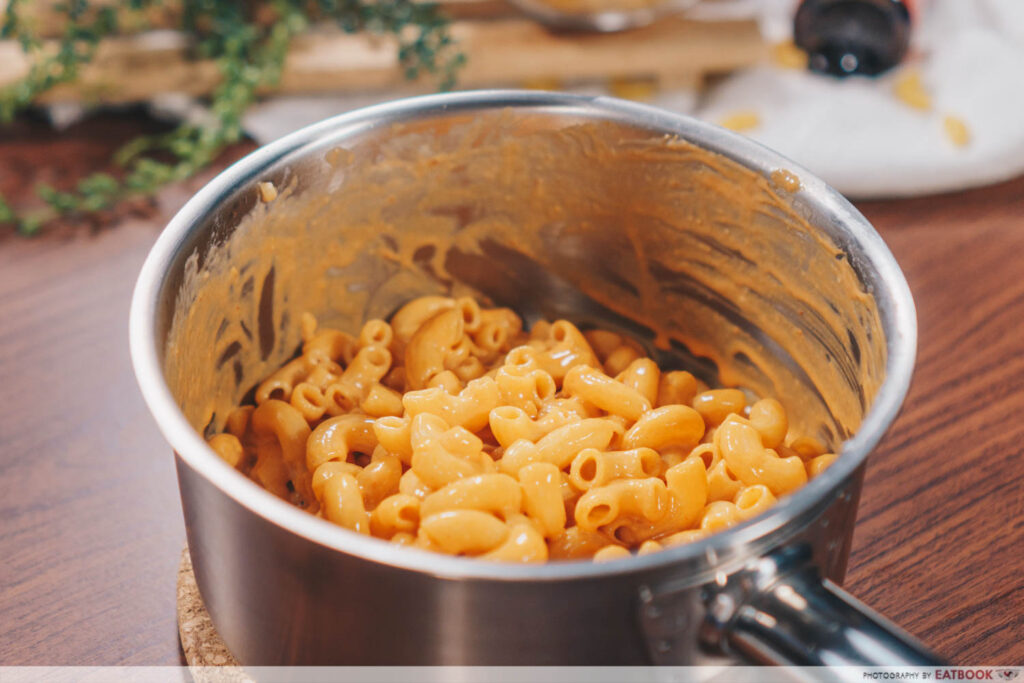 Give it a good mix until the pasta has developed a pleasant crimson colour. Tease your appetite by taking a hard whiff and sniff up the nose-burning spiciness from the Samyang sauce.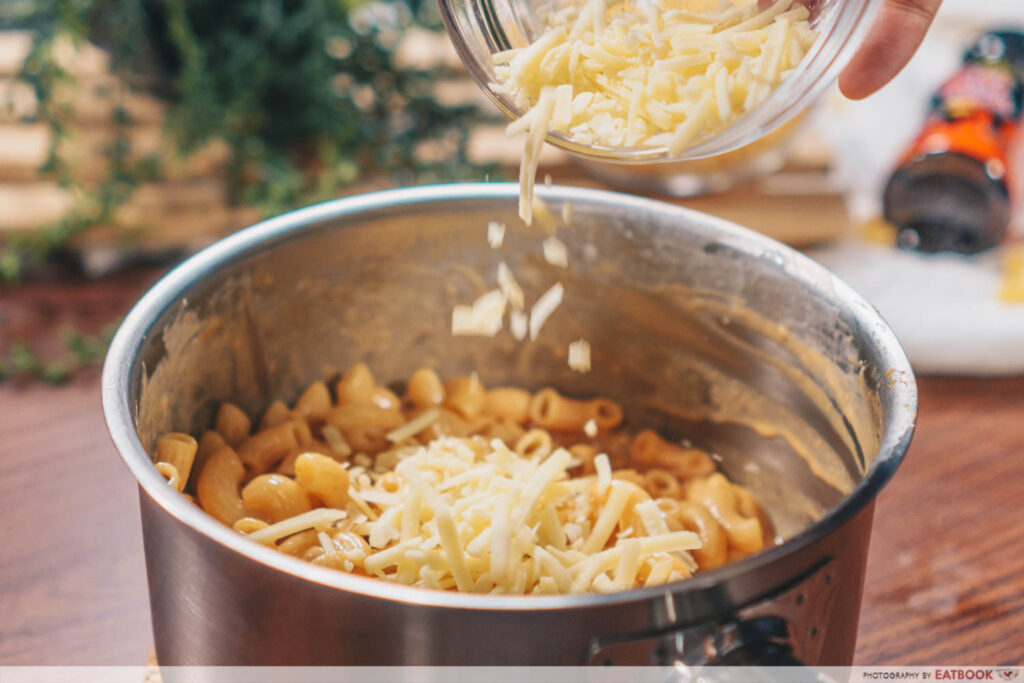 Add the cheese in batches and mix well. Act fast, as it's important the pot remains hot so that the cheese can melt properly.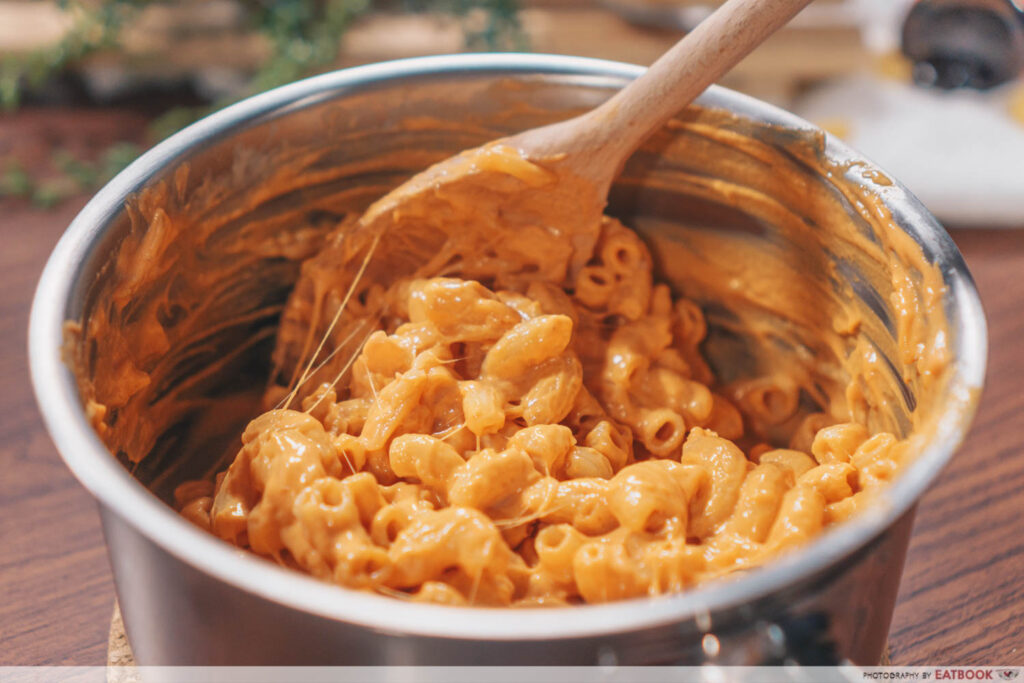 I used a combination of mozzarella and cheddar as it gives a good balance of texture and flavour. But if you only have cheddar in the fridge, that's okay too. Chuck it all inside the pot and it'll turn out just as good.
White Rabbit Milkshake Recipe: Easy Steps With Four Ingredients For A Taste Of Childhood
Stirring in a bit of fragrant sesame oil gives a pleasant burst of nuttiness, while cutting through the creamy cheese. Once again, if you like more sesame oil, feel free to add more.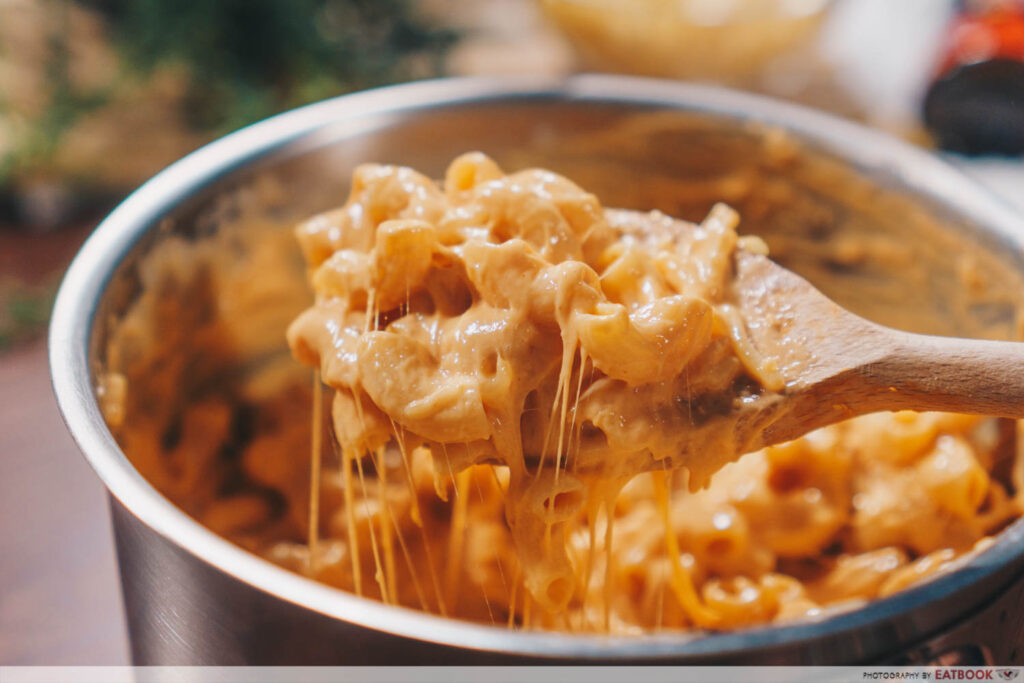 Give everything a good mix and garnish the dish with shredded seaweed and white sesame seeds. The garnishes are completely optional, but I find that it makes the dish look prettier.
You can eat this out of the pot or serve it on fancy plates, but the most important thing is to eat it immediately. Similar to all mac & cheese, the cheese tends to harden as it cools, resulting in an unpleasant and thick mac & cheese, instead of a gooey and creamy one.
---
One Pot Samyang Mac & Cheese recipe
---
Yield: Serves 4
Cooking time: 20 minutes
Ingredients:
600ml milk
150g dry elbow macaroni
40g grated cheddar cheese
60g grated mozzarella
2 tablespoon Samyang Hot & Spicy sauce
3 teaspoon sesame oil
Black pepper to taste
Shredded seaweed to taste
White sesame seeds to taste
Directions:
In a saucepan on medium heat, bring milk to a gentle boil while stirring constantly.

Add the dry macaroni and cook for 10 minutes while stirring constantly.  

When the macaroni has absorbed most of the milk, remove the pot from heat.

Add in Samyang sauce and mix thoroughly.

Add both kinds of cheese to the mixture and stir until they melt completely.

Add sesame oil and mix thoroughly.

Season with black pepper and garnish with shredded seaweed and white sesame seeds.

Serve immediately.
Photos taken by Lim An.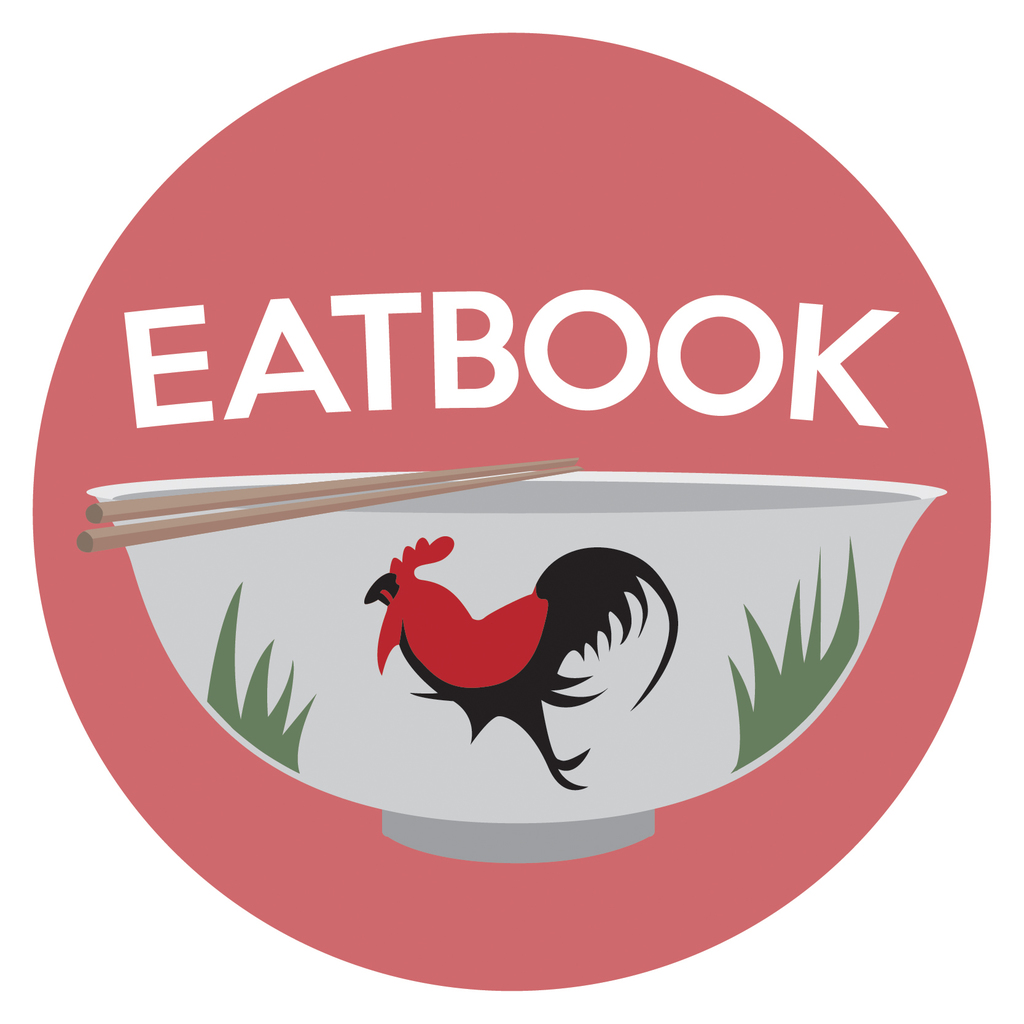 Drop us your email so you won't miss the latest news.