Lola Faye Cafe in Jalan Besar has gelato croissants till 2AM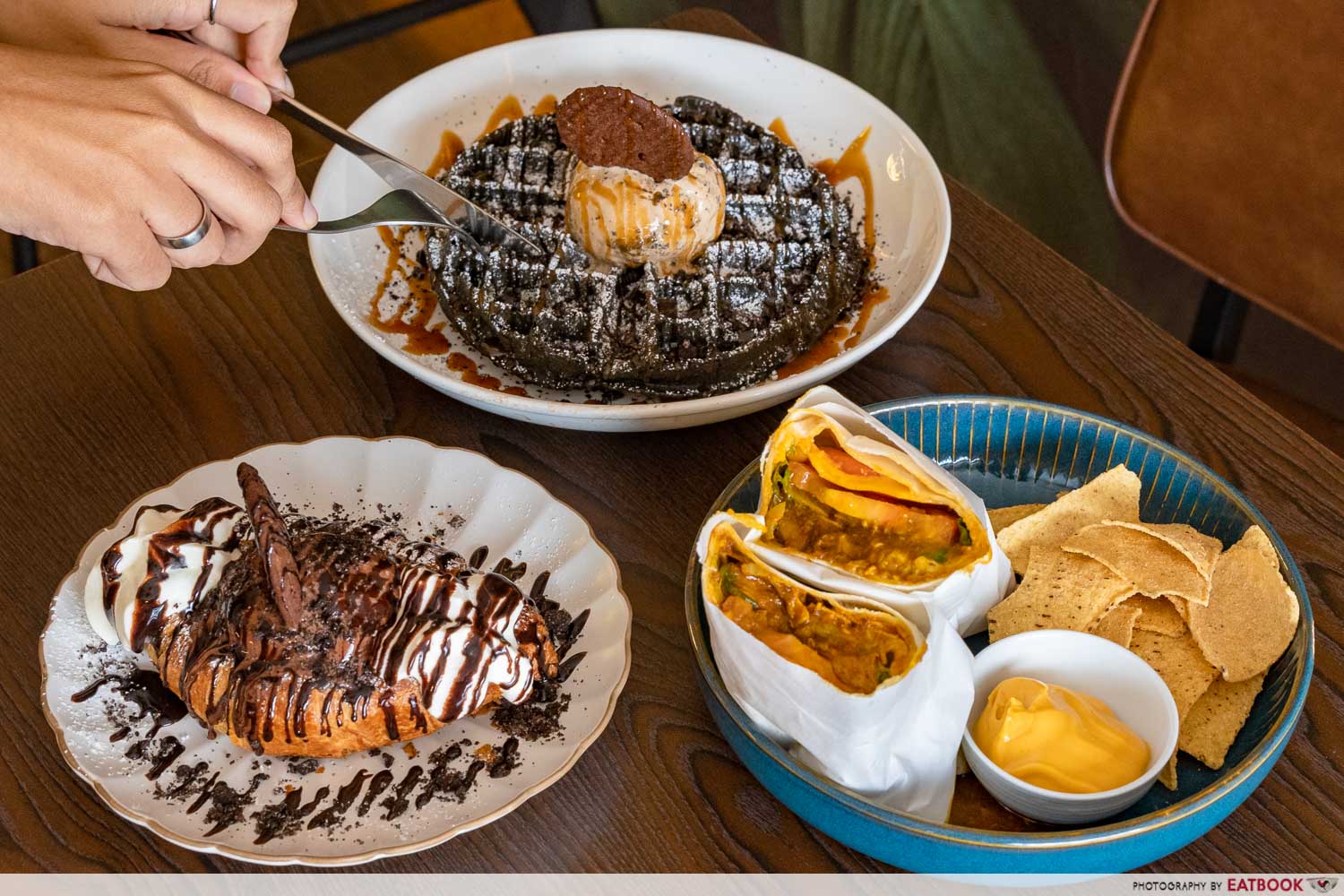 I don't really have a sweet tooth, but whenever someone suggests getting ice cream or gelato, I can't resist. I've heard a few of my family members rave about Lola Faye Cafe's desserts, so when I finally got the opportunity to visit them, I was pretty excited.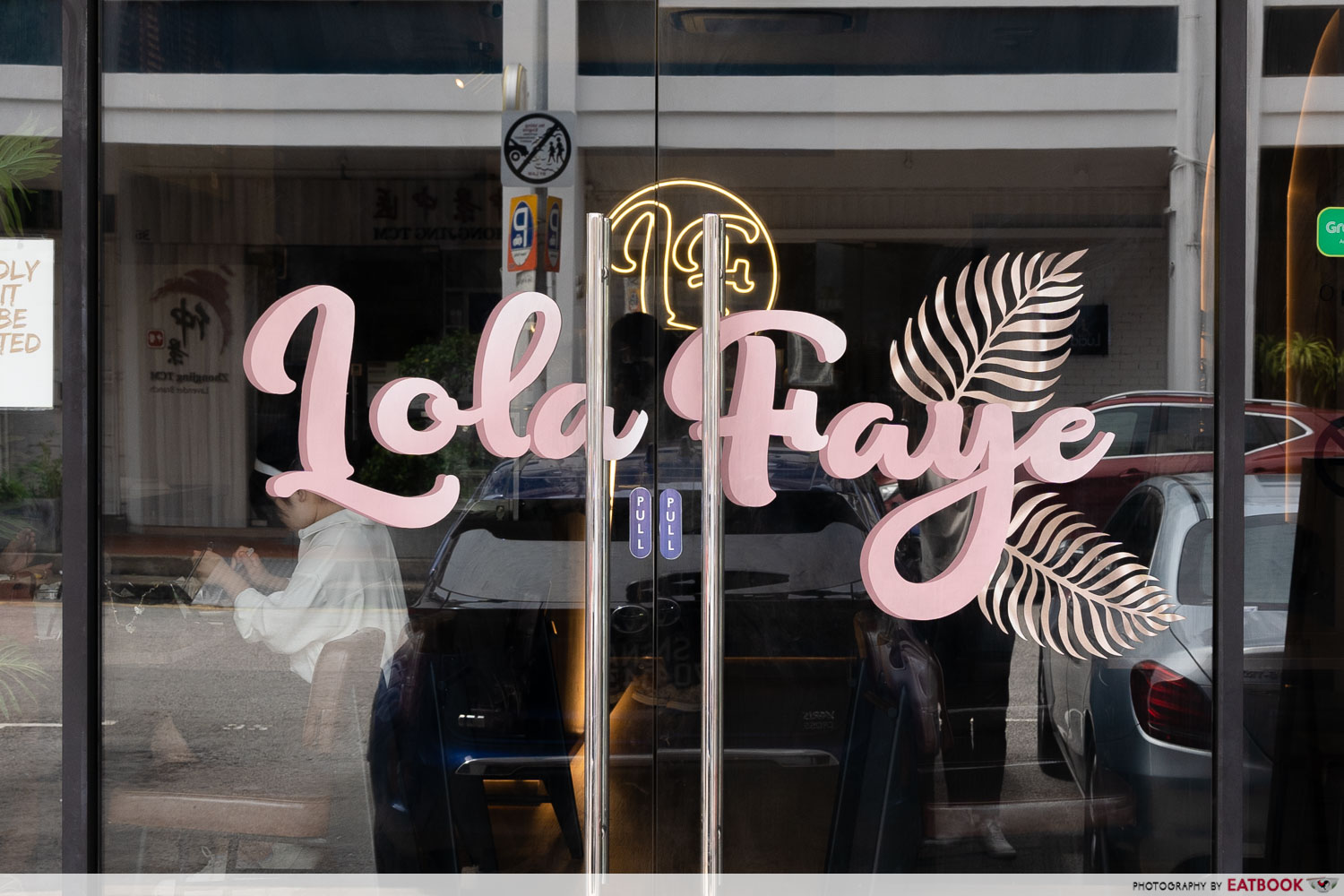 If you've not heard of Lola Faye Cafe, it is a Muslim-owned dessert cafe serving gelato waffles, brownies, savoury wraps, and frappes. Decked in tropical-themed decor, the Jalan Besar cafe also opens till 2am daily. 
Food at Lola Faye Cafe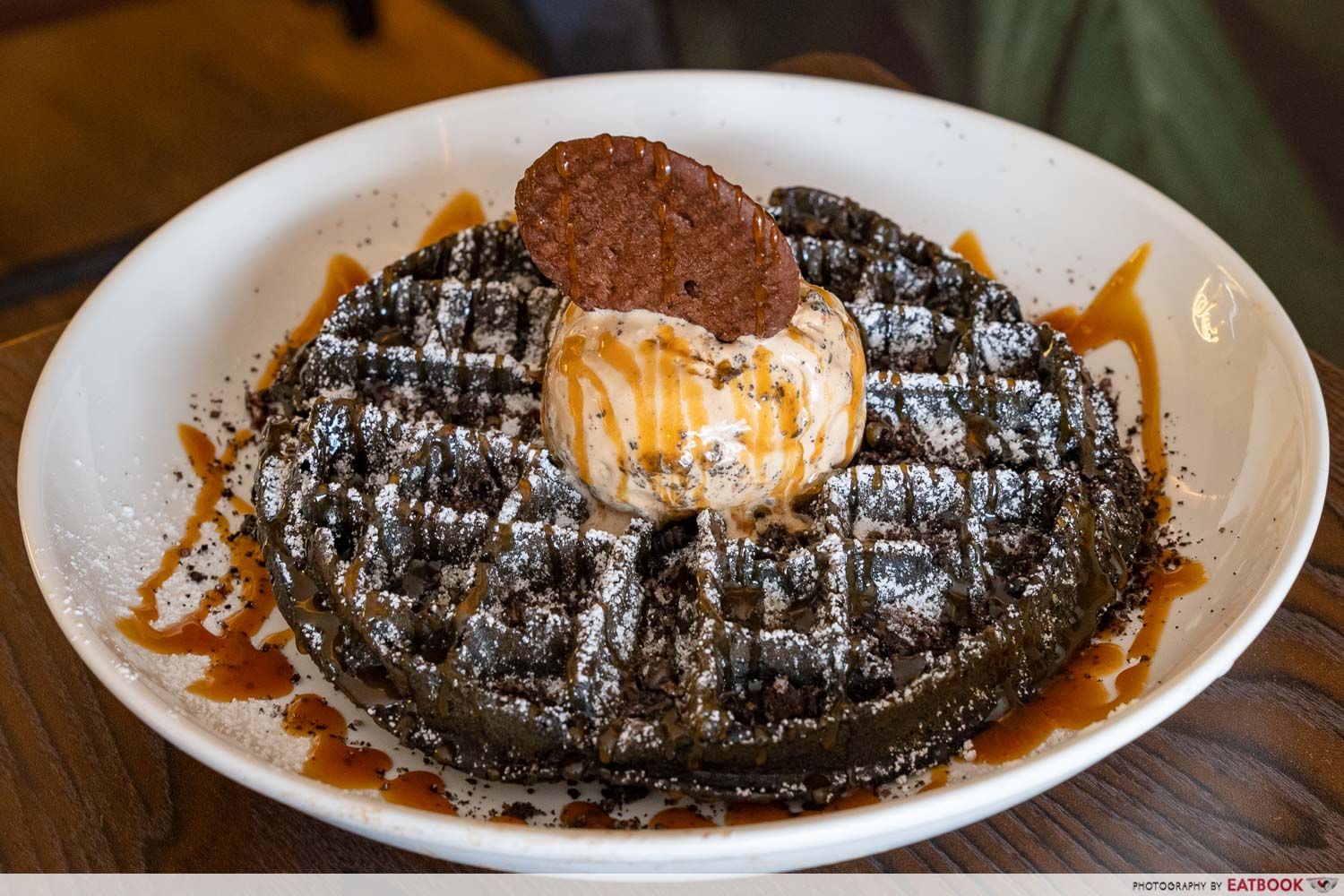 As Lola Faye Cafe is known for its gelato, the first thing we ordered was the Sea Salt Toffee gelato ($5) with Charcoal Blackout Waffles ($8). You can also opt to have your gelato with the Buttermilk Belgian Waffles, which will set you back at $6 instead. 
There were various toppings we could add to our waffles for free, including Froot Loops, Koko Krunch, Lotus Biscoff cookies and more. We, however, settled for something simple: caramel sauce. The waffles were also finished with crushed Oreo cookies, powdered sugar, and a chocolate chip cookie atop the gelato.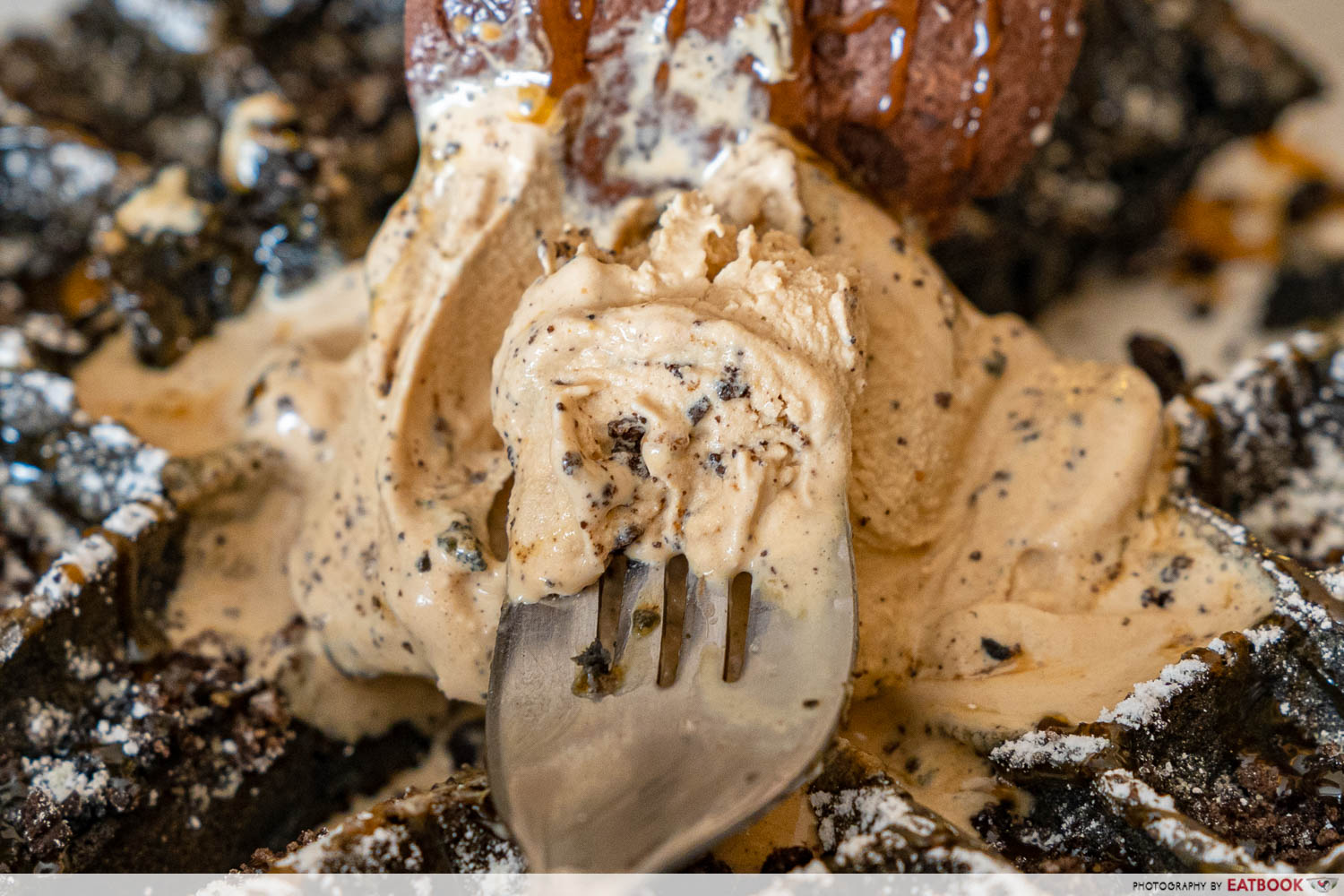 When our dessert arrived, I was let down when I noticed that the gelato was already partially melted. This made the waffle slightly soggy before we could even dig in. 
My other gripe with this dessert was that it was overly sweet. While the gelato was smooth and creamy with hints of sea salt, it lacked that butterscotch flavour you would expect from toffee, and instead tasted similar to vanilla ice cream. My dining companion and I also felt that the sweetness from the extra toppings had overpowered the taste of the gelato, making us feel jelak quite fast.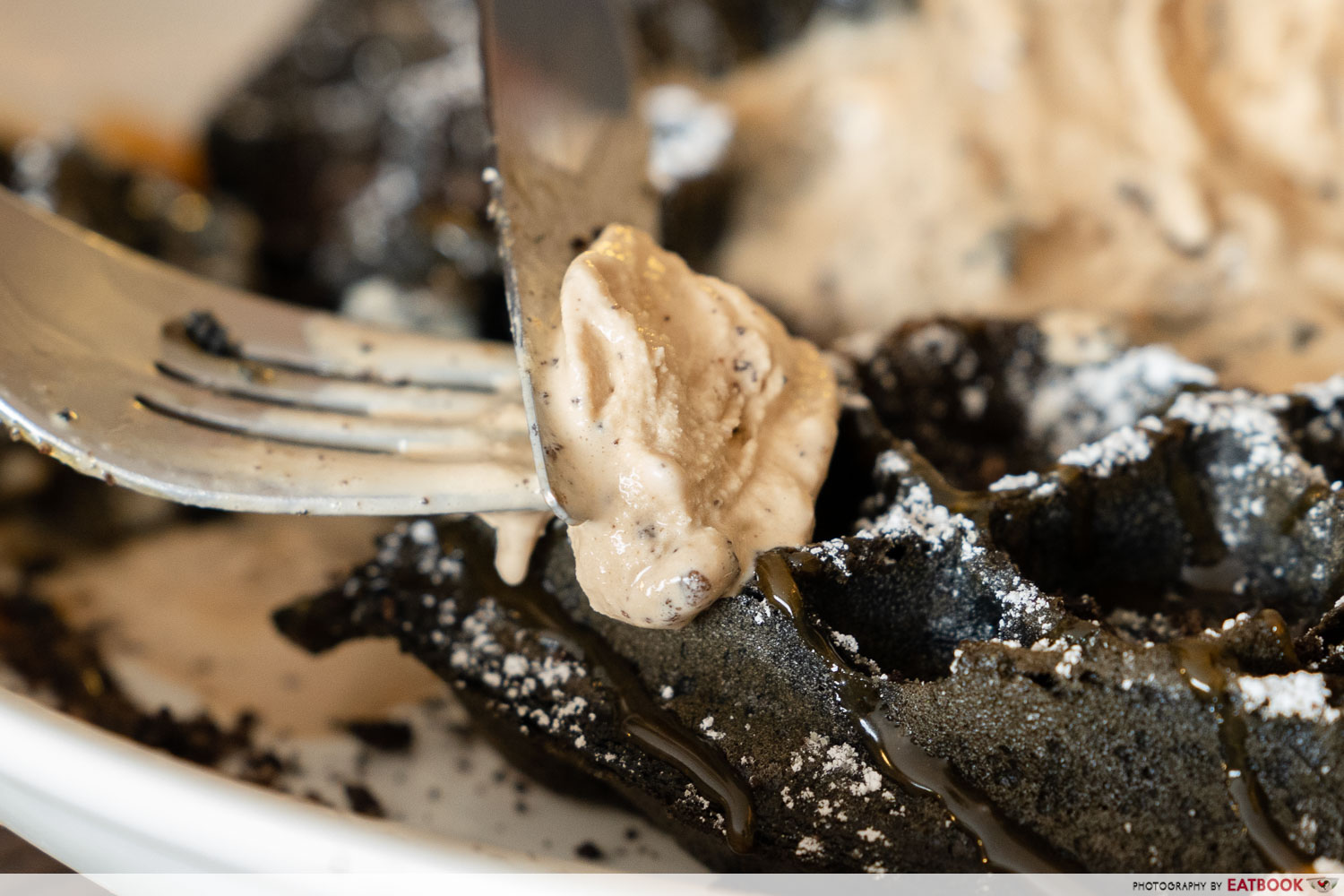 In my opinion, a good waffle served with ice cream should have crisp edges, and a light and airy interior with a slight chew in the middle. These waffles, however, were dense, with a doughy and bread-like texture that quickly separated into crumbs. 
The texture threw me off quite a bit, but I appreciated how the waffles had a slight buttery aroma. While the black waffles did look Instagrammable, the charcoal aspect made no impact on the flavour of the waffles. Thus, we felt that we could have gotten the buttermilk Belgian waffles instead and saved ourselves that extra $2.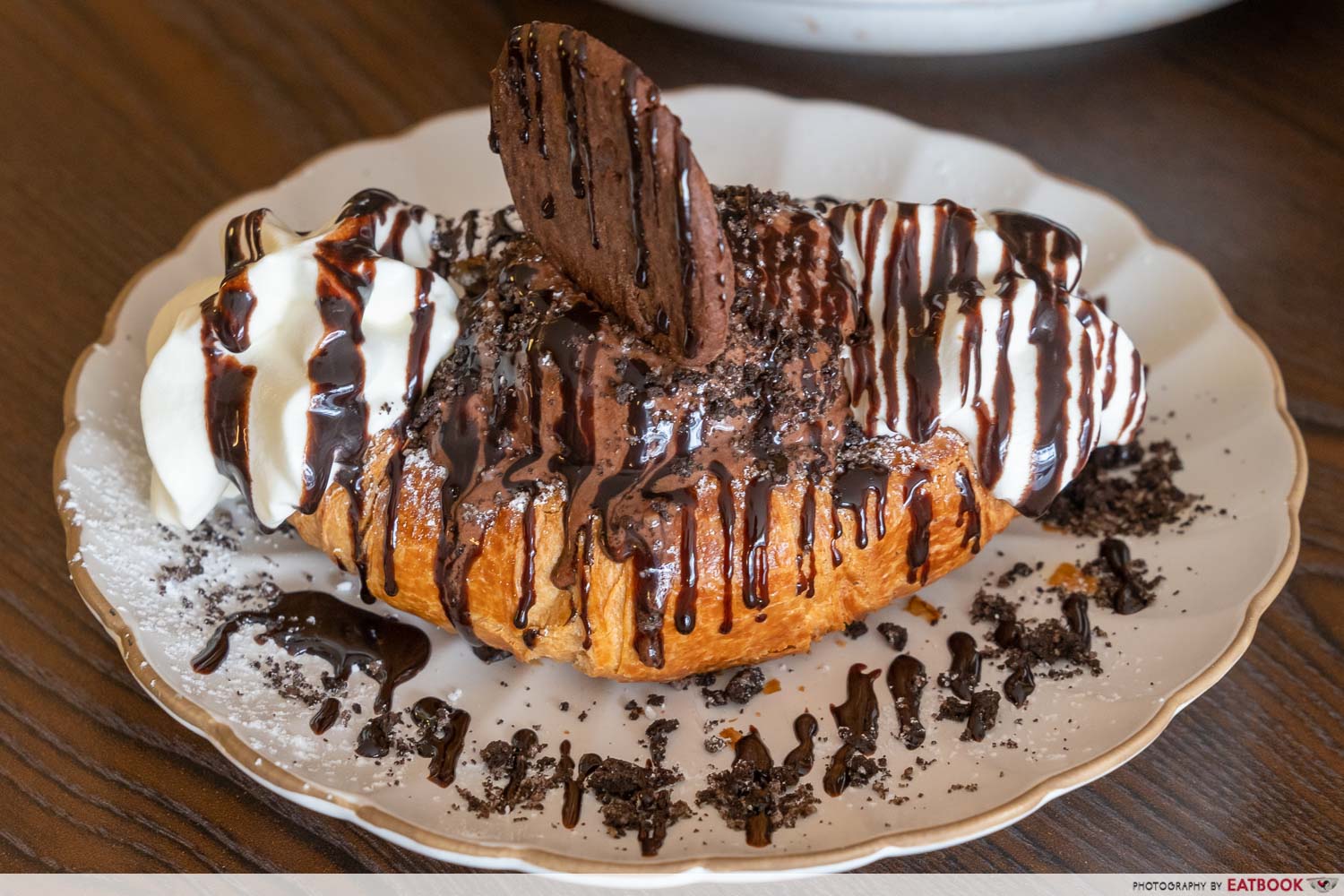 Next, we got the Gelato Croissant ($9.80) with a single scoop of Black Fantasy, AKA dark chocolate gelato. It came with whipped cream, powdered sugar, crushed Oreo cookies, a chocolate chip cookie, and chocolate sauce. 
This dessert, unfortunately, was also served with the gelato partially melted. It became quite messy to eat as the croissant was fully soaked with the runny gelato and whipped cream.
I didn't really mind that the gelato was slightly melted because it's hard to go wrong with chocolate. However, what disappointed me more was the fact that it lacked the richness and bitterness of dark chocolate, which was what the Black Fantasy flavour claimed to be. If you're a fan of milk chocolate, you would probably enjoy it more than we did.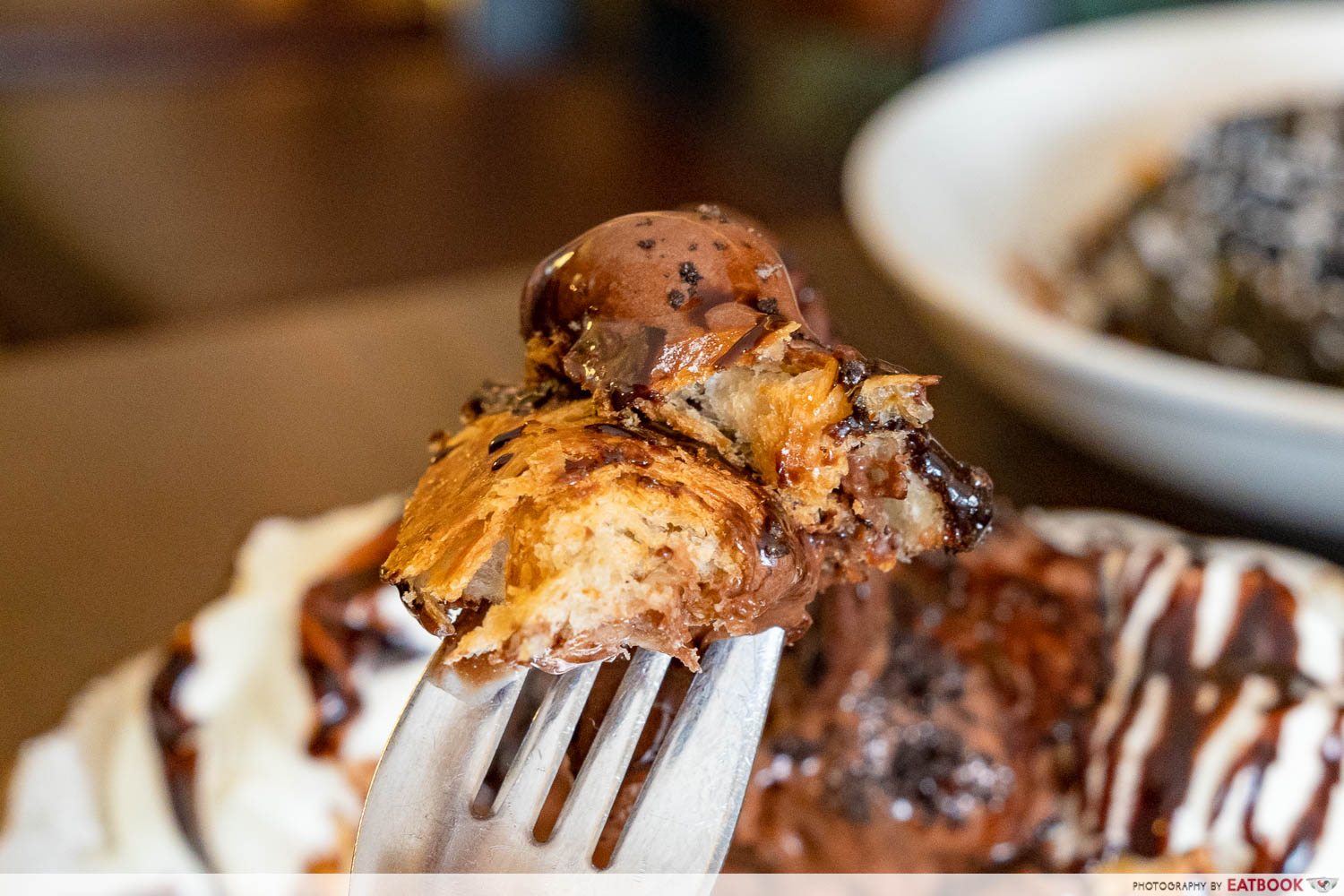 The croissant seemed promising at first as it was crisp and flakey on the outside. Sadly, it was too soft, doughy, and soggy on the inside, without the buttery layers and aroma one would expect from a croissant. There was also a slightly stale aftertaste, which I didn't enjoy. 
With all of the components combined, we felt that this dessert was also cloyingly sweet. Perhaps omitting the chocolate sauce and chocolate chip cookie would have made it better.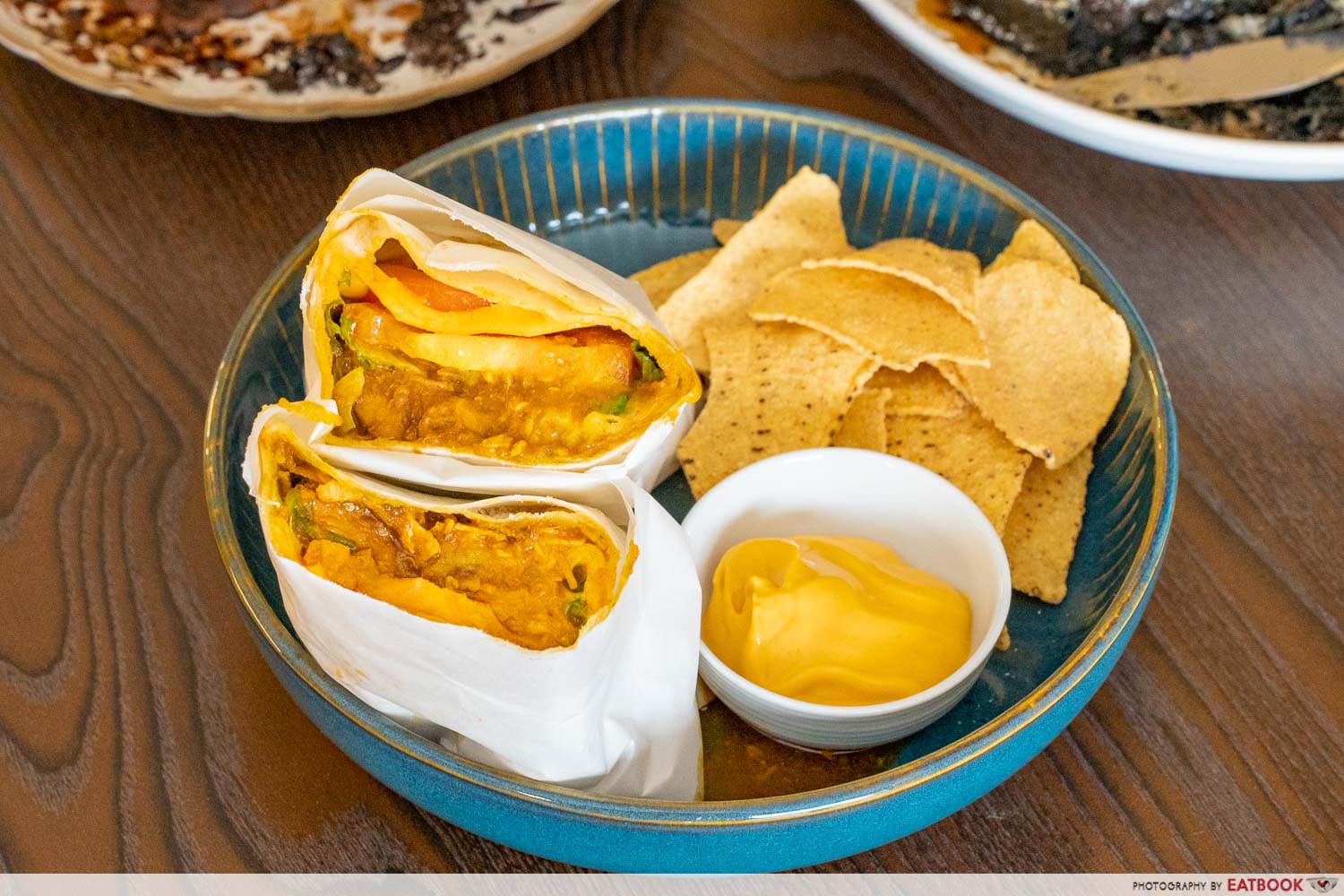 After the desserts, we decided to give their savoury wraps a shot. We ordered the Specialty Satay Chicken Wrap ($11.90), which came with a side of tortilla chips and nacho cheese dip. 
Unfortunately, this was even more disappointing as the wrap was served wet and soggy. Its filling consisted of a mushy chicken satay sauce, shredded lettuce, tomato slices, and sliced cheese. While we did appreciate how the shreds of chicken were tender, the nutty sauce tasted too sweet.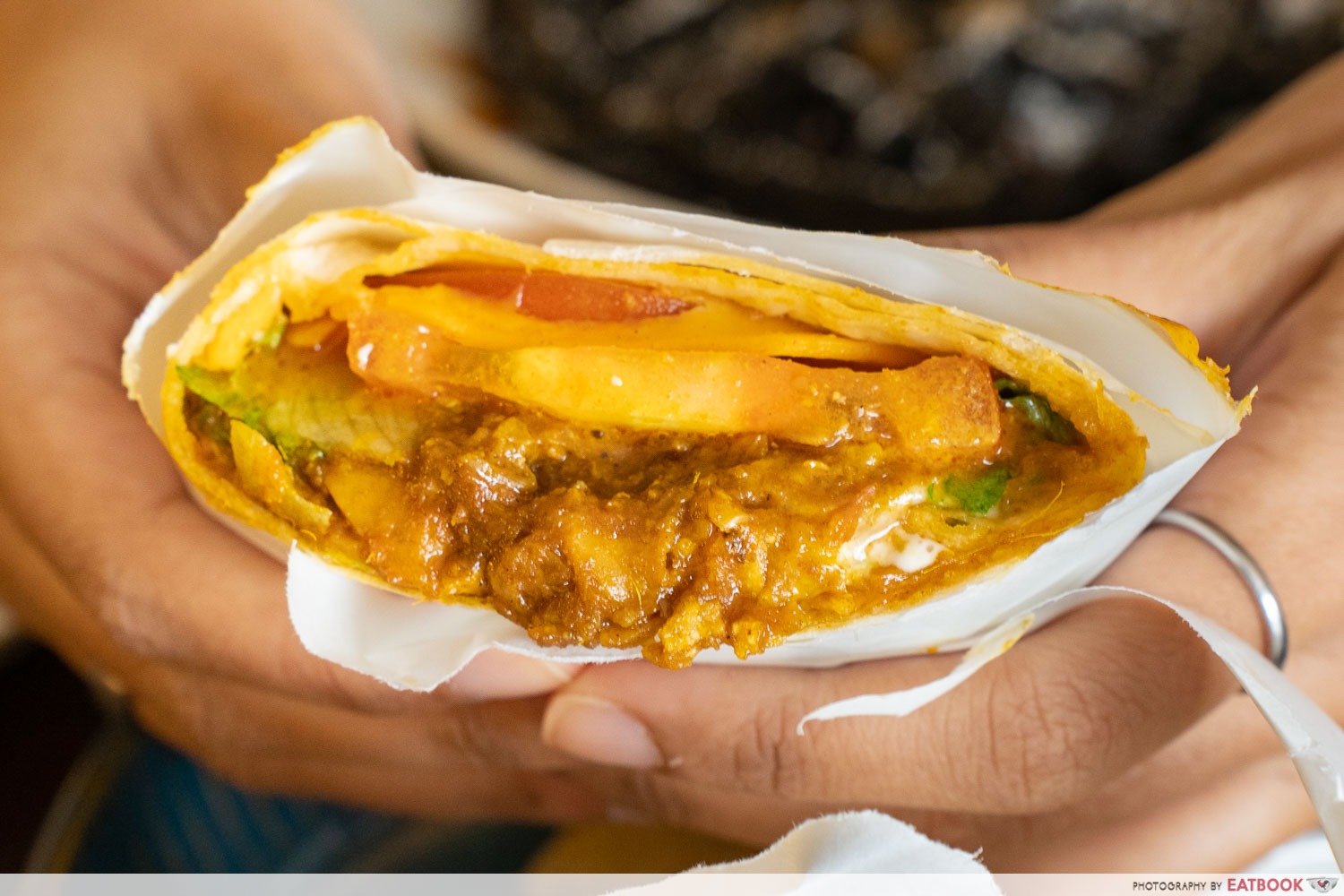 The tortilla wrap leaned towards the thinner side, and thus, could not hold the satay sauce well, causing a leak at the bottom. We also wished that the dish had more texture, as the crunchy vegetables turned soggy fast from the thick sauce.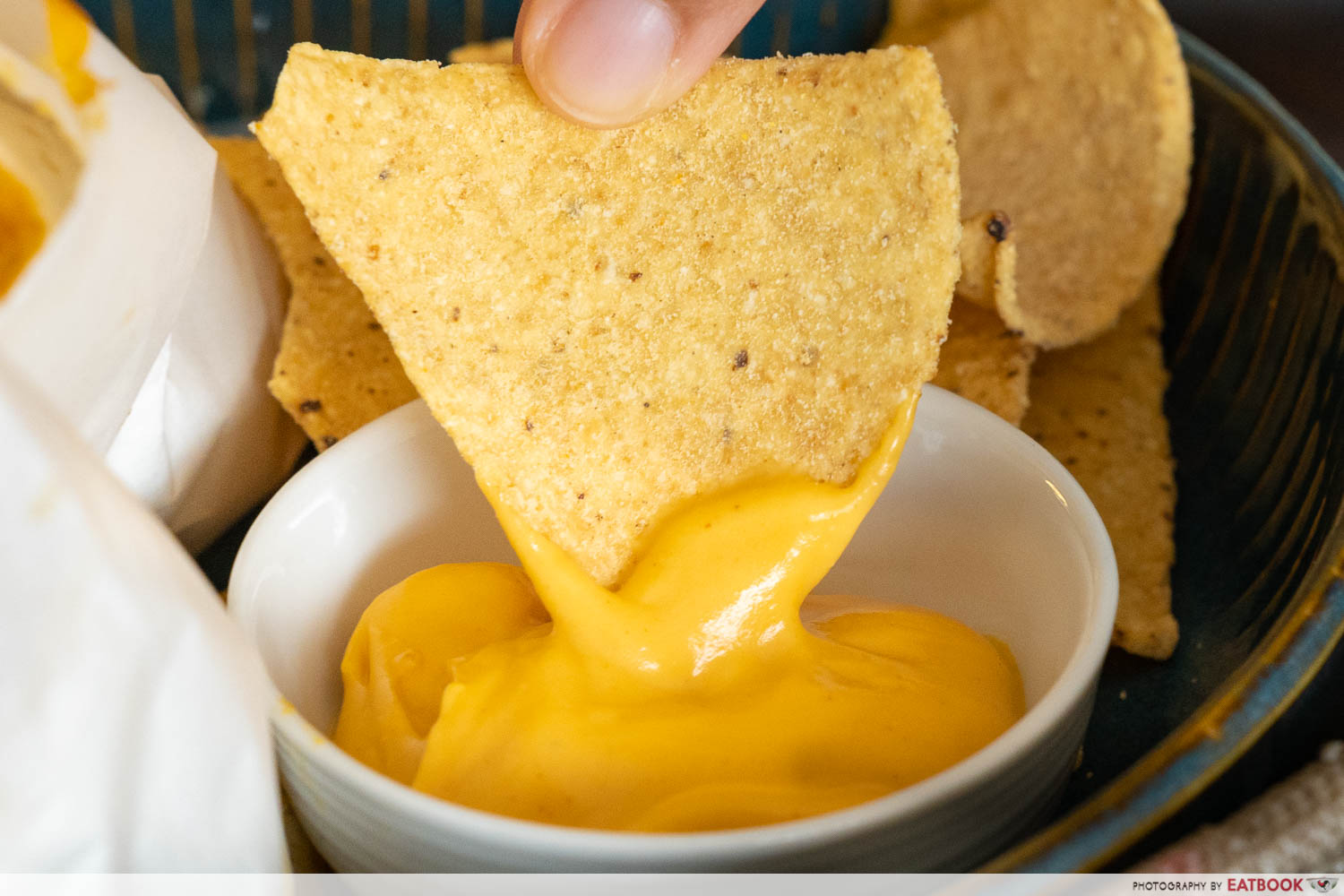 As for the store-bought chips and nacho cheese, they were nothing much to rave about. 
30 Ice Cream and Waffles Cafes In Singapore, Including Those Open Till 2AM
Ambience at Lola Faye Cafe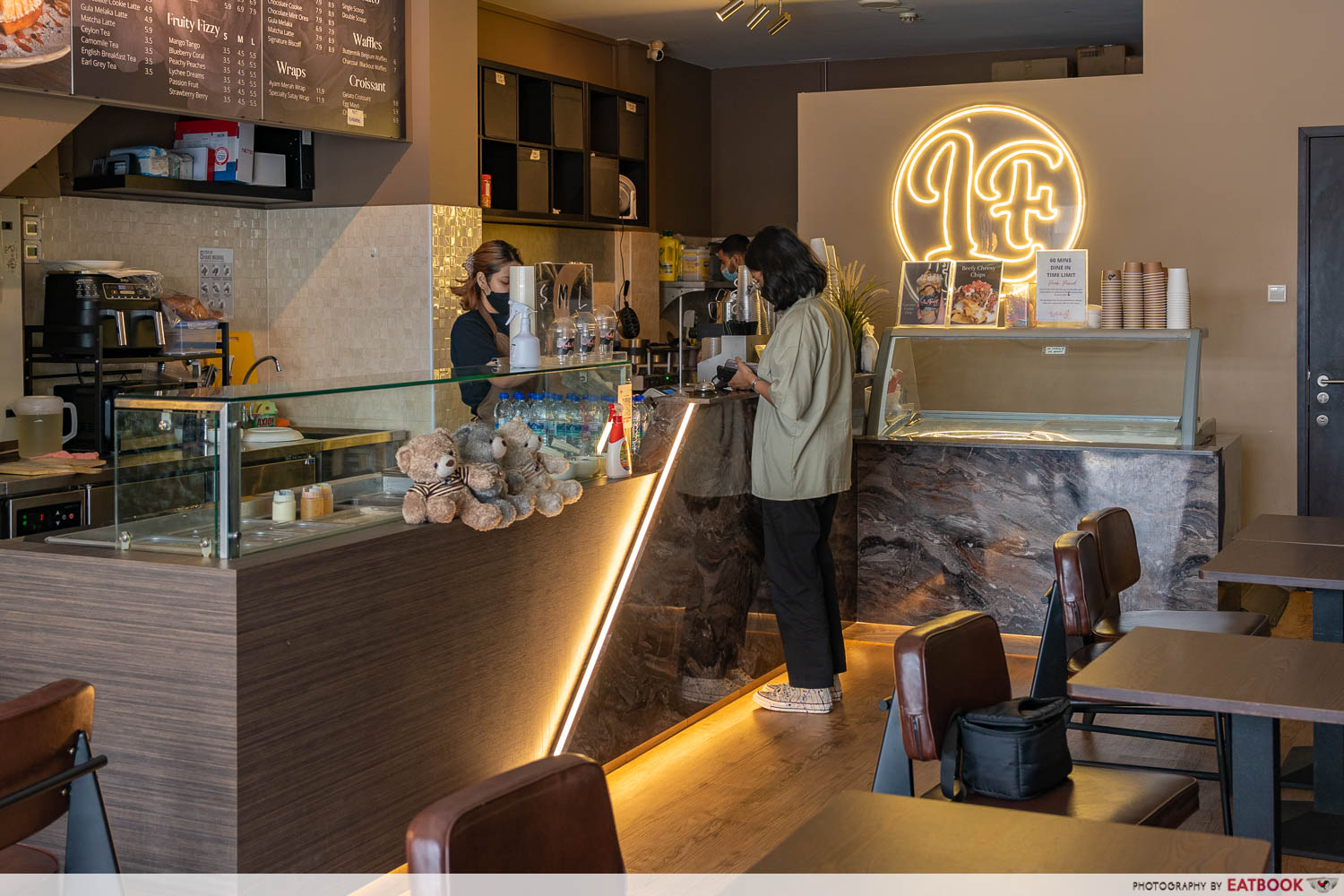 The cafe was almost empty when we arrived at 3pm on a weekday. There were ample seats and large glass doors that filled the space with plenty of natural light. The wood-furnished cafe is perfect for the gram, as it sports a huge feature wall at the entrance that's covered in faux foliage, and has walls plastered in a leaf-patterned wallpaper to complete the look.
Lola Faye Cafe is a four-minute walk from Bendemeer MRT Station. 
The verdict

Even though the food was quite disappointing, we felt that the warm and inviting atmosphere made up for it in some ways. With that being said, I feel that there are other cafe options nearby with better food at a similar price point, so I'd rather try out one of those instead. Perhaps our luck was bad when we visited Lola Faye Cafe.
If you're looking for more Muslim-friendly cafe options, check out our guide on halal cafes in Singapore. Alternatively, read our ice cream and waffles cafe guide for more dessert cafe options. 
Address: 35 Hamilton Road, Singapore 209204
Opening hours: Tue-Sun 2pm to 2am
Tel: 8860 8248
Website
Lola Faye Cafe is a Muslim-owned eatery.
Photos taken by Melvin Mak.
This was an independent review by Eatbook.sg.
Lola Faye Cafe Review: Muslim-Owned Cafe With Gelato Croissants And Charcoal Waffles Near Bendemeer MRT
Lola Faye Cafe Review: Gelato Croissants, Charcoal Waffles And More Near Bendemeer MRT -

5.5/10
Summary
Pros
– Cafe had a nice ambience
Cons
– The desserts were too sweet
– Satay wrap was served wet and soggy
Recommended dishes: Dark Fantasy gelato ($5)
Opening hours: Tue-Sun 2pm to 2am
Address: 35 Hamilton Road, Singapore 209204