IG-worthy interior and food at Daizu Cafe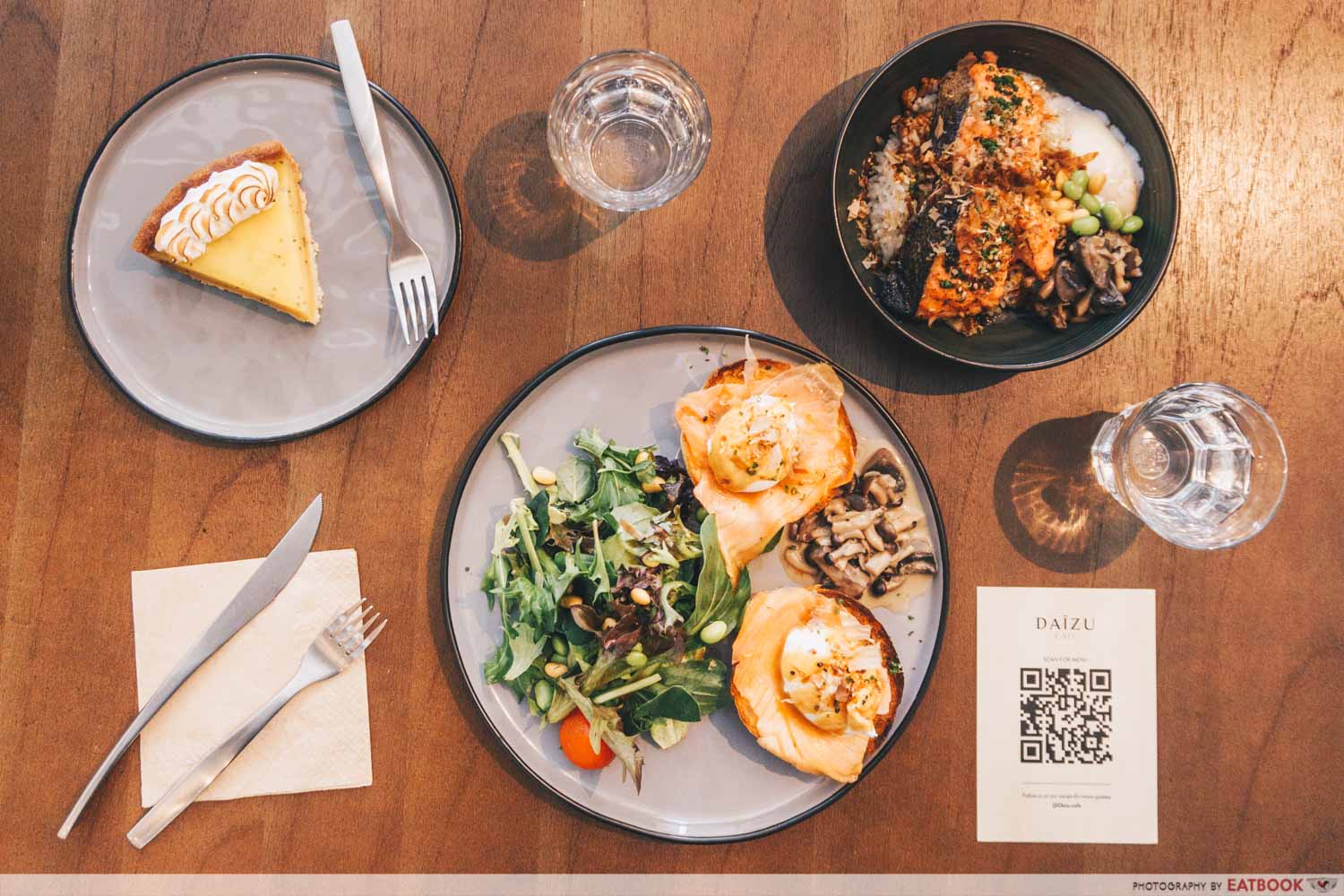 There are simply two criteria in my book that makes a cafe worth going back for ─ a comfortable setting, as well as unique and delicious food. Most of the time, we get the first, and rarely the second. However, Daizu Cafe is one underdog that proves itself worthy of future visits with its ambience and dishes, in spite of its rather basic-looking decor.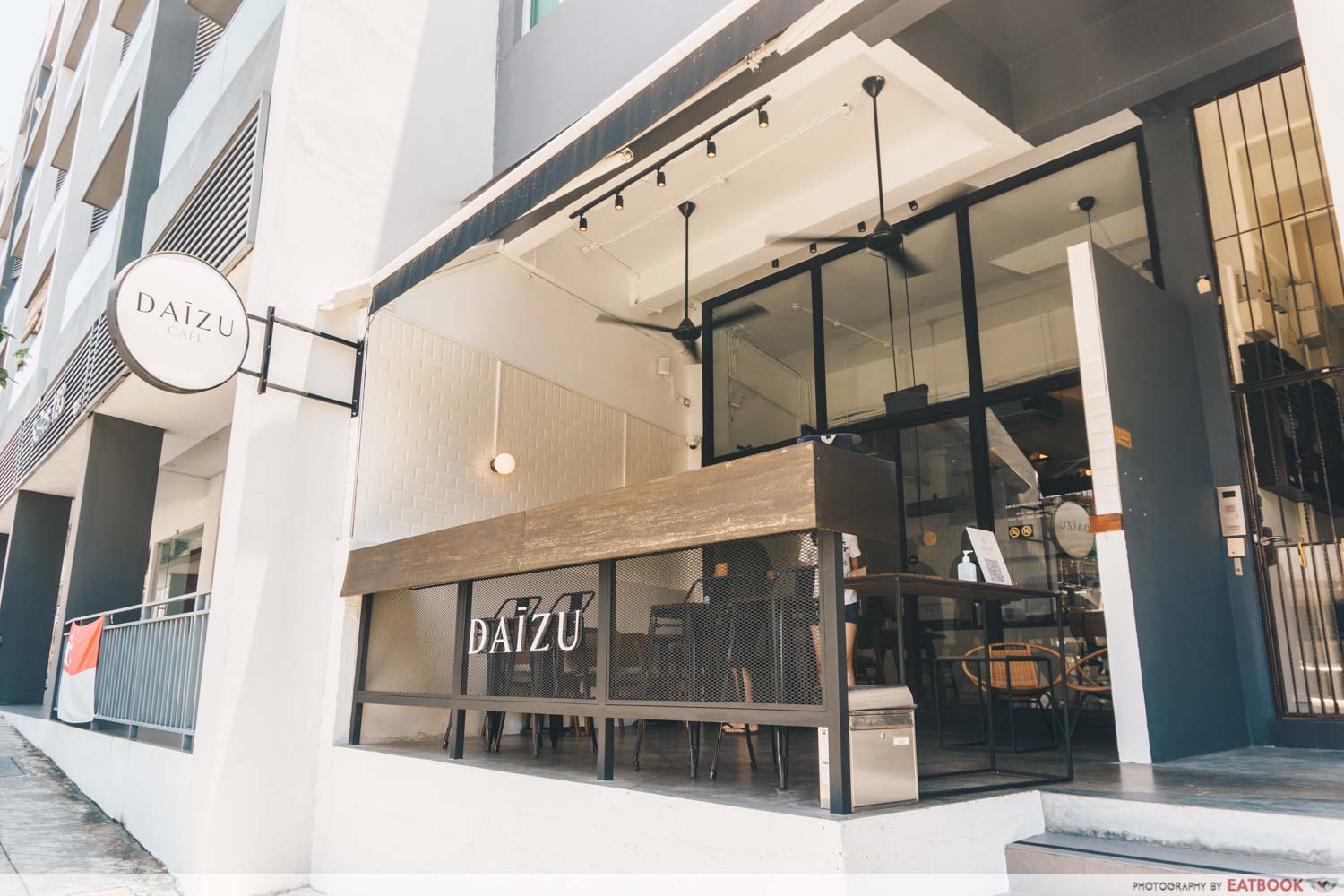 This two-level coffee house takes over the space that used to be Jok Jok Mor. Its austere interiors will satisfy your inner minimalist,  while the visually-pleasing dishes, most of which are soy-focused, are worth returning for. 
Upon reaching the cafe, the sight of its industrial exterior got my inner hipster hopping in excitement.
MADLYGOOD Has New Waffle Ice Cream Sandwiches From Just $10.50
Food at Daizu Cafe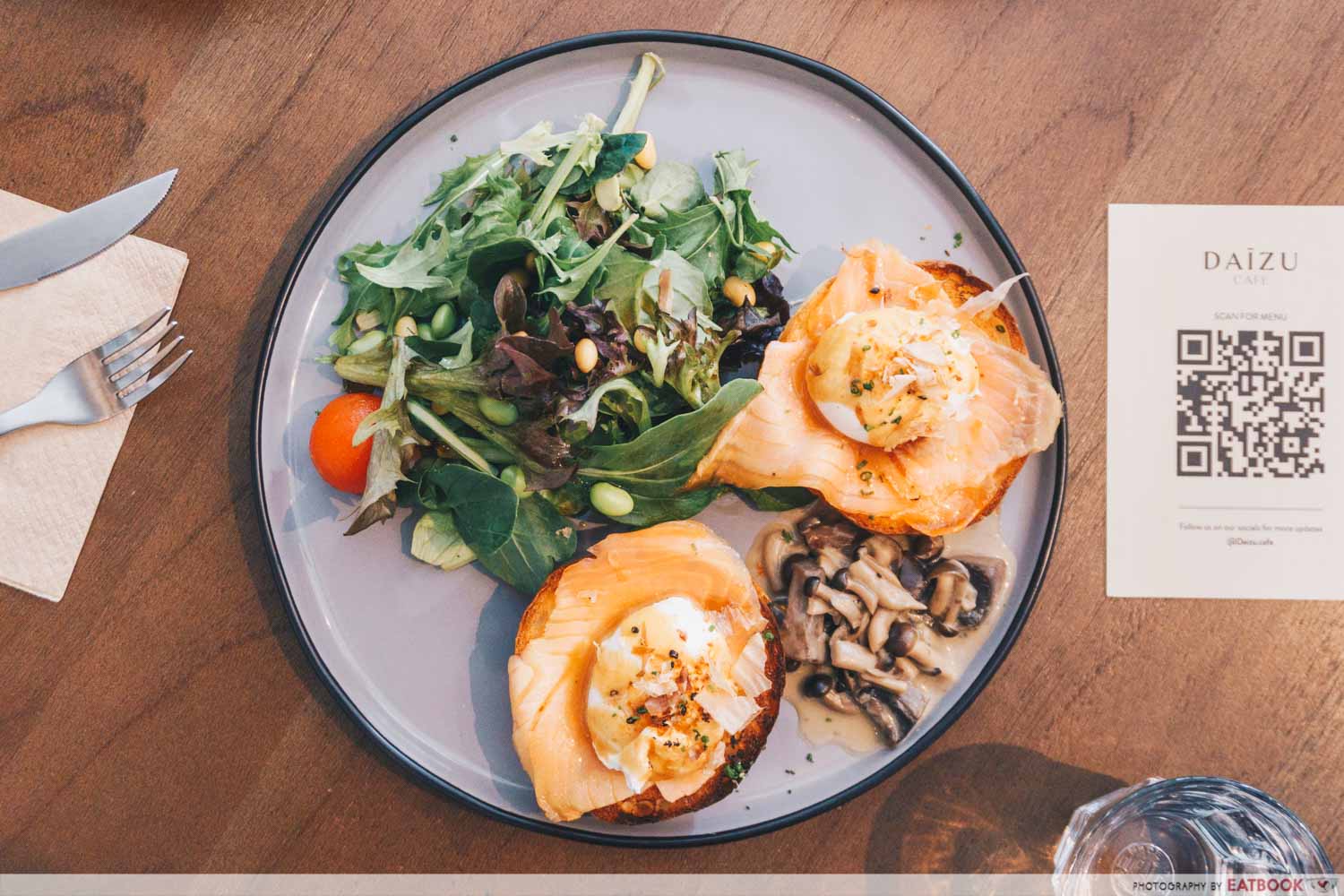 Daizu Cafe has a brunch menu that is available between 11am to 2:30pm. One of their must-try brunch options is the Lemon Miso Eggs Benedict ($24).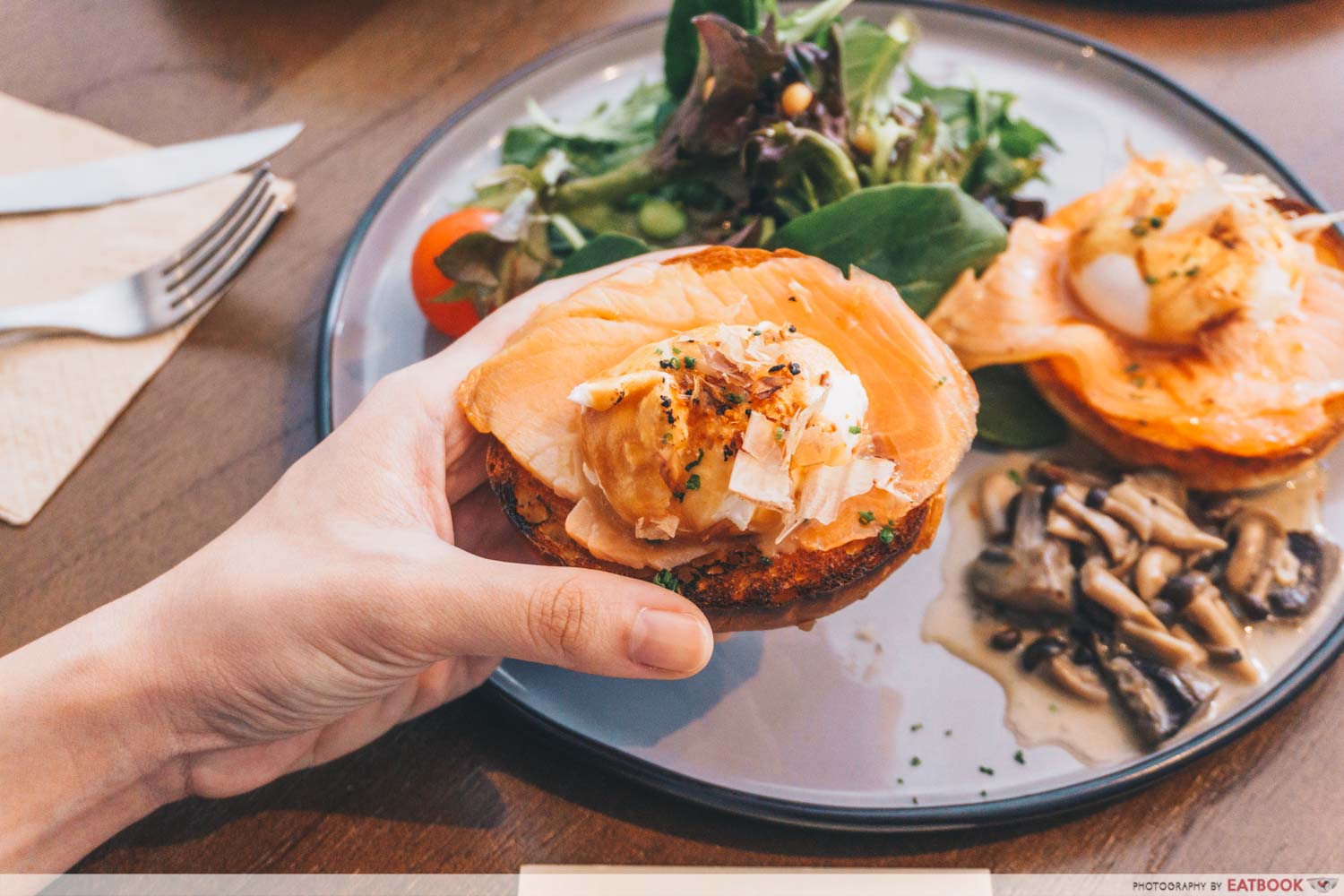 There are so many ways you can make eggs benedict, and here, Daizu Cafe takes a Japanese-inspired approach to this popular brunch dish. It features their house special, a lemon miso hollandaise sauce. The savoury hints of miso and a zing from the lemon in the sauce truly completed the dish.     
10 Unique Egg Benedict Dishes In Singapore For The Ultimate Insta Boomerang Shot
A typical eggs benedict has bacon or ham, which tends to be a little too greasy for my palate. However, the use of smoked salmon here instead of processed meats led to a lighter and cleaner aftertaste without compromising on the saltiness.    
The brioche bun was another well-executed element. Toasted to perfection, it was crispy and full of buttery goodness.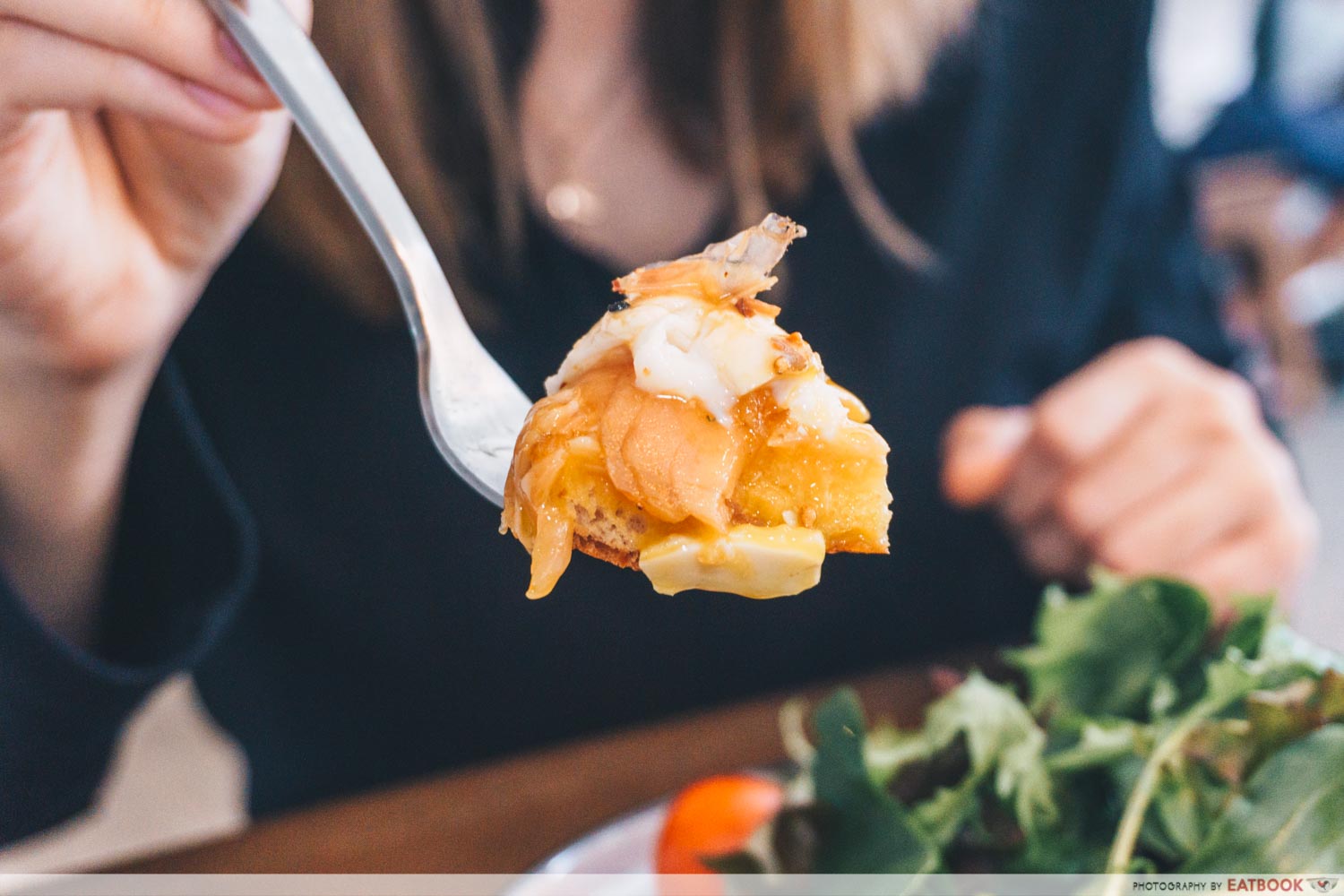 The flavours from each component of the dish came together coherently, with the yolk providing a rich, eggy finish.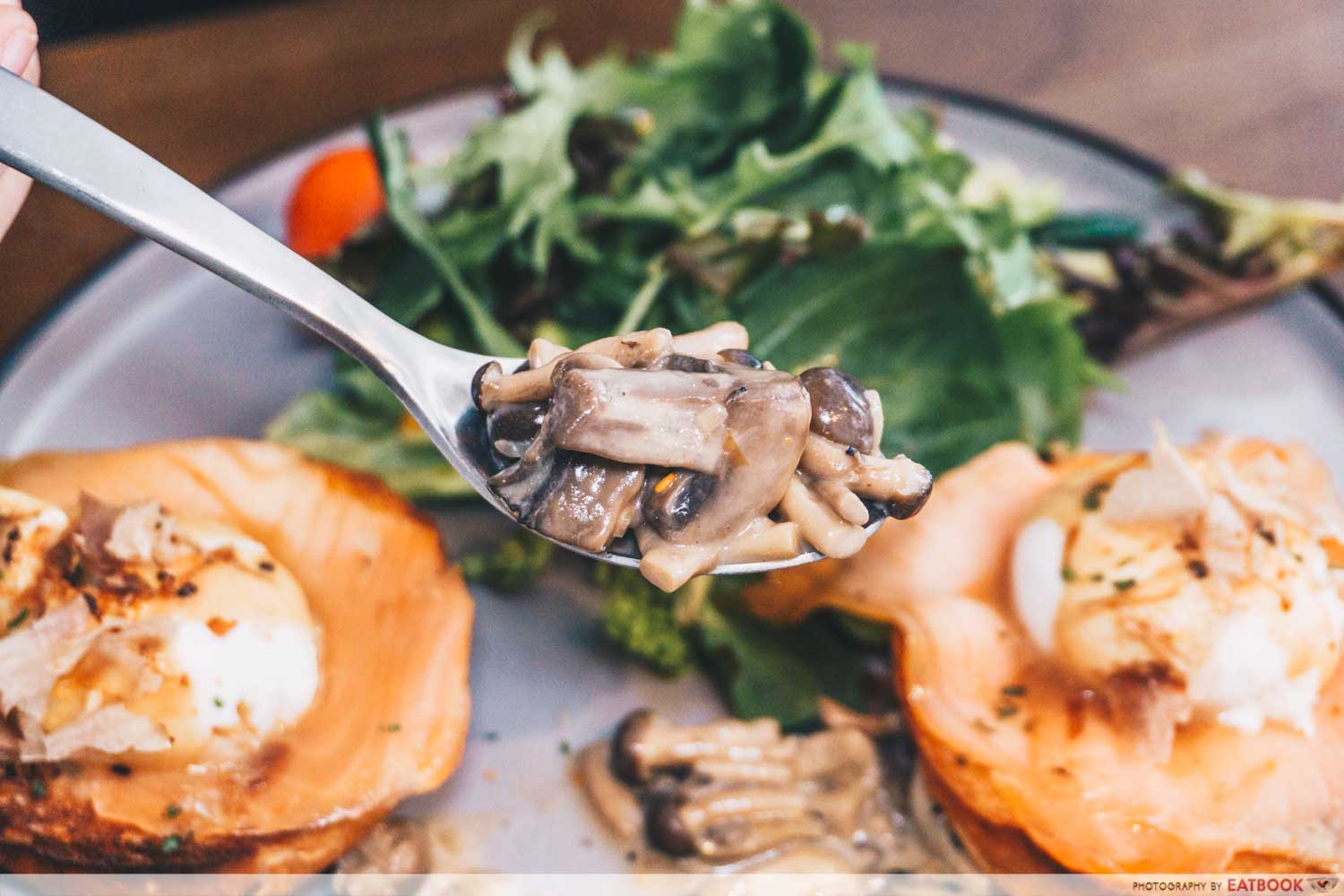 Served as one of the sides, the sautéed mushrooms were well-seasoned, juicy and had a nice bite.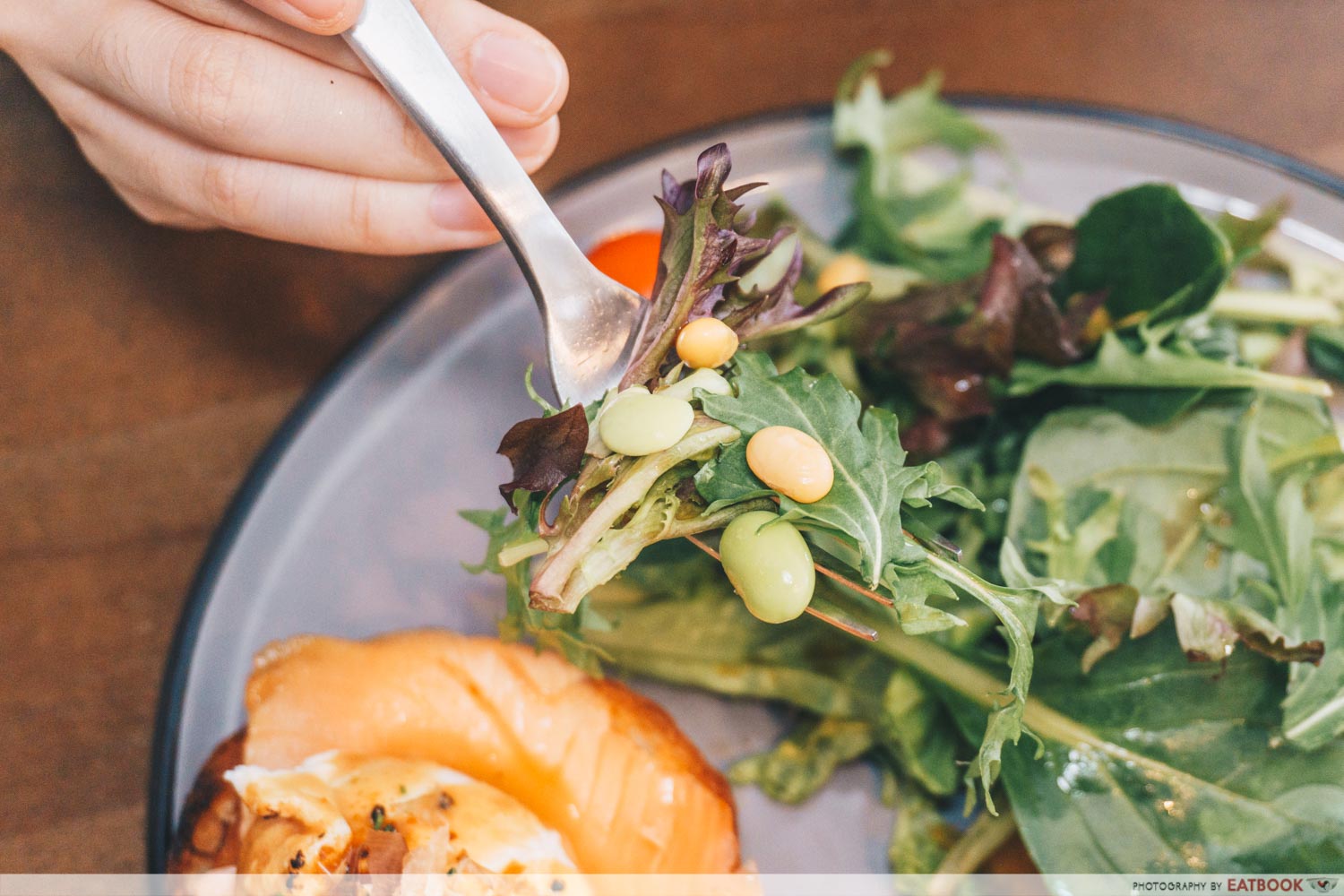 The dish also came with a bed of mesclun greens. Apart from a subtle sweetness, the flavours in the salad dressing weren't really apparent. I appreciated the inclusion of soybeans and edamame as it added a layer of texture to the greens.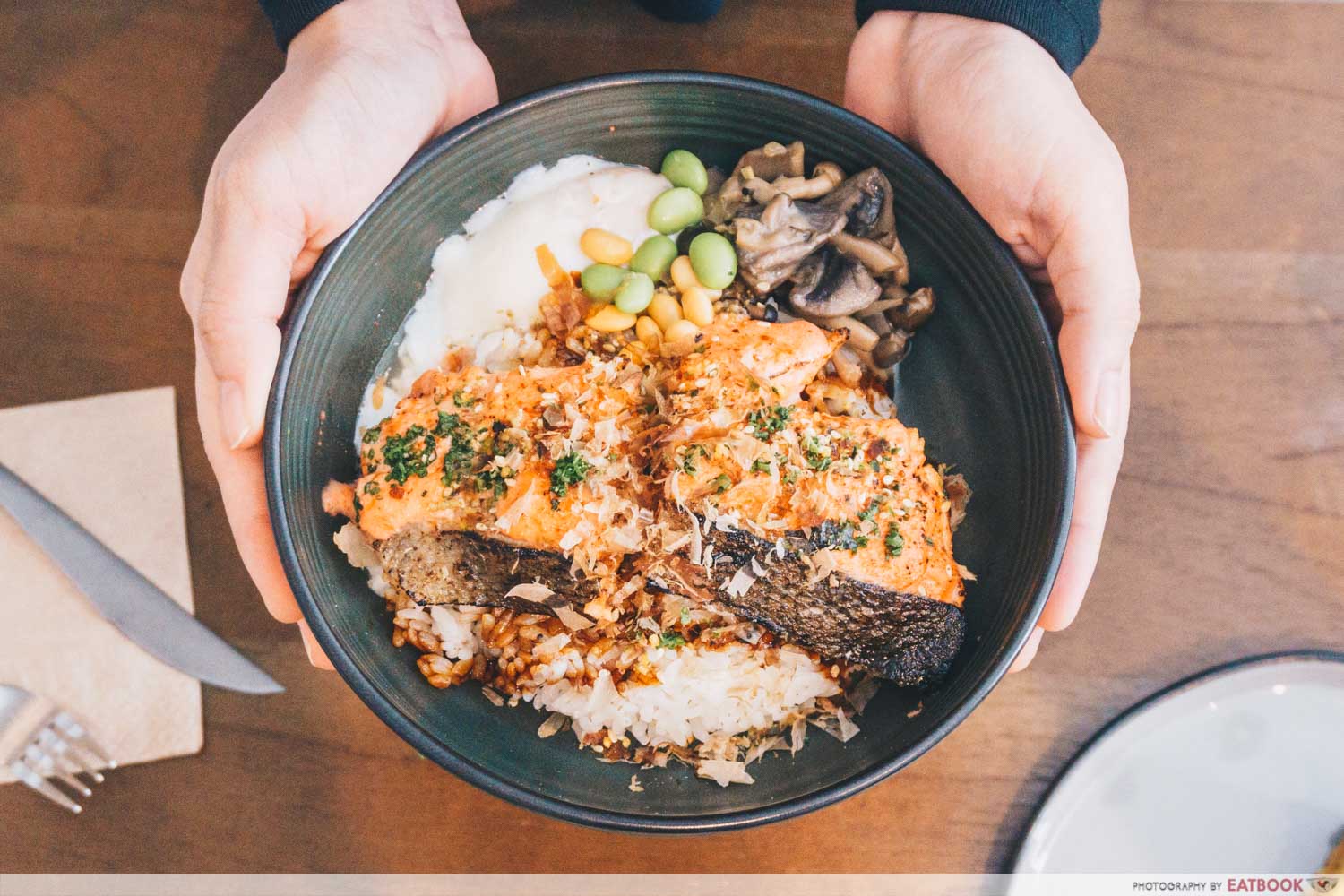 We also ordered the Torched Mentaiko Salmon Rice Bowl ($16), which includes sautéed mushrooms, soybeans, edamame, an onsen egg and pan-seared salmon, topped with mentaiko sauce and bonito flakes.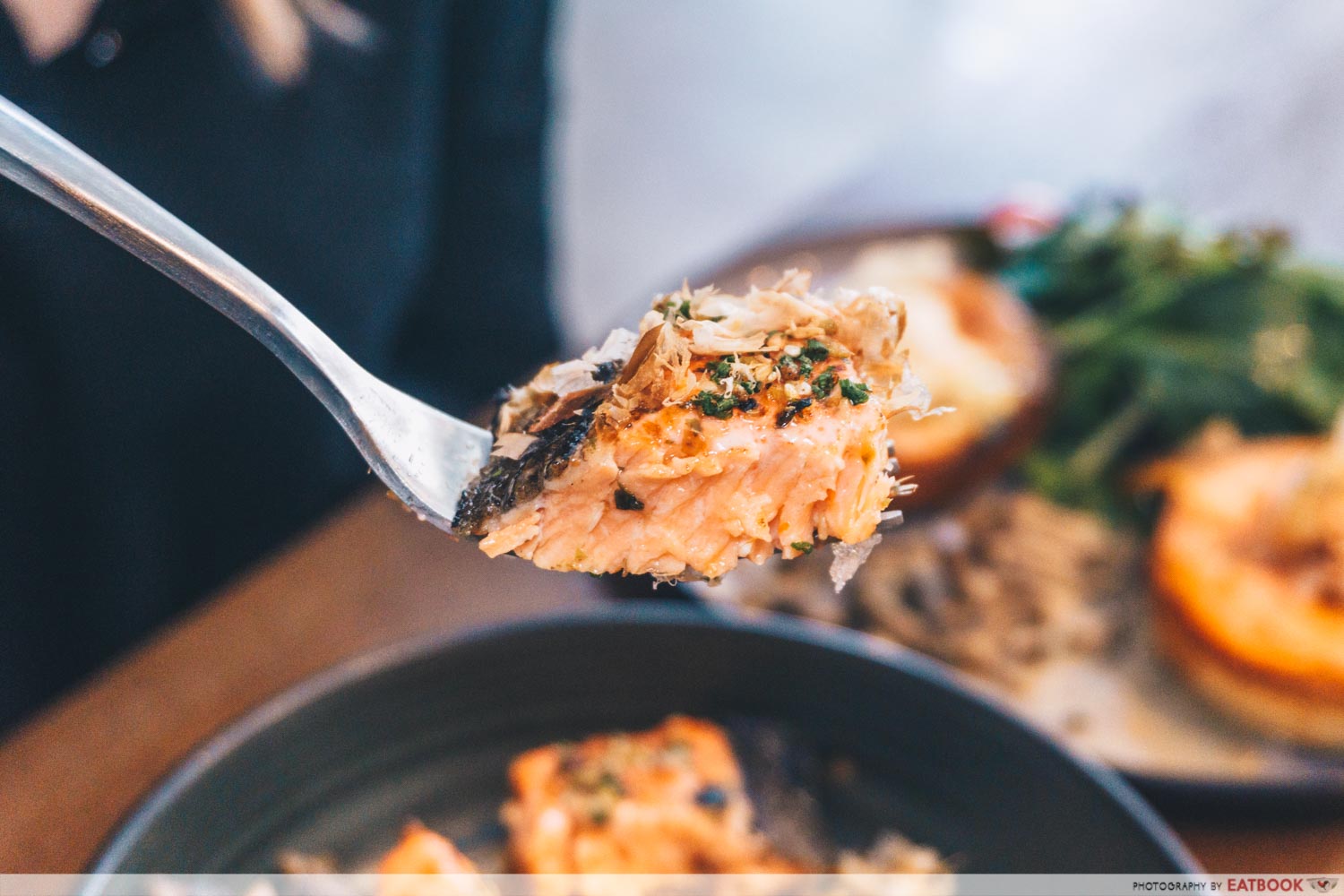 Perhaps because of its uneven thickness, the ends of the salmon steak were slightly tough and dry, while the centre was moist and flaky. I personally would've preferred the fish skin to be crispier. However, I found the overall texture of the salmon better than average. 
They also nailed the flavours of their mentaiko sauce, which was rife with a rich, umami taste without overwhelming the dish. The addition of dried bonito flakes elevated don with its smoky flavour.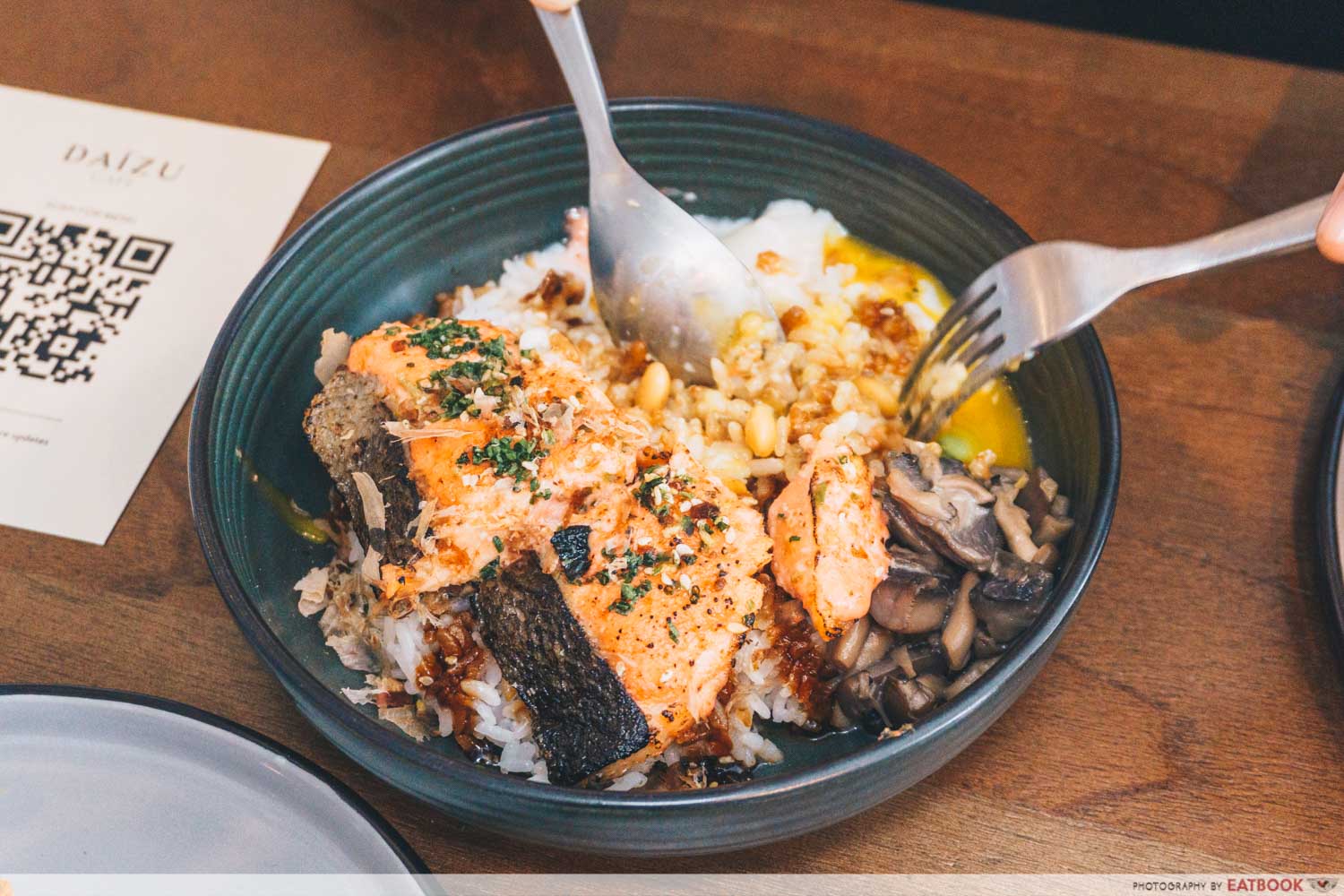 The rice grains were firm and fragrant, and they helped tie together flavours from various elements. The onsen egg was silky and creamy ─ a crucial part to the otherwise dry rice bowl.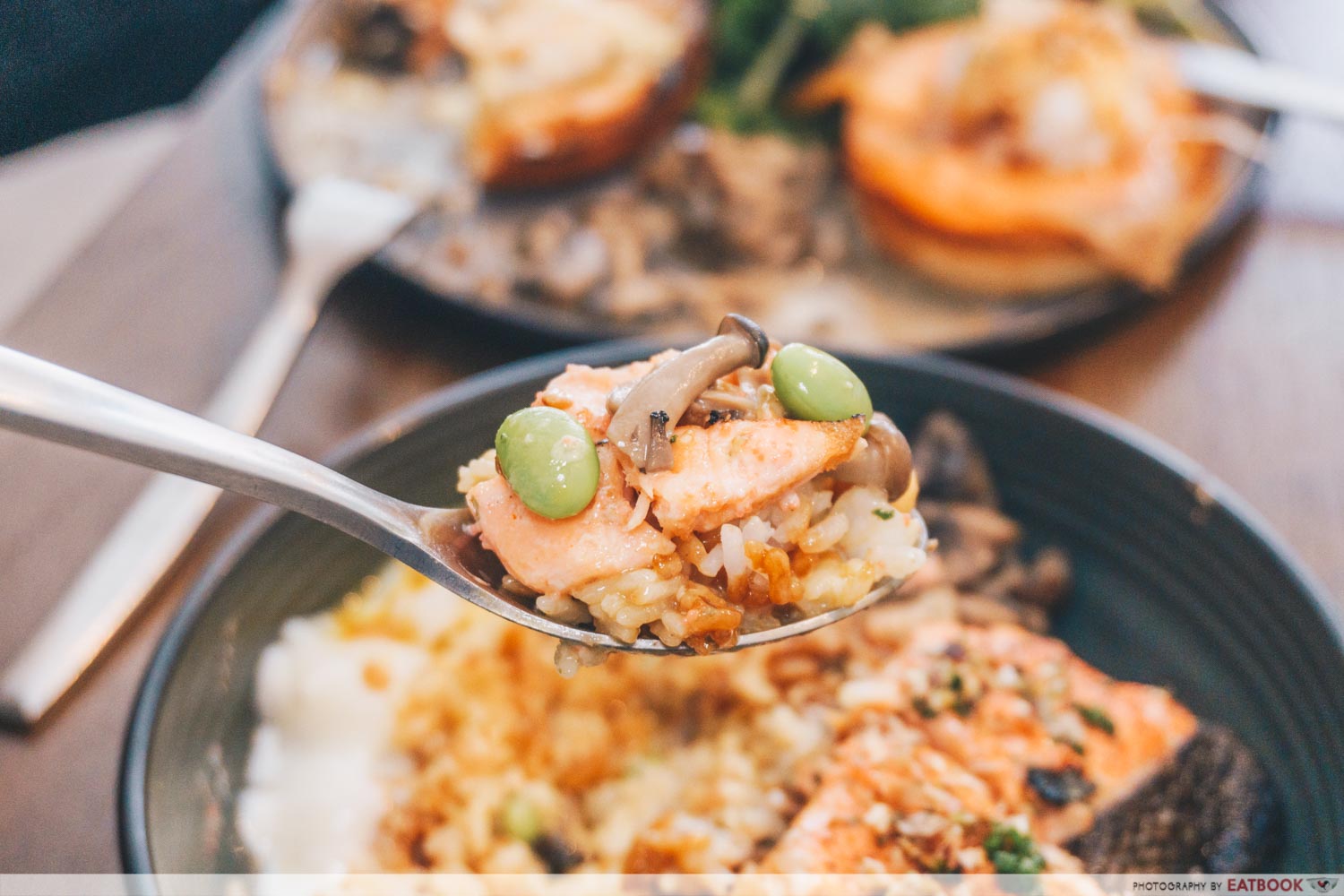 Likewise, the edamame and soybeans had a pleasant bite.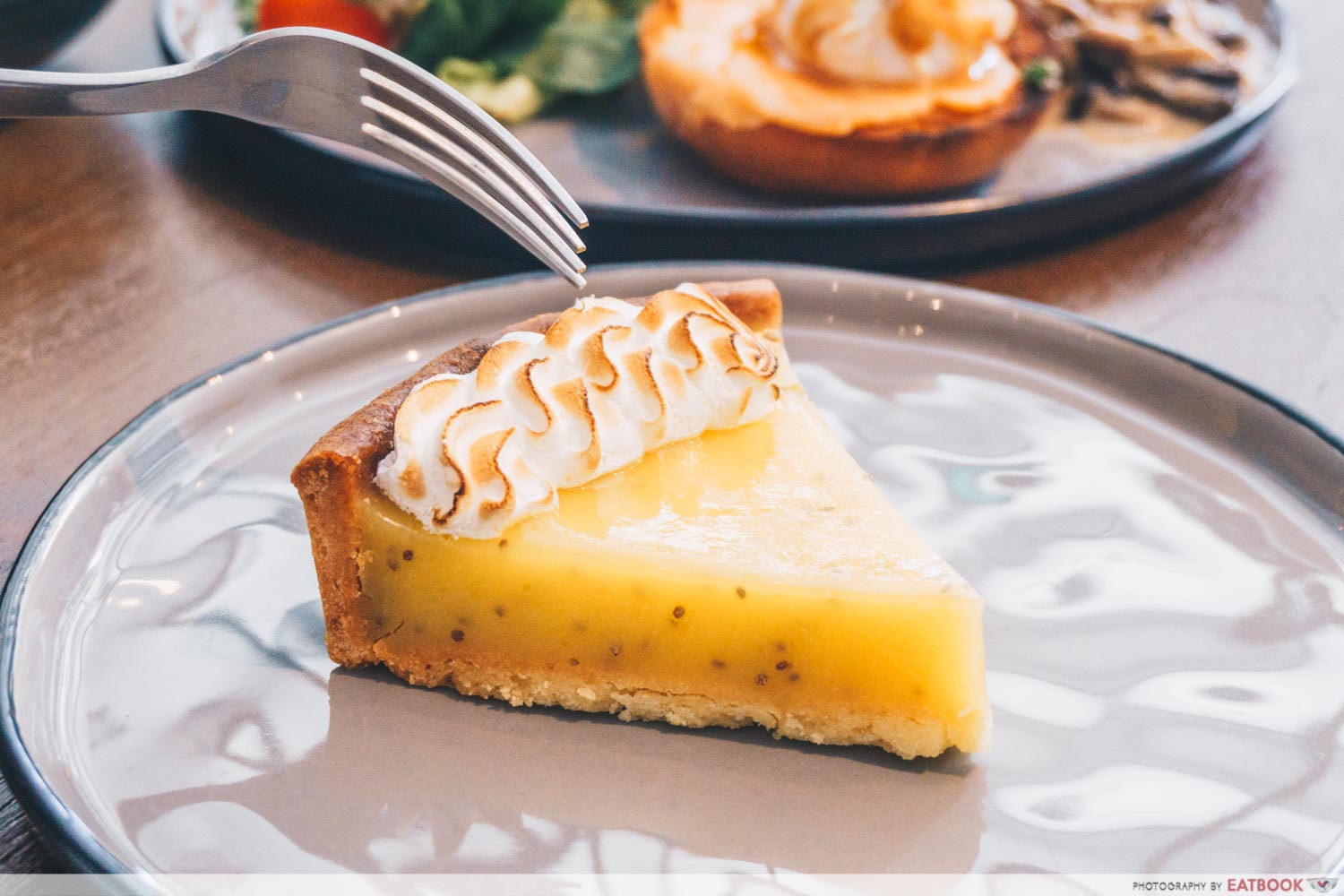 To round off our brunch, we got the Lime Meringue Tart ($8.50), which came recommended as one of their best-selling desserts. It had a citrusy, gelatinous filling with flecks of chia seed throughout.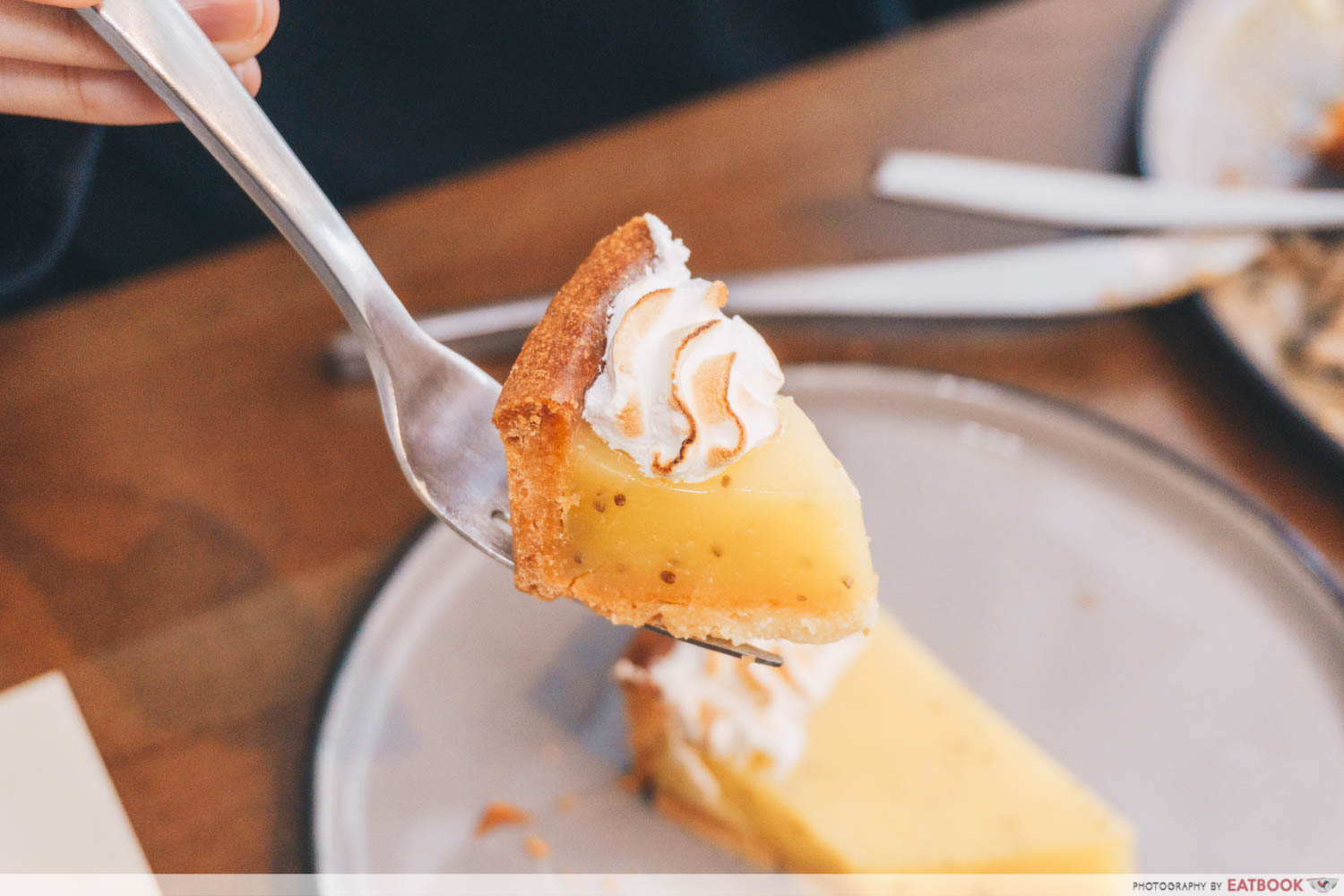 I'm usually not a fan of desserts, but I thoroughly enjoyed this sweet treat. It was refreshing and its well-balanced sweetness and tartness were almost addictive. Even the crust was fragrant, crumbly and moist. 
With three out of three dishes that we tried faring better than average, Daizu Cafe definitely met my criteria of serving unique and delicious food. 
Ambience at Daizu Cafe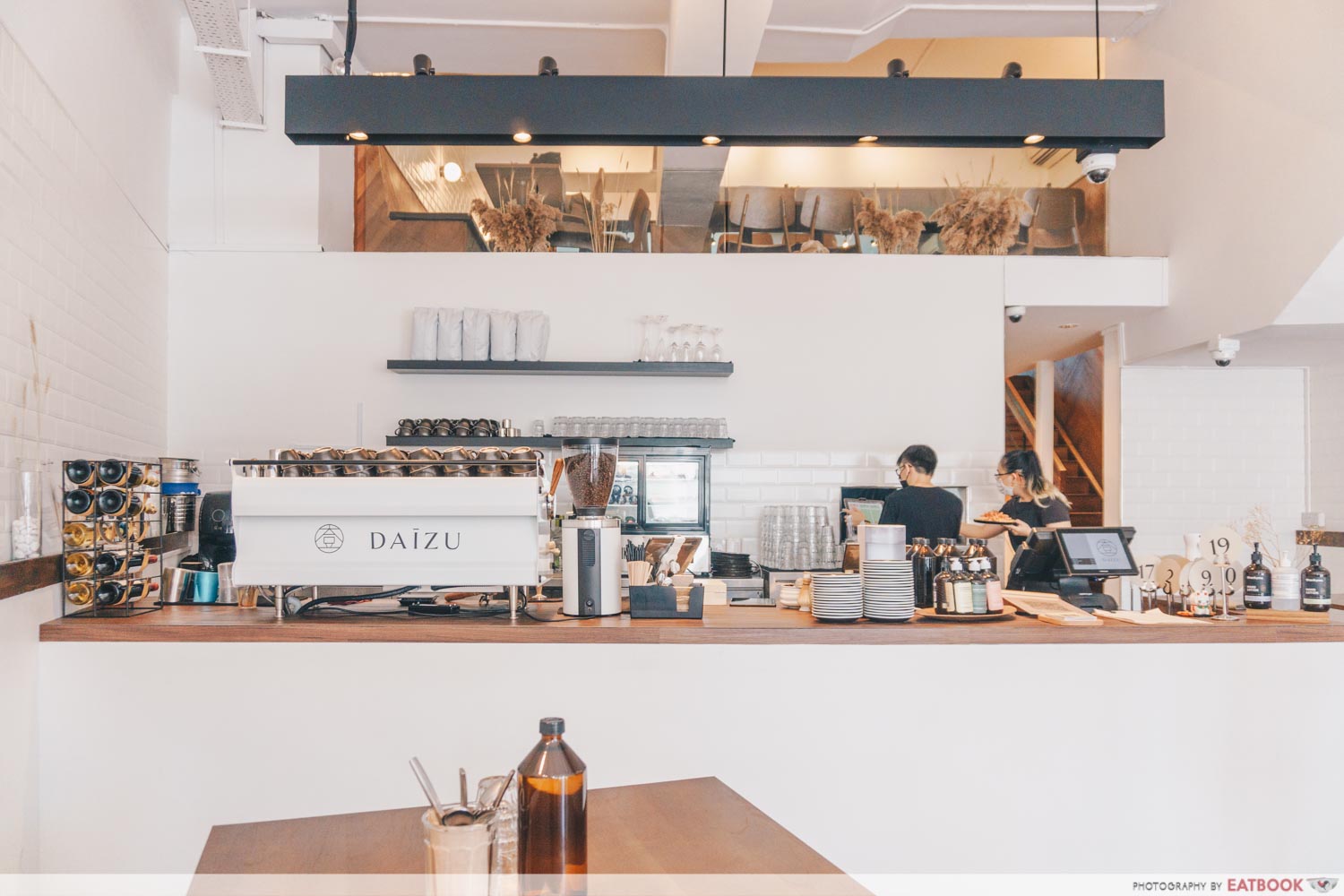 Daizu Cafe is a five-minute walk from Farrer Park MRT Station. With a Muji-like loft interior, this cafe has a serene ambience and I think it's a great place for those who want to sit back and relax on a lazy afternoon. Comfortable setting, check.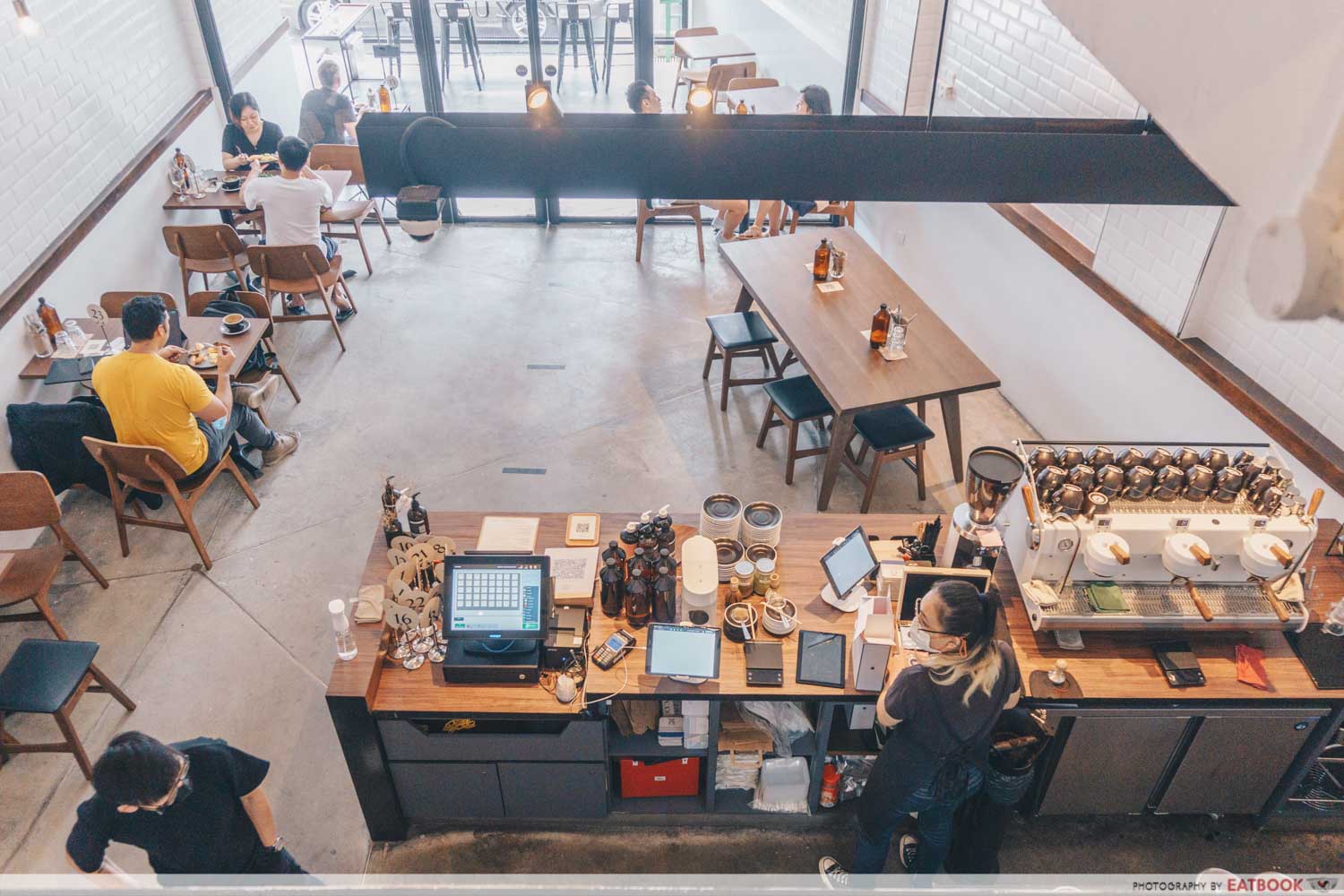 The cafe is spacious and brightly-lit. Apart from its main seating area and upper level, you can also choose to dine al fresco on the porch in the front of the cafe. 
The verdict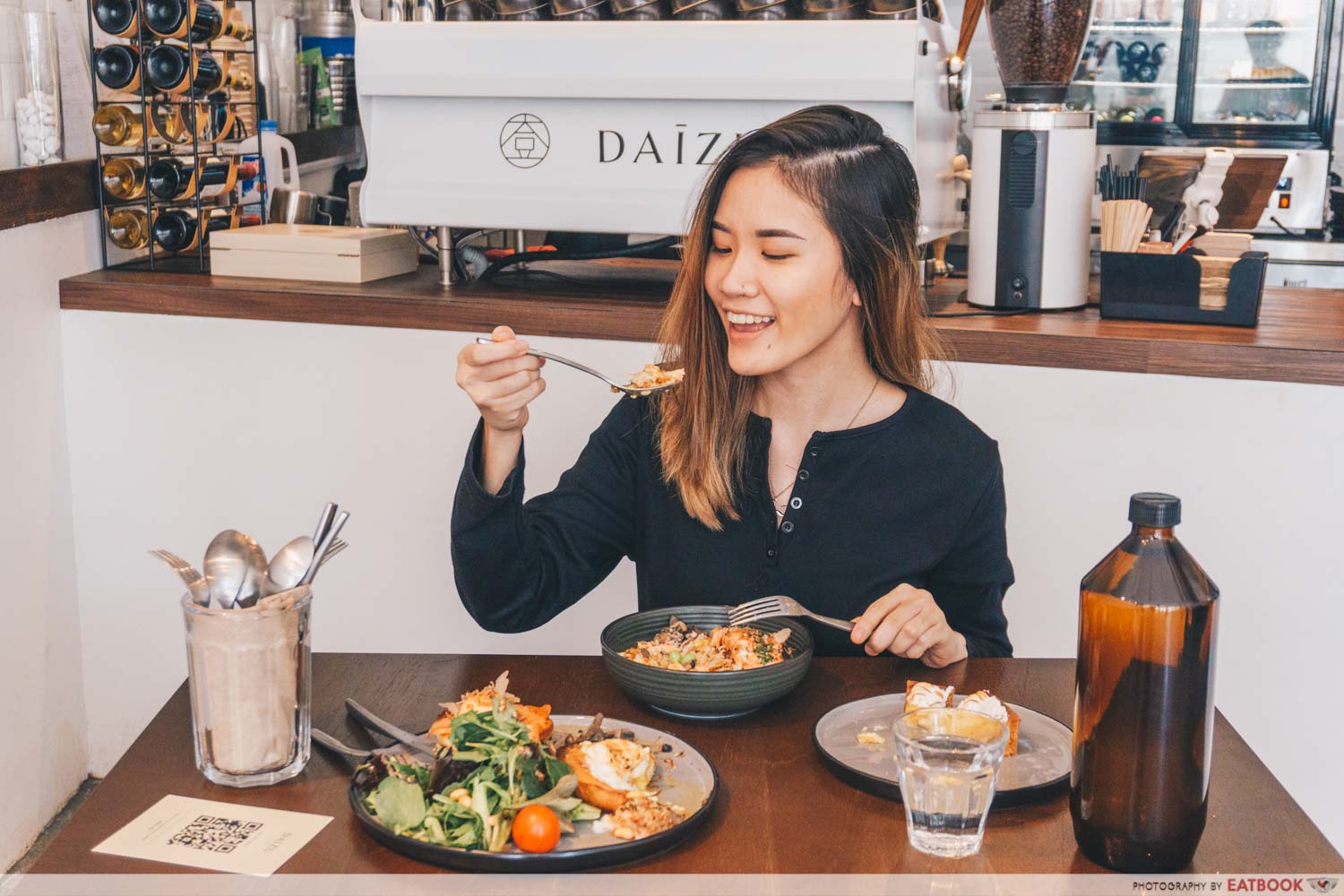 With the cafe scene in Singapore being so saturated, it is rare to find one that's an all-rounder in terms of its food and ambience. However, in my opinion, Daizu Cafe can easily be regarded as one of the better cafes in Singapore with its minimalist, IG-worthy space as well as its tasty eats. What's more, they have incorporated superfoods like soybeans and chia seeds in their dishes to cater to more health-conscious diners. I am truly impressed with Daizu Cafe and I wouldn't hesitate to patronise them again to try out other interesting items on their menu. 
If you're planning to visit Daizu Cafe, do note that their kitchen service is only available from 11am to 2:30pm and 5pm to 9pm.
11 Beautiful Coffee Cafes In Singapore With Artisanal Brew From $3
While you're here, do explore our list of beautiful coffee cafes in Singapore as well as our guide to convenient brunch cafes that are located near MRT stations. If you're into desserts, head over to our recent review of Dolc Patisserie and their IG-worthy tarts.
Dolc Patisserie Review: New Patisserie Selling IG-Worthy Tarts With Strawberry And Basil In Outram
Address: 129 Rangoon Road, Singapore 218407
Opening hours: Mon to Fri 11am to 10pm, Sat-Sun 10am to 10pm
Website
Photos taken by Muhammad Hafiq.
This is an independent review by Eatbook.
Summary
Pros
– Delicious mains
– Lime tart was fragrant and well-balanced in flavour
– Minimalist interior
Cons
– Slightly pricey
Recommended Dishes: Lemon Miso Eggs Benedict ($24), Lime Meringue Tart ($8.50)
Opening hours: Daily 10am to 10pm
Address: 129 Rangoon Road, Singapore 218407