---
Coffee cafes with beautiful interiors
---
Update (31/08/20) : Quarter Life Coffee is closed
Aside from water, coffee is arguably the most important beverage there is. It isn't a stretch to say most of the working population need their daily shot of caffeine to get going in the morning. But coffee isn't just a necessity—it's something to be enjoyed too. Past the legions of Starbucks and Coffee Bean outlets, dozens of smaller, artisan roasters and coffee cafes have burst onto the scene in the past decade. They showcase blends of beans from across the globe, focusing on the unique nuances of flavour in each batch.
A flavourful cup of coffee is a great partner for a laidback afternoon, preferably in elegant surroundings. These 11 beautiful artisanal coffee cafes deliver on that platform, with a range of options from minimalist holes-in-the-wall to expansive, industrial spaces.
---
1. Glyph Supply Co
---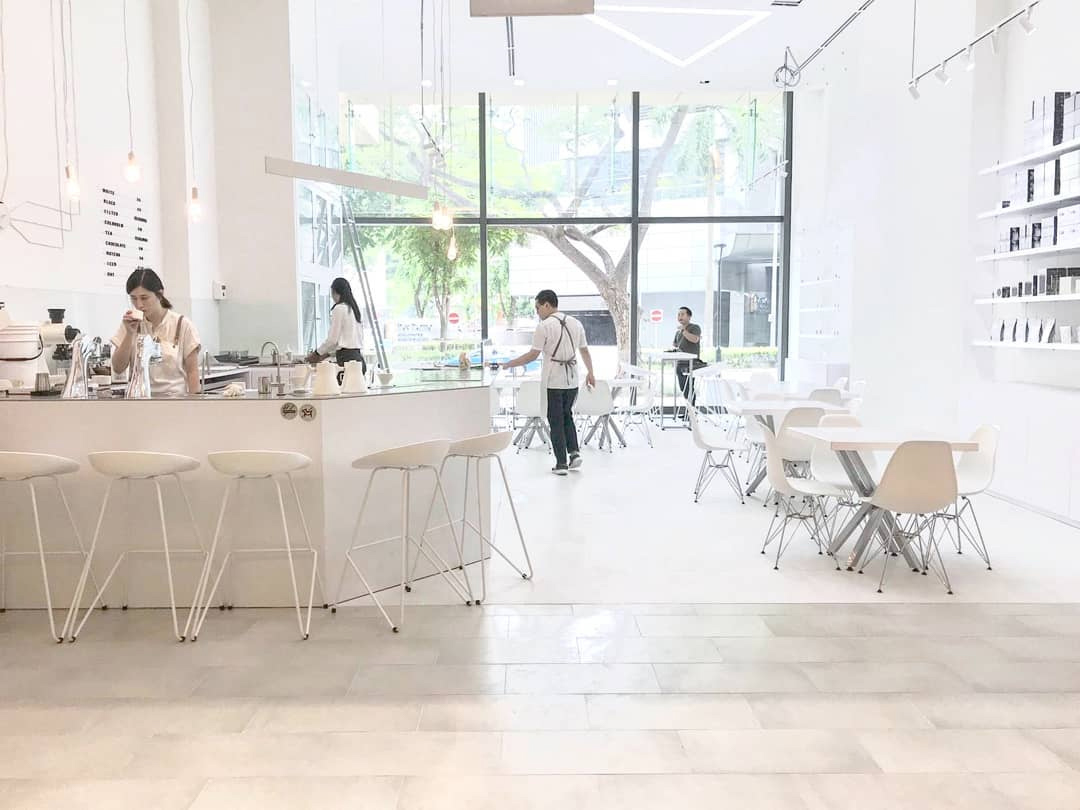 Image credit: @glyphsupplyco
Glyph Supply Co is reminiscent of that Mr Bean scene where he makes a bucket of white paint explode in his apartment—except stylish. The white-washed interior, complemented by floor-to-ceiling windows that let sunlight hit every surface, feels worlds apart from the noise and colour of the busy Orchard Road streets outside.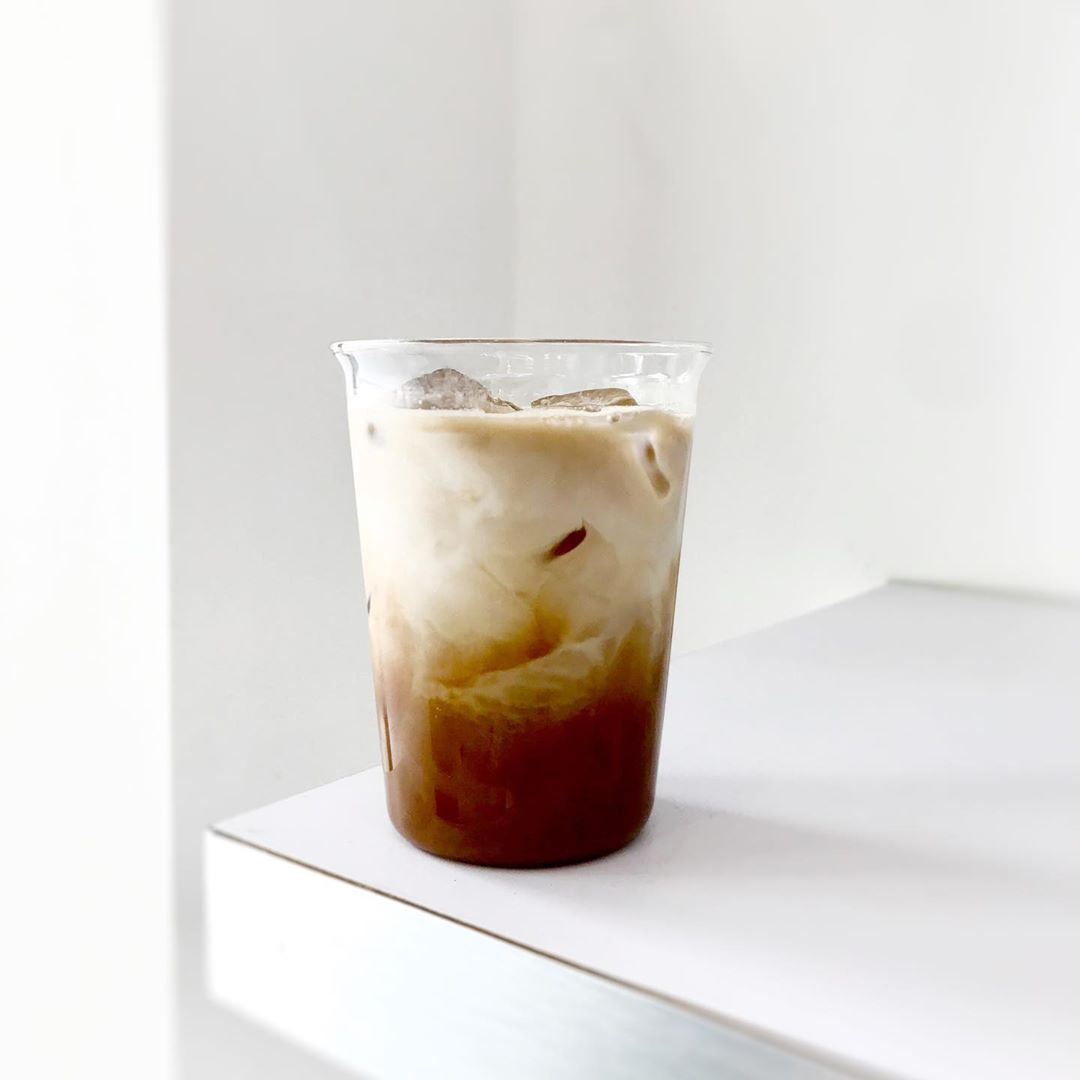 Image credit: @glyphsupplyco
The cafe's simple style is matched by a simple menu. There's no need to figure out the difference between a flat white and latte here, with White ($5.50), Black ($4.50), Filter (seasonal pricing) and Cold Brew ($6) forming the entire coffee lineup. Their beans change on a seasonal basis—with imports from distant countries, such as Ethiopia and Peru, taking turns in the coffee cups.
Address: 111 Somerset Road, #01-06, 111 Somerset, Singapore 238164
Opening hours: Mon-Fri 8:30am to 7pm, Sat-Sun 10am to 7pm
Website
---
2. Quarter Life Coffee
---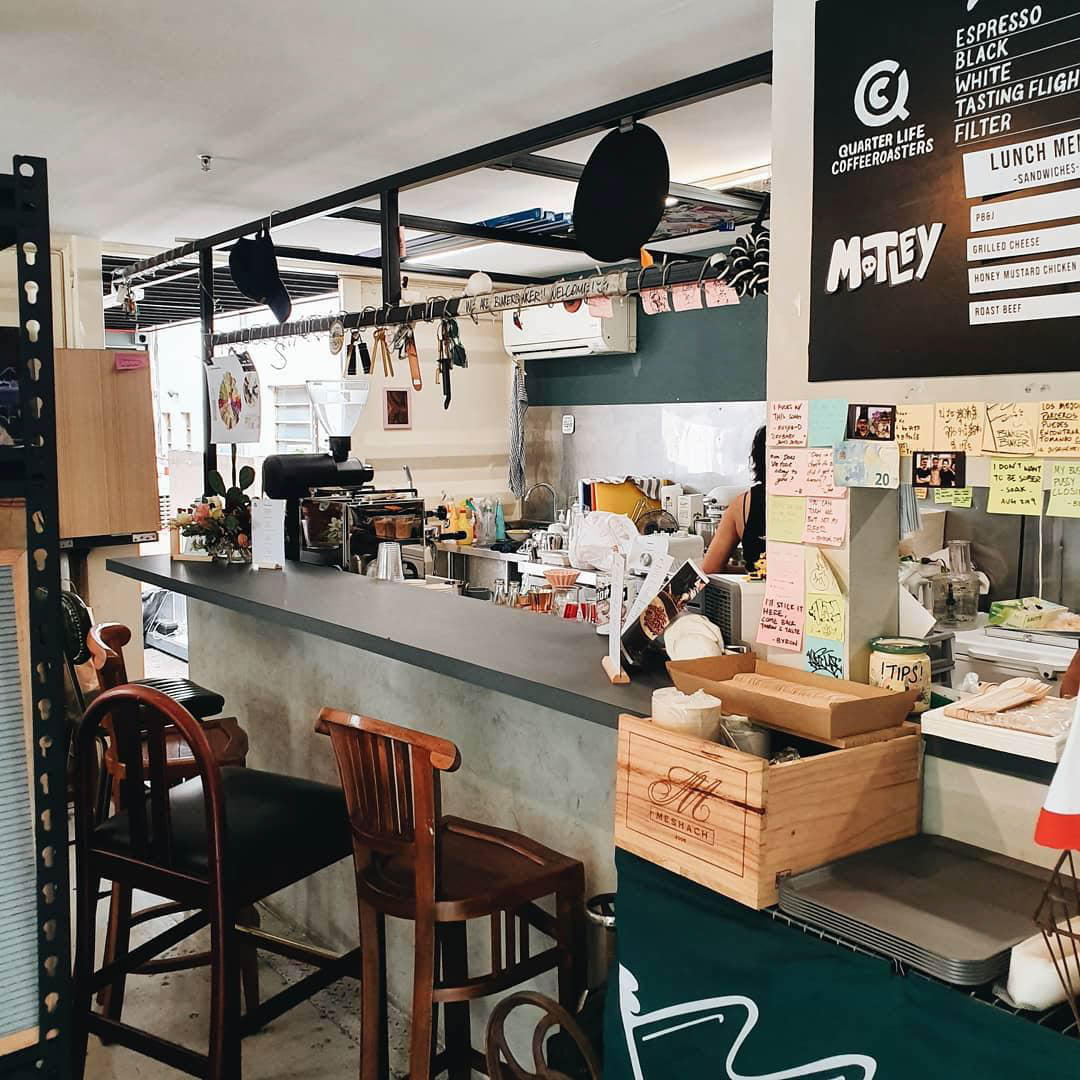 Image credit: @kelly_kwan
Quarter Life Coffee was initially a roastery and online coffee publication that's the brainchild of four friends in their mid-twenties. This August, they became a full-fledged shop that's housed in quirky art gallery-cum-stack of shipping containers, DECK.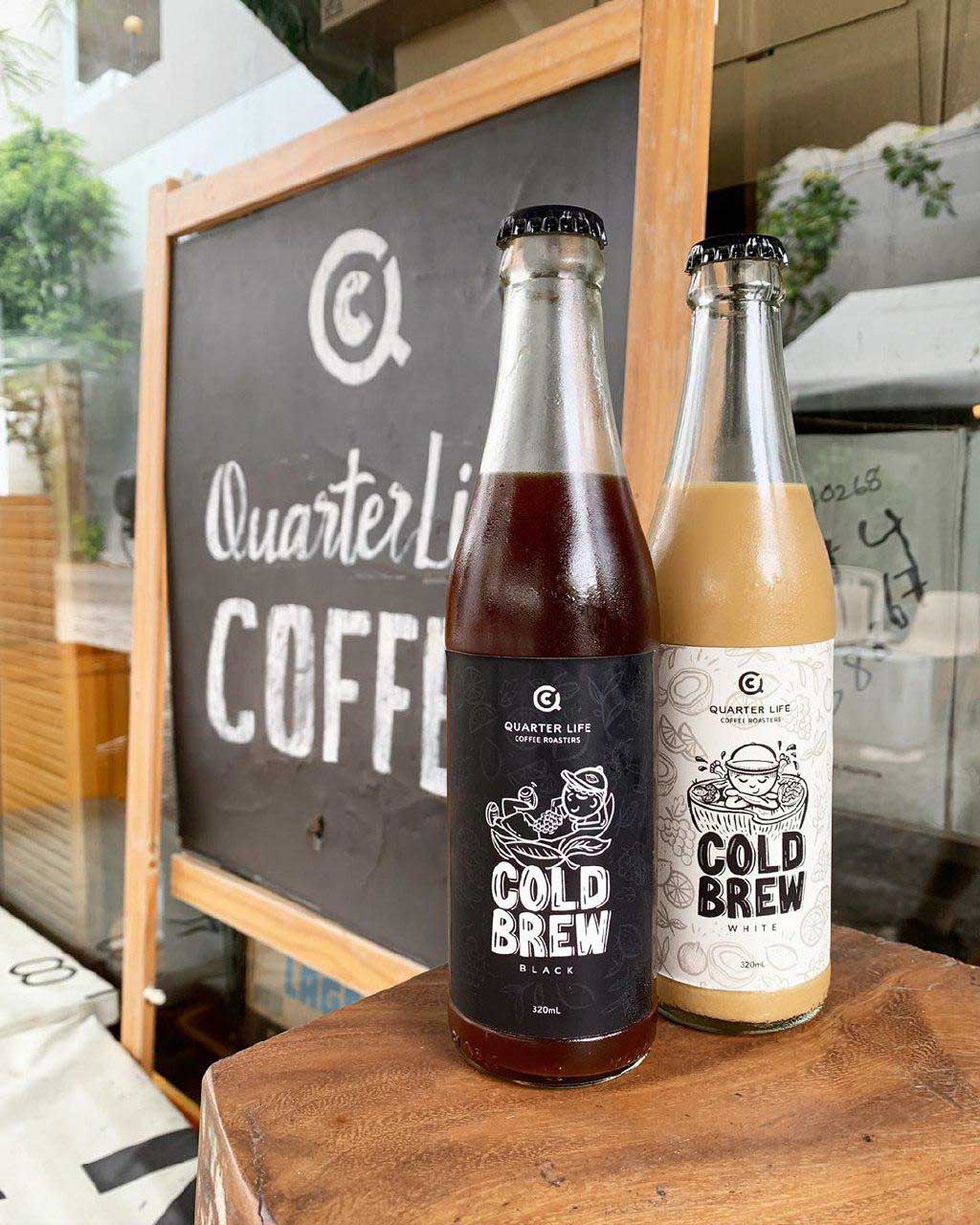 Image credit: @quarterlifecoffee
Single origin beans from Rwanda and Myanmar grace the grinders here. Classics like Espresso ($3.50) and White ($5) are accompanied by novel experiences such as Cold Brew Tonic ($6.50) and Tasting Flight ($6). The latter is a doorway into coffee's versatility, giving you a taste of the white and espresso versions of the same bean. 
Address: 120A Prinsep Street, DECK, Singapore 187937
Opening hours: Mon-Sat 10am to 6pm, Sun 11am to 4pm
Website
---
3. Apartment Coffee
---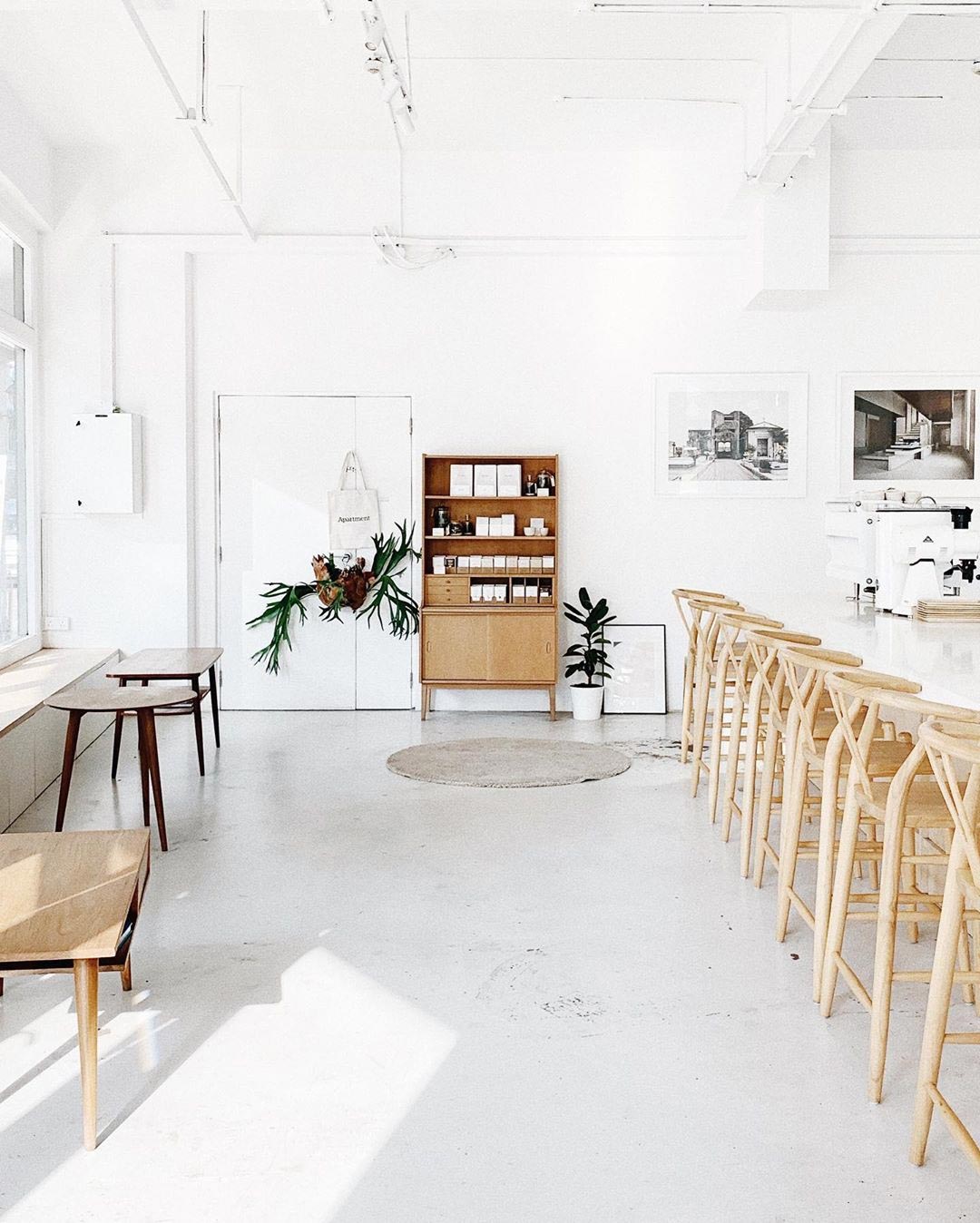 Image credit: @apartmentcoffee
Take the old adage "make yourself at home" literally at Apartment Coffee. From the decor to the friendly baristas, everything about this brilliantly white Lavender cafe is geared towards making customers feel like they're visiting a friend.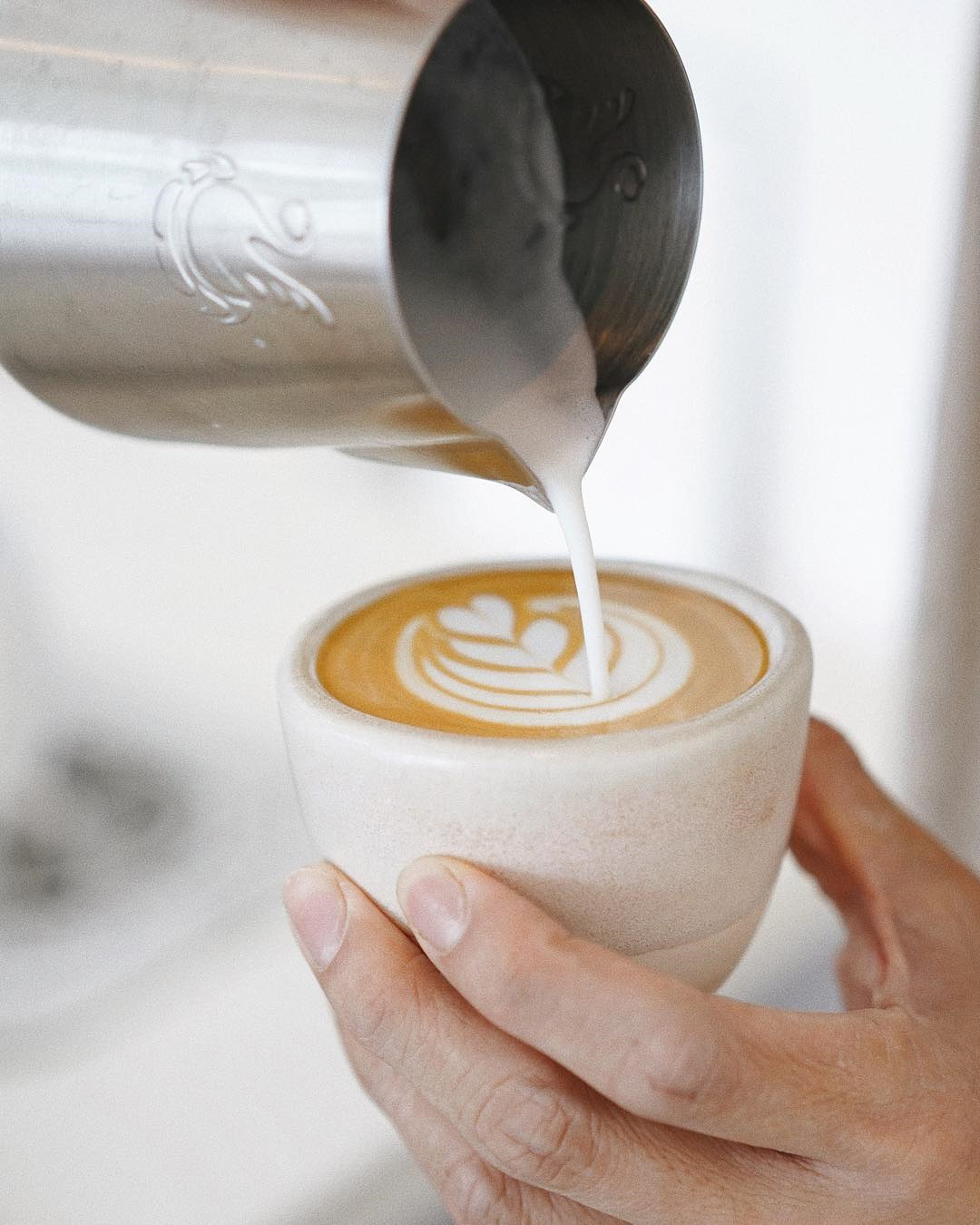 Image credit: @apartmentcoffee
Their coffee is probably a little better than what your friends serve though, as the cafe is helmed by a former Singapore Brewers Cup champion. Despite the casual atmosphere, coffee is taken seriously here. They don't do takeaways, and each order is joined by a small card with tasting notes. While prices are seasonal, expect to foot around $4.50 for white coffee and $5.50 to $7 for filtered coffee.
Address: 161 Lavender Street, #01-12, Singapore 338750
Opening hours: Daily 9am to 6pm
Website
---
4. Alchemist
---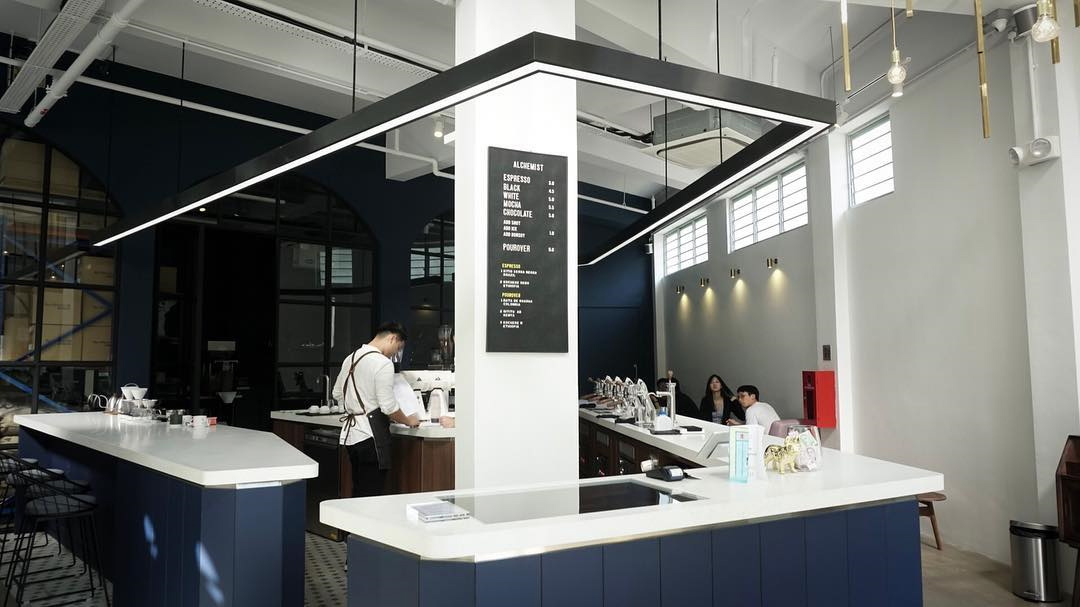 Image credit: @alchemist.sg
Coffee fanatics Alchemist aren't fresh on the local coffee scene, but their new flagship outlet is certainly one of the most distinctive spots on the island to grab your daily dose of caffeine. The roasters have made the ex-Khong Guan biscuit factory their home, combining old-school nostalgia with a sleek, modern look. With high ceilings, a sprawling counter and a row of silver dispensers, the space feels like the lovechild of a bar and cafe. Either way, it's a great spot to laze the day away with a book in hand.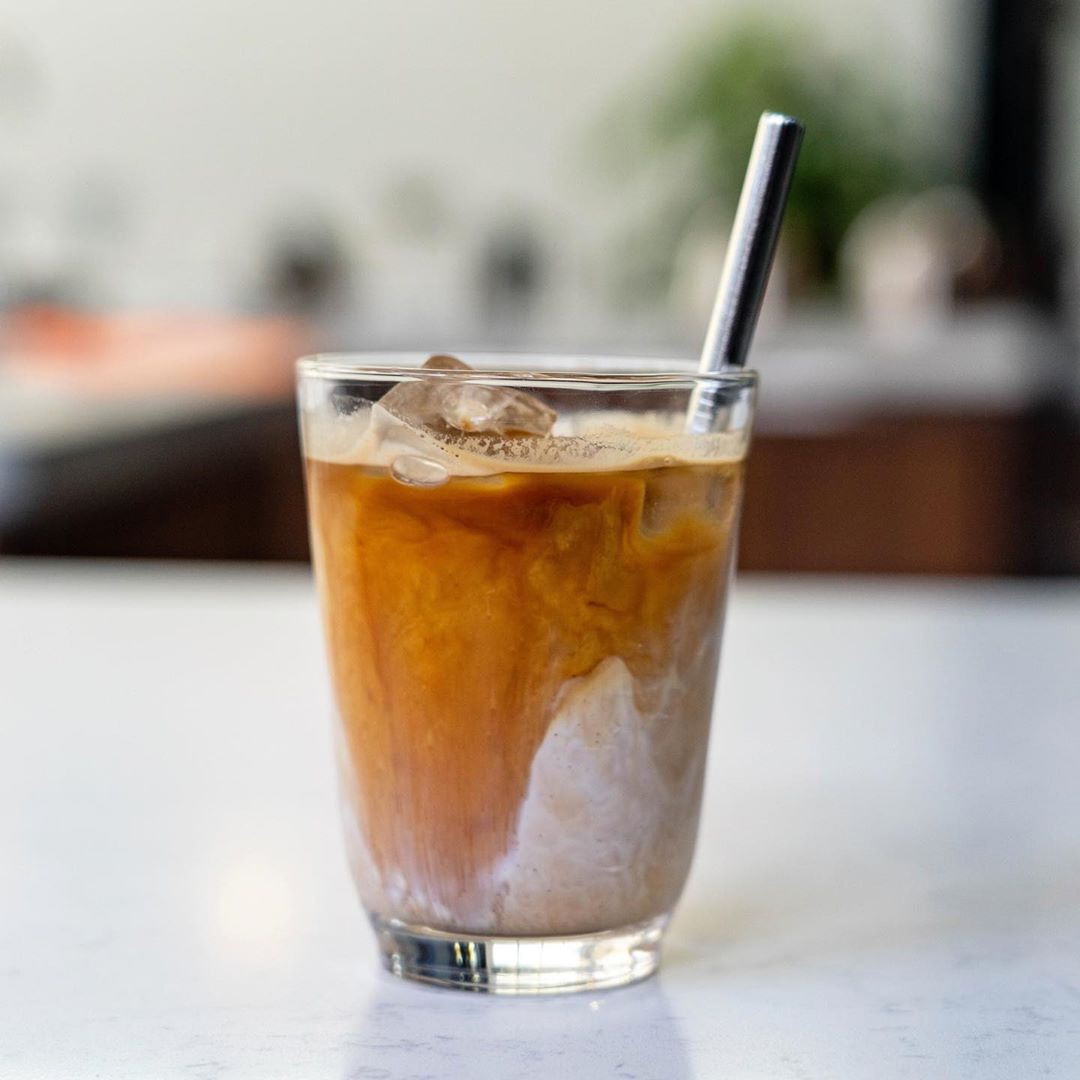 Image credit: @munafique
While coffee from all over the world take turns on the menu, Brazillian varieties seem to be a constant crowd-pleaser, whether in Black ($4.50) or Pourover ($6) form.
Address: 2 Mactaggart Road, Khong Guan Building, Singapore 368078
Opening hours: Mon-Fri 8am to 5pm, Sat 9am to 6pm
Website | Full list of outlets
---
5. Homeground Coffee Roasters
---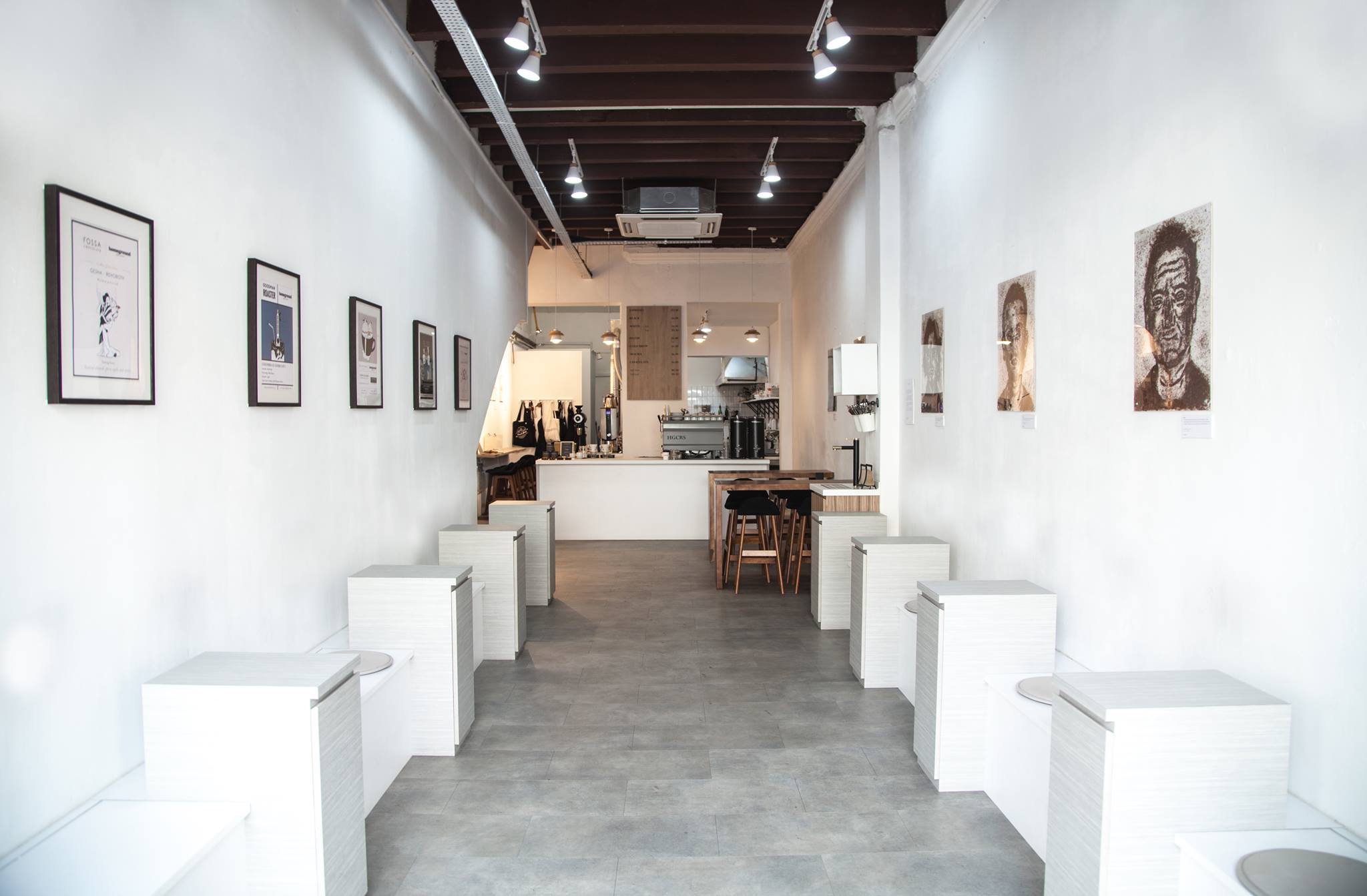 Image credit: Homeground Coffee Roasters
Homeground Coffee Roasters is a cafe, art gallery, and retail space all rolled into one. This stylish Joo Chiat spot is marked by a bright white corridor with a seating arrangement akin to an avant-garde MRT carriage, leading into the cosy kitchen and retail space within.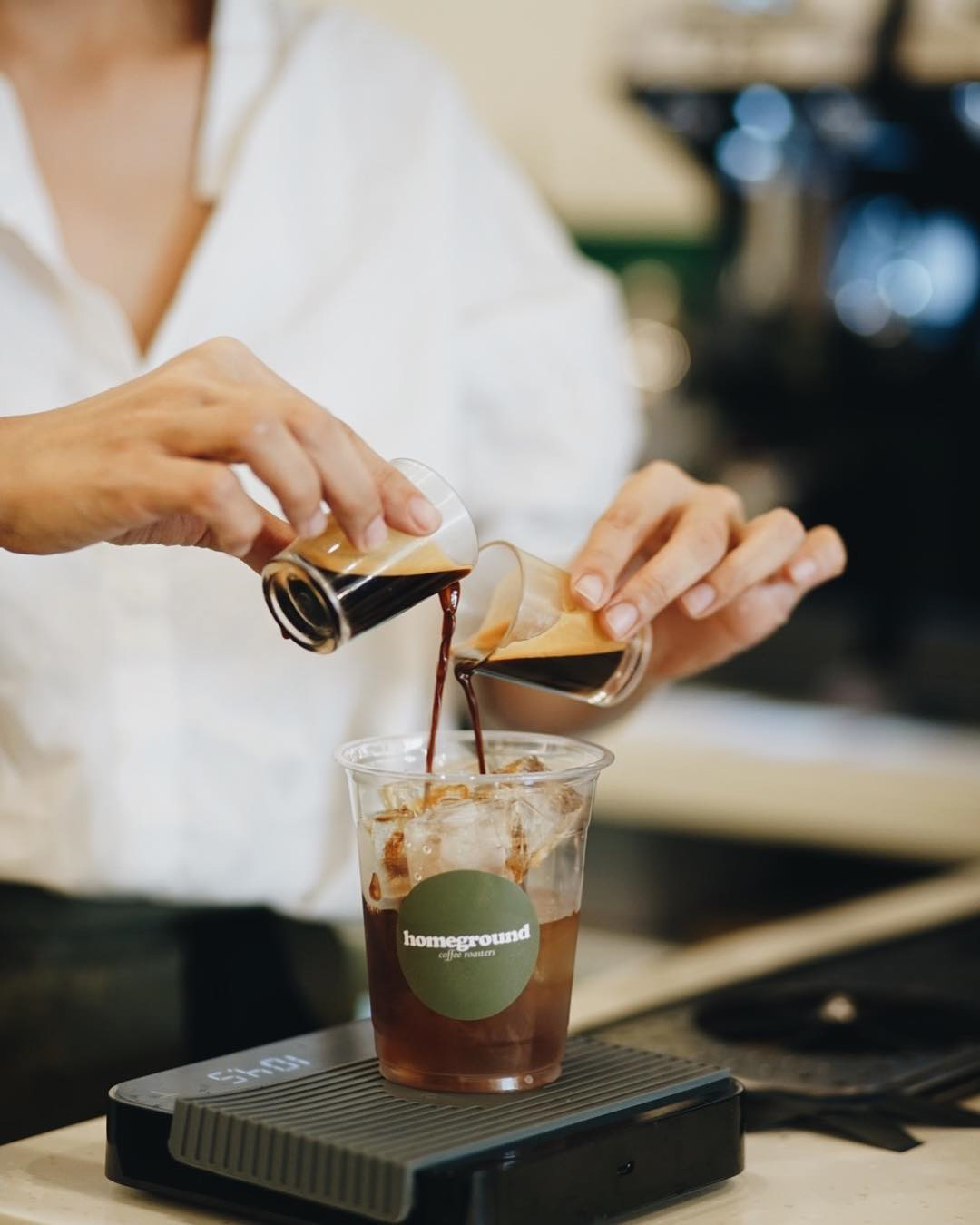 Image credit: @homeground.coffee
Vanta is a stalwart in their coffee rotation. It's a 50/50 blend of Colombian and Brazillian beans that bears nutty, chocolatey notes in Long Black ($4) form, and roasty, fruity accents in White ($4.50 for 4 oz, $5.50 for 6 oz) form. Complete an amped-up version of the ubiquitous Singaporean breakfast by ordering the Level Up Kaya Toast ($8), which boasts housemade kaya, Hokkaido milk toast, French butter and a sous vide egg.
Address: 475 Joo Chiat Road, Singapore 427682
Opening hours: Mon-Tue, Thur-Fri 8am to 5pm, Sat-Sun 9am to 6pm
Website
---
6. Nylon Coffee Roasters
---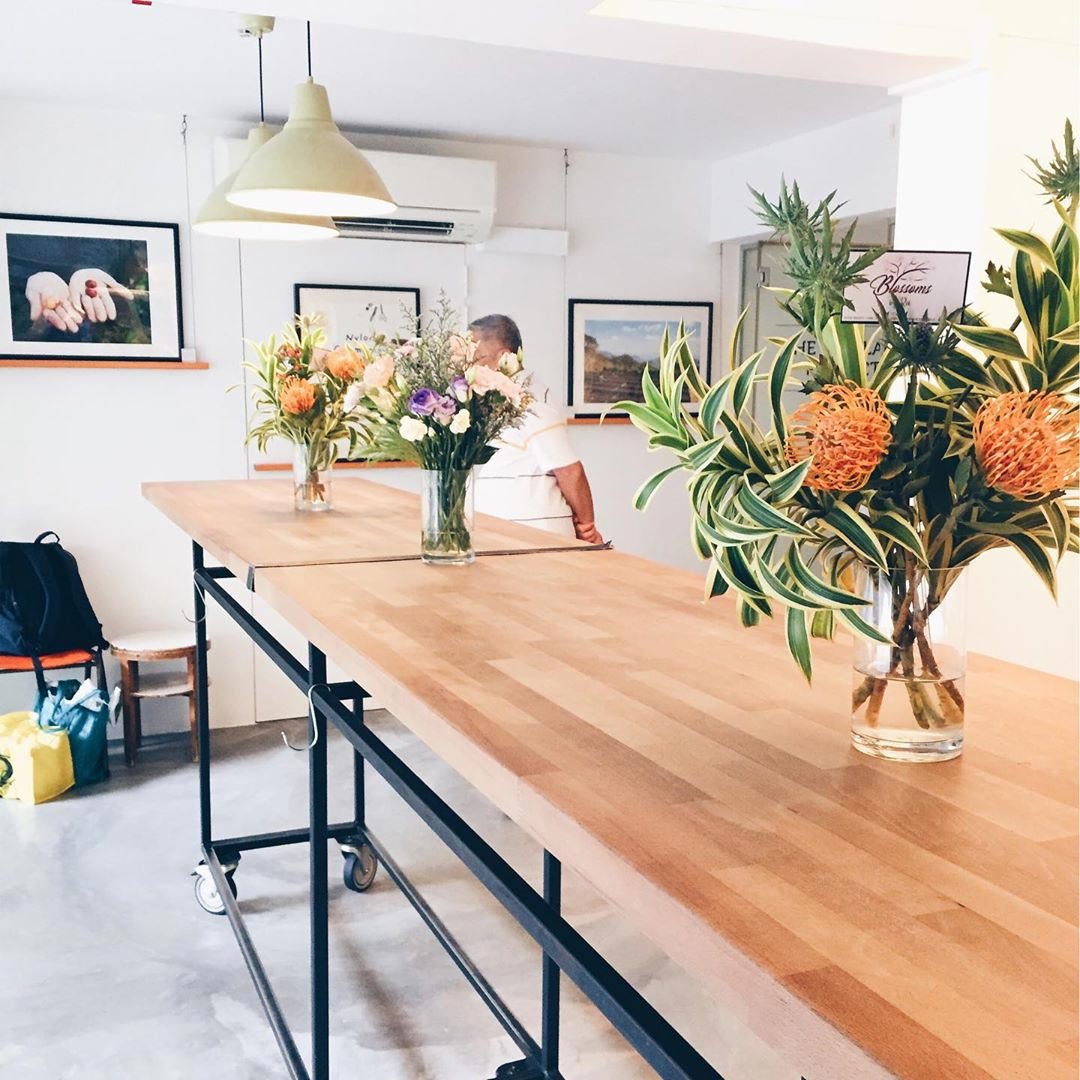 Image credit: @nyloncoffee
Nylon Coffee Roasters is one of Singapore's most renowned coffee suppliers, providing locals with shots of artisanal caffeine since 2012. Their humble, homely cafe resides at the foot of an Outram housing estate, decked with warm lighting and potted flora.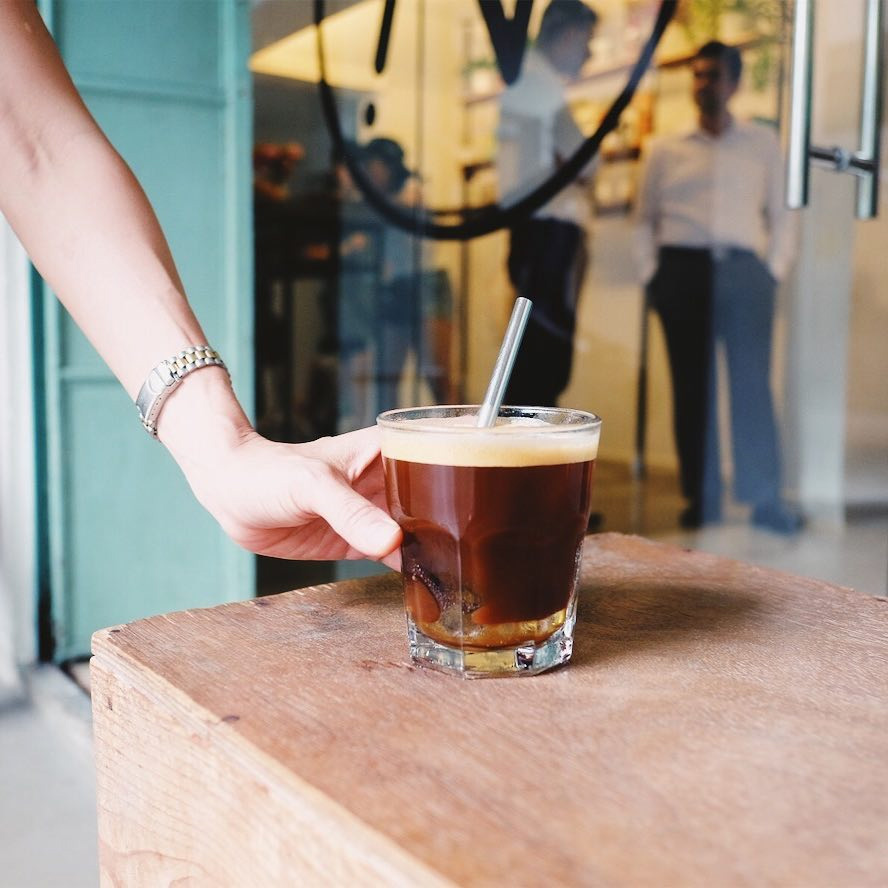 Image credit: @nyloncoffee
The couple behind the venture spends weeks each year travelling around the globe, building partnerships with small, sustainable farms in South and Central America. The result is quality cups of Joe that don't break the bank, with a Long Black going for only $3.
Address: 4 Everton Park, #01-40, Singapore 080004
Opening hours: Mon-Fri 8:30am to 5:30pm, Sat-Sun 9am to 6pm
Tel: 6220 2330
Website
---
7. Olla Specialty Coffee
---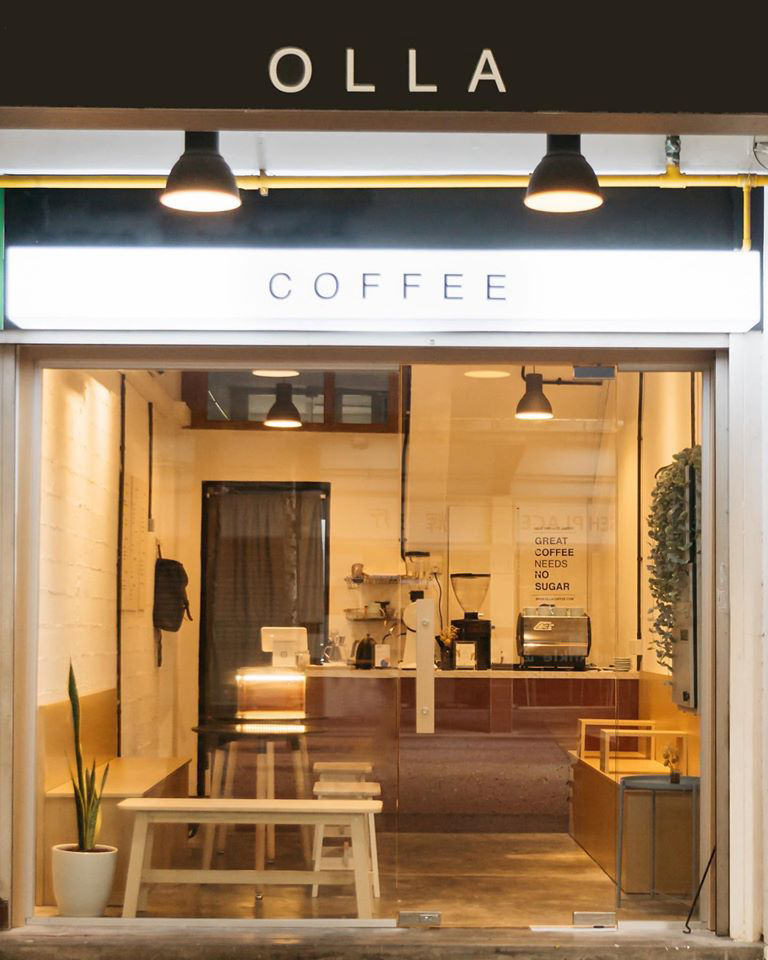 Image credit: Olla Specialty Coffee
Despite opening its doors midway through 2019, Olla Specialty Coffee has been serving up coffee for eight years as a mobile caterer. These coffee nomads have settled into a sharp, white and wood-accented alcove at Sunset Way, their first permanent home.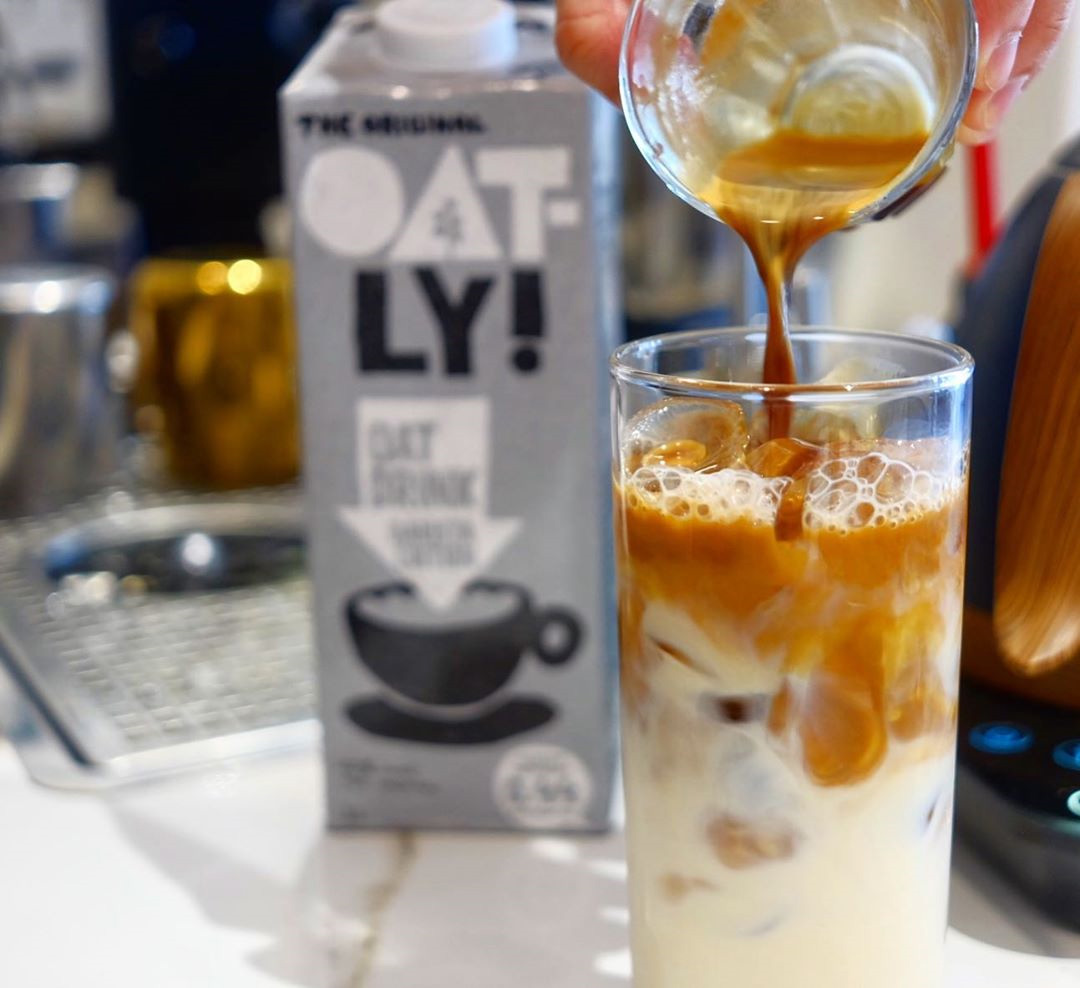 Image credit: @ollacoffee
Their range of coffee is satisfying and affordable, flaunting a Filter Brew ($5) and 5 oz White ($4). They aren't one-trick ponies either, with the spicy and earthy Matcha Chai Latte (Soy) ($5.50) being a highlight from their series of teas.
Address: 109 Clementi Street 11, #01-03, Singapore 120109
Opening hours: Tue-Sun 8am to 6pm
Website
---
8. Chye Seng Huat Hardware Coffee
---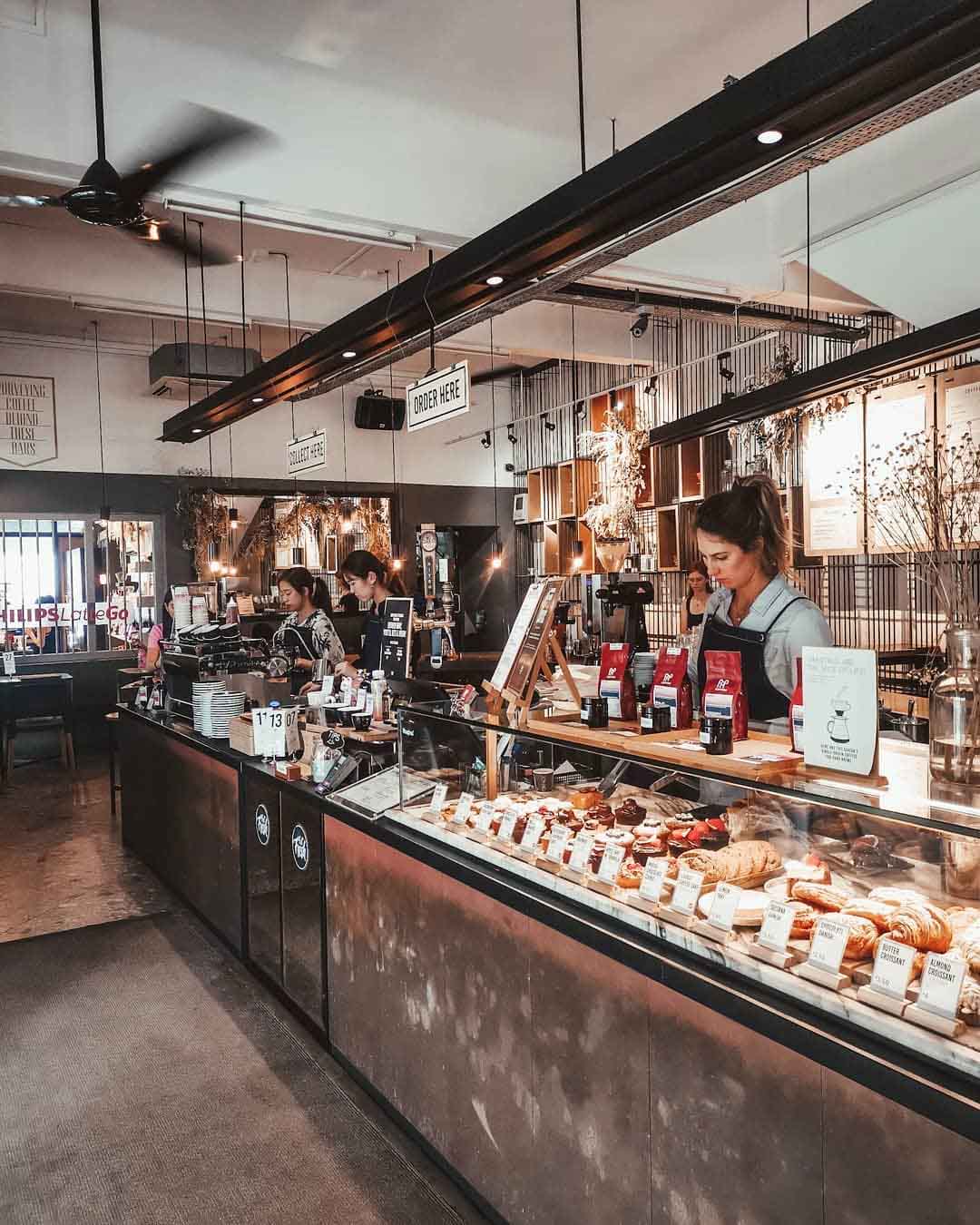 Image credit: @mintilicious_mint
Occupying an old Jalan Besar hardware store, Chye Seng Huat Hardware Coffee has blossomed into one of the most popular joints on the island for a cup of coffee amidst photogenic surroundings. The cafe is flush with an old-world, industrial charm, with scores of customers willing to brave the heat to snap a pic in the bare yet chic outdoor area.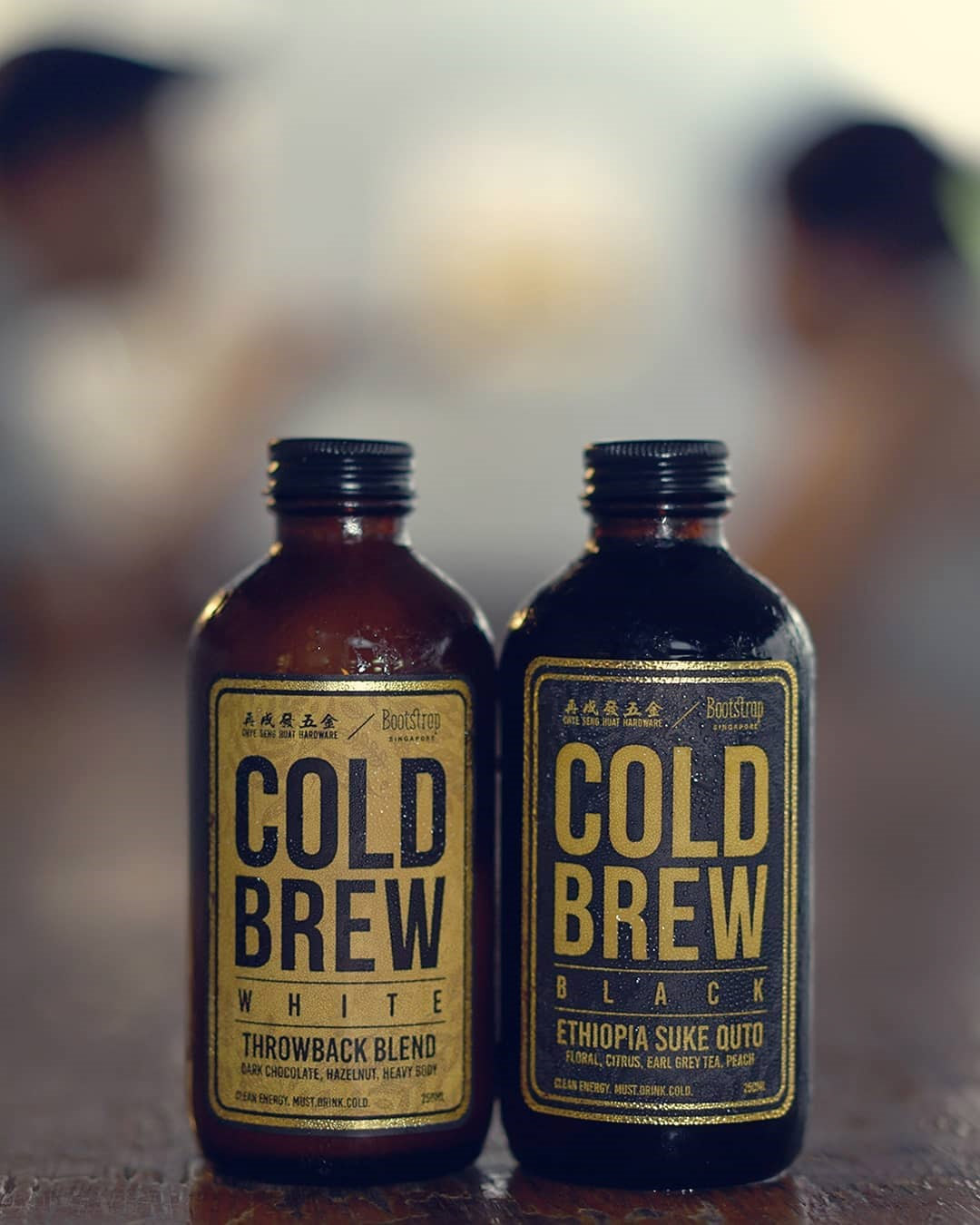 Image credit: @cshhcoffee
While the cafe has a considerable food menu, coffee is still the star of the show here, provided by veteran roasters PPP Coffee. Their beautiful cold brew bottles hog the spotlight, with the nitrogen-infused Nitro Black Matter ($7) carrying floral and fruity notes, and the creamy White Cold Brew ($8) backed by deep tones of chocolate and hazelnut.
Address: 150 Tyrwhitt Road, Singapore 207563
Opening hours: Tue-Thur, Sun 9am to 10pm, Fri-Sat 9am to 12am
Tel: 6396 0609
Website
---
9. Grace Espresso
---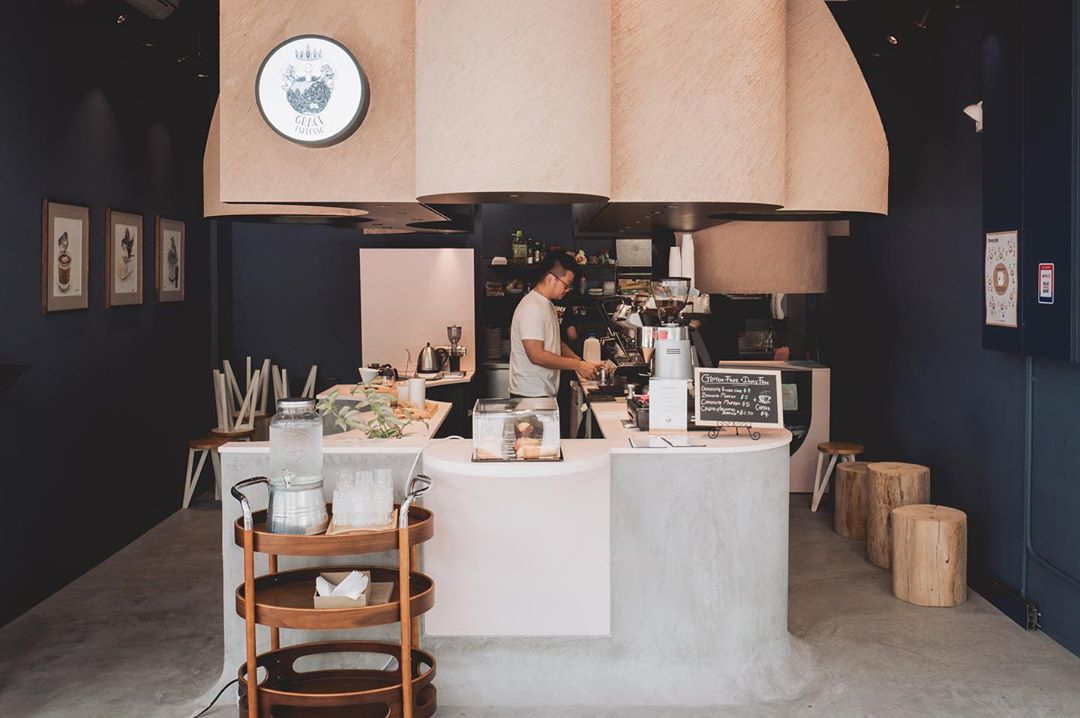 Image credit: @doggaebi
Cafes at the foot of HDB blocks are nothing new at this point, but finding a coffee shop at the ground floor of a condominium complex is certainly unlikely. Grace Espresso is just that. Outfitted with nifty, tree stump stools and inviting, navy walls, this open concept cafe is a pleasant spot for River Valley residents to grab their daily pick-me-up.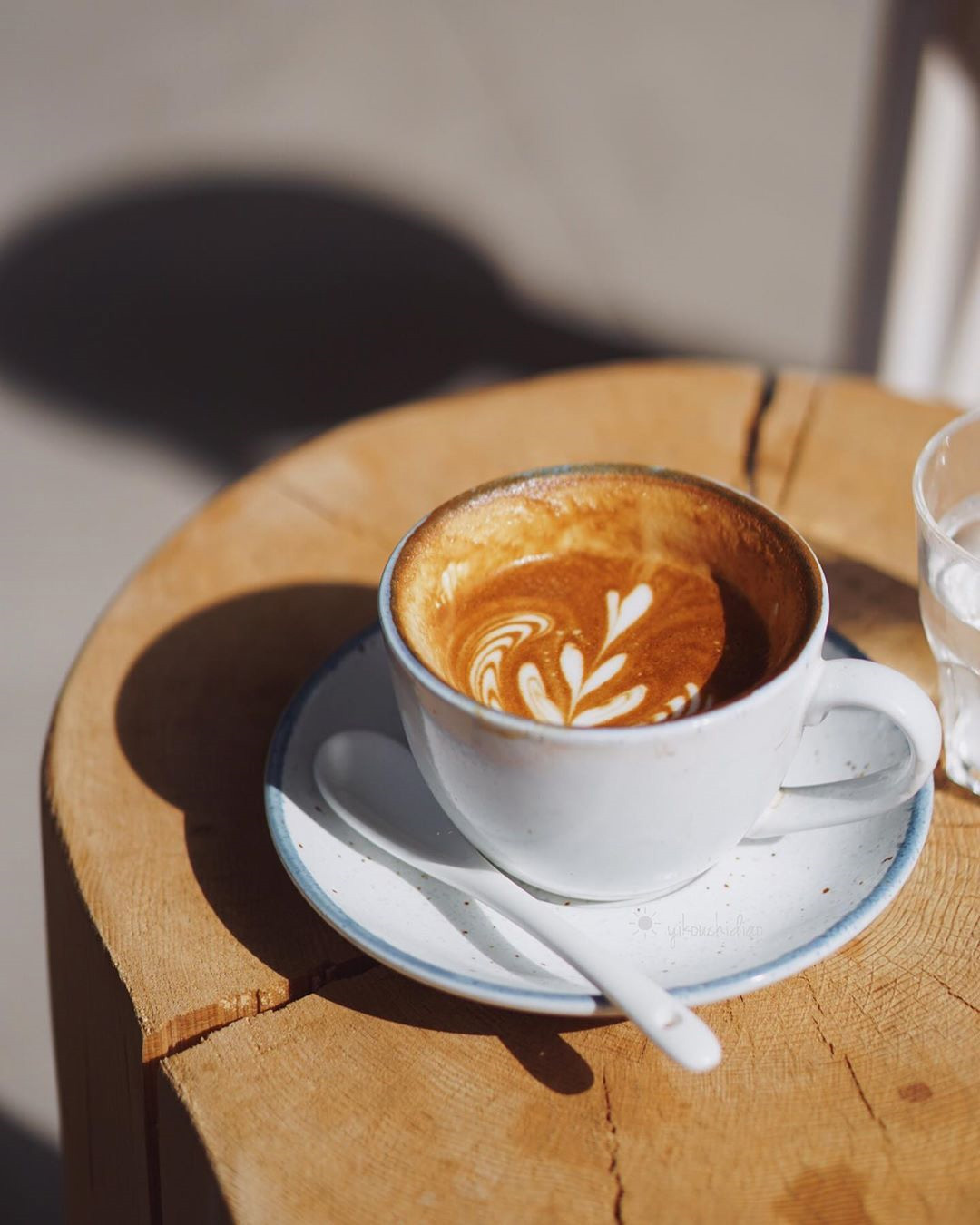 Image credit: @eatingwitheating
Intricate latte art grace their Latte ($5.50), but there's substance below the pretty facade too. Hokkaido milk goes into all their milk-based drinks; its fresh and rich flavour adding an extra dimension to the selection of white coffees.
Address: 428 River Valley Road, #01-14, Loft@Nathan, Singapore 248327
Opening hours: Fri-Wed 7:30am to 5:30pm
Tel: 9337 1976
Website
---
10. Dutch Colony Coffee
---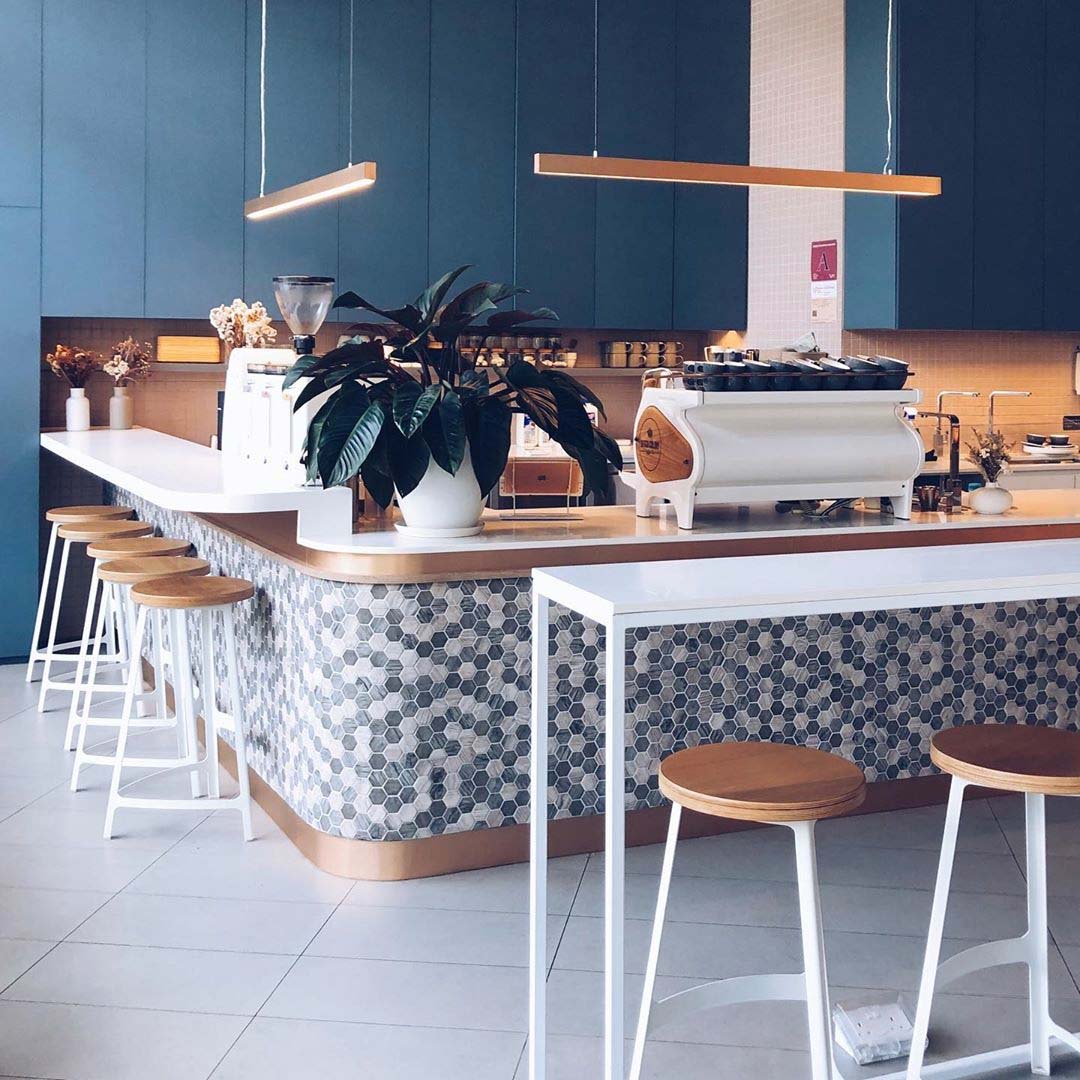 Image credit: @dutchcolony
With three outlets across the island and a separate roastery-cum-academy, Dutch Colony Coffee is one of Singapore's most prolific coffee roasters. Each outlet boasts a different vibe, but we love their snazzy Fusionopolis branch, which looks like it came straight out of a Scandinavian furniture catalogue.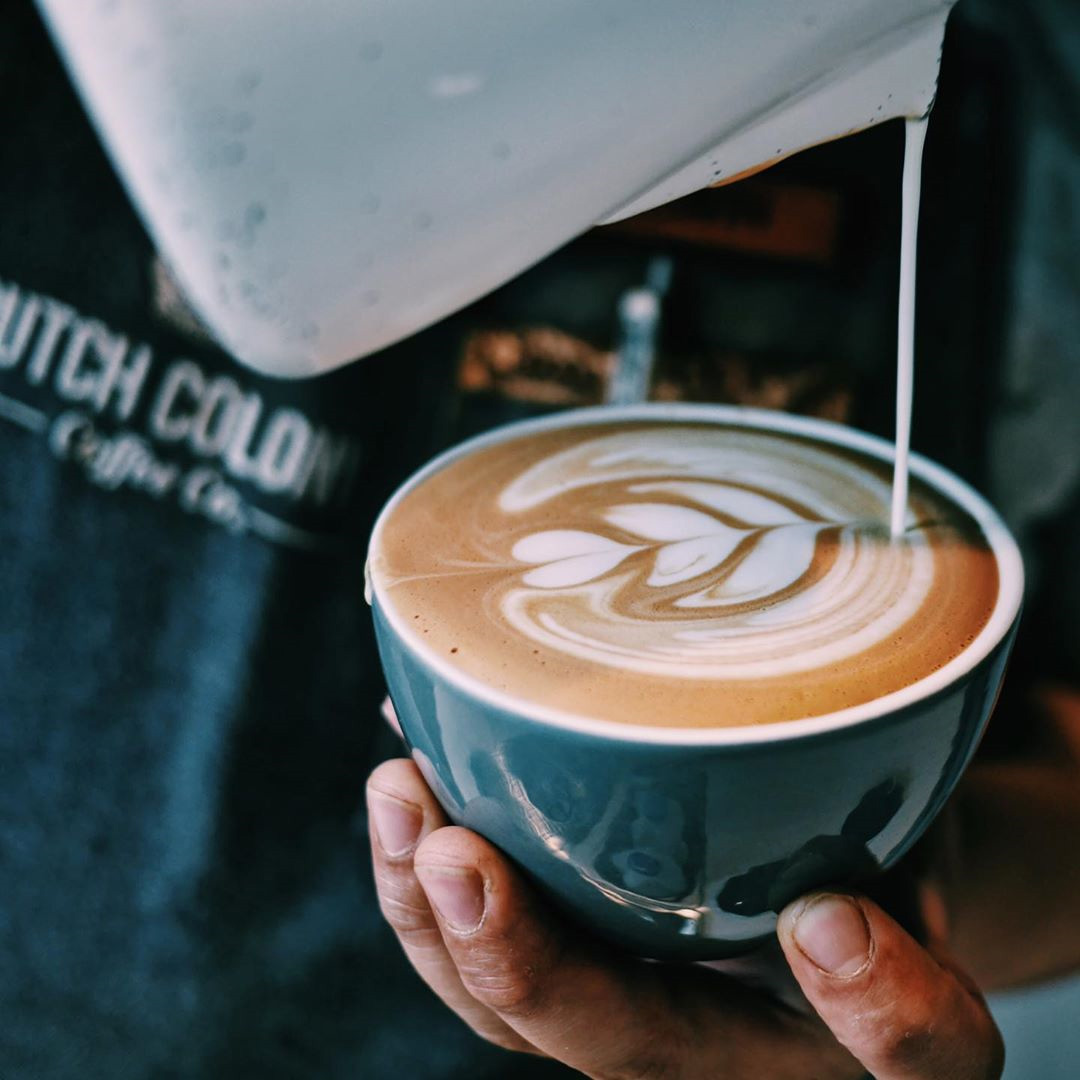 Image credit: @dutchcolony
They use sustainable coffee beans from every corner of the globe, mostly sourced from small-lot plantations, to craft their coffees. While standard fare such as the Cappuccino ($5) are on offer, coffee enthusiasts may want to opt for their Signature Flight Coffee ($8.50)—a taster with espresso and cappuccino—or Cold Drip Coffee ($6.50) instead.
Address: 1 Fusionopolis Way, #01-01, Singapore 138632
Opening hours: Mon-Fri 8am to 6:30pm, Sat-Sun 9am to 6pm
Tel: 6914 1688
Website | Full list of outlets
---
11. Narrative Coffee Stand
---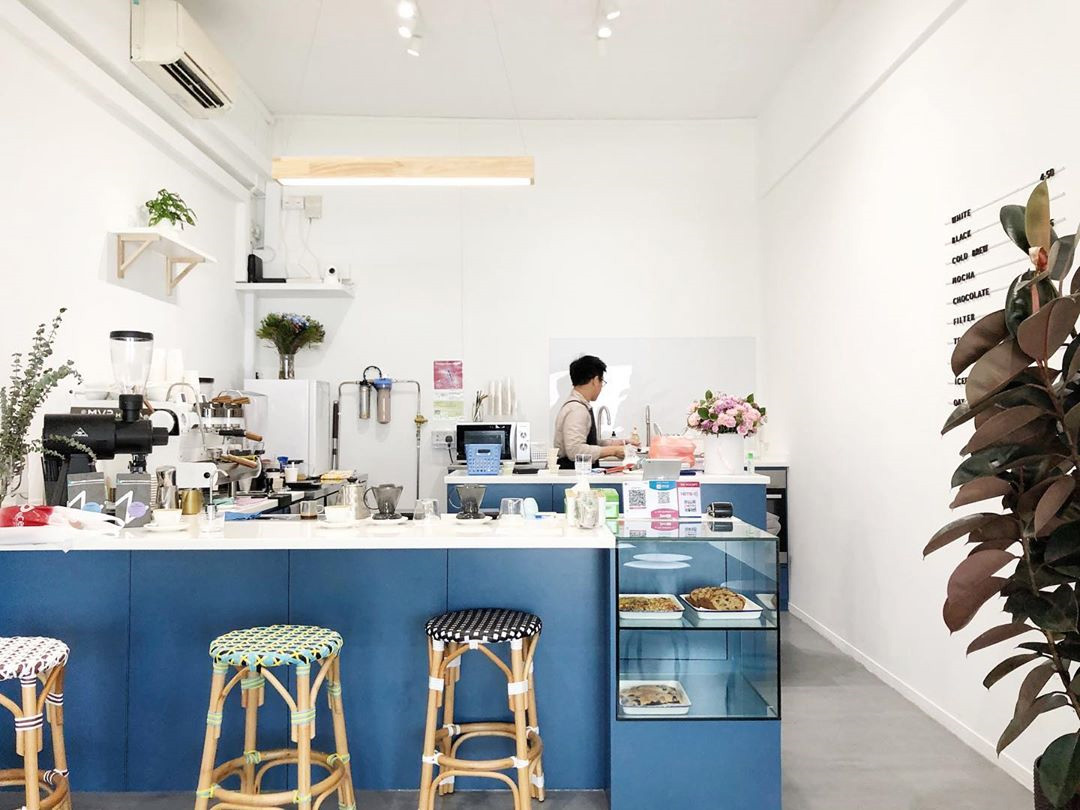 Image credit: @mytomorrowland
Bras Basah Complex is well-known for its throngs of bookstores, but a new coffee joint has sprouted among them—Narrative Coffee Stand. This hole-in-the-wall shop has an honest charm, with the predominantly white walls perked up by swathes of dark blue furniture.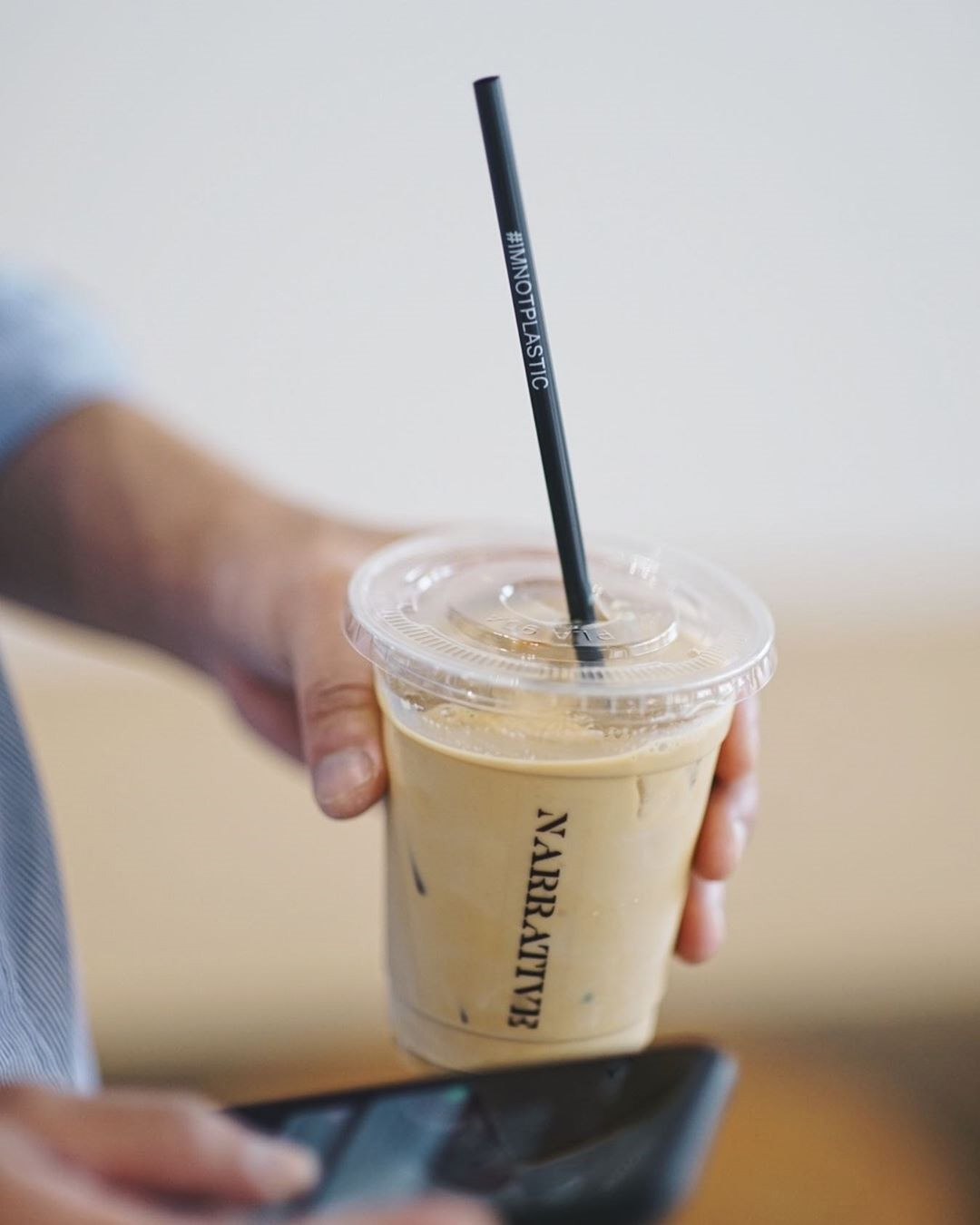 Image credit: @narrativecoffeestand
These new boys keep it simple, offering up a small menu of classic drinks that don't break the bank, such as the Black ($4) and White ($4.50). They source their beans from all over the world, but you're likely to find blends from Nylon Coffee Roasters popping up in your cup. Despite their diminutive size, their bakes are all made in-house. This includes favs such as the Peanut Butter Banana Bread ($3). Considering that many larger cafes on this list outsource their pastries, that's an impressive feat.
Address: 231 Bain Street, #01-05, Bras Basah Complex, Singapore 180231
Opening hours: Mon-Fri 8:30am to 6pm, Sat-Sun 10am to 6pm
Tel: 9180 2937
Website
---
Aesthetic coffee cafes for a morning pick-me-up
---
With pretty coffee shops of all shapes and sizes popping up around Singapore, we're spoilt for choice when we want to chill with a cuppa in hand. But while I love a good latte as much as the next guy, sometimes there's simply no replacement for a $1.20 kopi peng from the hawker centre across the road.
For a different sort of caffeine jolt, check out 108 Matcha Saro and our list of 10 matcha dessert cafes.
10 Matcha Dessert Cafes For Matcha Fondue, Tiramisu And Ice-Cream To Remind You Of Japan
Share your favourite coffee cafes in Singapore with us in the comments below!
---
This article was originally published on: 5 Dec 2019 before being updated.