---
Matcha desserts so good you'll achieve zen
---
Amidst popular crazes like salted egg yolk and ma la, matcha is a flavour with seemingly evergreen popularity and appeal. That pleasant earthiness, light floral notes, and tinge of bitterness go so well with anything smooth and creamy. This explains why it's commonly used in everything from drinks to desserts, including hot lattes and creamy soft-serves.
However, many Singaporeans are unaware of the difference between green tea and legit matcha. Matcha is made from green tea leaves grown under shade for approximately three weeks before harvesting, which results in increased chlorophyll content. That creates its signature vivid green hue and also translates to greater flavour. Any matcha which has a faded, darker colour isn't worth your time. 
Those leaves are then ground into the powder that goes into our drinks and desserts. That means we're ingesting whole green tea leaves when we drink matcha, which contains around three times more antioxidants as compared to standard green tea.
That's all we have for Matcha 101. Here's our list of 10 matcha dessert cafes that will please your palate while injecting antioxidants into your bloodstream.
---
1. Kagurazaka Saryo
---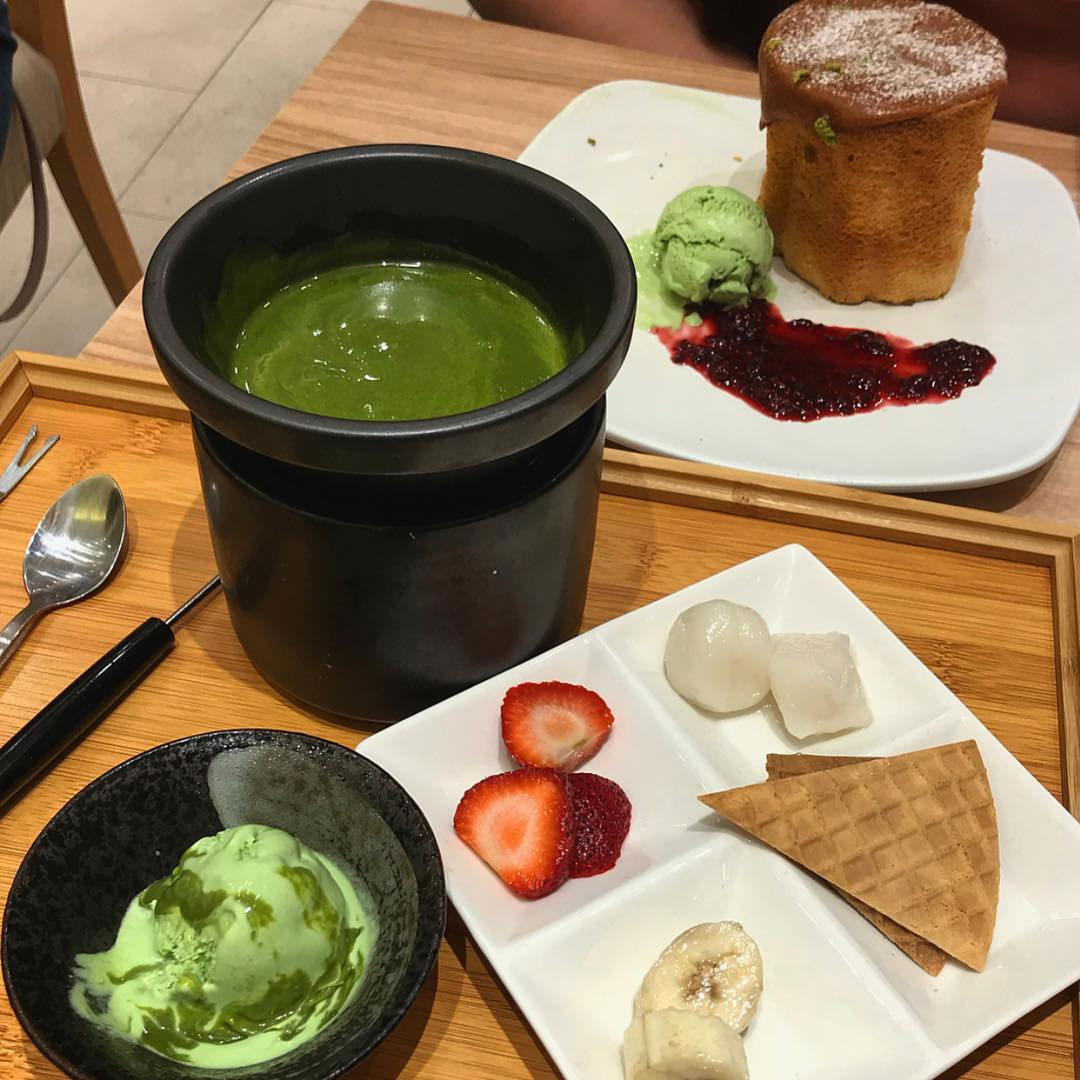 Image credit: @felfelpink
Since opening in 2004, Tokyo native Kagurazaka Saryo has enjoyed massive success, commanding long queues for their matcha treats at eleven outlets across Japan and Singapore. The chain is famed for using Uji matcha, a premium grade of matcha originating from Uji, Kyoto.
Amongst their bevy of desserts, the Matcha Fondue With Assorted Sides ($14.90++) stands out. Waffle biscuits, chewy shiratama mochi, and fruits are coated in velvety Uji matcha-white chocolate fondue, with a scoop of ice-cream providing accompaniment. Fondue is often overly sweet, but the bitter floral notes of matcha balance this sensual dessert well. Meanwhile, their Matcha Frozen Smore ($9.90++) is a Japanese take on the campfire favourite, blanketing matcha ice-cream with gooey toasted marshmallows.
Address: 1 Harbourfront Walk, #01-59, VivoCity, Singapore 098585
Opening hours: Daily 12pm to 9pm
Tel: 6376 9978
Website | Full list of outlets
---
2. Hvala
---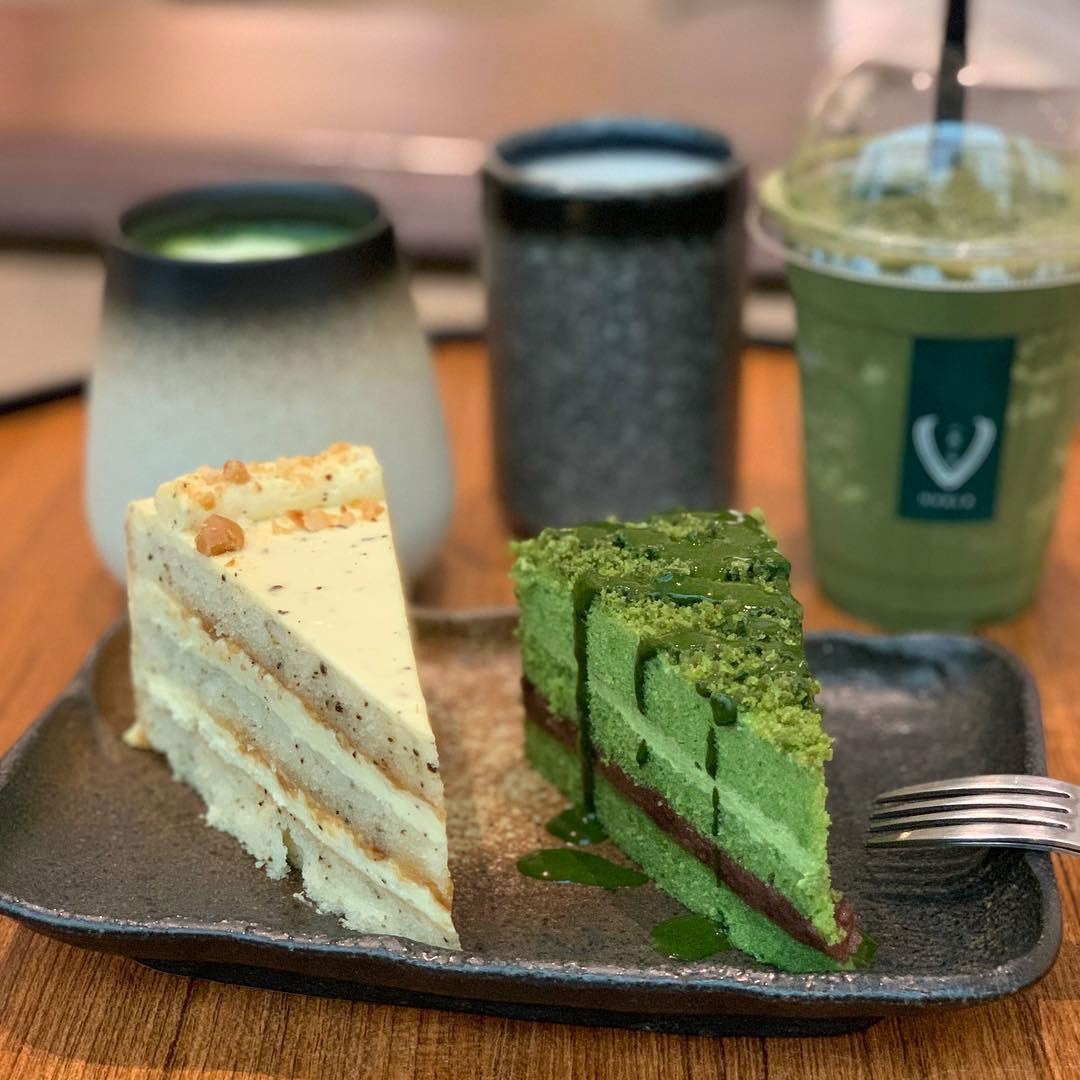 Image credit: @doratheexploraaa_
Hvala began as a humble matcha beverage and soft-serve kiosk in 313@Somerset's basement food hall. They've since opened a full-fledged cafe in CHIJMES, serving up a larger range of desserts and premium teas. White-washed with wood accents, this pretty cafe is an Instagrammer's dream.
The Matcha Azuki Cake ($7.80++ for a slice) steals the show. Dripping with matcha sauce, the cake is an intense wedge of green tea flavour, punctuated by a slim layer of sweet red bean. Don't overlook their drink selection. A stunning array of teas from all over Japan is available, but get the Premium Grade ($5.30++) or Ceremonial Grade ($8.80++) Whisked Matcha if you really want to experience the complexities of matcha at full force.
Address: 30 Victoria Street, #01-04/05, CHIJMES, Singapore 187996
Opening hours: Daily 9:30am to 9:30pm
Website | Full list of outlets
---
3. Nana's Green Tea
---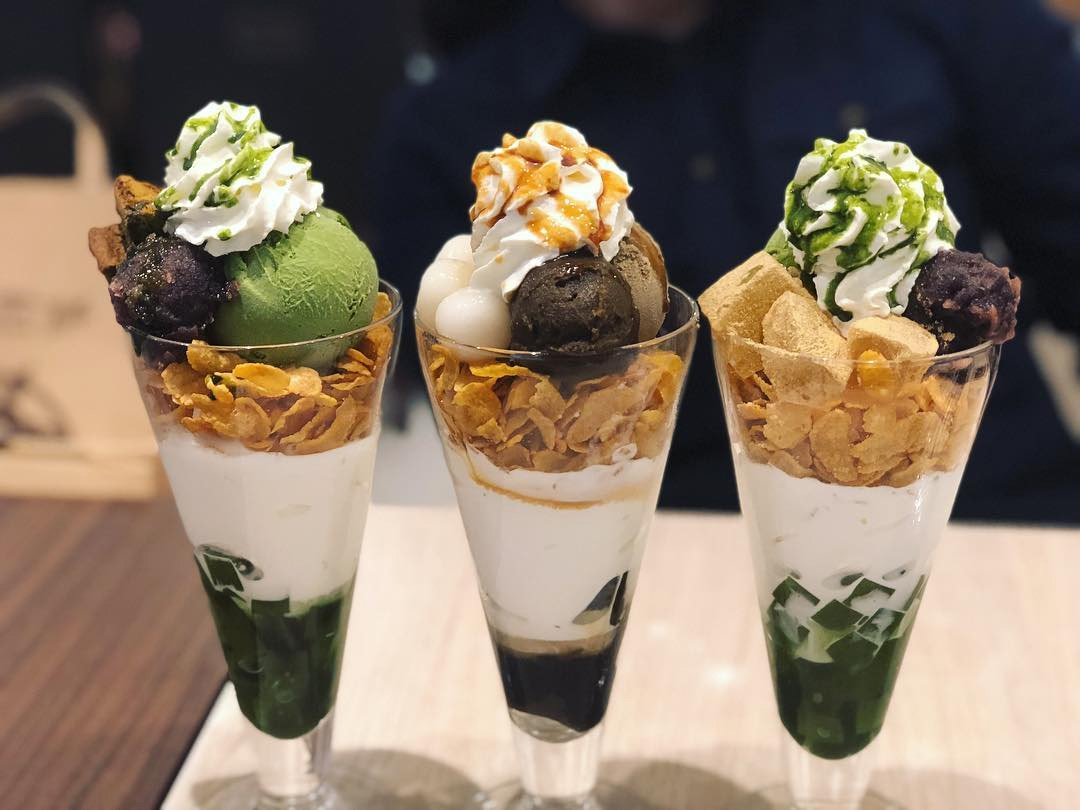 Image credit: @lhuili
Nana's Green Tea sounds like a homely neighbourhood joint, but has blossomed into an international sensation, boasting nearly 100 outlets worldwide everywhere from Japan to Seattle.
There's more than just matcha here, with Set Lunches ($13.90++ on weekdays, $14.90++ on weekends) featuring dishes like Chicken Cutlet Curry and Locomoco Hamburg available. In the end, we always end up going back to their desserts, particularly the Matcha Shiratama Parfait ($11.80++). Matcha jelly and ice-cream play starring roles, backed up by shiratama mochi, corn flakes and a healthy dose of whipped cream.
Address: 60B Orchard Road, #03-80/82, The Atrium @ Orchard, Plaza Singapura, Singapore 238839
Opening hours: Daily 11am to 10pm
Tel: 6684 4312
Website | Full list of outlets
---
4. Lewin Terrace
---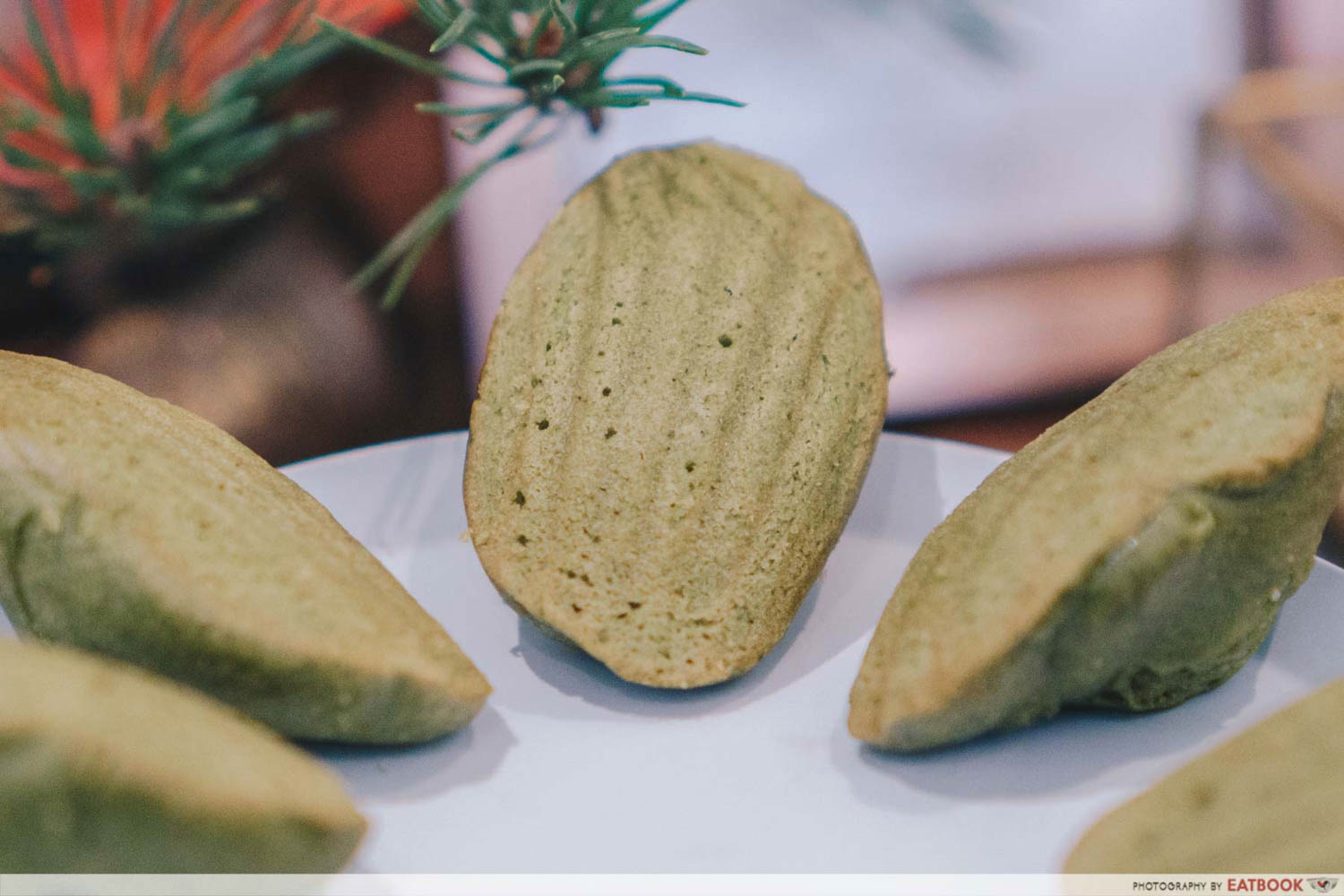 If you struggle to decide which matcha dessert to order, Lewin Terrace is probably a good spot. Their Oh! Matcha Dessert Buffet ($38++) gets you free-flow of 18 different sweets and pastries, most of them matcha-based. The secondary focus of the buffet changes seasonally, and strawberries took centre stage when we visited at the start of 2019.
Regardless, there are perennial staples, such as the Uji Matcha Madeleine and Charcoal Matcha Roll Slice Cake. The former is a crumbly French pastry, where earthy bitter Uji matcha complements sugary cake dough. You're also entitled to a single scoop of Matcha Ice-cream, made with matcha from local specialists, Matchaya. Each sphere of ice-cream is rich and creamy, carrying a pleasant sweetness that's balanced by a mildly bitter aftertaste.
Check out our full review of Lewin Terrace!
Lewin Terrace Review: Famous Matcha Dessert Buffet Is Back With Japanese Strawberry Treats
Address: 23B Coleman Street, Singapore 179807
Opening hours: Wed-Sun 12pm to 3pm, 6:30pm to 11pm
Buffet hours: Wed-Fri 1pm to 3pm
Tel: 6333 9905
Website
---
5. Azabu Sabo
---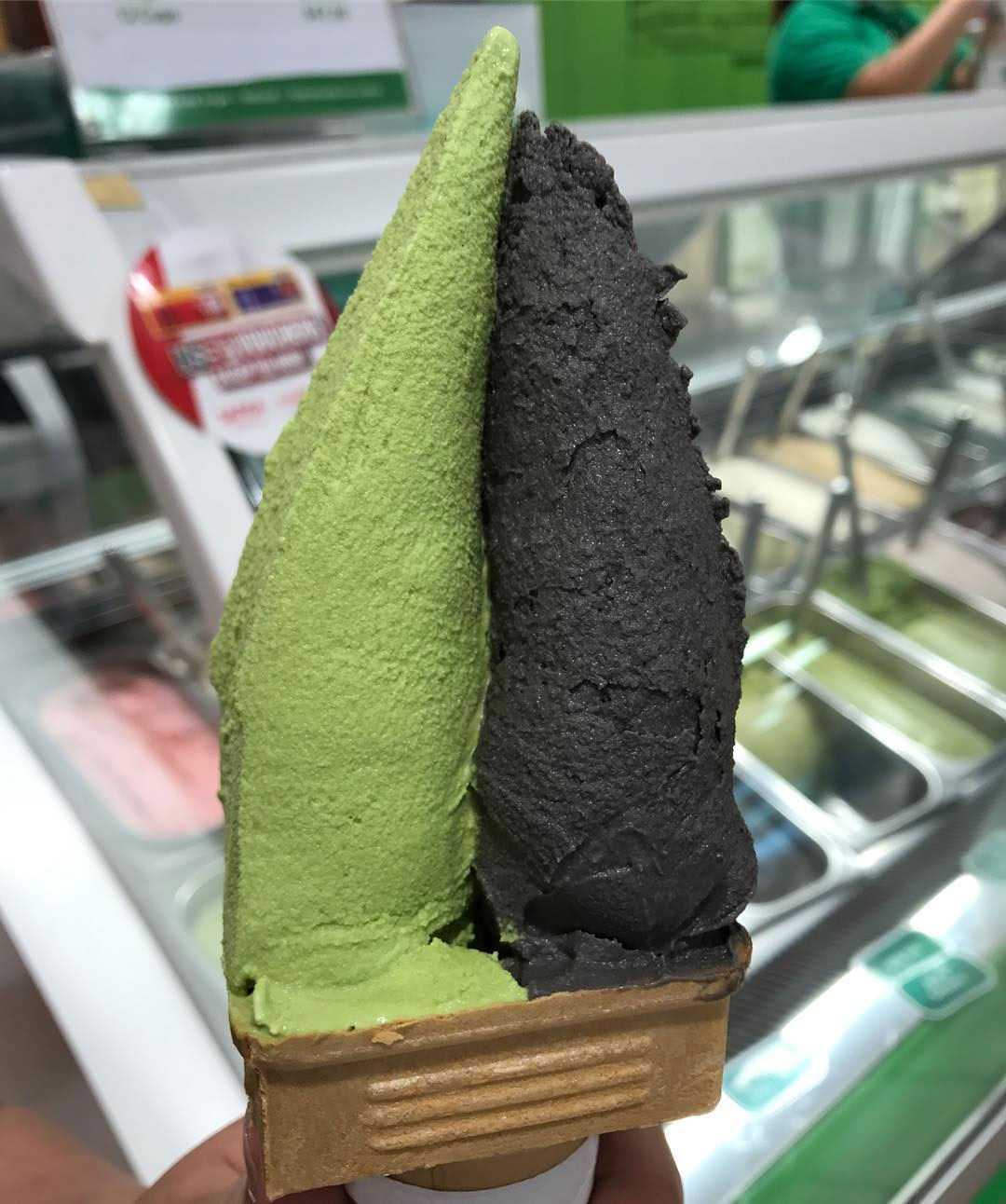 Image credit: @tohrx
Years after opening in Singapore, Azabu Sabo still commands snaking queues at Ngee Ann City and Clarke Quay for its soft and uber-creamy Hokkaido ice-cream. Crafted with premium Hokkaido milk, their ice-cream is wonderfully smooth and milky. So it's no surprise that Green Tea ($4 for cup, $4.60 for cone) is one of their best-selling flavours, as matcha's natural earthiness makes it a perfect companion for any creamy delight.
If you want a sweeter edge to your soft-serve, there are Green Tea With Azuki Bean and Green Tea With Chocolate Chip variants too.
Address: 6 Eu Tong Sen Street, #01-46, Clarke Quay Central, Singapore 059817
Opening hours: Daily 11am to 10:30pm
Tel: 6534 7178
Website | Full list of outlets
---
6. Matchaya
---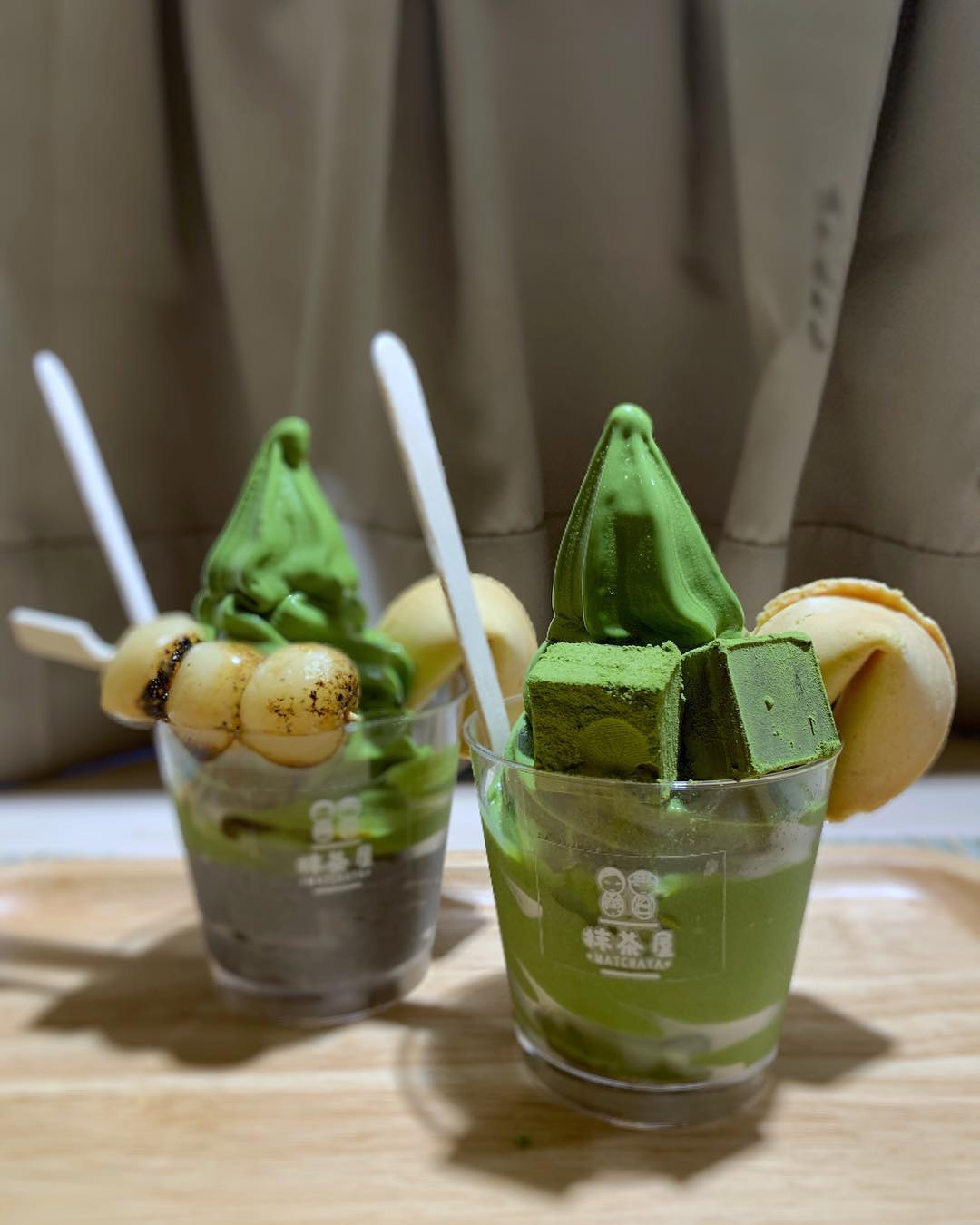 Image credit: @matchayasg
Home-grown chain Matchaya focuses on highlighting the quality and authenticity of ingredients. That's particularly clear in their Matcha Soft Serve ($5.90), hailed in some circles as the best matcha soft serve on the island.
Its lush green hue hints at the intensity of matcha flavour you get in each scoop, flavouring some of the thickest soft-serve you'll come across. A heavier dessert comes in the form of their parfaits, such as the Uji Matcha Parfait ($9.90) and Kinako Parfait ($9.90). The latter pairs matcha with the deep, brown sugar-esque sweetness of kinako, also known as Japanese soy powder.
Address: 12 Gopeng Street, #01-72, Icon Village, Singapore 078877
Opening hours: Daily 12pm to 8pm
Tel: 9837 3187
Website | Full list of outlets
---
7. Lady M
---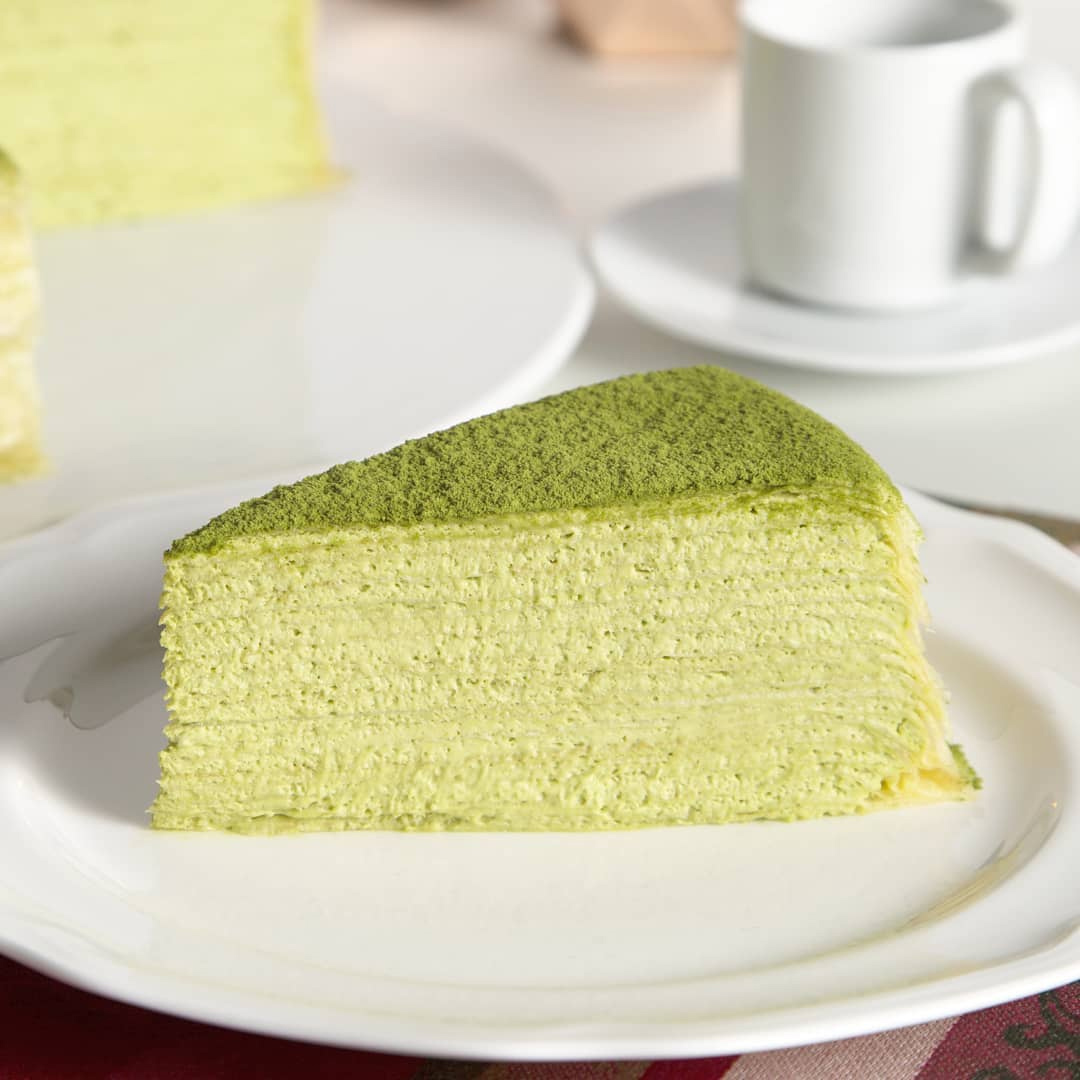 Image credit: @ladymsg
The "M" in Lady M stands for "mille", as in mille crepe, the type of cakes that this New York native patisserie has made its reputation on. Mille means "thousand" in French, representing the dizzying number of thin crepe layers that form one slice of cake, with equally skinny sheets of pastry cream slathered between. What results from that painstaking process is an exceptionally soft and fluffy slice of cake.
The Green Tea Mille Crepe ($9.50++ for a slice) is one of their signatures. There's an abundance of tea flavour in each slice, from the pastry cream to the layers of crepe, including a gentle shower of matcha on top. All this adds up to a generous hit of green tea flavour, much-needed to counteract the cake's lusciously creamy texture.
Address: 181 Orchard Road, #01-27 & #02-07, Orchard Central, Singapore 238896
Opening hours: Daily 11am to 10pm
Tel: 6509 3673
Website | Full list of outlets
---
8. Maccha House
---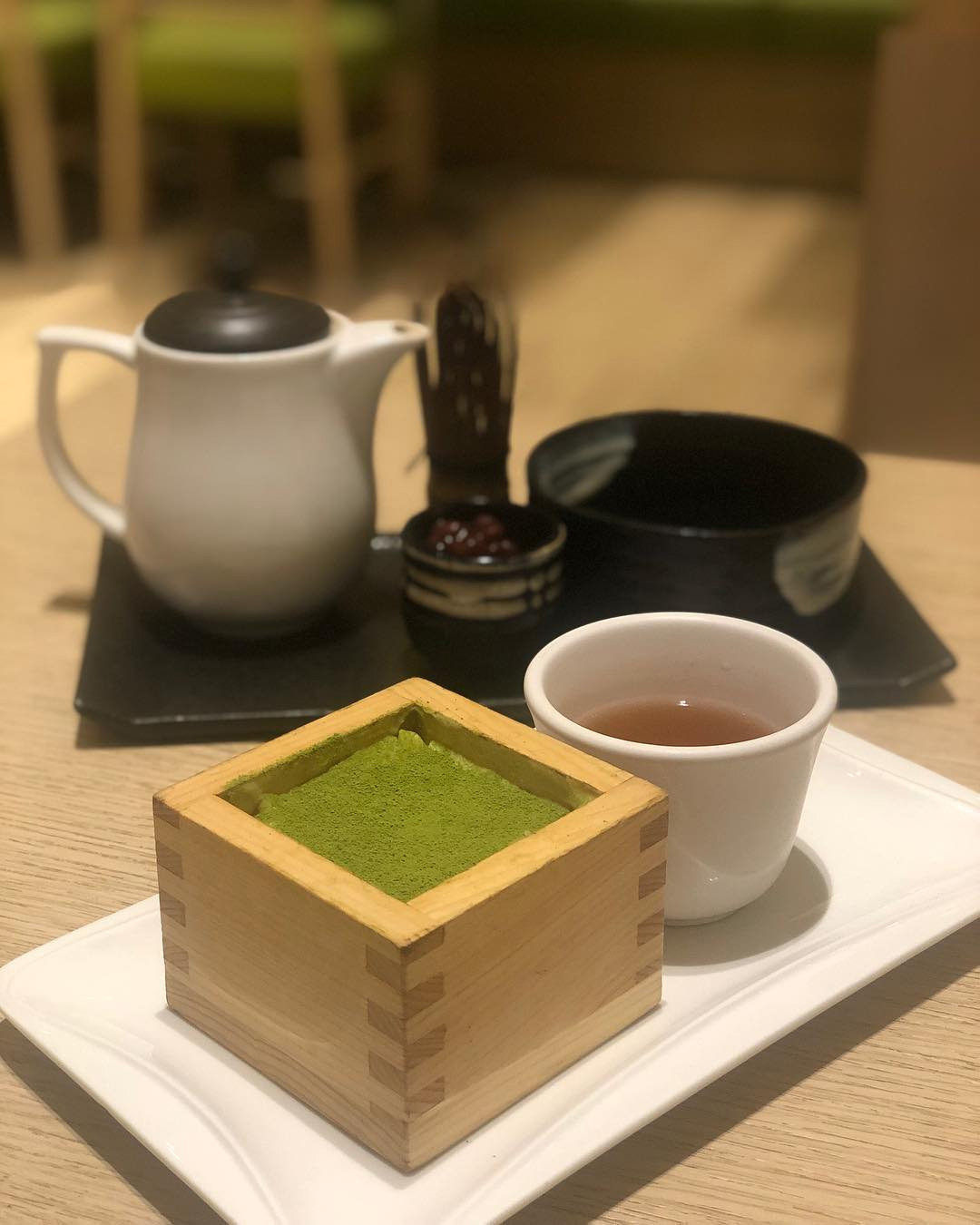 Image credit: @susanto.lina
Kyoto is Japan's matcha haven, so you can expect Maccha House, which hails from the ex-Japanese capital, to serve up some seriously good matcha desserts. Top of the list is their Uji Maccha Tiramisu ($7.99++), served elegantly in a wooden box.
Despite its name, this is more like a pudding than traditional Italian tiramisu, as it lacks that iconic alcoholic kick. Instead, matcha powder and mascarpone cream hide layers of matcha sponge and vanilla chiffon. A whole lot more matcha goodies are on the menu too, such as Maccha Soft Serve ($3.85++) and a Maccha Dessert Set ($14.99++) that features a sampling of their full breadth of matcha desserts.
Address: 181 Orchard Road, #B1-39/40/41/42/43/44/45/K1/K6, Orchard Central, Singapore 238896
Opening hours: Daily 11am to 10pm
Tel: 6636 5830
Website
---
9. Tsujiri
---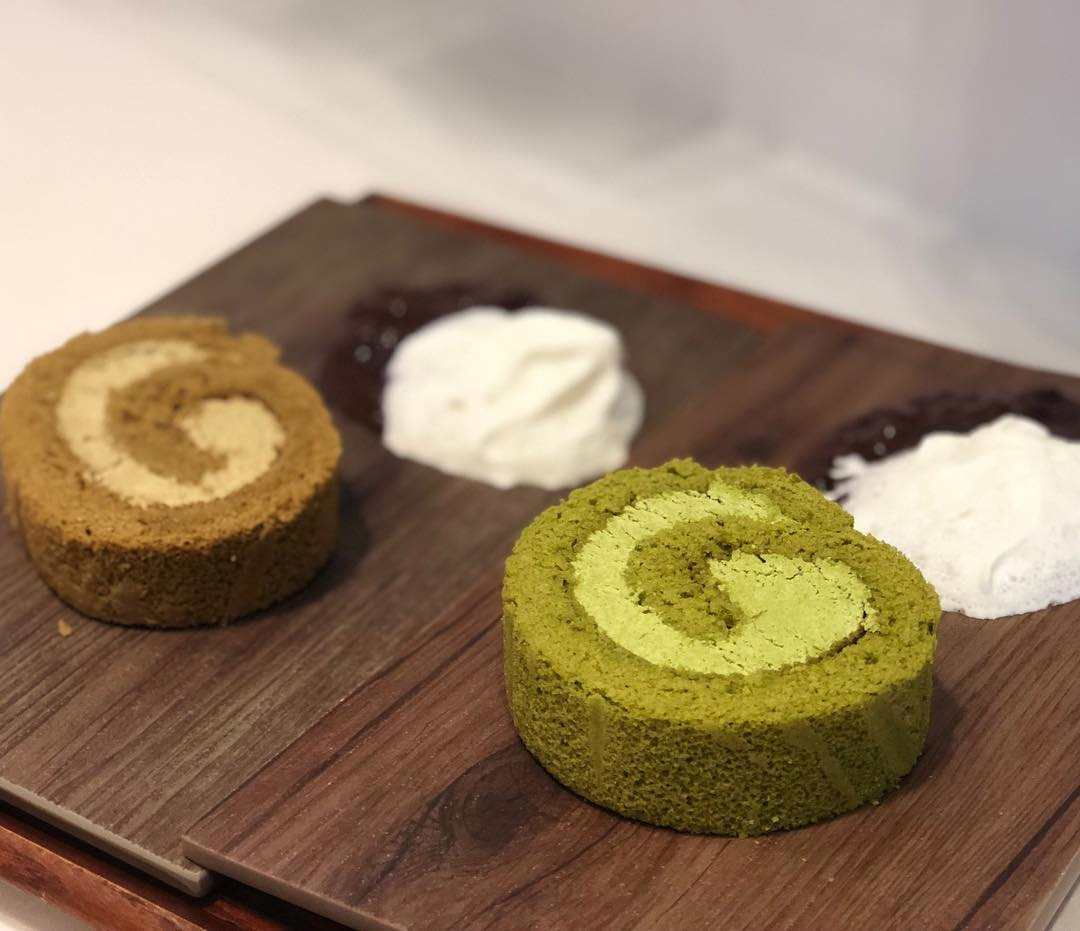 Image credit: @lena_eatcooktrave
Tsujiri is steeped in history. These matcha masters started out in Kyoto in 1860, and if they've been around for nearly 160 years, they must be doing something right. I grew up eating swiss roll cakes at tea time, but these Matcha Roll Cakes ($5.50) are probably a few notches above those I was snacking on in kindergarten. The cake itself is dense and moist, piped full of jade green matcha cream that isn't overly sweet.
A&W fans might prefer in their selection of floats, which range from $6.80 to $7.20, and are crowned with a swirl of Houjicha or O-Matcha soft serve. You certainly won't have to wait two hours in line for this one.
Address: 176 Orchard Road, #01-101, The Centrepoint, Singapore 238843
Opening hours: Daily 11am to 10pm
Tel: 6238 8224
Website | Full list of outlets
---
10. Lee's Confectionery
---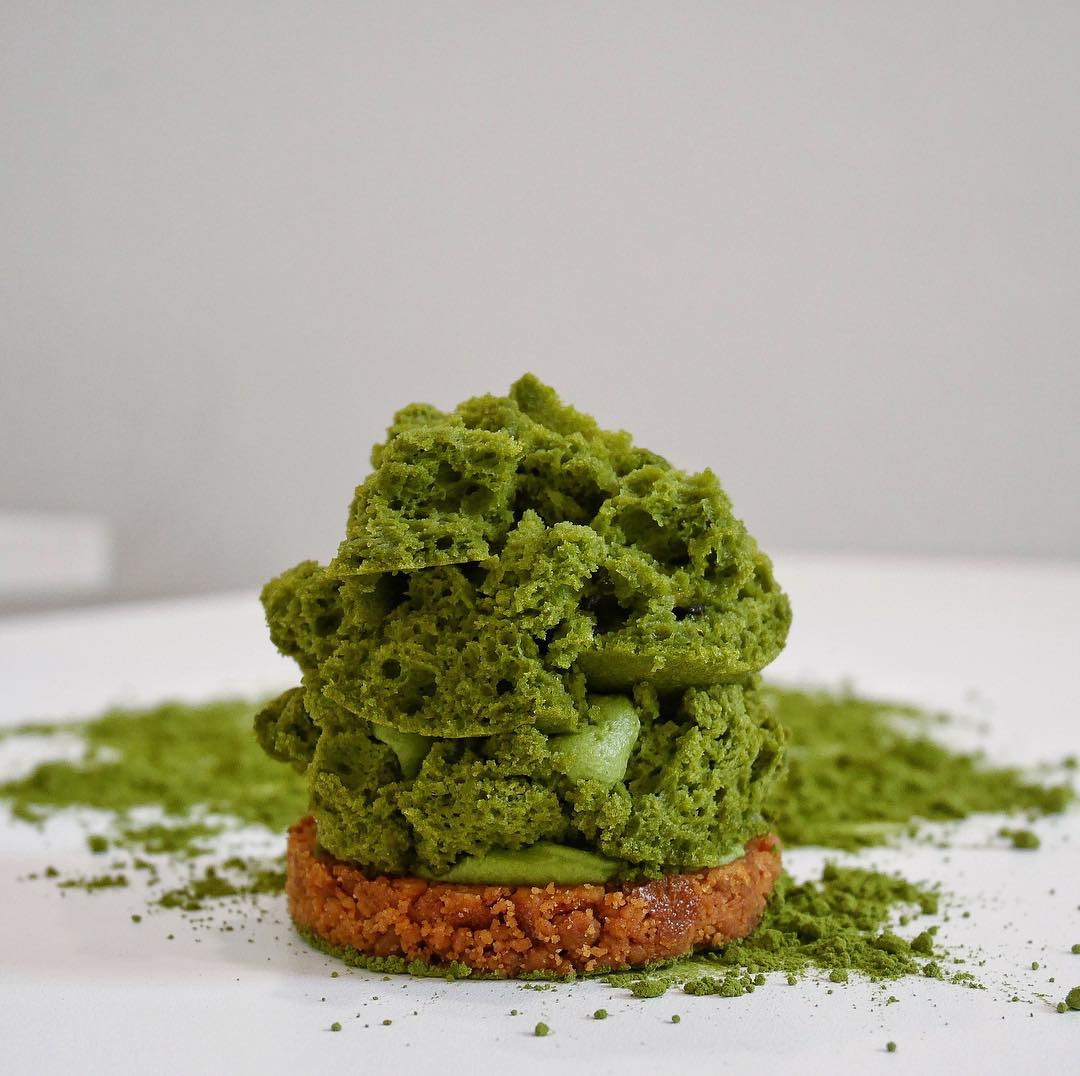 Image credit: @lees_confectionery
Armed with French patisserie nous and a commitment to crafting quality pastries, Lee Yin Quan is the owner of Lee's Confectionery, a tiny minimalist patisserie nestled at the base of a Jurong West HDB block. When we went down in early 2019, we were impressed by Lee's creative flavour combinations and attention to detail, as each pastry is only assembled on order.
Since then, he's rolled out a bunch of new desserts, including the stunning matcha-based Dale ($8). Matcha is in every part of this pretty plate, which combines matcha crumble, sponge, mousse and powder for a potent tea punch. Any potential overwhelming bitterness is cut by fruity freshness from a passionfruit compote hidden in the forest of green tea flavours.
Check out our full review of Lee's Confectionery!
Lee's Confectionery Review: Minimalist Jurong Cafe With Beautiful Desserts That Can Rival Janice Wong's
Address: 343 Jurong East Street 31, #01-59, Singapore 600343
Opening hours: Daily 10am to 10pm
Tel: 9183 8447
Website
---
Matcha desserts that are so matcha fun
---
Matcha has been revered in Japan for centuries. However, this addictive powder has only gone global in the last decade, extending its earthy influence to our shores. And as the popularity of matcha continues to endure, it's easier than ever to get your dose of green tea goodness.
If your sweet tooth can't be satisfied by these matcha desserts, take a look at our list of the 10 best dessert places of 2018 and our review of Dopa Dopa.
10 Best Dessert Places With Kaya Toast Cake And More – Eatbook Top 50 Awards 2018
Share your favourite ways to enjoy matcha with us in the comments below!