---
Famous ayam penyet stalls around Singapore  
---
Even though I call myself a foodie, I am hardly an adventurous one and would rarely venture out of my usual favourites such as prawn mee and fish soup. And so as ridiculous as it may sound to some, the first time I ever tried ayam penyet was just last year, when a friend dragged me to Ayam Penyet Ria at Far East Plaza. Though I downed three cups of water because of the sambal chilli, I couldn't help but sheepishly thank her for introducing this dish to me. For all fellow ayam penyet lovers, we have uncovered eight other famous ayam penyet places that are just as good and affordable!
---
1. Aspirasi Chicken Rice
---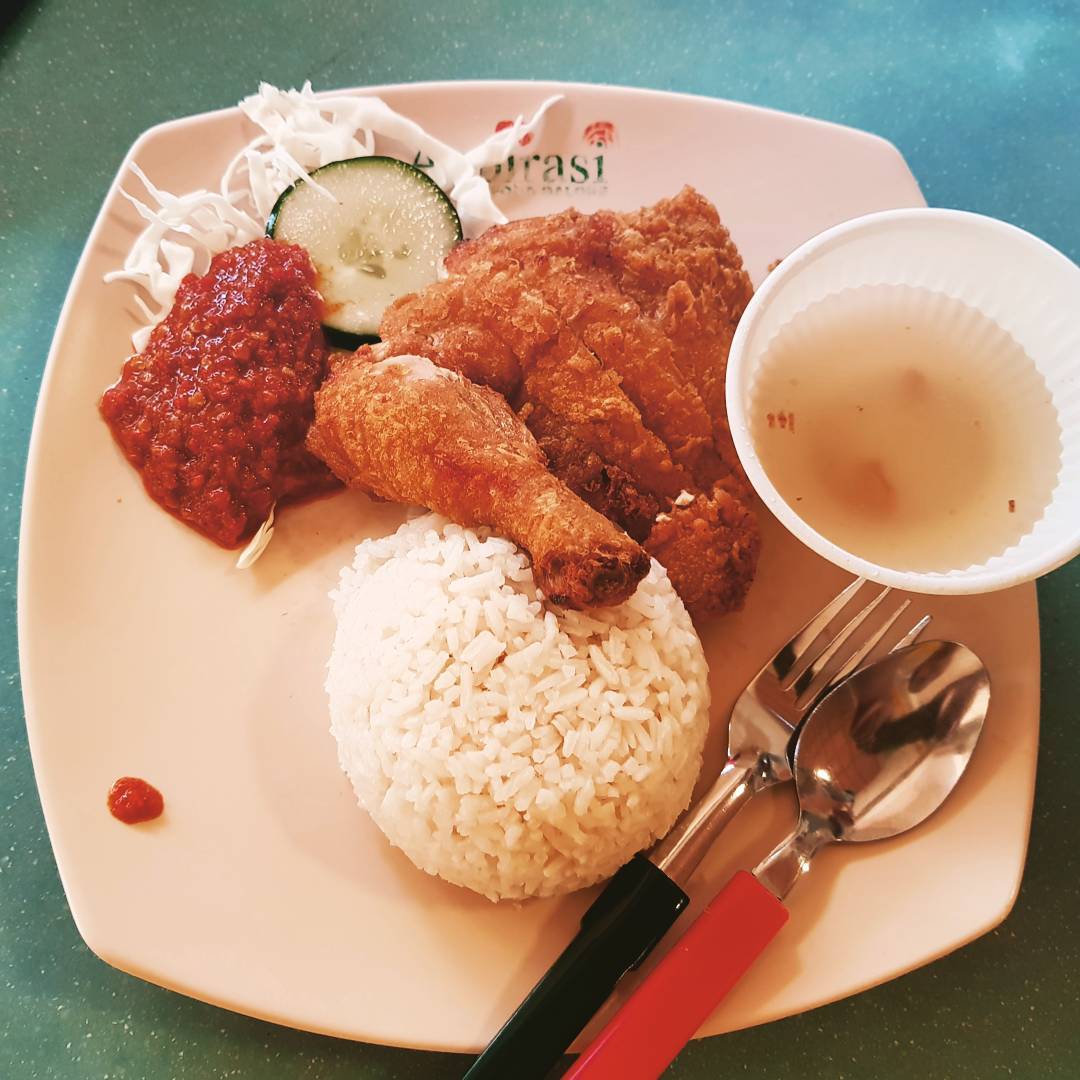 Image credit: @ranheim182
A Muslim-owned stall that offers catering services as well, Aspirasi Chicken Rice sells chicken rice with a slight twist. While most nasi ayam stalls offer just fried chicken with rice, what you get here is thickly battered fried chicken with sauces such as sambal, sweet & sour, lemon, and black pepper. At $5, they also serve a smashed version of fried chicken in their Chicken Rice (Penyet). Besides the hearty portion, the next best thing about Aspirasi is the free fried crumbs that you can ask for!
Find out what else to get at Seah Im Food Centre!
Address: 2 Seah Im Road, #01-04, Seah Im Food Centre, Singapore 099114
Opening hours: Tue-Sun 9am to 9pm
Tel: 6744 4307
Website
---
2. Warong Penyet Super
---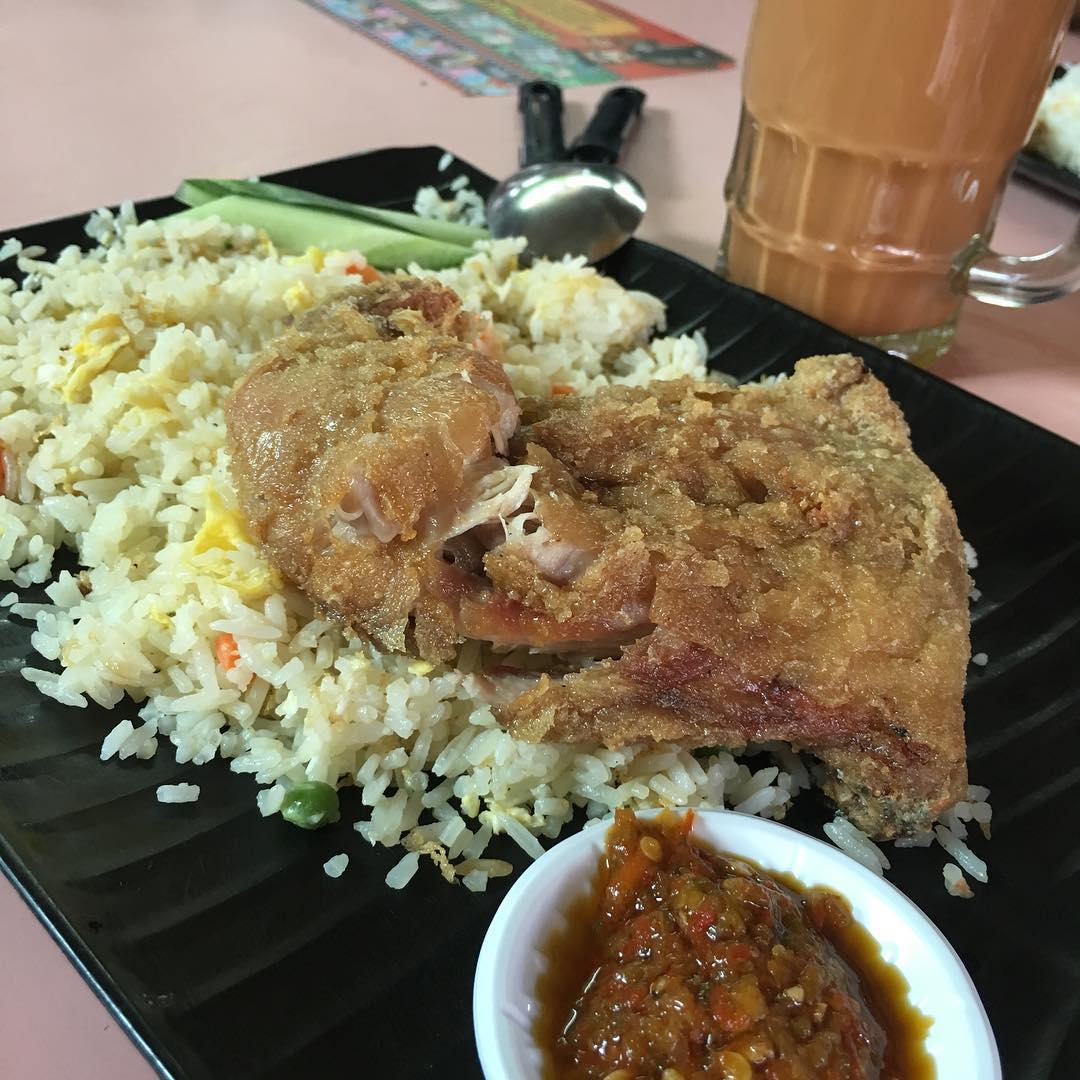 Image credit: @sathahirah
Besides the famous green nasi lemak from Wan Xing Nasi Lemak, another popular stall found in Chong Pang Market is Warong Penyet Super. Specialising in ayam penyet, Warong Penyet Super's Nasi Ayam Penyet ($5) stands out as it is served with nasi lemak rice that is packed with the fragrance of coconut milk. For an additional $0.50, you can go for their Nasi Goreng Ayam Penyet where they switch the nasi lemak rice with fried rice.
To complete the meal, the stall also sells handmade Ondeh Ondeh ($1.50) and Kueh Lapis ($1)!
Address: 105 Yishun Ring Road, #01-170, Chong Pang Market, Singapore 760105
Opening hours: Daily 8am to 7:30pm, closes on alternate Fridays
---
3. Nur Indah Kitchen
---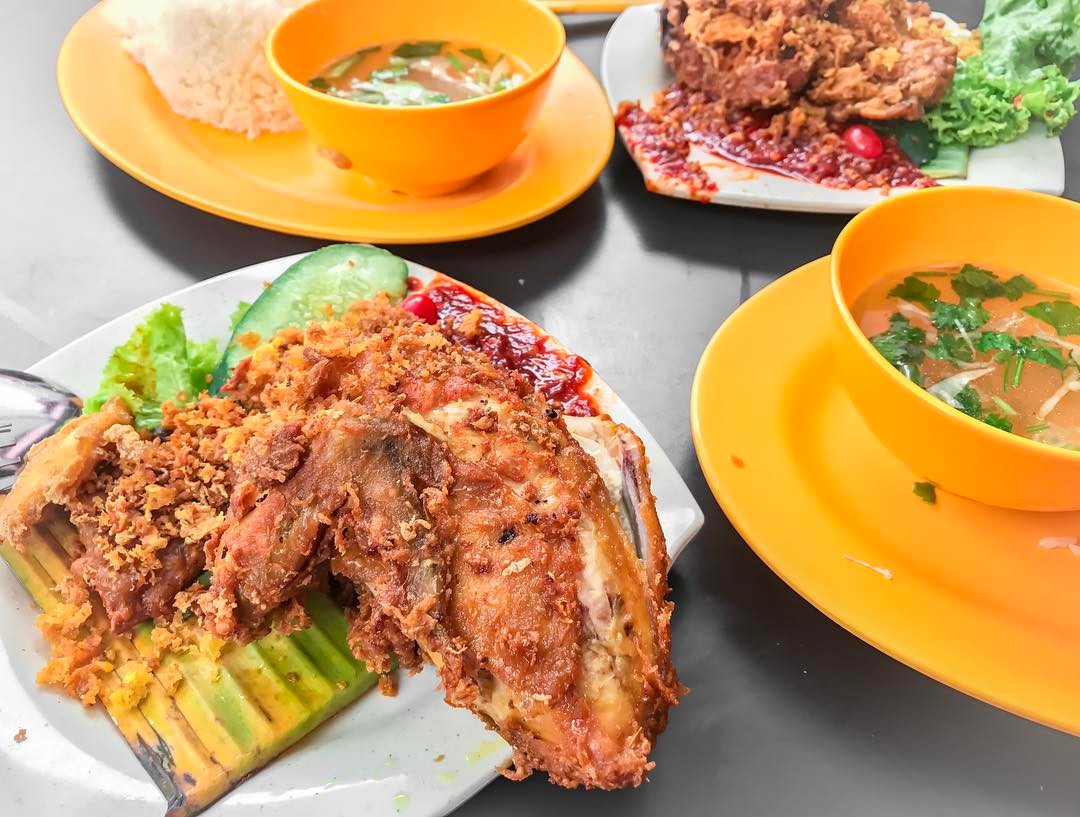 Image credit: @jettishan
At Bedok Food Centre, Nur Indah Kitchen is one stall that can be easily spotted by the mountain of fried chicken and fish stacked against their glass display. At $4.50, you can get a plate of Nasi Ayam Penyet that comes with a giant fried chicken leg, tofu cubes, tempeh, and a bowl of soup. While Ikan Penyet ($6) is a common alternative found at ayam penyet stalls, a less usual dish that Nur Indah Kitchen offers is their Empal Penyet ($4.50). Prepared and served just like ayam penyet, this dish is made of beef spare ribs instead of chicken thigh.
Address: 1 Bedok Road, #01-07, Bedok Food Centre, Singapore 4695720
Opening hours: Daily 8am to 10pm
Tel: 9389 4301
Website
---
4. Mawar Merah
---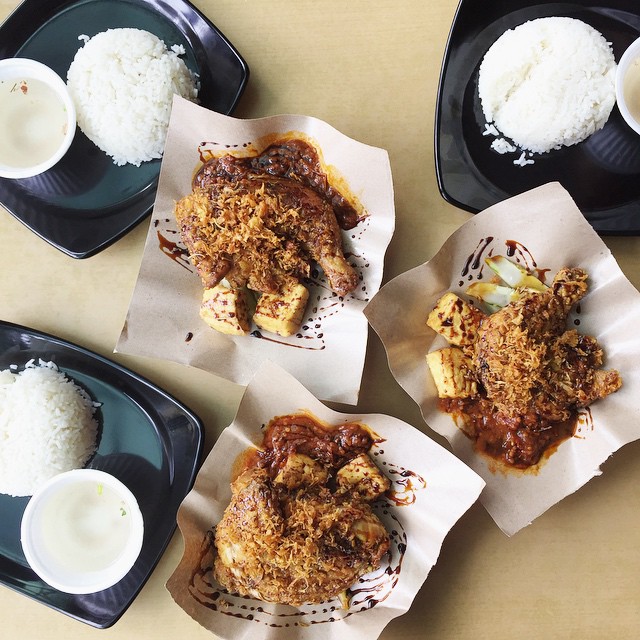 Image source: @thechoyalicious
Started in 1990 as a stall selling kueh, Mawar Merah has expanded into a brand selling a variety of Malay dishes and now owns three outlets throughout Singapore. Their Ayam Penyet ($5) comes with a fried chicken thigh so huge that it is usually served on a separate plate from the rice. Topped with crispy crumbs, a special sweet sauce, chilli sauce, and onion bits, every bite of this fried chicken is packed with flavour. Also kept at affordable prices here are their Mee Soto ($3), Lontong ($3), and Nasi Lemak ($3.50).
Address: No. 12 Sixth Avenue, Singapore 276475
Opening hours: Daily 9am to 9pm
Tel: 9386 2133
Website | Full list of outlets
---
5. Impian Wahyu
---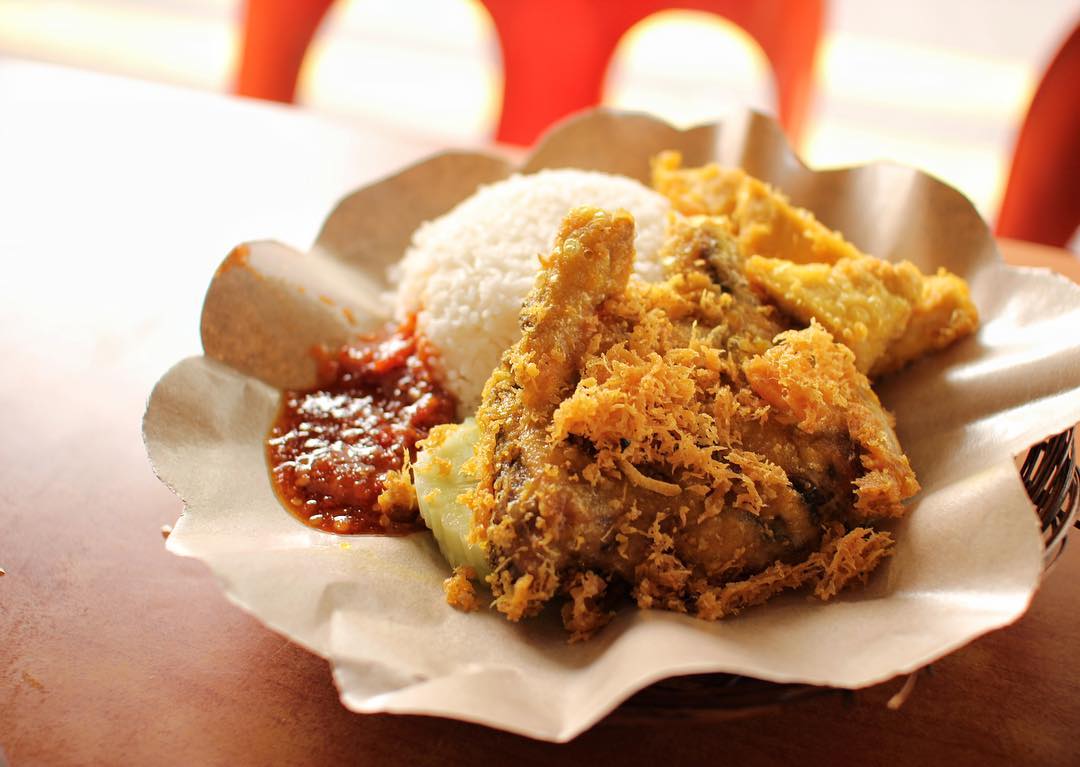 Image credit: @sylvestertf
Helmed by an Indonesian couple, Impian Wahyu is an old stall at Jalan Besar that serves dishes such as Ayam Penyet ($5.50), Sup Butut ($8), and Mee Soto ($3.50). Boiled in a broth for three hours before being fried, the fried chicken here is tender, well-flavoured, and juicy.
While their crispy chicken draws praises from regular customers, the ultimate winner is the sambal chilli that is handmade upon order. Made with a combination of fresh tomatoes, sugar, and dried chilli, their sambal is intensely flavoured but less spicy than the ones you find in most stalls so you don't have to worry about spamming them all over your rice!
Address: 49 Jalan Besar, Hong Sin Cafe, Singapore 208805
Opening hours: Daily 8am to 8pm
---
6. Kaki Lima
---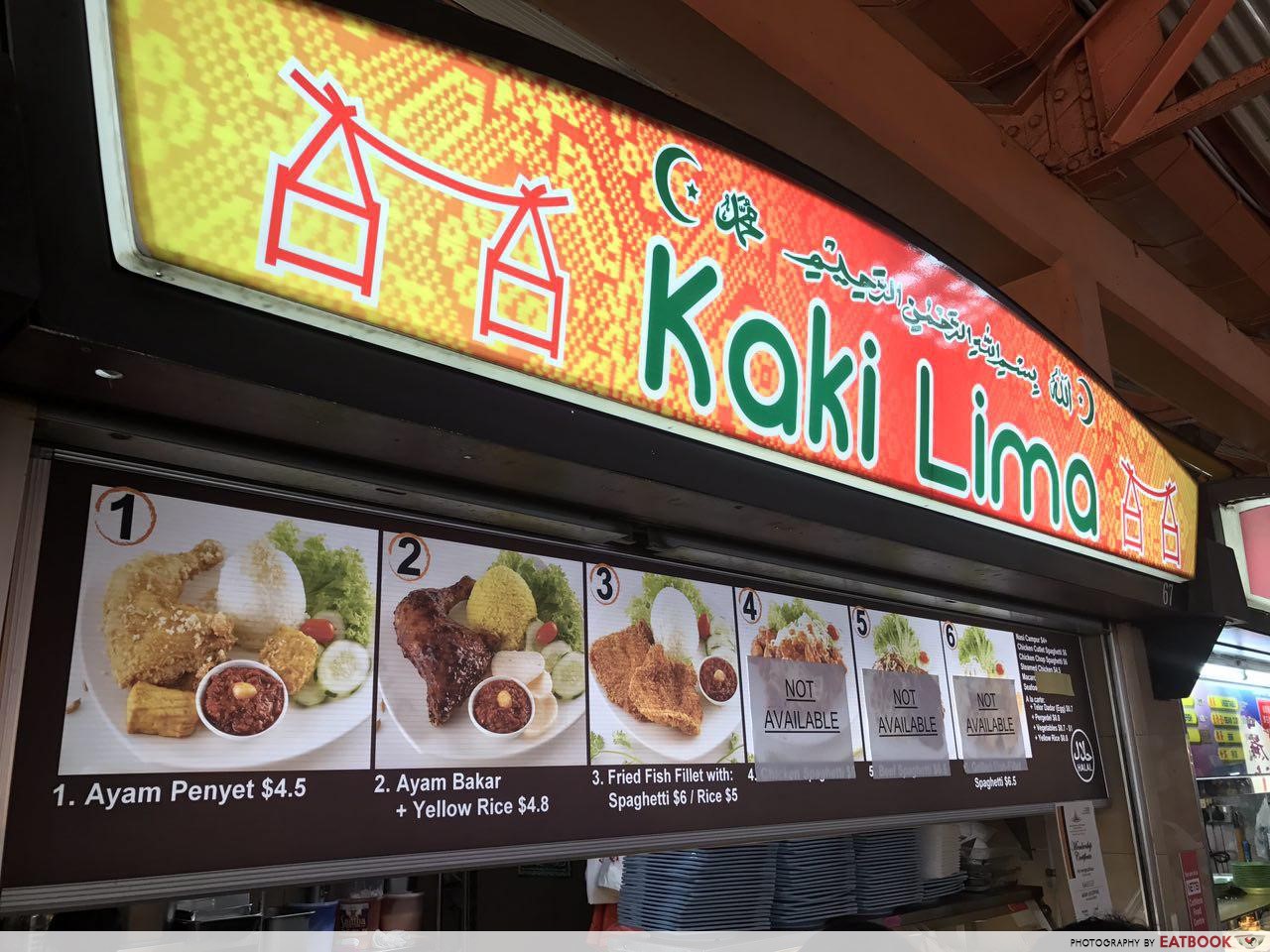 For those who are constantly on a hunt for cheap and good eats in the CBD area, here's another one for you. Located in Maxwell Food Centre, Kaki Lima is a stall that sells Indonesian food. Their Ayam Penyet Set ($4.50) consists of a huge fried chicken thigh with white rice. For an extra $0.50, you can have nasi kuning, which is a yellow-coloured rice cooked with coconut milk and turmeric. A tip for those trying out Kaki Lima's ayam penyet – they offer two kinds of sambal chilli so don't go easy on them and mix them up for the best experience!
Check out more good eats at Maxwell Food Centre!
Address: 1 Kadayanallur Street, #01-67, Singapore 069184
Opening hours: Mon-Fri 11:30am to 3pm
Tel: 8533 1459
Website
---
7. Farasha Muslim Food
---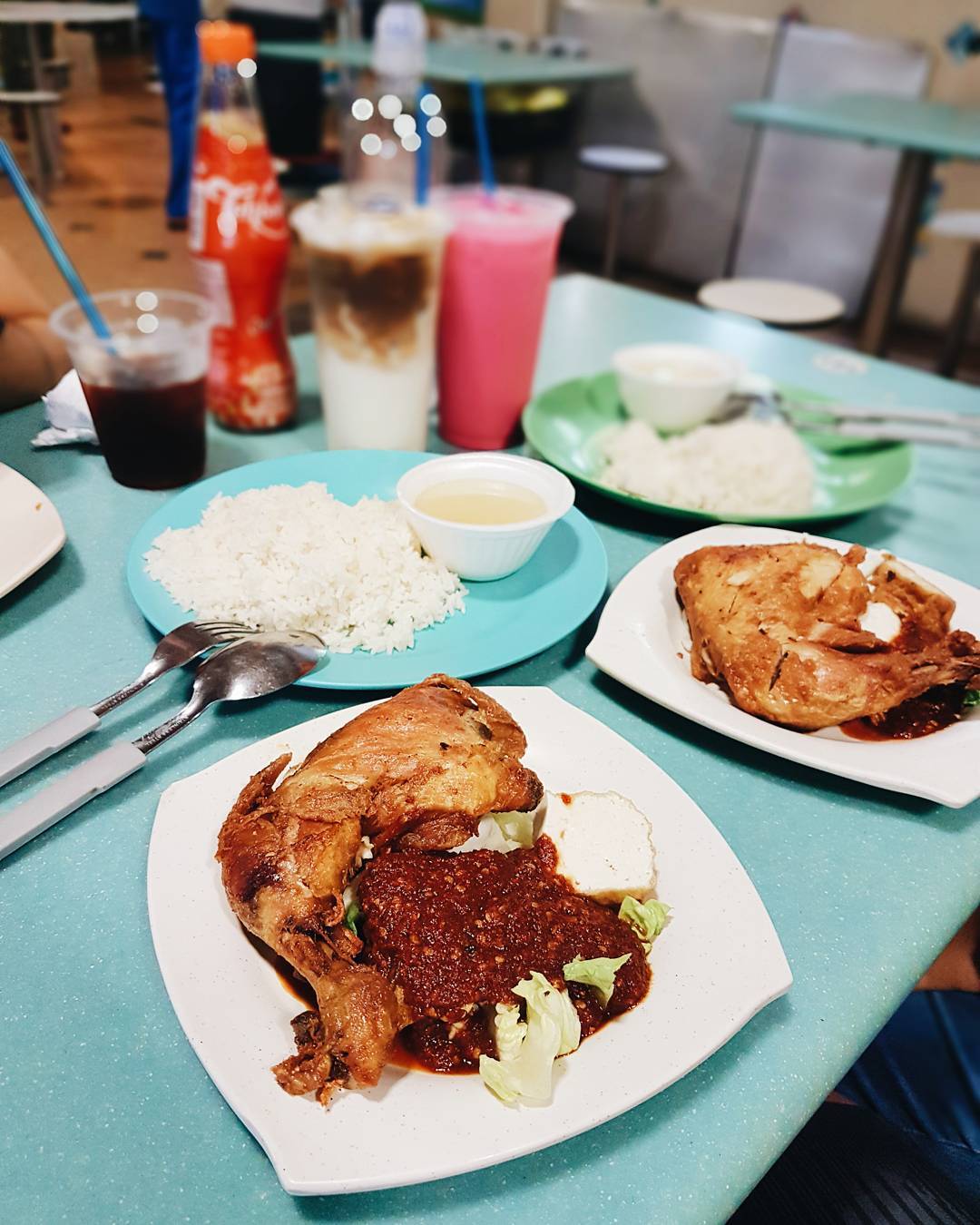 Image credit: @laupasad
A close competitor of Aspirasi Chicken Rice, Farasha Muslim Food is another stall in Seah Im Food Center that is popular for ayam penyet. Priced at $5, their Ayam Penyet comes with fried chicken, raw vegetables, tau kwa, tempeh, and a generous serving of sambal. During lunchtime especially, you can expect this value-for-money dish to draw quite a crowd. Besides ayam penyet, they also have a variety of classic Malay dishes such as Nasi Lemak ($3), Nasi Goreng ($4.50), and Mee Goreng ($4.50).
Address: 2 Seah Im Road, #01-31, Seah Im Food Centre, Singapore 099114
Opening hours: Daily 10am to 8pm
---
8. Ayam Penyet No. 1
---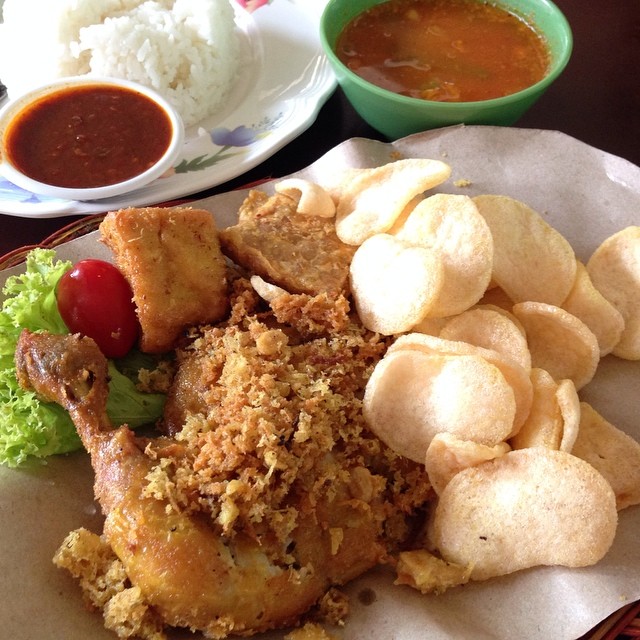 Image credit: @cknewsstand
Most of the ayam penyet places in this list will not fail you when you are looking for value-for-money deals. But if I have to choose, the one from Ayam Penyet No. 1 would be my winner. At $5, their Ayam Penyet also comes with fried fish crackers, tau kwa, and a bowl of asam rebus. Filled generously with ingredients like chopped corn, cabbage, long beans, and carrot, the sweet and savoury soup tastes refreshing, especially when the fiery sambal gets too numbing!
Address: 1 Bedok Road, #01-07, Bedok Food Centre, Singapore 4695720
Opening hours: Daily 6am to 10:50pm
---
BONUS: Nasi Lemak Ayam Taliwang
---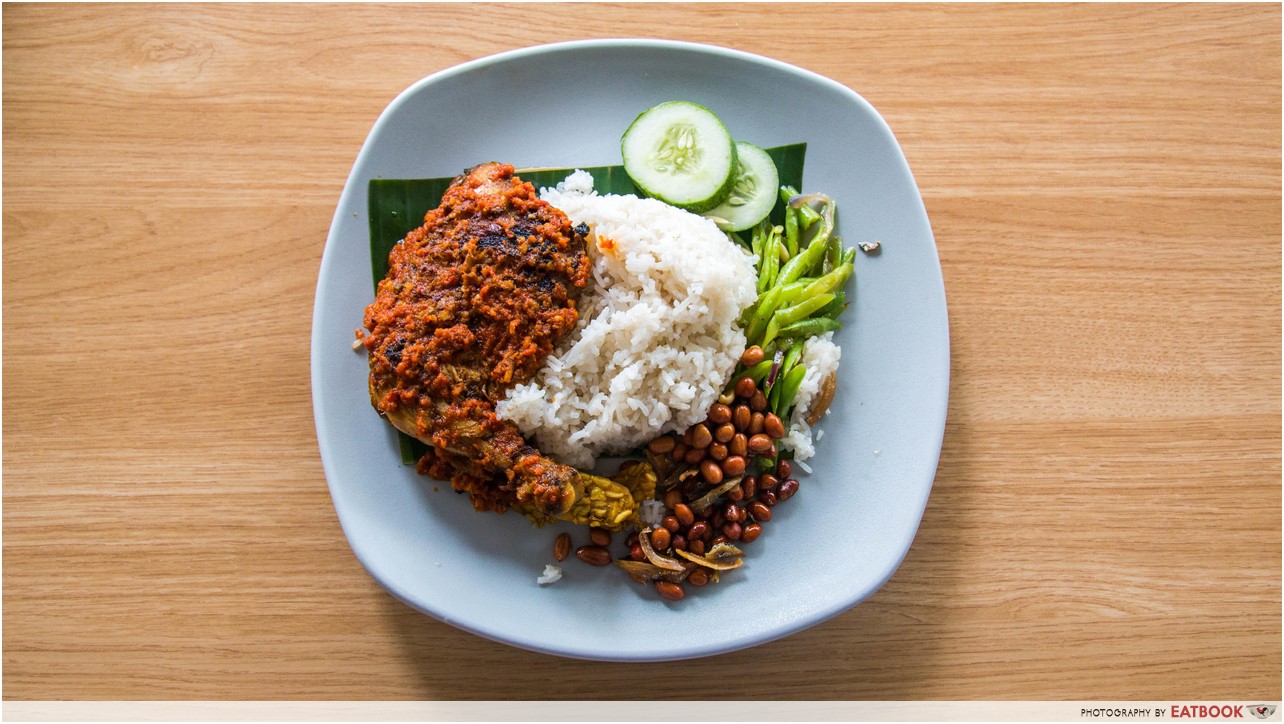 If you are a chicken fan like me but not quite a fan of fried food, I'd recommend trying the Nasi Lemak Ayam Taliwang ($5.50) from Yishun Park Hawker Centre. Also an Indonesian dish, this is what I'd call a grilled version of ayam penyet. Instead of having it on the side, the spicy sauce is doused on top of the chicken thigh before it is grilled and tenderised with a mortar and pestle. While the garlicky chilli sauce would give you the same punch from the sambal you get from your ayam penyet, the grilling process retains the moisture of the chicken thigh, making the meat juicier.
Address: 51 Yishun Avenue 11, #01-33, Yishun Park Hawker Centre, Singapore 768867
Opening hours: Daily 6:30am to 9:30pm
Tel: 8750 5240
Website
---
Ayam penyet that'll burn the tongue, not the wallet
---
Even with all the hype surrounding Korean spicy noodles, nothing is quite as shiok than the sour, salty, and spicy sambal chilli you get with ayam penyet. For those looking for some fun, try out our recipe for a quick and fuss-free oven-baked ayam penyet!
---
Featured image taken from Instagram user @sylvestertf's post.