Thai claypot porridge at Jok Jok Mor
Update: Jok Jok Mor is now permanently closed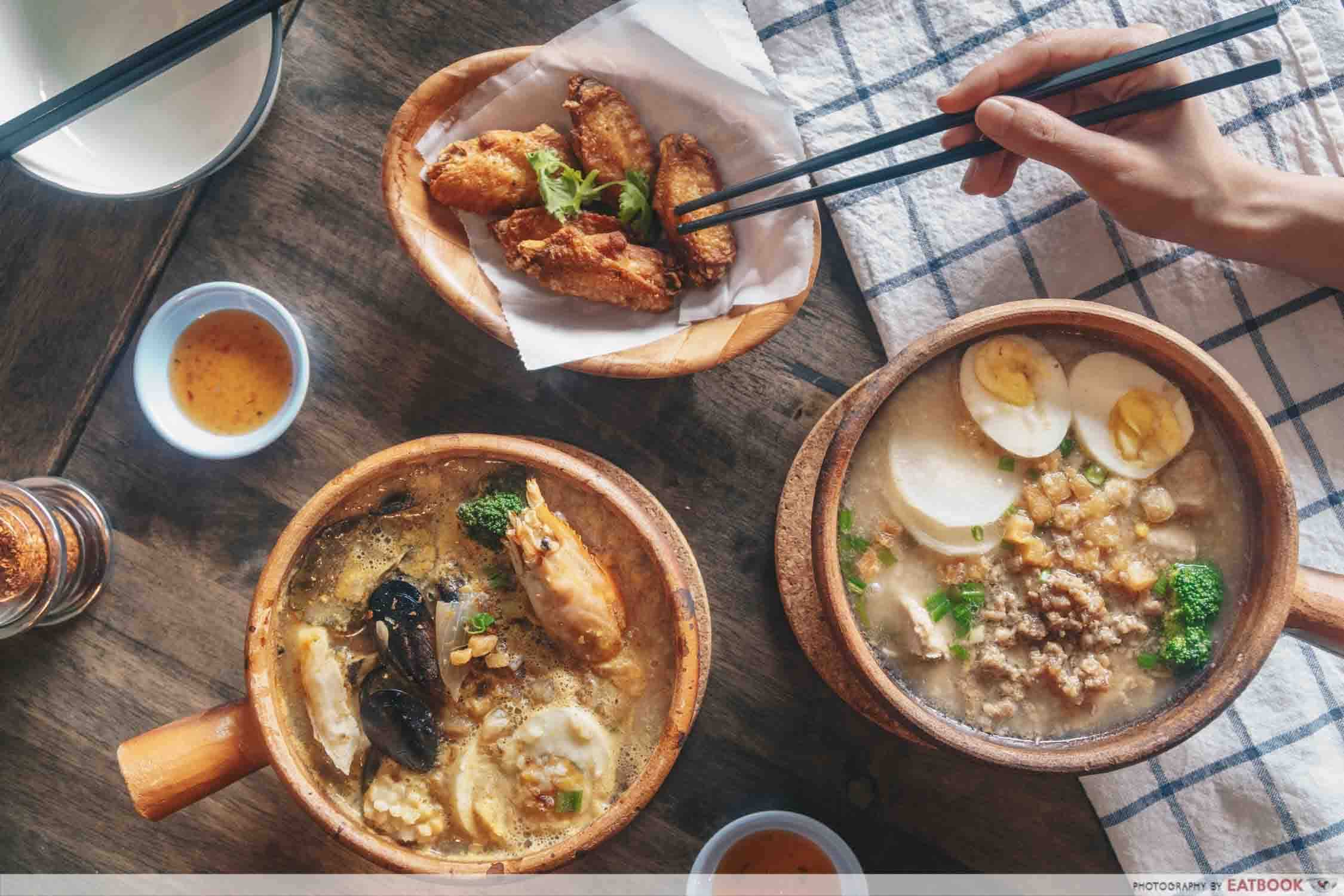 The latest addition to the food scene at Farrer Park is Jok Jok Mor, a Thai restaurant serving claypot porridge. I am not surprised if claypot porridge does not come to mind when thinking of Thai food, as green curry and tom yum are the usual suspects. 
Food at Jok Jok Mor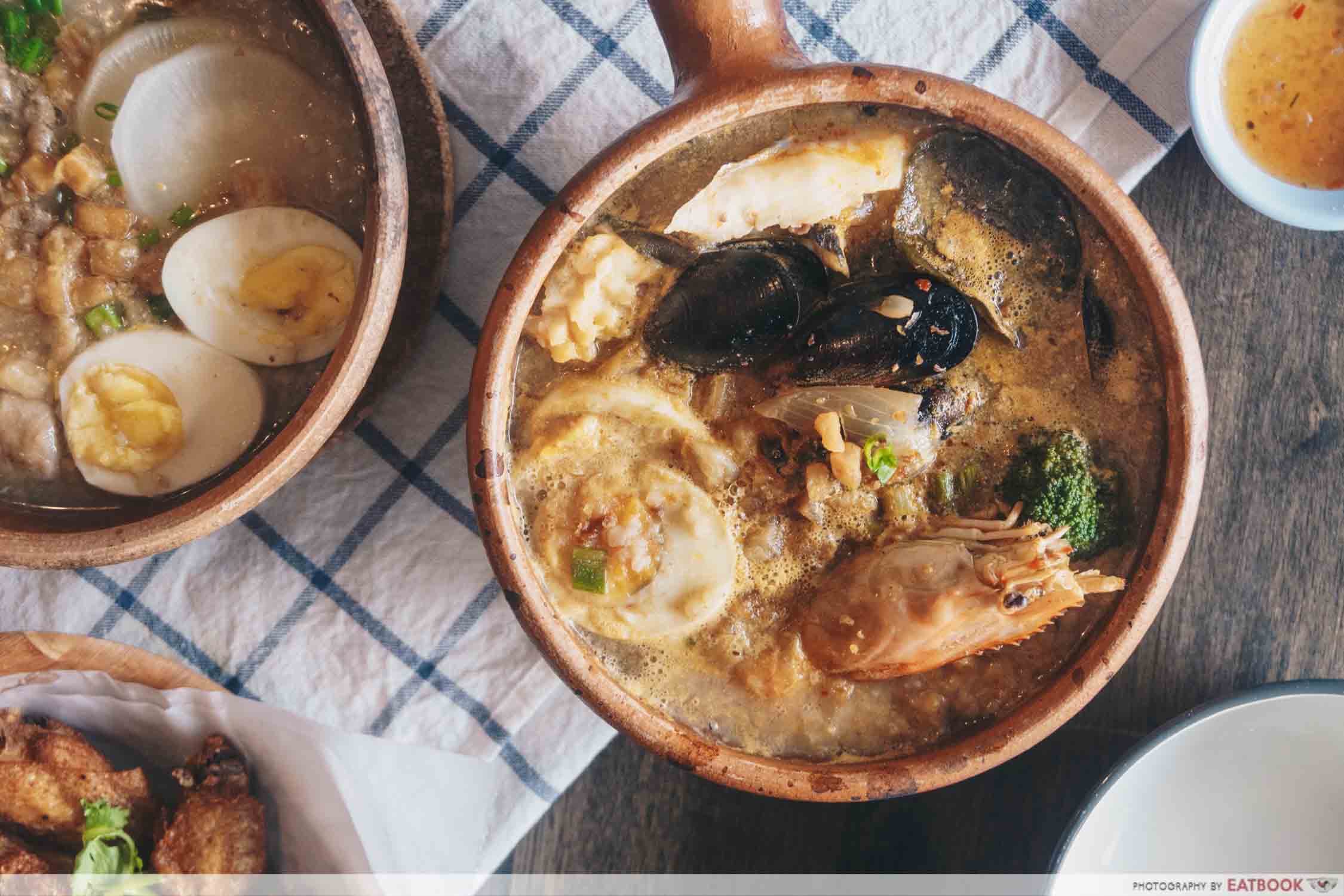 At Jok Jok Mor, you can personalise your order with their simple step-by-step menu. 
Start off by choosing from their three broths, namely tom yum, see ew kao (light soya sauce), and mak kum (tamarind). Next, make a choice between porridge and instant noodles (additional $1) for your carb. Complete the meal by picking your protein such as chicken, pork, and seafood. There are also vegetables for those who can't take meat.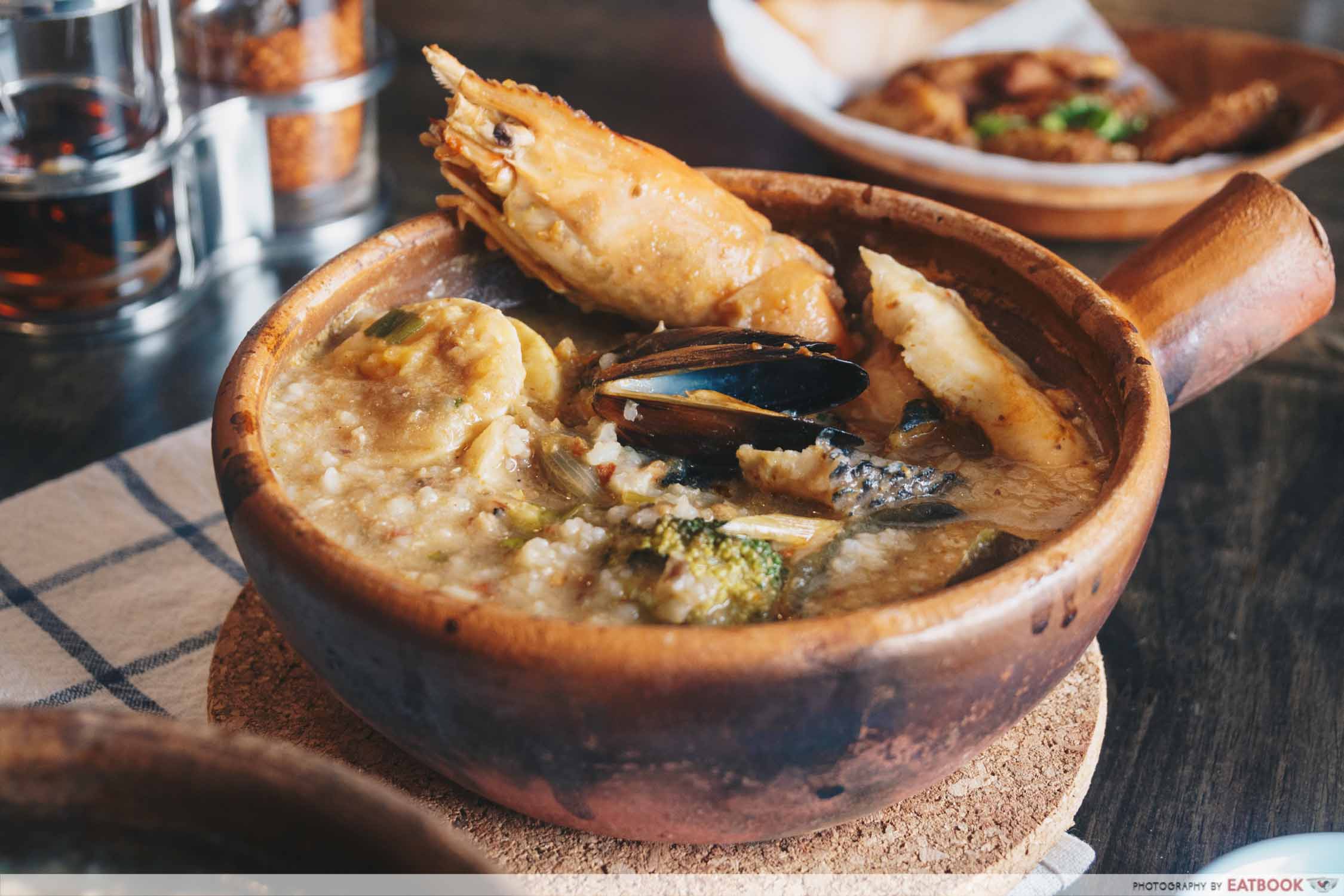 We got a Tom Yum Seafood Porridge ($16.90) which arrived bubbling hot. It came with a huge tiger prawn that caught my attention. The tangy aromas wafting from this dish was reminiscent of my trips to Bangkok, where I ordered seafood porridge from street food stalls.
As a fan of tom yum, I expected a familiar tart and spicy kick to the dish. However, the sourness from both the lime and lime leaves cut through the heat from the chillies, making it less spicy than usual. The generous stalks of lemongrass also added more fragrance to this savoury dish. 
9 Farrer Park Food Spots To Check Out After Your Trip To Singapore's Largest Don Don Donki
Every ingredient came together in a marriage of delicious flavours. As the rice grains soaked up the tangy stock, each spoonful of porridge was bursting with flavour.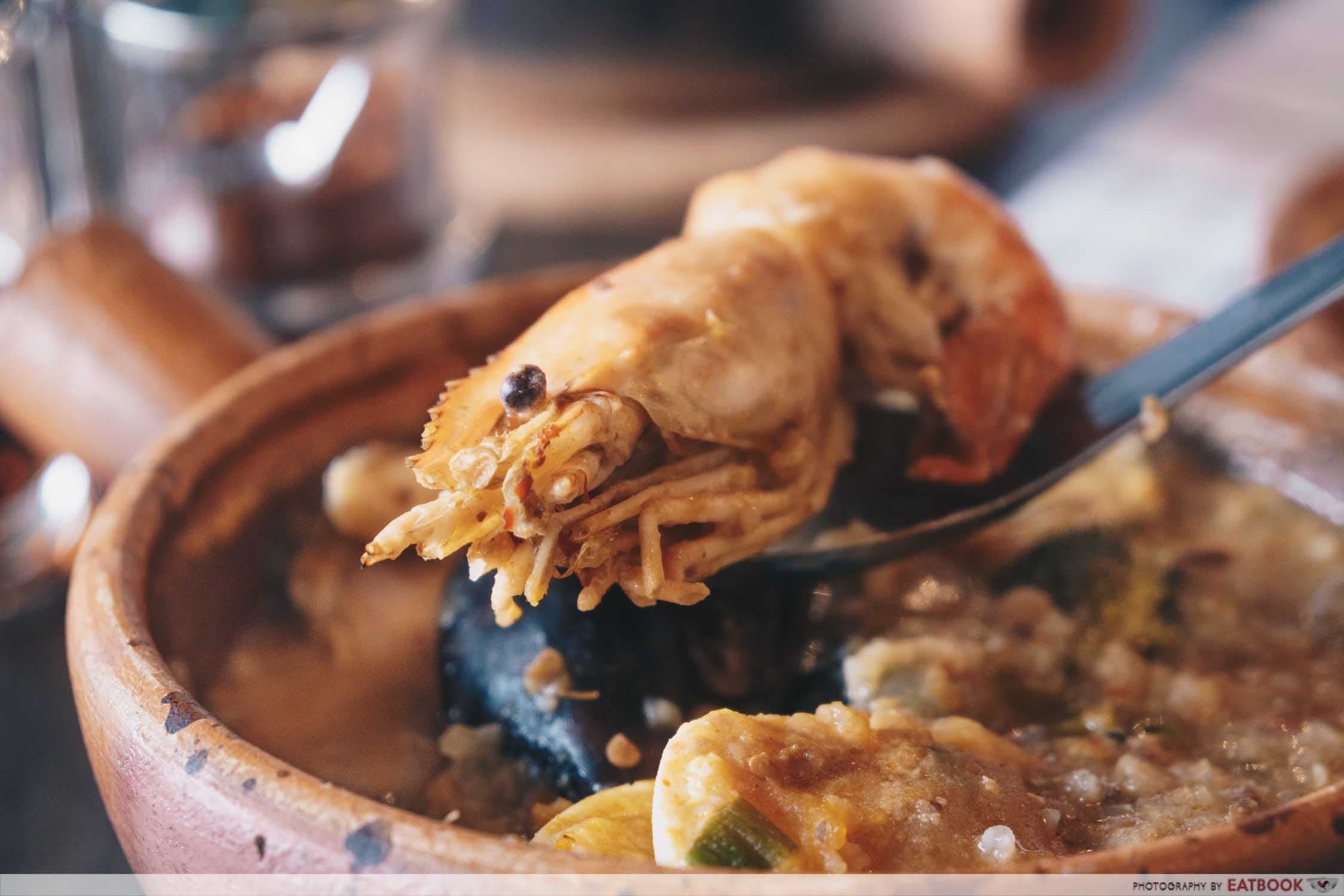 Jok Jok Mor did not hold back on the seafood, and that generosity contributed to the savoury gruel having strong briny flavours. The seafood included tiger prawn, mussels, squid, and fish, all of which had a springy or crunchy bite . Too bad there was only one prawn, as its sweet meat left me wanting more.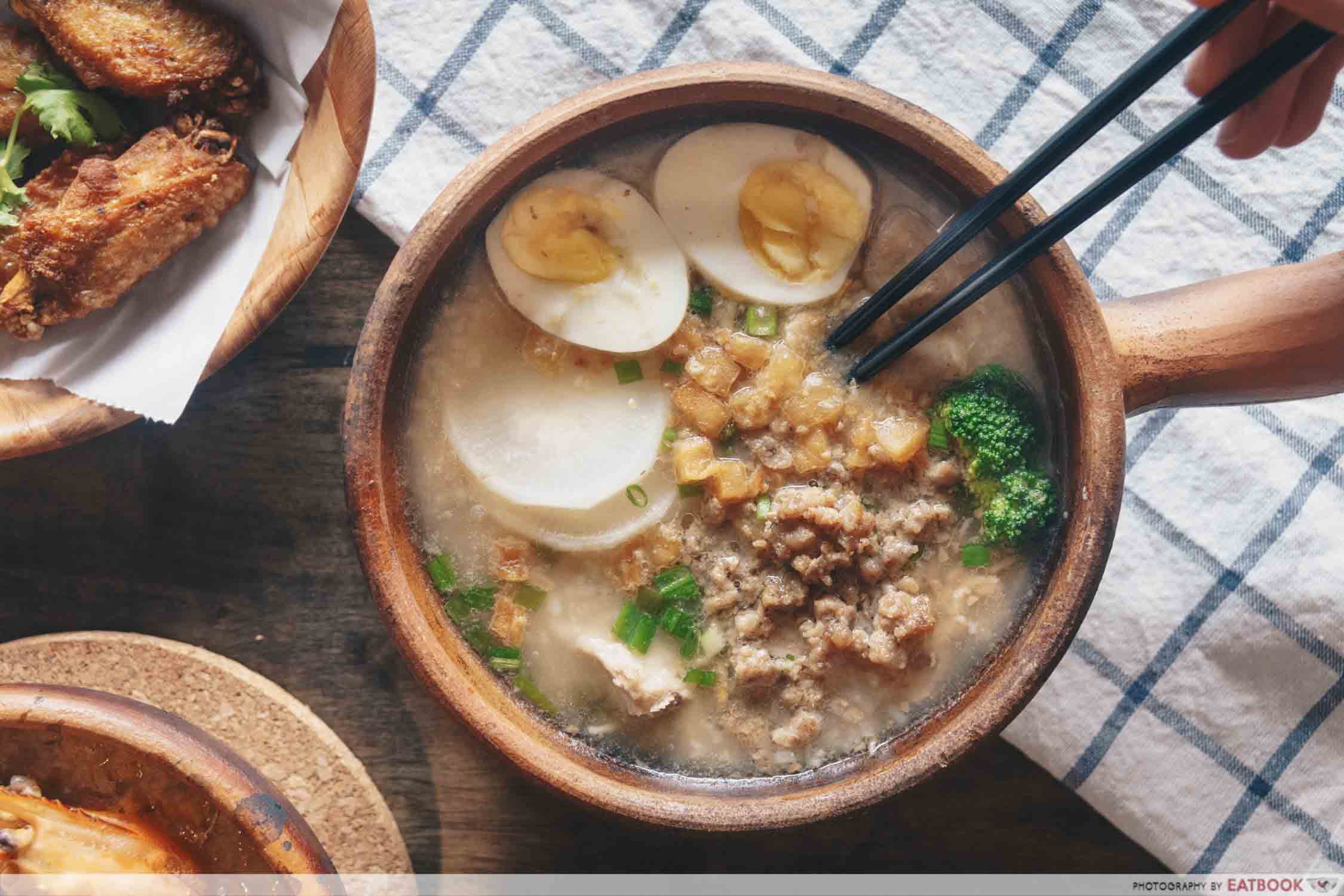 See Ew Kao Pork Porridge ($8.90) is made with a stock flavoured by a dash of Thai light soya sauce. The dish is topped with a layer of minced pork, egg, a heavy-handed sprinkle of pork lard, and some meatballs and ribs bobbing at the side.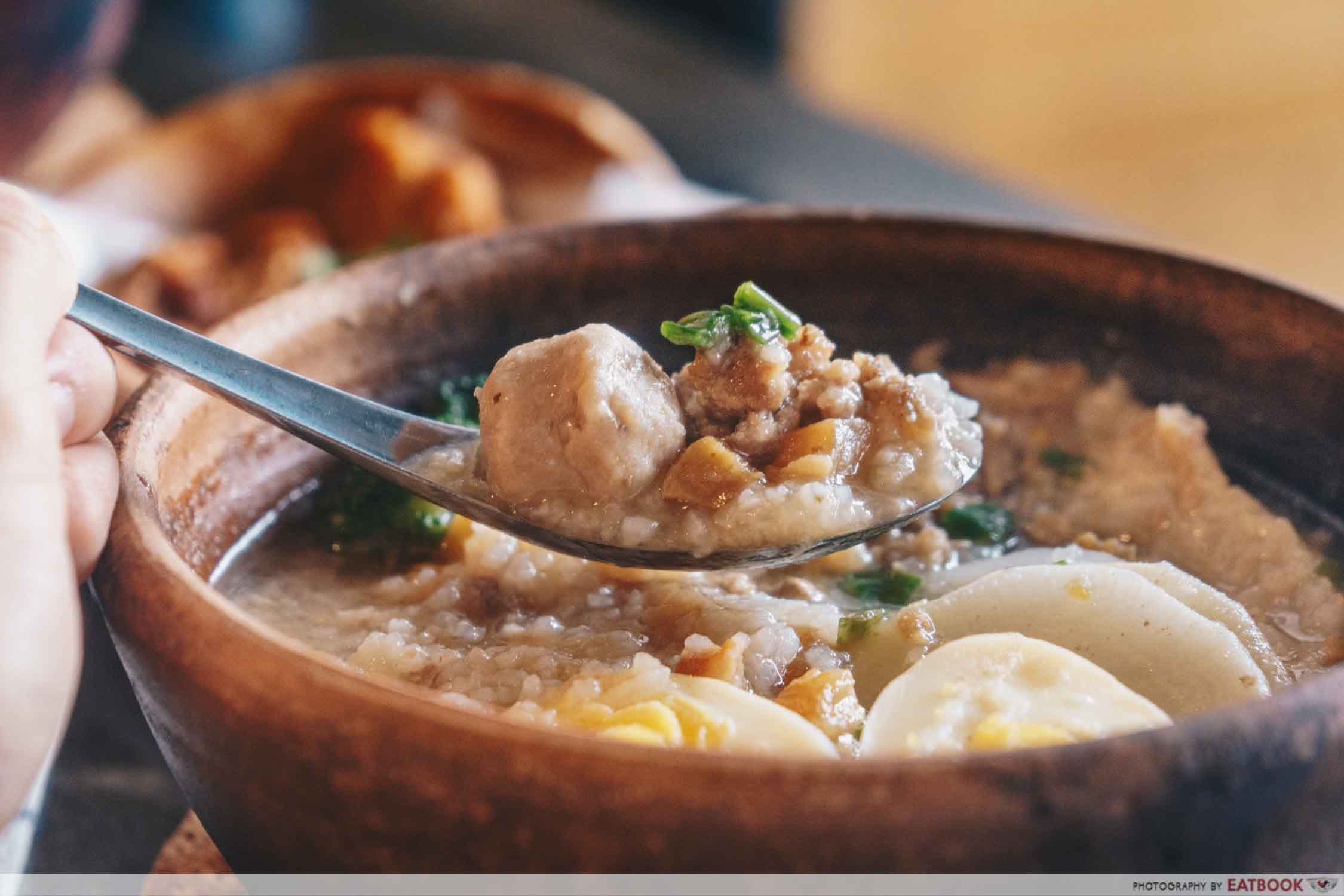 Don't underestimate this simple soya sauce-based porridge. Though light on the palate, each spoonful of porridge was packed with flavour. It was a symphony of textures from the different types of pork meat. From the chewy and dense pork ball to the crunchy minced pork, this hearty dish carried a good bite.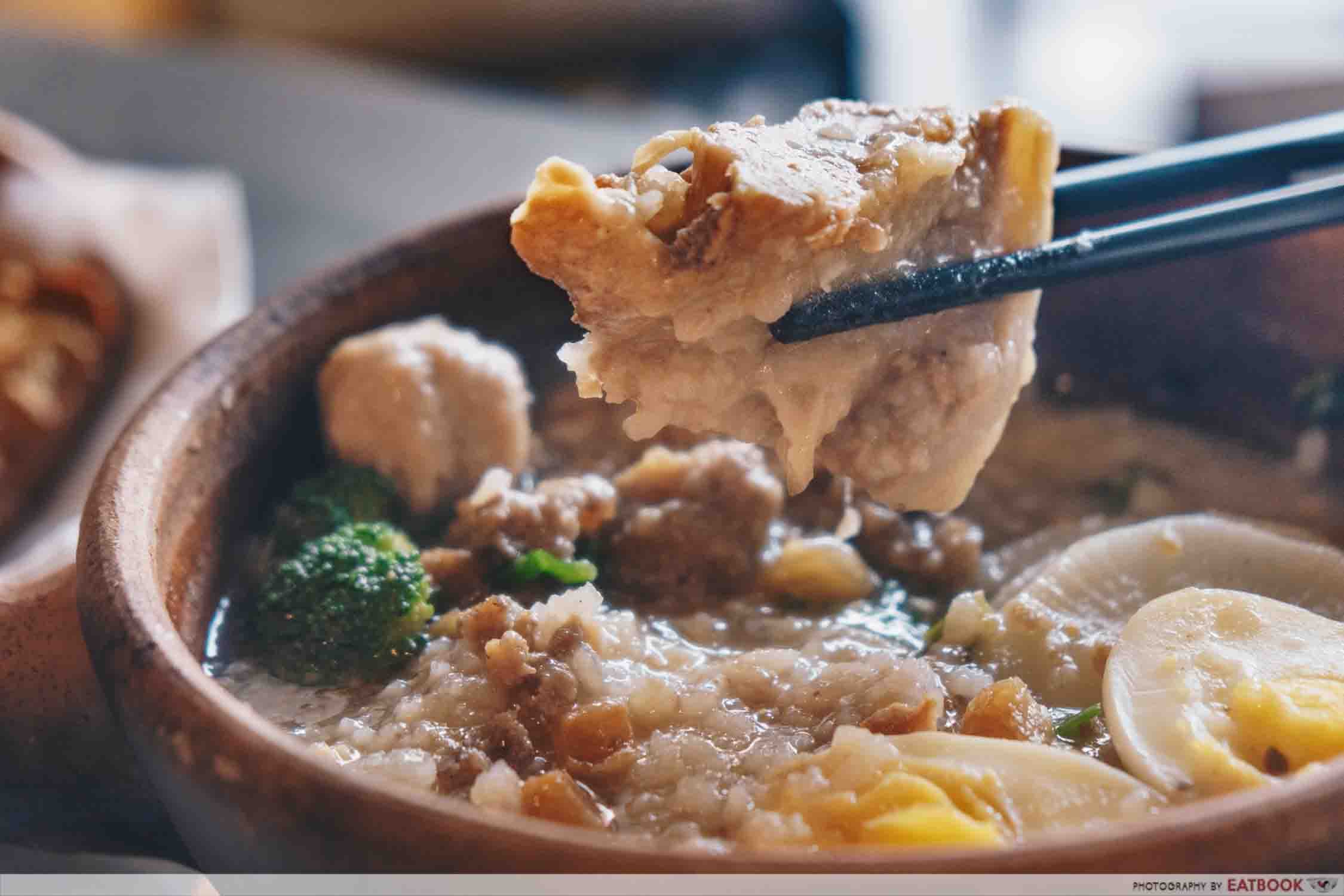 Meat lovers would enjoy the generous portions of pork in this dish—especially the chunky pork ribs. I easily scraped the meat from the bones, and gnawed on the chewy cartilage bits.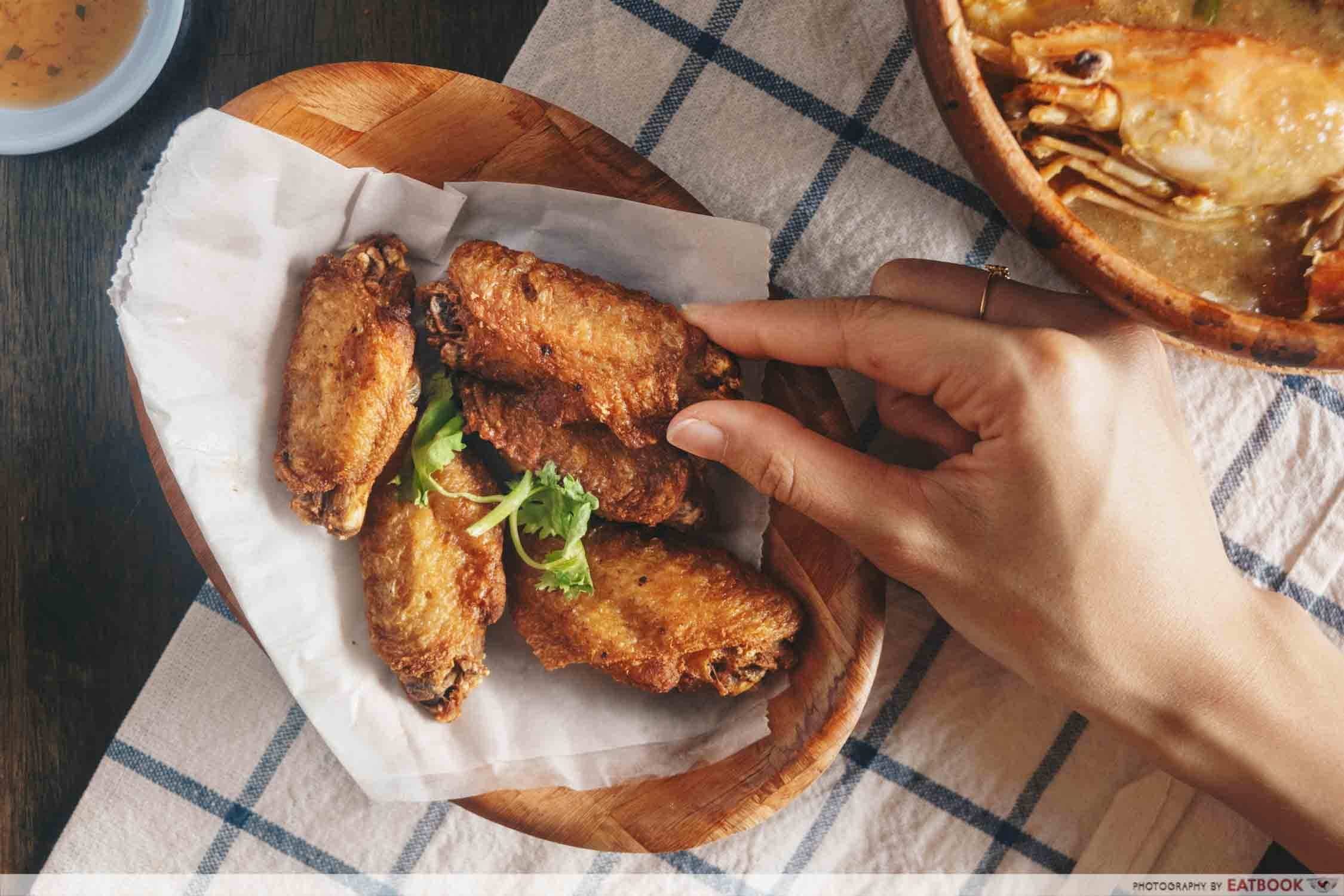 Besides claypot porridge, Jok Jok Mor serves sides such as this Fried Tumeric Chicken Wings ($6.90). The familiar smell of fried chicken filled the air when these golden-brown wings arrived to our table. Its crispy skin and succulent meat made these wings finger-licking good. Though the chicken was well seasoned, it lacked a strong tumeric taste.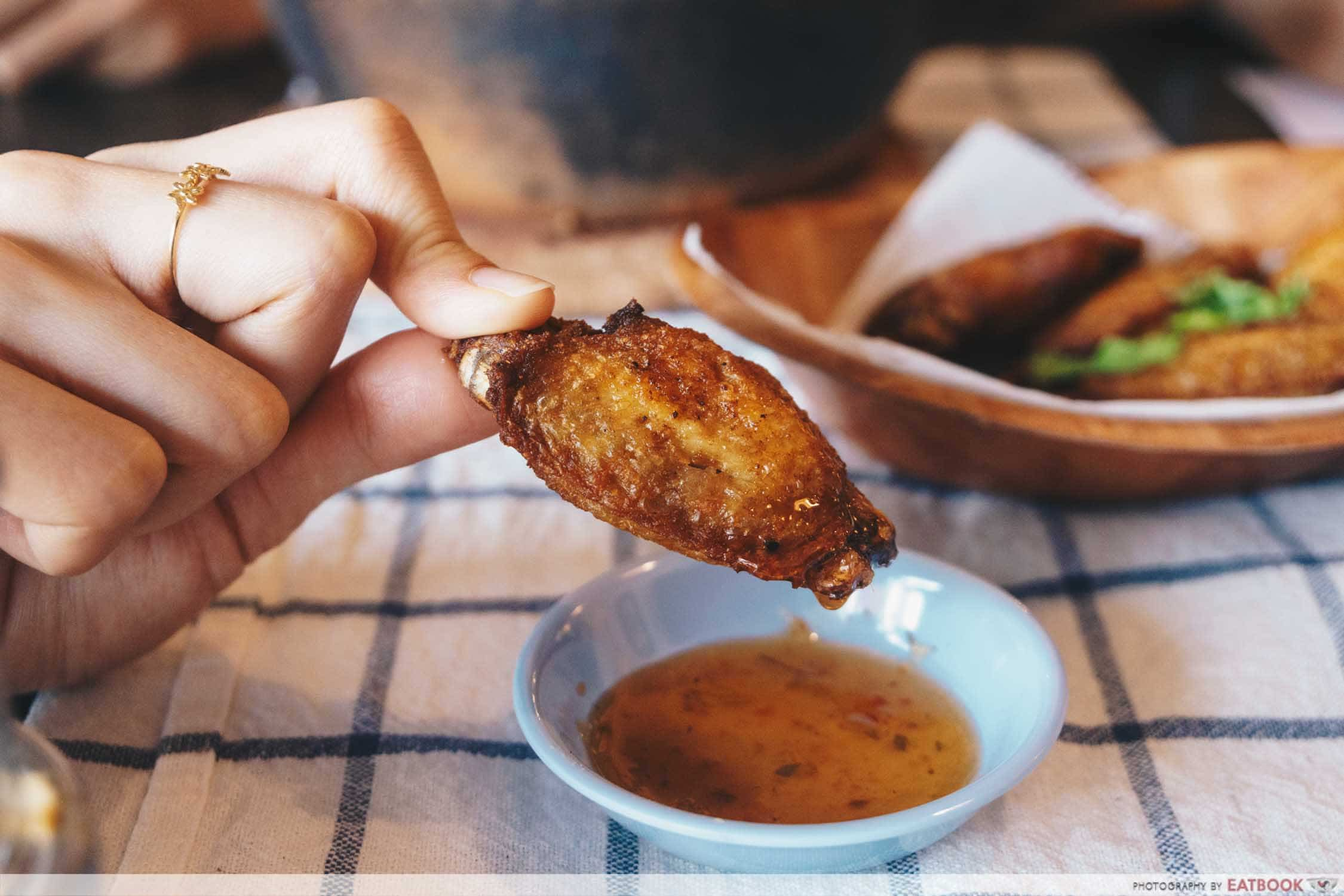 Dipping the chicken into the sweet and spicy chilli sauce provided a sugary kick to the otherwise savoury dish. The chilli sauce was addictive with its mild spiciness, and you would definitely be asking for seconds to finish up with the wings.
Ambience at Jok Jok Mor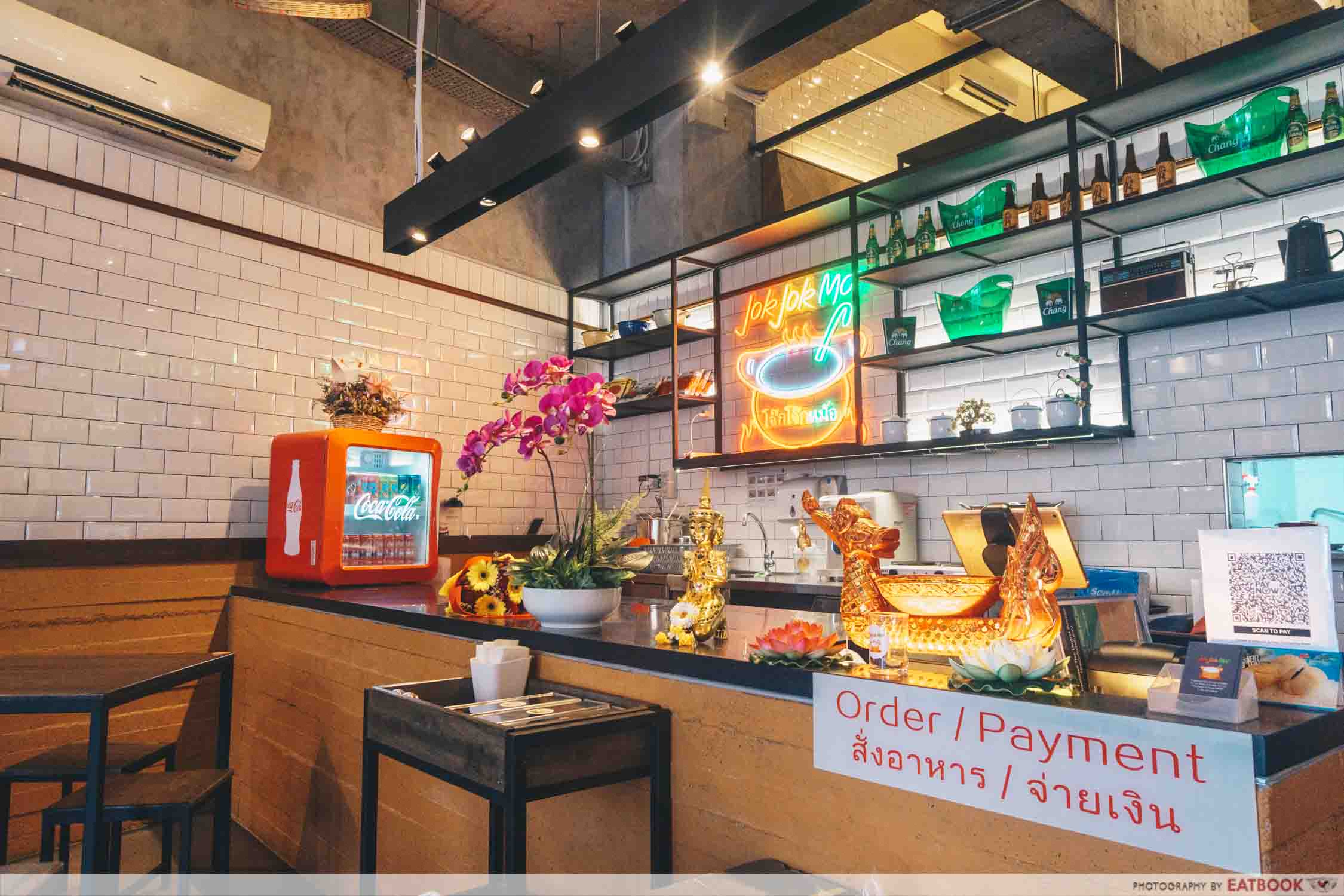 With Thai music playing in the background and the scent of lemongrass wafting in the air, Jok Jok Mor makes you feel like you've transported to the land of smiles. Except you won't be perspiring from the sweltering heat in this air-conditioned eatery. Don't be afraid to dine here in big groups as seating is plentiful in this two-storey joint. 
The verdict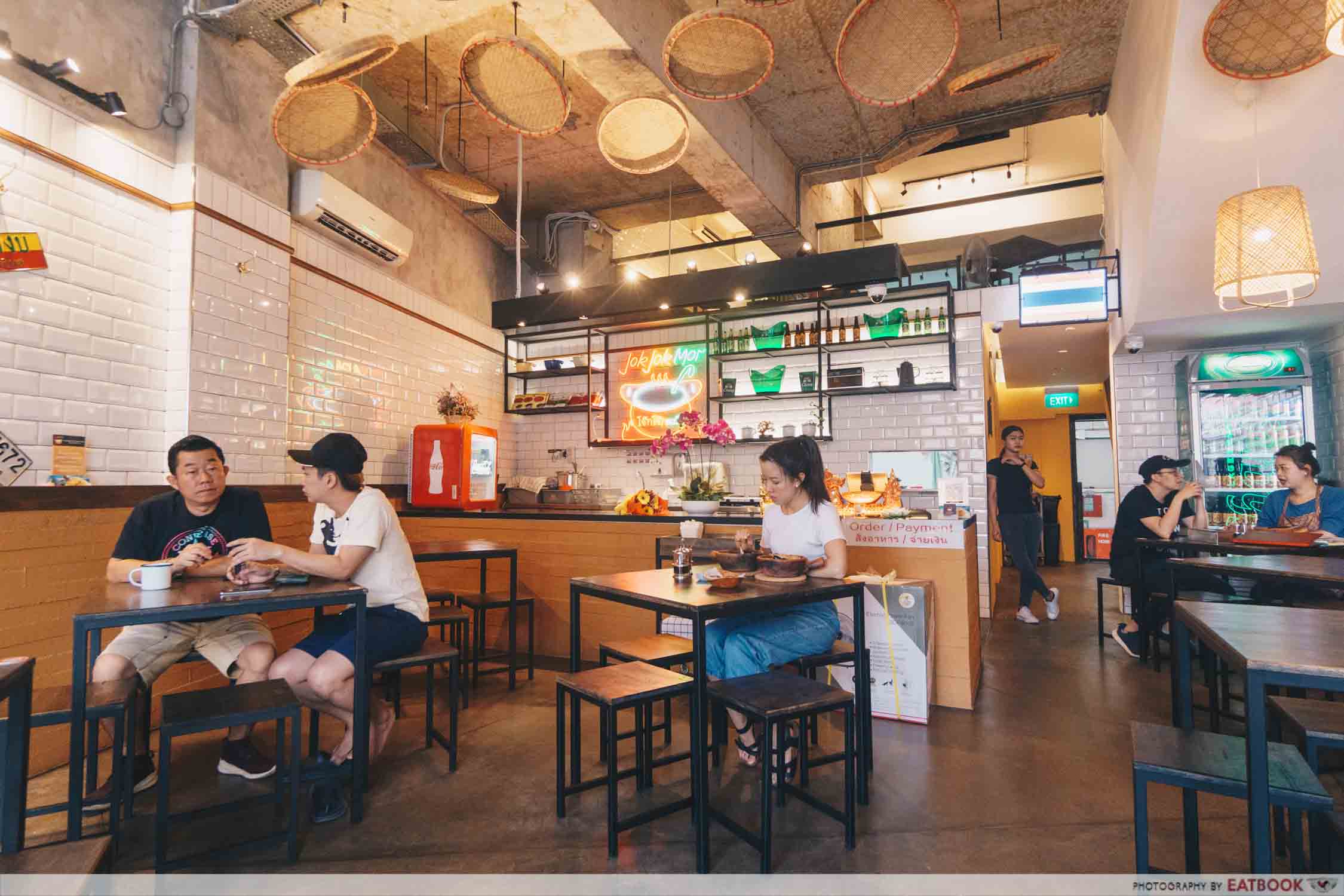 Despite the DIY menu, options are rather limited with their choice of soups and toppings. That being said, claypot porridge is definitely a thing for me now that I've tried Jok Jok Mor out. I can't wait to see what other combinations of Thai flavours they would come up with!
If you can't wait for your next getaway to Bangkok, check out our list of 10 affordable Thai food places out!
10 Affordable Thai Food Places To Tide You Through Till Your Next BKK Trip
Address: 129 Rangoon Road, Singapore 218407
Opening hours: Daily 12pm to 12am
Tel: 6721 9038
Website
Jok Jok Mor is not a halal-certified eatery.
Photos taken by Reynard Lee.
This is an independent review by Eatbook.sg.
Summary
Pros
– Affordable
– Generous portions
– Flavour-packed dishes
– Convenient location
Cons
– Limited menu
Recommended dishes: Tom Yum Seafood Porridge ($16.90), See Ew Kao Pork Porridge ($8.90)
Opening hours: Daily 12pm to 12am
Address: 129 Rangoon Road, Singapore 218407