Bloom Artisan serves handmade gelato
Update: Bloom Artisan is permanently closed.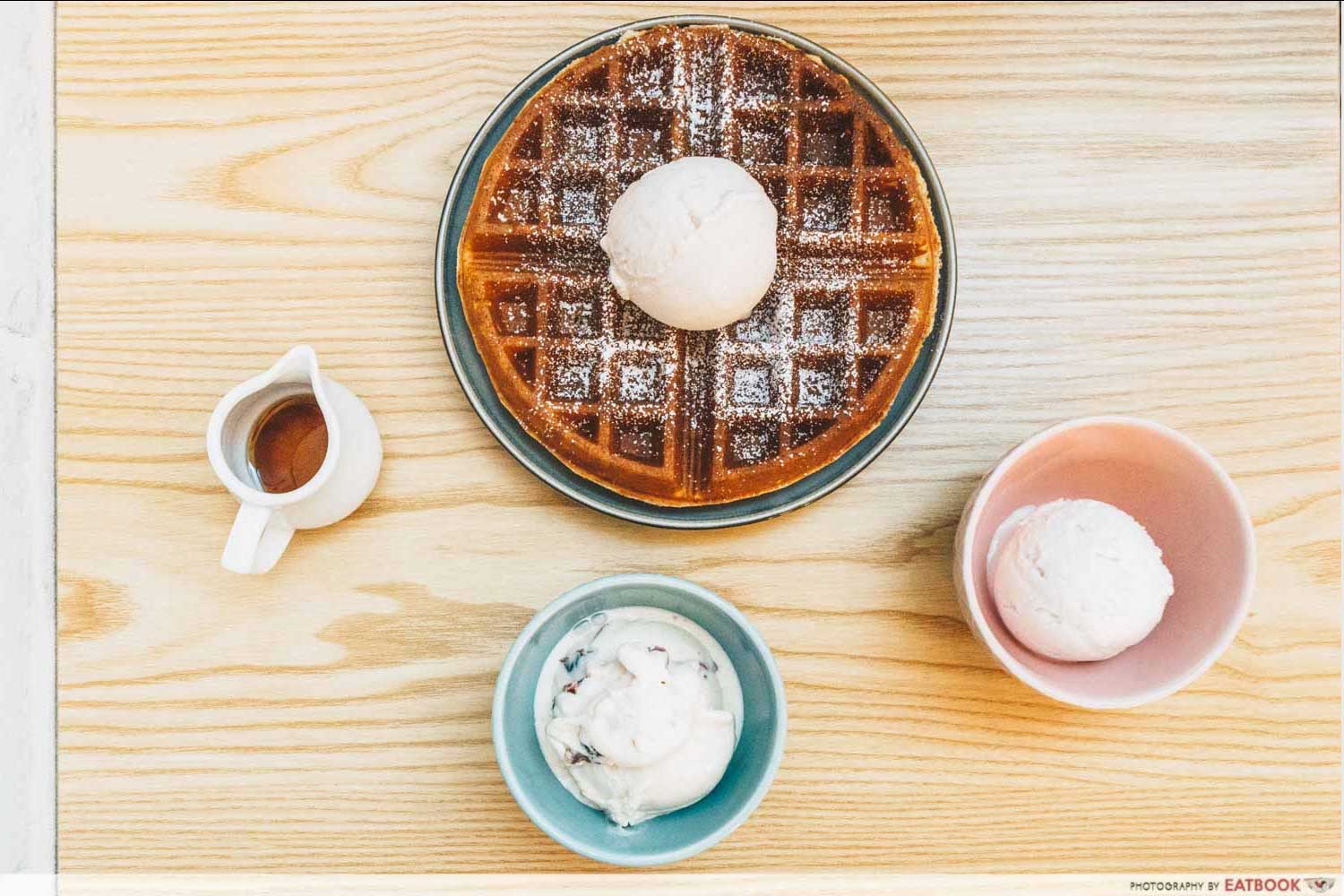 Hidden away from the bustling streets of Yishun, Bloom Artisan is a relatively new neighbourhood cafe, home to affordable gelato and sourdough waffles.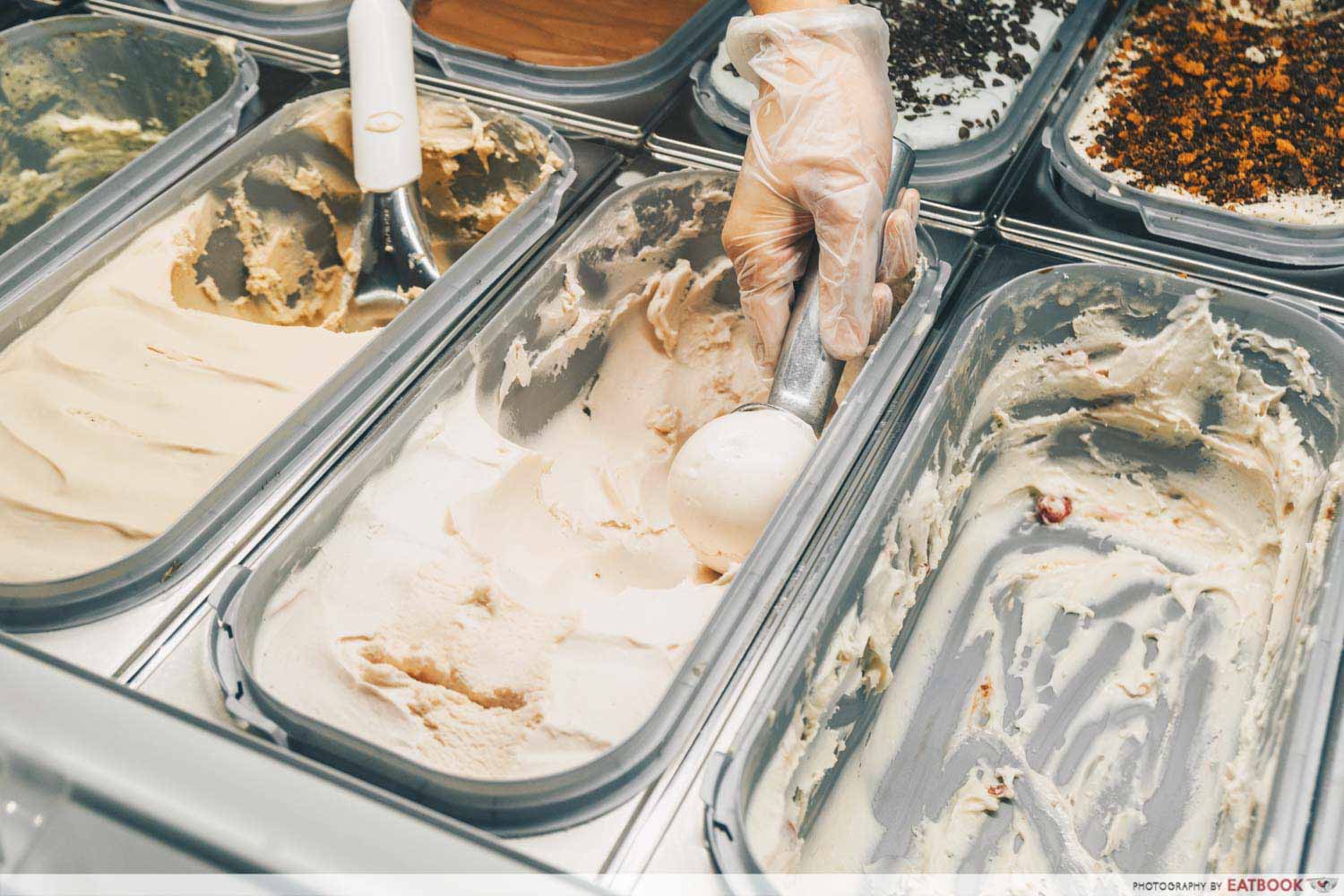 To most, Bloom Artisan may seem like just any other HDB cafe. Yet at a closer look, you can tell they pay attention to detail by handcrafting their own gelato. This gives them the freedom to experiment freely with flavours, which explains their wide menu of unique flavours such as whisky crancherry, wheatmilk and more.
Food at Bloom Artisan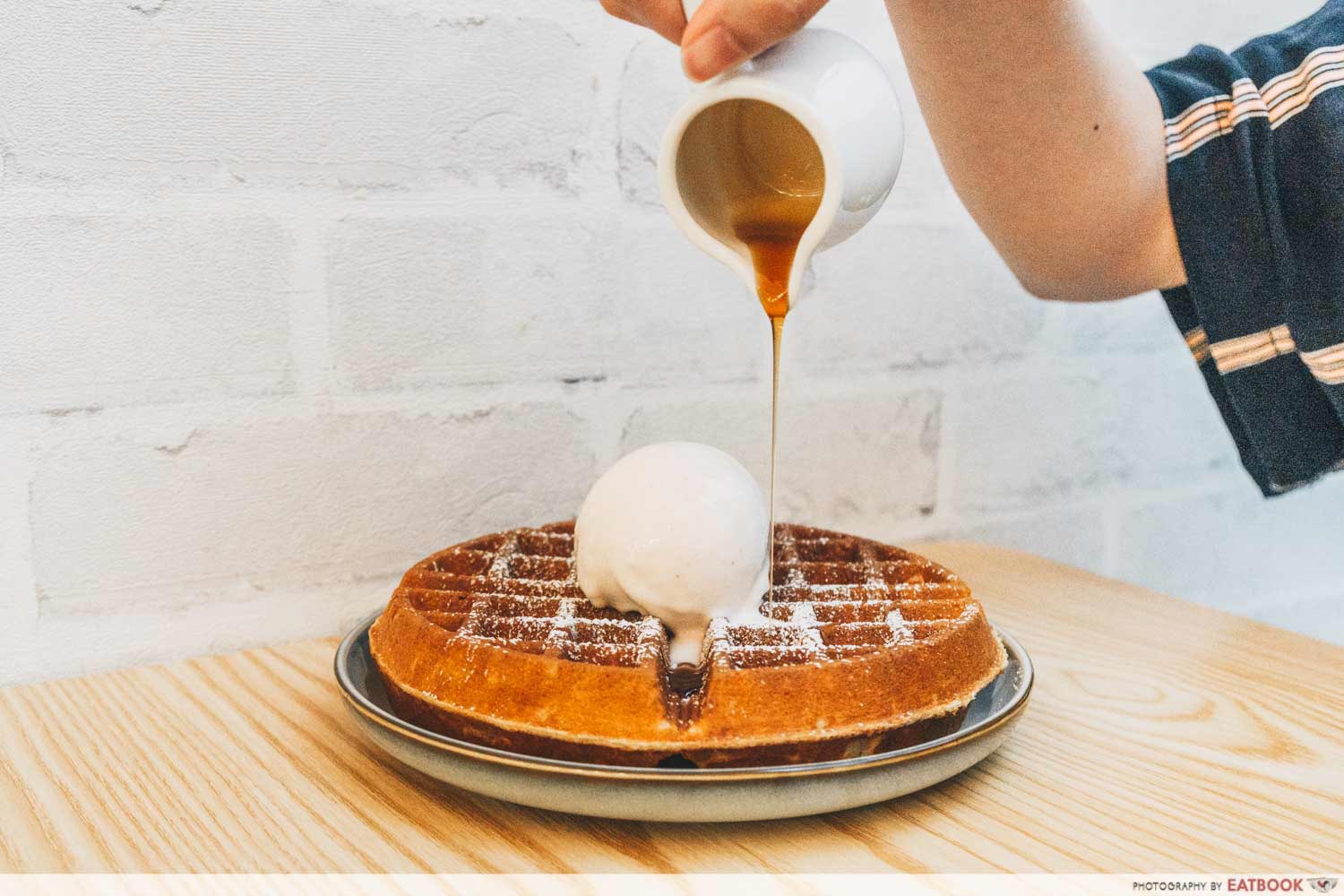 We went for their Brown Butter Sourdough Waffle ($4) along with a scoop of Strawberry Milk Gelato ($3.50). While cafes selling waffles are aplenty, sourdough waffles are less common.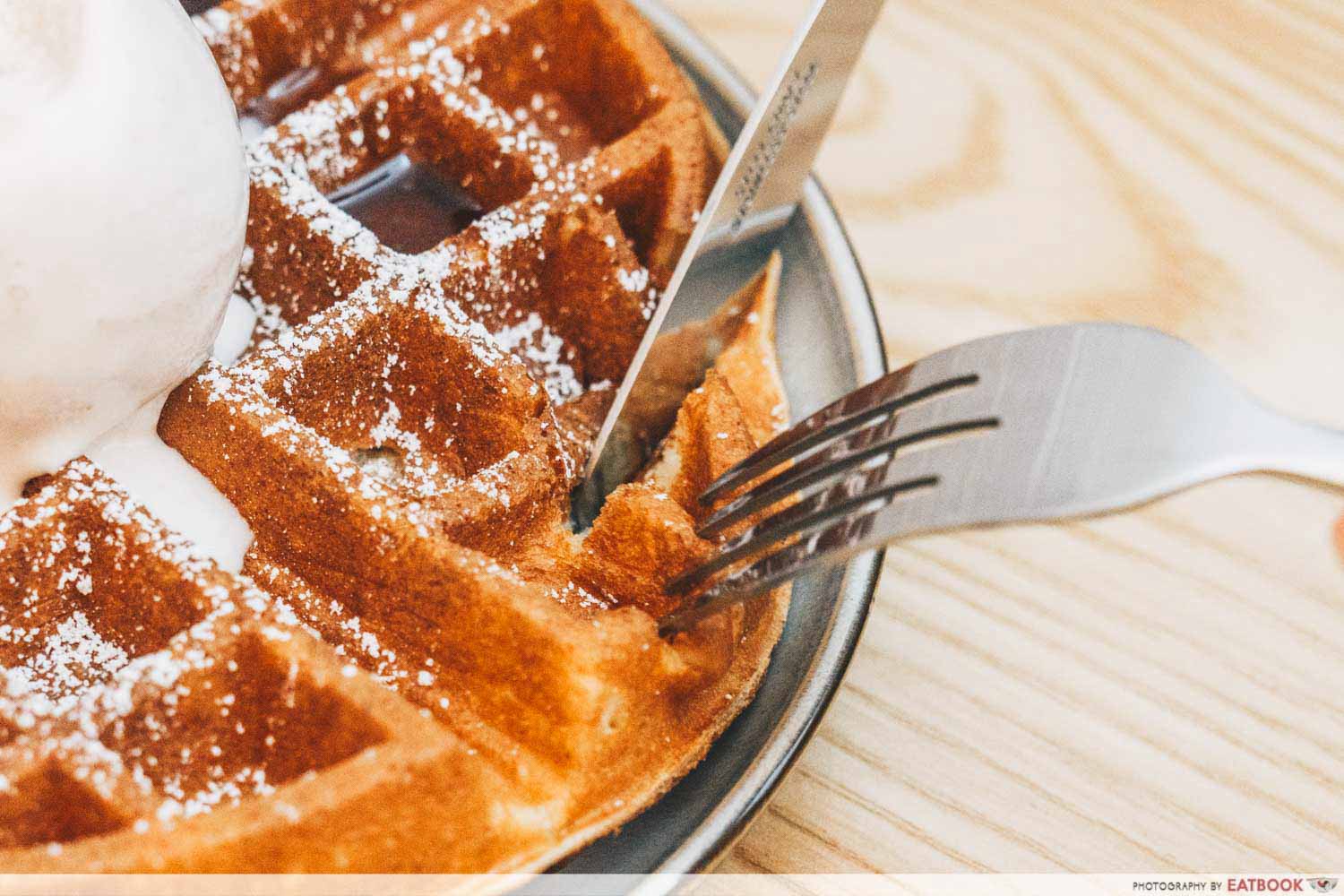 The crispy waffles gave a soft crunch as I cut through it to reveal an airy and fluffy interior. Unlike regular sweet waffles, Bloom Artisan's version gave unique nutty, savoury notes and had a mild yet distinct tang thanks to the combination of brown butter and sourdough.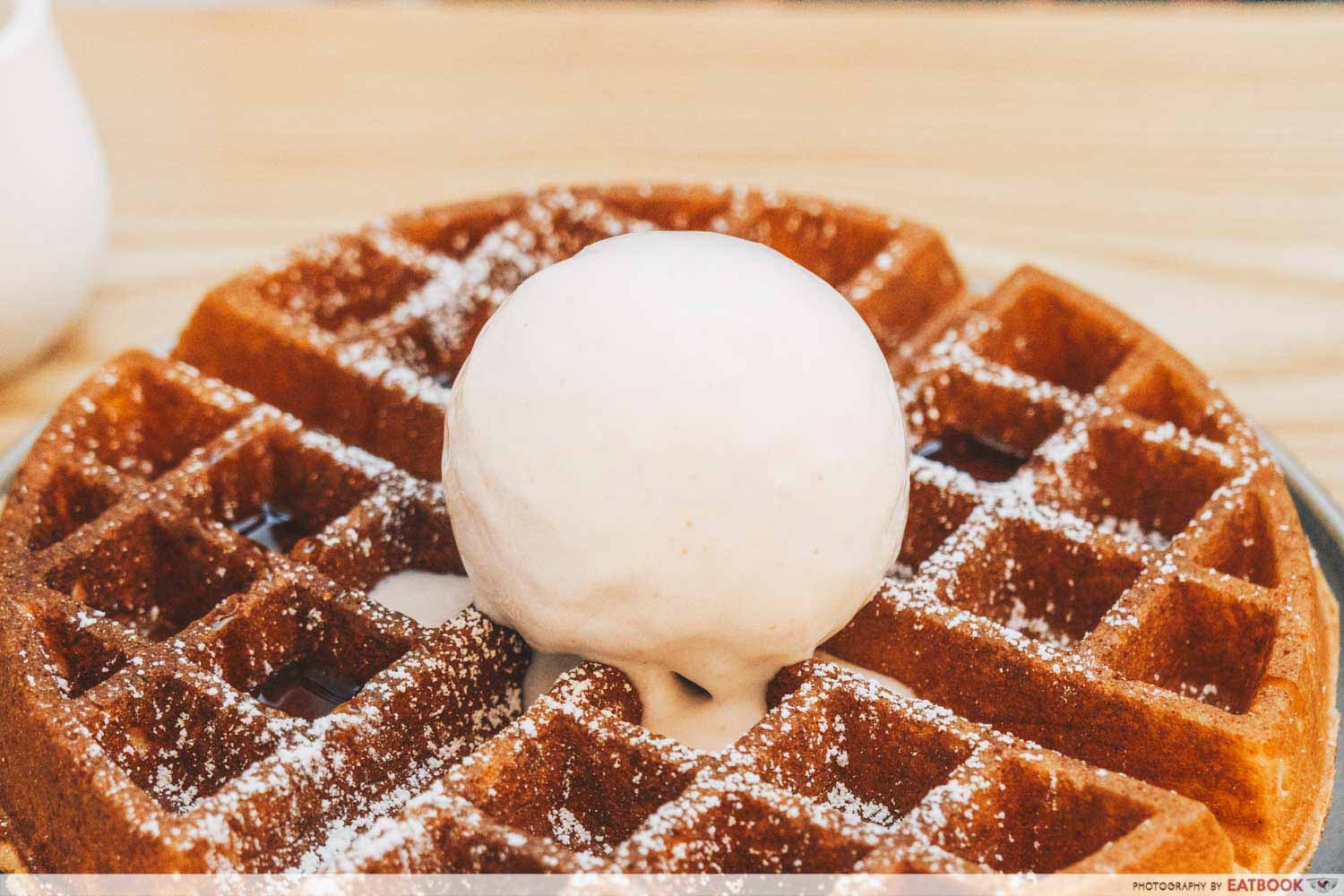 We paired these slightly tart waffles with a scoop of strawberry milk gelato, which according to the staff, was made from real strawberries and milk. Unlike regular strawberry-flavoured ice cream that comes in an artificially pink hue, this gelato sported an off-white colour from milk.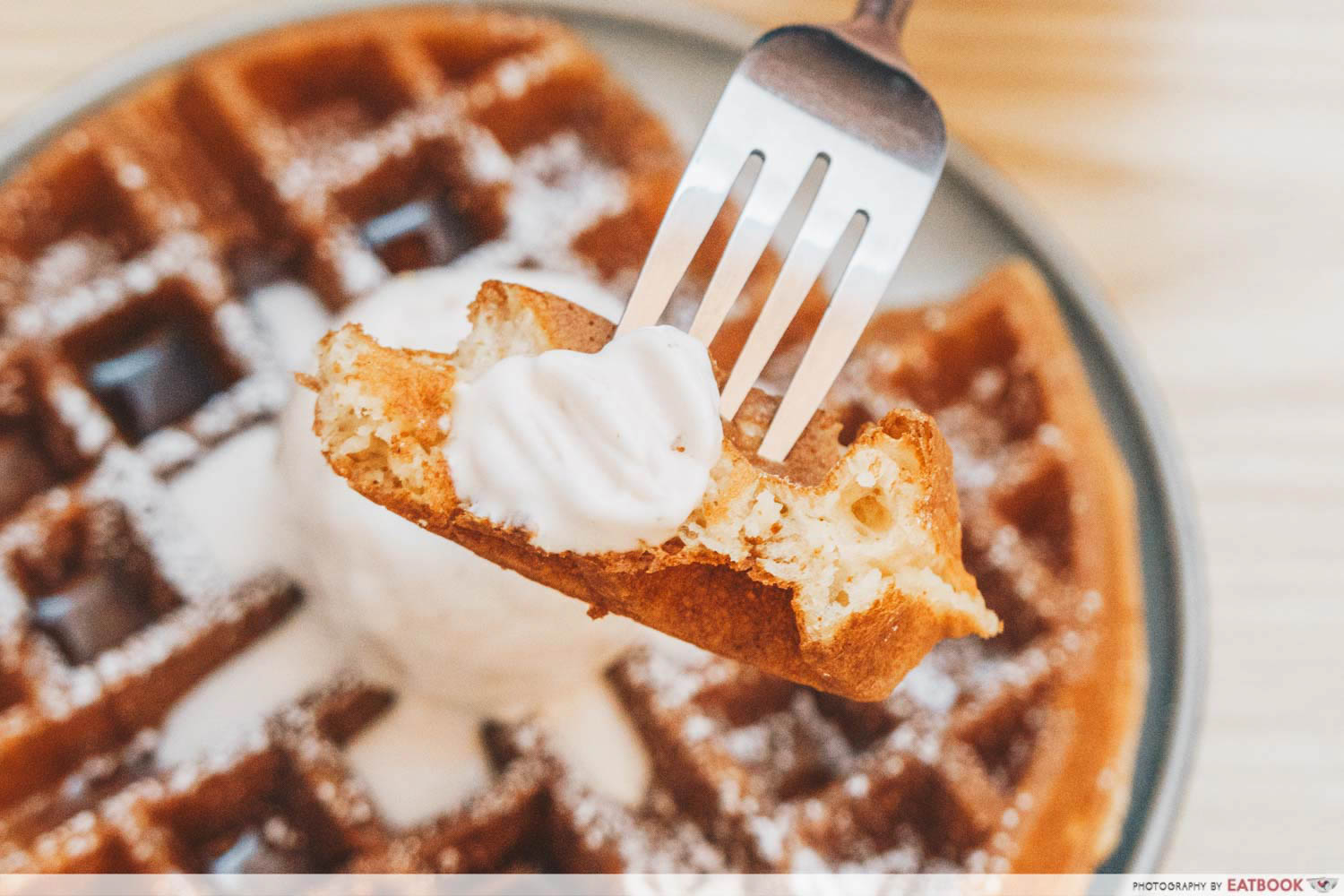 Fresh strawberry milk, previously popularised by Korean cafes, came to mind instantly as I dug into this strawberry milk gelato. It is much different from artificially flavoured strawberry ice cream that tended to be cloyingly sweet. Instead, the gelato was light and refreshingly sweet, complementing the crispy and savoury, tangy waffles in both texture and taste.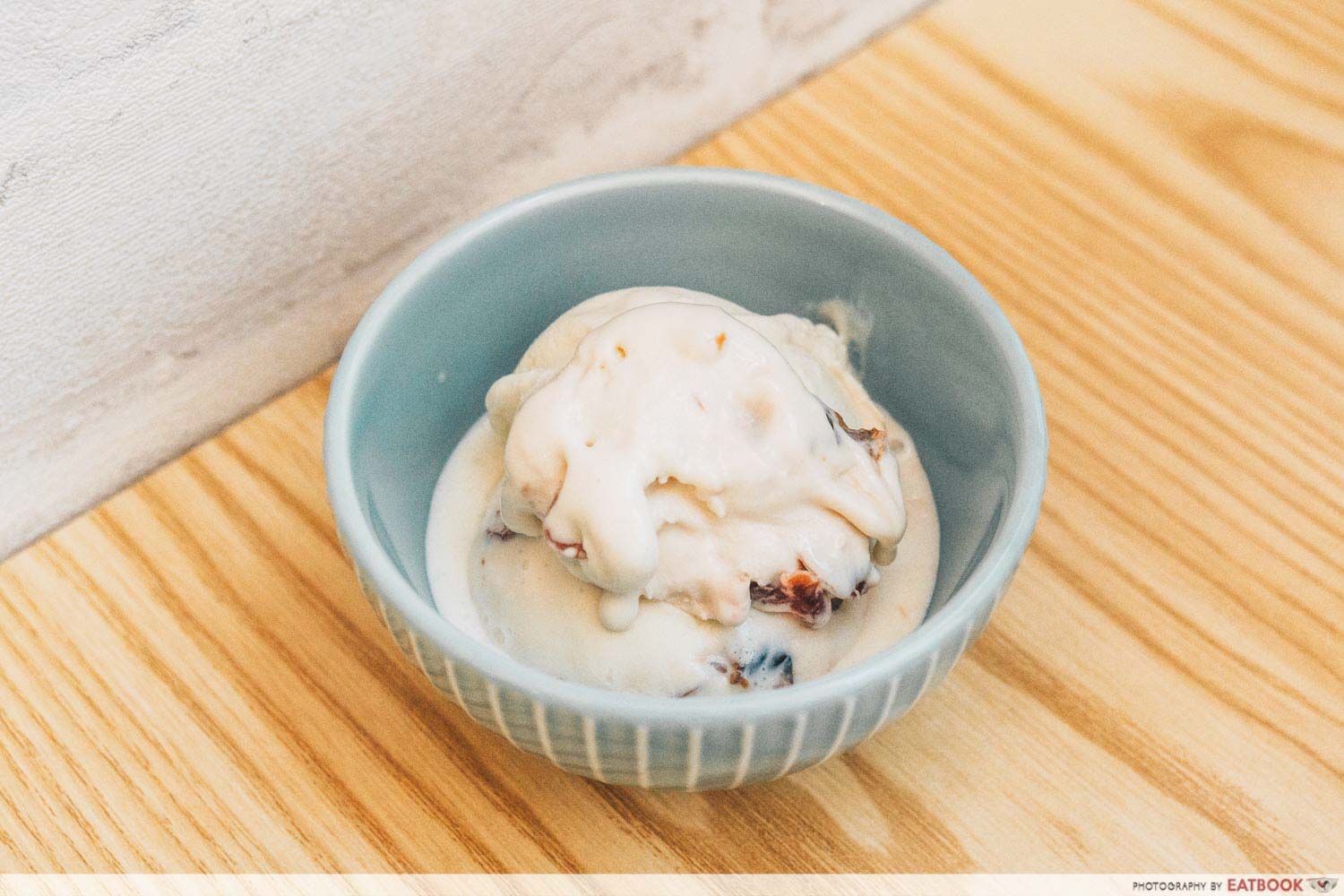 Bloom Artisan is known for their interesting array of gelato flavours and we gave their popular and unique Whisky Crancherry Gelato ($4.20) a taste.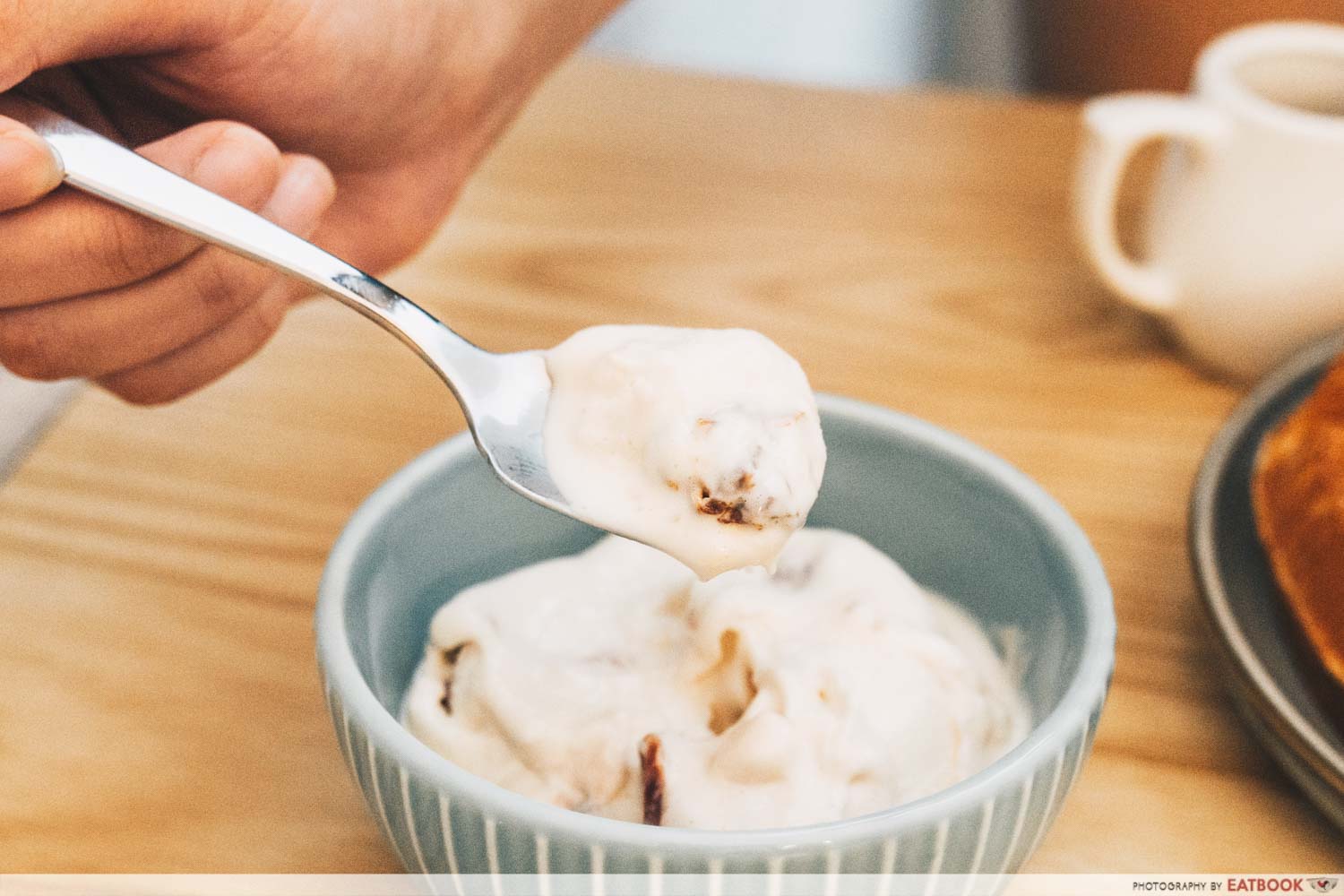 This creamy, honeyed gelato tasted strongly of alcohol and had nutty undertones with hints of malt. Huge chunks of cranberry and cherry gave the decadent gelato an additional punch of fresh sweetness and texture.
It's also worth noting that the whisky crancherry gelato melts pretty quickly due to its alcoholic content so do finish it fast.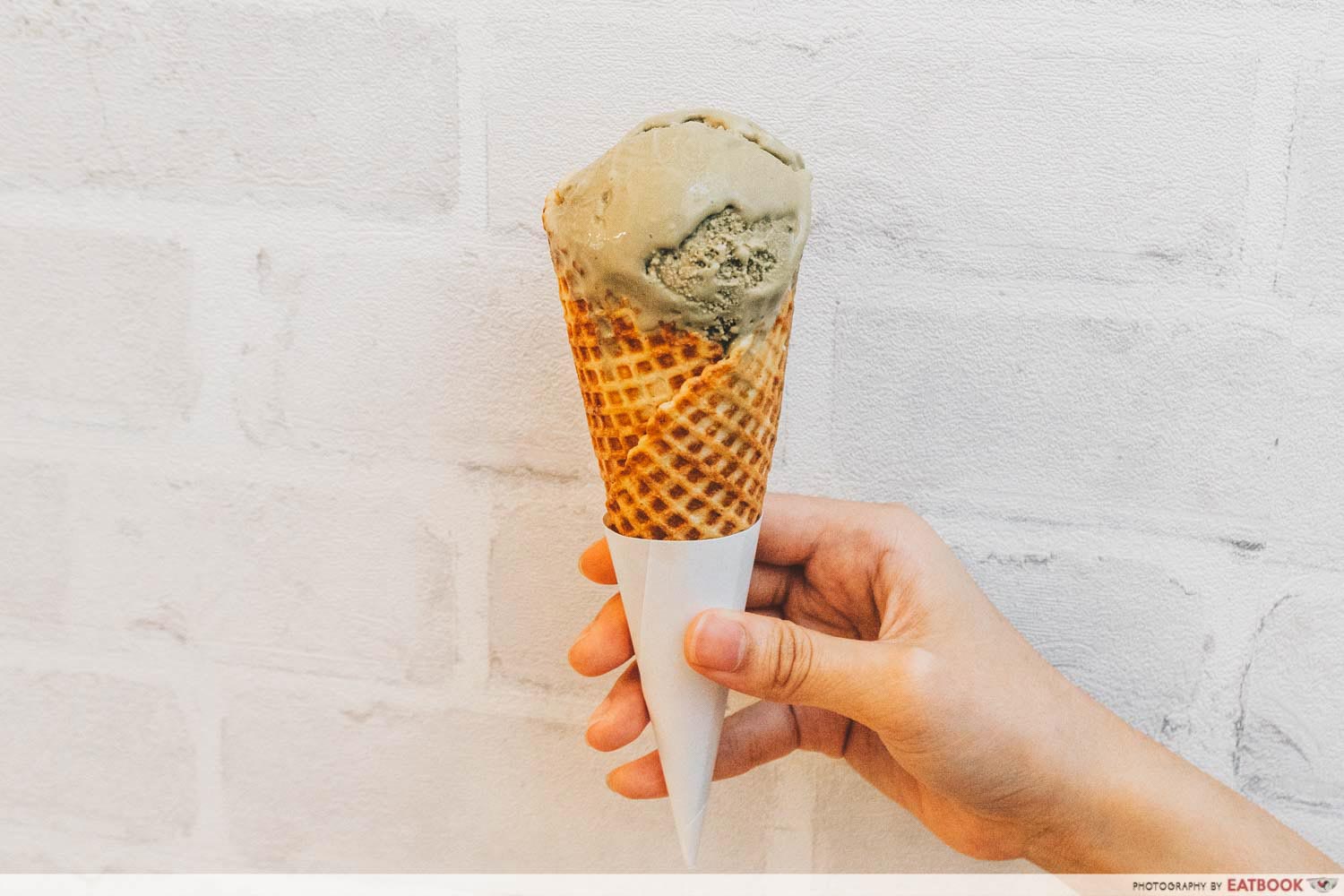 Bloom Artisan offers Waffle Cones ($0.70) to go with your ice cream too. Going for another of their special flavours, we chose the Hojicha Gelato ($4.20).
Matcha is a more common gelato flavour so their choice of hoijcha on the menu caught my attention. Bloom Artisan's hojicha rendition was free from the bitterness and grassy notes that matcha ice cream often had. Instead, it was rich and earthy with a mild sweetness. Velvety smooth and creamy, this milky treat reminded me of hojicha latte. The waffle cone was crisp and held its crunch and shape perfectly even after holding the melting gelato for a while as we took pictures.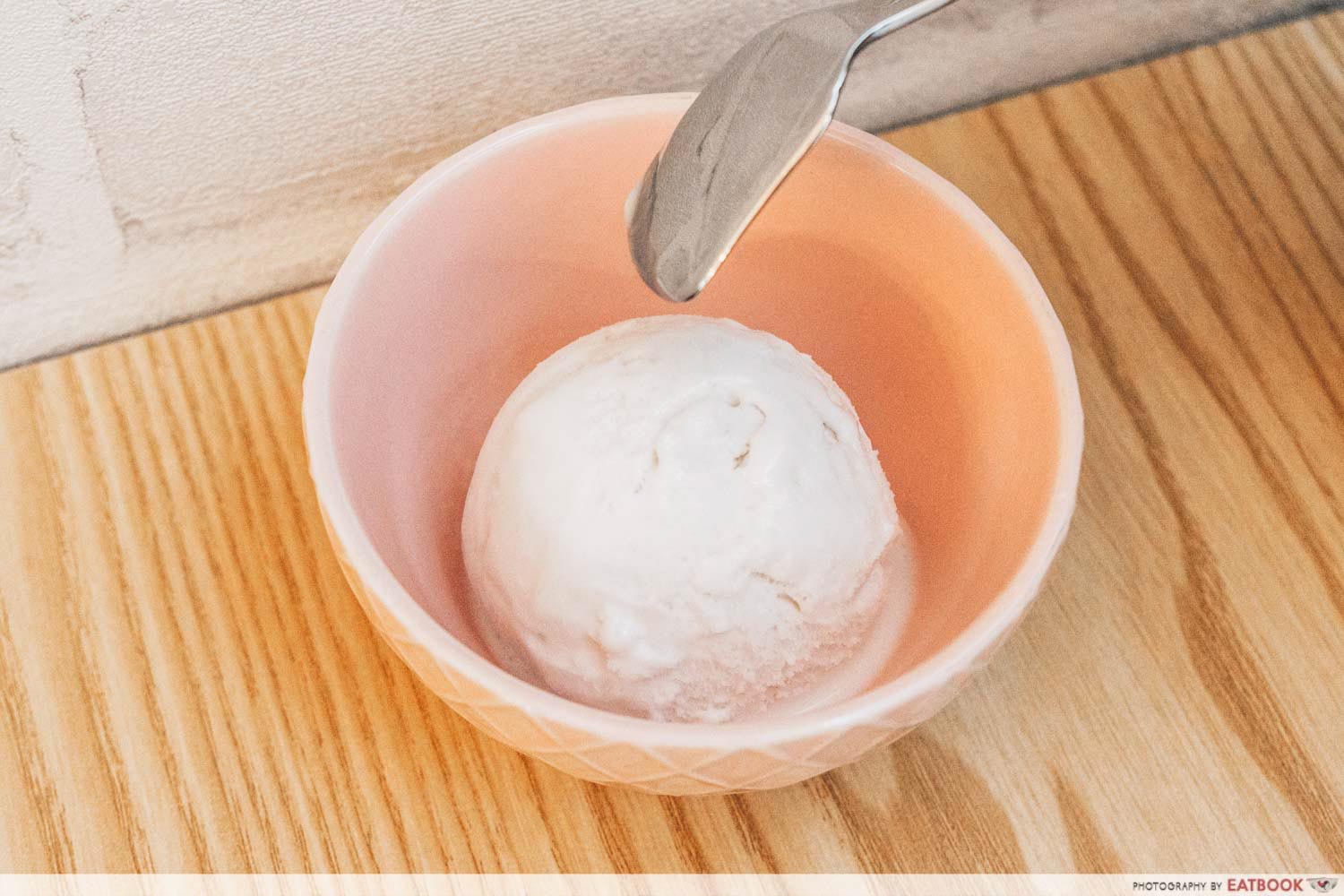 After having our fill of gelatos, we decided to check out their sorbets as well. We were recommended the Coconut Sorbet ($4.20) by the friendly staff member.
The enjoyable coconut sorbet was creamier than regular icy sorbet. It also had real bits of coconut pulp which threw in an additional splash of fruity freshness and texture.
Ambience at Bloom Artisan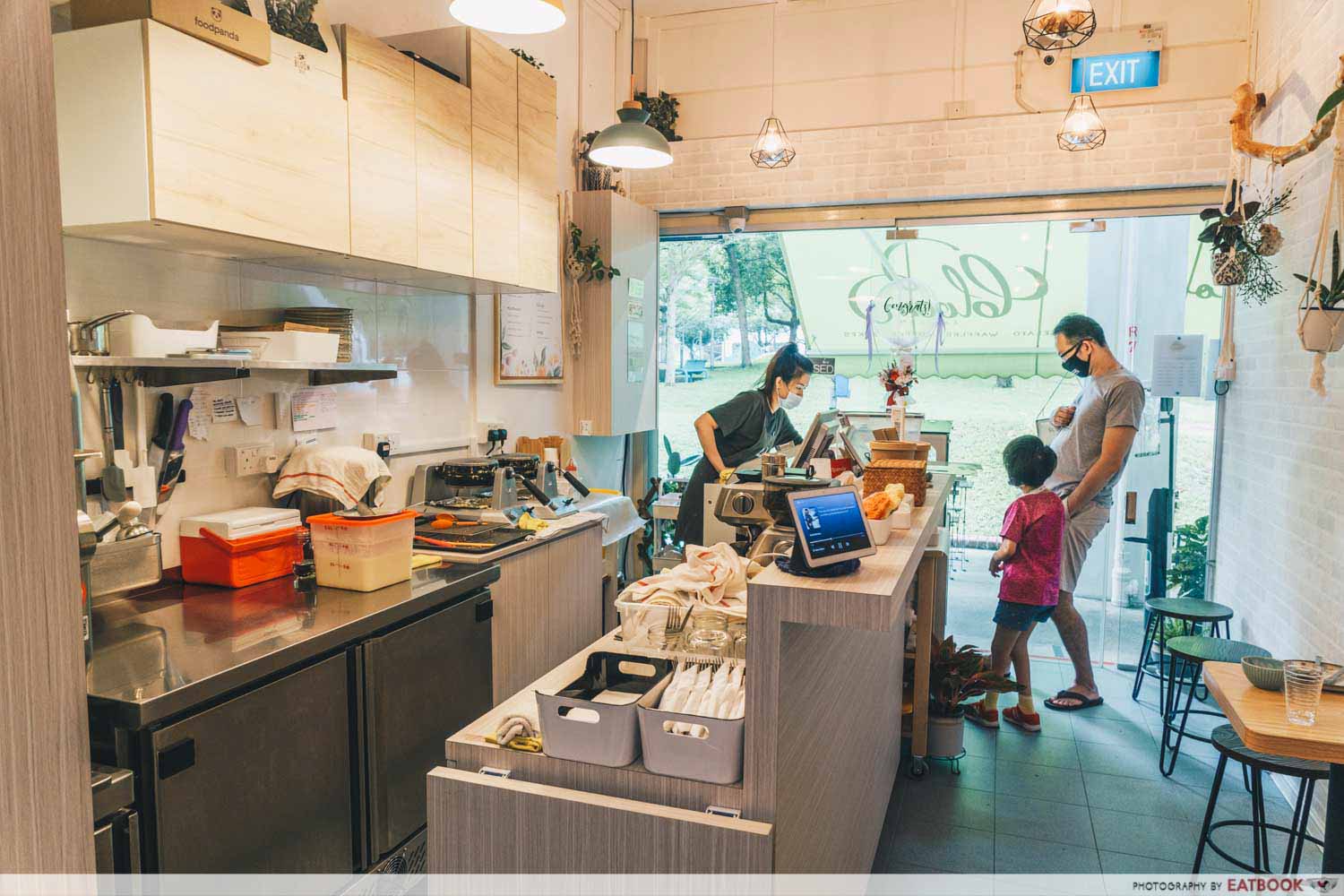 Bloom Artisan is a 10 to 15-minute walk from Yishun MRT Station, which may be slightly inaccessible for non-Northies. A huge part of the Bloom Artisan experience is the ambience. While the little cafe may be slightly cramped, the warm service of the staff is what breathes life into the cosy place. Simple decor and warm lighting also help build a relaxing atmosphere that is perfect for winding down with a nice dessert.
The verdict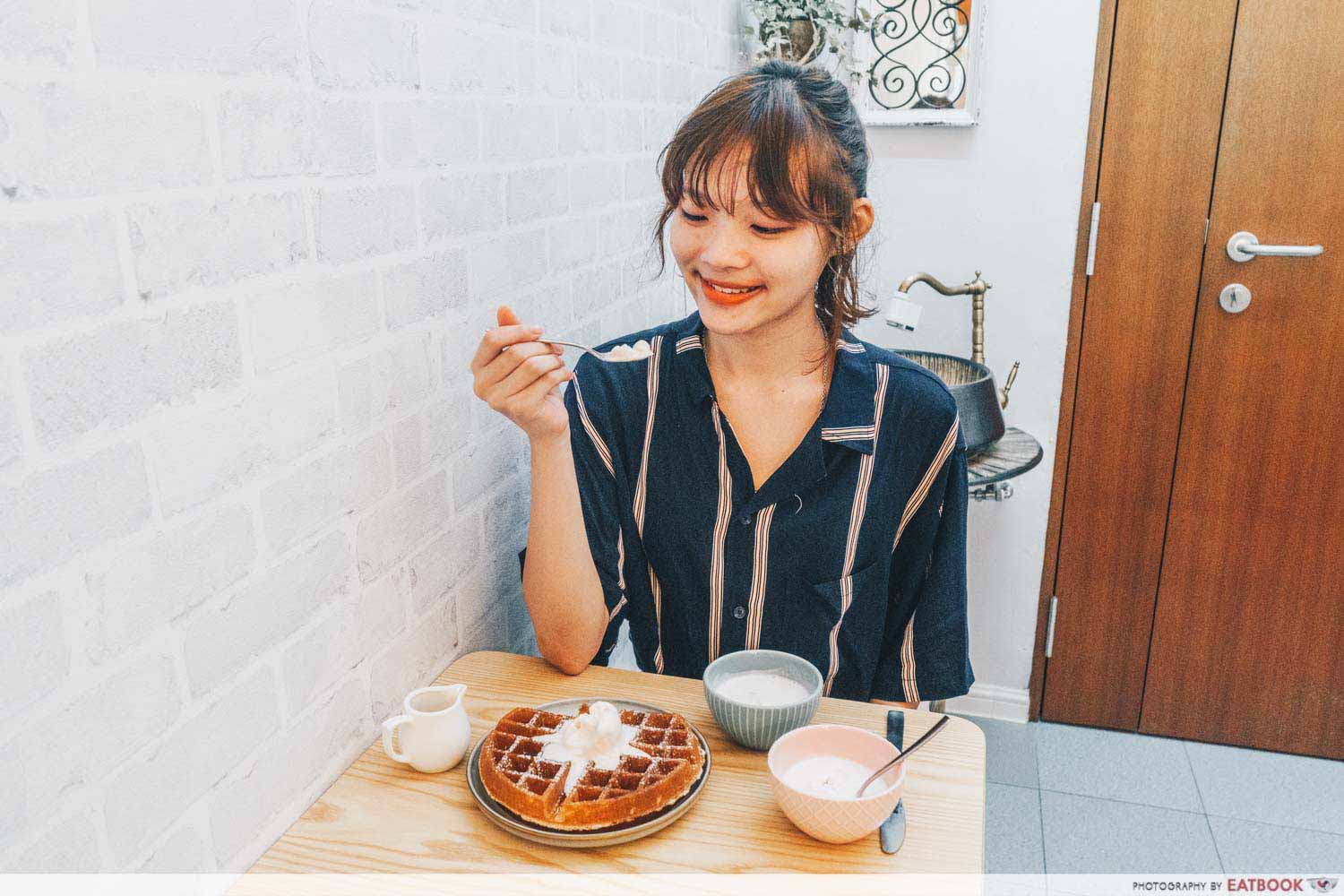 Bloom Artisan is home to adventurous flavours of gelato which taste just as creamy as they look. While these treats are rather indulgent, they are easy to finish without leaving you feeling jelak. I'll definitely be returning to try their other flavours of gelato and enjoy another warm plate of their tangy sourdough waffles.
For more places to get your fix of gelato, check out Denzy Gelato as well as Monarchs & Milkweed Gelato.
Monarchs & Milkweed Gelato Review: New Gelato Cafe With Unique Flavours By Ex-Fine Dining Pastry Chefs
Address: 645 Yishun Street 61, #01-322, Singapore 760645
Opening hours: Mon, Wed-Fri 12pm to 10pm, Sat-Sun 11am to 10pm
Tel: 9889 0366
Website
Bloom Artisan is not a halal-certified eatery.
Photos taken by Hay Thi.
This is an independent review by Eatbook.sg.
Summary
Pros
– Unique gelato flavours
– Gelato was rich
– Savoury sourdough waffles
Cons
– Small seating space
– Inaccessible location
Recommended dishes: Sourdough Waffle ($4), Strawberry Milk Gelato ($3.50), Whisky Crancherry Gelato ($4.20)
Opening hours: Mon, Wed-Fri 12pm to 10pm, Sat-Sun 11am to 10pm
Address: 645 Yishun Street 61, #01-322, Singapore 760645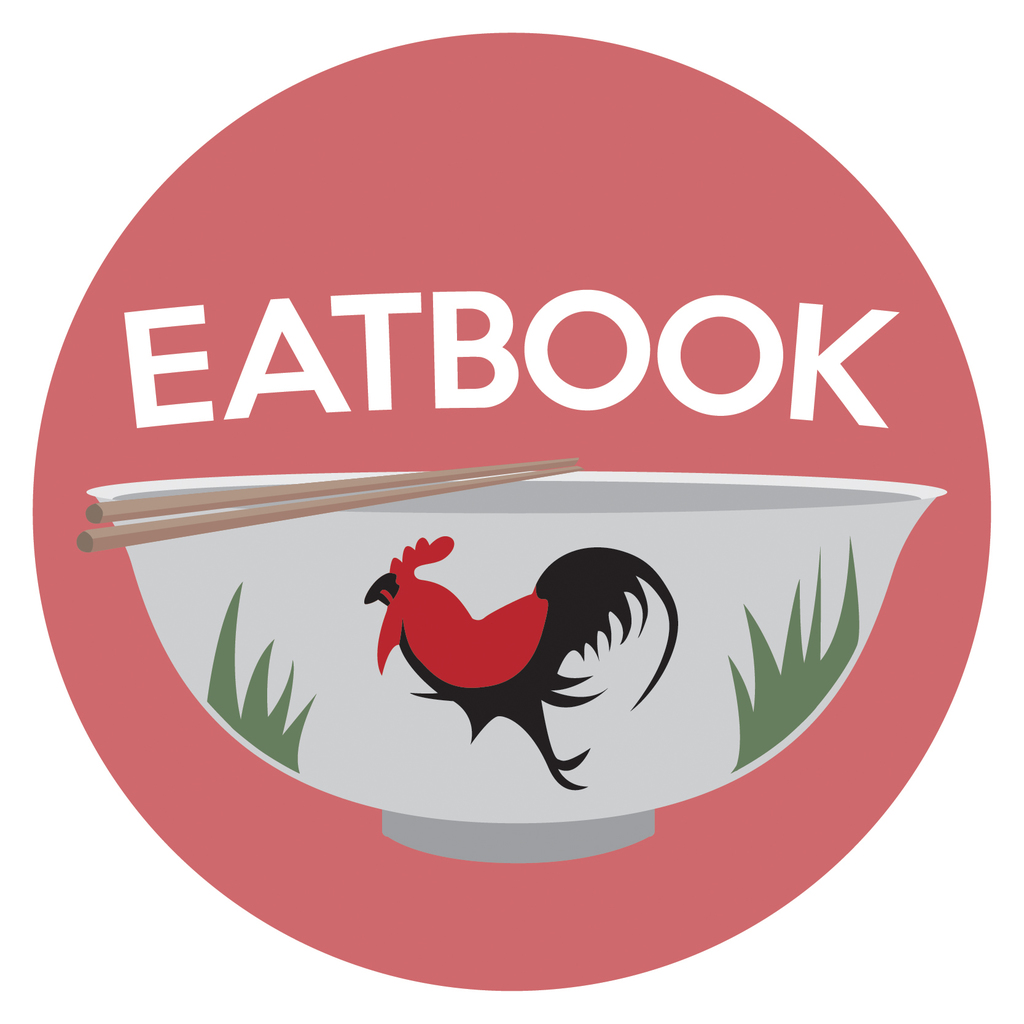 Drop us your email so you won't miss the latest news.