Head to Monarchs & Milkweed Gelato for fancy flavours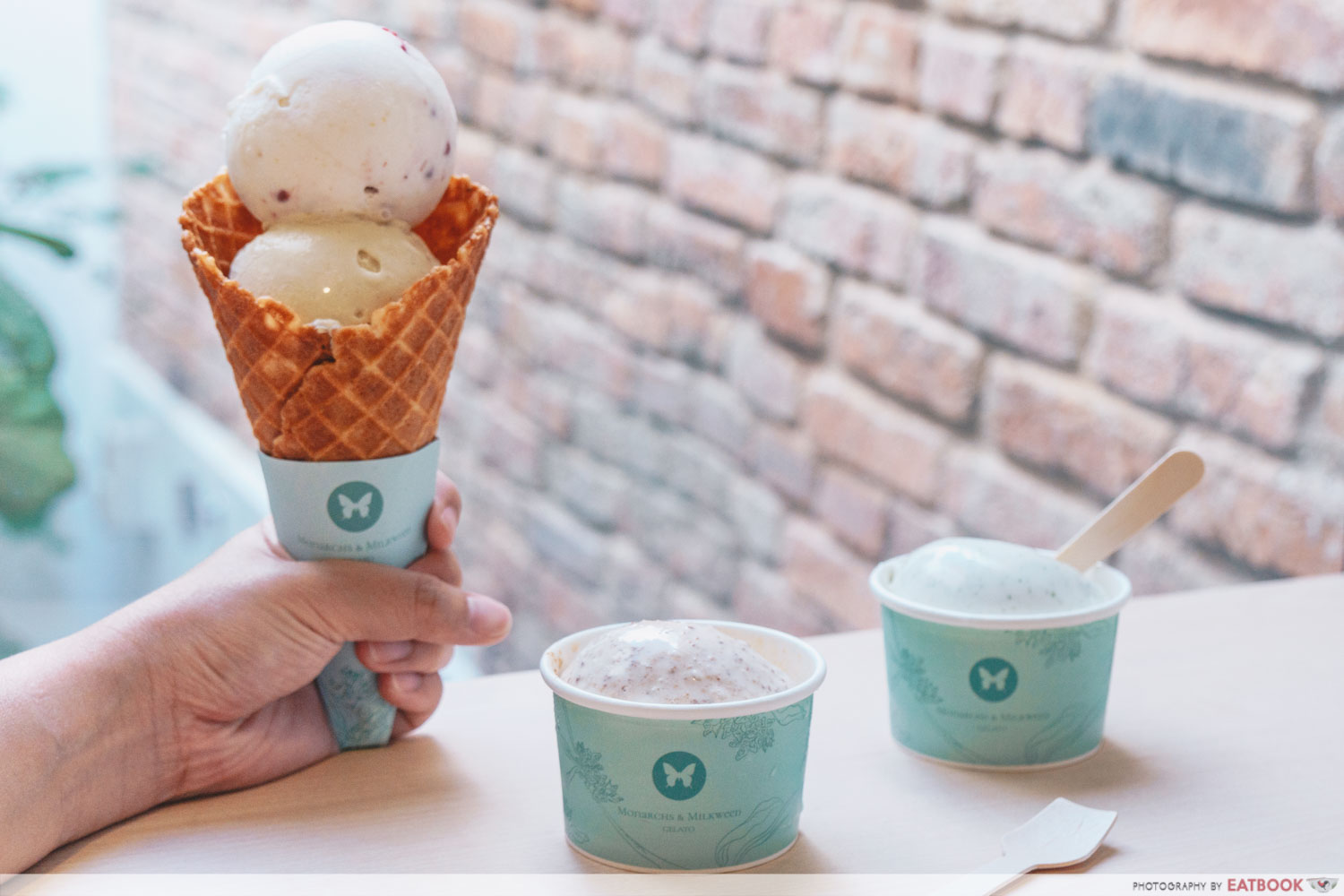 Singapore has had a bustling cafe scene for a long time, but lately, speciality stand-alone spots and artisanal coffee shops have been sprouting up as well. A new gelateria, Monarchs & Milkweed Gelato, is one of such little nooks to head to for some quality desserts.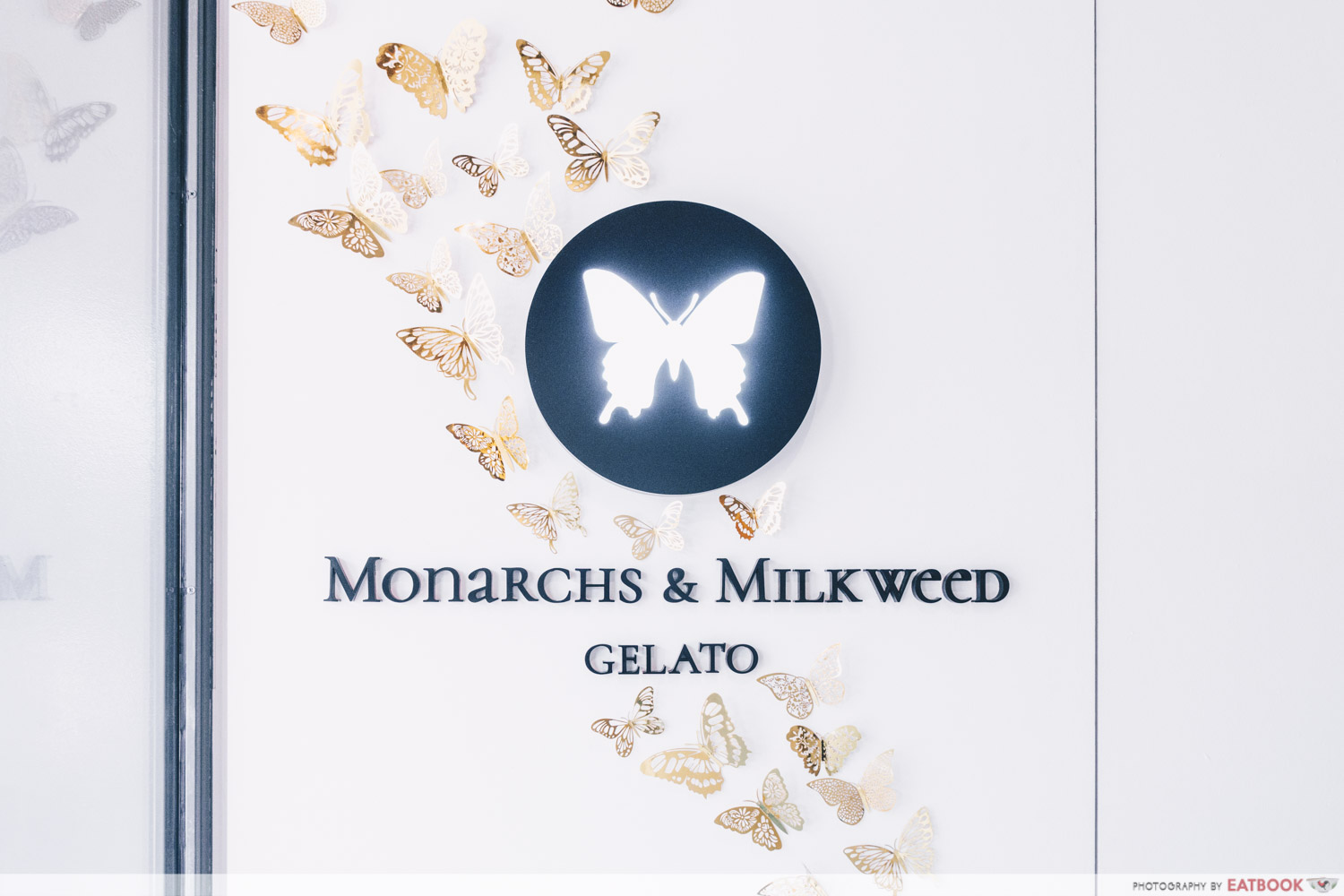 Having studied and worked in the culinary world, the pair of young business owners behind this cafe definitely subscribe to the "live to eat" instead of "eat to live" notion. Like how the monarch butterfly fails to survive without the milkweed plant, the duo also can't see themselves separate from the world of food.  This fervent passion translated into the opening of Monarchs & Milkweed Gelato. 
Food at Monarchs & Milkweed Gelato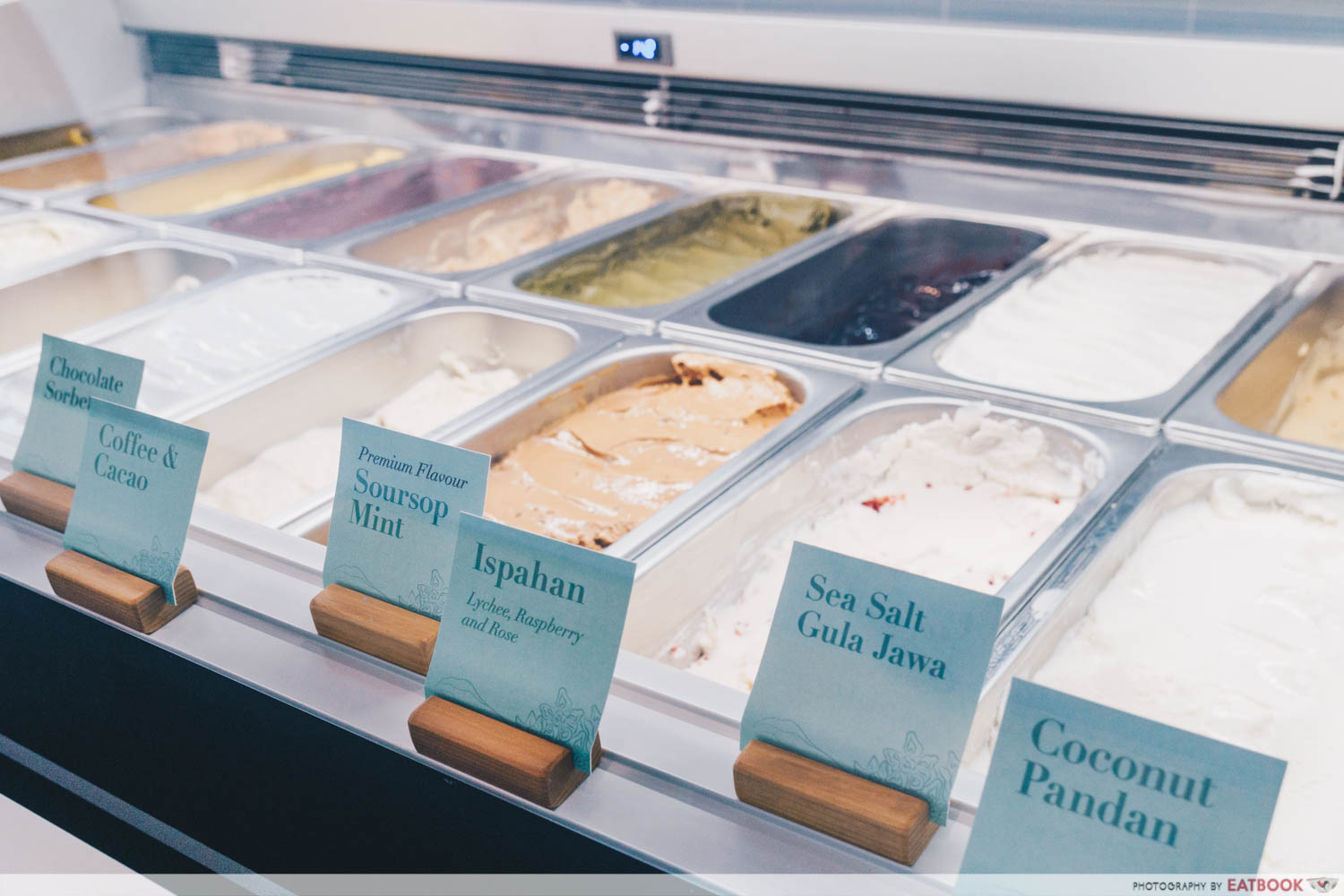 With a wealth of experience working at fine dining restaurants overseas as well as at Michelin-starred restaurant Cheek by Jowl in Singapore, the owners experiment with both classic flavours and one-of-a-kind creations such as Brown Butter Sage, Rhubarb Buttermilk, Sea Salt Gula Jawa and more.
Scream at the ice cream, because each single scoop goes for a hefty $4.90 with the double scoop going for $8. You will also have to add $1 more for premium flavours, and another $1 if you're having it in a cone. These cones are definitely worth the extra dollar as they are made in-house daily and spiked with aromatic French butter. 
Denzy Gelato Review: Ice Cream Cafe With Unique Flavours Such As Saffron At Bishan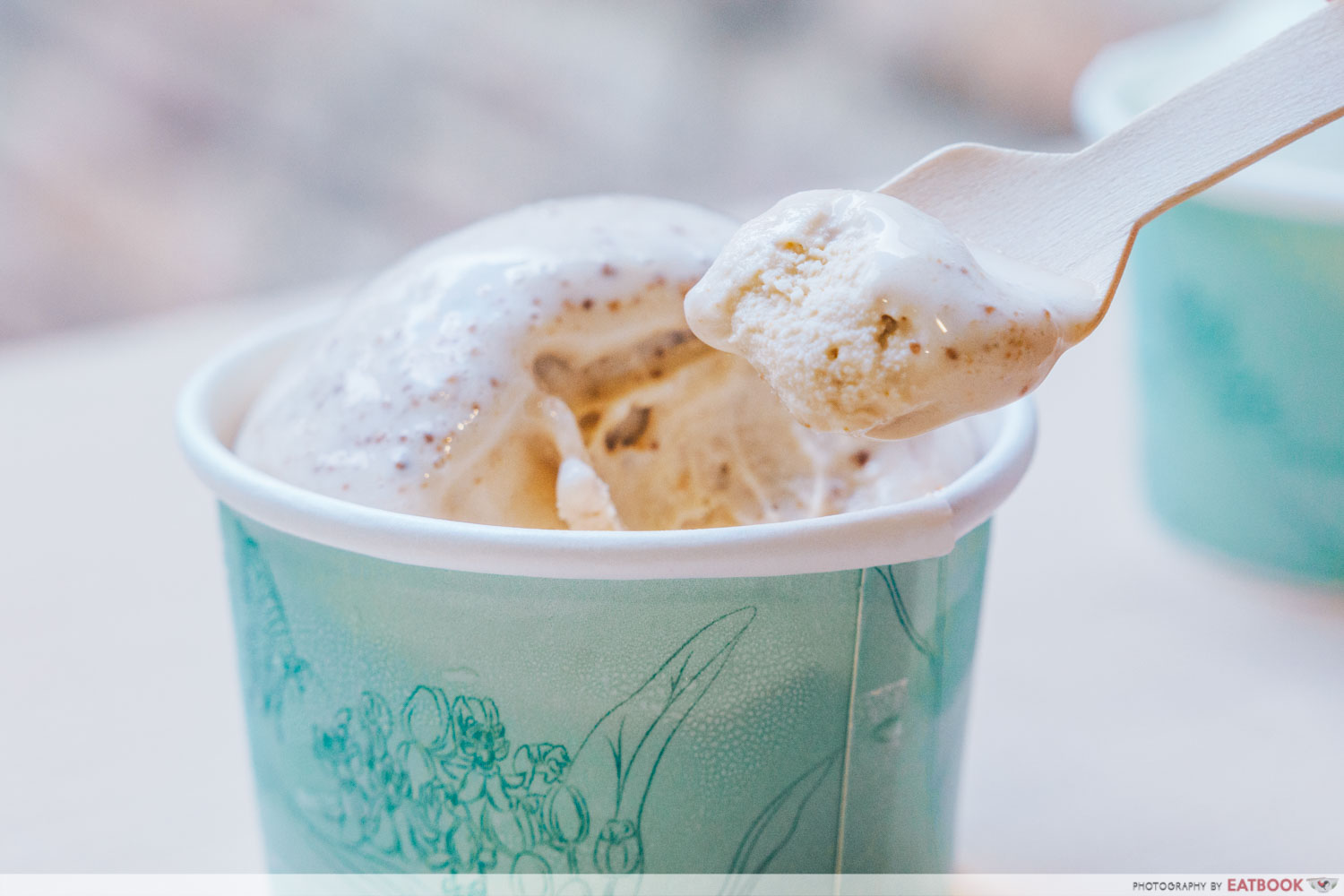 Rarely do I stray away from ordering my favourite flavour of Pistachio right off the bat, but with interesting flavours such as Burnt White Chocolate, I really couldn't help it.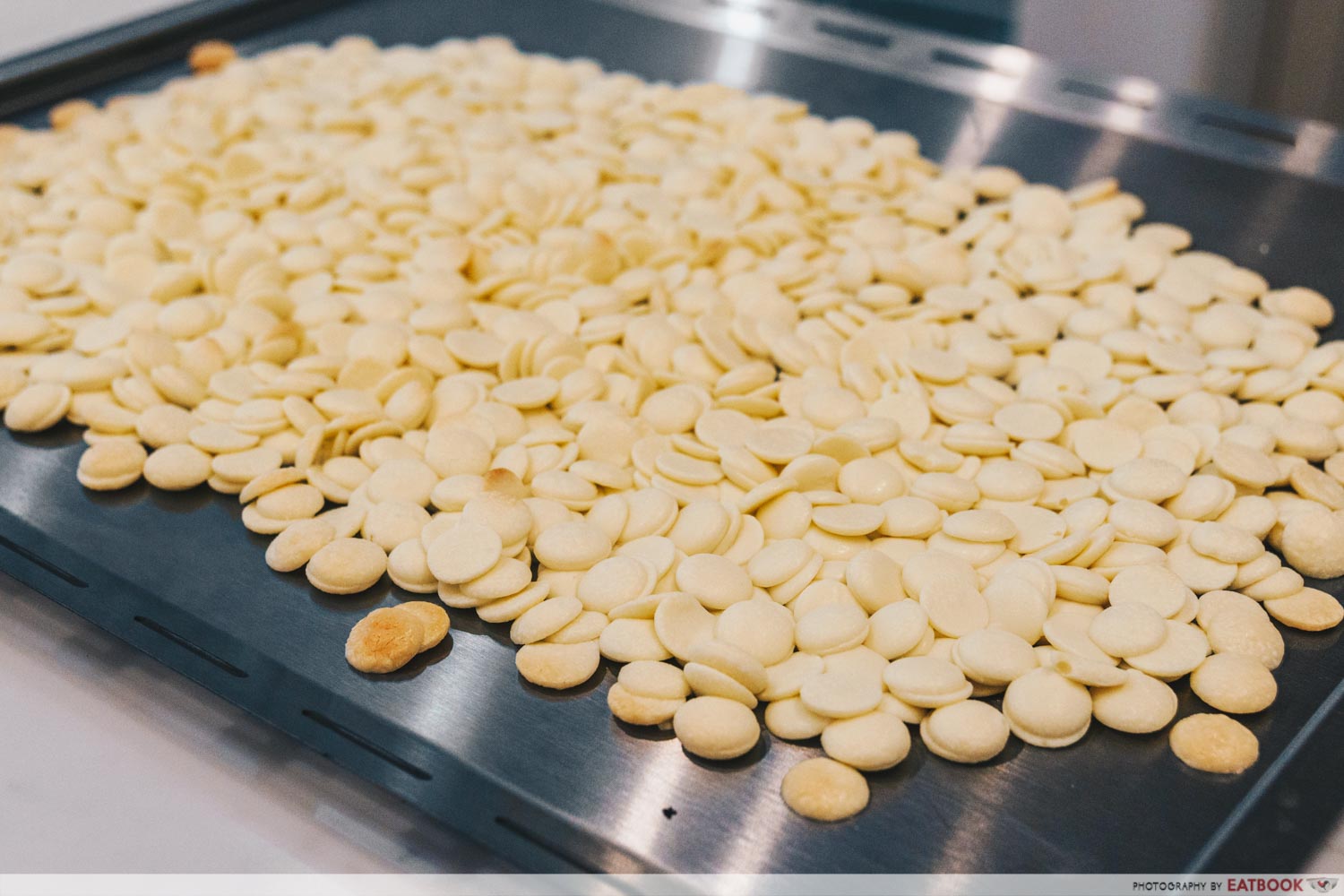 We got to witness the making of the Burnt White Chocolate flavour from scratch. A tray of white chocolate buttons are placed in the oven and removed at intervals for a good toss, making sure nothing gets overly charred. 
Each lick of this gelato boasts a purposefully sandy texture, similar to the overheated chocolate I once scorched in a microwave instead of a double boiler. The base reminds me of sweetened milk ice cream, pairing well with the bits of chocolate.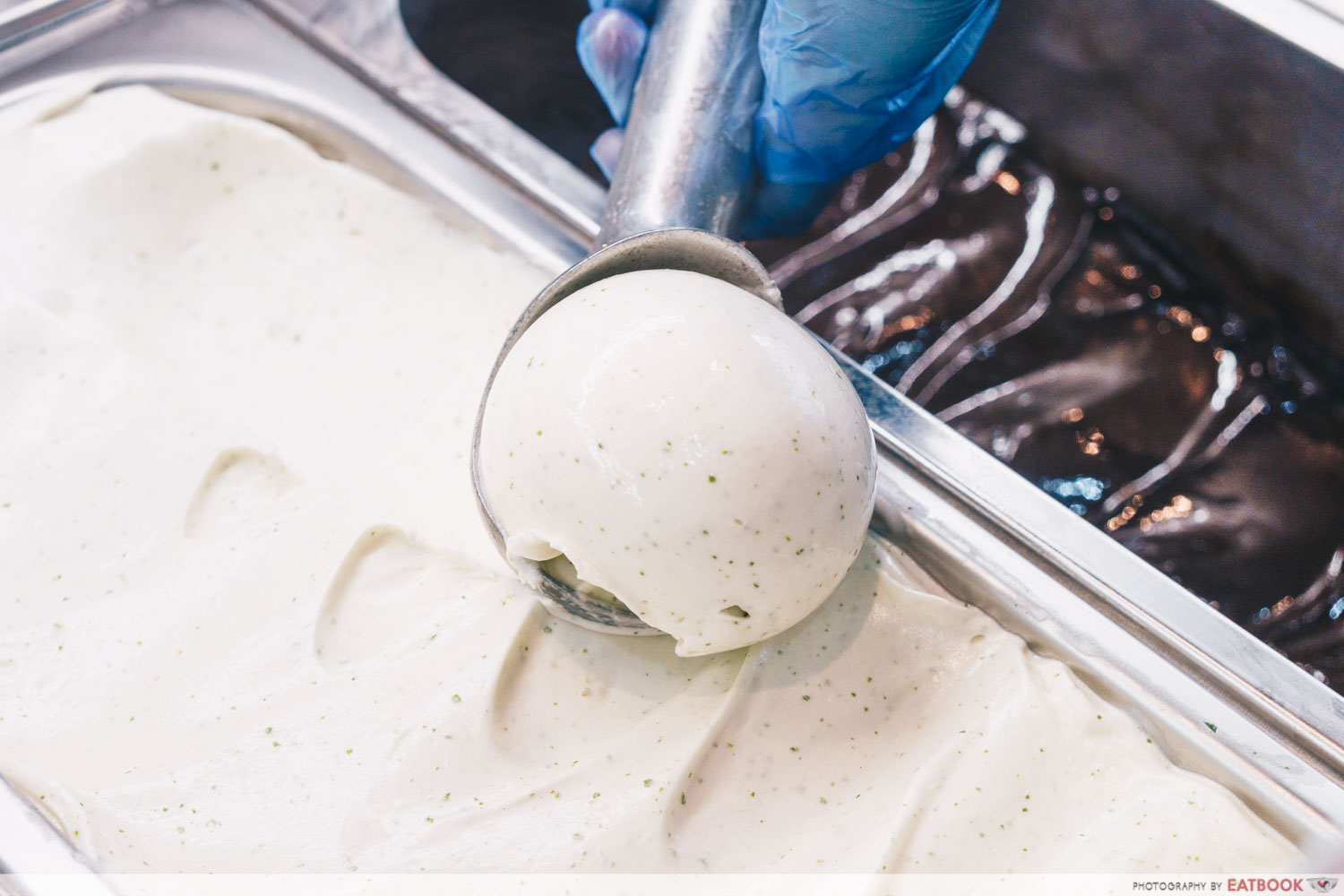 Those looking for a thirst-quenching flavour to beat the heat can opt for the Soursop Mint. It is satisfyingly fruity with a slightly sour citrusy note. Relish in the refreshing pops of mint, which give the gelato a complexity that goes beyond what's expected of most confections. 
There is also a naturally creamy texture from the use of real soursop, something unattainable with store-bought or factory-made gelato. I was unfortunately not a fan of it, as I am more used to an icier finish for my cold treats.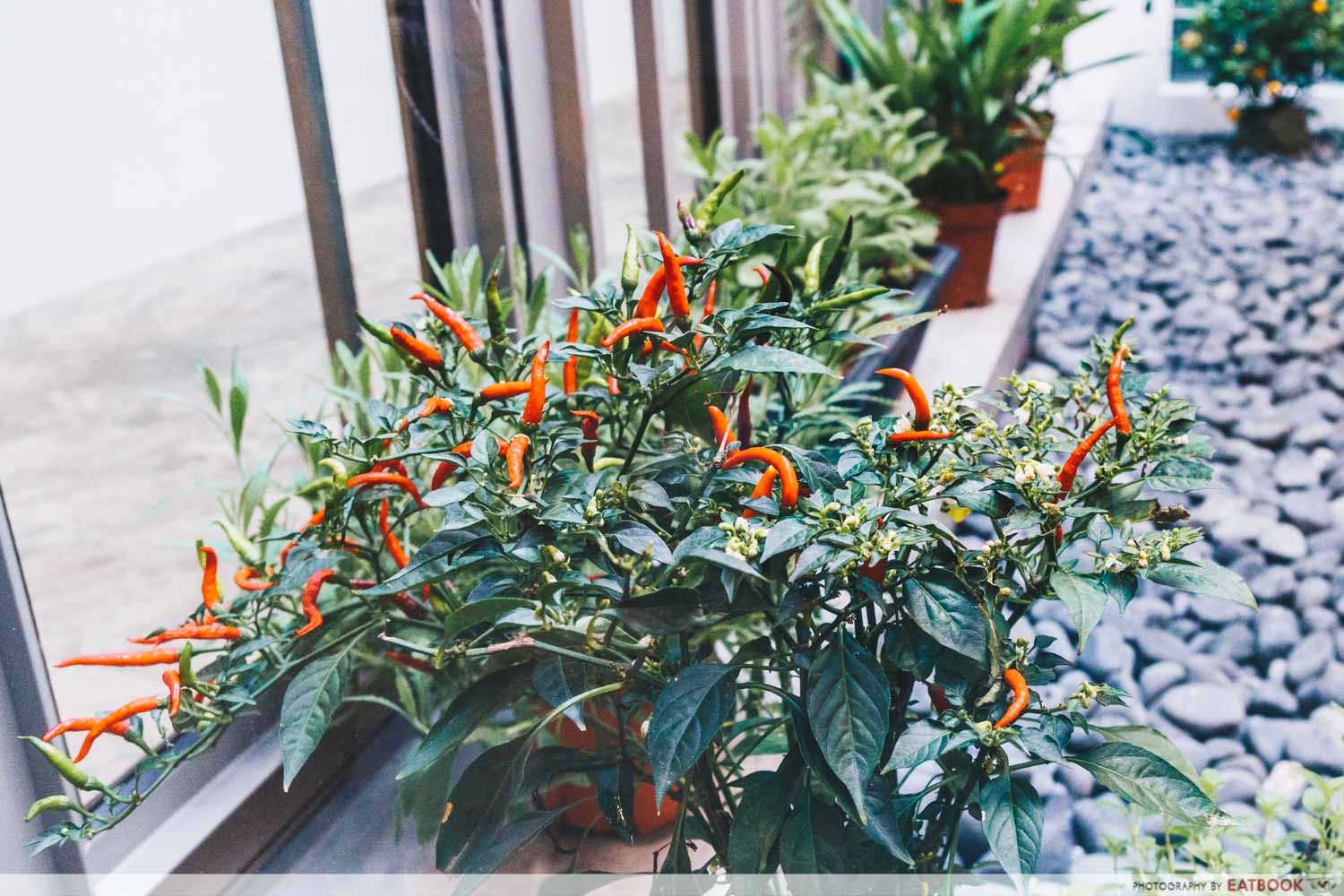 I eyed a mini garden in the middle of the shop which had potted plants featuring mint, pandan, and even chillies. After poking around, I found out a little-known fact that you might be interested in: the owners are actually working towards growing their own ingredients from the mini garden!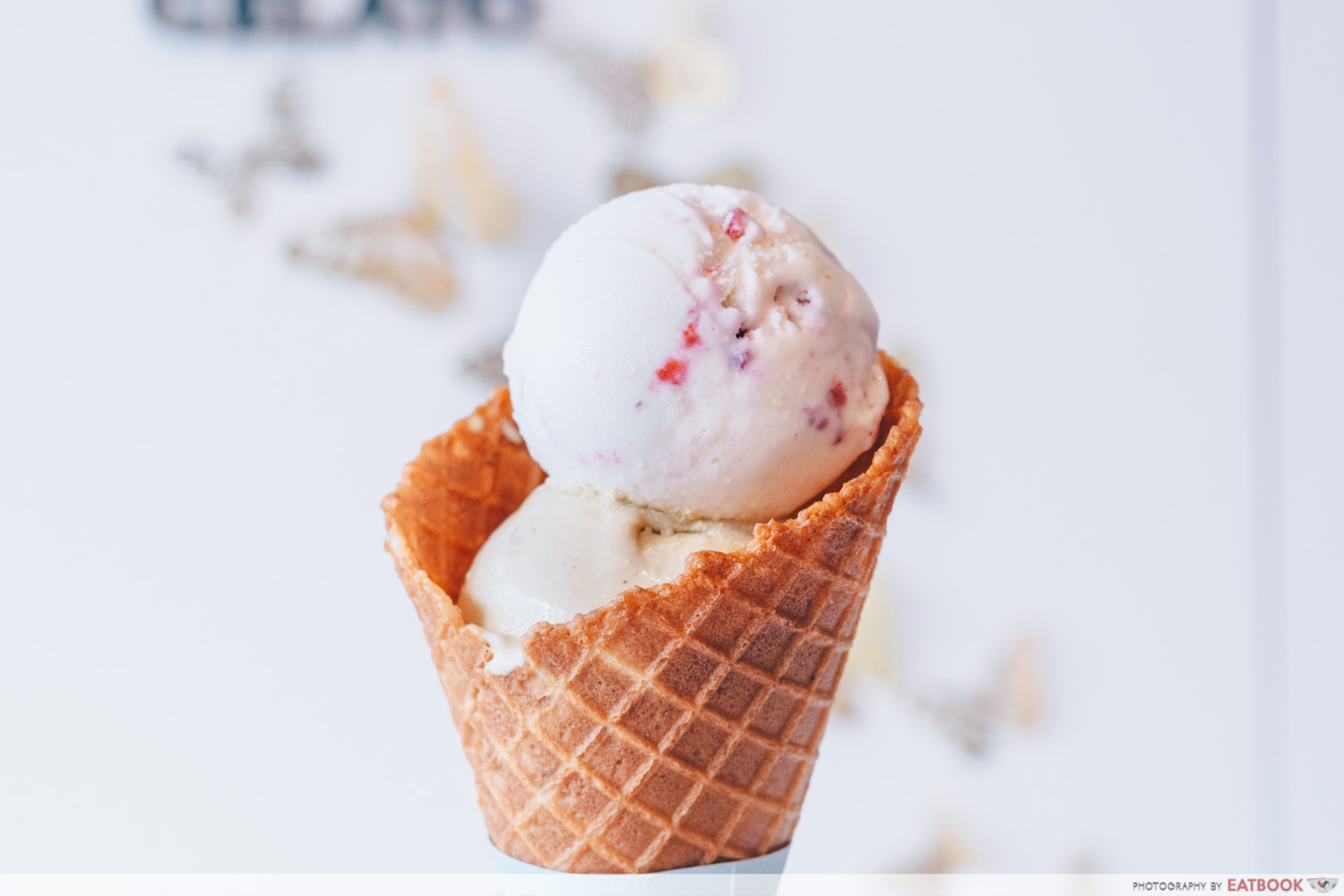 Another flavour that had me at "hello" was Ispahan, which is inspired by one of the owner's culinary school project on the famous Pierre Hermé Ispahan macaron. Just like the French meringue cookie in question, the gelato drew us in with the indefectible combination of rose, lychee, and raspberry.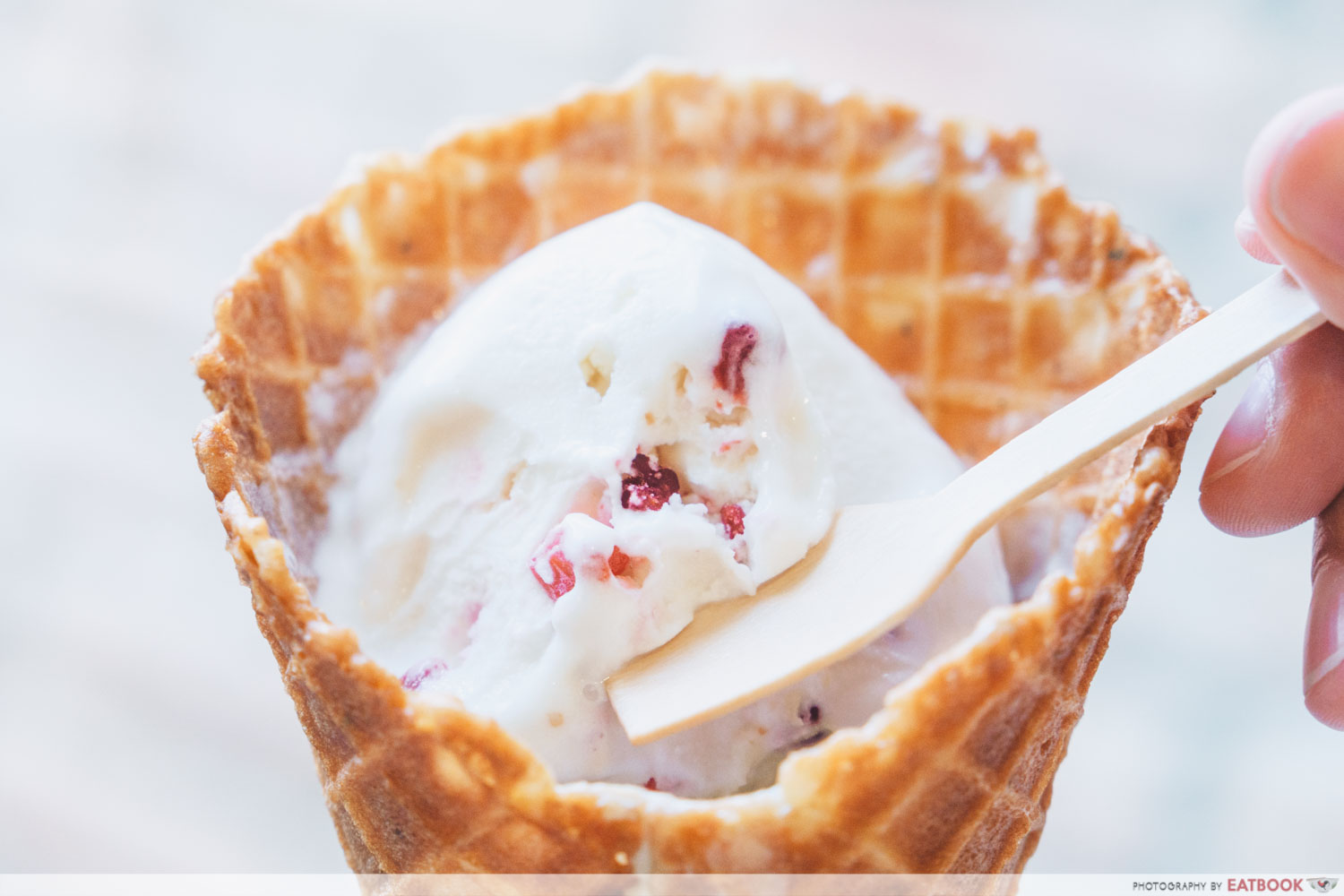 Imagine tart bites of raspberry bits, tempered by the floral sweetness of lychee and faint hints of rose—it is an exotic yet mellow flavour, great for a light after-dinner indulgence. This became a personal favourite, which was surprising, as rarely do I pick a flavour above my all-time fave, Pistachio.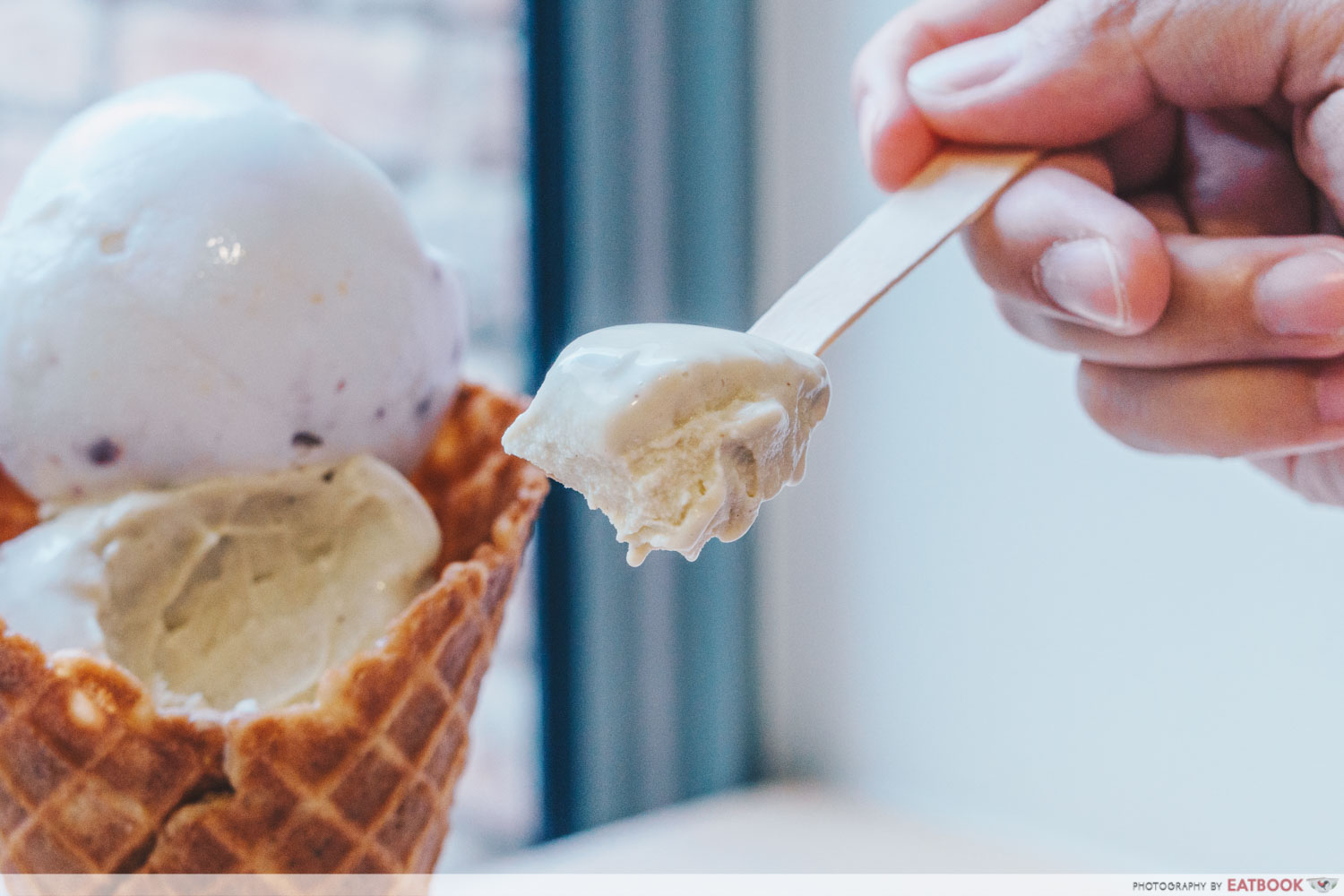 The Pistachio gelato was smooth and had a beautifully dense consistency, but it wasn't as robustly flavoured as the ones I've tried elsewhere. The taste of the cream was stronger than the taste of the roasted fragrance of pistachio, throwing each spoonful off-kilter. 
Ambience at Monarchs & Milkweed Gelato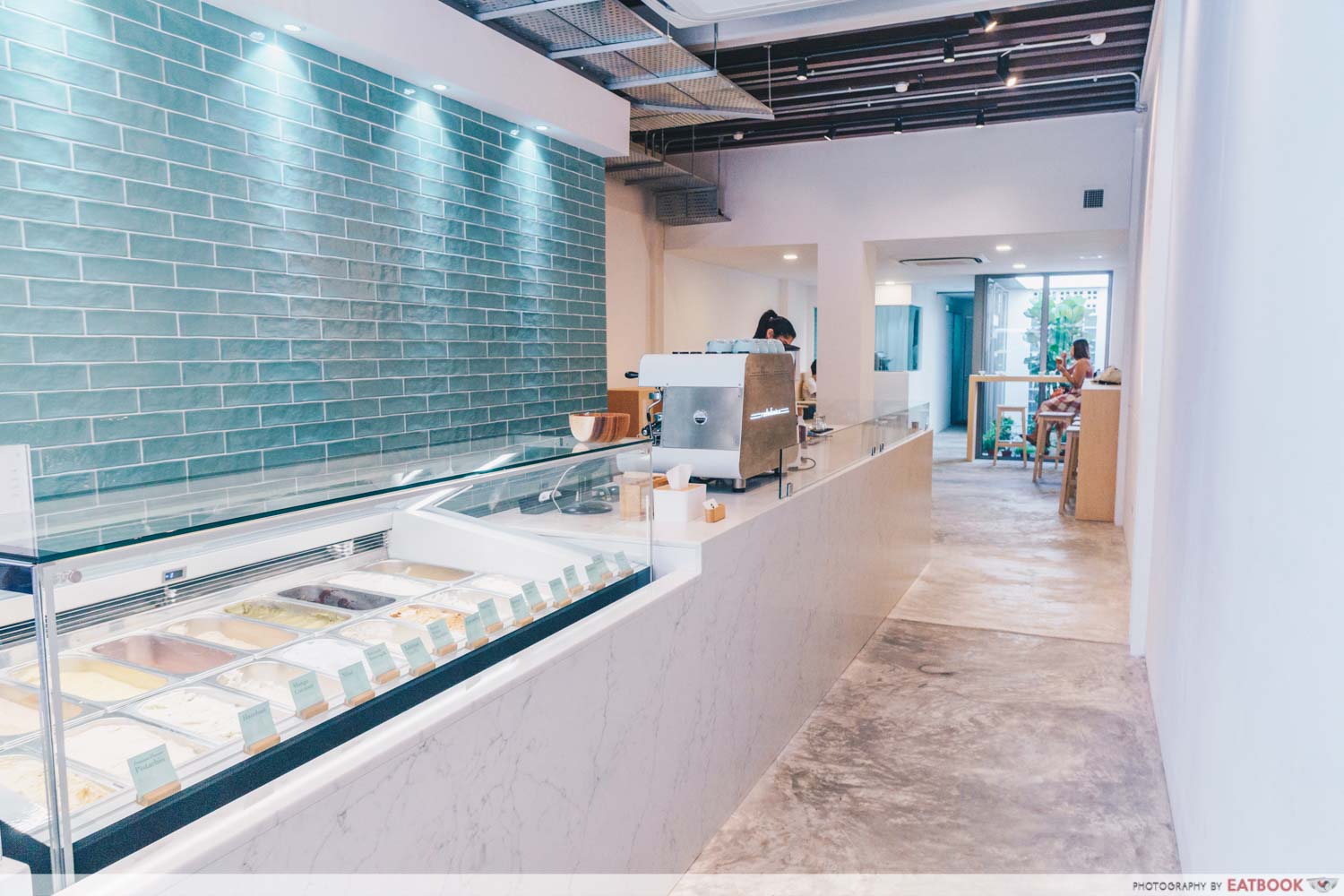 The gelateria sports a run-of-the-mill, exposed concrete flooring and white-walled interior. The ambience is a pale contrast compared to the intricately designed Monarchs & Milkweed Gelato logo at the storefront. 
The small entrance might signal a lack of seats, but to our surprise, the space actually extends all the way to the back with ample space for those who are looking to sit and enjoy their treats. 
The verdict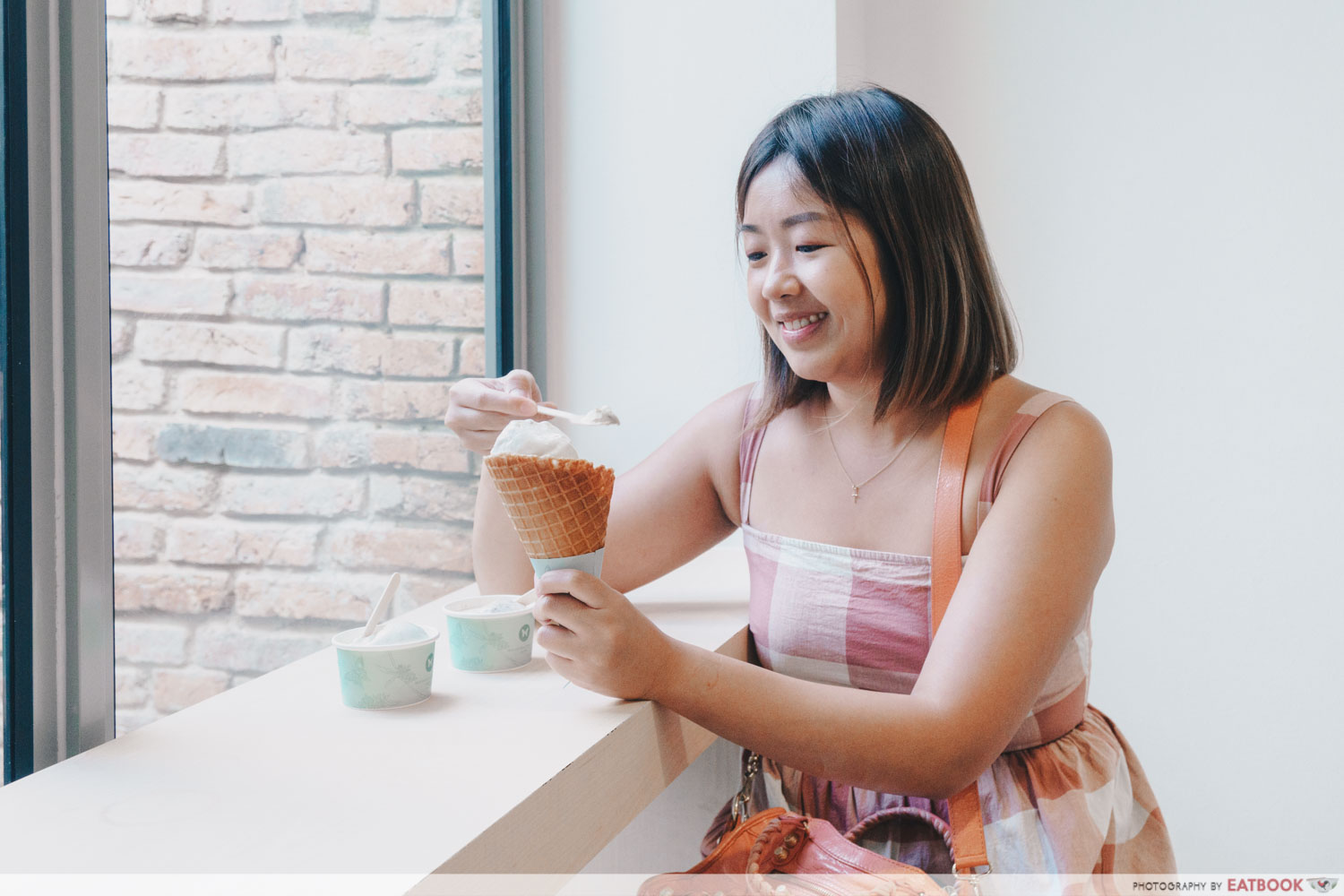 As a big fan of all frozen desserts, I can say I appreciate the novelty Monarchs & Milkweed Gelato brings with their one-of-a-kind flavours. The prices here don't cost you an arm or a leg, but they are definitely on the higher end of the spectrum for desserts. That being said, you can trust me to return when payday rolls by, or when I have a date to impress. 
If you're looking for more desserts, here is a list of the best dessert places in Singapore for Eatbook's annual Top 50 Awards 2019!
10 Best Desserts In Singapore For Ice-Cream, Brûlée French Toast, And Beautiful Eclairs – Eatbook Top 50 Awards 2019
Address: 802 North Bridge Road, #01-01, Singapore 198770
Opening hours: Tues-Sun 12pm to 10pm
Website
Monarchs & Milkweed Gelato is not a halal-certified eatery.
Photos taken by Chng Jia Yan.
This is an independent review by Eatbook.sg.
Monarchs & Milkweed Gelato
Summary
Pros
– Unique flavours
– Most ingredients made from scratch
Cons
– Pricey
– Some flavours were a miss
Recommended flavours: Ispahan, Burnt White Chocolate
Opening hours: Tues-Sun 12pm to 10pm
Address: 802 North Bridge Road, #01-01, Singapore 198770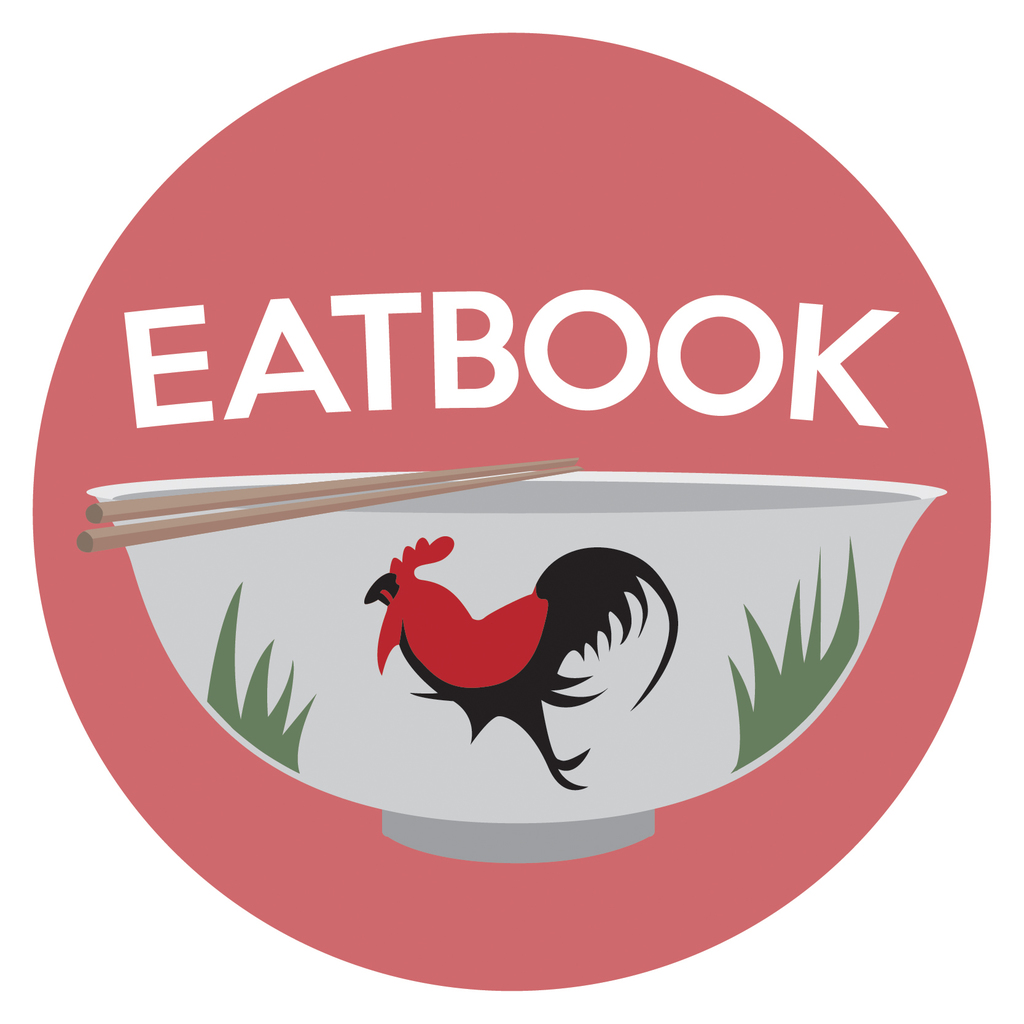 Drop us your email so you won't miss the latest news.