---
Best dessert places of 2019
---
Other than the usual festivities, the end of the year now also signals the time for the annual Eatbook Top 50 Awards. For the second year running, we are excited to present to you these 10 best dessert places in Singapore where you can have a sweet and satisfying after-dinner indulgence. Covering both the heartlands and town, here are some treats we recommend dessert lovers to check out ASAP!
50 Best Food Places In Singapore For All Budgets – Eatbook Top 50 Awards 2019
---
For desserts on a budget (<$5)
---
1. Denzy Gelato
---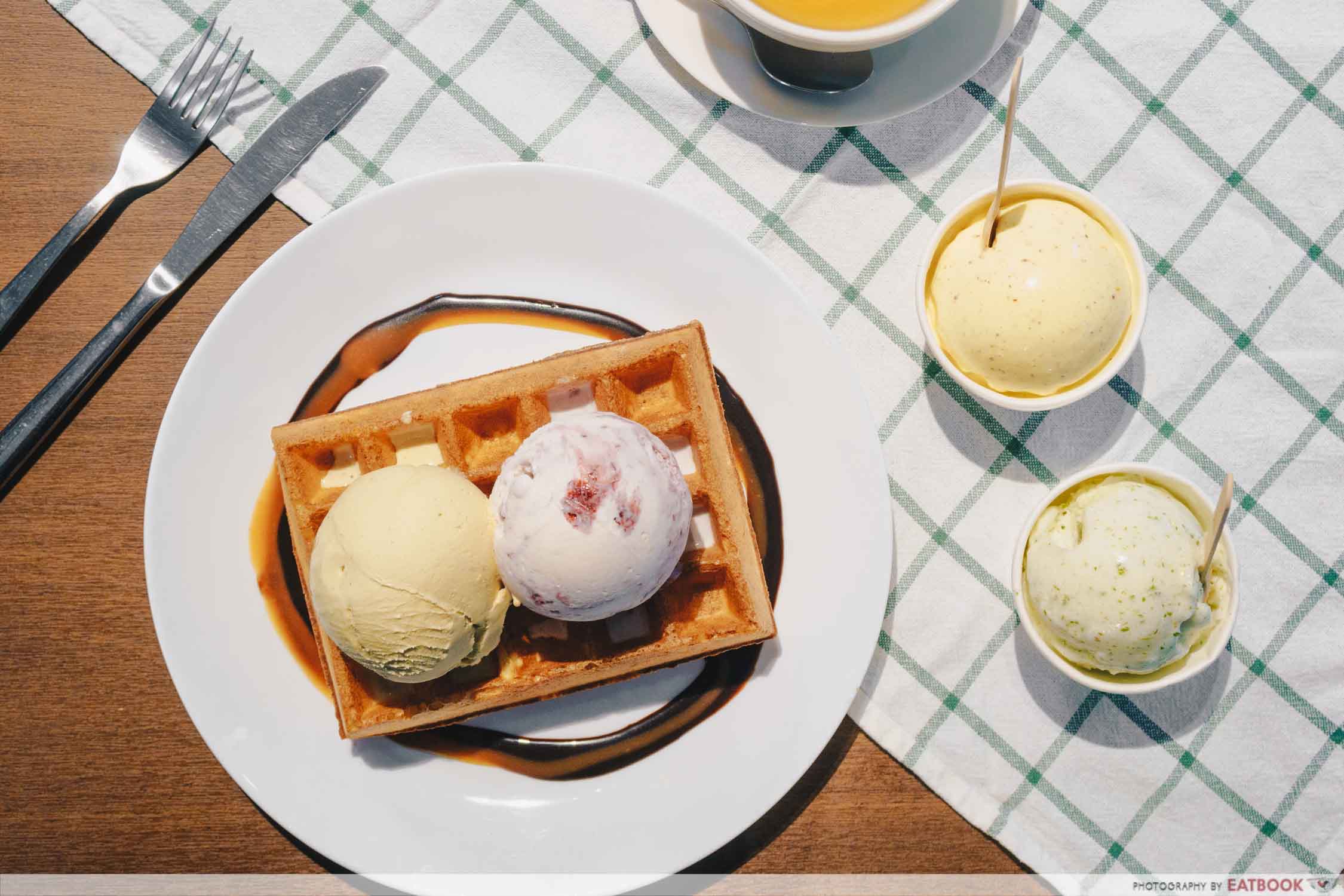 Located in a bustling HDB estate, Denzy Gelato boasts a unique array of gelato, including the saffron-flavoured Persian Prince, Ruby Chocolate & Raspberries, and Pear, Ginger, and Ginger Flower which was awarded the best flavour at this year's Singapore Gelato Championship. Another must-try is the Roasted Pistachio gelato. Relish in its strong nuttiness which has been intensified with a light toast, before being stone-ground for 10 hours. 
Prices here start from $3.60 for a single scoop and $6.40 for a double. Those going for their premium flavours will have to add an extra $1.
Check out our full review of Denzy Gelato!
Denzy Gelato Review: Ice Cream Cafe With Unique Flavours Such As Saffron At Bishan
Address: 506 Bishan Street 11, #01-404, Singapore 570506
Opening hours: Daily 11:30am to 10:30pm
Website
Denzy Gelato is not a halal-certified eatery.
---
2. KURA
---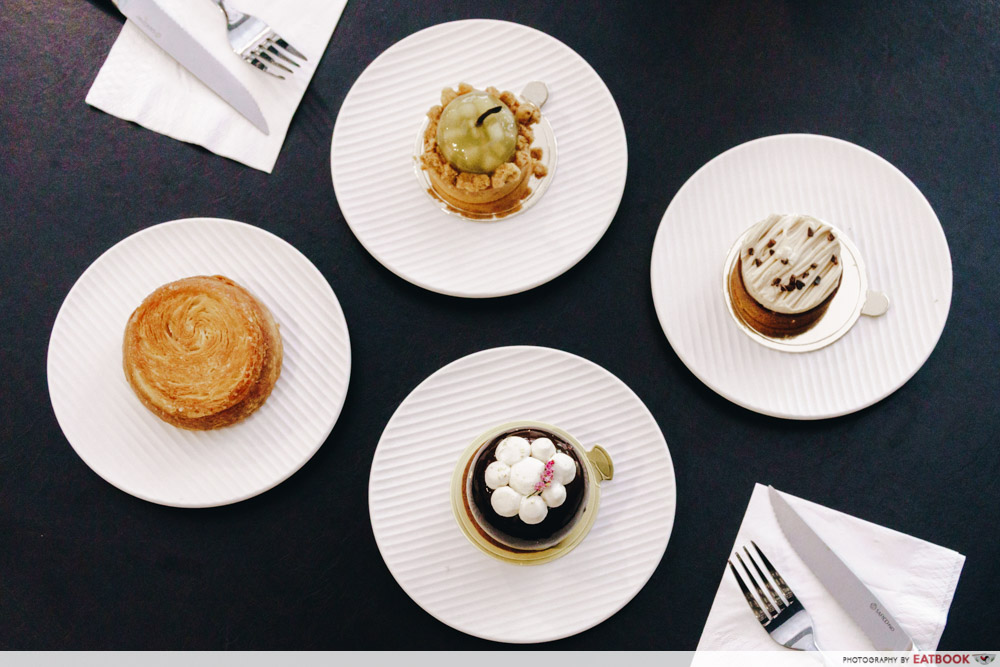 With an ex-Tiong Bahru Bakery Baker and ex-hotel chef working their magic in the kitchen, KURA is a new dessert cafe to keep tabs on. Spending on these little plated desserts doesn't always have to break the bank. 
The pastries here are affordably priced from $4 for their Earl Grey Tart and Apple Almond Tart. The former is heavier on flavour. It is nutty, chocolatey, and spiked with notes of chai and bergamot. The latter on the other hand has a fruity green apple flavour taking centre stage, tempered by a subtle almond cream in the middle. 
Check out our full review of KURA! 
KURA Review: Affordable And Pretty Pastries By Ex-Tiong Bahru Bakery And Hotel Chefs
Address: 46 Kim Yam Road, #01-07, The Herencia, Singapore 239351
Opening hours: Mon 9am to 5:30pm, Tue-Fri 9am to 6:30pm, Sat-Sun 10:30am to 5:30pm
Website
KURA is not a halal-certified eatery.
---
3. Petit Pain
---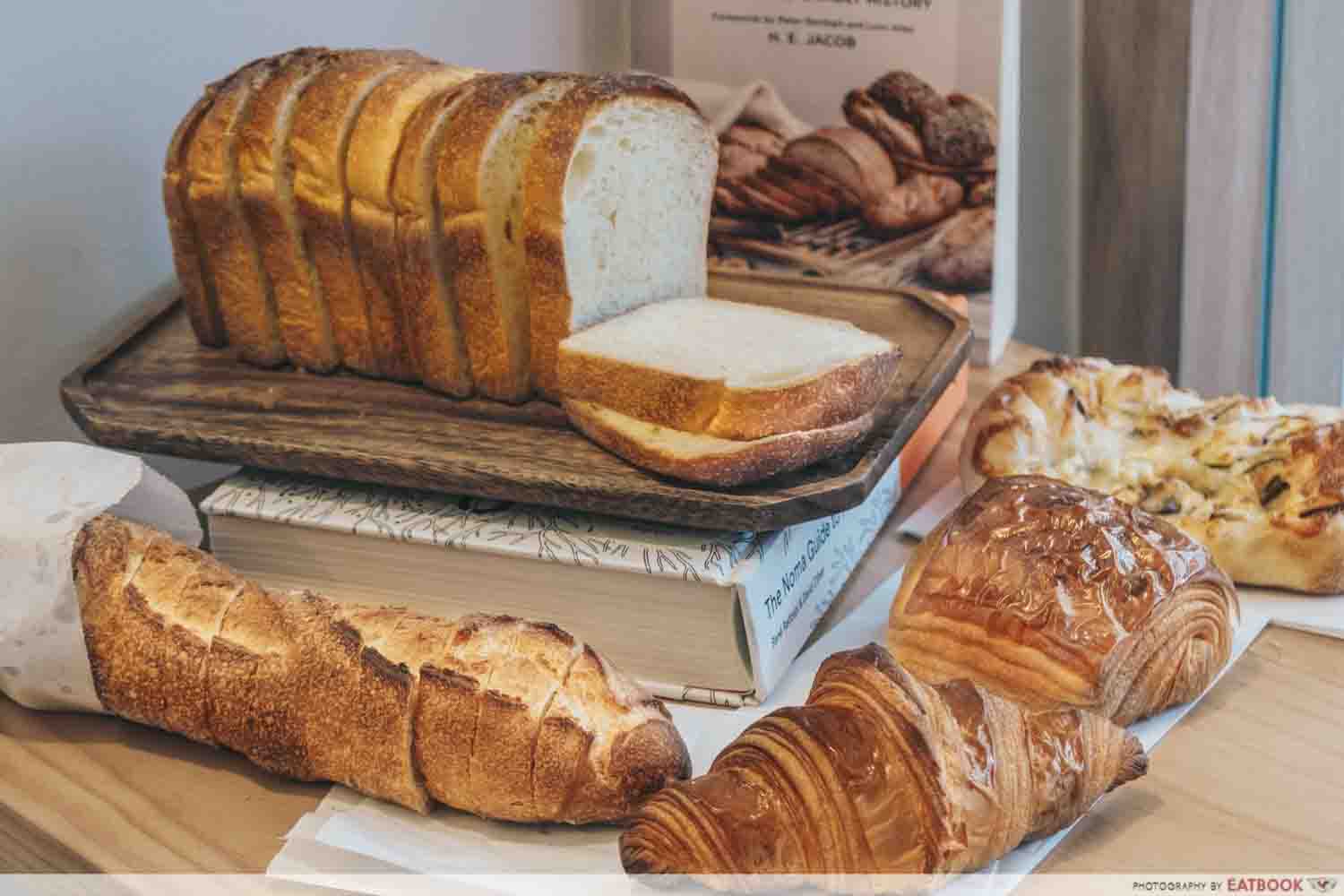 Go back to basics with simple bakes at Petit Pain. Opened by an ex-baker of Artisan Boulangerie Co., this bakery at Joo Chiat sells out every single day thanks to online pre-orders and fervent customers waiting in line to snap up anything coming out of the oven. 
Sweet treats to get your hands on include their Pain Au Chocolat ($3.50), which hides two strips of dark chocolate within its buttery croissant layers, lending a bittersweet boost of flavour in each bite. If you're looking for something sweeter, order their Apple Danish ($3.80), Orange Chocolate Escargot ($3.80), or Raisin Escargot ($3.60) instead.
Check out our full review of Petit Pain!
Petit Pain Review: Queue-Worthy Croissants At Joo Chiat By An Ex-Artisan Boulangerie Co. Baker
Address: 315 Joo Chiat Road Singapore 427566
Opening hours: Tue-Thurs 11am to 5pm, Fri 11am to 7pm, Sat-Sun 10am to 5pm, Closed every first Tuesday of the month
Website
Petit Pain is not a halal-certified eatery.
---
For desserts on payday (<$10)
---
4. Lee's Confectionery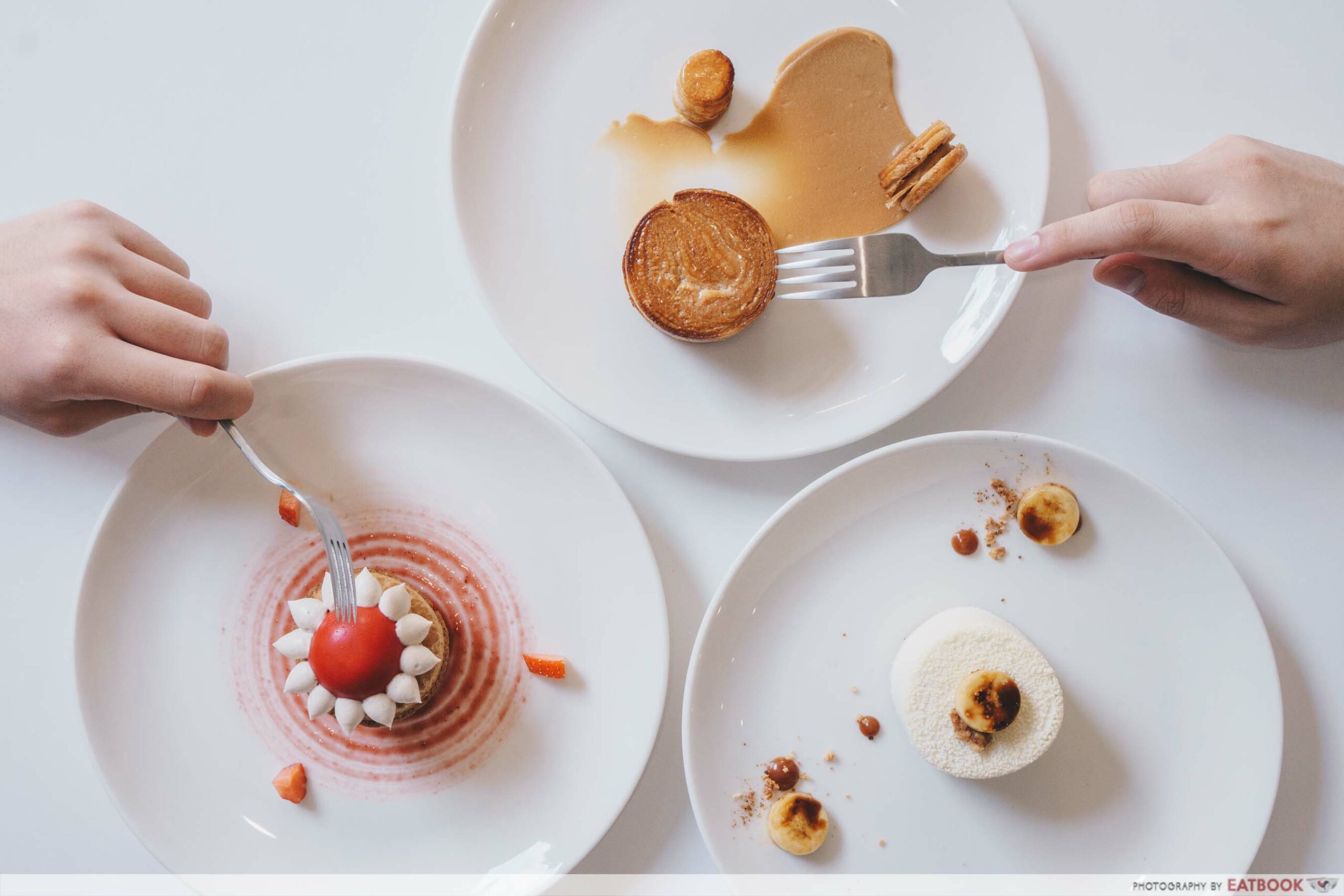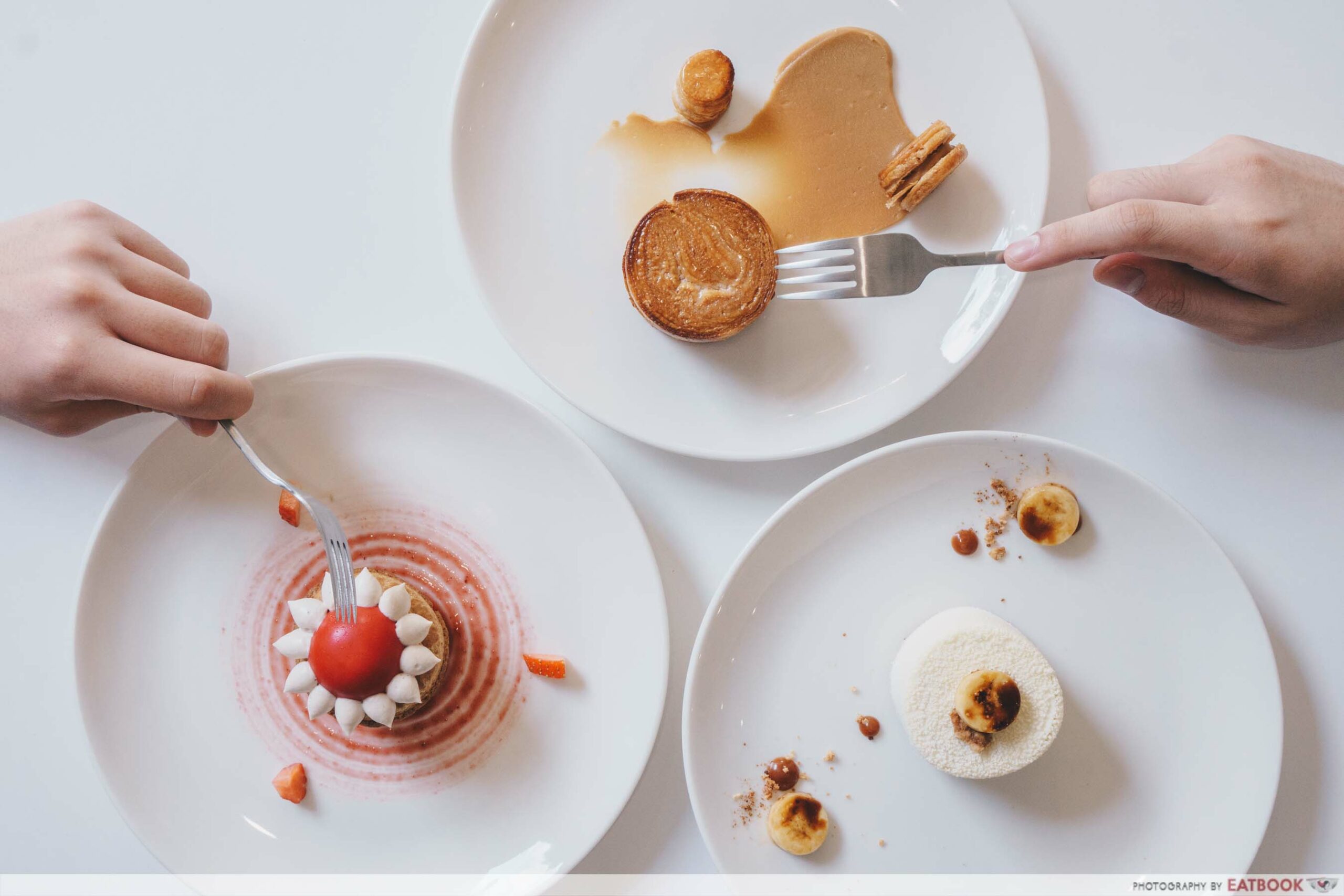 Lee's Confectionery is our pride and joy in the West. Helmed by a young man who went to Paris for two years to work under famed pâtissiers, this neighbourhood cafe in Jurong serves made-to-order plated desserts. From their taste to presentation, these pastries can easily rival those you find in town. 
At $8 a pop, Tart is an aptly named pastry which wastes no time in introducing itself. Your face will pucker a little as you savour the tangy lime cream and dense lime almond cake centre. Jiāo ($8) is another fruity option which hides a luscious banana compote and rich mascarpone within a wall of fluffy banana sponge cake.
Check out our full review of Lee's Confectionery!
Lee's Confectionery Review: Minimalist Jurong Cafe With Beautiful Desserts That Can Rival Janice Wong's
Address: 343 Jurong East Street 31, #01-59, Singapore 600343
Opening hours: Daily 10am to 10pm
Tel: 9183 8447
Website
Lee's Confectionery is not a halal-certified eatery.
---
5. Beverly Hills Cheesecake
---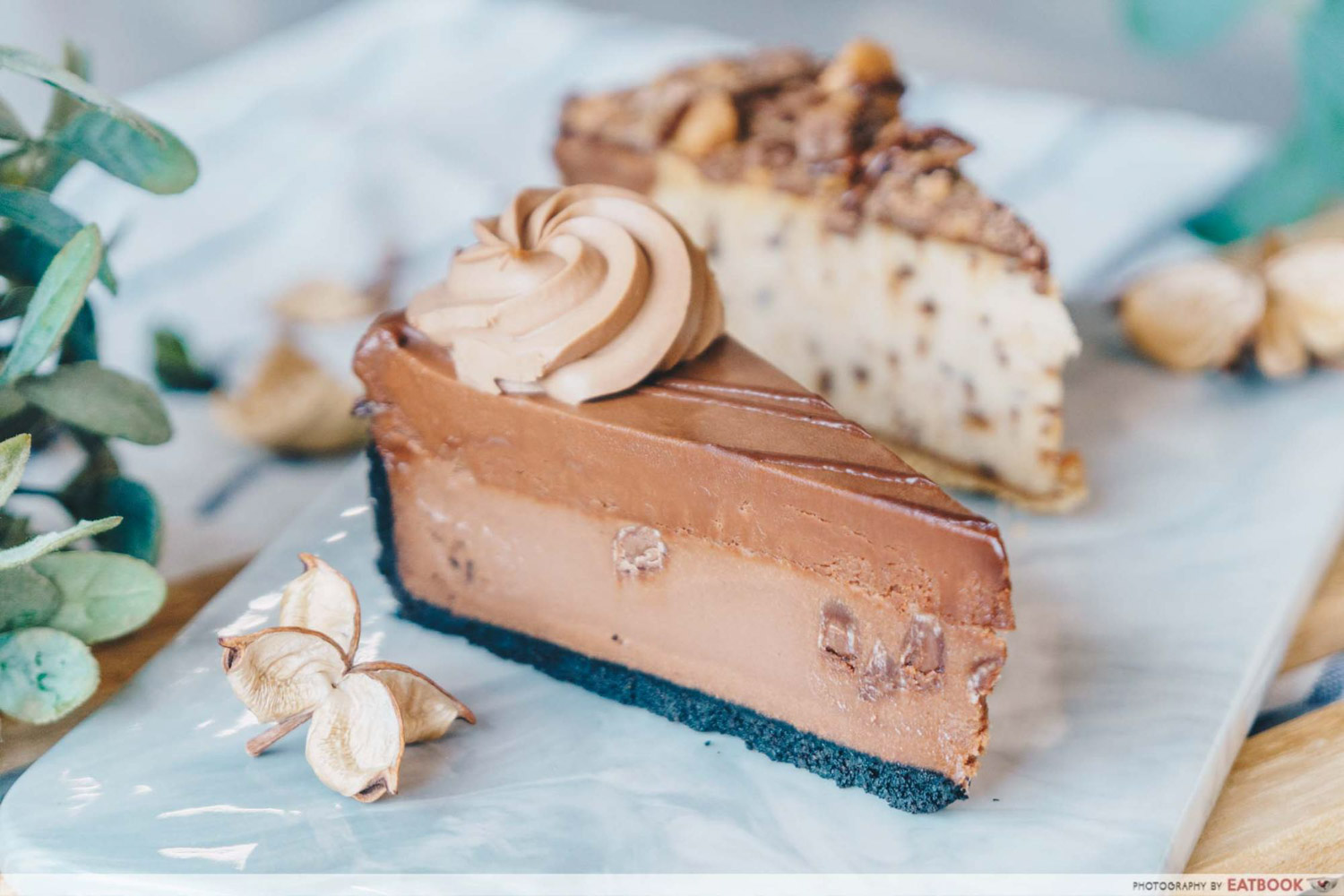 With the opening of Beverly Hills Cheesecake in Singapore, cheesecake fanatics no longer need to take a plane to the US for a slice from The Cheesecake Factory Bakery. This dessert kiosk offers the popular premade cheesecakes with flavours such as the Classic Cheesecake ($7.90 per slice), Reese's Peanut Butter Cheesecake ($10.90 per slice), Godiva Double Chocolate Cheesecake ($10.90 per slice) and more. These cakes definitely do not disappoint with their intense flavours and uber creamy texture.
Check out our full review of Beverly Hills Cheesecake!
Beverly Hills Cheesecake Review: Famous Cheesecake Factory's Desserts At City Hall
Address: 252 North Bridge Road, #B1-70, Raffles City Shopping Centre, Singapore 179103
Opening hours: Daily 10am to 10pm
Tel: 9723 2405
Website
Beverly Hills Cheesecake is a halal-certified eatery.
---
6. OLLELLA
---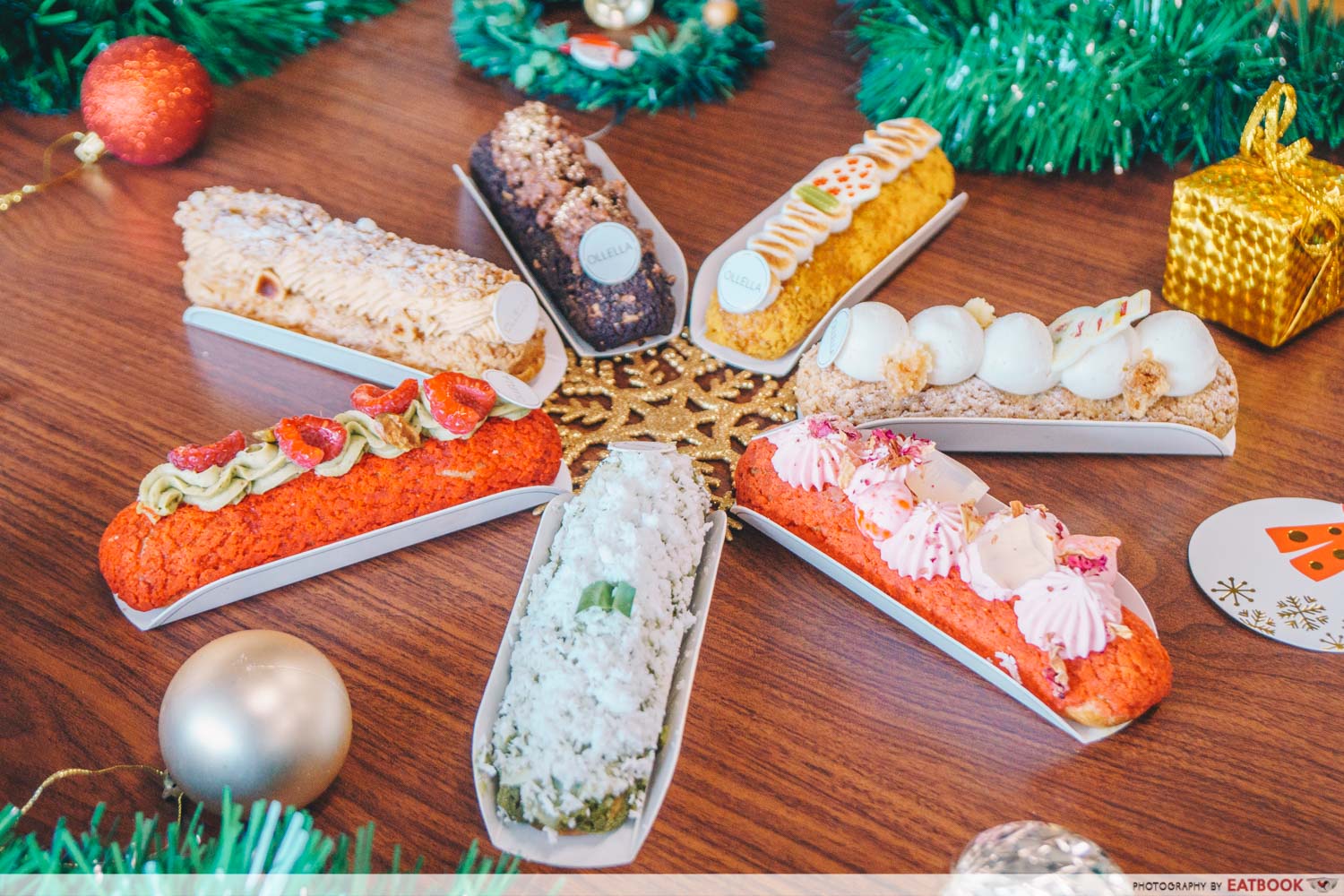 Local brand OLLELLA has been a go-to for both their traditional Indonesia kueh and beautiful eclairs. The pastries from the mom-and-pop cafe at Race Course Road are decorated to the point that they are almost too pretty to eat. 
If you're a chocolate lover, the Intense Dark Chocolate ($6.90) will be the one to get. This gold-dusted eclair is chocolatey through and through with its crumbly chocolate streusel and luscious chocolate cream. The Raspberry Pistachio ($6.90) on the other hand, will make your face pucker from tart fresh raspberries and cream. 
Check out our full review of OLLELLA!
OLLELLA Review: Pretty Eclairs With Yuzu Yoghurt And Ondeh-Ondeh Flavours
Address: 454 Race Course Road, Singapore 218697
Opening hours: Wed-Sun 11:30am to 6pm
Tel: 6917 7273
Website
OLLELLA is not a halal-certified eatery.
---
7. Origin + Bloom
---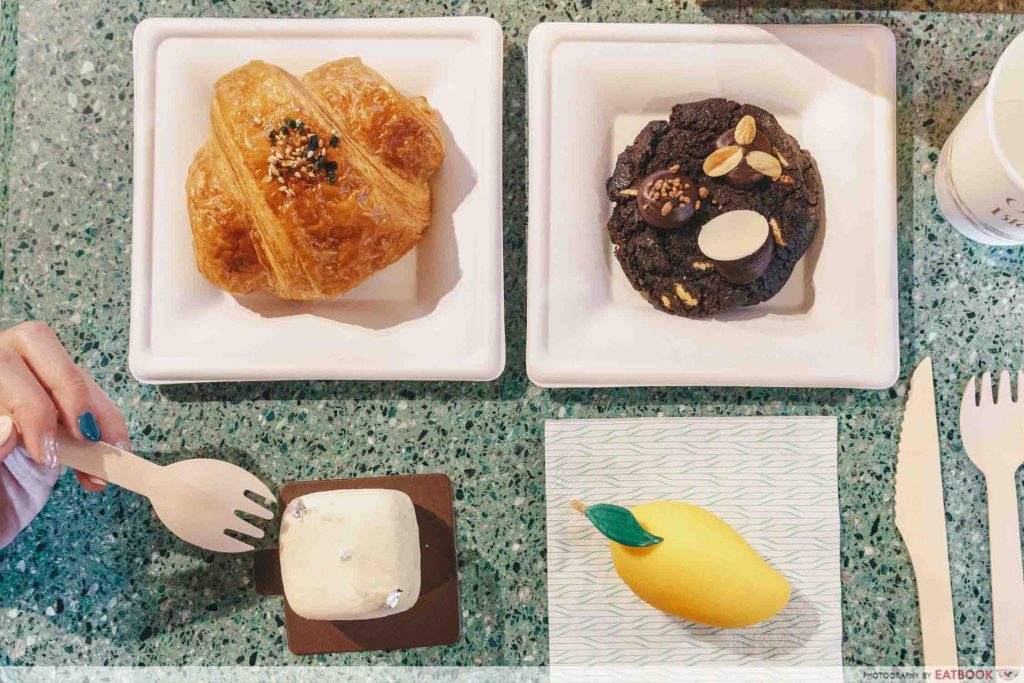 Walk to Marina Bay Sands and end your meal on a sweet note at Origin + Bloom with cakes, cookies, ice-cream, baked goodies and more. The most adorable item on the menu is the Mango ($10+), which looks straight up like a freshly picked mango! Crack open the yellow-painted white chocolate shell to reveal a mango mousse with a jelly-filled centre. If you prefer to end your meal with a sour note, opt for the Cheesecake ($9+) instead. This simple-looking cube is decked with flavours, thanks to acai jelly and lime cream in the middle.
Check out our full review of Origin + Bloom!
Origin + Bloom Review: 9-Layer Sandwich And Beautiful Pastries At Marina Bay Sands
Address: 10 Bayfront Avenue, Lobby,  Hotel Tower 3, Marina Bay Sands, Singapore 018956
Opening hours: Daily 7am to 10pm
Tel: 6688 8588
Website
Origin + Bloom is not a halal-certified eatery.
---
For desserts on date nights <$18++
---
8. Elixir Boutique Roasters
---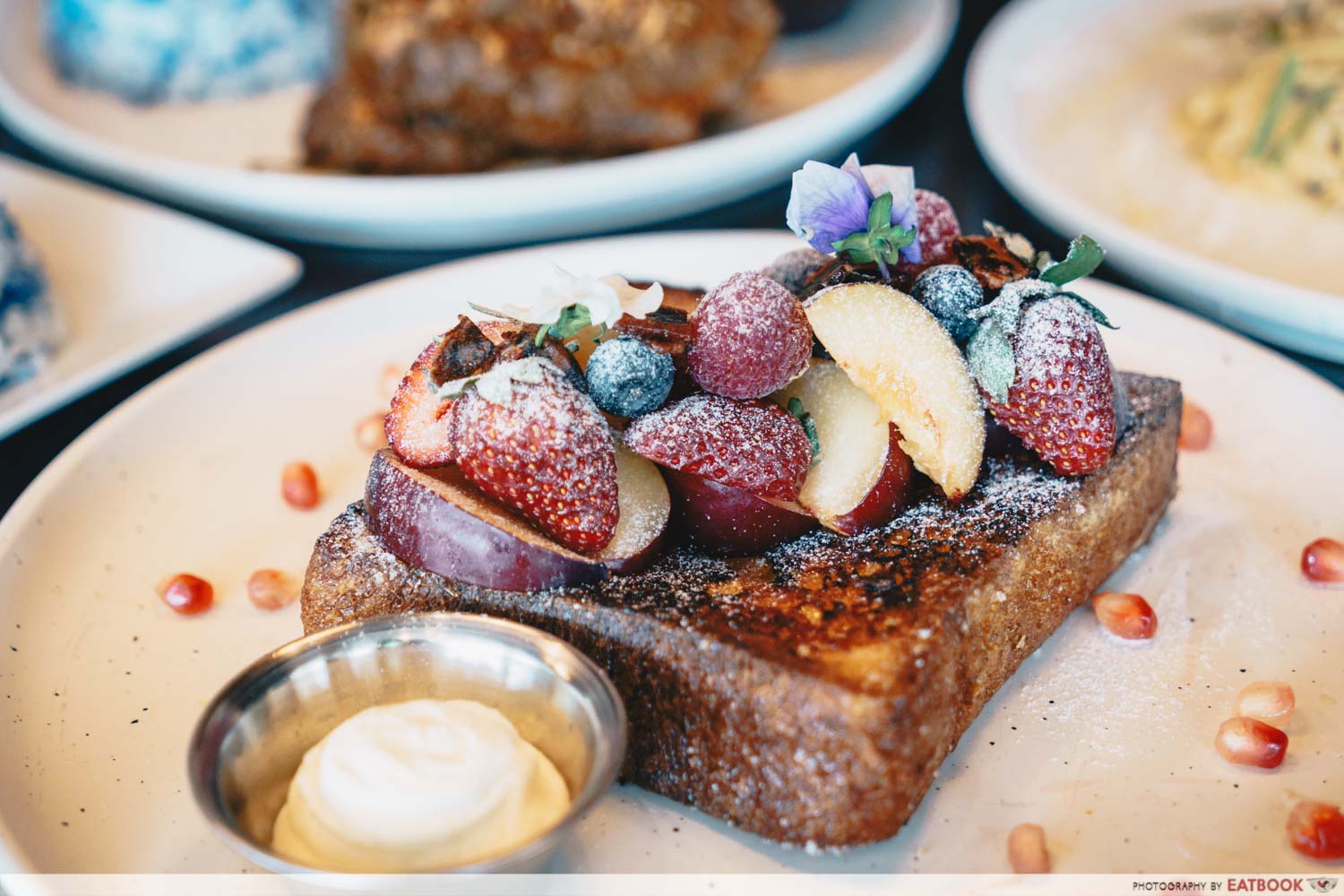 Known more for their flat iron steak, this dual identity cafe, Elixir Boutique Roasters x Fat Belly has a Brûlée French Toast ($18++) that is only available between 8:30am and 3:30pm. Like a typical cafe French toast, this drool-worthy one is crowned with fresh strawberries, edible flowers and more. However, delve into the centre and you will find an unbaked consistency, which not only gives each bite an extra texture but extra creaminess as well.
Check out our full review of Elixir Boutique Roasters!
Elixir Boutique Roasters Review: Dual Identity Cafe Serving Wagyu Rendang With Free-Flow Blue Pea Nasi Lemak
Address: 10 Jalan Serene, #01-03A/04, Serene Centre, Singapore 258748
Opening hours: Thurs-Tue 8:30am to 3:30pm
Tel: 6314 2247
Website
Elixir Boutique Roasters is not a halal-certified eatery.
---
9. Voyage Patisserie
---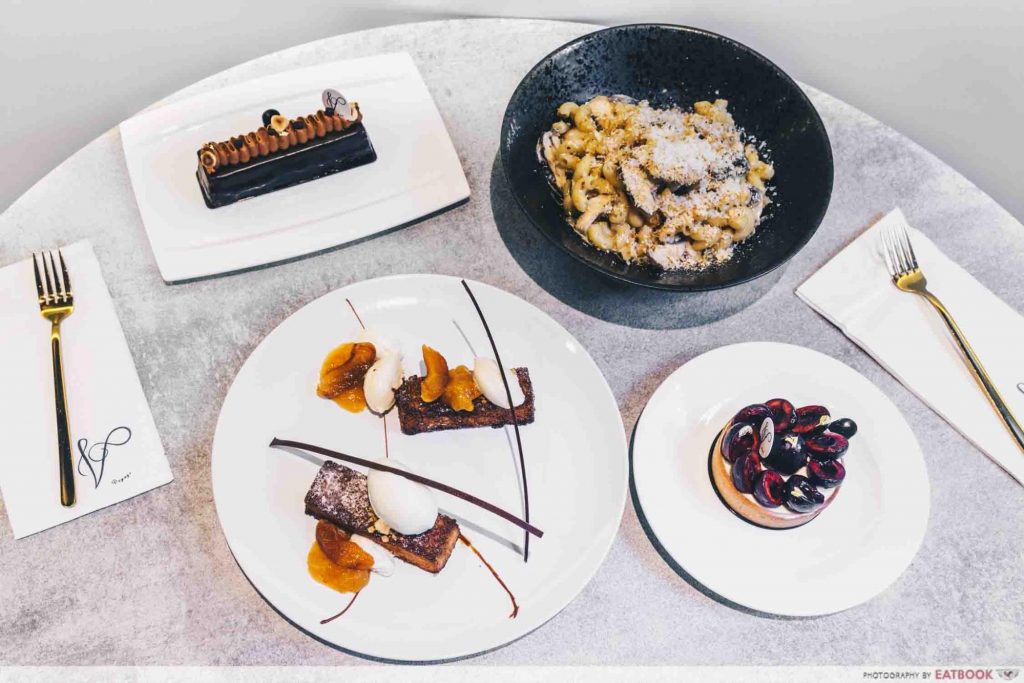 If you thought the list of cafes at hipster spot Tiong Bahru has long been exhausted, you're wrong. A short bus ride from Tiong Bahru MRT Station, Voyage Patisserie is a little-known cafe which opened in August 2019.
Just like Lee from Lee's Confectionery, chef-owner Jonathan also had a two-year stint in France. His desserts might come with a hefty price tag, but they are worthy of a trip down on date night. The Le Pain Perdu ($15+) has a beautiful contrast of warm, brûléed French toast and icy, house-made salted Hokkaido milk ice-cream. Those looking for smaller desserts can order their range of tarts instead. The Bassenay Black Cherry Tart ($10.50+) is topped with soaked French cherries, which elevate the layers of whipped cream and sponge cake beneath. 
Check out our full review of Voyage Patisserie!
Voyage Patisserie Review: Hidden Cafe In Tiong Bahru Serving Quality French Desserts And Mac & Cheese
Address: 249 Outram Road, Singapore 169048
Opening hours: Tue-Thurs 10am to 10pm, Fri-Sun 10am to 12am
Tel: 6223 2490
Website
Voyage Patisserie is not a halal-certified cafe.
---
10. Olivia Restaurant & Lounge
---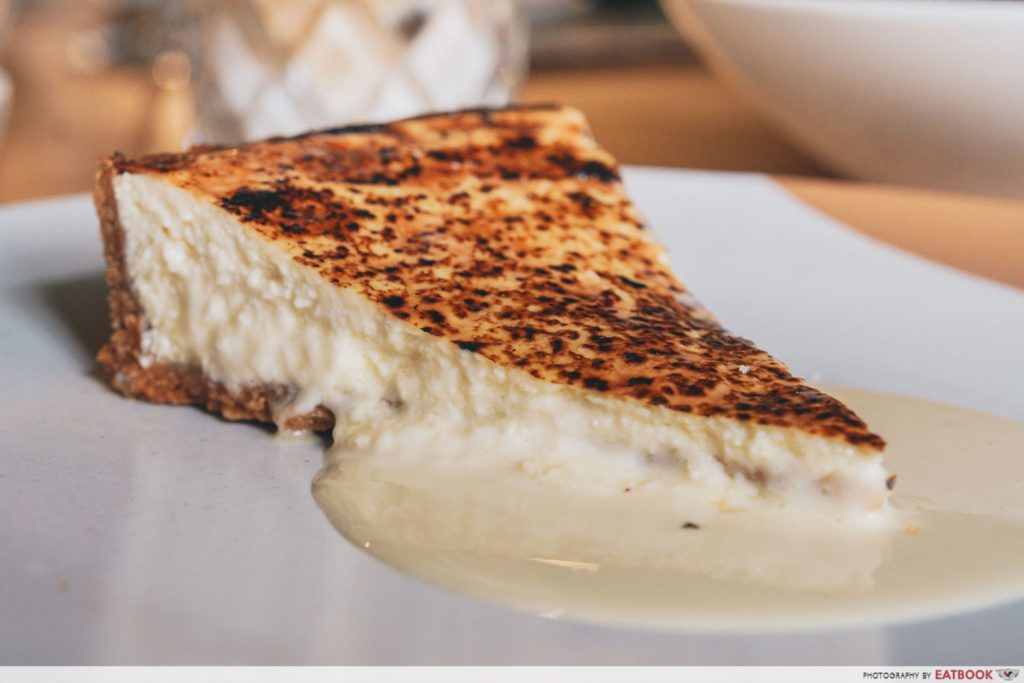 Chef Alain Devahive from the now-defunct, three Michelin-starred restaurant elBulli helms the kitchen at Olivia Restaurant & Lounge. Diners will be in for a gastronomic treat with savoury Spherical Olives ($1.50+ each) and globes of Mushrooms and Truffle Croquettes ($10+). Those with a sweet tooth should look out for Olivia's Creamy Homemade Cheesecake ($14+). The uber oozy cheesecake is the end result of being delicately baked at a low temperature.
Check out our full review of Olivia Restaurant & Lounge!
Olivia Restaurant & Lounge Review: New Must-Try Suckling Pork Belly And Burnt Cheesecake At Keong Saik
Address: 55 Keong Saik Road, Singapore 089158
Opening hours: Tue-Thurs 11:30am to 2pm, 6pm to 10pm, Fri-Sat 11:30am to 2pm, 6pm to late
Website
Olivia Restaurant & Lounge is not a halal-certified eatery.
---
Be spoiled for choices with these best dessert spots
---
Singapore is not short of desserts but this year's new entrants charmed us with their unique flavours and on-point aesthetics. With colleagues vowing to return to the different cafes and kiosks, you know we're all making a list and checking them twice!
If you're planning to try out one of these best dessert places, here's a list of best hawker spots that might help with your budget.
10 Best Hawker Places In Singapore For Short Ribs Kway Teow, Unagi Burgers And More – Eatbook Top 50 Awards 2019