Steak and desserts at Fat Belly and Sugarhaus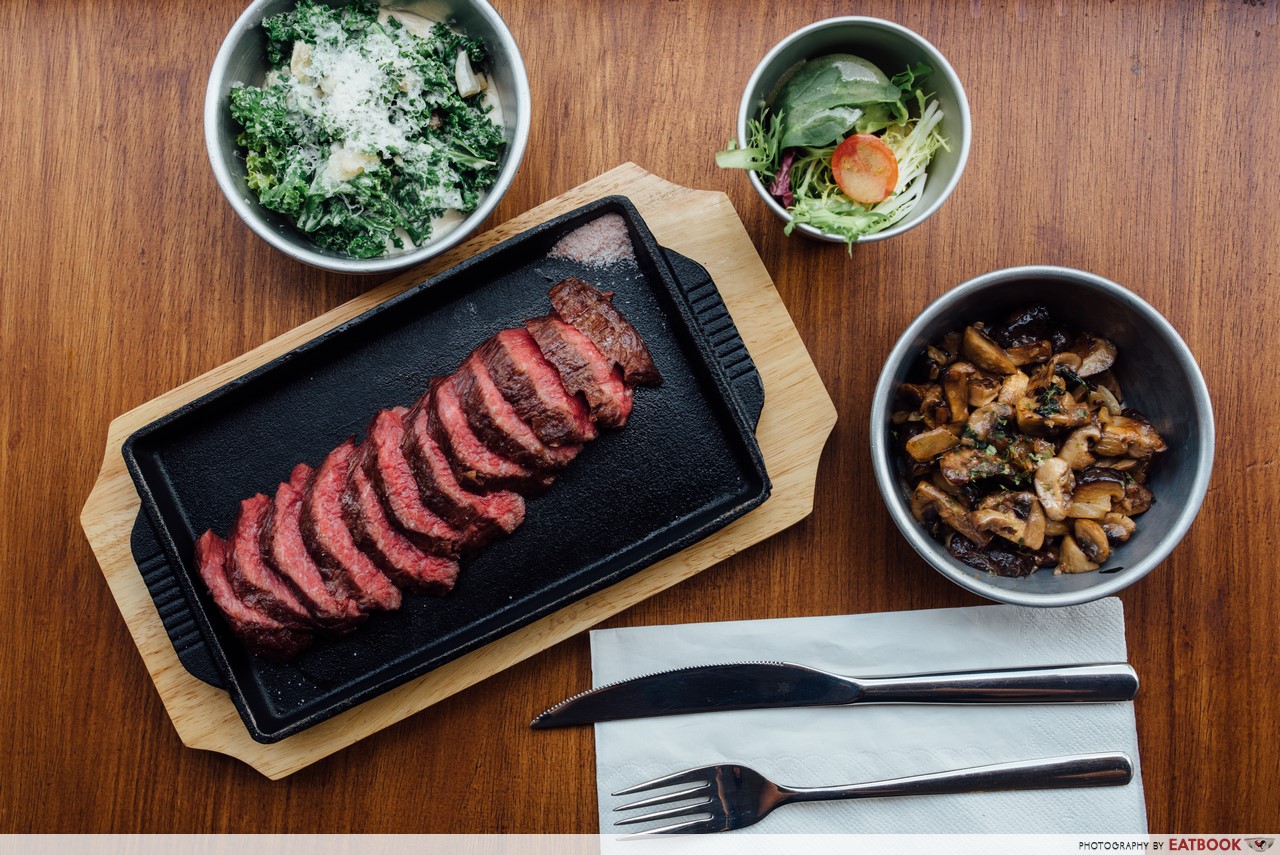 Though I stay nowhere near Bukit Timah, that area was a second home to me for four years when I attended secondary school there. While I used to mock my friends as "Bukit Timah kids" who are missing out on the many good food spots other parts of the island have to offer, a part of me secretly admits that Bukit Timah already houses some of the best food places – shout out to Brew Maison's taro latte and My Cosy Corner's popiah!
Joining the long list of popular cafes and restaurants in Bukit Timah, Fat Belly and Sugarhaus are another two of the many eateries there that make me wish I never graduated. Helmed by the same team, both eateries share the same space, where Sugarhaus runs the daytime business while Fat Belly takes over for dinner.
Food at Fat Belly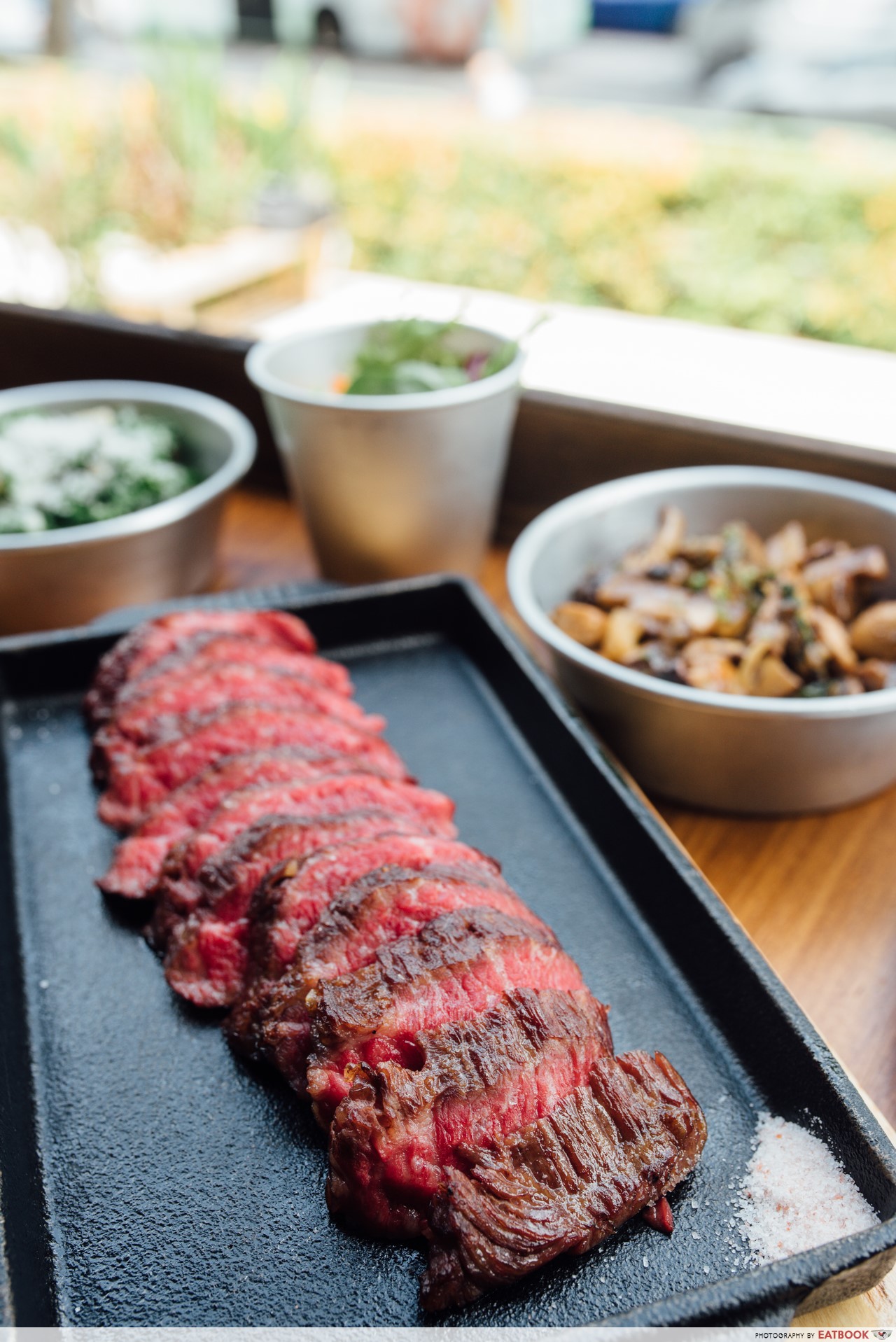 Fat Belly first started with just two main dishes on their menu – 150-day Grain Fed Angus Flat Iron Steak ($22++) and Grain Fed Short Rib Steak ($25++). Their latest addition, also the most premium cut, is the Wagyu Marble Score 7-9 Denver Steak ($48++).
For $60++, we went for the Denver steak set meal which came with a side dish and dessert. With white fatty streaks laced throughout the bright pink meat, the slab of medium-rare steak was cut into about 12 chunky slices.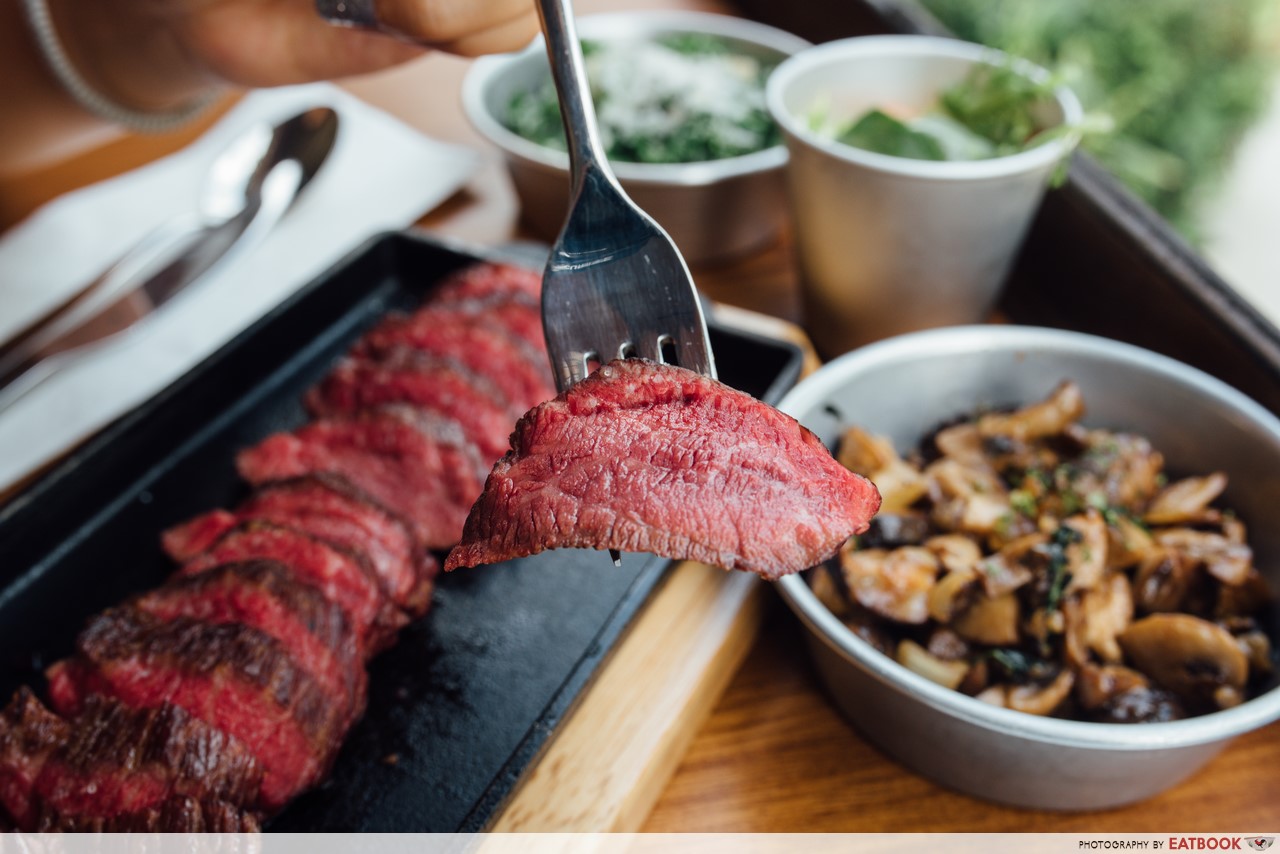 Slightly charred on the outside, the meat had a nice marbling which gave a slight melt-in-the-mouth experience without being too overwhelming.
At first bite, the meat tasted slightly under-seasoned but after chewing on it for a little longer, the natural beefy taste became increasingly prominent. Although the meat came with a small serving of pink Himalayan sea salt on the side of the charcoal plate,  I preferred going without it to really get the natural taste of the meat.
Overall, the taste and texture of the steak was more than satisfactory and for something found in a tiny cafe, I was impressed.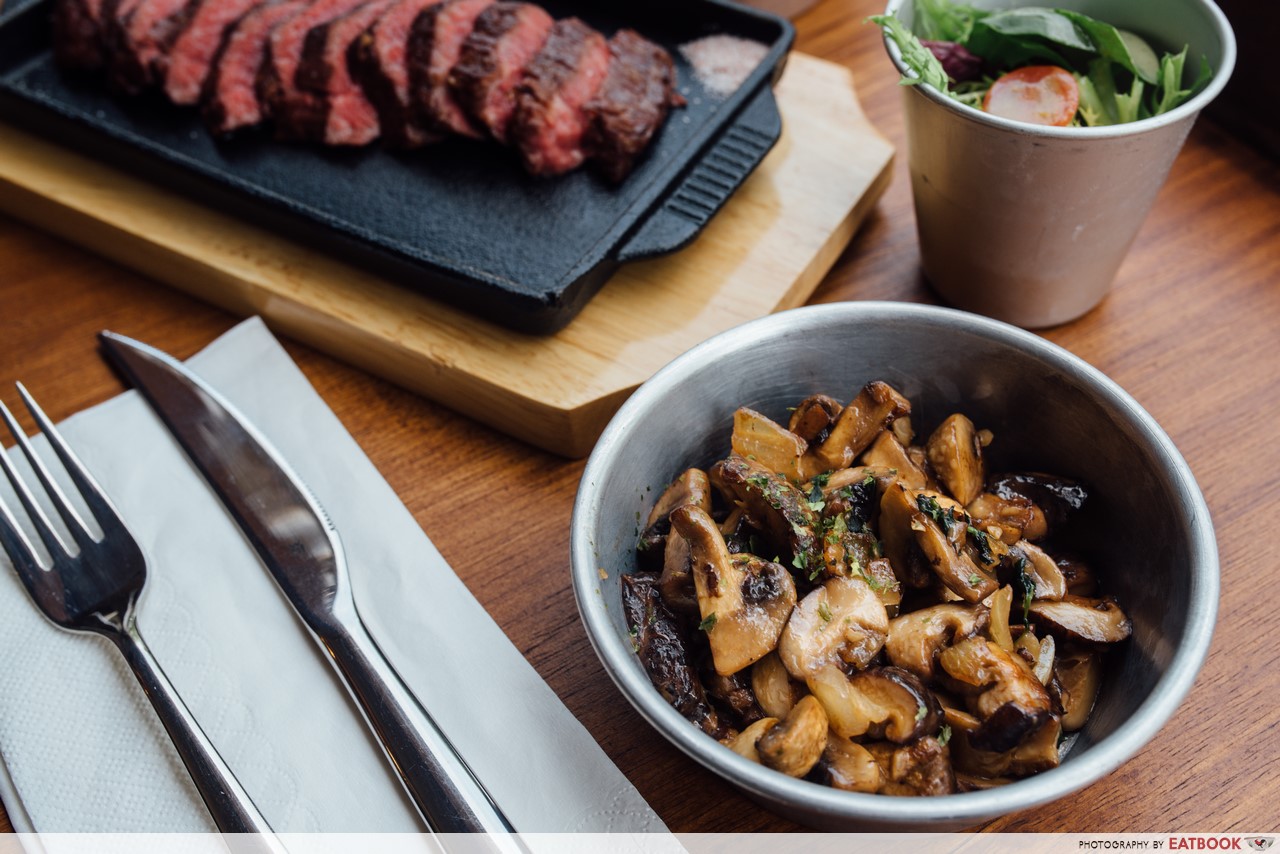 As for the side dish, options include Creamed Kale, Sauteed Thyme Mushroom, Truffle Fries, and Roasted Spiced Sweet Potato. Having to choose only one out of the four choices was probably the hardest decision I had to make that day. In the end, we went for the mushrooms and for an additional $5++, we also couldn't resist trying their creamed kale.
Slightly salty with a strong fragrance from the thyme, the taste of the sauteed mushrooms did not particularly stand out to me. Texture-wise, however, the creamy and juicy mushrooms complemented the tougher beef well.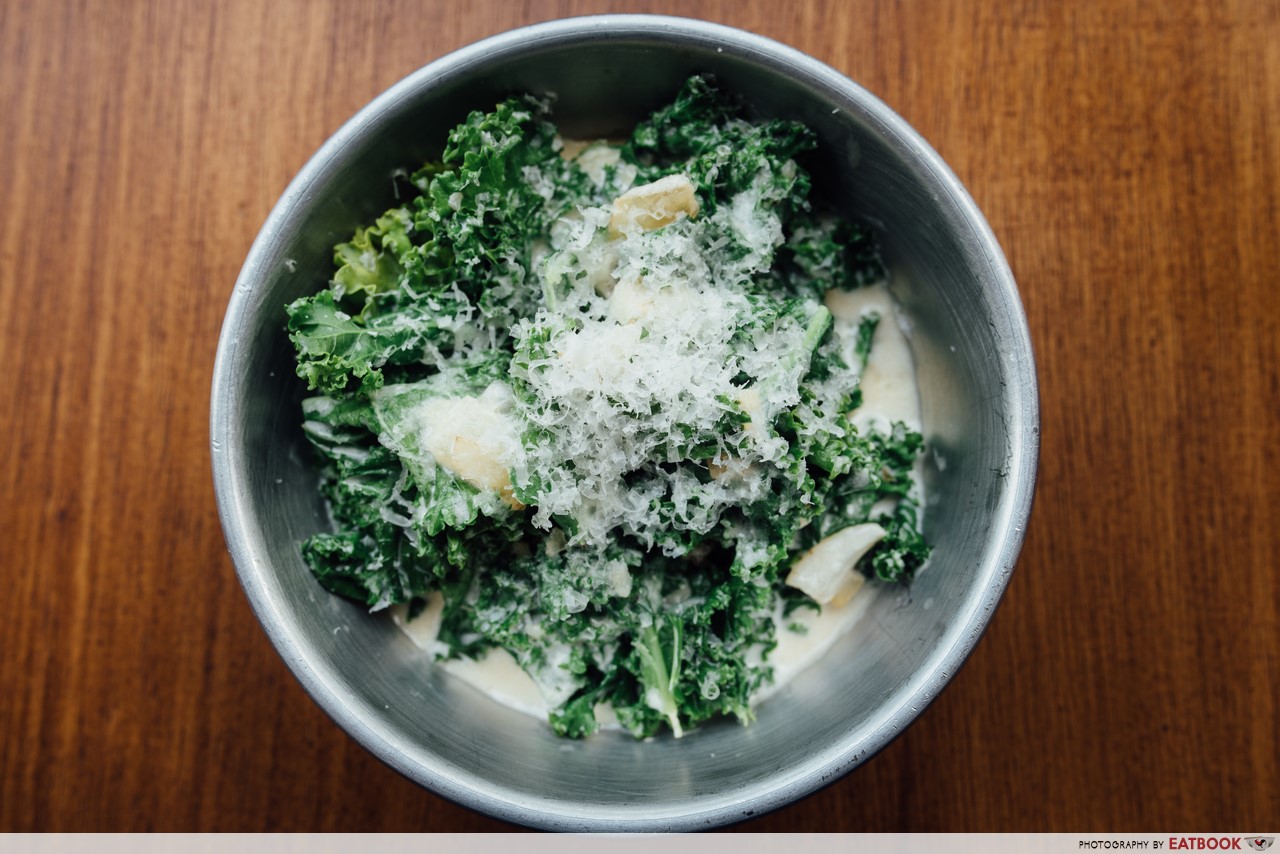 The better choice would be the creamed kale. Although the vegetables were entirely drenched in a pool of decadent white cream, they still retained a nice crunch and as heavy as the cream was, I did not get sick of it after countless bites. Surprisingly, this unassuming side dish turned out to be one of my favourites of the day.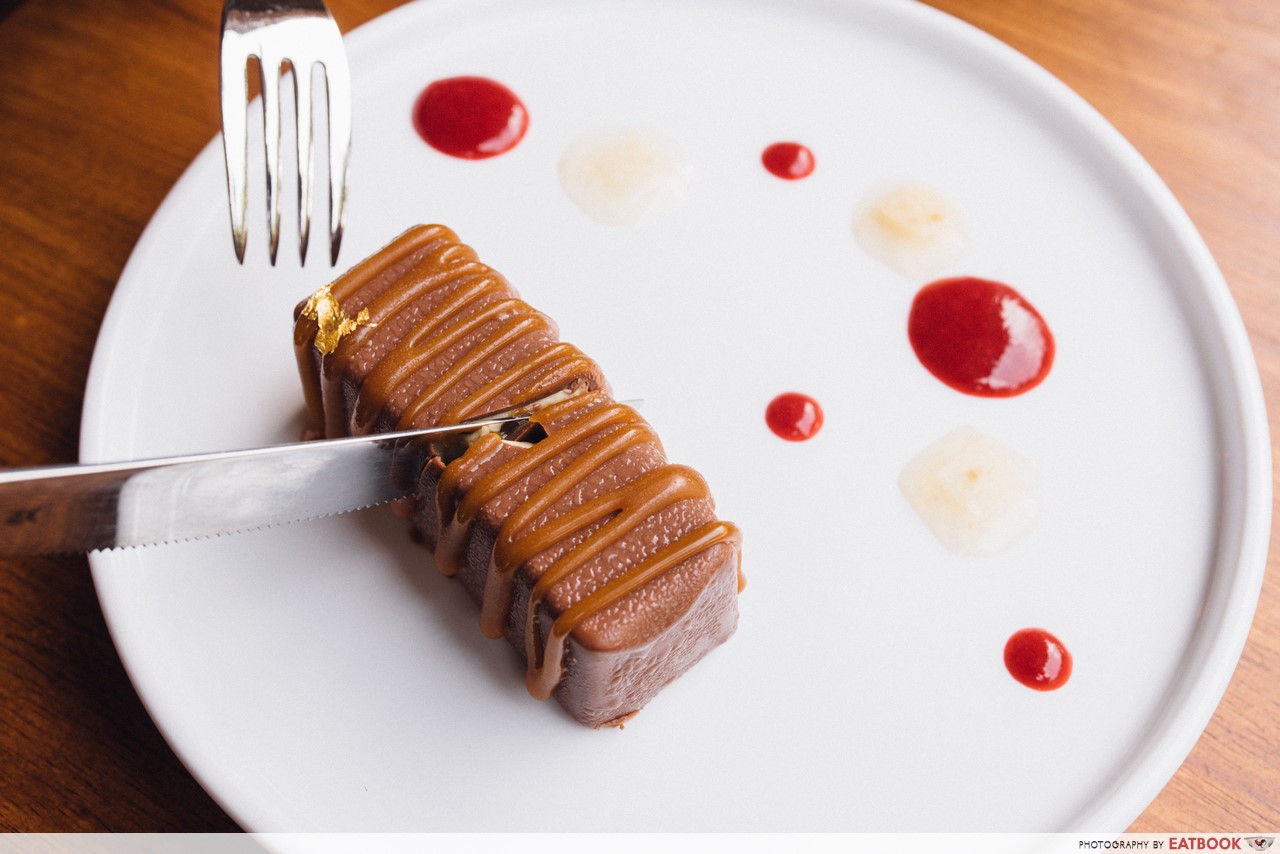 Coming to the end of the set meal, dessert was Foie Gras Chocolate Bar ($18++). Yes, even I thought I misread the menu when I first saw it. Not knowing what to expect from this chocolate bar, we could hardly wait a second before breaking the bar into two to see what filling it was made of.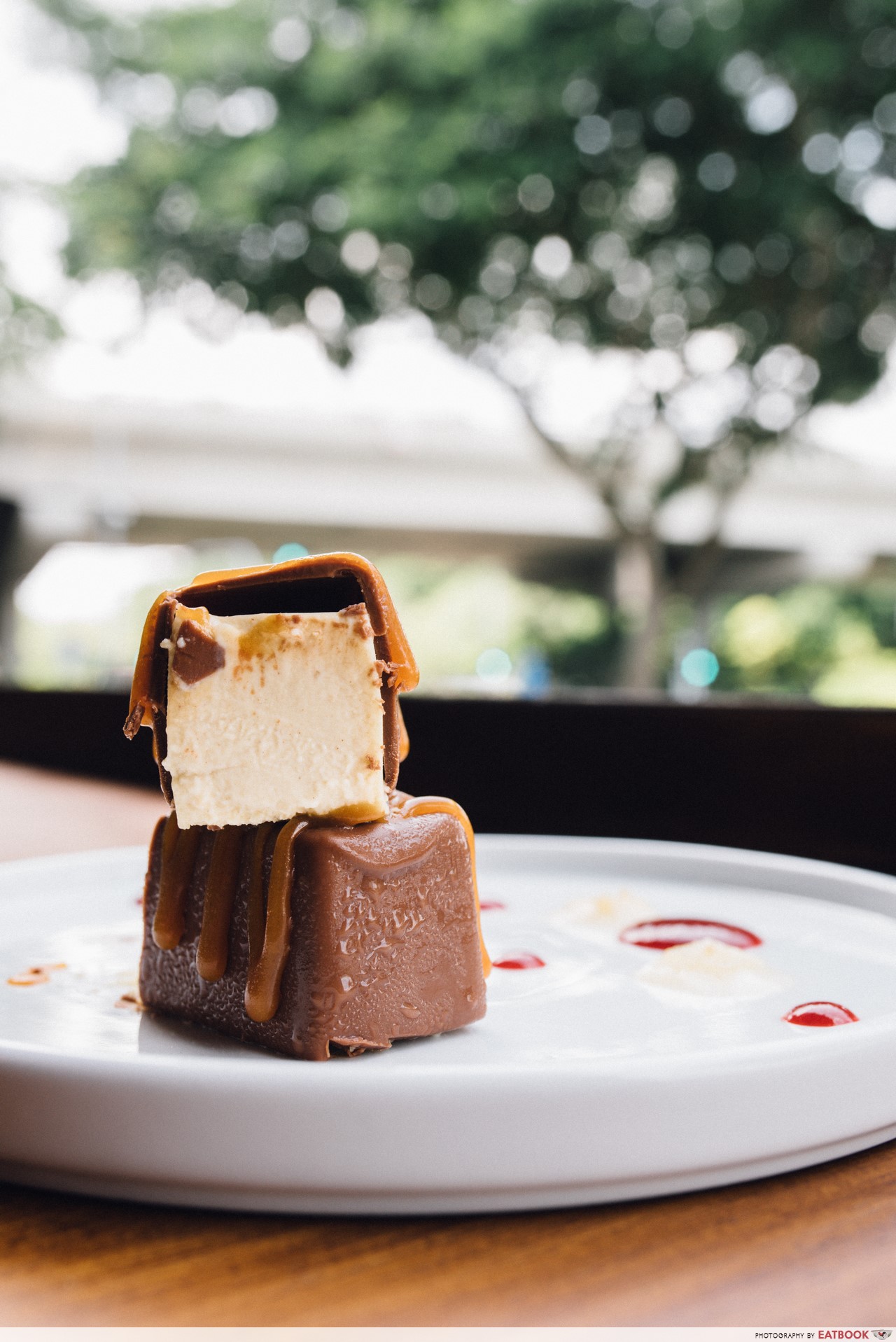 Inside the layer of chocolate, the foie gras filling was like an in-between of ice-cream and pudding. In terms of taste, the foie gras aspect was pretty much non-existent and if not told, I would've thought it was burnt caramel ice-cream chocolate bar. Nonetheless, it was a pleasant end to the meal.
Food at Sugarhaus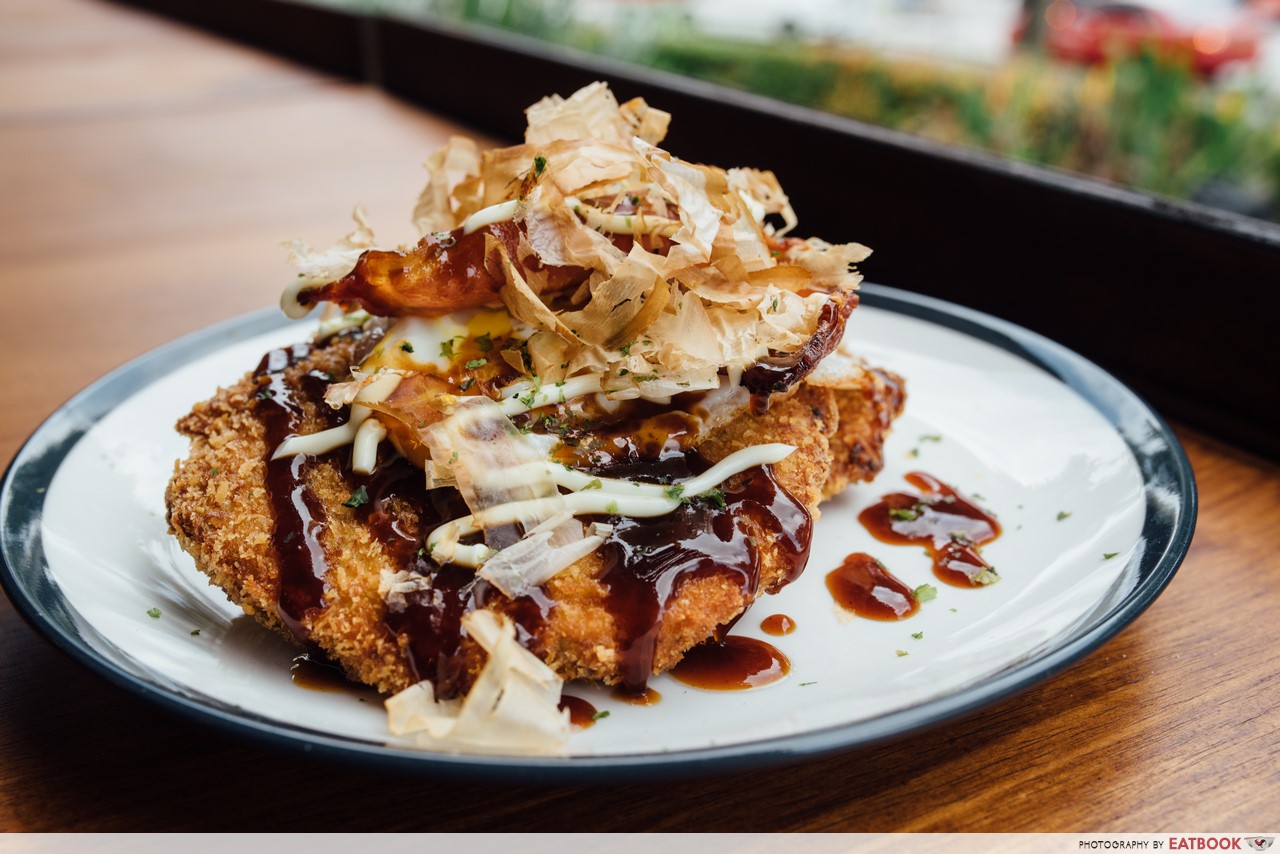 Sharing the same space as Fat Belly, Sugarhaus also serves hot dishes till 6pm. One of the more interesting dishes they offer would be the Corn & Zucchini Fritters ($15++). Initially, I thought it was going to be a somewhat healthy dish similar to those found in vegan cafes. When served, however, I was relieved.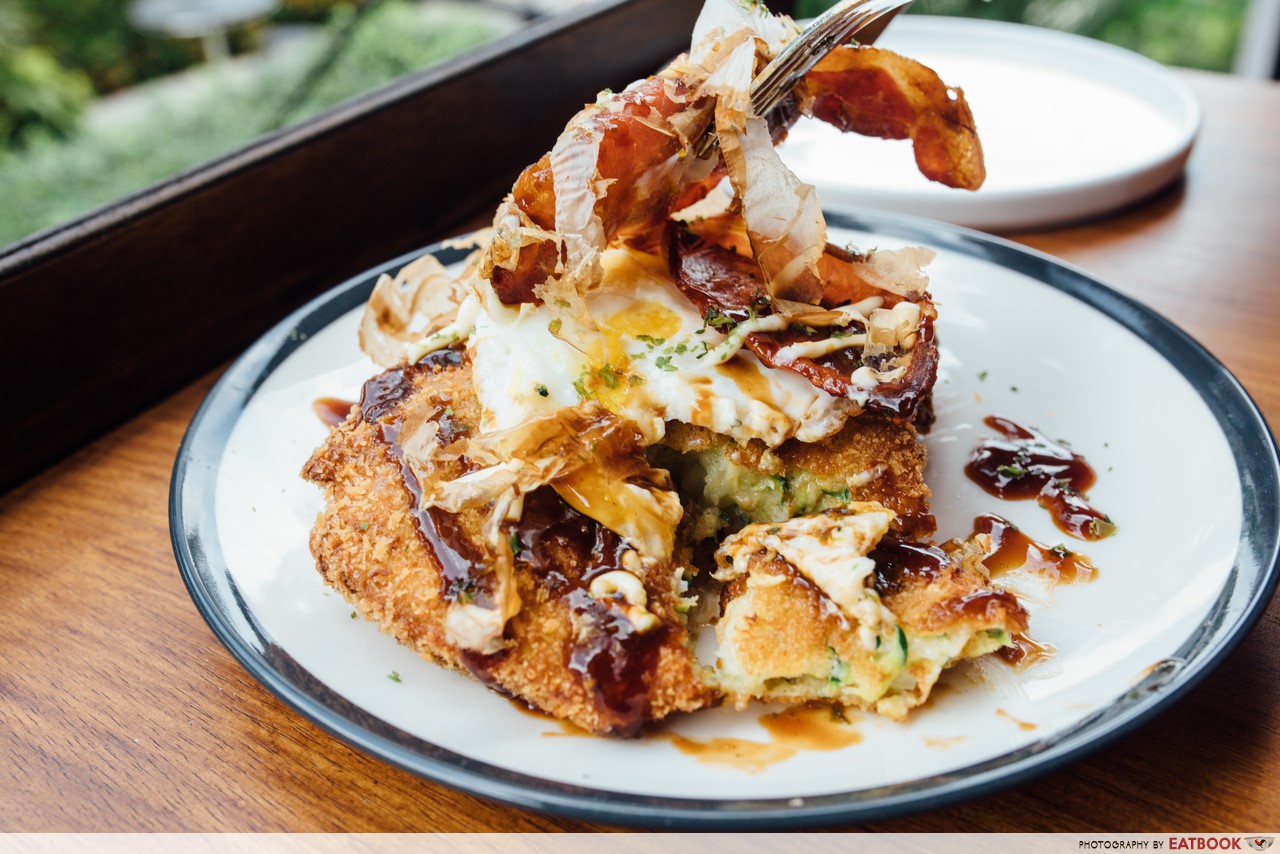 On top of the huge golden brown fritters, the dish also comprised of a sunny side up, bacon slices, bonito flakes, and a generous drizzle of okonomiyaki sauce and Kewpie mayo.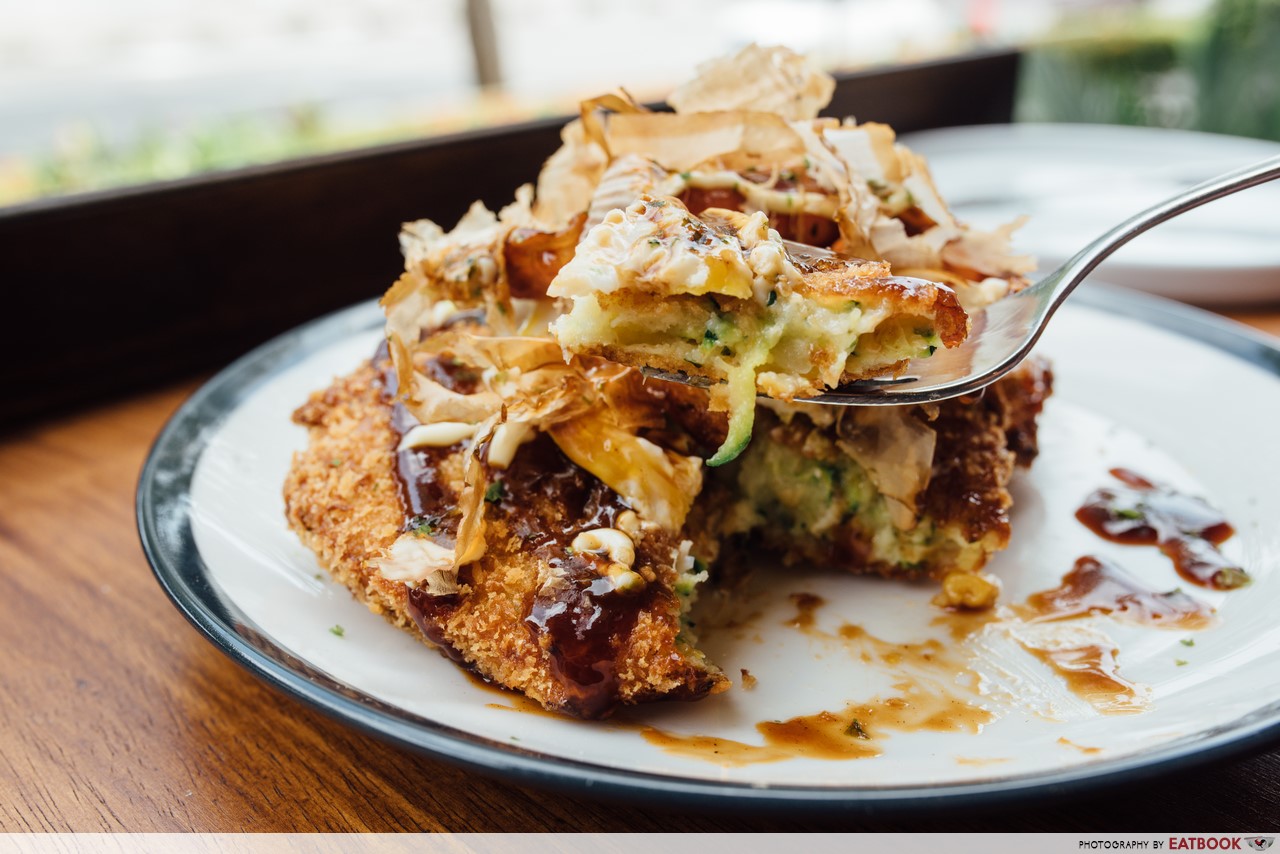 Stuffing all the ingredients into one mouthful was quite an overwhelming experience but if you are not going to eat it that way, don't eat it at all. As expected, the taste of the bacon and okonomiyaki sauce stood out strongest, complementing the lighter-tasting corn and zucchini fritters. The highlight was the crispy fritters which along with the soft and mushy filling, gave a pleasant mixture of textures. Overall, this dish was a better version of the traditional Japanese okonomiyaki because of the crispiness of the fritters.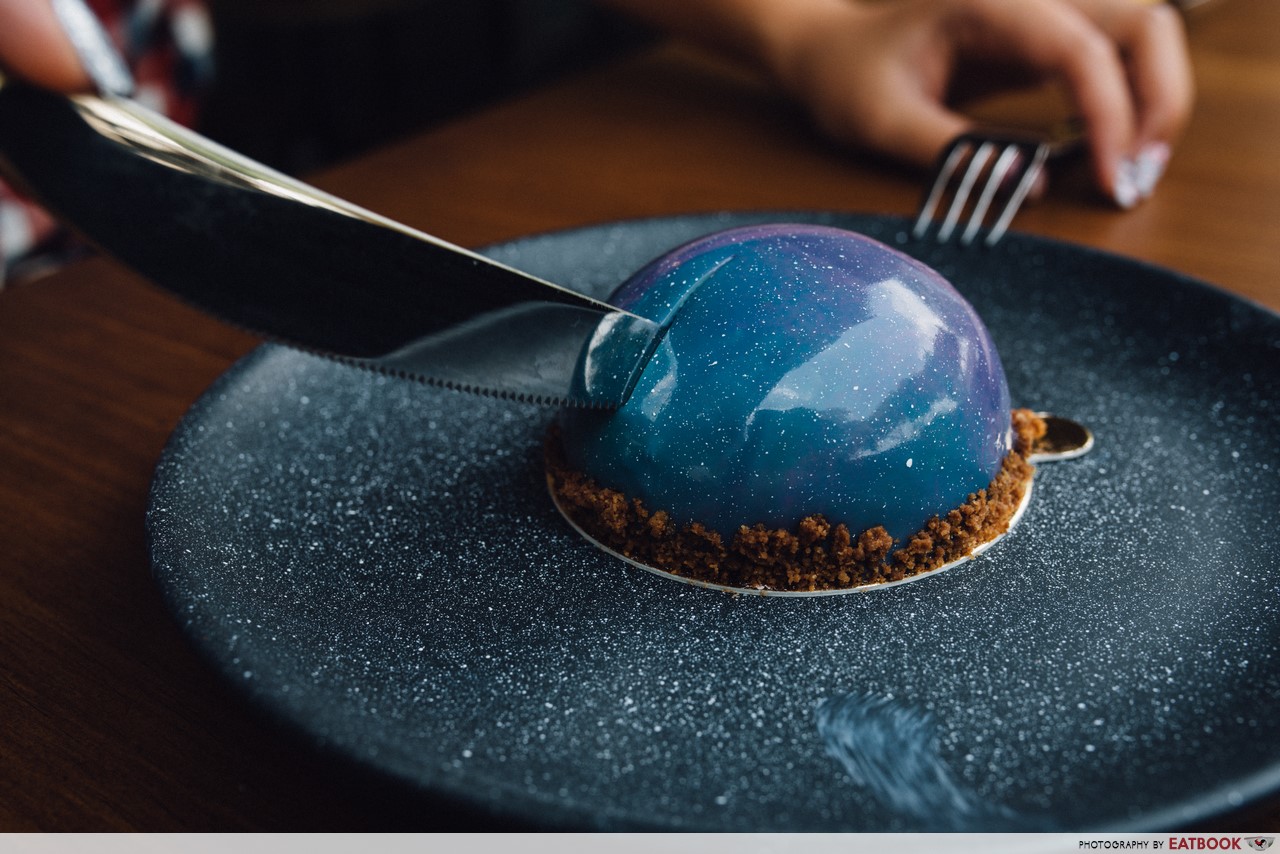 For desserts, we tried Sugarhaus' signature – The Galaxy ($8++). Having never tried galaxy cakes before, I was expecting this to be another "look good only" food that will disappoint in terms of taste. This was one of the rare times I was glad to be wrong.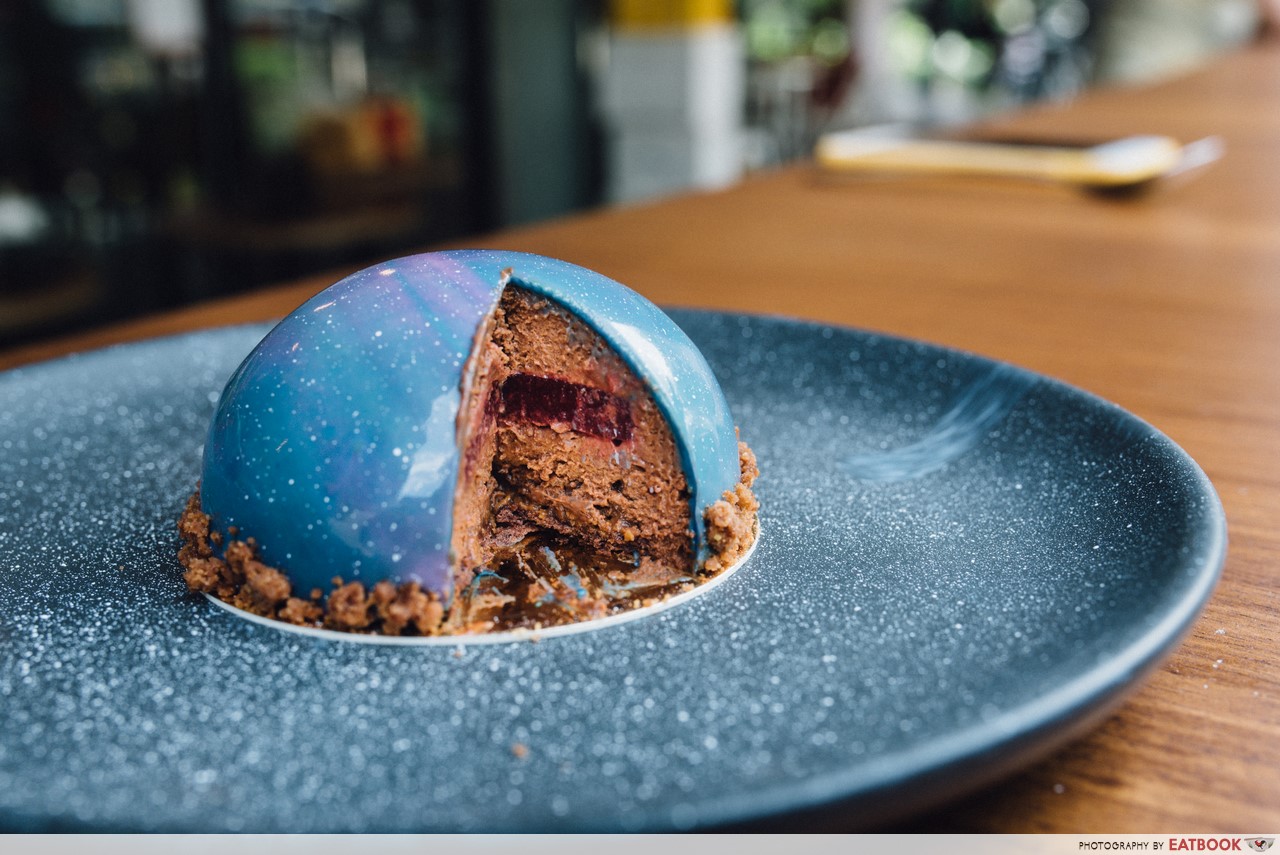 The galaxy cake was a raspberry mousse tart that was slightly sweet and carried a hint of sourness from the berry. The best part of the tart was the tiny crunchy bits hidden within the chocolate mousse that added a surprise element to every bite.
Ambience at Fat Belly and Sugarhaus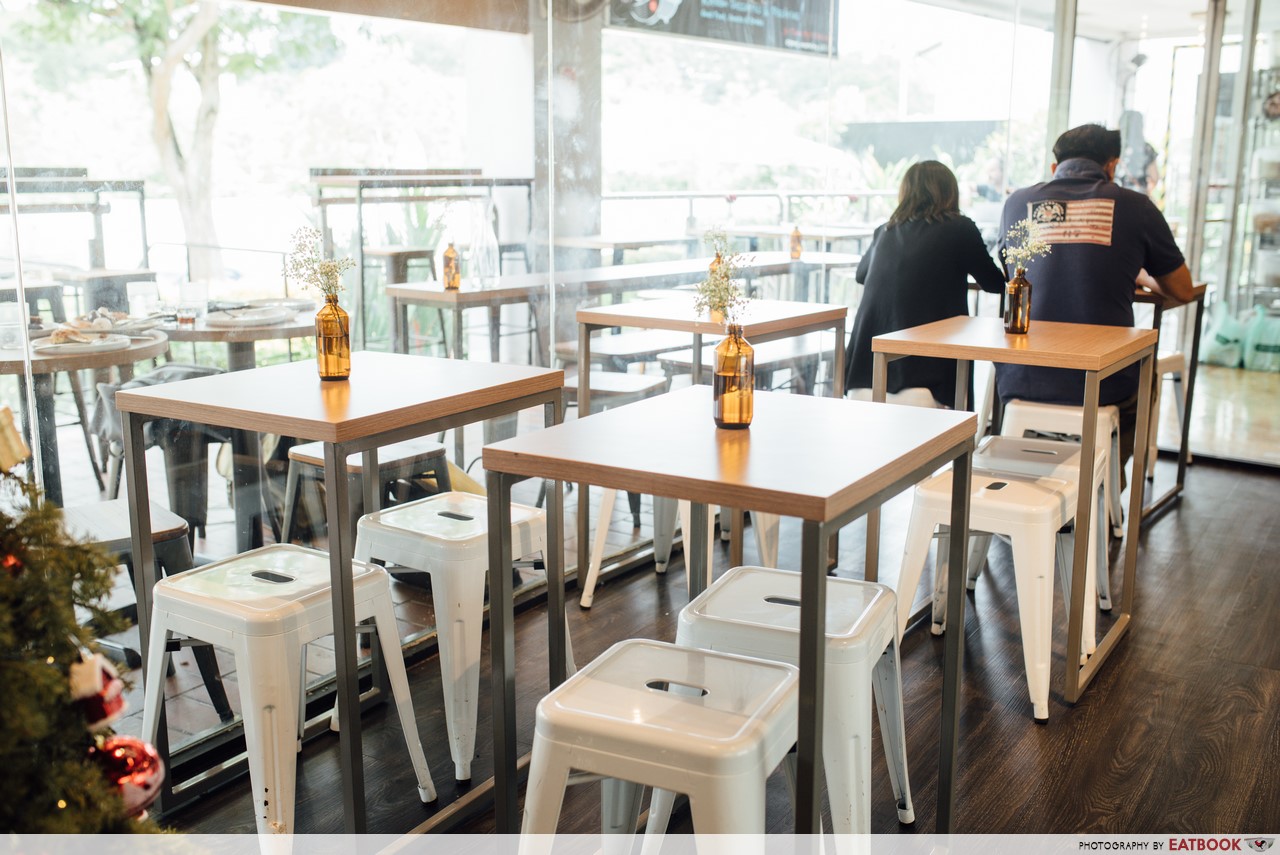 Those who frequent Serene Centre would know that with its huge sign, Sugarhaus is one cafe that is hard to miss. Located next to the famous The Bakery by Woodlands Sourdough, Sugarhaus occupies a small space with several outdoor seats. Fat Belly is found inside Sugarhaus and can be differentiated by its darker surroundings and speakeasy-style bar seats.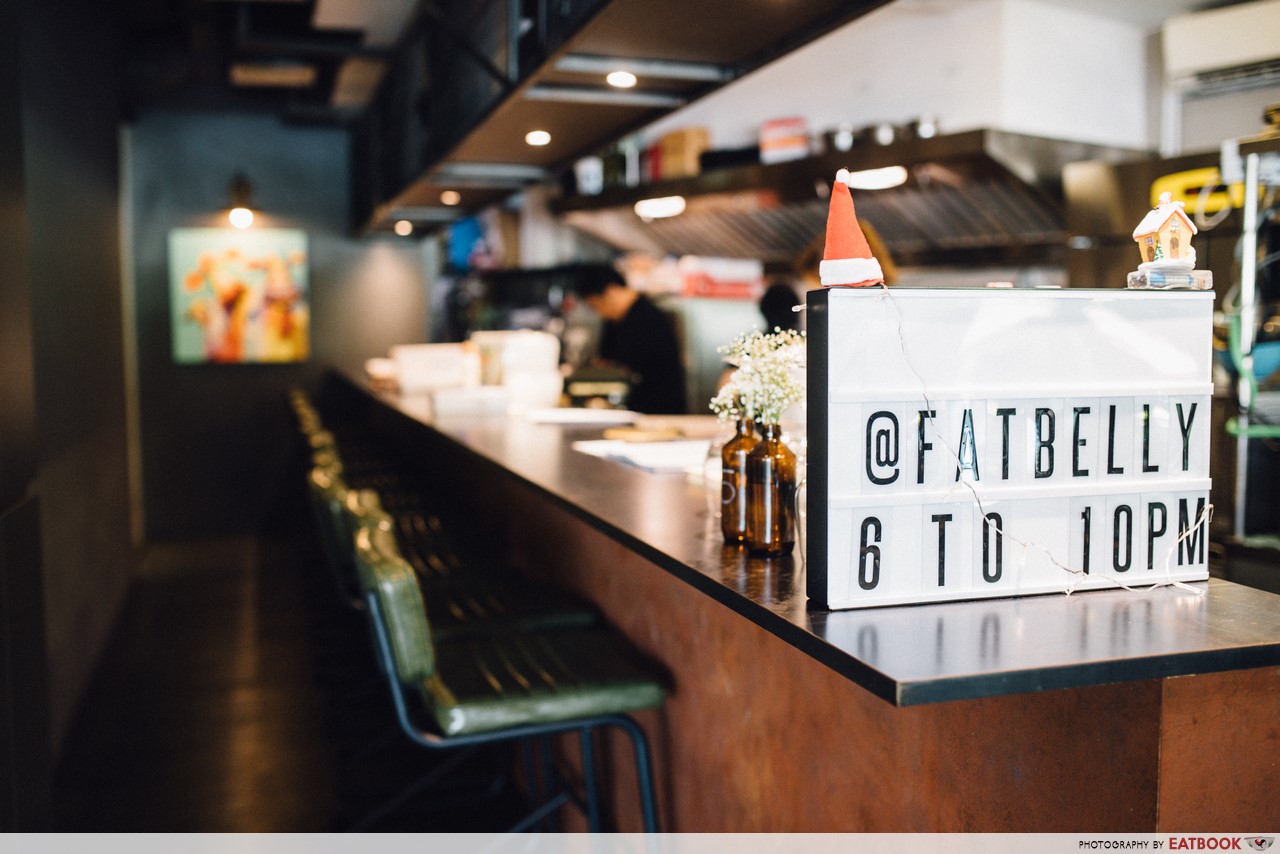 In the same space, the eatery offers two completely different vibes – Sugarhaus is great for families while Fat Belly would be more suitable for dates. While the setting was generally comfortable and relaxing, my only qualm would be that there are very limited seats. The small tables at Sugarhaus and bar seats at Fat Belly may also be uncomfortable for those who are planning to spend a longer time there.
The verdict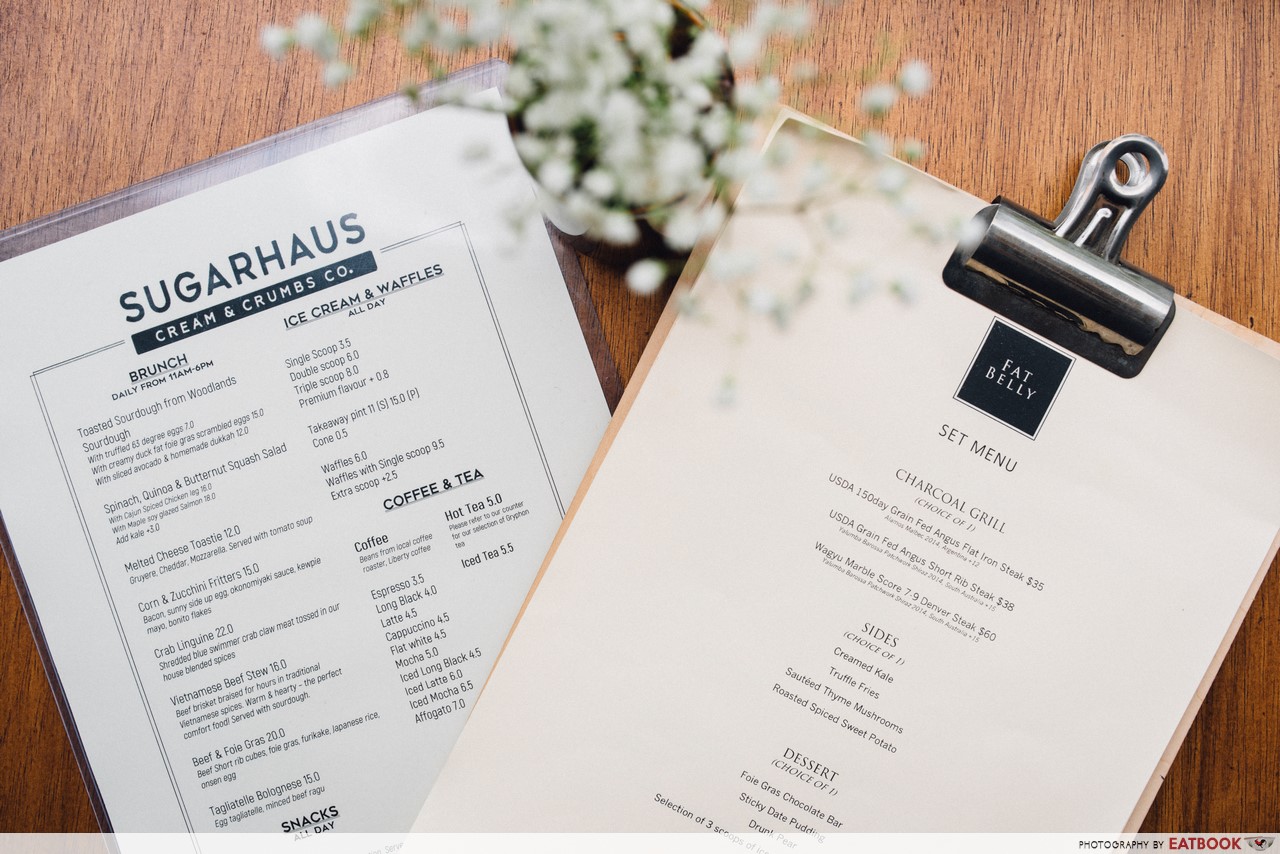 For such a simple-looking cafe, I was surprised and impressed by how much food they serve and how well-executed the food was. While Fat Belly's steaks were relatively affordable for the portion and quality, the prices for the food sold at Sugarhaus were a little steep. Nonetheless, in terms of the quality of the food, both eateries did not disappoint and during the times I'm craving for good and affordable steaks, Fat Belly will surely be one of my top few choices. If you are planning to head down to try the steaks, I'll recommend giving them a ring as their 10-seater area does fill up very quickly! If you're on a budget, check out these cheap Bukit Timah food options instead.
Address: 10 Jalan Serene, #01-03A/04, Serene Centre, Singapore 258748
Fat Belly's opening hours: Sun-Thur 6pm to 10pm (last order at 9:30pm), Fri-Sat 6pm to 11pm (last order at 10pm)
Sugarhaus' opening hours: Sun-Thur 11am to 10pm, Fri-Sat 11am to 11pm (last order for hot dishes at 5pm, last order of the day at 15 minutes before closing)
Tel: 6314 2247
Fat Belly's website
Fat Belly and Sugarhaus are not halal-certified eateries
This was a media tasting at Fat Belly and Sugarhaus.
Summary
Pros
– Delicious food
– Friendly staff
– Interesting dishes
– Good steaks at Fat Belly
– Wide variety of desserts
Cons
– Limited seats
– Tables are small
– Some dishes at Sugarhaus are quite pricey
– Food from Sugarhaus are not available after 6pm
Recommended Dishes: Wagyu Marble Score 7-9 Denver Steak ($48++), Creamed Kale ($5++), Corn & Zucchini Fritters ($15++)
Opening Hours:
Sugarhaus Sun-Thur 11am to 10pm, Fri-Sat 11am to 11pm
Fat Belly Sun-Thur 6pm to 10pm, Fri-Sat 6pm to 11pm
Address: 10 Jalan Serene, #01-03A/04, Serene Centre, Singapore 258748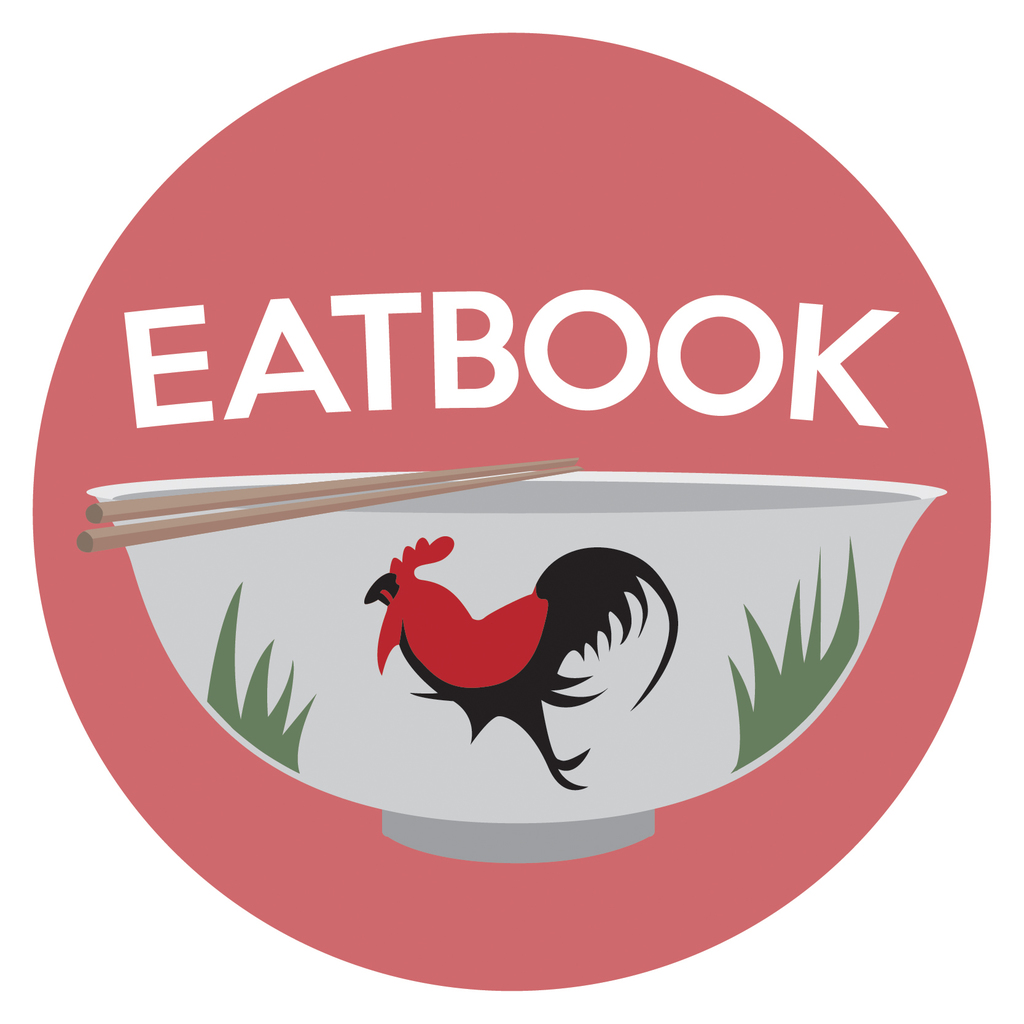 Drop us your email so you won't miss the latest news.