Quality French desserts at Voyage Patisserie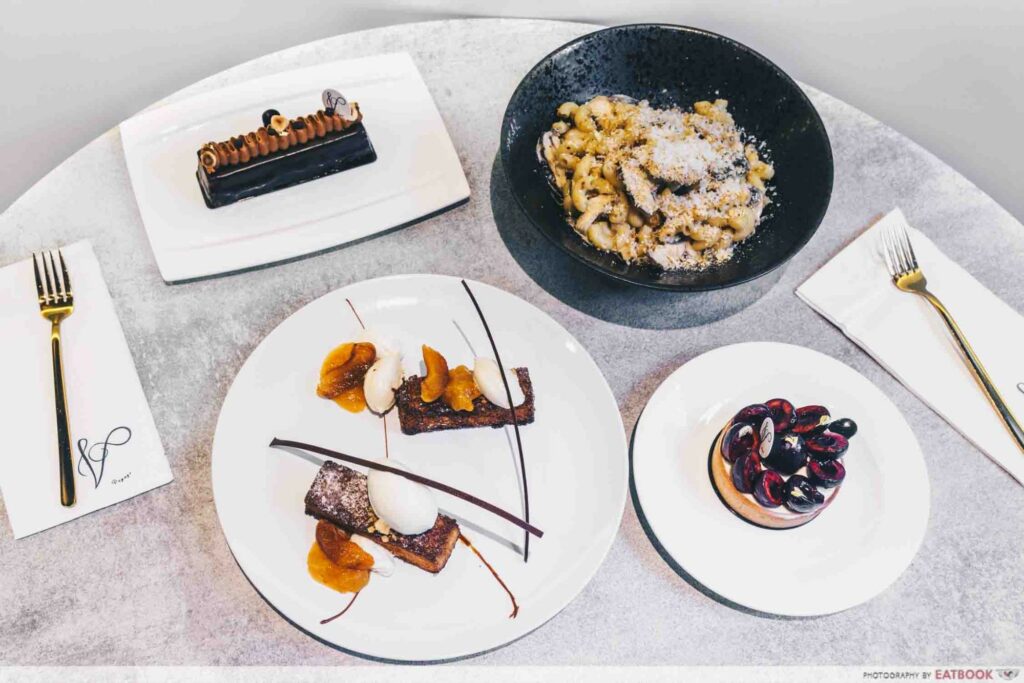 "Wow, I just tried this cafe. Voyage Patisserie. So damn good. I rarely say anything about desserts but the banana tart (off the menu) is awesome." My colleague sent me this on Telegram in April, and that was the first time I heard of this ulu cafe at Tiong Bahru. 
Voyage Patisserie was started by Chef Jonathan, who spent two years working in France before coming back to Singapore. He was part of the team at OCF restaurant at The Arts House, and started Voyage Patisserie earlier this year after the French restaurant shut its doors permanently. 
Even though the cafe has its roots in French cuisine, the food remains familiar to most—you won't find complicated French names on the menu. There's a wide range of cakes and desserts, with a handful of mains that will keep you full. Be sure to ask for the secret menu, which is based on seasonal ingredients. 
Food at Voyage Patisserie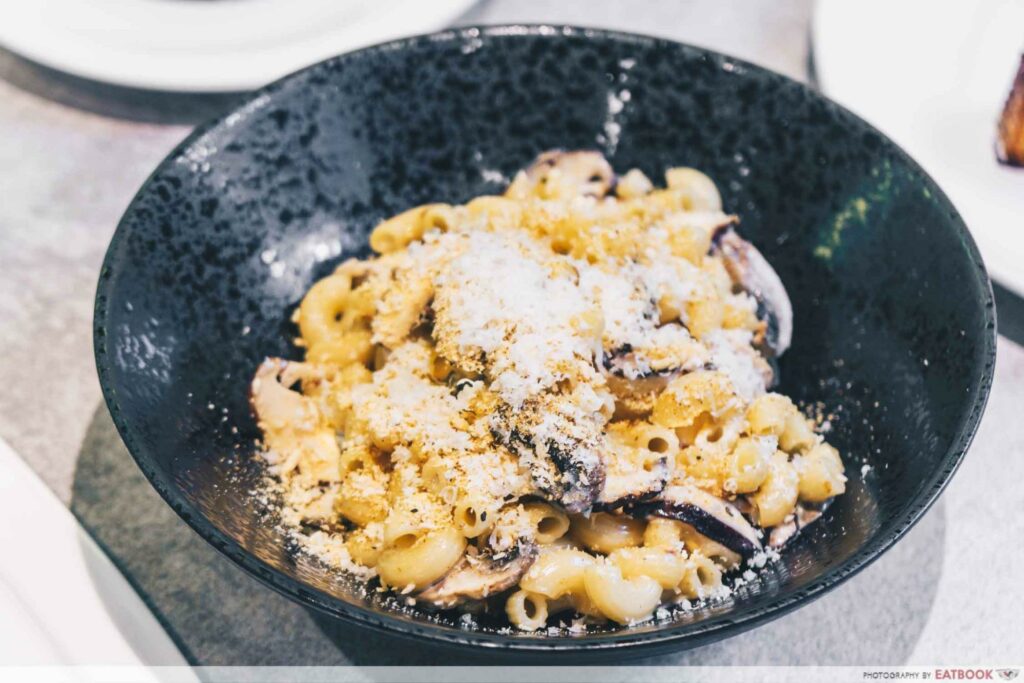 To start off, we ordered their Wild Mushroom Macaroni ($15+). This generously portioned dish comprises a mountain of macaroni that's coated in savoury Mornay sauce—a white cheese sauce that's often seen in French dishes.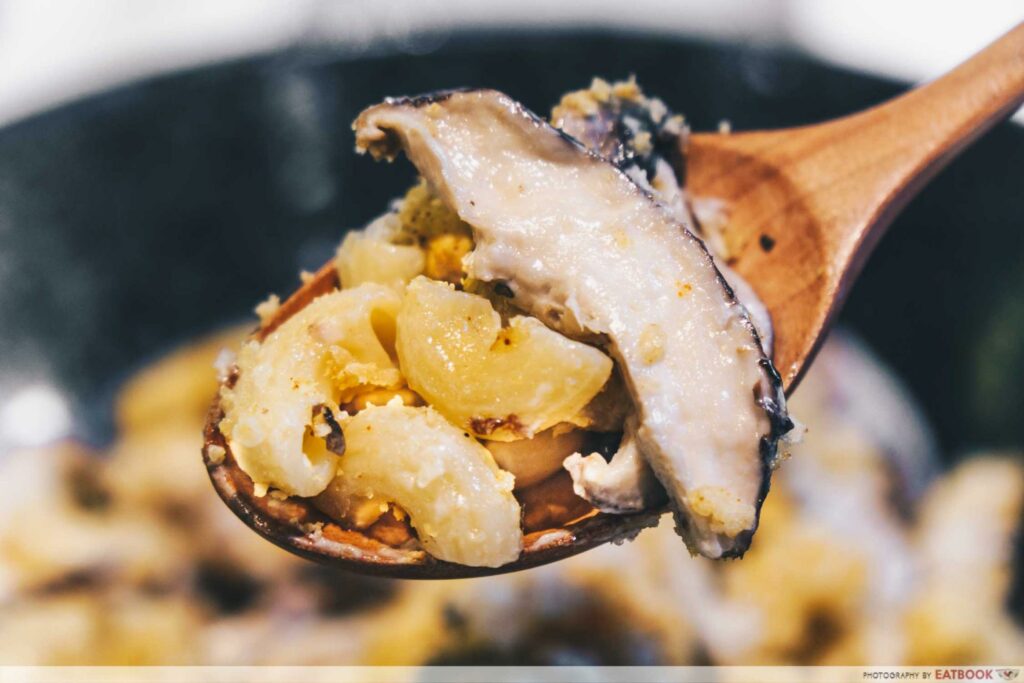 While this mac and cheese didn't come with photogenic cheese pulls, it made up for it by being delicious. The cheese sauce didn't overpower the mushrooms' earthy taste, and lent a creamy mouthfeel to the al dente pasta. 
Because of the large portion, this dish got jelak after a while, so it might be wise to split it with your dining companion.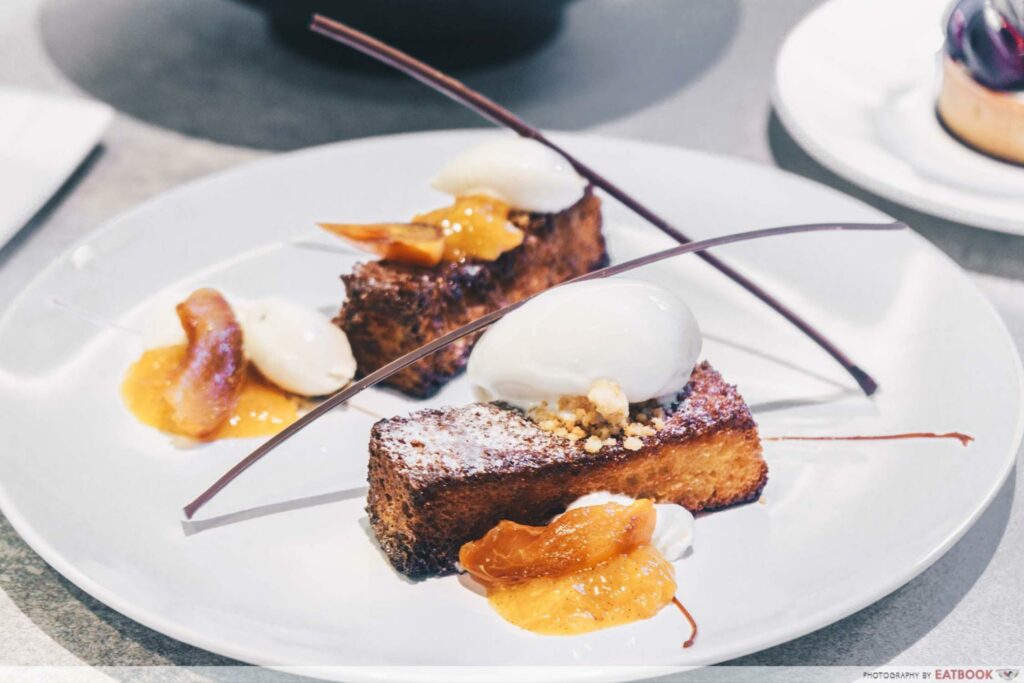 Le Pain Perdu ($15+) is essentially an elevated version of French toast. The beautifully presented dessert consists of two blocks of caramelised brioche, Earl Grey creme, salted Hokkaido milk ice-cream and apricot marmalade. With all its components made in-house, this dish easily showcases Chef Jonathan's expertise in French desserts. 
Be sure to eat it when it's served, as the contrast between the warm brioche and ice-cream adds another layer of enjoyment to the scrummy treat. The strong notes of Earl Grey in the creme and the tart apricot marmalade ensured an explosion of balanced flavours in every mouthful. It's clear that quality ingredients were used in every component, as the natural taste of each ingredient—such as the Earl Grey, apricot, and Hokkaido milk—really stood out.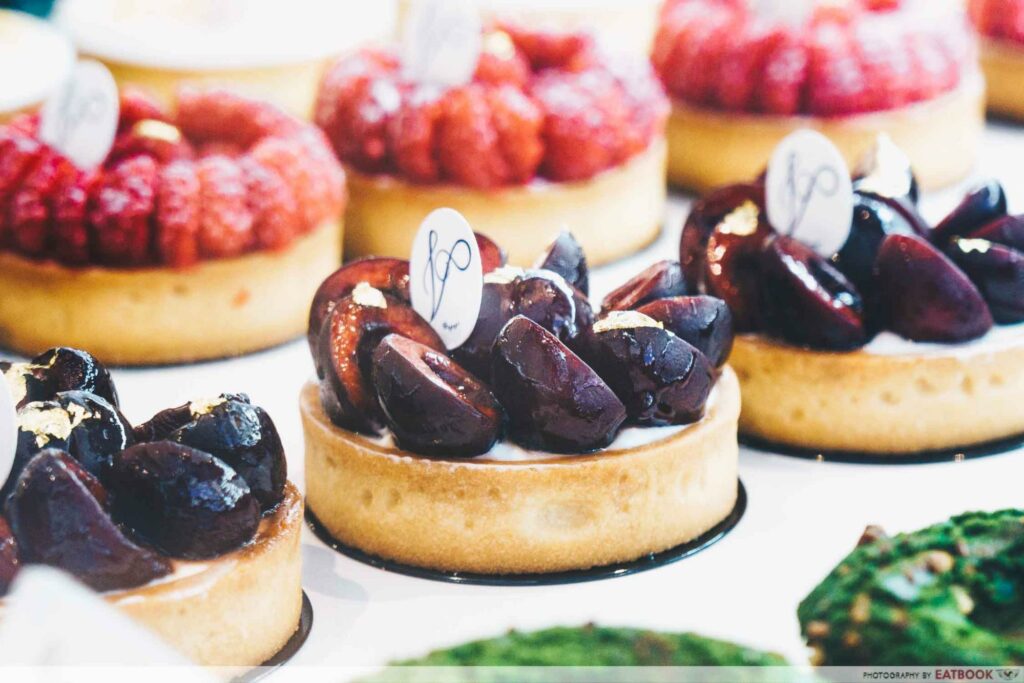 Aside from plated desserts, Voyage Patisserie also offers a display of cakes and tarts. We tried the Louis XV ($9+) and a seasonal cherry tart.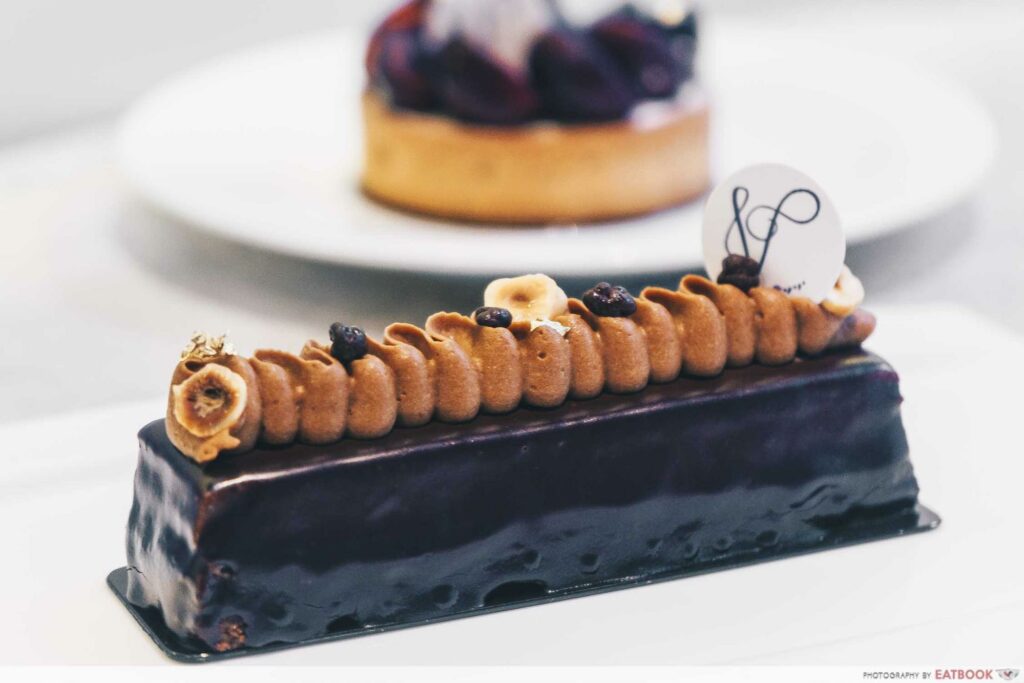 Louis XV is the typical hazelnut chocolate cake that every atas dessert cafe—think Antoinette and D9 Cakery—offers. That doesn't mean it was a bad choice though. The cake comprises layers of dark chocolate mousse, praline feuilletine and hazelnut dacquoise. Dacquoise is a type of meringue that comes with finely chopped nuts.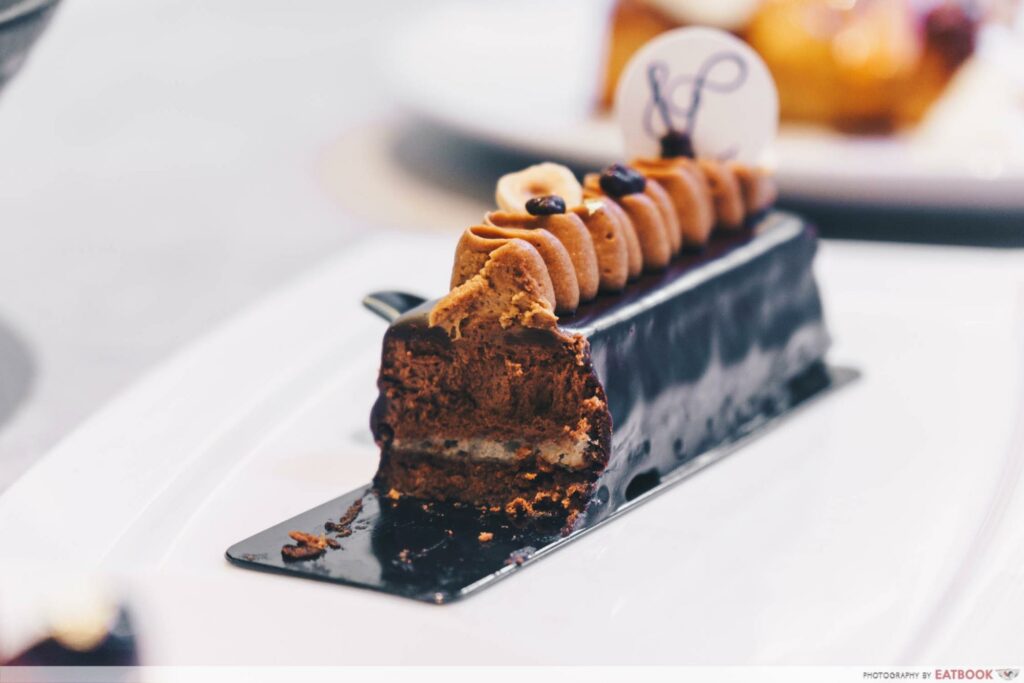 The quality of the dark chocolate really came through in the mousse, which was incredibly smooth and rich. Combine it with the feuilletine and dacquoise and you'll get an absolute treat for chocolate lovers.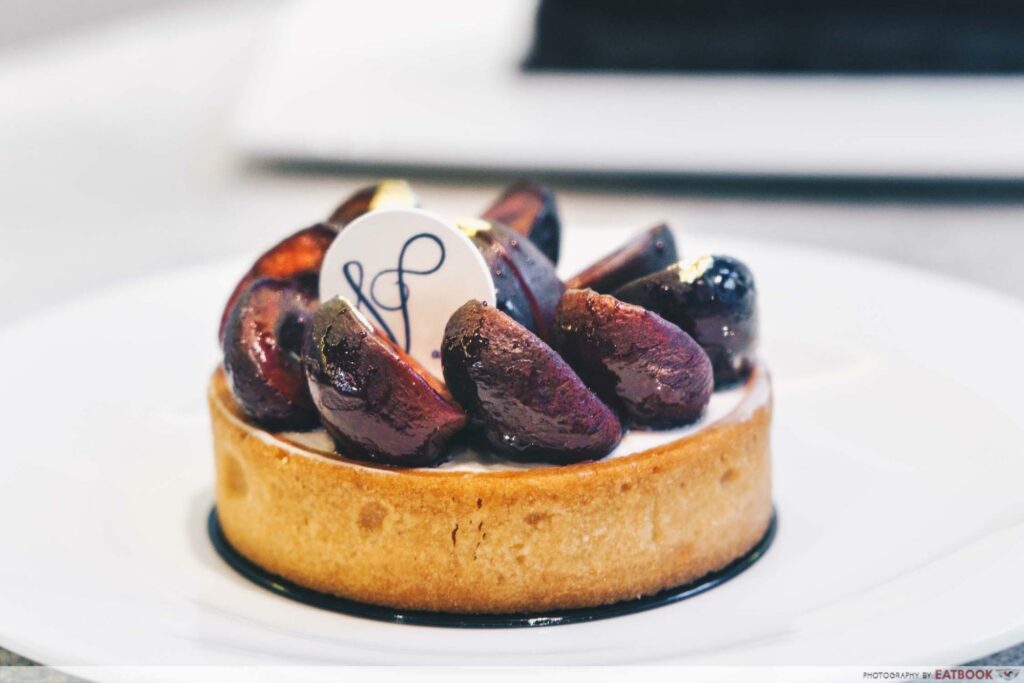 I couldn't resist getting the Bassenay Black Cherry Tart ($10.50+) as the pitted cherries sitting atop looked so plump and luscious. Imported from France, the firm black cherries were exceptionally sweet and juicy, standing out from the American cherries that you'll find at supermarkets.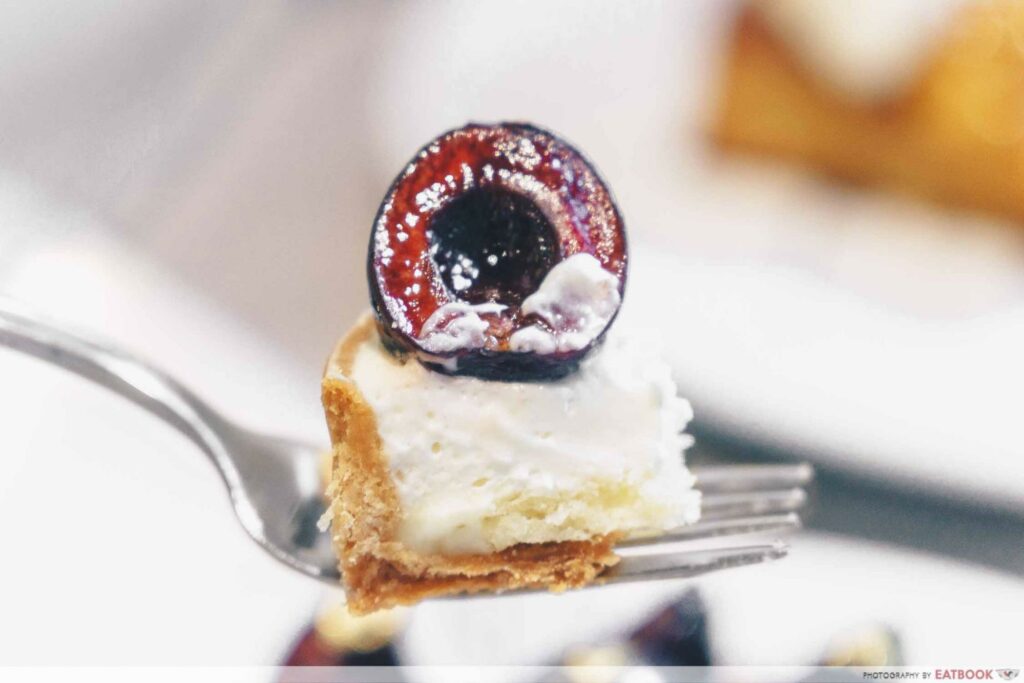 Underneath the cherries were vanilla whipped cream and a very airy layer of sponge cake. Everything was kept within the buttery tart crust, which was impressively easy to break apart with a fork. As a cherry lover, I enjoyed this dessert the most, but its price would keep me from buying it again. 
Ambience at Voyage Patisserie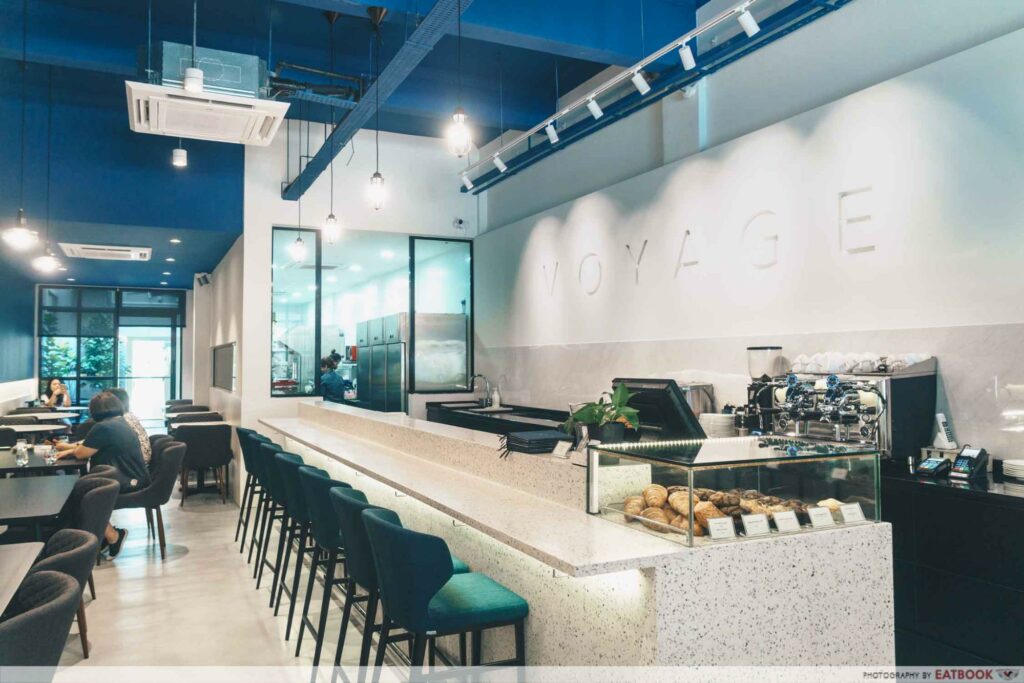 Voyage Patisserie is a cosy space that can fit around 30 to 40 people. There was only one server when we were there on a Thursday noon, but that's okay as the cafe was pretty quiet. The server was friendly and polite, giving us recommendations and details on the seasonal menu.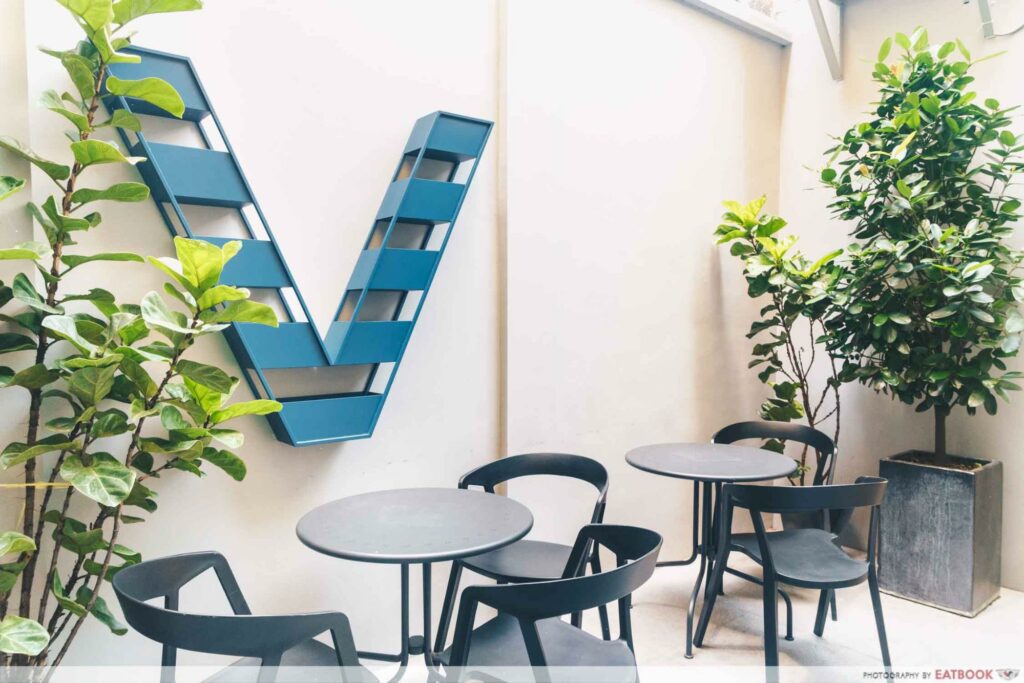 The only downside is that the tables are rather close to each other, so you might hear the group beside you spilling the tea about their friends whether you like it or not. The cafe takes reservations, so you can always drop them a call before heading down.
The verdict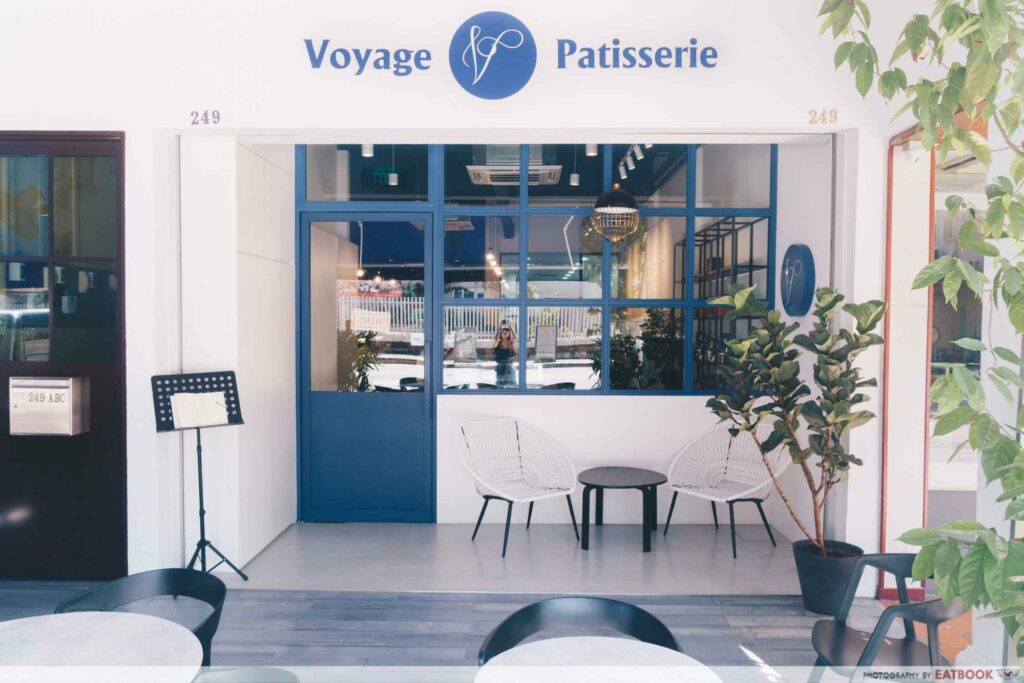 Found along the same stretch as Tiong Bahru Pau & Snack, Voyage Patisserie is not the most convenient of cafes to visit, but the desserts make it worth the trip down. It's evident that Chef Jonathan doesn't skimp on the quality of the ingredients used, and his finesse allows each component of every dish to shine. 
For more delicious desserts, check out our list of best dessert places in 2018. If you're in the area, you can visit these Tiong Bahru food spots too!
10 Best Dessert Places With Kaya Toast Cake And More – Eatbook Top 50 Awards 2018
Address: 249 Outram Road, Singapore 169048
Opening hours: Tue-Thur 10am to 10pm, Fri-Sun 10am to 12am
Tel: 6223 2490
Website
Menu
Voyage Patisserie is not a halal-certified cafe.
Photos taken by Cindy Yong.
This is an independent review by Eatbook.sg.
Summary
Pros
– Quality ingredients used
– Seasonal menu available
– Well-executed desserts
Cons
– Expensive
– Small space, might have to queue
Recommended dishes: Le Pain Perdu ($15+), Bassenay Black Cherry Tart ($10.50+)
Opening hours: Tue-Thur 10am to 10pm, Fri-Sun 10am to 12am
Address: 249 Outram Road, Singapore 169048