Elixir Boutique Roasters x Fat Belly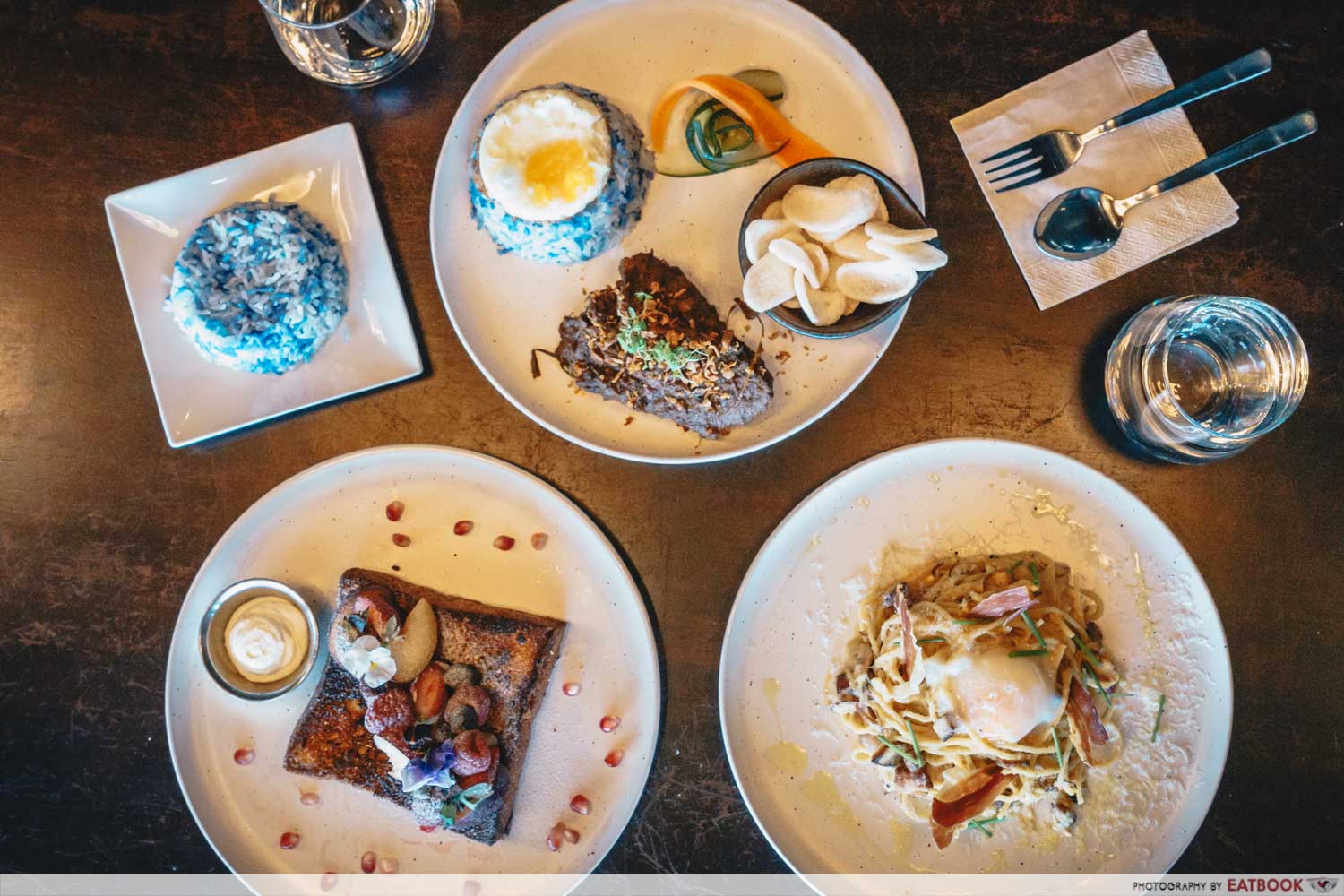 I love cafes. The idea of a good brunch can easily get me out of bed on the weekends, but what turns me off are breakfast platters with a boring ensemble of overcooked scrambled eggs, canned baked beans, and wrinkly sausages that I can whip up myself with my eyes half-open. Elixir Boutique Roasters is a dual identity cafe which, thankfully, is free from a dish like that. 
Food at Elixir Boutique Roasters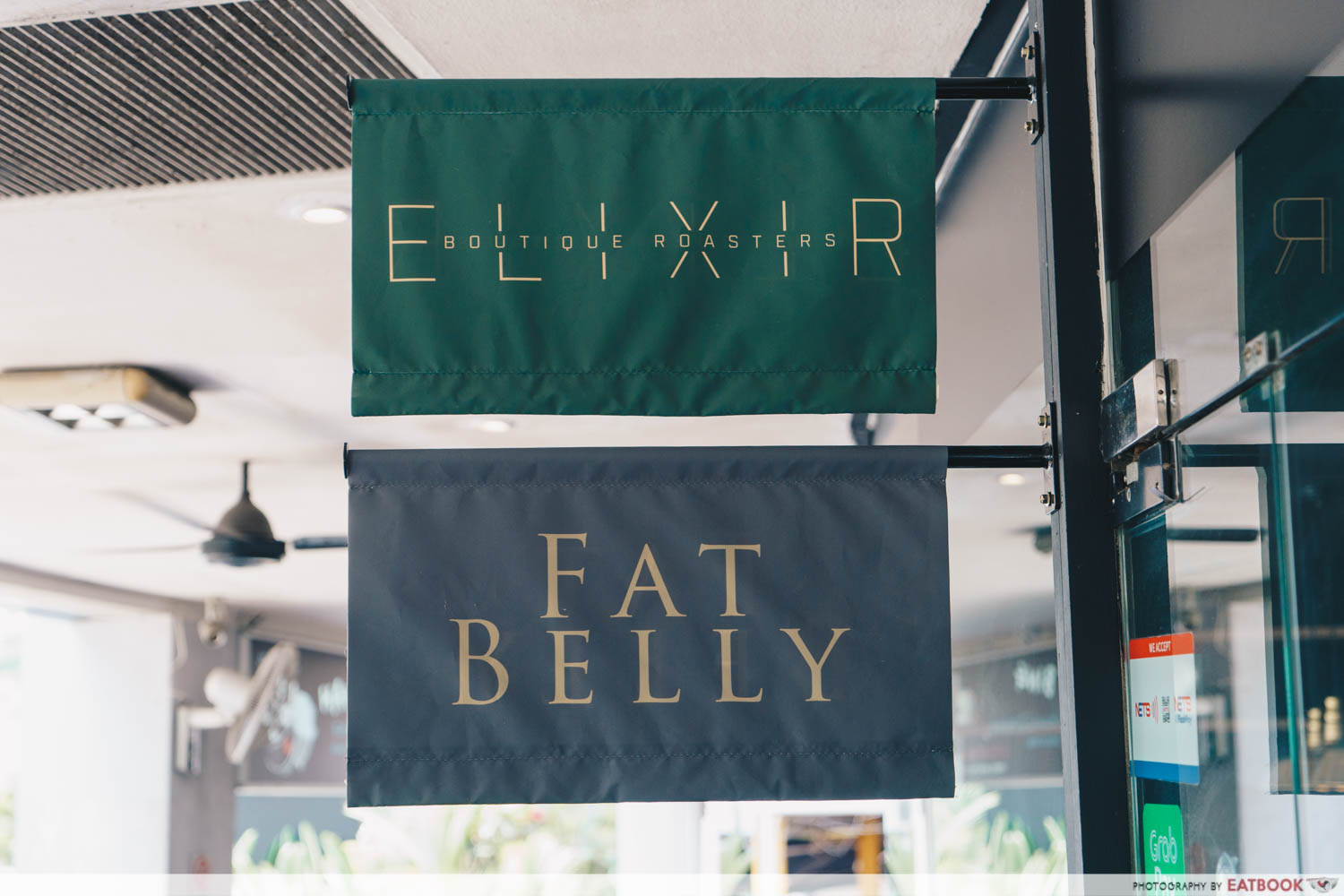 You might have heard of Fat Belly at Bukit Timah. Known for serving less popular cuts of beef such as the flat iron, rump cap, and Denver, Fat Belly also shows their non-conformist nature through the constantly changing daytime menu with aliases such as Sugarhaus and, now, Elixir Boutique Roasters. Every time the menu changes, the name changes as well.
Breakfast here runs all day from 8:30am to 3:30pm, whereas lunch only starts at 11am. The sweet spot to enjoy both menus would be anytime between 11am and 3:30pm.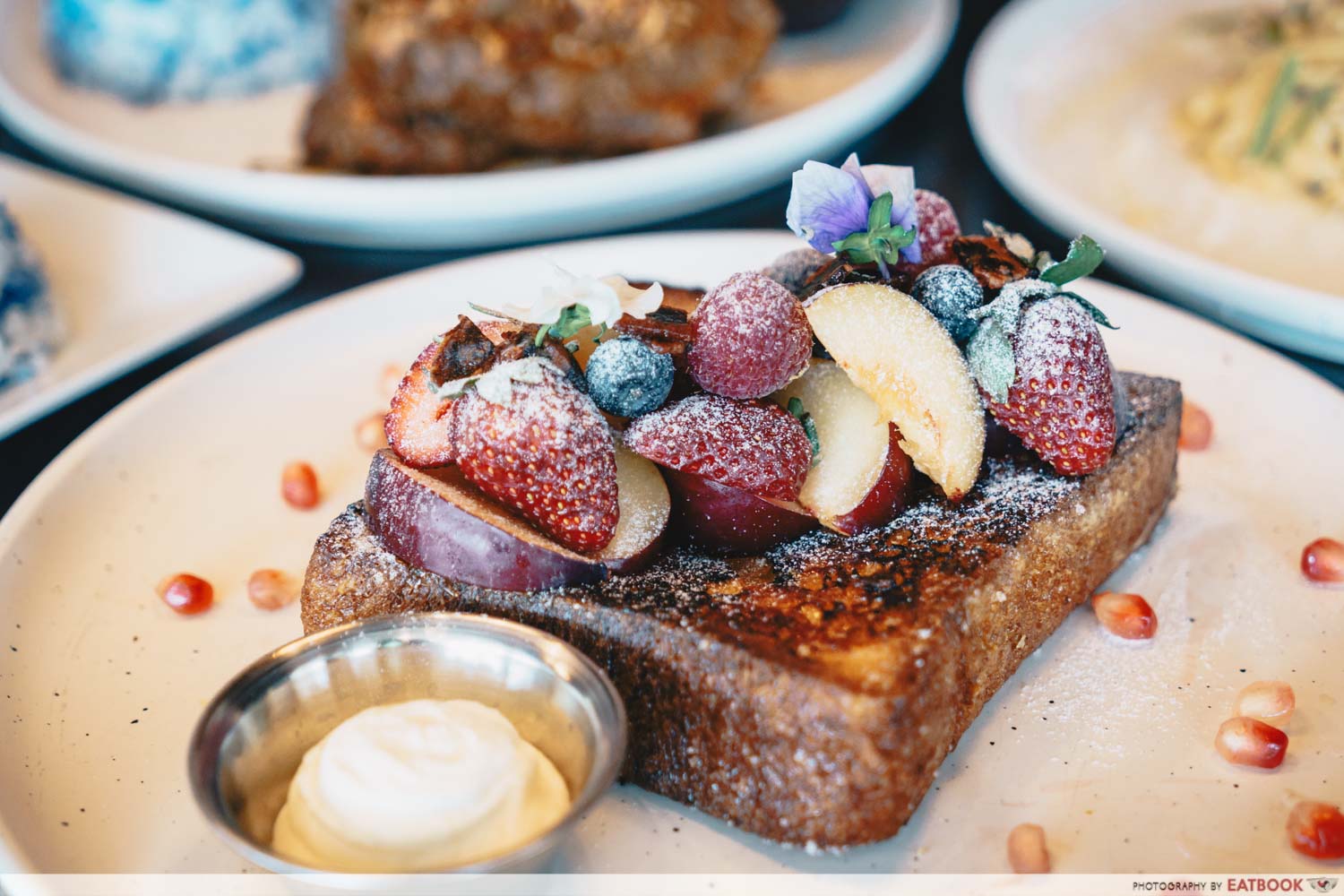 I know that desserts are usually meant to be eaten and written about last, but Elixir Boutique Roasters' Brûlée French Toast ($18++) is the one thing I would easily return for. Adorned with fresh strawberries, peaches, berries, and edible flowers, this French toast might look like any other atas French toast.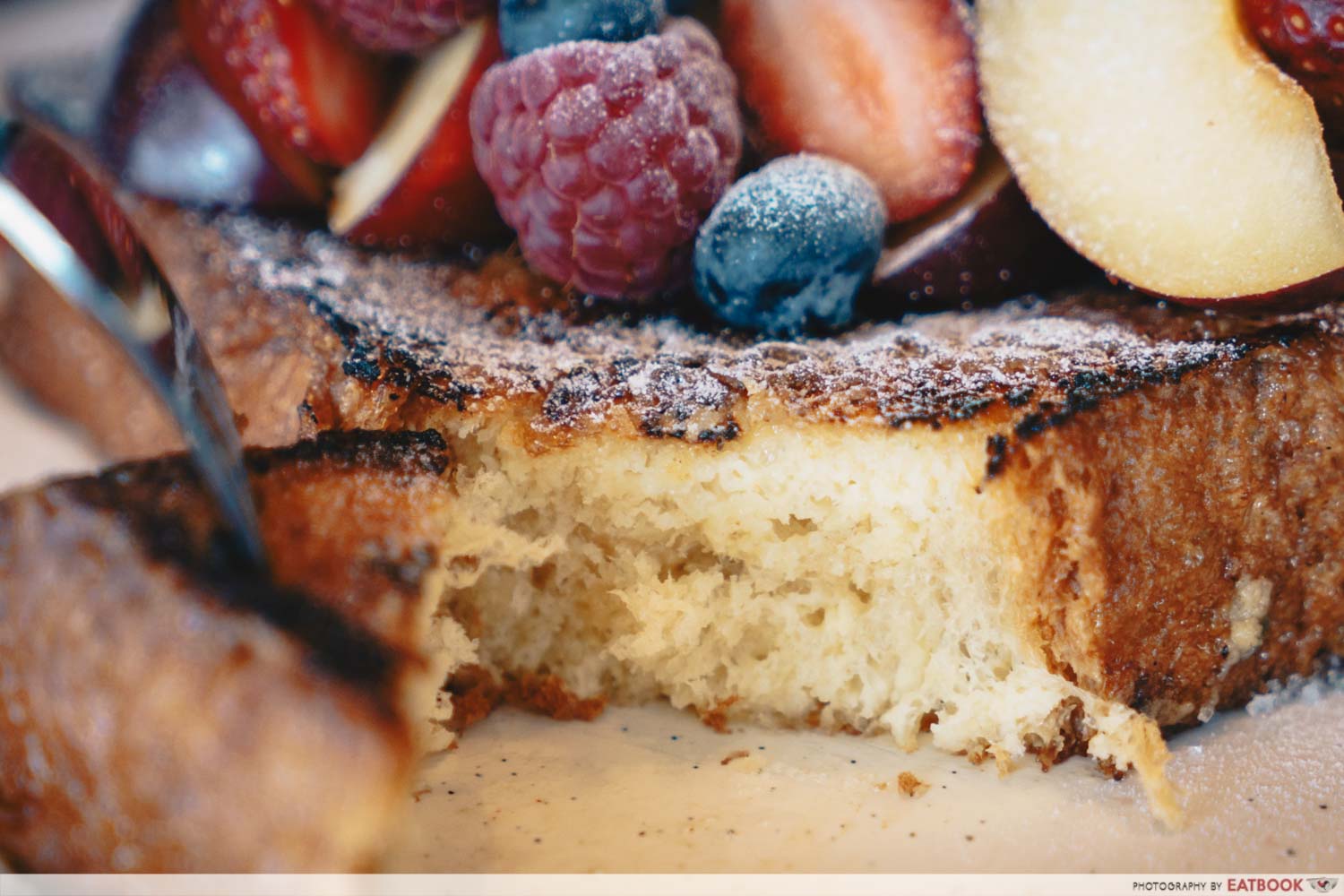 However, cut it open and you will be surprised by the crunchy brûléed exterior and fluffy brioche interior. The torched sugar layer covers the top of the bread, giving not only a beautiful crunch but also a wallop of buttery sweetness.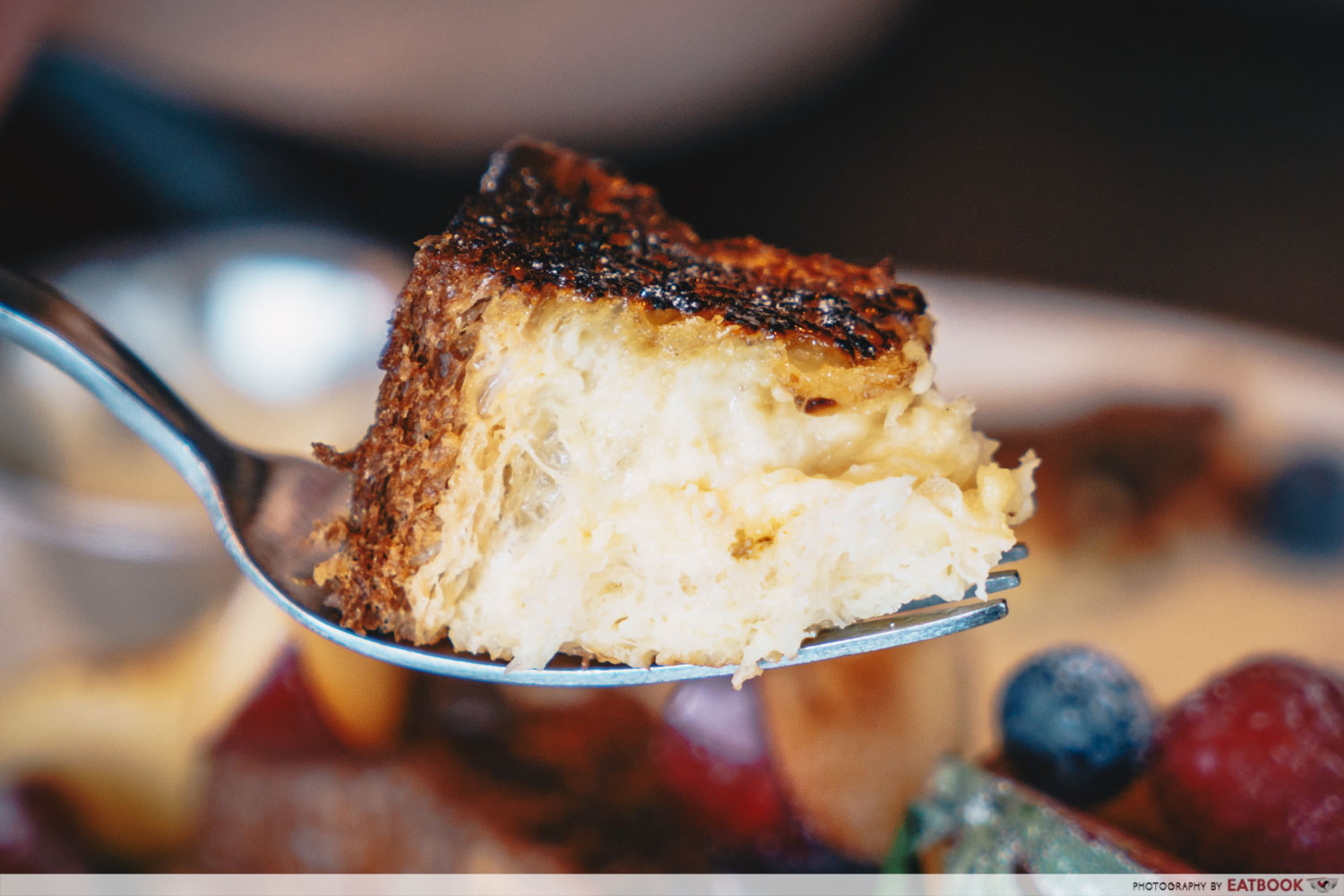 Dig a lil' deeper to find a gooey, almost unbaked centre. This sneak attack reminds me of a molten lava cake—outwardly humble, but internally luxurious. The clever chefs might have injected an extra dose of sweet cream filling, which made it a standout dessert, hitting straight through my heart.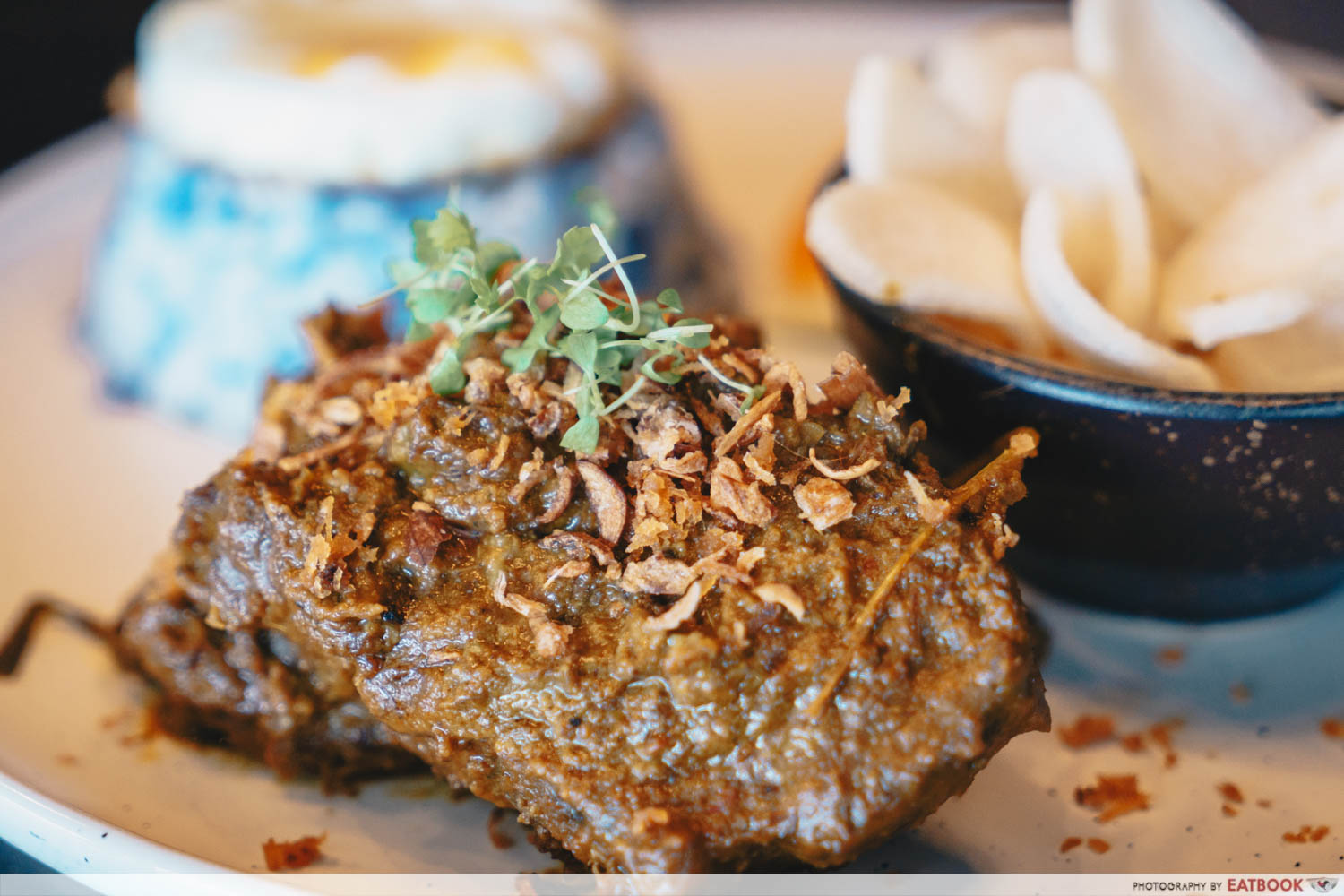 Order their Wagyu Beef Cheek Rendang ($22++) to get the most bang for your buck. It comes with an aromatic slab of wagyu beef rendang, fried egg, beautiful blue pea nasi lemak, a rosette of pickled cucumbers and carrots, and keropok. 
The best part about this dish is that the blue pea rice is free-flow. Dragging my brother here will not be a problem as he can eat to his heart's content—instead of complaining about how cafe food is never substantial. It is easy to finish the extra serving as every fluffy grain of rice is dyed with a pretty hue of azure blue, and imbued with the fragrance of coconut milk.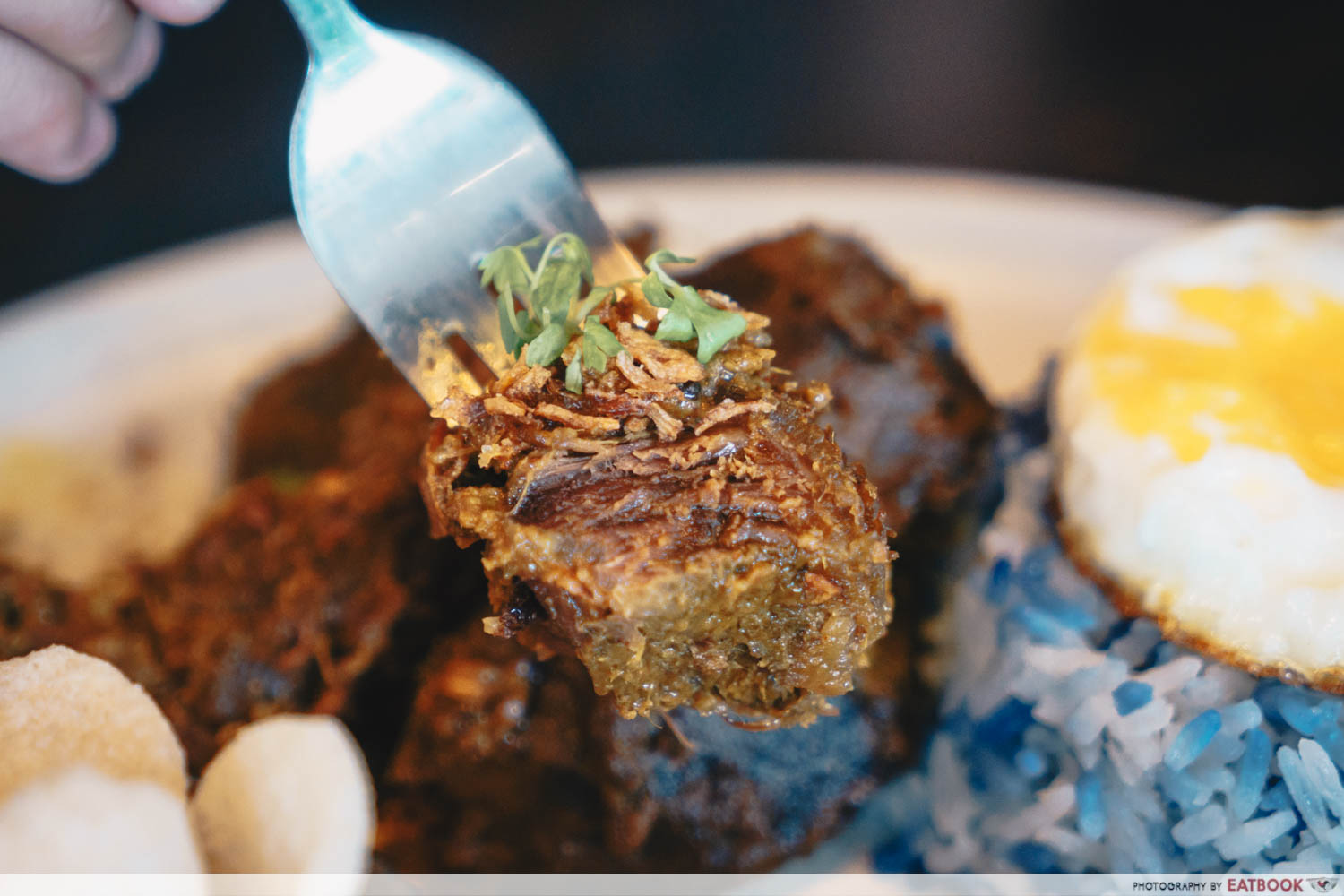 Spiked with spices, the beef rendang brought a wealth of mouth-watering flavours to the dish. I only wish each chunk of meat was a tad more tender. I thought wagyu could never go wrong but this time it did. With a lower melting point than regular beef, the fats in wagyu might have all been rendered away, or the cut of meat used was simply not ideal.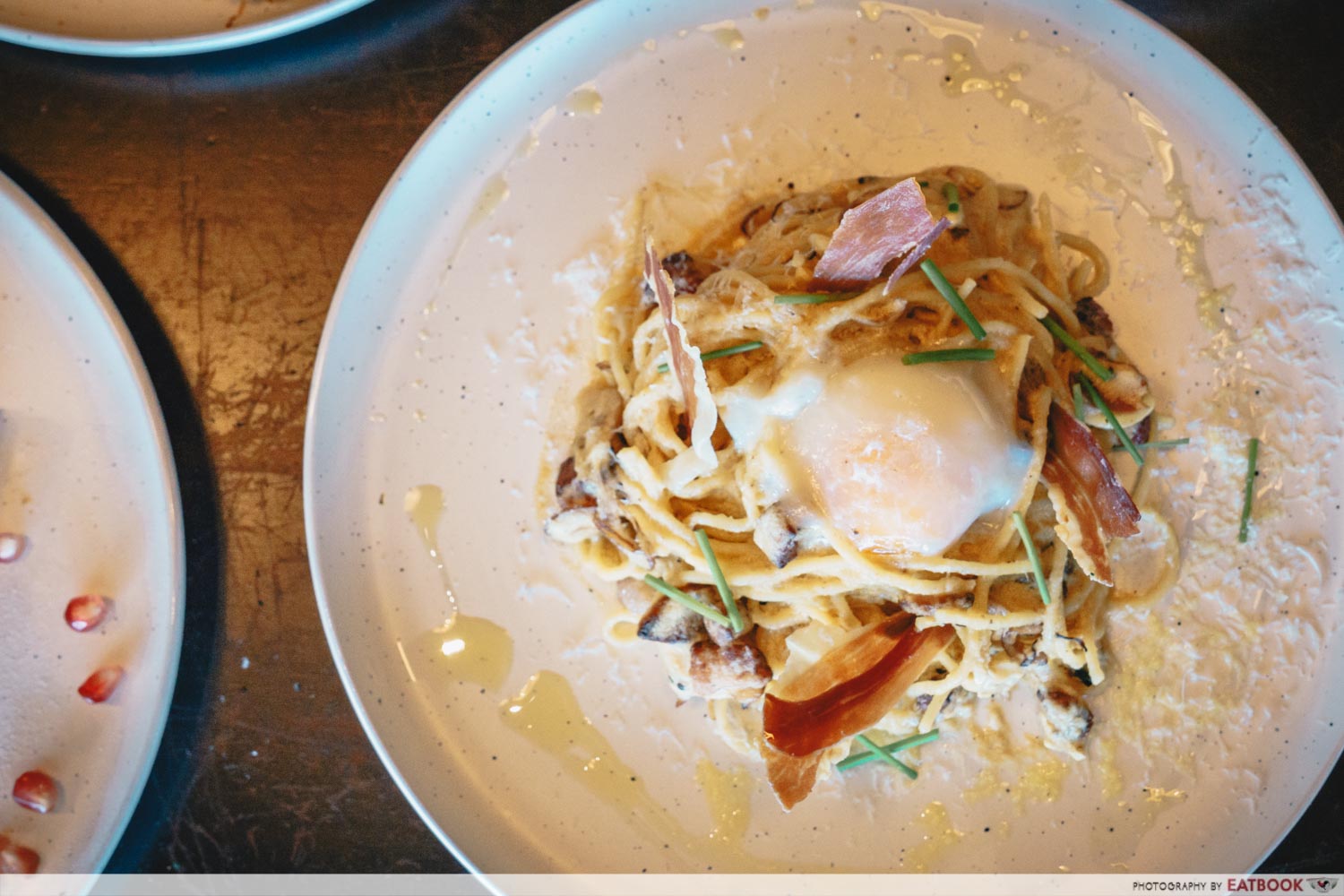 Many would insist that real carbonara doesn't contain cream. True fans will be glad to know that Elixir Boutique Roasters also serves a mean, cream-free Carbonara with Onsen Egg ($18++). Ingredients such as fatty pancetta bits, slices of prosciutto, and a heavy dust of parmigiano-reggiano were also added to make the carbonara extra indulgent.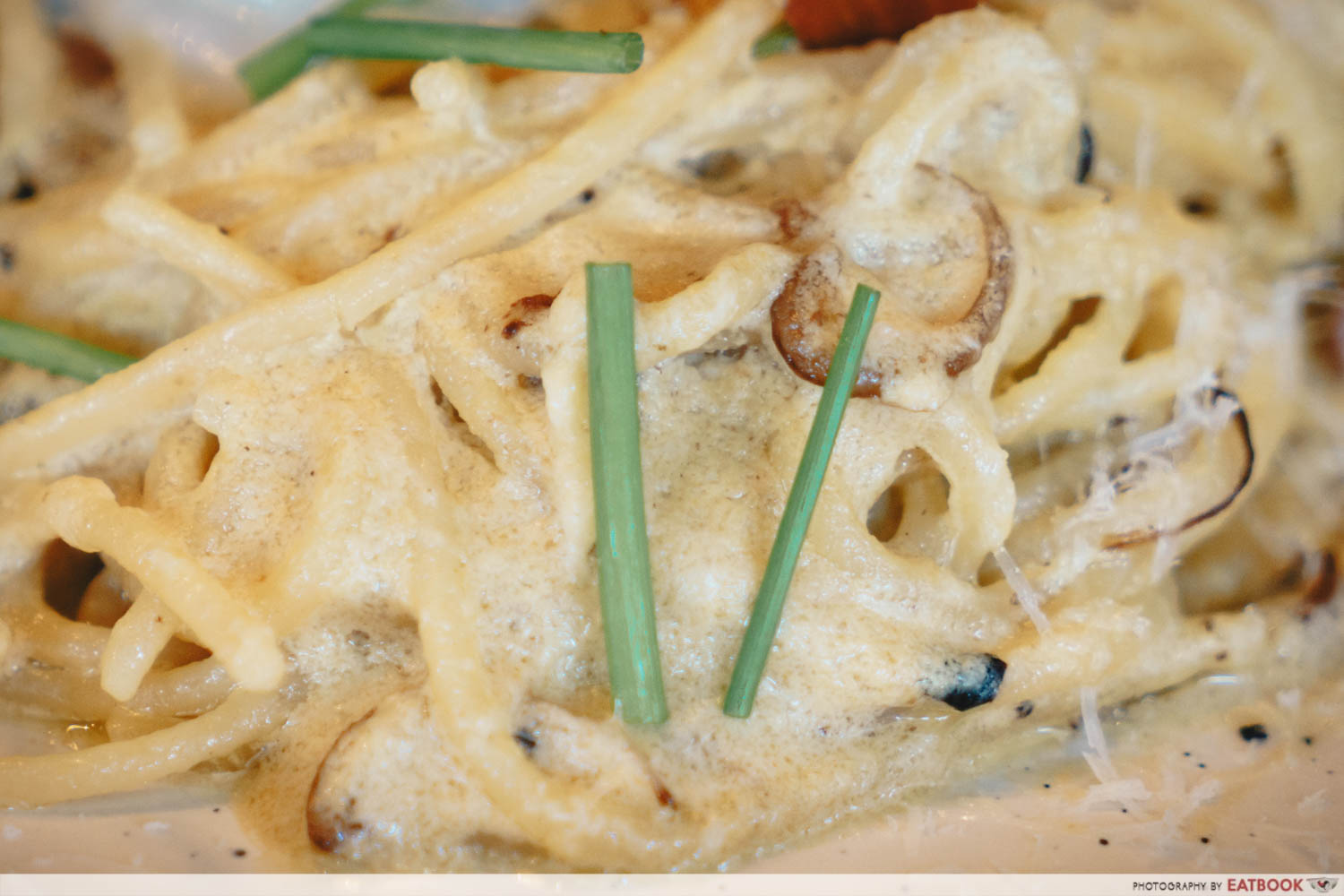 The white sauce might not boast the smoothest texture but taste-wise, it had a robust and creamy flavour that became more pronounced when combined with specks of black pepper.
Ambience at Elixir Boutique Roasters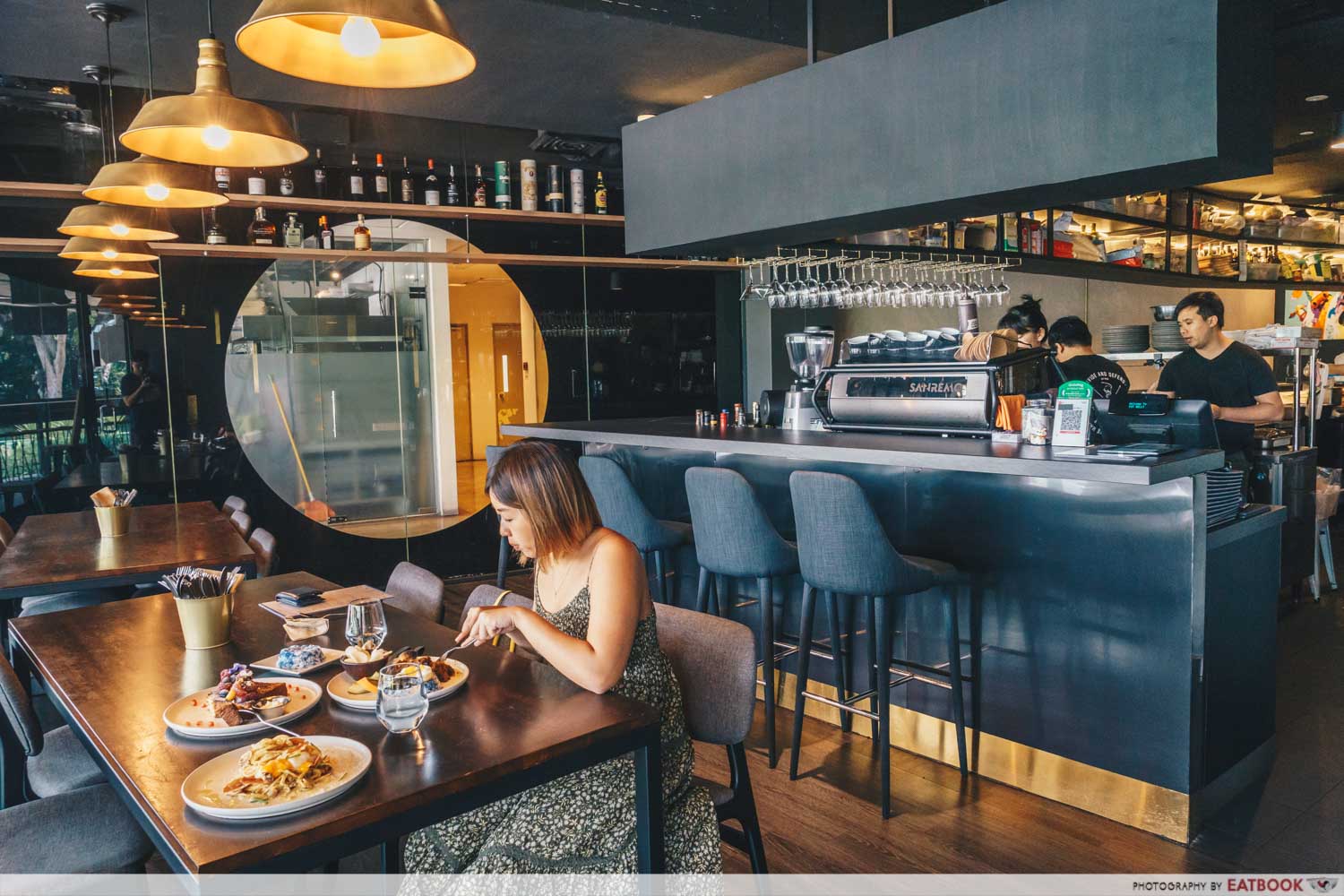 As with any hip cafe located in Bukit Timah, the seats are as limited as the number of dishes on their small but well-curated menu. You can, however, be assured that no sharp elbows are required here as the dining areas are considerably spacious.
The verdict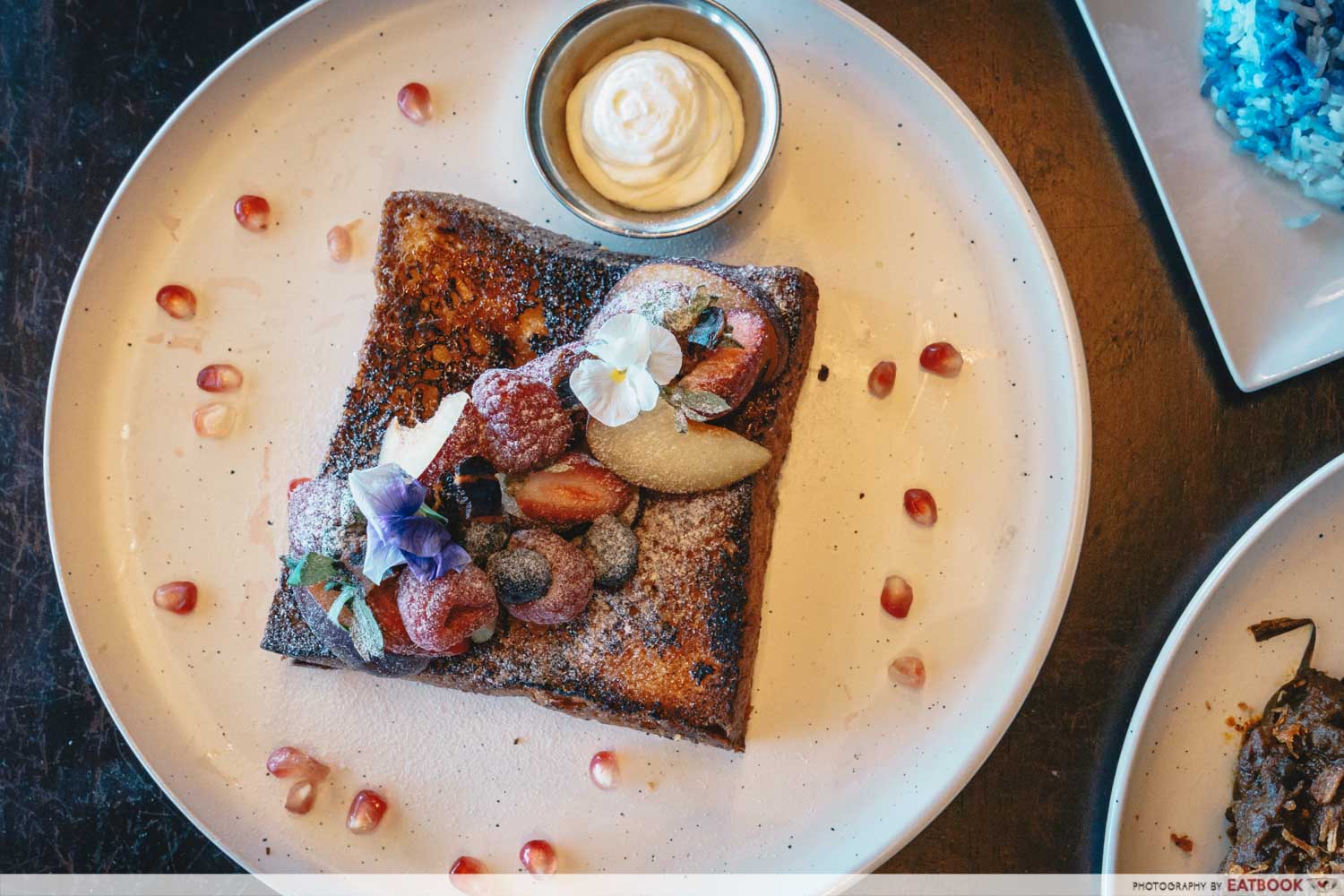 I was blown away by Elixir Boutique Roasters' Brûlée French Toast and can't wait to be back for more of it. On the other hand, the other two dishes left me with a lukewarm experience. Elixir Boutique Roasters opens only till 3:30pm. But those looking for a dinner spot can visit Fat Belly after 6pm!
If you're looking for more cafes in the area, check out this updated list of Bukit Timah cafes for house-baked bread, ice-cream and more.
Address: 10 Jalan Serene, #01-03A/04, Serene Centre, Singapore 258748
Opening hours: Thur-Tue 8:30am to 3:30pm
Tel: 6314 2247
Website
Elixir Boutique Roasters is not a halal-certified eatery.
Photos taken by Maverick Chua.
This is an independent review by Eatbook.sg.
Summary
Pros
– Non-typical cafe food
– Well-seasoned dishes
Cons
– Slightly pricey
Recommended dishes: Brûlée French Toast ($18++)
Opening hours: Thur-Tue 8:30am to 3:30pm
Address: 10 Jalan Serene, #01-03A/04, Serene Centre, Singapore 258748