Origin + Bloom at Marina Bay Sands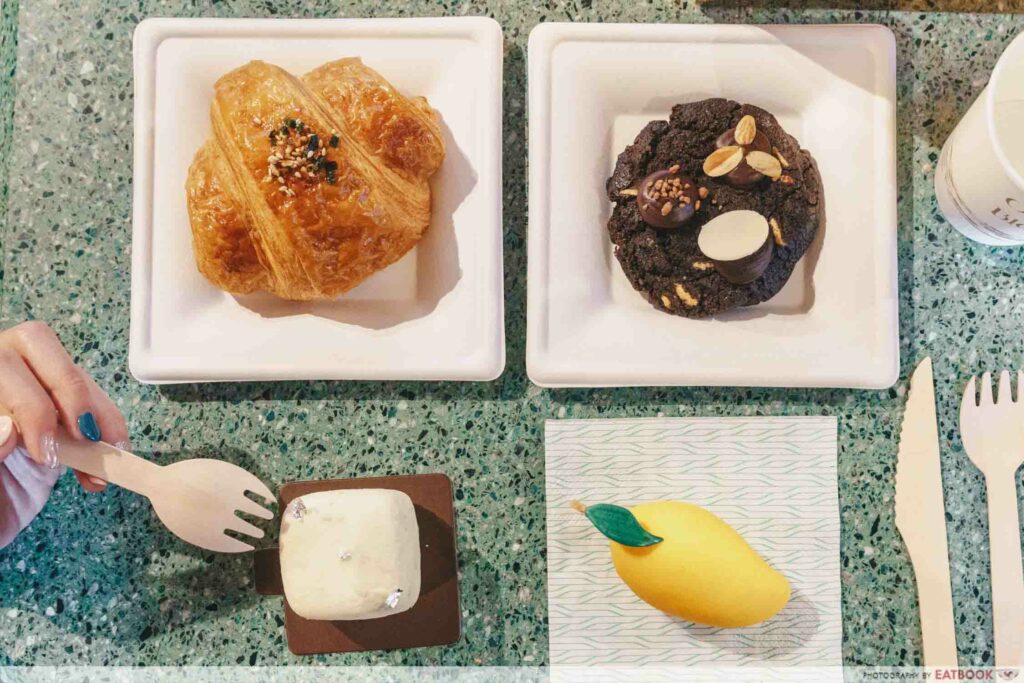 I'm not a fan of Marina Bay Sands, partly because my pockets aren't deep enough to enjoy a good time there. But if there's one food joint I would splurge my cash at this flashy hotel, it would be Origin + Bloom. Reminding me of the gorgeous patisseries in Europe, Origin + Bloom is helmed by Antonio Benites, who used to work at Joël Robuchon and Pierre Hermé previously. Like any worthy bakery, you will find a selection of gourmet baked bread, pastries, and desserts here. 
Food at Origin + Bloom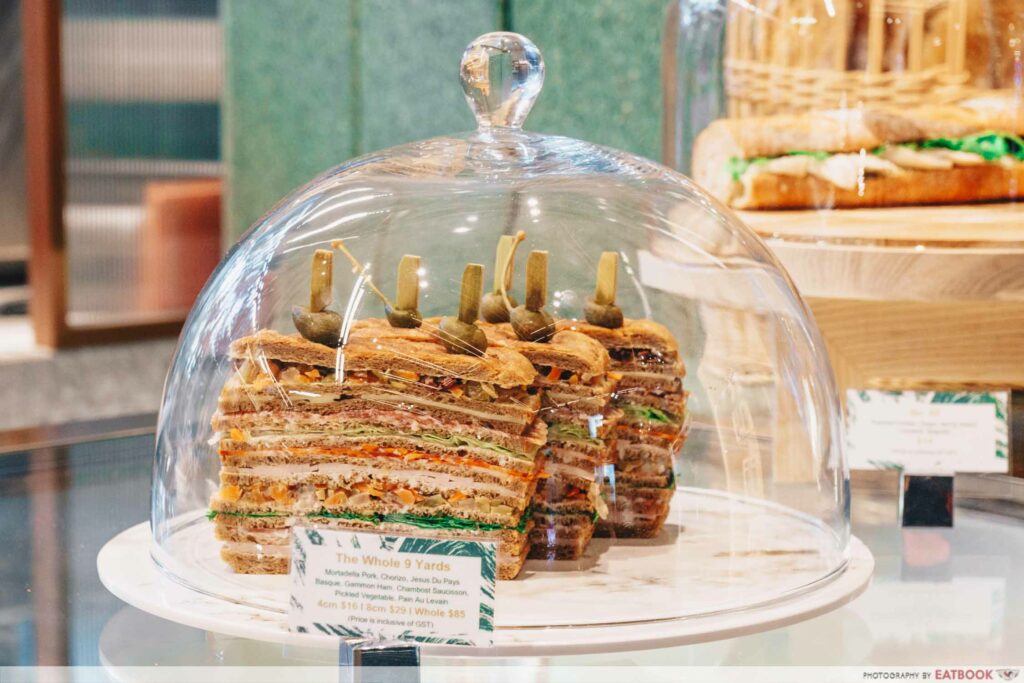 There are nine sandwiches on the menu, but I suggest getting The Whole 9 Yards sandwich ($16+ for 4cm, $29+ for 8cm, $85+ for whole). A nine-layer sandwich comprising Mortadella, chorizo, gammon ham, pickled vegetables and a selection of cheese, this hunk of a sandwich is the true epitome of a flavour bomb.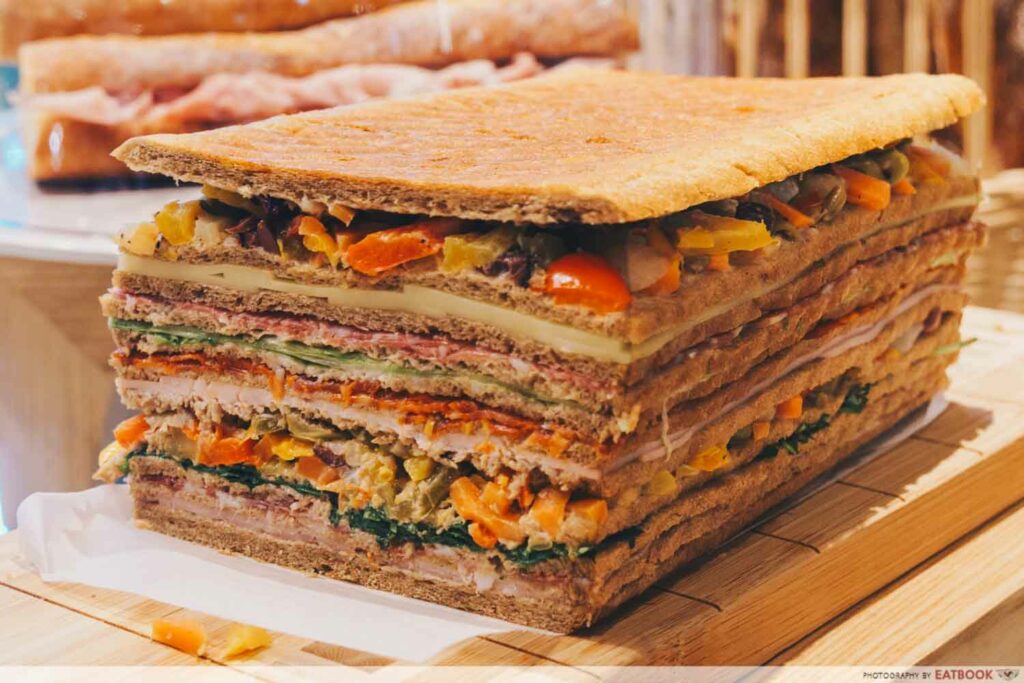 It's tough chomping down on it, so I ate the sandwich layer by layer, starting from the saltish ham and ending at the tart pickled vegetables. It was delicious, and definitely a great dish to have as you laze by MBS' Infinity Pool.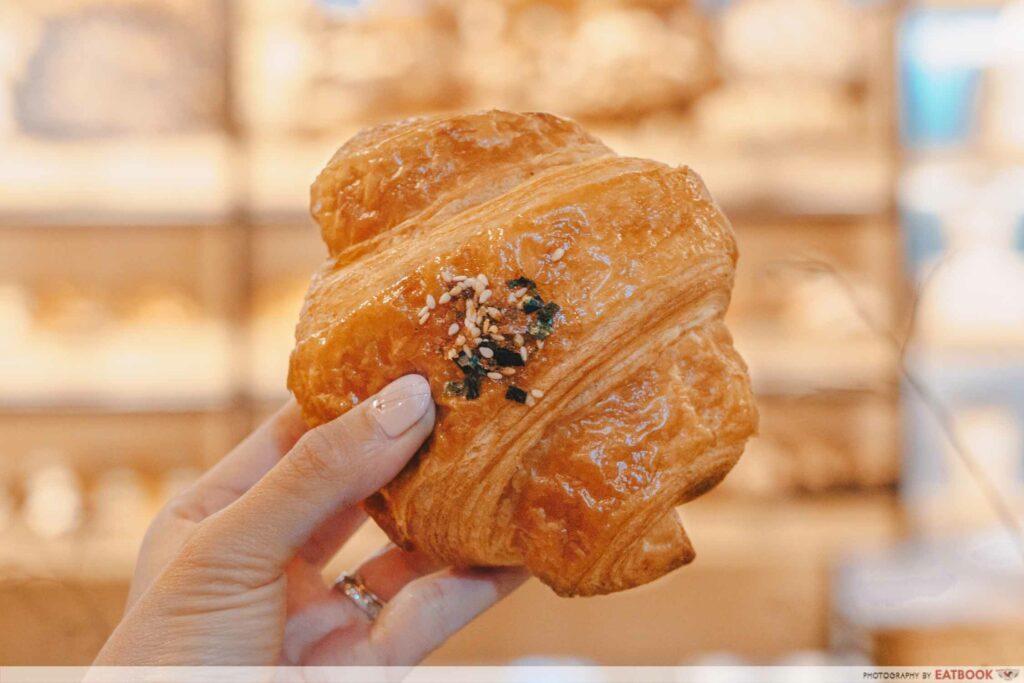 If you prefer a lighter savoury dish, try the 'Otah Otah' Croissant ($5.50+). Flaky and buttery, the croissant dough wraps around a thick chunk of otah. The otah's spice is not mellowed down for tourists' taste buds, so you won't be disappointed.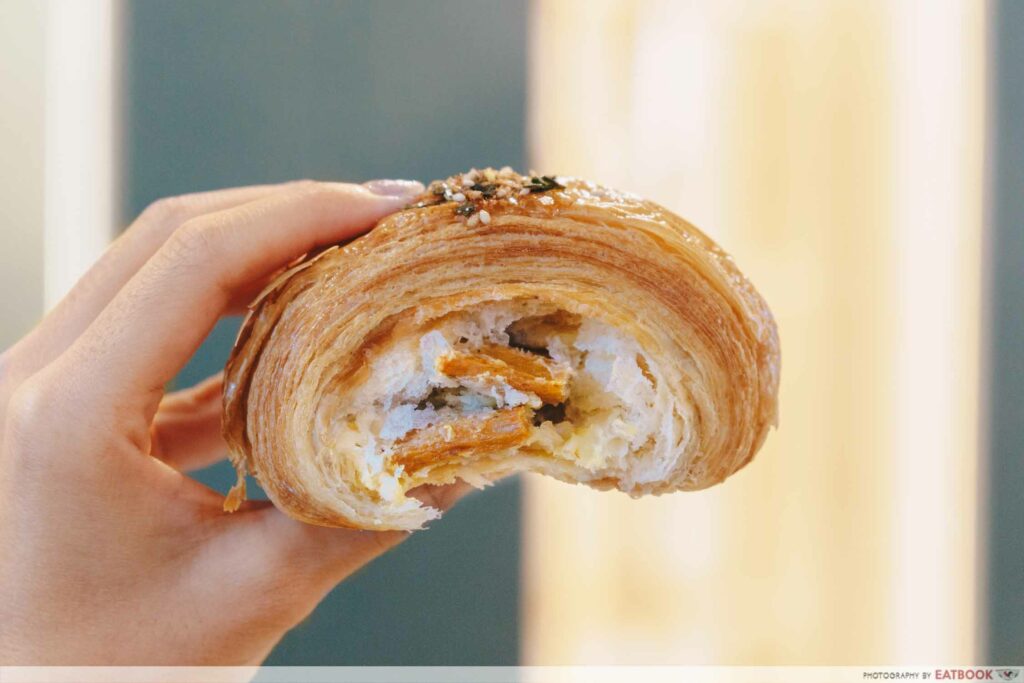 The croissant is crispy, and eating it will be a messy affair as it crumbles with each bite.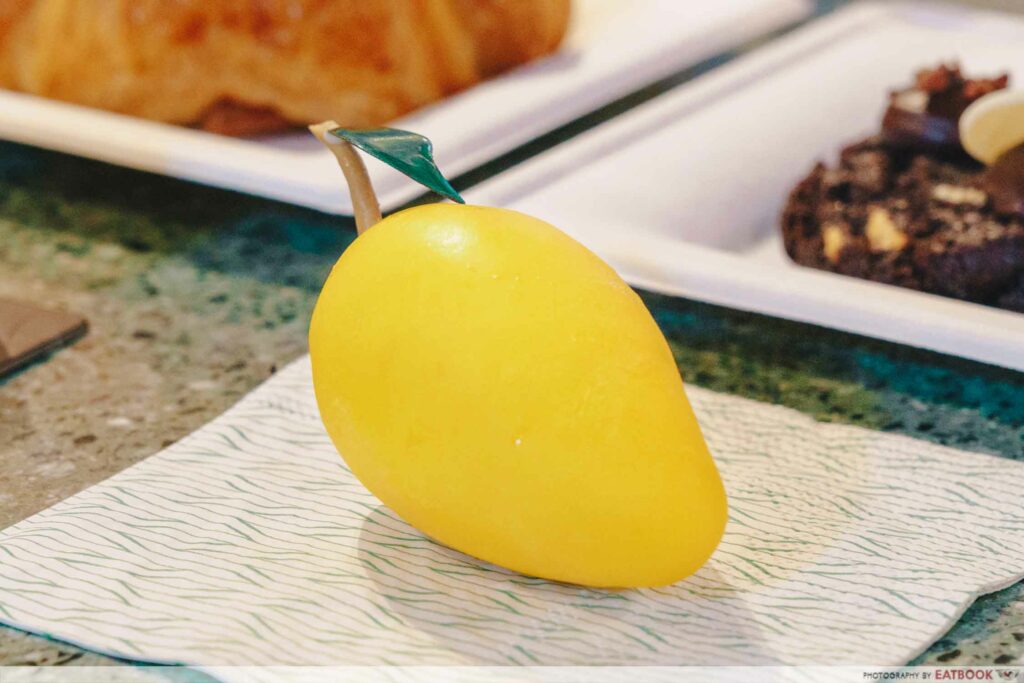 Onto the desserts aka the stars of Origin + Bloom. Dainty but crafted exquisitely, the desserts here are worth every penny. Case in point, the Mango ($10+). 
Made to look like a mango, this IG-worthy treat features a yellow chocolate shell encasing a mango mousse with a passionfruit-lychee jelly centre. There is also a sprinkle of Sarawak pepper, although I couldn't detect any hints of pepper in this refreshing and fruity dessert.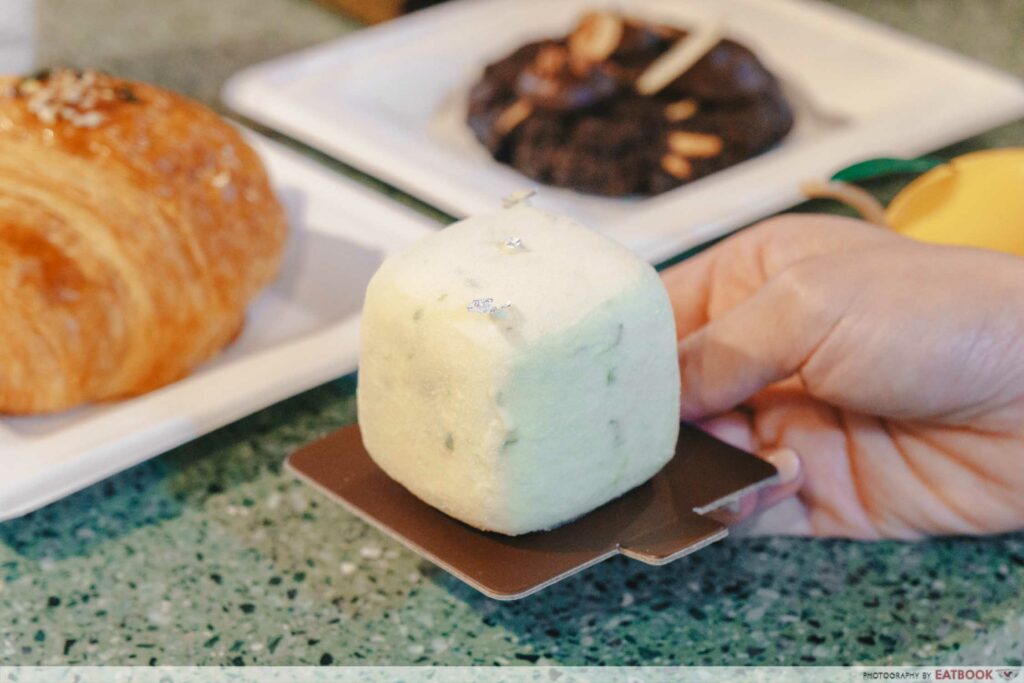 This mochi-looking treat is actually a Cheesecake ($9+) with an acai jelly centre and a thin base made from Brittany biscuit. Texture-wise, the cheesecake is velvety smooth as it is made with whipped lime pastry cream.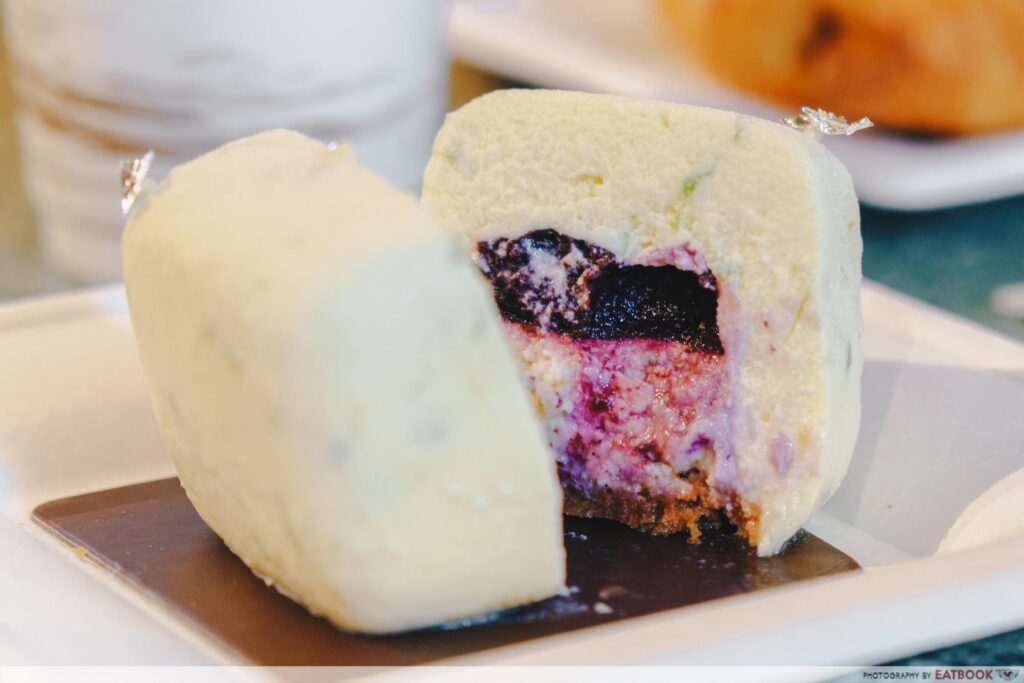 The cheesecake was tart with a rounded sweetness. I would have preferred if it was firmer, as the smooth texture made it rather jelak after a few mouthfuls—and this was a really tiny cake.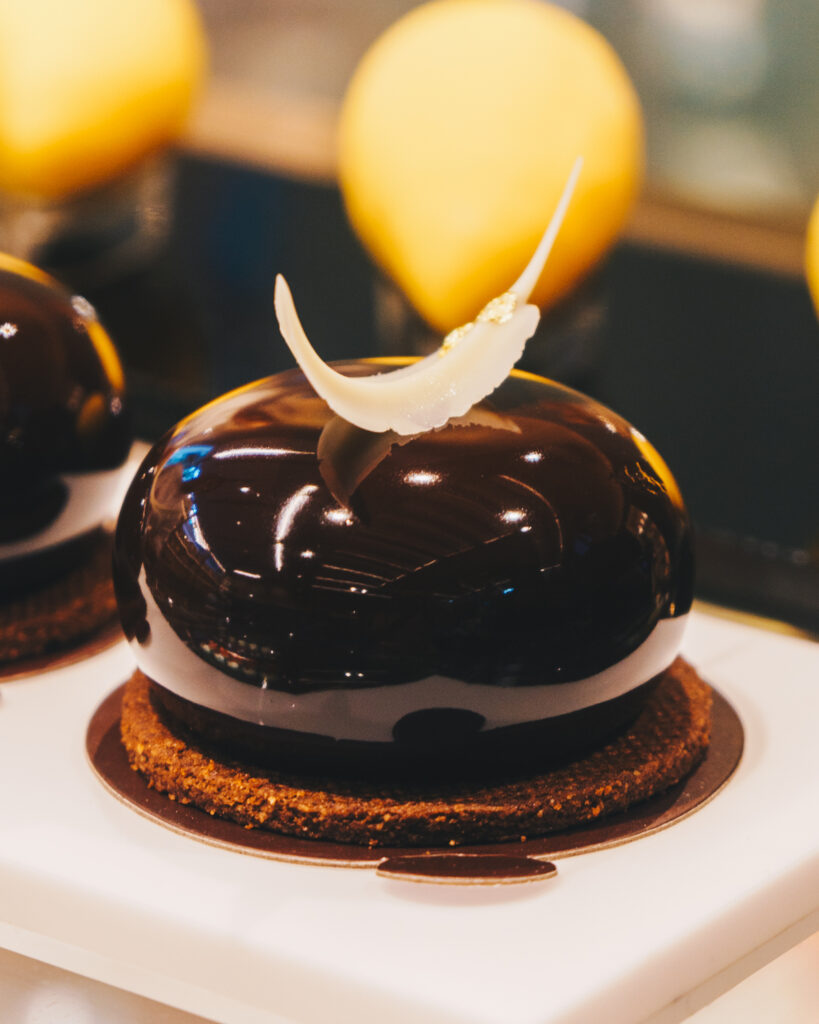 I couldn't stop thinking of the Black Symphony ($9+) after my first visit to Origin + Bloom. Unfortunately, it was completely sold out by 4pm on my second visit. If you're lucky and a fan of chocolate treat, you must get this dessert. Here, a rich dark chocolate pecan brownie is paired against luscious caramel. The velvety texture is juxtaposed against the crisp stroopwafel-like base in cocoa flavour, making it a joy to eat.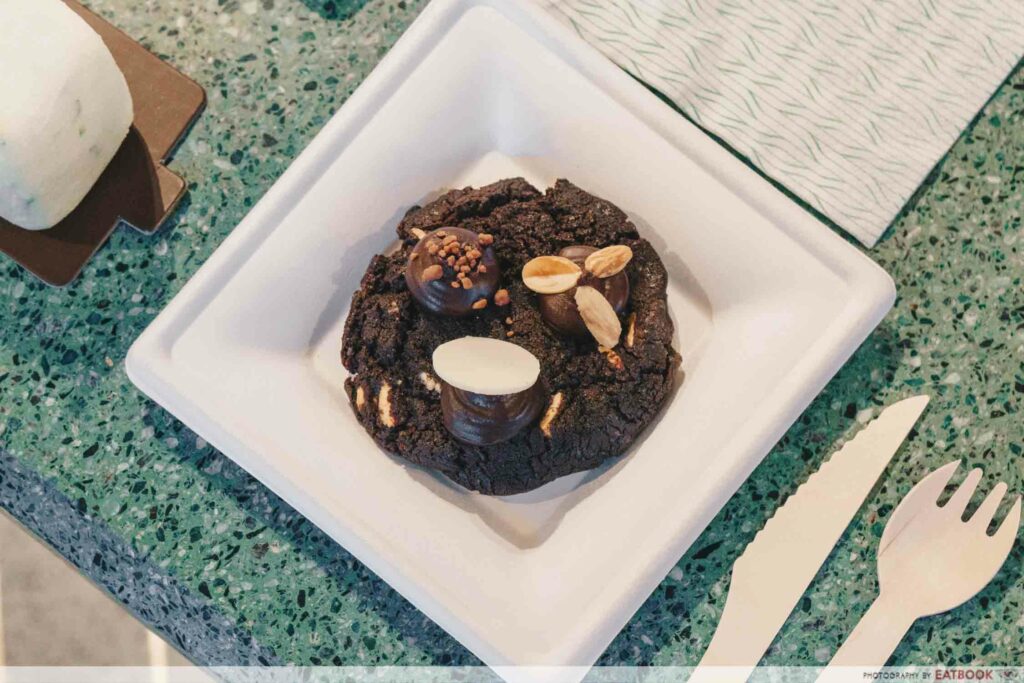 Those on a tight budget but still wanna try Origin + Bloom's sweet treats can opt for their cookies ($3.50+) instead. We tried their Double Chocolate cookie, which was soft and chewy, while still maintaining a crunchy exterior. I appreciated the spheres of chocolate toppings, as they provided an added richness to this chocolatey goodie.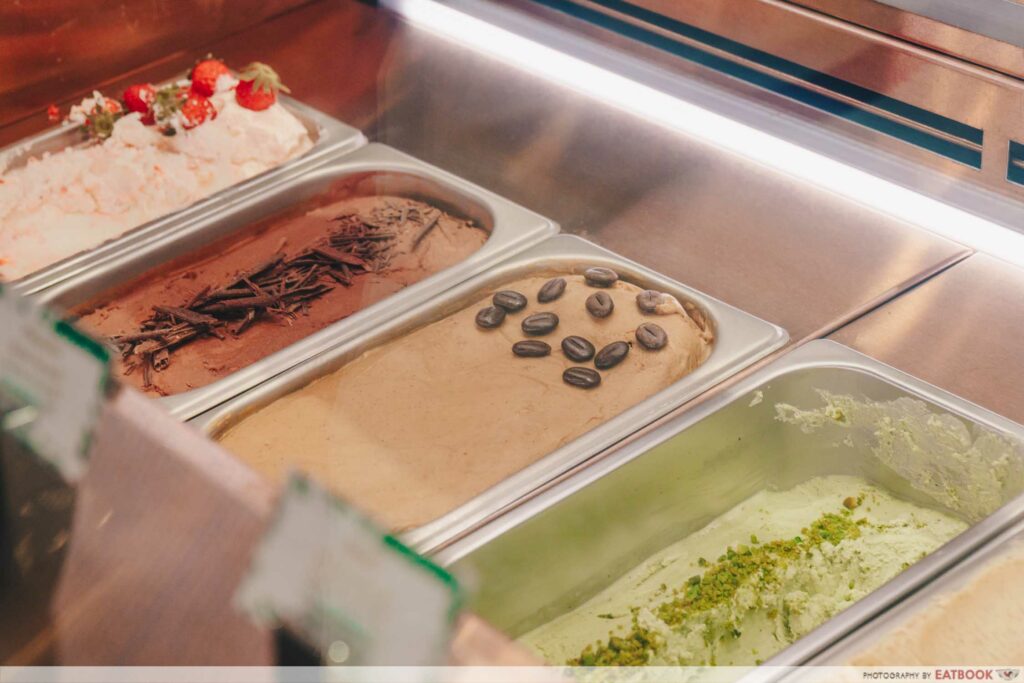 Don't overlook Origin + Bloom's selection of ice cream. They are extremely creamy and fresh in taste. While they have Pistachio and Coffee flavours, it was their Vanilla that made everyone at the tasting squeal in delight. I gotta say, it is the best Vanilla ice cream I ever had in Singapore, with a fragrant and smooth body, that melted delicately on our tongue.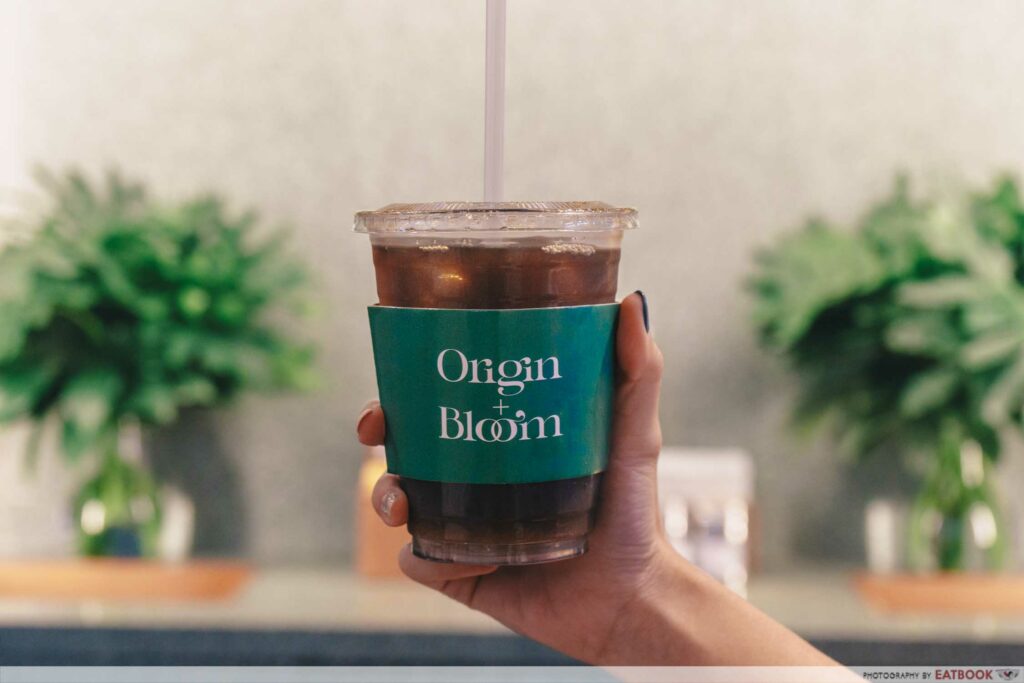 A good cup of latte is easy to get these days. So I skipped my usual order and got their Origin + Bloom Mazagran ($6+), where cold drip coffee is added with lemon juice and ice. Lemonade coffee sounds unusual, but there is more to it than a weight-loss drink. The sourness of lemon neutralises the bitter notes of the brew, creating a complex yet refreshing drink.
If you're a milk coffee drinker and think this drink will be too dark or acidic for you, don't fret, as it is honestly pretty sweet and easy to drink on a hot sunny day.
Ambience at Origin + Bloom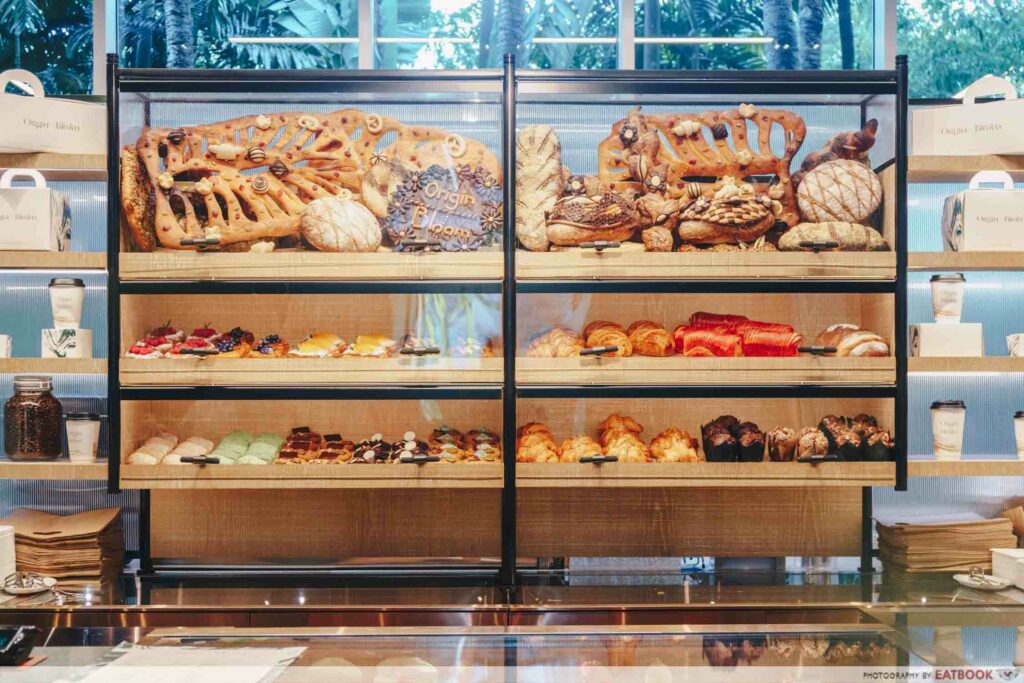 Located in the hotel wing of Marina Bay Sands, the kicky patisserie exudes elegance, with luxurious golden fittings juxtaposed against desert green walls and chairs. There are only six bar seats in total as well as a standing table in the centre for you to eat your bakes. That being said, I suggest you just grab and go, and dine by the Singapore River instead. 
The verdict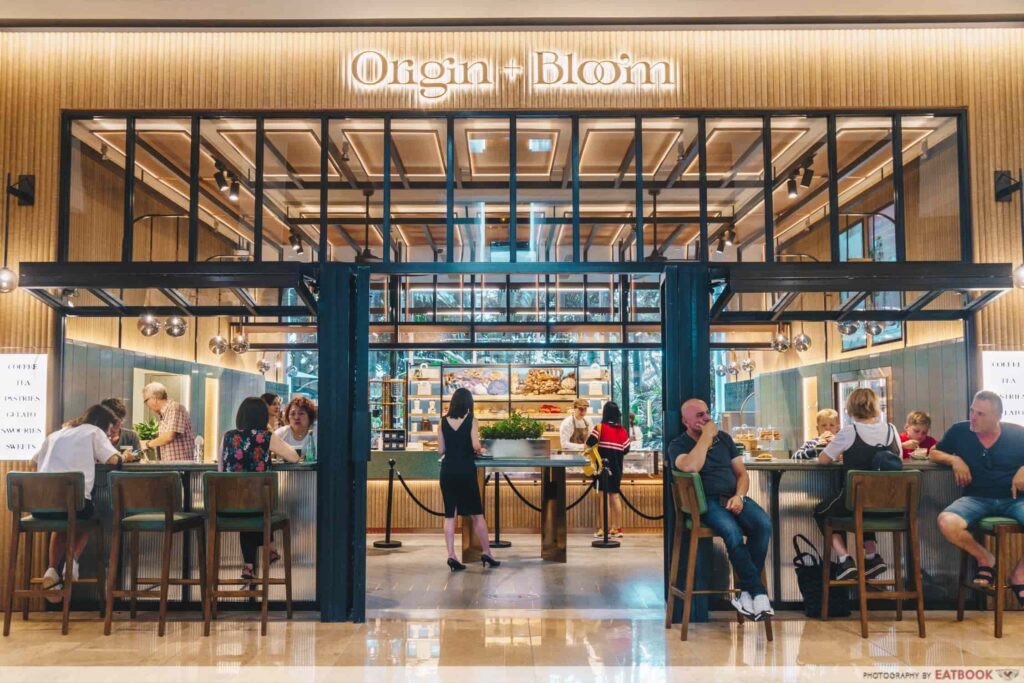 It's difficult to fork out more than $6 for a dessert. However, the effort that goes into making each dessert at Origin + Bloom makes the high price tag reasonable. The only qualms I have about this patisserie is that they only use disposable plates, cups and even fork and spoon. As such, I recommend you to bring your own Tupperware and tumblers when dining here. 
Address: 10 Bayfront Avenue, Lobby,  Hotel Tower 3, Marina Bay Sands, Singapore 018956
Opening hours: Daily 7am to 10pm
Tel: 6688 8588
Website
Photos taken by Reynard Lee.
Summary
Pros
– Good quality food
– Nice ambience
Cons
– Only have disposable cutleries and cups
Recommended dishes: Mango ($10+), The Whole 9 Yards sandwich ($16+ for 4cm, $29+ for 8cm, $85+ for whole)
Opening hours: Daily 7am to 10pm
Address: 10 Bayfront Avenue, Lobby,  Hotel Tower 3, Marina Bay Sands, Singapore 018956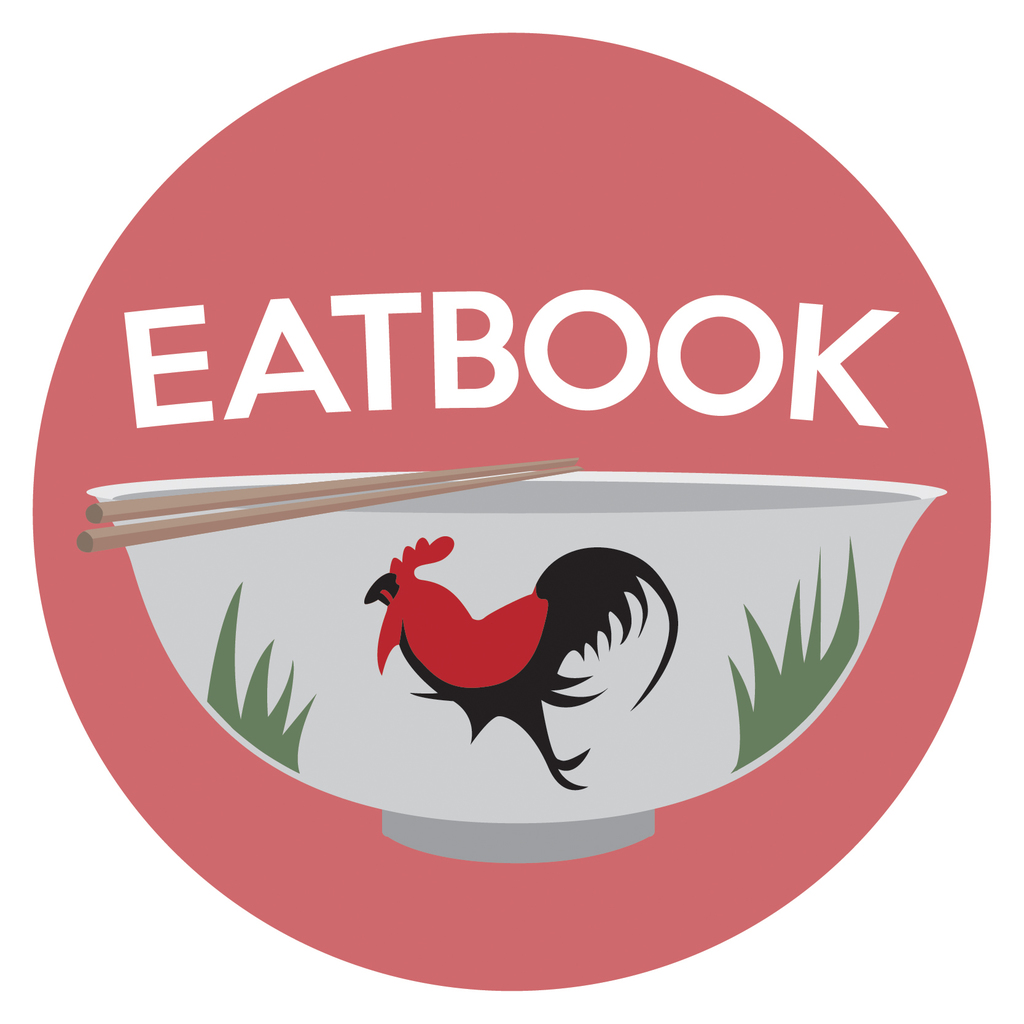 Drop us your email so you won't miss the latest news.