---
Artisanal bakeries for lip-smacking pastries
---
The intoxicating scent of freshly baked pastries is one of my favourites. There's something about the smell of golden-brown pastry emerging from the oven that puts you at ease. Even if you didn't grow up with a baker in the household, you can't help but be lulled into a sense of comfort.
We love small-scale artisanal bakeries for their friendly owners, peaceful atmosphere, and honest pastries. They exude comfort in the way only a home does. Here's a list of 10 artisanal bakeries that serve up golden brown hunks of carb-laden perfection.
---
1. Bakery Brera
---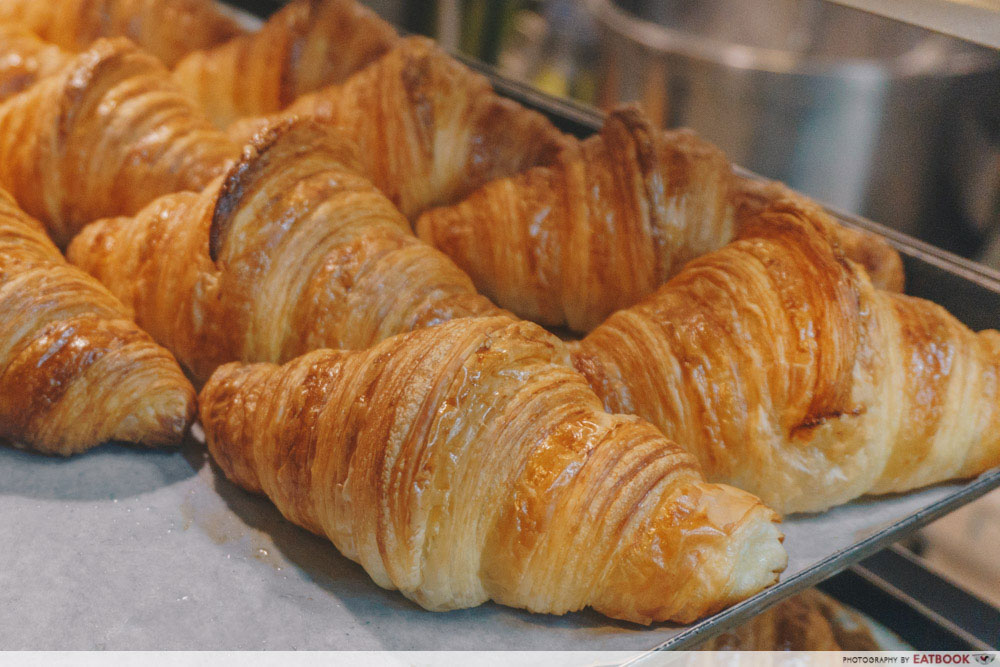 Lying in a sleepy Farrer Road estate, Bakery Brera is a diamond in the rough. This homely neighbourhood bakery cranks out a series of French-style bakes, from the classy croissant to nouveau cruffin, totalling up to nearly 30 items.
Cruffins ($4.50) are a fan favourite for their buttery and flaky layers, which are a result of a three-day lamination process. These croissant-muffin hybrids come in four flavours – Lemon Curd, Peanut Butter, Nutty Salted Caramel and Chocolate Cream. A Croissant ($2.80) and Kouign Amann ($4) stay closer to their classic French roots, and the Volcano Chix Char Siew Bun ($3) is a good savoury option with local flair.
Check out our full review of Bakery Brera!
Bakery Brera Review: Flaky Cruffins Stuffed With Peanut Butter, Salted Caramel And More
Address: 8 Empress Road, #01-05, Empress Mall, Singapore 260008
Opening hours: Tue-Sun 7am to 7pm
Tel: 6492 5428
Website
---
2. Micro Bakery & Kitchen
---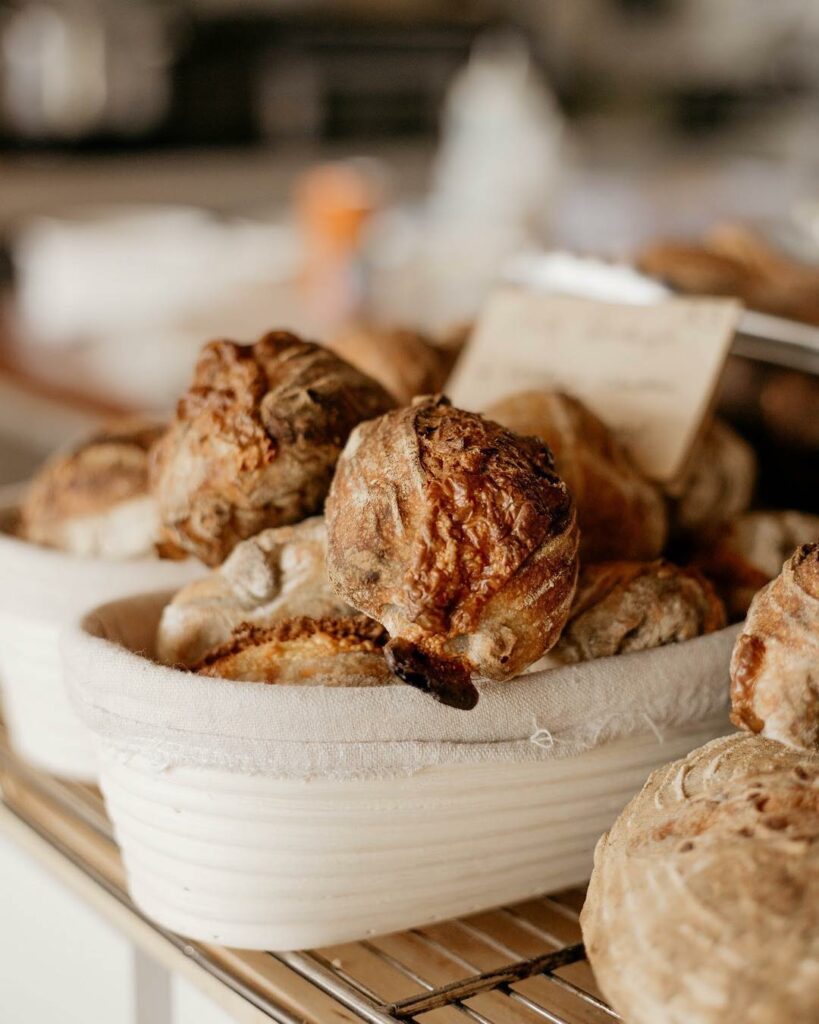 Image credit: @thirahmisu
The Bakery by Woodlands Sourdough was one of Bukit Timah's most popular spots, thanks to their high-quality bakes and unpretentious atmosphere. Bread lovers were understandably disappointed when it closed its shutters for the last time at the end of 2018. Thankfully, the space has been taken over by a spiritual successor in Micro Bakery & Kitchen.
Take home a whole loaf of their crusty Country Sourdough ($9) to enjoy with butter, or have a slice on site with their Homemade Nut Butter ($5). For more substantial bites, their Grilled Cheese Sandwich ($12) is the stuff of cheese-pull dreams, while House Ricotta Tartine ($12) showcases their uber creamy house-made ricotta.
Address: 10 Jalan Serene, #01-05, Serene Centre, Singapore 258748
Opening hours: Wed-Sun 8:30am to 5pm
Tel: 8339 4133
Website
---
3. Thai Baàng
---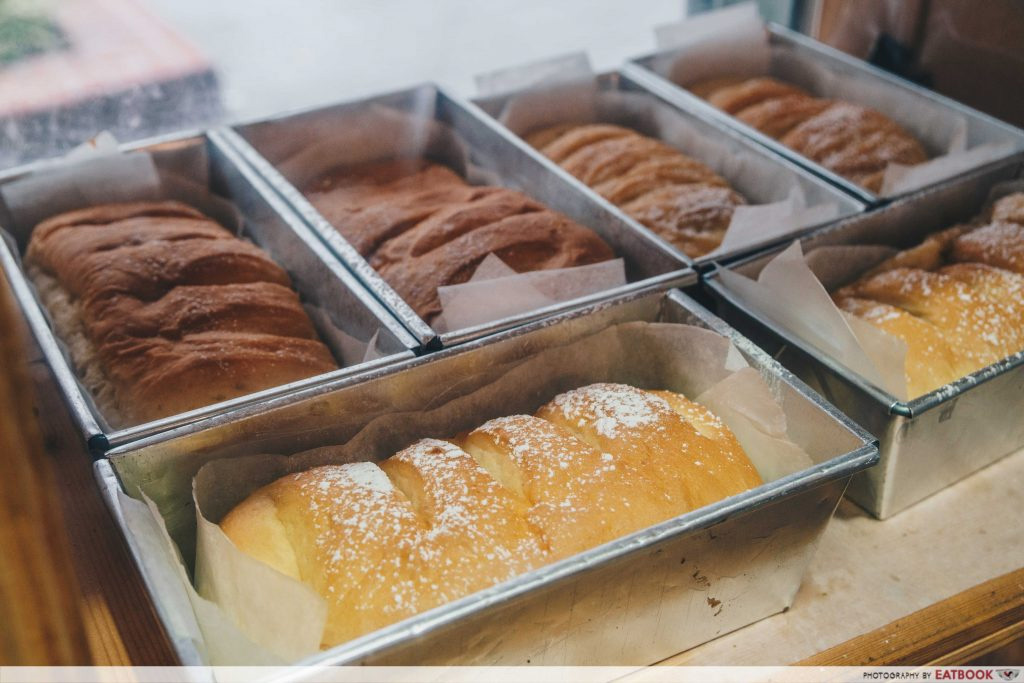 Bread isn't a food commonly associated with Thai cuisine, but the owner of Thai Baàng has brought Thai loaves to our shores with roaring success from an unassuming stall in Lavender MRT. Since our visit in March 2018, these pillowy loaves of bread have hit the big time, spawning another outlet at Orchard Xchange.
Stuffed with creamy filling, their Banana Chocolate Bread ($1.80/$2.50) is both affordable and decadent, conjuring memories of luscious banana chocolate cakes. This humble bakery's Thai roots really shine through in the Tom Yum Chicken Bread ($1.80/$2.50), which pairs their signature fluffy crumb with piquant sour-spicy tom yum.
Check out our full review of Thai Baang!
Thai Baang: First Thai Bread Bakery In Singapore Beside Lavender MRT Station
Address: 809 French Road, #01-41, Kitchener Complex, Singapore 200809
Opening hours: Mon-Fri 8:30am to 8:30pm, Sat-Sun 9am to 8:30pm
Tel: 9722 1213
Website
---
4. Brotherbird Milk & Croissants
---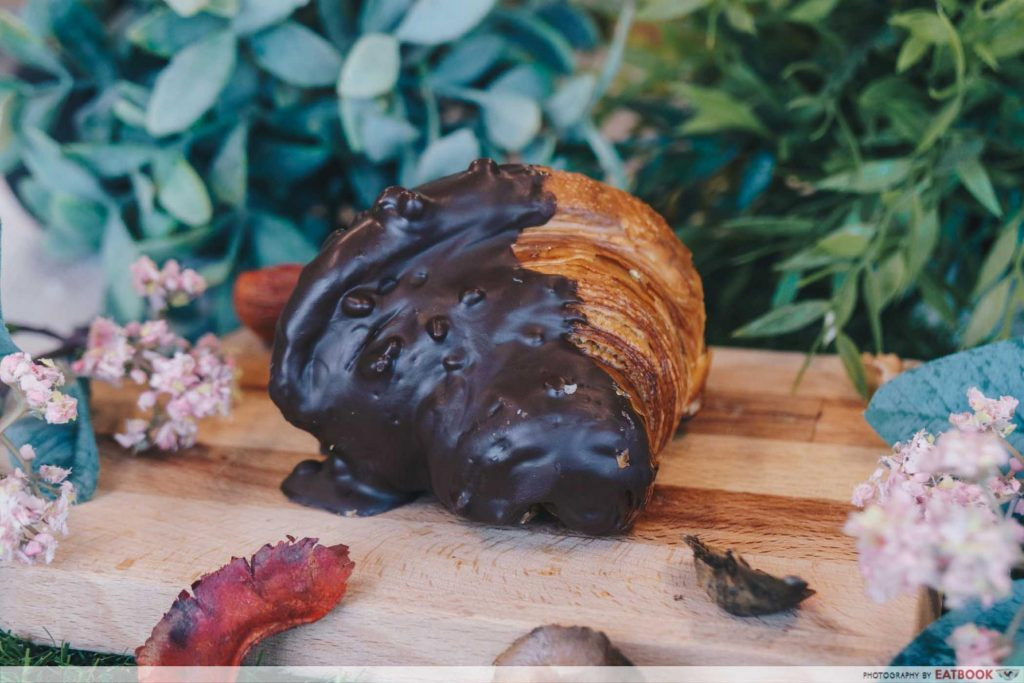 Brotherbird Milk & Croissants injects glutinous rice flour into their dough to serve up mochi croissants that are flaky, chewy and most importantly – aesthetic. A merry-go-round of intriguing flavours is available daily, but the Original Mochi Croissant ($3) is a menu mainstay. Buttery, chewy layers of dough lie beneath its regular croissant appearance, supplemented by surprising tinges of sea salt.
The two-tone, hazelnut praline-filled Rocher Mochi Croissant ($5) and zesty Lemon Meringue Mochi Croissant ($4) show off this stall's creative abilities; the latter striking the right balance between sour and sweet.
Check out our full review of Brotherbird Milk & Croissants!
Brotherbird Milk & Croissants Review: Unique Mochi Croissants With Matcha Kit-Kat, Hazelnut Fillings And More
Address: 114 Lavender Street, #01-05, CT Hub 2, Singapore 338729
Opening hours: Daily 8:30am to 4pm
Tel: 9296 4997
Website
---
5. Werner's Oven
---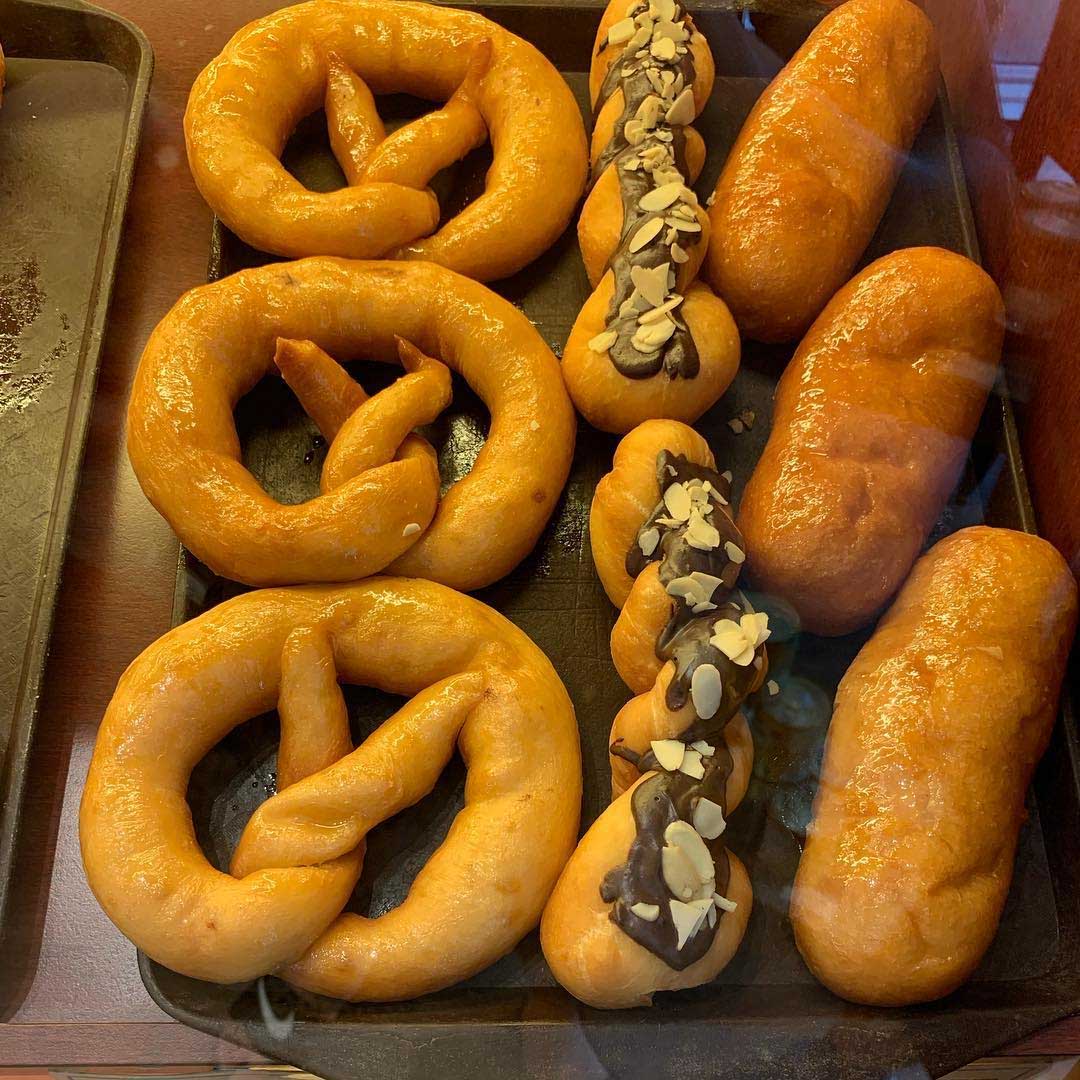 Image credit: @idiotforfood
Werner's Oven has quietly become a stalwart in the local bakery scene, blossoming from a hole-in-the-wall outlet to a full-fledged bakery and restaurant since its inception in 1988. The restaurant serves familiar Bavarian classics, with their Knusperiege Schweinehaxe ($27.50+), or crispy pork knuckle, leading the charge.
Pretzel Bread ($3+) is the quintessential German baked good. Freshly made every morning, their twisty treats are salty and toasted on the exterior, with a squishy and chewy centre. A bevy of other pastries is available too, such as the fortifying Pork Pie ($3.80+).
Address: 49 Joo Chiat Place, Singapore 427773
Opening hours: Tue-Sun 8:30am to 10pm
Tel: 6442 3897
Website
---
6. Mother Dough
---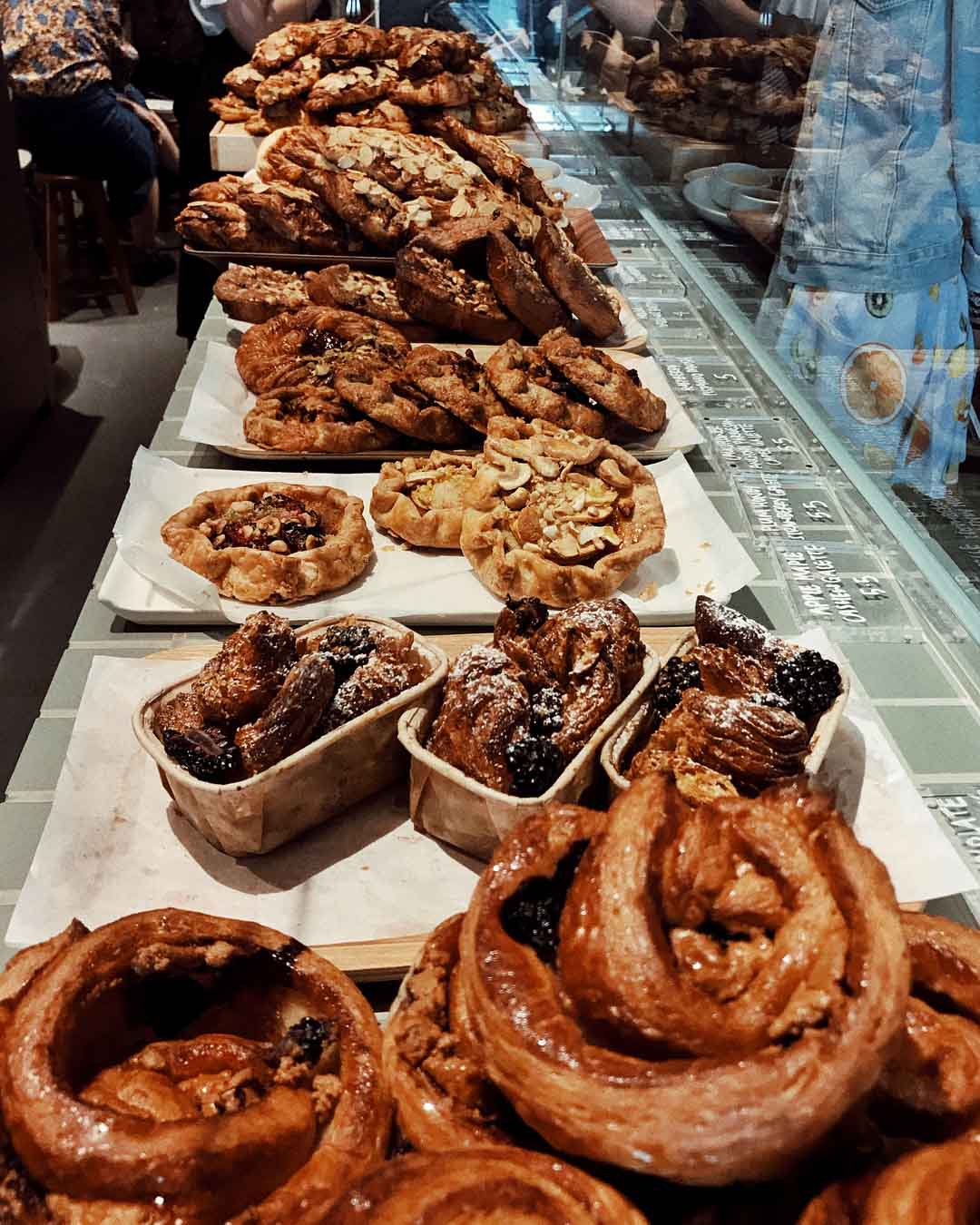 Image credit: @coffeeescapades
The pretty Mother Dough bakery at North Bridge has fast become one of Singapore's premier halal-certified bakeries since opening its doors in 2018. Their attractive decor is backed up by a formidable array of pastries that perfumes the air with that alluring freshly-baked scent.
Their pastries are known to fly off the shelves, so you'll need to come early to nab their best-selling Almond Croissant ($4.20) that's crammed with sweet and nutty almond cream.
Devastatingly beautiful danishes, tarts and Lemon Cake ($4 for a slice) make for great afternoon snack, but don't overlook their simple Sourdough breads that go for $3.80 to $10. Their mother dough or starter culture that forms the basis of any sourdough is the bakery's pride and joy, and comes all the way from Brooklyn.
Address: 749 North Bridge Road, #01-01, Singapore 198717
Opening hours: Tue-Sat 12pm to 7pm, Sun 11am to 5pm
Tel: 6909 6604
Website
---
7. Crown Bakery & Cafe
---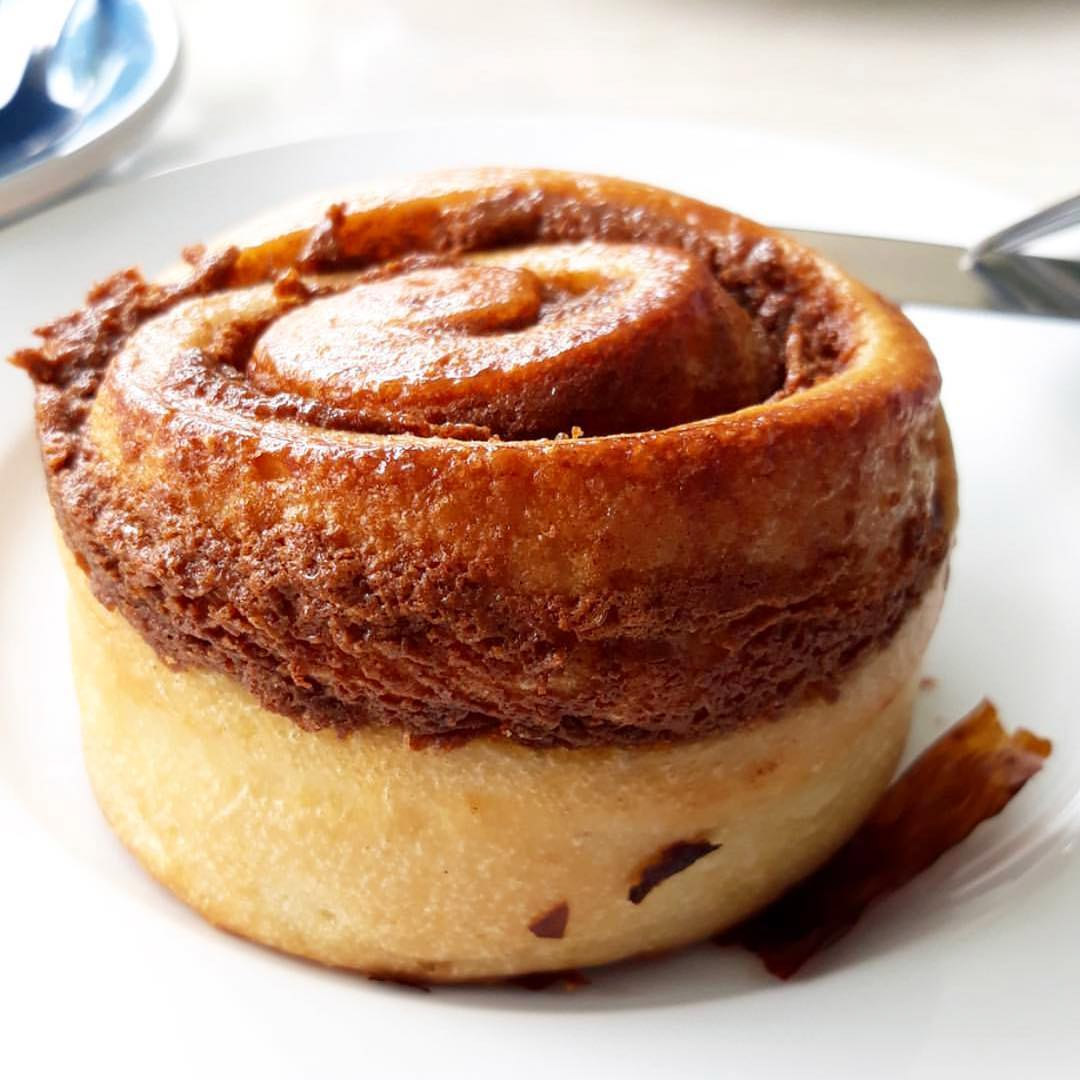 Image credit: @crownbakery
Crown Bakery & Cafe is the brainchild of illustrious florists, Far East Flora. While growing flowers and baking bread are vastly different endeavours, they've leaned on baking expertise from Japanese artisans Signifant Signifié to grow this flour-based offshoot.
Their baked selection is studded with Japanese and French influence, such as the Macaron Croissant ($4.20+) and Shizuoka Matcha Brioche ($3.20+). But their Hainanese Chicken Bread ($4.50+) is unsurprisingly the local darling. Chicken stock, chicken thigh, garlic, ginger and shallots all go into this fusion Frankenstein, which is served with chicken rice chilli to mimic our hawker staple.
Address: 557 Bukit Timah Road, #01-03, Crown Centre, Singapore 269694
Opening hours: Mon-Thur 7:30am to 7pm, Fri-Sun 7:30am to 9pm
Tel: 6463 3066
Website
---
8. Firebake
---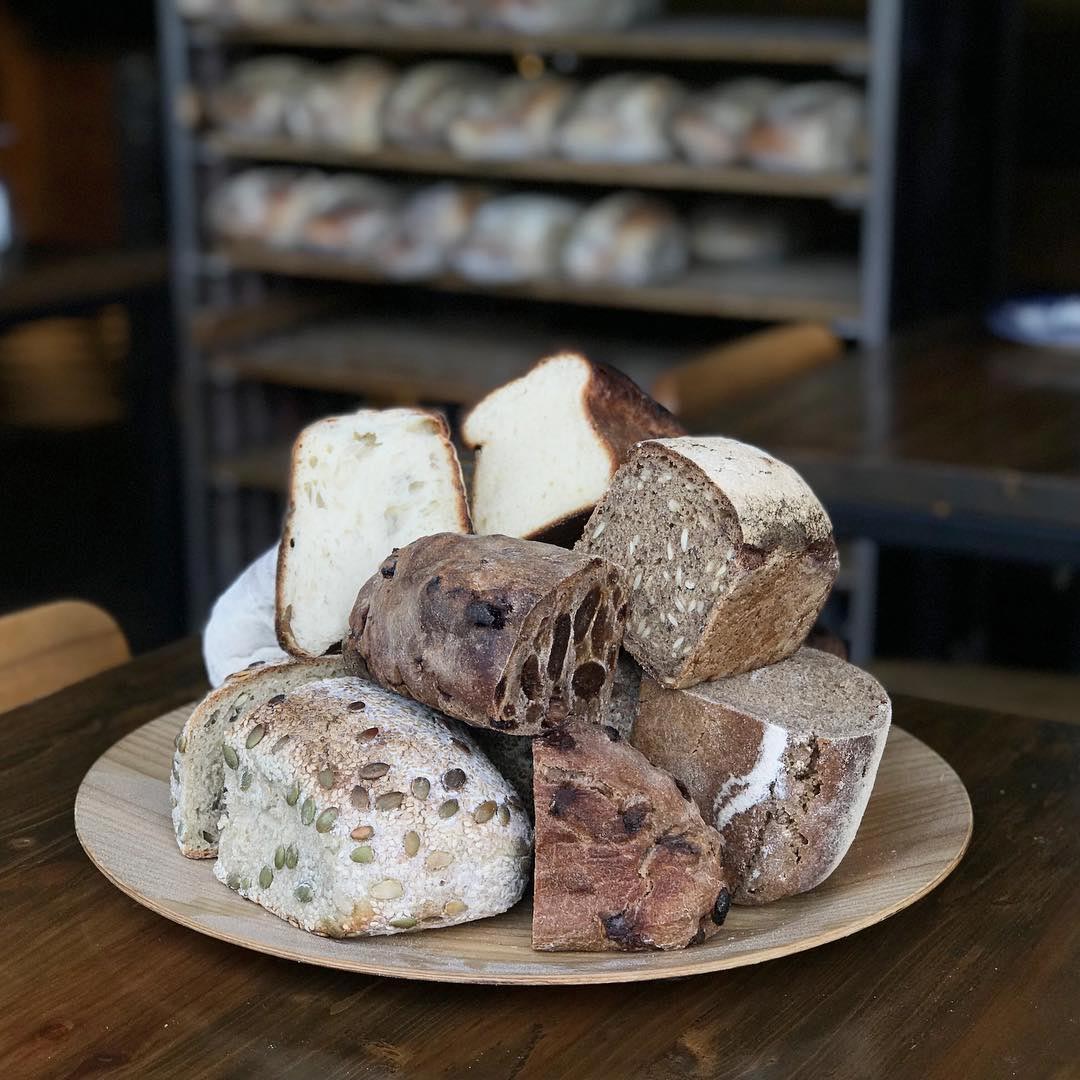 Image credit: @firebakesg
A look at their wood-fired oven – built from over 37 tonnes of brick, sand and mortar – should tell you that Firebake is really serious when it comes to bread. Unlike some of the other entries on our list, this East Coast bakery-cum-restaurant is fully committed to its sourdough, serving limited varieties of other pastries.
Meticulous thought is put into each step of the bread-baking process – highlighted by their use of specially imported Australian non-iodised salt and a Scandinavian water purification system.
The fruits of their diligent labours are crusty loaves with a tender crumb and unexpected smoky notes. Honey and dried fruit-laced Valley ($13++) and the basic white Wave ($8++) sourdough come particularly recommended.
Address: 237 East Coast Road, Singapore 428930
Opening hours: Tue-Fri 11:30am to 10pm, Sat-Sun 10am to 10pm
Tel: 6440 1228
Website
---
9. Bread & Hearth
---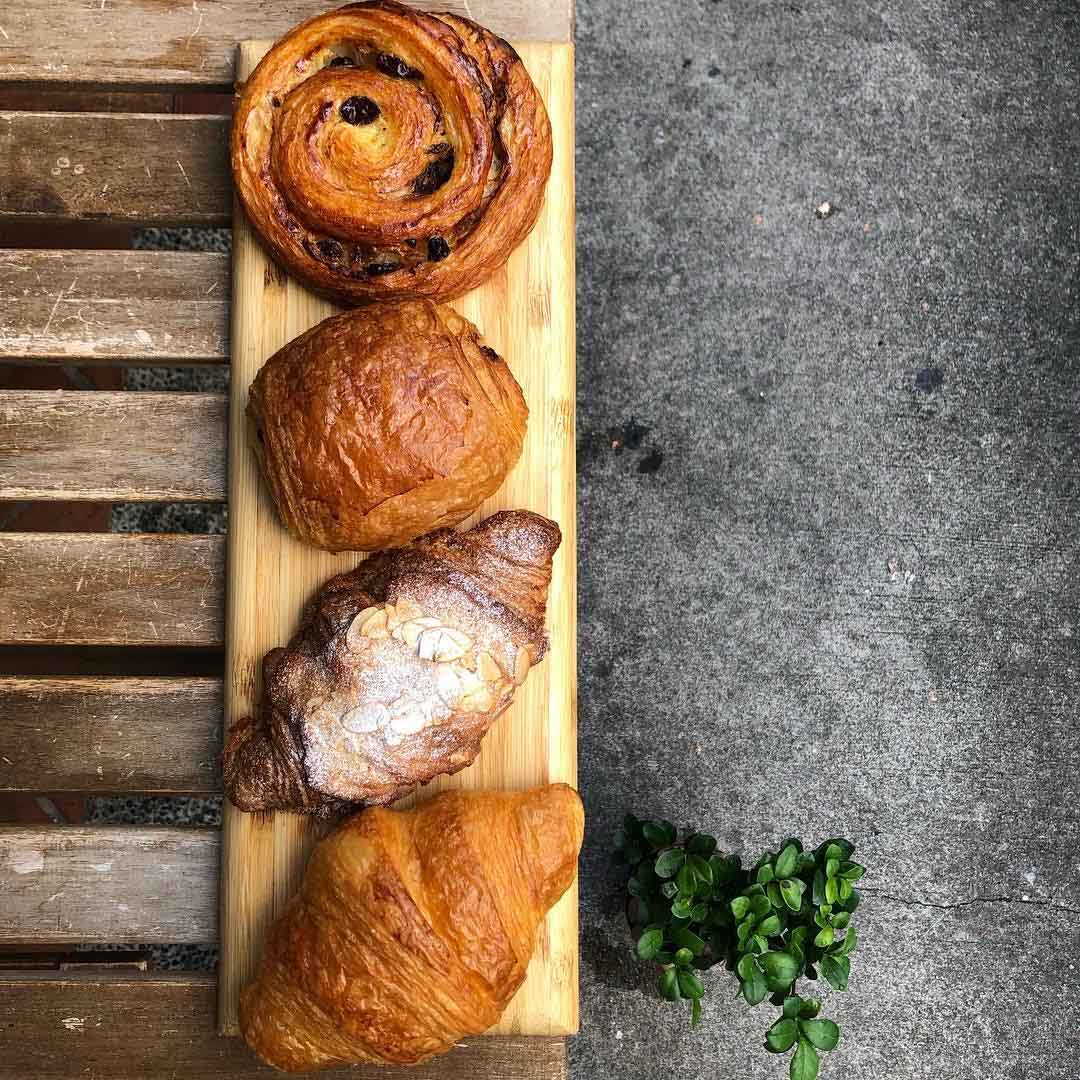 Image credit: @breadandhearth
Get your carb fix in the CBD at Bread & Hearth. With its rustic brick-heavy decor and affordable pastries, this is a suitable a place to spend a lazy weekend at, as like any hipster cafe.
Sinful Cinnamon Buns ($2.90+) will get your hands sticky, but are ludicrously easy to wolf down. Other top sellers include the sumptuous Pain Au Chocolat ($2.80+) and strikingly glossy Le Croissant ($2.80+). Gourmet Beef Burger ($13.80+) and Baked Cod ($18.80+) are also available if you need to refuel after a gruelling day.
Address: 18 Keong Saik Road, Singapore 089125
Opening hours: Mon-Tue 8am to 3:30pm, 5:30pm to 9pm, Wed 8am to 3:30pm, 5pm to 9pm, Thur 8am to 3:30pm, 7am to 9pm, Fri-Sat 8am to 3:30pm, 5:30pm to 9pm, Sun 8am to 3:30pm
Tel: 6534 7800
Website | Full list of outlets
---
10. Carpenter & Cook
---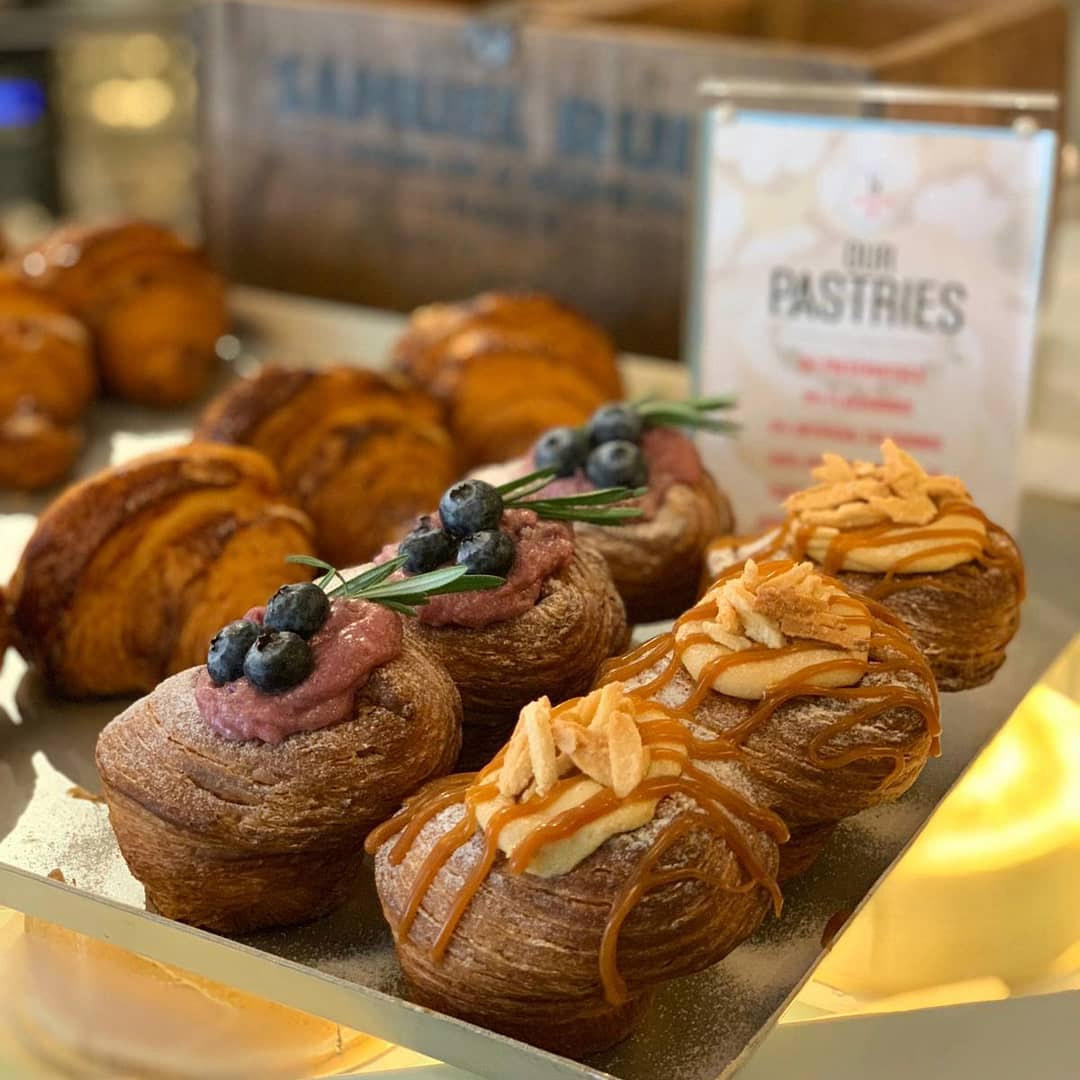 Image credit: @carpenterandcook
Not to be confused with successful New Zealand-based chain Baker & Cook, Carpenter & Cook is started by a local trio of friends. Decor is a huge part of this beloved Beauty World hangout. Vintage trinkets and textiles bedeck the bakery, steeping it in irresistible old-world charm.
Baked by a chef with Cordon Bleu pedigree, their bakes are no slouch. The Passionfruit Meringue Tart ($6.80) is an absolute stunner with its perfect peaks of torched meringue, and the Earl Grey Lavender ($5.20) could be your fragrant breakfast treat over the next few days. They also boast an enticing house-made spread selection, such as Crème De Cassis & Pinot Noir Jam ($12.50) and Maldon Sea Salt Caramel Spread ($12.50).
Address: 19 Lorong Kilat, #01-06, Singapore 598120
Opening hours: Mon-Fri 10am to 10pm, Sat 9am to 10pm, Sun 9am to 9pm
Tel: 6463 3648
Website
---
Experience baked bliss at these artisanal bakeries
---
Everyone seems to be avoiding carbs nowadays, but in the end, the satisfaction of biting into a fluffy bun or crusty loaf is difficult to replace. And if you're going to consume those calories, you might as well get the crème de la crème at these speciality bake shops.
For more baked treats to satisfy your sweet tooth, check out our reviews of Dona Manis Cake Shop and Kazo!
Dona Manis Cake Shop: Famous Old-School Banana Pie Bakery At Katong Shopping Centre
Share your favourite bakeries with us in the comments below!