Indulge in Kazo cream puffs and polo bun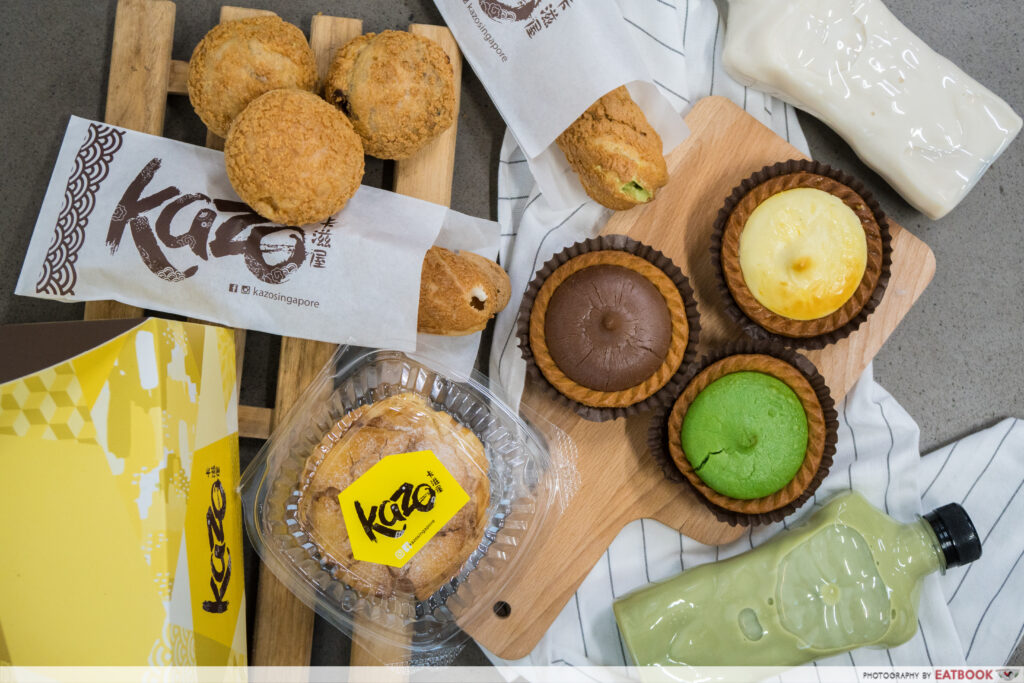 My guilty teatime treat has always been cream puffs, specifically those from Japanese brands because of its airy shells and delicate cream. So when I heard a famous Taiwanese bakery that specialises in Japanese-inspired cream puffs was opening in Singapore, I was beyond excited. Now, I've never really heard of Kazo before, not even from friends who frequent Taiwan. But after much googling, I came to realise that it's because in Taiwan the bakery store goes by "Nichifu" instead!
Nonetheless, I've learnt to never judge a place by its reputation or brand name, especially after trying food from Michelin-starred restaurants' outposts. So bearing no expectations, I went down with an empty stomach and my sweet tooth to Kazo at Chinatown Point.
Food at Kazo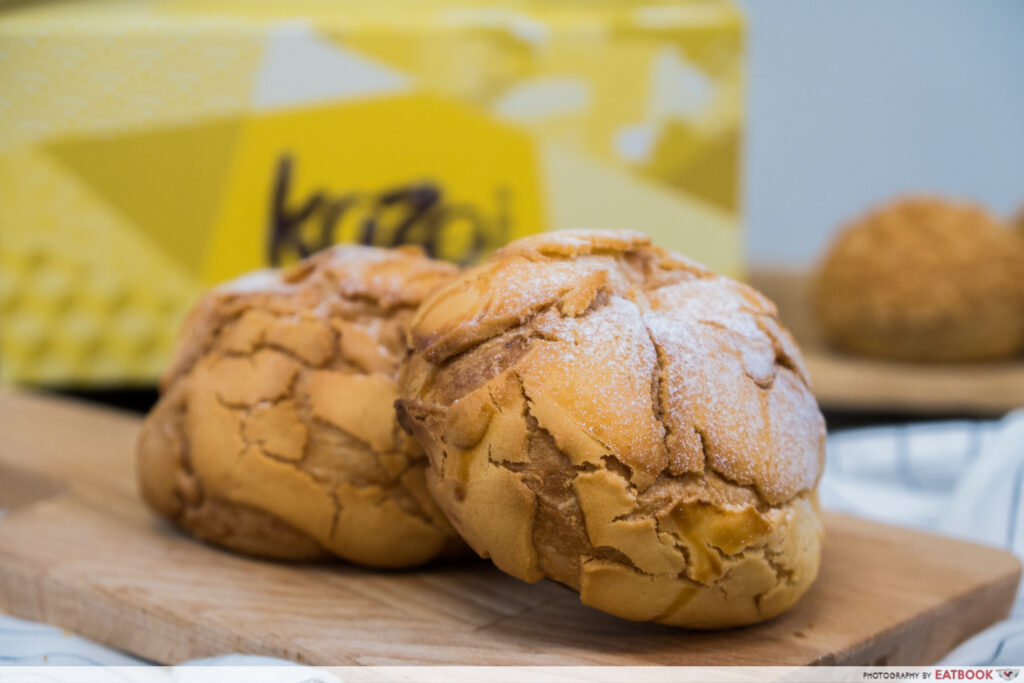 Kazo has quite a wide spread of items on the menu, from cheese tarts to cream puffs, choux sticks and even Danish polo bun ice-cream sandwich!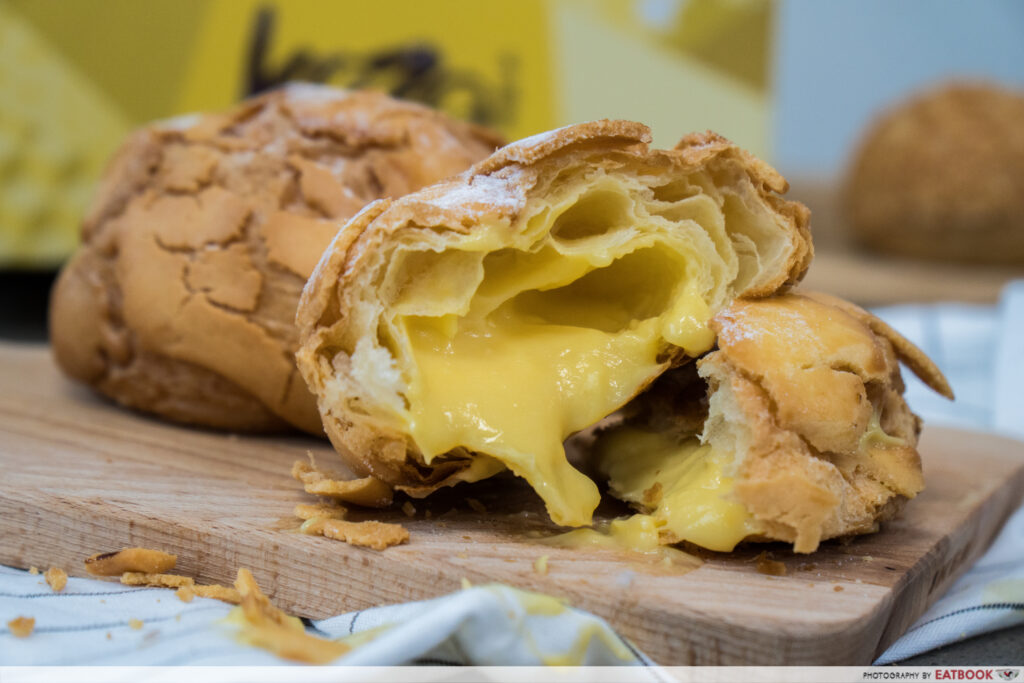 They proclaim that the best-selling item on the menu is their Golden Lava Danish Polo ($3) – and boy, were they right. Dusted with icing sugar, the buttery bun had a nice, crumbly exterior with a flaky, layered croissant-like dough within, making it pillowy-soft. Breaking it apart, I was surprised by the generosity of the salted egg yolk custard. Similar to a stellar liu sha bao, it gushed out and dripped all over my hand – a dessert I wouldn't have on a first date.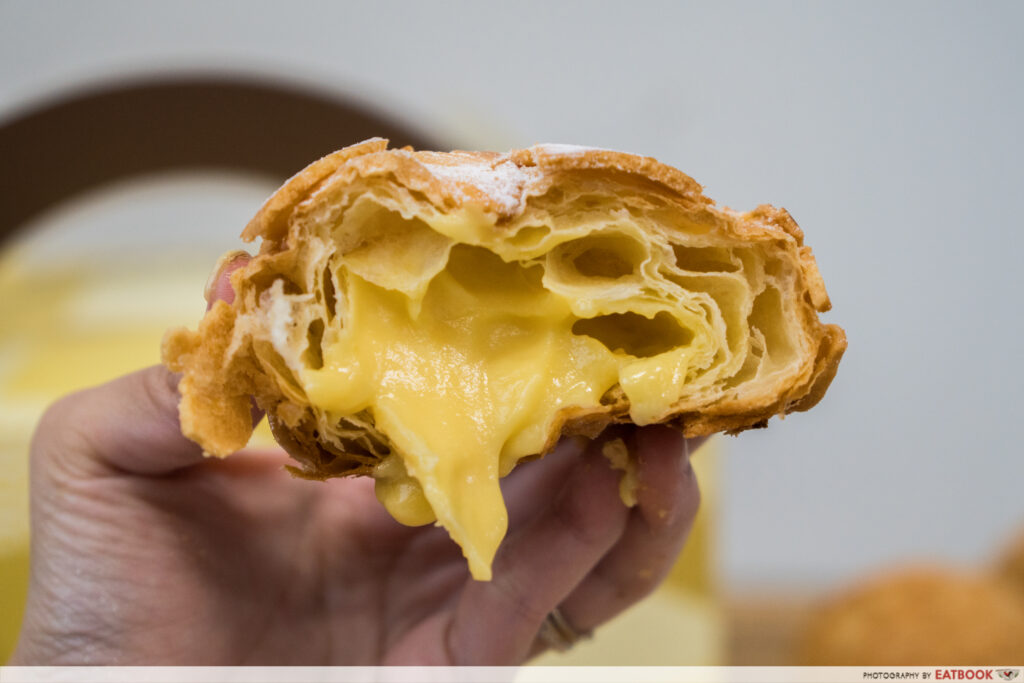 SEY treats don't faze me, but Kazo's Golden Lava had me nodding in agreement with my colleagues on how good it was. The salty nuances of the custard paired real well with the bun's buttery sweetness, and it was indeed a match made in heaven. The Hokkaido Cream Danish Polo ($3) paled in comparison, as the mild flavour of the white cream was intensely overpowered by the sweet bun.
I did feel the polo bun's crust could have upped its game though; it did not embody the crispness of a good polo bun. But as a whole, this was a solid treat that will garner a following.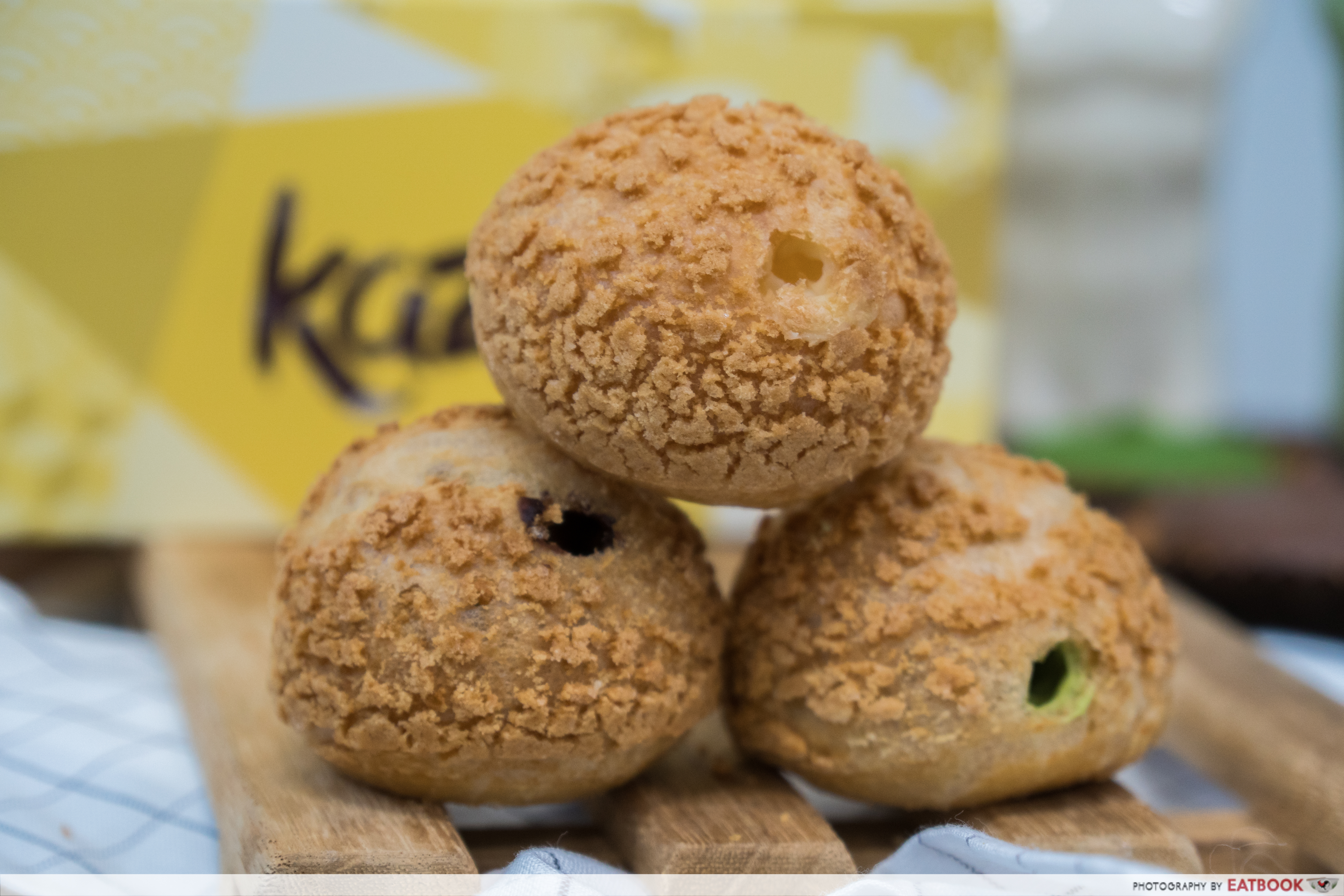 As mentioned, I absolutely adore cream puffs, so I  had to try the Crispy Cream Puff ($1.80), which comes in three flavours: Chocolate, Matcha, and Hokkaido Cream. What I love about Kazo's cream puff is that it comes in bite-sized portions, so I can mix and match the flavours! Like the Danish Polo, the cream puffs had a good ratio of filling to baked puff shells, meaning you won't end up with just pastry alone.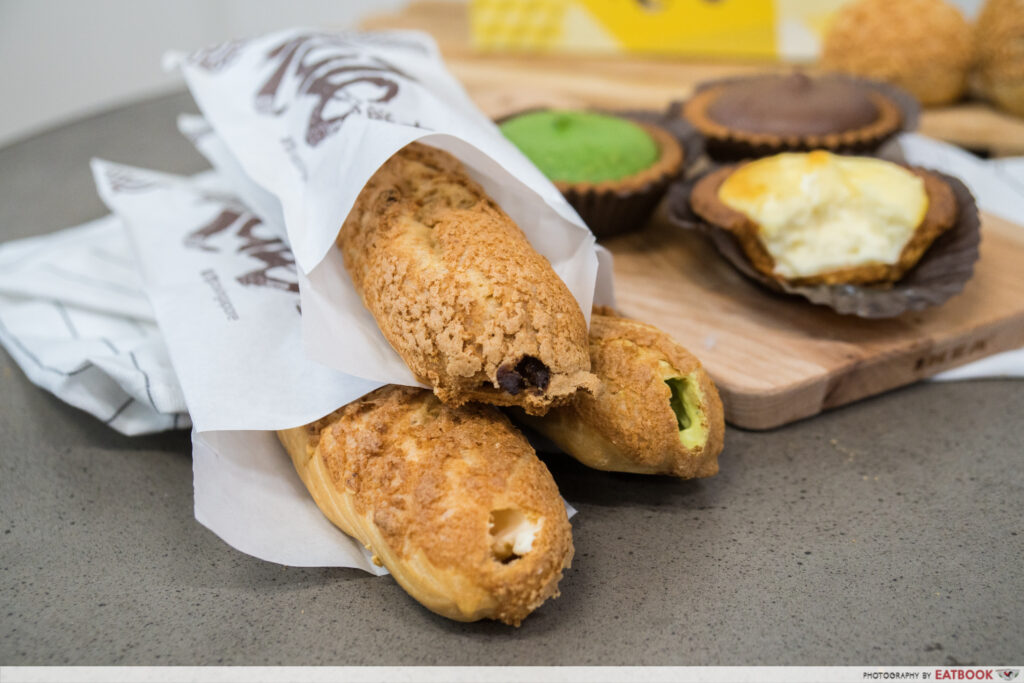 The Kazu Kazu ($3.50) – or choux sticks – also offered Chocolate, Matcha or Hokkaido Cream fillings. I'm a fan of wordplay, and I would like to believe that Kazu Kazu is a play on the spelling of saku saku, which means crunchy in Japanese.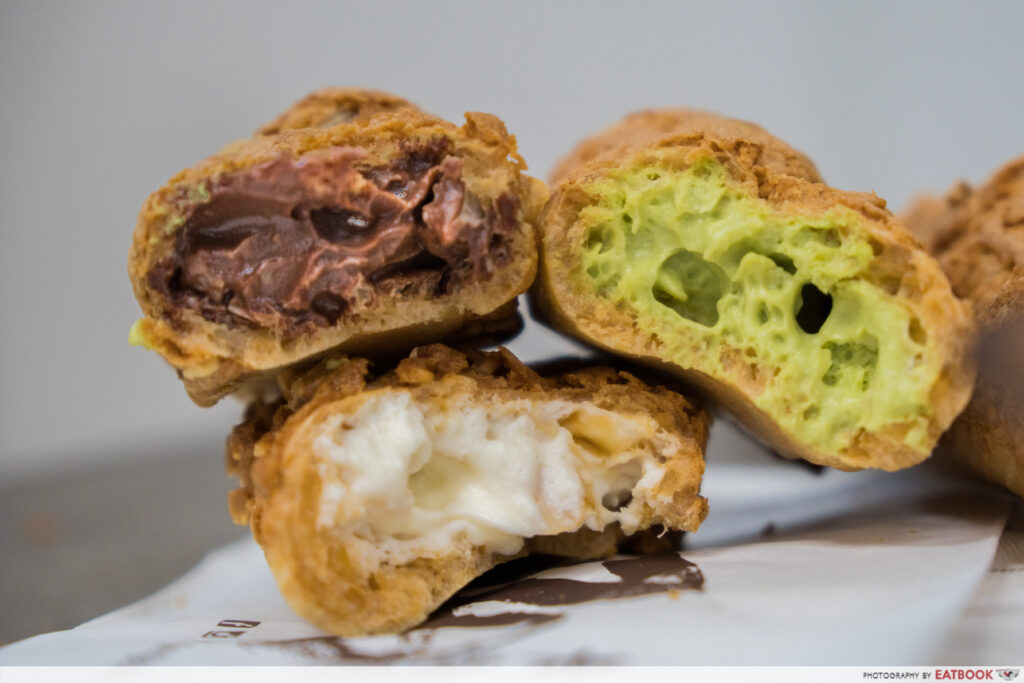 On to the fillings! Those who enjoy the full-bodied, bittersweet flavour of matcha, will love the vibrant green tea cream. But if you rather something more mellow, the Hokkaido Cream works well in the cream puff and Kazu Kazu, as compared to the Danish Polo. This is because the former two has a lighter and less sinful, fragrant taste. I won't advise going for the chocolate cream. It tastes rather cheap, with little cocoa aroma.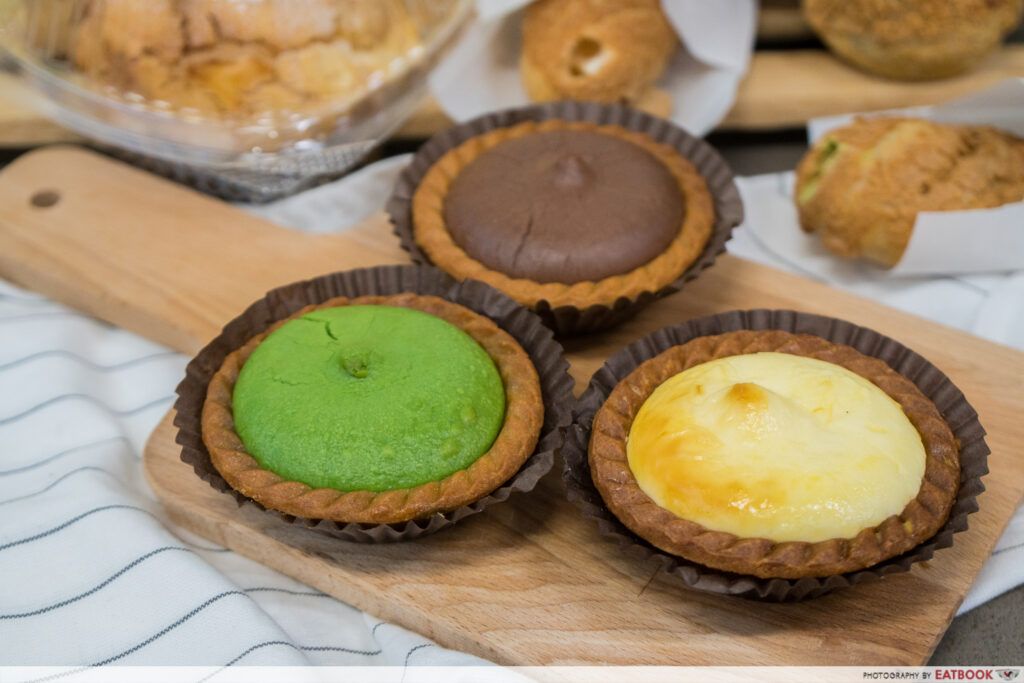 Kazo also churns out cheese tarts. Skip the creamy Original ($3) and Chocolate ($3.20) tarts, and settle for the Matcha ($3.20). The matcha mixed together with the moreish cheese mousse was a delight to have. The subtle floral essence from the green tea also made the heavy cheese tart less jelak. One thing they could improve on is the base, which could have been firmer.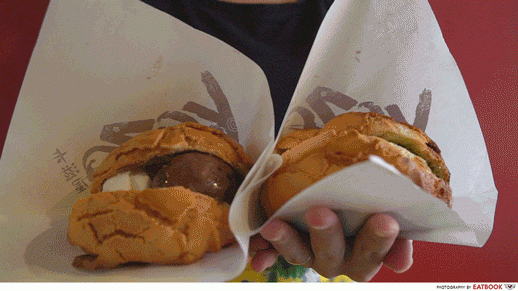 Those looking for an icy cold treat should get the Premium Ice Cream Polo. I highly recommend getting two scoops ($5.50), because one scoop ($3.80) will definitely underwhelm. Like the fillings, the chocolate ice-cream fared badly, despite its rich appearance. Trust me and just order the Hokkaido ice-cream. The delicate milky scoop formed a perfect marriage with the scrumminess of the Danish polo.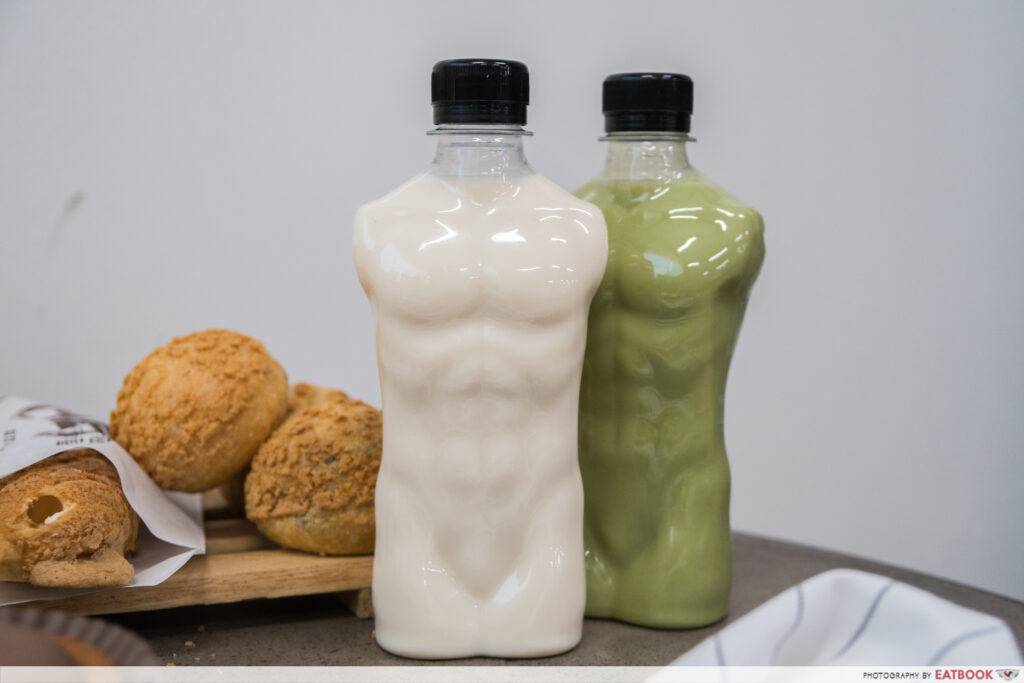 We couldn't resist getting a piece of this ripped body: the sculpted Kazo Man. Despite being a novelty item on the menu, the Matcha Latte ($3.20) and Organic Soya Bean ($3) drinks were surprisingly tasty. The former resembled the taste of Starbucks' Iced Green Tea Latte, while the soya milk was well-balanced; it was not too sweet or bland.
Ambience at Kazo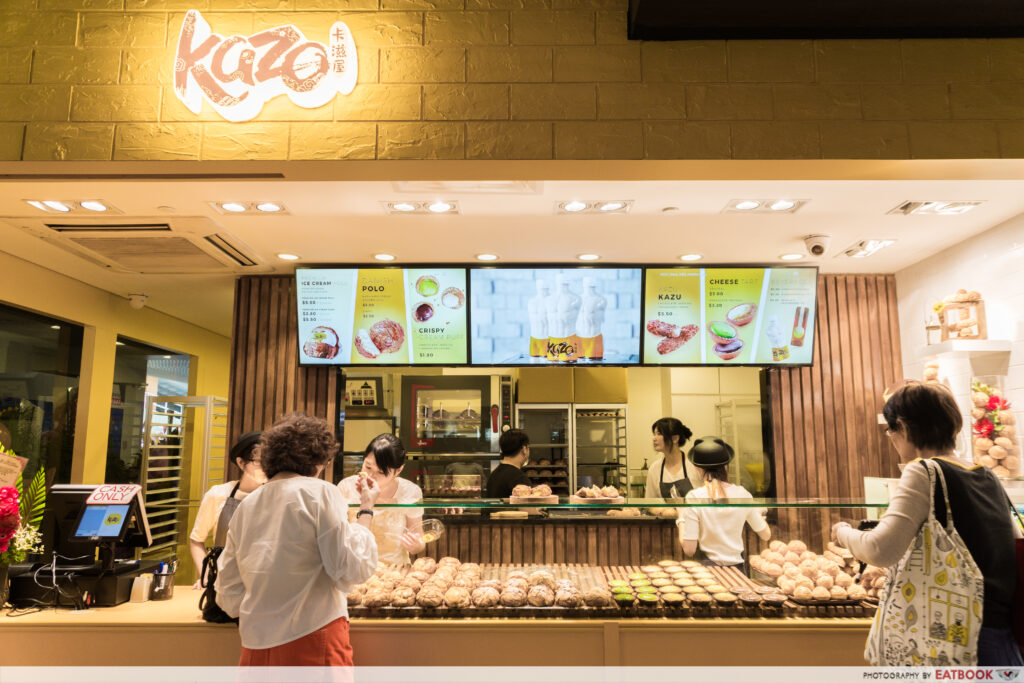 Taking over the 7-11 at Chinatown Point, Kazo sits right opposite KFC and beside the side entrance of the mall that leads to Hong Lim Food Centre. I don't know if it's a trend or some feng shui belief that makes all good dessert stores – think BAKE and Pablo – embody a cheery yellow storefront and packaging, but Kazo also boasts a yellow theme.
What really impressed me was the stellar service; the staff really took their time to answer any queries! Although this did mean a longer wait time, my impatient self was willing to wait, especially since I was greeted with a jolly smile and a twinkle in the eye when it got to my turn.
The verdict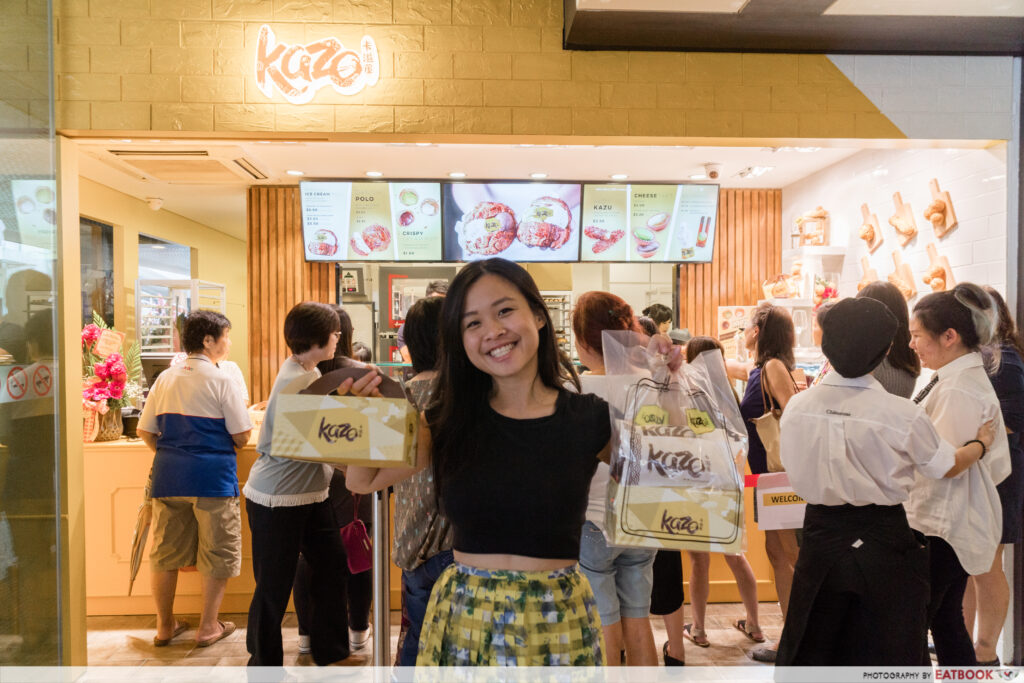 Kazo is on a different league of its own, in terms of the Japanese cream puff game. Only because the main item on their menu is actually a Danish polo bun rather than an airy pastry. The location is rather weird, as it is in Chinatown – majority of the customers for the day were aunties – so I'm hoping they open another outlet in town soon. That being said, their Golden Lava Danish Polo Bun has earned a spot in my books of things to queue for and I see myself getting boxes of them for my fambam to try soon.
Before you fill up on these sweet treats, check out Give Me More or Jin Ji Braised Duck at Chinatown Complex Market & Food Centre!
Address: 133 New Bridge Road, #01-30, Chinatown Point, Singapore 059413
Opening hours: Daily 10am to 9:30pm
Website
This is an independent review by Eatbook.sg.
Summary
Pros
– Interesting Danish Polo Bun
– Friendly service staff
– Affordable
Cons
– Chocolate ice-cream and filling tasted cheap
Recommended items: Golden Lava Danish Polo Bun ($3), Matcha Latte ($3.20), Premium Ice Cream Polo with two scoops ($5.50)
Opening hours: Daily 10am to 9:30pm
Address: 133 New Bridge Road, #01-30, Chinatown Point, Singapore 059413