Give Me More offers Taiwanese braised pork rice at Chinatown
Singaporeans or basically anyone who loves a good, indulging snack will know of Shihlin's Taiwanese XXL fried chicken. Moving onto comfort meals though, braised pork rice or lu rou fan, one of the most beloved food in Taiwan, is starting to get more recognition over here. Give Me More, a new stall that's brightly lit in a dull hawker centre, specialises in Taiwanese rice bowls. With attractive prices paired with generous portions, Give Me More is definitely worth visiting.
Food at Give Me More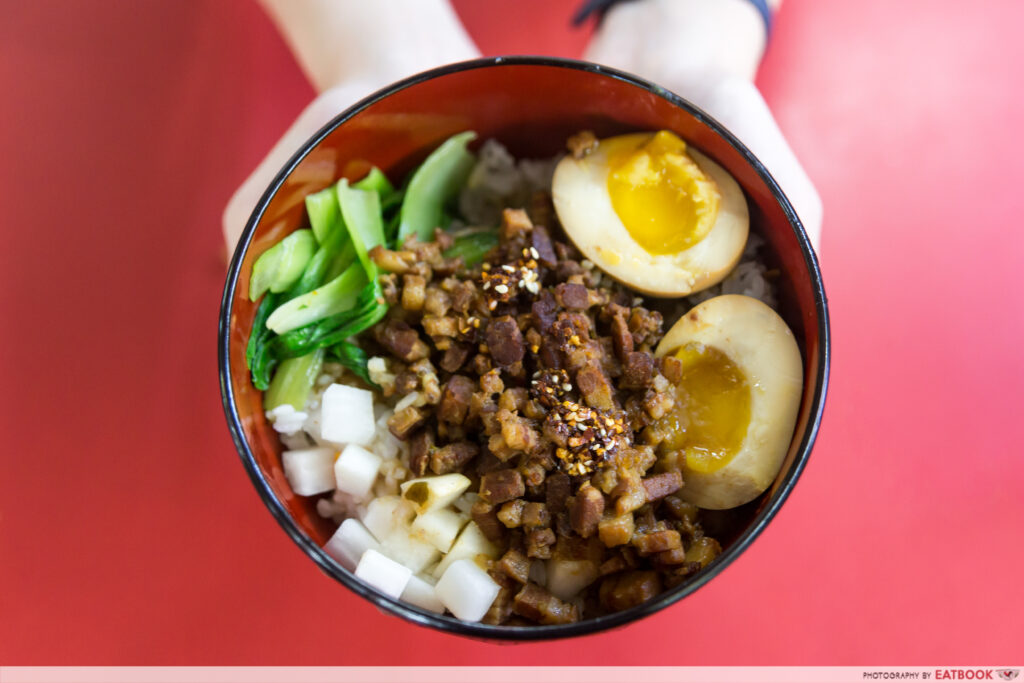 Give Me More currently serves five dishes, but even so, our ravishing stomachs simply couldn't pick what we should try. About 10 minutes after ordering, we were served with our first bowl.
I dug into what seems to be their prized dish, their Braised Pork Rice ($5). We were impressed by their portions. The dish is made up of rice drizzled with light soy sauce, braised pork spread over half the bed of rice, grilled kai lan, onions and a halved marinated soft-boiled egg.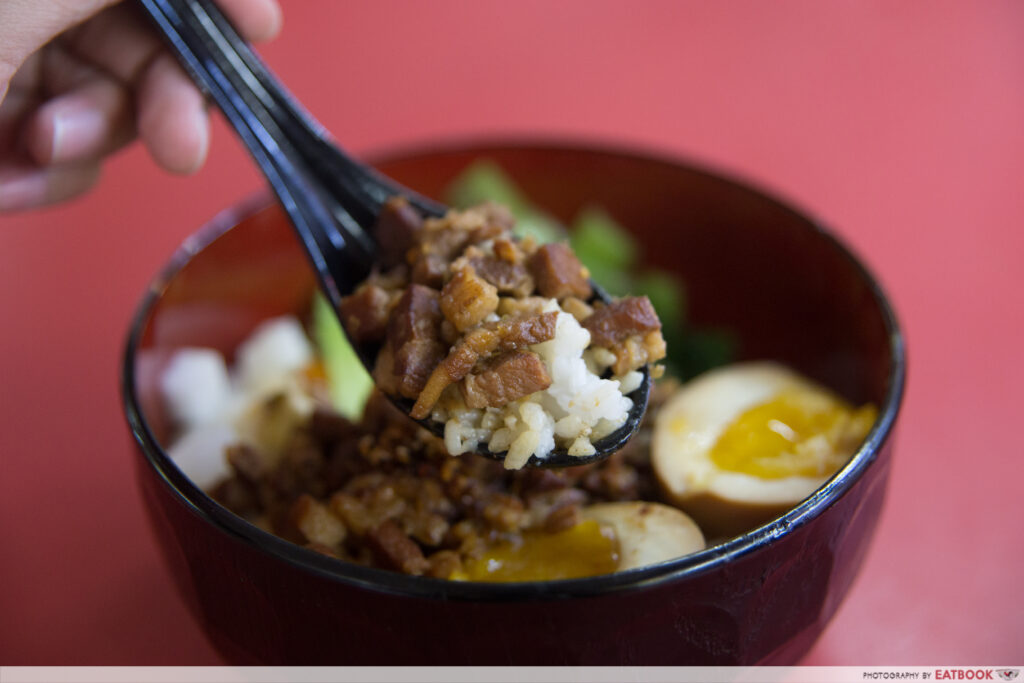 Similar to a home-cooked meal, the braised pork was lightly seasoned but a tad bit overcooked. As I'm pretty picky about boiled eggs, there's a small range of how I like it cooked – not too hard or too runny. The one here wowed me with its soft and sweet runny yolk that oozed upon touch.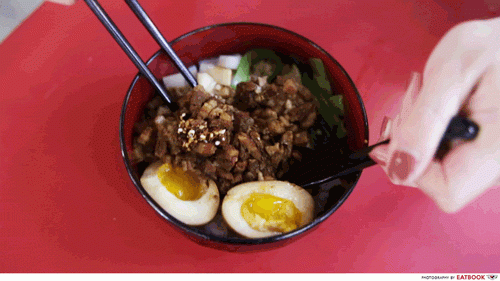 To top it off, their onions were surprisingly sweet without a hint of the usual sharp and pungent flavour onions tend to give off. The only downside to this bowl was the overcooked rice, no amount of braised pork or onions could hide its mushy texture. It should have played a role in making the dish more whole, but it did the opposite.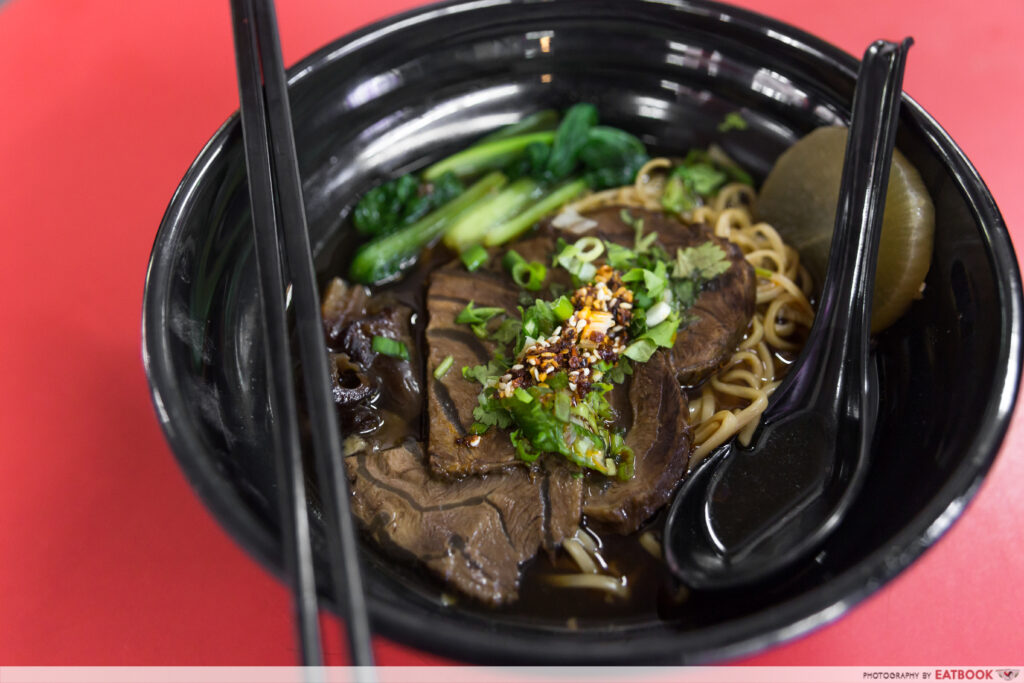 The most expensive dish in this stall, the Braised Beef Tendon & Shank Noodle ($7.50) is a bowl I could never forget. For people like me, who love to spice up basically everything, you can opt to have your soup spicy. At first glance, the noodles could barely be seen in the sea of ingredients.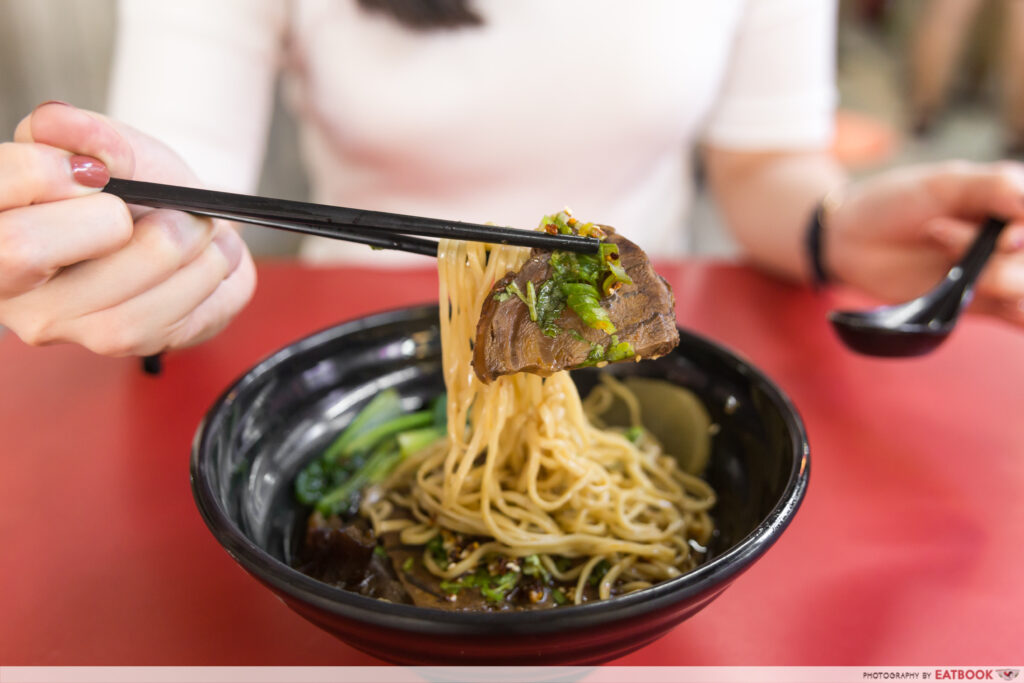 After taking out the ingredients, a heap of noodles started to surface. There were five slices of beef shank given to complete the aromatic herbal beef soup along with vegetables and a handful of soft tendon pieces. I eagerly started to pull the noodles apart and slurped away to my heart's content.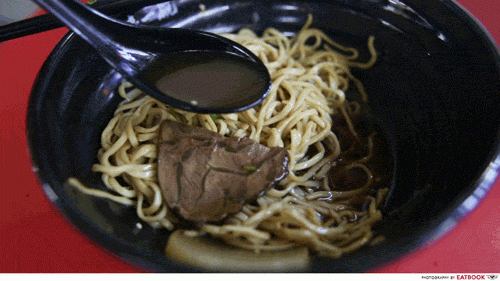 My eyes grew wide that very instant. The soup may fool you with its sheer and watery texture, but it contained a herbal flavour followed by a subtle beef aftertaste. It paired extremely well with the noodles that were soft but not mushy. The beef shank was exquisitely done to a T with its tender slices that tore apart when bitten.
The tendon played the underdog in this dish. You'll be sure to get chewy and thick tendon, not the usual jelly-like mass that quivers in-between your chopsticks.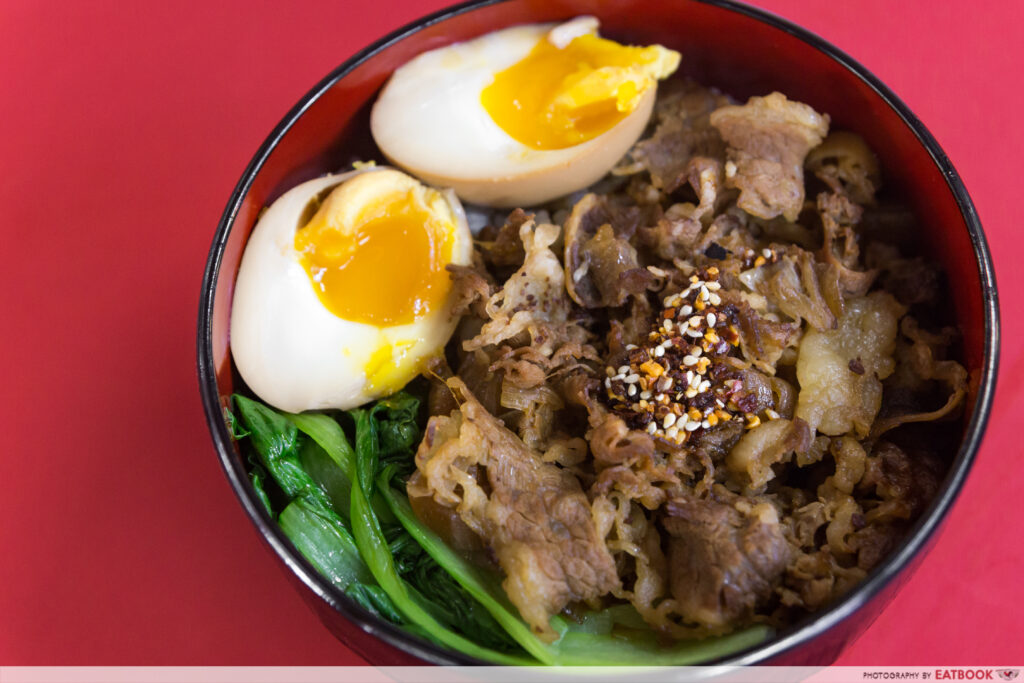 Onto our last bowl, the Beef Rice Bowl ($5.50). Compared to the braised pork rice, it was much lighter.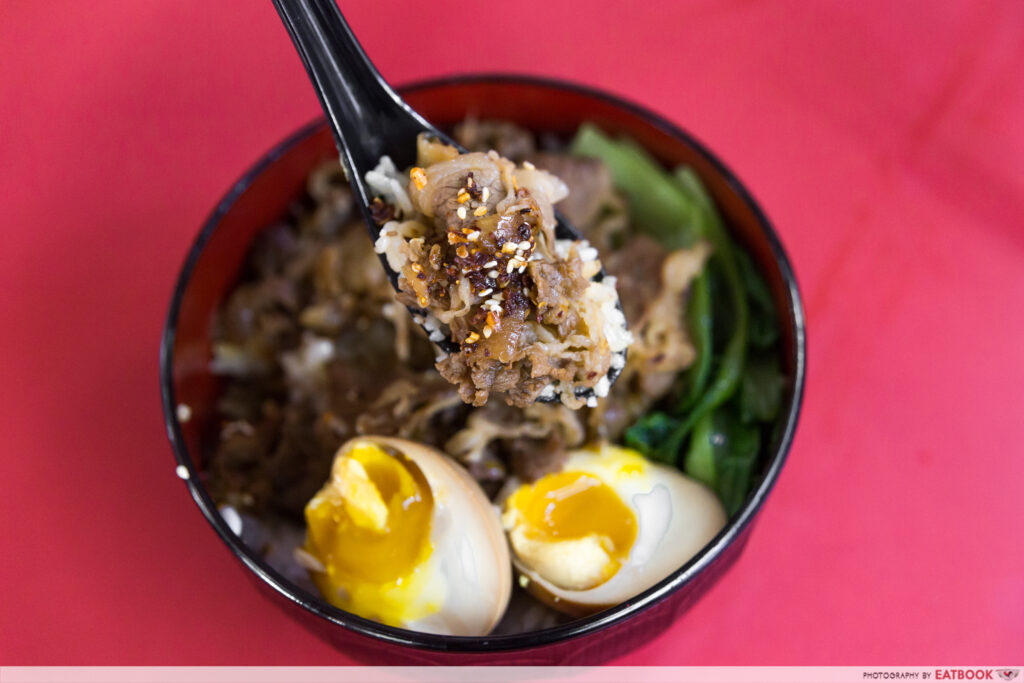 This reminded me of Yoshinoya's beef bowls. The distinct difference was in how tender and well-garnished the beef was. Adding the cherry to the top of my sundae, it gave off a sweet taste upon the touch of my tongue. However, I was rather disappointed that the portion of beef wasn't what I expected it to be. Nonetheless, it serves as a good alternative if braised pork isn't your thing.
Ambience at Give Me More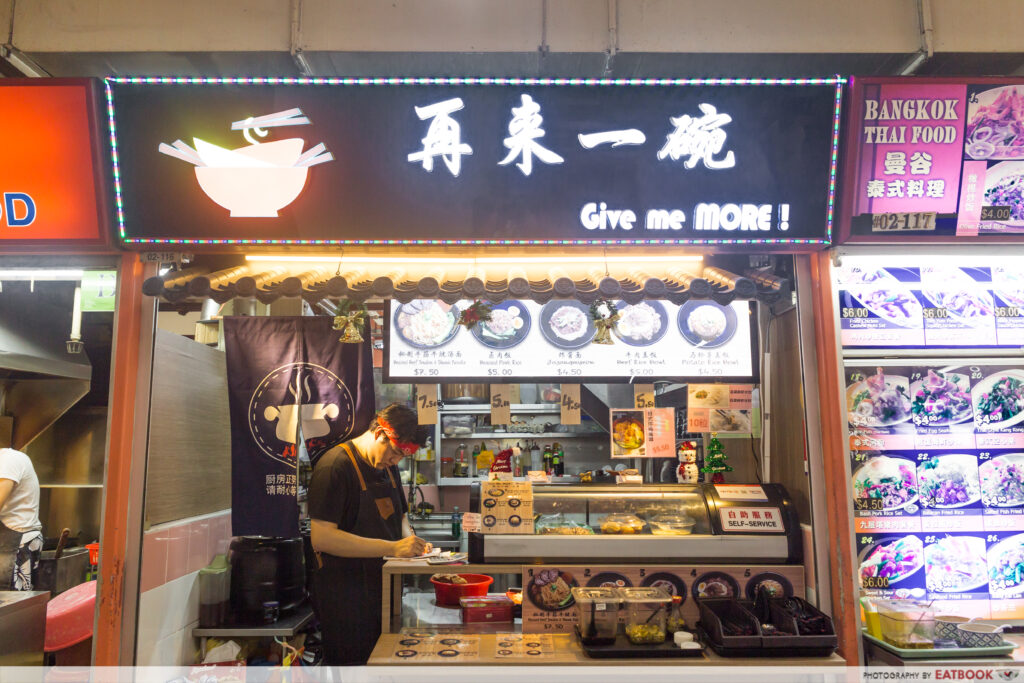 We were impressed by the decor and the traditional Taiwanese vibes it gave. We were greeted by a friendly young hawker whom we felt made the finishing touch to the atmosphere with his outfit.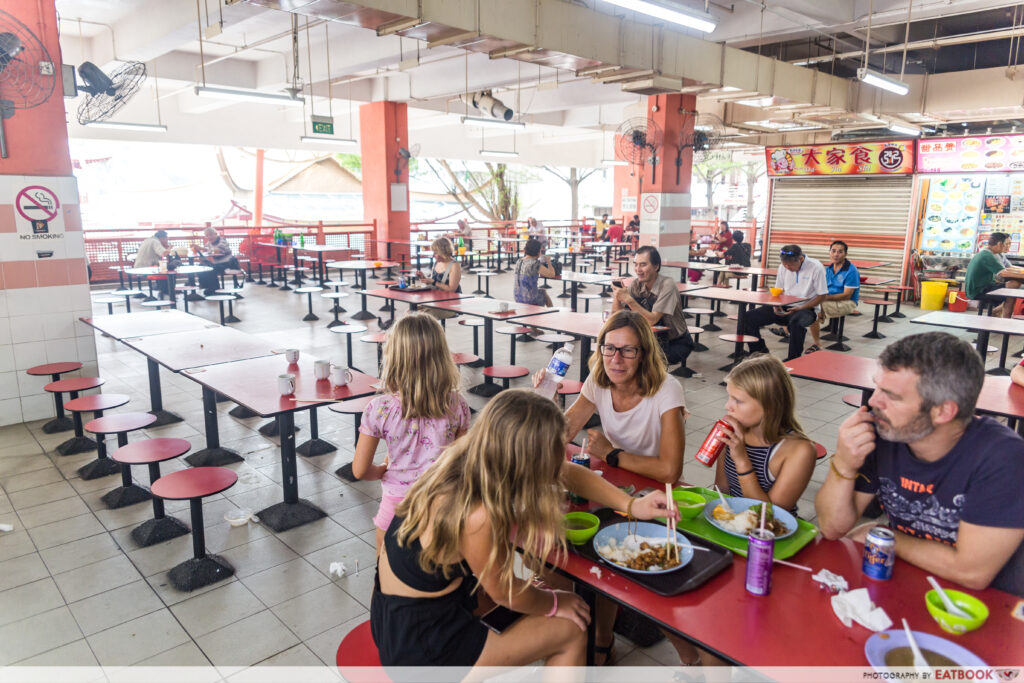 The stall is situated on the second level of Chinatown Complex, five minutes away from Chinatown MRT Station. Heads up, this hawker centre isn't the most hygienic place to eat at. With many fearless pigeons preying on abandoned food and greasy tables, be prepared to bring loads of tissue and have pigeons walk right under your feet.
Although it may seem a little grimy, this hawker centre is well-ventilated with numerous seats. If you're hanging around Chinatown and your taste buds are longing for a hearty meal, Give Me More's got your back.
The verdict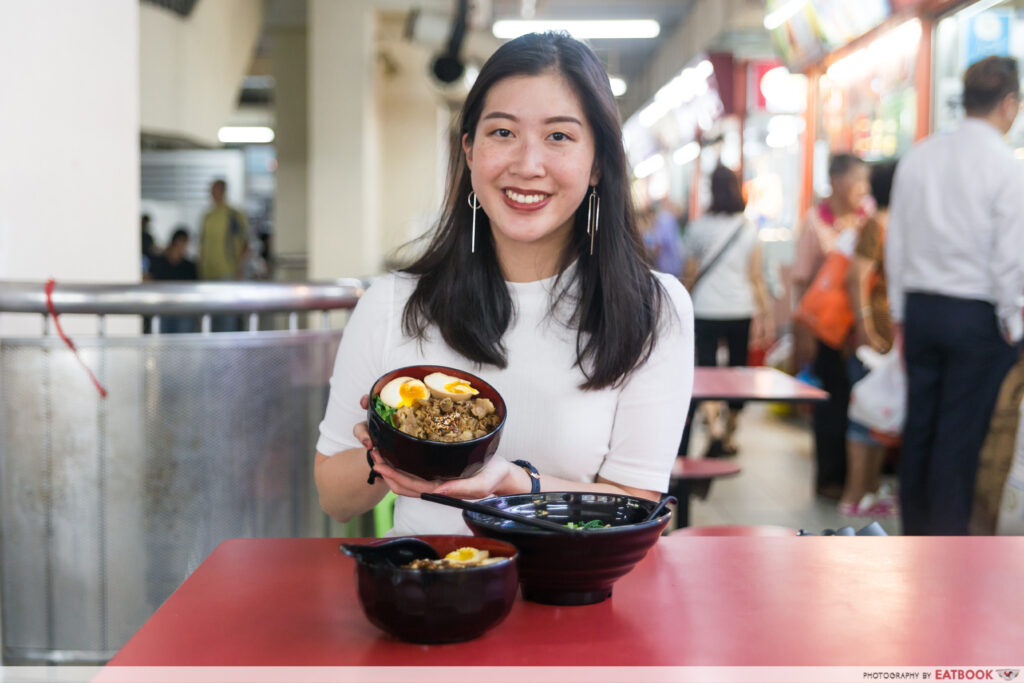 Out of the three main dishes I tried, I would award the beef noodles as the winning dish. The rice bowls were tasty but there are equally good substitutes at a much more affordable price. Even so, I will be sure to drop by if I happen to be around the area. If rice bowls are your thing, check out this list of affordable donburi under $12 or Eat 3 Bowls at Harbourfront!
Address: 335 Smith Street, Chinatown Complex Market & Food Centre, #02-116, Singapore 050335
Opening hours: Daily 10am to 8pm

This is an independent review by Eatbook.sg.
Summary
Pros
– Affordable
– Convenient location
– Delicious beef soup
– Tender beef
Cons
– Overly mushy rice
Recommended Dishes: Braised Beef Tendon & Shank Noodle ($7.50)
Operating Hours:
Daily 10am to 8pm
Address: 335 Smith Street, Chinatown Complex Market & Food Centre, #02-116, Singapore 050335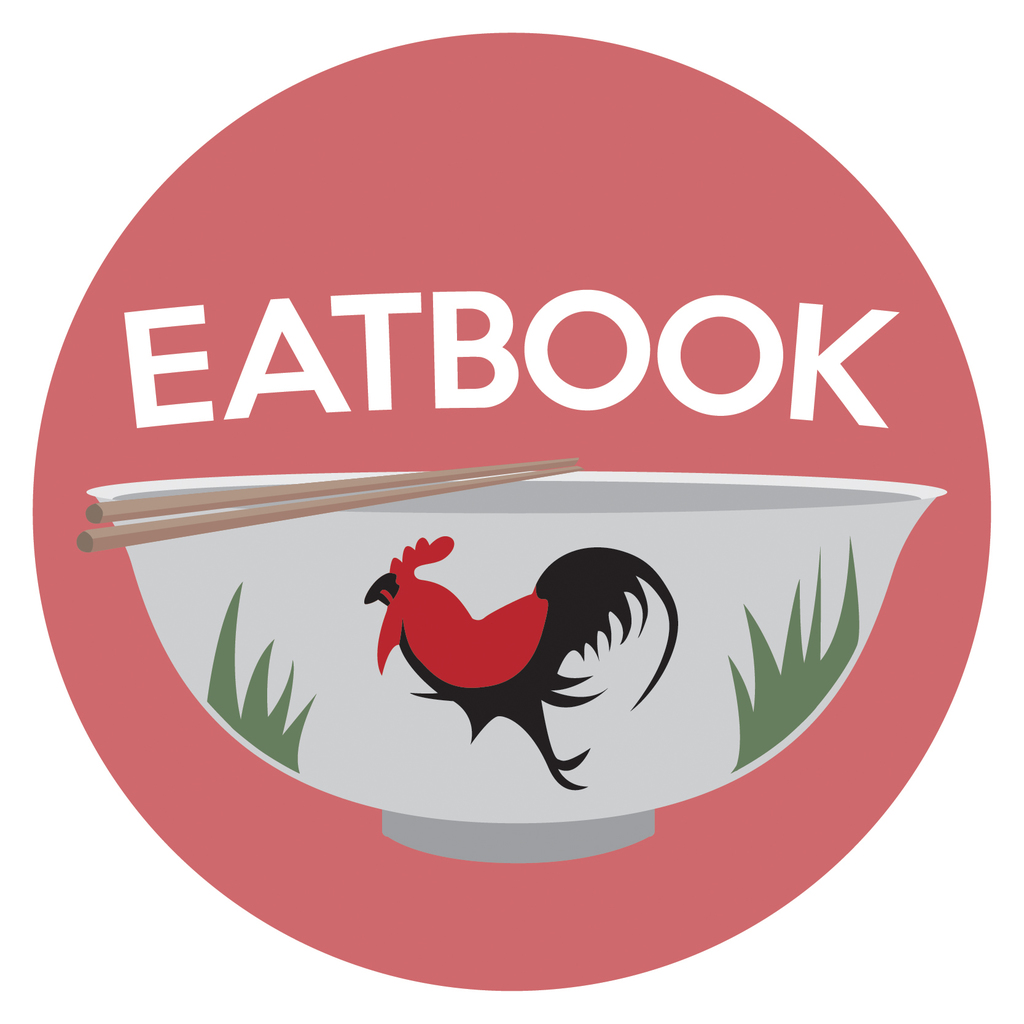 Drop us your email so you won't miss the latest news.