Bakery Brera for affordable French pastries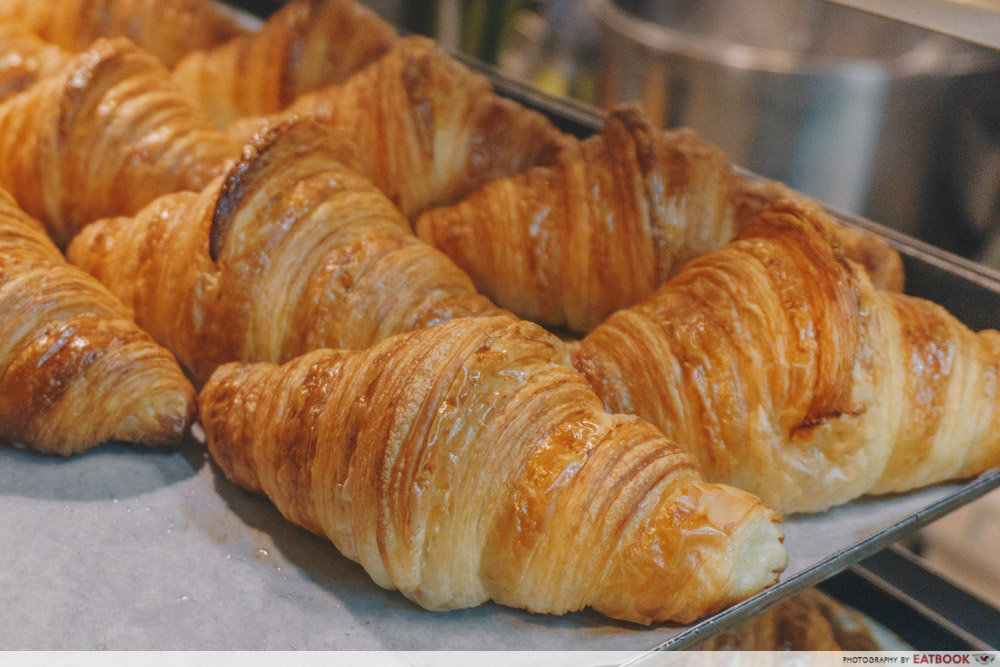 I was introduced to Bakery Brera by a fellow colleague, who raved about their artisan but affordable French pastries. Tucked away in the estate of Farrer Road, this mom-and-pop bakery is a hidden gem with something for everyone. Like a chilli padi, it is small but mighty. The bake shop hums with activity like a well-oiled machine, cranking out close to 30 kinds of bread and pastries.
Food at Bakery Brera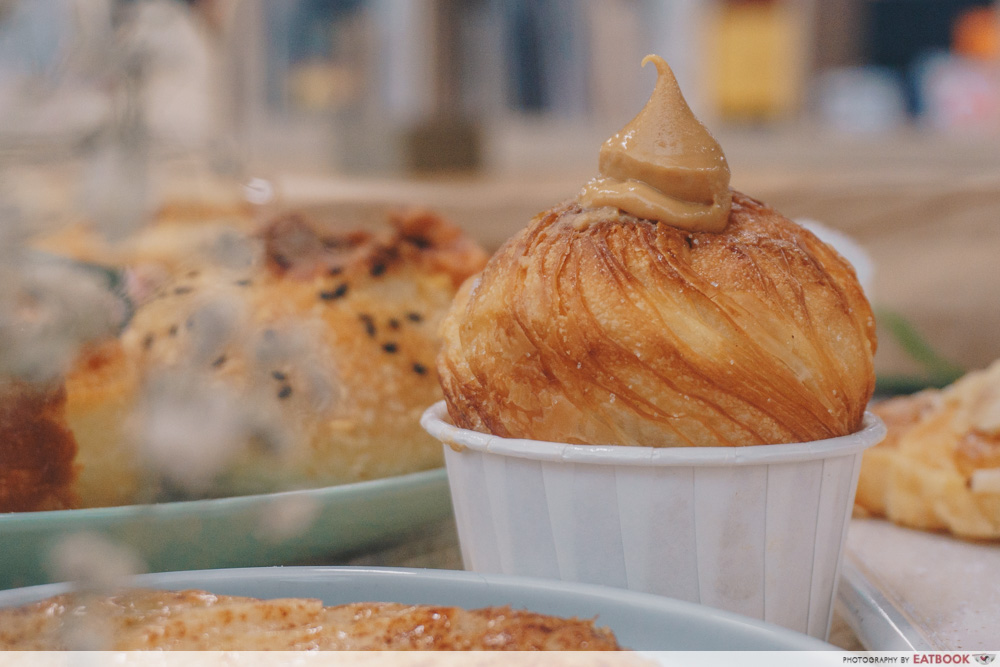 Move over cronuts – cruffins are just as sexy and delicious. Especially if plain ol' croissants can no longer satisfy your cravings, these bakery hybrids might do the work. Bakery Brera offers four varieties of cruffins at $4.50 each – Lemon Curd, Peanut Butter, Nutty Salted Caramel, and Chocolate Cream.
Like shiny Pokemons, these are rare and you need a bit of luck or perseverance to get your hands on one. We went down on Friday morning and these precious babies were almost swept clean off the shelves. There was only a Peanut Butter Cruffin left. Head down early at 8:30am and 12:30pm on weekends for fresh batches, but head down super early on weekdays as there will only be one in the morning.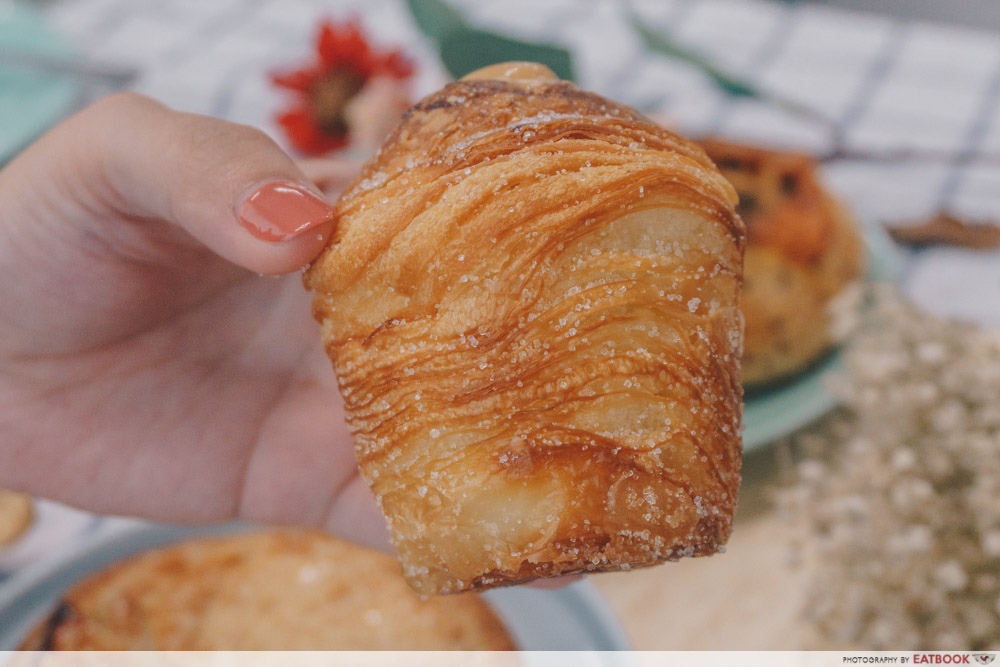 The love child of layered croissants and dense muffins, the cruffins went through a three-day lamination process before being baked in cups. The adorable dollop of peanut butter on top is just the tip of the iceberg. Removing the cup revealed sugar-coated layers underneath.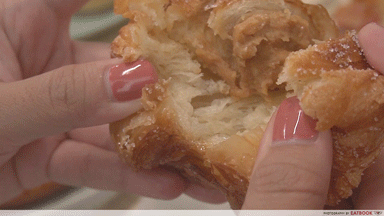 We tore the beautiful twists and layers apart, and was pleasantly surprised with a filled centre. The crunchy peanut butter was aromatic and added breakfast feels to the otherwise sweet pastry.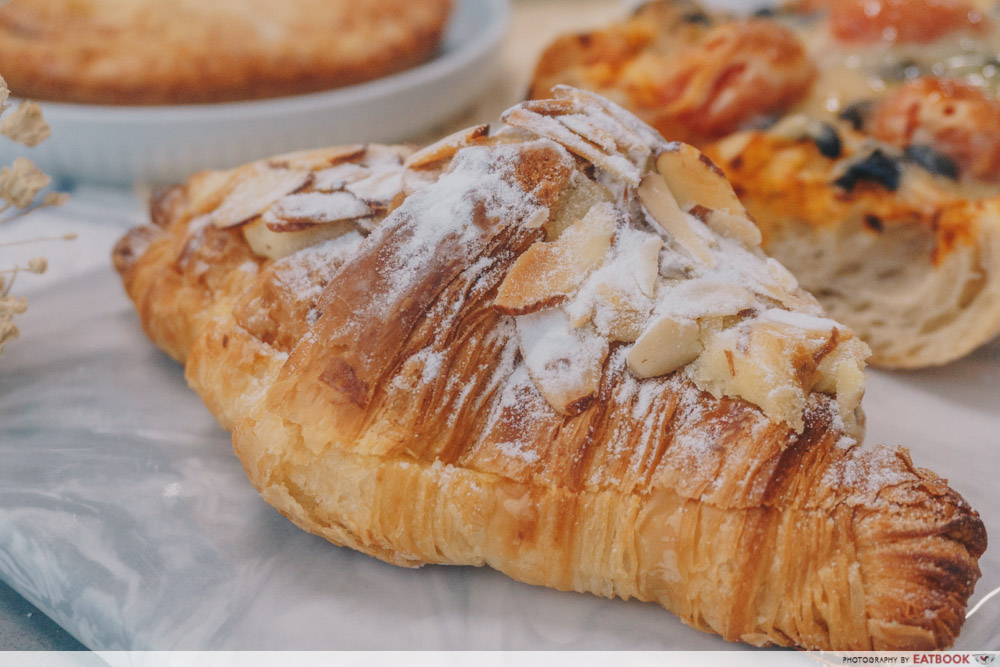 Originally a solution to the leftovers of unsold croissants, the almond croissant ($3.80) has found its way into my heart. Made with premium ingredients such as French butter and flour, sea salt, brown sugar, and almond paste, every mouthful was a buttery bliss. I challenge anyone to take more than five minutes to finish this.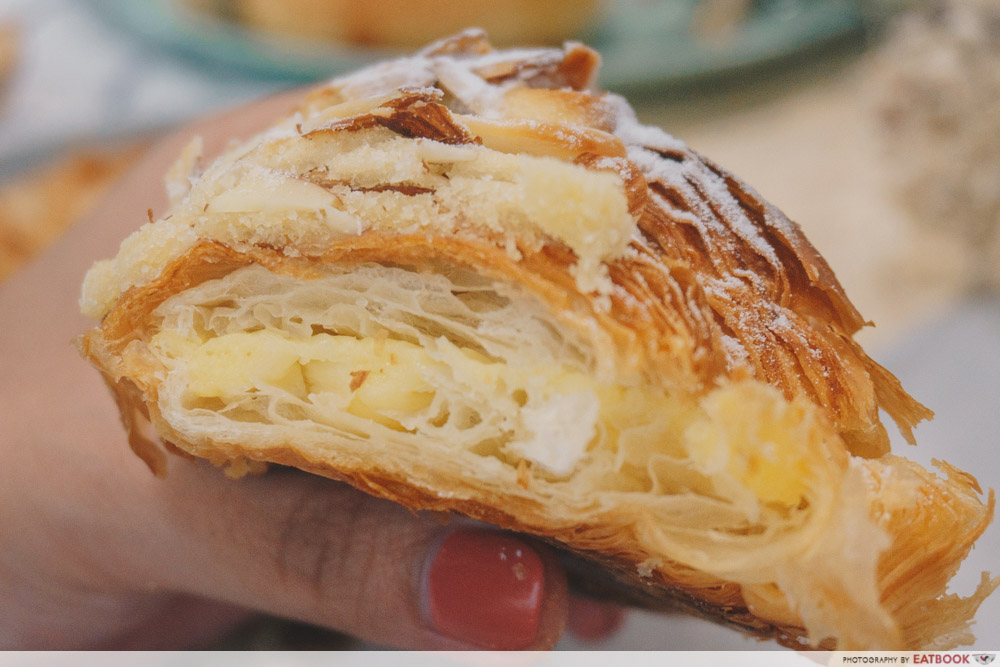 Just like the Peanut Butter Cruffin, we were blown away by the filling in this croissant. It melted almost instantly in my mouth. The powdered sugar along with this sweet and smooth centre delivered a wallop of Christmas in a pastry.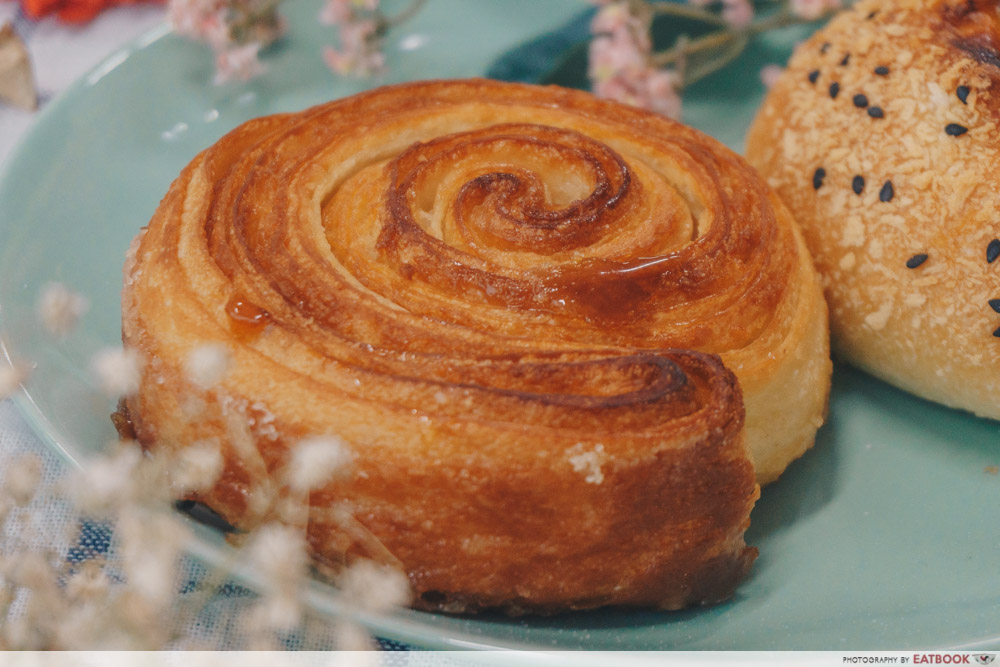 Those looking for a quick after-lunch indulgence should definitely grab one of their Kouign-Amann ($4). You won't go wrong with one of Bakery Brera's most popular item. This might be a tad sweeter than other pastries, as not only is butter folded in each layer of dough, but sugar is also heavily dusted between the folds.
They also offer a limited but equally good selection of savoury bread. I highly recommend the Volcano Chix Char Siew Bun ($3).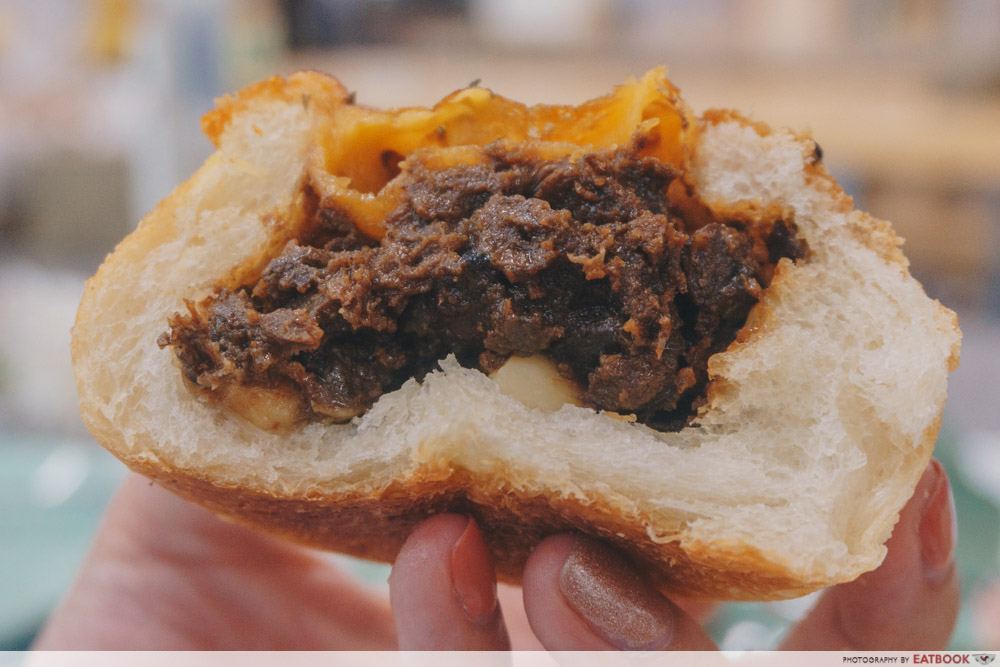 The ratio of char siew to bread is on point. The bread is dense and chewy; when paired with a generous amount of shredded char siew, each bite is engulfed with umami goodness. Your first bite into the bun would be full of porky goodness, followed by a salty kick from cubes of cheese hidden in the centre.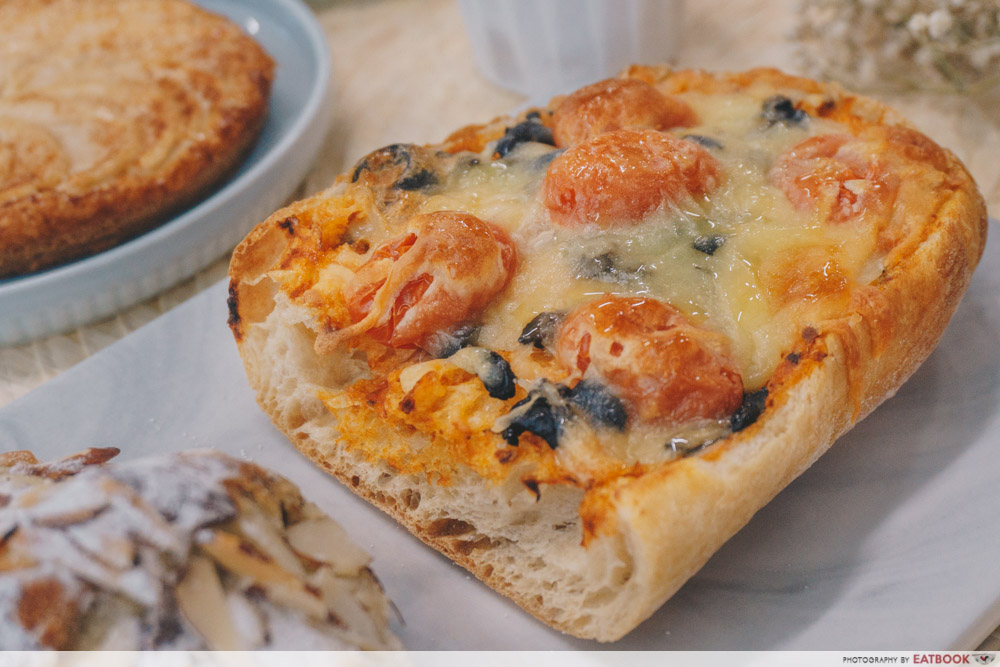 Fans of pizza will love their Bread Pizza ($4/$4.50/$5). Choose from three kinds – Garlic Butter, Ham, Black Olive. We got the Black Olive Bread Pizza. With a ciabatta bread base, you get chunky cherry tomatoes, sliced black olives, and a blanket of melted cheese. It makes a wholesome breakfast my mom would approve of.
Brotherbird Milk & Croissants Review: Unique Mochi Croissants With Matcha Kit-Kat, Hazelnut Fillings And More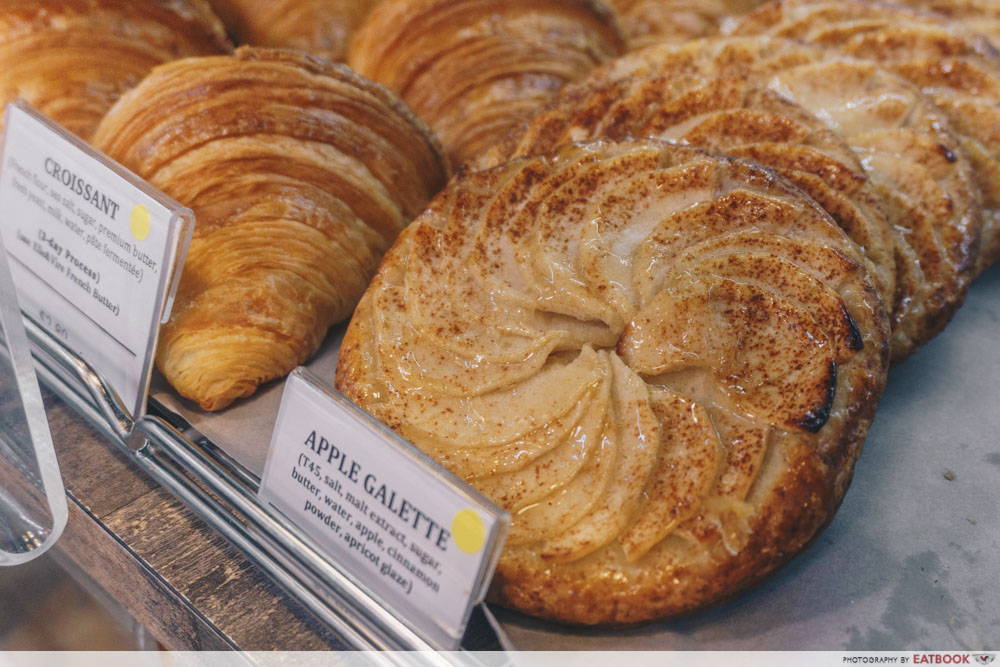 The holiday season is coming along and I think I've got my dessert section covered after trying their Apple Galette ($4.80). Nicely browned with cinnamon powder and arranged neatly like a fan, there is something whimsical about this pastry. The apple slices were tender and sweetened with malt extract and an apricot glaze.
Ambience at Bakery Brera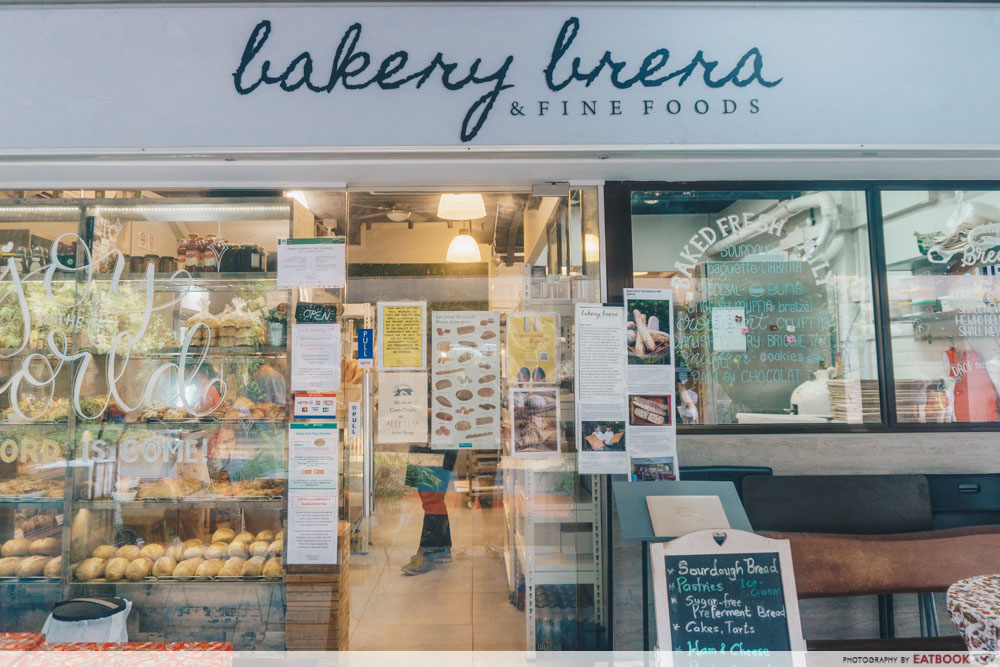 What's great about this neighbourhood bakery is that they even provide seats outside. The simple tables and chairs evoked rustic and chill vibes, which I fell in love with. When we were there, there was a businessman in a suit having his croissant with coffee on one side, and two ladies enjoying their bread pizzas while people watching on the other.
The verdict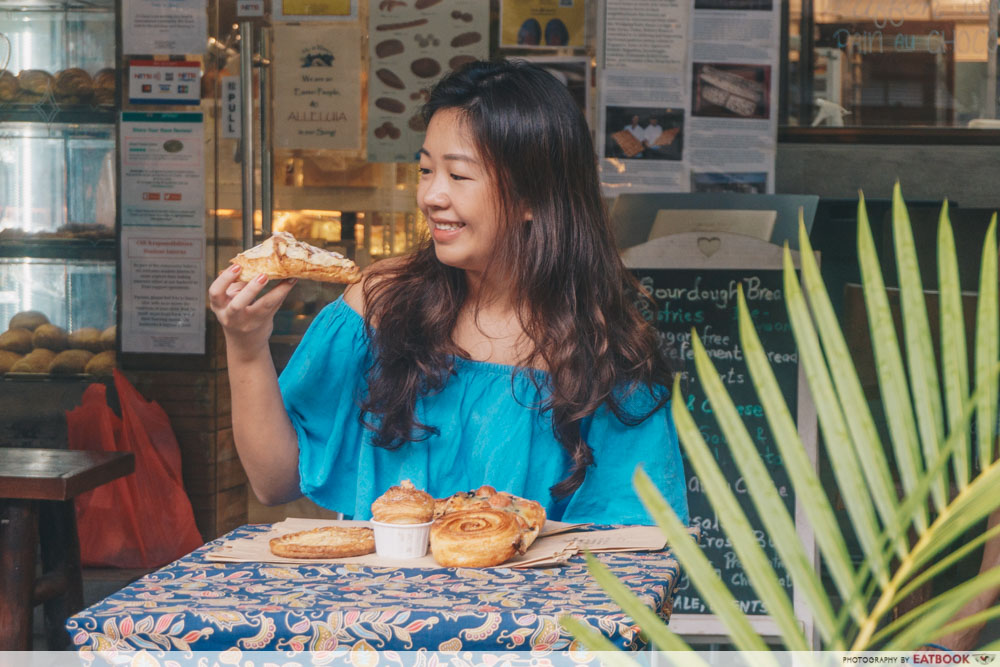 I would travel for good food and Bakery Brera is one of the places I'm willing to go out of my way for. Every bread or pastry we got there met my peckish needs just fine. I found myself being left hankering for more.
Thai Baang: First Thai Bread Bakery In Singapore Beside Lavender MRT Station
Address: 8 Empress Road, #01-05, Empress Mall, Singapore 260008
Opening hours: Tue-Sun 7am to 7pm
Tel: 6492 5428
Website
Bakery Brera is not a halal eatery.
Photos taken by Ho Jing Yi.
This is an independent review by Eatbook.sg.
Summary
Pros
– Large variety
– Prices are reasonable
– Conveniently located near the MRT station

Cons
– Many items were sold out early
Recommended Dishes: Cruffins ($4.50), Almond Croissant ($3.80), Kouign-Amann ($4), Volcano Chix Char Siew Bun ($3)

Opening hours: Tue-Sun 7am to 7pm
Address: 8 Empress Road, #01-05, Empress Mall, Singapore 260008