Dona Manis takes you back in time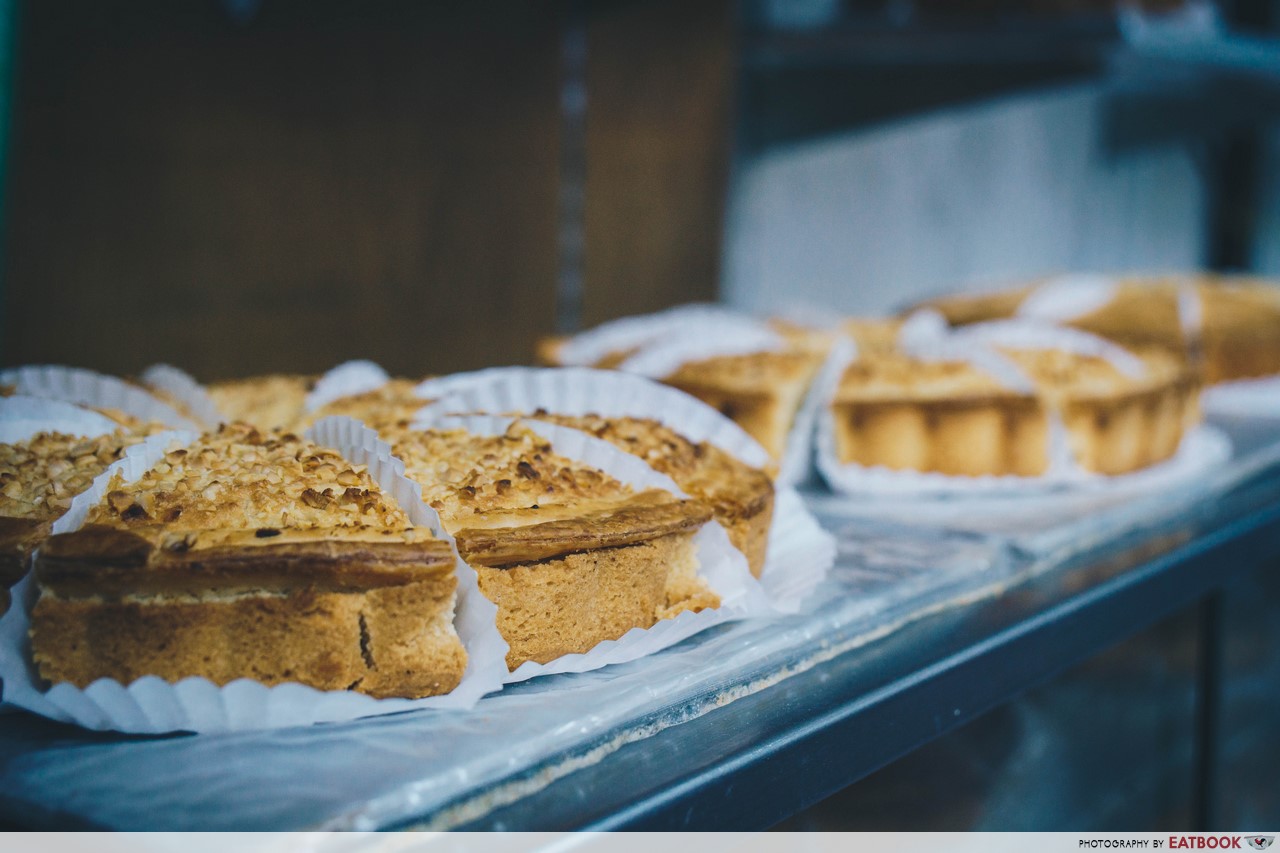 I drummed my fingers on the handrail of the escalator as it slowly descended into the basement level of Katong Shopping Centre. Every brisk turn I made showed me to yet another domestic helper or travel agency, and I slowed down to re-orientate, wondering if the place I was looking for had ceased to exist. It was then that I smelt it in the air – a buttery sweet scent – and I found what I came here for – Dona Manis Cake Shop.
Owners of Dona Manis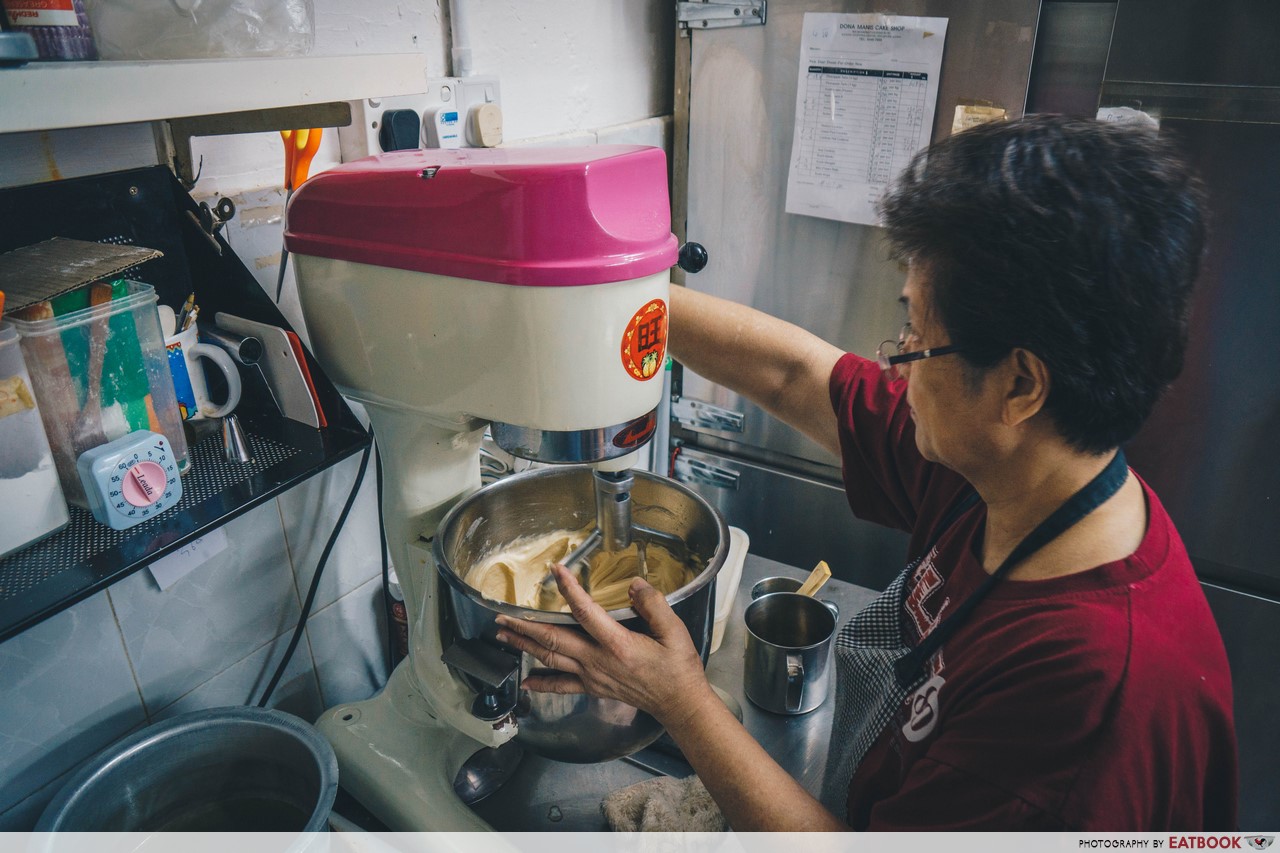 The couple, Madam Soh Tho Lang and Mr Tan Keng Eng, begins their day as early as 6am daily. They have to start preparing the dough and crust for their breads, pies, and tarts since everything is baked fresh here. There were only occasional customers when we arrived, but Madam Soh was rushing about from station to station, doing everything from mixing and boiling to piping and slicing.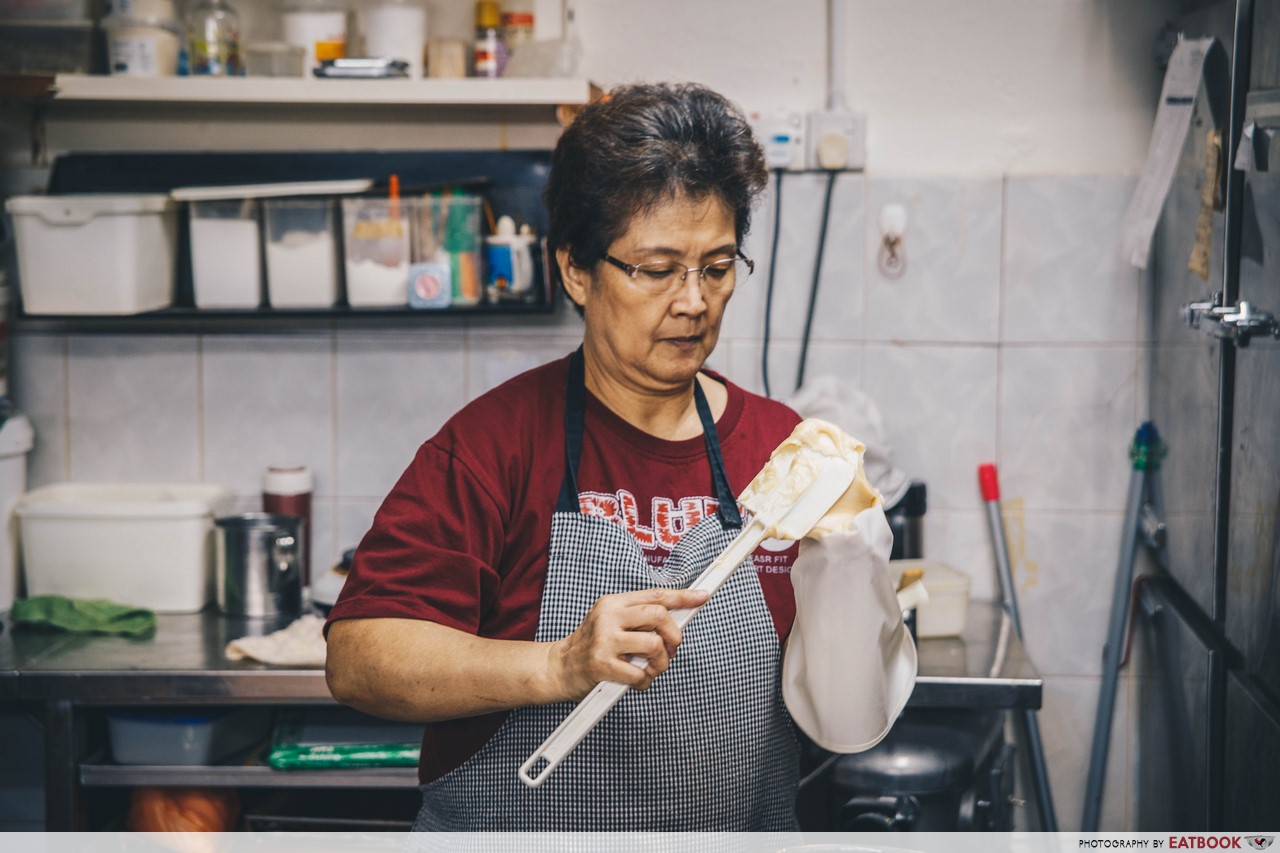 As she filled her piping bag, I asked her about her bakery. She mentioned that it's backbreaking work, and a classic case of "my children aren't willing to take over". There has barely been a growth in business, the profits are low, and the amount of labour involved is high.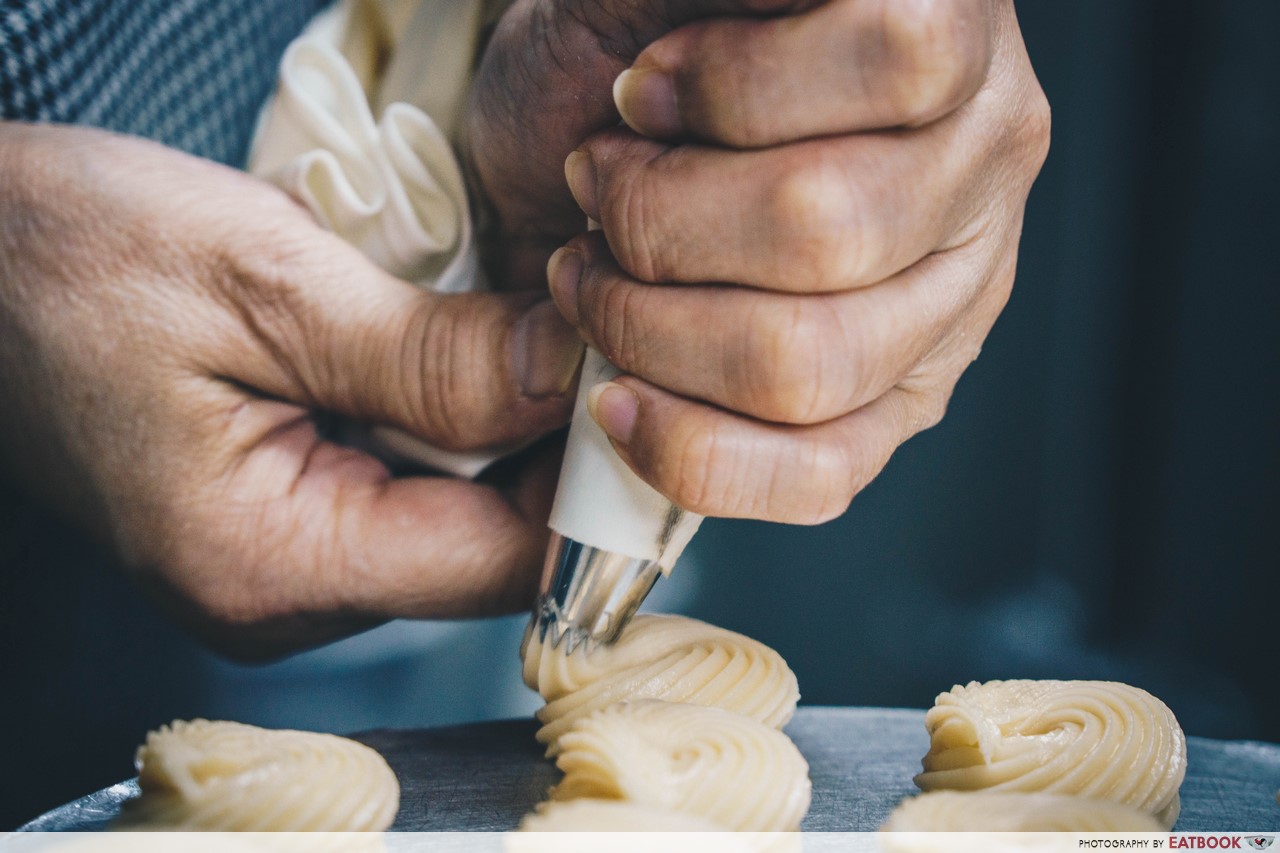 With the bag filled, she swirled it in a practiced motion and I wondered why she kept at this seeing how it was a lot of hard work for a woman her age. Starting on a new tray, she asked in return, "If I wasn't doing this, who would?" The question hit me hard. For the effort put in, I knew I wouldn't.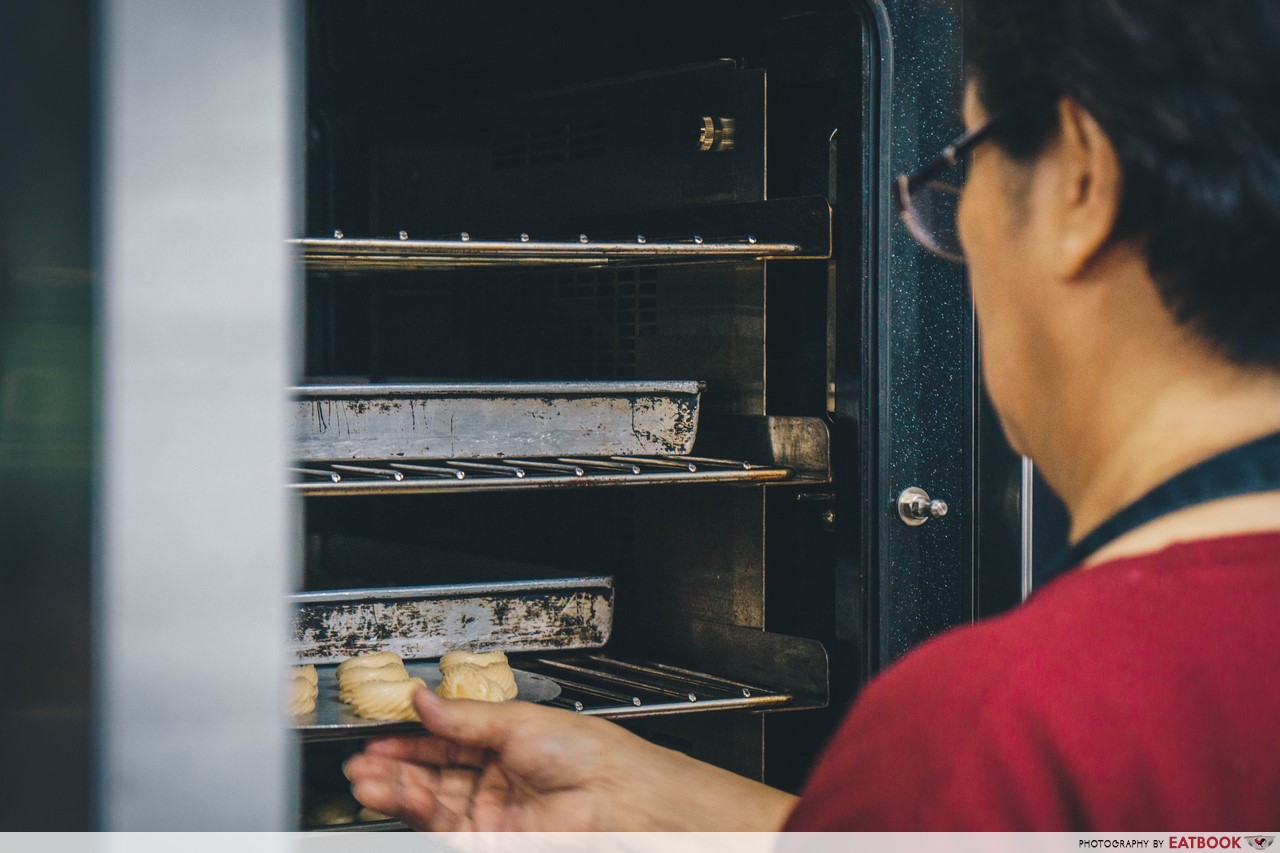 The trays were then ready to go into the oven. She explained that only people her age would be willing to continue doing her profession daily, and besides, her customers would miss her pastries. I had to agree; there is nowhere else I know of that sells the same chocolate tarts and banana pie as Dona Manis did.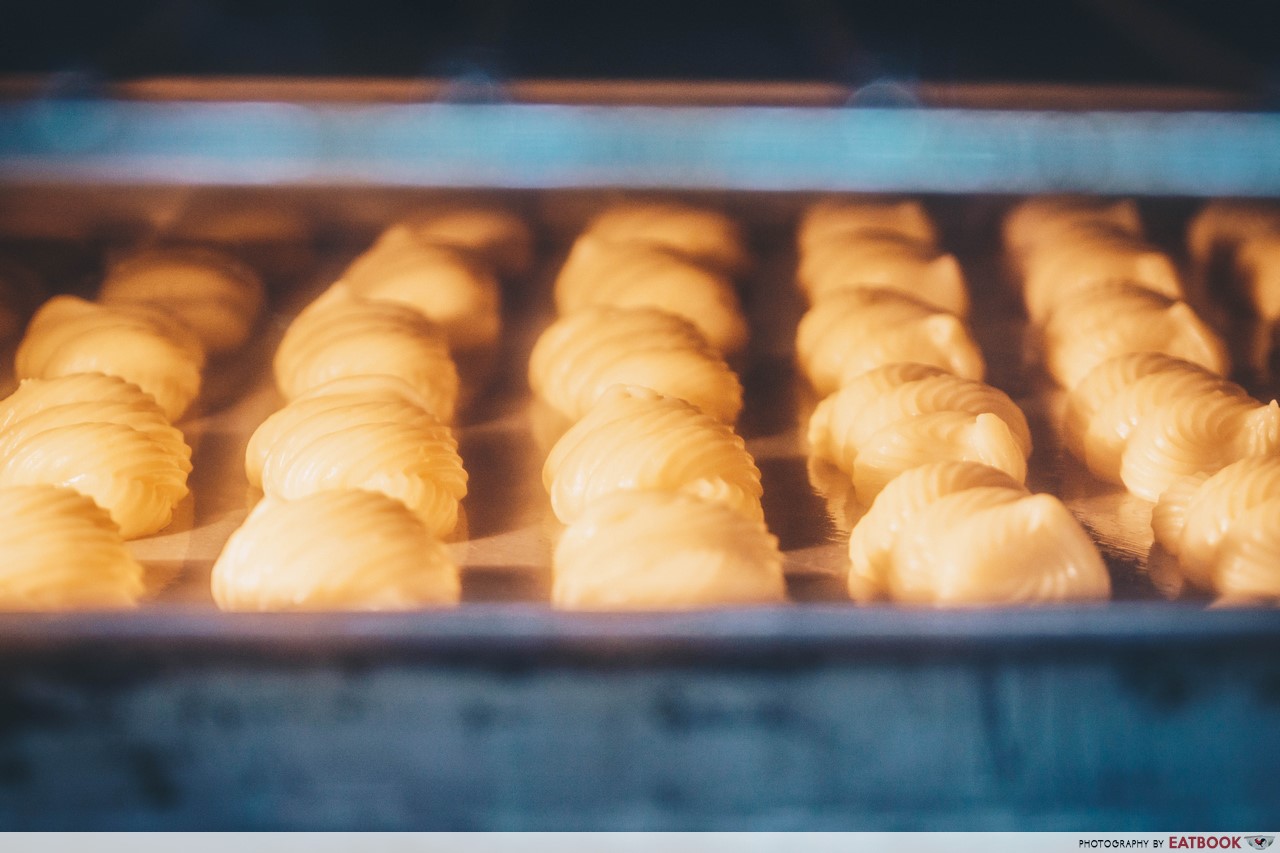 With the cream puffs in the oven, she took the time to pack freshly baked buns into plastic bags. The phone rang; someone had ordered four whole banana pies and she was going to bring it up to the pick-up point. She stacked the boxes into big, white plastic bags and strode off, and I was left to savour their lingering aroma.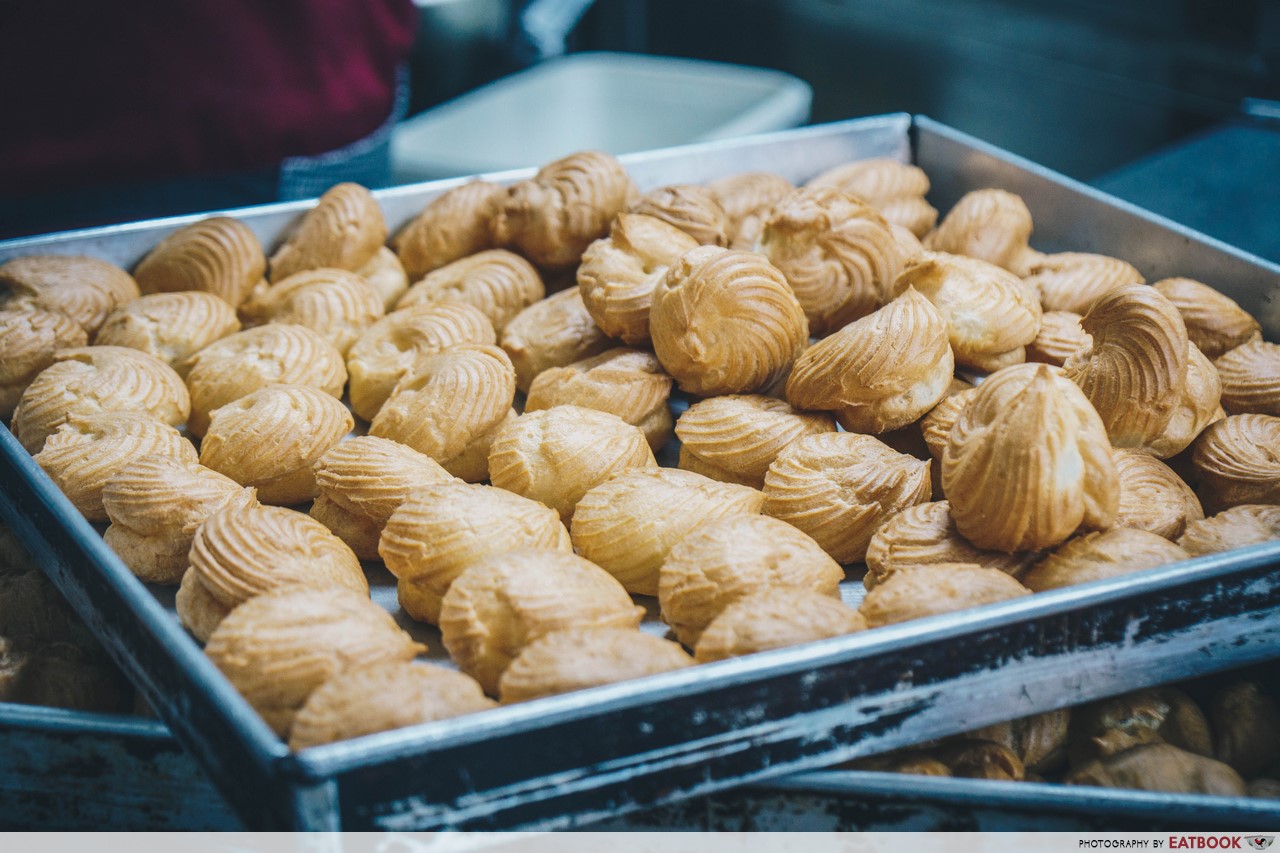 Before I knew it, the puffs were ready and were left to cool. "How long are you going to keep doing this?" I asked, dreading her reply. "Till this place gets evicted," Madam Soh answered, as she shook the puffs out of their trays.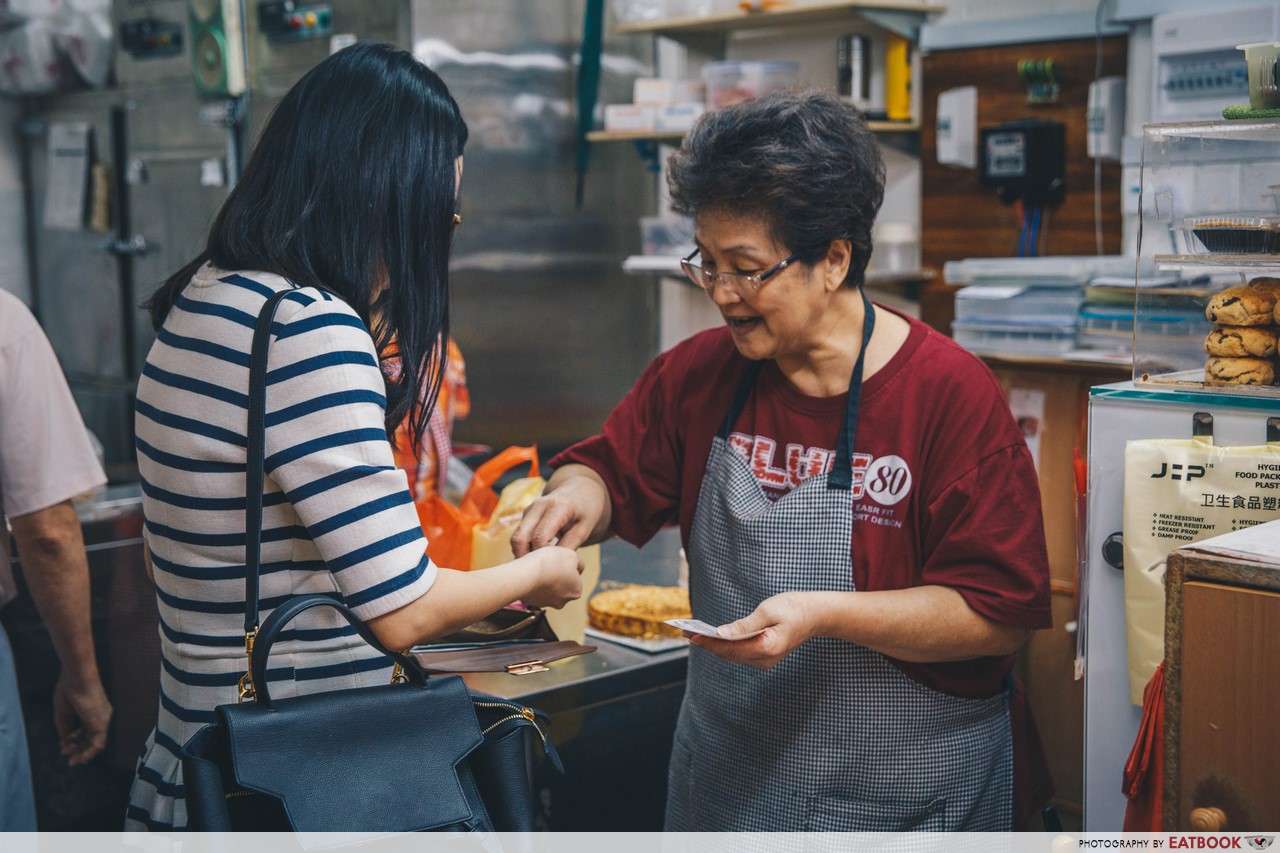 That day, Mr Tan was busy in the storeroom so I didn't get to speak to him. When he appeared, it was when the shop had gotten so busy that my colleague and I couldn't stand inside anymore. As much as we wanted to stay in there where time seemed to move slower, we knew we would only be in their way.
Pastries at Dona Manis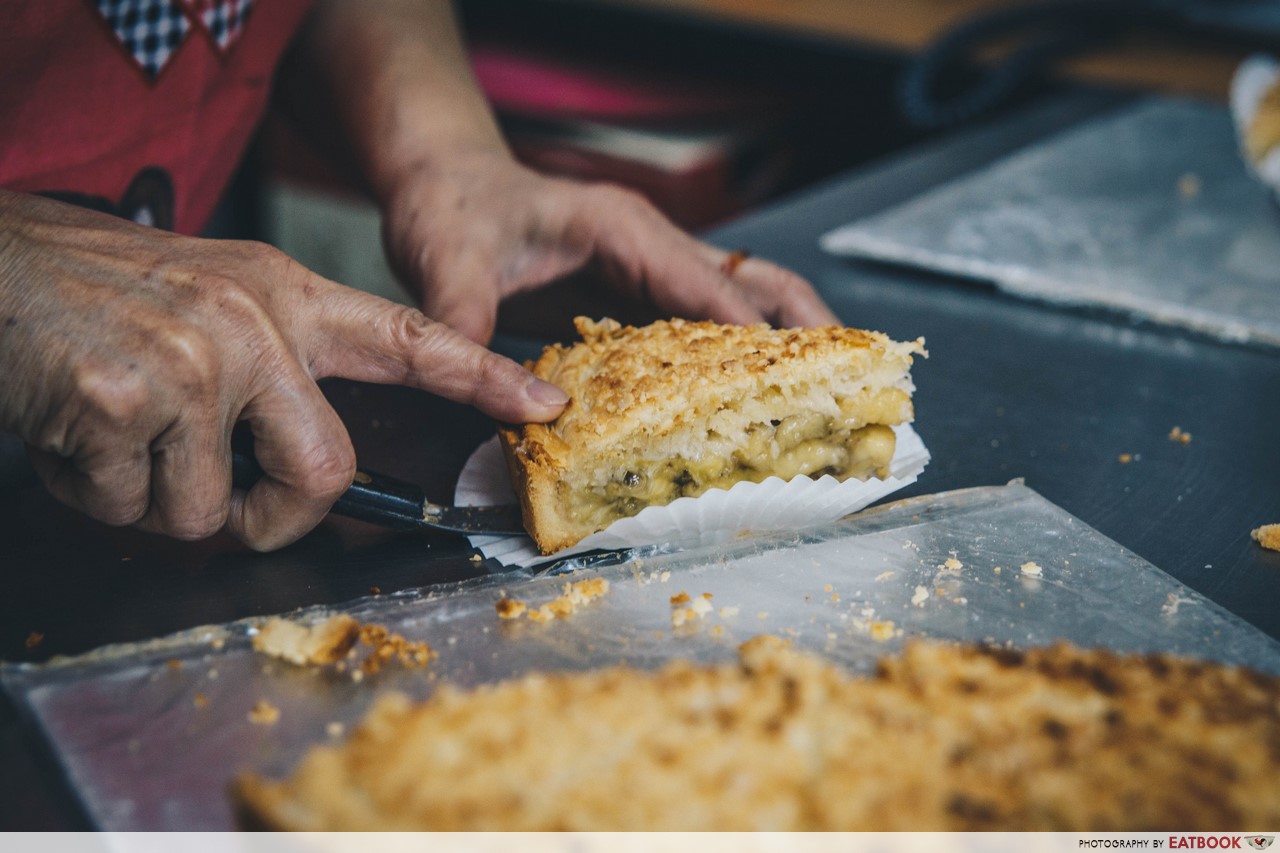 We thanked the couple for their time and left with bags of sweet treats. The first thing we tried was, of course, their banana pie ($2.50 per slice, $25 for a whole pie). This treat is decadent, yet not rich to the point that you'll struggle to finish the slice.
Each layer holds an important component, and the first bite was a heady mix of buttery crust, sweet banana, fragrant coconut, and crisp roasted almond. Put that all together and you won't have to wonder why it's been touted as the best banana pie in Singapore.
If you'd like to get the entire pie, call 6440 7688 in advance to place an order!
As someone who consumes chocolate like it's a staple, it shouldn't surprise you that I lunged for these chocolate tarts ($4.50 for a box of five). Madam Soh repeatedly told me to refrigerate it immediately, and leave it out for five minutes before consuming them.
The first one I had, I ate it the second it was out of the fridge – I have no self-control when it comes to chocolate. The filling of this tart was the perfect balance between milk and dark chocolate, and had the texture of ice-cream. The tart shell was delicate and crumbled easily, and wasn't overly buttery, so the chocolate shone through.
If you leave them out for the recommended five minutes, you'll get a more viscous filling that reminded me of thick chocolate milk.
The verdict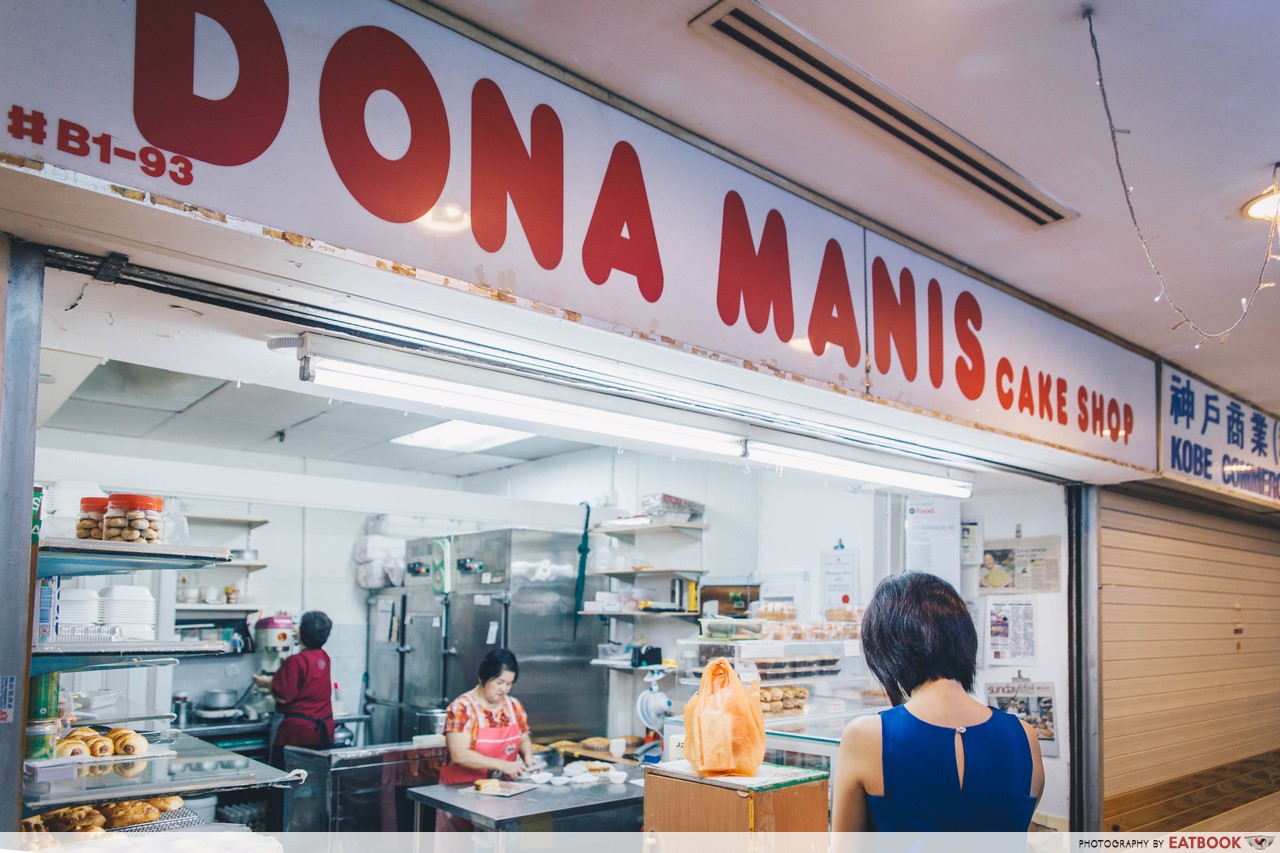 In our fast-paced world, it's too easy to pass by a gem without realising it. And a gem is what Dona Manis is. You won't find another bakery with the same pastries they offer, neither will you get the same taste. Give them a visit before they're gone, and they might just open you up to something new. Check out more traditional bakeries in Singapore, or our feature on Sun Kee, which is a drinks stall helmed by a couple who still offers soya bean milk, grass jelly drink, and bird's nest drink at $0.30 per cup.
Address: 865 Mountbatten Road, #B1-93, Katong Shopping Centre, Singapore 437844
Opening hours: Mon 9am to 5pm, Tue-Sat 9:30am to 6pm
Tel: 6440 7688
Website
Dona Manis is not a halal bakery.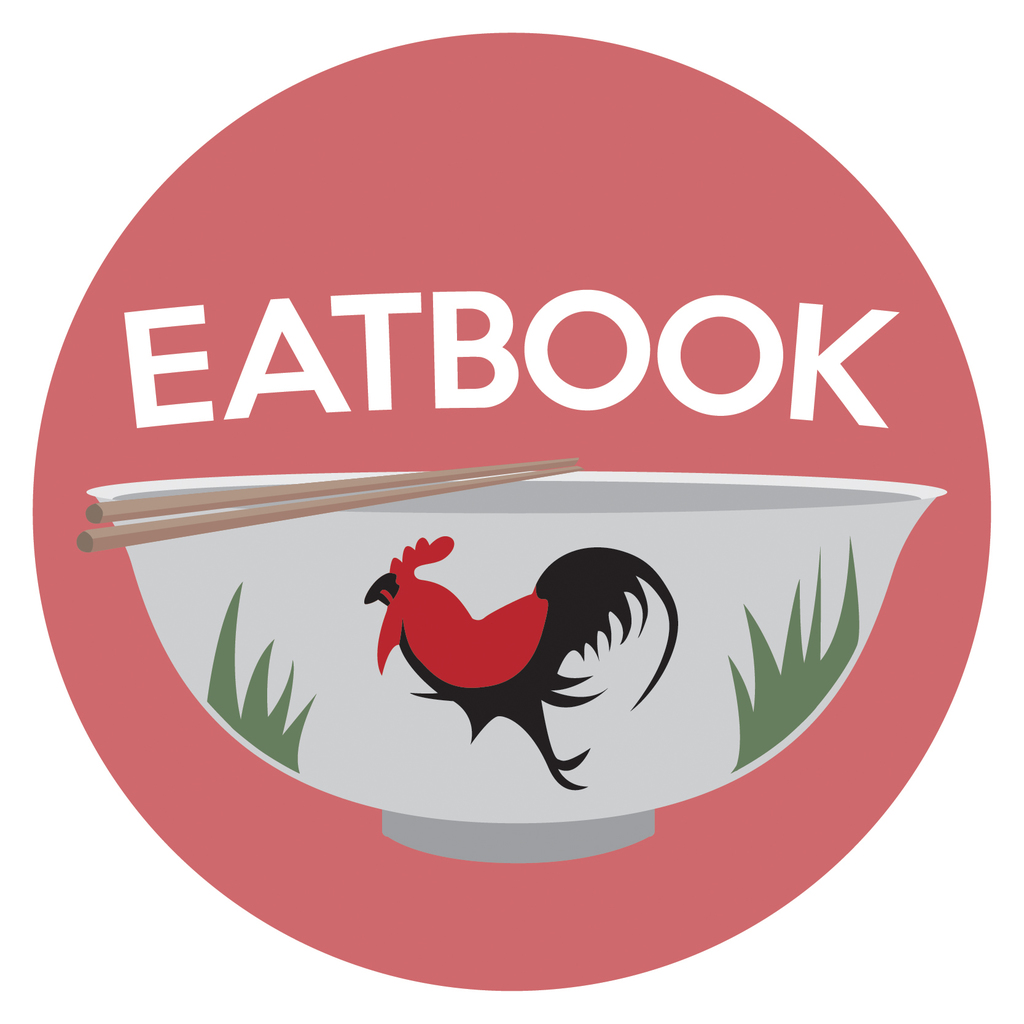 Drop us your email so you won't miss the latest news.